Marantz NR1609
Design -

95%

Audio Quality -

90%

Inputs / Ports -

93%

OS, Apps and Features -

94%

Price / Quality -

88%
---
Cheapest Places to Buy :
---
Marantz has offered us a very solid lineup of receivers in 2018 combining nice features, good audio performance and a wealth of connection ports. In general each of them seems to be designed to target a specific consumer group and it seems the design teams were very clear what to include in each model in order not to mix the consumer with similar specifications. As such their slim lineup which is famous the last few years for their unique design and solid performance added two new models this year with distinct characteristics that set them apart.
Some weeks ago we had the pleasure to review one of these models. The NR1509 managed to get good marks by offering a mix of good performance and nice features enough for anyone that is budget sensitive but also constraint by space. Today we have the pleasure to review it's bigger brother in the slim lineup, the Marantz NR1609, which is a step up in specifications as it offers 2 additional channels, support for all the latest audio formats like Dolby Atmos and DTS:X and a more rich feature set. But are all this additions enough to make this receiver a worthy purchase. Read on to found out in our Marantz NR1609 review.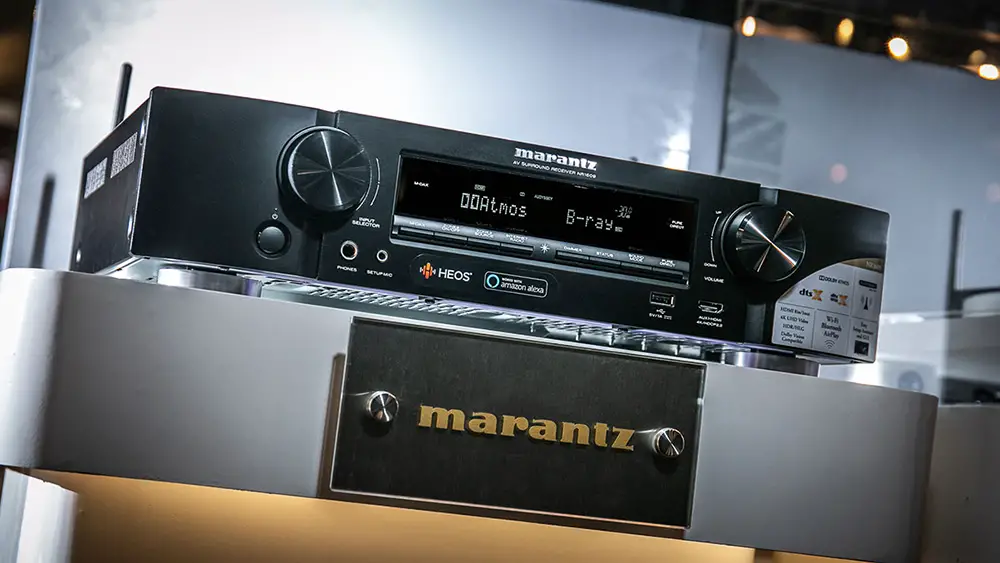 Design
We were always fond of the slim design of the NR series. With such a small footprint they have the ability to fit in tighter spaces and smaller furniture, they produce less heat meaning that you don't have to worry so much if placed in closed space and in general we have to admit that AV receivers is more or less the ugliest piece of hardware in home theater systems so the NR series is like a small miracle in this respect. General design hasn't changed a bit from last year and this shows how much Marantz trust their design and in all honesty they do good to do so as it is great looking, practical and with small touches that makes it stand out from the rest.
Having a size measuring only 17.3 x 14.8 x 4.1 (440 x 376 x 105 mm) with the antennas in horizontal position and weighting 18.3 lbs (8.3 Kg) the NR1609 gives you so many placement possibilities that most receivers cannot even dream. And although the dual WiFi antennas can add the need for some extra height we tried them in horizontal position and didn't notice any degrading in signal during our testing. So if the receiver is relatively close to your internet router you should have no problem with that.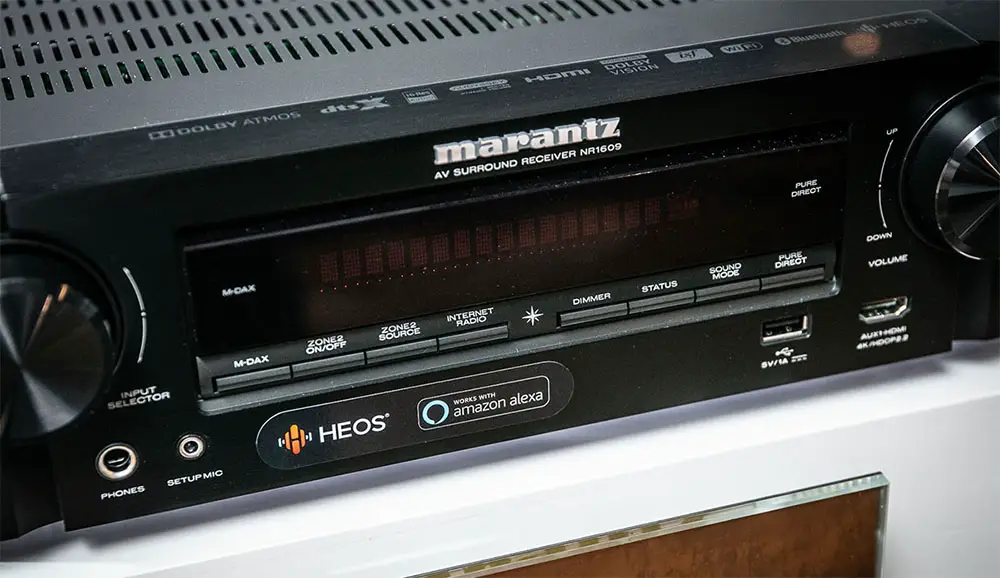 The front panel keeps the same look and configuration for the past few years with a slightly curved design that houses a big frontal display in the center that shows all important functions like audio track, input and volume while on both sides we find two big turning knobs with the left one for source selection and the right one naturally for the volume. Under the source selection knob there is the power button while under the front display we get a slim row of 8 control buttons separated in 2 groups. The one on the left has buttons for D-Max, Zone 2 control and internet radio while on the right we get buttons for the dimmer, status, sound mode and pure direct.
Under this slim row we get a few frontal ports for easy and quick access. There is a PHONES jack and a calibration microphone port placed on the left side with a USB port (5V, 1A) for connecting external storage and an HDMI input on the right that is HDCP 2.2 which means it supports 4K@60Hz, HDR and Wide Color Gamut and you can use it to connect a projector for example that you don't plan on keeping connected permanently. The rest of the ports we will analyze a bit further down this review in our dedicated section.


The remote control of the NR1609 is very similar to the one we saw in last year's NR1608 with only some minor changes in the buttons configuration. Other than this it's completely the same. The buttons have enough space between them and they are easy on the touch. We would like them to be just a bit bigger but here it is us nitpicking on the thing and it's not a big deal really. The remote is nice without offering anything fancy. We would love to get some kind of backlight functionality but unfortunately there is none here. At least the buttons are illuminating in the dark so this has to count for something.
If you look both this year's NR1609 and last year's NR1608 it will be hard to spot any differences as the design are completely identical with only the model number giving away their difference. Marantz is doing this for the last few years and in all honesty we have no problem with it as the receiver looks great and why change something that is already so good? Build quality is very good, a characteristic of Marantz, looks are very good and design in general is excellent. Very good work here.

Audio Quality
Keeping last year's characteristics the Maratz NR1609 supports all the latest object based audio track like Dolby Atmos and DTS:X as well as DTS Neural:X. By having 7 channels of amplification with 50W per channel (8 ohm, 20 Hz – 20 kHz, 0.08% THD) plus 2 subwoofer ports this receiver is capable of either a 7.2 channels or a 5.2.2 channels setup by using 2 height channels for taking advantage of Dolby Atmos and DTS:X height layer. In our case we chose a 5.1.2 setup with 2 overhead channels that were positioned in the middle of our viewing area and 1 subwoofer.
Changing a bit from our usual testing film this time we opted to use the 4K UHD disc of Battleship for our review that comes with a kick ass DTS:X track. After carefully selecting our test scenes that include not only acoustic mayhem but also more subtle environmental sound effect moments we were ready to go.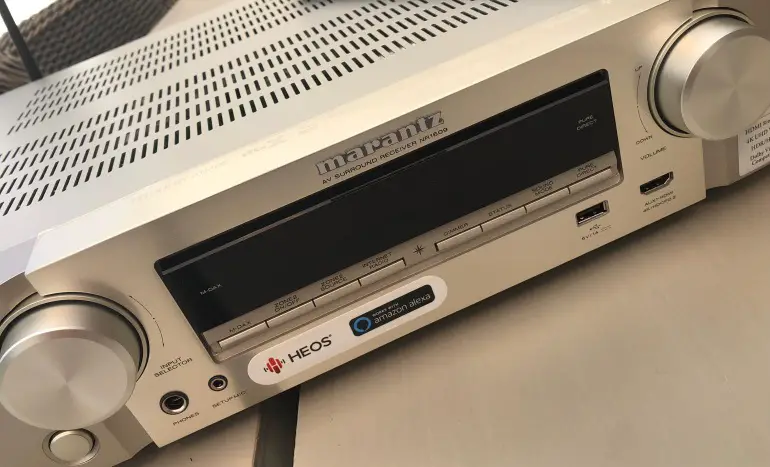 Let's start with the obvious. In the scene where the the guided missile destroyers are fighting the alien ship the NR1609 gave us amazing performance with all speakers going into overdrive. As the explosive pegs are launched from the alien ship and hitting the destroyer you can hear the pegs traveling on the air on the overhead channels while when they find their target the bass goes crazy with explosions destroying the human ship. The alien targeting system is making a very characteristic menacing electronic sound that filled the room and made us hold onto our seats.
Another scene that we tested is during the final act where the USS Missuri is heading towards the alien shield vessel. The dual energy beams that go towards the sky and create the protective bubble that is surrounding the battle made the subwoofer go crazy as the receiver was reproducing their characteristic energy sound with great clarity and dynamics that made you feel it's inside the room. During the showdown where projectiles are exchanged between the two ships audio separation was great and channel shifting felt precise enough between the front and surround channels. Dialogue is also very distinct and clear even in such a sound effects heavy film.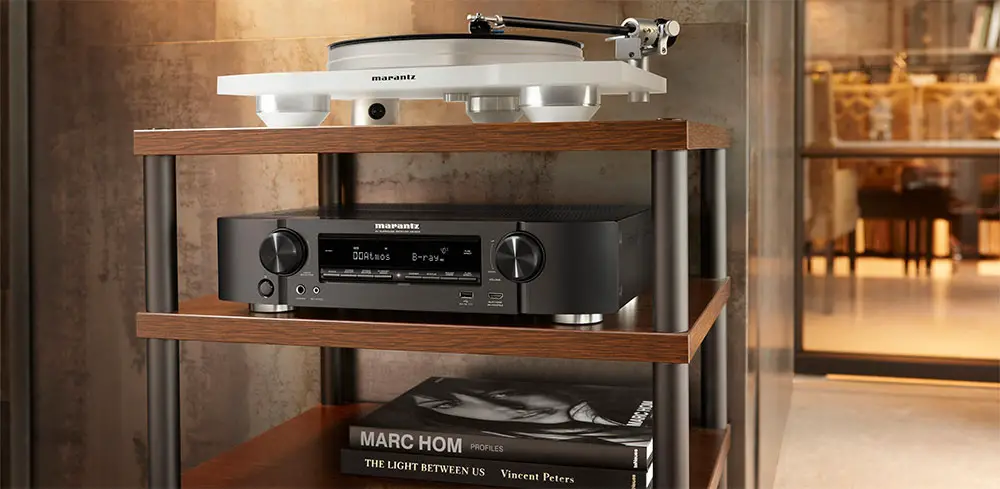 When used at normal volume levels the NR1609 can perform very well with nice separation between the channels, good channels shifting and a center channel that offers very audible dialogue. It's when we tried to push the volume at much higher levels when the receiver show it's weakness as it tries to maintain control but so many times fail to do so. With 50W per channels expectations shouldn't be so high and this was very clear during our testing thus making the Marantz NR1609 perfect only for small to medium areas like living rooms and bedrooms where there is not such a big demand for excessive volume.
The NR1608 may be good with movie audio tracks but it can be a decent music performer also with it also supporting a wide variety of lossless and lossy audio formats like MP3, WMA, AAC, FLAC, ALAC, WAV, FLAC HD 192/24 bit, WAV 192/24 bit, ALAC 192/24 bit as well as DSD streaming (both 2.8 and 5.6MHz). We tried our selection of FLAC music tracks and we got more or less similar performance here.
Good dynamics control, clear separation of all instruments, great bass reproduction and nice shifting between channels but what the NR1609 has in quality misses in power. Uping the volume in very high levels resulted in loosing many of the above good characteristics the receiver was so happy to offer due to being a bit under-powered. But if you plan to keep the volume in medium to high levels then you will have no problem enjoying excellent quality.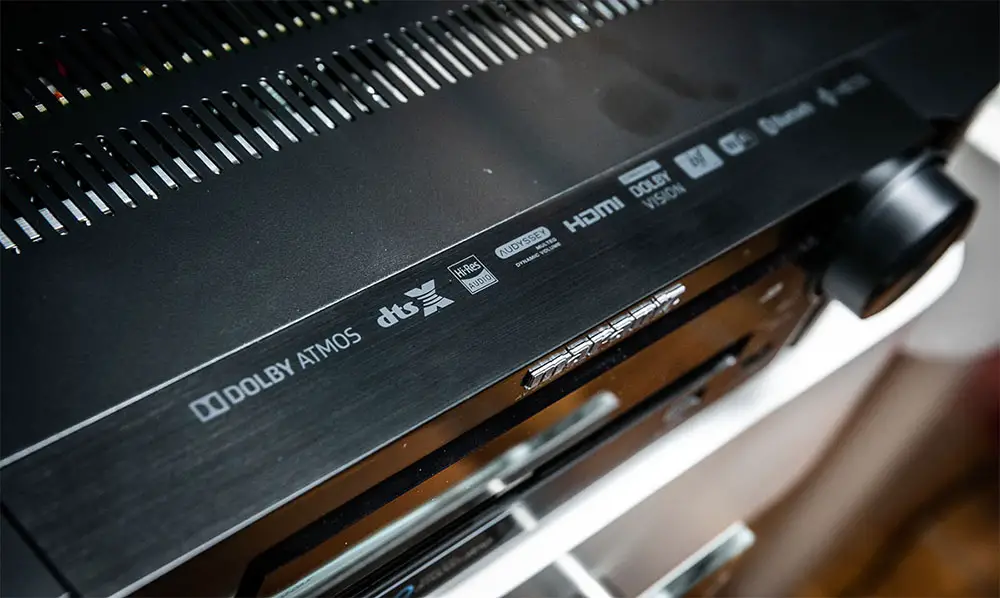 Inputs / Ports
Last year's NR1608 managed to impressed us with the number of ports that Marantz managed to fit in such a slim design as the back panel was fully packed with connection ports so more or less we were expecting to see a similar setup for this year as there is very small room for any changes. We already mentioned above the ports that are allocated in the front panel following a similar setup as most receivers nowadays with a PHONES jack, a calibration microphone port, a USB port and a HDMI IN port.
Turning the receiver around we see a plethora of ports in the back as we expected so let's analyze everything one at a time. As with last year, the NR1609 has 7 HDMI IN ports and 1 HDMI OUT with ARC support. All HDMI ports including the front one are HDCP 2.2 enabled which means they support 4K@60Hz, HDR and Wide Color Gamut. A second HDMI OUT would be nice but we didn't get one last year either so we think this is the best we will get from this lineup. Again we get speaker ports with different coloring in order to distinguish them better.

As for the rest we see a coaxial and optical digital in ports, an Ethernet port for wired connection to the internet, a 12V trigger port, Remote control IN and OUT ports and FM as well as AM antenna ports. As for legacy connections the receiver is equipped with 3 analogue IN stereo ports, 3 composite video IN ports and one video OUT port, 2 component video IN ports and 1 component OUT port, coaxial zone 2 audio ports and 2 ports for a dual subwoofer setup.
We see that connections are very similar to last year with only 2 changes. This year they took out the 3.5mm IR in port and instead added another analogue stereo audio input dedicated for PHONO connection. We guess they thought that the phono connection would be more important than the IR in flasher otherwise we don't see the point of this small change. The amount of ports surprised us last year but for this year we knew what to expect and Marantz has not disappointed us. Offering so much in such a tight space is a small miracle and at least as far as ports is concerned the NR1609 is not missing anything it's bigger brothers offer.
OS, Apps and Features
The receiver naturally supports 4K/60 Hz full-rate pass-through, 4:4:4 color resolution, HDR and BT.2020, plus Dolby Vision compatibility and Hybrid Log Gamma out of the box. The NR1609 also supports 4K upscaling from lower definition sources something that it's lower brother, the NR1509, could not.
Setup of the NR1609 could not be easier as Marantz has equipped it with the Audyssey MultEQ audio calibration system. By following the on-screen instructions and using the calibration microphone you can calibrate the system fast and without much fuss. Of course more precise calibrations are done manually but for those inexperienced with such settings the results are pretty accurate creating a very balanced result.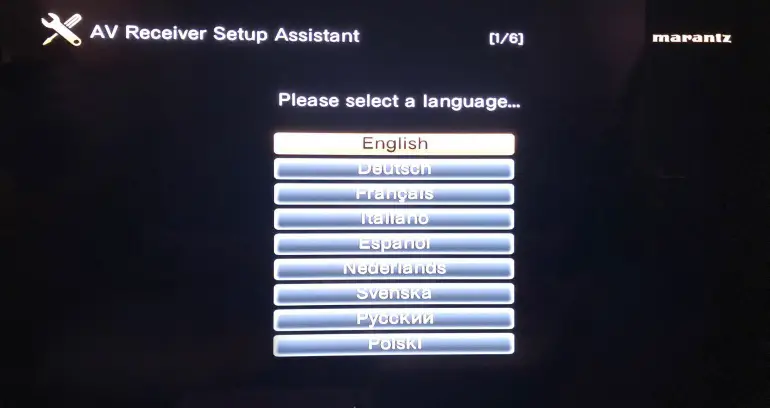 With the Audyssey calibration system comes also the Dynamic EQ that keeps the dynamic levels as well as clarity even at low volume. Also the Dynamic Volume feature that balances sudden volume spikes when there is shifts between TV programs and commercials. Marantz has also created the Audyssey MultEQ Editor App for both iOS and Android devices in order to make all calibrations and setups through your device with the only drawback that the app is not free and you will have to pay a one time fee to download it.
There is also another app called Marantz 2016 AVR remote app which grants you the ability to control all functions of the receiver and with a much better visual interface than the one provided through the receiver. Thankfully this app is for free and available for both Android and iOS.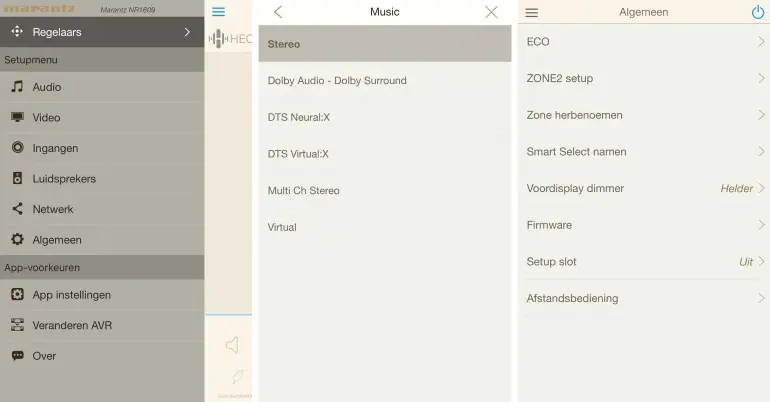 The NR1609 may have a rather simple visual interface but it is very well organized and with so many options and settings it would be hard to find what you need otherwise. But all categories are easy to understand so we never felt like lost. Visually it could use an update to make things look more pleasing to the eye but at least they are functional.
There is also an intelligent ECO mode that can be used to minimize power consumption that you can turn to Auto and let the receiver manage when to use it or not or you can turn it off completely if you want to get the maximum out of the receiver for the best viewing and audio experience.
The receiver is also capable of streaming music either from a local source like a network drive (NAS) or from the internet through some online music service using either WiFi, that supports both 2.4GHz and 5GHz, or through wired connection from the Ethernet port. There is a wide support of streaming services with Spotify, Napster, Deezer, Tidal, and Sound Cloud giving you a wide variety of options to choose from.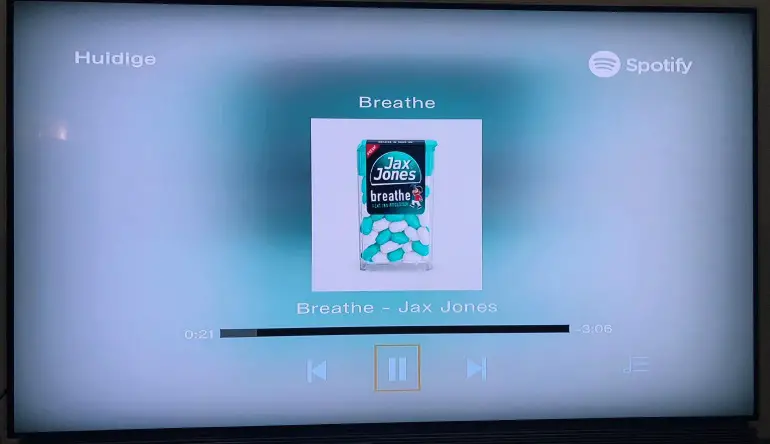 You can also stream high res audio from an external storage through the frontal USB port as well as through your tablet or smartphone using Bluetooth connectivity or with Airplay. The NR1609 is also equipped with HEOS multiroom audio technology with which you can connect it with other HEOS enabled speakers around your house.
One new feature for 2018 that was not available in last years models is Amazon Alexa voice control support via the HEOS Home Entertainment skill with which you can control the receiver through a compatible Alexa enabled speaker like Amazon Echo or a Sonos One. Voice commands include switching inputs, change volume and stream music among many others. We tried to issue a few simple commands and the system responded rather well although it may not support more complex commands like setup and calibration.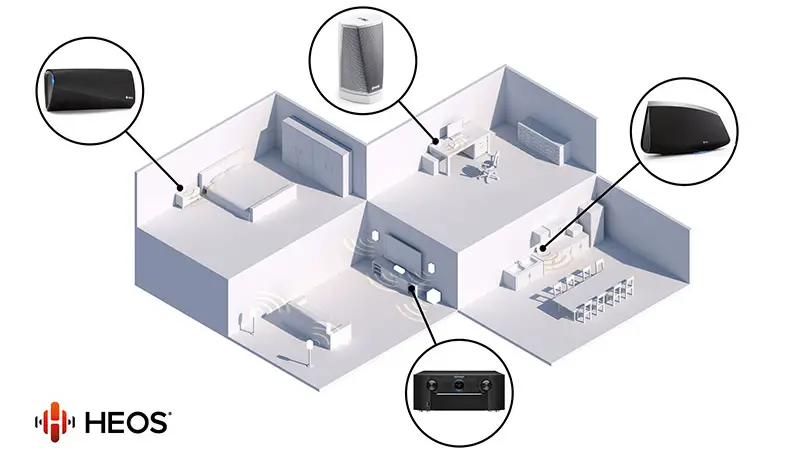 Final Thoughts
Marantz never stops to amaze us with it's slim lineup of AV receivers. 2017 was a very good year for the NR series and we were curious what other improvements we would see in 2018. Size is always a limiting factor and there is so much you can do in such a small space but Marantz managed to get last year's already great model and specifications and even add more to it.
The NR1609 offers everything a fully sized AV receiver would with 7 channels of amplification, support for all next generation audio tracks like Dolby Atmos, DTS:X and DTS Neural:X, 4K/60Hz full-rate pass-through, Dolby Vision and HLG compatibility and a wealth of online and streaming services. With the addition of Audyssey, setup and calibration becomes much easier while HEOS support lets you create your own multi-room speaker configuration. The number of connection ports could not be higher as the back is jam-packed with ports while the design although similar to previous year is very good to need any change. New this year is Alexa control support which adds even more value as a whole. The price is right for all these specs you get so the whole set is nothing less than impressive.
But naturally having such a small design would have some drawbacks and the most apparent one is the power the NR1609 can produce. With 50W per channel we get exactly the same power as last year's model and although we were hoping for a small improvement in this area unfortunately we didn't, limiting this receiver to very specific small sized rooms and media areas. Also a second HDMI out port would help a lot as many people are seeking this but unfortunately we didn't get that either.
Basically the NR1609 is the 2017 model with small tweaks and upgrades which in all honesty is not a bad thing. The NR1608 was already a marvelous receiver for it's size with fantastic specs and the NR1609 is following the same trend. Packing so many things in such a small factor is it's biggest strength but also it's biggest weakness. Because it seems it is impossible to up the power but keeping the size of the receiver the same. The NR1609 in the end fits mostly those that want some high end specs but want to implement them in a smaller scale like normal sized living rooms and bedrooms where space is more tight and furniture smaller. In this case we would not be able to recommend a better AV receiver than the Marantz NR1609.
For more reviews you can check our dedicated Slim Line 4K AV Receiver reviews list or even look at our Product Reviews Table where you can find the brand and specific product you are looking for.
Also don't lose the chance to subscribe to our Newsletter and gain exclusive privileges.
---
Cheapest Places to Buy :
---
Specifications
Slim profile that's half the height of a traditional AVR delivers exceptional performance and sound quality
7-channel discrete power amplifier, 50W per channel (8-ohm, 20Hz – 20kHz, 0.08% THD)
8 HDMI inputs and an ARC output — including one input on the front panel — with full HDCP 2.2 support
4K/60 Hz full-rate pass-through, 4:4:4 color resolution, HDR and BT.2020, plus Dolby Vision compatibility and Hybrid Log-Gamma (HLG)
Supports object-based audio formats Dolby Atmos, DTS:X and DTS Neural:X processing

Ability to decode high-resolution audio ALAC, FLAC and WAV lossless files up to 24-bit/192-kHz — plus, DSD 2.8MHz and 5.6MHz tracks let you enjoy music exactly as the artist intended

Built-in HEOS wireless multi-room audio technology
Amazon Alexa voice control via the HEOS Home Entertainment skill
Stream the most popular music services — like Spotify, Pandora, TuneIn, Deezer and many others — via Bluetooth, AirPlay or the HEOS app
Integrated Phono input to directly connect your turntable
Optimize your audio experience with Audyssey MultEQ, Dynamic Volume and Dynamic EQ for a seamless setup within your listening environment
Setup assistant, advanced GUI and Marantz 2016 AVR remote app for an easy out-of-box experience
Built-in Wi-Fi with 2.4GHz/5GHz dual band support