Marantz SR5014
Design -

92%

Audio Quality -

93%

Ports and Connectivity -

90%

OS, Apps and Features -

94%

Price / Quality -

88%
---
Cheapest Places to Buy :
---
For many years Marantz has created amazing audio products and some of the best AV receivers in the market capable of offering top quality and premium characteristics that put all their models on the top of the list for many home theater fans. One such model we will be looking today in our Marantz SR5014 review and as this model is the only full sized receiver in Marantz arsenal that supports 7 channels it will be interesting to see if it can push to the top of this very competitive category.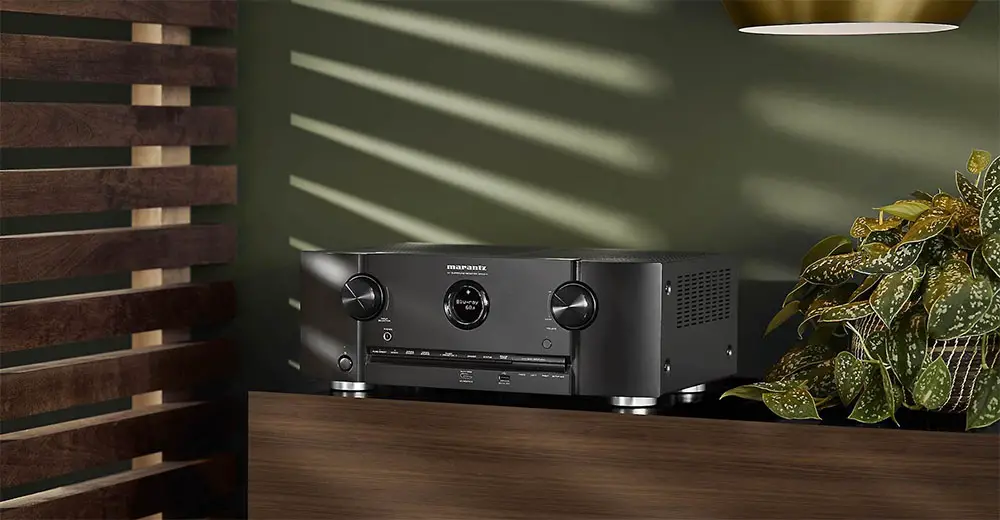 In 2019 Marantz released 4 new models in total, 2 full size and 2 slim models, and the SR5014 is the lower of the two full sized ones with the SR6014 being the other one which we have already tested and you can read our review in the name link. The SR5014 is a 7.2 channels receiver with 100 watts per channel, supports all the usual audio tracks, up-mixing and virtual technologies and comes jam-packed with features, streaming services and extra functions that Marantz is used to add to most of their models including HEOS, Airplay 2, voice control, High Resolution Audio, Audyssey auto calibration and custom integration among others.
And while performance is almost certain to be top notch we are here to determine if the SR5014 is a meaningful upgrade as the 2018 SR5013 is still in circulation and can be found in lower price and how much of a difference can one year make between these two models. If you also take the higher than the competition price that we almost always find these Marantz units then it's clear that the SR5014 has a rough road ahead of it. Can this one make a difference this year? Keep reading to find out.
Design
As it happens with most yearly releases the design that Marantz used for the SR5014 is like for like with the previous years. There is no change at all in the layout, the size or general design and having both yearly releases next to each other doesn't indicate any differences at all. The naming above the front display is the only thing giving away their different versions. So if you have seen any of the previous SR50XX releases then you know what you get here also.
All Marantz receivers have a very distinct characteristic that immediately make you understand it's origins and this is no other than the small circular display at the front of the unit. This along with the slightly curved front left and right corners create a very intriguing design that differentiate itself from the rest more boxy type of AV receivers. The unit comes with the usual two knobs configuration with the right one for the volume and the left for input selection while under the right one we find the IR sensor and under the left one the headphones jack. On the lower left there is a single circular button for powering the unit while everything else is located on the lower middle part of the front face.
Here we get a single line of thin buttons that include Pure Direct, M-DAX, Zone 2 and tuner controls, Dimmer, Status and Sound Mode selection. To the right of this single line there is a closing cap that hides a few front ports that include a composite video input, an analogue stereo audio input and the calibration microphone port. Under all these buttons we get an HDMI input along with a USB port for connecting external storage. Now why these two ports are not hidden also like the rest we believe was done as the HDMI and USB ports are used more frequently than the others and it would be frustrating to have to open this cap all the time.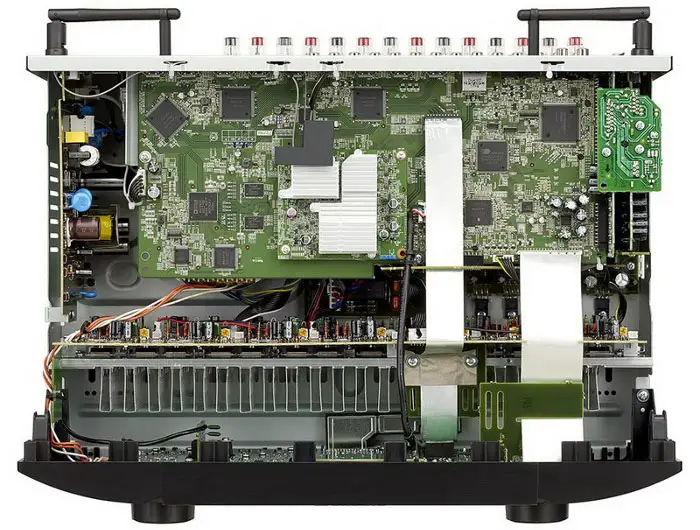 We could not talk about the design without mentioning the excellent build quality that Marantz is so famous for. And it's not only the quality of materials used but what is used inside that show the attention to detail being put into it. As such the SR5014 comes with AKM AK4458 32-bit DACs that are responsible for all audio conversions, it features Marantz's proprietary Hyper Dynamic Amplifier Modules (HDAMs) that deliver ultra-wide-band response and detailed reproduction as well as current feedback circuitry for optimum fidelity and maximum dynamic range. Obviously this model is missing some exotic extras that we had seen in the top tier models but this was to be expected as we go down the price ladder.
Let's take a look at the included remote now. Having so little differences between this and the SR5013 was only natural to use the exact same remote model also which is the RC035SR. The remote is nothing special but it feels sturdy and uses good quality plastic although a bit larger in size than what we would like. The rubber buttons have good size and spacing and they have been grouped logically according to their functionality.
On the top we find most input buttons along with HEOS and Bluetooth, in the middle the usual navigation controls while below we get playback, smart selection and sound mode buttons. We would like to have a backlight function as it is so useful if you mostly watch in the dark and this is our only complaint with it.

Closing this section there is not much we can say as the receiver is in large part the same as last year. The design is the same, the internals are similar and even the remote is the same one. This doesn't necessarily make it bad as the SR5013 was already an amazing piece of audio equipment. The SR5014 follows the same trend for one more year featuring Marantz's top quality even in their lower offerings. If they had included backlight in the remote we would be completely happy but even as such there is not much to gripe about.
Audio Quality
When it comes to what kind of audio formats are supported things are pretty much the same across the board as all new models, at least the full sized ones, come with the same kind of specs in this regard. As such the SR5014 supports all the latest audio formats like Dolby Atmos and DTS:X. There is also Dolby Surround and DTS Neural:X up-mixing technologies that can upmix simple stereo audio tracks into full immersive surround sound.
There is also support for virtual tech and while until 2018 there was only DTS Virtual:X now we also got Dolby Height Virtualization. What these virtual tech does is that it can create virtual speakers in space where there are no actual speakers present and create the illusion of sound with the use of special algorithms and processing. This can be very handy if you cannot place speakers in certain areas like on the ceiling for example. Obviously the result is in no way the same as having actual speakers but it can be a good alternative in many cases.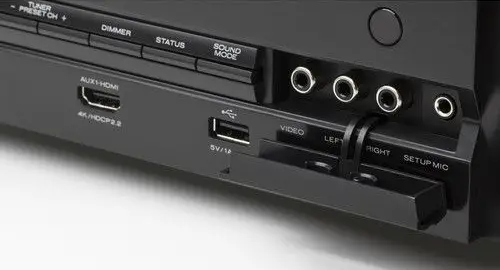 One thing that is worth noting is that Dolby Atmos Height Virtualization can be used for both Dolby Digital as well as DTS audio tracks. On the other hand DTS Virtual:X can be used only with DTS tracks and as a result Dolby's offering seems to be getting the upper hand on this. Also if you want to enable the Dolby Atmos Height Virtualization it can be a bit tricky to find out how to do it as there is no direct button that can enable this.
In order to enable it you will have to first go into the main menu, in the Audio section and find the surround parameter. In there you will find the Speaker Virtualizer that you have to enable first and after use one of the sound modes that use Dolby Surround. This way Dolby's virtualizer will be enabled. Not easy or straightforward at all and even the manual is not very clear with this. Hopefully Marantz will fix this in the future.
The SR5014 features 7 channels of built-in amplification with a theoretical 100 watts of power (8 ohm, 20 Hz – 20 kHz, 0.08% 2ch drive) which is plenty in order to fill a medium sized room without any problem. The receiver is capable of powering dual subwoofer setups which is very common among home theater fans and it's good to see this here also. With the supported channels you can either create a 5.2.2 Dolby Atmos audio setup or if you don't care about the overhead layer then you can go for a 7.2 channels or even the more basic 5.2 setup.
In our case we went for a 5.1.2 Dolby Atmos setup with a single subwoofer and 2 ceiling speakers for the Atmos overhead layer that we positioned in the middle of our listening area. As for the film we tried out this was the 4K UHD version of Midway as we really fell in love with Emmerich's portray of the Battle of Midway. This film amazed us with it's use of surround effects and it has become our new feature testing film.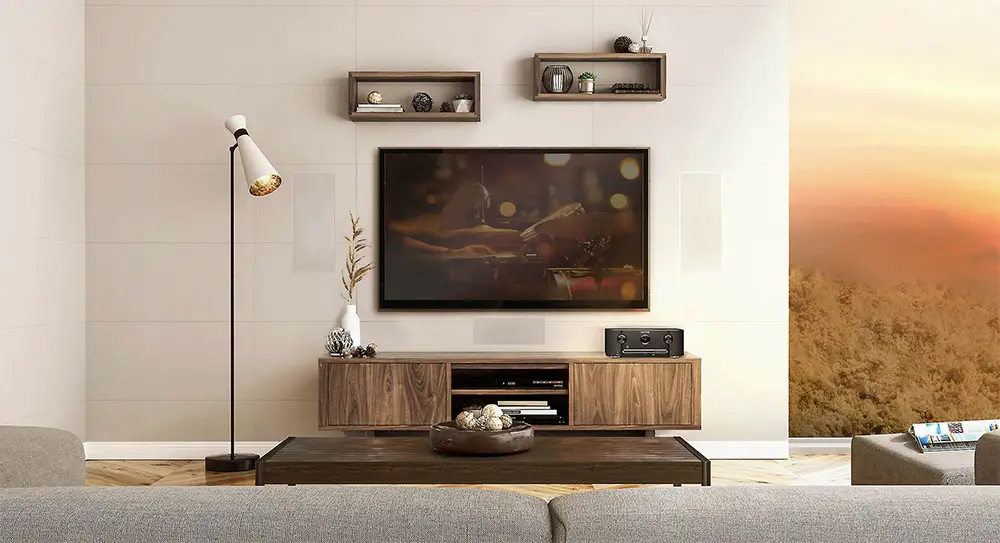 There are plenty of action scenes that we tried out and in all of them we got the same impressive performance. The SR5014 created a very immersive atmosphere all around us as all speakers including the surround and overhead speakers  went into full action. This was not the kind of performance where the surround effects supplement the front soundstage as the camera is literally stuck in the middle of the action and with fighter planes roaring, machine guns bursting and anti-air flank explosions all over the air we got a hectic audio extravaganza with the receiver being able to keep good separation between the channels, precise channel shifting as the camera pans around and very distinct dialogue in the center channel that was never overlapping with the rest of the action.
Such a film could not fail on the low end with explosions in abundance that kept our area shaking like there was no tomorrow. Obviously the kind of subwoofer you have plays a big role in the kind of performance that you get but in our case the receiver was feeding the subwoofer all the necessary information that upped the immersion even more. Clear, dynamic bass was what we got and we could not be more happy than that.
In the music front we also get similar support that we found in the top tier models and as such except from the more usual lossy MP3, WMA and AAC we also get High Resolution Support that is greatly used from those more serious about their music entertainment. FLAC, ALAC and WAV files are supported up to 192 kHz sampling frequency and 24 bit resolution. DSD streaming is also available for both 2.8 and 5.6MHz. As always we prefer to test some FLAC files that we stream through the front USB port.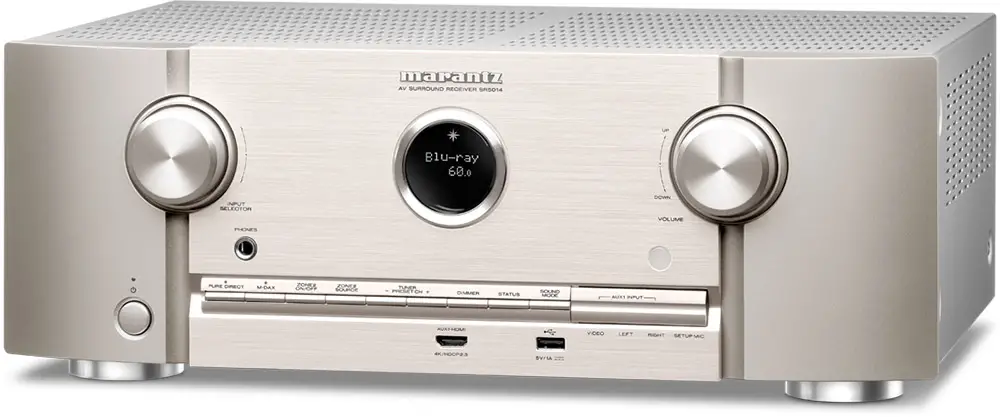 You never get tired of listening to music with a Marantz receiver as most of their units that we have tested over the last few years have managed to perform admirably. The kind of clarity and resolution of sound was really unique while the receiver always kept the whole frequency range in balance with control and precision. Yes, obviously some of the top models can do even better but it wouldn't be a fair comparison with such more expensive audio devices.
The SR5014 did manage to carve it's own identity by giving us a performance that may not be breathtaking but it had the qualities and values that Marantz is trying to imbue in all of their devices. And as a result we got the kind of music performance that we would never get tired of listening. Good precision, great imaging, enough power and excellent handling of space were some of the qualities we saw during this test making the SR5014 an excellent choice for all music lovers.
Marantz never fails to impress us. The SR5014 may be their lowest full sized unit but behaves as something much more. Either you want it for movies or music it will never stop offering you an amazing experience. And if you can pair it with good quality speakers prepare yourself for a treat as it will certainly take advantage of them and offer you an acoustic spectacle.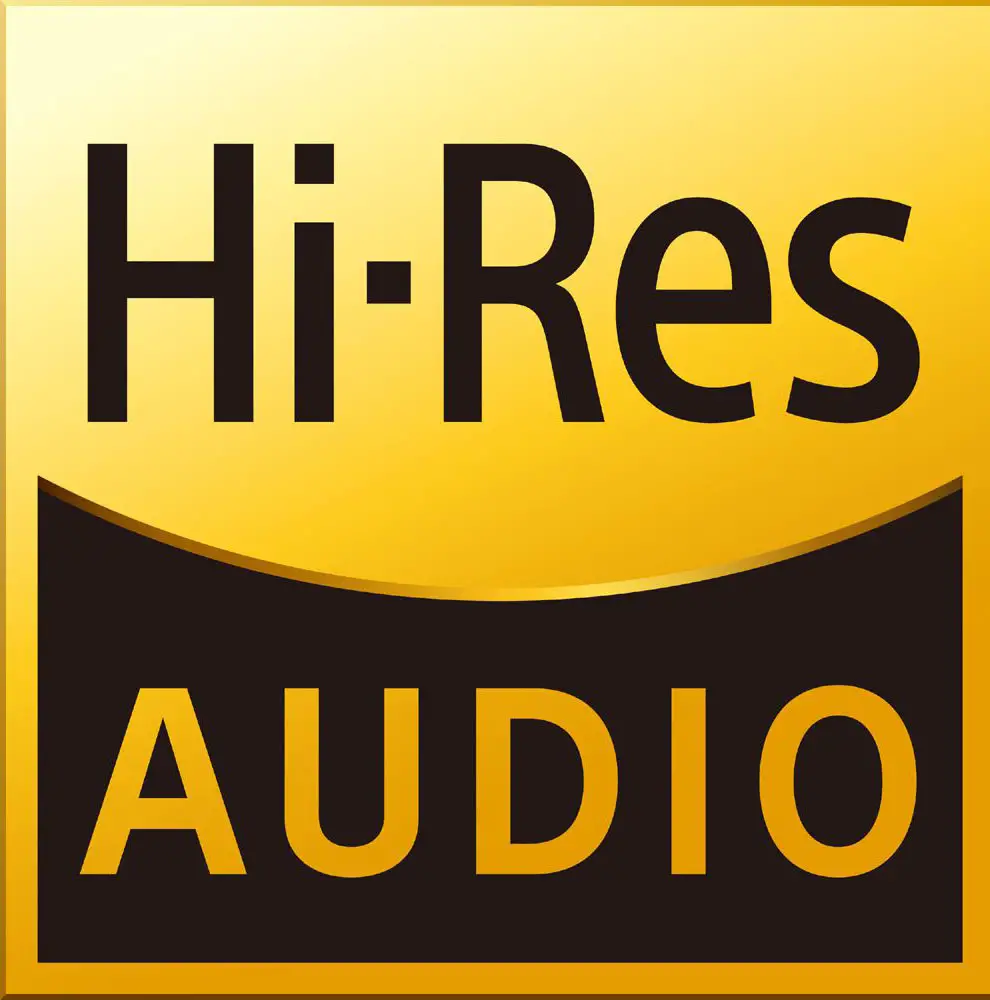 Ports and Connectivity
The SR50XX is a tough model series. On one side it's considered Marantz entry level full sized receiver but on the other hand such a premium device can't be exactly categorized as entry level. As a result finding the right balance of ports and connectivity options is always a bit tricky.
For the sake of keeping everything together we will mention once more the front ports that we analyzed above with the SR5014 having a HDMI input, a USB port for connecting external storage, a composite video input, an analogue stereo input and the Audyssey microphone port.
At the back of the unit we find all other connections and while the SR5014 offers an impressive number of them the 2019 model actually sees a reduction something that we will talk about shortly. First of all we find 7 speaker terminals and all of them can be used with the built-in amplification in order to create either 5.2.2 or 7.2 channels setups. We also get an impressive 7 HDMI inputs along with the additional front one and two HDMI outputs. Plenty of ports in order to connect all your devices.
As far as the rest of the connectivity options we get 2 components video inputs and one output, 2 composite video inputs in addition to the front one and one output, 4 analogue stereo inputs in addition to the front one and one more that is dedicated to phono, 2 coaxial and 2 optical digital audio inputs, 7.2 channels multichannel pre-outs and 1 analogue multi-room output.

As for all the rest we find an Ethernet port, an IR flasher input, an RS-232C port, a 12 volt trigger and the usual FM, AM and WiFi/Bluetooth antenna ports.
The unit also features wireless connectivity as it has built-in WiFi that supports both 2.4 and 5GHz as well as Bluetooth v4.1 for streaming audio.
A few things that need mentioning are firstly the HDMI ports. All of them are HDCP 2.3 which means they support 4K/60 Hz full-rate pass-through, 4:4:4 color resolution, HDR10, Dolby Vision and Hybrid Log-Gamma (HLG), 21:9 video, BT.2020, 3D signal pass-through, HDMI inputs auto renaming, eARC and Auto Low Latency Mode (ALLM) which is new this year.
Now as we mentioned above there is actually a reduction this year as the 7.1 multi-channel inputs that were available in the SR5013 have been completely taken out. The reason is unknown but we guess that in order to keep the cost down Marantz determined that these ports were not very much used nowadays and thus decided to completely remove them. If this was a wise move or not remains to be seen.
So except from loosing the multi-channel inputs is there anything else different compared to the SR5013? Actually there is as the SR5014 come with HDCP 2.3, eARC and ALLM functions that are only available in the newer model.
OS, Apps and Features
Before we start analyzing all the supported features there are a few new additions we got this year that has to do with the HDMI functionality. The first one is called HDMI Auto Rename and this is a pretty handy one. What it does is that when you connect a device to the receiver that also supports this function then the naming of the device will automatically appear on the receiver sparing you the trouble of manually renaming each port which can be very time saving.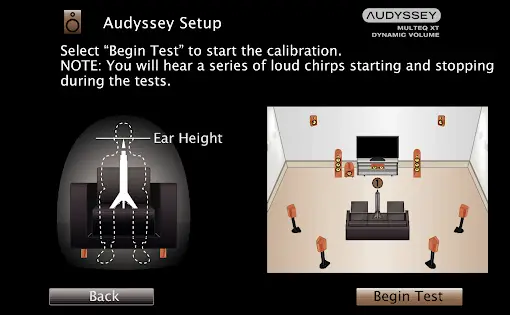 The second HDMI function we get is called HDMI Auto Input Assign and with this you can watch video from an HDMI input while at the same time listen to music from an analogue or digital port. Lastly the SR5014 supports Auto Low Latency Mode (ALLM) which can be very handy for gamers as it can drastically improve response times which can be a crucial element to hardcore gaming. The connected device need to also support this feature for it to work.
Let's now talk about the audio calibration system that comes with this unit. As we have mentioned before all these auto calibration systems are scaled in analogy to the model you get. Marantz's system is called Audyssey and the version we get here is Audyssey MultEQ XT with Audyssey Dynamic Volume and Audyssey Dynamic EQ. The Dynamic Volume balances sudden volume spikes between commercials and TV programs shifts while the Dynamic EQ system helps with keeping the dynamic levels and clarity even at very low levels.
Calibration is not very hard to do as the on-screen instructions are pretty clear and guide you through the whole process. So even if you have not much experience you shouldn't have trouble finishing it. Additionally if you like to go deeper with your system's calibration you can download the Audyssey MultEQ Editor App which offers more options and functions when it comes to calibrating in comparison to the built-in system. If you are very much into these things it may be worth it otherwise the basic wizard is enough. Also we should mention that this app has a one time fee in order to download and can be found for both Android and iOS devices.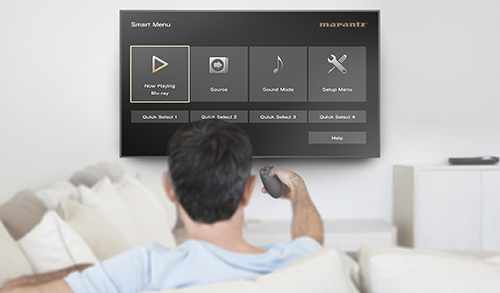 When it comes to mobile apps there is another one that Marantz has created called Marantz AVR Remote app and with this you can control the receiver using your mobile device either it be a smartphone or tablet. The good thing is that this app is entirely free so you can at least download and give it a try as you may find it to your liking.
Let's talk a bit about the User Interface. Not much have changed in this regard and the one we get is as simple as it gets. We have seen a few AV receiver manufacturers trying to refresh a little the UIs they use with better visual designs but not much have changed in the last few years. At some point we hope to get some major visual overhaul but it seems we are not still there. As for the one we do get is simple but well organized with all settings being divided in 8 different categories depending their function. It's relatively easy to navigate your way through all these menus and options so you shouldn't worry with the amount of settings available.
One of the most major functions of the unit is it's multi-room and streaming capabilities. As with all Marantz units we find the HEOS multi-room technology that you can use in order to stream music either online or connect to some other HEOS enabled speakers. In a similar fashion we get Airplay 2 for use by all Apple guys. Airplay 2 is similar to HEOS but is used specifically with Apple devices and Airplay 2 enabled speakers. The receiver also supports up to 2 wired multi-room zones.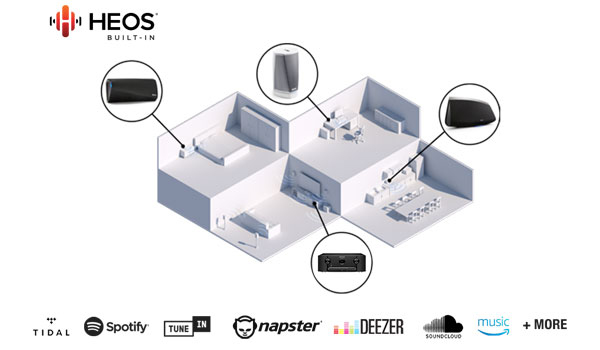 With the receiver you can stream audio through your local network if you have a network server or local NAS or use the front USB port to stream music by connecting an external storage device. Lastly if you like to stream music online there is a wealth of online streaming services that are supported that include Internet Radio, Spotify, Amazon Prime Music, Napster, Pandora, Soundcloud, Tidal and Deezer among others. As you see there are huge streaming possibilities and will surely cover all your needs in this regard.
If you find controlling the receiver through the remote or the Marantz Remote app very old style the unit also comes with voice control. Marantz made sure to include all the major voice control platforms and this means support for Amazon Alexa and Google Assistant. If you use Apple devices there is also Siri that you can use through the Airplay 2 app while we also find the lesser known Josh.ai Smart Home Voice Automation. Obviously you will have to use an external device like an Amazon Echo or Google Home for these to function but the SR5014 covers all bases making it extremely future proof.
Another characteristic feature we find in almost all Marantz AV receivers this year is the inclusion of remote network monitoring and management through the Domotz Pro as well as IHIJI platforms. This way it is easier to monitor the system through a remote location and do troubleshooting which is a nice addition to have for certain situations.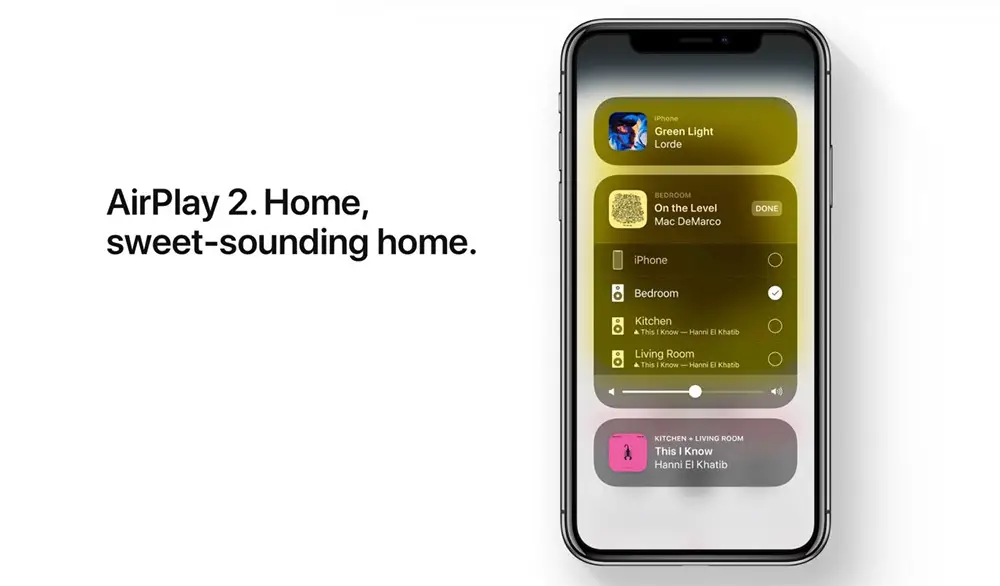 But the features don't stop here as there are plenty more the SR5014 comes with. We also get both analogue and HDMI to HDMI up-scaling in case you want the receiver to make this instead of your TV, it comes with Bi-amp capabilities which is a favorite feature among home theater fans and we also find an ECO mode in case you are more power sensitive and environment friendly.
The unit has the tendency to run a bit hot. Not crazy hot but enough in order for us to make sure that we had plenty of breathing air around it when in use. If you plan on placing this in a cabinet you may have to invest on a cooling solution to be on the safe side otherwise make sure there is plenty of space around it in order to keep it cool. We have seen that even Marantz suggest to use the ECO mode in some of their units in order to keep the temperature at low and less dangerous levels. And with a receiver costing close to the $1,000 mark better to be safe than sorry.
When it comes to extra features and functionality the SR5014 is not missing much compared to it's bigger brothers. Yes obviously there are a few omissions like no IMAX Enhanced support for example but what is missing is not earth shuttering and certainly will not lower the unit's overall value.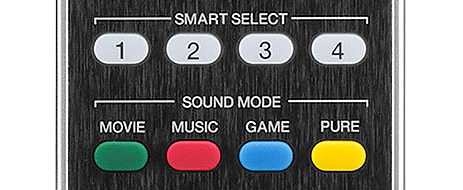 Final Thoughts
Reaching the end of our review what we can say about the SR5014 is that Marantz once again managed to deliver a top quality product. Even though the receiver is only a 7.2 channels one and belongs to the bottom of Marantz's full sized offerings you shouldn't be mistaken that what we have here is a premium device. With it's price hovering around the $1,000 price mark this is not a cheap one and shouldn't be treated as one. But while the receiver costs more than the competition Marantz seems to follow their own strategy to this as they prefer to offer a higher quality product to distinguish themselves from the rest. Now if this remains a good strategy remains to be seen.
The SR5014 managed to impress us with it's blistering performance, it supports all known audio formats along with the usual up-mixing and virtual technologies and comes with a wide list of features and services including the YPAO auto calibration system, High Resolution Audio support, HEOS and Airplay 2 multi-room capabilities, features all known voice control platforms, offers custom integration and has both WiFi and Bluetooth built-in for wireless streaming.
For this year we get slight improvements in the likes of Dolby Height Virtualization, HDCP 2.3, eARC and Auto Low Latency Mode (ALLM).With 7.2 channels and 100 watts of power the receiver can be perfect for any kind of small or medium sized room while features like HDMI up-scaling, Bi-amp and ECO mode complete the list.
Are there any minuses in such an excellent receiver? Obviously there are and the first thing that many will look at is it's price which is far beyond many competing 7.2 channels models. Also the differences between this and 2018's SR5013 are very small and it doesn't justify an update. The remote although of good quality still misses a backlight function which we cannot accept for such an expensive unit while we loose the 7.1 multi-channel inputs which may not bother most but it should still be considered a downgrade in what is offered.
If you are looking for a premium 7.2 channels AV receiver the Marantz SR5014 is the perfect candidate as it has the whole package. Top audio components quality, excellent performance and a wide list of extra features enough to satisfy all needs. The price may be a bit high but Marantz will surely offer you an amazing experience that you will not regret. Highly recommended.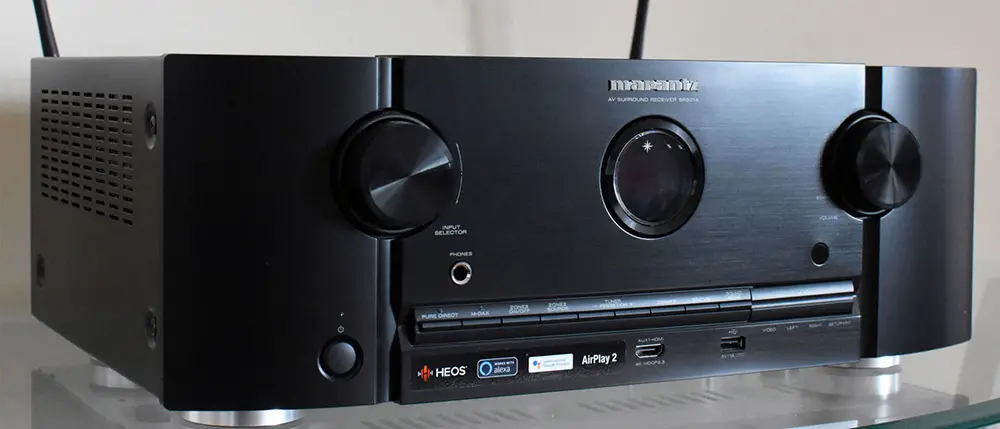 For more reviews you can check our dedicated 7 channels 4K AV Receiver reviews list or even look at our Product Reviews Table where you can find the brand and specific product you are looking for.
Also don't lose the chance to subscribe to our Newsletter and gain exclusive privileges.
---
Cheapest Places to Buy :
---
Marantz SR5014 Specifications