Marantz SR6014
Design -

96%

Audio Quality -

95%

Inputs / Ports -

94%

OS, Apps and Features -

96%

Price / Quality -

85%
---
Cheapest Places to Buy :
---
Things are running a little bit slow lately in the AV receivers front and this mainly has to do with the fact that there are not many new technologies coming out that manufacturers can include in their new releases. To be honest a few yearly releases offer so little extra compared to last year that it's not even worth considering. Even so most manufacturers seem to stick with their planned yearly releases and try to include every last bit of new tech they can in order to keep their new models relative. Such a model is the one we test today in our Marantz SR6014 review focusing on this new 2019 model that tries to offer us more than just a repacking of last year's already excellent SR6013.
In 2019 Marantz released 4 new models to replace it's 2018 models, with the SR6014 and SR5014 being the full sized replacements as well as the NR1710 and NR1510 being the new slim sized models. At first sight things don't seem very different as you will have to dig a bit deeper to actually find the new updates the 2019 SR6014 has compared to it's predecessor but once we analyze all the differences it's up to you to determine if this new release from Marantz is worth of your attention or you can settle with one of the previous and naturally cheaper offerings.
Usually we see yearly refreshes have minor improvements but the SR6014 has a couple of additions that may be worth looking at. So without further delay let's get started.
Design
The SR6014 is based on the previous SR6013 both in terms of construction as well as software so large portions of our review will be very similar to our SR6013 article. One section that seems to be exactly the same is the design of the unit and if you have read our SR6013 review then you mostly know what we will say here so this part is mostly for those that are looking for a new AV receiver instead of those that are looking if it is worth it to upgrade. Differences in this regard are not existent.
Taking this out of the way the SR6014 features the same design that the last few SR60XX models have that are very distinct of Marantz with their circular display in the middle with two big turning knobs, one at each side. The right knob is for volume control while the left one is for input selection. Under the left knob we find the power button while close to the right knob there is an IR sensor. All other buttons as well as front connections are hidden behind the central hatch that is located directly under the circular display and thus keeps the general look of the SR6014 very clean and tidy. Also it keeps the buttons and connections dust free which is a plus.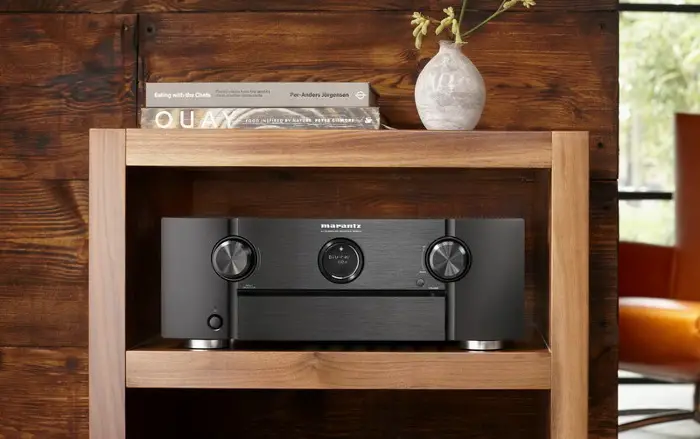 Both the type of buttons and general layout inside the hatch is exactly the same as before and as such what we get is a group of buttons placed in a straight thin line and include Pure Direct, M-DAX, Zone 2 and tuner controls, Dimmer, Status and Sound Mode selection. Under these we get a few ports that can be very handy for easy and fast access that include the usual headphones jack, the Audyssey calibration microphone port, a USB port for connecting external storage, an HDMI input for easily connecting input sources, a Composite video input as well as an analogue stereo input. We really like Marantz's layout as it gives you a little bit of everything in the front that can make your life so much easier.
But if looks and design is one area that the SR6014 excels the other has to be in the components used that make this receiver tick. Marantz is known for using high quality audio components and this one here is no different. Using AKM AK4458 32-bit D/A converters, HDAM circuit boards and Current Feedback circuitry for optimum fidelity and maximum dynamic range seems to be a usual thing for the SR60XX model range.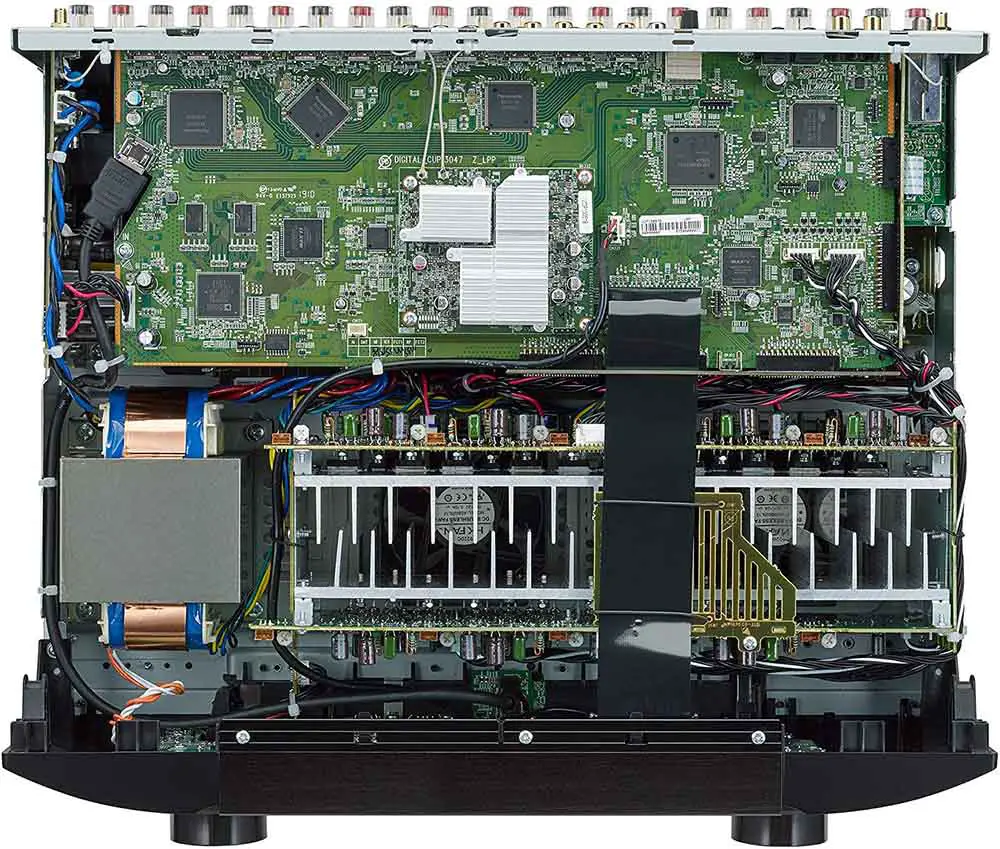 Also we get what Marantz calls a Hybrid PLL Clock Jitter Reducer for more pristine sound that is immune from disruptions of the surrounding circuitry. As it becomes clear to you from all the above Marantz puts a lot of attention to their hardware in order to ensure the best possible acoustic result that the manufacturer is so famous of.
Let's see the remote that comes with SR6014 now. The one we get here is exactly the same one that we tested last year that came with the SR6013 which is the RC035SR. There is no changes whatsoever so our opinion on it remains largely unchanged. It is a big remote compared to some others we had seen but it remains a good and functional one.
The general buttons layout is very good and compared to some other brands it doesn't feel so much cramped with buttons that you most probably will never use. At the top we get the input sources, navigation buttons in the middle and a few smart selection as well as sound mode buttons on the bottom. A very simple and practical layout that is easy to remember very quickly from the very beginning.

Buttons feel very responsive when in use and have a nice rubber feel to them. Spacing between the buttons is satisfactory so you will have no problem pressing the correct one even in dim environments. If there is one minus that we can find is that there is no backlight function which is definitely hurting it's usability but at least the buttons are luminescent and thus have a light glow in the dark that can help a little.
Closing this part our opinion stay largely unchanged from last year. Things in the design and hardware are pretty much the same and this is not a bad thing. The SR6014 is a premium device and as such Marantz made sure to use the best possible audio components to keep in at the top of it's game. The same can be said for the remote that is a very solid offering even if it looses a bit from not having any backlight function.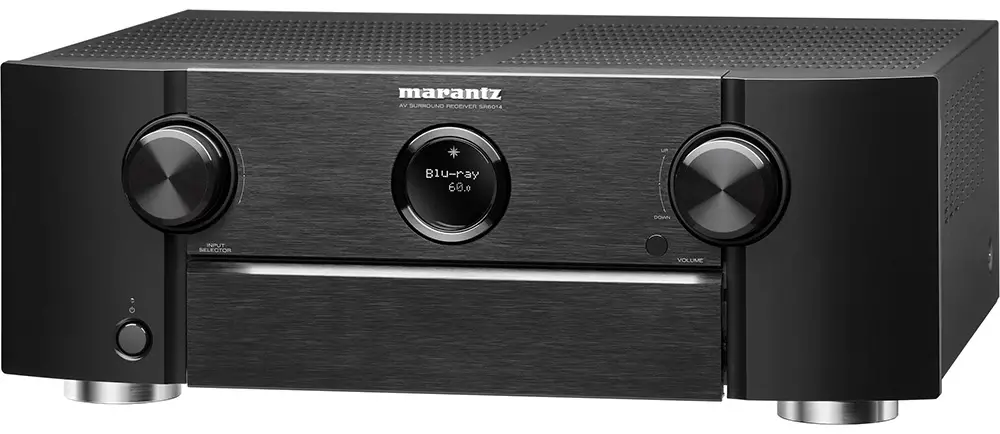 Audio Quality
The SR6014 supports a wide range of audio formats from the old Dolby Digital and DTS all the way to the latest Dolby Atmos and DTS:X. There is also support for both Dolby Surround and DTS Neural: X up-mixing technologies and what these do is to upmix simple stereo audio tracks into full blown surround sound.
What is new this year comes in the way of virtual technologies. Until last year the SR6013 was supporting only DTS Virtual:X. From this year we also get Dolby Atmos Height Virtualization. What both these features do is to create the illusion of height effects without the presence of actual ceiling speakers. This can be great for those that don't have the ability to use any kind of Atmos ceiling speakers but would like to experience the extra immersion this elevated layer brings.
What should be noted is that Dolby Atmos Height Virtualization can be used for either Dolby Digital or DTS tracks while DTS Virtual:X can be used only for DTS tracks which is a bit puzzling and may turn the tides towards Dolby's offering. Another thing we should point out is that enabling the Dolby Atmos Height Virtualization can be a bit puzzling to many as there is not a direct option with this name anywhere to be found.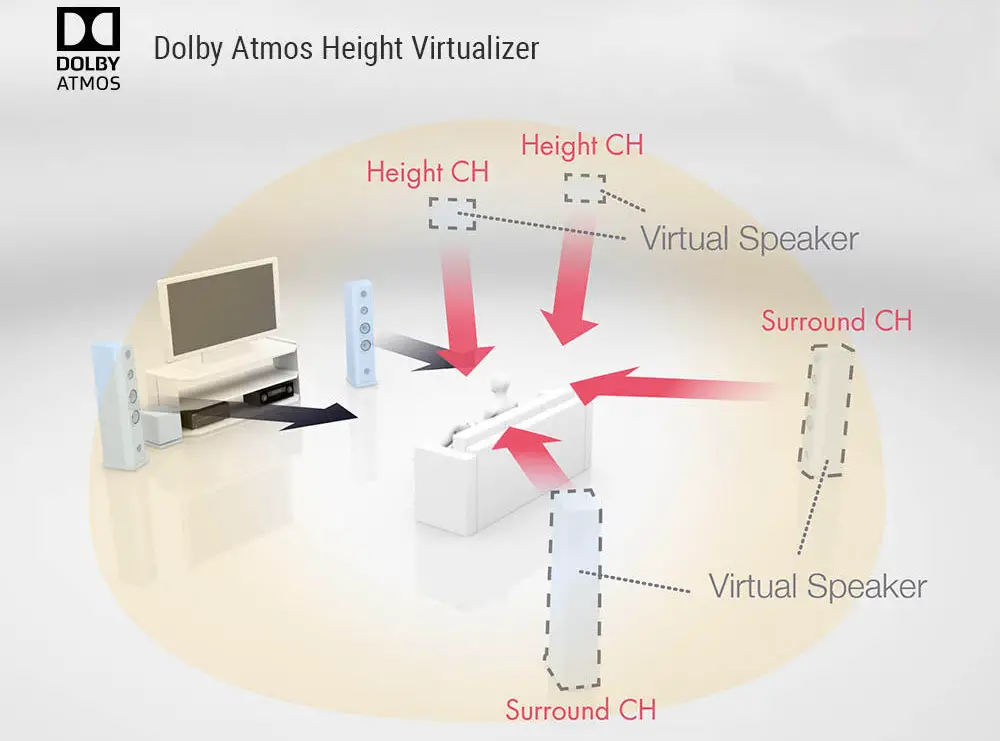 It took us a while to figure it out but basically you need to find the Speaker Virtualizer option in the Audio menu under the Surround Parameter and enable it and after use one of the sound modes that includes Dolby Surround. Not very easy or practical and we hope Marantz will improve how you can enable this feature in the future.
When it comes to amplification things remain the same as last year as the unit has 9 channels of built-in amplification with each channel having a theoretical 110 watts of power (8 Ohm, 20 Hz – 20 kHz, 0.08% 2ch Drive) plus the ability to connect 2 subwoofers which is very common among home theater fans. As such this receiver is capable from simple 5.1 audio setups all the way up to Dolby Atmos enabled 5.2.4 or 7.2.2  setups with 4 or 2 overhead speakers. The good thing is that the unit can also support an 11.2 setup but you will need an external amp to drive the last two channels which can up the cost considerably.
For this particular review we decided to choose the 4K UHD version of Bumblebbe as the Dolby Atmos track that we find in the disc will provide us with the necessary material needed to flex the muscles of this fantastic receiver. So we popped the disc into our Panasonic UHD player and checked the opening scene with the battle of Cybertron.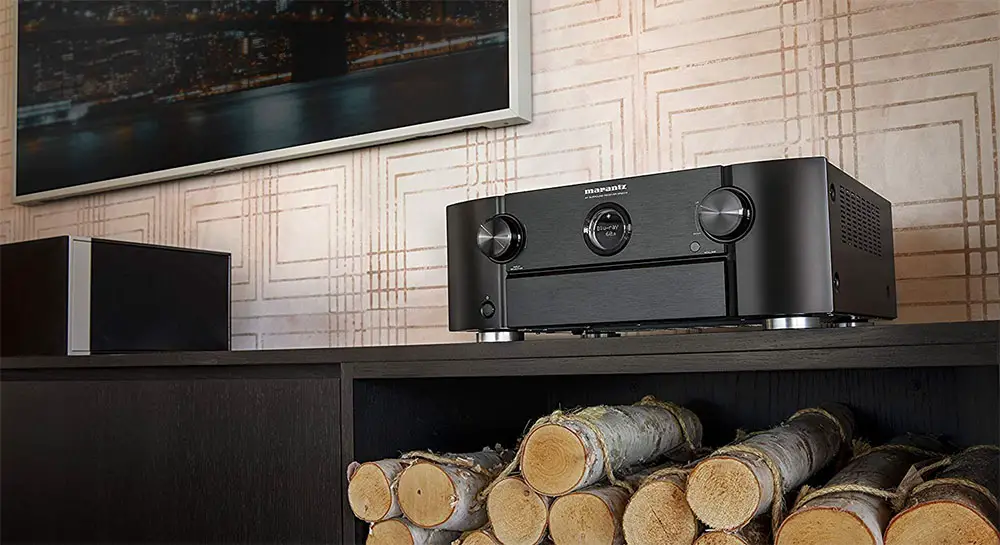 In this scene Autobots and Decepticons are in an all out war and it gives us the perfect opportunity to hear what this receiver is all about. The result in one word? Spectacular. Audio effects are in abundance here with explosions and laser fire taking center stage and the receiver felt like it was right at home with this one. Bass was very authoritative while the SR6014 made sure to feed all the speakers with the necessary information that resulted in an immersion bubble with us right in the middle of it.
Plenty of projectiles flying around here with sound traveling along the channels with great precision and resolution while the center channel provided the necessary dialogue without it being overlapped in any way by the rest of the mayhem as it remained clear and distinct throughout the scene. The Atmos speakers as well as the surrounds had a pretty busy time and felt very active during our session. Especially the Atmos effects were great with jets flying above our ears which made us more than one time turn our heads to find from where the sound was coming. The soundtrack of Bumblebee is a prime example of sound engineering and the SR6014 makes sure to reproduce it so good that creates a very powerful result.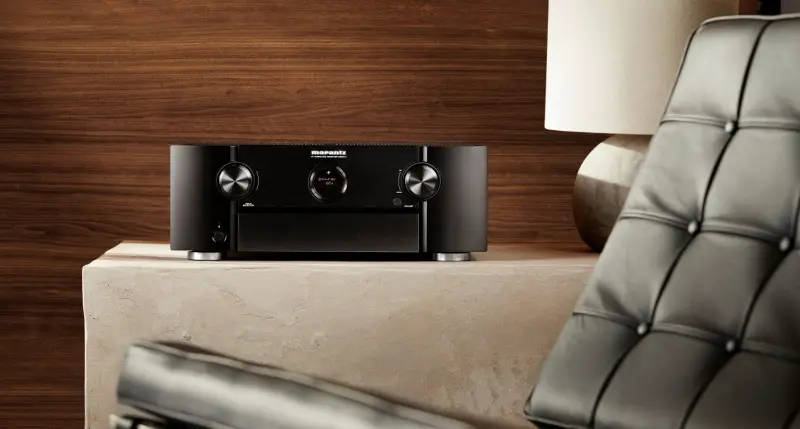 The kind of performance we got was exactly what we expected from such a model as Marantz has really got us used in similar performances from their units and it was particularly interesting that no matter how much we pushed the volume to undesirable levels the receiver never felt like loosing control or balance which was very characteristic throughout the whole dynamic range.
The unit also supports the most usual audio formats that include the lossy MP3,WMA and AAC but if you are a more hardcore audiophile then the SR6014 got you covered there also as the receiver is High Resolution Audio capable with FLAC, ALAC and WAV files up to 192/24 being supported. DSD streaming is also available for up to 2.8 and 5.6MHz. In our case we made a selection of FLAC audio files that we streamed through the USB port in order to test the music performance of the receiver.
Having basically the same hardware as in the last few releases means that when it comes to it's music performance things haven't changed a bit. Marantz receivers are known for their musicality and this continues with this one as the unit managed to give as the kind of clarity, and precision that we only find in the most premium of AV receivers. You could hear where each musical instrument was placed into space while fast shifting between channels was precise giving you an amazing experience.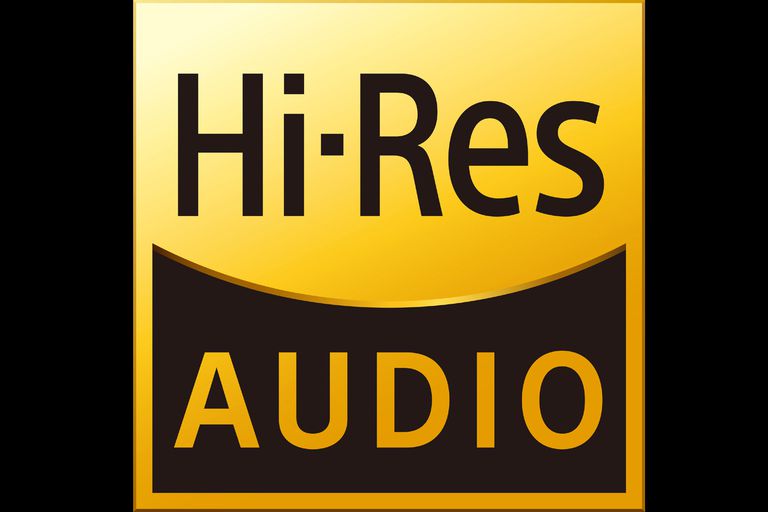 The receiver will deliver no matter the kind of music you like to hear the most with excellent mid-range that is encompassed by a satisfying low range and very rich highs. If music is your thing then afraid not as the receiver is serious about your enjoyment and will make sure to deliver even in the most demanding situations.
Inputs / Ports
When it comes to connectivity the SR6014 really packs a lot of value. In general the SR60XX models the last few years come with the same connectivity options and the 2019 offering is no different. A side by side comparison show that the SR6014 and last year's SR6013 come exactly with the same ports.
We mentioned a bit earlier in our review about the frontal ports that we get under the center hatch that include a headphones jack, the microphone calibration port, a USB port, a HDMI port as well as a composite video and analogue stereo inputs that can be used for fast and easy access.
Now turning the unit around what we get on the back side is truly impressive. The unit comes with an impressive 7 HDMI inputs and 3 HDMI outputs which is the same number as before. But this year all of them are supporting the newer HDCP 2.3 which means 4K/60 Hz full-rate pass-through, Dolby Vision compatibility, HDR, HLG and BT.2020.

There is also eARC support but this year we also get HDMI Auto Low Latency Mode (ALLM) that can be used with an Xbox and a TV that supports it in order to provide a more responsive behavior to your commands. There are also 11 speaker terminals but only 9 can be used with just the receiver as you will need an external amp in order to drive the last couple of channels. As such the SR6014 can either do a 5.2.4 or a 7.2.2 Dolby Atmos setup with it's internal amplification.
As for the rest of the ports let's take a deep breath and keep counting. There are 5 analogue stereo inputs with an additional analogue stereo port dedicated for phone, 7.1 analogue inputs and 11.2 analogue pre-outs ports. We also get 3 composite video inputs and 1 output, 2 component video inputs and 1 output, 2 optical and 2 coaxial digital audio inputs, 1 remote control input and 1 output, 1 IR flasher input, 1 RS-232C input, 1 12V trigger, an Ethernet port for internet connection and lastly antenna ports for the WiFi, Bluetooth and radio tuner. Feww…
The number and type of ports remain exactly the same with the only difference being the HDCP 2.3 enabled HDMI ports that also support ALLM. The SR6014  can really satisfy even the most demanding users with the amount of connectivity options available. There may be a couple of very specialized ports missing that are kept for the top models but what is available will be more than enough for most people looking at this price range.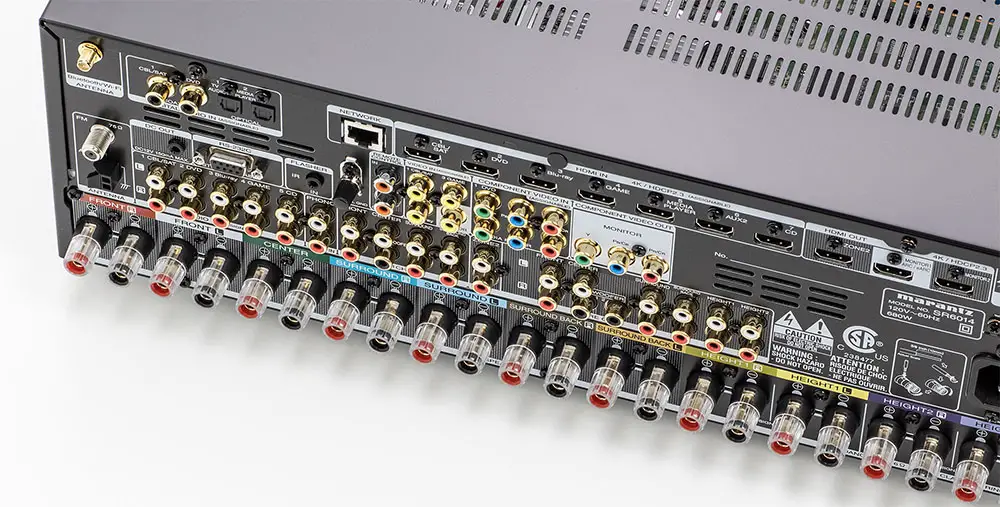 OS, Apps and Features
When it comes to features the SR6014 comes with everything we got last year but Marantz even managed to squeeze a few extras to sweeten the deal. So let's start because we have a lot of ground to cover here. The receiver supports 4K/60Hz full-rate pass-through, 4:4:4 color resolution, HDR and BT.2020, plus Dolby Vision compatibility and Hybrid Log Gamma (HLG) which is a HDR protocol for streaming content. The receiver can also upscale SD content both from the HDMI and analogue inputs to 4K resolution that can output through the HDMI outputs.
And since we are talking about the HDMI ports we should mention a couple of new features we get this year as their functionality has expanded a bit. Firstly we get HDMI Auto Input Rename which does as the name says. If the connected device also supports this then you will be spared the trouble to rename your HDMI ports manually something that can save you a bit of time. The other new feature is HDMI Multiple Input Assign and what this basically does is that you can watch video from an HDMI input while at the same time listen to music from an analogue or digital input port.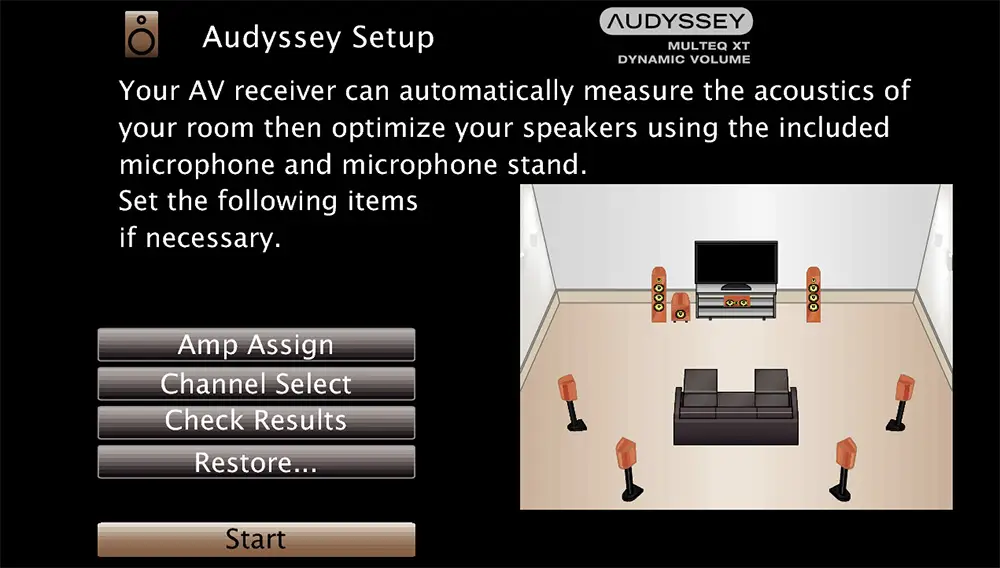 When it comes to audio calibration Marantz uses their own Audyssey system that depending on the model they scale accordingly in order to offer more features and options. In the case of the SR6014 we get the Audyssey MultEQ XT32 that also includes Audyssey Dynamic Volume that balances sudden volume spikes between TV programs and commercials shifts, Audyssey Dynamic EQ that helps to keep the dynamic levels and clarity even at low levels, Audyssey LFC and Audyssey Sub EQ HT.
Calibration can be done either through the built-in UI or alternatively you can download the Audyssey MultEQ Editor to your mobile device and make calibrations that way. The app is available both for Android and iOS devices and offers much more options that what the built-in editor has. The only major downside is that Marantz has a one time fee for the app which we find disappointing especially when you pay such a premium price for this AV receiver. At least for the most premium models they should provide some download code for free as a bonus for the purchase.
When it comes to apps there is another one available that Marantz created and you can use to control the unit instead of using the remote. Although we still prefer the traditional remote it's good to have this as an extra option and at least this one is for free so you can download and test it to see if you like it yourself.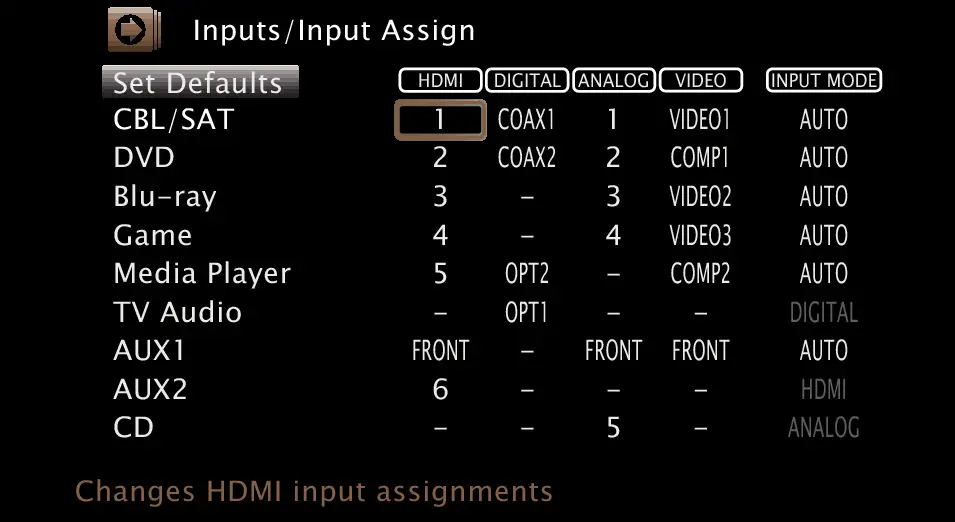 The User Interface on the other hand is the same one we have seen Marantz using for many years. Now you may say that what is not broken doesn't need fixing and we couldn't agree more but we live in an age of visual interactivity and at least a visual overhaul would be nice to have especially when we see how much TV manufacturers have progressed in this regard. AV receivers feel like they have been stuck in the past. But while menus and options look very old fashioned everything is well organized and easy to find. If this is your first AV receiver it may take a while to get your bearings but if you have a bit of experience you will find everything relatively fast.
One thing we should mention is how hot the SR6014 runs. This thing can get damn hot to the point we were afraid that something might burn inside so you have to make sure the unit gets enough ventilation either if you plan to have it in a closed closet or in some open cabinet. Make sure breathing space is plenty around it and if you can get some cooling solution it will be preferable. Even Marantz suggests that you use the available ECO feature that makes the unit regulate it's power automatically which can lower the overall temperature and little.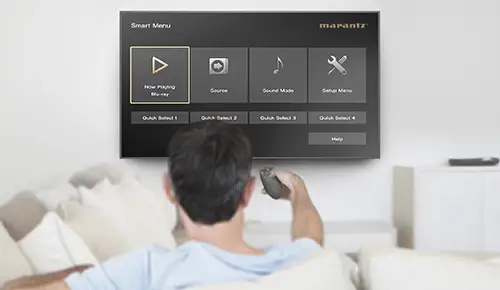 The unit comes fully packed when it comes to connectivity features as the receiver has built-in WiFi with dual band (2.4GHz/5GHz) capabilities as well as Bluetooth. If you prefer a wired connection because of weak signal then an Ethernet port is also available but in our case the wireless connection was excellent and we didn't experience any problems.
Having these connectivity options means that the SR6014 comes with strong streaming capabilities as it can stream audio either from a NAS drive that is connected to your local network or from one of the many online streaming services available that include Internet Radio, Spotify, Amazon Prime Music, Napster, Pandora, SiriusXM, Tidal and Deezer.
But online is not the only streaming options you get as you can also use the front USB port and stream audio from a connected external storage. With Bluetooth also available you can stream music from a smartphone or tablet while the receiver also supports Apple's Airplay for streaming audio from Apple devices. Plenty of options available which vastly increases the value of the unit.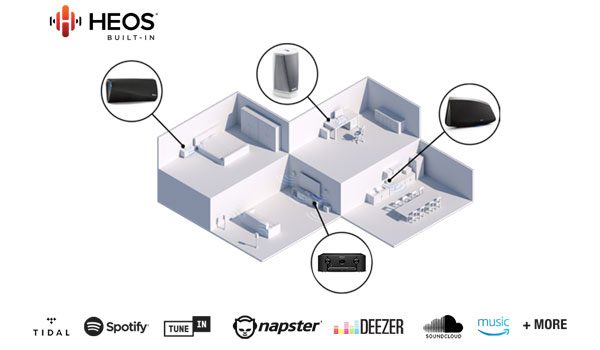 Multi-room capabilities are also strong in this one as we get the HEOS multi-room audio technology that lets you connect the receiver with HEOS enabled wireless speakers around your house. Also you have the option to use AirPlay 2 that is a similar technology created by Apple and can use it in conjunction with AirPlay 2 enabled equipment.
And while 2-3 years ago voice control options were still rather limited it seems that slowly it becomes the normal to support all major services available. This means that this year we get support for both Amazon Alexa and Google Assistant but also Apple Siri and Josh.ai Smart Home Voice Automation. Of course you will need an Amazon Echo or Google Home in order for these services to work but if you happen to have one of these then your remote can be a thing of the past as you can have complete hands-free control over your receiver.
Another feature that first appeared last year and continues in this one is the inclusion of remote network monitoring and management through the Domotz Pro and IHIJI platforms. These will allow you to monitor the unit while being remotely connected and troubleshoot on the go from a separate location which can be very handy is certain situations.

Lastly it should be mentioned that the Marantz SR6014 is an IMAX Enhanced product but we still don't have a clear idea what this will be from a consumer point of view as IMAX Enhanced content is still not commercially available at the time of writing this review. But having this stamp definitely future proofs it for when content is released which is for sure a plus.
And this concludes this part of the review and as you can see this receiver offers so many features and functionality that you will be hard to find something missing making it ideal for any demanding user.
Final Thoughts
We have said the same thing in our previous SR60XX model reviews and we will say the same this year. The SR6014 is an amazing unit that manages to offer so much even if the price seems a bit high compared to some other manufacturers. First of all when it comes to design and build quality one more year Marantz is using the best possible audio components that would result in the best possible acoustic result. When it comes to functions and features the unit basically is similar to what we got last year but adds a few extras that may or may not be important to you.
The SR6014 offers breathtaking performance, it supports all known audio tracks as well as up-mixing and virtual technologies with Dolby Atmos Height Virtualization being the new feature we find in this new release. HDMI functionality has also been enhanced with the addition of HDMI Multiple Input Assign and HDMI Auto Input Rename features but also by the inclusion of HDMI Auto Low Latency Mode (ALLM).

Everything else remains the same like excellent streaming and multi-room capabilities with HEOS and AirPlay 2 as well as the inclusion of a plethora of new and legacy ports that are enough for any kind of setup. Controls include the full package offering remote, app and all known voice control services while the list of included extras goes on and on with features like Bi-Amp capability, content upscaling, ECO function and the IMAX Enhanced stamp.
The downsides also remain the same as we would still like to see a backlight enabled remote while the price is a bit on the high side especially if you take the competition into account that offers much lower prices in this segment.
Closing we will tell you this. If you are an owner of any of the previous recent SR60XX series then upgrading to this one doesn't make much sense unless one of the new features greatly interests you. On the contrary if you are looking into buying a new receiver then the Marantz SR6014 is an amazing piece of audio equipment and although you will have to pay a premium price for it we would buy this one with closed eyes any time. Our higher recommendation for this amazing product.
For more reviews you can check our dedicated 9 channels 4K AV Receiver reviews list or even look at our Product Reviews Table where you can find the brand and specific product you are looking for.
Also don't lose the chance to subscribe to our Newsletter and gain exclusive privileges.
---
Cheapest Places to Buy :
---
Marantz SR6014 Specifications