---
Cheapest Places to Buy :
---
A month ago we started reviewing the new batch of AV receivers from Marantz for the second part of 2018 starting with the lowest model in the SR series, the SR5013 which left us with very good impressions as far as performance is concerned. Now it's time to make one step up the ladder of the SR series so for today we will be reviewing the next in line which is the SR6013. Last year's SR6012 was an amazing AV receiver and we expect to find similar kind of performance here. But the right question is what kind of improvements does one year bring? Lately we are used to see small improvements on each model every year in order to keep them fresh and updated with current technologies.
And it seems that the SR6013 follows the same trend as a first look from the spec sheet indicates that the differences between the two models are not that big and you have to look carefully to find them. But looking at a specs list never reveals the whole truth so the time to test this new piece of hardware has arrived. Is this new AV receiver a worthy upgrade or there is little improvement to be found here? Find out in our Marantz SR6013 review.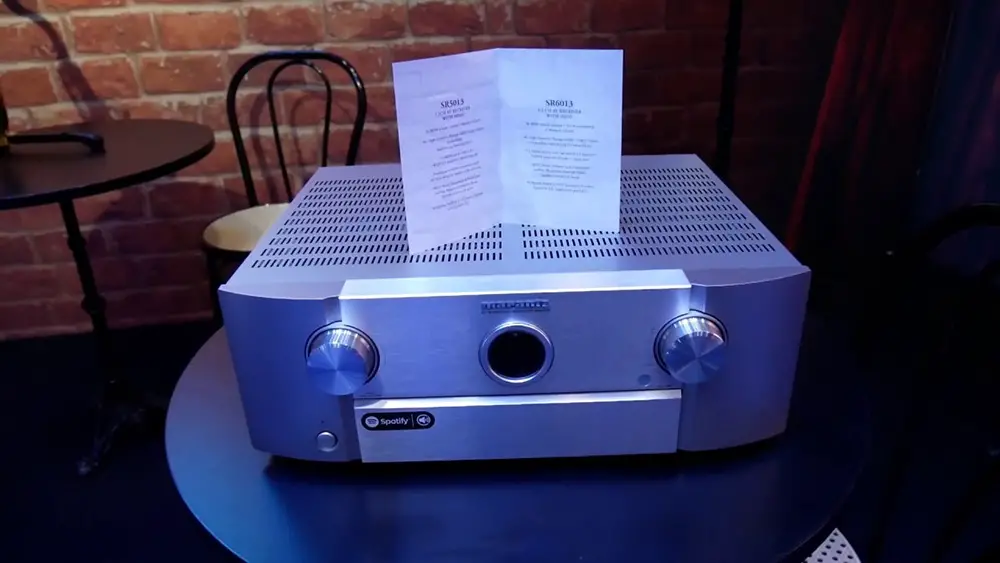 Design
Something we see most AV receivers manufacturers do a lot is to use the same chassis in their models for a few good years. Since changes in hardware and specs are small nowadays there is no reason to create new designs that would probably add to the cost. As a result the SR6013 has no difference whatsoever from last year and the only way to distinguish the two models is the model number above the front display screen that has the characteristic circular design Marantz has used us seeing. The front panel houses two big turning knobs, one for the volume and one for the input selection while under the left knob there is a single button for power.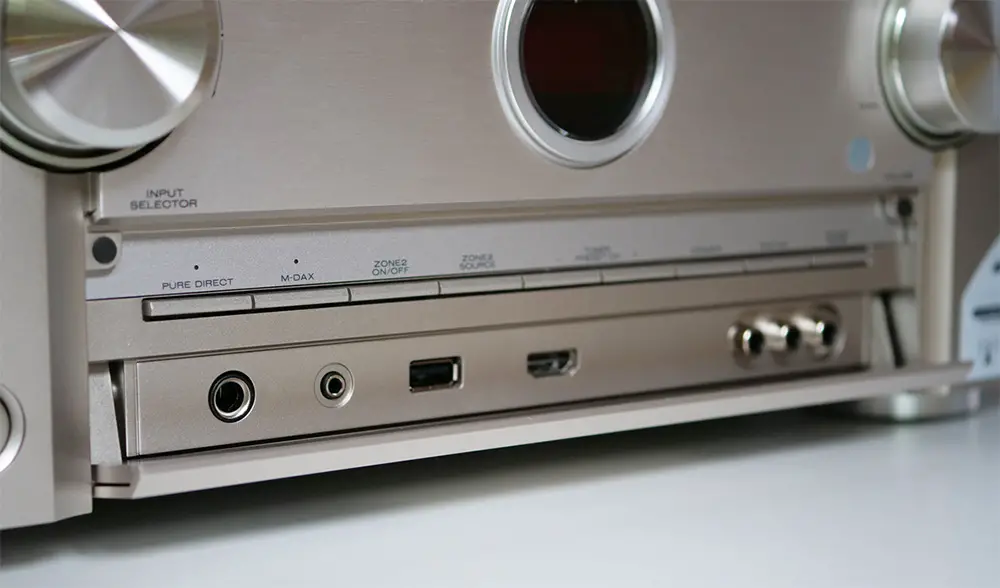 Everything else is placed under the front central hatch that keeps everything hidden and dust free. Most probably you will never touch these buttons so we applaud Marantz for hiding all of them and keeping a more minimalism design. Under the hatch we find a thin row of control buttons that include zone 2 control, status, sound modes, pure direct and D-MAX control. Under these we find a group of frontal ports for easy and fast access and here Marantz decided to place a headphones jack, a USB port to connect external storage, a HDMI port, a Composite Video input and an analogue stereo input along with the calibration microphone port. The rest we find in the back and we will talk about them in our dedicated section.
Marantz always advertises the quality audio components they use in their AV receivers in order to achieve the best audio outcome and as such they have equipped the SR6013 with AKM AK4458 32-bit D/A converters, HDAM circuit boards and Current Feedback circuitry for optimum fidelity and maximum dynamic range. There is also a Hybrid PLL Clock Jitter Reducer for pristine sound that's immune to disruptions in the surrounding circuit environment. All these show that Marantz put their extensive knowledge on audio reproduction in good use and offer us the consumers amazing products as they have done for many years now with their AV receivers.

The remote that comes with the SR6013 is exactly the same as last year as no new functions that would require a new design are present. Our opinion therefore remains the same as what we get is a rather simple but at the same time functional design. The buttons present are the ones needed the most and it doesn't feel cramped with buttons that you will never use. They are separated into functional groups so at the top we get the inputs, in the middle menu navigation buttons and on the bottom a few smart selection and sound modes buttons. Simple design that makes it easy to remember the layout after a bit of use. The buttons have a nice rubber feel, they have enough space between them in order not to accidentally push the wrong one and although there is no backlight function the buttons are luminescent and glow a bit in the dark that help a little.
Build quality is very high and we are pleased with the design that Marantz uses. No visible changes for another year but upgrades lately are very small to justify a bigger change that would affect the chassis design also. Don't fix what is not broken is the right motto here and we are fine with it as long as the quality is as it should.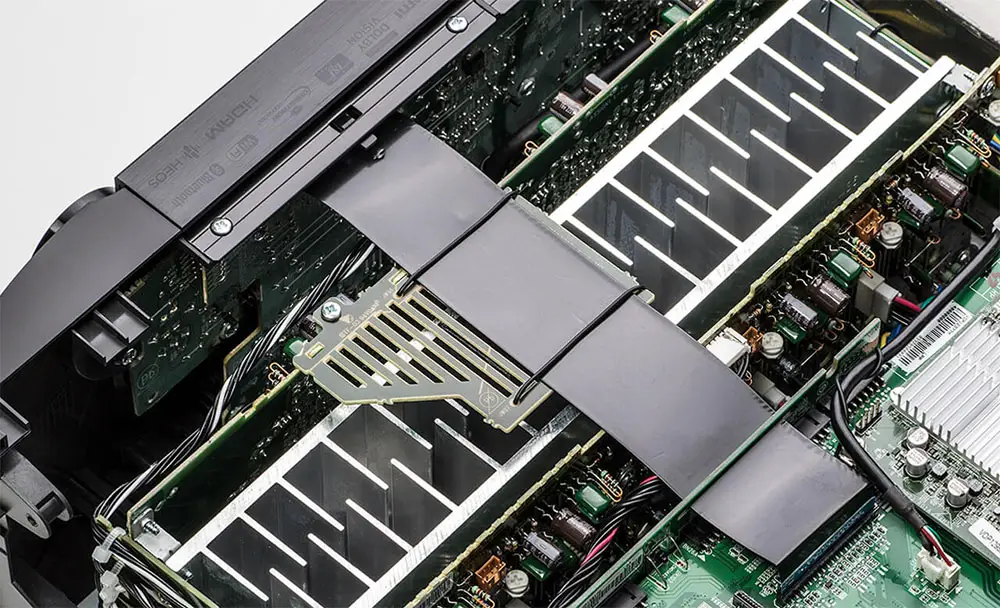 Audio Quality
The SR6013 supports a wide range of audio tracks up to the latest Dolby Atmos and DTS:X as well as up-mixing technologies like DTS Neural:X and DTS Virtual:X. What these up-mixing technologies do is to create surround sounds from virtual speakers from a non surround audio track. DTS Virtual:X for example can create height effects when there are no height speakers present. The result depends on a lot of things and can range from very good to very bad so it's not a given thing that they offer better immersion at all times. Unfortunately one omission is Auro-3D and we will have to step higher in the model ladder to find support for this.
SR6013 has 9 channels of built-in amplification with 110 W of power per channel (8 Ohm, 20 Hz – 20 kHz, 0.08% 2ch Drive) plus 2 subwoofer ports and as a result we can create a lot of different setups like a 5.2 or a 7.2 configuration while if you want to take advantage of the height effects you can go for a 5.2.2, 5.2.4 or a 7.2.2 configuration. You also have the choice to go for a 11.2 audio setup but for the last two channels you will have to use an external amp. For our testing we went for a 5.1.4 audio setup with 1 subwoofer and 4 height speakers in order to create a more immersive height layer.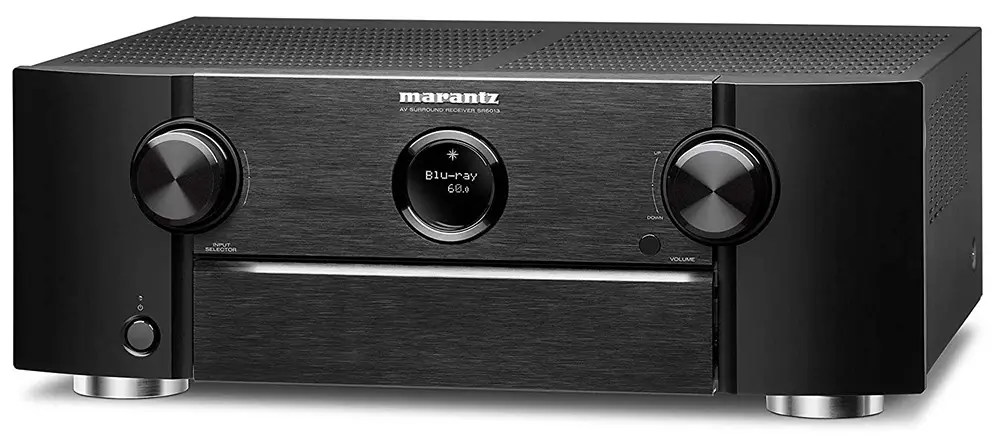 The movie that we chose for our testing is Battleship in 4K UHD resolution as the disc comes with an explosive DTS:X audio track that really holds nothing back when the action kicks in and is also good for testing surround effects reproduction. We popped the disc in our Panasonic UHD player and selected a few action scenes to see the receiver's behavior.
The SR6013 behaved exactly as we were expecting. Having tried both the SR5013 but also the previous year's SR6012 we more or less knew what to expect from a receiver of this caliber. During the first encounter of the navy destroyers and the alien ship a barrage of explosive pegs are launched towards one of the destroyers creating very distinct surround effects both behind and above the viewer. When the pegs explode and cut the destroyer in half the subwoofer makes the whole room shake as debris from the explosions fall all around in the water.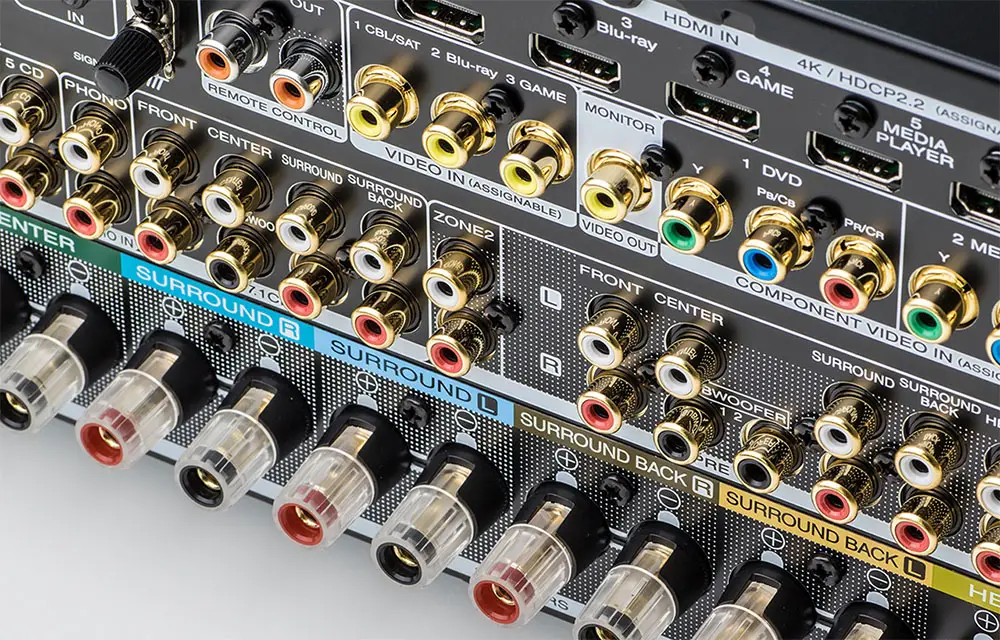 Another scene we like to try is during the last confrontation between the alien shield ship and the USS Missuri. The energy emission of the alien shield put all speakers into overdrive with it's energetic sound it was producing while the menacing electronic sound of the alien targeting system would give you a sense of it's alien nature. When projectiles start to fly between the two ships the receiver handles the channel shifting with great control and precision. Height speakers were relatively busy also and as a result create an immersion bubble that felt higher than ever before.
Dialogue was also very distinct and clear and at no point did we feel like the rest of the effects were covering the center channel. With the SR6013 we get 110W of power and although it's a small boost compared to our previous testing with the SR5013 it really felt like we had here a bit more of legroom in order to stretch the receiver just a bit more. By no matter how high we would go the SR6013 felt like it was always in control in all the dynamic range giving a very nice and balanced performance.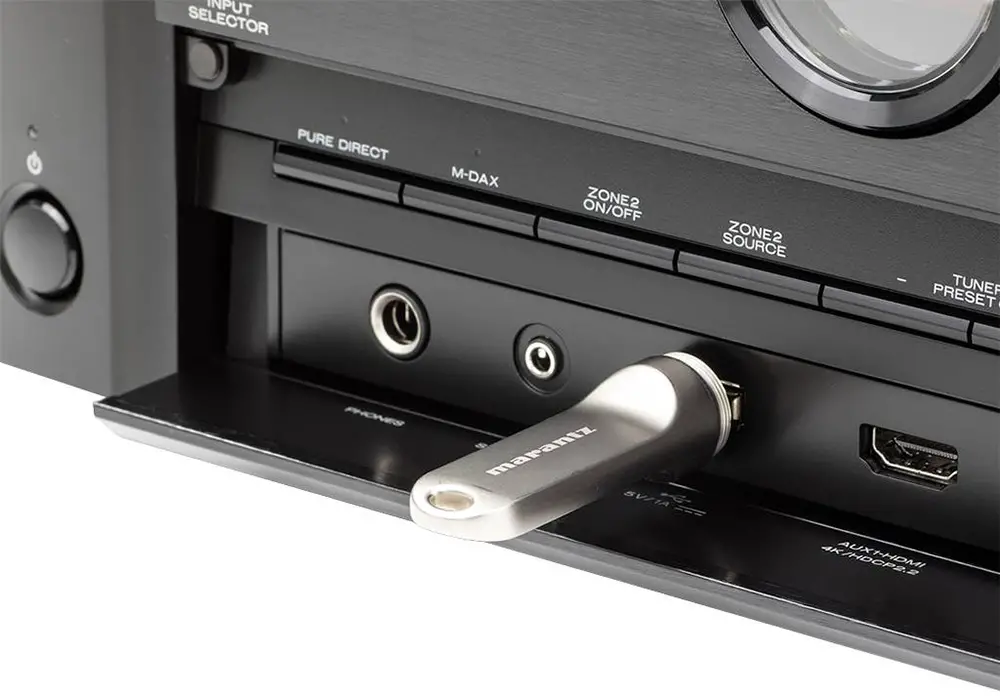 In this range it is natural to find support for a wide range of audio tracks and this is true here also as the SR6013 supports lossless and lossy audio formats that include MP3, WMA, AAC, FLAC, ALAC, WAV, FLAC HD 192/24 bit, WAV 192/24 bit, ALAC 192/24 bit as well as DSD streaming (both 2.8 and 5.6MHz). In order to test the music performance of the receiver we connected our external storage with a few selected FLAC music tracks and let the receiver to show us what it can do.
The music capabilities of the receiver are very characteristic of a Marantz product. Exceptional clarity, good and precise shifting between the channels, great spatial awareness, excellent bass reproduction, good mid-range and accurate highs are the key points that summarize the music performance of the SR6013. We liked so much how it performed that we spent more time listening to music than we were planning to. This receiver means business, it's an excellent piece of audio equipment and will really shine in any kind of home theater and audio setup. We could not be more than happy from such a product.
Inputs / Ports
Last year when we checked the SR6012 we were pleasantly surprised by how many connection ports it offered. You could literally not find any empty space for anything extra and seeing this year's SR6013 we immediately understood that we get once again the same exact setup which is not a bad thing by any means.
As we mentioned above there are a few ports we get in the front of the receiver under the center turnable hatch that include a headphones jack, the microphone port, a USB port, a HDMI port, a composite video input and an analogue stereo input making them easy to access for various situations.
In the back now the view is really impressive. Let's start with the most obvious. We get an amazing 7 HDMI inputs and 3 HDMI outputs with all of them supporting HDCP 2.2 that means 4K/60 Hz full-rate pass-through, Dolby Vision compatibility, HDR, HLG and BT.2020. There are 11 speakers terminals but only 9 can be used with internal amplification and thus can create either a 5.2.4 or a 7.2.2 audio setup. For the other 2 channels you will need to add an external amp in order to get the full 7.2.4 setup as we mentioned above.

We also get 5 analogue stereo inputs, 1 dedicated analogue stereo input for phono, 7.1 analogue inputs and analogue pre-out ports. Above these there are 3 composite video inputs and 1 output, 2 component video inputs and 1 output, 2 coaxial digital audio inputs, 2 optical digital audio inputs, 1 remote control input and 1 output, 1 IR flasher input, 1 RS-232C port, 1 12V trigger, an Ethernet port for wired connection to the internet as well as the antenna ports for the WiFi and the radio tuner.
It's amazing how such a receiver can pack so many ports and we are definitely happy with what we get as there is something for everyone. Even the most demanding user will have a hard time to find something missing and this is an achievement by itself. Most connectors are gold-plated which shows how much attention to detail Marantz puts even into the ports. Again excellent work on their behalf.
OS, Apps and Features
Feature wise having already tested the SR5013 we see that the SR6013 has almost similar specifications. As such the SR6013 supports 4K/60Hz full-rate pass-through, 4:4:4 color resolution, HDR and BT.2020, plus Dolby Vision compatibility and Hybrid Log Gamma (HLG) which is a HDR protocol for streaming content. We also find 4K upscaling support of SD and HD content even though most 4K TVs can do that by themselves very efficiently.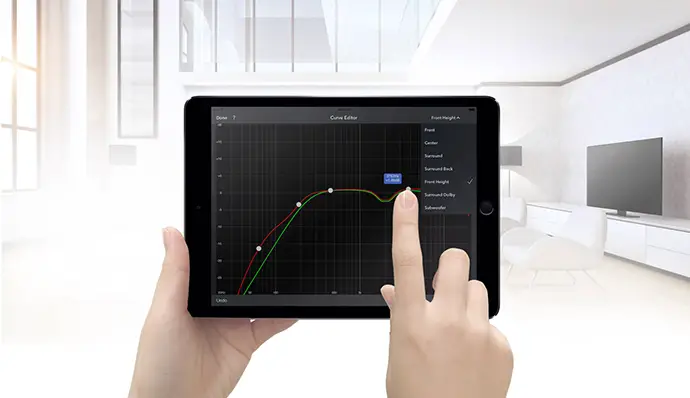 The SR6013, as with the whole series, comes equipped with the Audyssey MultEQ audio calibration system that is an advanced audio setup calibration system that can be used by both experienced but also casual users. These calibration systems have been improved a lot the last few years and thus the results can be more than satisfactory if you are not an experienced calibrator. Of course for those familiar will still prefer to set up their system manually but nevertheless it's a very good system that gives an extra hand to those that need it.
The Audyssey suite includes the Dynamic Volume feature that balances sudden volume spikes between TV programs and commercials shifts while the Dynamic EQ feature helps to keep the dynamic levels and clarity even at low levels. Calibration can been done through the built-in UI but Marantz has also created the Audyssey MultEQ Editor that you can use with either an Android or an Apple device and download it from the respective store. This editor can let you calibrate every aspect of your system and offer a much better visual interface than what the receiver's UI has. The only downside is that you have to pay for the app a one time fee which is definitely a puzzling decision when you already pay so much money for such hardware.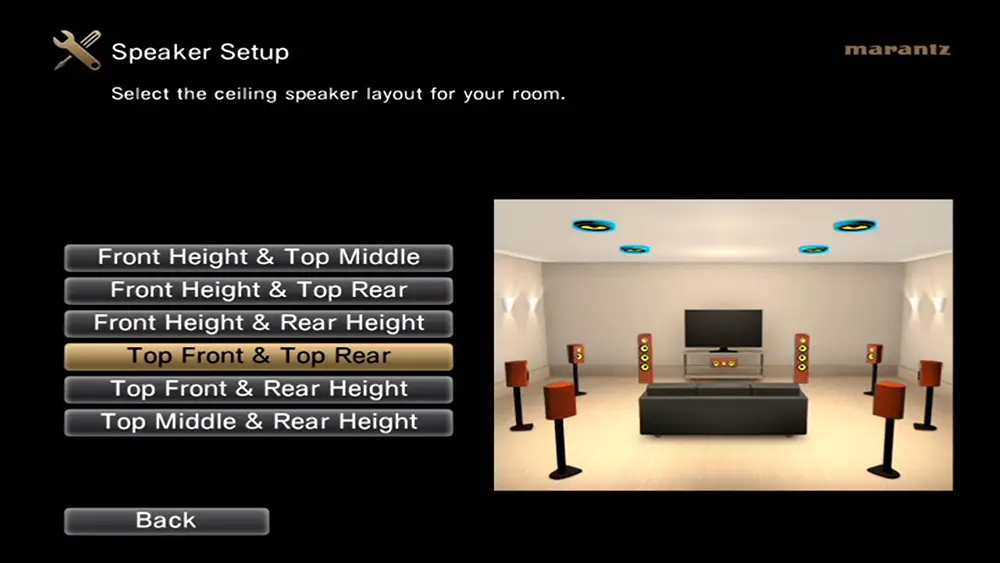 For general control the SR6013 also supports the Marantz 2016 AVR remote app that you can also find in Android and Apple stores and grants you access to all functions and features through your tablet or smartphone. This app is at least free to download so you can try it out to see if you like it more than the traditional way of controlling the receiver.
And speaking of control the SR6013's visual interface has everything organized into categories making all features and function settings easy to find. Living in an era where visuals are a dominant part of every electronic device we would love to see Marantz update the visuals and offer a more pleasing to the eye environment. We have seen great improvements on this from TV manufacturers so we believe it is time for AV receivers to follow too.
Once again we find an ECO feature with it's Auto and Off options. This feature minimizes power consumption whenever possible by letting the receiver to manage it's power output. This feature can be turned off if you want to get the maximum power this receiver can produce.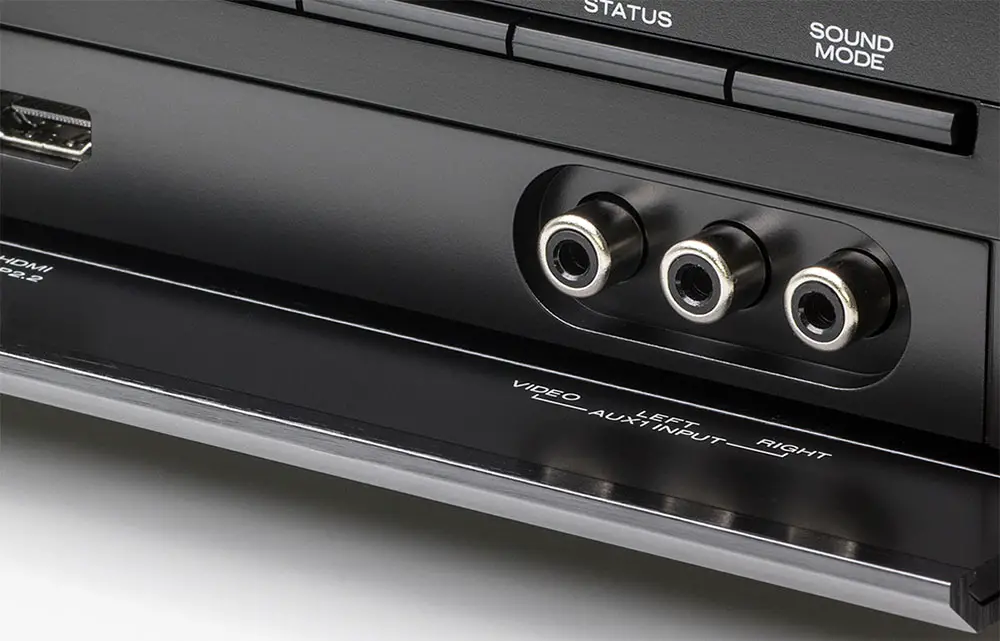 Of course a receiver like the SR6013 would support streaming and as such you can either stream from a NAS server from a local network or from the internet from a long list of supporting streaming services that include Spotify, Napster, Deezer, Tidal, Pandora, SiriusXM and Sound Cloud as well as TuneIn internet radio.
Connecting to the internet can been done either wireless through the built-in WiFi that supports dual band 2.4GHz/5GHz or through the Ethernet port in the back of the receiver. Wired connections are always preferred but we tried streaming through WiFi and we didn't have any problems although this may have to do with the fact that the router was relatively close to the receiver.
You can also stream audio files through the USB port that is placed at the front by connecting some external storage. With Bluetooth support you can also stream music from a smartphone or tablet while another streaming option is through Apple's Airplay. Plenty of streaming options here and this only give more options to the users.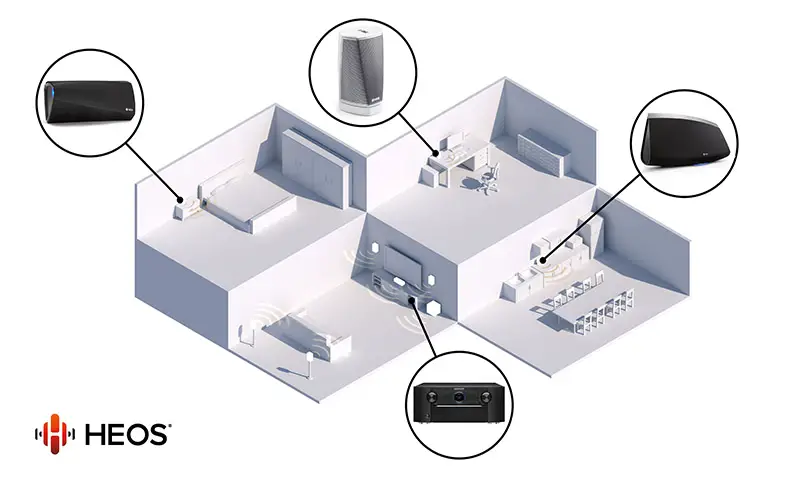 Multi-room music playback is a given now and the SR6013 naturally would support it through the HEOS multi-room audio technology that lets you use other HEOS enabled speakers throughout your house to be connected to the receiver for music playback. A new feature that Marantz added this year to the SR series is Apple's Airplay2 which basically is the same thing as HEOS technology and thus giving you more options when it comes to multi-room functionality.
New this year to the SR series is also support for Amazon Alexa voice control via the HEOS Home Entertainment skill and with it you can control various functions and features of the receiver through an Alexa enabled speaker like the Amazon Echo. Giving simple commands like input selection, volume control and streaming can now be done hands-free. We have tried this feature before with other Marantz receivers and it seems to be working rather good if you like this type of control.
Lastly a unique feature we find with the SR6013 that was not present either in last year's SR6012 or this year's SR5013 is support for the remote network monitoring and management platforms of Domotz Pro and IHIJI. These platforms allow you to to monitor the status of a connected product like the SR6013 and troubleshoot remotely from a separate location or on the go.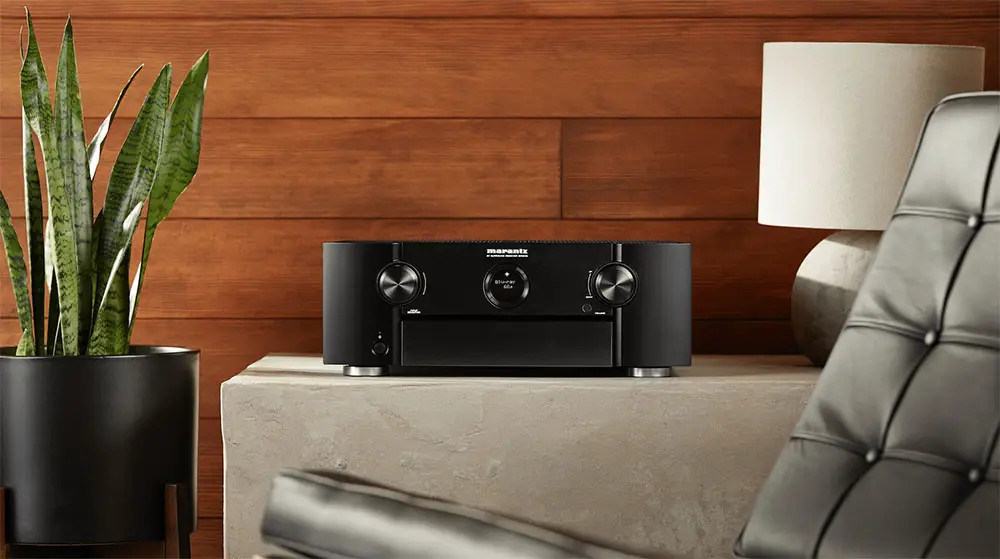 The Marantz SR6013 is fully packed with features and it is truly amazing that even though the SR6012 had so many they still managed to add a few more this year. Obviously it shows that with so many functions already it is becoming more and more difficult to add new ones every single year but anything they add it's a plus no matter how small the difference.
Final Thoughts
Last year we were praising how good that model was. Things haven't changed much for this year as the SR6013 is a small update of last year's model. Offering amazing audio performance of all next generation audio tracks like Dolby Atmos and DTS:X and support for DTS Neural:X as well as DTS Virtual:X. We also get support for 4K/60Hz full-rate pass-through, Dolby Vision and HLG compatibility and a wealth of online and streaming services. The Audyssey suite provides a great means for calibrating your system as precise as possible while HEOS and Airplay2 let you create your own multi-room speaker configuration. The back of the receiver is jam packed with next generation and legacy ports enough to satisfy all needs.
It is really hard to find some bad points in this receiver. But if we had to nitpick we would like to have a remote with backlight functionality as well as a bit lower price in order to be a little more competitive in this price range.
Closing we would say that the SR6013 is a marginal upgrade of last year's SR6012. It had a few added features like DTS Virtual:X, Airplay2, Alexa support and Domotz Pro/ Ihiji remote platforms compatibility but with a firmware update Marantz has added most of these to the SR6012 also making their difference even more marginal. Everything else seems to be the same so it all depends on the price difference and which you can get for cheaper. But if you are looking for a new receiver and you want to balance cost with performance and features then the Marantz SR6013 is an amazing choice. Price could be better but you will find us almost always complaining about the price. For one more year Marantz has created an amazing home entertainment audio device.

For more reviews you can check our dedicated 9 channels 4K AV Receiver reviews list or even look at our Product Reviews Table where you can find the brand and specific product you are looking for.
Also don't lose the chance to subscribe to our Newsletter and gain exclusive privileges.
---
Cheapest Places to Buy :
---
Specifications
9.2 channel AV receiver with 110 W per channel (8 Ohm, 20 Hz – 20 kHz, 0.08% 2ch Drive)
8 HDMI inputs (incl. 1 front) with full HDCP 2.2 support; 3 HDMI outputs
Analog to HDMI conversion and full rate 4K upscaling
4K/60 Hz full-rate pass-through, Dolby Vision compatibility, HDR, HLG and BT.2020
Three-dimensional audio formats Dolby Atmos, DTS:X (up to 7.1.4 with an external 2ch amplifier) and DTS Virtual:X for height virtualization effects
eARC (Enhanced Audio Return channel) supports the transmission of 3D audio from your TV apps with a single HDMI connection
Stream music from Internet Radio, Spotify Connect, Pandora, SiriusXM, Amazon Music, TIDAL, Deezer and more with Bluetooth, Airplay2 or HEOS built-in
Built-in Wi-Fi with 2.4GHz/5GHz dual band support
Enjoy multi-room whole-home audio streaming with HEOS technology
Amazon Alexa voice control via the HEOS Home Entertainment skill
Marantz 2016 AVR remote app for control over the latest generation of Marantz network AV Receivers. Available on iOS and Android
High-resolution DSD (2.8/5.6MHz), FLAC, ALAC and WAV support
AKM AK4458 32-bit D/A converters, HDAM circuit boards and Current Feedback circuitry for optimum fidelity and maximum dynamic range
Suite of Audyssey room correction software: Audyssey MultEQ XT32, Dynamic Volume and Dynamic EQ, LFC and Sub EQ HT
Seamless out-of-the-box experience with Quick Start Guide, guided Setup Assistant and Marantz AVR Remote app
Hybrid PLL Clock Jitter Reducer for pristine sound that's immune to disruptions in the surrounding circuit environment