Marantz SR7013
Design -

94%

Audio Quality -

96%

Inputs / Ports -

96%

OS, Apps and Features -

95%

Price / Quality -

92%
---
Cheapest Places to Buy :
---
It seems that 2019 is in general a slow year for AV receivers as we see manufacturers struggling to offer any meaningful upgrades over last year's already feature rich models. A prime example of this, is the receiver we will be looking at today from Marantz. A few months ago, just as Marantz was ready to release their 2019 lineup we tested one of the top receivers for 2018 with the SR7012 offering spectacular performance and features making it one of our favorite AV receivers so far. We briefly mentioned the differences that the SR7012 and the new SR7013 seemed to have but now it's time to look more into this year's offering.
Make no mistake, the SR7013 is not for everyone as we are talking about a monster 9.2 channels receiver with a high price directly placing it in the premium category of AV receivers. The SR7012 and SR7013 have more in common than you may think so large parts of this review will be similar with what we had already wrote for last year's model and our thoughts remain almost the same. But with so few additions compared to last year is it worth it to pay such a premium price when the SR7012 sells at a reduced cost? And what additions do we find this year that add to such an already extensive list of functions and features? Keep reading our Marantz SR7013 review as we put to the text what could be one of the best AV receivers for 2019.

Design
The SR7013 is a huge receiver that keeps exactly the same design as last year. It measures 17.3 x 16.2 x 7.3 inch (440 x 411 x 185 mm) and weights 31.1 lbs. (14.2 kg) making it one of the bigger ones we have tested so far. With such a size be ready to place it in a cabinet that has enough ventilation as well as enough breathing space around it because it is bound to produce a lot of heat. The SR7013 is a serious piece of equipment and you should handle it accordingly.
We like very much the design it has. At the front we get the familiar knobs for volume and source selection on the right and left of the characteristic round display that we see in Marantz receivers. Under the round display there is an opening hatch that hides all buttons and ports and make the receiver keep a very clean and minimalism look while it's front panel has nice curved edges giving it a bit style.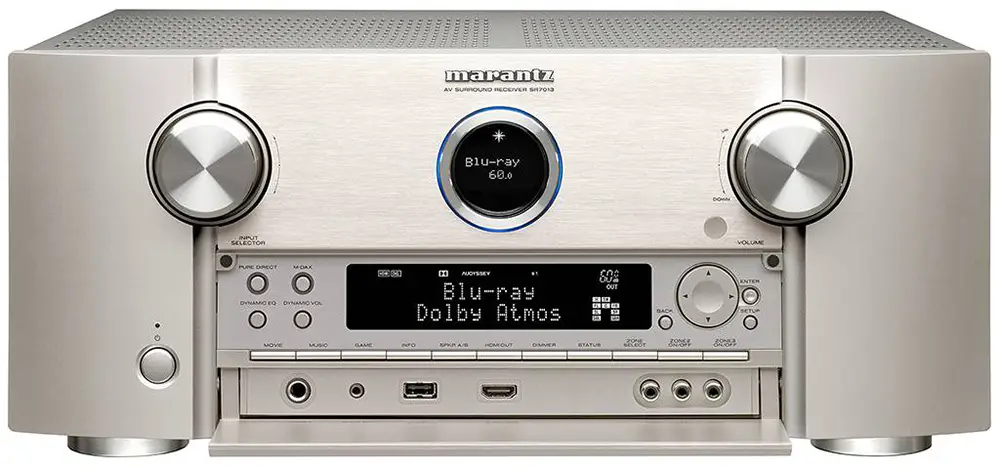 Opening the front hatch we are presented with a plethora of control buttons as well as with a second display screen that provides more detailed information than the circular top one. We still question how often you will be using all these buttons but nevertheless having them for those few ones that will be using them is never a bad thing. On the left we find a group of four buttons for Pure Direct, the MDAX2 audio enhancer and Audyssey Dynamic EQ and Dynamic Volume features while on the right side of the screen there are the usual menu navigating buttons.
Under the screen there is a thin line with 11 buttons for various functions like sound modes, zone 2 control, status, HDMI and dimmer among others. Under these we get all the frontal ports which include a headphones jack, the microphone input for audio calibration, a USB port for connecting external storage, an HDMI port for easy connection of input sources, a composite video input along with 1 analogue stereo input covering all the basic connections you may need to have easy access to.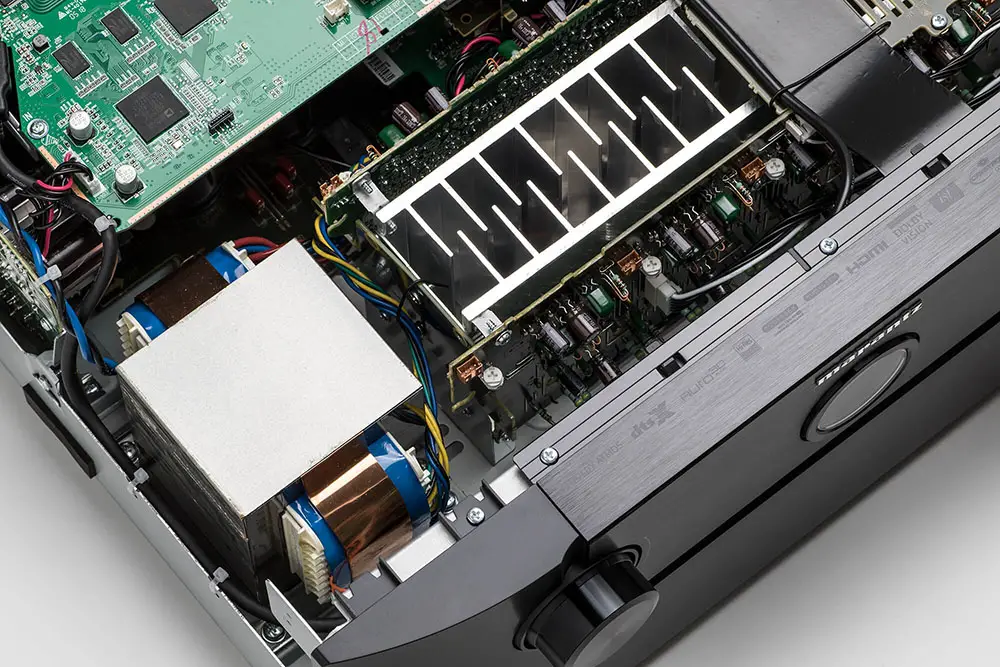 Belonging on the premium category the SR7013 offers a range of electronic components in order to be able to produce the best results possible. As such under the metal case the receiver comes equipped with AKM AK4458 32-bit D/A converters on all it's channels, HDAM circuit boards for low noise performance, Current Feedback circuitry and Hybrid PLL Clock Jitter Reducer delivering superior fidelity with wideband audio sources.
As far as the remote is concerned since the receiver has minor changes compared to last year there was no need for any change either in it's design or it's buttons. With a considerable size and a number of buttons higher that what we would like the included remote (RC036SR) has it's buttons made out of rubber and have good distance between them although some of them are far too small and not easily pressed. Buttons placement follow more or less the standard layout and as such at the top we find all the input sources, navigation and volume control under them, a group of playback buttons below, four smart selection buttons beneath and we finish at the bottom with the four sound modes and numerical buttons. There is also a backlight function by pressing the side button. A rather cumbersome remote but one that offers full control over the receiver.

The SR7013 is a magnificent piece of equipment and an example of a premium audio device that Marantz has put a lot of effort in order to offer the best quality possible. From the general design to it's inside hardware the SR7013 is a beast that will make it's presence felt in any kind of home theater. No meaningful changes are not necessarily a bad thing since last year's SR7012 had an already amazing design and quality so the SR7013 just continues this trend well into 2019.
Audio Quality
The SR7013 continues where last year's model left and as such the kind of audio formats support we get here is simply staggering. The receiver can play all types of surround tracks up to Dolby Atmos and DTS:X as well as Auro-3D. But the receiver does not stop there as we also get up-mixing technologies like Dolby Surround and DTS Neural:X which can up-mix 2 channels audio content up 11.2 channels for higher immersion as well as virtual technologies like DTS Virtual:X that is capable of creating sounds that originate from virtually created speakers where there are none. There is hardly anything missing here showing how much this model has to offer.
The receiver comes with 9 channels of built-in amplification with 110 W per channel (8 ohm, 20 Hz – 20 kHz, 0.08% 2ch drive) plus you can connect up to 2 subwoofers giving you a lot of freedom as far as the kind of audio setup you want to create from simple 5.1 surround systems up to a full Dolby Atmos 5.2.4 setup. But the receiver can expand even further by using a 2 channels external amplifier in order to create a 11.2 channels system (7.2.4 setup) which is the maximum you can go so far in a home cinema right now.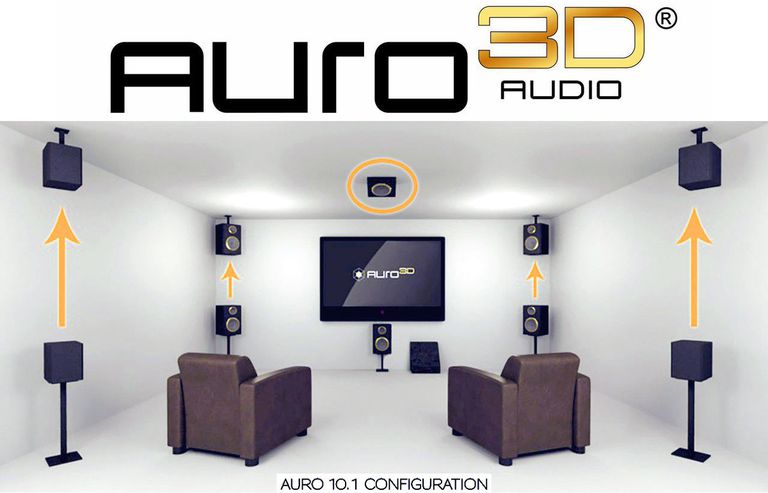 One small drawback that we find that was also present in it's predecessor is that if you want to create an Auro-3D 10.1 audio setup the 2nd subwoofer port is being used and as a result you will not be able to add a 2nd subwoofer. We opted for a 5.1.4 system for testing as we usually do with all 9 channels receivers by adding 4 overhead Atmos speakers for more precise height layer effects.
For today's review we decided to change the films we would be looking at. As such the one we decided to try with the SR7013 is the 4K UHD version of Mortal Engines that comes with very good Dolby Atmos track and such a film provides the necessary audio effects in order to try the capabilities of our setup. We opted to check a couple of scenes that were very action oriented with one being the scene where London is absorbing a smaller city while the other is towards the end where London makes an attack run on the wall.
In both scenes the SR7013 created an amazing soundstage around and above us throwing us just in the middle of the action. Audio separation was top notch while channels shifting was seamless and totally precise. The overhead Atmos speakers were also very busy filling the upper layer with more pronounced effects like when aircraft were flying above or with more subtle environmental effects. Bass was also very fulfilling and powerful making these huge steampunk cities feel more ominous and dramatic. A great Atmos track in combination with the SR7013 and a good set of speakers will ensure that your experience will be the best possible. We really enjoyed every second of our testing with this film and the receiver made sure of that.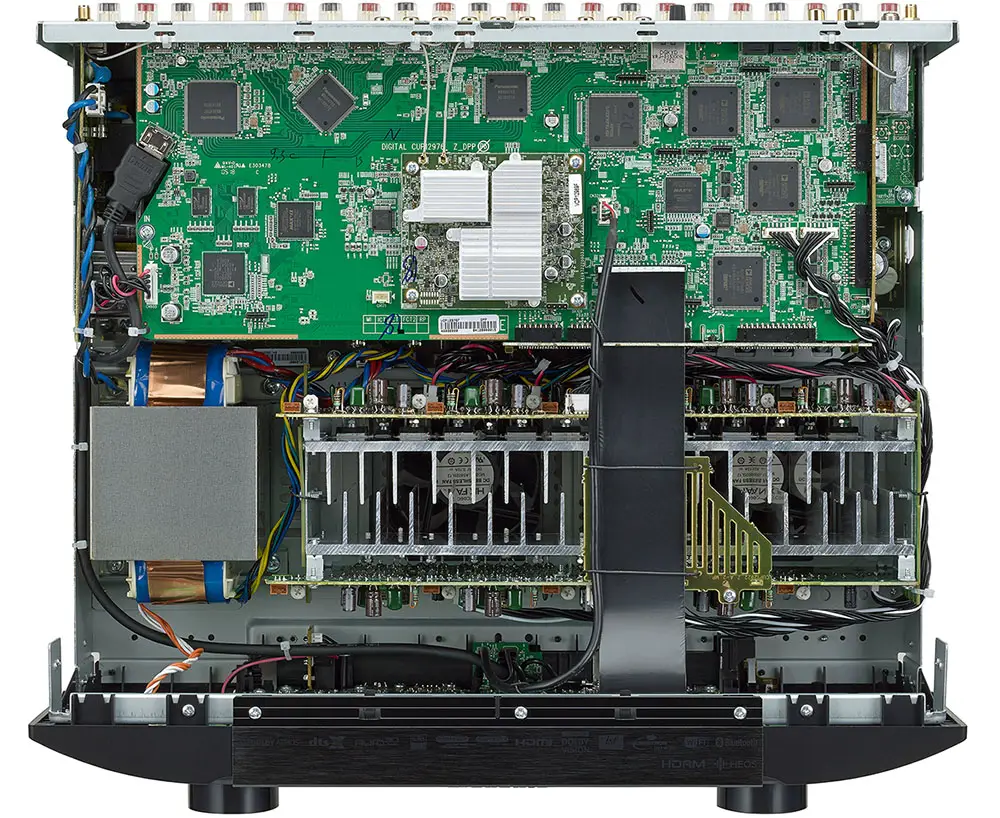 We also gave a try to our long lasting favorite Lord of the Rings: The Return of the King as we never get tired of trying this magnificent film. The included DTS-HD Master Audio track that is included in the Blu-ray disc may not offer the latest Dolby Atmos immersion but is surely a reference audio track that combines uniquely sound effects with an amazing orchestrated track. The scene we chose to test was the one that Legolas is taking care of the Mamakil during the siege of Minas Tirith. The scene has many fast camera pans and with action happening all around in the battleground the SR7013 created a spectacular immersive bubble in front and behind us. Naturally the height layer was not present here but we were not disappointed a bit as what we were experiencing was a truly unique experience.
The receiver also comes with support for the most usual lossy formats like MP3, WMA and AAC but such a receiver wouldn't be able to do without High-resolution Audio support also so it can also play formats like FLAC, ALAC, WAV, FLAC HD 192/24 bit, WAV 192/24 bit, ALAC 192/24 bit as well as DSD streaming (both 2.8 and 5.6MHz).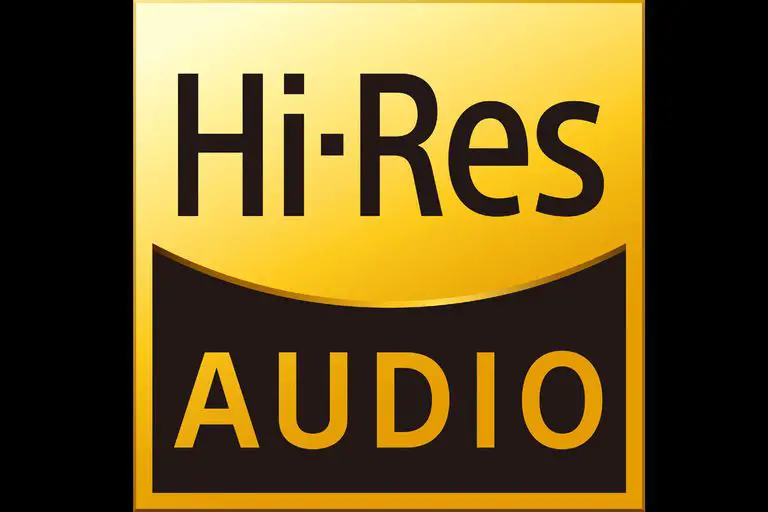 Having first hand experience from last year's SR7012 we more or less were expecting the same kind of performance here as the hardware used is almost the same in both receivers so anticipation was rather high. We selected a few FLAC audio tracks to stream through the front USB and let the receiver immerse us in a truly amazing musical performance. Describing the kind of quality you will be getting is not an easy thing as the SR7013 was able to deliver such clarity and precision that you have to hear it to believe. The highs had an incredible richness, the bass had the necessary oomph and precision while the mid-range brought everything together nicely creating a musical spectacle. If you combine this receiver with some good quality speakers it will reward you and more with it's capabilities, that we guarantee you.
Inputs / Ports
Above we mentioned the ports that we found under the opening hatch in the front with the SR7013 providing us easy access to a headphones jack, the test microphone port, a USB port, an HDMI input, a composite video input and an analogue stereo audio input which is pretty much everything you will need.
Taking a closer look at the back we notice that the ports being offered have no difference whatsoever from last year. Everything is exactly the same revealing how close the two receivers actually are. First of all we find 11 speaker terminals but as the receiver has only 9 discreet amplification channels you never use all 11 terminals at the same moment. For a 11.1 channels setup you will need to use an external 2 channel amplifier. We also get 7 HDMI inputs and an impressive 3 HDMI outputs with all of them being HDCP 2.2 enabled.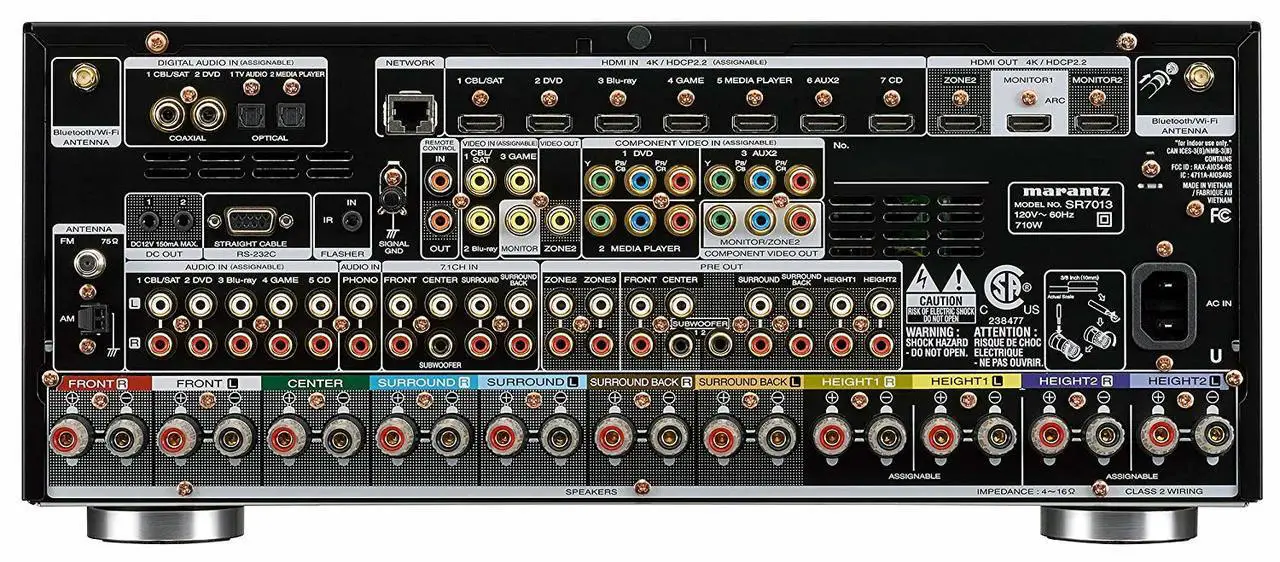 The list of analogue and legacy ports provided is enormous and show how much flexibility such a receiver can provide giving you tremendous freedom in connecting everything you ever wished. The list includes 5 analogue stereo inputs, 1 dedicated analogue input for PHONO, 3 composite video inputs and 2 outputs, 3 component video inputs and 1 output, 7.1 multichannel coaxial inputs, 11.2 multichannel Pre Outs, 2 digital coaxial audio inputs and 2 optical ones. Except from these there is also an Ethernet port, 1 remote control input and 1 output, 1 IR flasher input, an RS-232C port, 2 12V trigger ports, FM and AM antennas ports as well as dual WiFi and Bluetooth antenna connectors.
We said the same thing last year. The SR7013 provides everything you will ever need both in type, quality but also in numbers so you will never feel that you are running out of ports. We can hardly imagine any home theater setup that can fill all these connections and for this we applaud Marantz. Also all ports are gold plated showing the kind of quality Marantz is putting even in the tiniest of details.
OS, Apps and Features
Continuing from last year the SR7013's HDMI ports support 4K/60Hz full-rate pass-through, 4:4:4 color resolution, Dolby Vision, HDR, HLG, BT.2020, 3D signal pass-through as well as eARC. We also find SD, HD and Full HD upscaling to 4K resolution which works for both HDMI and analogue sources. Of course for all analogue inputs only SD to 4K resolution upscaling works. Nice to have this feature but it is preferable for the TV to handle such kind of processing.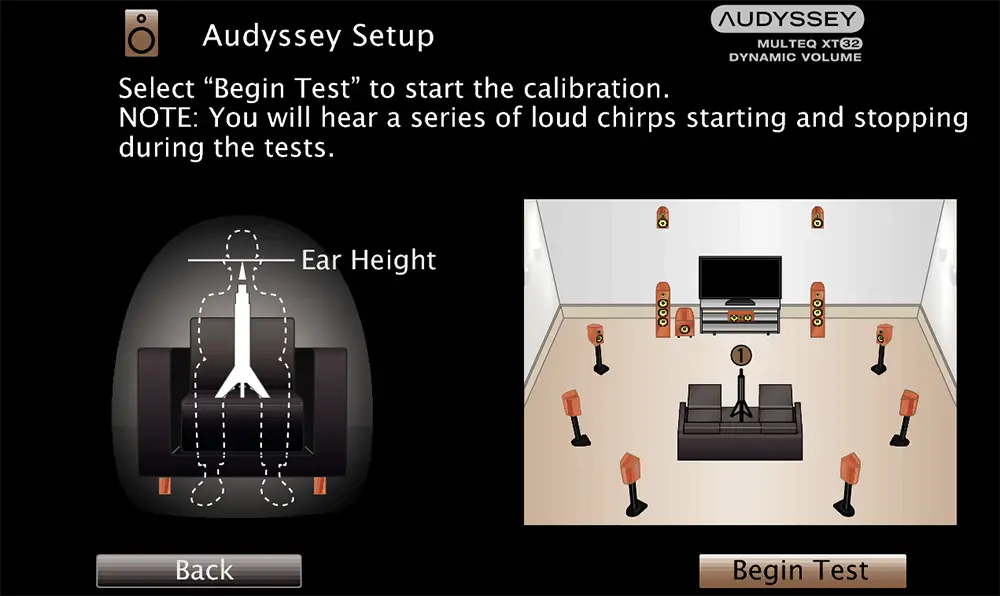 The receiver comes with the same audio calibration system we found last year which is Marantz's Audyssey MultEQ XT32. This system comes in different variants depending the model you go for and naturally the more expensive the model the more options and functions are added. If you are a bit experienced in this then manual configuration is the best but from testing the system it gave very good results all things considered so it's not a function that we would avoid at all costs as the audio performance we got with the automatic calibration was not bad at all.
Along with the main suite we also get a few extra features that provide so much more control with the first being called Dynamic EQ which helps to keep the dynamic levels and clarity even at low levels. Another one called Dynamic Volume balances sudden volume spikes between TV programs and commercials shifts. There is also Audyssey Low Frequency Containment that is used to deliver a full-range balance including very deep bass but without the disturbances this might bring to people in nearby rooms as well as Audyssey Sub EQ HT which is the perfect feature for those with dual subwoofer setups as it provides individual DSP tailoring in order to provide better results with the low frequencies.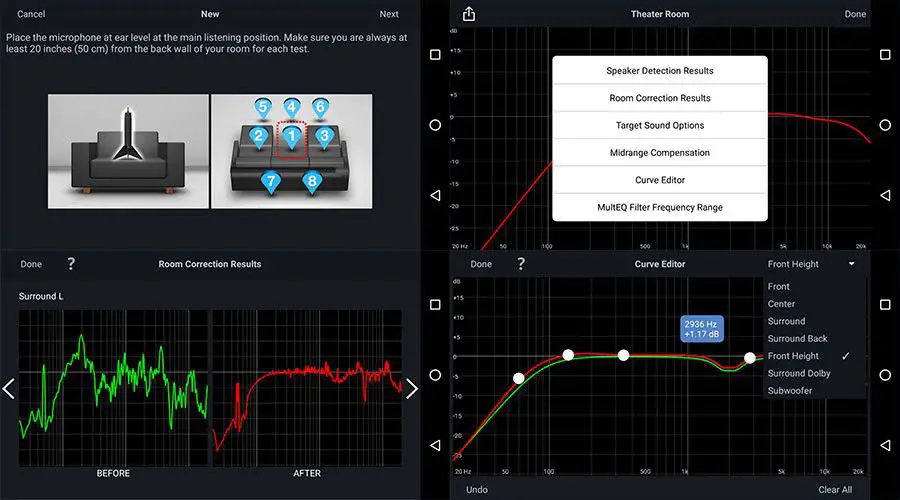 And while you have the option to calibrate your system with the receiver's built-in user interface there is also the alternative of using your smartphone or mobile device as you can download the Audyssey MultEQ Editor that comes both for Android and iOS devices and provides much more flexibility and options as well as a better visual interface. The only minus we can see in this, is the one time fee you have to pay which is a bummer really when you have to pay so much money for such a receiver to have to pay even more for an additional app.
And while the Audyssey MultEQ editor is not free there is another app you can download for the receiver and this is the Marantz 2016 AVR app with which you can control most of the basic functions of the receiver and you can use it completely free of charge. We suggest you download and test it out as it provides very good control over the SR7013 if you like to use your smartphone for everything.
With so many features and settings available it can be a bit overwhelming to find what you need. Thankfully the receiver provides all settings separated into groups depending their function and most of the times you shouldn't have a problem to find what you need as descriptions are very clear and it's easy to guide you where you need. We have said before that a more visual friendly interface would be welcome but we guess we will have to wait more for this.
We also get the familiar ECO mode that lets the receiver control it's power automatically depending on the needs but if you prefer it to work at full power at all times we suggest you keep this Off.
When it comes to network services the SR7013 supports all the usual ones we see in most receivers nowadays with Spotify, Napster, Deezer, Tidal and Sound Cloud as well as TuneIn internet radio all being present. Other than internet streaming you also have the option to stream audio from your local network if you happen to have a NAS server connected.
Connectivity wise the receiver comes with standard WiFi dual band 2.4GHz/5GHz support if you prefer a wireless environment or you could use the Ethernet port at the back if you experience any kind of connection problems. Usually problems appear when there are many walls between the receiver and the wireless router but during our testing we didn't experience any.
But streaming is not only possible from the network as with the included front USB port you can connect some flash drive or hard disk and listen to your favorite music this way. As the receiver comes with Bluetooth support you also have the option to stream music from your smartphone or tablet device. If you prefer Apple devices then you also get Airplay support in order to stream audio content from your Apple computer or iPhone. As you understand there are so many streaming options available that the SR7013 cannot let anyone disappointed.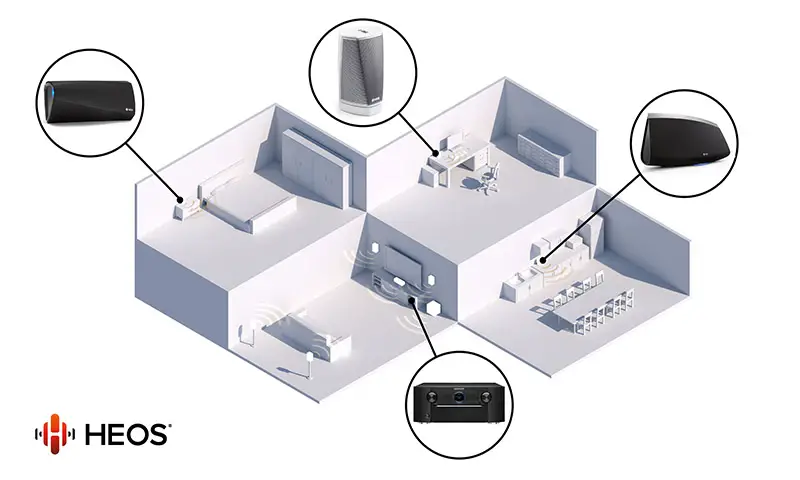 Looking a bit into the multi-room capabilities of the receiver we find the two standard features nowadays. The first is HEOS multi-room technology that lets you connect any kind of HEOS enabled speaker in your house with the receiver while we also get the relatively new Airplay 2 from Apple in order to be able to connect any Airplay 2 enabled speakers you may be using. The more options the better.
And we shouldn't forget what has become a must nowadays as far as smart control functionality is concerned that's why the SR7013 provides the full set of available options with Amazon Alexa and Google Assistant being supported through the HEOS Home Entertainment skill. But in order to use them you will need some kind of external device as Echo Dot or Google Home which may add to the cost if you are not using any of them already. But voice control doesn't stop there as there is also Apple's Siri as well as Josh.ai Smart Home Voice Automation.
For this year the SR7013 comes with built-in eARC support even though we still not get HDMI 2.1 as we will probably have to wait another year for that. Lastly there is HDMI-CEC functionality which means you can control the receiver with your TV's smart remote which can be very practical if you want to reduce the number of remotes you have to use every time.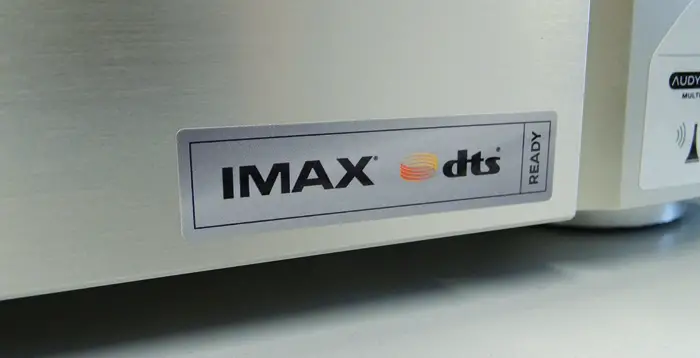 Since what we wrote so far, concerning it's features, seems to be exactly the same as in the previous SR7012 model you may be wondering if there is anything to be found this year that would make the SR7013 a more preferable option than it's predecessor. When the SR7013 first released there were more differences between the two models but Marantz has added some of them to the SR7012 through firmware updates bringing the two models much closer. But even so we still find three differences that were not added to the SR7012.
The first, and probably most obvious one due to marketing, is that this year the SR7013 is IMAX Enhanced approved which means that when IMAX Enhanced content appears this receiver will be able to playback the content how it was meant to. As of writing this article there is still no content commercially available so cannot be sure what enhancements to expect and we will update you once we will know more. Another difference is the inclusion of web control where you can control the receiver through a computer or tablet. Lastly this year we also get custom integration capabilities as there is IHITZI and Domotz Pro support.

The SR7012 was featuring an amazingly long list of services, features and functions so it is hard at this point to add anything really meaningful. Even so Marantz managed to add just a bit of extra in order to give this year's offering something more to talk about even if for most people these extras don't mean a lot.
Final Thoughts
The SR7013 is a receiver that offers everything you will need and more. It comes will support for almost every audio format imaginable with Dolby Atmos, DTS:X and Auro-3D present. We also get up-mixing technologies with Dolby Surround and DTS Neural:X that can up-mix stereo tracks to a full 11.2 channels experience. Virtual tech is also present with DTS Virtual:X creating overhead sounds even when there are no Atmos height speakers present. You will also get the full suite of the Audyssey MultEQ XT32 calibration system that also includes Dynamic Volume, Dynamic EQ, LFC as well as Sub EQ HT.
The included HDMI ports support 4K/60Hz full-rate pass-through, 4:4:4 color resolution, Dolby Vision, HDR, HLG, BT.2020, 3D signal pass-through as well as eARC while the amount of connectivity and legacy ports on offer are simply breathtaking. With 9 channels of amplification the receiver offers plenty of flexibility but can go even further as with an external amp you can go up to 11 channels. Lastly the SR7013 offers such a long list of supported services and features like HEOS, Airplay 2, voice control, streaming capabilities and custom integration. The list goes on and on and shows how much value Marantz has put into this model.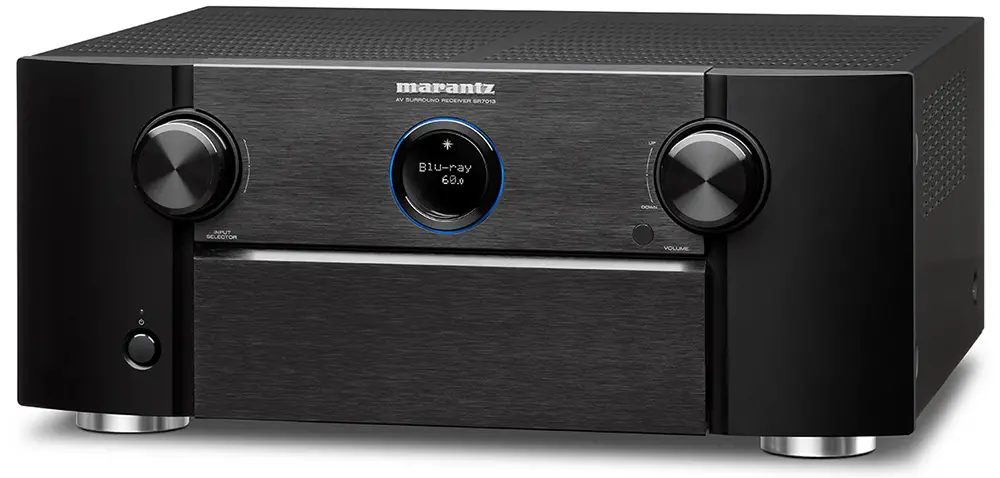 Is there anything bad to say about it? Well more or less we will say what we said for last year's model. If you want 11 channels then you will need to buy an external amp which means adding cost to an already very expensive receiver. The Audyssey app is not free and at least for the premium models it should be offered for free while going for an Auro-3D 10.1 channels setup will occupy the 2nd subwoofer port which means you will not be able to add a 2nd one if you decide to.
As for the question, with so little differences between last year and this, if it is worth it to buy the SR7013 it boils down to 2 factors. First of all the SR7013 is IMAX Enhanced, comes with web control and also gets custom integration support with IHITZI and Domotz Pro which last year's SR7012 will not get. Does any of these matter to you? If not then the second thing to consider is if you can find it as retailers naturally are phasing out the old model to make room for the new SR7013. If you don't care about the extras and you can get the SR7012 at a lower price then go for it as you can save a few bucks and get essentially the same receiver but if you can't find it or you want these extras the we assure you that the Marantz SR7013 is worth every penny as the kind of performance you will get is one of a kind and thus makes us to give it our top recommendation.
For more reviews you can check our dedicated 9 channels 4K AV Receiver reviews list or even look at our Product Reviews Table where you can find the brand and specific product you are looking for.
Also don't lose the chance to subscribe to our Newsletter and gain exclusive privileges.
---
Cheapest Places to Buy :
---
Marantz SR7013 Specifications