Marantz SR7015
Reviewed at $2,499.00
OS, Apps and Features
9.5/10
Pros
Top audio performance
HDMI 2.1 support
Huge list of features
Excellent build quality
Cons
Auro-3D 10.1 takes up the 2nd subwoofer port
HDMI 2.1 has problems with 4K@120Hz
Audyssey MultiEQ editing app has a charging fee
High price
---
Cheapest Places to Buy :
---
In 2019 Marantz seemed like they decided not to refresh their entire lineup of AV receivers as only the two basic models of their full sized SR series were renewed. This left a somewhat bitter taste for those that were looking forward for some of Marantz top tier models. But it seems that in 2020 Marantz decided to rectify this as they have refreshed all four models bringing them up to par with each other in terms of technologies and features. And in our Marantz SR7015 review today we will be looking at their second best offering and what new has brought to the table.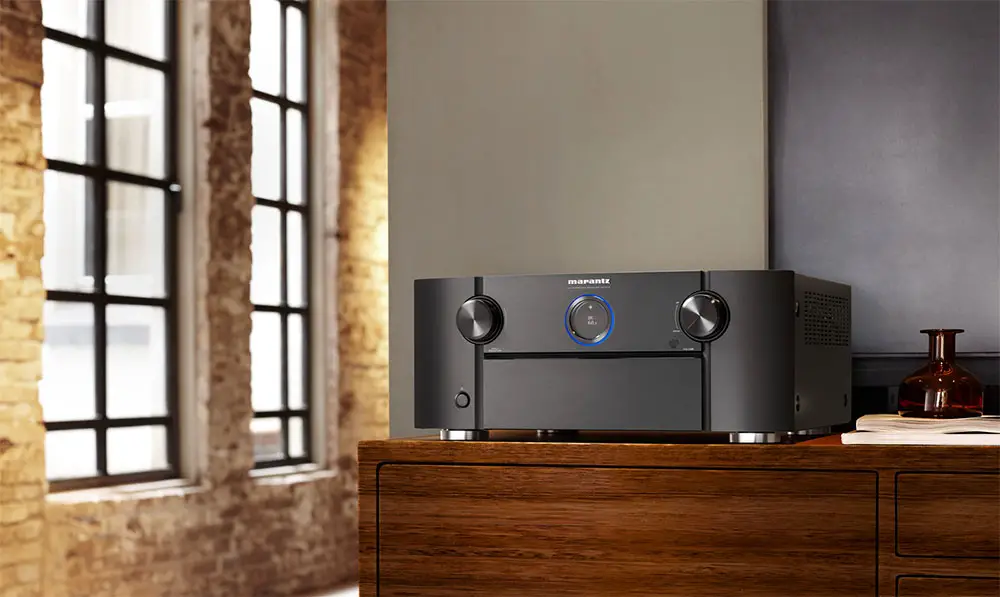 The SR7015 is the best 9.2 channels receiver Marantz has in their arsenal and while there may not be major differences between this and the next in line SR6015, the SR7015 add a few more specs along with more power to sweeten the deal and mostly aim for those that have bigger home theater spaces and seek more power output in their room.
The SR7015 comes with 9.2 channels of built-in amplification that can expand to 11 channels with an external amp and can output 125 watts of power for a 2 channels setup. It supports all known audio formats including Dolby Atmos, DTS:X and IMAX Enhanced but also adds Auro-3D in comparison to the lower SR6015. As for everything else we get the same set of features meaning Dolby Surround and DTS Neural:X up-mixing technologies along with Dolby Atmos Height Virtualization and DTS Virtual:X virtual technologies, the Audyssey MultEQ XT32 which is the best auto calibration system Marantz offers and as for extra functionality there is High Resolution Audio, HEOS and Airplay 2, voice control and custom integration, USB, online and upgraded Bluetooth streaming capabilities.
Obviously the highlight of all 2020 models is HDMI 2.1 which brings 4K@120Hz and 8K@60Hz pass-through, ALLM, VRR, QMS, QFT and eARC but we will talk more about it in the appropriate section. Has Marantz managed to create another stellar top tier offering in their lineup? Let's find out…
Design
The SR7015 does not differentiate itself much from the classic Marantz look that we got used for a good few years now. And this extends not only in its overall look but also in its dimensions. Keep in mind that we are in the upper levels of performance here so sizes tend to be on the large side overall. The receiver measures 17.3″ x 16.2″ x 9.7″ (440 x 411 x 247 mm) which you can slightly lower at 7.3″ (185 mm) if you turn the antennas into a horizontal position and weights 31.3 lbs (14.2 kg). The SR7015 is a small beast so you have to make sure that not only fits your furniture but to have ample of extra space for cooling the unit.
Ideally for such a large AV receiver we always recommend some kind of active cooling solution like the AC Infinity AIRCOM T8 to keep the temperature and your worries at low levels. Just make sure to choose the right cooling solution for you as there are front, top and rear exhaust options available.
Design wise the receiver hasn't changed at all from the previous SR7013 and the front side retains the characteristic two-tone effect with its curvy front corners featuring a matte texture while the center part goes for a brushed metal look. But what really sets all Marantz receivers apart from the other brands is the unusual circular display that features a blue light on its outside that certainly looks stylish. Not the most practical of displays as the amount of info this can show is rather limited but keep in mind that the SR7015 comes with a second hidden full functions display placed under the front hatch.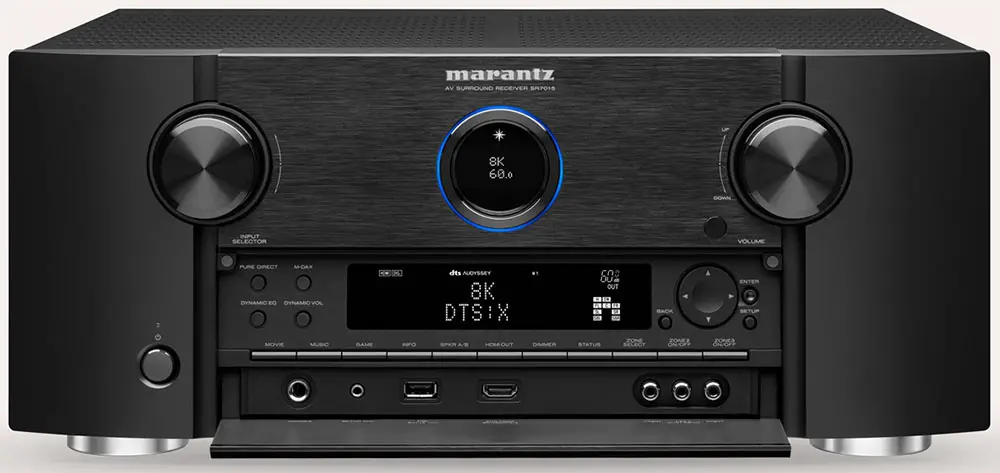 Now in terms of layout we get the usual two knobs configuration with the right one for the volume and the left for input selection while under the right one we find the IR sensor. On the lower left there is a single circular button for powering the unit while everything else is hidden behind the front hatch.
Opening this hatch we are presented with a plethora of control buttons as well as with a second display screen that provides more detailed information than the circular top one. Looking at all the available buttons we see that the SR7015 has exactly the same layout as the SR7013 so no changes here. On the left we find a group of four buttons for Pure Direct, the MDAX2 audio enhancer and Audyssey Dynamic EQ and Dynamic Volume features while on the right side of the screen there are the usual menu navigating buttons.
Under the screen there is a thin line with 11 buttons for various functions like sound modes, zone 2 control, status, HDMI and dimmer among others. Under these we get all the frontal ports which include a headphones jack, the microphone input for audio calibration, a USB port for connecting external storage, an HDMI port for easy connection of input sources, a composite video input along with 1 analogue stereo input covering all the basic connections you may need to have easy access to.
The big news here is that for the SR7015 Marantz has retained the front HDMI input which was missing from all the lower tier units, probably due to the inclusion of the new HDMI 2.1, and this is a huge practical feature and one that we do hope Marantz will bring back to the rest of the SR series sooner than later.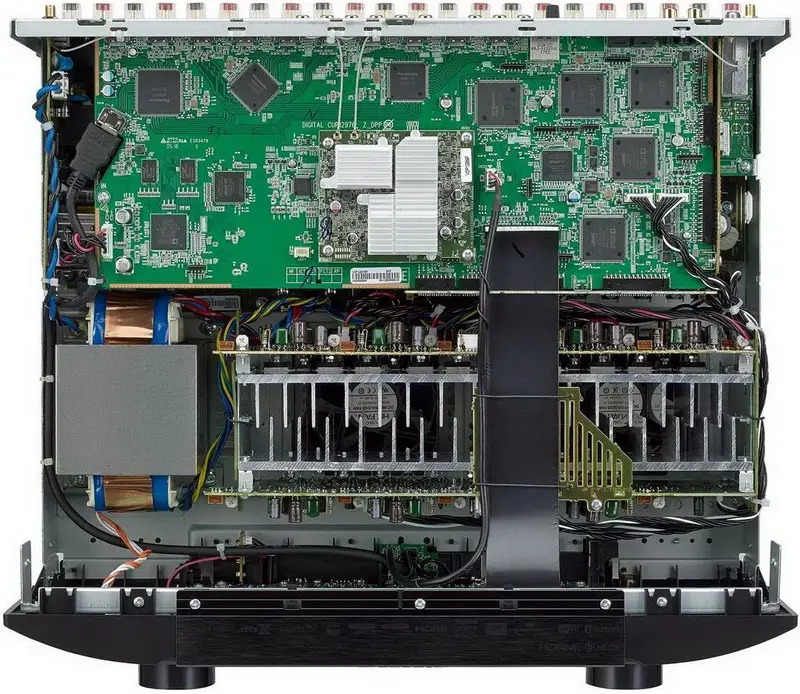 But it's not only the outer shell that has remained the same as we also get similar internal components. Marantz, along with most other brands tend to use the same hardware in these yearly releases so no real surprises here.
And so once again we find the familiar AKM AK4458 32-bit DACs that are responsible for all audio conversions, it features Marantz's proprietary Hyper Dynamic Amplifier Modules (HDAMs) that deliver ultra-wide-band response and detailed reproduction as well as current feedback circuitry and Hybrid PLL Clock Jitter Reducer for optimum fidelity and maximum dynamic range. Along with its high-current discrete power amplifier with low-impedance drive capability it offers operational stability with a wide range of speakers for balanced, quality sound.
As for its remote the SR7015 uses a different design than those found in the smaller units and basically borrows its layout from the one we had seen previously in the SR7013. The remote has code name RC043SR and with a considerable size and a number of buttons higher that what we would like it is not the most easy going remote you can find. It has its buttons made out of rubber that have good distance between them although some of them are far too small and not easily pressed.
Buttons placement follow more or less the standard layout and as such at the top we find all the input sources, navigation and volume control under them, a group of playback buttons below, four smart selection buttons beneath and we finish at the bottom with the four sound modes and numerical buttons. There is also a backlight function by pressing the side button. Keep in mind that the SR7015 is the first AV receiver that features a backlit remote, the smaller units unfortunately don't have this. The only change in this one compared to its predecessor is that the AUX2 button has been changed to 8K now. Everything else is entirely the same.

The unit keeps everything that made the SR701X models such high quality releases. There is almost no changes this year so we have only positive things to say. And retaining the front HDMI port is a huge plus at least for us. Great work from Marantz.
Audio Quality
The SR7015 supports all the latest audio formats like Dolby Atmos and DTS:X. There is also Dolby Surround and DTS Neural:X up-mixing technologies that can upmix simple stereo audio tracks into full immersive surround sound.
We also get the usual support for virtual tech and while until 2018 there was only DTS Virtual:X, from 2019 Dolby Height Virtualization has become a standard feature also. What these virtual technologies do is that they can create virtual speakers in space where there are no actual speakers present and create the illusion of sound with the use of special algorithms and processing. This can be very handy if you cannot place speakers in certain areas like on the ceiling for example. Obviously the result is in no way the same as having actual speakers but it can be a good alternative in many cases.
One thing that is worth noting is that Dolby Atmos Height Virtualization can be used for both Dolby Digital as well as DTS audio tracks. On the other hand DTS Virtual:X can be used only with DTS tracks and as a result Dolby's offering seems to be getting the upper hand on this. Also if you want to enable the Dolby Atmos Height Virtualization it can be a bit tricky to find out how to do it as there is no direct button that can enable this.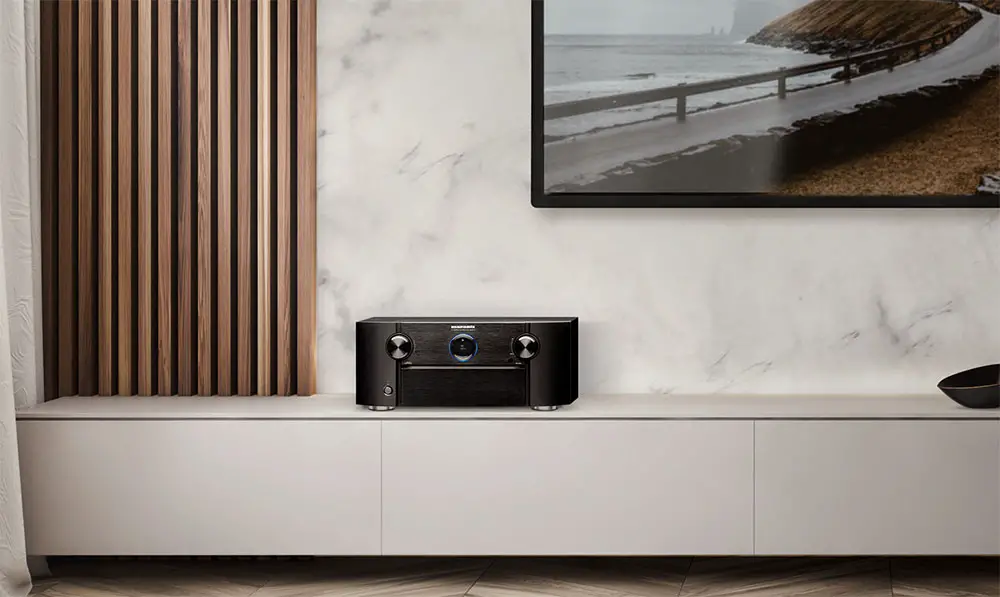 In order to enable it you will have to first go into the main menu, in the Audio section and find the surround parameter. In there you will find the Speaker Virtualizer that you have to enable first and after use one of the sound modes that uses Dolby Surround. This way Dolby's virtualizer will be enabled. Obviously if you haven't done this before it may seen slightly confusing at first but this is the way to do it.
The unit features also IMAX Enhanced support and is also the first to get Auro-3D audio. To be honest content for both of these are really almost non existent so they may not be as important as it seems but nevertheless the more support we can get the better.
The SR7015 features 9 channels of built-in amplification with a theoretical 125 watts of power (8 ohm, 20 Hz – 20 kHz, 0.08% 2ch drive) which is plenty in order to fill a medium or large sized room without any problem. The receiver is capable of powering dual subwoofer setups which seems to becoming the norm even with very cheap units nowadays. With the supported channels you can create either a 5.2.4 or a 7.2.2 channels Dolby Atmos audio setup. The receiver can process all 11 channels so in case you add an external 2 channels amplifier you can go all the way for a 7.2.4 channels Atmos system.
For this review and as we always do when we get a receiver that can support it we went for a 5.1.4 channels setup with a single subwoofer that was placed at the front left corner of our testing area and four ceiling speakers for the Atmos overhead layer. Our testing movie this time is Saving Private Ryan in 4K UHD which features a wall shaking Dolby Atmos mix.
The film needs no introduction and Steven Spielberg's epic representation of 2nd world war is certainly one of a kind. And obviously the highlight of the film is no other than the opening sequence featuring the landing of the Allied troops on Normandy.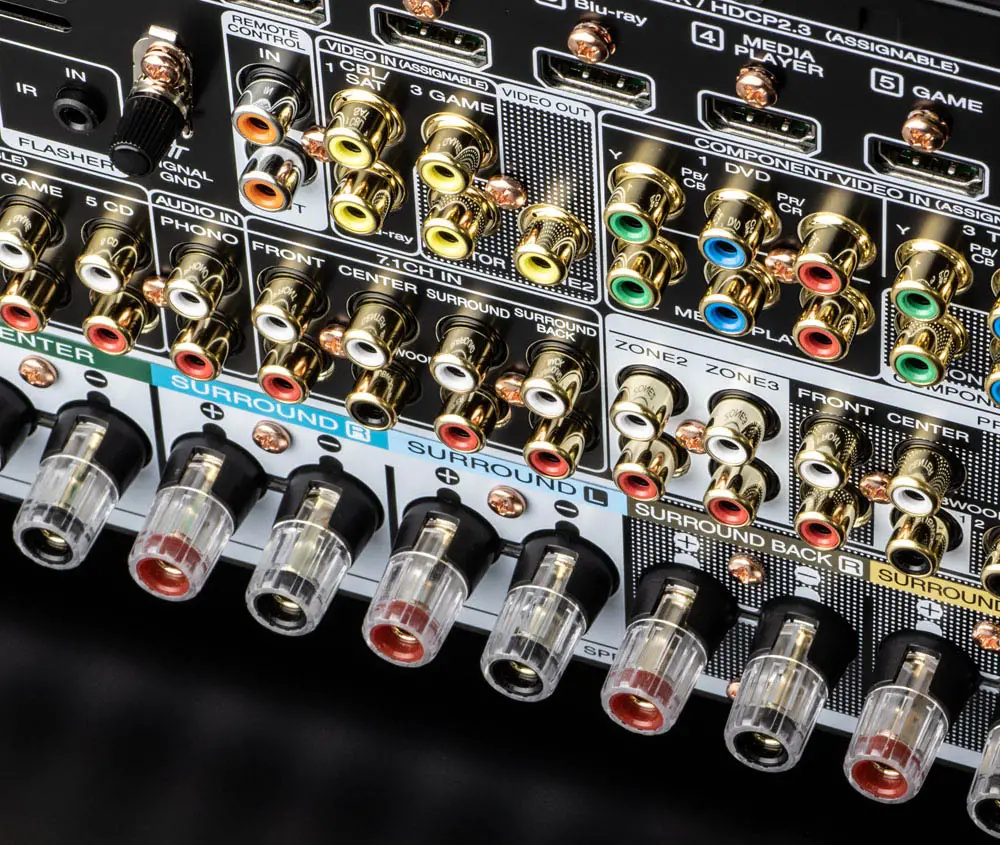 The receiver has the power and prowess such a film asks for and this shows from the first opening moments. The soundstage at the front felt amazingly open and extremely wide and there was so much depth and volume overall that it was like you were almost in the marine boats along with the Allied soldiers. We were particularly amazed by how much detailed information the receiver could pass to our speakers as even tiny details were rendered with precision and finesse.
The center channel kept all dialogue nicely contained at the middle and isolated from the rest of the audio effects. When the marine boats were approaching the beach everything was reproduced nicely like the water waves splashing on the metal or the marine engines roaring pushing the metal boat carcasses forward or the distant thumping of the German artillery shells approaching upping the immersion tenfold.
When the boats finally arrived on the beach and the front doors opened is when most of the surround activity kicked in as the German machine guns rained hell on the front rows of the American soldiers waiting to rush out. Bullets were literally flying next to our ears with intensity and scary precision. The camera is kept pretty much into the action so when the Allied soldiers finally started to gain a foothold on the beach the surround speakers did a great job at giving us a good idea of what was going on behind the camera and through all this mayhem.
And if surround activity was one part of the immersive equation the Atmos effects was certainly the other. The film is not very heavy on the top layer but it is there mostly to supplement the rest of the action. One very characteristic effect was the German artillery shells as they were falling from above giving this necessary top activity in an otherwise perfect ear-level immersion bubble.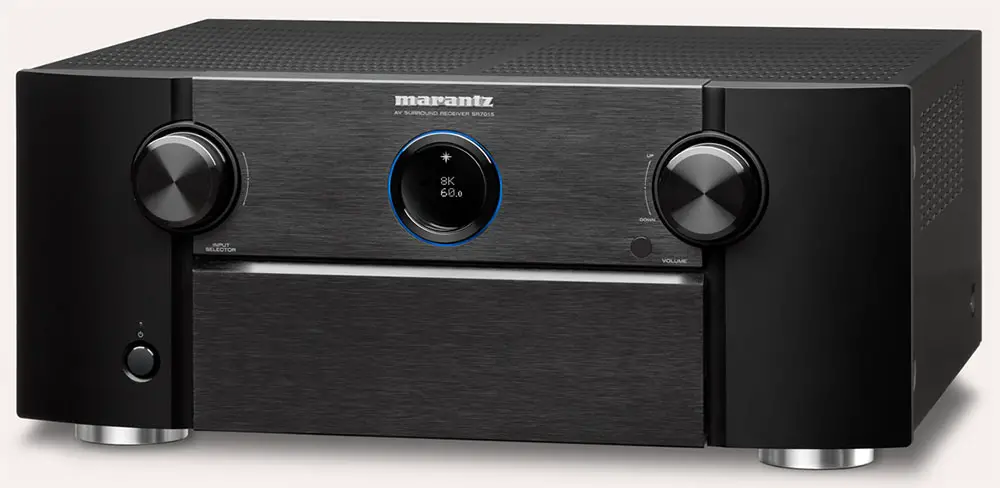 And since we talked about artillery shells, we could not talk about a film like Saving Private Ryan and not to mention about the bass which was earth shattering at the least. Each artillery shell, each explosion, every cannon and tank fire had so much power, vigor and authority that gave us the chills. The receiver did give a very raw texture to all the low end elements making them feel realistic and extremely precise which was really terrifying. During the last battle the screeching sound of the tanks approaching will really pull your hair up giving you an unsettling feeling while debris from tank fire had the necessary weight to portray realistically the chaos on screen.
We did push the SR7015 into unsettling high volume levels and to be honest the unit just laughed back at us. This thing could go loud and not break a sweat as it kept pumping out huge amounts of audio information while keeping everything in balance and not loosing its head even at more demanding moments when everything was going crazy. Frankly the receiver is ideal for medium or large rooms and for those that are really demanding on pushing the audio levels above the average.
Marantz AV receivers are famous for their musicality and the SR7015 retains all the characteristics that made the previous models so good in this regard. As such this receiver supports not only the usual lower quality audio formats like MP3, WMA (up to 192 kbps) and AAC but can also playback High Resolution Audio in the likes of FLAC, ALAC and WAV files up to 192 kHz / 24-bit quality. DSD streaming is also available for both 2.8 and 5.6MHz as usual.
For this testing, as we usually do, we selected a few favorite tracks in FLAC format that we streamed through the front USB port for the best quality possible. If you have ever heard one of the top Marantz receivers lately then you know more or less what to expect from the SR7015 as it is fundamentally the same hardware being used and there was no reason to see any difference in its overall audio output quality.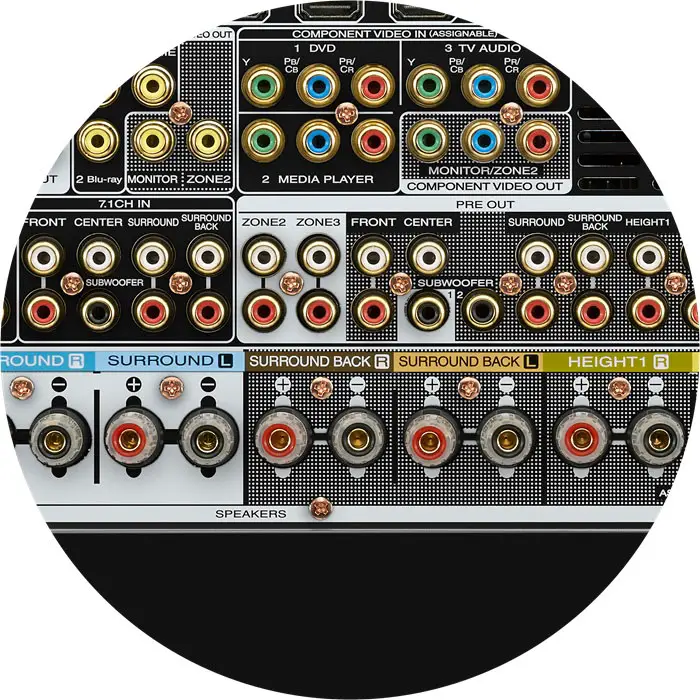 Did we get what we were expecting of it? Oh boy we sure did. The music stage became alive as each music instrument gave their own performing solo across our room. There was so much clarity and rendered information here that we were left looking in awe as the SR7015 continued its musical crescendo. Every sound, every note and every rhythm just felt right. Sound imaging was excellent and everything could be easily distinguished in space. Separation between the channels was to the point and very direct while stereo panning effects were as impressive as ever.
Excellent mid-range that never went overboard and held together nicely the rest of the frequency spectrum. The high end was playful and with nice energy making it neither dull or extremely tiring. It's as if it was always balancing on the edge between the two and when you thought that it would loose control again it kept its head and pushed forward with amazing finesse.
As usual we tried various types of music and to be honest we don't thing the receiver had problem with any of them. Either it be jazz, heavy metal, soul, pop, rock or classical music you will find the SR7015 an excellent handler of genres. The receiver certainly asks for quality speakers and if you give it the necessary tools it will in no way disappoint you.
The receiver is certainly a powerhouse and if you combine it with some good quality HiFi speakers then be prepared to be amazed. Either for movies or music the SR7015 will leave it's mark on any home theater configuration.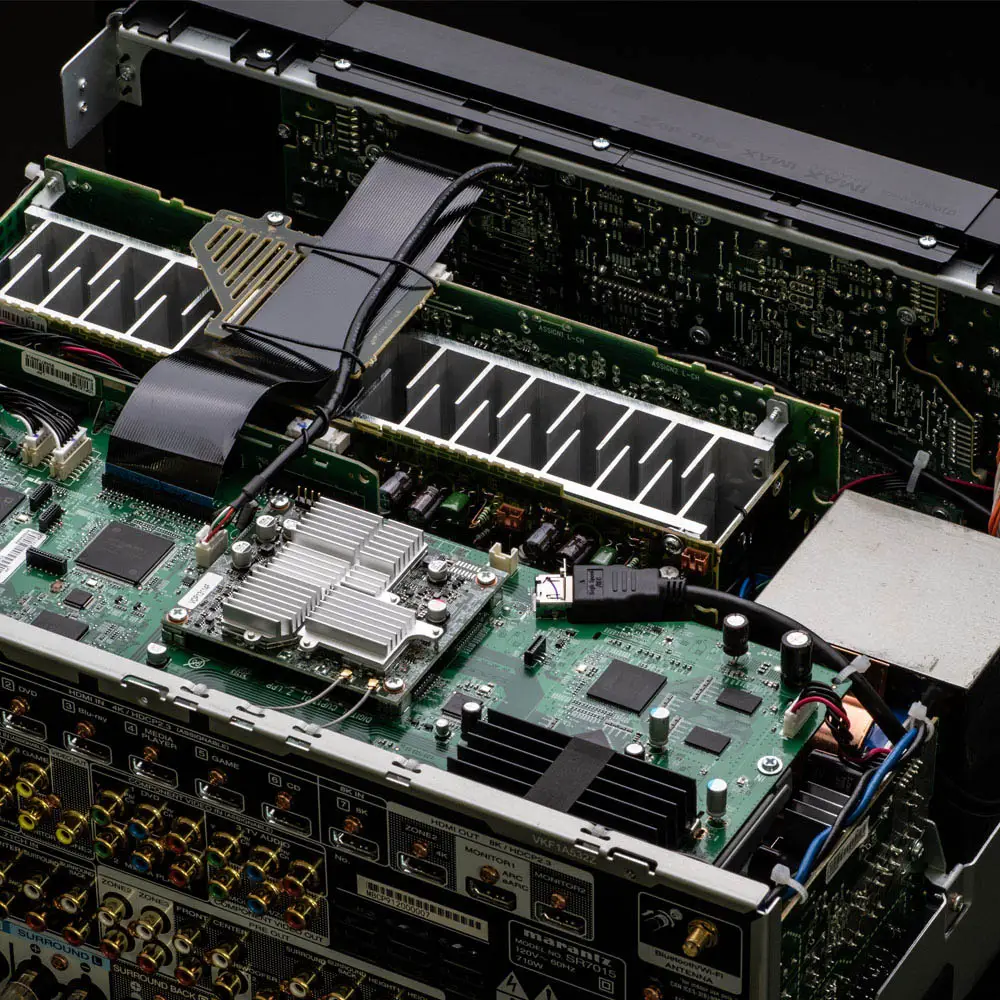 Ports and Connectivity
Next we will be looking at all the connectivity options available. We already mentioned above that under the opening hatch at the front we got a headphones jack, the test microphone port, a USB port, an HDMI input, a composite video input and an analogue stereo audio input which is pretty much everything you will need.
Taking a closer look at the back we notice that the ports being offered have no difference whatsoever from the last release. In fact nothing has changed for the last few years and the number and layout of the back ports remains exactly the same. First of all we find 11 speaker terminals but as the receiver has only 9 discreet amplification channels you never use all 11 terminals at the same moment. For a 11.1 channels setup you will need to use an external 2 channel amplifier. We also get 7 HDMI inputs and an impressive 3 HDMI outputs with all of them being HDCP 2.3 enabled.
Unfortunately from the 7 HDMI inputs only one is HDMI 2.1. The new port brings with it a vast range of existing and new features that includes 8K/60Hz and 4K/120Hz pass-through capability, 4:4:4 Pure Color sub-sampling, Dolby Vision, HLG, HDR10, 21:9 video, 3D and BT.2020 pass-through, HDR10+, Dynamic HDR, ALLM, VRR, QMS, QFT, ARC, eARC, Auto LipSync and HDMI-CEC.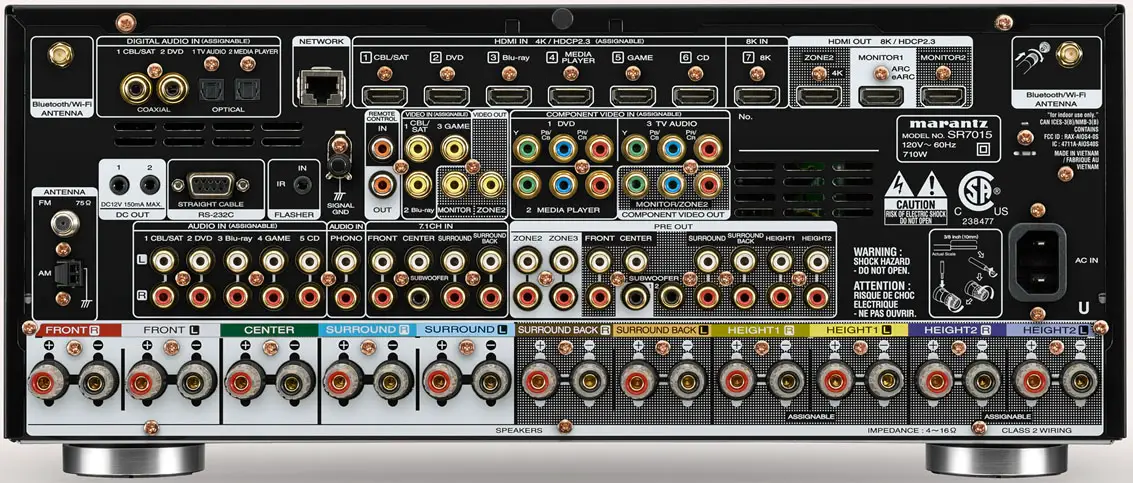 Now there is another thing we need to mention here about the HDMI 2.1 ports being used in all AV receivers this year including the SR7015. We mention this in all of our 2020 AV receivers reviews so we will just repeat what we wrote before. It seems that the Panasonic chip that handles the HDMI 2.1 connection cannot process the signal of specific sources that output at 4K/120Hz RGB signal (8-bit, 10-bit, 12-bit) like the Xbox Series X and this results in a black screen. Now there are not many sources that currently support 4K@120Hz with this exact configuration but this is probably a hardware issue and cannot be solved by a simple firmware update.
Now if you are wondering, the SR7015 has no problem whatsoever if you are watching movies or playing games at 4K/60Hz and 4K/120Hz YCbCr 4:2:2 signals (32Gbps) or anything below that so in most cases you are going to be absolutely fine. This means that the PS5 will work without any problems. In the rare case where the receiver accepts a 4K/120Hz RGB signal (8-bit, 10-bit, 12-bit), like from the Xbox Series X for example, this is when this problem will appear and the only current workaround is to connect your source device directly to your TV and from the eARC connection to the receiver.
To be honest this is a problem that should not happen in the first place and shows that somewhere there has been a major miscommunication between manufacturers but you should keep in mind that this will probably not affect you as much as you may think of.
Right now this problem seems to affect all new AV receivers in 2020 including Denon, Marantz and Yamaha. All manufacturers have acknowledged the problem but as far as a solution it seems that it's a problem that can only be solved with updated hardware and to see full HDMI 2.1 support without any problems we will have to wait for their 2021 releases and only hope they had the necessary time to fix this.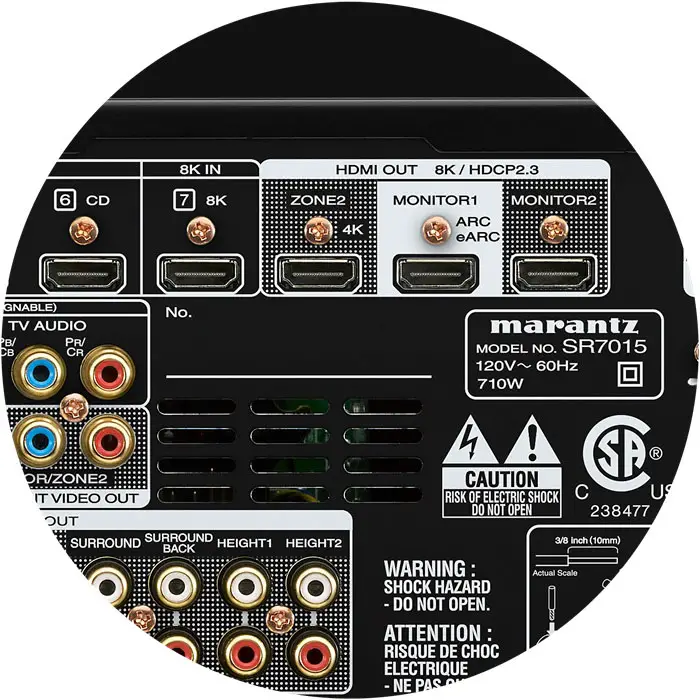 As for the rest of the connecting ports there is a whole lot of them. We get 5 analogue stereo inputs, 1 dedicated analogue input for PHONO, 3 composite video inputs and 2 outputs, 3 component video inputs and 1 output, 7.1 multichannel coaxial inputs, 11.2 multichannel Pre Outs, Zone 2 and Zone 3 outputs, 2 digital coaxial audio inputs and 2 optical ones. Except from these there is also an Ethernet port, 1 remote control input and 1 output, 1 IR flasher input, an RS-232C port, 2 12V trigger ports, FM and AM antennas ports as well as dual WiFi and Bluetooth antenna connectors.
Wireless connectivity seems to be the same as all its other 2020 releases as it has built-in WiFi that supports both 2.4 and 5GHz as well as Bluetooth for streaming audio as the SR7015 comes with v4.2. We would like to see Bluetooth v5.0 but none of their latest releases have upgraded to version 5. Maybe 2021 models will get that.
There are so many options in the SR7015 that certainly will satisfy even the most demanding of users. Yes it's missing a few very specialized ports like XLR but in general you will not miss anything else. The HDMI 2.1 bug is a nasty one if you are a gamer but if not it will not affect you at all and we hope in 2021 to see more 2.1 inputs available than just the one here.
OS, Apps and Features
In terms of extras the SR7015 comes with exactly the same feature set we had recently seen in our SR6015 review. There is no difference whatsoever between the two so this section of our review will be similar to our previous observations while making any necessary changes wherever we deem necessary.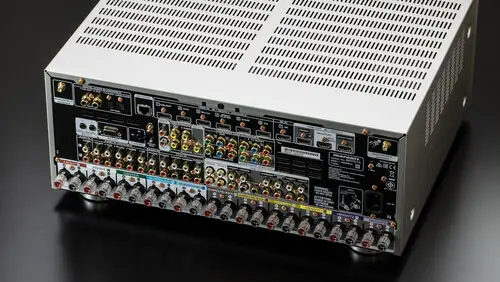 If you have not much experience calibrating an AV receiver by yourself then you can use the built-in system that is no other than the Audyssey MultEQ XT32 variant which is the most advanced Marantz offers in their units. The XT32 is similar to the XT variant as it features more measurement positions but also comes with higher filters resolution and thus can offer better overall results.
The AV receiver comes with a calibration microphone and by using the built-in wizard that guides you step by step you can achieve very good results without the need to manually do any changes which can be very handy for casual users. As always for the best results a manual calibration is the best but from what we have seen the Audyssey system is an excellent assistant for novice and inexperienced users and the XT32 edition featured in the SR7015 is very capable at offering very good results for any situation.
Along with the Audyssey system there are a few more features that are included in the suite with the Dynamic EQ being one of them that keeps the dynamic levels as well as clarity even at low volume. The second feature that is included is the Dynamic Volume that balances sudden volume spikes when there are shifts between TV programs and commercials. There is also Audyssey LFC that uses advanced psychoacoustic algorithms to deliver more full-range balance, including deep bass, without disturbing neighbors or people in other rooms of your home and lastly Audyssey Sub EQ HT that provides individual DSP tailoring of each subwoofer in a dual subwoofer setup for deeper bass with improved definition.
A 2020 feature that many of Marantz receivers share is the new two presets saving function. This gives the receiver the ability to store two Audyssey settings and switch between these two on the fly, giving you the freedom to tweak your listening experience based on content or listening environment. This can be especially handy if you like to watch different types of films and want to have a setup created specifically for each type.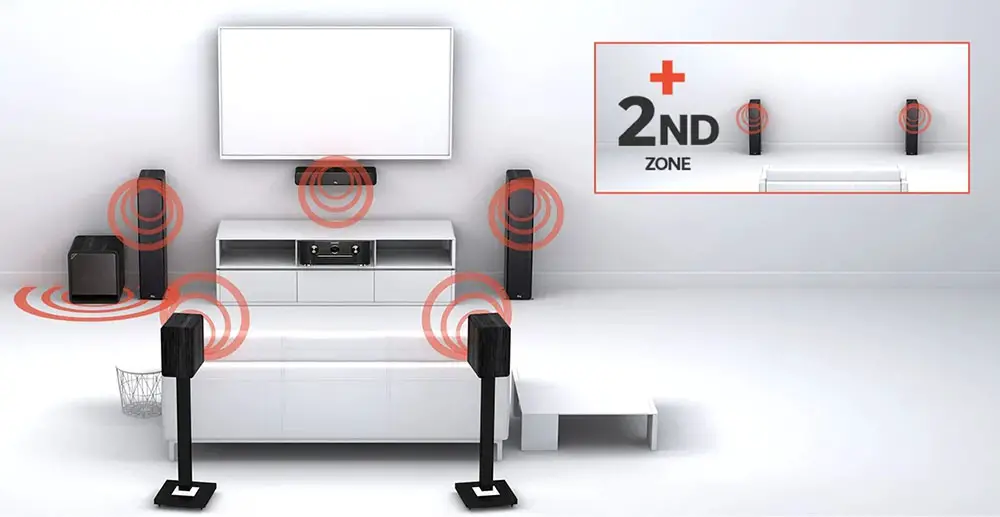 Now if you are a more advanced user and want to get the maximum out of the receiver you can dig deeper into calibrating your system with the help of Audyssey MultEQ Editor App that can be downloaded for iOS and Android devices and make all calibrations from there. The app has more settings and features and you can do much more with your system than you would otherwise. The only minus of this, is the price as the app has a one time fee that you need to pay in order to download which is a shame considering the premium price you already pay for this unit. In our opinion they should at least provide a download voucher for their top units as a thank you for buying such expensive equipment.
But Marantz has another app available and this one is free of charge called "Marantz 2016 AVR" remote app and with this you can have total control of the SR7015 from your mobile device. We had checked this app before in some of our previous reviews and we found it pretty good so since it's free you can try and see if you like it.
In terms of menu interface and settings everything remains the same as we have been used lately. All menus are separated into categories according to their appropriate functionality and everything was easy to find even with so many settings and features available. Nothing worthy of noting here really although we would love to see a more modern UI at some point in the future.
All Marantz receivers, including the SR7015 comes with an ECO mode that you can enable and let the receiver manage its power output in order to achieve power economy. But if you want the unit to perform at its peak power at all times then we suggest you to better leave this setting turned off. We would only recommend this if your unit becomes really hot and you have no other way of cooling it down, then this could potentially help a little. But as we mentioned earlier the best way to cool it down is to use an active cooling solution like the AC Infinity AIRCOM T8.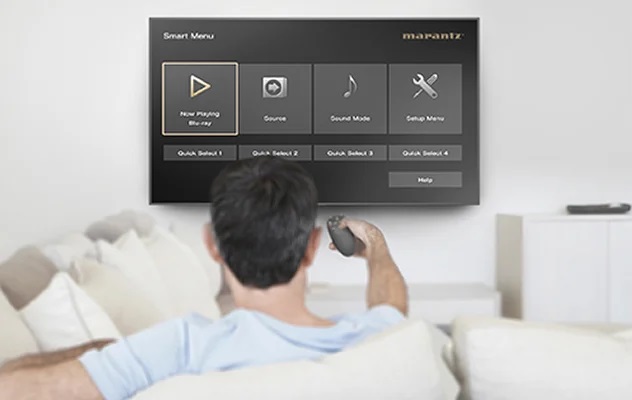 Moving onto streaming the SR7015 has the ability to stream content locally if you have a network server like a NAS connected or through the internet from one of the available streaming services available. The list is pretty extensive and includes all the big names like TuneIn Internet Radio, Spotify, Pandora, SiriusXM, Amazon Music HD, TIDAL, Deezer, iHeart Radio, Napster, Soundcloud and Mood Mix just to name a few.
With the receiver supporting both wired as well as wireless connections (2.4GHz and 5GHz) you can choose what is best depending on your house configuration and what is best for your situation. But streaming capabilities don't stop there as with Airplay 2 you can stream music from Apple devices through the use of Bluetooth in case you prefer Apple's solution. And since we mentioned Bluetooth we should note that a new feature that has been added to many of 2020 models including the SR7015 is the ability to stream audio to Bluetooth enabled headphones. And not only this as you can now output sound from both the wired speakers and to a Bluetooth headphones at the same time.
As the unit supports USB streaming it is pretty essential that comes with M-DAX2 support. Compressed music enhancement in the SR7015 is done by Marantz MDAX2 technology. The use of compressed audio files like MP3, Windows Media Audio or AAC is the norm nowadays. The audio quality of these compressed files however is less than what is found in the original lossless files on a CD, especially lacking in the higher frequencies and affecting the lower frequencies which make the audio image less wide and deep.
The Marantz Digital Audio Expander 2, also called M-DAX2, recalculates the outputted frequency range. This enables you to get a more detailed and clearer sound. The result may not be as good as some high resolution audio files but any improvement is a welcome one.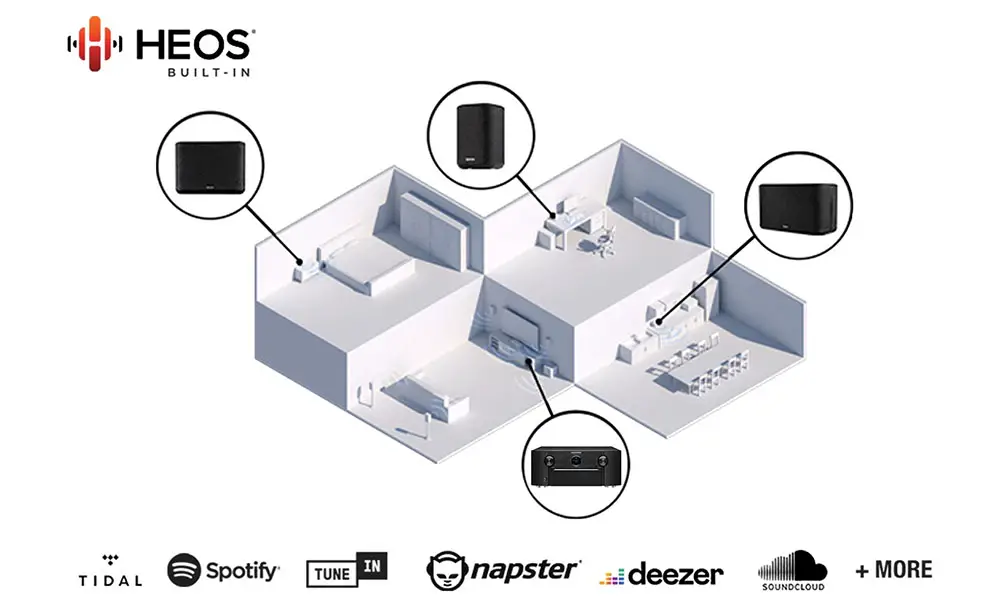 Now let's see what is there in terms of multi-room capabilities. No change here either as the receiver gets the HEOS multi-room audio technology that you can use in order to connect the SR7015 with other HEOS enabled speakers you may have around your house. As an alternative there is also Airplay 2 that does exactly the same job with speakers that are Airplay 2 enabled. And while streaming has definitely become the normal nowadays when it comes to multi-room environments the SR7015 also supports Zone 2 and Zone 3 and is essentially the first unit in the lineup that has three supported zones.
Marantz has not left voice control out of its feature list and remains the same as always as we get not only the two most known services being Amazon Alexa and Google Assistant but also Apple Siri through the Airplay 2 app and Josh.ai. All of them need their respective external devices to be used obviously but it's good to see that Marantz offers full support for the last few years now and it has become a standard nowadays.
Another feature that Marantz seems to favor year after year is strong custom integration capabilities among their releases and the SR7015 continues this trend. The unit features external RS232, IP and Web control capabilities for easy customization and compatibility with third-party integration solutions. The Marantz SR7015 offers IP control capability for major third-party control devices, as well as Control4 SDPP (Simple Device Detection Protocol) certification for seamless integration with Control4 home automation equipment.
IR (infrared) remote control input and output are included on the rear panel for remote control compatibility with other components in your home theatre system. As a result the SR7015 is a great option for all custom installers.
A new 2020 feature among many Marantz receivers seems to be the Pre-Amplifier Mode with which this unit can work as a perfect AV pre-processor with the latest HDMI connectivity. Pre-Amplifier Mode provides a cleaner signal path and more tolerance in clipping level by disconnecting internal amplifiers.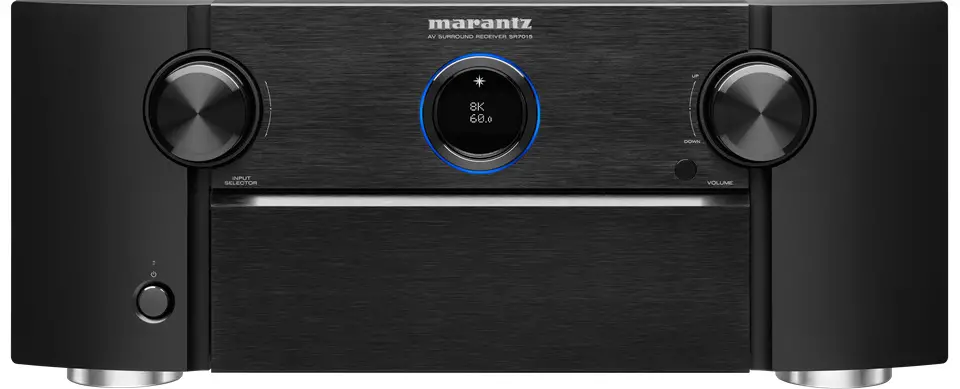 We mentioned before that although we like the addition of new features this seems to be a rather strange one to have here. Usually anyone that buys an AV receiver does so for the convenience of having all in one. Those that prefer separates will definitely go for a processor plus amplifiers so we don't see the reason why someone would purchase the SR7015, or any AV receiver with this feature for that matter, to use this mode in parallel with external amplifiers.
But there are many more features in the receiver that are worthy of mention and these include HDMI-CEC functionality, analogue and HDMI to HDMI upscaling up to 8K@50/60Hz resolution, Bi-amp capabilities while the unit is also "Roon Tested" certified. Now we need to clear some of the confusion here as there are two types of certifications and many people don't know the difference between them. The two types of certification are Roon Ready and Roon Tested.
The SR7015, as with all the other Marantz receivers, is Roon Tested which means that it doesn't have Roon built-in but has been tested to work but not without a small catch. And that is audio quality. As this works through Airplay streaming, audio quality is limited to only 16 Bit/44.1kHz. Keep that in mind in case Roon is specifically important to you but also want your files to be streamed in their original high quality.
The SR7015 is getting the full feature set from Marantz along with all the new 2020 additions we saw in the other models. No major change and the unit is definitely jam-packed with functionality that will certainly satisfy all your needs.

Final Thoughts
The new SR7015 is not so much different from its predecessor. It remains a powerful AV receiver that has a lot of value but certainly comes with a high price.
The most obvious update is definitely the HDMI 2.1 with all its gaming centric features but since this was it's first outing in the AV receivers world it was not without some problems. Other than that we also got the very useful we would say Bluetooth streaming to headphones and the not so useful for an AV receiver Pre-amplifier mode that essentially turns the unit into a pre-processor by disconnecting its internal amplifiers.
Now if you are wondering if it is worth it to go for the SR7015 or the more reasonably priced SR6015 the differences between the two are the following. The SR7015 has more power output, it comes with Auro-3D support and retains its front HDMI input. Now if these are worthy of the extra price is up to you to decide.
But other than these differences and additions the SR7015 is an amazing piece of audio equipment. Its build quality is top notch as always from Marantz, it comes fully packed with features and its performance, no matter what we threw at it, was breathtaking. There is nothing that this receiver cannot handle and it is ideal for anyone that is deadly serious about his home theater performance.
On the downsides, well there are not many and certainly the ones we will mention does not affect the overall quality the SR7015 has. First of all if you plan on an Auro-3D 10.1 channels setup you cannot add a second subwoofer as the port is being used for the other channels. Also the Audyssey MultiEQ editing app has a charging fee which is unacceptable for such a premium priced model, the HDMI 2.1 is problematic with some specific signals while we only get one of them and lastly the price is certainly on the high side and not for everyone.
Closing our review we can say that for one more year Marantz has left their mark on the AV receivers market by offering top notch quality and the SR7015 is one of the best 9.2 channels units you can get so far. Is it perfect? Of course not, but no release is. And what the Marantz SR7015 does, it does it really well making it excellent choice if you want the best from your home theater and more.

For more reviews you can check our dedicated 9 channels 8K AV Receiver reviews list or even look at our Product Reviews Table where you can find the brand and specific product you are looking for.
Also don't lose the chance to subscribe to our Newsletter and gain exclusive privileges.
---
Cheapest Places to Buy :
---
Marantz SR7015 Specifications