---
Cheapest Places to Buy :
---
Monitor Audio is well known among those that are looking for good quality sound and the British company has never failed to impress us with their extensive lineup that is available in order to cover all kinds of budgets and needs. Recently we had the pleasure of testing the Monitor Audio Silver 200 and got praising comments from us so today we will take it up a notch and in our Monitor Audio Gold 200 review we will be testing the smaller of the two floorstanders that belong in the higher tier Gold series.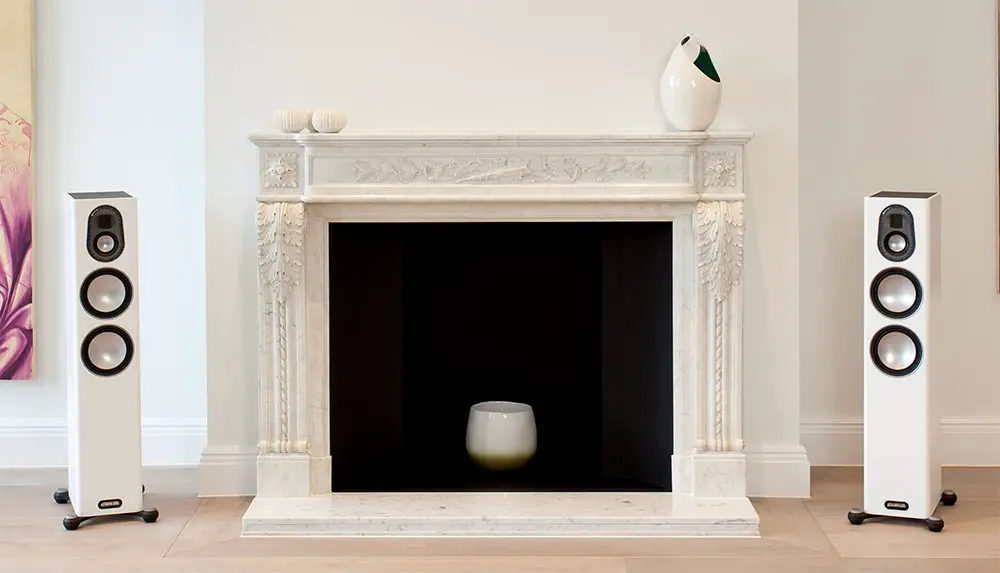 The Monitor Audio Gold is a high end lineup and second only to the Platinum II series but share many technologies between them. The Gold series consists of a single bookshelf, the Gold 100, two floorstanders, the Gold 200 and Gold 300, the Gold C250 center speaker, the Gold FX surround speaker and the Gold W12 subwoofer. As with the Silver 200, the Gold 200 may have a lot going for them but they are very slimline making them ideal for anyone who is looking for a high end speaker but don't have plenty of space to go with a bigger footprint speaker.
And while they may not look much in size the technology that Monitor Audio has included in them is at the very least impressive. Featuring MPD high-frequency transducers, C-CAM mid-range drivers, RDT II longthrow bass drivers and a cabinet with dual HiVe II ports on top of their excellent look and high quality finish the Gold 200 live and breath high end on a smaller scale. But the price range these speakers are competing in is a difficult one so let's see if these have what it takes to rise up to the occasion.
Design, Inputs and Features
Exterior
You could say that the Gold 200 is the slimline model in the series and comes with a size that measures 39 1/4 x 11 1/8 x 15 1/4" (997 x 282.8 x 387.8 mm) including the outrigger feet and spikes and weights 48 lb 2 oz (21.86 kg) making it a good offering if your room is not exactly ideal with a lot of placement freedom.
And while we have seen some manufacturers trying to somewhat improve this by placing the airports at the front, the Gold 200 has two of them placed at the back which means that speaker placement will have a greater effect on their performance in comparison to front mounted port speakers.
As for their design the speakers breath luxury and high quality and this shows from both the artistic lines and the construction of the cabinet. The Gold series cabinets are braced and damped with microscopic accuracy, ensuring ultra-low coloration while looking like high quality furniture. The Gold 200 also use Monitor Audio's renowned single-bolt-through driver technology providing increased bracing strength, rigidity and driver/baffle de-coupling.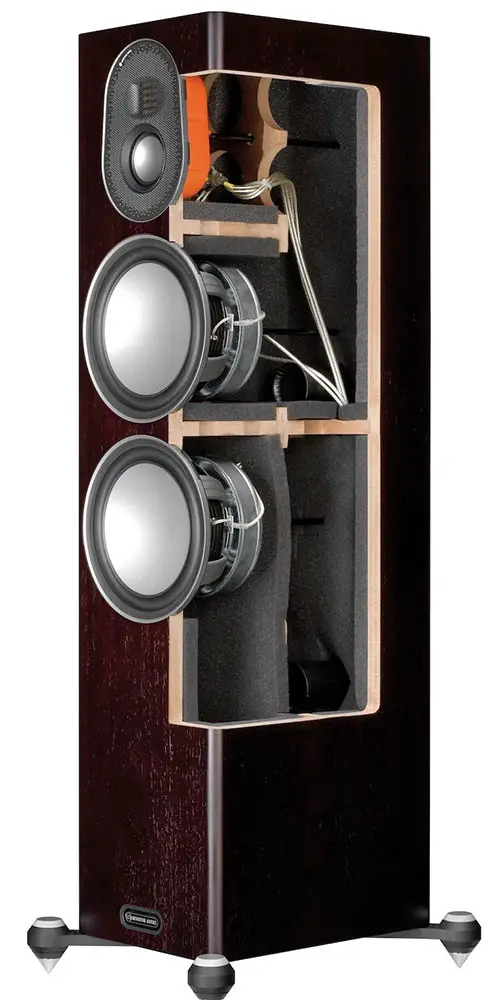 As for its looks you can simply call them beautiful. The rounded corners complement the speakers overall boxy look while there is also a soft touch top trim giving a luxurious, premium quality furniture grade touch and appearance. Everything looks and feel meticulously designed which is really one standout characteristic of the Gold series in general. The speakers are offered in four different colors with Piano Black high-gloss lacquer and Satin White while we also get them in Dark Walnut and Piano Ebony premium quality mirror matched wood veneer.
Such a good quality speaker wouldn't be able to do without some good quality grilles also and the Gold 200 is using a nice straight on top, rounded at the bottom grille that is attached magnetically on the front baffle. This way they avoid any undesired holes that would destroy the overall amazing look of the front face.
Other than the transducer and the drivers there is nothing else at the front other than the Monitor Audio logo sitting prominently on the lower part.
At the back of the speakers we find the bolt-through driver fixings along with the dual HiVe II ports that provide improved transient response and tighter bass, due to smoother air-flow. HiVe II technology has the ability to move air in and out much quicker than a conventional port, because of its straight rifled design, resulting in fast powerful bass. A the bottom, as per usual, we get some high quality terminals.
The speakers are using some high quality out-rigger feet that are attached to the bottom of the cabinet with two screws while Monitor Audio provides both spikes, which are surprisingly sharp, and feet depending on the floor you are going to place them. While nothing special the design of the out-rigger feet is better than some cheaper offerings while they feel sturdy enough for this kind of speakers.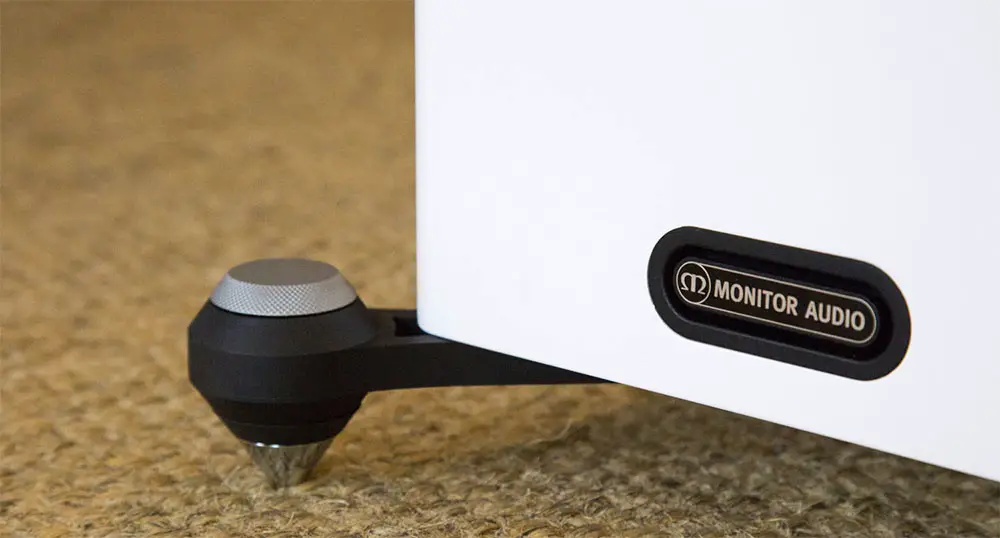 There is no question that Monitor Audio has put a lot of engineering into these things and we will analyze the technologies inside them shortly but when it comes to its design and cabinet construction and quality the Gold 200 speakers leave no doubts. They are premium speakers but without going wild on the appearance and Monitor Audio has carefully decided on each element that would make the Gold 200 a special model. And in our opinion they have done a marvelous job.
Internal Hardware
But speakers are not just good looking designs and carefully constructed cabinets and Monitor Audio has brought a lot of technologies that are using in their top of the line Platinum II series that would seriously up the game in terms of what this series can offer performance wise.
The Gold 200 are using a 3-way design with a single high frequency transducer at the top, followed by a single C-CAM mid-range driver and two RDT II longthrow bass drivers at the bottom. But lets analyze each one in more detail.
First of all, coming from the Platinum II series, we find a Micro Pleated Diaphragm (MPD) High-Frequency Transducer. Using a new, proprietary low-mass pleated diaphragm with a surface area eight times larger than that of a traditional dome tweeter, the MPD transducer works like a super-fast accordion by rapidly squeezing the pleats to produce a smooth, wide, naturally fast response up to 100 kHz.
It represents an imaginative re-working of an existing technology, transforming a successful idea into an audiophile super-driver, having greater accuracy and efficiency than ever before. From the above it's easy to understand why Monitor Audio decided to go this way instead of using a normal tweeter.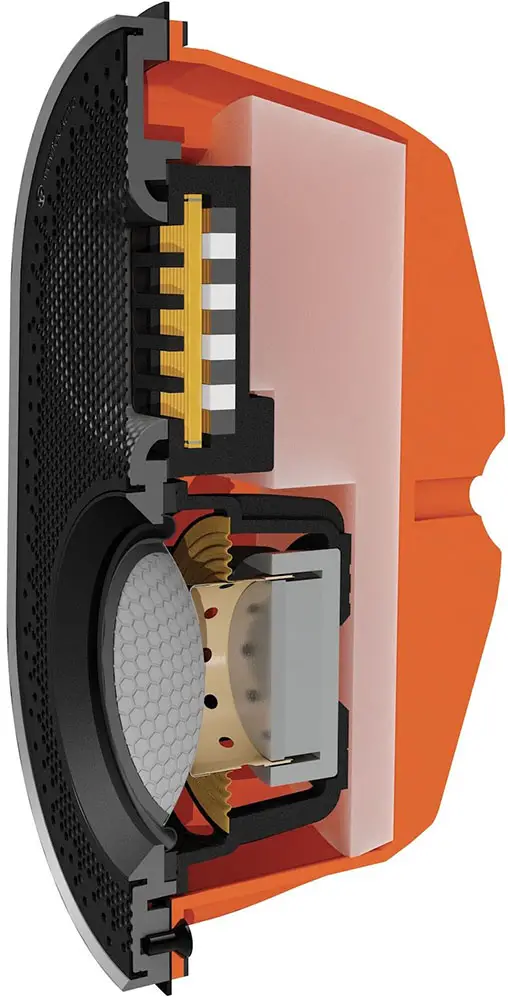 Below the transducer we find a single 2 1/2" C-CAM mid-range driver. Ceramic-Coated Aluminium/Magnesium is a material originally developed by the aerospace industry for jet engine components. Its properties are ideal for loudspeaker cones being extremely rigid, yet light enough to yield high overall efficiency.
Conventional cones are liable to flex or twist in operation, producing a significant level of audible distortion. C-CAM cones have a much higher resistance to bending stress and therefore exhibit much greater fidelity over their entire operating range. C-CAM tweeters and woofers share an audible consistency producing a smooth transition of frequencies and a sense of realism and cohesion in the soundstage.
And lastly there are two 6 1/2" RDT II longthrow bass drivers to support the lower end. RDT II (Rigid Diaphragm Technology – 2nd Generation) uses C-CAM for the front skin, while the rear skin is made from a woven carbon fibre material. The new structure is said to reduce distortion by over 8 dB above 300 Hz, which makes RDT II the lowest distortion cone technology in Monitor Audio's history.
But there is also another technology that needs to be mentioned and this called DCF (Dynamic Coupling Filter).  A new innovation in every driver that replaces the usual rigid coupling of driver and voice coil with a pliable one. This 'Dynamic Coupling Filter' is a nylon ring ingeniously calibrated to be rigid up to the crossover frequency, and to act like a spring above it. In so doing the DCF helps to dampen surplus high frequency energy produced by the driver. It's also perforated to encourage voice coil cooling and release air pressure from behind the cone for maximum driver efficiency.
The high frequency transducer along with the single C-CAM mid-range driver and dual RDT II longthrow bass drivers give the Gold 200 a frequency range of 35Hz-50kHz, 4 ohms of nominal impedance, 88 dB of sensitivity, a maximum SPL of 114 dBA while the crossovers have been set to 650 Hz and 3.5 kHz. Monitor Audio recommends an amplifier in the 80 – 200W range.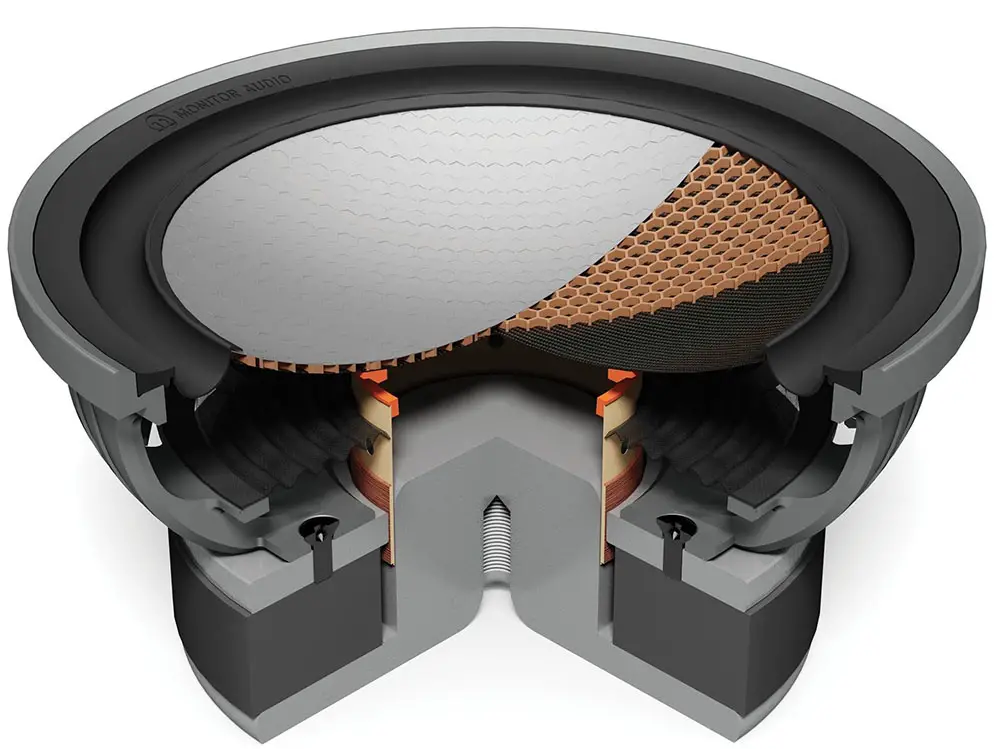 Connectivity
The Gold 200 are using custom-made, high-quality gold-plated terminals that are positioned exactly under the lower HiVe II port. With the available terminals you can either bi-wire or bi-amp the Gold 200 depending on your preference. The terminals can accept various connections like spades or banana plugs or you can even use bare wires if you like that best. In certain cases bi-wiring them can improve the overall acoustic result so it's a matter of trial and error to be honest.
Performance
Unpacking and putting them together is as straightforward as it can get as is the case with most speakers of the same type. Assembly was fast with the included screws while we used a simple spirit level to bring them straight. Since we have a hard floor in our testing room we used the included feet while for carpets the included spikes are used best.
In the Monitor Audio Gold 200 manual you will find an extensive guide on how to position the speakers and while it provides some very good information in there it's always good to test them around in different positions to see how you like them to behave better. Always remember that moving a speaker close to a wall will increase its bass output while putting more space between them lowers the overall bass but increases definition.
In our case we have some fixed positions that we place our floorstanders for both our movie testings and our music auditions. The speakers are placed at a distance of about 9 feet from each other while we left about 3 feet of breathing space between them and the back wall. Now if you are going to toe-in them or not depends entirely how you feel they sound but in our case we did toe-in them slightly towards our listening position.
The speakers can be bi-wired or bi-amped but we went for a simple wiring solution for our testing. Monitor Audio suggests 50-70 hours of initial break-in but we would suggest a 100 hour break-in period in order to be sure they have reached their peak performance. If your speakers are new and they don't sound exactly as you expected give them some time to flex as this is the case with most new ones.
Now, for our movie testing we switch to a 4.0 channels setup with only the two front channels taken by the Gold 200 while also used a pair of surround speakers to get some basic over-the-shoulder activity. We are not using any center, subwoofer or Atmos speakers here because we want to determine how much the front channels can cover for such omissions. Obviously based on what we hear having a complete surround setup will offer you far greater precision, immersion and overall extension. On the other hand for our music tests we switch to a pure 2.0 channels stereo setup as this is the type of preference for most music purists.
Movies
For our first film testing we decided to go with Ready Player One in 4K UHD which uses a mind blowing Dolby Atmos track. Let's see how the Gold 200 speakers can do with a half baked 4.0 channels surround setup.
If you have seen Ready Player One then you know that the film is a visual and audio extravaganza and it's a geek heaven to say the least. The film will make good use of as much speakers as you have and there are so many action scenes and grander scale moments happening in its virtual world that can really impress even the most hard convincing of viewers.
At the front the Gold 200 created a very detailed soundstage with a lot of resolution and volume. The speakers are not shy on rendering even the tinniest of details and the film provided many opportunities to show this. The soundstage was not as wide or deep as we were expecting it to be but it was sufficient enough giving you some extension beyond the speakers limits.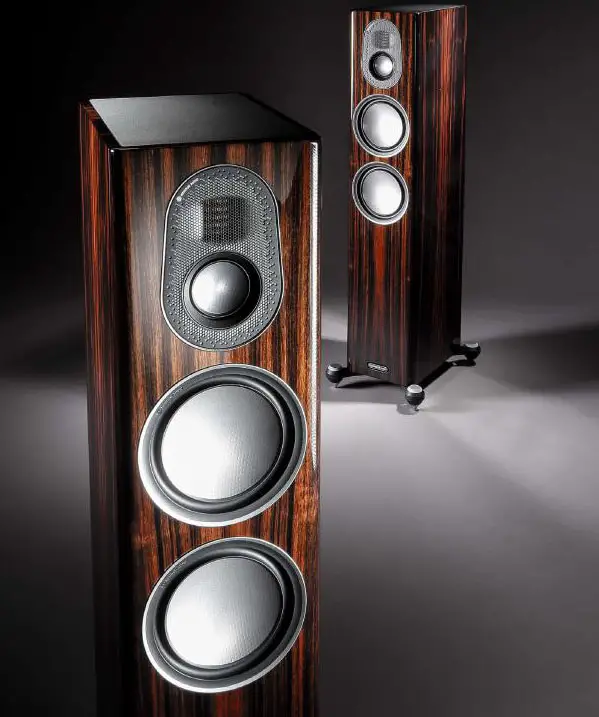 Panning effects and channel shifting was handled with great precision and we didn't pay attention to any lag or overlapping between the two front channels. Impressive was how the Gold 200 handled the dialogue. As we didn't have a dedicated center channel all dialogue duties where handled by the two front channels and they did a magnificent job at covering the center speaker omission. Dialogue was distinct and clear even through all the mayhem and felt like was always coming from the center. You could very well close your eyes and believe that a center speaker was there in the first place.
Now with Ready Player One, being a film that fires on all cylinders, the Gold 200 felt like having great fun with such an acoustic cacophony as they managed to keep everything tight, under control and come out asking for more. Their mid-range was particularly impressive as they never felt going out of focus or loosing cohesion. The film has plenty of high pitched electronic sounds and the mix aimed high in many cases but this seemed to be the bread and butter for the Gold 200 as they rendered everything with an exciting tone but without becoming too much for the ear. In no case did we feel ear fatigue and given the nature of this mix this says a lot of how the speakers can handle the high frequencies.
On the low end the Gold 200 are the kind of speakers that can provide a very deep and authoritative bass and will give certain weight to each scene. Yes, a dedicated subwoofer can do much more in providing this chest pumping experience that most home cinema fans are looking for but for what they are they provided plenty of shaking during the many action scenes that show that even with their size the Gold 200 don't hold anything back. And what impressed us was how clear and focused the bass was even on higher volumes that the ear could find unpleasant.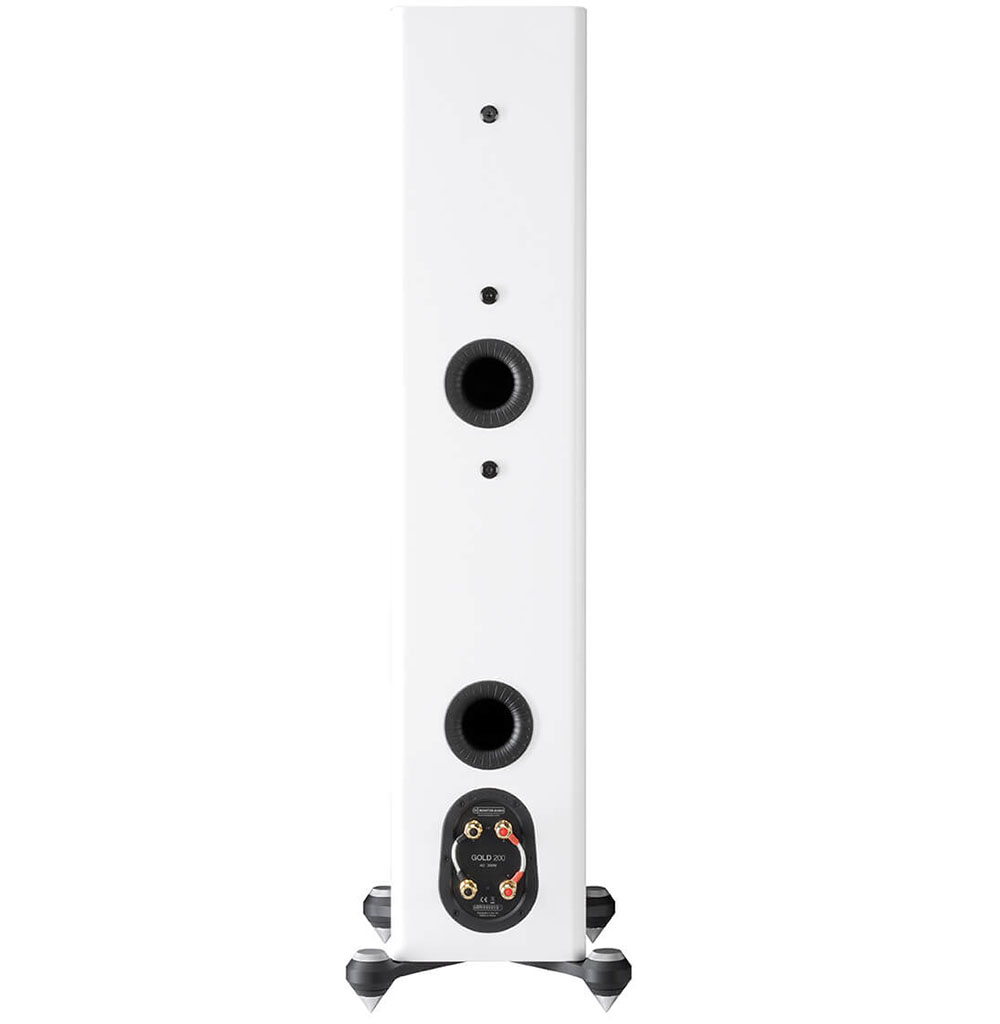 For our second test we went as always for our fan favorite Lord of the Rings and for this one we tried the Fellowship of the Ring in Blu-ray format that has one of the best DTD-HD Master Audio tracks we have heard in this format. No 4K treatment yet, although there are rumors of it coming soon so we keep waiting with excitement until it does.
Now for today's test we skipped forward to the Mines of Moria and what a great scene to test what the Gold 200 can do. From the moment the Fellowship enters the Mines the front speakers manage to give a very realistic depiction of the actual size and scale of the structures as whispers were echoing around in our room with excellent depth, volume and expansion. It was an excellent scene really in order to get an idea of how good the Gold 200 were on ambient and environmental composition as the tinniest of effects we heard and rendered with a very detailed and natural tone.
When we got onto the later part where the Balrog appears and climaxes with the confrontation between him and Gandalf on the Bridge of Khazad-dûm the front speakers were amazing at giving you the feeling of scale this ancient demon had. Each of its steps would provide a very satisfying low end while his growl came out menacing, deep and very raw. The orchestrated portion of the scene was handled amazing as it bound great with the action at hand but without overshadowing what was happening in front of us.
Once again the missing center channel was not such an obvious omission as the floorstanders did an amazing job at covering this. All of the dialogue was focused, pretty much dead center and well isolated from the rest of the action, and all that without a center speaker. What anyone else can ask for.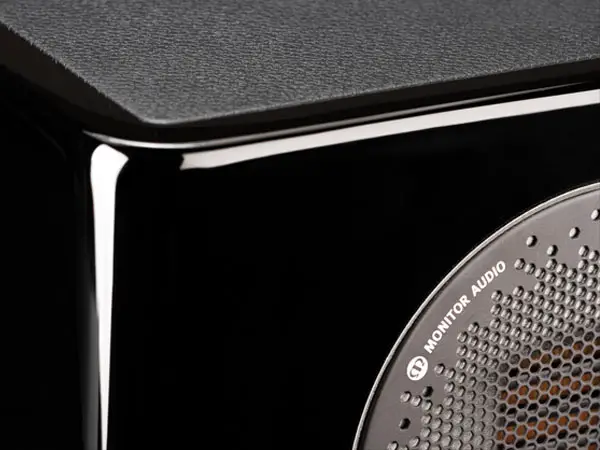 In terms of overall surround performance the Gold 200 did fare very good as they worked in harmony with our surrounds in order to create the necessary immersion bubble all around us. The fronts had a lot of ground to cover with our half baked surround system but we were amazed how good they managed to do and not only provide a basic experience but give us plenty of exciting moments and then some.
If you are looking for a pair of floorstanders that are not afraid of details, have a well all around frequency range and can keep a straight face no matter what you throw at them or in what system they will have to act upon the Gold 200 are an excellent proposition.
Music
Next in line is our music testing and for this one we switched to a pure 2.0 channels setup and used a few favorite music tracks in FLAC format to get the best out of these speakers. Audio was streamed through the front USB of our Onkyo AV receiver for the best audio quality possible.
The speakers seem to have a thing for high resolution sound and it was really exciting to be able to hear music become so alive and with so much detail at every level. With more information available the soundstage became a feast of the ears as these tiny extra bits that were audible gave more soul and substance to the music overall. Overall natural but without loosing their elegant stature the Gold 200 will hit you with a kind of force that will leave you in awe and excitement.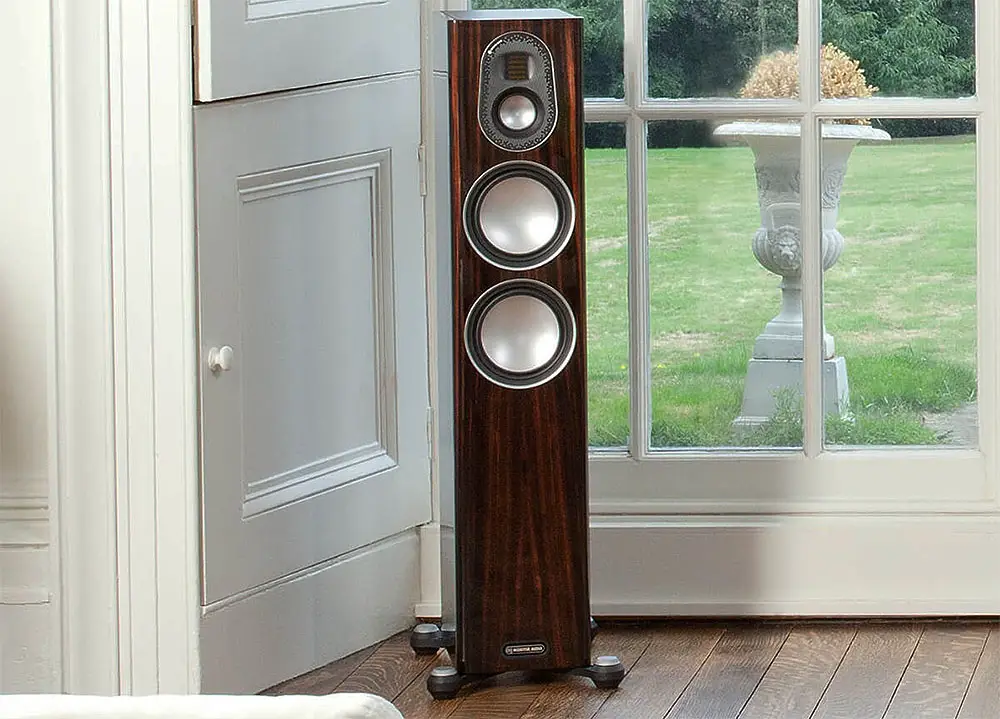 Stereo imaging was pretty good and focused and with so much detail and resolution available it was easy to pick apart each sound source at the front of us. Panning stereo effects were excellent with razor sharp precision and no audible lag while with audio dispersion the Gold 200 did a good job at providing the same quality characteristics that we got in the sweet spot. But if there was one thing that felt slightly underwhelming is the kind of expansion beyond the physical cabinets of the speakers. What was in there and between the two was undoubtedly amazing but going beyond their action area sound information was quickly lost.
On the higher end we were excited to hear how the Gold 200 would do and really they will not disappoint you. The MPD transducer is doing wonders here and show how much such a technology can benefit in upping the audio experience. Accuracy and substance were always there making each music second an emotionally driven experience while vocals had so much clarity that you could easily feel the passion behind each line.
And while having a well balanced mid-range and playful highs can really provide any song the rightful mood you need a very coherent low end for the rest of the frequencies to rely upon. And on this end the Gold 200 did fare very good. Bass was always responsive and never felt like the speakers were choking even when pushing them into more demanding territory. We definitely liked how the speakers handled the bass as their confidence never resulted in over-shadowing the rest of the frequency spectrum.
Closing our music test the Gold 200 proved to us that they are the kind of HiFi speakers that can really provide a one of a kind experience. They are delicate enough to handle all details with care but will never be afraid to go loud and ugly when the circumstances ask for it making them ideal for almost any kind of music.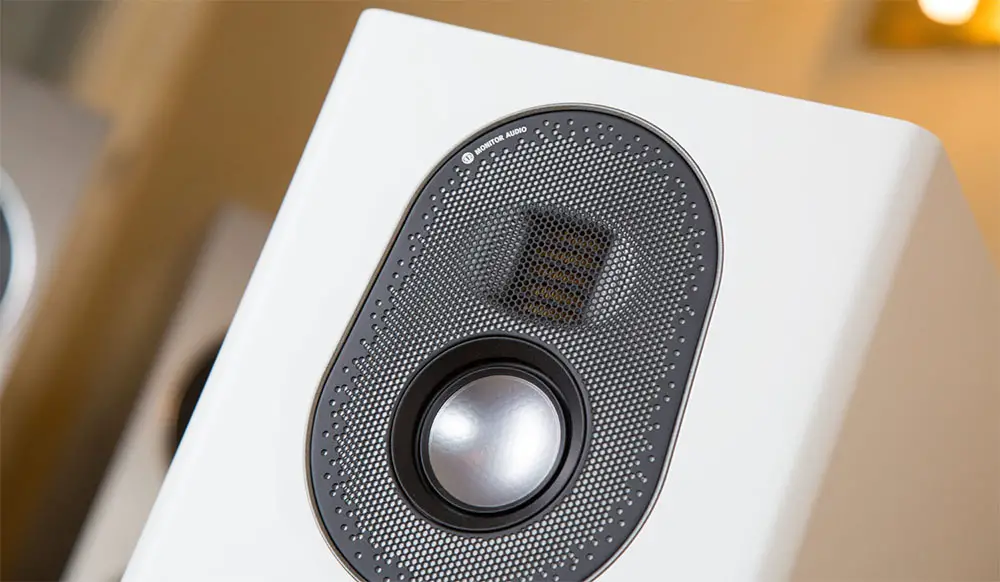 Final Thoughts
There is no denying that going into the Gold 200 review we were expecting a lot from these small floorstanders. The technologies they come packed with wouldn't allow us to believe anything else and to be honest they never disappointed us from what we heard showing that the Gold series may be a step down from the top Platinum II offering but they lack nothing in terms of overall excitement and quality.
These are the kind of speakers that look good no matter what color you choose while their cabinet design and quality is very high and very distinct of Monitors Audio high standards. And while what is on the outside is good for the eyes with the high quality mirror matched wood veneers, nice magnetic grilles and good out-rigger stands what is hiding under the hood can be described as even more impressive.
The Gold 200 pack technologies that originate from the top Platinum II series including a MPD high-frequency transducer, C-CAM mid-range drivers and RDT II long-throw bass drivers while we should not forget the DCF (Dynamic Coupling Filter) which is a patented Monitor Audio technology. All these create a really explosive mixture in order to provide the necessary clarity, satisfying volume, high resolution and dynamic characteristics of the Gold 200.
Are there any downsides in these otherwise excellent speakers? Well, no one is perfect so the Gold 200 while extremely high in the performance ladder couldn't be with some minor shortcomings. And the most obvious to us was the less than impressive sound expansion we were getting from them. Don't get us wrong, what was there was good, more than good actually but beyond the two speakers fidelity was not what you would expect and other speakers had managed better on this regard. It is not a deal breaking fact as the speakers have so many strengths that is silly to say that this can destroy the wider image but it's also what makes it so obvious. The speakers are excellent in so many ways that this could be identified as it's only minor weakness.
Closing we will admit that we had a far better time with these ones than what we initially expected. Monitor Audio created a real champion of a speaker and while this is not the kind of budget friendly territory if you are looking in this review it means that you are serious about your audio enjoyment and are prepared to pay a pretty respectable amount for it. In this regard the Monitor Audio Gold 200 speakers can offer a breathtaking experience either you are looking to place them in a home theater setup or use them only for music and they definitely deserve an audition. Highly recommended.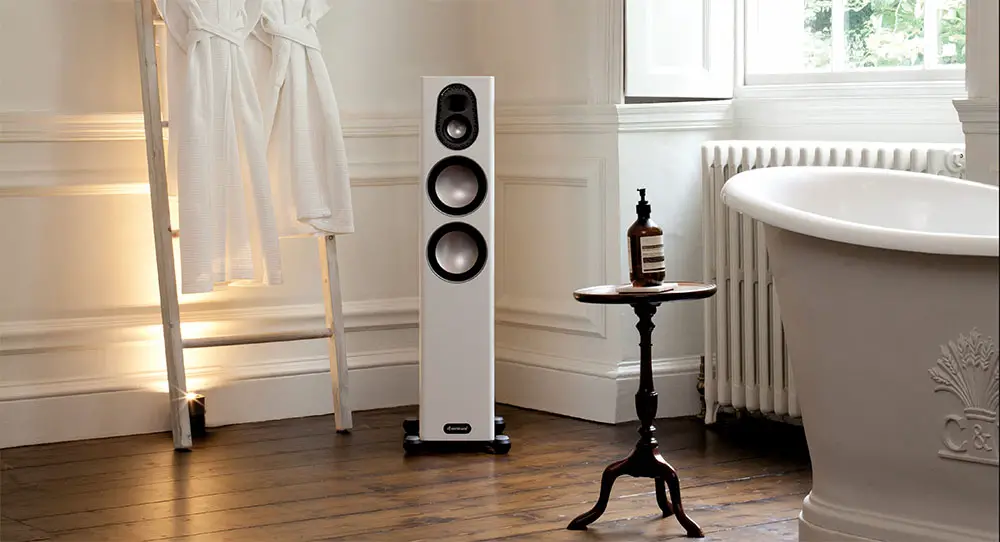 For more reviews you can check our dedicated Floorstanding Speaker reviews list or even look at our Product Reviews Table where you can find the brand and specific product you are looking for.
Also don't lose the chance to subscribe to our Newsletter and gain exclusive privileges.
---
Cheapest Places to Buy :
---
Monitor Audio Gold 200 Specifications