Onkyo TX-NR5100
Reviewed at $599.00
OS, Apps and Features
8.8/10
Pros
Great Dolby Atmos performance
Plenty of extra features
Ideal for small rooms and home theater systems
The cheapest Onkyo you can get
Cons
Spring clips speaker terminals
HDMI 2.1 ports limited to 24Gbps
Remote could be better
No front HDMI or USB
---
Cheapest Places to Buy :
---
Onkyo has seen better days in the past and there was a period when we didn't think they would be able to make a comeback. But they proved us wrong as in the summer of last year they brought an entire new lineup of receivers that not only included their many Onkyo brand but also Pioneer and Integra models which we plan to test in the near future. As for today, in our Onkyo TX-NR5100 review we will be testing their most low cost AV receiver and determine if it is a worthy option to consider.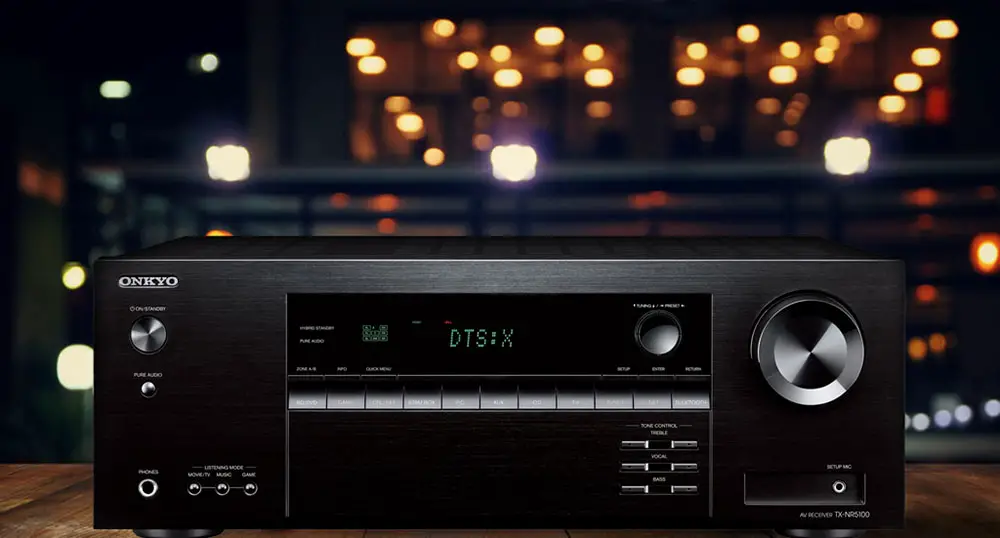 The TX-NR5100 is not the first 7.2 channels receiver we test from Onkyo's new lineup as the TX-NR6100 we had tested some time ago also features 7.2 channels and in fact the two receivers share a lot of similar features, so we will be looking at what their differences are and also comment on which of the two is better suited for your specific needs. The lower cost of the TX-NR5100 means that certain corners had to be cut but the point is if the receiver can still offer a worthy cinematic experience.
So what do we have here. The receiver has 7.2 channels of built-in amplification with 80 watts of power per channel while it supports both Dolby Atmos and DTS:X. As for the rest we find an extensive list of extras including HDMI 2.1, USB and Bluetooth playback, Airplay 2, Chromecast, DTS Play-Fi, Sonos integration, Roon, Spotify Connect and many more. The unit comes with Onkyo's AccuEQ calibration system and as for its HDMI 2.1 ports there is a catch which you should be aware of and we analyze in detail in the appropriate section.
The Onkyo TX-NR5100 seems to come with everything you need in order to offer a basic cinematic experience but also provide enough online and streaming features that any recently released AV receiver should have, even if we are talking about a low cost offering. These models are not meant to drop your jaw in the ground with their performance but Onkyo is a known quality and judging by their previous models the NR5100 should be a worthy budget friendly option. Let's see if it manages to live up to its name.
Design
As we said above the TX-NR5100 and TX-NR6100 have so many similarities both in design but also in specifications that you have to look closely to find their differences. As such many parts of this review will be similar to what we observed in our TX-NR6100 review but as always we will make appropriate changes and additions wherever we deem necessary.
Unlike Yamaha that decided to make a complete overhaul of their latest AV receivers, Onkyo has been recycling the design of their new units from the previous years. The TX-NR5100 is almost the same in design with the TX-NR6100 which in turn looked very close to previously released TX-SR494 with some slight alterations here and there. In terms of size the NR5100 measures 17 1/8˝ x 6 5/16˝ x 12 15/16˝ (435 x 160 x 328 mm), which makes it slightly lower and less deep that the NR6100, and weights 18.5 lbs. (8.4 kg) which is typical for this category.
Overall design wise it has this squarish black box looks and features the same straight lines and sharp corners most of Onkyo's AV receivers come with. Again there is no knob for input selection that we see in so many other models and Onkyo instead uses dedicated buttons for each input. Now if this is more practical or not is certainly a personal matter as some surely will prefer it than the usual input knob.
On the front face a big turning knob is placed on the right for the volume, a big central display showing all functions sits at the upper center, a circular power button on the left with a pure audio button below that while at the bottom left corner we find the headphones jack along with three small circular buttons for the listening modes and on the lower right corner, in a small inset, there is a single microphone port. The NR5100 seems to loose the USB port that the NR6100 had while there is no HDMI port either, which was to be expected.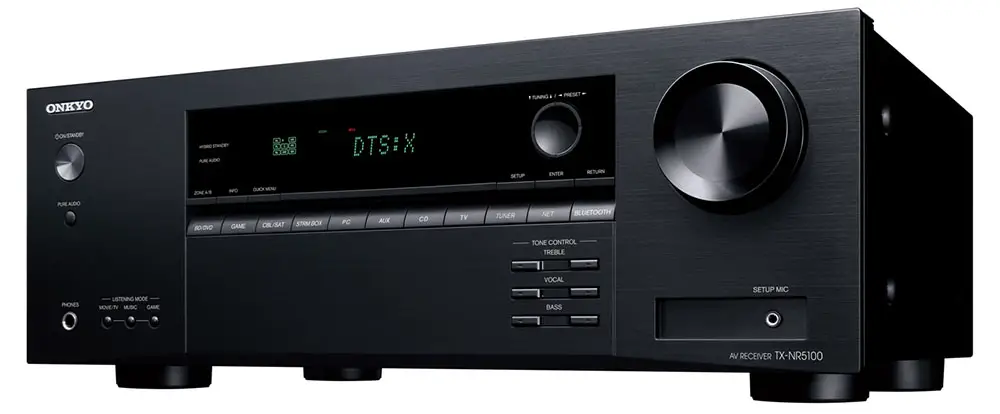 Under the central display we get a single thin line with three buttons on the left and three on the right for various functions while below these we get a thicker line with 12 buttons for the inputs. Lastly below these we get a group of 6 buttons with which you can control the treble, bass and vocal sounds.
Not many surprises on the outside so let's move on and see if there are any changes to the hardware that is used in this one.
The NR5100 still uses a custom high-current low-noise power transformer along with an isolated network module which reduces high-frequency interference on audio circuitry. There is also a 2-stage non-phase-shift amplifier circuitry with discrete output stage. PLL (Phase Locked Loop) anti-jitter technology for SPDIF audio is still present and precision 192 kHz/24-bit DACs are used for Hi-Res Audio.
As for the remote the one in the TX-NR6100 is exactly the same in design as the one we used in the TX-NR6100 and is basically the same one we had seen in some previous releases from Onkyo also. The remote is code named RC986R and it's the typical, cheap looking plastic design that looks much lower quality than it really is.
The top includes all the input and playback buttons needed, in the middle we get the usual navigation buttons while at the bottom there are various audio functionality ones. The buttons are fairly large and have the familiar rubber feel to them. Unfortunately there is no backlight included which makes it harder to use it in the dark.

The difference in this remote is that since the AV receiver lacks a few functions a couple of its buttons are not used and are blank. These include the Phone button at the top and the additional zones at the bottom that this unit lacks. Everything else is like for like.
The TX-NR5100 may be a step down from the TX-NR6100 and surely is missing a couple of hardware features but for a low budget unit it retains a good level of build quality and will not disappoint you. The remote, as we had mentioned before, could be better but we cannot ask for a lot from this category. We will never stop saying about the missing front HDMI port as we believe this should be a standard these days, no matter the cost of the AV receiver.
Audio Quality
The unit supports the usual Dolby Atmos and DTS:X formats along with their legacy cores including Dolby Digital, Dolby TrueHD, DTS and DTS-HD Master Audio. Unfortunately being a low-tier release means that we don't get either IMAX Enhanced or Auro-3D which was to be expected but honestly you don't loose much and going for such a receiver most probably means that you wouldn't use these anyway. Also the NR5100 is the only Onkyo unit without a THX certification.
When it comes to up-mixing tech we find the usual Dolby Surround and DTS Neural:X. What these up-mixing tech are doing is to up-convert stereo and legacy mixes in order to make use of all the speakers you have in your setup. The receiver also supports the standard by now Dolby Atmos Height Virtualizer which can create a virtual setup and give you the illusion of audio from places where there are no real physical speakers. Along with Dolby's Virtualizer we get DTS Virtual:X which does exactly the same thing for DTS mixes but keep in mind that this doesn't work if you have height speakers connected.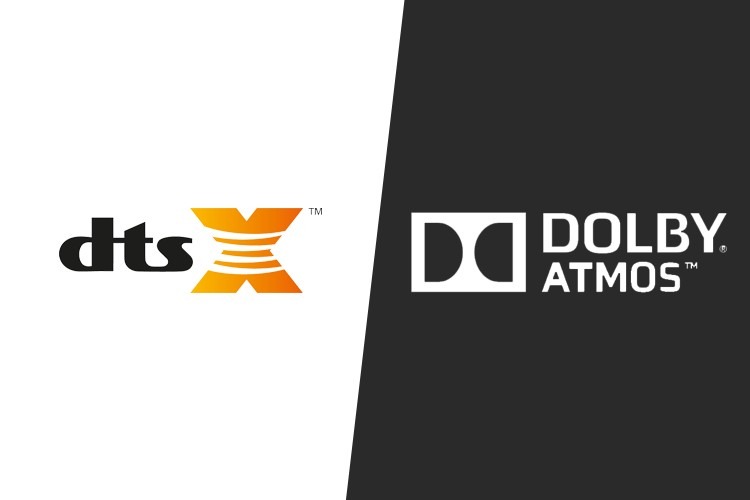 The TX-NR5100 comes with 7 channels of built-in amplification rated at 80W per channel (8 ohms, 20 Hz–20 kHz, 0.08% THD, 2 channels driven, FTC). Obviously if you connect more than two speakers this number goes down but as always, by how much no one knows unless you make specific measurements.
With the available built-in amplifiers you can create a Dolby Atmos system up to 5.2.2 channels. If you don't care about Atmos then a 7.2 channels system can be created. Keep in mind that if you want to use the Zone B capabilities of the receiver and connect a pair of speakers to another room this will limit the number of channels available in the main zone to 5.2 channels. Alternative you can create a 3.2.2 channels Dolby Atmos system in the main room along with a 2.0 channels system in Zone B.
We will be starting our movie testing with Battleship in 4K UHD which uses an amazing DTS:X mix. For a budget receiver the NR5100 is a really capable one and at no point did it show its low cost nature. Battleship may not be the kind of mix that is delicate but surely it has its own merits and surround authority, and the receiver did an excellent job at bringing forth all of its strong points.
There was plenty of surround activity with cannon fire, projectiles flying all over the place and fighter jets flying over our heads and the Onkyo managed to show us exceptional accuracy and panning effects without any lag or delay. The front sound stage was obvious the main attraction with the main channels taking most of the weight while the center one kept the dialogue nicely isolated and contained at the center without being mixed with the rest of the audio elements.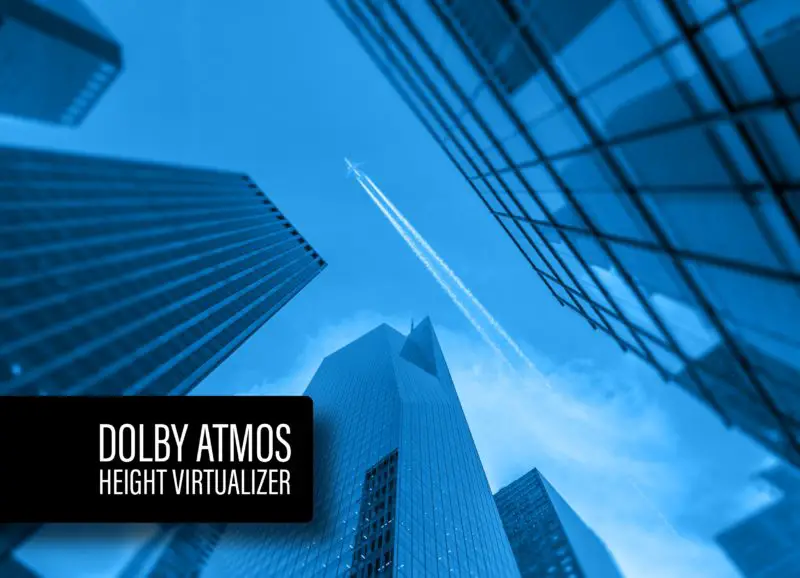 The Atmos effects we nice but obviously this depends a lot on what kind of speakers you will be using and where you are going to place them. Up-firing Atmos speakers will give you some sense of elevation but it will not be the same as ceiling or height speakers. In our case, we used height speakers that are placed as close to the ceiling as possible and the Atmos effects gave a nice extension on the overhead layer pulling us even further into the action. But since there are only two forward Atmos channels you are going to loose a bit in accuracy as most of them will originate from the front. Nothing you can do here unless you go for a 9 channels unit capable of 4 Atmos channels.
For our second test we went with Rogue One in 4K UHD and its Dolby Atmos mix was a real feast for the ears. We skipped forward to the last act of the film with the Battle of Scarif being an amazing piece of audio immersion and cinematic excellence. The Onkyo really brought all its guns forward here and never spared us a minute.
At the front the soundstage was expansive and deep with sound effects giving the illusion of the full force of battlefield in our room. Laser fire would fly past our ears as the surround speakers worked in harmony with the front ones. Explosions had a nice shocking wave to them and our subwoofer was like a happy kid in a candy store. Dialogue was very discern and clear and not even once did we have a problem understanding what the actors were saying.
Rogue One's Battle for Scarif is surely a grand scene that requires a lot of effort from any audio device in order to bring the magnitude of the battle in your entertainment room and the NR5100 was very capable at doing that. It has the attention to details, great dynamics, nice resolution, good balance and no glaring flaws making it an excellent piece of audio equipment all around.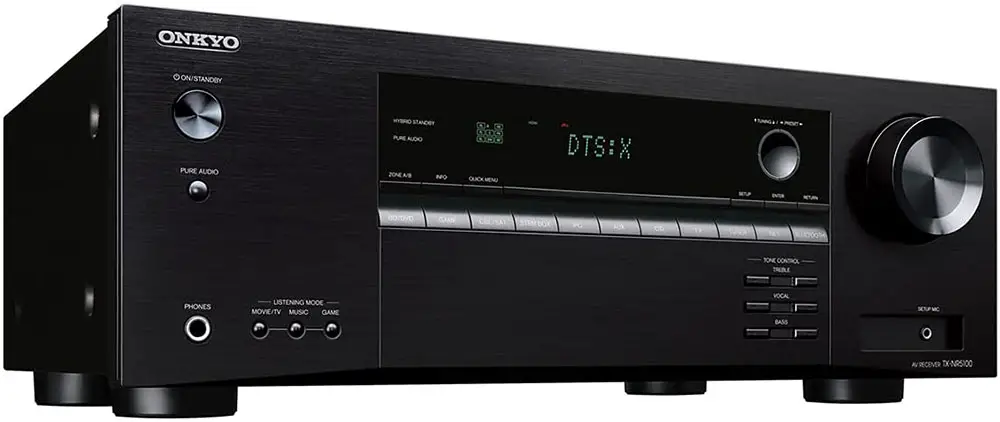 If there is one thing we could say bad about it is that if you like to push the volume to unpleasant levels then the receiver will surely run out of juice which will introduce certain levels of audio distortion. And to be honest this was not something entirely unexpected as with 80 watts for two channels only this means that for a full surround system this number will go down dramatically. But still if you are going to use the receiver in normal sound levels that can even be higher than what most casual users would use then rest assured that the NR5100 will have no problems whatsoever.
Last part of our testing was music so we switched to a 2 channels setup and got some tunes to stream through the USB port of the receiver. Since the units supports it we opted for some FLAC files we have in our collection just for tests like these.
What we say all the time is that while AV receivers may not be the ideal choice for those looking for the best musical experience they do have their merits and can be a good solution mostly for those that are looking to get one for mixed use. And the TX-NR5100 is no different here. In fact we can say that to our ears the NR5100 did remarkably similar to the NR6100. And since both receivers share so much in common in terms of audio components this was not something unexpected or surprising.
We like Onkyo's tonality and overall easy going sound output. Sound from the NR5100 had all these characteristics that make it relaxing to the ears. Obviously, once again we have to say that this also greatly depends on the kind of speakers you will be using but we had paired the Onkyo with some DALI speakers and the two of them had a real blast. No extremes across the entire frequency range with a mid-range that was tight and nicely handled, a high-end that included vocals with nice energy and a bass that had good tempo, dived deep enough and never lost its cohesion.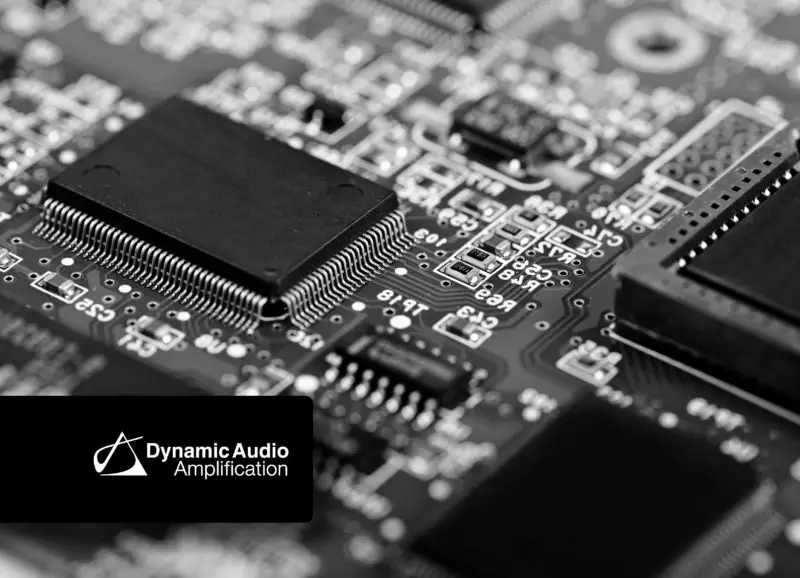 During this stereo performance we got some nice panning effects while transparency was great with pinpoint accuracy of most of the sound elements. Going through different genres like heavy metal, electronic, classical music and Jazz we didn't notice any particular area where the AV receiver fell short making it very capable across different types of music and performances.
Here we will repeat what we said in our NR6100 review. If you want HiFi music fidelity then you are not going for an audio device like the NR5100 for sure. But this receiver is a perfect example of what a good quality value for money receiver can do and this unit has it all. If you are on a budget then this one will serve you really well.
Closing this part of our review what we can say about the TX-NR5100 is that while it may slightly fall short when it comes to overall power output there was nothing else really bad to say about it. On the contrary for the most low budget offering in Onkyo's arsenal we have only good things to say. Its attention to details was remarkable, surround and Atmos performance were great and low end action was clear and nicely articulated.
The NR5100 is the perfect budget solution for either movies or music and will do great in most kinds of low cost home entertainment systems or music configurations.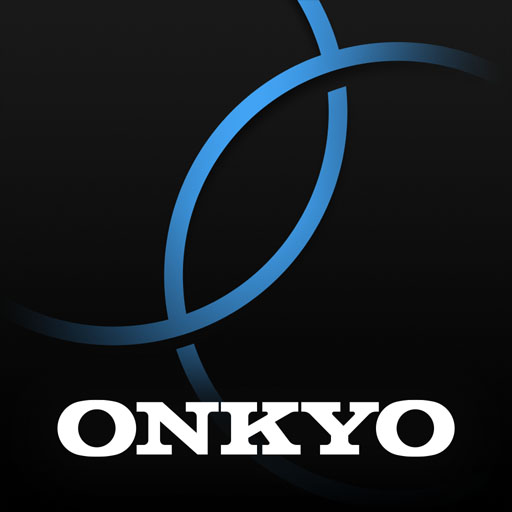 Ports and Connectivity
As we mentioned above, at the front of the TX-NR5100 we only find the headphones jack along with the setup mic port. Nothing else is available, neither the USB that was there in the NR6100 nor a HDMI input. So your only options, if you tend to use both of these frequently, is to attach extension cables from the ports at the back.
The TX-NR5100 comes with 7 speaker terminals but 5 of them are clip based and not the usual binding posts we get in most other receivers. As a result you will have to use bare wires to connect them and only for the two main channels you get proper binding posts that you can use with special banana plugs or spades. There are also 4 HDMI inputs and 2 HDMI outputs, which may be or may not be enough for some more advanced home theater systems. Keep in mind that all ports in the NR5100 are HDMI 2.1 but there are certain limitations that you should be aware of and we will analyze shortly.
As for all the rest of the ports available we find 3 analog ports with no additional one for phono here, one optical and one coaxial digital audio input, 2.2 multi-channel pre-outs, an Ethernet port, another USB port and the usual FM/AM ports along with the dual WiFi/Bluetooth antennas at the top.
As for the HDMI 2.1 ports the NR5100 may be a complete HDMI 2.1 AV receiver but for some reason the HDMI 2.1 ports being used here are extremely limited adding more confusion to an already confusing environment concerning the HDMI 2.1 protocol in general. The problem with the NR5100 is that all its ports are capped at 24Gbps bandwidth. This means that due to the limited bandwidth the receiver can support certain signals only in DSC form and not uncompressed.

To give you an example the receiver can accept a 4K@120Hz signals with 10-bit color and 4:4:4 chroma subsample but the signal must be in DSC and not in uncompressed form as this would require up to 40Gbps of bandwidth that only the NR6100 is capable of. In order for the receiver to pass a 4K@120Hz signal at 10-bit color in both DSC and uncompressed formats the chroma subsample has to be lowered to 4:2:0. So you see the limitations of the HDMI 2.1 ports being utilized here.
The HDMI ports of the TX-NR5100 support 8K/60p(4:4:4/12-bit DSC), 8K/30p(4:4:4/12-bit DSC, 4:2:2/12-bit DSC, 4:2:0/12-bit), 4K/120p(4:4:4/12-bit DSC, 4:2:0/12-bit) video passthrough, VRR, ALLM, QFT (Quick Frame Transport), DSC (Display Stream Compression), QMS (Quick Media Switching), eARC (Main Out), HDR10+, Dolby Vision, HDR10, HLG, BT.2020 color; DeepColor, x.v.Color, LipSync, and HDCP 2.3.
As for its wireless capabilities there is built-in WiFi (802.11ac) to connect to wireless and local networks while it also supports Bluetooth streaming. The TX-NR6100 comes with Bluetooth 4.2 but the most interesting aspect of its Bluetooth capabilities is that other than the usual SBC transmission the Onkyo has also included AptX along with AptX HD transmission which is not something we have seen in most other commercial AV receivers, let alone such a low cost model.
The obvious weakness of the NR5100 is the limitations of its HDMI 2.1 ports. Many will see the HDMI 2.1 sticker and will rightfully believe it comes with all the bells and whistles this new port brings. But the limiting bandwidth of these ports will only add to frustration and more confusion to the more casual consumer market that do not look very deep into technical specs and just want their gaming console or PC rig to work without trouble.
OS, Apps and Features
The NR5100 may have small differences in terms of hardware components and HDMI 2.1 capabilities but in terms of extra features their differences are much smaller with only a couple of omissions compared to its bigger brother.
First of all we will talk about its calibration system and here we find Onkyo's proprietary AccuEQ calibration system. The system may not be as advanced as Dirac that we found for the first time in the TX-RZ50 but is good enough considering the low budget category this receiver belongs to.
The AccueEQ auto calibration system, as with all similar systems from the other brands, can be scaled according to the price class of the receiver. As such the one we find here is the AccuEQ with AccuReflex and Subwoofer EQ. The system detects speaker size, crossover frequency, and distance from the listening position and sets appropriate sound-pressure levels. It also sets crossovers and EQs to all speakers including the subwoofers.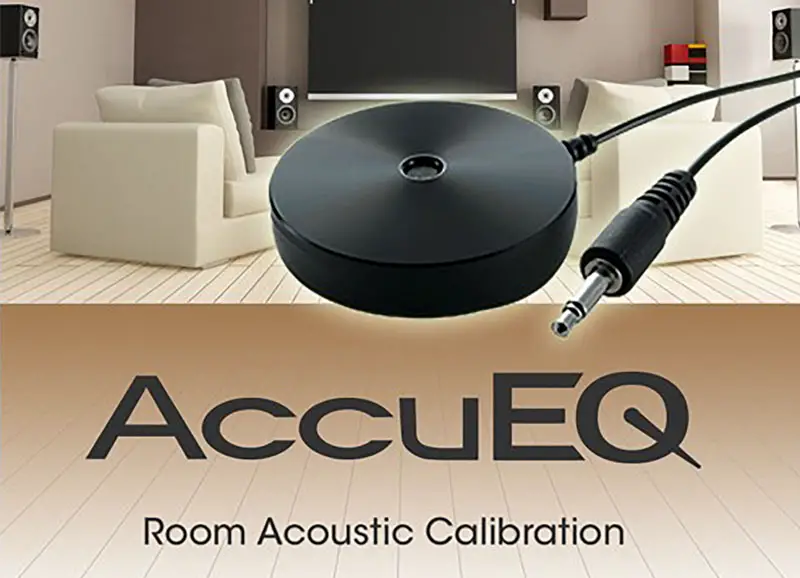 AccuReflex on the other hand optimizes 3D sound through Dolby Atmos-enabled speakers by correcting phase differences in directional and non-directional sound-paths in order to have a clear and cohesive sound-field.
In terms of controlling the receiver, the TX-NR5100 is not missing anything. So except from the remote you can also download the Onkyo Controller App that is free for both Android and iOS and provide all the options and menus you will ever need both for the basic functions but also if you want to stream music from the receiver. The app is pretty good, we had tested it before in both our TX-RZ50 and TX-NR6100 reviews so we had already a very good idea of what to expect from it.
But any new receiver couldn't be without some form of voice control support. As such the unit supports not only Google Assistant but also Amazon Alexa, which by the way was missing in the previous AV receivers lineup from Onkyo, but you will need an external device for these to work obviously. If on the other hand you are mostly an Apple guy then fear not as Siri is also included in the mix and can be used through the Airplay 2 app.
But if all these are too high tech for you and you still prefer to have a remote in your hand Onkyo has provided the unit with HDMI-CEC so you can use your TV's remote in order to control the receiver and this way you can reduce the amount of remotes you have to use at once. This way does not provide full control of the AV receiver but for some basic commands it can be useful and very practical.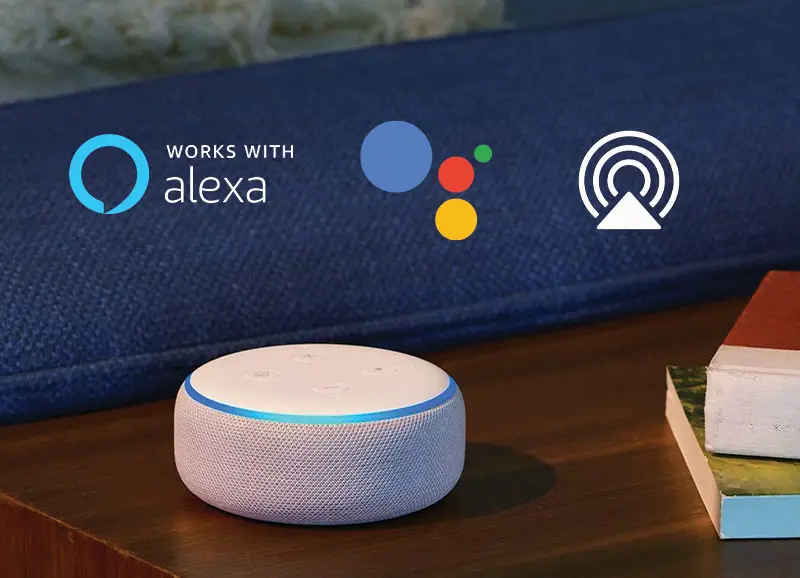 The user interface is nothing special to brag about but one thing we need to mention is that Onkyo is providing a slightly better one compared to what we still get in Denon and Marantz models. It's not anything fancy and we are still very far from what smart TVs offer in their UIs but at least it is much more pleasant to the eye and doesn't look like something that was created in the 90s.
Streaming services could not be missing obviously and so we find the most usual names including Amazon Music HD, Pandora, Spotify, TIDAL, Deezer, and TuneIn among others. In addition you can also stream music locally if you have a network hard drive or NAS server connected to your local network.
The TX-NR5100 is equipped with a quad-core SoC that is capable of performing multiple processing tasks at once. It evolves network functions and supports the 802.11ac (2×2 MIMO) standard for stable multi-room audio streaming either this is made through a wireless and wired connection.
You can also stream music by connecting an external hard drive on the back USB port that is available. The receiver supports a wide range of audio files including the usual mp3, wma and aac while it can playback High Resolution Audio also in the likes of FLAC, AIFF, WAV and DSD. As always we did test various files to see if the receiver can playback them all and we didn't notice any problems during the period we used it.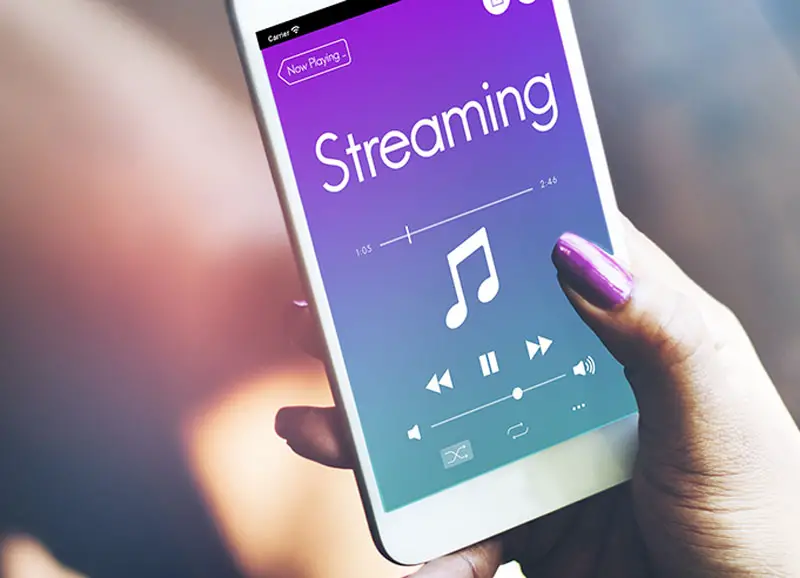 Additionally you can stream music through a Bluetooth connection from any kind of appropriate mobile device while if you are using Apple devices you can do the same by using the Airplay app and stream music from all kinds of Apple devices. But the NR5100 comes with more enhancements to its Bluetooth capabilities as you cannot only send audio to the receiver itself but it can also transmit to some Bluetooth device either to it alone or in a Main Speakers plus Bluetooth device configuration. Onkyo calls this Bi-directional Bluetooth streaming.
And although this is a feature some of the other brands also utilize what seems a first in such commercial AV receivers is the addition of aptX and aptX HD codecs, as we mentioned above, for far better streaming quality except from the usual SBC we have seen being widely used. Just keep in mind that the headphones must also support aptX for this to work, otherwise the simple SBC codec is used.
Another particular handy feature is the inclusion of a low latency mode. We had tried using the Bluetooth transmission feature but when watching a movie there is obvious lip sync issues due to the slow transmission of the SBC protocol. With Onkyo including a low latency mode in the NR5100 means that streaming to some Bluetooth headphones will sync the audio exactly to what is on screen.
All of Onkyo's previous releases had strong multi-room capabilities and the NR5100 is no different. There is support not only for Chromecast that allows you to connect other Chromecast enabled speakers in your house to the receiver but also DTS Play-Fi and Airplay 2 if you are mostly using Apple devices while it even has "Works with Sonos" integration. As for wired options the NR5100 is missing an additional zone compared to the NR6100 and we only find Zone B instead.
The receiver is also "Roon Tested" certified but here we need to make clear that there are two types of certifications and many people don't know the difference between them. The two types of certification are Roon Ready and Roon Tested.
The TX-NR5100, as with most other AV receivers from competing brands, is Roon Tested which means that it doesn't have Roon built-in but has been tested to work with, but not without a small catch. And that is audio quality. As this works through some streaming system like USB, HDMI, AirPlay, Google Cast or other protocols, audio quality is limited to only 16 Bit/44.1kHz. Keep that in mind in case Roon is specifically important to you but also want your files to be streamed in their original high quality.
Before closing there are a few more features worthy of mentioning including IP Control for setup via PC and integration into a home automation system, Advanced Music Optimizer which improves compressed audio playback quality and 1080p to 4K video upscaling via HDMI.
Features wize, if you choose the NR5100 compared to the NR6100 you will be loosing and additional Zone along with the THX certification. How much this affects your choice is up to you but the differences are really small between the two.

Final Thoughts
When looking at the lower levels of the performance ladder expectations should always be at check. Onkyo had so far managed to impress us with a couple of their latest releases and we had high hopes for the TX-NR5100 being a great solution in its more affordable market. And although it did manage to tick most of the required boxes such a model has to, to be considered a worthy purchase, it was not without a few missteps.
On the plus side build quality was very good. A very sturdy construction and good selection of internal components resulted in impressive performance either it be movies or music. Also the list of extra features and streaming options is rather extensive and shouldn't leave any user unsatisfied. And considering this is one of the cheapest 7.2 channels AV receivers you can get today the NR5100 can be ideal for anyone who wants some Dolby Atmos magic but doesn't want to go overboard with the available budget.
On the downsides we would have to call the limitation of the HDMI 2.1 ports a rather frustrating one and surely one that many casual users will find well after they have purchased the unit. Also the speaker terminal spring clips are very cheap and can easily break which shouldn't be the case even for a $600 AV receiver. The remote could be of better quality while the omission of both the USB and HDMI frontal ports take away some of the unit's practicality.
To be honest from all the downsides this receiver has only the HDMI 2.1 is a really bad one. For everything else we could turn a blind eye but the limiting bandwidth of the HDMI ports is not something you see advertised by Onkyo. If it wasn't for that we would call the TX-NR5100 one of the best budget friendly 7.2 channels AV receiver. Not that it's bad now but these small shortcomings doesn't let it reach the greatness it deserves.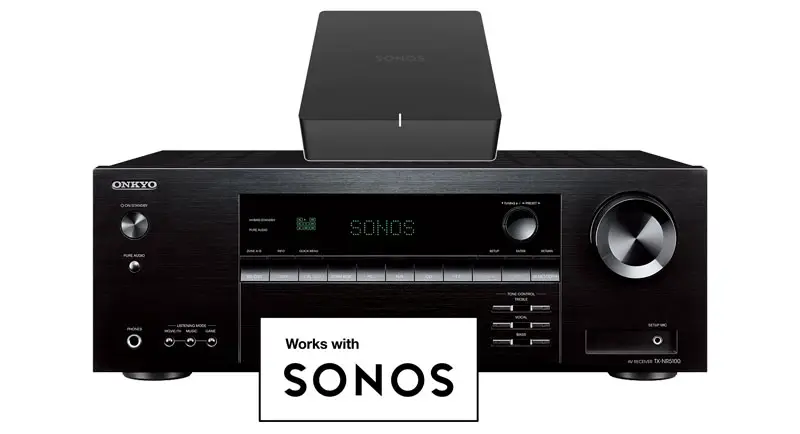 For more reviews you can check our dedicated 7 channels 8K AV Receiver reviews list or even look at our Product Reviews Table where you can find the brand and specific product you are looking for.
Also don't lose the chance to subscribe to our Newsletter and gain exclusive privileges.
---
Cheapest Places to Buy :
---
Onkyo TX-NR5100 Specifications