Onkyo TX-RZ50
Reviewed at $1,399.00
---
Cheapest Places to Buy :
---
Onkyo has been in a state of flux in the last couple of years and having no new products lately only strengthen the fact that the good old days of the Japanese manufacturer are long gone. But it seems there is still some life left as 2021 marks the return of Onkyo to the markets even if their presence is still shaky and looking for one of their new released AV receivers is like searching for the Bigfoot. But in our Onkyo TX-RZ50 review today we will be looking at one of their latest releases that comes with a few very interesting features.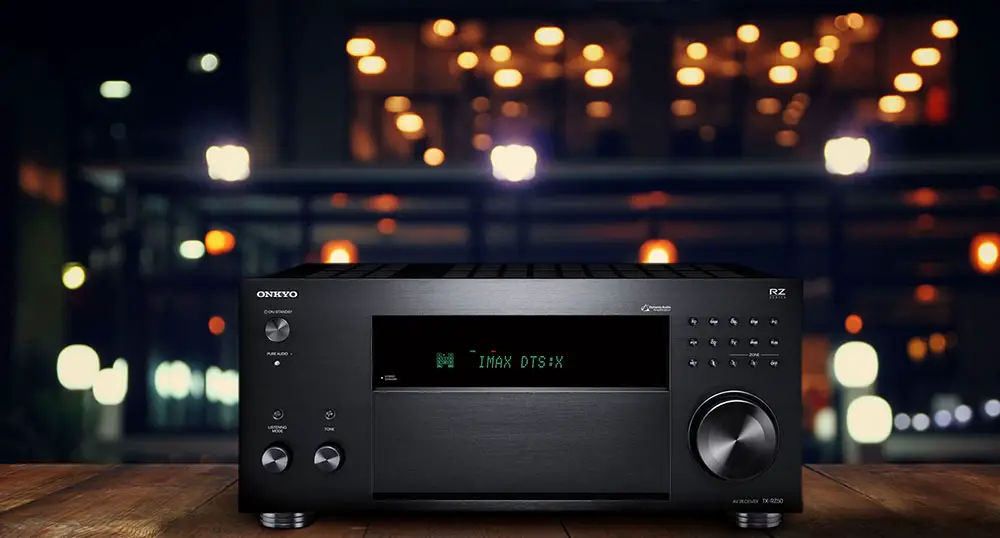 At the beginning of the year Onkyo along with their own Pioneer brand had announced a few new entries in the AV receivers market. For Pioneer we will talk more in an upcoming article but as far as Onkyo is concerned they released three units in the TX-NR series along with a single unit that belongs to their more premium RZ series and it's the one we have with us here today.
The TX-RZ50 is a 9.2 channels AV receiver that is THX certified, something that not many AV receivers of this category are anymore, and supports Dolby Atmos, DTS:X and IMAX Enhanced content. It features 120 watts of power and comes fully packed with USB and Bluetooth streaming, high resolution audio support and many online features including Airplay 2, Chromecast, DTS Play-Fi, Works with Sonos, Roon, Spotify Connect and many more. But the most interesting aspects are that the TX-RZ50 comes with the Dirac Live auto calibration system and is the first AV receiver not to be plagued by the problematic HDMI 2.1 chip that haunted all the AV receivers that were released in 2020. But more on these shortly.
As a whole the Onkyo TX-RZ50 has all the ingredients for success. It supports almost everything you would expect and even more, while featuring Dirac and coming with bug-free HDMI 2.1 ports will surely make more than a few to start looking for a unit to reserve. Is it really as good as it sounds? Let's find out…
Design
Onkyo hasn't changed the design of their premium RZ models for some time now and it seems that the TX-RZ50 continues to follow this trend. So from what we see the outer shell is exactly the same as the one used in the TX-RZ840 that we had previously reviewed. Coming at a size of 17-1/8″ × 7-15/16″ × 15-11/16″ (435 mm × 201.5 mm × 398 mm) and a weight of 30.9 lbs (14 kg) the RZ50 may not have the excessive footprint of the RZ1100 but still needs some breathing space to keep the temperatures at normal levels.
The front face is completely similar to the TX-RZ840 and keeps certain design aspects that are very characteristic with most Onkyo AV receivers. As such there is no knob for input selection that we see in so many other models and Onkyo instead uses dedicated buttons for each input. Now if this is more practical or not is certainly a personal matter so we will leave it at that.
The general look of the receiver is simple as with most AV receivers, a black box with a big display screen at the front and small buttons all over the place will not win any awards but no one buys these for their looks.
The front face keeps a pretty clear design with a big turning knob on the right for the volume, a big central display showing all functions, a circular power button on the left with a pure direct button below that while at the bottom left corner there are two small buttons with their appropriate knobs below them for the listening modes and tone. Above the volume knob we get three rows of 5 buttons each that include all inputs as well as streaming, Bluetooth and Zone 2/3 selections.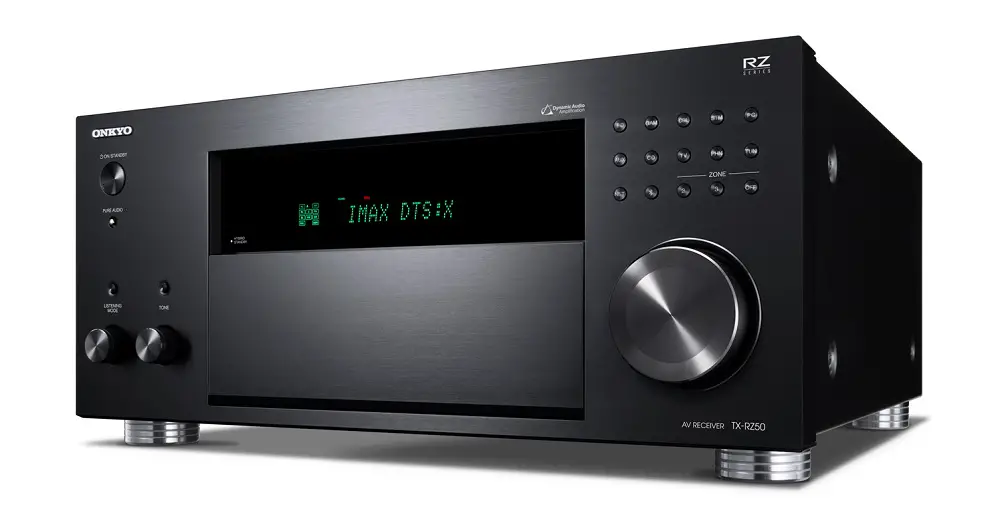 Under the central display we once again find a flip door, typical to the RZ series, hiding even more buttons and ports which we like very much as it keeps the front face uncluttered from buttons and connections that only gather dust most of the time. Opening the flip door at the center we get the usual navigation controls with a set of 5 buttons on each side that control various functions of the receiver while below we also get a headphones jack, an HDMI input as well as the calibration microphone port. Everything else is located at the back and we will talk about them in the appropriate section.
With most AV receivers of 2020 taking out the front HDMI port seeing the RZ50's front one intact put a smile on our faces. For us it is a huge practical feature and one that all competing brands should bring back in their next releases.
Belonging in the RZ series meant that this unit packs some serious hardware with some hardware features being the standard for all their premium releases. As such in the TX-RZ50 we find a custom high-current low-noise power transformer and 15,000 μF high-current smoothing capacitors. Along with its isolated network module which reduces high-frequency interference on audio circuitry there is also a 2-stage non-phase-shift amplifier circuitry with discrete output stage and a anti-resonant extruded aluminum heat-sink.
As for its electronics we get the usual which means we once again find the PLL (Phase Locked Loop) anti-jitter technology for SPDIF audio, VLSC (Vector Linear Shaping Circuitry) noise filtering for the front left and right channels and high-quality DACs that support 192 kHz/24-bit multichannel D/A conversion.

When reviewing the TX-RZ840 we were a bit disappointed by the remote Onkyo included and unfortunately it seems we are getting exactly the same one here which to be honest looks extremely cheap in comparison to the hardware they included in the RZ50.
The top includes all the input and playback buttons needed, in the middle we get the usual navigation buttons while at the bottom there are various audio functionality ones. The buttons are fairly large and have the familiar rubber feel to them. Unfortunately there is no backlight included which makes it harder to use it in the dark.
In terms of design and build quality the TX-RZ50 follows on the footsteps of its predecessors. It features the same exterior shell and many of the same high quality internal components with a few changes here and there which means only good things as Onkyo had always included good quality hardware in their premium RZ series in general. Only the remote remains a cacophony in an otherwise amazing orchestra and Onkyo should really up their game in this regard.
Audio Quality
The receiver supports the usual Dolby Atmos and DTS:X formats but is not limited only to these two, including their legacy cores, as we also get IMAX Enhanced support even though content for this is still extremely limited. Along with these we get support for up-mixing and virtual technology features in order to cover all needs and specific room configurations.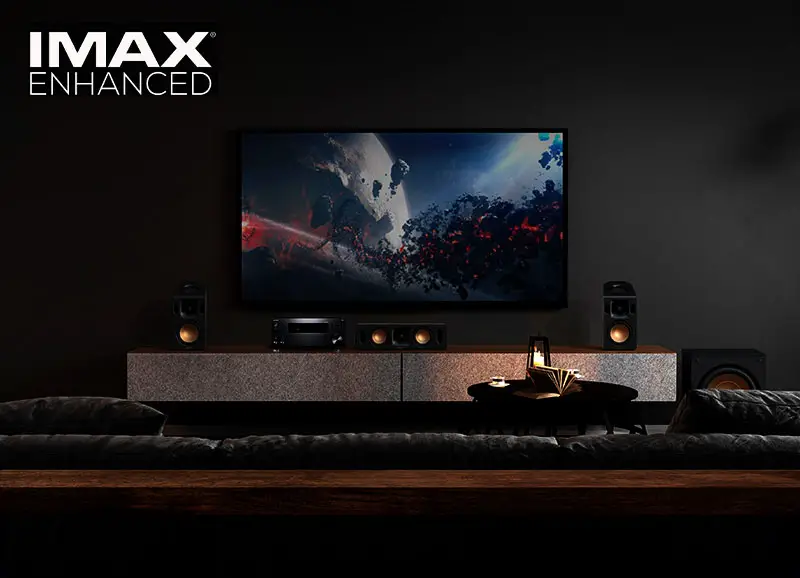 When it comes to up-mixing tech we find the usual Dolby Surround and DTS Neural:X. What these up-mixing tech are doing is to up-convert stereo and legacy mixes in order to make use of all the speakers you have in your setup. The receiver also supports the relatively new Dolby Atmos Height Virtualizer, which starts to become a standard lately, which can create a virtual setup and give you the illusion of audio from places where there are no real physical speakers.
Unfortunately, once again there is no DTS Virtual:X which is a similar technology for DTS tracks specifically. But the good thing about the new Dolby Atmos Height Virtualizer is that unlike DTS Virtual:X that works exclusively with DTS tracks Dolby's solution can work for both Dolby Digital and DTS mixes making the omission of DTS Virtual:X not such a big deal.
The TX-RZ50 comes with 9 channels of built-in amplification rated at 120W per channel (8 ohms, 20 Hz–20 kHz, 0.08% THD, 2 channels driven, FTC). Obviously if you connect more than two speakers this number goes down but as always, by how much no one knows unless you make specific measurements.
With the available built-in amplifiers you can create a Dolby Atmos system up to 7.2.2 or 5.2.4 channels. As the TX-RZ50 offers processing for up to 11 channels if you add an external amplifier you can create a system with a configuration of 7.2.4 channels. As for this review we went for a 5.1.4 channels setup with four height speakers and a single subwoofer.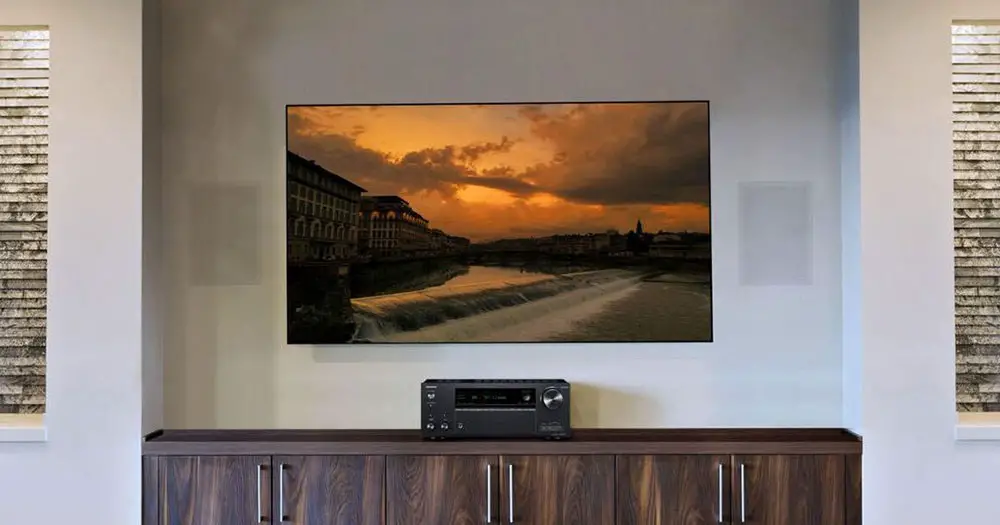 Onto our tests now and first came Alita: Battle Angel in 4K UHD with its amazing Dolby Atmos mix. The obvious test here is the Motorball sequence and the RZ50 did excellent with plenty of panning effects and immense low end action. No channels went to waste as the camera moves in high speed through the track and each speaker would do its part into recreating all action on screen.
Overall a very impressive first taste of what the receiver can do. Precision, clarity with great balance and excellent dynamics gave us a really immersive soundstage.
Next we move onto something different with Alien: Covenant and its atmospheric Dolby Atmos mix. The movie is very diverse with many scenes going for the usual low end, bombastic tone like when Daniels and Tennessee try to escape the protomorph in the lander. This is a particularly impressive scene as there are a lot of surround sounds as the protomorph is trying to enter the lander giving us a good idea what the alien is doing outside the spaceship.
But it's not only action scenes that were so impressive. The entire Necropolis part is covered under an eerie silence with the Onkyo managing to render the tinniest of details while dialogue would echo inside the vast structures of the empty alien city.
Once again excellent use of the surround channels, masterful filling of the overhead layer, just enough to complement the main soundstage and delicate use of bass giving exactly the amount of weight each scene asks for.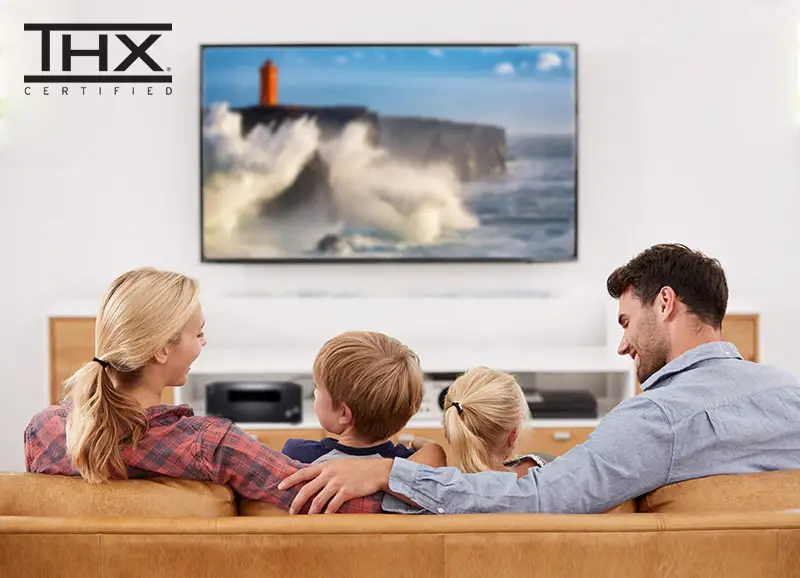 For our next test we felt a bit nostalgic so we tried out Jurassic Park in 4K UHD, yes the original film that is still as impressive as it was when it originally came out and features a DTS:X mix that can put to shame many recent productions.
The film has immerse low end activity. When the T-Rex makes his grand appearance every step he takes and every deep growl he makes will make you hold on the edge of your seat. The receiver pushed our subwoofer to its limits and sent us into fourth heaven!
Add to all this the legendary score by John Williams that was reproduced with delicacy and care and you have a masterpiece that the TX-RZ50 made real justice.
Last film we tested and we could not close this review without it is one of our favorite films of all time, The Lord of the Rings. This time we decided to try our the Two Towers and obviously the battle of Helm's Deep was the obvious choice.
The receiver was particularly capable at recreating such an immense battle stage and make you feel like you are in the middle of it. Dialogue was well prioritized and confined in the middle without overlapping with the rest of the action. Surround activity was great especially in specific shots when the action was happening behind the camera. Obviously in such a scene the bass takes center stage and you could really feel the immense size of Saruman's army.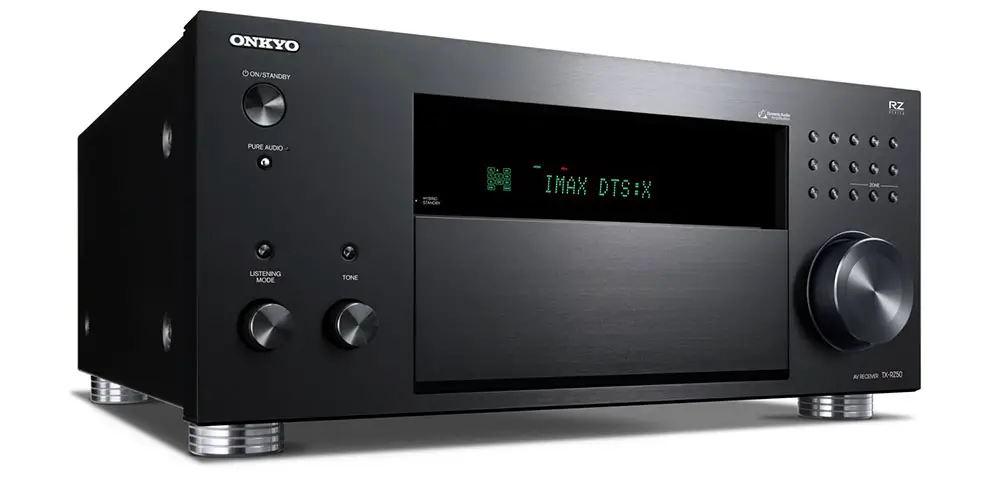 In the underground caverns of Isengard sounds could be heard not only from the front and back but also above our heads as the camera travels into the dark corners of Saruman's tower.
And this concludes our movie testing. To say that we were impressed with how the TX-RZ50 behaved would be an understatement. There was not a single moment that we felt the receiver didn't manage to recreate each scene faithfully and how it should be. Every level of the frequency range was handled with care, dynamics were great and attention to details was high resulting in an amazing cinematic experience. Nothing more to add here.
Last part of our testing was music so we switched to a 2 channels setup and got some tunes to see how the TX-RZ50 can do with something more musical.
AV receivers may not be meant particularly for music, as audiophiles most of the times prefer to go for different equipment, but that doesn't mean that they are not good at what they do. And the TX-RZ50 is a prime example of that especially if you pair it with a good quality of speakers that can take advantage of its electronics.
Its output was really great, maybe not as musical as the kind of Marantz receivers can do, but let's be honest here, the differences they have are so small to the common ear that most of the time will go unnoticed. Excellent transparency and impressive stereo panning effects indicated that the receiver is very capable no matter the content you throw at it.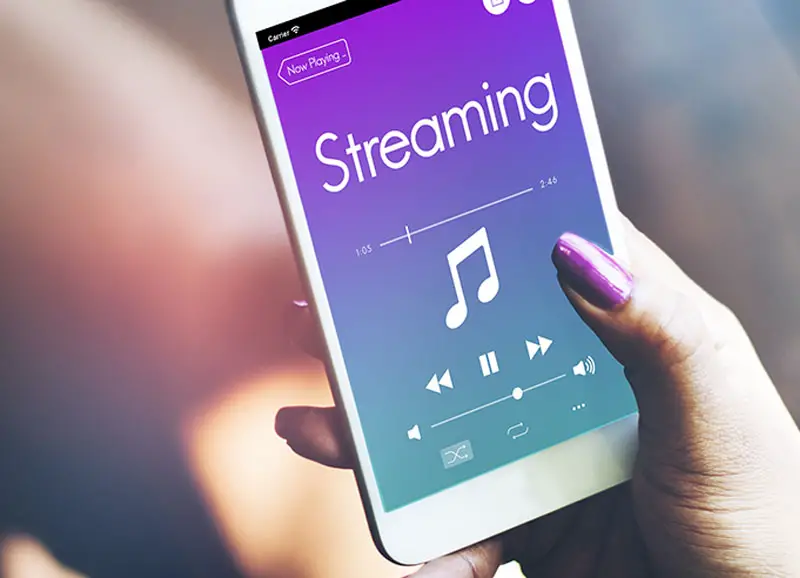 The high end was energetic, full of life and vibrant without being bothering, the mid frequencies were nicely balanced and smoothly controlled while the bass never failed to impress us with its powerful output and shattering energy without loosing in detail.
Is this an AV receiver that could replace what most probably a hardcore audiophile would choose to drive his expensive HiFi speakers? Most probably not, but this doesn't change the fact that the Onkyo is an amazing handler of anything that has to do with music. Either it be some hardcore heavy metal or some delicate classical music the TX-RZ50 will masterfully output everything you throw at it.
Closing this section of our review what we can say about the Onkyo's performance is that the receiver will impress even the most demanding of users. Either you want it mainly for movies or for mixed use it will serve you to the best of its abilities and then some.
Ports and Connectivity
The Onkyo TX-RZ50 features most of its connection ports at the rear as the headphones jack along with a single HDMI input are the only available ports at the front side. And as we already mentioned above having a front HDMI input can be such a huge practical advantage compared to most other 2020 models that have completely took out the front HDMI port.
Now at the back the first thing we notice is the 11 speakers terminals available but keep in mind that only nine of them can be used with the built-in amplification. For the rest the receiver can process them but you will need an external amplifier in order to get the full 11.2 channels.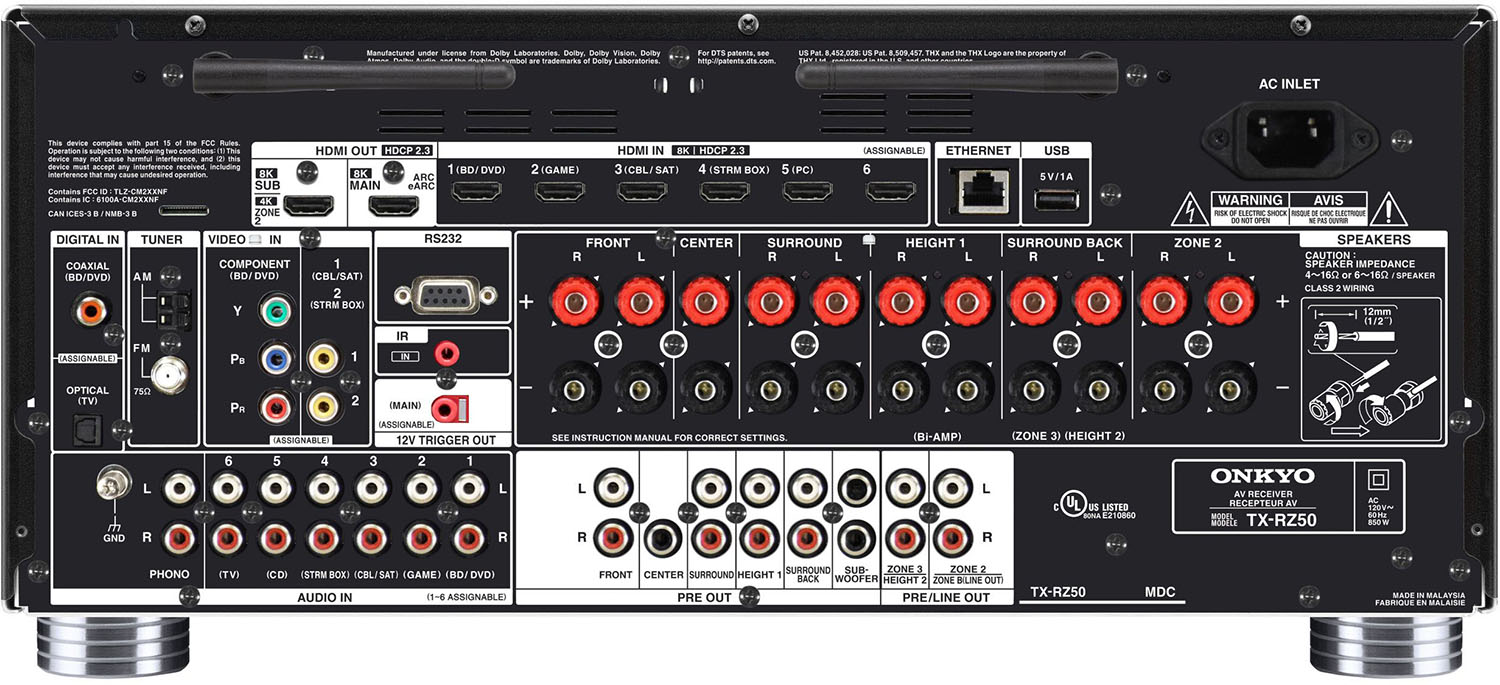 As for everything else we get 6 analog stereo inputs along with another dedicated to phono, 1 optical and 1 coaxial digital audio input, 1 IR input, 1 12V trigger port, an RS-232 port for control, 11.2 multi-channel pre-outs, 1 component input, 2 composite inputs, an Ethernet port for wired connections to your local network and a USB port. There are also dual WiFi/Bluetooth antennas at the top of the back panel.
Probably one of the most interesting, and important at the same time, aspect of the TX-RZ50 is the included HDMI 2.1 ports that it comes with. All the 2020 AV receivers that featured HDMI 2.1 came with a bugged Panasonic chip that wouldn't allow it to pass certain signals, like 4K/120Hz RGB signals from the Xbox series X for example as it would result in a black screen.
The TX-RZ50 seems to be using an updated version of this Panasonic HDMI 2.1 chip which allows up to 40Gbps of bandwidth in three of its HDMI ports and this includes all the signals with a 4K@120Hz configuration including Xbox Series X. Just to confirm this we indeed connected an Xbox series X and our test TV indicated that we were getting 4K@120Hz with VRR at 40Gbps signal bandwidth. During our session we didn't experience any HDMI signal loss or any other connection issues indicating that this AV receiver is truly the first that offers a problem-free HDMI 2.1 gaming experience.
The HDMI ports of the TX-RZ50 support 8K/60p (up to 4:4:4/12-bit), 4K/120p (up to 4:4:4/12-bit) video passthrough, VRR, ALLM, QFT, DSC (Display Stream Compression), QMS (Quick Media Switching), eARC (Main Out), HDR10+, Dolby Vision, HDR10, HLG, BT.2020, DeepColor, x.v.Color, LipSync, and HDCP 2.3.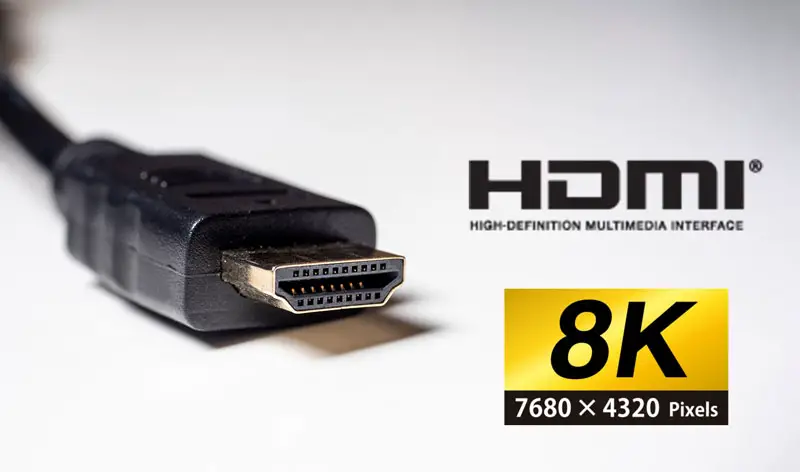 As for its wireless capabilities there is built-in WiFi (802.11ac) to connect to wireless and local networks while it also supports Bluetooth streaming. The TX-RZ50 comes with Bluetooth 4.2 but the most interesting aspect of its Bluetooth capabilities is that other than the usual SBC transmission the Onkyo has also included AptX along with AptX HD which is not something we have seen in most other commercial AV receivers.
Obviously the biggest news here is the updated HDMI 2.1 ports it has. If you were hoping for an AV receiver that would not be plagued by the infamous HDMI 2.1 bug then the TX-RZ50 is one of the first. Surely the others will follow but for the time being Onkyo can claim to be one of the first that managed to overcome this problem and it can be a very popular aspect among those serious gamers.
OS, Apps and Features
Being a direct descendant of the previous RZ models meant that the RZ50 would include almost all the features we had seen previously along with a few notable additions in order to keep things fresh and more competitive to the latest releases from the other brands.
First of all we will talk about its calibration system and this is the rare case where an AV receiver actually includes two of them! You see, until recently all Onkyo AV receivers were coming with their proprietary AccuEQ auto calibration system. For the first time Onkyo still uses it but also brought Dirac Live built-in and this is something that many fans of the brand will warmly welcome.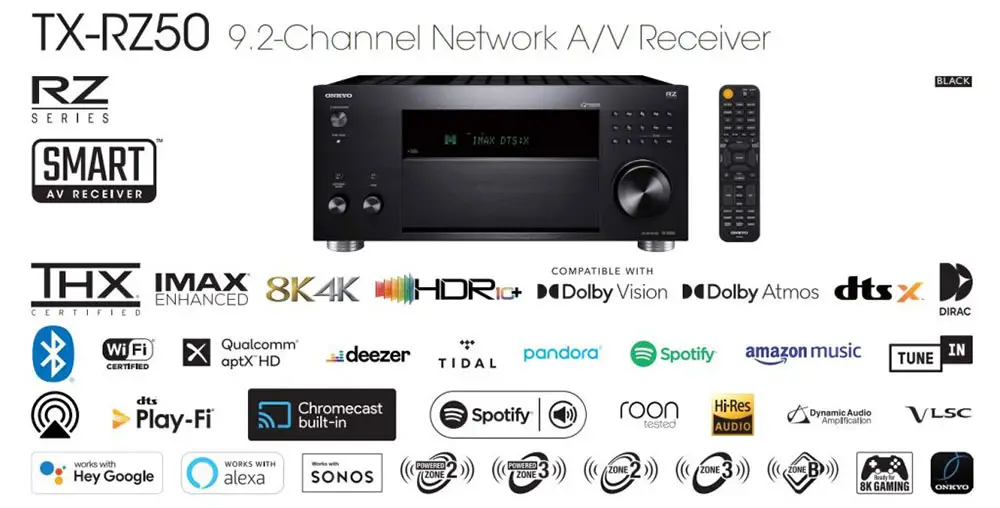 The TX-RZ50 comes with Onkyo's proprietary audio calibration system and as with all receivers these come with different versions of it depending on the category they belong. As such the one we find here is the AccuEQ Advance 9-point calibration system. The receiver analyzes data from various microphone positions and calibrates audio response to optimize speaker performance while it fine-tunes every speaker in your home theater, even if they are not symmetrically placed in order to create a more seamless and immersive soundstage.
This advance version of AccuEQ expands the functionality of Onkyo's system and in addition to speaker presence, distance, SP levels, and crossover it supports multipoint microphone measurement to detect the presence of standing waves, and sophisticated equalization technology to remove them from your room.
In addition the AccuReflex technology optimizes the reproduction quality of object-based audio soundtracks played through Dolby Atmos-enabled front speakers, Dolby Atmos-enabled upward-firing modules, or in-ceiling speakers by calibrating the phase of sounds originating from Dolby Atmos-enabled speakers so they integrate with your floor speakers.
And then you have Dirac Live. When doing initial setup you can choose if you want to use Onkyo's AccuEQ or Dirac Live so there is no mix between the two. Dirac Live automatically calibrates the sound in your room using either your smartphone and the included wired mic, or you can go the wireless way with the Dirac Live PC or MacOS application, and a 3rd party USB mic if what you have may be better than the one provided in the box.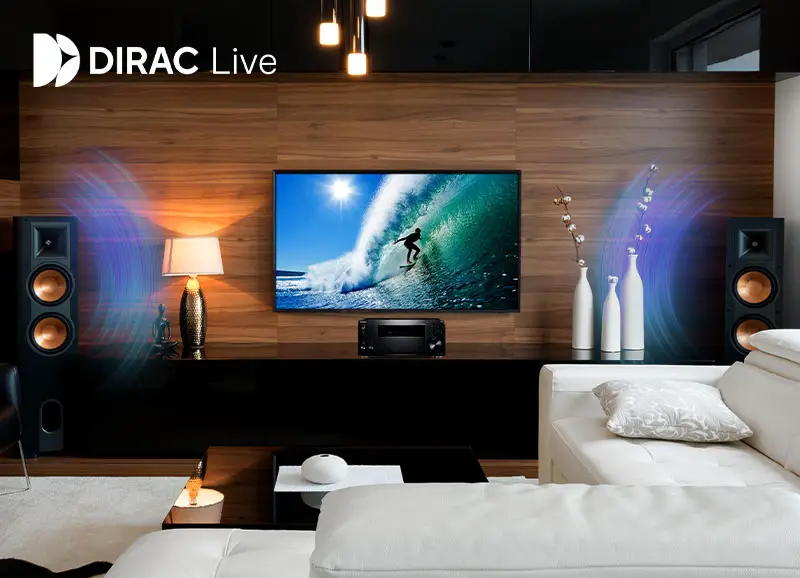 What Dirac Live does is to correct both the timing and amplitude aspects of sound coloration using a mixed-phase correction filter throughout the listening area, not just a particular zone. Correction is performed automatically using the proprietary app for smartphone or tablet and it can improve staging, localization, clarity, voice intelligibility, and bass response.
There is a lot to like in Dirac Live and we see why there was such a warm welcome when Onkyo announced that it would be included without any additional cost. The system is really powerful and you literally have everything you need in order to use it. The app can be wonky from time to time but in general we found it very stable and the results you get, in our opinion, are far better than what the AccuEQ system can do.
There are various presets where you can save your configuration and also after the initial measurements you can go to each channel separately and adjust the curve any way you like so this can be particularly handy for those that seek to do micro-adjustments to the system's own balancing.
In terms of controlling the receiver the TX-RZ50 literally includes everything. So except from the remote you can also download the Onkyo Controller App that is free for both Android and iOS and provide all the options and menus you will ever need both for the basic functions but also if you want to stream music from the receiver. The app is pretty good, we had some experience with it from our previous Onkyo reviews, and since it's free we suggest you give it a go as you may find it practical to use.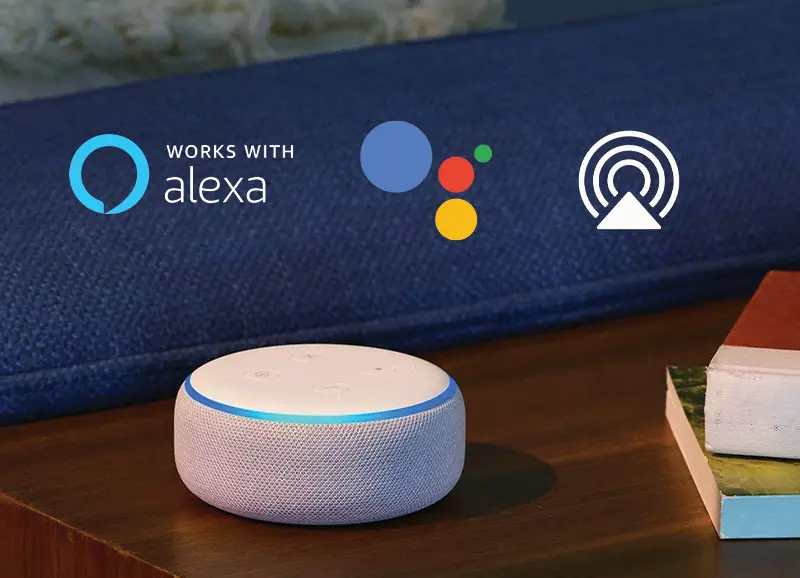 But any new receiver couldn't be without some form of voice control support. As such the unit supports not only Google Assistant but also Amazon Alexa, which by the way was missing in the TX-RZ840, but you will need an external device for these to work obviously. If on the other hand you are mostly an Apple guy then fear not as Siri is also included in the mix and can be used through the Airplay 2 app.
But if all these are too high tech for you and you still prefer to have a remote in your hand Onkyo has provided the unit with HDMI-CEC so you can use your TV's remote in order to control the receiver and this way you can reduce the amount of remotes you have to use at once. This way does not provide full control of the AV receiver but for some basic commands it can be useful and very practical.
The user interface is rather simple and there is not much to talk about but we should point out that the one used in the TX-RZ50 feels slightly better than what Sound United is using in the Denon and Marantz AV receivers. Not anything major but using slightly better resolution menus and photos they make the RZ50 feel like a more recent electronics device in comparison to the archaic menus we find in the other 2020 units.
Streaming services could not be missing obviously and so we find the most usual names including Amazon Music HD, Pandora, Spotify, TIDAL, Deezer, and TuneIn. In addition you can also stream music locally if you have a network hard drive or NAS server connected to your local network.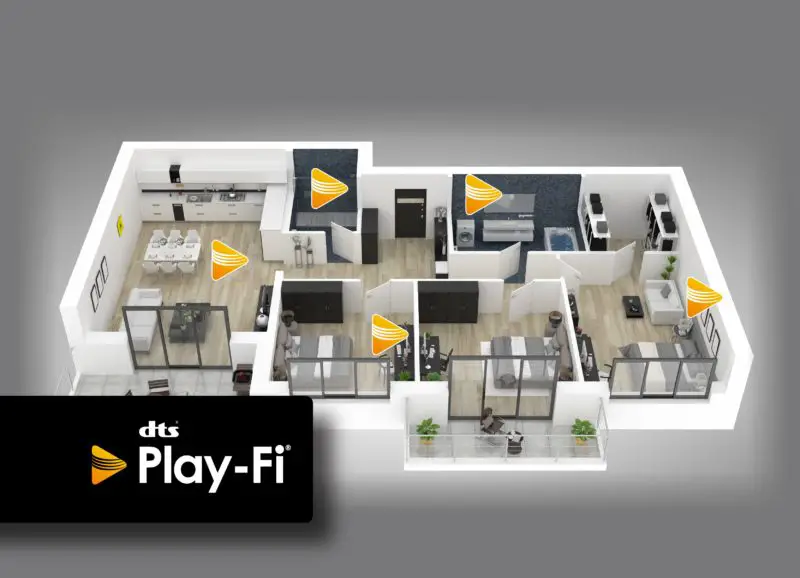 As we mentioned above the RZ50 features an isolated 1.8 GHz quad-core SoC that is capable of performing multiple processing tasks at once. It evolves network functions and supports the 802.11ac (2×2 MIMO) standard for stable multi-room audio streaming either this is made through a wireless and wired connection.
You can also stream music by connecting an external hard drive on the rear USB port although we would definitely prefer to have this at the front as it is extremely difficult to reach it where it is now and as a result most people have to rely on some kind of USB extender for easy access.
Additionally you can stream music through a Bluetooth connection from any kind of appropriate mobile device while if you are using Apple devices you can do the same by using the Airplay app and stream music from all kinds of Apple devices. But the RZ50 come with more enhancements to its Bluetooth capabilities as you cannot only send audio to the receiver itself but it can also transmit to some Bluetooth device either to it alone or in a Main Speakers plus Bluetooth device configuration.
And although this is a feature some of the other brands also utilize what seems a first in such commercial AV receivers is the addition of aptX and aptX HD codecs for far better streaming quality than the usual SBC we have seen being used.
Another particular handy feature is the inclusion of a low latency mode. We had tried using the Bluetooth transmission feature but when watching a movie there is obvious lip sync issues due to the slow transmission of the SBC protocol. With the RZ50 including a low latency mode means that streaming to some Bluetooth headphones will sync the audio exactly to what is on screen.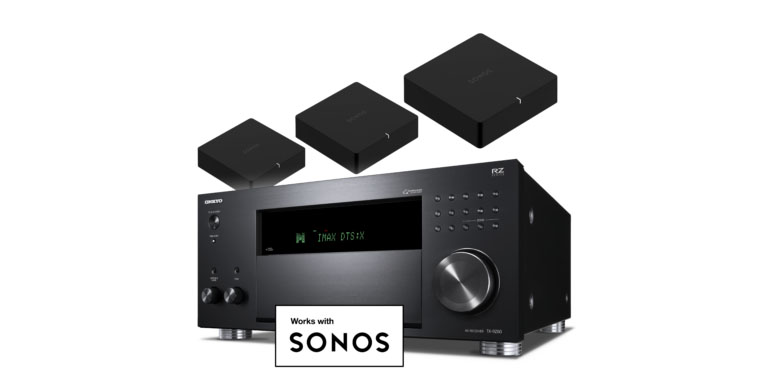 All of Onkyo's previous releases, at least the RZ ones, had strong multi-room capabilities and the RZ50 is no different. There is support not only for Chromecast that allows you to connect other Chromecast enabled speakers in your house to the receiver but also DTS Play-Fi and Airplay 2 if you are mostly using Apple devices while it even has "Works with Sonos" integration. And adding to all this you will find support for 3 multi-zones (Zone 2/3, Zone B) making this unit one of the most fully featured multi-room receivers we have ever reviewed.
The receiver is also "Roon Tested" certified but here we need to make clear that there are two types of certifications and many people don't know the difference between them. The two types of certification are Roon Ready and Roon Tested.
The TX-RZ50, as with most other AV receivers from competing brands, is Roon Tested which means that it doesn't have Roon built-in but has been tested to work but not without a small catch. And that is audio quality. As this works through some streaming system like USB, HDMI, AirPlay, Google Cast or other protocols, audio quality is limited to only 16 Bit/44.1kHz. Keep that in mind in case Roon is specifically important to you but also want your files to be streamed in their original high quality.
Lastly we should mention that Onkyo is one of the few brands that still has their AV receivers THX certified. And although being a THX product doesn't have the weight it had a few years back it is good to see the RZ50 bearing this certification also.
Closing this part of our review what we can say is that the TX-RZ50 kept almost everything we saw in the previous RZ releases and added even a few more to the mix. The obvious highlight is Dirac Live and this is a huge one in our books. So kudos to Onkyo for including such a high profile calibration system along with the rest of the updates making this receiver one of the most feature complete we have tested so far.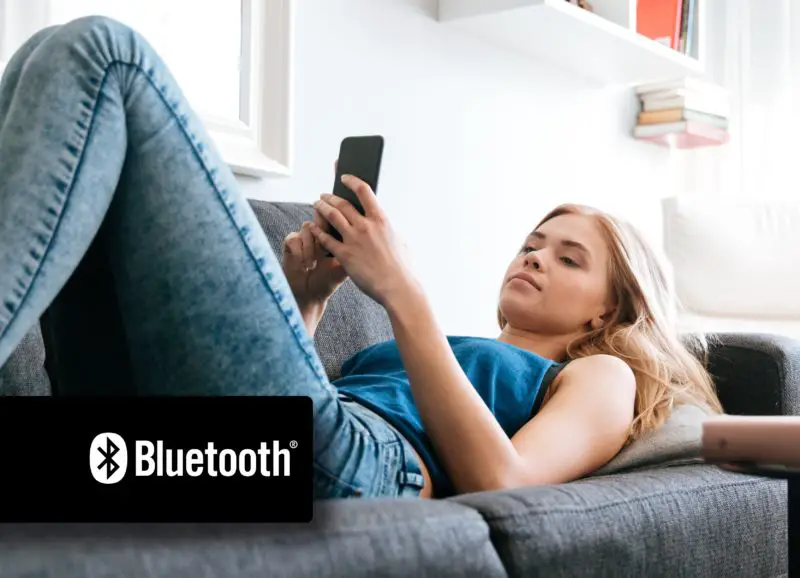 Final Thoughts
It felt like a long time ago since we last checked an Onkyo AV receiver and it is really a pity that they have been in such a turmoil the last few years. The TX-RZ50 clearly shows that Onkyo is still a very capable manufacturer and they can design products that can rival all other brands in the field.
There are so many things to like in this one. Its design and build quality are as good as any of the RZ models before it, its audio performance is majestic and the receiver is one of the most fully featured units we have tested lately. Yes, there may be a feature or two missing like Auro-3D for example but let's be honest here, how many are using this and how much of an impact this omission has? Almost none. Its streaming capabilities are second to none and there is something for everyone to use.
But the two most important aspects of this receiver is definitely the inclusion of Dirac Live along with the updated HDMI 2.1 ports that don't have the problems most HDMI 2.1 capable receivers had in 2020. These two alone bring the TX-RZ50 on a different level and if you consider the very good price it has compared to competing brands then we can say for sure that this unit is the new benchmark in its category.
Are there any minus to find in such an excellent receiver? Well, not really. The only major drawback the TX-RZ50 has is that it is damn hard to find one available. Most stores are out of stock most of the time and when they do get some units these are so few they disappear literally in minutes. It's sad that Onkyo has made such a good product but there is not enough stock to go around which means that if you are really considering getting this then prepare yourself for a long wait and a lot of searching to find one. Oh, and Onkyo please make a better remote with backlight please!
Closing our review we can definitely say that the Onkyo TX-RZ50 sets new standards in its category and it's the unit that most other brands should look for when they will prepare their next releases. May this be the beginning for better days for Onkyo as they have proved time and time again how capable they are at creating amazing audio entertainment products.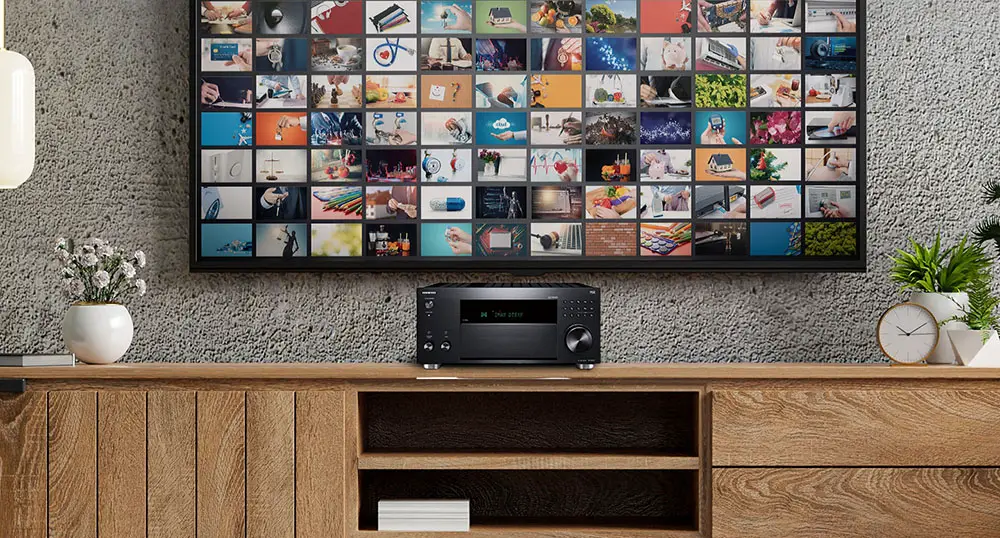 For more reviews you can check our dedicated 9 channels 8K AV Receiver reviews list or even look at our Product Reviews Table where you can find the brand and specific product you are looking for.
Also don't lose the chance to subscribe to our Newsletter and gain exclusive privileges.
---
Cheapest Places to Buy :
---
Onkyo TX-RZ50 Specifications