Onkyo TX-RZ1100
OS, Apps and Features
9.0/10
Pros
Premium build quality
Amazing power
Excellent performance both in movies and music
THX Select2 certified
Cons
It's missing some features of newer models
Uninspiring remote with no backlight
No Auro-3D or IMAX Enhanced
High price
---
Cheapest Places to Buy :
---
There is no denying that when it comes to home theater systems Onkyo is a well established and vastly respected brand especially for their excellent quality AV receivers they have released over the years. Although there have been some complaints in recent years about some bad electronics in some of their models it seems that they have fixed that with their most recent releases. As with most AV receiver manufacturers Onkyo also has two product lineups. In our Onkyo TX-RZ1100 review we will be looking at one of their top flagship models belonging in their premium RZ series of receivers.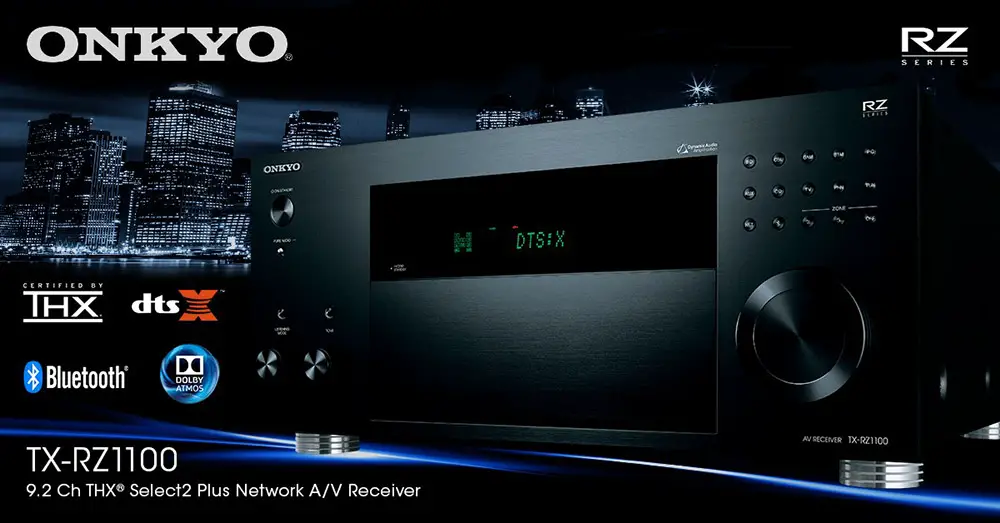 The TX-RZ1100 is not a new release. Actually it is not even a 2019 release as this model along with a couple more where first shown in CEDIA 2016! We are 3 years later now and Onkyo still has this one on sale and this shows how much technology it packs making it still a very interesting proposal even today. With the TX-RZ1100 including all the goodies we get in the RZ series the receiver has 9.2 channels of built-in amplification and is capable of going all the way for 11 channels with an external amp. This THX certified model comes with an extensive list of functions and services that Onkyo made sure to extend even further with multiple firmware releases they offered over these three years.
As such the receiver supports Dolby Atmos, DTS:X as well as THX Select2 along with Dolby Surround and DTS Neural:X up-mixing technologies. There is also High Resolution Audio, ChromeCast, FlareConnect, DTS Play-Fi, Airplay 2 and Works with Sonos features for all the streaming in the world. Custom integration is another strong point that will certainly make happy many custom installers while there are a plethora of other functions that we will go into detail in the appropriate section. But with a price that goes over the $2,000 mark are all these enough to keep it competitive since there are many other models that offer similar functionality? Let's find out.
Design
Onkyo has been pretty consistent when it comes to the design of their top RZ models and having recently reviewed their newer TX-RZ840 what we find here is exactly the same design and overall layout. The only difference is that the RZ1100 is bigger in depth in order to incorporate the larger amplifier and electronics. With a size of 17-1/8″ × 7-15/16″ × 17-13/16″ (435 mm × 201 mm × 453 mm) and a weight of 43.0 lbs (19.5 kg) this receiver is definitely a small monster and should be treated as such with equally good ventilation or cooling.
The front face is completely similar to the TX-RZ840 and has some specific Onkyo characteristics. As such there is no knob input selection that we see in so many other models and Onkyo instead once again uses dedicated buttons for each input. We don't know if they believe this is more practical or they just want to differentiate themselves from the rest but it must be the only manufacturer that still does that. The general look of the receiver will not get any awards as it is the usual big black box with buttons and knobs but this receiver should definitely be judged by its performance and hardware quality instead of its looks.
The front face keeps a pretty clear design with a big turning knob on the right for the volume, a big central display showing all functions, a circular power button on the left with a pure direct button below that while at the bottom left corner there are two small buttons with their appropriate knobs below them for the listening modes and tone. Above the volume knob we get three rows of 5 buttons each that include all inputs as well as streaming, Bluetooth and Zone 2/3 selections.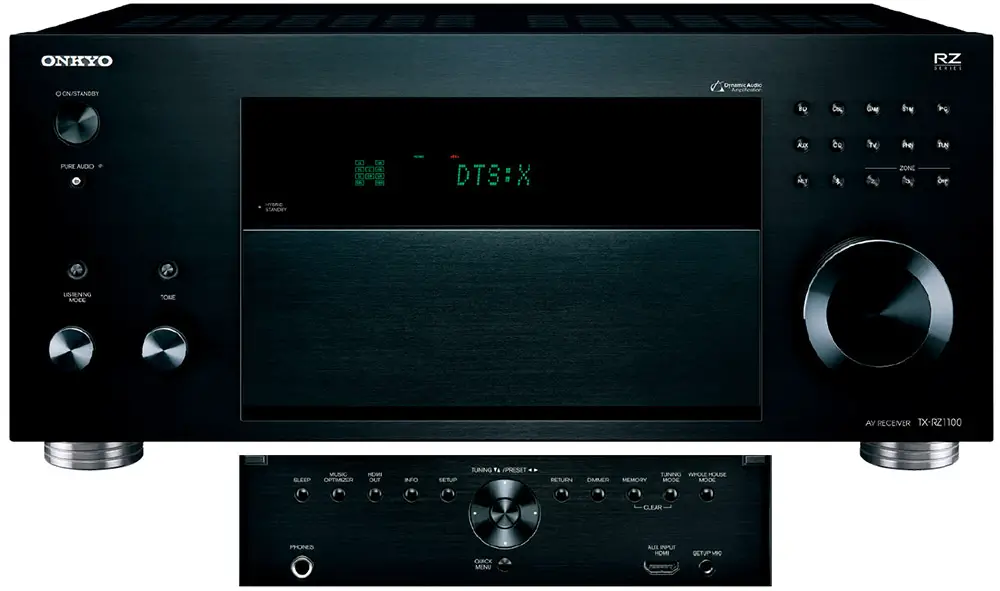 Under the central display we once again find a flip door hiding even more buttons and ports which we like very much as it keeps the front face uncluttered from buttons and connections that only gather dust most of the time. Opening the flip door at the center we get the usual navigation controls with a set of 5 buttons on each side that control various functions of the receiver while below we also get a headphones jack, an HDMI input as well as the calibration microphone port. Everything else is located at the back and we will talk about them in the appropriate section.
Being one of the most high end units in Onkyo's arsenal the TX-RZ1100 packs some pretty amazing hardware in order to be able to perform accordingly. In this model we find what Onkyo calls "High-Current Digital Amplification" which is a high-current driving architecture with sophisticated digital amplification and filtering technology. In order to achieve further noise reduction Onkyo has used customized high-output transformers in combination with custom audio-grade capacitors. Furthermore a separate transformer is used for standby.
The rest of the internals include separated digital and analog circuitry in order to further reduce interference, an extruded metal heat sink with polycarbonate cooling fan, an optimum gain volume circuitry, PLL (Phase Locked Loop) jitter-cleaning circuitry for S/PDIF audio while VLSC (Vector Linear Shaping Circuitry) is also used for noise-free signal processing for all channels.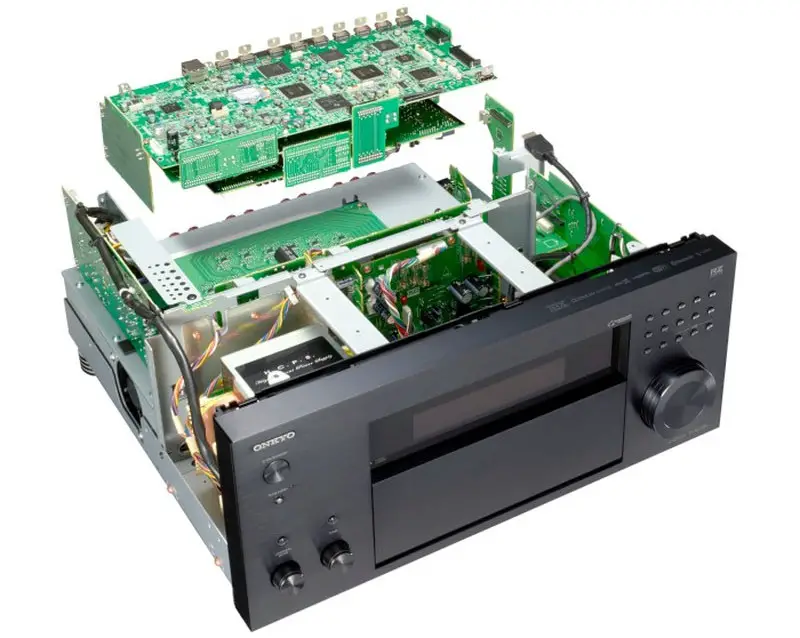 Lastly special mention should be given to the included 32-bit Digital Signal Processing engines. The TX-RZ1100 uses multiple DACs including a separate 384 kHz/32-bit AK4490 stereo DAC for the front channels and two 768 kHz/32-bit AK4458 Multichannel DACs for the surrounds. On the other hand for Zone 2 and Zone 3 there are two 192 kHz/24-bit AK4388 Stereo DACs. From all these what is pretty obvious is that Onkyo went all out with this one and spared no expense in order to create such a top tier unit.
And while it seems Onkyo went wild on the hardware part when it comes to the included remote there is a lot to be desired. Now don't get us wrong, the one we found is not bad, on the contrary it feels pretty sturdy and of good quality but when you pay such an amount for such a premium device you would expect something better that the one in the box.
The one we do get features almost all the buttons you will need but we would like their size to be a bit bigger than the ones it features while it lacks any kind of backlight functionality which is another major downside if you like to use the receiver in low light conditions. At least the rubber buttons felt good to the touch and our commands were instantly registering. The more recently released TX-RZ840 came with a much better redesigned remote and we hope that Onkyo will keep that one or even further improve it in their future releases.

To summarize, the TX-RZ1100 is an amazing sum of its parts. Onkyo has really created a monster of a receiver and while this may not be very obvious from its looks when checking its insides you understand how much technology and engineering has been put in it. If the remote was a little better we would be extremely happy but looking the redesigned remote in their newer releases seems that Onkyo took notice which shows how much they listen to criticism.
Audio Quality
The unit naturally supports all the latest object-based audio tracks including Dolby Atmos and DTS:X but unfortunately no Auro-3D that is very popular among home theater fans and when we talk about such an expensive audio device this can be a decisive factor. We also find support for up-mixing technologies like Dolby Surround as well as DTS Neural:X with both of them capable of creating multi-channel audio from stereo or other legacy mixes in order to fit your specific setup of speakers.
What this receiver misses is what is usually found in the latest generation of receivers and this includes IMAX Enhanced as well as virtual technologies like Dolby Atmos Height Virtualizer and DTS Virtual:X. But this was to be expected from a 2016 model as all these mentioned technologies started to appear in AV receivers the last couple of years. But at least for the virtual tech, going for such a unit we believe that virtual audio would play a very small part as most users would tend to use the max of the receiver's abilities making this almost unnecessary.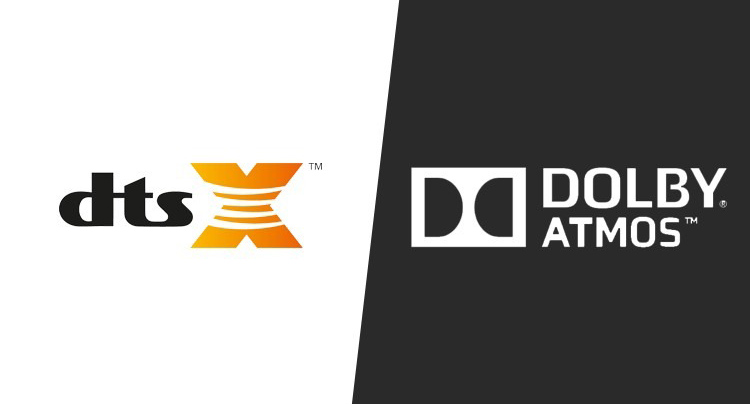 The Onkyo TX-RZ1100 is by default a 9.2 channels model capable of outputting 140 watts of power per channel (8 Ω, 20 Hz – 20 kHz, 0.08% THD, 2 channel driven) which is plenty for even large areas and home theaters. With its built-in amplification you can go for either a 5.2.4 Dolby Atmos setup or for a 7.2.2 one. The good thing is that using an external amp will allow you to go all the way for a 7.2.4 setup for maximum immersion. Lastly we should not forget to mention that you get the ability to bi-amp the front channels for even better performance and audio quality. For this review we opted for a 5.1.4 setup that includes 4 ceiling speakers and a single subwoofer that is placed at the front left corner of our testing area.
With such an impressive AV receiver we needed an equally impressive audio track to push it to the limit. And what better mix than the 4K UHD of Midway with its jaw dropping Dolby Atmos audio. Obviously the scenes we deviced to test was the attack on Pearl Harbor as well as the Battle of Midway towards the film's finale.
One thing is for sure. The TX-RZ1100 will grab you by the neck and will hit you from all sides relentlesly until you decide to either pause or press the stop button. The kind of immersion you will get yourself into is one of a kind with all speakers doing their part in order to throw you right behind the camera and into the battle itself. Power is not something this unit is lacking and has plenty of juice to go around even if you are of those users that like to bother your neighbours constantly.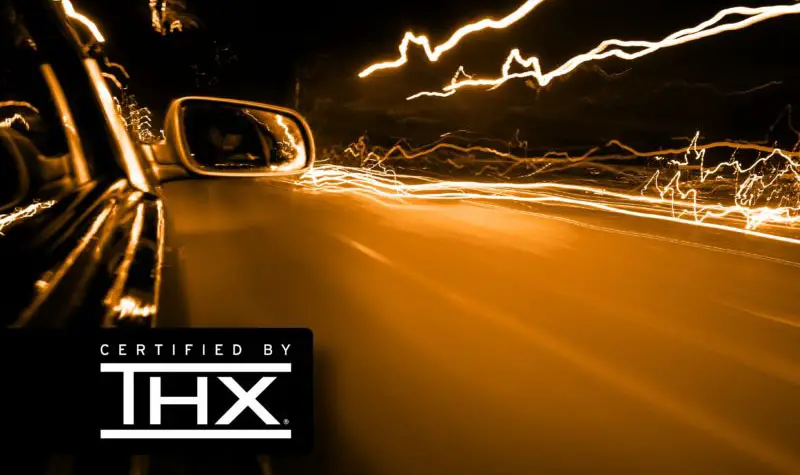 But it's not only power you will get, as there is a kind of clarity and resolution that is second to none and you can hear all those small sound details that can make such a mix even more believable. Channels shifting and separation was very accurate and instant and we never felt there was any delay or lag to it. The center channel provided crystal clear dialogue and even through all the cannon fire and explosions it never felt overshadowed or overlapped by the rest of the audio. Everything was distinct and nicely separated.
Our subwoofer on the other hand was like a happy day for it, flexing its muscles with each flank fire that was trying to down the American fighter planes diving on the Japanese carriers. Plenty of shaking for all those lovers of the low end with the receiver never letting our sub to rest or lose focus.
And if those chaotic scenes provide plenty of opportunities for you to gather your jaw from the floor the quiet moments also proved to us that the TX-RZ110o is also an excellent performer when it comes to scenes that need a more delicate approach with fine control and finesse. Every little sound, every little effect made each scene come to life and this was the result of the receiver's excellent work. Just amazing.
High Resolution audio is a must in such a top tier model and as such the TX-RZ1100 supports all known formats including DSD support for up to 11.2 MHz while FLAC, WAV, AIFF and ALAC formats are supported for up to 192kHz sampling rate and 24 bit resolution. With these in mind as we always do in our reviews we selected a few FLAC music tracks that we streamed through the receiver's rear USB port.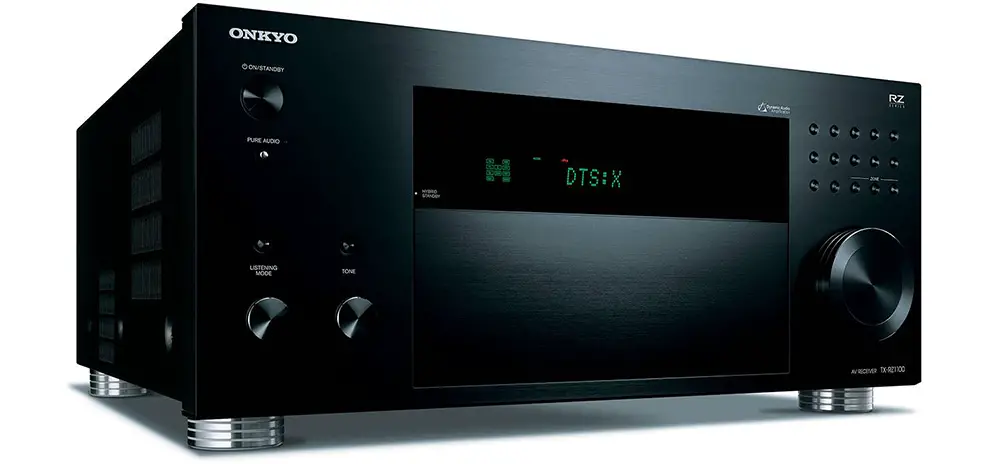 When you get so excited by such a movie track you only can expect similar performance with music, right? Well you bet as the unit proved an amazing handler of all kinds of bits and rhythms. From guitars and drums to synthesizers and electronic music there was not a single track that the Onkyo couldn't handle with exceptional subtelty and inspiring control. The mid-range felt natural and smooth without loosing in clarity while the high end gave each song the necessary brightness without going overboard. On the low end things felt pretty consistent with convincing bass that never felt too aggressive to dominate the other sounds.
The receiver was able to feed each channel accordingly and create a very alive front sound stage while pinpointing specific positions in space proved very easy with its localization precision. Overall it was an exciting session for us as the receiver managed to give us everything we were hoping for and more. If you are a demanding audiophile and look for an excellent music performer this is definitely a good choice to go for.
If there is one that that the TX-RZ1100 has in abundance that would be pure audio perfection. When you go for a premium receiver you obviously expect as much but it's one thing to know that and another to actually hear it. Onkyo went all out with this one and the end result will certainly satify you and more.
Ports and Connectivity
Sitting almost at the top of the RZ series it is natural that the unit would come fully packed with ports and connections, all of them placed as usual at the back of the unit. As we already mentioned above under the frontal flip door we get a headphones jack, an HDMI input along with the AccuEQ calibration microphone port.
First of all we would like to mention the 11 speaker terminals that are provided, from which only nine of them can be used with the built-in amplification. The last two you will need to use an external amp in order to use them if you want to go for a full 11.2 channels system. Also worthy of mention is how Onkyo has grouped them which we definitely prefer instead of having them next to each other making connection of the wires so much harder. Next there is a whopping of 7 HDMI inputs and if you count the front one also we reach the magic number 8 which is more than enough for even the most complicated home theater. Along we also get two HDMI outputs with one of them getting ARC support also.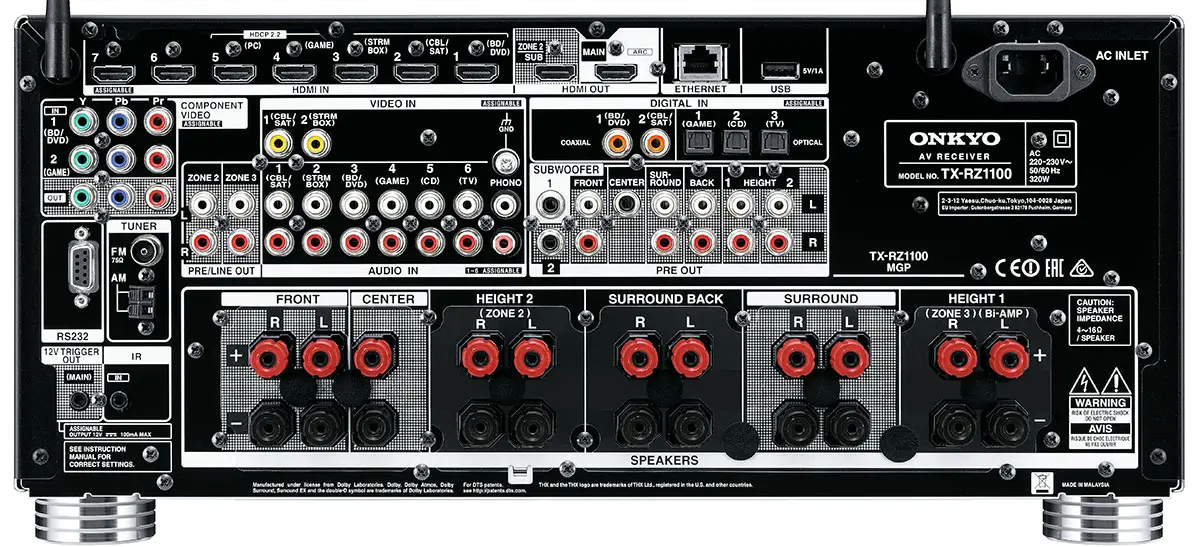 As for the rest of the connections let's take a deep breath because there are a lot. There are 2 component video inputs and one output, 2 composite video inputs, 2 digital coaxial and another 3 optical audio inputs, 6 analogue audio stereo inputs along with another dedicated to phono, 11.2 channels pre-outs, 2 analogue multi-room outputs, an Ethernet port, a USB port in a rather inconvinient place, an RS-232C port, an IR input, one 12 volts trigger and the usual FM/AM and WiFi/Bluetooth antenna connectors.
All the HDMI ports are HDCP 2.2 and they come with support for 4K/60 Hz, BT.2020, HDR (HDR10/HLG/Dolby Vision) Pass-through, 4:4:4 Color Space, HDCP 2.2-protected Video, 3D, Audio Return Channel, DeepColor, x.v.Color, LipSync, CEC and as we already mentioned ARC functionality. All HDMI ports support upscaling to 4K something that also applies for analogue inputs.
The unit also comes with wireless capabilities as it has high-speed 802.11 a/b/g/n Wi-Fi (5 GHz/2.4 GHz band) as well as Bluetooth wireless technology v4.1+LE. The Ethernet port at the back of the unit is 10BASE-T/100BASE-TX for up to 100mbps connections.
Not much to say here. The TX-RZ1100 comes fully packed and only misses a few more specialized ports that not many would use anyway. Also there is no eARC that some newer models support but other than that there is nothing major that you will not find making it ideal for even the most demanding users.
OS, Apps and Features
Once again we find Onkyo's proprietary audio calibration system which is scaled by Onkyo accordingly so the more premium models get  a more feature complete version while the budget units get a more basic form of the system. In the TX-RZ1100 we get AccuEQ calibration with AccuReflex for seamless object-based, multichannel, and stereo sound. We had tried Onkyo's system before and the results seemed very accurate and is ideal for those that are not very much into manual calibrations and prefer a more automated system.
What the AccuEQ calibration does is to analyze the sound through the included microphone and set the speaker presence, appropriate distance, SP levels and crossovers among others in order to scale it according to your space and speaker setup. Additionally the AccuReflex feature that is included in the suite is used to optimize reproduction of the object-based effects that are reproduced through the Dolby Atmos-enabled front speakers. Usually these effects reach the viewer with some delay in comparison to the sound from the front speakers. This delay makes the sound feel unnatural so this system is capable of syncing the front and Dolby Atmos channels for a seamless acoustic result.
The AccuEQ calibration wizard is also included with very clear and easy to follow step by step instructions in order to finish the automated calibration without any trouble. If you have even the slightest idea of what you are doing then completing this step shouldn't take more than a few minutes and in the end you will have a pretty good calibrated system. Obviously for the best results manual tweaking is needed but for an automated procedure the results can be very satisfactory.
Now, if you find the included remote too old style online connectivity has provided new AV receivers to be controlled by your smartphone also. For this reason the Onkyo Controller App was created and is supported by this unit. The app is available both for iOS and Android and gives you control over a lot of functions this receiver has. It includes a nice visual interface and since it's free we suggest that you give it a try to see how it looks.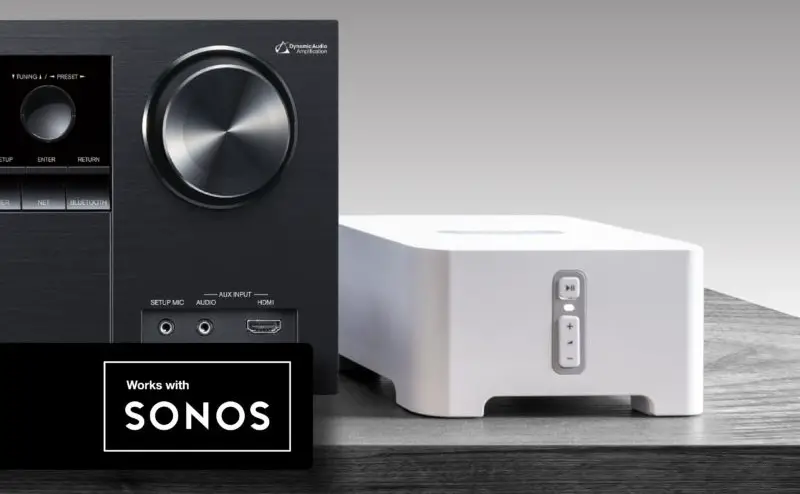 The TZ-RZ1100, being a 2016 model, belongs in the previous generation of AV receivers and as a result one thing that is completely missing is support for any kind of voice control integration. So if this is a must for you then you should probably look into some of the newer RZ models like the TX-RZ840 AV receiver that we had recently tested.
As a last option the receiver also supports HDMI-CEC. This means that if your TV also supports that you can use that remote in order to control some basic functions of the receiver. This way you can use one remote for both which can be very handy if it happens you to have a small flock of remotes in your home theater system and you look for a way to reduce their numbers.
The user interface of the receiver is pretty simple and basic. Even though the unit comes packed with features and settings the menus use very simple graphics to be displayed and everything is grouped according to their function. We cannot say we were expecting anything more from a 2016 model but for such a premium device Onkyo should have created a more visual pleasing UI.
If you are very much into streaming the TX-RZ1100 will make you feel right at home as there are many options to choose from. And while at release services and functions were a bit thin after many updates the receiver now supports the most common of them including Amazon Music, Spotify, TIDAL, Deezer, and TuneIn. In addition you can also stream music locally if it happens you to have a network drive or a NAS server.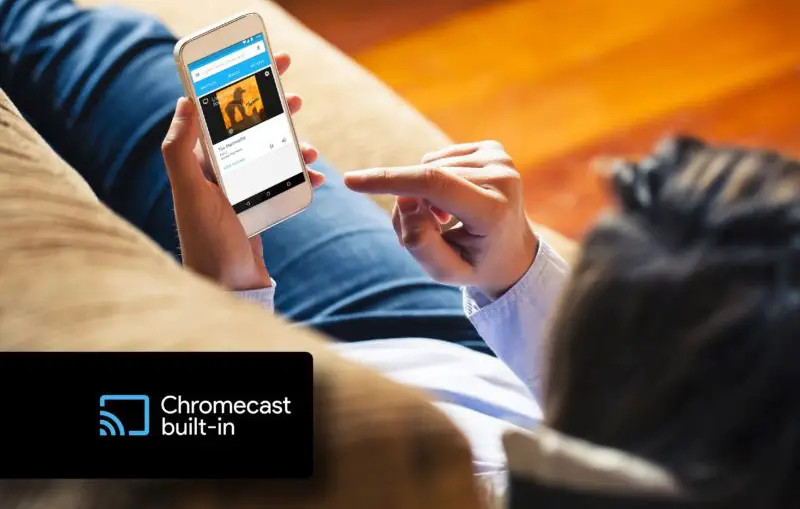 You can also playback music by streaming files from the rear USB port. Having the USB in the back is a major pain and doesn't help with practicality at all. If you like to stream music this way then the only option we can think of is to use a USB extender as having to reach the rear port all the time is a no no in our opinion. We never understood the reasoning of having a rear USB port in any AV receiver and this is something that all manufacturers should take into consideration in the future. Additionally you can use Bluetooth to stream music from other Bluetooth enabled mobile devices.
Another area that the TX-RZ1100 really excels at is in its multi-room and streaming capabilities. The units fully supports ChromeCast which allows you to stream music from online services and also connect your receiver to other ChromeCast enabled devices and speakers. Except from ChromeCast there is also FlareConnect, DTS Play-Fi and Airplay 2 if you are mostly an Apple guy and you use their devices the most. Oh, and we shouldn't forget that there is also Sonos integration, something that we don't see in many models. All these that we mentioned favor a wireless environment but if you want to use wires the receiver also supports Zone 2 and Zone 3. There is hardly anything missing here making it an ideal receiver for this.
Lastly we should not forget to mention that the receiver is ideal for custom integration. Coming with RS-232, IR and 12v trigger as well as optional rack kits and PC setup this will definitely please anyone looking into connecting it with a control system.
Closing this part what can we say that the TX-RZ1100 certainly has a lot of value in it. With so many streaming capabilities as well as extra features there is something for everyone. But even so we cannot but mention some key missing features. First of all there is no voice control support which may not be a big deal but as we see the most recent models adding this as a standard feature the value of the RZ1100 may lower a little bit. Also some streaming services seem to be missing like SiriusXM and Napster and while this may not be huge paying such a premium price means that small omissions like these should be avoided.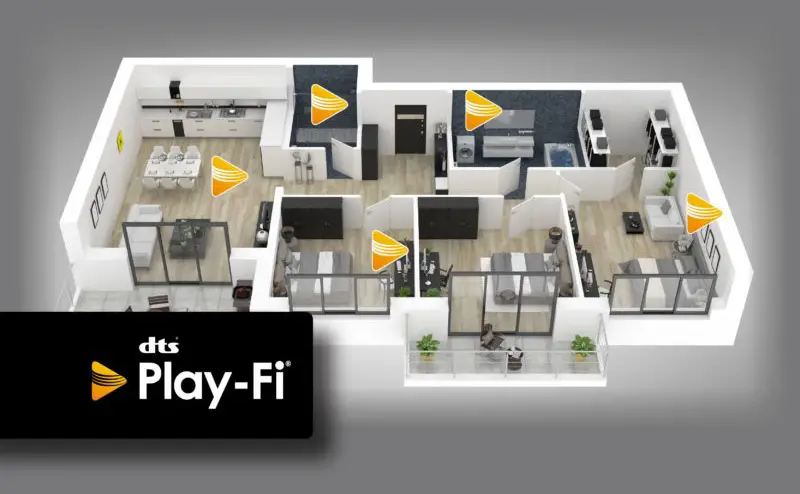 Final Thoughts
Closing this review we would like to say that there is so many thing to like in this receiver. Onkyo made sure to give it the necessary premium hardware in order to perform like a premium unit and in this regards we have nothing bad to say. The TX-RZ1100 is a receiver that has the build quality, power and audio features to create a kick ass home theater system.
Being a THX certified receiver may not hold the same respect as once did but this is a name that has a lot of value in this segment and ensures its output quality. With 9.2 channels that can extend to 11.2 with an external amp, 140 watts of power, Dolby Atmos and DTS:X support along with High Resolution Audio, a huge array of ports and connections and a vast list of streaming services like ChromeCast, FlareConnect, DTS Play-Fi, Airplay 2 and Sonos support this unit has a lot going for it and will certainly satisfy even the most demanding of users. Lastly Onkyo made sure to include custom integration that many will find handy.
But there are a few downsides that needs mantioning. First of all there is no Auro-3D or IMAX Enhanced support while the unit lacks any kind of virtual technologies. Also the unit completely lacks any kind of voice control platforms while it's also missing a couple of streaming services that are standard with the competition. The remote also leaves a lot to be desired and with no backlight things are even worse if you prefer using it in a low light environment. Lastly the price is certainly on the high side and with newer models supporting more features and technologies will put more pressure to such a premium device.
In the end we will say this. If you are looking for a kick ass, THX certified AV receiver that has the power to fill even a large home theater room and has the premium quality to produce the best audio possible then the Onkyo TX-RZ1100 should definitely be in your short list of considerations. Onkyo once again managed to amaze us with a product that can make waves among audiophiles and home theater fanatics alike. Highly recommended.

For more reviews you can check our dedicated 9 channels 4K AV Receiver reviews list or even look at our Product Reviews Table where you can find the brand and specific product you are looking for.
Also don't lose the chance to subscribe to our Newsletter and gain exclusive privileges.
---
Cheapest Places to Buy :
---
Onkyo TX-RZ1100 Specifications