Onkyo TX-NR686
Design -

88%

Audio Quality -

93%

Inputs / Ports -

90%

OS, Apps and Features -

95%

Price / Quality -

92%
---
Cheapest Places to Buy :
---
Onkyo may not have the brand power of Sony or Yamaha but their name hold some true weight when it comes to AV receivers and home cinema equipment in general having created amazing products over the years for both budget friendly consumers as well as hardcore home theater audiophiles. And while within the AV receivers segment upgrades are slow between each year, Onkyo has managed to improve their models and offer more value for money with each passing year.
For 2018 Onkyo has released two new mid-range AV receivers, the one being the TX-NR585 while it's bigger brother is the TX-NR686. Today we will be looking at the bigger of the two models which offers a bit more power, some extra ports, upscaling capabilities while it also comes as THX certified thus making it a reasonable upgrade for the higher price asked. The TX-NR686 finds itself in a difficult spot as the mid-range section is filled with receivers that have good performance while the manufacturers are pushing the prices lower in order to stay competitive as these models target the biggest piece of the consumer market.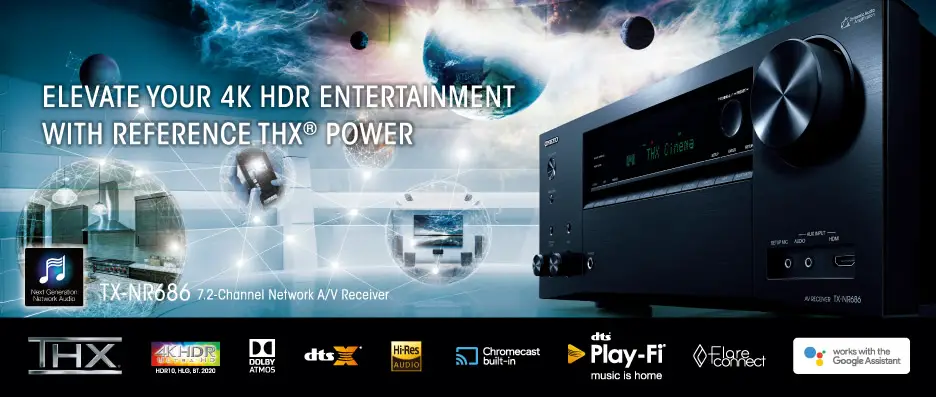 With all these does the Onkyo receiver manages to stay relevant? Or it is lost in a sea of good performing AV receivers that have flooded the market nowadays? Read more to find out in our Onkyo TX-NR686 review.
Design
It's a little bit unfair for the Onkyo receiver as recently we reviewed the Marantz NR1509 and we have felt in love with it's slim design and good use of it's available space. Going back to our today's review it felt like going a bit back in time as the TX-NR686 fails to impress us in any way and this is partly Onkyo's fault as we have noticed that in general their designs lack in aesthetics compared to other manufacturers.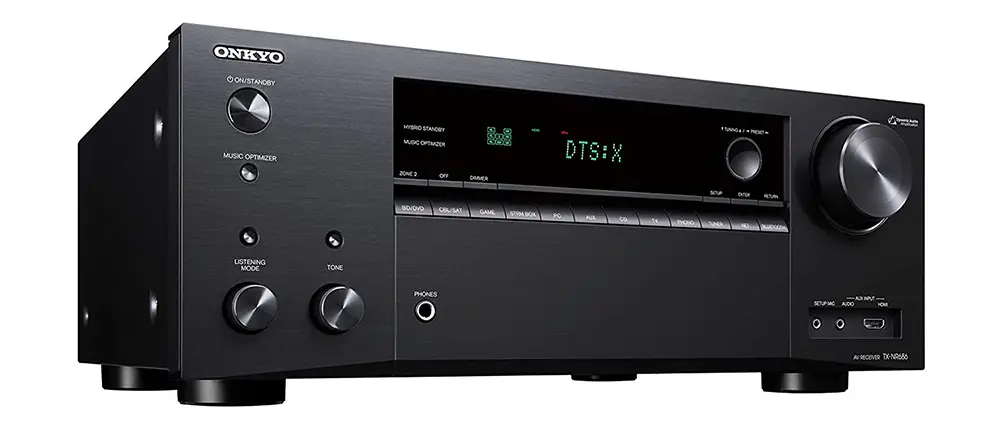 The Onkyo TX-NR686 is a squarish black box and in ordinary Onkyo fashion full of buttons and knobs. It's a relatively big AV receiver measuring 435 x 173.5 x 379.5 mm and weighting 12,5 Kg as most of these mid-range receivers are, so make sure you have enough space for it and some more for ventilation purposes.
Many years ago AV receivers were full of control buttons something that most manufacturers nowadays are trying to change or by hiding most of them or by completely omitting them while improving the on-screen UI in order to make all settings and calibrations easier to find. Onkyo is one of the few manufacturers that insists in keeping a huge number of buttons on the front panel of the receiver and while we don't know the reason for doing this we believe that they should start following the same trend as the rest if they want to stay relevant in the design department at least.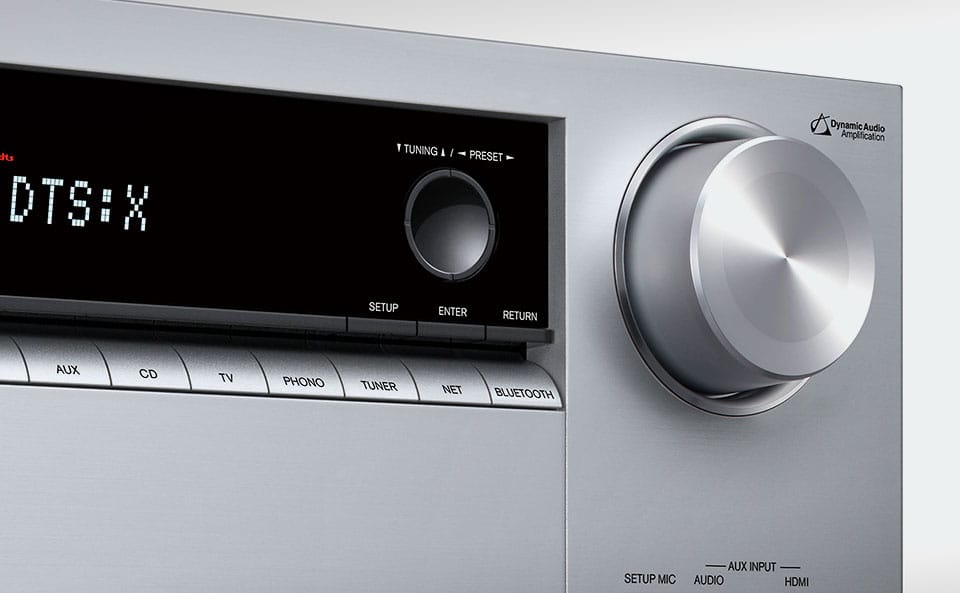 As such what we see on the front is a big central display revealing most important functions of the receiver which includes a cross type, circle design of navigating buttons while under the display we find a thin line of two sets of buttons that control various functions like zone 2, dimmer, and setup controls. Under this thin line we find a long row that includes one button for each input. Some will argue that is better like this as you have direct control over which input to choose while other will definitely prefer the usual turning knob we see in most receivers.
To the left there is the power button and under a few more controls like music optimizer, listening mode and tone control. On the right side under the volume knob we get a few front ports all grouped together while the PHONES jack sits alone in the bottom center section of the receiver.

And while Onkyo has equipped the front side of the receiver with a huge number of buttons compared to most other models we cannot say the same with the equipped remote. The buttons are a bit on the small side and they are separated into three groups. On the top we find the input buttons, in the middle navigation and setup buttons while on the bottom we find buttons for various functions. While the functionality is more or less good, design wise it's highly unimpressive and forgettable. And with such a cheap design we wouldn't expect to have any kind of backlight function which is very disappointing.
The outside design may be underwhelming but under the hood is where Onkyo really show their expertise. The TX-NR686 comes equipped with high-grade AKM (AK4458) 384 kHz/32-bit multichannel DACs as well as with a 32-bit Digital Signal Processing (DSP). These in combination with Onkyos's Dynamic Audio Amplification system ensures the best audio reproduction possible.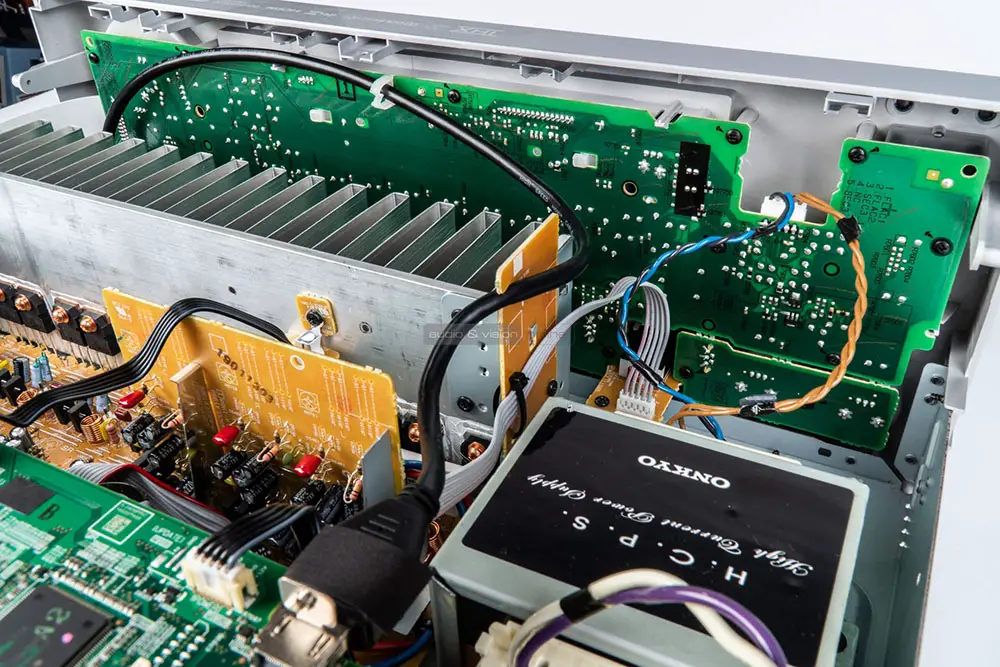 And for those that don't know, Dynamic Audio Amplification is a group of systems that were created by Onkyo and it represents their philosophy behind excellent audio reproduction. As such this includes H.C.P.S. (High Current Power Supply) which can handle large speaker cones, VLSC (Vector Linear Shaping Circuitry) which removes electrical pulse-noise generated during reassembling of the signal in its original form following digital-to-analog conversion, allowing the soundwave to be amplified with exceptional fidelity, Non-Phase-Shift amplification circuitry as well as discrete output stage circuitry ensuring low distortion, high audio clarity and detail.
Onkyo may know how to create receivers that have excellent performance by using exceptional hardware but design wise they are far behind the competition. And looks may not be the number one criteria for buying an AV receiver but it certainly adds to the overall image of the product. Hopefully Onkyo will decide to improve their designs in the future in order to be more in line with our times today.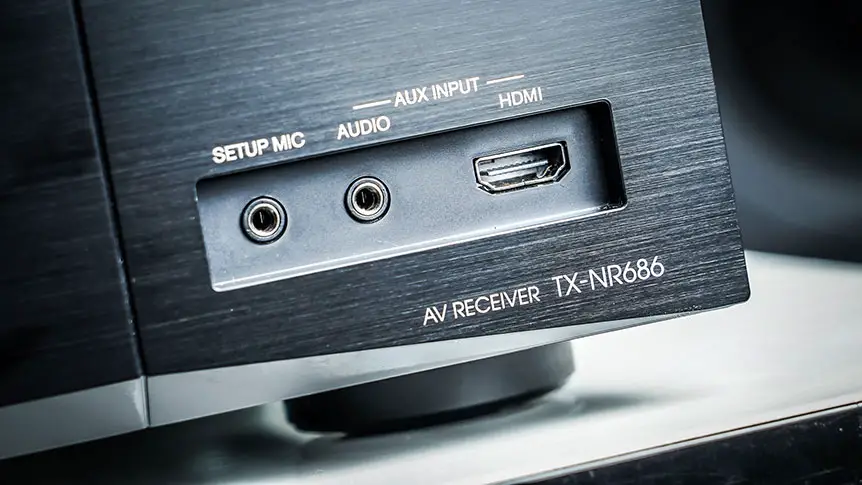 Audio Quality
The TX-NR686 comes with 7 channels of built-in amplification and with the ability to add 2 subwoofers it means that this receiver can either go for a 7.2 channels setup or if you want to dive into the new object-oriented audio tracks like Dolby Atmos and DTS:X then you can try a 5.2.2 setup by adding a couple of overhead speakers that will really expand the sound stage vertically.
And in order to create an immersive environment you need the necessary power which this receiver has. Rated at 165 W/Ch (6 Ω, 1 kHz, 1% THD, 1 Channel Driven, IEC) the TX-NR686 has enough power for any middle sized room. During our testing we upped the volume a bit and it felt like it had more to go with so if you are worried about this then don't be.
The receiver may support the latest audio tracks but it also comes with Dolby surround and DTS Neural: X upmixing solutions. What this does is that when a non surround audio track is being played the receiver through complex calculations creates the extra surround channels. The end result may not be as good as a real surround mix that was created from the start with the extra channels in mind but nevertheless there were situations where we felt it was rather good. It may be a bit of hit or miss but trying it out by yourself never hurts and in the end you may like it.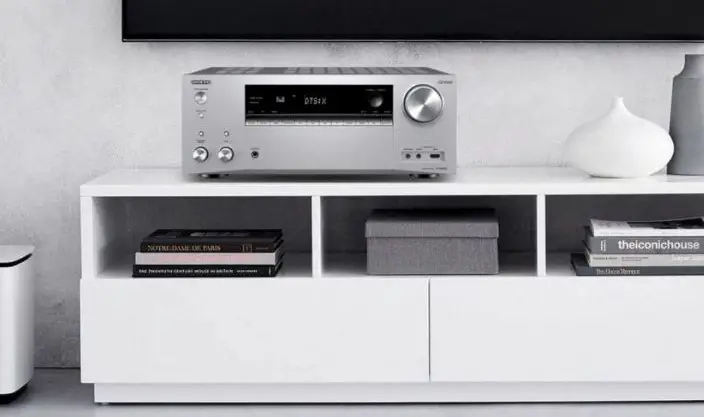 Now what really impressed us with the TX-NR686 is that we are talking about a THX certified AV receiver. For those that don't know what THX is I will just say that THX is a company that was created by George Lucas, yes the Star Wars guy, and develops high fidelity audio standards for movie theaters, screening rooms and home theaters among others. In order for a product to gain the THX certification it must pass specific tests that ensures specific quality standards.
A few years ago only the top high end equipment was gaining such a certification and it felt nice and proud to have equipment that was approved by such a respectable company. Seeing a mid-range receiver getting this badge feels great and shows how our times have changed as technology moves forward and what was top of the line until recently now goes to lower tier models. We have seen a lot of top technologies moving down the price ladder and all we will say is that this benefits firstly the consumers. With THX certification the TX-NR686 receiver has definitely raised a few eyebrows and seeing this badge made us even more anxious to try it out in our test room.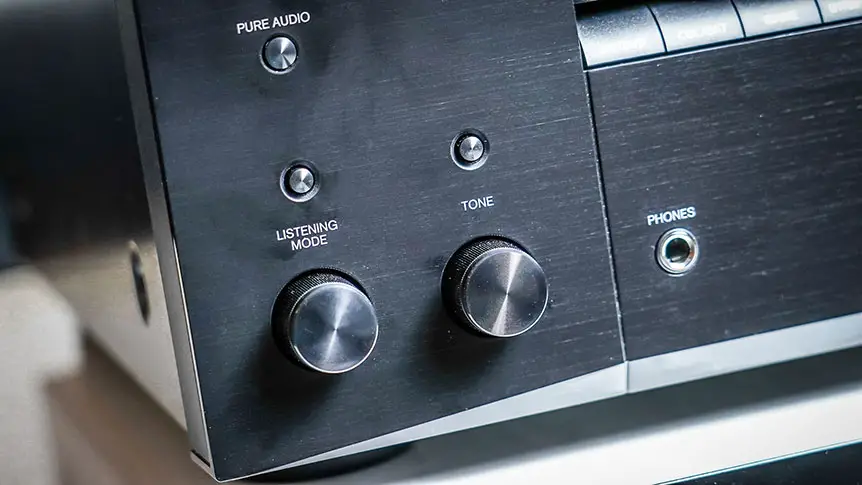 Moving on to our testing section we take our trusted 4K UHD disc of Pacific Rim: Uprising, pop it in our Panasonic UB900 and we are ready to see what the TX-NR686 has to offer us. Just for your information the setup we went with was a 5.1.2 system in order to check the top audio layer also while the height speakers were placed in the middle of our viewing area.
The first impression we got was that the Onkyo TX-NR686 offered a very balanced performance. During busy action sequences the separation between the channels was rather good and the transition front the front to the rear channels was done very convincingly. The height channels really offered an extra layer of immersion with projectiles and fighter jets flying over our heads while dialogue was clear and there was good separation from the rest of the sound effects.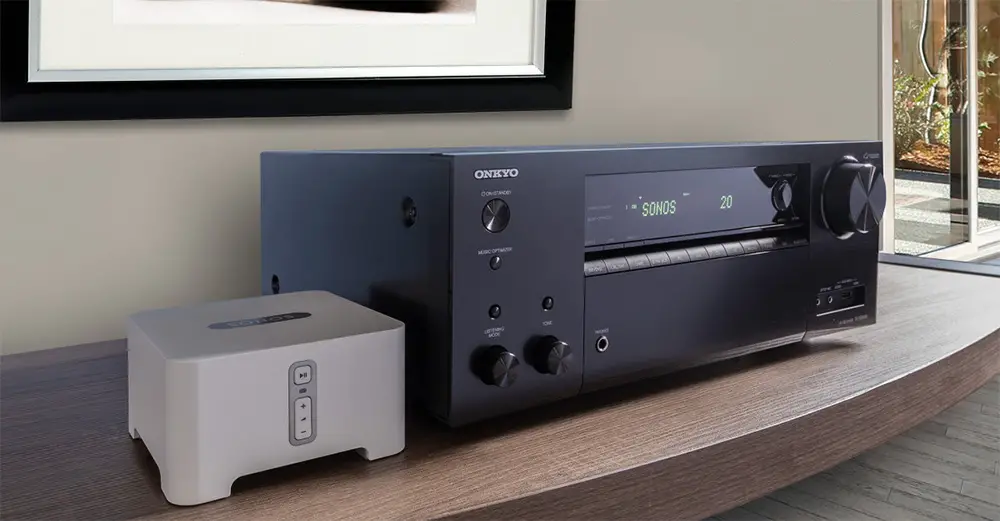 We tested various scenes both action packed but also more calm ones with more ambient sounds in order to see how the receiver can handle different situations. In general we would say that it performed exactly as we anticipated. Receivers in this price range are having a more or less standard performance and this is what we got here. It's not bad, not by far. But it's not offering anything more that would make us excited and make us choose this over the competition. In a sense it's like the Onkyo receiver plays it safe by offering a performance that is very good, it's just that is not amazing. And if you want to distinguish yourself in this category you must offer something more.
Moving on to our music testing section we used our list of FLAC music tracks in order to ensure the best quality possible. We would have to say that here we felt things were a bit better. Sudden dynamic shifts were managed with great control while instruments were clearly distinguishable with a very clear position in the area. Bass was delivered with ample power while mids and high frequencies were delivered by the receiver with precision and control.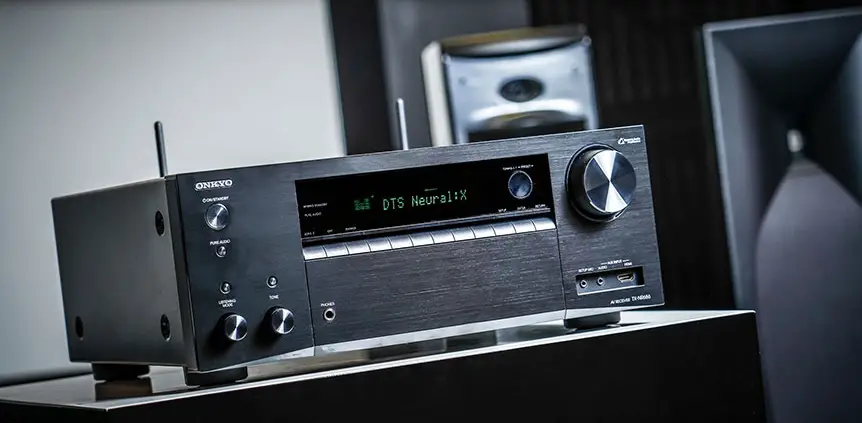 Again we will say the same thing as we did with our movie testing. The receiver offered us a great experience, this has to be told. It's just that we expected something more that would make us put this receiver above the rest. Competition is fierce here so offering just the standard doesn't cut it anymore. And when you have the THX stamp also there are more expectations that in a way they were left unfulfilled.
Closing we shouldn't forget to mention that such a receiver couldn't do without Hi-Res Audio playback. As such we see that support includes DSD 5.6 MHz/2.8 MHz, 192 kHz/24-bit FLAC, WAV (RIFF), AIFF, ALAC, and Dolby TrueHD.
Inputs / Ports
What we find most pleasing is that nowadays in their fight to stay in the game, manufacturers are equipping even mid-range receivers with more connection ports than what we used to see just a few years ago. And Onkyo TX-NR686 follows this principle offering a wide range of both next generation and legacy ports, enough for even the most demanding of user.
In the front we already mentioned above that what we saw is a PHONES jack located under the main display while under the volume knob there is the testing microphone port, an analogue 3.5mm stereo input port and an HDMI port with HDCP 2.2 support for quick access. One thing that made us an impression is the inclusion of the analogue input while at the same time omitting the frontal USB port. Most mid to high range AV receivers go for a USB at the front but Onkyo instead decided to include a stereo input which may have some value for specific people but it left us scratching our heads for such a decision.

Lets go in the back now to see what Onkyo has managed to fit there. The first thing we notice is the 6 HDMI inputs and 2 HDMI outputs. With the inclusion of the front HDMI port we reach 7 which is more than adequate in order to connect all your devices in your home theater system. Also by including a second HDMI out gives you even more options. All the HDMI ports support HDCP 2.2, 4K/60 Hz, all HDR protocols like HDR10, Dolby Vision and HLG as well as the new object-oriented audio tracks like Dolby Atmos and DTS:X. We also get 7 speakers terminals with built-in amplification enough to create a 7.2 or a 5.2.2 audio setup if you want to take advantage of the overhead layer of the new formats.
Onkyo has also included one coaxial and two optical audio inputs, a USB port (5V/1A) which is a bit strange to have one in the back as it is not practical at all, an Ethernet port for wired connection to the internet, tuner antenna ports, one zone 2 line out and 2 sub outputs for creating a dual subwoofer setup and thus making the neighbors even more frustrated than before.
As for legacy connections the TX-NR686 comes with 2 composite video inputs and 2 component video inputs. There are also 6 analogue stereo inputs and a phono stereo input.
We admit that for a mid-range receiver Onkyo has managed to include more or less what is expected in this category. And thinking about it, to have so many options without the price going into unreachable levels is a good thing and shows how things have improved for the consumers compared to a few years back. The Onkyo TX-NR686 may not have impressed us by including something extraordinary but we could not be less than satisfied with what we actually got.
OS, Apps and Features
A few years ago we were very critical about the user interface Onkyo had been using in their AV receivers and up until a couple of years ago it seemed archaic and very old style with very simple visuals. But it seems that they took note of this and now they offer a more pleasing visually interface while keeping the ease of use that their previous setup menus had.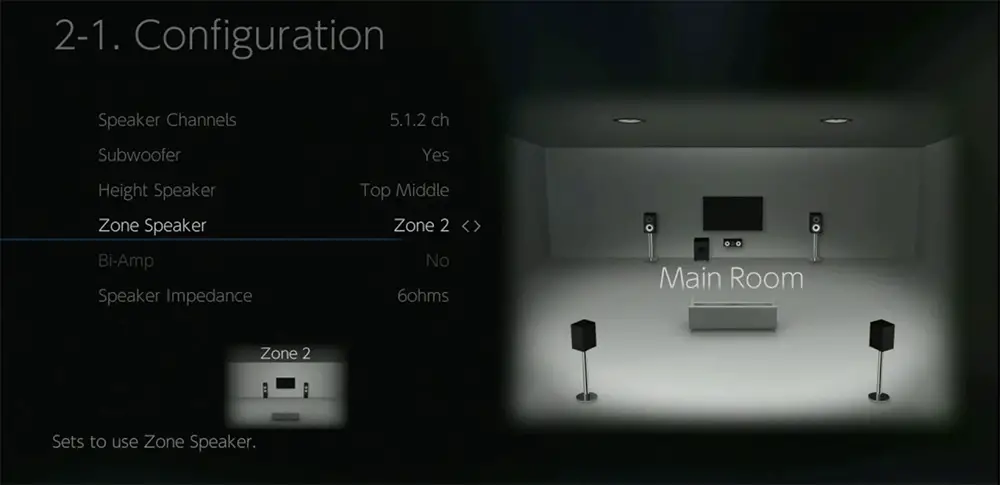 The TX-NR686 is using Onkyo's proprietary calibration feature called AccuEQ Room Acoustic Calibration system. With the help of the included AccuEQ microphone and following the receiver GUI guide it helps you calibrate your system with relative easiness even for people that are not very accustomed to such kind of calibrations. If this is your first time don't worry as the system takes you step by step and it is hard to mess it up in any way.
The AccuEQ system also includes the AccuReflex phase correction feature for Dolby Atmos-enabled speakers. What this does is to phase-match the non-directional and directional sounds on an Atmos system in order to give you a better acoustic result. Usually this feature we have seen in more high end receivers but it seems some features are starting to appear in lower tier models slowly.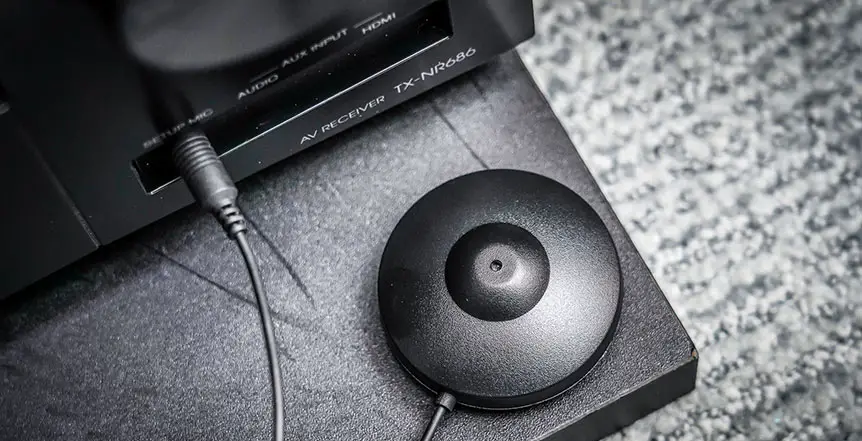 Any AV receiver in 2018 that respects itself should support a wide range of online music streaming services and Onkyo TX-NR686 is no different. Amazon Music, Spotify, TIDAL, and Deezer music streaming services as well as TuneIn internet radio are supported giving you a nice range of choices that you can control either from the Onkyo Controller or with the Onkyo Music Control App.
Streaming from a smartphone, laptop, or PC to the receiver is done easily with the help of a Chromecast enabled app as the receiver has built-in support for that. Also if you have a Google Assistant enabled speaker you can use it to control music playback by voice. The receiver is also equipped with dual band WiFi ensuring stable streaming through Airplay, the Spotify App or your local network if you have stored music in a NAS drive. Of course streaming quality depends a lot on the network in use but in our case during our testing time everything worked flawlessly and without any interruptions.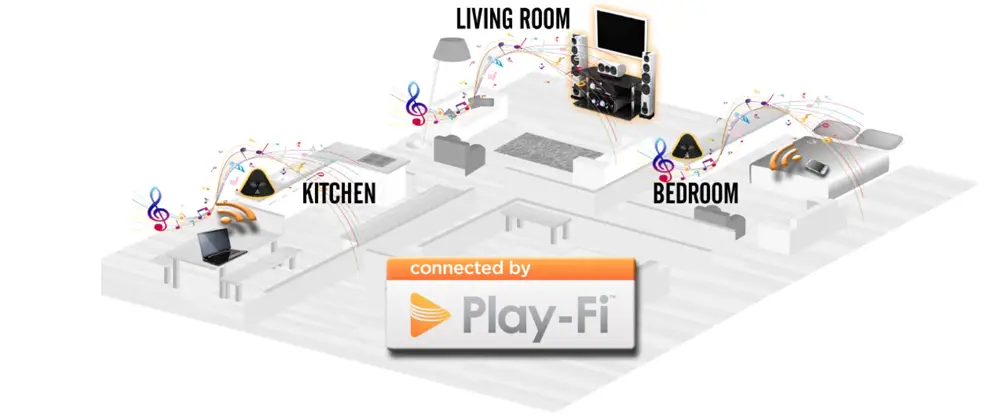 It seems that multi-room audio control has not only become standard but now we start seeing receivers support more than one service. As such the TX-NR686 supports both DTS PlayFi and FlareConnect wireless multi-room audio with each of them supporting their own devices. Having support for both is a great thing as it widens the options the user have. Both these services can be controlled through the Onkyo Controller App
In total we are very pleased with what Onkyo managed to fit into a mid-range receiver. It may not pack the most complete features list but it comes with enough to make most users satisfied. After all providing a lot of options is a must in this day and age and considering the price we are talking about for the TX-NR686 then what is offered is just about right.

Final Thoughts
The TX-NR686 is a receiver that in our minds is destined to fight an ugly fight. Being a mid-range receiver it has entered a segment that is full of capable mid-priced receivers from almost all manufacturers. Since the marketing pie here is the biggest, that's the reason why the huge amount of models we find around this price.
The Onkyo TX-NR686 is a well designed model and although it may not offer huge upgrades over last year it still managed to hold it's own and offer a package that will certainly draw the attention of potential buyers. Having good audio performance both in movies and music, support for all the latest audio formats and protocols, equipped with a vast array of features and online services, featuring enough next generation and legacy ports and all these with the stamp of THX ensuring that the receiver have passed all the tests of this respected company ensuring only the best quality, Onkyo has really created a future proof model.
On the other hand design leaves a lot to be desired both in the unit and the remote and shows how far behind Onkyo is in this department. Also although performance is good so it is with most receivers in this range and thus making it difficult for the TX-NR686 to step ahead of the competition. In the end this model is clearly destined for those that look for an overall good model that will hold them for many years to come but don't have the requirements for anything fancy both in performance or design. And our guess is that many consumers belong in this category making the Onkyo TX-NR686 a good option to consider.
For more reviews you can check our dedicated 7 channels 4K AV Receiver reviews list or even look at our Product Reviews Table where you can find the brand and specific product you are looking for.
Also don't lose the chance to subscribe to our Newsletter and gain exclusive privileges.
---
Cheapest Places to Buy :
---
Specifications
THX Certified Select cinema reference sound
Supports 5.2.2-channel Dolby Atmos and DTS:X playback
DTS:X playback and DTS Neural:X 3D upmixing supporting Dolby formats
165 W per channel (6 Ω, 1 kHz, 1% THD, 1 Channel Driven, IEC)
HDMI terminals supporting HDR10, HLG, Dolby Vision, BT.2020, 4K/60 Hz pass-through, and HDCP 2.2
6 HDMI inputs (incl. 1 front) with full HDCP 2.2 support
Dynamic Audio Amplification with 4-ohm speaker-driving capability

384 kHz/32-bit DAC and VLSC filtering for superior clarity

Hi-Res Audio playback including DSD 5.6 MHz/2.8 MHz, 192 kHz/24-bit FLAC, WAV (RIFF), AIFF, ALAC, and Dolby TrueHD
Supports Chromecast built-in and works with the Google Assistant
Dual-band Wi-Fi, DTS Play-Fi, AirPlay, Amazon Music, Spotify, TIDAL, Deezer, TuneIn
FlareConnect wireless multi-room audio
AccuEQ Room Acoustic Calibration with AccuReflex phase alignment for Dolby Atmos-enabled speakers
Supports Onkyo Controller app for intuitive multi-room operation
Powered Zone 2 speaker outputs and Zone 2 line-output with DAC supporting digital and analog audio playback
Bluetooth wireless technology for mobiles, laptops, and PCs (Version 4.1 + LE, Profile: A2DP v1.2, AVRCP v1.3)
Advanced Music Optimizer improves compressed digital audio quality, including Bluetooth audio