CinemaX D2 Smart
Reviewed at $2,299.00
Product Name: CinemaX D2 Smart
Product Description: 4K UST Laser Projector
Design -

8.8/10

Video Quality -

9/10

Ports & Connectivity -

8.8/10

OS, Apps and Features -

8.9/10

Price / Quality -

9.2/10
Summary
Reviewed at $2,299.00
Pros
Amazingly sharp 4K images
Support for HDR and 3D
Low input lag
Android TV
Cons
Average out of the box performance
No motion interpolation
Wacky external Android TV dongle design
Enhanced Gaming mode and eARC tied to a single port
---
Cheapest Places to Buy :
*We are a reader-supported website. When you buy through links on our site, we may earn a small affiliate commission at no extra cost to you. Home Media Entertainment does not accept money for reviews.*
---
Optoma had a lot of success in the Ultra Short Throw (UST) market the last couple of years with their critically acclaimed CinemaX series. The previous model, the Optoma CinemaX P2, got some pretty high scores from us, so we were curious to see what Optoma had done this time to improve it. And so in our Optoma CinemaX D2 Smart review we are going to determine if the new model is a worthy replacement of the P2 and what changes or upgrades we get this time around.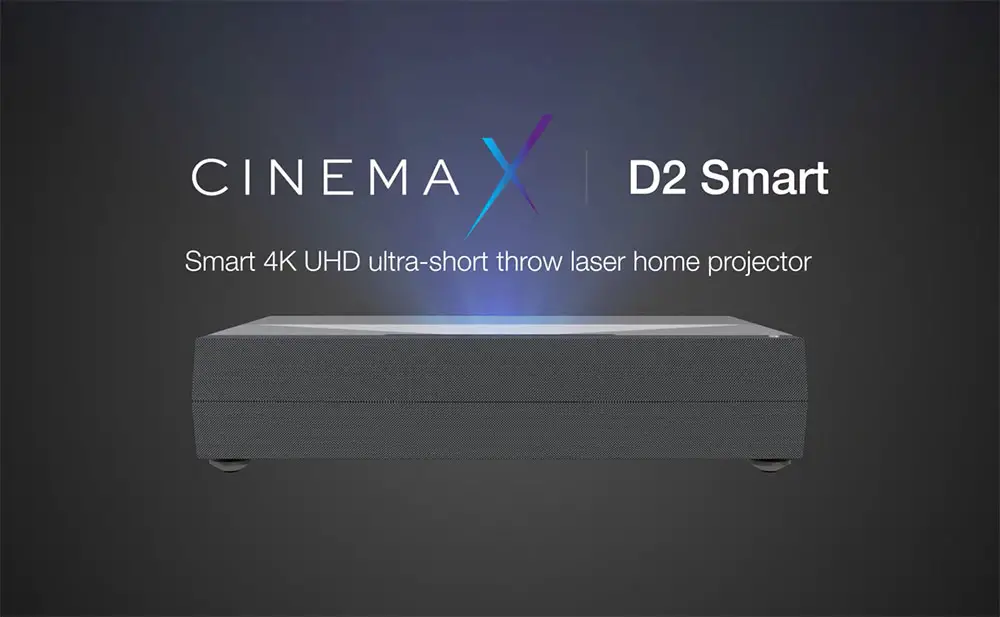 One thing to note before we start our deep dive into the specs of the CinemaX D2 is that there are two versions of the same projector. The one we have here for testing is called CinemaX D2 Smart and there is also the CinemaX D2 (without the Smart in the end). Technically both projectors are the same, the only difference is that the "Smart" version includes an Android dongle that gives the projector its smart capabilities. In terms of image performance they are exactly the same, so keep this in mind if you find both versions on sale.
Now, let's go over the projector's specs real quick. The Optoma CinemaX D2 Smart is a Ultra Short Throw, 4K laser based projector with a theoretical 3,000 lumens brightness and 1,800,000:1 rated contrast ratio. It supports both HDR10 and HLG, can playback 3D content, comes with an integrated 20 watts built-in audio system and includes an external Android dongle that allows the projector to get smart and wireless functionality.
At least on paper the new Cinema D2 Smart doesn't seem to be drastically different from its predecessor but as always the specs tell only half the truth so we will see from our tests if this holds true or not. One thing that is really impressive is the lower price the D2 has, which is almost $600 less while at the time of writing this review some retailers had this priced even lower at $2,299 which is amazing for this type of projector. Even if the D2 can have similar performance to the P2, at this price it would be an amazing feat. So without further delays let's start our analysis…
Design
Not much have changed since the CinemaX P2 in terms of actual design and looks. The two units are very similar and it seems that Optoma liked what they had with the P2 to keep it for one more year.
The D2 Smart will make you think that this is a bulky small soundbar rather than a UST projector. The absence of a frontal lenses along with the cloth grille that covers the whole front and slightly upper side really fakes its actual functionality.
We liked the overall looks of the P2 so to be honest we have no problem with the D2 Smart's reuse of the same chassis.
Looks and Ventilation
Keeping the same design means that in terms of dimensions the unit has also remained the same. Measuring 22.6 x 15.0 x 5.1 inches (576 x 383 x 129.7 mm) including the feet and with a weight of 18.5 lbs (8.4 kg) the new D2 Smart is still a big unit, although it has lost certain weight from its predecessor.
In terms of colors Optoma offers the CinemaX D2 Smart in either black or white variations which is an improvement over the black only P1 and the white only P2.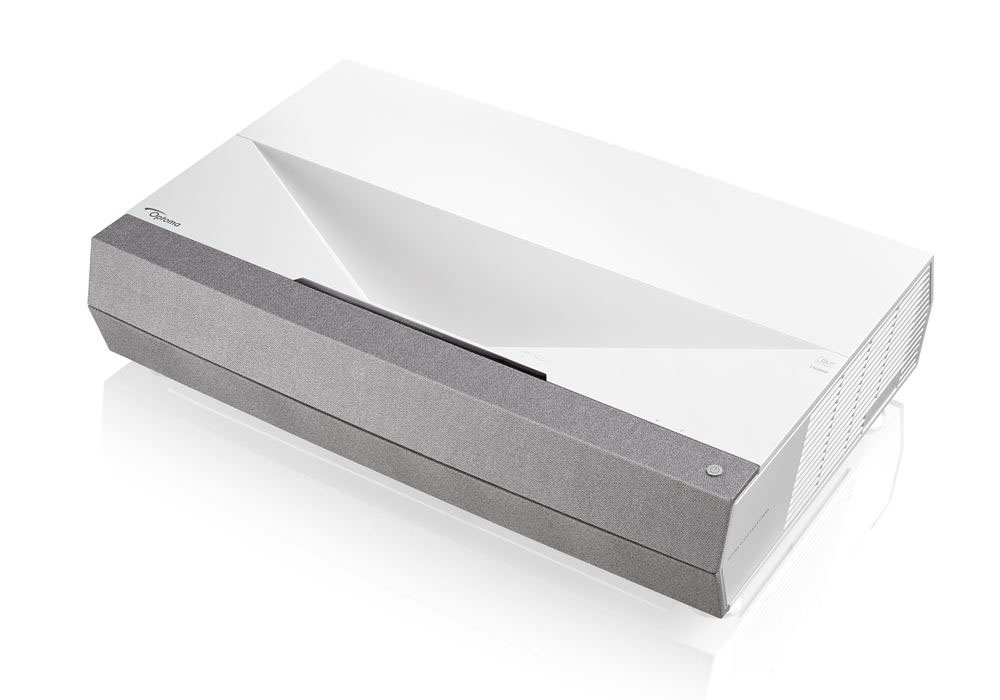 Plastic is the main material used but it feels of good quality while the surface has a subtle matte texture which we vastly prefer to glossy surfaces as they can be huge fingerprint magnets. Lastly, in case you are wondering, the projector has an IR sensor but is hidden behind the front light grey cloth grille to keep it out of sight.
Ventilation looks sufficient as there is a big air inlet at the back of the unit exactly under the connection ports with a second one on the left while all hot air comes out from the right side. Just keep in mind not to place it anywhere between objects and leave enough breathing space on both sides to keep the temperature low enough as we have seen many times that the color wheel can be damaged under prolonged use in very hot temperatures.
Usually all projectors use a fairly standard layout with the top being the place where we get a number of built-in buttons. But due to the CinemaX D2 Smart's unusual design things are pretty different this time. Optoma opted to include only a single button situated on the top face and this is placed at the front right corner right above the cloth grille that is hiding the front sound system. To the left of the power button a trio of function LEDs indicate light source status, temperature and Power On/Off. The top side is also where the lens are situated, thus the UST design but we will talk about it shortly.
Turning the projector around we find a special inset with all the connection ports grouped together, including the power connector which is a huge plus in terms of cable management. It seems this is one area where the D2 Smart is different from the P2 as the number and type of ports has changed. But more on this in our dedicated connectivity section later on. The P2 is also using tilt adjusted feet at the front in order to easier calibrate it when placed on a furniture.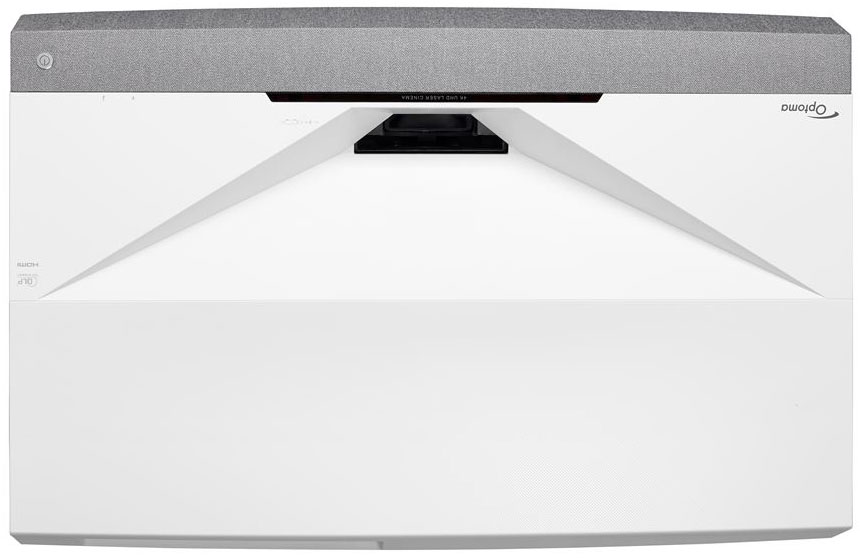 Lens Specs
What seems to be the standard in UST projectors nowadays, the lens has a 0.25:1 fixed throw ratio. There is also the necessary Geometric Correction feature that includes horizontal and vertical Keystone, 3×3 wrap and four corner adjustment options. Also there is an option for digital zoom and image shift in case you absolute need to use these.
As is the case with all UST projectors, one thing you should make sure is that wherever you place it, you have enough room as with the projector's 0.25:1 throw ratio means that you will need about 22″ for a 100″ diagonal image size. Also you have to measure the height as we have seen cases where a low ceiling with a high enough furniture can create a lot of placement problems. Always measure to be sure such a projector can fit your space.
Noise Levels
When it comes to noise the CinemaX D2 Smart behaved very similar to other UST projectors. Optoma rates it at 26dB at normal level and 28dB at max level but as always these numbers are a bit on the optimistic side. From a distance of nine feet we measured its noise at 35dB which is about what you should expect from such a unit.
It can be slightly audible but in our opinion it was never to such a high level to become frustrating. Also most of the times the on screen audio would completely mask its sound making it completely acceptable.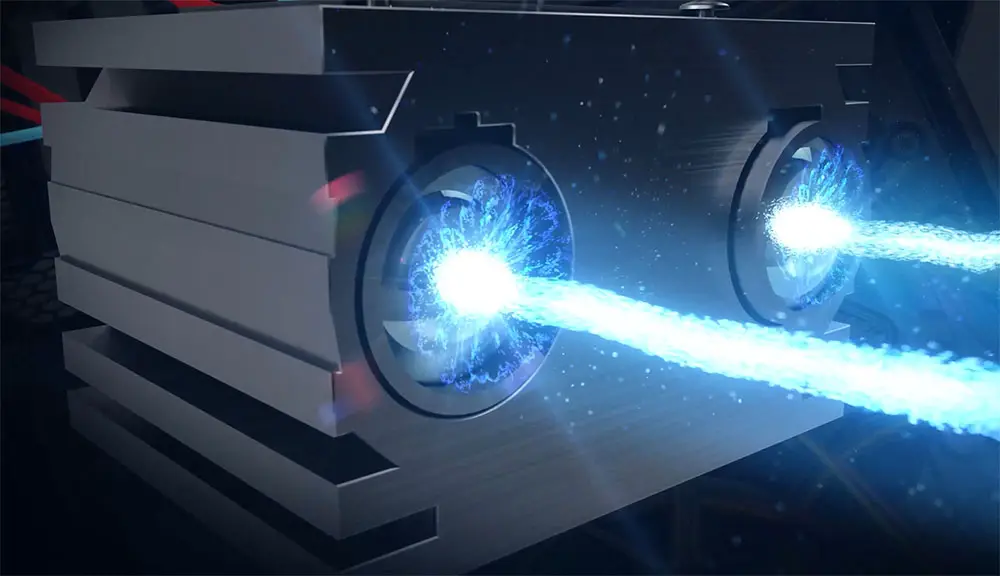 Light Source Hours
Its light source is rated at 30,000 hours which is amazing and this is one of the advantages of getting a laser projector. As was the case with all the other laser-based UST projectors its light source will last for the projector's entire life span, something that unfortunately we cannot also say for its color wheel.
Remote
Lastly when it comes to its remote, things are a bit different this time around. Keep in mind that if you get the simple D2 version without the Android dongle you are going to find a single remote which is considered the primary remote for controlling this projector.
The remote has the usual Optoma remote shape and all the buttons you will ever need that include many of the projector's functions. But to be honest we found it a bit cluttered while its IR based nature made it a bit unresponsive if you wouldn't directly point it at the projector.
But in the case of the D2 Smart we get another remote that is meant to be used for the projector's smart functionality and should be used in combination with the Android TV dongle. This remote is simpler, with much less buttons to press. This one is Bluetooth based as you can also use it to issue your voice commands through the included microphone to Google Assistant.
Other than the usual navigation, menu and Home buttons we also get two dedicated buttons for Netflix and Amazon Prime while there is one more button at the bottom that changes the control scheme of the remote. This means that with this remote you can control the Android TV dongle while being connected through Bluetooth or control the projector through IR.
Personally we liked this remote much more than the primary Optoma remote. It is less cluttered, easier to handle and obviously in the case of the D2 Smart you can control both the projector and the Android TV dongle without having to go back and forth with the two remotes.
Video Quality
Technology used
Here things are a little bit standard among most UST projectors of this category. This means that once again we find a single 0.47″ 4K UHD DMD DLP chip from Texas Instruments that is responsible for displacing a full HD 1080p image in four different positions at very high speeds in order to produce the full 4K image that is very close in clarity and quality to a native 4K image. This makes the CinemaX D2 Smart a 4K pixel shifting projector and not a native 4K one.
For those that don't know what pixel shifting is, it was created by manufacturers in order to bring down the cost of 4K projectors by offering similar quality at much lower price levels.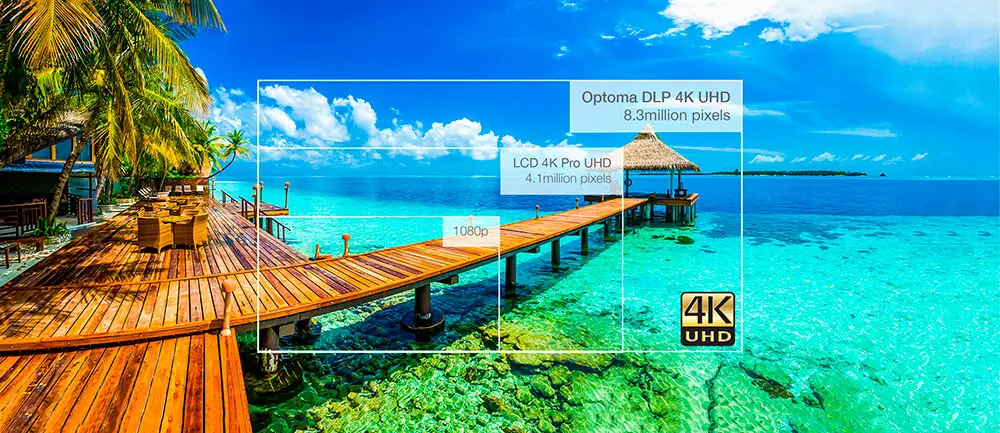 These pixel shifting projectors are usually distinguished in two different categories depending the type of pixel shifting technology used. There are projectors that shift the image only in two positions and these use slightly larger chips and are a bit more expensive while those that use the 1920 x 1080 x 4 technology tend to be cheaper without any meaningful loss of quality.
In general if you are considering a 4K projector but you are unsure about going for a pixel shifting unit we would say that its main strength is offering very close quality to a native 4K model but at a much lower cost.
We went through some content in 4K with HDR and the amount of details on screen was phenomenal. The high resolution revealed a lot of details like skin imperfections and materials composition and in general we failed to see anything that would indicate this not to be a true 4K projector.
4K UHD / HDR Content
For this review the films we tried out were Mad Max: Fury Road and Jurassic World: Fallen Kingdom, both in their 4K UHD format.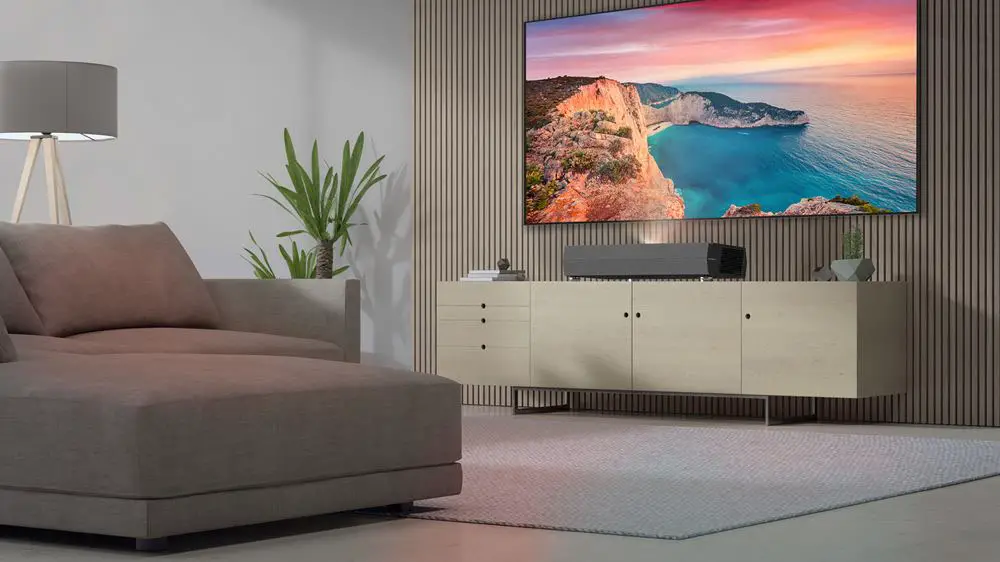 As with most projectors of the 4K pixel shifting nature (either short throw or long throw) we need to mention the obvious first. In terms of clarity of overall image definition the CinemaX D2 Smart passes with flying colors. The projector is just as good as any other 4K pixel shifting projector that is available right now and we can even challenge anyone to find any meaningful differences compared to some native 4K projectors.
Every small detail, even the tiniest of imperfections on the materials surfaces were as visible as the UHD format would allow them to be. Composition and complexity were all obvious and there was nothing hidden from our sight. Nothing more to say here. The projector did exactly as one would expect.
In terms of color reproduction the D2 Smart was good but not great. Out of the box performance, although still very much acceptable, was problematic with a lot of colors appearing oversaturated. You can vastly improve its color accuracy with calibration but it seems you cannot reach the level of perfection that some other projectors do offer.
In terms of black levels and contrast performance the CinemaX D2 Smart was once again good, but not great. Especially in dark scenes the projector would struggle to push really dark blacks and this is more evident if you use it in a completely dark room. With some ambient light in the room this problem shouldn't be of great concern as it will mask this problem to a certain degree.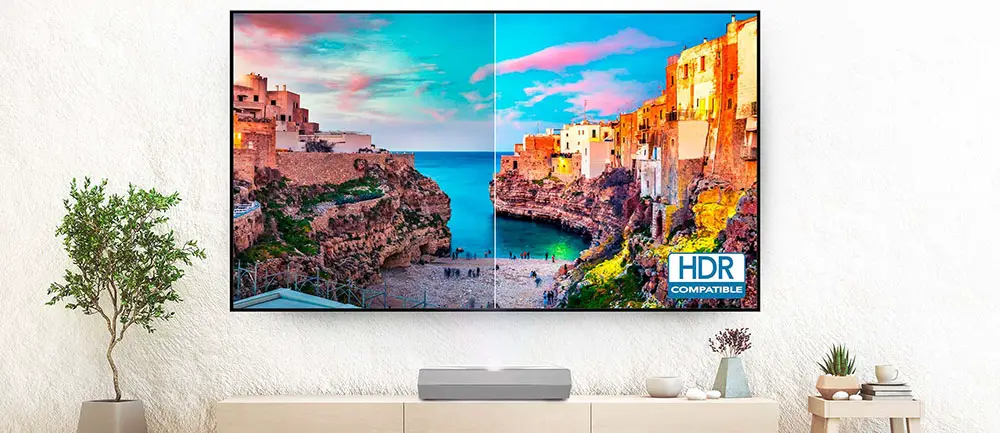 Overall we would say that for HDR content, the most accurate mode seemed to be the HDR mode, even if it still had problems with some oversaturated colors. If you plan on using the projector in a bright room then maybe the Cinema would be preferable but HDR will also do fine. Keep in mind that most picture modes have problems with their out of the box performance so don't expect to find the perfect one without any calibration.
As for HDR support the CinemaX D2 Smart holds no surprises as it supports exactly the same as most other 4K projectors we have seen so far. As such we find HDR10 which is the basis for 4K UHD playback along with HLG which is used for live broadcasting.
Full HD / SDR / 3D Content
Next it was time to try some 1080p material and as we always do we used our Blu-ray copy of Oblivion for this test. It terms of sharpness and overall image clarity the unit behaved exactly as expected and we did get some very clean images that were showcasing the excellent design pieces of the film.
As we mentioned above, out of the box accuracy is good for casual viewers but really average if you are a more demanding user. Most colors seemed to be off but not so much to become bothering. After calibration most problems can be fixed but again not entirely as a couple of colors would still be a bit inaccurate.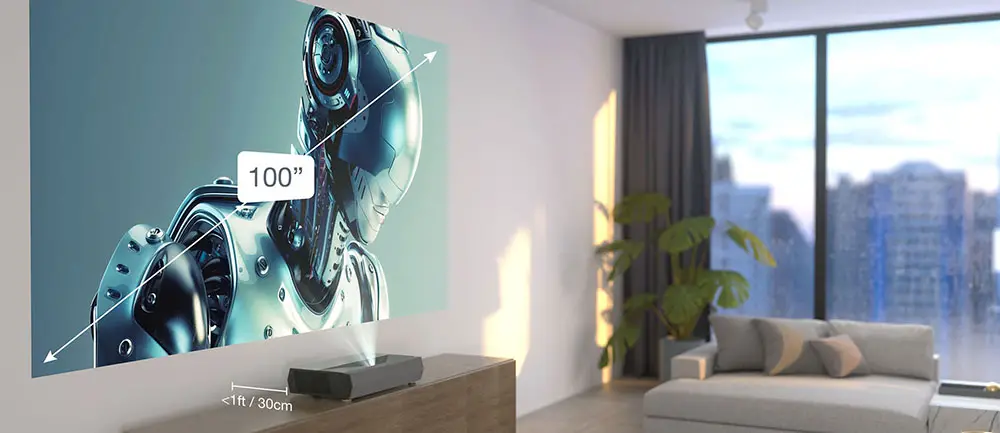 If you are not so much into calibration then for SDR content we found the Reference mode the most ideal one as it provided a nice balance between brightness and color accuracy.
Black levels and shadow details were good but not great. In most bright scenes this is something that you are not going to notice a lot but in a completely dark background, like in the space sequences, the lack of very deep blacks was more than obvious and a bit distracting. But this is a problem that most projectors hovering over the $2,000 price tag have so we cannot blame Optoma for this. If you really want deep blacks you will have to go considerably higher in price.
Overall the CinemaX D2 Smart had a very solid performance with SDR content. Picture clarity was excellent, colors we acceptable, even if not as accurate out of the box as we would hope for, while contrast and black levels were at the same level as many projectors of this price.
Lastly we should not forget to mention that the projector also supports 3D. This may be a dead format for TVs but it has certainly found its home with projectors. The CinemaX P2 had this and so does the D2 Smart. When the appropriate signal is detected the projector will switch automatically to the available 3D mode.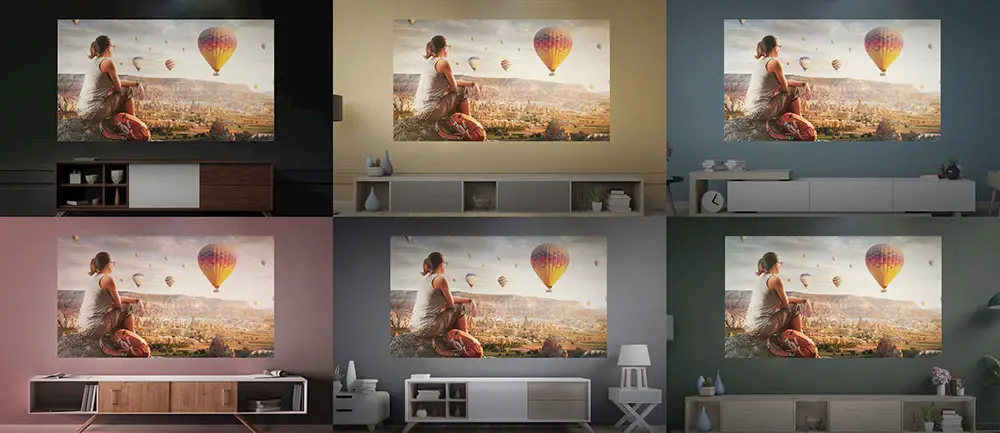 During testing we didn't observe any major artifacts or obvious crosstalk but brightness, as with all 3D content, takes a major hit. At least the projector is bright enough to somewhat compensate on the lower brightness which is important. To view 3D content you will need to use DLP Link active shutter 3D glasses that unfortunately are not included with the projector.
We see a lot of UST projectors ditching 3D completely so in this regard the Optoma is one step ahead and surely will be the projector of choice for those that love their 3D films libraries.
Color Coverage
In terms of color performance the CinemaX D2 Smart is not all that different from its predecessor. As such we once again find a 6 segment RGBRGB color wheel with two sets of red, green and blue segments that is fed by a single blue laser going through a phosphor wheel.
Due to this the projector offers good color coverage which was measured at 99% of the REC.709, 87% on the DCI-P3 and 65% on the BT.2020. These numbers are really good and makes the projector capable of wide color gamut.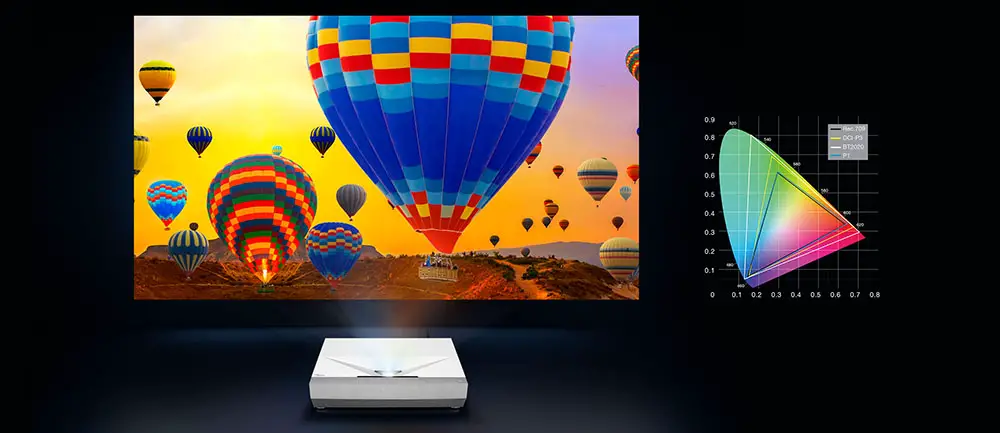 In the next section of our review we will mention all the available modes but in terms of color performance and accuracy the best out-of-the-box mode is definitely Reference mode when it comes to SDR content and HDR mode when it comes to HDR content.
But in all cases without any calibration most colors showed very large dE (DeltaE) errors above 3 which is the maximum acceptable level that our eyes cannot see. Many would hover around 6 with some going even above 10.
Now, after calibration colors looked much better as we managed to bring most of them to average in the dE level of 3 but even then there were some, like Cyan, that went far beyond acceptable levels.
As a result the CinemaX D2 Smart is not the most accurate of projectors we have tested so far. It is still within acceptable levels and if you plan on taking your time to calibrate it properly you can get a fairly accurate image, but still it will not be the most accurate we have seen, even in this price range.
Lastly we shouldn't forget to mention that since the projector is using a color wheel you may see what is known as a rainbow effect. This doesn't affect all people and certainly it's not as obvious as in some other projectors but it is there so if you don't know if you have a problem with this or not we would suggest you to give it a try in some local store before deciding. Personally I did see them slightly but it was not to such an extent to become bothering.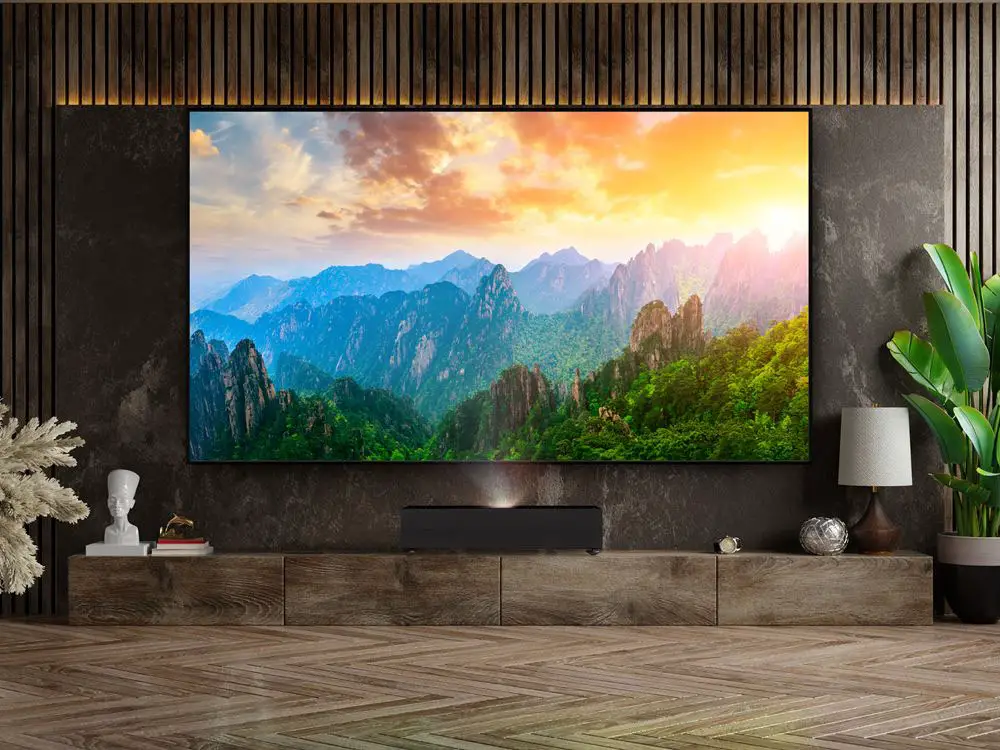 Brightness / Picture Settings
Our next test is focused on the brightness of the D2 Smart as Optoma has rated it at 3,000 lumens which in theory is the same as the P2 was. In general, one of the major weaknesses of projectors is brightness output and they are very far for being able to display HDR the way flagship TVs can do nowadays. So does the D2 Smart offer any improvements over its predecessor or not?
Keep in mind that there are many factors that can affect brightness on a projector so the numbers we give are only for giving you a general idea of the projector's capabilities and yours may differ in the end.
The projector has four different Brightness modes with Dynamic Black, Eco, Constant Power (various percentages) and Constant Luminance (various percentages) the ones available. Although here things are a bit blurry regarding which one is the optimal to use we found that the Constant Power mode at a certain high level was very acceptable and the one we would go for. But as we said there is no perfect choice here so you better try all of them and choose the one that suits your needs.
When watching SDR content there are nine video modes including Cinema, Film, HDR Sim, Game, Reference, Bright, User, ISF Day and ISF Night. There are also two 3D modes with 3D and ISF 3D and two HDR modes with HDR and HLG the ones available.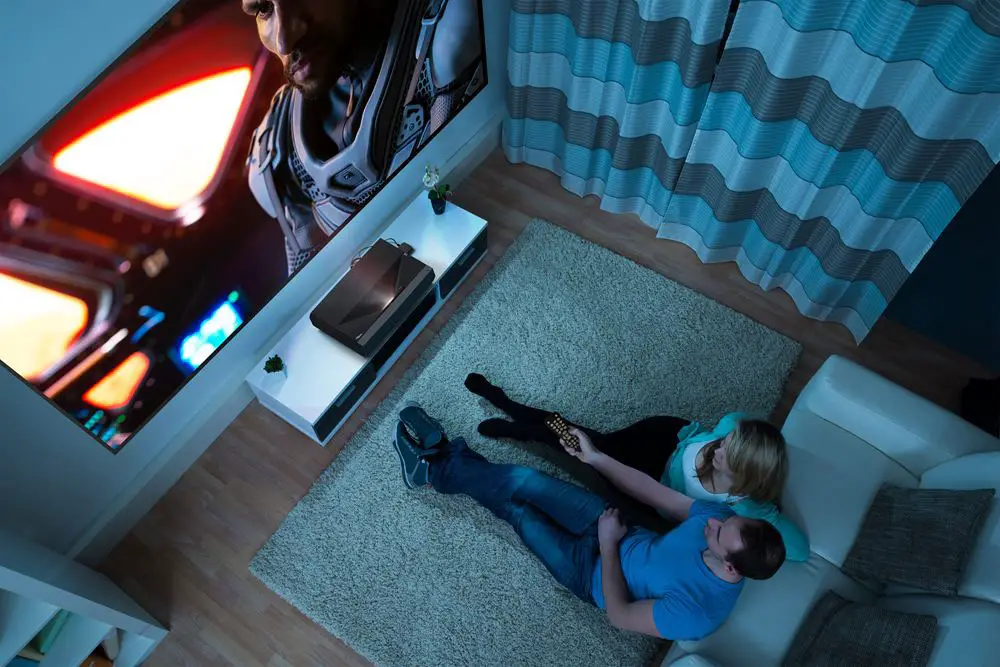 The Bright mode naturally measured first which gave us a 3,122 lumens which is more than the rated 3,000 lumens Optoma gives. But as this is not very accurate this should be used only in the brightest of rooms. Game mode also produced good brightness at 2,475 lumens while the recommended, and far more accurate, HDR and Reference modes produced 2,255 and 1,698 lumens each.
Black Levels / Contrast
When it comes to black levels and overall contrast the projector did just ok. You are not going to be impressed by its black levels and this was to be expected as no projector in this price range can really offer the deep blacks we find in more premium categories.
Optoma has rated the CinemaX D2 Smart at 1,800,000:1 contrast ratio, which is a number that you should never take literally as we have seen projector manufacturers throwing numbers all over the place with little to no meaning. Just to make things clear this rating is meant to be achieved with Optoma's Dynamic black feature.
Dynamic Black is Optoma's feature that works like an auto iris but obviously it has certain disadvantages compared to a real one. Dynamic black cannot make quick changes to the light output and the end result is not as obvious as an iris can do. But nevertheless the result can really benefit certain scenes so we suggest you to try it out and decide if you like it or not.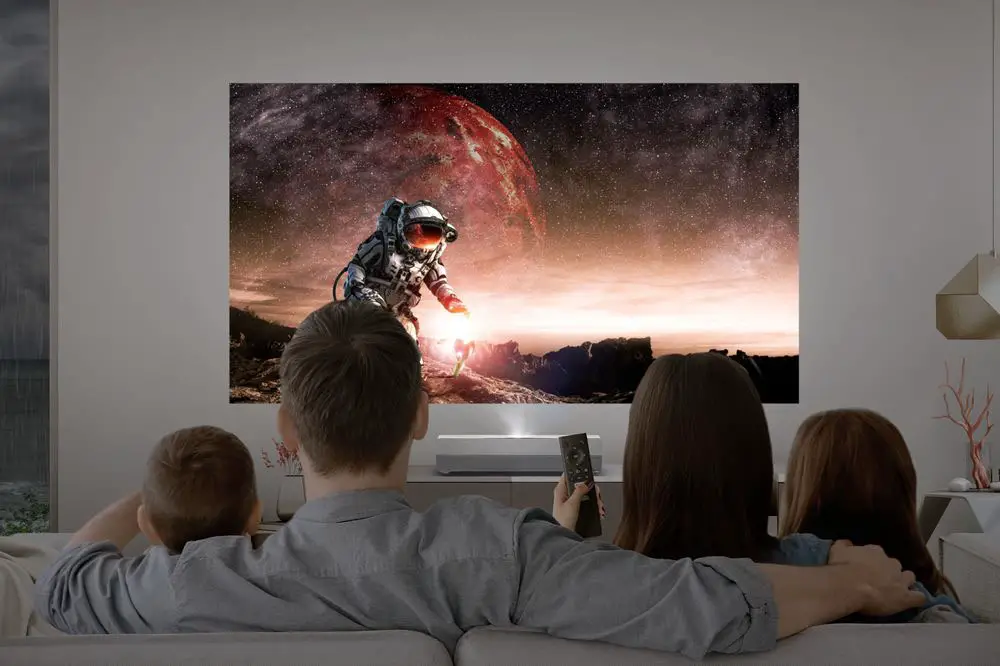 The CinemaX D2 Smart is another affordable projector that surely can do great in certain categories but fail to impress on others. And its black levels is one of them. Don't get us wrong, the projector can do just fine if you are not very picky in general, it just cannot do great here. Films with mixed content will be greatly appreciated but some that have a lot of dark scenes will surely make you wish for something better. But to be honest this would also mean an increase in your budget also.
Input Lag
The CinemaX D2 Smart may not be a gaming projector but this is one area where Optoma seems to have made certain improvements over the previous CinemaX models. Especially with the P1 there were many complaints about its high input lag numbers but even though the P2 included a Game mode and offered reduced numbers due to that, it was still a far cry from what modern gaming projectors could do. And this bring us to the D2 Smart.
Now, there are certain conditions that need to be met in order for the CinemaX D2 Smart to work in an optimal way for gaming. First of all if you are gaming with HDR enabled then Enhanced Gaming mode is not available which can be a real problem as most modern games are designed to output in HDR. This is a bit of a strange problem really and a real drawback of the projector's gaming abilities.
Also when Enhanced Gaming mode is enabled certain picture features like Aspect Ratio, Zoom, Image Shift, Four Corner, and H/V Keystone functions are disabled automatically.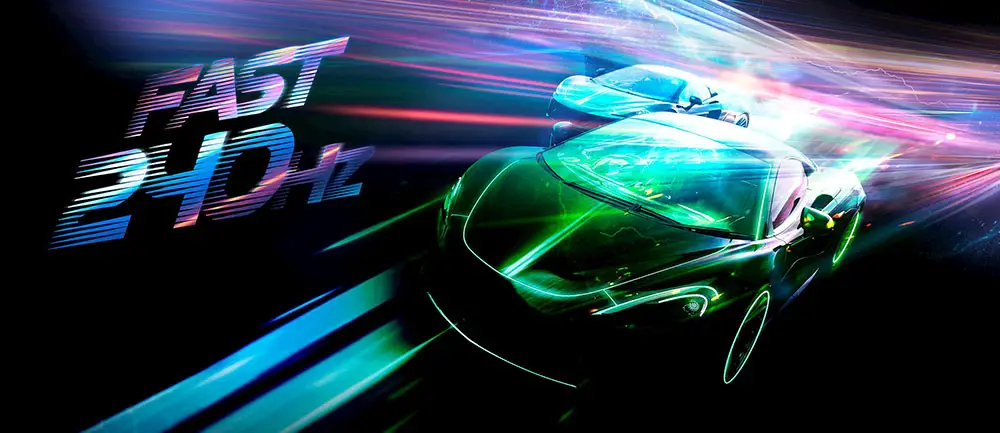 One thing that you should keep in mind is that the projector can accept signals up to 4K@60Hz or up to 1080p@240Hz. Obviously no gaming console, even the PS5 and Xbox series X, cannot do 240Hz so this is mostly meant for PC gaming.
As for our measurements we used our PS5 in two resolutions, 4K@60Hz and 1080p@120Hz. With Enhanced Gaming mode enabled we were able to get 8.2ms in 1080p resolution and 18.7ms in 4K. When we turned Enhanced Gaming mode off these numbers more or less doubled which was in line with Optoma's claims.
We tried playing on the projector with our PS5 with both Enhanced Gaming mode on and off and we can say that although with this feature turned on gameplay and response times were far better we were still able to get used to the slower response times when we turned it off. Because around 33ms in 4K resolution is not so bad for offline and slow paced games and only if you are a hardcore online gamer you will feel the difference.
Overall we cannot say that we are thrilled with the projector's gaming abilities. Yes, input lag has vastly improved and being able to have 1080p@240Hz is nice, but there are many limitations on how such a low input lag can be achieved. Personally, since I am not so much into online gaming, I would accept the higher input lag in order to be able to have HDR and also be able to use the HDMI 1 for its eARC functionality if I wanted.
On the other hand if you are too much into online gaming then using its Enhanced Gaming mode is a must and this means that you have to sacrifice both the eARC port and also lose HDR.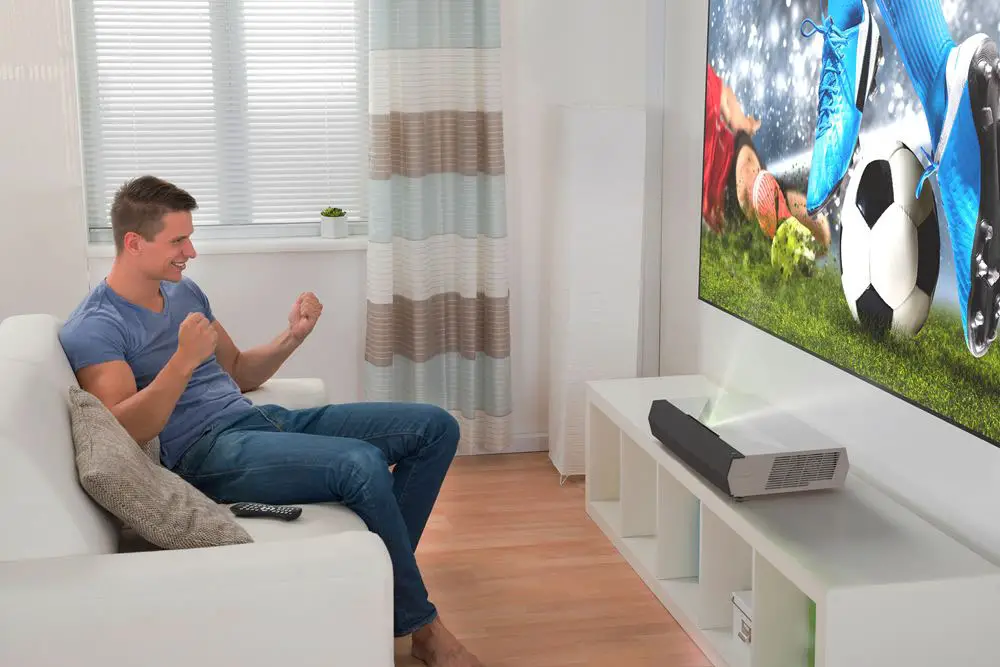 Motion Performance
With so many similarities between the D2 and P2 you may think that when it comes to its motion performance the D2 would perform similarly to its predecessor, and this is true to a certain extent but there are some notable differences also that we need to mention.
First of all the projector, as Optoma claims, supports 24p signals but we did notice some judder depending on the scene and especially with panning camera shots.
One thing that seems to be missing from the D2 Smart is Optoma's PureMotion technology which is basically a motion interpolation technique used to make motion smoother. While the P2 had this feature, it seems that it was taken out from the D2 Smart.
Although we do prefer to watch most content without any motion interpolation there are some moments where a minimum setting can be welcome. And obviously having this feature gives you more freedom to choose what you want. Unfortunately the D2 Smart does not give you this option and when it comes to motion what you see is what you get which is certainly not bad.
But as always the more features a projector has the more value it gets. And in this regard the D2 Smart feels like a small step backwards compared to the CinemaX P2.
Ports & Connectivity
One area where the D2 Smart is different from the P2 is the connectivity ports this one has. Once again we find all ports positioned at the back in a special inset to the left of the projector. But the layout is different, as is the number and type of ports we got this time.
The CinemaX D2 Smart comes with three HDMI ports, a USB port, a Digital optical audio output, a 3.5mm analog stereo output and an RS-232C port for control.
First of all it seems that the side HDMI and USB ports of its predecessor have been completely taken out. One HDMI has been added to the back so in total the new D2 Smart has two USB ports less. On the other hand Optoma decided to add an RS-232C port that was not present on the P2.
The three HDMI ports are all HDMI 2.0 meaning they can support either 4K@60Hz or up to 1080p@240Hz. The only drawback we see here is that if you want to use the projector for gaming and you plan on using the available Enhanced Gaming mode then you have to use the HDMI 1 as this is the only port that supports this.
By itself this is not a problem. What makes this a problem is that the HDMI 1 is also used for the projector's eARC functionality. So in case you want to pass Dolby Atmos audio from your source device to an external sound system and also use the projector's Enhanced Gaming mode then you are out of luck. Why Optoma designed the HDMI ports in such a limiting way is not known. eARC is always bound to one HDMI but to have the Enhanced Gaming mode also tied to the same port is a bit of a head scratching decision.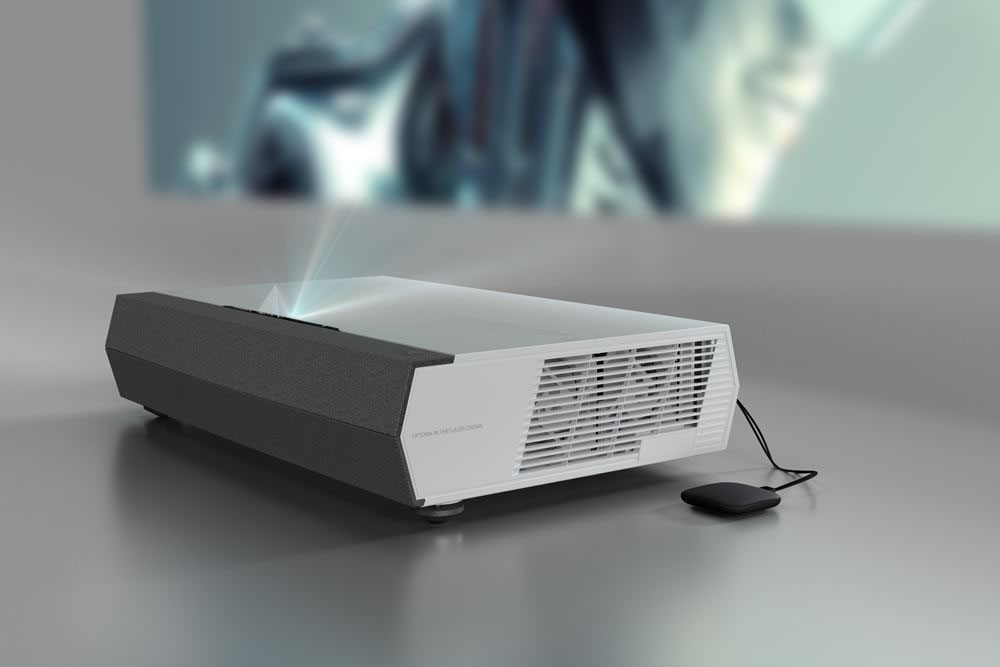 Here we need to make special mention to the Android TV dongle that comes with the projector. Although we will talk more about it in our dedicated section below, this dongle is basically the one that gives the projector its wireless capabilities as without it, it has none.
The Android TV dongle needs to be connected to the USB Type-A port for power and to one of the HDMI ports for sending the Android TV signal to the projector. So in case you will be using this dongle it means that you will be left with only two HDMI ports available.
When this is connected the projector gains WiFi capabilities supporting 802.11a/b/g/n/ac and also Bluetooth 4.2 BR+EDR+BLE.
Overall the CinemaX D2 Smart features a very different layout, although we cannot say if it is better or worse from the P2. The only major problem is that both eARC and Enhanced Gaming are meant to be used only with HDMI 1 meaning you will have to use one of them. A major design flaw in our opinion.
OS, Apps and Features
As we mentioned in the beginning of our review the projector comes in two flavors, the D2 and D2 Smart. In terms of hardware both of them are entirely the same, they do not have any smart functionality at all. What differentiates the D2 Smart is that in the box you will find an additional Android TV dongle and a second remote for controlling it. This is what essentially gives the D2 Smart its Android functionality. Without it, it is simply a CinemaX D2 projector.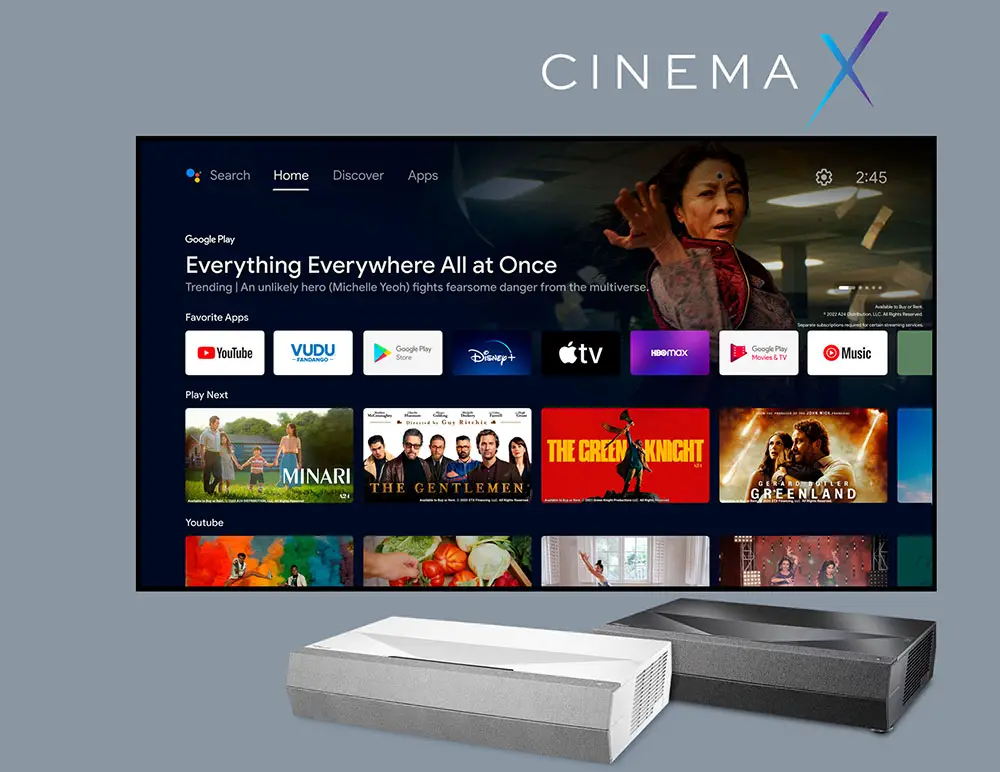 Now this is a strange choice as the CinemaX P2 had the Android TV OS built-in but we guess that Optoma decided to do this in order to save costs as having a single projector and just adding the dongle in the package was easier and cheaper to manufacture.
Some may dislike this and especially if you plan on having the projector on the ceiling will leave this dongle hanging from its cables as there is no special inset to place it as in some other projectors that use similar external dongles. Functionality wise there is no difference, but in terms of practicality and looks the D2 Smart is surely losing a few points.
As we mentioned previously, the Android TV dongle is connected to the projector through its mini-HDMI to HDMI cable for signal and a USB cable for power. The remote that comes with this Android dongle looks very much like a smart remote with very few buttons available, a Google Assistant button along with a microphone for issuing your voice commands and two dedicated buttons for Netflix and Amazon Prime.
What is interesting in this remote is that it includes another button and by pressing it you can choose if you want to control the projector or the Android dongle. In general we found the whole control scheme very complex as having two remotes for one projector is simply too much for our liking. And all this stems from the fact that Optoma decided to go for a separate device that gives access to the projector's smart abilities.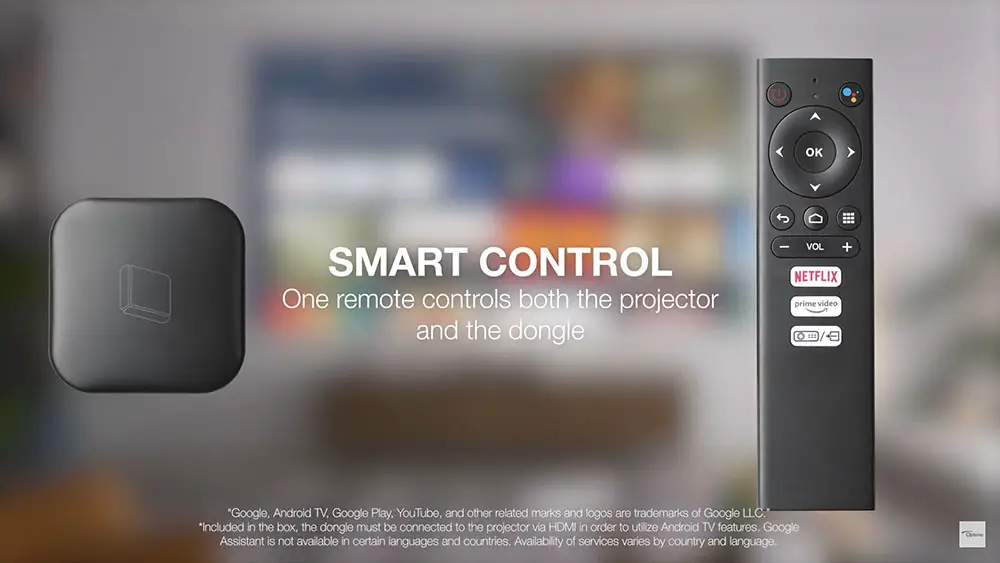 Going over the wacky control design, and after having connected everything we find the familiar Android TV user interface which is Android TV 10.0 in this particular case.
If you have used the Android TV user interface in the past either in a smart TV or some other projector then you will feel right at home as there are no major differences here. 
Now keep in mind that the projector actually has two menus. The one menu is the usual you see in any projector and allows to change all image settings like colors, image adjustments and picture modes among others.
The second UI is actually the Android TV UI and this can be accessed by pressing the home button on the smart remote. This will bring the Android TV interface which allows you to use all the available smart features and streaming services available.
Navigating through the Android UI was smooth enough and there was not any visible delay between opening and closing various apps. And since we talked about apps having Android TV means that there is plenty to choose from.
All the big names like Netflix, Youtube, Disney+, HBO Max, Apple TV, Vudu, Hulu and many more are all present along with many music apps like Spotify and Tidal. From the smart remote you can access Netflix and Amazon Prime but for the rest you will have to use the Android UI to do so.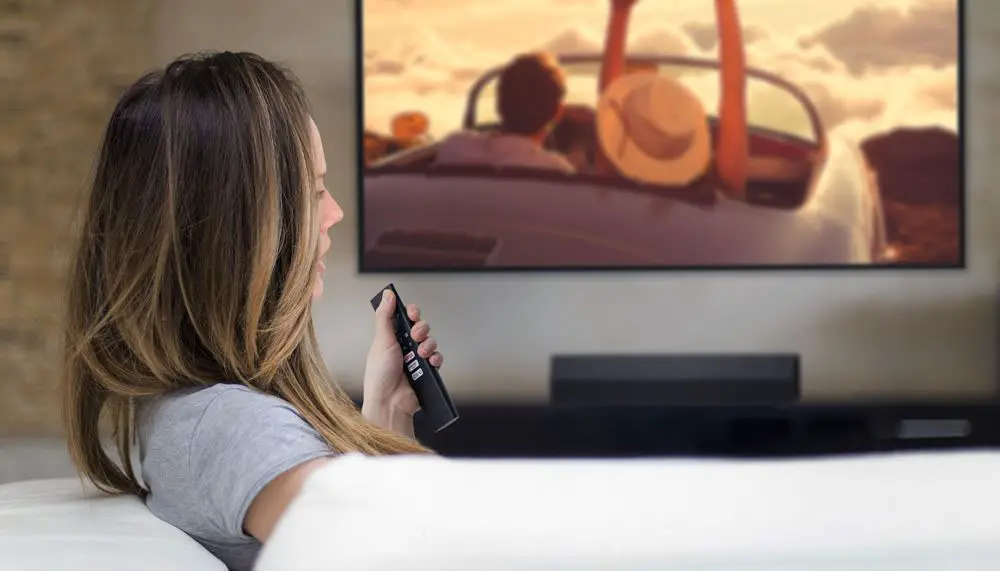 One thing that needs to be said here is that when you choose to watch content from this Android dongle for some reason the projector will switch to HDR mode. If the content you will be watching is in HDR then you are good but if you try to watch something in SDR then the whole image will look washed out. In that case you have to go in the dongle's settings and change Color Depth to Off.
This is a half baked solution and one that you will have to do every time you change your content from HDR to SDR. Just for this, if you really want to use some streaming services we would suggest to use a 3rd party streaming dongle that can do a far better job and surely will not give you more headaches and frustration having to change the settings every single time.
Voice control is also available with Google Assistant which can be activated from the dedicated button in the remote. No Amazon Alexa here but this was to be expected as this is an Android projector.
Included in the apps you will also find TapCast. You can use your mobile device with the TapCast companion app to easily cast images, documents and screen share from supported mobile devices. This works similarly to screen sharing on smart TVs and it can be pretty useful in certain situations.
And obviously, since this is a UST projector we should not forget to talk about its built-in audio system. The D2 Smart features a 2.0 channels system with two 10 watts speakers for a total of 20 watts power output.
It seems that this is another area where the D2 Smart feels like a downgrade over what the P2 was offering. Sound output was clear enough for casual use but it lacked in depth, extension and dynamics to offer any kind of true immersion. The on board system should be used only in case you plan on moving the D2 Smart around.
If you plan on setting this up in a permanent place then we strongly suggest you go for a dedicated audio system or soundbar that can really offer you the kind of immersion its big screen can.
Only keep in mind that if you plan on using its eARC capabilities then you are going to lose the projector's Enhanced Gaming mode option as both of these are tided to the HDMI 1 port. So plan carefully before setting this up.
Overall the CinemaX D2 Smart offers more or less everything you should expect from a smart projector. The external dongle design is a mess and we really hate having this stick outside the main unit while always outputting in either HDR or SDR adds more to frustration that it should.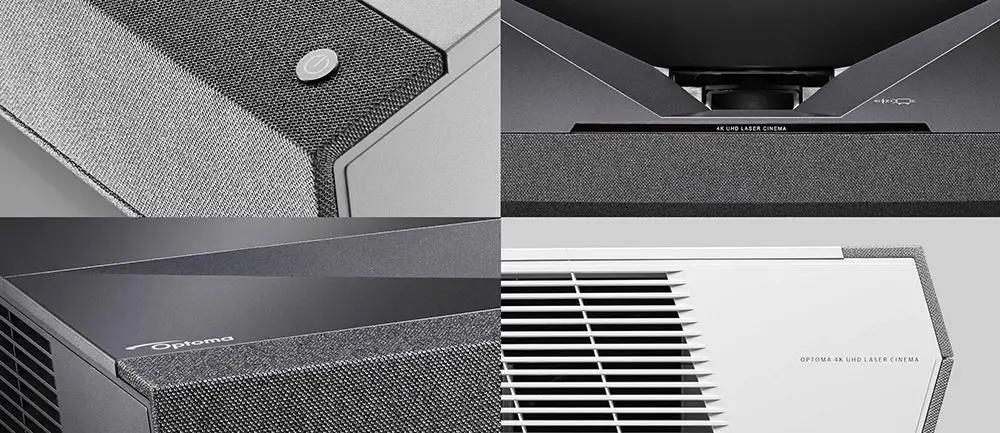 Final Thoughts
The CinemaX brand was always at the forefront of the UST projectors market and with the D2 Smart we were hoping Optoma to take it a step further, especially with the fierce competition they face from Hisense. But while its pricing is spot on its actual performance left us with a bit of a bitter taste.
On one hand the projector has all the advantages of a UST projector, meaning you don't need a big room to display a big screen, while its sharp image and clarity was as good as any 4K pixel shifting projector we have seen before. Its color coverage was pretty good, its input lag was vastly improved over its predecessor, its laser light source has many advantages and comes with 3D support while the optional Android TV dongle allows you to turn this into essentially a smart projector.
On the other hand we found its out of the box performance average and although with proper calibration you can get a fairly accurate image, casual users will be left disappointed looking for the best settings to go for. The projector is missing any motion interpolation making judder more than just visible while sound was downgraded from a barely average system on the P2 to an absolute basic one in the D2 Smart.
Another problem is having Enhanced Gaming mode and eARC tied in a single HDMI which surely limits your options while the mentioned mode cannot work with HDR games. Also the external Android dongle with its constant HDR output, unless turned off, will make you want to change it for a better streaming device. Lastly having two remotes for a single projector is just too much in today's market.
Closing the Optoma CinemaX D2 Smart is not the clear improvement over the P2 that we were hoping for. Yes, it has many of the merits of its predecessor and managed to improve upon some of them but there are too many downgrades and outright bizarre decisions made in this one that feels like it could have been so much better than what we ultimately got. But in the end it is all about the right price and for a $2,000 projector the D2 Smart has a rightful place in the UST market.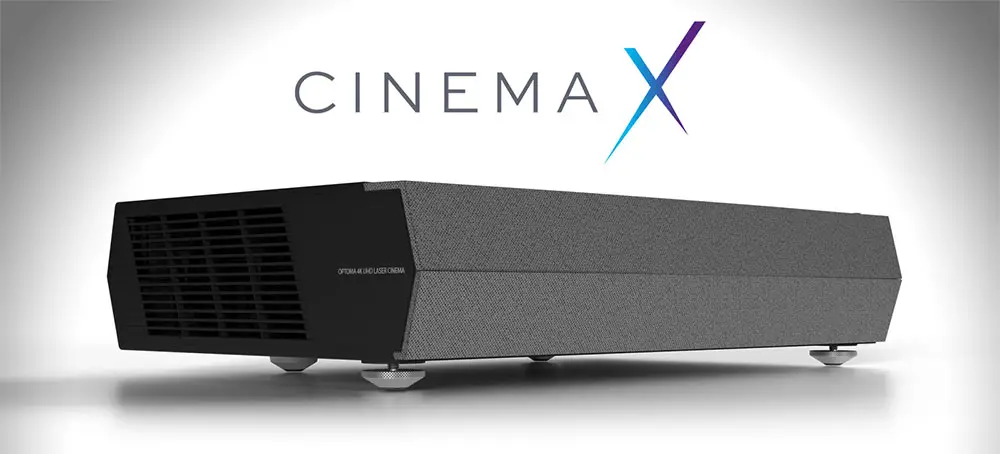 For more reviews you can check our dedicated Ultra Short Throw (UST) Projector reviews list or even look at our Product Reviews Table where you can find the brand and specific product you are looking for.
---
Cheapest Places to Buy :
*We are a reader-supported website. When you buy through links on our site, we may earn a small affiliate commission at no extra cost to you. Home Media Entertainment does not accept money for reviews.*
---
Optoma CinemaX D2 Smart Specifications