Optoma UHD50
OS, Apps and Features
8.8/10
Pros
Very good overall 4K image with HDR
Many connections
Competitive price
Backlit remote
Cons
Mediocre black levels
Brightness much lower than what is claimed
High input lag
No Alexa support
---
Cheapest Places to Buy :
---
Last year Optoma presented two new pixel shifting 4K projectors using Texas Instruments 0.47″ DLP chipset and while both of them at first glance looked very similar in specs and features there were a few key differences that set them apart. The projectors we are talking about are UHD50 and UHD51A. A few months ago we had the pleasure to test the Optoma UHD51A which left us very good impressions and while we are a bit late to the party now we got the chance to try our it's twin brother, the UHD50.
What became immediately obvious was that the UHD50 is a more "light" version of the UHD51A we tested before. And while their key characteristics remain the same the more budget friendly UHD50 is missing a few features of it's twin brother. So now is the time to confirm their similarities, point out their differences and determine if the omission of these features make justice of the lower price the projector asks. Is the more basic UHD50 worthy or it's more advanced brother is the better choice? Keep reading our Optoma UHD50 review to find out.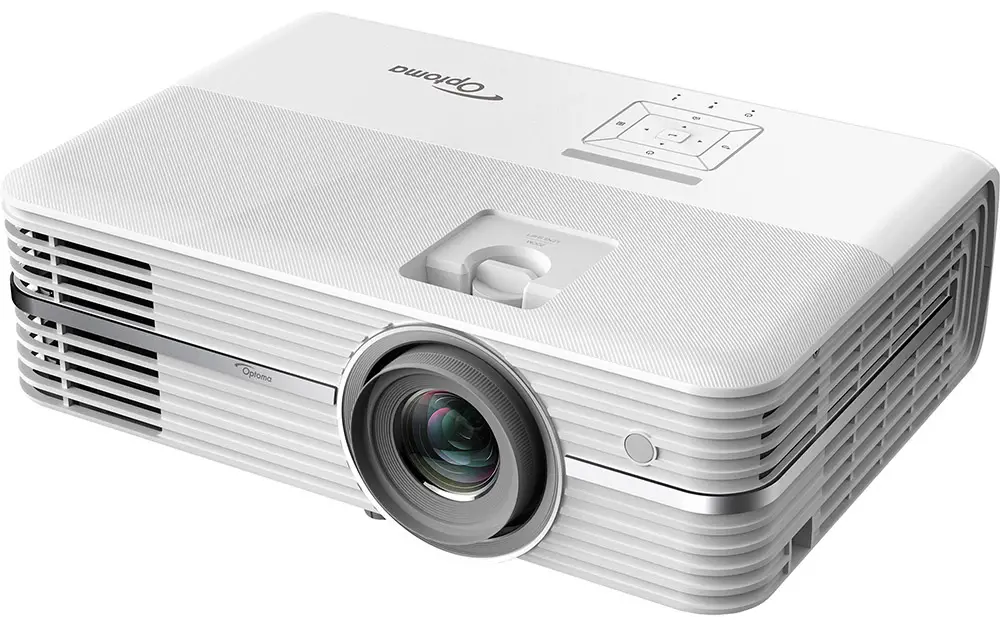 Design
The general look of the UHD50 is not going to attract any attention with it's uninspiring plastic cover and while the cover of the UHD51A had at least the interesting black color with silver strip or white color with golden strip variants here we get only white color with a silver strip that travels from one side of the projector and finishes on the other side. The plastic cover combines glossy and textured surfaces in order to make the overall design a bit less boring but don't expect anything fancy in this regard.
There are plenty of ventilation holes all around the projector's body meaning that heat dissipation is pretty good with the internal cooling fan blowing out all the hot air and keeping the unit's temperature relatively low. The fan is very quiet and Optoma rates the projector at 28db with this number going as low as 25db in Eco mode making it a really quiet one. Even in relatively silent films we could not hear the fan working which was very pleasant.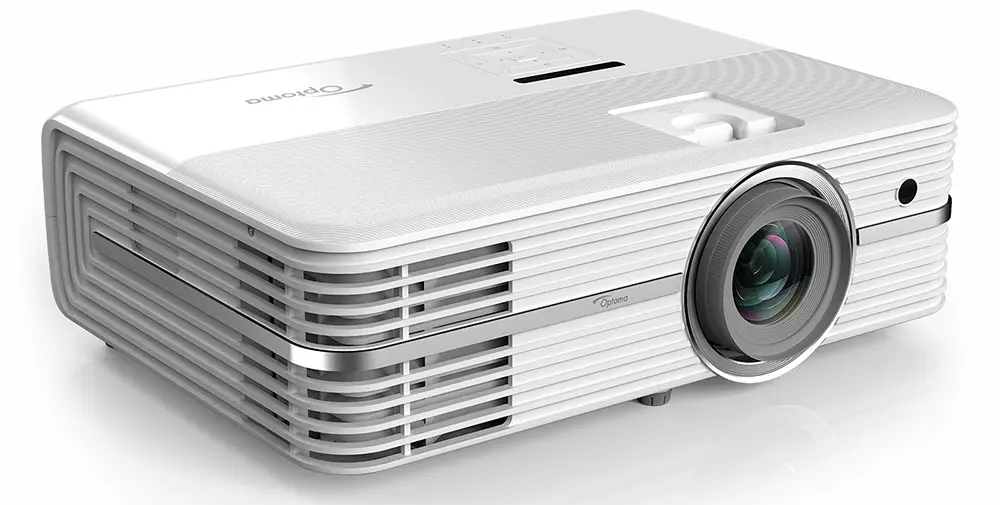 The projector measures 15.4" x 11.1" x 5.1" (392 mm x 281 mm x 118 mm) and weights 11.75 lbs (5.22kg) making it exactly the same as it's twin brother and we would categorize it as a middle-sized 4K pixel shifting projector making it relatively easy to place it in smaller than usual media rooms. Looking the projector from the front we see the lens being placed slightly to the right while to it's right we find the IR sensor. Manual focus is done by turning the lens barrel for easy adjustment.
The UHD50 comes with a 1.3:1 zoom which we consider adequate for this kind of price and offers the projector a bit more flexibility compared to a few other projectors in this price range that offer only 1.2:1 zoom. What we definitely love is the inclusion of a 15% vertical shift, something extremely useful and one feature that many other cheap projectors don't come with.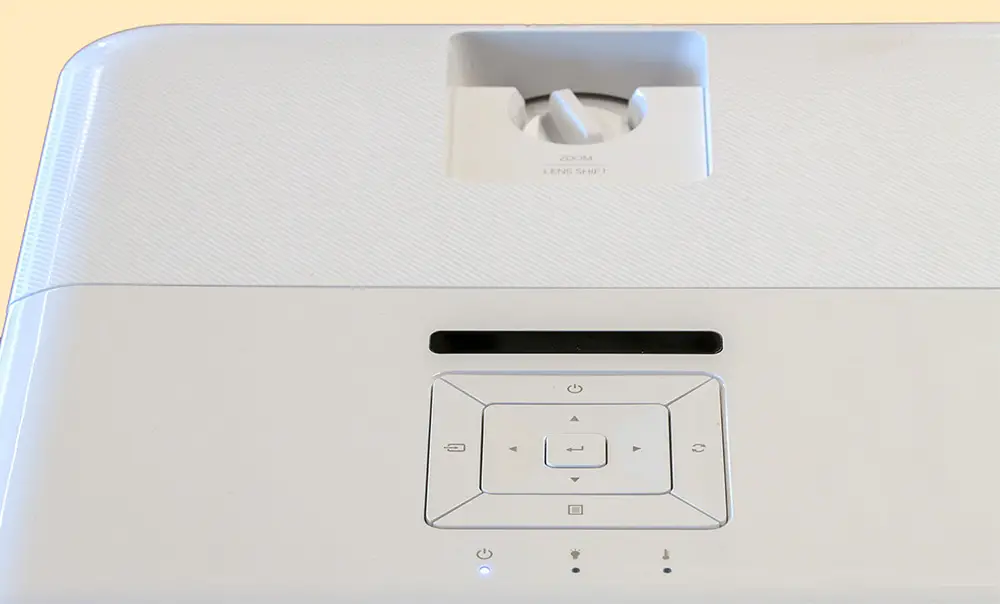 For those that don't know what vertical shift stands for is that a projector without this feature has the bottom of it's image exactly at the lens center. With a 15% vertical shift it means that the UHD50 can move it's image 15% above it's axis offering more freedom when calibrating the image without any image loss. Both lens shift and zoom can be calibrated by adjusting the two knobs that are placed on top of the lens.
On the top of the projector other than the two knobs that are placed exactly above the lens we get a group of control buttons placed in a rectangular shaped design and include the usual navigation buttons as well as power, lamp and temperature control lights. The back of the unit is where we get the sum of the projector's connections that we will talk about a bit later in our review. Lastly the projector comes with three screw-adjustable feet, one at the front and two at the back making it easy to level the unit if you opt to place it on some furniture instead of ceiling-mounting it.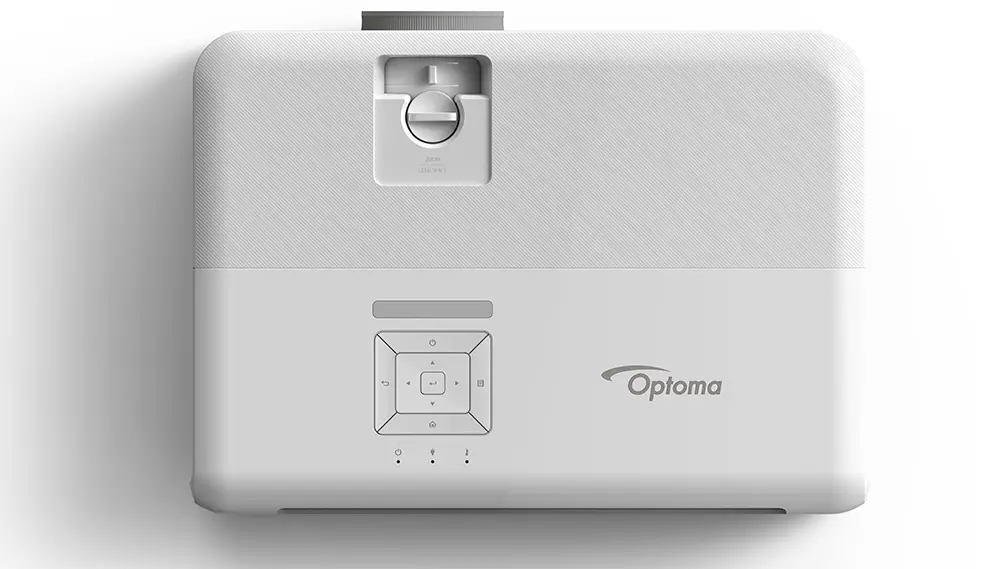 As for it's lamp life the UHD50 is rated exactly as the UHD51A and this is normal as we are talking essentially about the same hardware and lamps. As such Optoma rates the UHD50 at 4,000 hours in Bright mode while enabling the ECO mode will extend that to 10,000 hours. There is also a Dynamic mode with a 15,000 hours rating but as this drops the lamp power way down assuming that you leave the projector always on is not a good measuring feature. But 4,000 for Bright and 10,000 for Eco mode is much better than average and a very crucial point for those that will look at every last cost before buying a low priced projector.
The unit comes with dual 5 watts speakers and while these cannot offer any kind of immersion in a home theater they definitely increase the mobility value of the projector. If you want to take it to your friend's house to spend a nice sports match evening you will not have to worry about having to bring a pair of speakers also. Of course for anyone planning to use this in a home theater setup a dedicated audio system is a must.

Looking at the remote of the unit we find the first big difference between this projector and the UHD51A. While the UHD51A came with a small remote that had only very few buttons and reminded us very much of an Apple TV remote the one we find in the UHD50 is a more fully featured remote with all the function and input buttons you will need. One thing that we definitely liked in this one compared to the UHD51A's one is that this one here also offer backlight function which is surprising to be offered in such a low cost model.
Video Quality
Technology used
Under the plastic cover the UHD50 is powered by exactly the same hardware as we had seen in the UHD51A showing how similar the two projectors are. As such we find the familiar by now 0.47″ DLP chip from Texas Instruments that comes with pixel shifting capabilities. If you are unfamiliar with the term pixel shifting, it is a technique that is used by most cheap 4K projectors and what it basically does is to use their native 1920 x 1080 pixels and by moving them and fire each pixel four times we get the total of 8.3 million pixels required by a 4K image. The movement is done at such a speed that is practically invisible to the eye.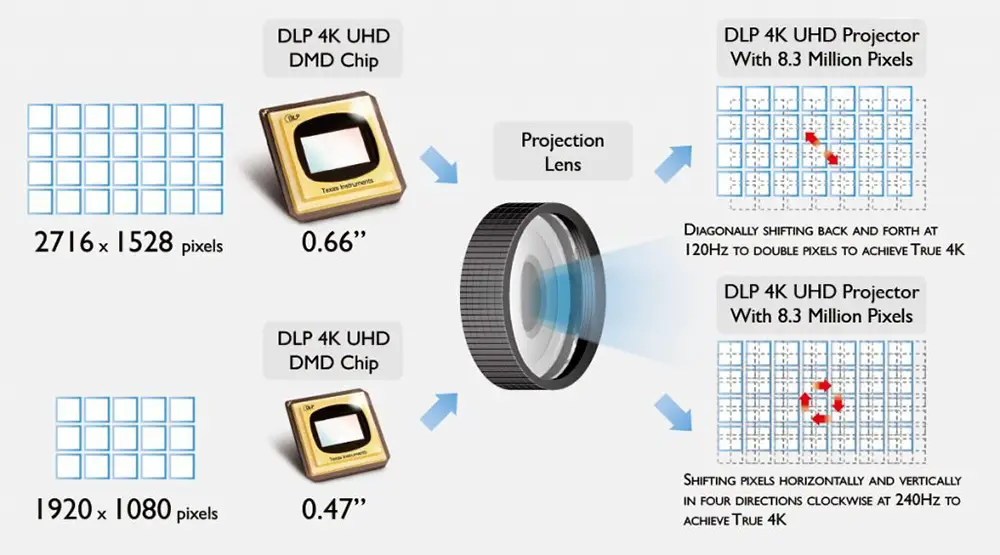 Something that needs to be cleared is that there are two different DLP chips that support the pixel shifting technology. The one that is used in the UHD50 as well as in it's twin brother, the UHD51A, has a 1920 x 1080 pixels resolution with a quad pixel shifting while there is another with 2,716 x 1,528 resolution with a dual pixel shifting. One projector that we had tested in the past with this later chip was the BenQ HT8050 but it also comes with a higher price. The 0.47″ DLP chips have managed to offer very good image quality and in addition to the very low cost of these pixel shifting projectors makes them ideal for anyone that wants to have a good 4K experience without destroying their wallets.
4K UHD / HDR Content
For our first test we tried out the 4K UHD disc of Pacific Rim: Uprising and we were very pleasantly surprised how a projector that costs close to the $1,300 mark could produce such a sharp and detailed image. Even pixel shifting models have come a long way and the kind of quality we are getting here is really amazing even if we are talking about non native 4K resolution. These DLP chips from Texas Instruments are really making miracles with their performance.
There were so many details visible on screen like the scratches on the metal armor of the Jaegers or small imperfections on the actors skin that made the picture so much more alive. We particularly liked the Jaeger duel on the snow as the image felt almost three dimensional with so many details on screen. Amazing performance by such a low cost projector.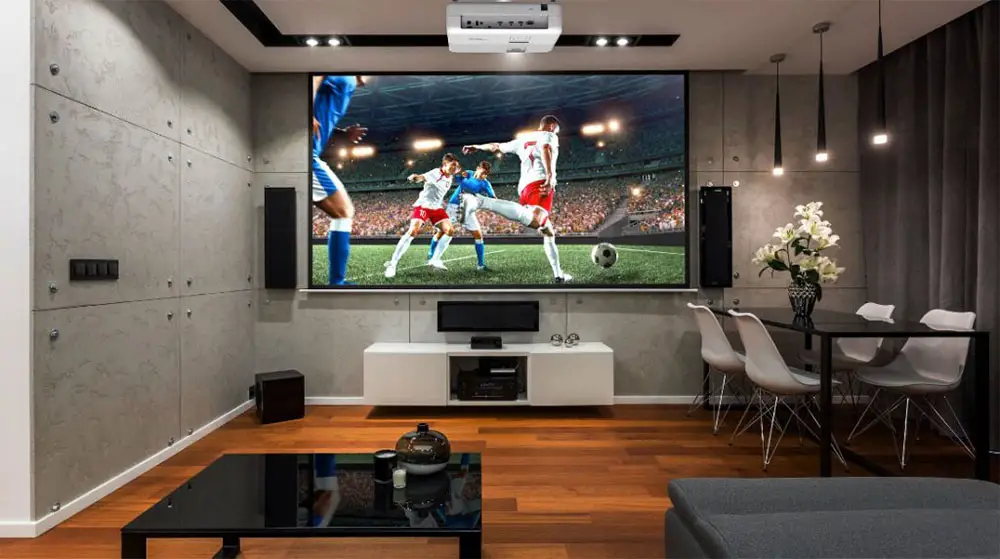 The UHD50 also has HDR support and Optoma has added 4 modes with different results. What we got is Bright, Standard, Film and Details and each of them was making the images darker or lighter affecting shadows detail separation. There is support for the standard HDR10 protocol used in UHD playback but unfortunately no HLG or Dolby Vision support which was to be expected. In general we are extremely pleased with the projector's 4K performance as well as it's HDR capabilities.
Full HD / SDR / 3D Content
The projector is able to produce very good 4K images but when it comes to HD/SDR it also managed to amaze us. We tested a few Blu-ray discs and the quality was superb with very clean image, low image noise and no noticeable artifacts. There is also SDR and HDR auto switching that is very practical and is a feature that some other more expensive projectors don't have as the switch must be done manually. Good work from Optoma here.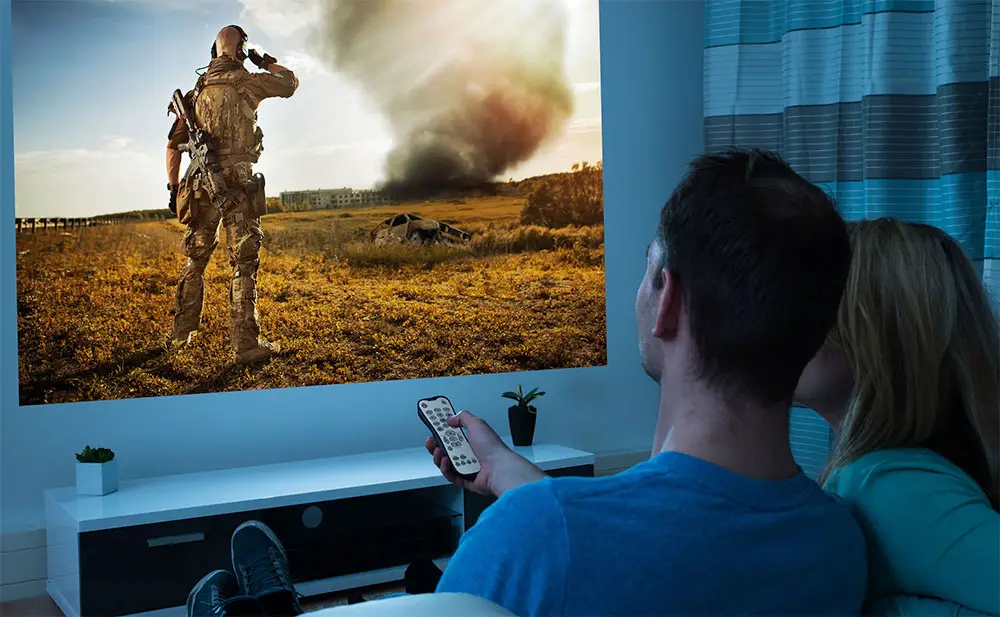 Initially the UHD50 had no frame-pack 3D capabilities but it seems that since then Optoma has added this 3D functionality with a firmware update (C07 to be precise) meaning it could now play 3D Blu-ray discs. Of course you will need DLP Link active shutter 3D glasses that are not supplied so this can be an extra cost if you have a big family. Unfortunately we couldn't try this out as we didn't have any 3D content available at the time of writing this review but it's good to know that Optoma added such functionality to the unit.
Color Coverage
The UDH50 supports wide color gamut with 100% coverage of the REC.709 color space with the projector also supporting the wider DCI-P3 and REC.2020 color spaces. As such the projector is able to reproduce colors more closely to how they should be and intended by the director.
Brightness / Contrast
The UHD50 is rated by Optoma at 2,400 lumens which makes this a very bright projector given it's price. Having tested the UHD51A, which is basically the same projector, we know that true numbers are much lower than this and we were curious to see if we would get similar numbers as it's twin brother. Of course we cannot expect exactly the same results as this depends heavily on how many working hours the unit has but we were hoping that we would get some similarities between the two.
There are five picture modes that you can select from being Bright, Cinema, HDR, HDR Slim, Game and Reference as well as a User mode for manual calibration. Naturally the most brightness we saw using the Bright setting with the projector reaching 1,740 lumens and although this mode offered the most bright image we saw the same greenish tint when using it as we had seen in the UHD51A so we would advice not to use it.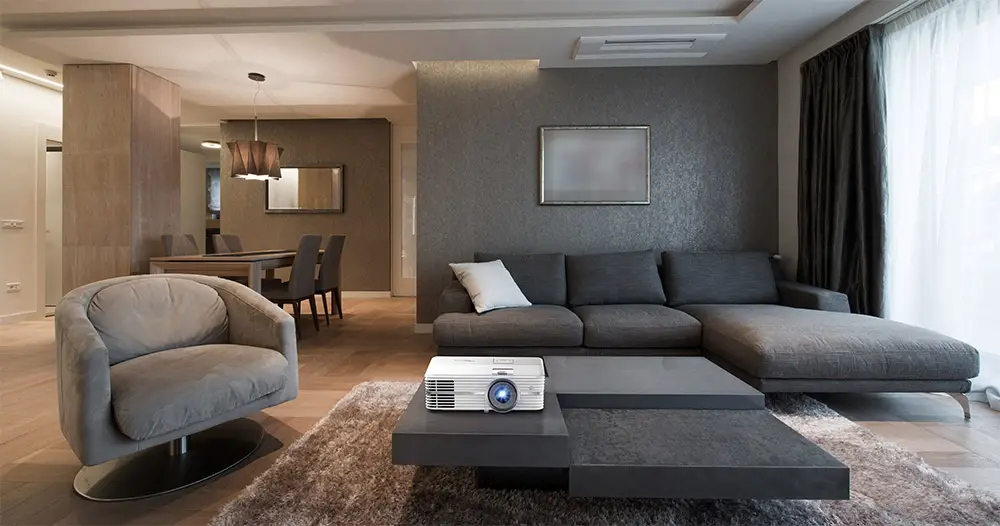 For 4K with HDR viewing our recommendation would be to use the HDR setting that outputs 1,350 lumens or Cinema mode with about 1,160 lumens as both of them show the most accurate colors. As for HD/SDR content we would suggest to use the Reference mode as is the most accurate even if brightness is much lower at 820 lumens. With SDR content brightness needs are much lower and the Reference mode offers more than adequate for that.
Black Levels
One of the major problems of cheap 4K pixel shifting projectors is how they cannot display very deep blacks something particularly visible when you are viewing in a completely dark environment. If this is your first projector or in general you don't have much experience with projectors then this probably will not be a problem to you. Also if you are going to use this unit with at least some dim lighting then the problem is even less visible. Taking all the above into consideration the projector's black levels may not be very good but at least are adequate for the price you pay.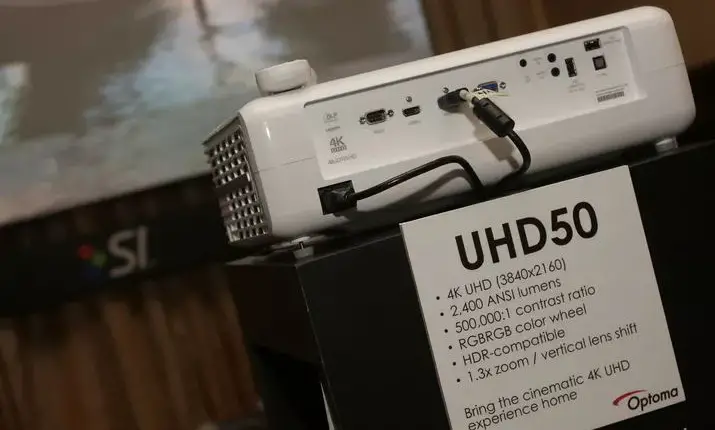 If you want deeper blacks unfortunately don't expect to pay anything less than $2,000 as more or less from what we have seen in this projector's price range black levels performance is similar. The UHD50 has a feature called Dynamic Black that uses lamp dimming to make the image more dark if there are no particular bright objects on screen and it may improve things a bit without being nowhere near as good as dynamic iris is.
Input Lag
As far as Input Lag we were left a bit disappointed as we measured the projector at 59ms which is not as good as we would like and although for movies it's perfectly fine for serious gaming it may make things a bit unresponsive. For most casual gamers as we are it will not be a problem as we tried a couple of games on our PS4 and we didn't had any problems during our sessions but in fast action games that you need split second response it may feel a bit slow.

Motion Performance
In the motion department the UHD50 offered very good results that are on par with other projectors in this price range. Optoma has equipped the unit with CFI (Creative Frame Interpolation) that they have named PureMotion and what this basically does is to smooth motion that is most notable when camera moves fast. There are various options that you can use with low being the best for mixed use. For movies we would suggest either turning it off or using the low setting while for sports you could use a higher setting.
In this unit we find the same 2X color wheel that we saw previously in the UHD51A and due to this some people may see rainbow artifacts. For those unfamiliar with this effect what basically happens is that when very bright objects move against a dark scene rainbows may appear. This is not affecting everyone, in fact only a small portion of people are sensitive to this but if you don't know if you can see this or not we would suggest you to try the projector first before you decide to buy it. During our testing we did see this rainbow effect but never found it too distracting from the viewing experience.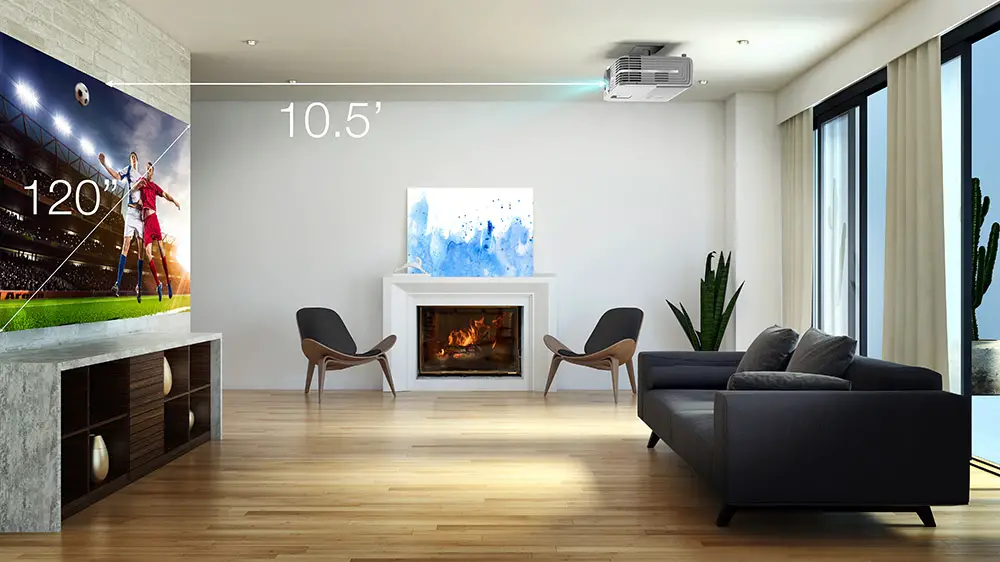 Inputs
Connections are also a bit different compared to the UHD51A although many of the ports follow a similar configuration. As such the UHD50 comes with 2 HDMI ports with one being HDMI 1.4a and the other being HDMI 2.0 with HDCP 2.2 support in order to be able to display 4K@60fps, HDR and Wide Color Gamut. Next to the HDMI ports we find a VGA port and an RS-232C port while on the right side there are 2 USB ports with one of them being used only for updates, a digital optical audio output, two 3.5mm jacks one for audio input and one for output and lastly a 12V trigger port for use with motorized screens to open and close automatically.
The obvious omission compared to the UHD51A are the Ethernet port and 2 additional USB ports but even like this we feel that this low cost projector has everything you will need to make all necessary connections to your home theater.

OS, Apps and Features
Initial setup was smooth and easy as we used the threaded feet to level our projector correctly. The unit also comes with ±40° keystone correction but we would advice against using it as it lowers image quality and you wouldn't want to do that when you buy a 4K projector.
Menus and settings are very easy to find and have been separated into categories depending their functionality. Even if you have very little experience you will not have a problem to find the setting you are looking for. Navigating through the various options and menus was fast and smooth. No problem there.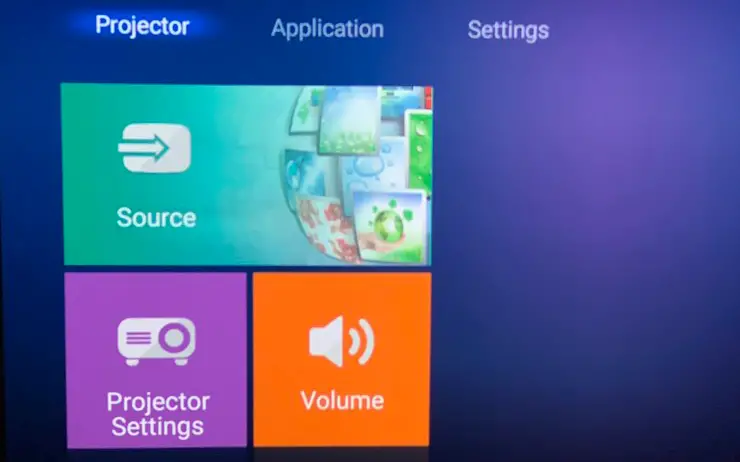 The UHD50 has a built-in media player and by connecting an external flash drive into the USB port you can stream either HD or 4K content with HDR. Trying a few videos we didn't encounter any problems and everything seemed to work flawlessly.
Another difference that we found in the UHD50 compared to the similar UHD51A was that this unit has no Alexa or Google Assistant support so you cannot control it with voice commands but in all honesty in this price we cannot complain about such a missing feature.
Final Thoughts
The UHD50 managed to perform admirably during our 4K testing by offering very clear and sharp images, it has great HDR capabilities, motion performance was very good, it has plenty of connection ports, a very nice remote with backlight function and all this at a price that is very close to the $1,300 mark.
Of course pushing the price so low it means that some aspects of the projector could not be as good as we would like. Black levels are average and if you are going to use the projector in a complete dark environment then this will more obvious than in dim lit situations. If you want deeper blacks then you will definitely have to go into a more expensive category. Input Lag also was not very good and if you want the projector for some serious gaming then we would suggest to try it out first to determine if it's adequate for you. Lastly we see that this model completely strips Alexa voice control functions while for Blu-ray 3D playback you will have to update your unit to the latest C07 firmware.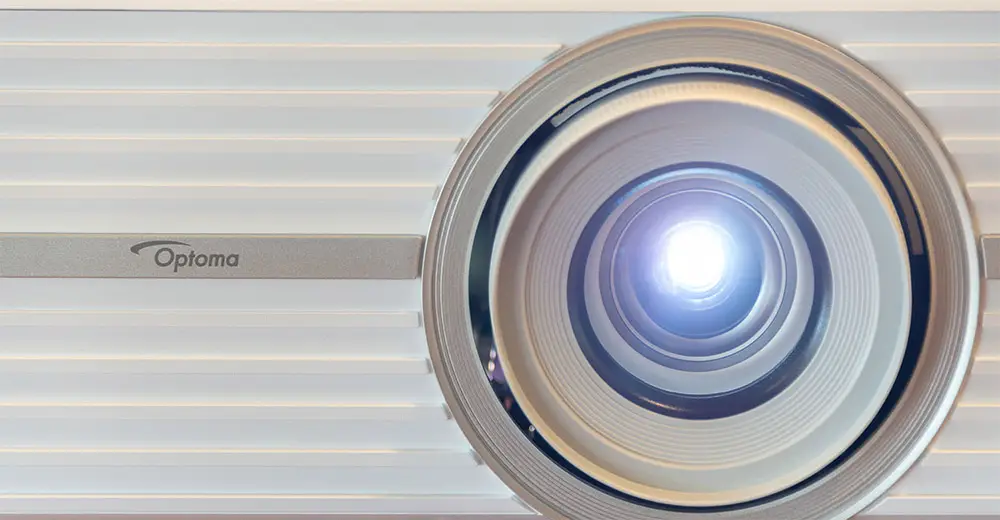 When comparing the UHD50 with it twin brother, the UHD51A, it comes down to this. Both projectors offer almost the same functionality with the UHD51A offering additional Alexa voice control and a few extra connection ports. On the contrary the UHD50 comes in our opinion with a better remote that has added backlight function. But the UHD51A also comes with a higher price that at the moment of this review was around $200. Is this higher price worth it? It depends on what you want. If voice control and a few extra ports are important to you go for the Optoma UHD51A, otherwise the UHD50 is the better option and you save a nice amount of money.
There are so many things we liked in this budget friendly projector that it can be an excellent choice for anyone that have extremely limited budget or they are just beginning their home theater experience. The Optoma UHD50 is one of the best performing 4K pixel shifting projectors close to the $1,300 price tag making us give it our highest recommendation.
For more reviews you can check our dedicated 4K Projector reviews list or even look at our Product Reviews Table where you can find the brand and specific product you are looking for.
Also don't lose the chance to subscribe to our Newsletter and gain exclusive privileges.
---
Cheapest Places to Buy :
---
Specifications
Aspect Ratio : 16:9

Audio : 2 x 5 Watt Speakers
Brightness : 2,400 ANSI lumens
Color Wheel : RGBRGB 6 segment color wheel
Compatible Aspect Ratio : 16:9 (native), 4:3 and LBX compatible
Connections : HDMI 2.0 (w/ HDCP 2.2, MHL 2.1), HDMI 1.4a, VGA-in, audio-in (3.5mm), audio-out, S/PDIF out (optical), USB 2.0 (service port), USB power, RJ-45, RS-232C, 12V Trigger
Contrast Ratio : Up to 500,000:1 with Dynamic Black
Display Technology : Single 0.47" TRP S450 4K UHD DMD DLP Technology by Texas Instruments
Displayable Colors : 1.07 billion
Image Size : 34.1" – 302.4 (34.1" to 140" optimal image size)
Keystone Correction : ± 40° Vertical
Light Source Type : 240W
Light Source Life : 4,000/10,000/15,000 (Bright/ECO/Dynamic)
Lens Shift : Vertical: +15%
Maximum Resolution : 4K (4096 x 2160) @ 30Hz
Native Resolution : UHD (3840 x 2160)
Noise Level : 25/28dB (Eco/Bright)
Offset : 100% (see Vertical Lens Shift)
Operating Temperature : 41–104°F (5–40°C), 85% max humidity
Power Consumption : 317W typical (Bright mode), 348W max (Bright mode), 259W typical (Eco+ mode), 285W max (Eco+ mode)
Power Supply : AC input 100-240V, 50-60Hz, auto-switching
Projection Distance : 2.9' – 34.89'
Projection Lens : F=2.5 – 3.26, F=20.91 – 32.62 mm manual focus
Projection Method : Front, rear, ceiling count, tabletop
Projection Screen Size : 34.1" – 302.4 (34.1" to 140" optimal image size)
Remote Control : Full Function Home Remote Control
Throw Ratio : 1.21 – 1.59 ( with tolerance ±5%)
Uniformity : 80%
Zoom Type : 1.3x optical (manual); 0.8 – 2.0 digital
Computer Compatibility : 4K UHD 2160p, WUXGA, HDTV 1080p, UXGA, SXGA, WXGA+, WXGA (1366×768), WXGA, HDTV (720p), XGA, SVGA, VGA, PC and Mac compatible
3D Compatibility : Frame-pack: 1080p24, 720p50 / 60, Side-by-side: 1080i50 / 60, 720p50 / 60, Over-under: WUXGA24, 720p50 / 60
Horizontal Scan Rate : 31.000 to 135.000KHz
Optional Wireless : No
RoHS : Compatible
Vertical Scan Rate : 24Hz to 120Hz
Video Compatibility : 4K UHD 2160p (24/50/60Hz), 1080p (24/50/60Hz), 1080i (50/60Hz), 720p (50/60Hz), 480i/p, 576i/p
Security : Kensington® lock port, password (OSD)
Dimensions : 15.4" x 11.1" x 5.1" / 392 mm x 281 mm x 118 mm
Weight : 11.75 lbs / 5.22kg