Panasonic DP-UB820
Video / Audio Quality :
9.7/10
OS, Apps and Features :
9.4/10
Pros
Amazing image quality
HDR10+ and Dolby Vision support
Excellent HDR enhancements
Very good price
Cons
No SACD or DVD-Audio support
Average remote
Settings can be overwhelming for novice users
User Interface looks dated
---
Cheapest Places to Buy :
---
After the shocking news of Oppo and Samsung abandoning the dedicated disc players segment there are only a handful of companies left with Sony, LG and Panasonic battling for the top spot in a constantly shrinking market. With prices being constantly pushed downwards manufacturers are facing constant hurdles to offer more with lower costs in order to be able to stay competitive.
Panasonic was one of the first companies that entered the race of UHD players and has been delivering quality 4K players ever since. In 2018 they released a new series of players that included many new features and included 3 models with the top of the line DP-UB9000EB, the middle tier DP-UB820EB and the entry level DP-UB320EB managing to cover different prices and consumer needs. Today we have the pleasure to test the middle-range model in the lineup. Is the added features make it a worthy purchase and does it manage to live up to Panasonic's quality history of players? Keep reading our Panasonic DP-UB820 review to find out.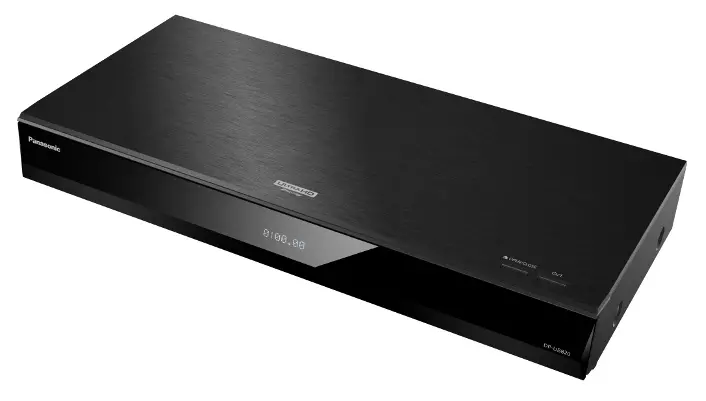 Design
The DP-UB820 has a very similar look to the previous Panasonic flagship player, the UB900, and as such it comes in a rectangular shaped box with a glossy black finish and a brushed metal top while it measures 16-15/16 x 2-1/2 x 8-1/16 inch (430 x 62 x 204 mm) and weights 5.3 lbs (2.2 kg) making it rather lightweight and easy to carry around.
The front is covered by a translucent black flap that covers the entire front of the player that drops down when the tray opens. When this opens we find a functions display in the middle that is also visible when this flap is closed. Under this display we get a USB 2.0 port (5V 500mA) for easy connection of external storage devices. At the top we find the two same buttons we saw in the UB900 in the front right corner with the only difference that these are now physical buttons instead of the pressure sensitive ones the UB900 had. And although the pressure sensitive ones made the chassis look more premium the physical buttons are vastly superior when you are looking for them in the dark.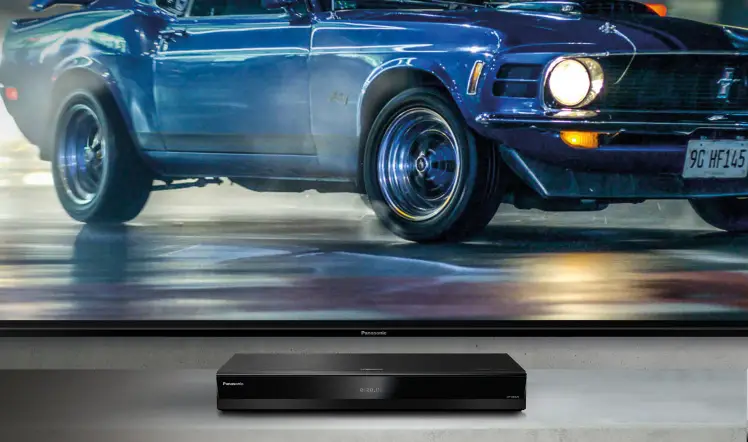 The UB820 may not have the premium build quality that is characteristic of a flagship unit but it still remains a solid and well made player. The player lacks the vibration dampening legs we saw in both the UB900 and UB9000 flagships. The disc tray felt sturdy and smooth although it was a bit noisy during operation. There is also a fan at the back but we couldn't hear it spin at all during operation. In general we felt that the UB820 was silent enough not to be bothersome as you could only hear the UHD disc spinning during operation.
The player comes equipped with Panasonic's exceptional HCX processor which was specially designed for 4K playback and gives the UB820 it's particularly powerful tone mapping function that helps produce a better HDR image with Wide Color Gamut on lower to middle-range HDR TVs with somewhat limited capabilities that we will analyze a bit further down this article. The unit comes also with analog audio outputs meaning that the UB820 is also equipped with a built-in 192-kHz/32-bit 4-DAC but unfortunately we don't have more details on that to determine if it's the same as the one found in the flagship UB9000 or the UB900.

Unfortunately one thing that was also affected by the lower price of the unit was the included remote as the one we got was different from the one that comes with the UB900 and UB9000 flagships. The one that comes with the UB820 is much smaller, drops backlight functionality and while it comes with all the function buttons you will need it feels rather cheap and uninteresting. Also it must be one of the few remotes we have seen that places the navigation buttons on the bottom instead of the middle making it a bit unbalanced in the hand when using them. There is also a dedicated Netflix button while playback buttons have a distinct blue color to differentiate them from the rest.
In general the UB820 felt like a well made unit and while it may drop some features that we find only in the premium category it provides everything needed to make it a unit characteristic of Panasonic's level of quality.
Video / Audio Quality
The player comes with built-in support for HDR10 which is the basis for UHD playback and HLG which is an HDR protocol used in broadcasting. But with a firmware update the unit enables not only Dolby Vision but the new rival in the form of HDR10+ also and thus support all known HDR protocols to date making it a completely future proof player.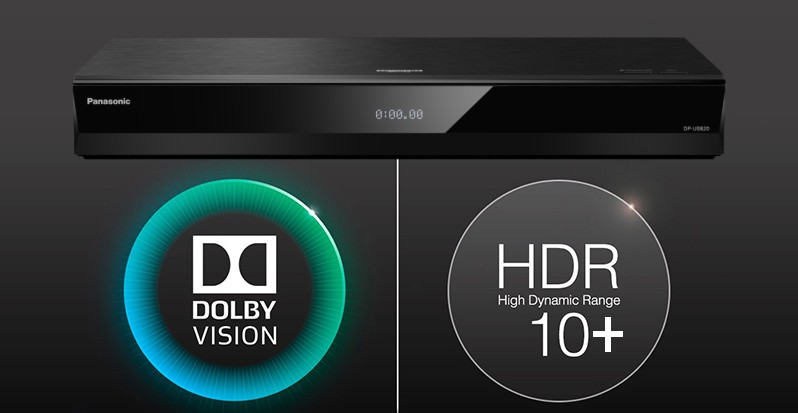 Naturally the player supports all kinds of audio tracks from the old Dolby Digital and DTS to Dolby Digital plus, Dolby TrueHD and DTS-HD Master Audio all the way to the new Dolby Atmos and DTS:X object-oriented tracks.
The movie we decided to test with this player is the 4K UHD disc of Fantastic Beasts: The Crimes of Grindelwald as it offers some of the best 4K image quality we have seen in the format and comes with an excellent Dolby Atmos track. During playback the player detected the Dolby Vision metadata and made the switch accordingly. What we got was pure excellence as sharpness and amount of details on screen would keep us glued for more time than what we had.
There were so many details on screen due to the clarity and extra resolution while colors and HDR were so breathtaking that gave the image the illusion of more depth and dimensionality. In a similar manner the included Dolby Atmos track was fed to our AV receiver through the HDMI port and thus performing as good as it can get. Amazing film and a player like the UB820 is really making it justice.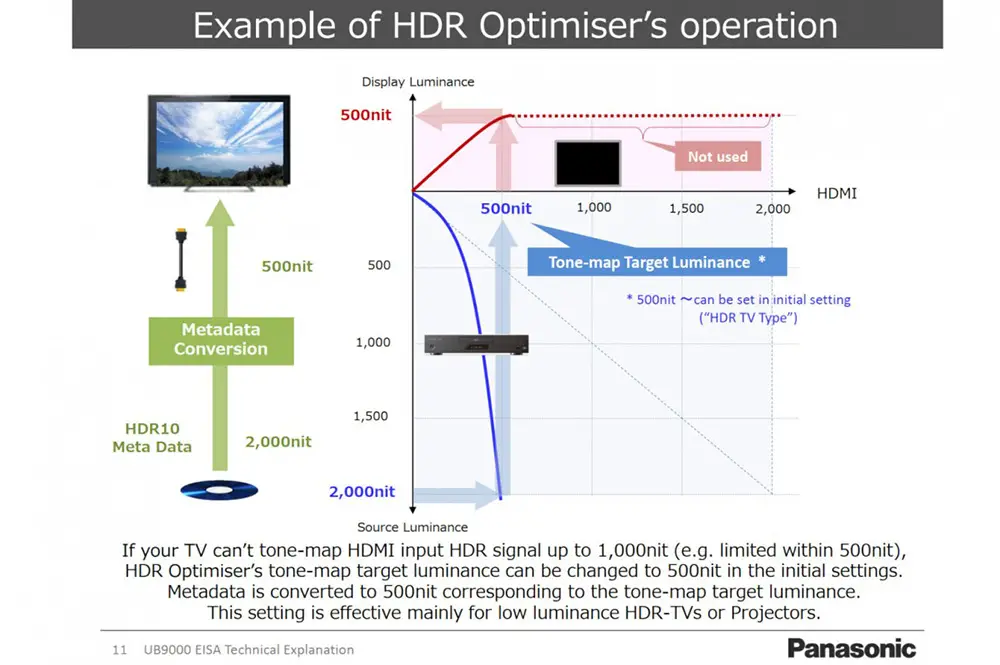 A unique feature we find in the UB820 and gives it the edge compared to the competition comes in the shape of HDR Optimizer. We will try to analyze what this does as simply as possible because there is a lot of technical jargon in there that many people may not understand. Every UHD disc is mastered at a specific peak brightness for example let's say 2,000 nits. If you have a TV that can display for example 1,000 nits of maximum brightness the display will show the content as intended for as much as its brightness capability will allow. The rest of the detail is cut off. Looking at the photo provided you can see that it looks like a crossover filter in an audio analogy.
With the HDR Optimizer you can specify the maximum brightness of your TV (1,000 nits in our example) and in doing so the player will convert the original peak brightness of the UHD disc that is found in the HDR10 metadata from 2,000 nits and apply tone mapping according to the maximum brightness you have set for your TV. As you understand this can improve slightly the image mostly on TVs that have low HDR capabilities and are unable to display the full brightness that the UHD disc was mastered at.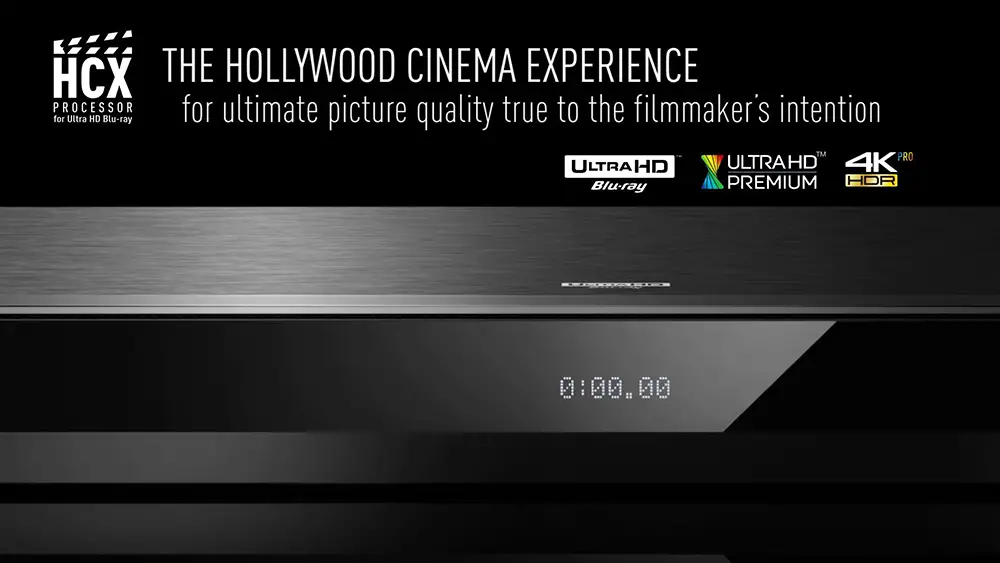 The UB820 may excel in 4K playback but it also comes with upscaling capabilities to 4K resolution. We tried various DVDs as well as Blu-ray discs and the player did an excellent job at upscaling them from SD and Full HD resolutions to 4K. Source material plays a big role in upscaling so naturally Blu-rays upscaled the best delivering very nice and clear images with amazing sharpness.
There is also support for 4K HDR to SDR conversion if you have a TV or a projector that doesn't support HDR or is an older Full HD capable model. The difference with the UB820 is that if you have a TV that doesn't support HDR but supports BT.2020 Wide Color Gamut the player can pass the appropriate signal with only stripping the HDR. Other players in similar situations not only strip the HDR data but also change the color space to the narrower REC.709 one. The UB820 offers this right into it's menu settings.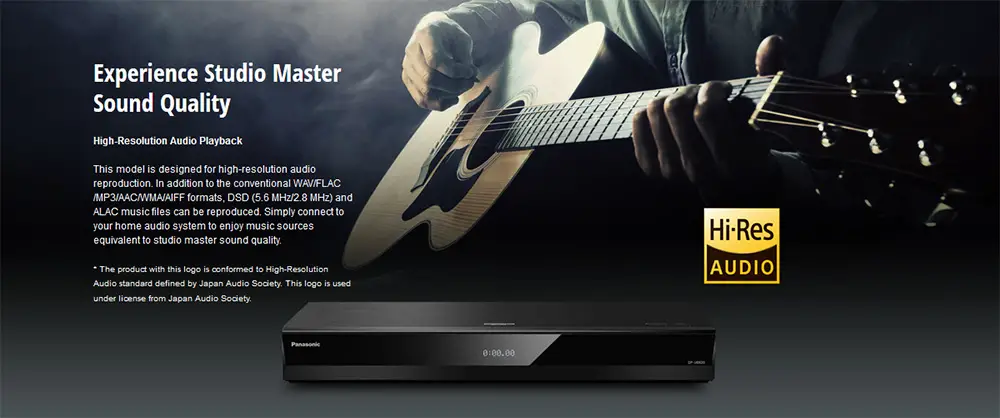 Another feature that is becoming more or less a standard is support for High Resolution Audio along with the other simple audio files. Here the UB820 also excels by supporting a wide list of formats that include FLAC, WAV, ALAC, AIFF, DSD (11.2MHz/2.8MHz/5.6MHz), WMA, AAC and MP3. Unfortunately there is no support for the now dead SACD or DVD-Audio but since many are still keeping their libraries of the mentioned formats it would be nice to be able to use them.
At least we still get Blu-ray 3D support that many enjoy. We tried a couple of discs and both played smoothly and without any trouble. If you still enjoy your 3D Blu-ray collection then fear not as the UB820 will cover you on this.
Closing this section we could not feel more happy with how the Panasonic UB820 performed. Not only it managed to provide amazing 4K quality but the way it handles HDR and the exceptional tone mapping capabilities of the unit brings it a notch above the rest from the same category. If you add all the other features that we analyzed above and with the player being the first from the company that supports HDR10+ we get a player that offers great value at very reasonable cost.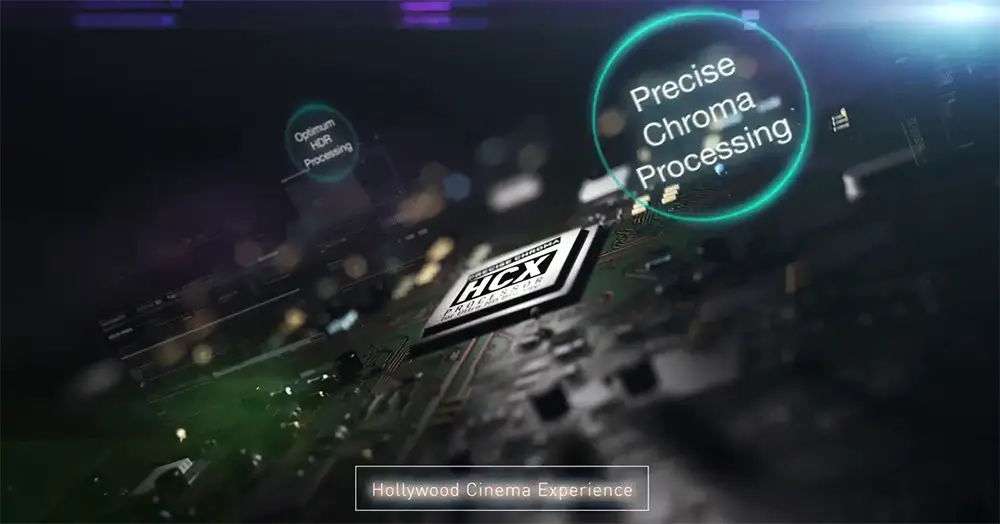 Inputs / Ports
Let's see how this middle-tier model fairs with connectivity. We already mentioned the USB 2.0 port that is found in the front under the Dot Matrix display something very useful and easy to connect any kind of external storage you may want. As for everything else is placed at the back of the unit.
What we get here is 2 HDMI outputs (one only for audio and the other for audio/video), an Ethernet port for wired connection to the Internet, above that we find a second USB port only this one is 3.0 variant, an optical digital audio output as well as 7.1 channels analogue outputs (who still uses these?) for connection with older equipment that don't support HDMI.

A couple of notes to make here. First of all the front left and right of the 7.1 analogue channel outputs can also be used as analogue stereo output. Also we like the inclusion of a USB 3.0 which is so much better than the archaic 2.0 variant we get at the front. Also some may be wondering what this model is missing compared to the flagship UB9000. In this regard the UB820 has lost the coaxial digital audio output as well as the balanced XLR outputs. Also while on the UB9000 all connectors are gold plated that is not the case here. And this is where the differences end.
For the price asked for the UB820 the number of connection ports we get is more than satisfactory. The inclusion of the 7.1 channels analogue ports is an added bonus but frankly we don't see many using them nowadays as with such a player the HDMI should be the main option. As for everything else we get a pretty standard setup.
OS, Apps and Features
The home menu of the UB820 is exactly the same as the one we had seen in our UB900 testing. The menu is separated in 6 categories with Videos, Music and Photos accessible through the inserted disc or external USB device, Home Network for streaming through DLNA and your local network if you are using a NAS server, Network service where you can find all streaming services available and Setup where you can find all settings available to the player.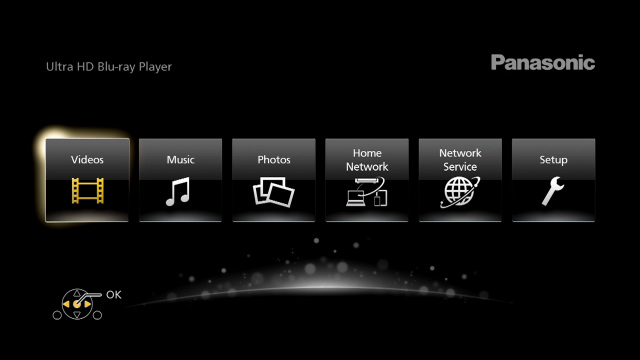 Setup of the unit is very easy and although it provides a ton of settings that you can change leaving most of them in Auto lets the player handle it's settings according to your connections which may be the preferable way if you are not very experienced in all this. Connecting the unit to a TV will read it's EDID metadata and setup itself in the best way possible. Settings are similar to the UB9000 flagship but seem to be a bit more light as in the HDR Optimizer menu where we find less options that you can choose from. However there are many other options that you can tweak like bit color, chroma upsampling and output among others.
As for online streaming the UB820 supports the three major services that are Netflix, Amazon and Youtube with all three supporting 4K playback with HDR while the first two also support Dolby Vision. We tried a couple of films with Amazon Prime and 4K playback with Dolby Vision displayed correctly.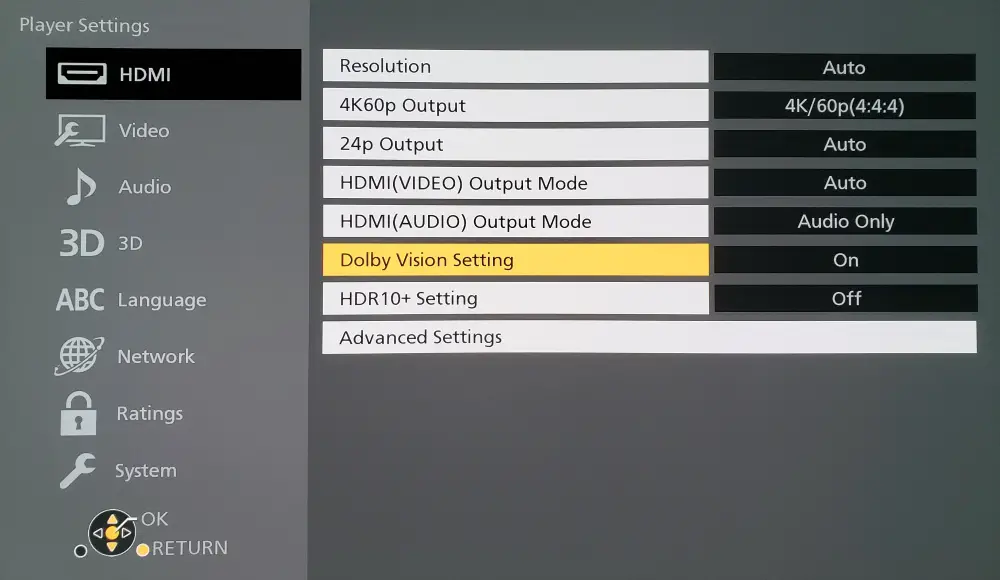 The UB820 can stream various video files through both it's USB ports. Keep in mind that external storage needs to be formatted in either FAT32 or NTFS formats to be recognized while type of files supported include MKV, MP4 (H.264/HEVC), TS (MPEG-2/H.264/HEVC), MPEG-2, AVCHD and AVCHD 3D. We tried a few files in MKV format and all of them played smoothly so unless you have some weird file with some strange container it will most probably play without a problem. But keep in mind that while it supports many video and audio files it will not be able to play as many combinations of formats as a dedicated media player would. Just something to remember in order not to be disappointed in the end.
And while you can watch content through the USB ports you can also use the wireless capabilities of the player as there is built-in WiFi (IEEE802.11 a/b/g/n/ac) to stream content through your local network, use mirroring with a mobile device you may have or use the player's Network Contents Playback (Client & Renderer) capabilities.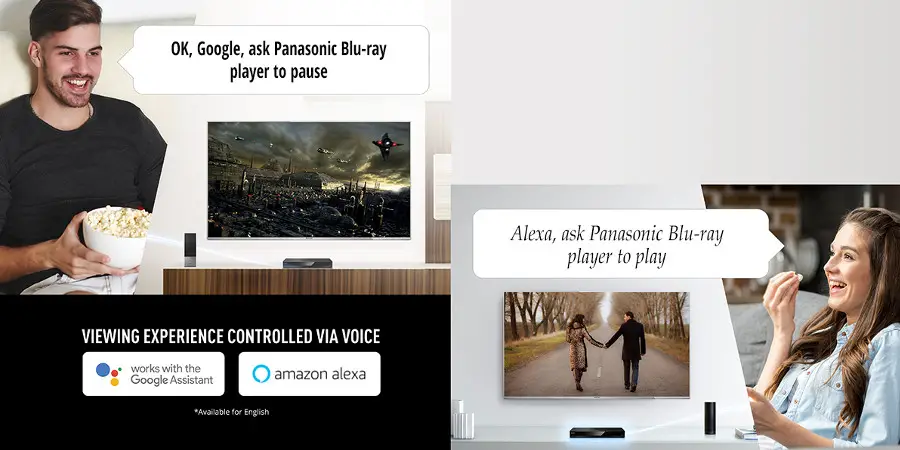 Panasonic has further enhanced the player's smart features by adding voice control through either Amazon Alexa or Google Assistant. But in order to use that you will need some external speaker that supports either of them to make it work.
Lastly loading times of the player were good enough and on par with other players in the same price range while naturally UHD discs were slower in loading compared to Blu-ray or DVD discs. We didn't experience any playback problems and all discs played smoothly and trouble free.
Final Thoughts
The Panasonic DP-UB820 managed to pleasantly surprise with it's performance. And while Panasonic tried to add further functionality other than just UHD discs playback it's this that make this unit really shine. The player performed admirably during our tests with spectacular image quality, it offers support for all HDR protocols including Dolby Vision and HDR10+, has exceptional HDR capabilities and enhancements due to it's HDR Optimizer feature and comes equipped with enough connectivity options for most situations. Add to all these an excellent price and what we get is an amazing player with an excellent cost.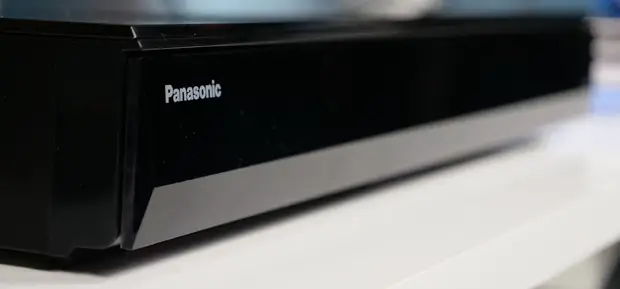 On the opposite side as with all Panasonic players there is no SACD or DVD-Audio support, the included remote left us with a bitter taste as the design could be far better than what we got while the smart features user interface feels a bit outdated and could use a fresh hand of paint. Also the player has so many image options and settings that for a casual user that is unfamiliar with the terminology can be a bit overwhelming.
Closing we believe this player offers amazing quality for the price asked. Panasonic created another solid player in their current lineup of UHD players and one that we are sure many users will prefer over the competition as it offers top image quality which is the most important factor with an undeniably reasonable price. And for that we cannot but give the Panasonic DP-UB820 our highest recommendation.
For more reviews you can check our dedicated 4K UHD Blu ray Player reviews list or even look at our Product Reviews Table where you can find the brand and specific product you are looking for.
Also don't lose the chance to subscribe to our Newsletter and gain exclusive privileges.
---
Cheapest Places to Buy :
---
Specifications
Playble Discs : BD-ROM, BD-RE/ BD-RE DL (Ver.3), BD-R (Ver.1.3) / BD-R DL (Ver.2), DVD, DVD-R/ DVD-R DL/ DVD-RW, DVD+R/ DVD+R DL/ DVD+RW, CD, CD-R/ -RW
Audio System : Dolby Digital/ TrueHD, Dolby Digital Plus, DTS-HD Master Audio/ DTS-HD High Resolution Audio, Dolby Atoms/ DTS:X, FLAC, WAV, ALAC, DSD (DFF, DSF), AIFF
High Quality Picture : HCX Processor for Ultra HD Blu-ray, HDR Optimiser, 4K Direct Chroma Up-scaling, 4K Networking (4K Video Playback/ 4K JPEG Playback), 4K VOD, Block/ Randam/ Mosquito Noise Reduction, Video on Demand in HD Quality, Ultra HD Premium, Deep Colour, x.v.Colour, HDR10+, Dolby Vision, Hybrid Log Gamma(HLG), 4K Up-scaling 60p/50p/ 4:4:4 (HDMI2.0) – 24p/ 25p
High Quality Sound : Pure Audio on HDMI (HDMI Low Clock Jitter Process), High Quality Network Audio Playback (DLNA), High Clarity Sound Premium, Digital Tube Sound (Up to 192 kHz/ 32 bit), Surround Re-Master (Up to 192 kHz/ 32 bit), Audio D/A Converter
USB Playback : FLAC/ WAV/ ALAC/ AIFF/ DSD (DFF, DSF)/ WMA/ AAC/ MP3, MKV/ MP4 (H.264/HEVC), TS (MPEG-2/H.264/HEVC), MPEG-2/ AVCHD/ AVCHD 3D, JPEG/ MPO
Smart Features : Viewing Experience Controlled via Voice(Google Assitant/ Amazon Alexa), Unit Display (Dot Matrix), Remote Control, Subtitle Position/Brightness Adjustment, HDAVI Control 5 (VIERA Link), Mirroring with Smartphone/Tablet, Internet Apps, Web Browser, Wireless LAN System (Built-in) IEEE802.11 a/b/g/n/ac, Network Contents Playback (Client & Renderer), External HDD Playback, Network Drive Access, BD-Live™
Terminals : 1 (USB 2.0 High Speed), 1 (USB 3.0 Super Speed), 2 HDMI Output, 1 Optical Output, 1 Analogue Audio LR Output, 1 Analogue Audio 7.1ch Output, 1 LAN (Ethernet) Terminal
DIMENSIONS (W X H X D) : 16-15/16 x 2-1/2 x 8-1/16 inch (430 x 62 x 204 mm)
WEIGHT : 5.3 lbs (2.2 kg)