Panasonic DP-UB9000
Video / Audio Quality
9.6/10
OS, Apps and Features
9.5/10
Pros
Spectacular image quality
HDR10+ and Dolby Vision support
Excellent HDR enhancements
Top build quality
Cons
No SACD or DVD-Audio support
Settings can be overwhelming for novice users
Very expensive
---
Cheapest Places to Buy :
---
Panasonic was one of the first companies to release an UHD player and has been dealing with the format almost from the very beginning. And while they offered some amazing models like the top of it's class UB900 among the home theater enthusiasts there was mostly place for only one name and that was Oppo.
Since then a lot of things have happened among them the departure of both Oppo and Samsung from the dedicated UHD players market leaving a somewhat big gap that seems Panasonic is trying to take advantage of. And if before the number of premium models could be numbered to just a few models now things seems to have become even more crystal clear.
And this is one area that Panasonic is now trying to get with a vengeance with their latest premium UHD deck, the UB9000 that was released as part of their latest UHD players series that also included the exceptional DP-UB820EB as well as the entry level DP-UB320EB. Recently we had the pleasure of reviewing the UB820, a review that you can find HERE, and in our opinion we consider it one of the best and feature complete players in the market today.
So with that in mind let's see what more the UB9000 can provide in order to make us reconsider and also to make us pay such a high price for it. Does this deck deserve the title of the new king of UHD players or even the war from within can turn this model irrelevant? Keep reading our Panasonic DP-UB9000 review as we reveal everything.
Design
One of the major differences between the UB9000 and the next in line UB820 lies in the design and build quality these two models come with. And while the UB820 was featuring much higher than average build quality Panasonic is taking things to a whole new level with their new UB9000 flagship.
Design wise the unit has a rectangular shaped design that features front and side thick anodized aluminium panels with a nice brushed-metal finish while both top and bottom sides seem to come with a reinforced dual metal construction. The player measures 430 x 81 x 300 mm and weights 7.8 kg making it one of the heaviest players we have tested so far which is a small indication of it's very robust design.
The unit features a centrally positioned disc drive that is sitting on it's own steel base that in addition to the chassis robust construction helps to minimize vibrations to the absolute minimum. The disc tray had a very smooth motion while during operation we were pleased with how quiet it was showing how much work Panasonic put into it.
Below the mechanical disc drive we get the display screen while on the far left we get a big round power button and on the right side four playback buttons and the eject tray button. Below these we get a single USB 2.0 (5V/500mA) port for connecting external storage.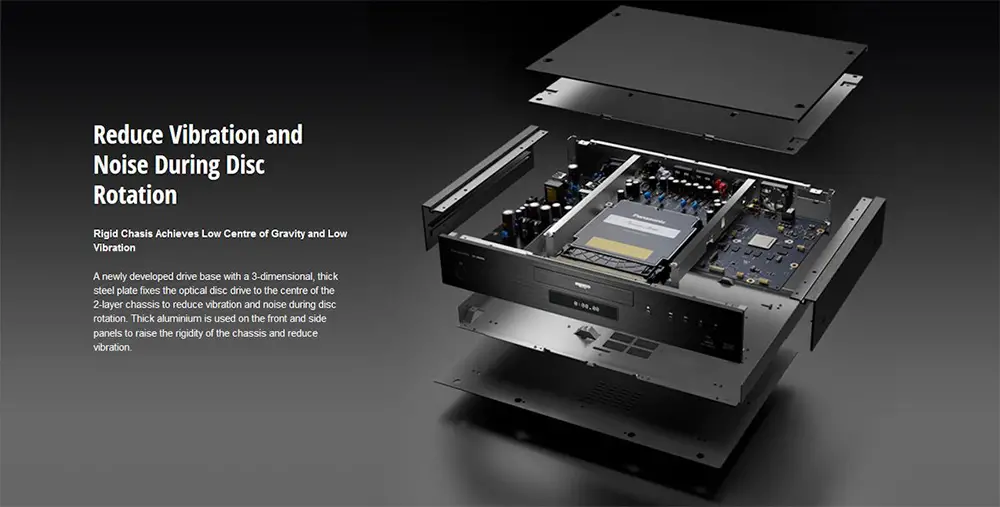 The design is radically different from what Panasonic gave us in their previous flagship. Gone is the full front drop-down door or the touch sensitive buttons of the UB900 and instead they go for a more practical look here. Yes the UB9000 may not have the same eye catching look of the UB900 and may not look like a device that belongs in the future but looks is just one tiny part of the equation and Panasonic knows it. Touch sensitive buttons is a nice gimmick but a frustrating one when you look to press them in the dark. Physical buttons are far superior on this.
But if Panasonic really put a lot of thought on the external quality, it's the internal design where they really excelled. The unit comes equipped with Panasonic's second generation of HCX (Hollywood Cinema Experience) processor which has been designed specifically for 4K content and playback and includes a 4K high precision chroma processor, a new HDR Optimizer as well as improved tone mapping in HDR content with static metadata.
High end audio components are also used as we find the latest generation AKM AK4493 768kHz/32-bit DAC that is powered by an isolated local power supply and in combination with the separate audio and digital power supplies, low-noise op-amps and audio-grade electrolytic capacitors make the UB9000 capable of offering a very high signal-to-noise ratio in order to produce unrivaled audio quality.

Another difference we find in the UB9000 compared to the UB820 is the included remote. The one that came with the UB820 unfortunately was not as good as we had hoped for but for this unit Panasonic decided to use the same as the one that came with the UB900 which is not a bad thing. The remote is a big one but it's construction feels very robust while the backlight function helps a lot in dark rooms. The buttons layout is exactly the same with only a couple of buttons offering different functionality as 3D setting has been changed to HDR setting and Settings took the place of DLNA button. Everything else seems to be exactly the same.
If there is a reward for build quality and construction then the UB9000 would be among the very few players that would fight for it with only a couple more being able to stand a chance against it. Panasonic has created a player that is aimed for those that seek the absolute best quality money can buy and in this regard they have created an amazing product that can stand proud in any kind of top of the line home theater system.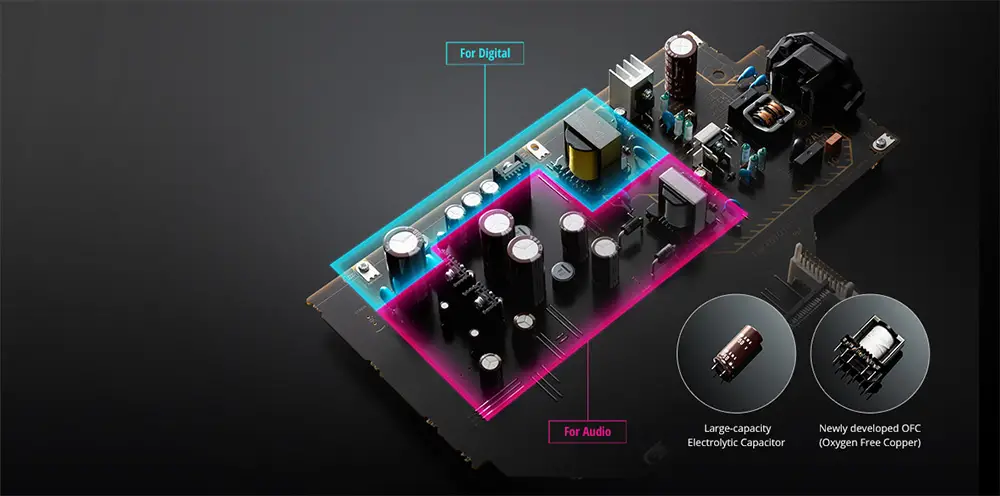 Video / Audio Quality
When it comes to HDR support the player supports all known formats that include the basic HDR10 protocol that is required for UHD playback, HLG that is used for broadcasting, Dolby Vision that is a more advanced HDR protocol that uses dynamic metadata and now also HDR10+ which is the rival open source protocol to Dolby Vision that also supports dynamic metadata.
And while we have seen a nice boost in the number of UHD discs that support Dolby Vision it remains to be seen if the new HDR10+ will also get the love of studios. But nevertheless support for all known protocols makes the unit completely future proof when it comes to HDR.
A premium player like could not be without support for all disc based audio formats and as such the unit can bit-stream anything from the good old Dolby Digital and DTS tracks, to Dolby TrueHD and DTS HD Master Audio as well as the latest Dolby Atmos and DTS:X tracks for the best possible immersion.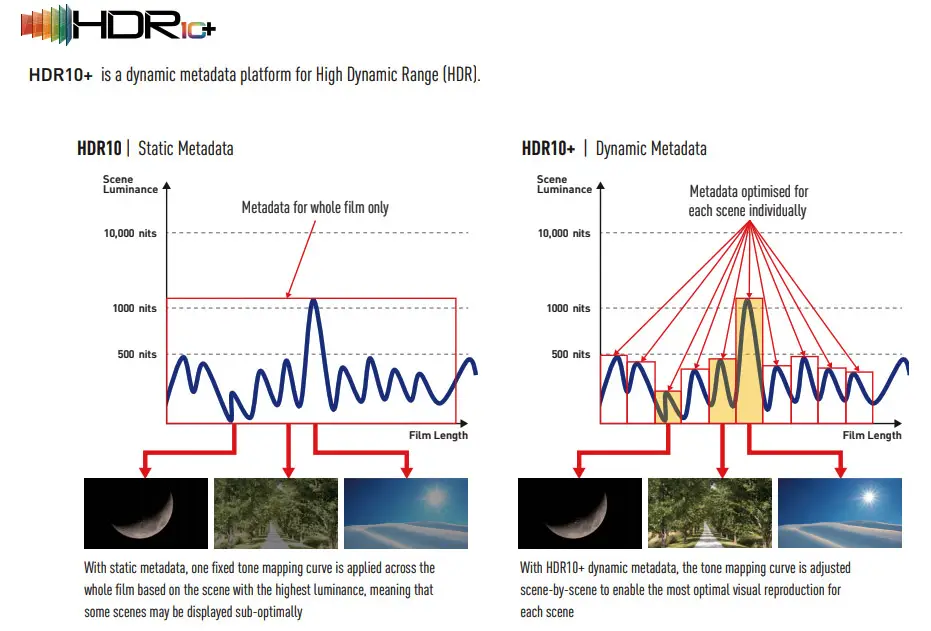 For this review we decided to test the 4K version of Fantastic Beasts: The Crimes of Grindelwald as it's a movie that has an amazingly sharp picture even though it is in general a dim film with many low light scenes. The player left us literally floored as the amount of details in every frame were in abundance while the amount of clarity and sharpness was through the roof. Skin imperfections, cloths textures and surfaces complexity were so clear and visible that will make you watch in awe and leave you hungry for the next scene.
With the film being shot digitally it helps to bring out even the tinniest of details while wide color gamut and Dolby Vision managed to make the few colors feel more alive and solid. Magic spells and effects made the best use of HDR by creating dazzling highlights that almost had a three dimensional feel to them. Dolby Atmos was also at it's best as we used the HDMI port to bitstream the sound so it was as good as expected and on par with all other digitally transported signals from other players.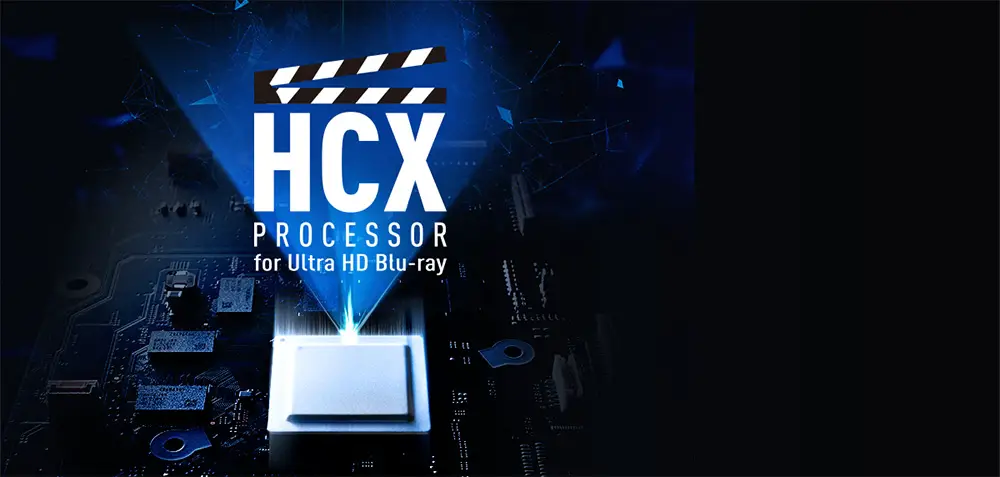 And while there are many players that can claim to offer good quality picture the UB9000 comes with a unique feature, that we also found in the UB820, that sets it apart from the rest of the competition and is called HDR Optimizer. This feature comes in the new HCX processor that Panasonic designed and it's a very useful one especially for TVs and projectors that have lower than average HDR capabilities.
We will try to avoid very tech heavy terminology and try to explain in simple words how this works in order for all to be able to understand what this system does. All UHD discs are mastered at a specific brightness so let's say in our example 2,000 nits. If you have an HDR capable TV that is only capable of displaying for example 1,000 nits maximum then you TV will show content as intended for as much as it's brightness capabilities will allow it. The rest of details are cut off. Imagine it as a crossover filter in an audio analogy.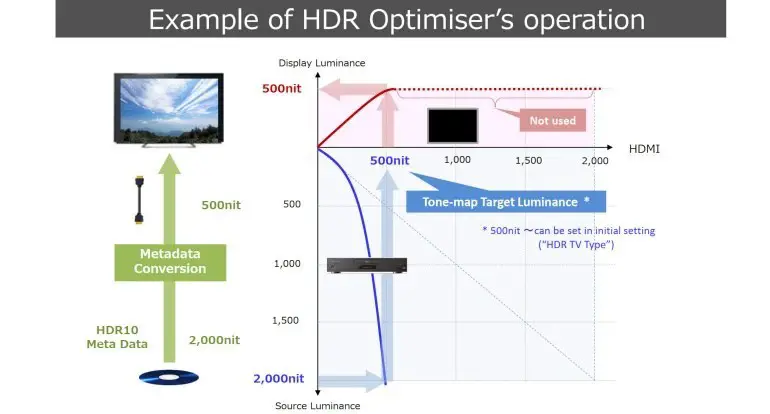 What HDR Optimizer does is that you can specify the maximum brightness capabilities of your TV or projector (1,000 nits in our example) and this way the player will convert the original peak brightness of the UHD disc that is found in the HDR10 metadata from 2,000 nits and apply tone mapping according to the maximum brightness you have set for your TV. This way if you have a TV or projector that it's HDR capabilities are not very good the resulting image will appear much better.
And while the UB9000 is primarily designed for 4K content it doesn't mean that your lower resolution discs will not play very good as the player is a very capable upscaler also. We tried a few different movies primarily in Blu-ray format but also a couple or DVDs that we still have and the unit made a very good job at upscaling them from SD and Full HD resolutions to 4K. Blu-ray fared much better with a few of them showing amazing sharpness while DVDs looked as good as possible. Source material is critical in upscaling so don't expect miracles but the player is doing a great job with whatever you throw at it.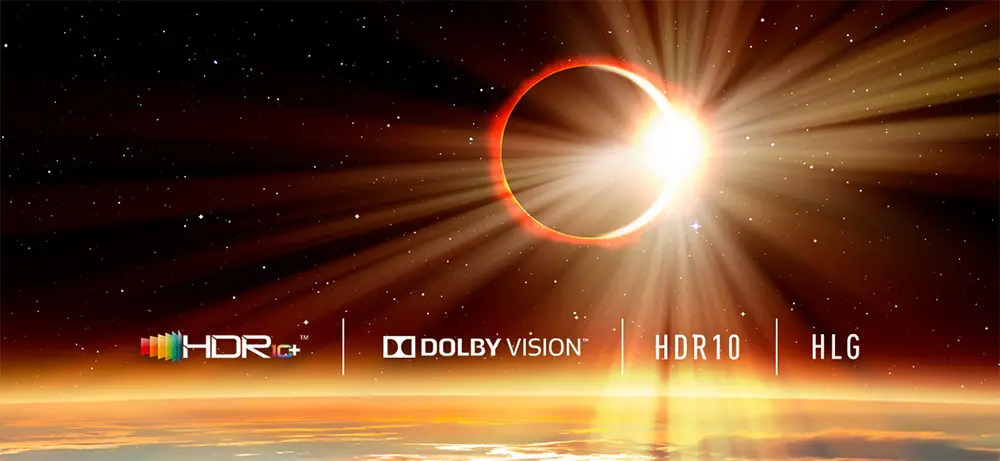 Another feature we get in the UB9000 is 4K HDR to SDR conversion in case you have an older 4K TV that has no HDR capabilities. One very specific characteristic of the unit that we also saw in the UB820 is that if you have a 4K TV that doesn't support HDR but comes with BT.2020 wide color gamut capabilities the player can pass the 4K signal with only stripping the HDR.
Other UHD players that also come with HDR to SDR conversion capabilities not only strip the HDR but also change the color space to the narrower REC.709 limiting the quality of the displayed colors. This is not the case with these new Panasonic players and the UB9000 offers this right into it's menu setting.
High Resolution Audio couldn't be missing from such a unit with the UB9000's support list extending to files like FLAC (Max. 192kHz / 24bit), WAV (Max. 384kHz / 32bit), ALAC (Max. 96kHz / 32bit (7.1ch), 176.4 / 192kHz / 32bit (5.1ch)), AIFF (Max. 384kHz / 32bit (2ch)) and DSD (DFF, DSF) (2.8MHz (2ch / 5.1ch), 5.6 MHz (2ch / 5.1ch), 11.2MHz (2ch)) as well as the more usual WMA, AAC and MP3.
One glaring omission is the inability of the player to support SACD or DVD-Audio and while for most these are considered dead formats when you pay such a high price you expect the player to support even these niche formats especially when there are other much cheaper players that support them.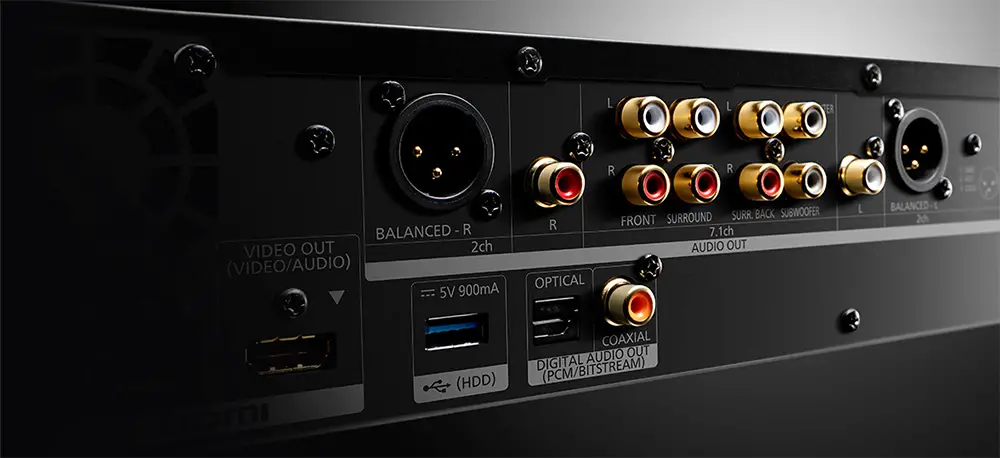 But choosing such a player means that most probably you will want it also for it's analogue audio capabilities and while it may not reach audiophile grade it comes pretty close to it. The player was able to produce the kind of clarity and audio resolution that is not frequently found in a UHD player so it will for sure cover those that are also serious about their music entertainment.
The unit also comes with Blu-ray 3D support even though 3D at home is seeing it's last days. For those that still enjoy the format and want to keep enjoying their libraries the UB9000 is completely capable and we tried a couple of films in 3D only to get a very smooth experience.
Closing this part of the review we feel that Panasonic has really outdone themselves with the UB9000. The player performs amazingly both in 4K as well as lower resolutions while it's HDR Optimizer and tone mapping capabilities puts it in a completely different level from the competition. If you take into account it's support for all HDR protocols as well as overall playback capabilities the DP-UB9000 is a real powerhouse that will be hard to be beaten.

Inputs / Ports
With a premium unit like this we also expect to get the absolute best when it comes to connections and ports. We already mentioned that at the front there is a USB 2.0 port which we would prefer to be a 3.0 variant but that's not the case here. At least there is another USB at the back of the unit that is version 3.0 and is capable of supporting 4K streaming but placing it there makes it a bit harder to use it all the time.
We also find dual HDMI outputs with one of them being able to handle both audio/video while the second one is only for audio. Next to them there is an Ethernet port for wired streaming and updating, an optical and a coaxial digital audio output, 7.1 analogue outputs for connecting older equipment as well as two channels output that uses both RCA and balanced XLR outputs.

A few things we should mention is that we definitely like the inclusion of a USB 3.0 which is very rarely used in modern equipment which we find completely baffling while the gold plated connectors show how much quality Panasonic is putting into this unit. The 7.1 channels analogue ports is a nice addition even if not a very useful one as we cannot imagine buying such an expensive equipment and not using the HDMI ports that offer the absolute best quality wise.
The XLR ports are definitely a premium characteristic and one we don't see often so we also consider this a welcome addition. Lastly the Ethernet port can support gigabit connection which is perfect for streaming 4K content that requires high bit rates.
In total we are totally satisfied with everything the UB9000 offers as we get a bit of everything so it leaves no one unsatisfied. No complaints here at all.
OS, Apps and Features
Looking at the home menu and general settings of the unit we found ourselves in familiar territory as the unit sports exactly the same interface as the one we saw during our UB820 review. When it comes to it's software and UI the two players are the same so we pretty much knew what to expect. The home menu has a familiar, from previous Panasonic players, look with 6 main buttons that separate the different functions of the unit.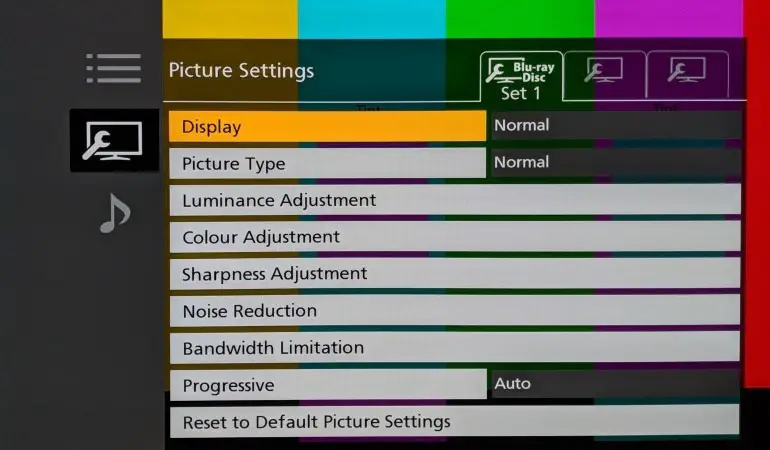 The first three include Videos, Music and Photos and can be accessed either through an inserted disc or an external storage that is connected in one of the USB ports. Next there is the Home Network for local network streaming from a local NAS server as well as DLNA, next to it we get the Network Service option that includes all the streaming services available to the player and lastly the Setup button where you can find a huge list of image and audio settings for the unit.
Setup was not particularly difficult but if you are not very experienced with such equipment you may find yourself a little lost in a huge list of options and settings. At least leaving most of these in Auto can let the player handle most functions so you don't have to worry about it. On the other hand if you are tech savvy and like to dive deep into image calibration settings and audio options then here you will find your new playground as the player provide an abundance or settings enough to satisfy even the most demanding consumers.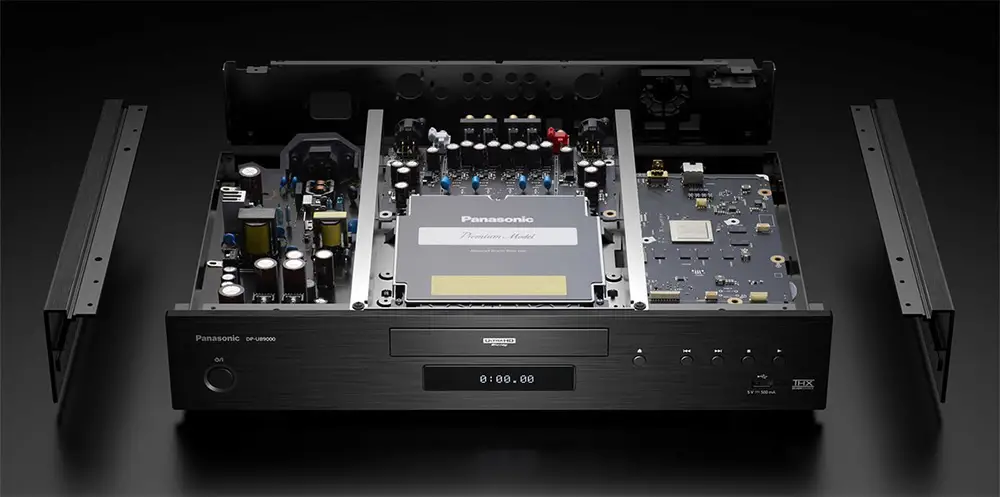 The UB9000 may be one heck of a player but even Panasonic understands the power of streaming so the three most major streaming services are all present with Netflix, Amazon Prime and Youtube support 4K with HDR while the first two also support Dolby Vision. We tried a bit of Amazon streaming in 4K with Dolby Vision and everything seemed to be working as it should.
The player can also stream video and audio from it's USB ports but there are certain limitations to them. First of all you cannot use both ports at the same time. Only one can be connecting each time while the external storage needs to be formatted in either FAT32 or NTFS with a maximum capacity of 4TB.
The player seems to support a wide range of formats that include AVCHD, AVCHD 3D, MKV, MP4, MPEG2, JPEG, MPO, AAC, AIFF, ALAC, DSD (DFF, DSF), FLAC, MP3, WAV and WMA but don't expect to be as good as any dedicated media player. Most MKV files we tried on it played smoothly but if you have any strange container/format combination the player may dislike it which is to be expected to be honest.

In the unit we find built-in WiFi (IEEE802.11 a/b/g/n/ac) that you can use to stream wirelessly either from a streaming service or locally while it also can use Mirroring if you have a tablet or smartphone that supports this function with the unit's Network Contents Playback (Client & Renderer) capabilities.
Voice control seems to be the future and it could not be missing from such top of the line premium device. Panasonic has added both Amazon Alexa and Google Assistant support but as we had seen in the UB820 you will need an external device like an Echo Dot or a Google Home speaker in order to receive your commands.
We also measured loading times of the player and we found them relatively good all things considered. Of course the UHD discs were slower than Blu-ray ones while DVDs  were loading amazingly fast. Playback was butter smooth and we didn't experience any reading problems no matter what discs we tried on it.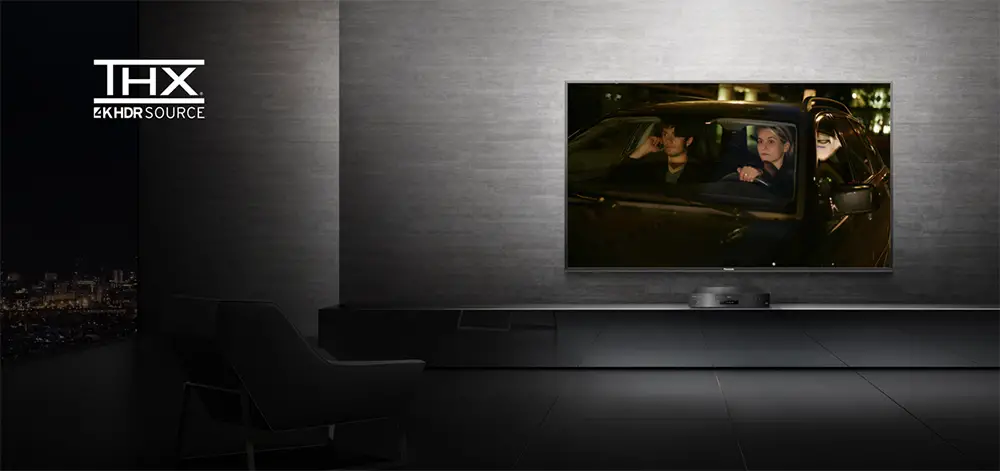 Final Thoughts
Closing this review we could not be more happy with such an amazing piece of equipment. Panasonic wanted to create the absolute best in dedicated UHD players and they have managed to do so. Image quality wise the UB9000 gave a breathtaking performance while it's HDR Optimizer helps this unit bring the absolute best not only in top of the line TVs and projectors but also in less capable ones. It also features the full set of HDR support with HDR10, HDR10+, HLG and Dolby Vision all accounted for while connectivity options and streaming features are in abundance. And all these packed in a carefully built chassis equipped with premium audio components.
So when you have such an excellent player is there anything bad to be said? Well, it depends. One thing that is missing is SACD and DVD-Audio support something that we also saw in the UB820 and while we definitely get the reasoning for leaving out support of these almost dead formats we don't believe it would be much of an effort to include them when there are far cheaper players that support them. Also the number of settings can be a bit overwhelming for novice consumers as well as newcomers and some time will be needed to get accustomed to all functions.
But in our opinion the high price is the greatest problem of the unit. We get that such quality costs and premium usually goes with a high price tag but when there are players that perform very close at far lower prices then the target audience for such an expensive model shrinks dangerously making the UB9000 a player for only a few consumers.
In the end it all comes down to what you seek. If it is just image quality that you want with the lowest price asked then the UB820 may be a better choice but if it is the absolute best 4K UHD player in the market that you want without considering the cost then we believe the Panasonic DP-UB9000 ticks all the right boxes to claim that place. Panasonic has created a new king, even if a pricey one, but one that will hold you for many years to come and can really bring out the best qualities of what the new 4K UHD format is capable of.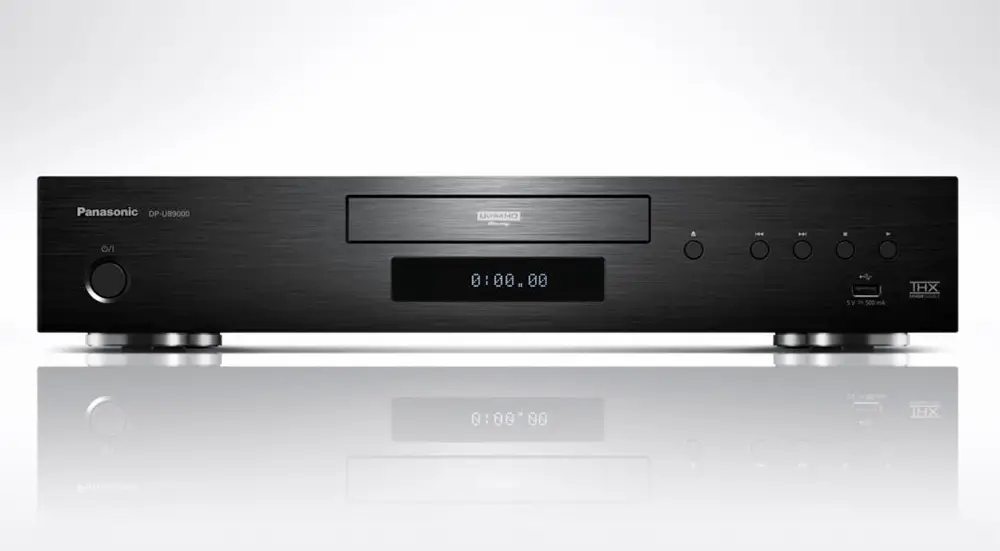 For more reviews you can check our dedicated 4K UHD Blu ray Player reviews list or even look at our Product Reviews Table where you can find the brand and specific product you are looking for.
Also don't lose the chance to subscribe to our Newsletter and gain exclusive privileges.
---
Cheapest Places to Buy :
---
Panasonic DP-UB9000 Specifications