Philips OLED 806
Reviewed at €1,799.00 (55")
Product Name: Philips OLED 806
Product Description: 2021 4K OLED TV
Design -

9/10

Video Quality -

9.2/10

Ports & Connectivity -

9/10

OS, Apps and Features -

9/10

Price / Quality -

9/10
Summary
Reviewed at €1,799.00 (55″)
Pros
OLED quality image
Low input lag
HDMI 2.1 support
Ambilight
Cons
No Dolby Vision IQ
Remote could be better
Missing some smart features
Only 2 HDMI 2.1 ports
---
Cheapest Places to Buy :
---
When the time comes for getting a new TV the big three, Samsung, LG and Sony that is, are the ones that come first in people's preferences. But these are not the only ones and Philips is another company that may not be among the first choices but surely has created some very good performing models the last few years. Today in our Philips OLED 806 review we will be looking at the manufacturer's latest mid-tier OLED offering which really managed to create some positive impressions when it was released in the second half of 2021.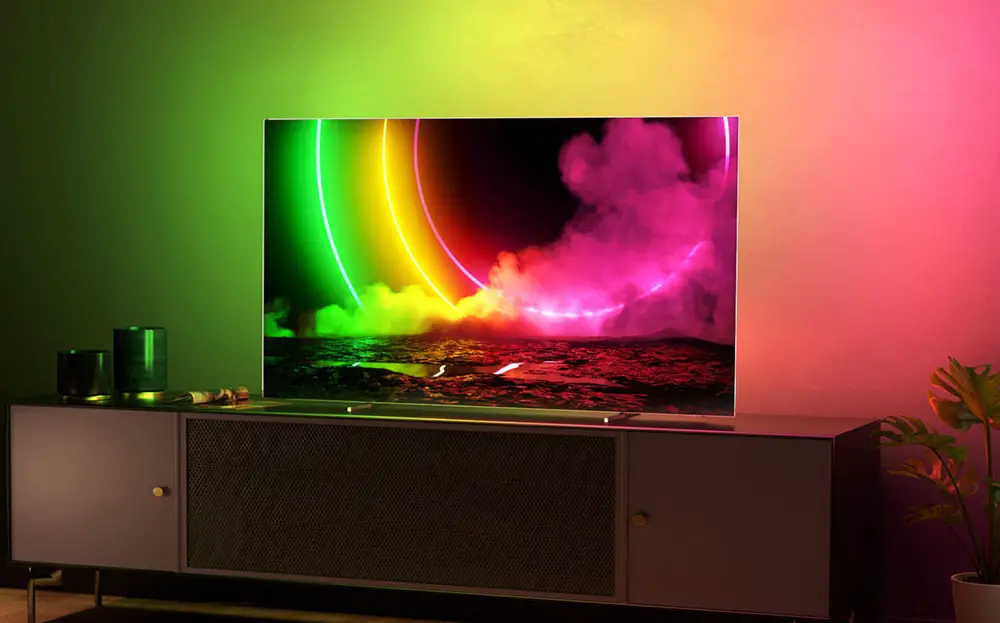 Now, one this is for certain. Philips doesn't stick to the regular schedule of the rest of the big three. Although the OLED 806 was announced around the same time as the rest in CES 2021 it took many more months in order to actually see it in stores around the end of the summer. Also keep in mind that Philips is not bringing their models to the US market which is a big shame as their most attractive feature, the Ambilight, is certainly a driving force that many would like to have.
The OLED 806 in particular is supposed to replace the 2020's OLED 805 and uses a regular OLED panel, no OLED Evo here as this is reserved for the top-tier 936, brings a 4-side Ambilight to the mix, it supports both Dolby Vision and HDR10+, it uses Android TV and comes equipped with a vast list of streaming and smart features as any good quality TV of 2021 should.
But with most of LG's and Sony's OLEDs naturally taking the spotlight is there room for the OLED 806 to steal the hearts of its potential buyers or it is too little too late for the European manufacturer? Let's start our analysis to find out.
Design
First of all we need to clarify something here that some people may not know. There are two variants of this model. The OLED 806 which comes with a bench type stand and the OLED 856 that uses a central Y shaped one. Both TVs are exactly the same in terms of specs, only the stand changes.
But there is another small difference for all of you that would like to wall mount this one. You may think that since both have similar specs you can buy either of them. But if you rally want to wall mount this then there is a small detail that need to know. The OLED 856, because it uses a central stand has a gap in the bottom side of its Ambilight LED lights. The OLED 806 on the other hand does not have this and the bottom LED line is complete. This way if you try to wall mount the OLED 856 you may notice a small inconsistency in the lower Ambilight line. And that's the reason why for wall mounting the OLED 856 should be avoided.
Now, as for its design the OLED 806 shares more or less the same look as most OLED TVs from other manufacturers. A crazy thin top part accommodated by a thicker lower part that includes a plastic box covering all electronics, the Ambilight and the sound system. The TV surely is thicker than the average OLED TV and this most probably has to do with the fact that unlike the rest it has to include the Ambilight system. The TV measures 6.8cm when in comparison the LG C1 is around 2 whole centimeters thinner.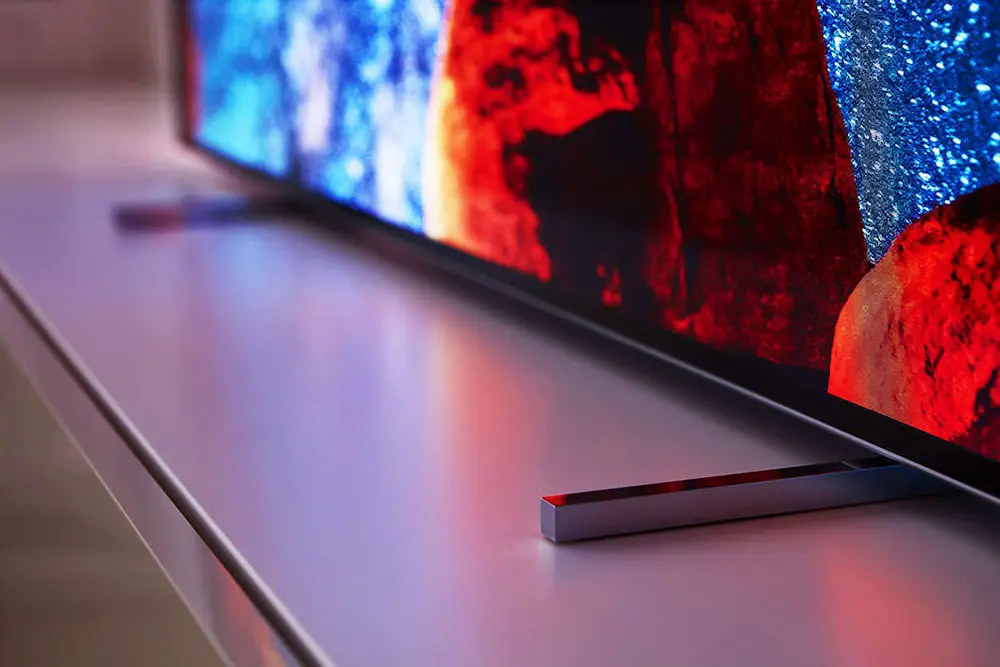 The TV features very slim borders which is typical for this category while at the back we find all connections being kept together in two separate groups on the lower right corner with some of them looking sideways while the rest are pointed downwards. The top half of the back face is made out of metal that holds the panel together while the lower half is made out of plastic. The power cable is placed on the left side away from the rest of the connectors while the only other thing we find at the back is special holes for the VESA wall mount along with the sound system in the center which is unique to Philips TVs.
As for the stand Philips has included a bench type stand which has two color options to choose from depending on how you will place the legs. One side has a bright metal finish while the other side is a darker metal one. It's not a big deal choosing between the two but a nice small touch from Philip's design team.
If there is one thing we definitely hate about the stand is how low it keeps the TV making it impossible to place a soundbar under the screen. This is not the first TV we have seen being placed so low, the Sony A90J being another that comes to mind, but this is the only one that doesn't give you the option of multiple stand positions.
This means that if you want to place the TV on some furniture and have a soundbar you want to use you will have to be creative by placing something under the legs to lift it up. Not the most practical or good looking thing to do and we have actually seen a lot of people complaining for exactly this problem. A strange decision by the design team really and one we hope they will not repeat in future releases.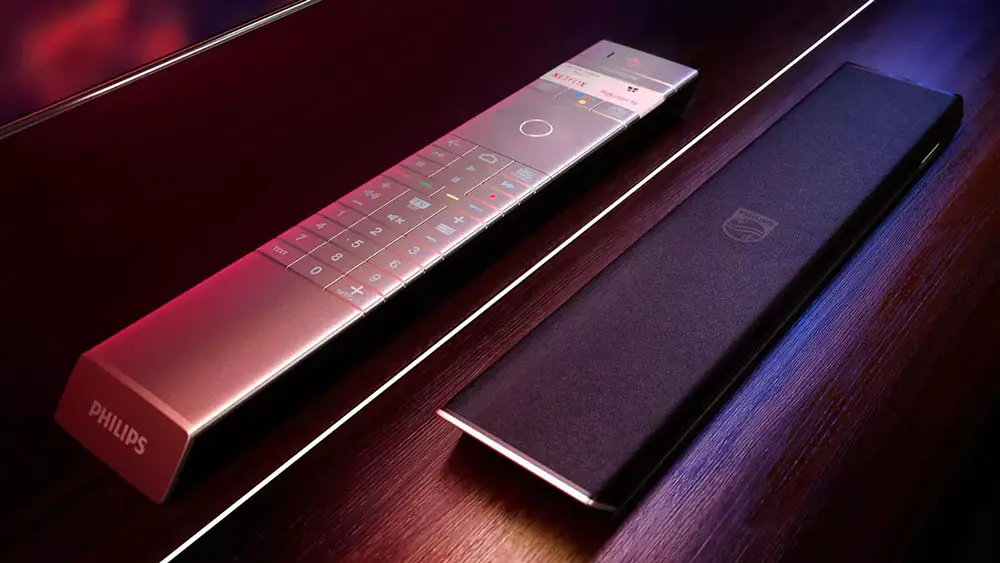 As for the remote Philips took last year's one and made subtle changes to it to make it a bit better. The 2021 one comes with a silver finish, a leather back side and buttons have a slightly different layout but otherwise is more or less what we remembered from 2020. To be honest this is not the best remote Philips could have. We don't like that all buttons are stacked next to each other with no gap between them and while the remote does have backlight functionality, no motion sensing unfortunately, the proximity of the buttons will surely result in wrong commands every once in a while.
Overall the OLED 806 is a nice looking TV that sticks to the standards set by most OLED TV nowadays. It is slightly thicker due to the Ambilight and the remote surely can be improved with a more practical design but overall quality is above average and Philips has another good quality product in their hands.
Video Quality
Processor technology used
Philips has been using their own processors in their TVs for a few years now called the P5 Engine which they have been refining every single year. With the OLED 806 we have reached the 5th generation which includes a few upgrades compared to it previous variants.
The P5 Engine takes its name from the five pillars of image quality that the processor optimizes. These are source signal, sharpness, color, contrast, and motion sharpness. AI has been in mid and top-tier TVs for some time now and the P5 is no different as it can analyze each frame individually and make corrections and improvements whenever necessary.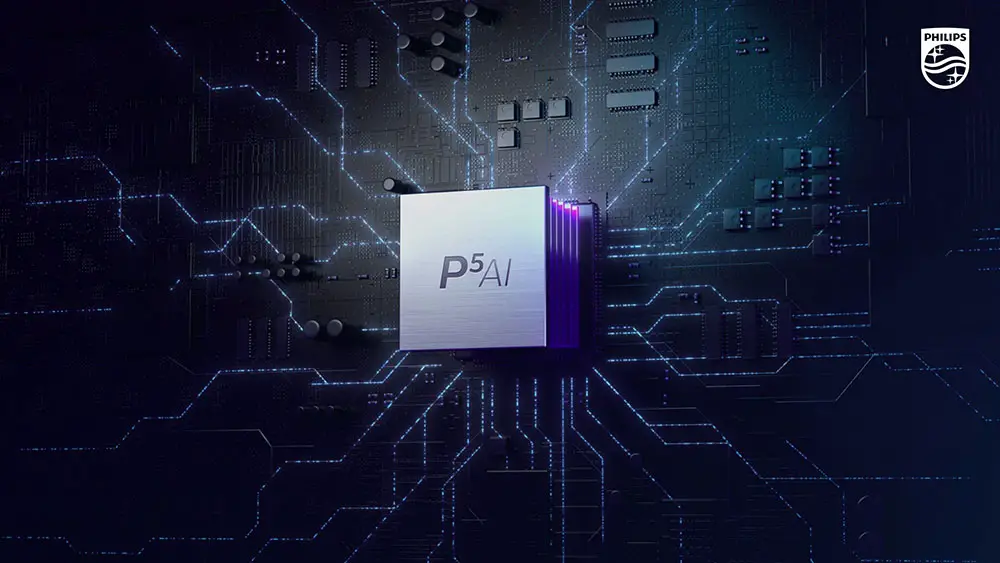 What has improved this year compared to the 4th generation of P5 seems to be an improved algorithm for content classification, called AI Film Detection, along with the addition of Fast Motion Clarity (FMC) that was missing completely until now.
And while most of the features that are included in the P5 Engine are to a certain degree similar to what we find in Samsung's and LG's processors, a unique feature Philips has added is their special anti-burn in technology. You see unlike other OLED TVs that dim their entire screen when static elements are detected on screen the Philips OLED 806 divides the screen in multiple zones and when a static element is detected, like a logo or a HUD, the TV will dim only that particular zone instead of the entire screen.
This is basically the same technology used for the first time in their last year's OLED 935 and have now passed to their mid tier offering. This way the OLED 806 manages to maintain a brighter image even with static logos on screen without the risk of damaging the panel. This is a great technology and we surely would like to see a similar implementation being added to the other OLEDs from LG and Sony.
For this part of our review we did try several different source videos in multiple resolutions from low SD content and broadcasting material all the way up to 720p, 1080p and 4K resolution and from what we saw the OLED 806 was very capable at up-scaling content without any visible artifacts. Obviously the upscaling depends heavily on the quality of the original source but the OLED 806 did an amazing job here.
Philips is known for the processing capabilities of their TVs and the OLED 806 is a prime example of how good Philips is in this regard. And the unique features and anti-burn in capabilities of the P5 engine makes it even better.
Lighting technology used
The OLED 806 features an OLED panel with all the advantages this has. OLED panels feature self emitting pixels and as a result these TVs have no need for a backlight as we see in LED LCD models. Being able to control it's individual pixels has many advantages with the most obvious ones being the extremely accurate light control and the infinite contrast they have with deep blacks being a sight that needs to be seen to be believed.
One of the main problems of LED LCDs is that that they show what is known as blooming that creates bright halos around very bright objects when seen in dark backgrounds. The OLED 806 has no such problems as with its self emitting pixels it can accurately light the areas of the screen that are needed.
Unfortunately if you were hoping to see the OLED Evo panel being used here you will be disappointed as this is reserved only for the top tier OLED 936. The OLED 806 has to settle for the normal OLED panel that have been used for the last few years now.
Unfortunately no technology is perfect and while OLED has so many advantages it's also more prone to permanent burn-in. Naturally if you watch different types of content the risk is much smaller but the inclusion of Philips unique anti-burn in technology surely makes it a safer choice in comparison.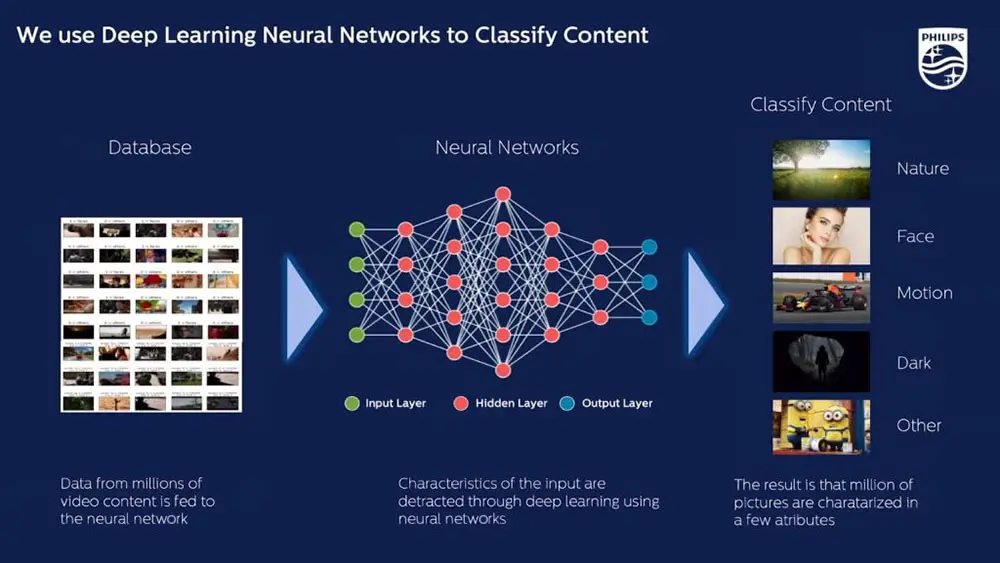 Brightness / Contrast
One of the most important, but not the only one, factors of any HDR TV is its brightness and this is where OLED technology falls behind LED LCD as it cannot match the raw numbers we see in some of the top tier LED LCD releases. That's the reason why the improved OLED panel with the addition of a heatsink was invented in order to be able to push the brightness more than usual. But with the use of the normal OLED panel in the OLED 806 we were curious if this one could actually do any better than the rest.
When it comes to HDR brightness over a 10% brightness we measured 795 nits which is great considering that the TV uses a standard OLED panel. It seems that Philips has adjusted the OLED 806 in such a way that can display brighter highlights than some other OLED TVs with similar panels but cannot sustain that peak brightness for long until the ABL kicks in in order to protect the panel from burn-in.
These measurements bring the OLED 806 even above the Sony A80J and closer to what we measured to the mighty Sony A90J that uses the improved OLED panel with the addition of a heatsink. This shows the different way of Philips thinking as to how they have calibrated the 806 to behave when it comes to HDR content.
Keep in mind that we took these measurements in Filmmaker mode which was the most accurate for out-of-the-box use.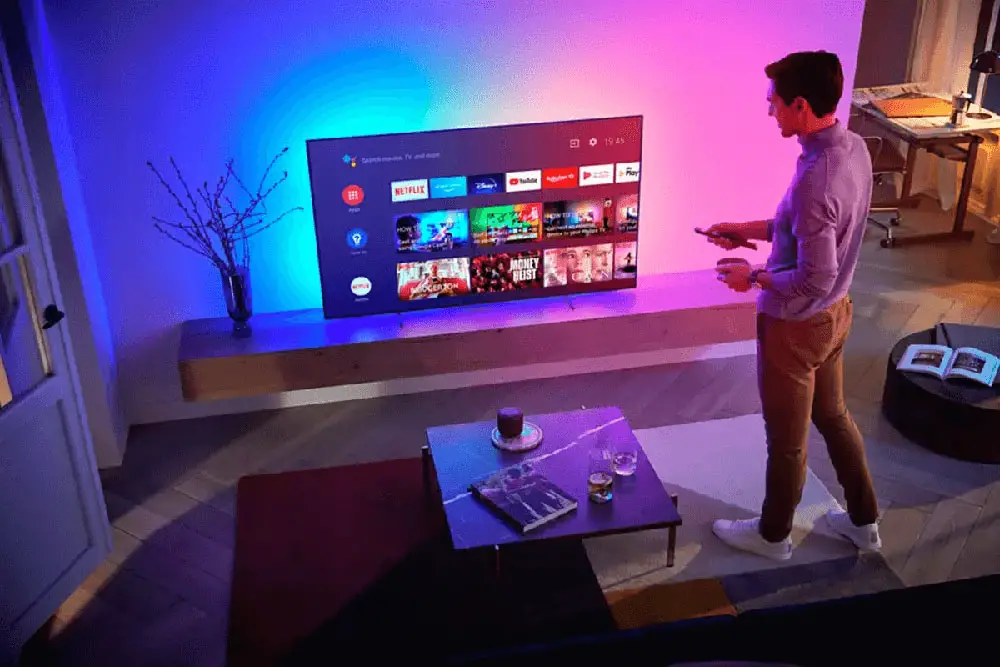 Viewing angles
Another advantage of OLED technology is the extremely good viewing angles it can achieve with this being another area where LED LCD TVs fail to achieve the same results and have to rely in extra layers in order to somewhat improve on this but never can reach the numbers we see with OLED panels.
The OLED 806 being an OLED is capable at retaining its image quality at angles that surpass 45 degrees with 50 degrees being the maximum before the image start to degrade to a very noticeable degree. Obviously anything above 50 degrees is too extreme of an angle to be watching at so it doesn't really matter so much after that.
Overall the TV performed as you would expect from an OLED unit here. This technology is the best when it comes to viewing angles and the 806 is no different.
HDR support
With the current HDR war you really have to choose which camp you want to follow as not many brands support all available ones. It's either Samsung's HDR10+ or Dolby Vision that is supported by LG and Sony which is really a shame as we don't get the chance to choose all of them at any time. Thankfully Philips, along with Panasonic and some others, is one of the few brands that are not supporting any specific camp and instead went ahead and added everything in their releases.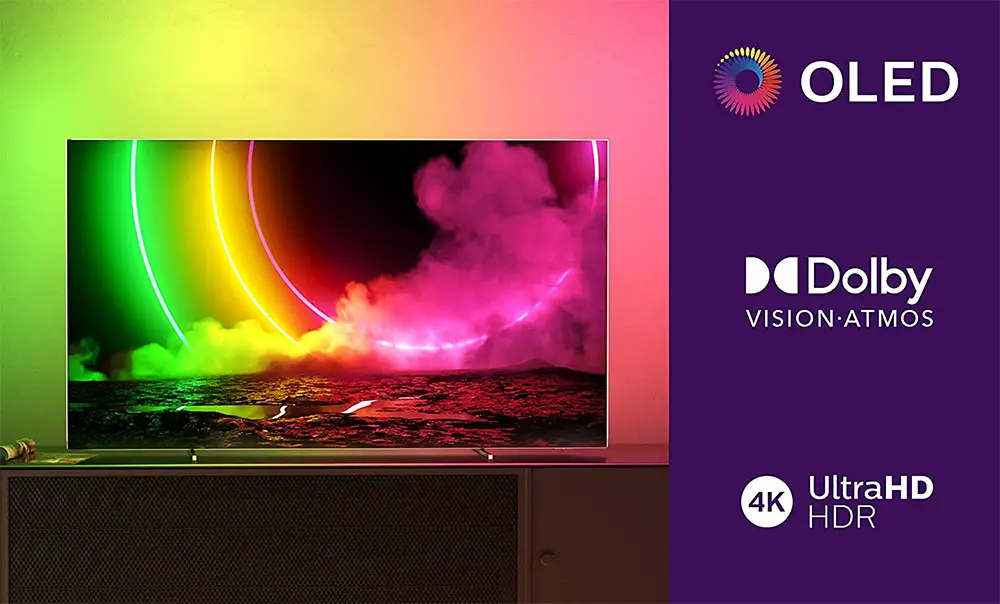 As such the OLED 806 supports not only the basic HDR10 but also HLG which is used for streaming content and both HDR10+ and Dolby Vision which use dynamic metadata for a much better image quality outcome.
Now the OLED 806 also comes with HDR10+ Adaptive and by having an on-board light sensor it can adjust the image accordingly depending on environmental conditions. Light sensors have been used in TVs for some time now but in their first implementations they were only changing the brightness and gamma values. What HDR10+ Adaptive does is that it adjusts the HDR tone mapping dynamically without altering the colors.
This can be a practical feature especially if you are watching TV in different light conditions and you don't want to fiddle with settings every single time. Basically HDR10+ Adaptive is similar to what Dolby offers with Dolby Vision IQ. Unfortunately while the OLED 806 does support Dolby Vision it doesn't come with Dolby Vision IQ.
Color coverage
Next we will be looking at the colors as the OLED 806 obviously supports wide color gamut and can display more vivid and lifelike colors. According to our measurements the TV can display about 98% of the DCI-P3 color space which is almost perfect. On the wider REC.2020 color space we got 73% coverage which is slightly lower than what we were hoping and what we had measured in some other OLED TVs.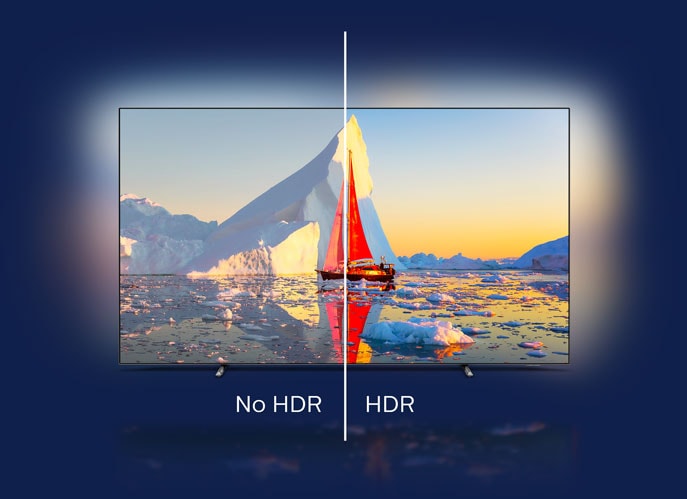 Even though the 806 did slightly worse in the REC.2020 color space overall its color performance was great and up to what you would expect from an OLED TV. Color representation was great while in terms of color banding we did notice some in a few scenes but it was not very obvious and certainly didn't bother us during viewing.
Motion performance
The OLED 806 comes with a 100Hz panel and includes Black Frame Insertion (BFI) for the first time in a Philips TV which is really surprising as Philips was the only manufacturer that didn't provide BFI in their TVs up until now.
With the 806 now you have the option to use either the standard motion interpolation system or use the Black Frame Insertion (BFI) interpolation that is adding black frames in between individual frames and can potentially smooth out motion. BFI can be enabled in the Fast Motion Clarity menu and has three settings you can choose from. Keep in mind that with BFI enabled the overall brightness takes a major hit so it shouldn't be used with HDR content.
Overall with motion interpolation enabled, which is the Movie setting, things looked pretty good although we still saw a few artifacts here and there in very hectic or more complex action scenes. The Soap Opera effect (SOE) was not very visible with this setting although there were a few scenes that it made its presence rather obvious.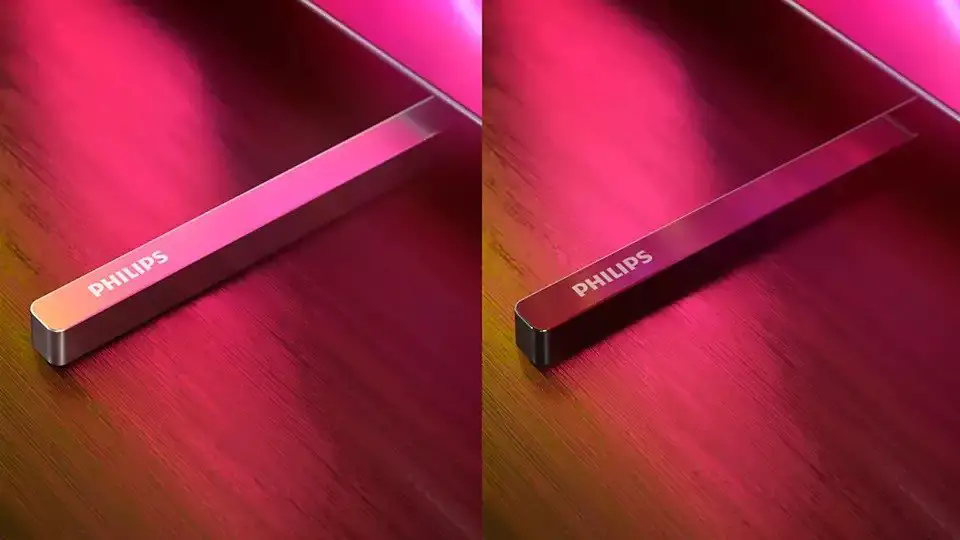 With the Pure Cinema setting selected the TV applied correctly 5:5 pulldown with 24p content which eradicated judder that is usually shown with OLED TVs. For broadcasting material at 50Hz the OLED 806 did equally good even during fast panning shots. Motion interpolation and BFI can also help here and you really need to experiment to find the best settings that will look good enough to your eyes.
Input lag
The last few years manufacturers push the envelope more and more when it comes to their TVs input lag performance and we have reached a point where we get amazing low values that can make these TVs excellent for gaming purposes. Philips was one of the few TV manufacturers that were lagging in this area but the OLED 806 seems to be the turning point for them.
According to our testing the OLED 806 was able to give us an average of 15ms input lag average in both 1080p and 4K resolutions which is a great improvement compared to Philips previous releases. Even though this number is not as good as the single digits we have seen lately in many TV models it is still low enough to offer a great gaming experience even if you are a hardcore gamer.
The TV supports both HDMI VRR (Variable Refresh Rate) and AMD FreeSync Premium (not Pro) but not Nvidia G-Sync although they claim to be working on adding this also. Keep in mind that VRR in the OLED 806 works on the 48 to 120Hz range which means any signal outside these numbers and the TV is not capable at enabling VRR at all.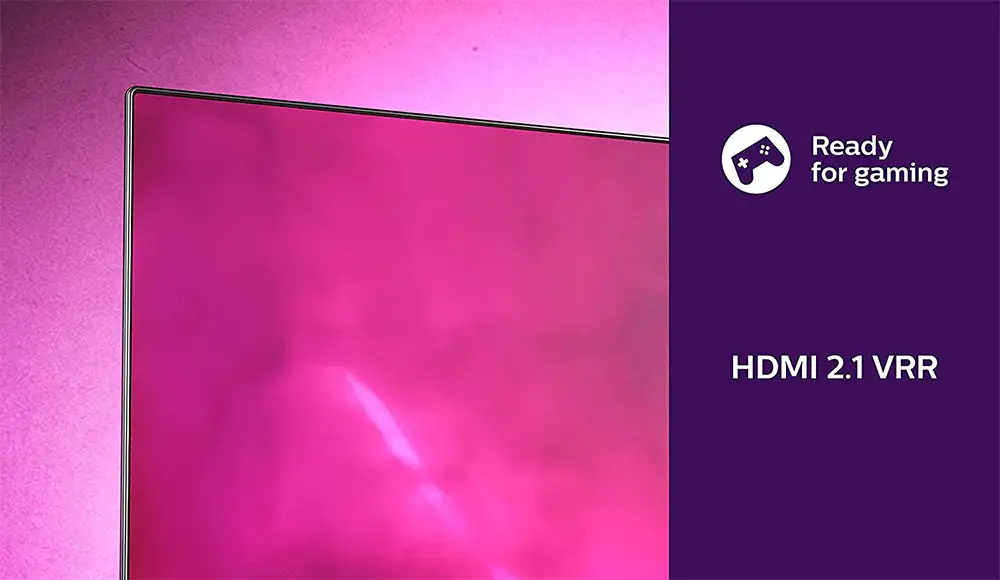 With the inclusion of HDMI 2.1 the unit comes with all the game centric features this offers including Auto Low Latency Mode (ALLM) which can really benefit the new game consoles that support it. Philips also included HGiG Mode which is HDR Gaming Interest Group's technology that ensures you enjoy HDR games the way that their creators and developers intended.
To get a taste on how the OLED 806 behaves with gaming we connected our PS5 and used our copy of F1 2021 in fidelity mode which renders at 4K@60Hz. The resulting session was excellent. Every press of a button on the gamepad registered instantly and we didn't notice any lagging or obvious delays.
Philips admitted that their TVs were not meant for gaming but lagging so much behind in this area was unforgiveable. Fortunately with the OLED 806 it seems that this problem belongs to the past and Philips owners can feel on the same level as the rest of the gamers.
Image quality impressions
From everything we saw the Philips OLED 806 is not all that different from the other mid-tier OLED TVs offered by other brands. Philips certainly put their own touch in certain aspects of this model in order to abide by their own principles when it comes to image quality but looking at the whole picture the TV is a great rival to the LG C1 and the Sony A80J.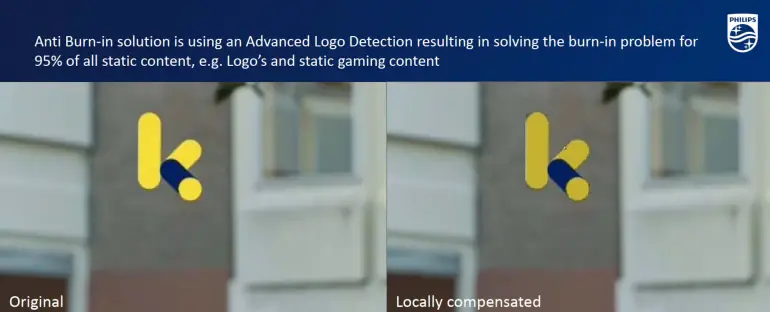 Obviously it has all the advantages of OLED technology which are pure blacks and extreme viewing angles but it also managed to show excellent colors, very good brightness levels and impressive processing due to the latest P5 Engine.
Add to these the Filmmaker and HGiG modes available along with support for Dolby Vision and HDR10+ and also the improved input lag times and BFI addition, that is a first for Philips, and you can see how the OLED 806 is on an entire different level from its predecessors.
On the other hand while its HDR brightness on a 10% window was impressive, peak brightness at full white screen seemed to be slightly lower than the competition. Some color banding was visible and in general the TV was not the most accurate out-of-the-box and surely needs some tweaking to get excellent results. Also even though Dolby Vision is supported, Dolby Vision IQ is not which is strange to be honest since Philips decided to include HDR10+ Adaptive.
Previously we wouldn't recommend a Philips TV for gaming. But the OLED 806 changes all this and it can be an ideal option for mixed use.
Audio Quality
Having an OLED means that there is extremely limited space to be utilized for the audio and there is so much that can be done with software that's why the audio system we get is good for casual viewing but fails to offer any substantial audio immersion when it comes to movies.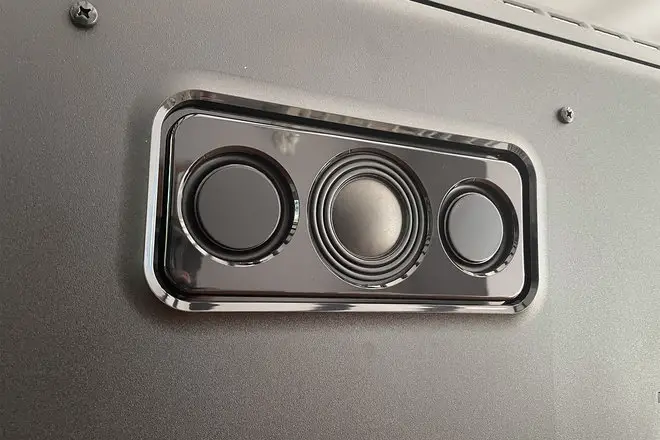 The OLED 806 features a 2.1 channels audio system with a total of 50 watts of power. The sound system implemented on the 806 is not the typical one you find in most brands as Philips has opted to place the system at the back of the TV with the bass driver in between the two main woofers.
The TV is capable at decoding not only Dolby Digital but also Dolby Atmos although you shouldn't expect much from it with the available sound system. The 806 has also the ability to decode DTS-HD but not DTS:X. On the other hand if you plan on using the available eARC feature then the TV has the ability to pass-through both Dolby Atmos and DTS:X signals which is something we have seen only in Sony TVs nowadays as both Samsung and LG have decided to ditch DTS altogether.
Overall the sound quality of the OLED 806 was a cut above the traditional 2.0 channels systems with good clarity, good mid-range and energetic highs end but it cannot do anything more to create an impressive surround atmosphere. For that reason an external surround system or at least a good performing soundbar would be preferable.
Ports and Connectivity
The OLED 806 is using a very familiar layout as we had seen in many other TVs before. All connections are placed on the lower right corner of the back side of the TV separated into two groups with one looking sideways and the other looking downwards making them easier to reach in case you want to wall mount it.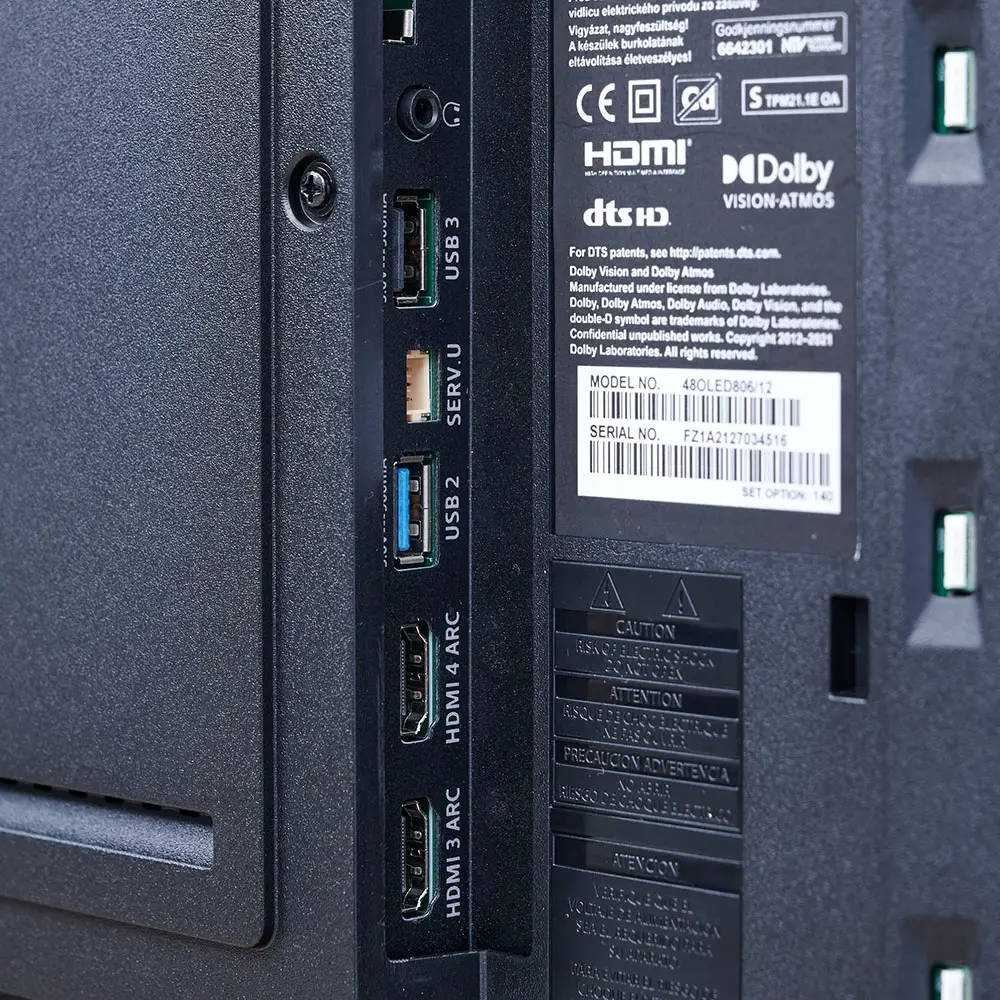 Let's start from the ones that look sideways and here we get two HDMI inputs with ARC functionality, two USB ports with one being 2.0 and one 3.0 and an analog audio output. In the other group looking downwards we get a digital optical audio output, an Ethernet port for connecting the TV to your local network, the usual satellite and antenna ports, two more HDMI inputs and another USB 2.0.
The OLED 806 comes with two HDMI 2.1 ports along with two more older HDMI 2.0 ones which is a pretty standard configuration for all TVs bearing a MediaTek SoC. Although some other manufacturers like LG offer more HDMI 2.1 ports at least two are better than one. The problem here is that one of them is also the one with ARC/eARC functionality so if you plan on using that then you are left with a single HDMI 2.1 port.
The HDMI 2.1 ports supports all the new and old features including VRR, ALLM,HFR, eARC and HDMI-CEC. Keep in mind that this is the first time, as strange as it may seem, that we see a Philips TV using eARC and it seems that there are various bugs with it as passing certain Dolby signals to an external device results in the channels to be output by different speakers than the ones they were supposed to. It seems Philips is working on fixing this problem but until they do, know that eARC is still very much work in progress in the 806.
As for the TVs wireless capabilities we get built-in 2 x 2 Dual band WiFi (802.11ac) along with the newer Bluetooth v5.0 which seems to be the norm for many 2021 TVs.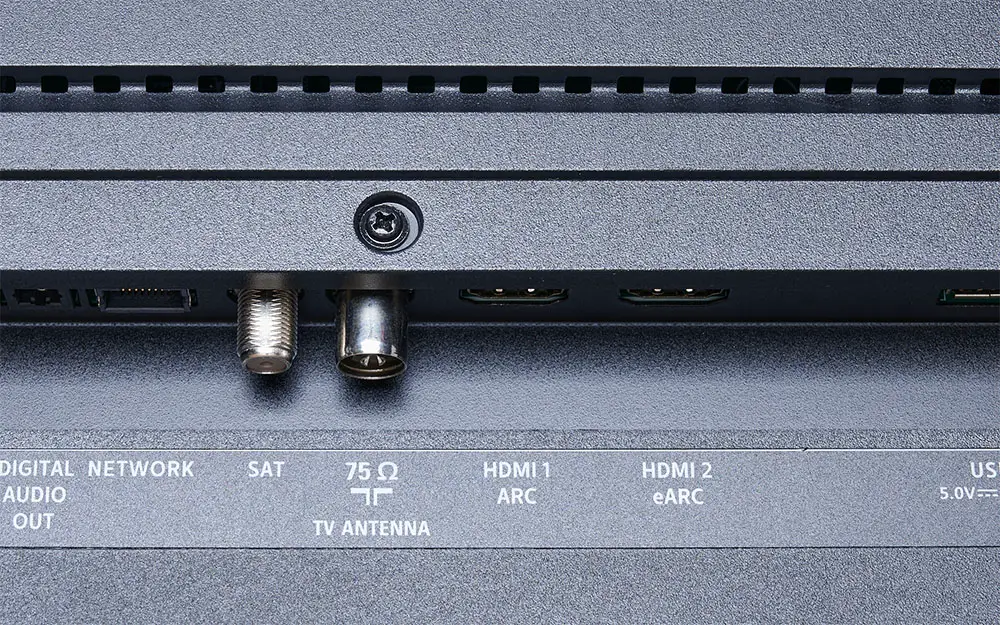 OS, Apps and Features
As far as its smart TV functionality Philips has stayed behind the Android platform for many years and continues to do so but unlike Sony that decided to make the jump to the better Google TV, Philips stayed with Android TV and promised an update to Google TV at some point in 2022.
As such with the OLED 806 we have reached Android TV 10.0 which is the best and most stable version so far and has really come closer in terms of usability and functionality to its main competitors, Samsung's Tizen and LGs webOS.
Android TV 10.0 hasn't changed much compared to previous versions but Google made sure to make subtle improvements and updates. So if you have used any of the last Android TV versions you know more or less what to expect. In the latest Android TV 10.0 we could not be more happy with how smooth and lag free our experience has been. Everything runs fast and we didn't experienced any unusual bugs at least during the time of our testing. Opening and closing the various apps was very smooth and will not keep you waiting at all.
A quad-core ARM Cortex-A73 with 3 GB of RAM and the Mali G52 GPU are responsible for handling all things about the UI and this is probably the reason for such a smooth experience we had.
Unlike webOS and Tizen the Android TV platform takes the whole screen when you enter its home screen and you get various selections on the top and left of the screen. Customization is also possible in certain parts of the layout that could help you organize various tiles and icons to your preference.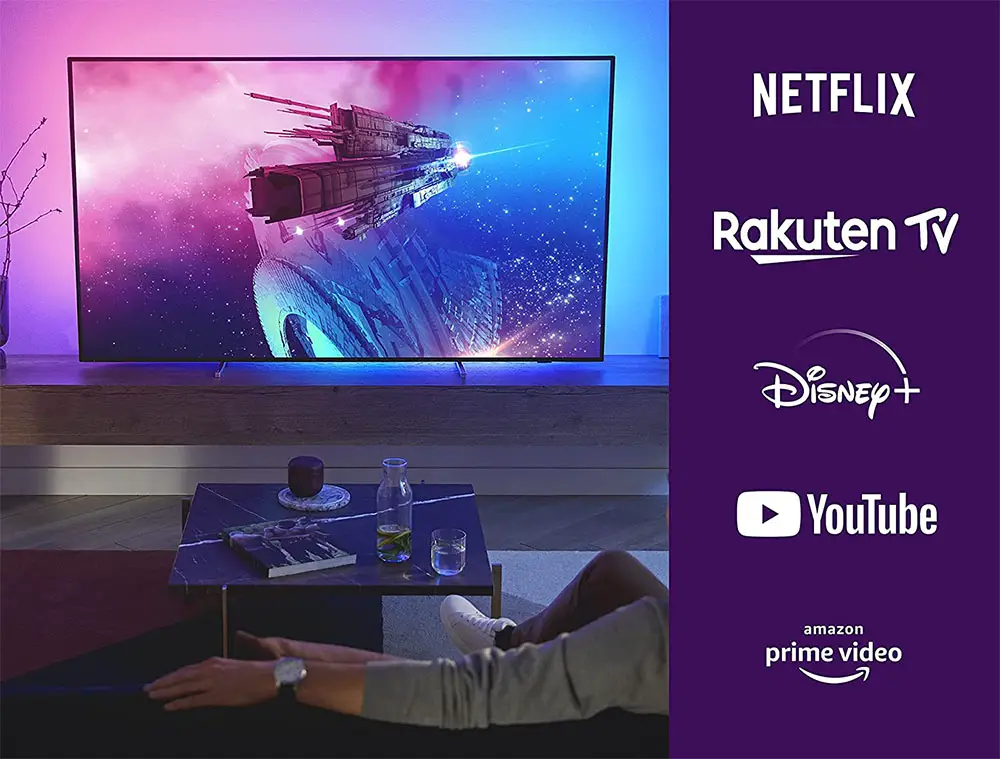 If there is one thing that Android has in abundance that is definitely the huge support from developers. Through the included Google Play you can find literally thousands of apps that you can download and use except from the pre-installed ones. There is so much content available that you will definitely find the ones you are looking for and the list goes on and on.
Some of the most prominent names are all accounted for including Google Play TV & Movies, Disney+, Netflix, Amazon Video, Sling TV, Hulu and Youtube as well as Pandora, Tidal, Google Play Music, Spotify or iHeartRadio. As always some of them are region dependent so make sure the ones you are interested in are working in your area. Lastly certain apps like Netflix and Youtube support playback for both 4K and HDR content for those interested in it.
What seems to be missing from the OLED 806 is both Chromecast and Airplay 2. Instead Philips opted to add DTS Play-Fi which basically does the same thing but unfortunately doesn't have the same level of support as the other two.
Voice control is also present but it seems that it is a bit limited compared to other competing models. By that we mean that although you can use the remote's built-in microphone to give commands to Google Assistant for Amazon Alexa you will need an external Alexa enabled device to work which is similar to other devices and TVs featuring the Android TV platform. With voice control you can issue various commands to the TV but functionality extends far beyond that as you can control any smart devices you have in your house also.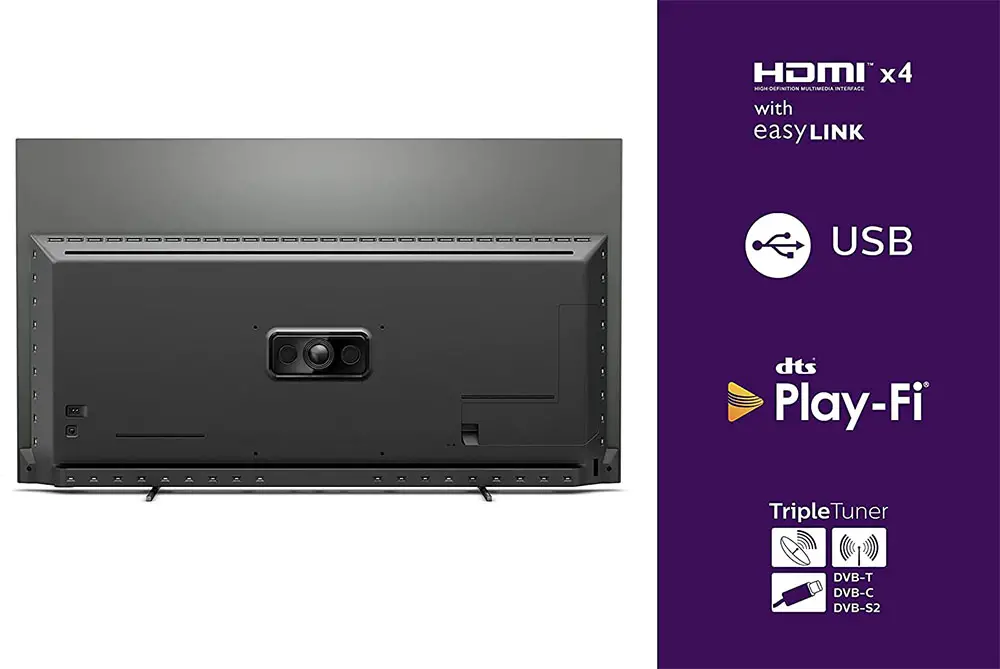 There is also a built-in media player available that you can use to playback various video and audio content from an external storage connected to the USB ports. Support is pretty good for a built-in player and compared to the competition we can admit that it will be able to play more files in comparison but in general don't expect it to replace your dedicated media player box if you use one. Support extends to files like H264/MPEG-4 AVC, MPEG-1, MPEG-2, MPEG-4, VP9, HEVC (H.265) and AV1 in both AVI and MKV containers.
There is also support for various types of subtitle formats, a few music formats like MP3, AAC, WAV and WMA and also the most usual of picture formats. If there is a file that is not following the usual standards it will not play it something that a dedicated player might will. But the files that do play didn't reveal any playback problems like lagging or skipping. The OLED 806 played everything smoothly.
The TV is also Calman Ready which means there is direct communication between the display and Calman software, ensuring fine color adjustments and accuracy that meets industry color standards. The software also provides easy access to automated calibration, or AutoCal.
Lastly we wouldn't be able to finish this review without making a special mention to Ambilight. Philips is the only manufacturer that can use this in their TVs and for the OLED 806 Philips upgraded the system to cover all four sides of the TV. If you had never experienced Ambilight before then it will surely impress you when you first experience it and certainly adds to the whole experience.
The 4-sided Ambilight included in the OLED 806 comes with many features and you actually have a lot of control over it. You can adjust how you want it to behave, how fast the colors change, the intensity of the LEDs and much more. The TV has a whole sub-section in its settings menu just for this. It's only a pity that consumers in the US cannot enjoy the benefits of Ambilight as it adds so much to the whole cinematic immersion. Obviously you can resort to 3rd party add-on solutions but nothing really beats the real thing.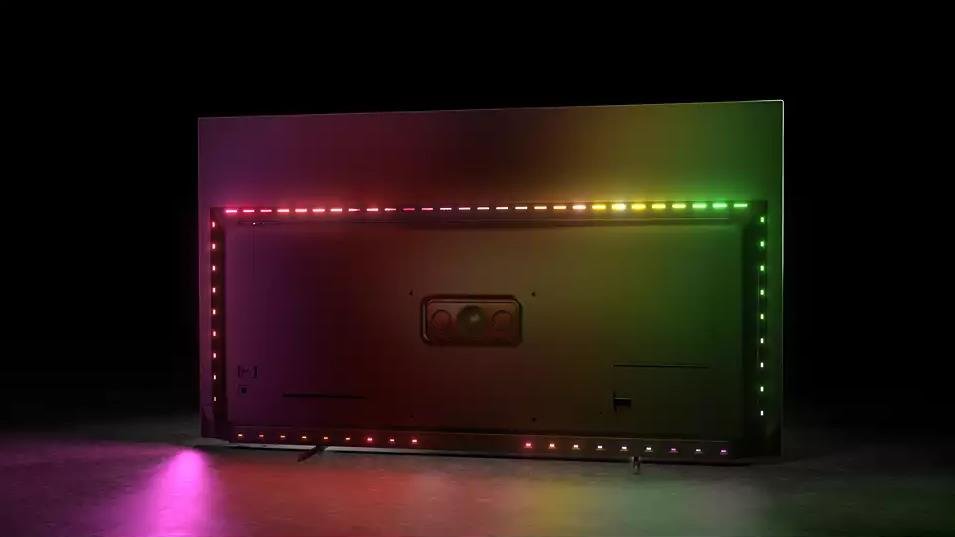 Final Thoughts
Philips already had a stellar product with the OLED 805 and the new OLED 806 kept everything that was good and took it one step further. Philips doesn't have the promotional power of Samsung, LG or even Sony and missing from the US market surely hurts them as a brand but the OLED 806 proves that they still have the capability of creating excellent TVs.
The OLED 806 doesn't miss anything to be honest when it comes to picture performance compared to the other mid-tier offerings out there. Exceptionally detailed images paired with amazing colors, good brightness for an OLED, satisfactory motion, low enough input lag and a stellar Android TV experience. Add to these the fact that Philips remains one of the few companies that support both HDR10+ and Dolby Vision along with DTS audio and also the inclusion for the first time of HDMI 2.1 with all its game centric features and it becomes apparent why the OLED 806 is such a good product.
On the downsides there is no Dolby Vision IQ, the TV needs a bit of calibration in order to achieve the best picture quality possible, its sound system is adequate just for casual use while the inclusion of just 2 HDMI 2.1 ports may not be enough for some. The remote needs some serious redesign in our opinion while in terms of extra features the TV is certainly lighter than what is offered by other brands.
Closing our review we can say that the Philips OLED 806 is an equal contender when it comes to picture quality to the likes of LG C1 and Sony A80J. Yes, there are differences here and there and one will always be better than the other on some areas but looking it as a whole we cannot say that in terms of image performance is falling behind the others. If it is available in your country then it makes an interesting alternative proposal to the big brands for sure making us wish it was more widely available than it is right now.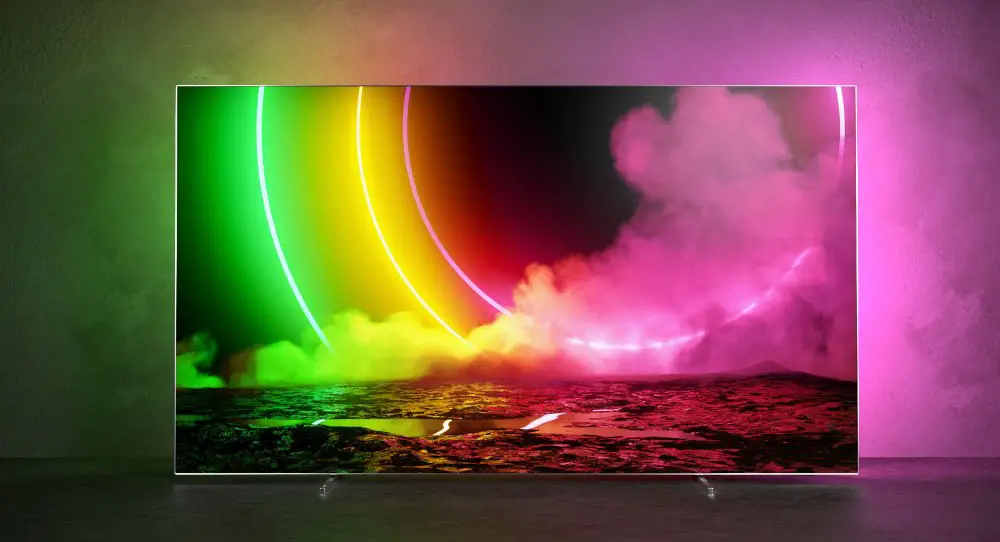 For more reviews you can check our dedicated 4K OLED TV reviews list or even look at our Product Reviews Table where you can find the brand and specific product you are looking for.
---
---
Cheapest Places to Buy :
---
Philips OLED 806 Specifications