Sony A80J
Reviewed at $1,899.00 (55")
Design -

90%

Video Quality -

89%

Ports & Connectivity -

90%

OS, Apps and Features -

92%

Price / Quality -

88%
---
Cheapest Places to Buy :
---
Up until last year everyone would agree that no matter what technological advancements LCD technology had made, OLED still remained the king of image quality. The arrival of mini LED this year certainly stirred things up considerably but OLED still remains a strong contender for the best image quality possible. And with Sony being one of the three major manufacturers they couldn't stay out of the party for one more year. In 2021 Sony has two OLED offerings and in our Sony A80J review we will be looking at their less costly release.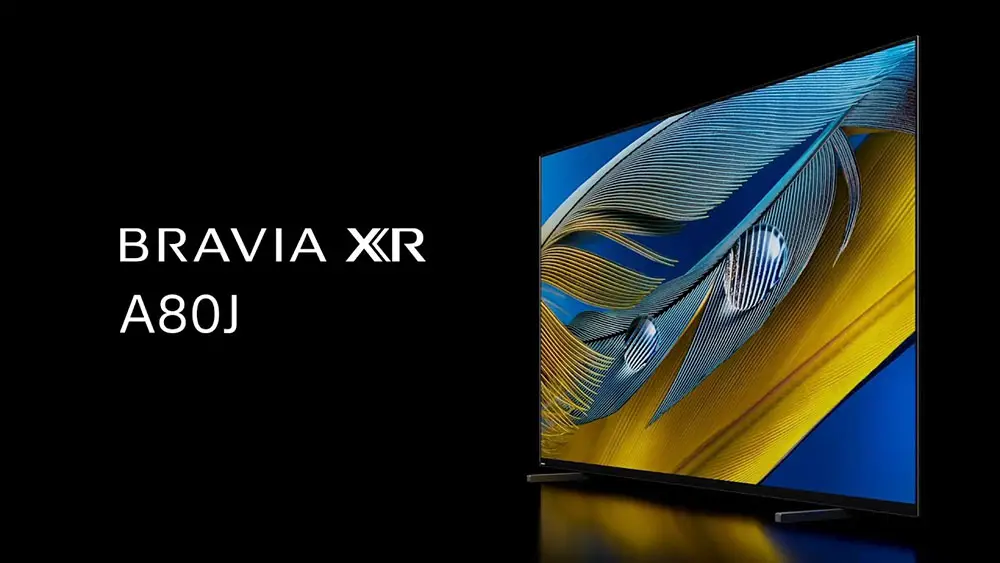 While the top A90J goes all crazy in terms of technology as it uses the improved panel along with a heatsink in order to push more brightness out of the panel the A80J seems to follow the standard OLED route many other models have done the last few years. This doesn't mean that the A80J is bad, on the contrary it still is a strong contender for the best OLED, improved OLED panels excluded, for this year. By combining what is known all these years along with some new tech like the Cognitive Processor XR from Sony the A80J is a really interesting proposal without having to kill your wallet.
But let's see in a bit more detail what we get here. The Sony A80J comes with a 100/120Hz OLED panel, features the new Cognitive Processor XR and uses Sony's most advanced Acoustic Surface Audio+ system. There is Dolby Atmos and Dolby Vision support, comes with two HDMI 2.1 ports along with all its gaming centric features, although VRR is still a promised one, and is packed with the new Google TV platform that includes a huge list of streaming services, Chromecast, Airplay 2 and Homekit, the new Bravia Core streaming service, voice control and many more like Netflix calibrated mode, IMAX Enhanced and Calman Ready.
But with so many OLED offerings this year does the A80J surpass the competition and what makes this one unique compared to the other 2021 releases? Let's find out…
Design
Overall the A80J is following the same design principles we have seen in most OLED TVs. An extremely thin panel is accompanied by a thicker plastic box where all the electronics are grouped together. Borders are thin enough to make the actual screen look more immersive while overall thickness was measured at 2.1″ (5.3 cm) making it look nice both on a wall and on a furniture. And since we mentioned wall mounting all ports are either looking sideways on downward making them easier to reach when on a wall.
Now turning the TV around we find a grid like back panel with diagonal grooved lines and the familiar X design in the middle that indicates the presence of the XR cognitive processor. All the ports are grouped together on the right side and only the power connector is on the left side inside a special inset. Not much else is visible with only the VESA holes present around the X design in the middle for using a wall mount.
The stand that comes with the A80J is a special one. In terms of design it may not be anything fancy as it is the usual bench type stand we have seen in many releases. What makes this one unique is that it can in fact be placed in three different positions. The first one is the standard and in this one the TV sits pretty close to the furniture while the legs are wide open. There is also a narrow position where the legs come closer to each other in order to fit it in smaller tables and furniture and lastly there is the soundbar position with the legs rising the TV higher in order for a soundbar to fit under it without obstructing the screen.
When it comes to their remotes Sony was always playing catch up compared to Samsung and LG. And this was a major complaint we had as even some of their higher tier offerings were using atrocious and old style looking remotes which was unacceptable. Last year Sony finally decided to fix that by redesigning the whole thing and at least now you get a remote that looks far better and has a more premium feel compared to the cheap remotes we were getting before.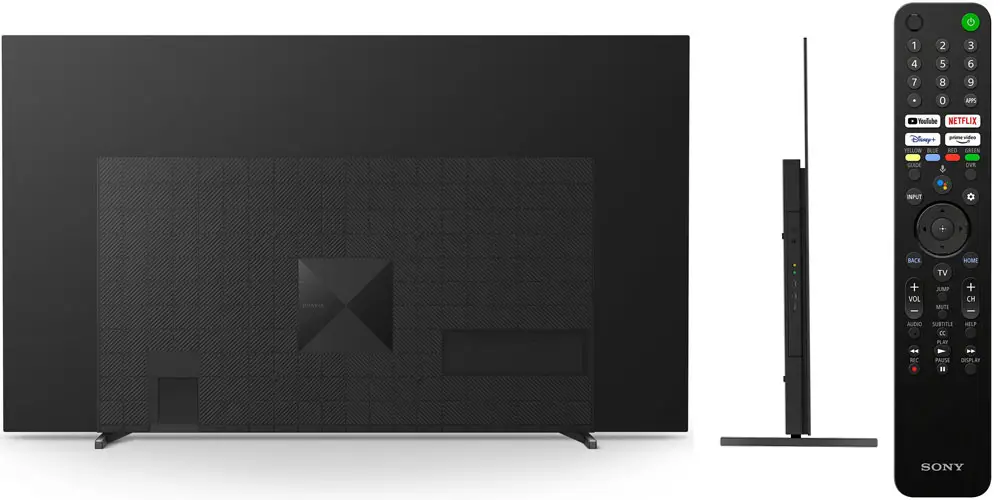 The only difference we see this year is instead of only two dedicated buttons for Google Play and Netflix now we have four and these are used for Youtube, Netflix, Disney+ and Amazon Prime video. There is also a Google Assistant button that can be used with the built-in microphone in order to issue your voice commands but in order for that to work it needs to be paired to the TV through Bluetooth. If you pair it then all other commands work without the need for line of sight which is a nice small feature to have.
Everything else is exactly the same and all buttons have a nice feel to them with certain distance from each other to avoid pressing the wrong one. Unfortunately compared to the one in the A90J this one does not feature a backlight function and comes in a black color instead of the grey one. A bit disappointing to be honest as the A80J is still considered a premium release.
Overall the A80J looks very nice and keeps its premium quality stature. The stand is a nice practical touch and the new remote is a breath of fresh air but the absence of a backlight will certainly leave you with a bitter taste.
Video Quality
Processor technology used
Sony didn't have any mini LED TVs to demonstrate this year so most of their marketing attention turned into the company's new silicone named Cognitive Processor XR. Sony included their new chip in all their mid and high-tier units this year so the A80J couldn't be any different.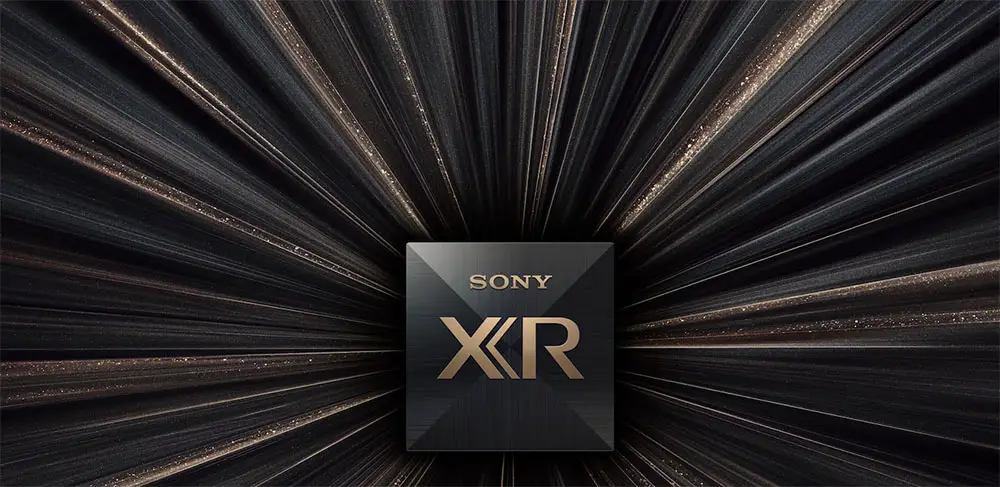 The new chip divides the screen into hundreds of zones and recognizes individual objects in these zones better than ever before. What's more, it can cross-analyze around a few hundred thousand different elements that make up a picture in a second like focal points, contrast, colors, motion and clarity and determine ways in order to improve the end result even more.
The new processor is not only good at providing excellent picture quality but also deals with all sound elements. Being included in the XR Sound suite the processor supports XR Sound Position in order for the audio to match exactly what is displayed on screen while XR Surround is responsible in creating a virtual 3D environment in order to up the immersion even more. But we will talk more about the audio in our dedicated section.
Lighting technology used
The A80J, as with all the other OLED models, is using self emitting pixels and don't have a need for a backlight as LCD TVs have. This results in higher light control and precision, and the ability to turn off completely its pixels means that you can get totally black levels which is really as good as it gets and really elevates the image quality tenfold compared to what we see in most LED LCD panels.
Because there is no backlight the A80J has no problems like blooming that creates bright halos around bright objects when seen in dark backgrounds and also its image quality is not dependent on how many zones the backlight has as all FALD LCD TVs do.  So in this regard all OLED panels behave the same.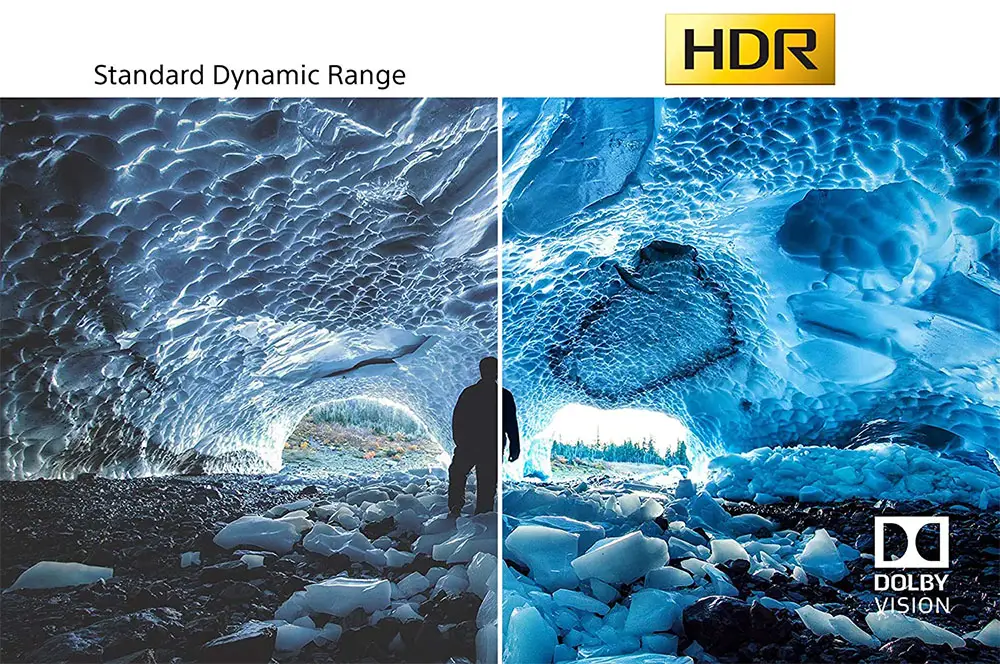 But as with everything OLED has a few shortcomings. The first one is that all OLED TVs, due to the technology involved, cannot be as bright as LCD TVs can. In the early years there were small advancements in this but the last few yearly releases seem to have hit a wall.
Panasonic was the first to find a solution to this a couple of years ago with the introduction of a heatsink that would allow the new, more efficient panel to be pushed more than before and in 2021 Sony also used the same technology in their flagship A90J OLED. Unfortunately the A80J we have here doesn't use that and instead use the same panel we have seen the last few years from all manufacturers.
And the second shortcoming is that OLED technology is more prone to permanent burn-in. We have seen manufacturers adding special features to combat this but nevertheless OLED has slightly increased risk of burn-in due to the use of organic materials and should be handled with care.
Brightness / Contrast
Starting our measurement tests we begin as always with brightness. By using the Custom Picture mode and with maximum brightness the unit gave us 497 nits of brightness in our 10% white window SDR brightness test over a dark background. This is more than enough for any kind of SDR material so no real surprises here. Keep in mind that this value was achieved with Peak Luminance set to high otherwise the brightness output is vastly different.
On our 10% white window HDR test now the A80J was able to output 749 nits of peak brightness. Again we used the Custom Picture mode with maximum brightness and although the TV cannot reach brightness levels as some of the top LCD TVs it still has plenty of juice to make HDR content impressive enough.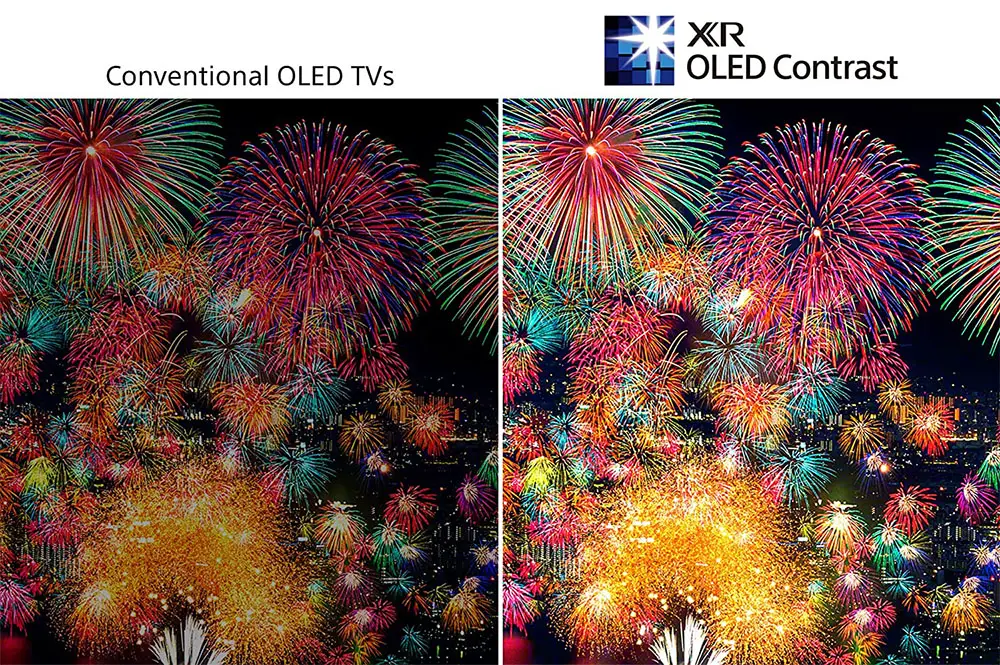 Keep in mind that the TV can go a bit higher with these numbers by using the Vivid Picture mode in combination with a few other settings available but you are going to loose some picture accuracy so it's a tradeoff really and depends on what you prefer the most. Also its aggressive ABL will result in very different brightness levels in real world scenarios as it depends on how bright the panel gets across the entire screen.
As for contrast having an OLED panel means that the A80J can switch off it's pixels entirely meaning it gains almost infinite contrast ratio resulting in true deep blacks compared to greyish blacks we see in many LCD models while it's panel uniformity was also extremely good.
One thing we should mention is about permanent image retention which is a hot topic among OLED fans. For this we recommend to turn on Pixel Shift from the TV settings and run Panel Refresh as frequently as Sony suggests. Also keep in mind that long gaming or broadcasting sessions can make certain logos or static graphics to burn-in but since this is not to a certain thing you should always change the image every few hours just to be on the safe side.
Viewing angles
Viewing angles was always one of the strongest points of any OLED and as such the A80J could not be any different. OLED is the best technology in this regard and no matter what kind of advancements they have done, LED LCD technology never can get as good in this.
As such the A80J behave very similarly as other OLED panels both from Sony and other competing OLED brands. This means that even at angles that reach about 45-50 degrees colors, black levels, brightness and contrast seem to hold up really well with no major degradation. Obviously anything more and the image quality deteriorates fast but no one would be watching at such extreme angles.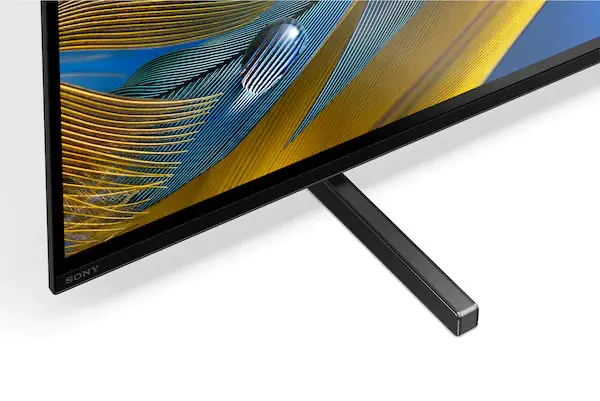 If you want to use this TV as a family TV with many members watching at different angles then the A80J is ideal for that kind of use.
HDR support
The A80J supports three HDR protocols at the moment with the basic HDR10 that is required for UHD playback, HLG that is used in broadcasting and streaming media as well as Dolby Vision that is a more advanced protocol that uses dynamic metadata for more accurate and better image quality. As with all Sony models in 2021 there is no HDR10+, which is similar to Dolby Vision but it doesn't have the support Dolby's solution have yet and there doesn't seem that Sony is very eager to support it.
Also keep in mind that there is no Dolby Vision IQ which we have seen in some other 2021 Dolby Vision enabled TVs which uses the TV's light sensor in order to adjust the Dolby Vision tone mapping dynamically without altering the colors.
Color coverage
The A80J is equipped with certain technologies in order to allow it to display deeper and more lifelike colors. As such Sony has used a XR Triluminos Pro display which we have seen in many of their higher tier models this year along with XR Color technology which is included in their XR Picture suite.
Onto our tests now and with the A80J we measured 98% coverage in the DCI-P3 color space which is almost perfect. On the wider REC.2020 color space we got a 72% coverage which is great and actually very similar to Sony's flagship, the A90J.
With these numbers in mind the A80J is really as good as it gets with Sony this year and shows that even the more cost friendly OLED they have still manages to offer breathtaking color accuracy.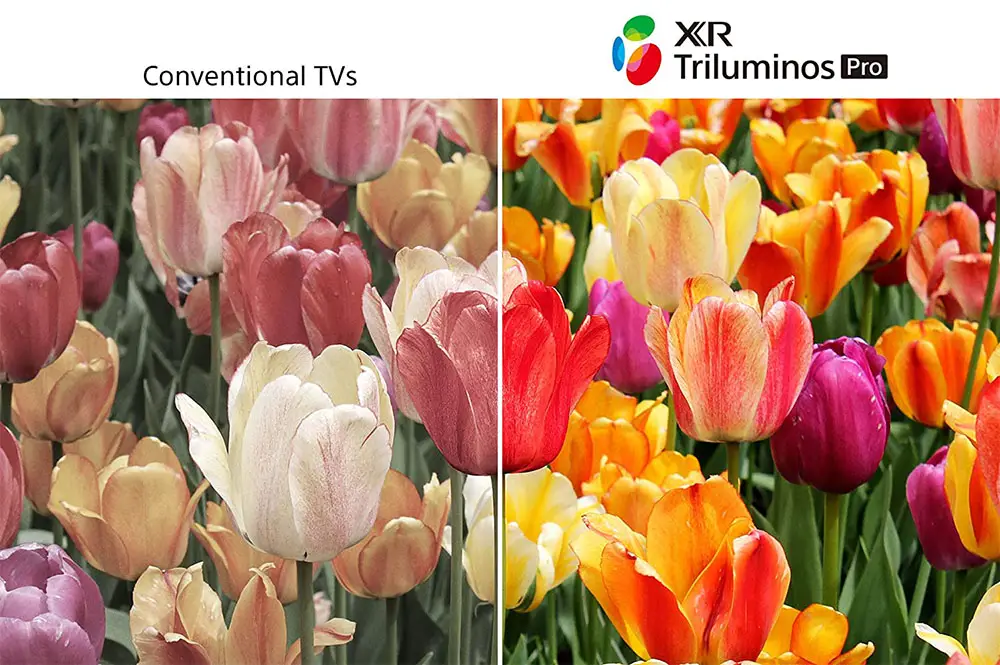 Motion performance
It seems that Sony has dropped the ball lately with their motion performance as they were considered one of the best in the previous years. Our previous reviews of the X90J and X80J left a bitter taste to our mouths so we were really curious if their OLED offerings could do better. The TV comes with a 100/120Hz panel (depending on your region) while due to the inclusion of Sony's new processor we get XR Motion Clarity which is the latest technology used to smooth out motion.
You have the option to use either the standard motion interpolation system or use the Black Frame Insertion (BFI) interpolation that is adding black frames in between individual frames and can potentially smooth out motion. BFI can be enabled by turning Clearness to an appropriate value if you use the Custom setting in the MotionFlow menu. Overall with motion interpolation enabled things looked pretty good although during busy scenes there were some artifacts still visible. At least they were not to such an extent as we had seen in the X80J and X90J reviews. And keep in mind that in general BFI has also a negative effect on brightness due to the black frames that are inserted.
Lastly we need to mention that although Sony advertises the A80J to support VRR this will come in a future update and is not currently available. When this will arrive is unknown and judging by their promises we would suggest you to decide with what features are available right now and not what is promised in the future with an unknown release date.
Although motion interpolation was good enough, the real problem was when we tested the TV without it. What we saw is that the A80J displayed some very distracting stutter with low framerate content. The stutter was so visible that we were curious how this can be with such a high profile release. In order to improve this you will definitely have to turn on motion interpolation and if you are a purist and don't like to use these features then you have a real problem in your hands. Sony has certainly disappointed us in this and such a premium model shouldn't have such an obvious problem.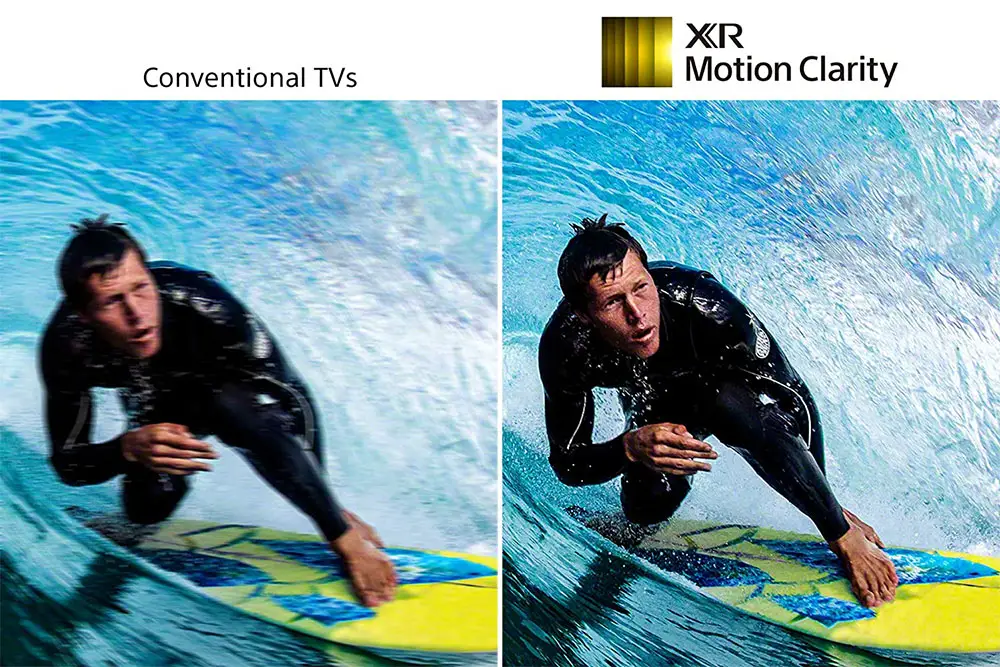 Input lag
Although it seems that Sony's releases are not exactly up to par to some of the competing brands that have managed to reach single digits in their input lag tests, Sony still offers very low numbers that are more than enough for competitive gaming. Both the X80J and X90J that we tested recently gave us very good numbers so we were hoping at least to get some numbers of the same kind.
And so with Game mode enabled we managed to get an average between 1080p and 4K resolutions of 16.5ms which is very good and right where we were expecting it. If we turn off Game mode input lag will rise to about 150ms which is ok for casual gaming but certainly not for more demanding users.
With the inclusion of HDMI 2.1 the unit comes with all the game centric features this offers including Auto Low Latency Mode (ALLM) which can really benefit the new game consoles that support it.
After connecting our PS5 onto the A80J we tried a bit of F1 2019 as we usually do and to be honest we didn't see any problems whatsoever. Our inputs were registering extremely fast, responses were excellent and there was no sensible delay between action and on screen reaction. Overall a very smooth gaming session and will certainly make you happy with its performance.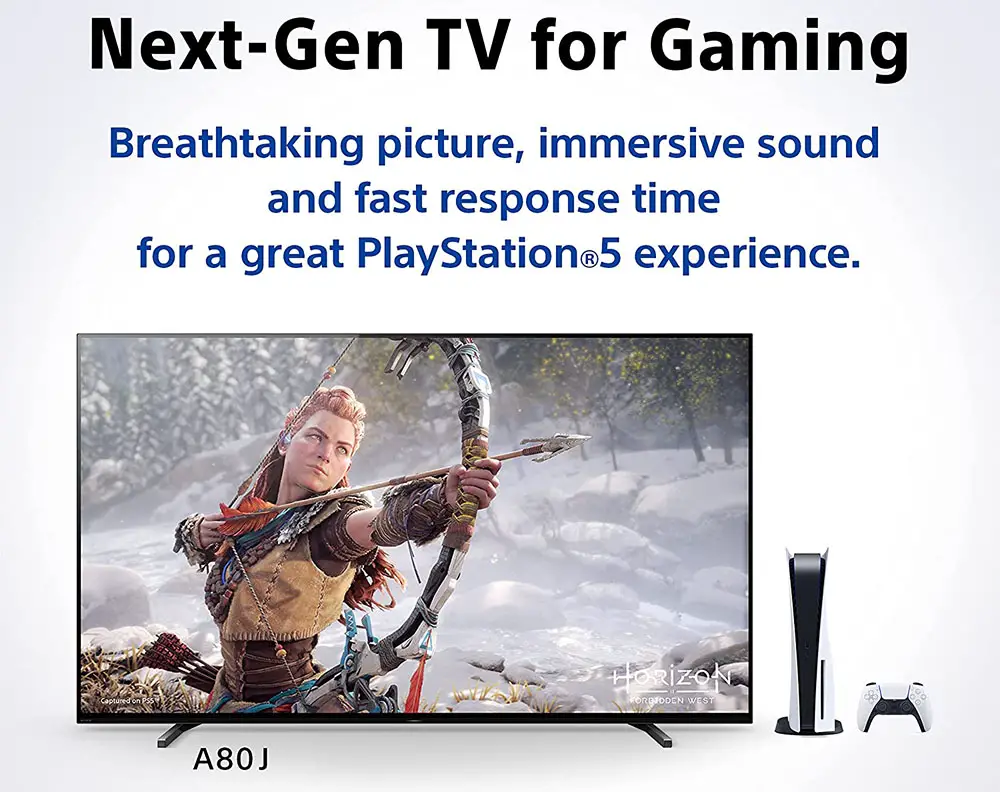 Image quality impressions
The A80J brings with it all the strengths of the OLED technology and then some. Overall brightness was good enough and typical to most OLED TVs that don't use the new improved panel. Color reproduction was amazing, viewing angles were great as any OLED could be and contrast is as good as it gets with today's technologies. If you add to these the many extra image features that the A80J comes with like Netflix Calibrated mode, IMAX Enhanced support and Calman Ready for the more advanced users then it certainly has a lot to offer.
And while brightness may not be enough for some very bright rooms, in most cases this shouldn't be a real problem. In the same sense input lag was not bad but it was not great either. With many 2021 releases already in the single digits the 16.5ms we got was very good but not the best.
On the downsides while motion performance was in general good we were disappointed to see so much stuttering with low framerate content which made the use of motion interpolation almost a necessity. Also VRR is a promised feature with no real release date in sight while there is always a small chance of burn-in as it is always with OLED TVs.
Audio Quality
Let's now see how the A80J can do in terms of sound quality. The TV uses what Sony calls Acoustic Surface Audio+ technology which basically uses two actuators at the back of the panel that vibrate and use the whole panel as a huge membrane and thus create sound. This way it seems like audio is coming from within the screen giving you a better sense of realism. This type of audio system is used by Sony the last few years in their top tier units and in 2021 it seems that only the two OLED releases come with it, the A90J and the one we have here, the A80J.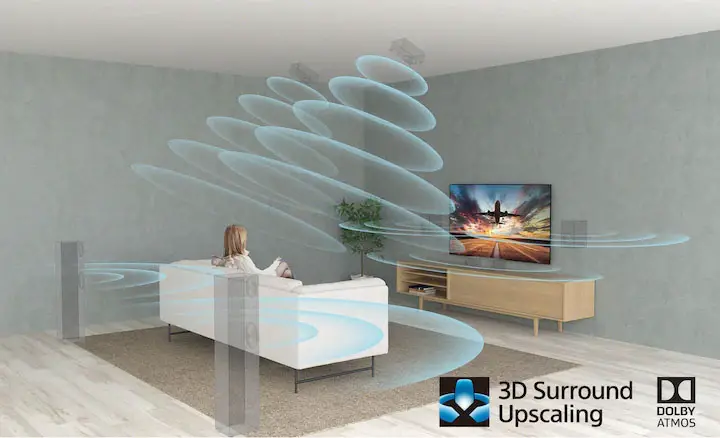 The A80J is using two actuators along with two subwoofers and come with a 10W + 10W + 10W power output configuration. There is support for Dolby Audio, Dolby Atmos and DTS Digital Surround sound but keep in mind that as good as the A80J's audio system may be it cannot convey the real sense of positional audio as a true surround system can. Also keep in mind that Sony is one of the few companies that still supports DTS and can even pass-through both Dolby Atmos and DTS:X signals from its eARC port so if this important to you then the Sony is a no brainer.
The inclusion of the XR cognitive processor has allowed the A80J to bring forth a few more advanced technologies which is the XR Sound suite. This includes the XR Sound position which with the help of the Acoustic Surface Audio+ technology makes sound originate from the exact spot on the screen making audio so much more realistic.
Also with XR Surround the A80J is using 3D surround upscaling in order to create a more immersive virtual surround environment. These virtual technologies are never as good as the real thing and even though the A80J do try to bring the action closer to your sitting position it is very dependent on the content and the type of action that determines its overall quality. The A80J also features Acoustic Auto calibration in order to get the best audio performance no matter your sitting position.
In total the audio performance of the A80J is a cut above what most standard 2.0 channels audio systems can do. It can offer more volume, more immersion and better precision but it will never substitute a good soundbar or a fully fledged surround system.
Ports and Connectivity
Next we will be looking at the available connection ports which in the A80J are separated into two groups with one looking sideways while the other is looking downwards. All of them are placed on the right side of the back panel.
Let's talk about the ones looking sideways first. Here we find a Remote IR input, a composite video input, a headphones mini jack, two USB ports for connecting external storage or other USB devices and a single HDMI input. On the group looking downwards we get a third USB port, three more HDMI inputs, an RS-232C port, an optical audio output, an Ethernet port for wired connection to your local network and the usual antenna/cable port.
The A80J comes with two HDMI 2.1 ports along with two more older HDMI 2.0 ones. Although some other manufacturers like LG offer more HDMI 2.1 ports at least two are better than one. The problem here is that one of them is also the one with ARC/eARC functionality so if you plan on using that then you are left with a single HDMI 2.1 port.
Also keep in mind that while the new HDMI 2.1 ports bring with them all the new features like ALLM, VRR and HFR, VRR is not supported at release and Sony has promised a future update for that, although when this will be available is currently unknown. Our suggestion regarding this is to make your decision depending on what the TV can do right now as the update for VRR could take a long time to arrive. So never base your purchase on future features.
In terms of wireless capabilities things are pretty much the same across the board so the A80J comes with built-in WiFi (802.11ac) along with Bluetooth v4.2. No Bluetooth 5 from Sony this year unfortunately.
OS, Apps and Features
In 2021 Sony decided to take things one step further as far as the smart TV platform they use is concerned. All their TVs now come with Google TV instead of Android TV that was used up until last year. The A80J seems to have exactly the same features as the X90J and X80J we saw recently so our observations here will be similar and as always we will be making any necessary changes or remarks wherever needed.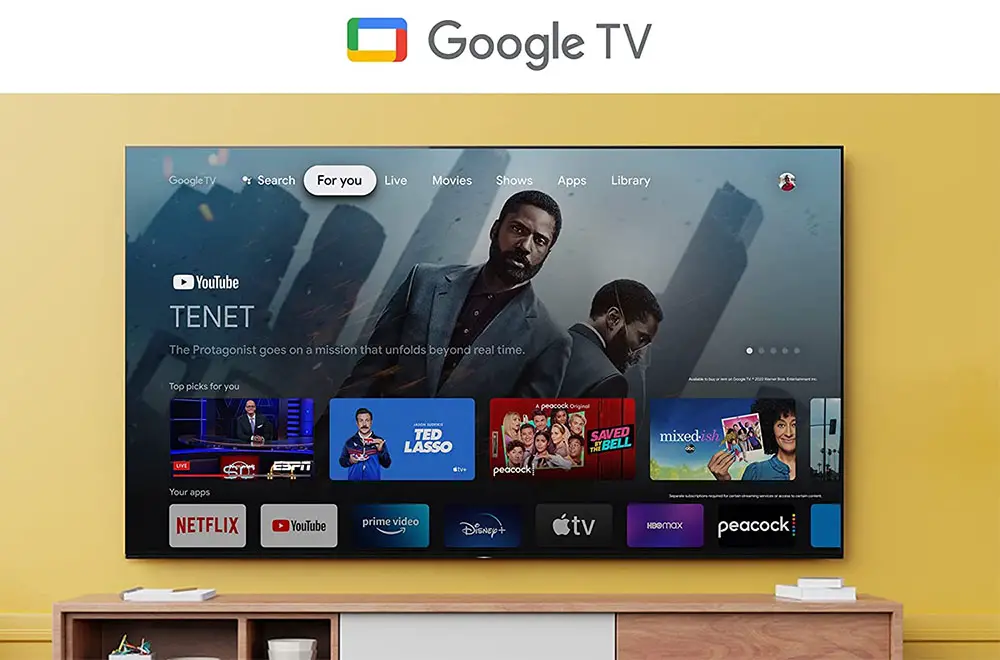 Now many of you may be puzzled what the difference between Android TV and Google TV is. Well, it's not so much difficult to understand what has changed really. Google TV is still Android TV but with an extra layer on top of it. Think of it like it is in Android smartphones. Most manufacturers that use Android in their releases they use on top of that their own layer that gives this extra something to their UI that make them unique both in appearance and functionality.
The same is with Google TV. You still basically use Android TV but there is the extra Google TV layer on top in order to make the UI feel different both in looks and functionality. The 2021 TVs from Sony that use Google TV have at their core the latest Android TV 10.0 but the home screen has been completely changed due to the new Google TV layer.
Everything now seems to have been designed around recommendations either it be movies, TV shows or applications and this seems to be the main focus of the new Google TV in general. During setup the wizard asks you of what specific streaming services you use in order to customize the Home screen recommendations. Keep in mind that Google TV is still Android at its core even though it looks different. But with Google TV things seem more fluent, more direct and more easy to navigate around.
If there is one thing that Android has in abundance that is huge app support. Through the included Google Play Store you can find literally thousands of apps that you can download and use except from the pre-installed ones. There is so much content available that you will definitely find the ones you are looking for and the list goes on and on.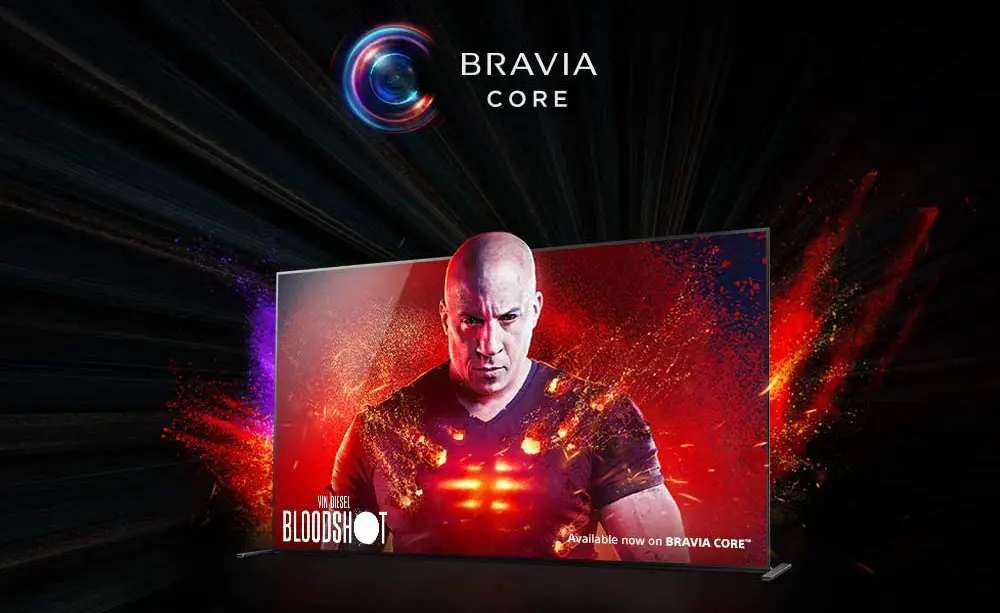 All the big names are obviously present like Google TV, Disney+, Netflix, Amazon Video, Hulu and Youtube as well as Pandora, Tidal, Google Play Music, Spotify or iHeartRadio. As always some of them are region dependent so make sure the ones you are interested in are working in your area. Lastly certain apps like Netflix and Youtube support playback for both 4K and HDR content for those interested in it.
Here we need to mention that the A80J also comes with Netflix Calibrated Mode and what this does is to allow you to experience picture quality close to a filmmaker's vision and intent for all content that is streamed through the Netflix streaming service.
The TV also comes with a new 2021 feature called Bravia Core and this is Sony's online streaming service that promises high quality streams up to 80 Mbps and additional IMAX Enhanced content. With so many online streaming services we fail to see how Sony plans on making an impact with their own take on the online streaming world but since they can include it in all their TVs it will be interesting to see if this will expand in other manufacturers also in the future. Otherwise we don't see this making a huge impact in an already oversaturated market in terms of companies trying to get a piece of this market.
Chromecast is also available here and it gives you the ability to stream content from other Chromecast enabled devices like mobile phones and tablets directly to the TV. Voice control is also present but it seems that it is a bit limited compared to other competing models. By that we mean that although you can use the remote's built-in microphone to give commands to Google Assistant, for Amazon Alexa you will need an external Alexa enabled device to work. Additionally there is also Sony's Voice Search available.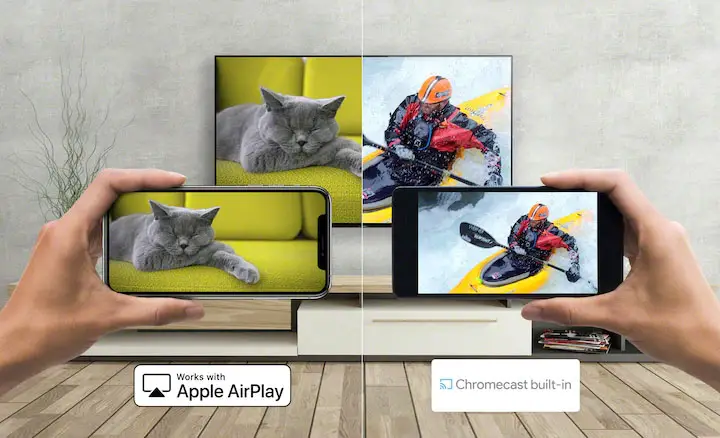 We have seen the same thing in many other Sony TVs and probably this has to do with the fact that it's using Google's Android system and thus having Alexa built-in was not possible. With voice control you can issue various commands to the TV but functionality extends far beyond that as you can control any smart devices you have in your house also.
There is also a built-in media player available that you can use to playback various video and audio content from an external storage connected to the USB ports. Sony's built-in player was always a good performer and  we can admit that it will be able to play a wide range of files and codecs but in general don't expect it to replace your dedicated media player box if you use one. If there is a file that is not following the usual standards it will not play it something that a dedicated player might will.
Most of the files we have been using for this test playback with no problems while some not very usual ones had some problems to render correctly. But in general we got good impressions out of it.
Sony has also added support for both Apple Airplay 2 and HomeKit. With Airplay 2 you can stream content from other Apple devices on your TV while HomeKit lets you control certain aspects of the TV through your mobile device. Also if you are all Apple then keep in mind that the A80J supports Apple TV which is Apple's online streaming service in order to have the complete Apple's suite. So in case you favor Apple's products the A80J will certainly cover you in this respect.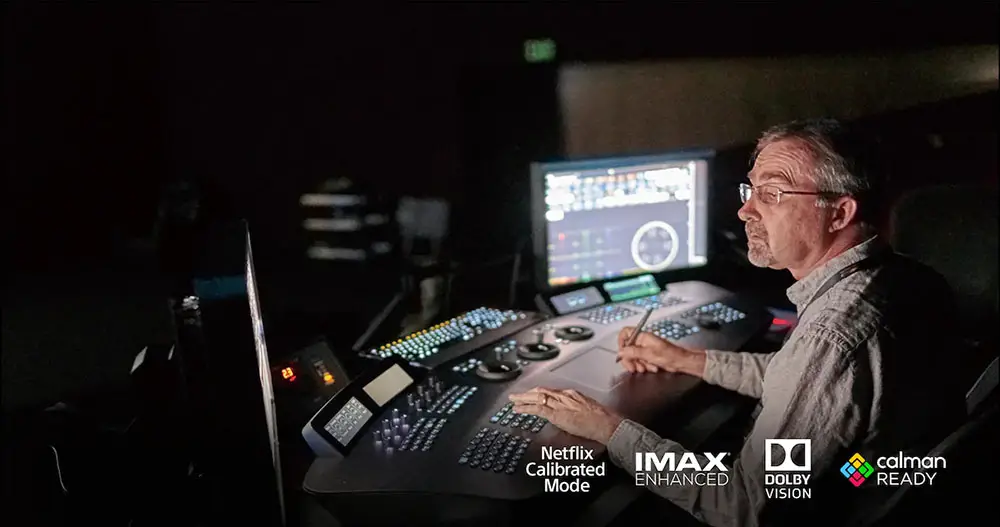 This year all Sony TVs are Calman Ready although to be honest we fail to see how this can benefit some of the lower tier models. To address color variations from the production process, the TV is ready to use Portrait Displays' high-performance Calman auto-calibration software. This allows an unprecedented level of calibration and the ability to fine-tune adjustments simply not possible through conventional picture settings. It delivers high-fidelity color reproduction that's true to the original TV signal, and can even adapt to the subtlest changes in color that may occur over time.
As we already mentioned above the A80J comes with IMAX Enhanced certification. This means it can playback IMAX Enhanced content although this is still very scarce to find.
One last thing we need to mention is that there is no official app support for controlling the TV. If you want to control the A80J using your mobile device you can use the Android TV app made by Google that supports many of Sony's TVs the last few years. It's nothing major but can be a nice alternative to the included remote if you want to have more options.
The new Google TV is still Android at its core but Google has really changed it for the better. It feels more personalized, more streamlined and in general easier to handle. It still needs some getting used to it but after a while it will become a second nature.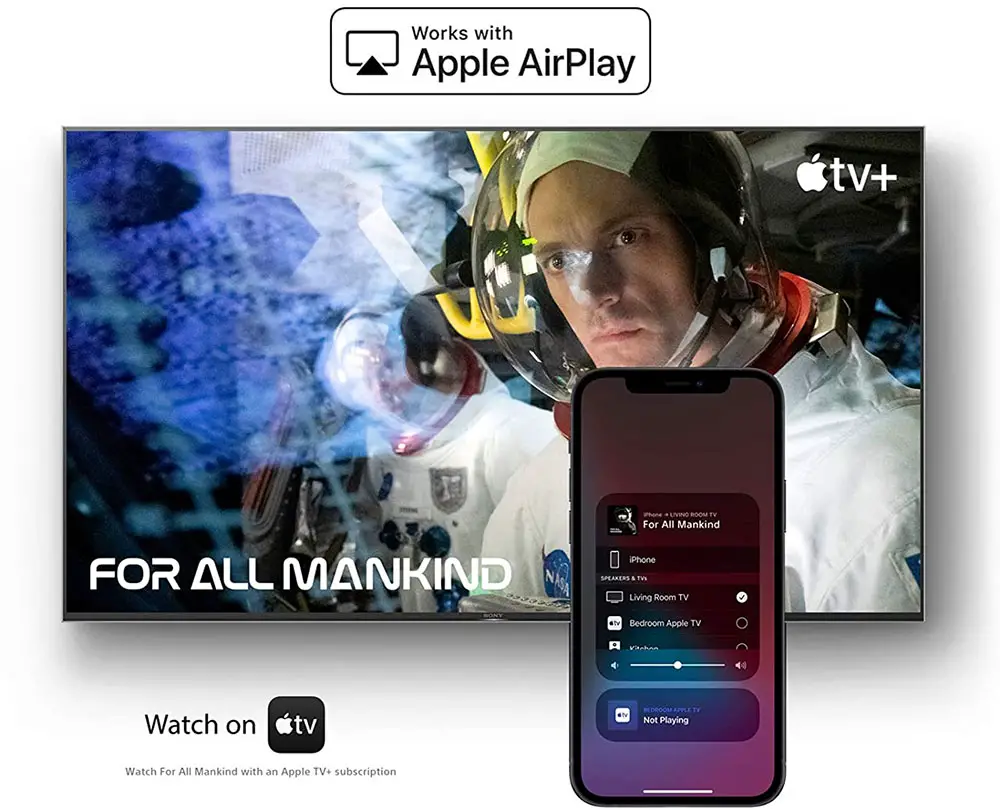 Final Thoughts
With Sony offering the improved A90J in a crazy price for those that have money to burn, they also needed a more down to Earth offering and the A80J is just that. It manages to combine many good things that we are already familiar with from previous years and mix it up with some new tech to make things even more interesting.
On the one side the A80J features very good upscaling due to the abilities of the new Cognitive Processor XR. Color reproduction was excellent, viewing angles were amazing as always with OLED and contrast is as good as it gets due to the self emitting nature of the OLED pixels. Brightness was good enough and just exactly what we were expecting from an OLED TV without the improved panel. Input lag may have not been the best around but it was still low enough to offer excellent response time even if you are dead serious about your gaming sessions.
If you add to the above the inclusion of Google TV that comes fully packed with features and the inclusion of HDMI 2.1 then there is not much else to say about the A80J's capabilities.
On the downsides the most obvious would have to be the visible stutter we got in low framerate content. Stutter was so obvious that we were scratching our heads how something like this could slip through Sony's quality testing. To some it may not be so much bothering but we are certain there will be many that will not be able to stand it without having to turn on motion interpolation that can help things improve a bit. Also missing a promised feature is never a good marketing thing and without VRR until further notice will make a lot of people think twice before pulling the trigger.
OLED is always susceptible to burn-in and the A80J is no different. The risk is small with today's models and with available technologies that help prevent this but it can still happen if not careful enough. Lastly we don't like that there is no backlight in the remote especially if you consider that an OLED TV is mostly meant to be used in a low lit environment.
Closing what we can say is that the Sony A80J is a great TV either you want to use it for movies or gaming. It misses a few marks that could make it a really great offering but even as it is, it has enough to make it a worthwhile purchase.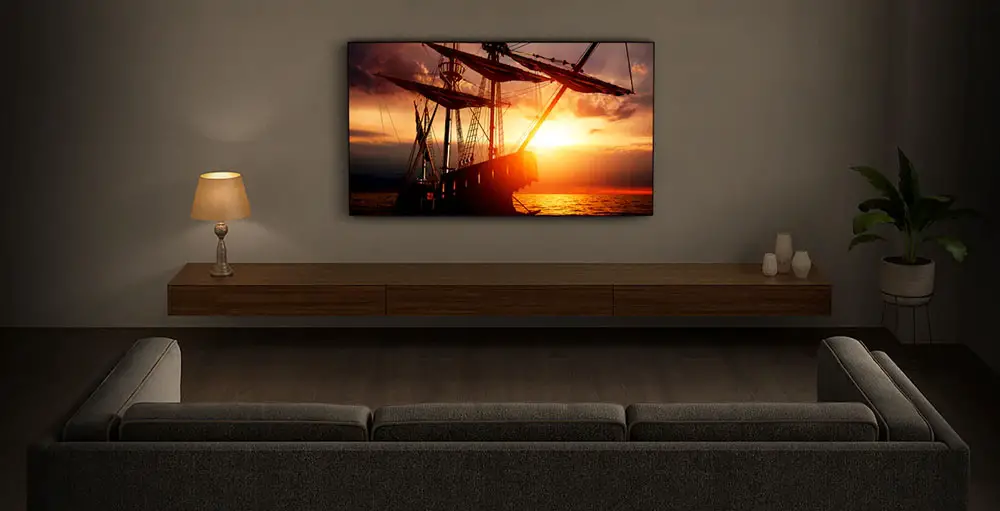 For more reviews you can check our dedicated 4K OLED TV reviews list or even look at our Product Reviews Table where you can find the brand and specific product you are looking for.
Also don't lose the chance to subscribe to our Newsletter and gain exclusive privileges.
---
---
Cheapest Places to Buy :
---