---
Cheapest Places to Buy :

---
Pioneer was one of the few companies that came late to the 4K UHD party and more specifically the premium 4K UHD players. A segment that was mostly dominated originally by Panasonic and Oppo with the decision of the later to exit the disc player market it seemed like Panasonic was the only one playing ball in the top of the line area of standalone disc players with their DP-UB9000 being their crown jewel of UHD disc players.
And while there is a lot of arguing if it is worth it for someone to spend close to a grand to get a player when nowadays there are UHD players that cost just $200, there will always be a portion of hardcore AV enthusiasts that don't make any compromises when it comes to choosing their top of the top home theater equipment. But when it comes to choosing the options are rather limited so Pioneer comes to help a little by offering a player that makes no compromises when it comes to build quality in order to offer the best possible audio and visual result with their latest Pioneer UDP-LX500.
It's obvious that the LX500 is directly competing with Panasonic's offering in what seems to be a clash of the Titans. But does the player manages to justify the high price you have to pay for it or it falls short of it's promises? Read our Pioneer UDP-LX500 review to find out.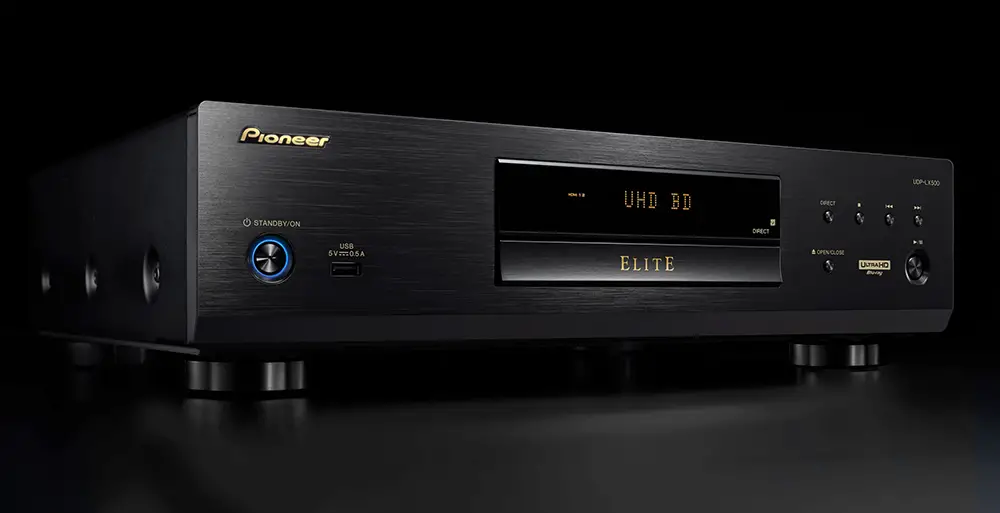 Design
Pioneer has put a lot of thought on the build quality and engineering of the LX500 and although on the outside the player doesn't seem like much as it has very simplistic lines with a front side featuring a standard layout with the display at the center and the disc tray under it while on the right we get a few playback buttons and on the left the power button and a USB port, it's on the inside that we see how much work has been done in order to create one of the best 4K players, quality wise.
And although the design may not say much it's size does as the LX500 is a big one weighting 22.7 lbs. (10.3 kg) and with a size of 17-1/8 x 4-5/8 x 13-1/4 inches (435 x 118 x 337 mm) making it one of the bigger players we have dealt with. The weight and size are a direct result of the engineering decisions Pioneer made on the internal design of the player that we don't see in most lower priced decks.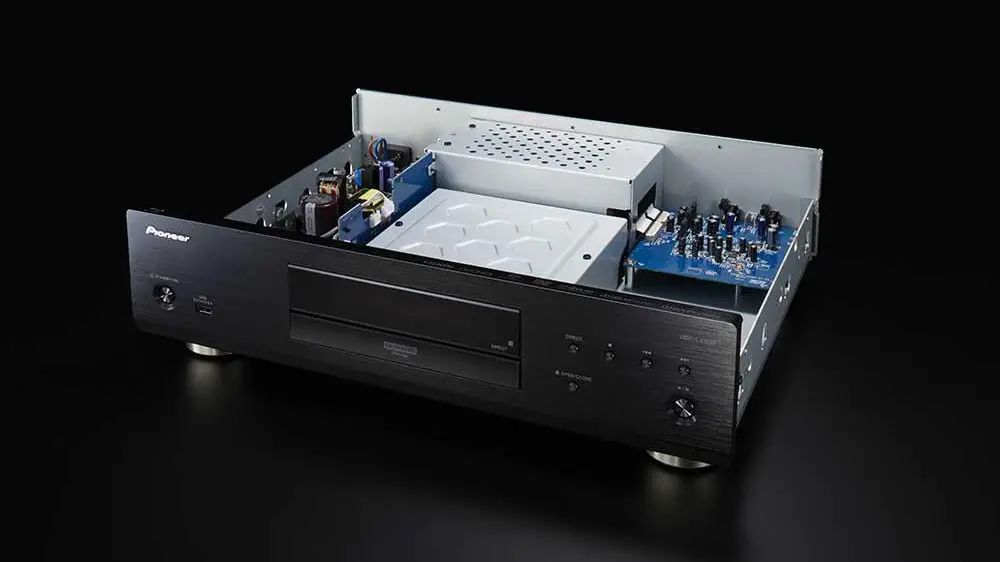 Pioneer has incorporated a three-block internal design which means that they have separated the internal components for power supply, drive/digital processing, and analog audio in order to eliminate any potential electrical and magnetic interference between each other.
The chassis of the LX500 uses a 1.6 mm-thick base which is reinforced with a 3 mm-thick steel plate rigid under base that ensures the player is steady and stops any outside vibrations transfer in the inner chassis. This in addition to the use of an acoustic damper tray with a float-mounting structure ensures that any sound of the speakers will not interfere with the disc reading ensuring the best playback possible.
As for the electronics Pioneer opted to use a 6-layered circuit board in order to minimize ground impedance and improve signal-to-noise ratio during audio/video signal processing.

The included remote feels rigid and well constructed having all the necessary buttons for all the player's functions. The buttons layout is more or less standard with most rubber buttons having a nice touch while their size and space between them being adequate. We definitely welcome the inclusion of a backlight function that in this price range should be considered a must. The remote is a little big but we got used to see big remotes in such premium players so this is of no surprise to us.
From all the above it's very evident how much work Pioneer has put into the LX500. Every small part of the player is carefully designed and manufactured in order to provide the best and uninterrupted playback and while the improvements in the resulting image and sound may not be immediate apparent every action to achieve the best possible outcome is always welcome. When you have to pay such a high price you definitely want the best and Pioneer delivers in this department.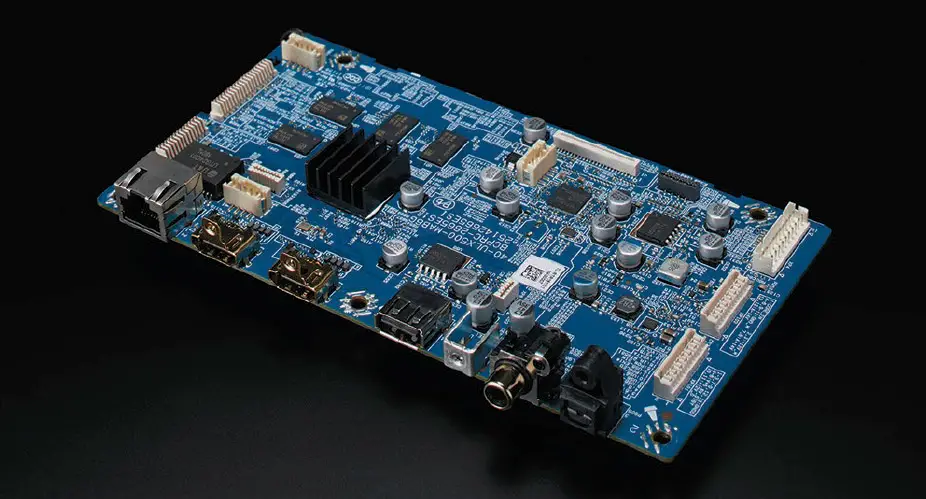 Video / Audio Quality
A disc player may have uninteresting design and not many supporting features but one area that such a highly priced player should make no compromises is with it's video and audio performance. Pioneer made sure to add support to the UDP-LX500 for all known disc based HDR protocols and as such it supports not only the basic HDR10 but also the more advanced Dolby Vision with Pioneer going one step further and promising support for HDR10+ with a firmware update making this player one of the few that so far support all three HDR protocols.
For our testing we tried out the 4K UHD disc of Fantastic Beasts: The Crimes of Grindelwald as the film was shot digitally and has a 4K DI making it excellent testing content for such a highly performing player. The results were nothing short of breathtaking as clarity and sharpness were in abundance making it easy to distinguish the tinniest of details. Skin imperfections were clearly visible while clothes texturing would reveal a more detailed layer.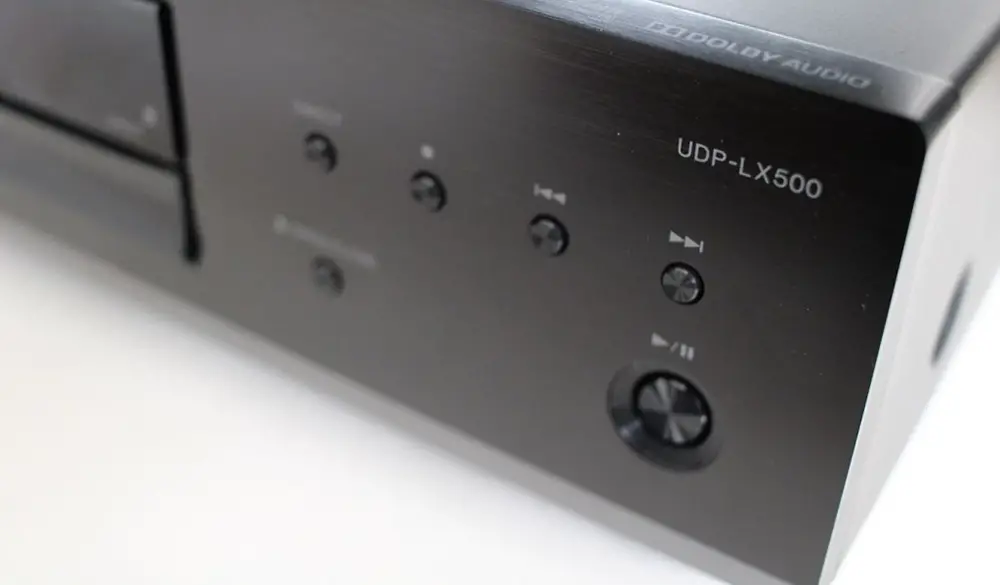 Colors felt very accurate and while the film has many dark looking scenes the magic effects felt like popping out of the screen with the help of HDR while various highlights made the images more spectacular and with greater dimensionality.
And while we are sure someone would get such a player for it's 4K capabilities the LX500 is also very capable at upscaling SD and HD content to 4K resolution. We tried a few Blu-rays and the result was great by providing the picture this little bit of extra detail. Your old DVD collection will look as good as possible here while your Blu-rays will get a nice boost also. Upscaling of course is heavily dependent on the source material so don't expect any miracles but the player will provide the best possible outcome out of any given source.

And while the LX500 excelled in it's video performance it is in it's sound capabilities that really shined. This is a direct result of the design of the internal parts in order to produce the best audio possible. The Dolby Atmos audio track that accompanies the film felt very dynamic with clear separation between the channels and very accurate channel shifting. Every little ambient sound and acoustic detail was audible and very distinct creating a very immersive experience.
But the LX500 is not only capable at reproducing a film's track faithfully but is also a master music performer. Having an AKM AK4490EQ DAC for analogue stereo makes an amazing job at reproducing amazingly immersive music. Trying a few Audio CDs reveal how good the player is while pressing the Direct button switches off all internal processing in order to playback the audio as pure as possible. But it's when you try a few SACDs and DVD-Audio discs that show the real capabilities of the player as it will elevate the quality to a completely different level.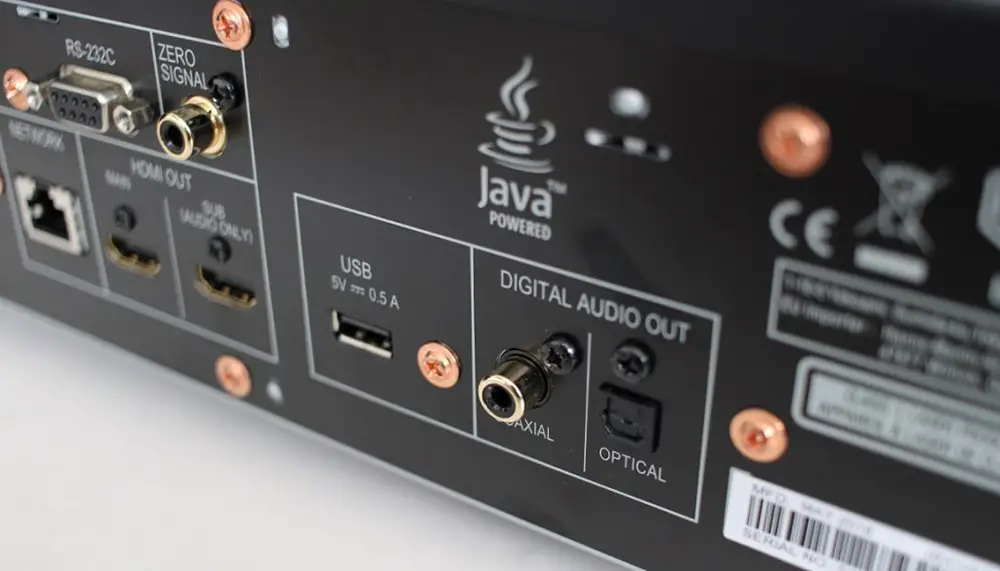 Inputs / Ports
Looking the LX500 from the back it has a lot to offer and as we are talking about a premium disc player this couldn't be otherwise. What appears to be the normal for any top quality player we find dual HDMI ports with one transmitting video and audio while the second HDMI is only for audio. As for Digital Audio outputs we find one coaxial and one optical. The LX500 is also equipped with a couple of USB ports, one on the front and one on the back, that can be used for streaming media.
There is no WiFi support here so the only means to connect the LX500 is through the Ethernet port and this only for updates as there are no streaming services to be found. We also get an RS-232C port for systems with integrated control and an analogue stereo output which is an odd one considering you wouldn't buy such an expensive player to connect in through a simple analogue audio port.

Lastly we find the unique Zero Signal port which is a Pioneer specific feature and by connecting this port to any audio/video input in an AV receiver that supports this feature the audio/video signals are aligned between the two devices suppressing any differences and allowing for a high quality signal transmission. We cannot say how much of an improvement this makes as we didn't have an AV receiver that supports this feature but the theory behind it sounds interesting.
In total connectivity wise the LX500 offers everything a high end 4K UHD player should with all the important ones being present like the dual HDMI ports and the usual digital outputs while we get a few extra ones like the odd stereo output, an RS-232C port and the unique Zero Signal port. There are no 7.1 analogue outputs here, something we usually saw in premium players but in all honesty having such a top quality deck a HDMI connection should be considered a must so it's not a big deal in our books.
OS, Apps and Features
Being a universal player means that the Pioneer UDP-LX500 can play all kinds of discs from CDs, DVDs, Blu-ray, 3D Blu-ray and 4K UHD discs. In addition there is support for SACD as well as DVD-Audio for the small but dedicated portion of people that still like to use these format types. Alternatively you can stream Hi-Res audio files through the USB ports that is more in line with today's trends.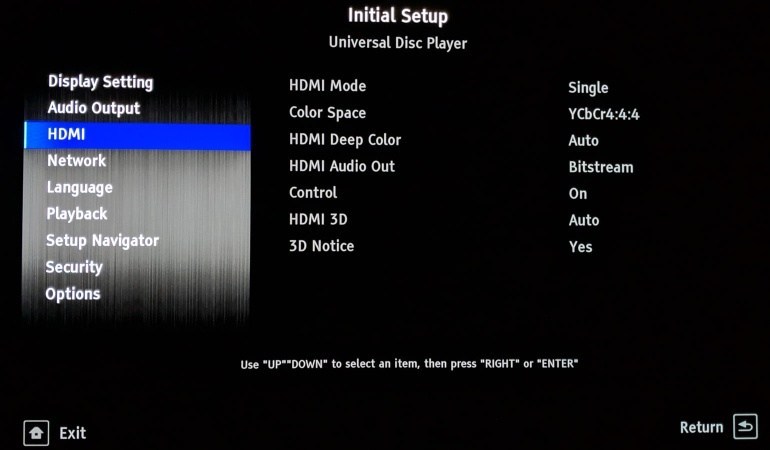 Looking at the UDP-LX500 user interface it definitely feels underwhelming with Pioneer offering an almost barebones menu as there are no streaming services or smart functionality. When it comes to settings we get a lot of options but they still seem a bit simpler that what Panasonic offers in their players.
In the video settings you can adjust all aspects of the picture like sharpness, brightness, noise reduction, chroma level, hue and contrast or use the reference setting so the video image is left untouched and display how it was intended. There is also an option of selecting the kind of display you will be using between LCD TV, OLED TV or projector which is a useful option although not very clear what changes are done between each option.
In the audio settings among the other usually seen options we also find one in which you can fiddle with the player's internal DAC filters by giving you three options between Sharp, Slow and Short. The differences in the sound output felt minute at best but nevertheless it was a fun setting to play with.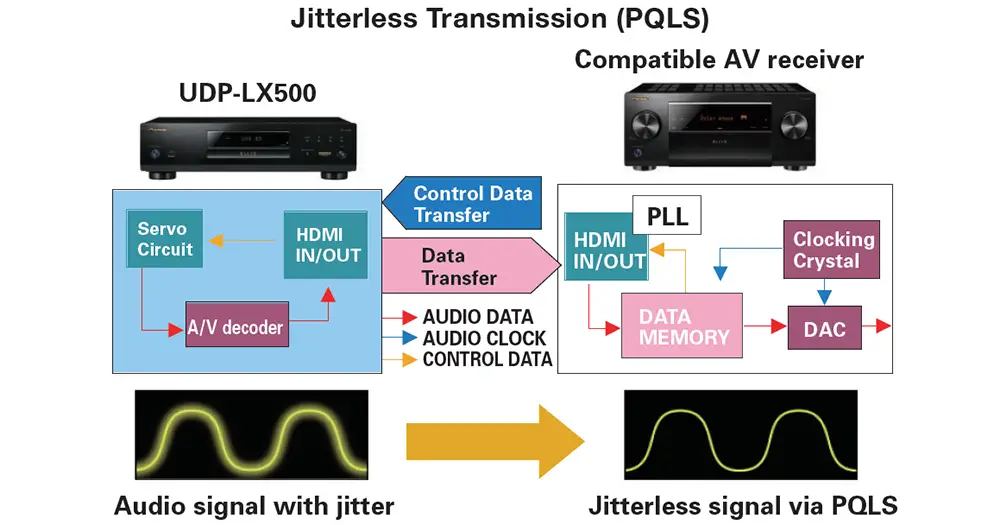 The player comes with PQLS (Precision Quartz Lock System) Jitter-less Sound Transmission which is a system that when connected with a compatible AV receiver it eliminates distortion caused by timing errors. This happens by controlling the amount of audio signals from the receiver to the LX500 and as a result we get better digital-to-analog conversion. The UDP-LX500 supports PQLS with 2 channels audio, Multi-Surround and Bit-stream audio.
The menu and UI of the LX500 may be simple but offers an exciting display information screen which is somewhat more exciting than the usual display screen that most disc players offer. Here not only we get the standard info like resolution, video and audio format, bitrate as well as HDR but dives deeper into the HDR metadata and bring us information we see for the first time like Max FALL (Maximum Frame Average Light Level) and Max CLL(Maximum Content Light Level). This may not mean much for the average user but for the AV geeks it is a definitely pleasant addition as it makes it easy now to see how bright the HDR is on your latest UHD disc.
Disc loading is very quiet no matter what we popped into the tray but the loading times were average as it took around 40 seconds to load the menu of a 4K UHD movie disc. And while the time needed is not that bad we were hoping for something better from such a high end player.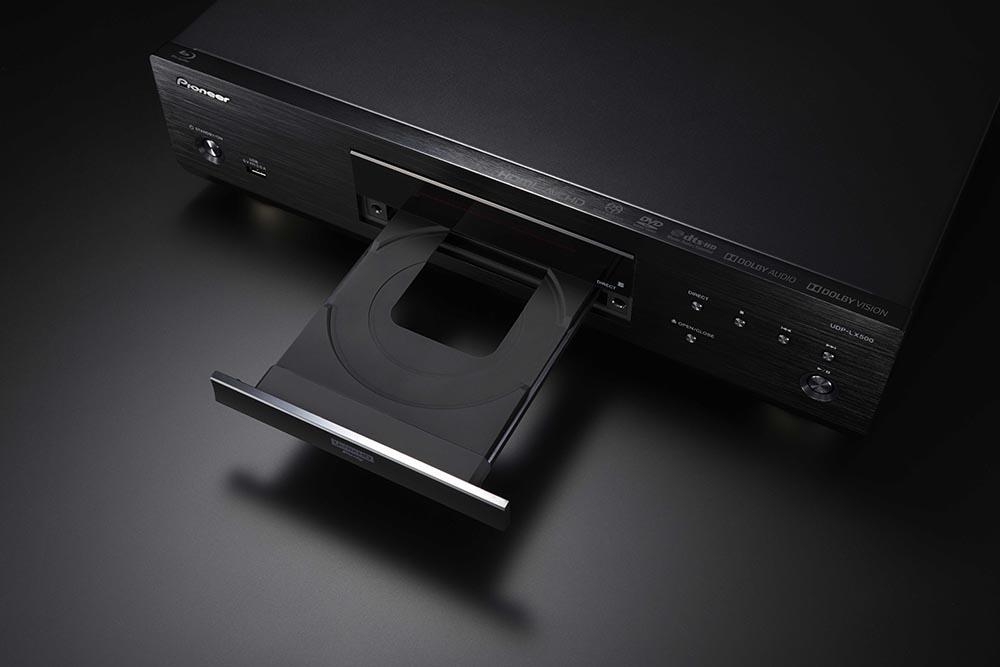 Final Thoughts
Let's be honest here. A disc player that costs close to $1000 is not for everyone. The Pioneer UDP-LX500 is an amazing UHD player that offers amazing picture quality, crystal clear audio immersion, a lot of connectivity options and has a build quality that is one of the best we have seen in a disc player. And although picture and audio may not be leaps and bounds better than a simply good 4K disc player if you are seeking the absolute best in 4K UHD players there are not many players to fit such criteria. Panasonic was the obvious choice up until now and it seems we have an equal contender with the LX500.
The Pioneer player may not offer any streaming services and have a rather limited smart functionality but it was obvious that Pioneer decided to make this player the best for what it was meant to be. To offer the best visual and audio quality possible and to support such a decision they stripped most other functions from it. We are not against such a move, after all if you want streaming your TV probably has such functionality as we don't believe you would buy such a top of the line disc player without having an also equally good TV to go with it.
If you want the absolute best the Pioneer UDP-LX500 is a very serious contender. Quality wise Pioneer has made no compromises and the results prove this in the most revealing way. Hardcore home theater fanatics have now another excellent choice to look for and whoever decides to go for it will definitely get the best in disc player technology to date.

For more reviews you can check our dedicated 4K UHD Blu ray Player reviews list or even look at our Product Reviews Table where you can find the brand and specific product you are looking for.
Also don't lose the chance to subscribe to our Newsletter and gain exclusive privileges.
---
Cheapest Places to Buy :

---
Specifications
Construction :

Three-Block Internal Layout (Power Supply, Drive/Digital Processing, Analog Audio)
Ultra-Rigid Construction without Radiation Holes
Double-Layered Chassis Reinforced with 3 mm Steel Plate for Rigidity and Low Center of Gravity
6-Layered Main Circuit Board for High S/N Ratio
Rigid & Quiet UHD BD Drive
Honeycomb Mechanism Drive Cover (Acoustic Damper Tray, Float-Mounting Structure)

Video Features :

Ultra HD Blu-ray Playback
SDR/HDR Preset Mode for Optimal Performance for the Display
Video Adjust
HDR10
Dolby Vision (Low Latency Compatible)
36-bit Deep Color/"x.v.Color"

Audio Features :

Highly Precise D/A Conversion
Direct Function for Pure Analog Audio Output
Dual HDMI Output
PQLS Jitter-less Sound Transmission via HDMI (with compatible AV Receiver)

Convenience :

Disc Information On-Screen Display
BD-Live/BONUSVIEW
Continued Viewing Playback
30 sec Skip Forward/10 sec Skip Back
Auto Power Off
Firmware Update (USB/Network)
Self-Illuminating Remote Control

Playback Media :

BD-ROM (UHDBD/3D BD/BD)/BD-R (DL)/BD-R LTH/BD-RE (DL)
DVD-ROM (DVD-Video/DVD-Audio)/DVD-R (DL)/DVD-RW/DVD+R (DL)/DVD+RW
Audio CD (CD-DA/SACD)/CD-ROM/CD-R/CD-RW
USB Memory/HDD

Terminals : HDMI 2 Out (1 Main for Audio/Video, 1 Sub for Audio), Digital Coaxial Out, Digital Optical Out, USB 2 In (1 Front, 1 Rear), Ethernet, RS-232C, Analog Audio Out (Unbalanced), Zero Signal Terminal (for Audio/Video Quality
Tuning)
Dimensions (W X H x D) : 17-1/8 x 4-5/8 x 13-1/4 inches (435 x 118 x 337 mm)
Weight : 22.7 lbs. (10.3 kg)