Polk Audio RTi A7
Design -

92%

Movies performance -

90%

Music performance -

90%

Inputs and Features -

92%

Price / Quality -

90%
---
Cheapest Places to Buy :

---
For anyone that deals with audio, either it be music or home theater systems, the name Polk Audio is a familiar one and it's a brand that has been connected with good quality for both their low cost and more higher quality speakers. In 2007 Polk Audio introduced the RTi lineup which included a complete set of speakers including 3 floorstanders, 2 bookshelf speakers, 2 center speakers and 2 surround loudspeakers. In our Polk Audio RTi A7 review today we will be looking at the second biggest floorstander in this lineup behind the top A9 model and while there are many similarities between them they also have some very distinct differences.
This lineup may be available for so many years now but being still available shows how good they really were when they first came out and are still popular to this day. The A7 specifically, tries to find a balance between the RTi A9 design that goes all out with it's size and available hardware and a more compact design that would make it suitable for smaller spaces. The RTi lineup features many of Polk Audio's characteristic technologies both for it's cabinet as well as for the drivers used and really show the effort that Polk Audio put into them when in the design stage.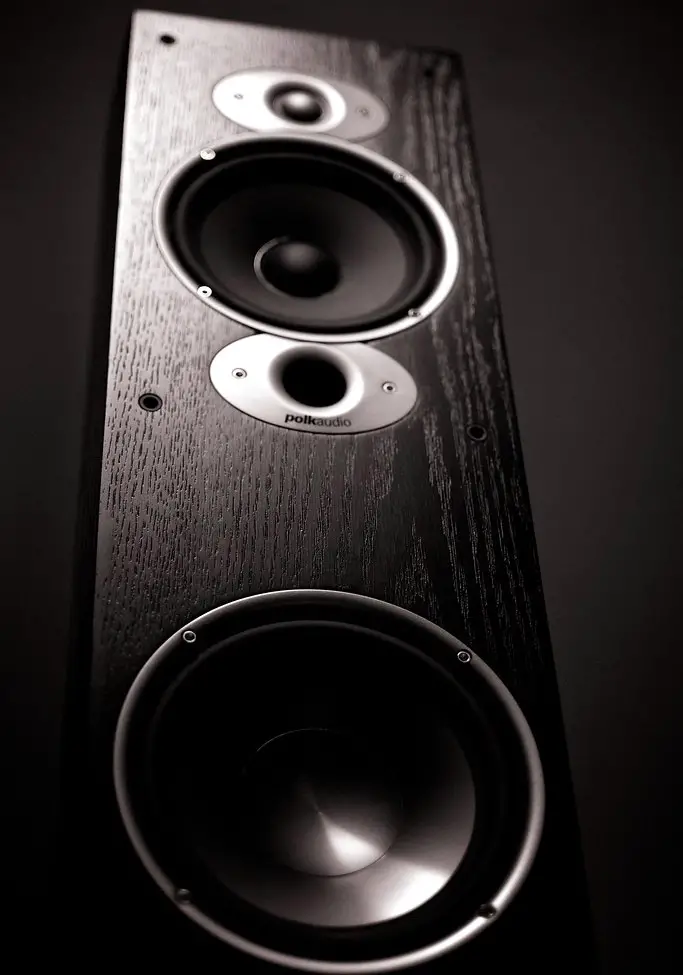 With a price that hovers around $600 each, the RTi A7 finds itself in a category that feels overcrowded at the moment as there are many good choices and excellent contenders that fight for a market share in this price range. With a price like that the A7 sits at the sweat spot between affordable for the casual masses and those that seek something a bit better than an outright casual speaker without going overboard with the price. But if Polk Audio managed to find a great balance with it's price what remains to be seen is how the RTi A7 manages to perform and if it can make a difference in it's respected category. Without further delay let's find out.
Design, Inputs and Features
Exterior
The RTi A7 are no small speakers by any means. They are not the biggest we have tested but with a size of 42.25″ x 8.875″ x 17.875″ (107.32 x 22.54 x 45.4 cm) these will certainly take up some space in your room and if you take into consideration that they need certain space to work their magic then these are certainly not designed for areas that are extremely limited by space. And with a weight of 55 lbs (24.95 kg) these are definitely not light as both the good quality cabinet and internals up the weight considerably.
Polk Audio has released two color variations with Black and Cherry being the only two options. And while the Black finish looks a little bit too ordinary the Cherry one is definitely a looker and one that definitely feels like it has a character of it's own. And if you combine the color with the intriguing design that goes away from the usual boxy  look with straight lines that many speakers follow then what we get here is a speaker that decided to go outside the comfort zone. With an asymmetric design as both sides panels feature inward curves that end on the smaller back face this doesn't only help the speakers have a rather unique design but also help them with the kind of audio they can produce.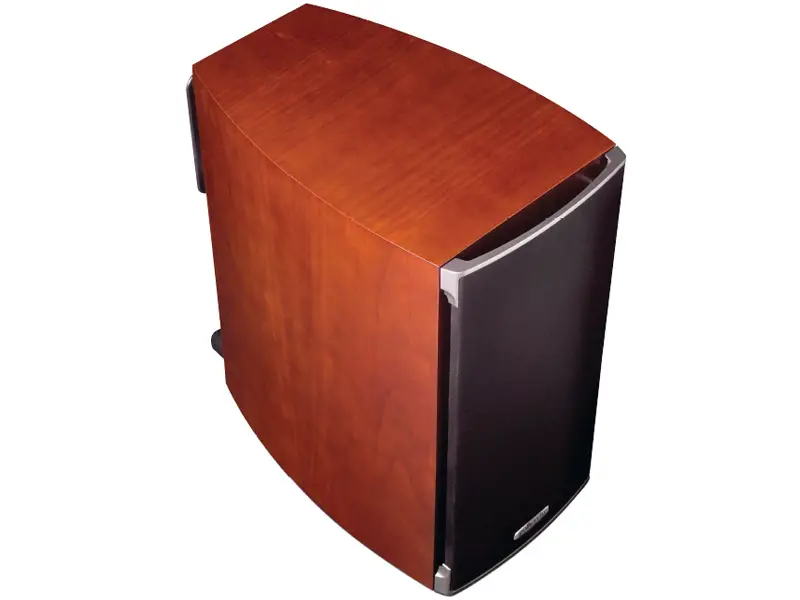 So let's see what Polk Audio did with the cabinet in a little bit more detail. In the RTi lineup they used what they call a Damped Asymmetric Hex Laminate Isolation (DAHLI) Cabinet Design with the intent to produce more clear and accurate sound. These acoustically inert 3/4″ MDF cabinets are created using a 6-layer laminate with 5 viscous layers in order to create a damping system that was specially made for this series.
This unique design not only offers a stronger and rigid construction but the curved lines also helps with less audible coloration from panel resonances. Also it should be noted that the tweeter and mid-range driver share the same cabinet space with the rest of the design but Polk Audio has added what they call a patented ARC Acoustic Resonance Control (ARC) technology which is basically a small front port that is used for more natural mid-range reproduction.
Also the RTi A7 features PowerPort Plus that is basically two ports, one front and one rear, along with internal plates that are responsible for reducing air turbulence and increasing bass efficiency. If you add to these a computer designed tweeter faceplate radius, tapered
enclosure and baffle edge radius you get a system that was created with the intent to minimize diffraction and contribute to a more wide sound imaging. Lastly we should mention that these floorstanders are magnetically shielded so you can place them near TVs or monitors without the fear of creating any audible distortions.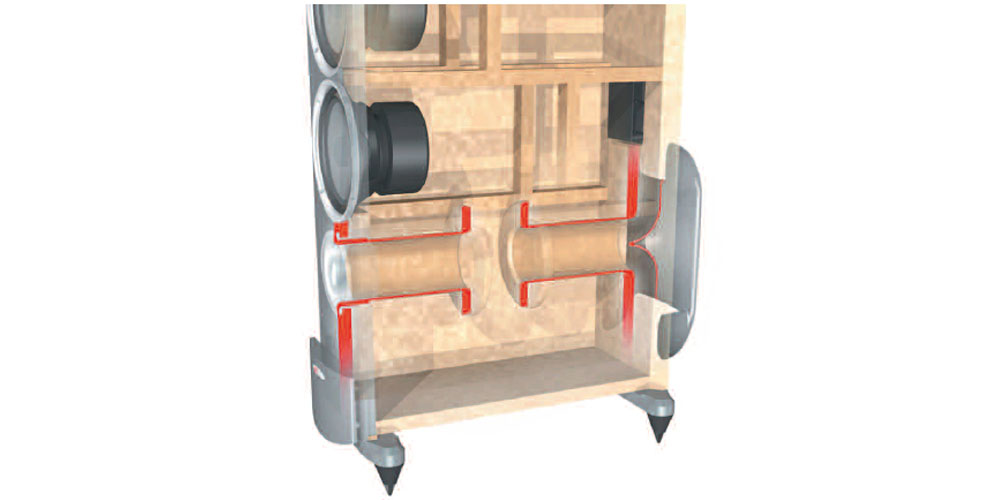 The included feet have a nice curvy design and they are very subtle looking adding to the overall nice and curvy design of the towers. The feet extend to the sides so you have to make sure you have a bit of space where you will place them as they definitely enlarge the necessary footprint of the speakers. The included feet offer excellent stability for hard floors but in case you want to place them on carpet there are spike feet that you can screw on the bottom. We really dig the design of the feet as they curvy look fit amazingly with the rest of the lines. Their side extension is not so much to become troublesome while they keep the towers very stable at all times.
The included grille frames cover the whole front baffle keeping a minimalism design when the drivers are covered. Small design touches like the top and bottom molding really make a difference as they fit perfectly with the rest of the materials while the Polk Audio logo sits at the bottom of the grilles.
Two things to note here, first of all the plastic grilles extend the front face of the speakers slightly and due to their characteristic design some may dislike them. Secondly these are not magnetic which means that if you like to use the towers without them, that we are most certain that you do, the holes where the plugs secure may look a bit ugly.

The back face, which has a smaller size due to the curvy design, features the binding posts as well as the back port underneath them that comes with a covering cone plate that we don't usually see in speakers of this category and is responsible for streamlining the airflow out of the back which can result in better frequency response.
When it comes to the the exterior the RTi A7  masterfully combines looks with technology. The curvy lines certainly give the towers a distinct look which we really loved while technologies like DAHLI, ARC and PowerPort Plus that are implemented on this by Polk Audio shows how much work has gone into this by the engineers.
Internal Hardware
Let's move on now to the more juicy part where we will take a look at what is inside them. The RTi A7 feature a 3-way design by incorporating a 1″ tweeter at the top with a single 6.5″ mid-range driver below it. These two use a common front port that is placed exactly below the mid-range driver and it's meant for providing more natural mid-range performance. Under these we get two 7″ woofers with Polk Audio's PowerPort Plus technology being placed at the bottom featuring two ports, one forward looking and one backward looking that we will talk about shortly.
The 1″ tweeter uses a dynamic balance silk polymer composite dome which ensures smoother response and improved detail while the 6.5″ mid-range as well as the two 7″ woofers use dynamic balance drivers with polymer composite cones and rubber surrounds. These drivers use a neodymium magnet as well as low-viscosity ferro-fluid cooling with a heat sink on the back of the magnet in order to offer better reliability and better power handling.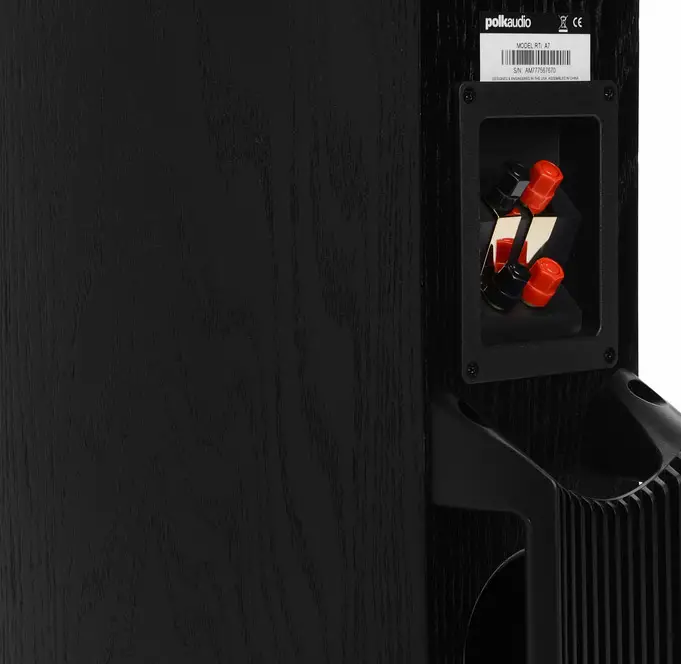 As we mentioned the A7 comes with PowerPort Plus which essentially is two ports looking at each other with one exiting the front and the other at the back. Additionally internal plates are used to reduce air turbulence and maximize bass efficiency. Lastly the included tweeter faceplate radius, tapered enclosure and baffle edge radius create the perfect conditions for wider imaging with minimal diffraction.
This 3-way system has it's tweeter/midrange crossover frequency set at 2700 Hz while the midrange/woofer crossover is set at 125 Hz. Total frequency response is 20 Hz – 27,000 Hz with 8 Ohms of impedance and 89 db of sensitivity (1 watt @ 1 meter). The recommended amplifier power by Polk Audio is set at 20 watts – 300 watts.
Connectivity
The speakers come with high quality terminals that are placed above the rear bass port and offer bi-wire capabilities which some people like while other don't. Each pair is positioned at a certain angle which can definitely help with wire management while gold plated connections are included if you don't want to bi-wire them. The terminals are gold plated, 5-way binding posts which means they can accept various connections like bare wires, banana plugs or pin connectors.
Performance
With the speakers featuring a rear bass port we made sure to leave some breathing space between them and the back wall as these certainly need the room to perform good enough. We also did some toe-in to make them almost face directly to our listening position but this is something you have to try yourself and find the angle you mostly prefer. As in most of our testings we place the towers about 9 feet apart and a bit more than 2 feet from the back wall.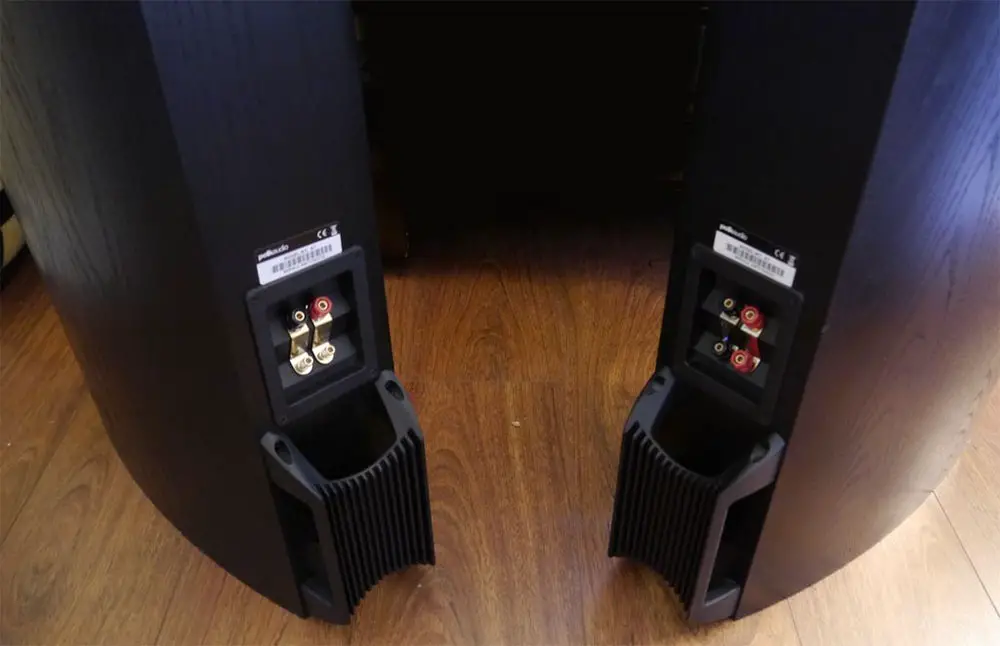 Also keep in mind that if your speakers are brand new they will need some break-in time in order to reach their peak performance. So if at first you find them not exactly to your liking this may have to do with this also. Just give them as much time as possible before you decide to return them in case you are not satisfied. The speakers we tested had already a few hours under use although we were not certain how much.
There are two setups we usually try with all floorstanders. This is usually a 4.0.2 setting without a center speaker or subwoofer in order to determine how good the front channels can cover both of these omissions while for music we tend to go for a simpler stereo setup as most music lovers prefer to do. After finishing all necessary calibrations with our Onkyo receiver we went ahead with our testing.
Movies
For testing our setup we chose to try out the 4K UHD of Midway with it's jaw-dropping Dolby Atmos mix. This mix is a very demanding one as it has amazing surround and overhead activity while the low end is always at the forefront of the action. From the first action scenes one thing that was very obvious was how energetic the high end was. Although it was a bit more than what we would like it was not so excessive to directly call it "bright" but it was definitely more punishing than other towers we had listened to recently.
The front soundstage felt very wide and deep as the fighter planes started their dive attack on those Japanese carriers while things on the low end were very good with enough punch and weight. It was not the most accurate low end we have heard but considering the category we are in, with the A7 things felt pretty satisfactory. A subwoofer would obviously dig deeper and with more thump but it shows that the RTi A7 can also do without one and still be able to give a good shaking experience.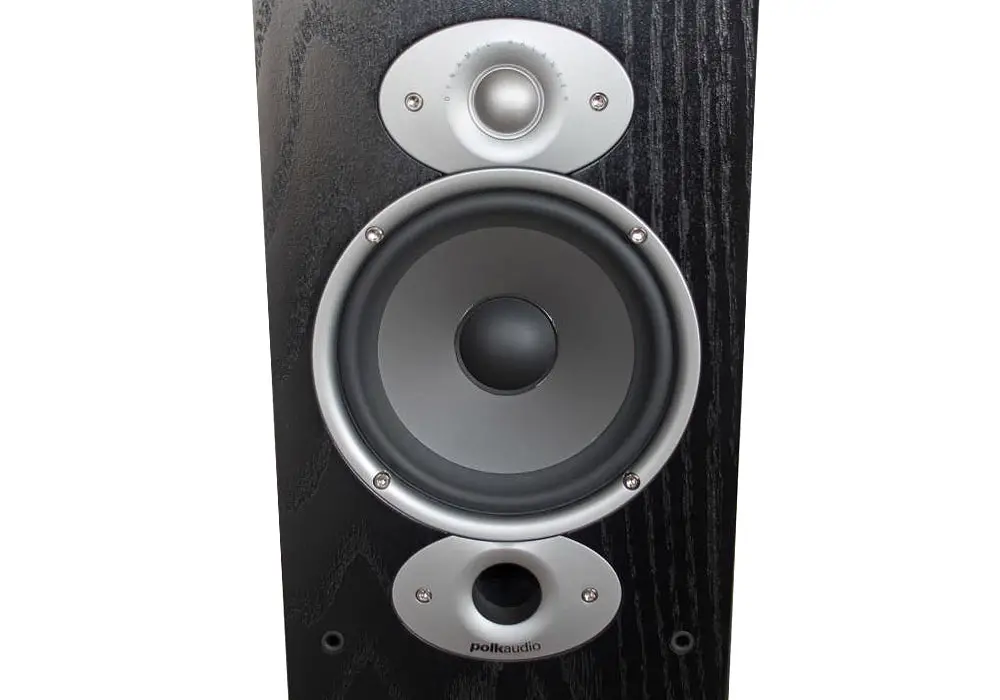 Obviously we are not here to talk much about the overhead or surround performance but we need to mention how nicely the front channels combined with the rest of the channels supplementing each other nicely. Everything felt very clear and with good overall resolution. The roaring engines of the american planes as they were being pushed to the limit to avoid the anti-air fire and explosions felt natural and with a raw texture.
Mid-range felt more balanced than the brutal high end and the front port under the mid-range driver seems to be helping with that. Precision and channel shifting between the two fronts were excellent with the A7s indicating good speed and coherence. With such hectic action the speakers never felt like lagging behind and were always to the point.
When it came to dialogue the front speakers did a really good job at covering the missing center speaker and they managed to fill the center space accordingly with dialogue as if a center channel was present. Even when the soundstage was filled with sound effects the dialogue kept it's clarity and good separation intact from the rest of the audio which was really impressive to be honest.
Overall with a demanding track as the one in Midway you always need to get the most out of your speakers and we felt very satisfied with how the RTi A7 behaved even with a half capable setup as the one we used. We imagine that if we would go for a full 5.1.2 setup or better the towers would feel more focused but we did this as this way we can enhance their weaknesses and make them easier to distinguish. But even as such the RTi A7 are the kind of floorstanders that can really give you an unforgiving performance. If only the high end was not so intruding and we would have a real winner in this category.
Music
Moving on to our music testing we changed into a pure 2.0 stereo setup and selected a few favorite FLAC music files that we streamed through the USB port of our AV receiver.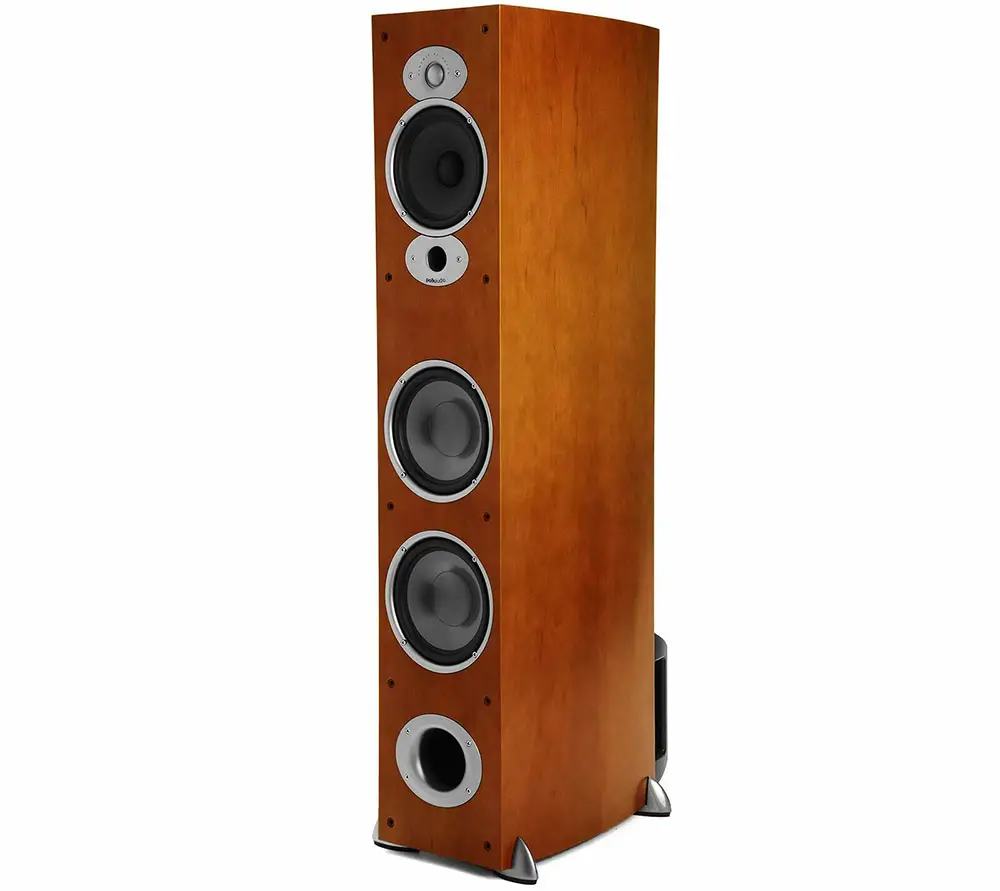 What we liked very much during this test was the impressing imaging and how spatial stereo separation was handled with finesse and accuracy. The soundstage in front of us filled with audio as the towers were very accurate in exact instrument placement. We could close our eyes and pinpoint the source of the sound showing how this was handled by the speakers with great precision.
Once again we liked how handling of the mid-range was easily the best part of this session. Smooth sound as everything came together nicely and at least with the songs we tried we never heard any breaking up. The highs were again a bit too much for our tastes but never reached ear fatigue levels although we can see many people not liking this very much. On the other end of the spectrum the speakers really did good with the bass and trying our a few bass heavy tracks showed us that they can handle it with tight control and managed not to make the sound muddy at all.
Vocals felt very focused and clear even with more demanding songs and everything came together nicely without hearing any audible distortions or major balancing issues. We also tried to push them to higher than usual levels and the towers felt like they were enjoying it. Sound came just as good without loosing any of it's clarity or resolution.
Overall these are some very nice speakers to have for music. If you can pair them with a nice amplifier or receiver they will behave even better but for their price they are certainly an intriguing proposition. If you want a pair of speakers for your music entertainment but don't want to spend big bucks the RTi A7 is a great choice.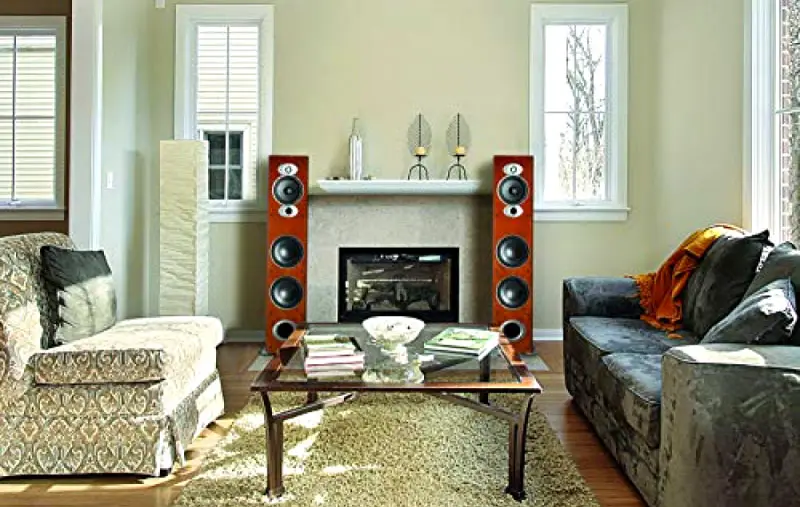 Final Thoughts
The Polk Audio RTi A7 have been in the market for many years now and their popularity show how good speakers they are even to this day. Obviously you can find better performance but for the price asked the RTi A7 is a very good offer as it can offer satisfying performance across the board and this is a result of the careful design as well as the included technologies that Polk Audio used in the series.
The towers honestly have very intriguing look that deviates from the usual and uninspiring boxy look while the quality of the cabinet is extremely good for their cost. The combination of the 1″ tweeter, 6.5″ mid-range driver and dual 7″ woofers allow the speakers to give a very dynamic and playful performance with solid mid-range and punchy low-end while treble lovers will cheer in joy.
It seems that the combination of the carefully manufactured DAHLI cabinet design, PowerPort Plus technology and the included drivers allowed Polk Audio to create a floorstander that has everything it needs for an all-around performance that is ideal and necessary for this mid-range category.
On the downsides the first thing that comes to mind is the slightly over the top high end that may be too much for some even if we never felt ear fatigue. Also the speakers gave us the impression that they need plenty of space to breathe and perform better while we would like to have magnetic grilles with such a nice design but unfortunately if you want to admire these nice drivers the baffle holes is a sight that you need to get used to.
Closing we can admit that we really enjoyed our time with these floorstanders. They may not be perfect but have enough qualities to love them and their performance, considering their cost, is totally acceptable making them an ideal mid-range offer that can be used for both home cinema or music setups. The Polk Audio RTi A7 is an excellent investment at the right cost. What more can you ask?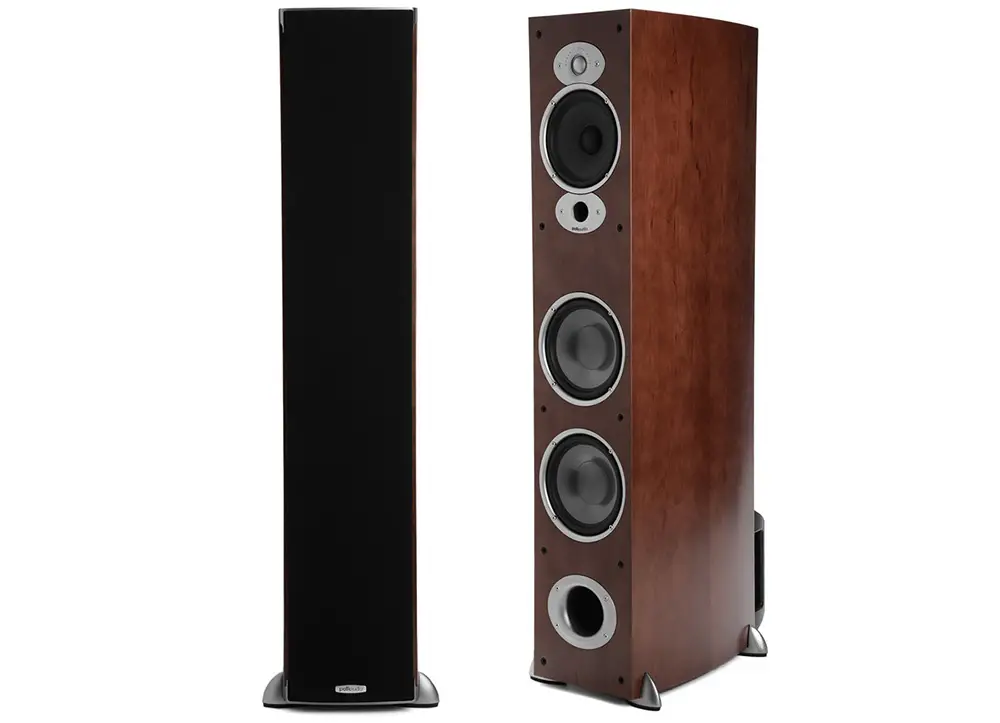 For more reviews you can check our dedicated Floorstanding Speaker reviews list or even look at our Product Reviews Table where you can find the brand and specific product you are looking for.
Also don't lose the chance to subscribe to our Newsletter and gain exclusive privileges.
---
Cheapest Places to Buy :

---
Polk Audio RTi A7 Specifications