Polk Audio Signa S3
Reviewed at $212.00
Design -

80%

Movies Performance -

85%

Music Performance -

85%

Inputs and Features -

84%

Price / Quality -

92%
---
Cheapest Places to Buy :
---
When it comes to low cost soundbar-subwoofer combos there is such a huge market out there that has forced almost all manufacturers produce units that target that specific group. And while a few manufacturers take the soundbar market by storm by releasing a huge range of units every year there are a few that are more limited with their releases. One such company is Polk Audio which has remained a fan favorite in this market segment with their low cost Signa series. Today in our Polk Audio Signa S3 review we will be looking at the latest addition to the series and what differences it has compared to its predecessor.

In many ways the Signa S3 is similar to the previously reviewed Signa S2 but with a few additions this year that would make the new release a better value than previously. The Signa series is the low budget lineup that is aimed mostly towards those who are looking for a respectable upgrade over most average TV audio systems in combination with ease of use and without much fuss regarding setup and everyday use. Obviously the Signa series is not for those that look for a jaw dropping surround experience but in general they offer a lot of value for their cost.
The Polk Audio Signa S3 is a 2.1 channels soundbar-subwoofer combo that combines Polk Audio's expertise in offering good quality sound, it supports Dolby Digital decoding, it comes with a few sound options making it an easy to use unit and with the addition of a few extras like built-in Chromecast and Bluetooth streaming it has all the basics such a low cost unit should have to up its value.
Polk Audio knows which market to aim with the Signa series and the Signa S2 succeeded in offering everything it promised to. Now the Signa S3 takes everything its predecessor had and takes it one step further by adding a few more features that may will certainly find useful in today's always online world. But with so many low cost soundbars on the market does the Signa S3 manages to make a difference? Stay with us to find out…
Design, Inputs and Features
Exterior
Polk Audio had already a very good product with the Signa S2 so they didn't have to go through many changes with the introduction of the S3. In fact the two soundbars look so much alike that you will have to look at the details to find what changes Polk Audio did in the new unit. From the design, internal hardware and general features, most carried out to the S3. As such many parts of our review will be similar to what we observed during our Signa S2 review and obviously we will make the necessary changes wherever we deem necessary.
Looking at the S3 we find the same 2.1 channels design with the two main channels on the soundbar that use a combination of oval drivers and tweeters in order to create a low profile look without sacrificing much of its front output.
In terms of footprint the S3 features exactly the same dimensions which are 35.43″ (89.99 cm) x 2.15″ (5.46 cm) x 3.22″ (8.18 cm) and with a weight of 3.96 lbs (1.8kg) we can definitely say that this is a very compact and lightweight unit making its handling easier than ever. It's not the most compact soundbar we have seen as there have been a couple of units smaller than this but in general this will sit comfortably under most TV sizes.
As with the S2, it seems that Polk Audio's first aim was to keep the cost as low as possible and this slightly reflects on its built quality and construction. As such the S3 keeps a simple design with subtle curves and it's certainly a soundbar that will not draw much attention. The outer shell is obviously made out of plastic but in general it feels sturdy enough.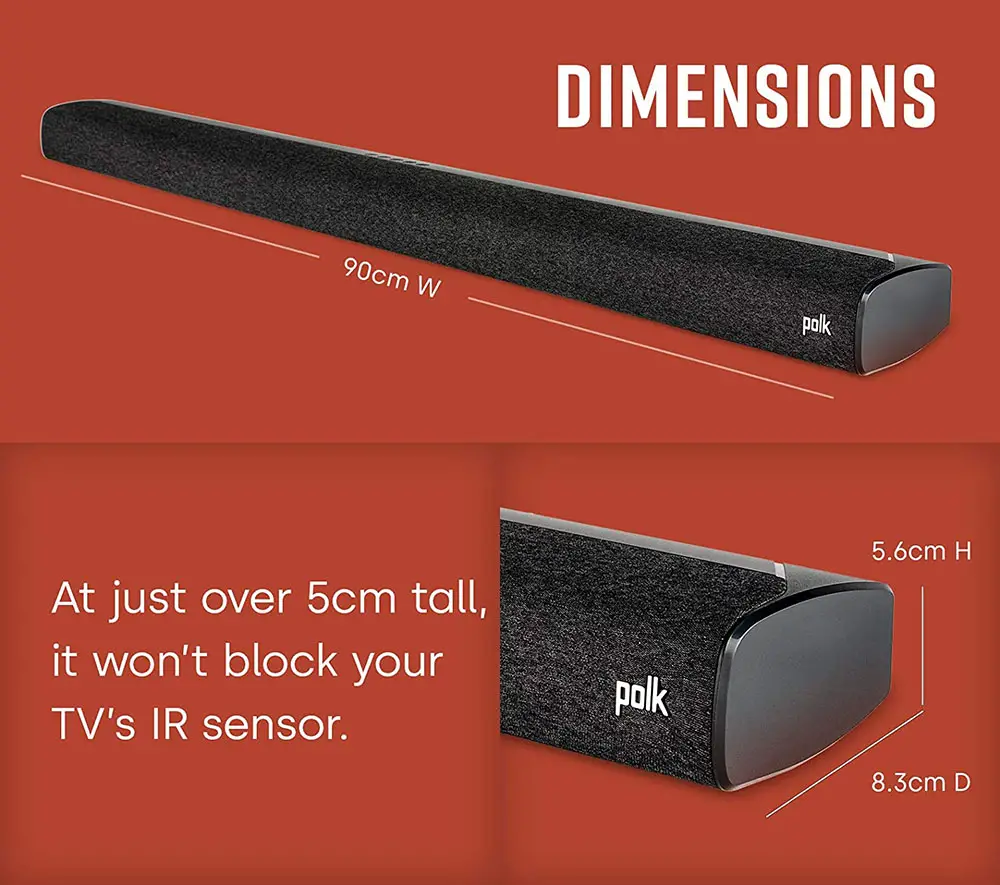 The entire front side and a good portion of the top is covered by a fabric grille, the rest of the top uses a plastic surface while at the back we find the available connections.
The plastic being used has a sandblasted type of matte surface which is far better than having a fingerprint magnet gloss surface. At the top we find five circular buttons in a single line being placed at the center with them being physical buttons that are much more practical than the more premium looking but less functional touch sensitive ones. The buttons available are, from left to right, for powering the unit, input selection, Bluetooth functionality and volume controls.
One thing we always are very critical about when it comes to soundbars design is the kind of functions display they come with. Many manufacturers go for the usual full functions display but there are many low cost soundbars, and some not so low cost, that go a different route and this is to use an array of LED light indicators in order to show what the soundbar is doing. And the Signa S3 is following this trend as it seems that Polk Audio didn't feel the need to change that from the Signa S2.
Placed at the center of the front face exactly under the fabric grille there are four LEDs in a single row and depending the function of the unit different combinations light up. This is the simplest way of a front display being used and to be honest it's not a very practical one. Because if you don't remember the combinations of lights you will have to open the manual every single time to see what the unit is doing. And with other cheap offerings coming with full displays it makes the Signa S3 feel slightly behind competition in this regard.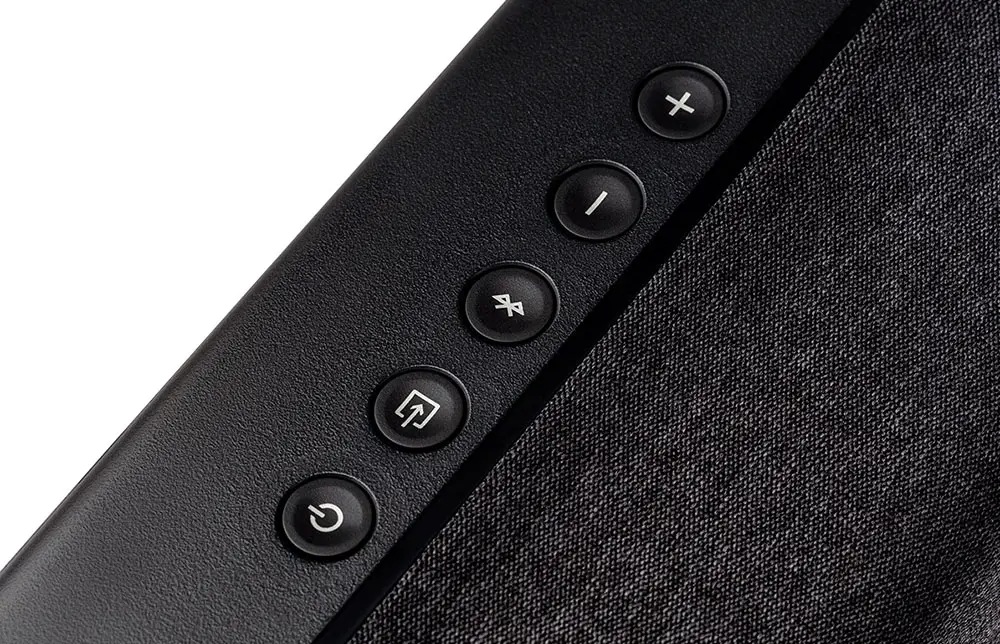 On the back we get a limited number of connectors placed all together in a specially designed inset while there are also special holes in order to wall mount it if you like. The soundbar in general keeps a low profile meaning that most probably it will not cover the IR sensor of your TV but as always it is good to take measurements because the Signa S3 lacks any kind of IR repeater in case your TVs IR sensor is low enough to be obstructed by the soundbar.
Lastly we shouldn't forget to mention about the subwoofer. It's design is nothing out of the ordinary as it's a small rectangle box made out of MDF with the entire front covered in a fabric grille hiding the front looking bass driver. On the front we also find a black gloss plastic surrounding the air port giving it slightly more style. As the subwoofer is pre-connected from the factory there is nothing you need to do and as such the back of the unit only accommodates a single pair button in case that connection is lost and the power connector.
The subwoofer measures 6.72″ (17.07 cm) x 13.4″ (34.04 cm) x 12.2″ (30.99 cm) and with a weight of just 11.46 lbs (5.2kg) this is small and easy enough to handle and place it even in small rooms with limited space.
In total the Signa S3 does not differentiate itself from what we had seen with the Signa S2. Built quality is ok for its price but we would love to get a full functions display that is so much practical to have. But other than that you get what you would expect from a soundbar of this price.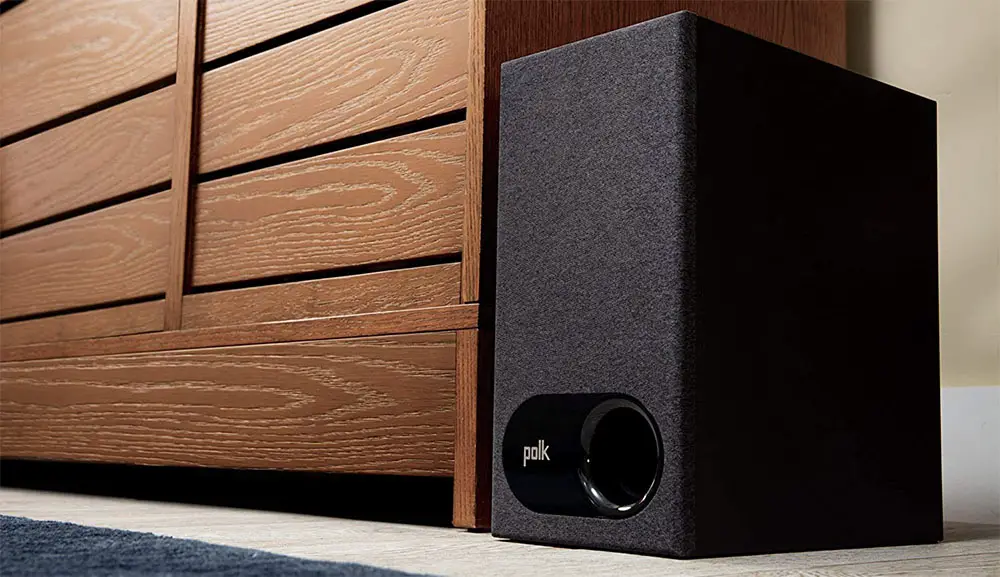 Internal Hardware
When it comes to low cost soundbars there shouldn't be very high expectations on what these come equipped with. And as we see from the Signa S3, Polk Audio didn't bother changing anything in comparison to its predecessor, the Signa S2.
As such the soundbar is featuring a 2.1 channels audio system with the two main channels (left, right) placed on the soundbar while the subwoofer handles all the low end activity.
The front fabric grille of the S3 is non removable but thankfully Polk Audio is generous enough to provide us with all the necessary information. And from what we saw the S3 is using exactly the same drivers as the S2 so you shouldn't expect any upgrade on the sound output. For the two main channels we find two 1.25″ x 4.4″ (32 x 112mm) full-range oval drivers which are very commonly used in low profile units and are accompanied by a single 1″ (25mm) tweeter for each channel that handles most of the upper frequencies.
The subwoofer hasn't changed either so we get a single, front-firing 5.25″ (165mm) bass driver which is a bit small to be honest for a subwoofer. But if you consider the fact that in general we have a small sized subwoofer here as Polk Audio had size as a first priority, equipping it with a bigger driver would have a negative impact on its overall footprint.
Polk Audio nowhere mentions the total power either on the manual or on their website and the only specs we do get is the frequency response that according to Polk Audio is 45Hz to 20KHz.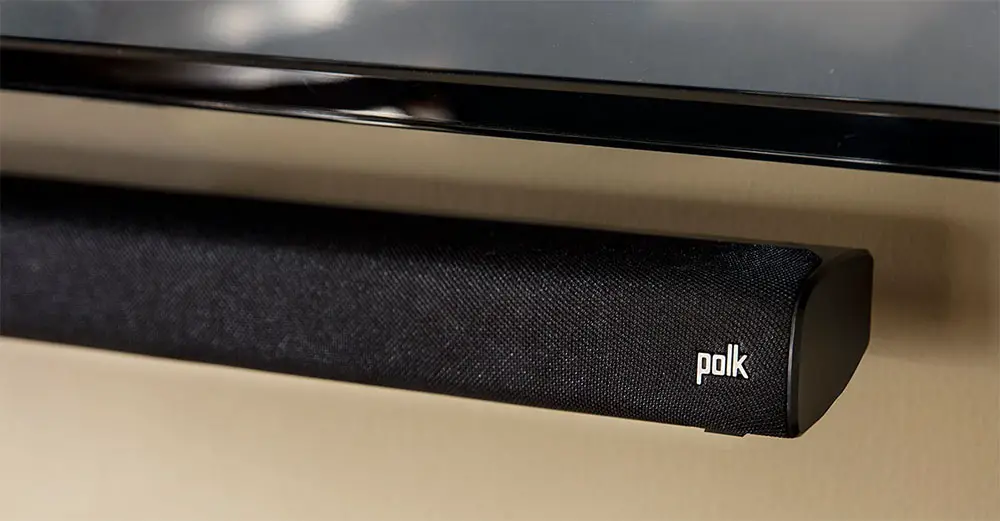 A simple overall setup and honestly we were not expecting anything more. The Signa S3 follows the S2 very closely so its configuration couldn't be any different.
Connectivity
The biggest difference the Signa S2 had compared to the S1 was the addition of an HDMI port with ARC functionality and it seems that the Signa S3 keeps the same configuration. HDMI is so widely used nowadays that no soundbar, no matter how cheap it is, shouldn't be without one.
Except from the included HDMI input we also get an AUX 3.5mm mini jack as well as a Digital Optical input. All three ports are located on an inset on the left side of the soundbar as we look at it from behind while another inset on the right side only houses the power connector. Lastly we should mention that there is a USB port that is located on the bottom side but this seems to be used only for service as the soundbar doesn't have any kind of USB streaming capabilities.
Keep in mind that there is no eARC support in the Signa series in general and the S3 is no different. The soundbar lacks any lossless audio decoding so there was no point in adding eARC and thus the older ARC is enough for Dolby Digital 5.1 surround sound.
The Signa S3 carries on the Bluetooth functionality that we also had seen in the S2 but here we find one of the major differences as the S3 also comes with built-in WiFi greatly expanding its streaming capabilities.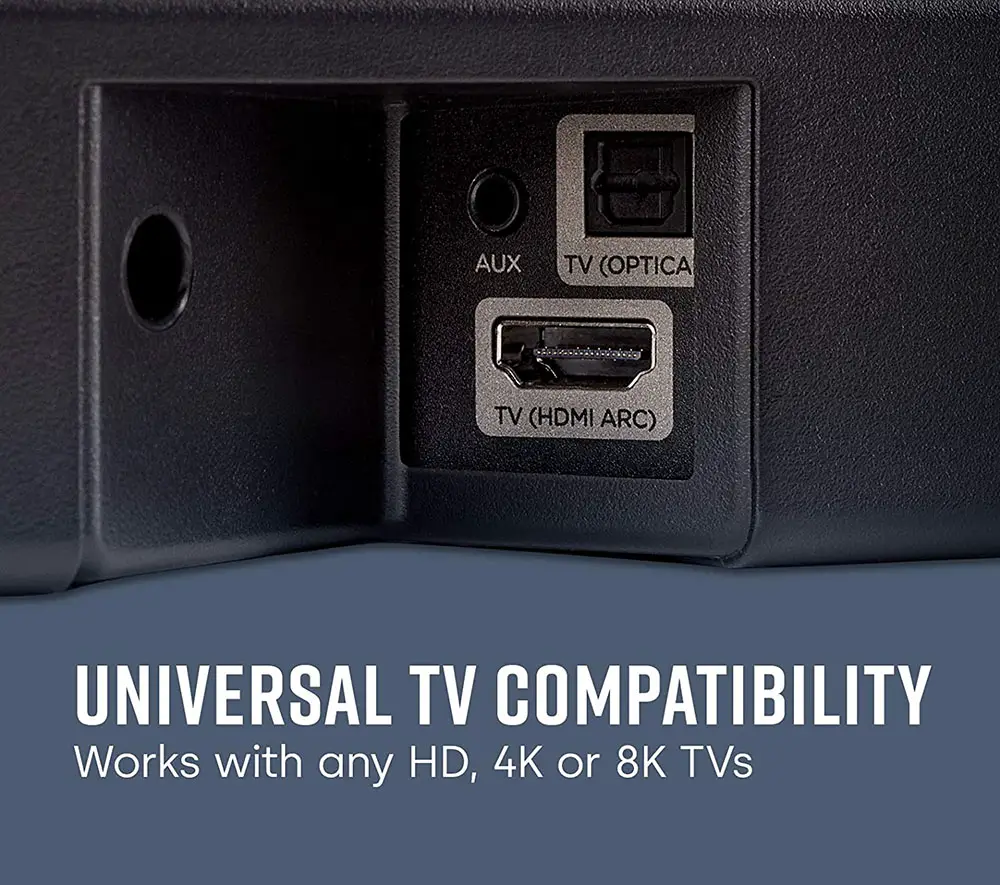 The Signa S3 offers basic connectivity options but the inclusion of WiFi is definitely a plus if you seek a cheap solution but you also are an avid user of streaming music online.
Control Options
Let's see next how you can control the unit. We already mentioned above the built-in buttons with which you can have some basic control of the S3. But obviously the main way of control will be the included remote and from what we see this is exactly the same as the one provided in the S2. With both of them having very similar functions it seems there was no need for a different remote.
The remote is average at best. In general it is rather small making it easy to hold and push all buttons with one hand but it has a certain cheap look to it. There are not many functions on the soundbar so the number of buttons needed are also very limited. On the top we get the power and mute buttons while under them there are three buttons in order to select desired input.
Two large buttons under them are for controlling the volume as well as the bass, next we get three buttons for the different modes you can select depending the content you watch like movies or music while a Night Mode is also available when you don't want to bother other people while sleeping. Finally we get three buttons that adjust Polk Audio's Voice Adjust Technology. We couldn't understand why we needed to have three different buttons for this and we still don't get it. A simple plus/minus control wasn't enough?
The buttons have the usual rubber feeling to them making them pleasant to the touch but the minus is that keeping with its cheap status there is no backlight functionality so using it in the dark can be a frustrating procedure.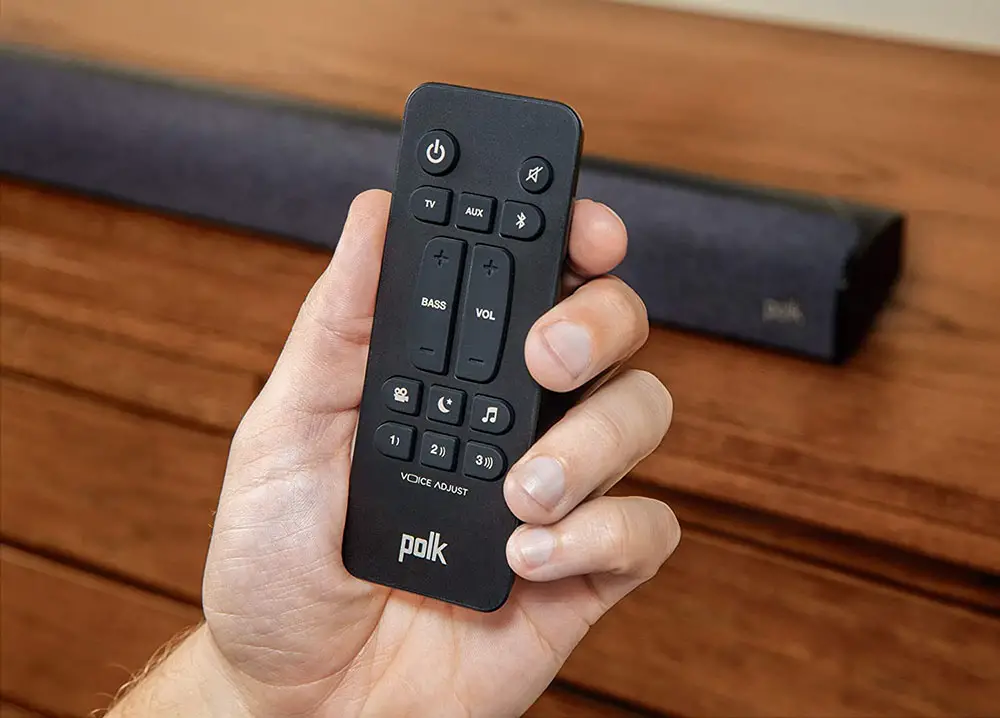 There is also HDMI-CEC functionality. If your TV is connected via HDMI and your TV supports CEC (and it is enabled in the TV settings menu), you can control the volume and mute functions on Signa S3 from your TV remote without any further setup.
But even if you haven't used the HDMI connection and you used optical, you may be able control the volume and mute functions on Signa S3 from your TV remote without any further setup if your TV is one of supported brands and was manufactured within the last 5 years. But even if your TV is not supported the Signa S3 gives you the ability to teach your IR (infrared) remote to control volume, mute and other functions (such as source selection or bass volume) on your sound bar.
But your options don't stop here. As the Signa S3 now has a built-in WiFi module there is also Google Assistant support if you want to use voice controls. The soundbar doesn't have Google's solution built-in as it lacks a microphone array to input your commands but by using an external Google Assistant device you can change basic functions of the unit.
The addition of WiFi does not only benefit Google Assistant but also by controlling the unit through your mobile device. The S3 lacks support for a dedicated app but since it supports Chromecast you can use the Chromecast app to control some basic functions.
The addition of online support is what makes the big difference in the Signa S3 compared to previous releases. As such we get more options adding more value overall.

Extra Features and Services
A low cost soundbar is usually light on features but that doesn't mean that this is a necessity. The more we get the better the value but if we judge the Signa series as a whole these are not the kind of soundbars that feature an extensive list of extras.
First of all let's talk about the supported audio. The S3 can decode only Dolby Digital signals both through the HDMI and Optical port. And while this is more than enough for most cases as almost all content support Dolby's audio we find it unacceptable not to get DTS support also. There are many dirty cheap soundbars nowadays that support both Dolby Digital and DTS and this should be the case here also. So in case you want DTS support the Signa S3 is not for you.
If the Signa S2 was any indication we were not expecting to find a wide variety of sound modes either. At least in comparison to some other brands that don't offer any sound modes at all the Signa S3 comes with some basic ones. You have the option to choose between Movie and Music mode depending on the kind of content you will use it for. But there is also a third one called Night mode which reduces bass and volume dynamics while improving voice intelligibility for low volume listening which can be very handy for late night use.
Polk Audio advertises a lot their Voice Adjust technology that was included in the Signa S2 and has also been used in the S3 by providing three different levels of adjustment. We tried out different settings on this and we believe that the medium setting offers the best balance between dialogue clarity and acceptable audio distortion. The maximum setting would alter the audio far too much for our tastes while the first setting the difference was more subtle.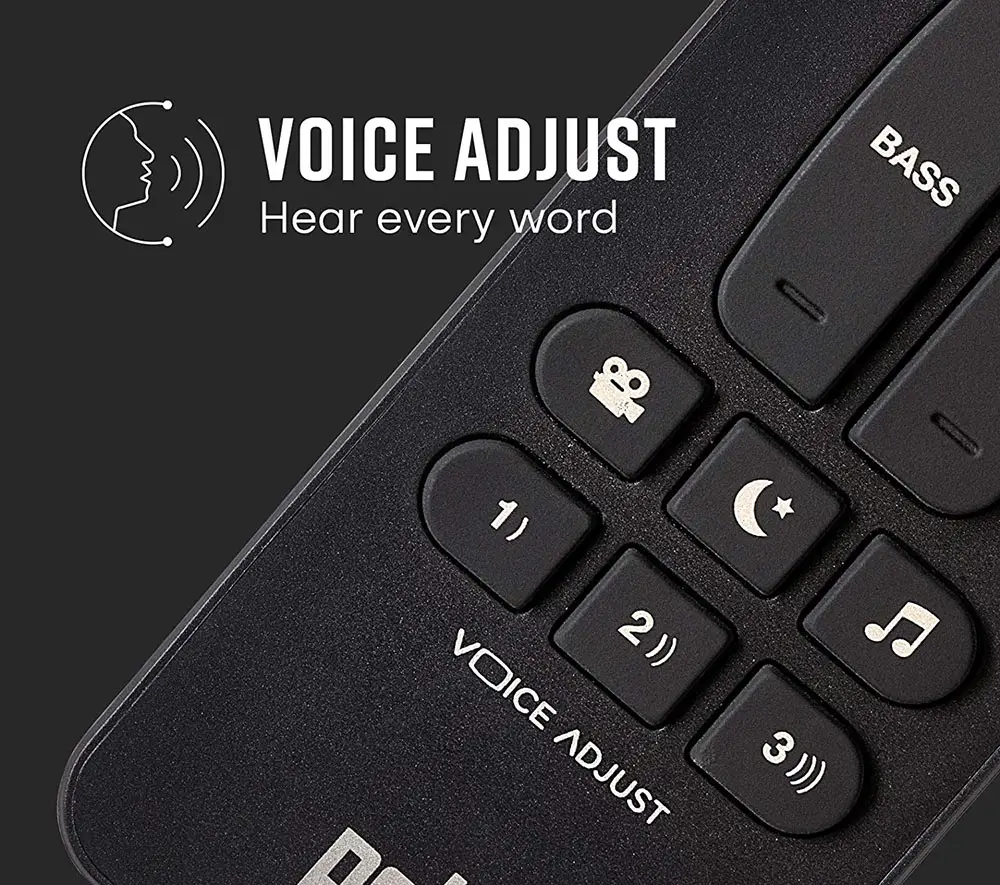 The Signa S3 lacks any kind of EQ settings or auto calibration system and the only other adjustment that you can really fiddle with is the bass. From the remote you can control how much bass you like easy and fast with the press of a button. If you don't like to go through various audio settings and calibrations then the Signa S3 is perfect in this regard.
Lastly we should mention the unit's streaming capabilities. First of all with the built-in Bluetooth you can stream audio from any Bluetooth enabled device. But the biggest addition to the Signa S3 is the inclusion of Chromecast. With it and by downloading the Chromecast app you can stream music from various online services including Google Play Music, YouTube Music, Amazon Music HD, Spotify, Tidal, Pandora, Deezer, Qobuz, iHeart Radio and more over Wi-Fi. But Chromecast is not all about online streaming as with it you can also stream audio to various Chromecast based speakers creating your own multi-room environment.
Unfortunately the soundbar doesn't have any surround speakers expansion abilities that could add vastly to the immersion the Signa S3 can offer. So the soundbar is limited only to the main unit along with the included subwoofer.
The Signa S3 improves upon its predecessor by adding online streaming through WiFi and Chromecast and this is basically the major improvement we get in this. Everything else remains the same and frankly the only thing we are really disappointed about is the complete lack of DTS support.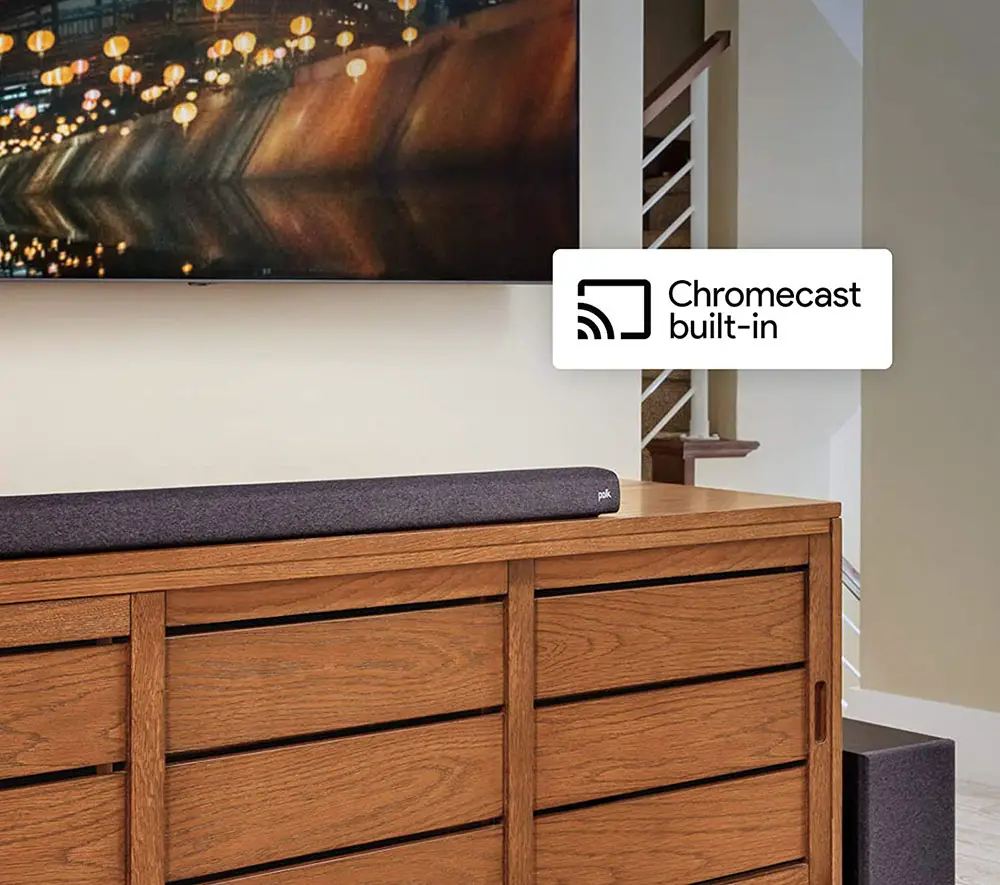 Initial Setup
The Signa series are famous for their simplicity and the S3 follows the same trend. Actually our experience setting this up was exactly the same as with the S2 so this part of our review is similar to what we observed with its predecessor.
Polk Audio obviously wanted this soundbar to be as simple as possible in order to be practically easy for anyone to place it and start using it in no time. There are not a lot of features that could complicate things and even if this is your first audio equipment it shouldn't take you more than a few minutes to have it up and running.
First of all you have to connect the Signa S3 to your TV either through the HDMI or the Digital Optical port, connect both the soundbar and subwoofer to a power outlet and turn them on. Now the soundbar and subwoofer are pre-paired from the factory but even if you have a connection problem a press of the button on the back of the subwoofer while also pressing the Bluetooth and VOL + on the remote will ensure the two will pair again. After that you just turn on the soundbar and you are ready to go. It couldn't be more simple than that.
The Signa S3 is the perfect plug-and-play soundbar. Obviously there will be people that want more options and settings in order to calibrate the sound as good as possible but this is not the goal of this unit. It's goal is to provide a good audio experience without the need to trouble yourself with any calibrations at all.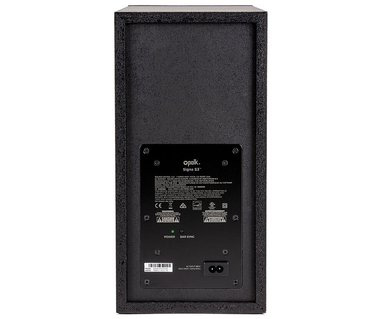 In terms of actual settings there are basically three buttons that you will need to press. Select the audio mode depending on the content, choose one of the three voice adjust settings and calibrate the bass volume. That's all. We may be hardcore audiophiles that like to be able to calibrate every single aspect of the sound we hear but even we have to admit the power of simplicity the Signa S3 provides.
After all being said and done we were ready to put it to the test.
Movies
For this testing we will try out a film that needs no introduction as it's one of the most impressive destruction films in recent years. Yes, this is no other than Pacific Rim in 4K UHD which features a jaw dropping Dolby Atmos mix. Unfortunately here we will not be able to taste the full force of this amazing track and we will have to settle for the basic Dolby Digital 5.1 as this is what the soundbar is capable of decoding only. But with the soundbar's lack of any surround or Atmos capabilities this is not a huge letdown anyway.
Now let's start with the front first. The unit did manage to provide a much grander soundstage than what our TV could ever do and everything felt more satisfying as the sound extended in front of us in all directions. Sound extension was not as much as we had experienced in some other units that were utilizing side-firing drivers but there was some, even if it was not as obvious. The S3 has only two main channels that handle all sounds so its capabilities are pretty limited.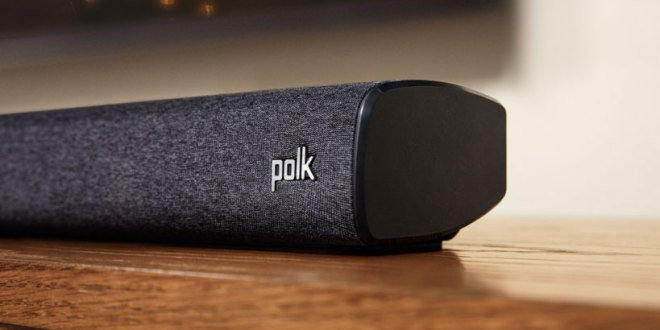 Now as far as the actual sound we really liked what we heard. The mid-range was tight and nicely handled while the inclusion of the dedicated tweeters for each channel did provide the soundbar with nice high end that had good energy and vibrancy. And it was particularly impressive to see how the S3 handled dialogue as it may be missing a center channel but it managed to keep it at the center and always feel clear enough to distinguish between the action.
Now it would be a shame to try a film like Pacific Rim and not try out some of the fights between the Jaegers and the Kaiju monsters and this is where the included subwoofer takes center stage. We had heard this subwoofer before in our Signa S2 review so we knew more or less what to expect. The bass certainly feels much better than what we usually hear in single soundbars but in no way it can be compared to dedicated subwoofers.
The low end had some obvious weight and more punch but the size of the sub did not allow it to go either too deep or to hit the lower registers with vigor. In fact when we started our test we thought that the bass was very light and we had to up its setting a few notches in order to make it feel more satisfying. Overall you get what you should expect from such a small unit. Obviously more alive low end that will give you a few shakes but it doesn't have neither the strength nor power to give you a chest pumping experience.
Lastly we should not forget to mention about the surround experience. Unfortunately the Signa S3 doesn't offer anything in terms of over-the-shoulder activity and all action was firmly fixed at the front. Yes, you will occasionally get some nice stereo panning effects but even these were fixed in front of our listening position.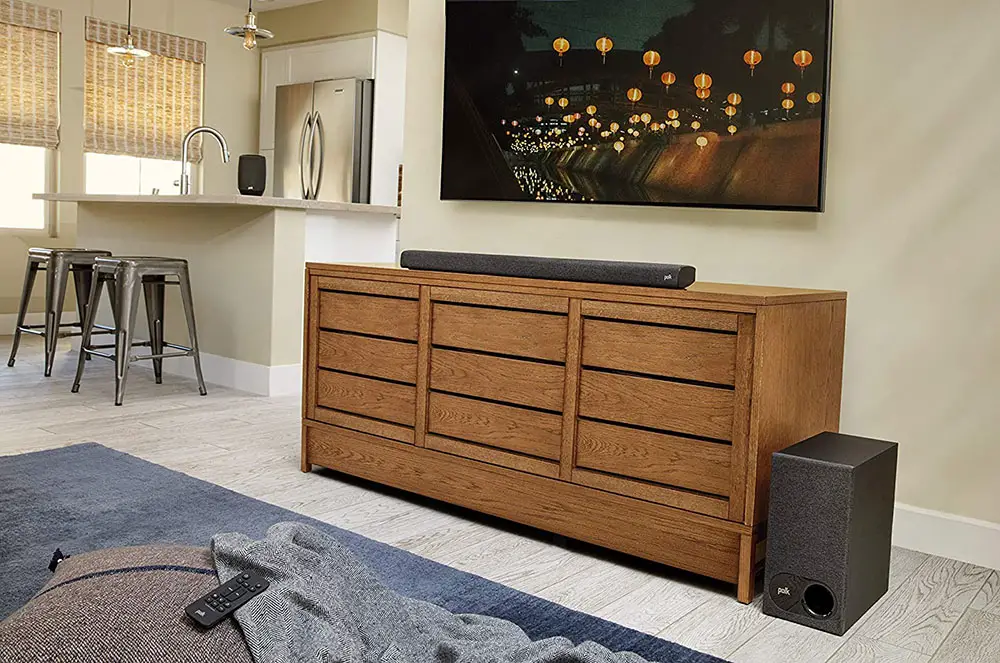 And with the total lack of any kind of virtual tech that could potentially help in this regard the Signa S3 doesn't make any try to be an all around surround audio system. If you don't care much about surround audio then this will not bother you but if you really want to get the feel of surround immersion then this unit will not suit you.
Closing we can say that the Signa S3 is not trying to be something that it can't. More than a few times we have seen soundbars claiming to offer a full surround experience only to be disappointed by their actual performance so the S3 seems to be more careful with what it can achieve. The front soundstage was good enough for its size with tight mid-range and energetic highs while the low end had good weight and certainly is satisfying enough for most causal users. Surround activity was missing in action completely so keep this in mind if you consider buying it.
Music
Since the Signa S3 lack any kind of USB streaming or High Resolution Audio support our only bet at trying out its music capabilities was to use the Chromecast app and stream some audio online. Obviously you cannot get the best quality possible this way but the S3 has limited capabilities anyway.
The S3 can give you a very loud performance but you shouldn't expect much in terms of audio clarity and overall resolution. Not that what we heard was bad but we would describe it as the kind of quality that you can accept if you are a casual user that wants to get his music fix without being too picky about the details.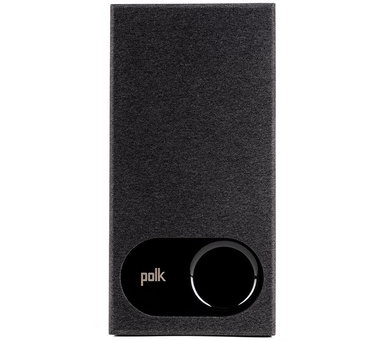 If you are not very demanding then you should expect to get a front soundstage that feels satisfying and alive even though we didn't feel the soundstage extension we would like. Also stereo imaging was good enough without being extraordinary and although you could pinpoint different sound sources the overall feeling we got was that it was lacking in precision and accuracy.
Vocals were nicely rendered with enough energy filling our room with all the emotions of the performer. All the high frequencies were handled with good control and never did the soundbar go over its limits so it was a very easy going session. On the low end the subwoofer kept the tempo nicely and had good rhythm and enough oomph when the moment asked for it. Even when we tried more bass intensive songs we didn't feel like the subwoofer was grasping for air. Yes, it was not the kind of bass that will slap you in the face and you will ask for more but for the price asked and for casual music use it was surely enough.
In general we would say that you get exactly what you pay for. The Signa S3 is the kind of soundbar that will give you a performance that is adequate for casual use and for those that don't have high expectations from such a price point. The soundbar is not perfect, not by far, but it is not bad either and if you are not looking too much in the details it will give you a very pleasant acoustic experience.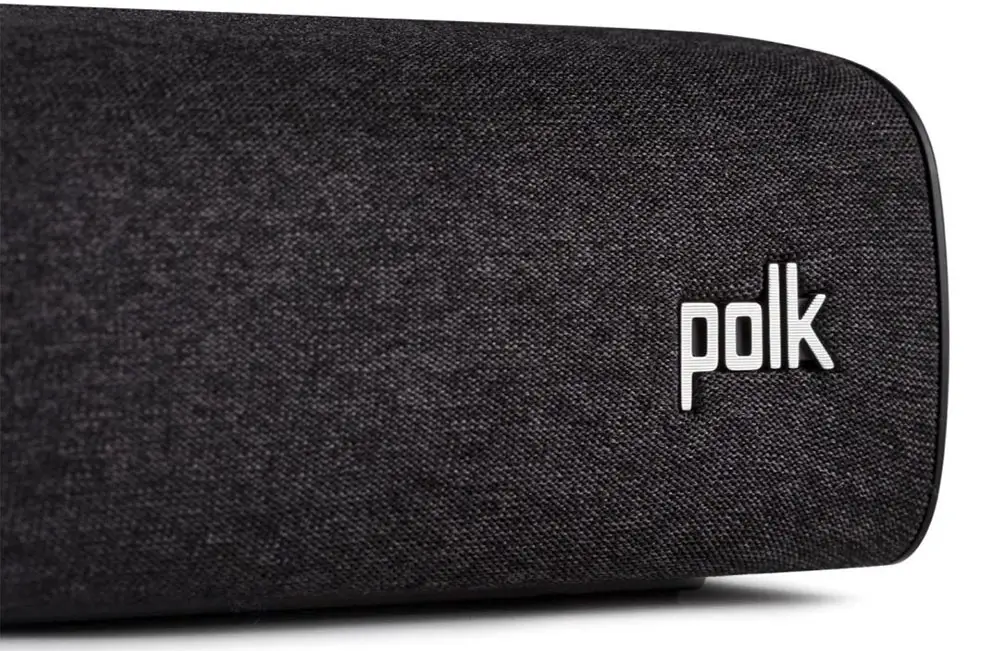 Final Thoughts
The Signa S3 continues to offer everything the S2 and more. Polk Audio managed to keep all the ingredients that made the S2 such a popular choice and spiced things up just a bit in order to add more value to an already good performing soundbar.
The single most important feature here is simplicity and the Signa S3 could not be easier to install and use. Having very few options means that you don't have to spend your time calibrating it or going through many of its settings, you just connect it and you are done. Performance wise the S3 provided a very satisfying front soundstage and nice low end power. If you take into account the addition of WiFi, Google Assistant support and Chromecast this year greatly extends the streaming capabilities of the unit along with the previously available Bluetooth. And with a price that hovers around the $200 mark this is a really great low budget proposal.
But in order to keep the cost so low corners always need to be cut. As such the built quality although still good, it's nothing special to talk about for both the soundbar and the remote. The unit failed to provide any surround activity and it even lacks any virtual technologies that could potentially help with that. We do miss a full functional front display as the included LED indicators add more frustration by having to look at the manual all the time. And lastly the Signa S3 lacks any kind of sound EQ settings so you have no control over its output other than the included sound modes.
The Signa series were always meant for those looking for a low cost soundbar-subwoofer combo that can provide you with a good update over your TVs audio system and it's so easy to use that even a child could set it up in no time. The Signa S3 is the casual soundbar you are looking for and it's a neat progression over what was offered in the S2 and thus it really deserves your consideration.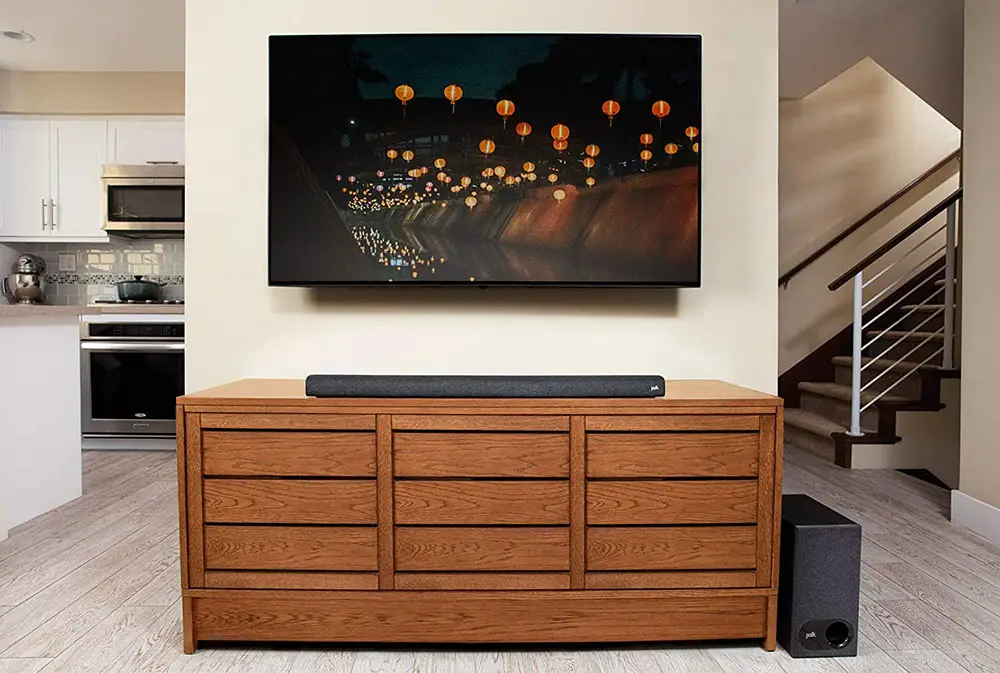 For more reviews you can check our dedicated Soundbar-subwoofer combo reviews list or even look at our Product Reviews Table where you can find the brand and specific product you are looking for.
Also don't lose the chance to subscribe to our Newsletter and gain exclusive privileges.
---
Cheapest Places to Buy :
---
Polk Audio Signa S3 Specifications