Roku Ultra (2020 - 4800R)
Reviewed at $69.00
Product Name: Roku Ultra (2020 - 4800R)
Product Description: 2020 - 4800R 4K streaming player
Design / Hardware -

9/10

Remote -

9.1/10

Playback performance -

9.4/10

UI, Content and Apps -

9.4/10

Price / Quality -

9/10
Summary
Reviewed at $69.00
Pros
Improved streaming speeds
Dolby Vision and Dolby Atmos
Huge app support
Great remote
Cons
Very simple user interface
Weak built-in voice assistant
Tough competition from smart TVs
---
Cheapest Places to Buy :
*We are a reader-supported website. When you buy through links on our site, we may earn a small affiliate commission at no extra cost to you. Home Media Entertainment does not accept money for reviews.*
---
Competition in the streaming arena has been fierce lately with multiple brands trying to get a piece of this growing market. But if there is one name that is still very much connected to the streaming world that is no other than Roku. Over the years they have updated their various streaming devices in order to keep them fresh and with all the latest bells and whistles so today in our Roku Ultra review we will be looking at their flagship device and what it brings to the table compared to the competition.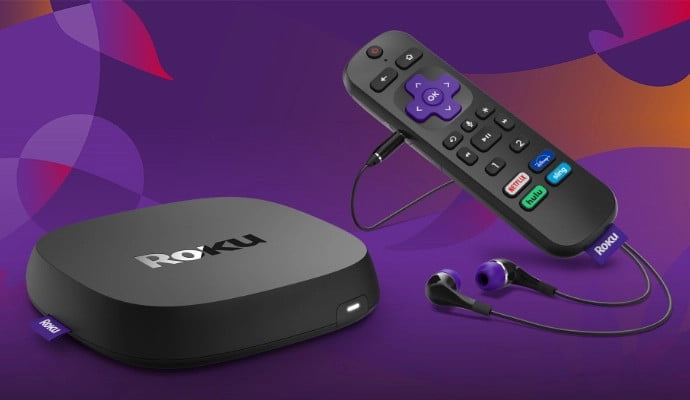 Now keep in mind that some time ago we had reviewed the 2017 version of Roku Ultra which was the 4660 model while the one we have here with us today is the 2020 version (there is no 2021 version yet) with the code name 4800R. Roku offers a few upgrades over the previous Roku Ultra while it also tries to distinguish itself from the rest of the lineup that includes the Roku Premiere, Roku Streaming Stick+ and Roku Express.
What makes the Ultra unique is that for the first time in a Roku device we got both Dolby Atmos and Dolby Vision support. Both of these are missing from the rest of the Roku lineup as both the Roku Premiere and Roku Streaming Stick+ can do 4K and HDR but cannot do Dolby Vision or Dolby Atmos. On the other hand the Roku Express can only stream content in HD resolution. Only the newer Streaming Stick 4K supports Dolby Vision but even that does not support Dolby Atmos along with a few other extras.
But Dolby Atmos and Dolby Vision are not the only additions to the latest Roku Ultra. A faster processor and a better WiFi module promise to offer faster navigation and streaming, less waiting and fewer buffering problems. But in a market where many big players are competing with their own streaming devices does the Roku Ultra has enough to still be considered a worthwhile option? Let's find out…
Design / Hardware
Unlike previous iterations of the Ultra, the latest 2020 version sports a slightly different look. Don't expect anything major as it still is the small box that will go unnoticed most of the times no matter where you place it. With a size of 4.9 in x 5.0 in x 1.0 in (124.4 mm x 127.0 mm x 25.4 mm) and a weight of just 5.9 ounces (167.2 g) the Ultra remains a compact streamer as it should be.
The outer shell is still made out of plastic, although its look is slightly different from the 2017 version while the most notable changes is that the remote finder button has been repositioned to the right side while the USB that was there in the 2017 version has now gone to the back of the unit. The characteristic blue Roku tag still remains the same here as it was before and although it doesn't serve any purpose we like this small stylistic element.
And since we talked about the back of the new Ultra, this features a HDMI port, an Ethernet port and a USB-A along with the proprietary power connector. The HDMI is 2.0b which means it can support up to 4K@60p while the USB is the newer 3.0 version. Also the included Ethernet port is ideal if you don't have a stable wireless signal in your house and with 4K Dolby Vision content having higher requirements in terms of bandwidth the wired way is the one you should prefer for trouble free streaming.
The only thing that is missing here is the card reader that has been taken out completely along with the optical audio port that was already missing in the 2017 unit. And while this may be an omission we don't consider it a big one.

Roku claims that the latest Ultra features an improved quad-core processor which means it can stream content faster and navigate through the various menus smoother. More specifically the Ultra 2020 uses an ARM Cortex A55 quad-core processor along with 2GB of RAM which is more than enough for lag free streaming.
But hardware improvements don't stop there as we also find a 802.11ac dual-band MIMO Wi-Fi module that has been upgraded to support up to 50% more range according to Roku. Obviously this will benefit you if you have a big house but even in smaller apartments it will do good as the improved signal means better streaming speeds and less buffer lags.
Remote
Roku has been improving their remotes over the last few years and today they offer great functionality, good looks but most important they are very practical. At first glance the remote seems very similar to the one included in the 2017's model. It has a matte black look with a distinguishable purple navigation pad on top and the characteristic Roku fabric tag on the bottom.
But even though the two remotes seem awfully similar there is one distinguishable difference. And that is the A and B buttons previously present have now been replaced by two programmable buttons above the dedicated ones. The A and B buttons was a bit of a weird design choice as it made the remote look like a gamepad. But who would use a dedicated streamer for something like that? So we definitely approve this change.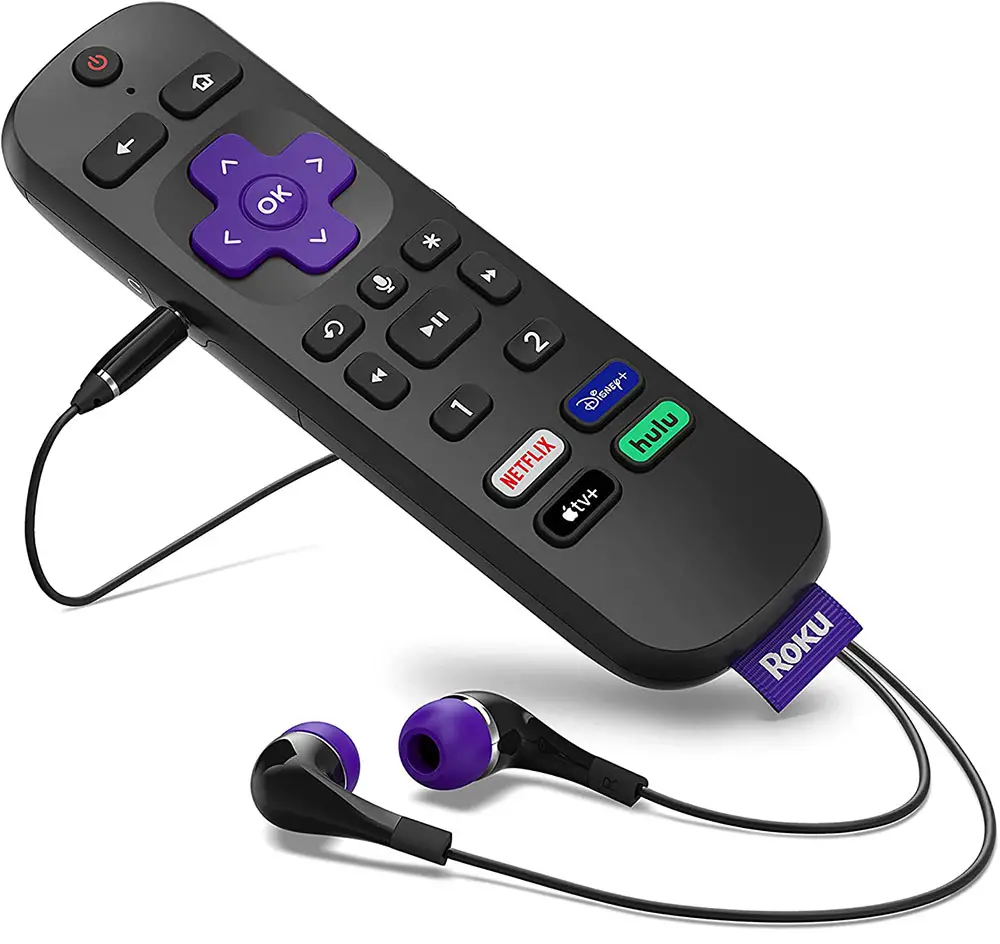 Other than the navigation and the playback buttons Roku has incorporated dedicated buttons for Netflix, Sling, Hulu and Disney+ which replaces the HBO one in the previous version. These can be very useful for those that use these services but completely a waste for everyone else. At least with the two programmable buttons available you can decide which streaming services you want them to open giving some flexibility in that front.
On the left we get the usual headphones jack where you can plug your headphones for private listening, which is a unique Roku feature and one we really adore. By plugging the included earphones the Roku Ultra cuts the audio going to the TV and streams it through the remote. This is such a practical feature that we are curious how other brands haven't decided to incorporate something similar also.
The remote also comes with a built-in microphone that you can use to issue voice commands to the Ultra. We have talked previously about the weak Roku Voice Assistant implementation and the 2020 Ultra is not so much different from previous versions. Unfortunately there is no built-in support for Google Assistant or Amazon Alexa and for those two you will have to use an external device in order to control the Ultra. For basic searching the built-in implementation is good enough but for more generic queries it is more or less useless.
Another feature we like, and one that we haven't seen being used by others, is the lost remote finder. Although this may sound strange to many on how you can loose a remote this is a problem for more than a few people. And being able to find it with a simple press of a button can save you from a lot of frustration and precious time.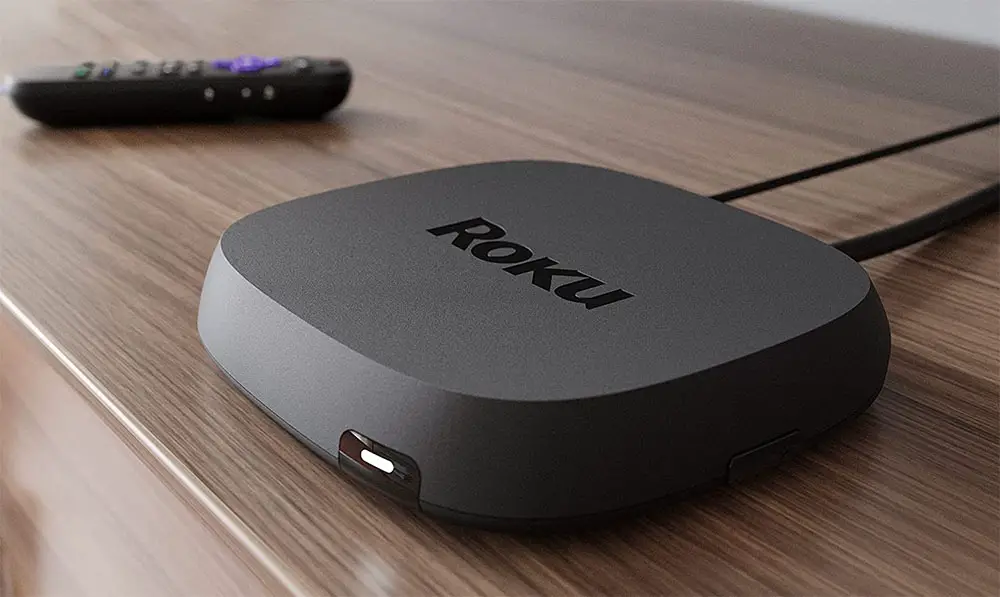 As was the case with the 2017 version when you connect the Roku Ultra with your TV it will identify your TV model over the HDMI port and program the remote with the corresponding codes so you can control your TV with the Roku remote. Functionality is basic as you can only turn on/off and adjust the volume but nevertheless this can be very practical in some situations. Some TVs will even allow you to change TV channels but this will not work for all brands and there is no indication which ones this work with and which don't.
Playback performance
The 2017 Roku Ultra was a stellar streamer but came out at a period when Dolby Vision content was starting to become more and more available. And this, along with Dolby Atmos, was probably the only major missing features one could ask for. Roku listened and for the 2020 model we got both Dolby Vision and Dolby Atmos support along with DTS Digital Surround which may not be used so much in the streaming world but it is nice to see it being available mostly for local content.
Most streaming services that support Dolby Vision would play without a single problem with the new Roku Ultra if you have a TV that supports it. But even if you don't the Ultra will play in 4K with HDR10 or 4K in SDR depending your setup without trouble and depending what the streaming service is offering for each film.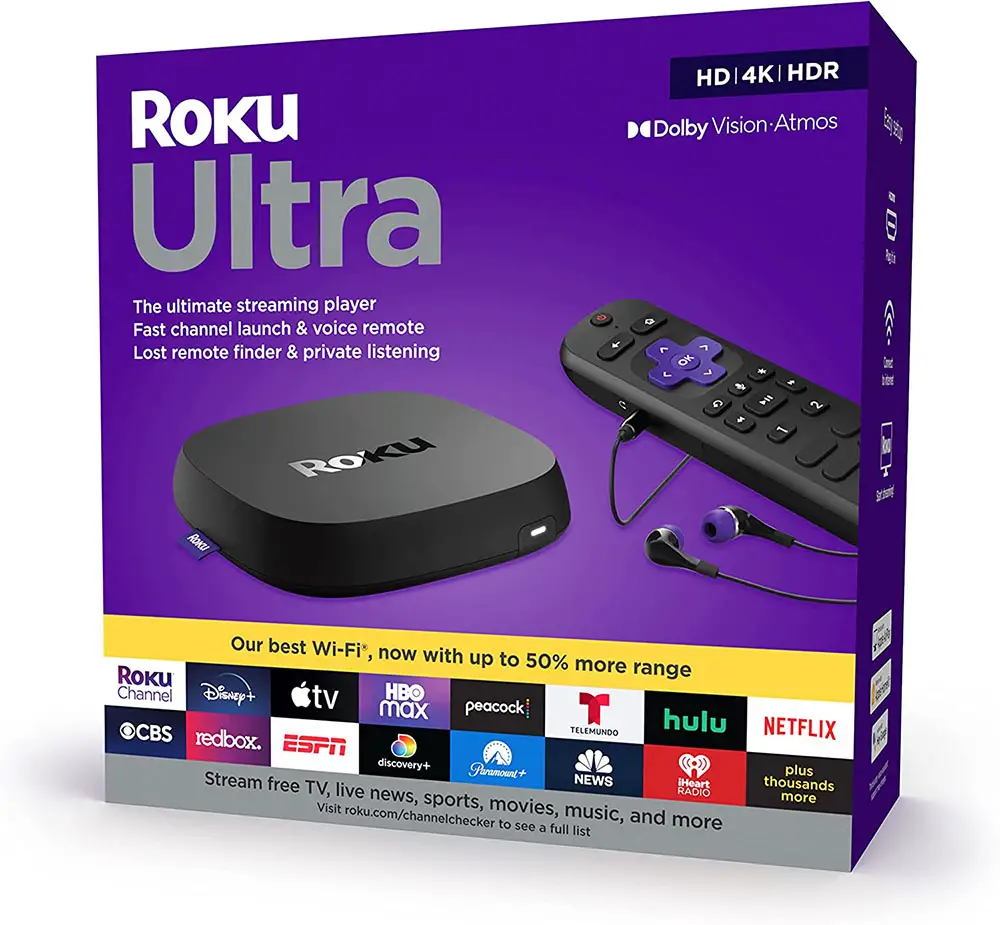 Roku is heavily advertising the improved speeds you will enjoy with the new Ultra and from what we saw this was true most of the time. Now, don't expect to get major speed upgrades over all the streaming apps available but with some we saw bigger improvements compared to some others.
For example Disney+ was able to open slightly faster than the old Ultra while with Youtube this time was almost cut in half. Improvements we also saw in loading times for a specific film and again this varied from service to service and from film to film.
During our review we didn't experience any buffering issues but this obviously has to do with how good an internet connection you have and how good is the wireless signal. Just for your information for this review we used a wired connection in order to get the most stable transfer rate possible.
But the unit also offers USB playback as an alternative. Although most of you will find this a strange addition as what we have here is supposed to be a pure streamer device it doesn't hurt to get some added functionality. The built-in media player is rather good and supports many types of codecs and files like H.264/AVC (.MKV, .MP4, .MOV), H.265/HEVC (.MKV, .MP4, .MOV), VP9.2 (.MKV) and AV1 (.MP4, .MKV) covering the most usual ones.
We did try a selection of files and the Roku played them without a problem but a few heavy files or some odd ones had trouble which was to be expected. The Ultra is not going to replace your dedicated media player but for casual use it will do just fine. As for audio it supports all the usual formats from simple mp3 files, to high resolution ones like FLAC and ALAC along with surround audio like Dolby Digital, Dolby Digital Plus with Atmos and DTS.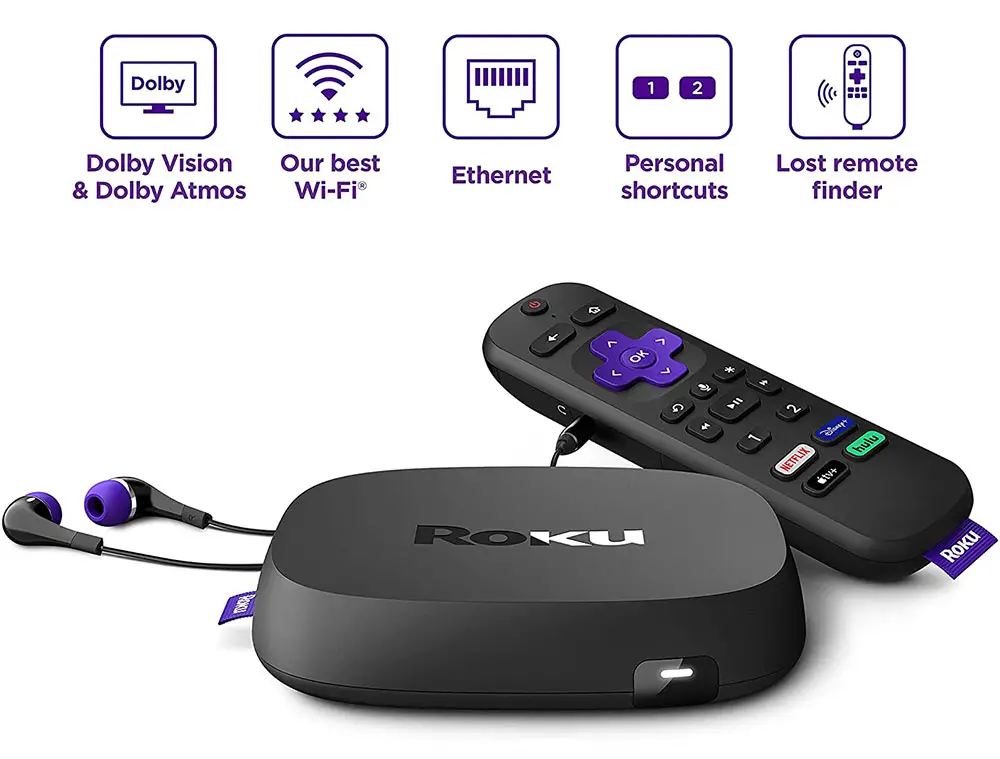 UI, Content and Apps
Roku had always strong support from developers and the latest Ultra is no different. There are literally thousands of apps available (according to Roku close to 4,500 apps) and surely among all these you will find all the big names available. Netflix, Amazon prime, Hulu, Sling TV, Google Play Movies & Music, Vudu, DirectTV Now, peacock, Youtube, Apple TV, CBS, Paramount+, iHeartRadio are only a few of those available.
The only app that was missing during initial launch from the big names was HBO Max and surely it left a bitter taste to the mouth when you consider how complete the Ultra is in terms of available streaming services. Thankfully after some necessary time HBO Max was added and you can download it from the available store. With this the new Ultra is surely one of the most complete, if not the most complete, streamers in the market today.
The only one from the major services that is missing is naturally iTunes and the chances this to appear outside of an Apple product is zero so you cannot really claim that is missing since no other competitor product, except from Apple devices, can offer this. In general you cannot ask for more than what is on offer.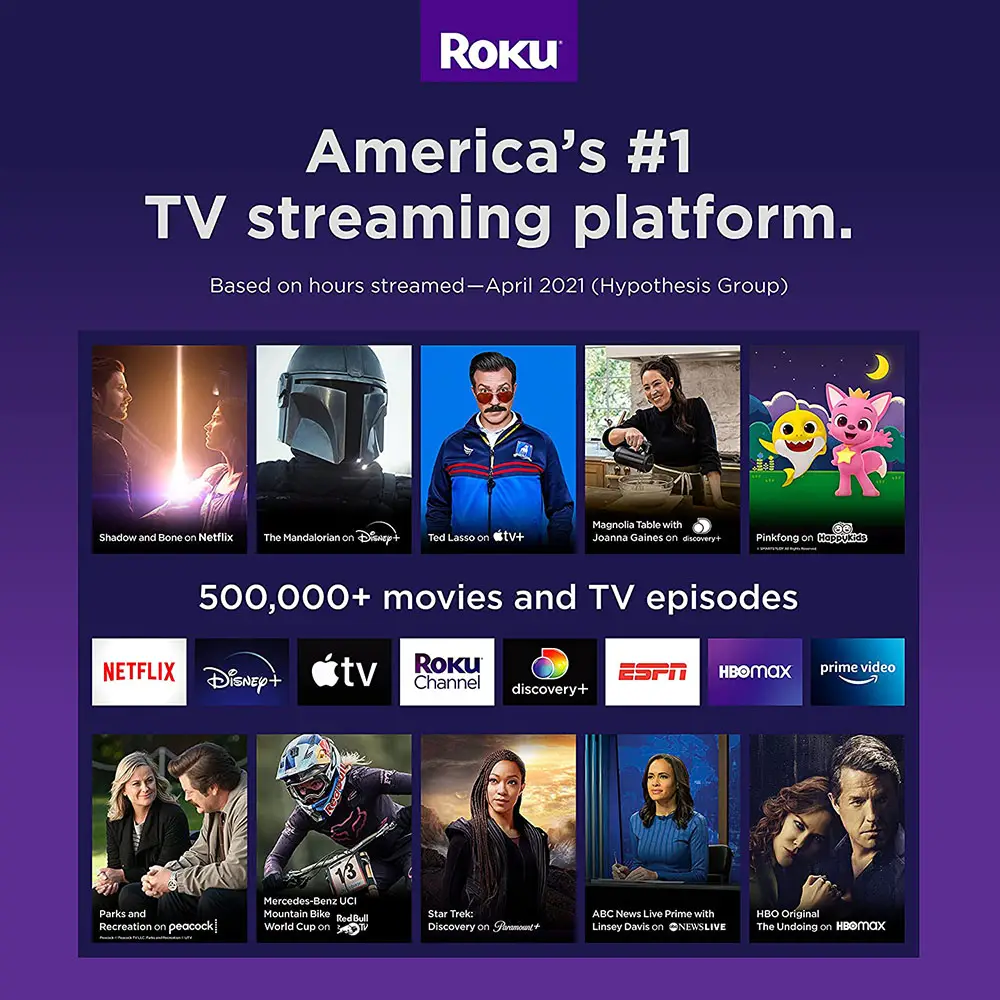 What we liked very much is the simplicity of the user interface which by the way has remained the same for the last few years. You download the apps or services you want, customize the tiles in the main screen in rows and click to open them. There are no folders or sub menus like some other devices offer and this can be good and bad as you will have to organize your apps very good if you are using more than one but it can also be good thing as this reduces the time between you and your content to just a few seconds.
For some the Roku interface may seem very simple and doesn't allow a lot of freedom in terms of customization but in reality Roku kept it the same because simplicity is what they want and while this may have its ups and downs in the end this is what most of its users ask for.
The Ultra was always a bit weak when it came to Apple products but after an update Airplay and HomeKit were added making it easier to cast the app to the Roku if you are fond of Apple devices. On the other hand if you are an Android user you can use Chromecast to screen cast your mobile device on it.
And lastly you have the option to use Roku's free mobile app to control the Ultra. With its functionality it can be used as an alternative to the included remote, search with your voice or mobile keyboard, enjoy private listening with connected headphones, stream free TV on The Roku Channel and even cast videos, music, and photos to your TV.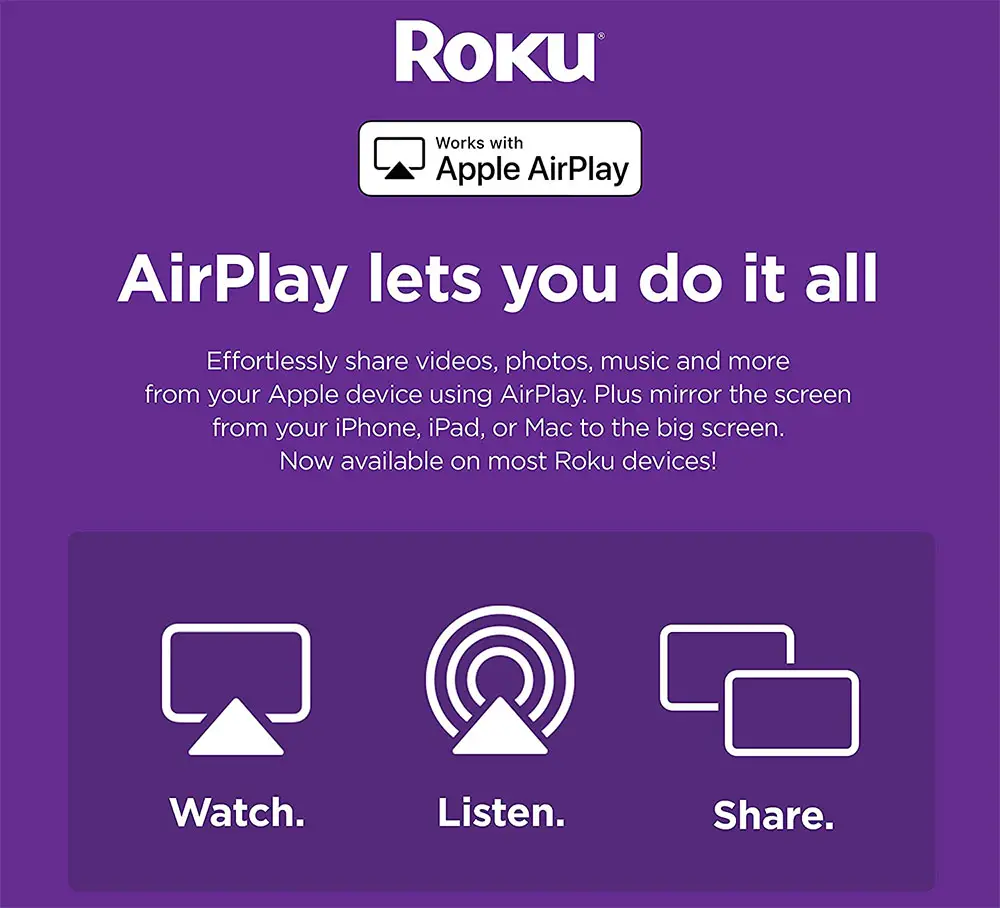 Final Thoughts
Roku has remained a stellar brand the last few years in the streaming world and although competition now is tougher than it was some years ago the Roku Ultra remains a nice competing product. To be honest its initial $99 price tag would put it in a tough spot especially if you consider the competition in the likes of Apple TV or Amazon Fire TV. But with the current price being reduced to just $69 it makes for a vastly intriguing offer.
Roku made sure to update the 2020 Ultra with some important features missing before including both Dolby Atmos and Dolby Vision support. Its streaming services support is one of the best as almost everything has been included while improvements in the streaming and navigation speeds make it a better product overall. The design is simple, as is its use, the user interface is straightforward and the remote, although simple enough, is one of the best among similar streamers.
As for its minuses, some will find the user interface far too simple especially with so many services available. The built-in voice control is not the best or most accurate there is while surely the inclusion of a vast amount of services on the TVs nowadays put a lot of pressure in these dedicated streamers to stay relevant and be competitive offerings.
If you are on the market for a dedicated streamer then the latest Roku Ultra 2020 is an obvious choice. With so much support, better speeds and the inclusion of Dolby Vision and Dolby Atmos that were missing before along with the new reduced price the Ultra remains one of the best dedicated streaming players in the market today.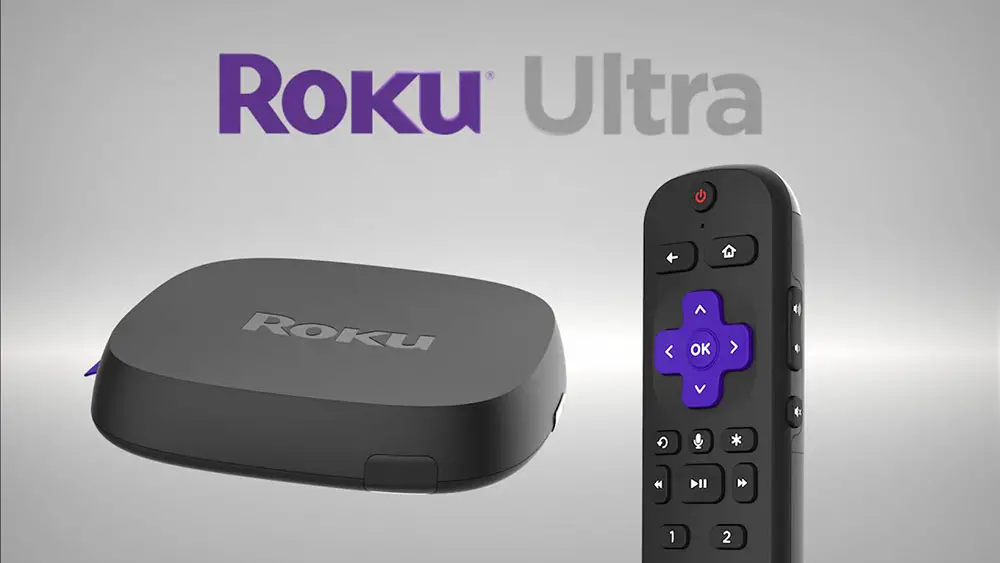 For more reviews you can check our dedicated Streaming Boxes reviews list or even look at our Product Reviews Table where you can find the brand and specific product you are looking for.
---
Cheapest Places to Buy :
*We are a reader-supported website. When you buy through links on our site, we may earn a small affiliate commission at no extra cost to you. Home Media Entertainment does not accept money for reviews.*
---
Roku Ultra 2020 - 4800R Specifications