Samsung AU8000
Reviewed at $629.00 (55")
Product Name: Samsung AU8000
Product Description: 2021 4K Crystal UHD TV
Design -

9.1/10

Video Quality -

8.2/10

Ports & Connectivity -

8.4/10

OS, Apps and Features -

9.2/10

Price / Quality -

8.9/10
Summary
Reviewed at $629.00 (55″)
Pros
Good upscaling capabilities
Slim design
Good for gaming
Tizen
Cons
Not very bright in SDR or HDR
Mediocre viewing angles
Motion performance is so and so
Missing a few smart features
---
Cheapest Places to Buy :
*We are a reader-supported website. When you buy through links on our site, we may earn a small affiliate commission at no extra cost to you. Home Media Entertainment does not accept money for reviews.*
---
Until recently the Crystal series was a good low cost alternative to those that could not afford one of the mid or higher tier QLEDs. But with the arrival of the new Neo QLEDs Samsung had to push this series even further down the performance ladder. As a result they are now almost their most cost friendly series and today in our Samsung AU8000 review we will be testing one of them.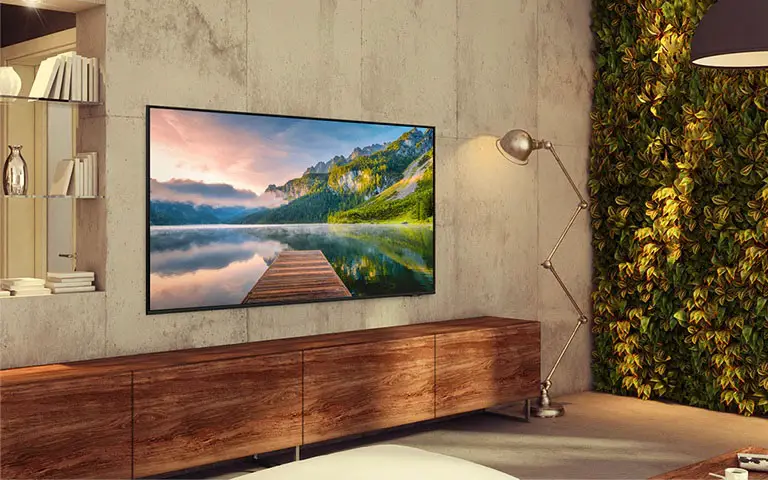 Although Samsung still offers their UHD series as the most affordable one, the Crystal series are mostly aimed for those that look for a 4K TV but without having a lot of expectations in terms of picture quality. There are two offerings in the Crystal series and looking at the specs both of them are pretty close to each other with the AU8000 we have here coming with a slightly reduced feature set compared to its bigger brother, the AU9000.
But what does the AU8000 offers in terms of specs? Being at the bottom of the performance ladder things are very basic really. An Edge LED light system with a VA panel and a 50/60Hz frequency is what you get along with Crystal Processor 4K that returns from last year. As for sound we find Samsung's OTS Lite while there is HDR10+ support along with the new 2021 Tizen but it seems this comes as a stripped down version as there are a few features missing compared to the QLEDs we had tested before. There is only HDMI 2.0 here while one visible improvement has to do with its slimline design and new One Remote.
With the AU8000 being the direct replacement of last year's TU8000 it will be interesting to see if there are any major changes between these two models and if Samsung has managed to improve on any of the weaknesses the 2020 offering had. So without any further delay let's start our analysis.
Design
The first thing that we noticed in terms of design is how much the AU8000 borrows in terms of looks from the Q60A. We could say that the two models are almost identical but they also have some small differences that can make them apart.
Samsung is promoting their new AirSlim design making the TV far thinner than what the TU8000 was last year. As such the unit comes with a thickness of just 1.2″ (3 cm) making it look exceptionally good when placed on a wall. As with most TVs the top side is slightly curvy but with the TV's overall extremely slim footprint it looks very subtle.
The back of the TV borrows most of its design elements from the Q60A also. The entire back face is covered in a brushed texture plastic, as per usual with most Samsung models, while it seems that the inset that houses all ports on the left side along with the special grooves under it for cable management have slightly moved higher in order for the stand legs to fit below them. Everything else is the standard with the power connector on the right side and only the VESA holes visible for wall mounting.
Even the stand that comes with the AU8000 is similar in functionality to the Q60A but with a bit different look. We still get the usual bench type design which requires bigger furniture and is still made out of plastic but what is different here is that compared to all previously seen bench type designs is that in this one you can adjust its height position. This means that the TV can sit lower than what the TU8000 could but also can go higher in case you have a soundbar and want to place it directly underneath the TV. A really smart design and surely will be appreciated by many.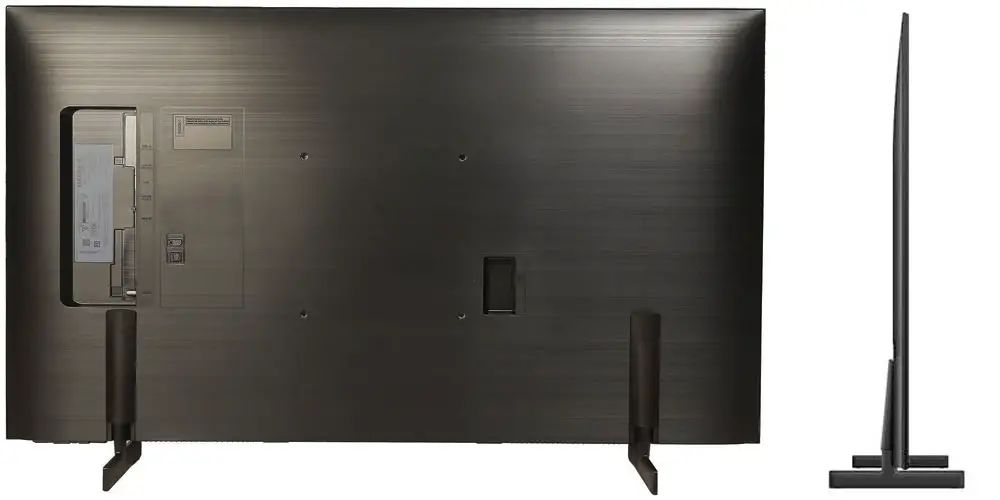 The stand doesn't have any special grooves for cable management but at least plastic clips that attach at the back of the feet are provided to keep all cables together. Another small and mostly cosmetic difference is the reposition of the Samsung logo with the built-in controls to the right side of the front panel something that Samsung seems to be using in the vast majority of their 2021 units.
For 2021 it seems that Samsung decided to make a facelift on their One Remote and while fundamentally it's the same one we have seen the last few years we do find some noteworthy changes. The remote is exactly the same as the one we saw in all our 2021 Samsung TVs so far so it seems that Samsung decided to go with it for their entire lineup this year. First of all its shell is still made out of plastic but has been redesigned and frankly it looks more premium now than before. Buttons layout has remained the same as last year but the big change with this one is that it doesn't use disposable batteries. Samsung has included a solar panel at the back for charging or alternatively by using the included USB-C cable.
No other changes as we get the same built-in microphone that you can use in order to issue voice commands, it has the same HDMI-CEC functionality as it can act as a universal remote for other devices while it can also be used even if there is no support for HDMI-CEC. In general the remote got some cosmetic changes while the inclusion of a rechargeable battery is an interesting one even if not everyone will like it.
The AU8000 may not be a premium unit but it certainly looks nice and this stems primarily from its new slim design and redesigned remote. Also the adjustable feet is a nice and really practical feature and will help many that have a soundbar to place underneath the TV. Yes, the entire body is made out of plastic but everything seems well built and we have no bad things to say considering the price category this one belongs to.

Video Quality
Processor technology used
It seems that in terms of processing power there is no change at all as the new AU8000 borrows the same chip as last year's model.
So Samsung has used what they call a Crystal Processor 4K and while specific details on what is different on this chip are not available what is quite obvious is that the Crystal Processor 4K lacks the AI capabilities in both the image and audio departments that the Quantum Processor 4K had that is being used in the QLEDs.
We have thoroughly tested the capabilities of the Crystal Processor before and in terms of 4K image upscaling it is still a very capable chip. For this part of our review we did try several different source videos in multiple resolutions from low SD content and broadcasting material all the way up to 720p, 1080p and 4K resolution and the TV didn't reveal any obvious artifacts from the upscaling process but keep in mind that the end result is always very dependent on the original content quality.
With the Crystal Processor we find some reductions in the audio features compared to the more expensive releases but for this year it seems that there is a small improvement. We do get once again adaptive sound but this year Samsung added to the AU8000 their OTS Lite audio system along with Q-Symphony which we will analyze in detail in the appropriate section.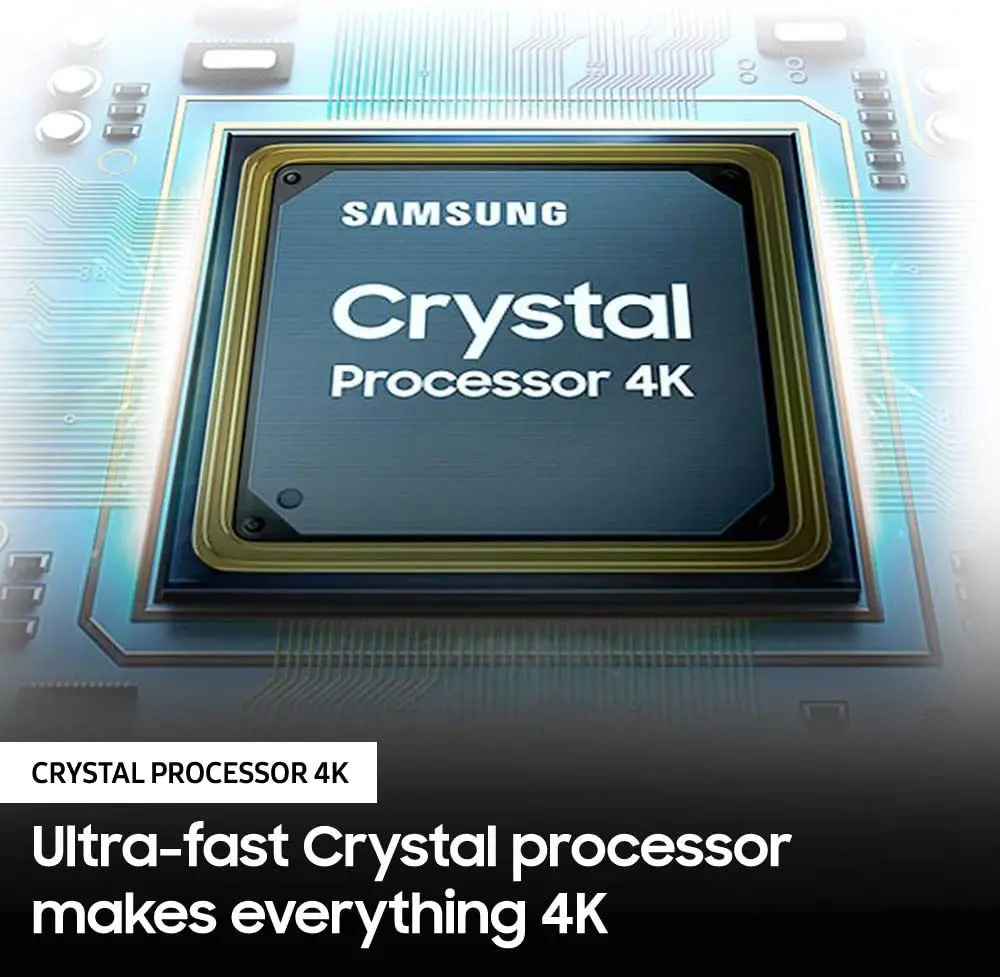 Lighting technology used
When it comes to the lighting system used all Crystal series models go for an Edge LED system without local dimming which is exactly what we got last year in the TU8000 also. Now for those that don't know what an Edge LED system is, the TV is using LEDs usually at the top and bottom of the panel to light the pixels on the screen.
This has some obvious disadvantages and one of them is that when you have very dark scenery and a small bright object at the front, light stripes appear on screen which can lower the overall image immersion. Another problem is that light control and precision is vastly lower and can have a detrimental effect on the final image quality as blooming can become quite distracting in many cases.
The obvious advantages of this system is that it can be used in cheaper models while the overall thickness of Edge LED TVs is usually smaller than those utilizing a FALD system and thus make them ideal for wall mounting.
Brightness / Contrast
Brightness is one of the most looked aspects of any TV nowadays as with HDR content the need for high brightness output is bigger than ever. For this specific part of our review we used the Movie mode with max brightness. In our SDR brightness test over a 10% white window we got 302 nits which is ok for all kinds of SDR material. On our HDR brightness test over a 10% white window we got 314 nits of brightness which is below average really and the TV will look dim in most cases.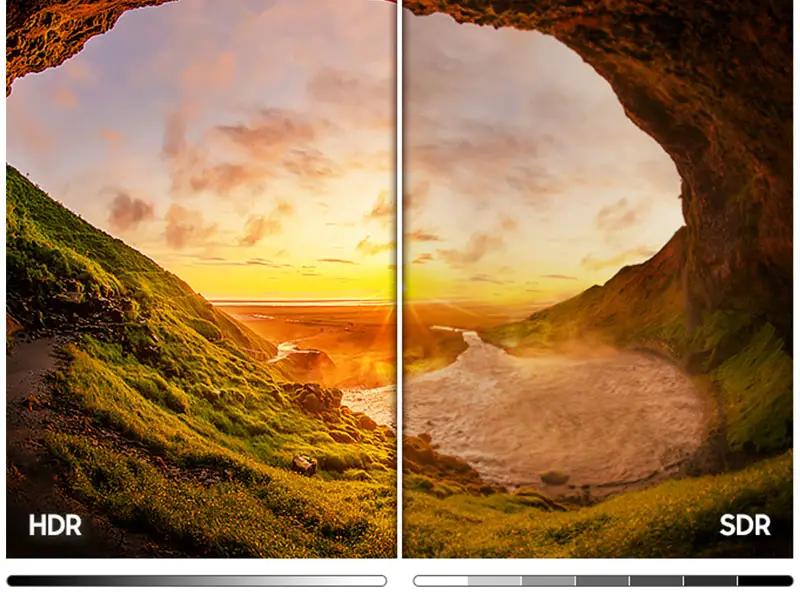 When it comes to the contrast capabilities of the AU8000 things look good enough. Usually VA panels tend to have good contrast ratios and the AU8000 is no different and can display pretty deep blacks. There is no local dimming feature here to improve contrast even further but from what we saw we can say that the AU8000 had a very similar behavior to what we had seen in the TU8000.
Overall the AU8000 is a small improvement over the TU8000 and with so low brightness numbers even a small improvement can be of huge difference. Nothing groundbreaking or very noticeable but the difference is there.
Viewing angles
The AU8000 comes with a VA panel which is very bad when it comes to viewing angles so compared to last year we are not expecting any major differences. The 4K QLEDs series were also using VA panels which resulted in bad viewing angles but in them Samsung had included two variations of the same technology called Ultra Viewing Angle and Wide Viewing Angle in order to improve somewhat this problem.
Unfortunately the Crystal series have none of these technologies and as such this TV has a very narrow field where it can keep it's image integrity at acceptable levels. We would say that 25 degrees with an absolute maximum of 30 degrees is the most this TV can offer. Anything more and image colors, black levels and brightness downgrade rapidly.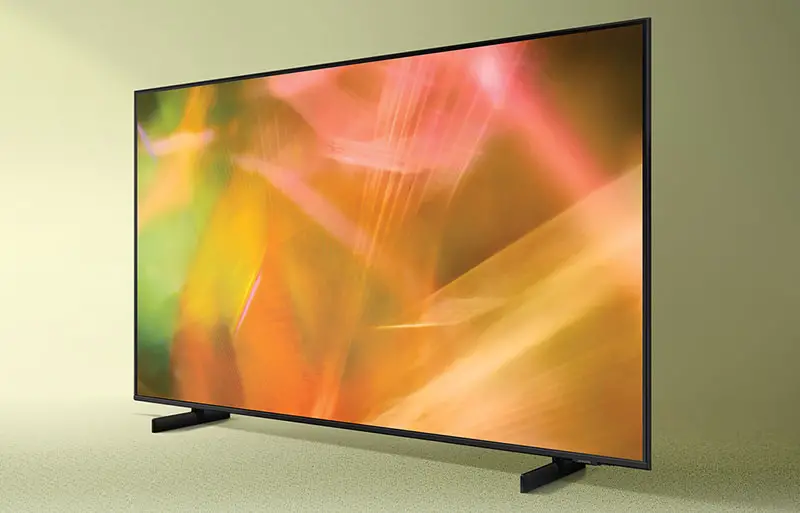 If you have a sweet spot from where you will be watching then this is not such a problem but if you plan to use this one in a family room then we would strongly suggest you try it out first before purchase. But from what we saw the AU8000 offers a similar experience to the TU8000  from last year.
HDR support
HDR support is another area where Samsung has included the same across their entire TV range. As such we get the most basic HDR10 that is required for 4K UHD playback, there is HLG that is used mainly for broadcasting along with the newer HDR10+ which is the most advanced HDR protocol that uses dynamic metadata in order to provide the best image quality on a frame by frame basis and is the main rival of Dolby Vision.
Samsung continues to say no to Dolby Vision and this is another low point this TV surely has. All Samsung TVs hurt from this omission and it's a real shame to see this war keep going like this. No real change here, the TU8000 had the same support last year and the AU8000 continues to do so in 2021.
Color coverage
The whole Crystal series is loosing the Quantum Dot technology and instead settle for the lower spec Crystal Display which means that color coverage is bound to be lower than what the higher tier QLEDs and Neo QLEDs have. During our measurements we got a 82% coverage in the DCI-P3 color space while in the wider REC.2020 we got only 60% coverage which is very low and it cannot be considered that the TV supports wide color gamut.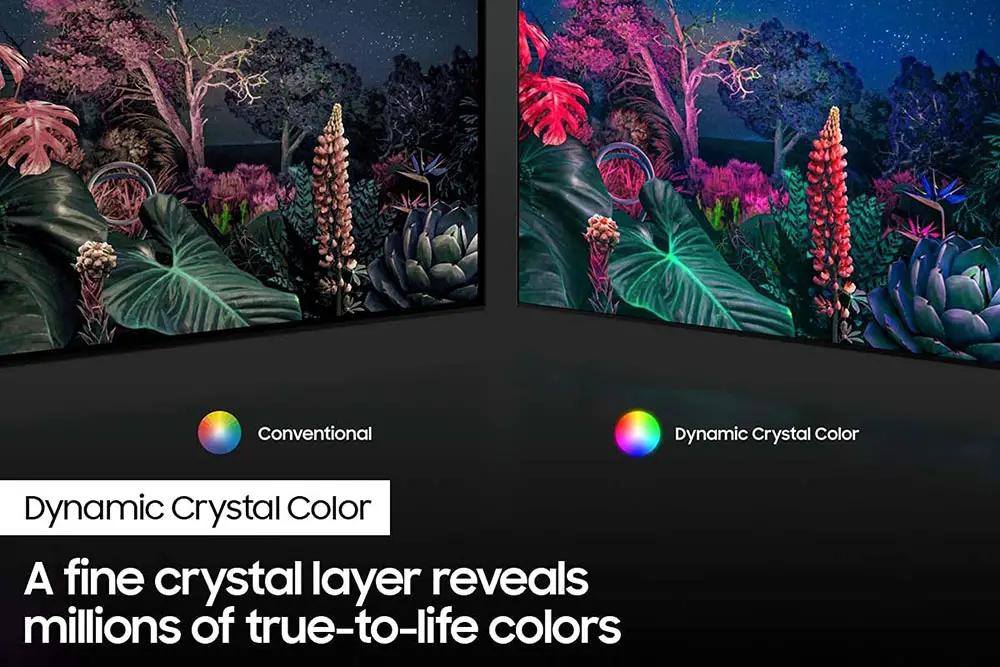 Looking at these numbers we see that the AU8000 seems to be a small improvement over last year's TU8000 even if the difference is not very big and not visible with naked eye. Color coverage is still low enough and it's not enough to cover the HDR requirements.
As such you cannot call the AU8000 a true 4K UHD TV with HDR as the UHD format clearly requires wide color gamut and unfortunately there is a huge range of low cost 4K HDR TVs that claim to support HDR but never being able to do so.
Motion performance
Next in line is our motion performance tests. The AU8000 seems to come with very similar characteristics and overall performance to the TU8000 and as such is using a 60Hz panel along with a 480Hz backlight dimming frequency. This high dimming frequency ensures that it will be completely invisible to the naked eye but keep in mind that different picture modes and settings will lower this frequency greatly to even 120Hz which can be noticeable by some.
The AU8000 also features motion interpolation with more or less good results. When there are not extremely busy action scenes, interpolation seems to be working good even though we did notice a few artifacts here and there. But what we also noticed is that when things get extremely hectic the TV stops interpolating completely which we think is better if the TV cannot maintain a certain interpolation quality level.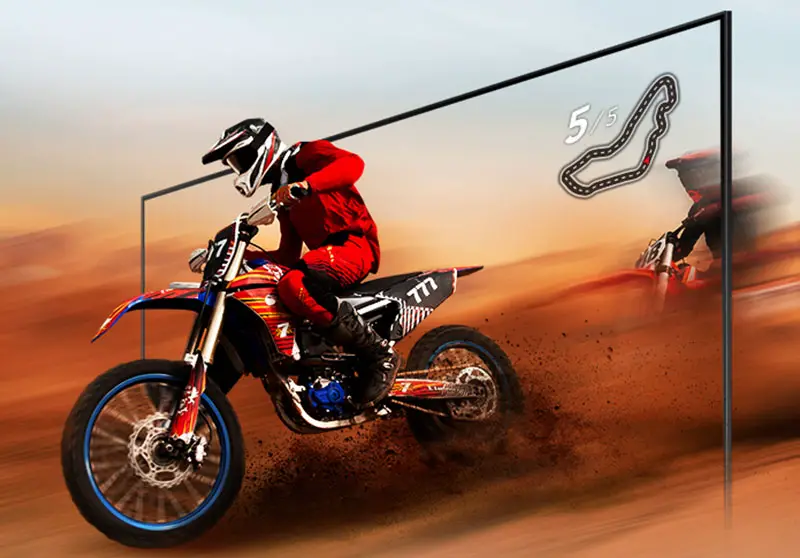 You can enable this by changing the Picture Clarity setting in the menu and adjust the judder slider according to your liking. The only difference here compared to the higher tier TV models is that there is no blur slider here, we get only the judder one along with the noise reduction option. As in most cases a small value in the judder slider can really help with the overall picture motion while a high value can really distort the image greatly.
Black Frame Insertion (BFI) is also available once again and you can enable this by turning on the LED Clear Motion option. BFI is a motion interpolation technique where a black frame is inserted in between two individual images and this trick creates very smooth motion. And while this is a very effective feature it comes with a couple of downsides. First brightness takes a hit due to the inclusion of the black frame and with this TV's less than stellar brightness output things turn for the worse while flickering can become even more noticeable due to it's drop of frequency to 60Hz. BFI had a few problems with the AU8000 as we noticed some image duplication at times.
The AU8000 unfortunately, just like its predecessor, does not support any kind of Variable Refresh Rate (VRR) like FreeSync or HDMI Forum VRR. There is also no G-Sync support so if you are looking for any of these you will have to check one of the more expensive QLEDs instead.
We could not say if the AU8000 has better motion overall compared to the TU8000. There are small differences here and there but looking at their whole performance they scored very close and slightly different across the board making them both equal in this part.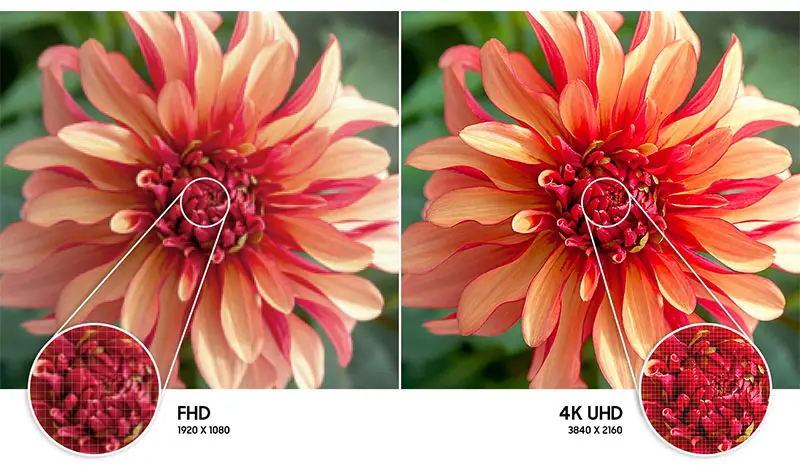 Input lag
One area we were sure the AU8000 would excel would be its input lag as all 2021 Samsung TVs seems to display very low input lag numbers no matter their class or category. With Game mode enabled we were able to get 11ms of input lag which is great even though it is slightly higher than what the TU8000 did. As always this number is an average of both 1080p and 4K resolutions so expect to get very close performance no matter the resolution you will be playing at.
We did try to get a measurement without Game mode enabled and this surprisingly gave us a 18.5ms input lag which is exceptionally fine and is one of the few TVs that we remember displaying so low input lag outside of Game mode. We should also not forget to mention that there is Auto Low Latency Mode (ALLM) support that can be used with both the PS5 and Xbox and gamers can greatly benefit from it's usage.
For this test we connected our PS5 to the AU8000 and went for a few laps in Imola with F1 2021. Really if you want a cheap TV for your gaming needs and you don't care very much about its image and HDR capabilities the AU8000 can be an excellent choice. Our gaming session was extremely pleasant with no obvious delays. Response times were great, our commands would register extremely fast and we had no need to adjust to the TV lag as it was almost instantaneous.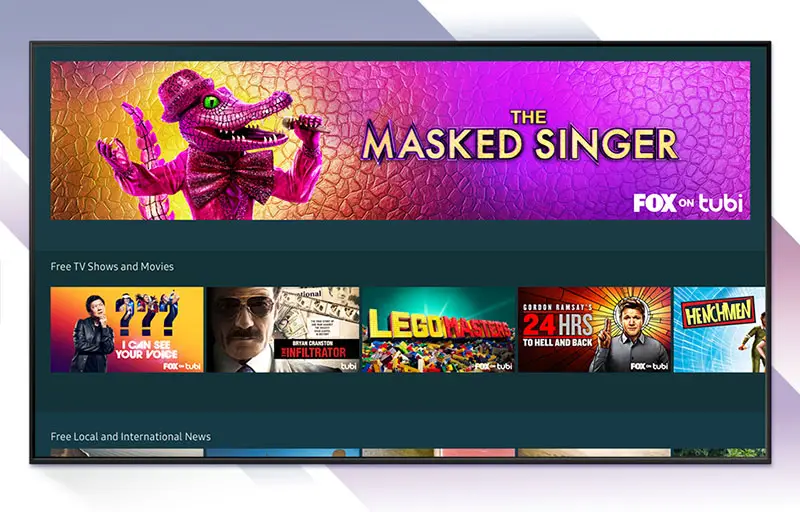 Image quality impressions
Overall we could say that the AU8000 seems to be a small improvement over last year's offering. Don't expect anything major as some differences are more notable while others not so much. The AU8000 seems to be slightly brighter and with slightly better colors handling but these changes are not so major to be visible with naked eye. On the other hand input lag was measured a bit higher but the difference was again not so big to be deal braking.
So with the differences at hand we would say that if you look the best of the two the AU8000 is the one to go even if by a very small margin.
Audio Quality
On the audio front looking at the capabilities and feature set of the AU8000 it seems we get an actual upgrade as it is strikingly similar to what we saw in the Q60A instead of what was offered in the TU8000 last year.
Manufacturers have tried the last few years to create audio systems that improve the overall audio signature of their flat TVs. Some fare better than others but most of them are not suited for anything more than casual viewing. Samsung's proprietary system is called Object Tracking Sound and as with many other features they scale it according to the price of the TV on offer.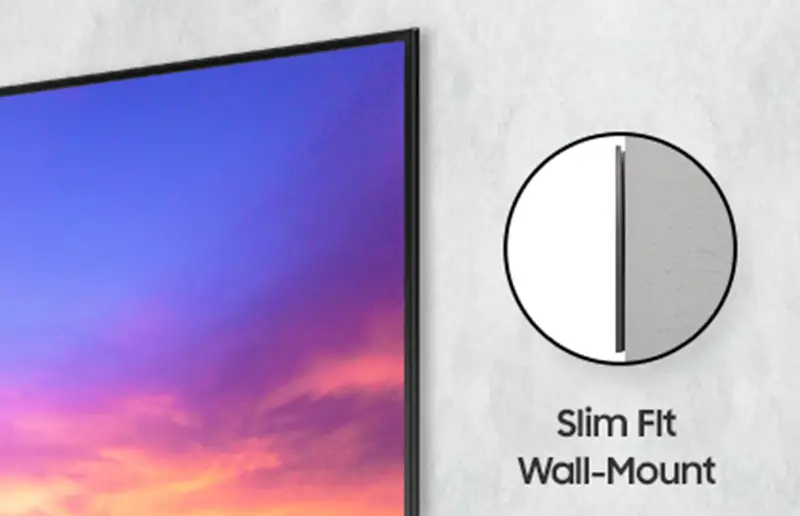 Last year the TU8000 didn't use that system and had to settle for a conventional 2 channels audio system that is the most usual we see in flat TVs. For 2021 it seems that Samsung decide to try and improve this and while we still don't get the fully fledged OTS system at least we get some short of it which is called "Object Tracking Sound Lite".
What this "Lite" version has different is that while both OTS and OTS+ systems use more speakers at the sides and top of the panel in order to track the sound according to what is displayed the one we have here is using a set of virtual speakers at the top in parallel to the two real speakers at the bottom. Obviously the result is not the same as having real drivers and we would say that while the AU8000 can perform slightly better than a conventional 2.0 channel system it was not as good as the other TVs with OTS or OTS+.
Just for the record the AU8000 is equipped with a 2.0 channels system with a total of 20 watts of power and in parallel with the Object Tracking Sound Lite audio system what you get is an audio experience that is slightly better and more fulfilling than a simple 2.0 channels audio setup but you shouldn't expect anything more than that as the hardware is just not capable enough for anything that could even be described as immersive.
The TV supports Dolby Audio but there is no native Dolby Atmos. At least you can pass-through Dolby Atmos through the included eARC to some Dolby Atmos soundbar or dedicated sound system. DTS support is completely absent once again this year as it is not only missing from native support but it cannot also be passed-through from any of the available ports. Samsung has completely dropped DTS support which is a shame really.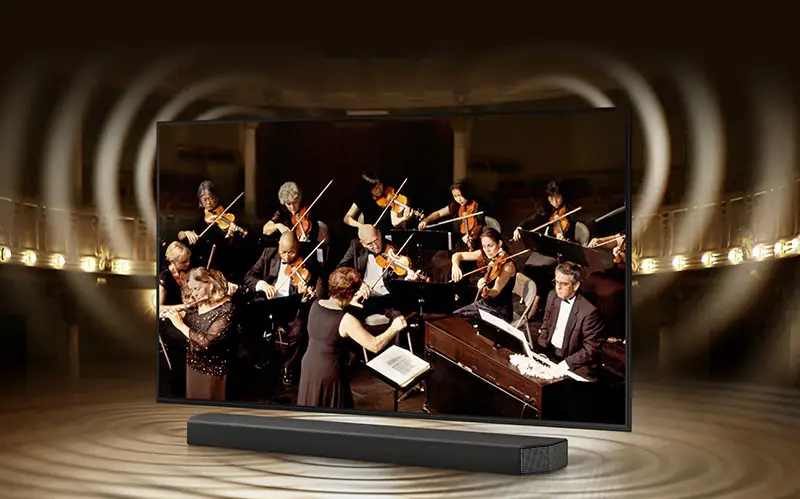 A feature that also finds its way from the Q60A is Adaptive Sound. Keep in mind that there is also Adaptive Sound+ that is being used in the more expensive models and is a more advanced system of the one we get here. With Adaptive Sound the TV can automatically make adjustments for the best sound experience possible according to what content is viewed at each specific time.
Lastly we get Q-Symphony which is a feature that you can use to combine the TVs audio system with an appropriate soundbar that also supports that. This way the audio will be synced and output from both devices for an even more immersive audio experience. Samsung has released a whole lineup of soundbars that support this feature in case you are thinking of getting one. Last year the TU8000 didn't have this so this one is an added feature in the AU8000 for 2021.
Closing this part the AU8000 seems improved in what it offers even if ultimately it cannot offer the kind of audio quality we would like to have. The addition of OTS Lite along with Adaptive sound and the inclusion of Q-Symphony makes the AU8000 at least somewhat better than what we got last year.
Ports and Connectivity
Next we will be looking at what the AU8000 offers in terms of connections. Upon first look what we see is that the TV is not using the same layout as last year's TU8000. Instead it borrows exactly the same connectivity configuration the Q60A has meaning that most ports look sideways while there are a couple that look backwards.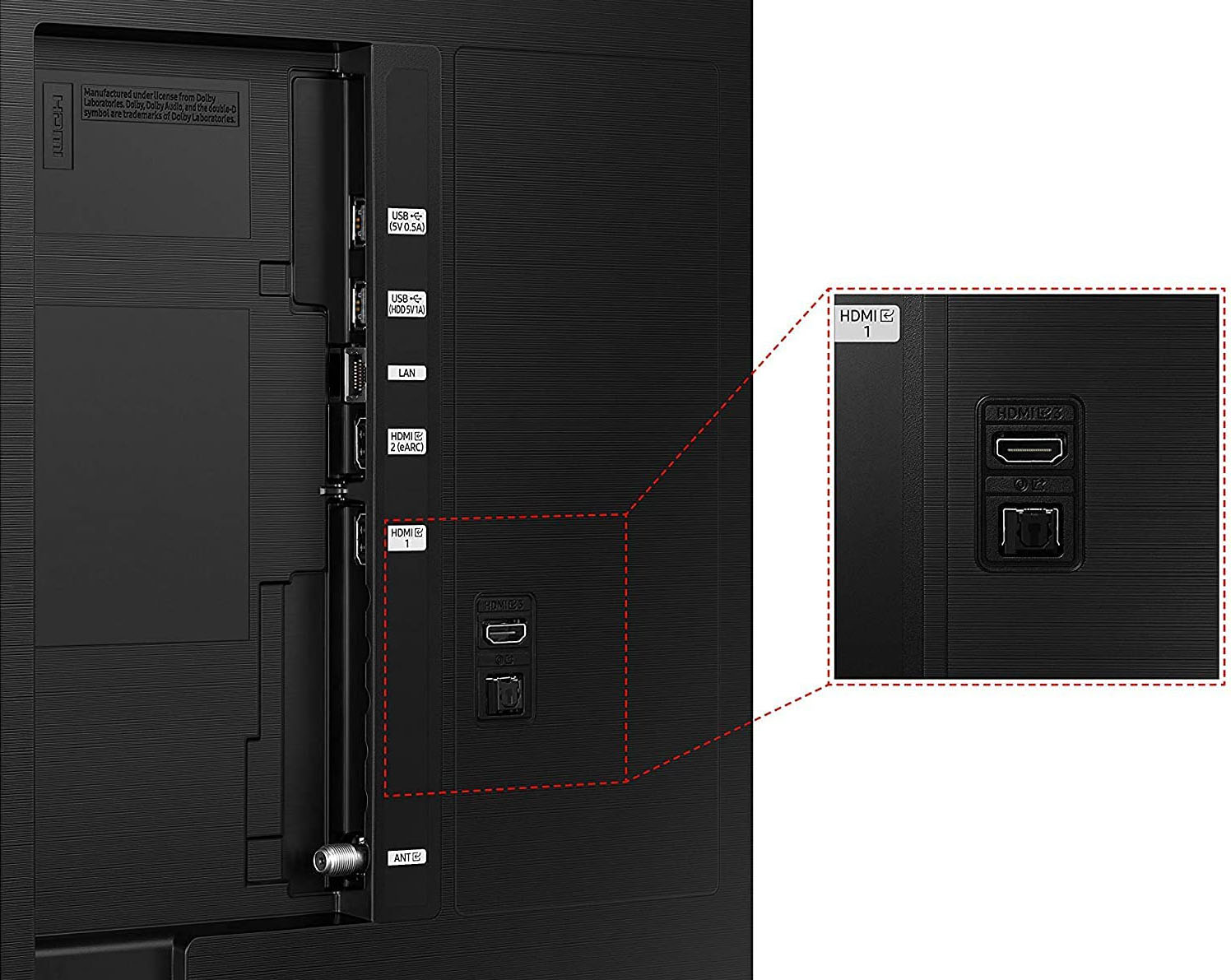 So let's start from those looking sideways and here we get 2 USB ports for connecting external storage devices along with a couple of HDMI ports and an Ethernet port between them for wired connection to a local network. There is also the usual antenna port on the bottom end of this section. Next to these we get another HDMI port and a Digital Audio output that looks backwards.
The differences we find compared to last year is that Samsung has moved the Ethernet port to the sideways looking group of ports while they completely removed the composite video input along with the analog stereo input. We have seen this happening in many other of the new 2021 releases so it does not come as a surprise. As it is right now the number of TVs with analog ports is shrinking more and more and so far for 2021 we haven't seen a single TV offering that comes with analog ports.
As is the usual in all these low tier TVs the AU8000 does not support the new HDMI 2.1 ports and uses the older HDMI 2.0 instead. For HDMI 2.1 unfortunately you will have to go much higher in one of the mid-tier QLEDs to get it. Also the USB ports are the older v2.0 which is not all that surprising to be honest. At least we do get eARC support which allows you to send high-quality object-based audio like Dolby Atmos to another device and is another handy feature that many seek nowadays.
As for it's wireless capabilities the AU8000 comes with the usual built-in WiFi and also with Bluetooth v4.2 for connecting your mobile devices.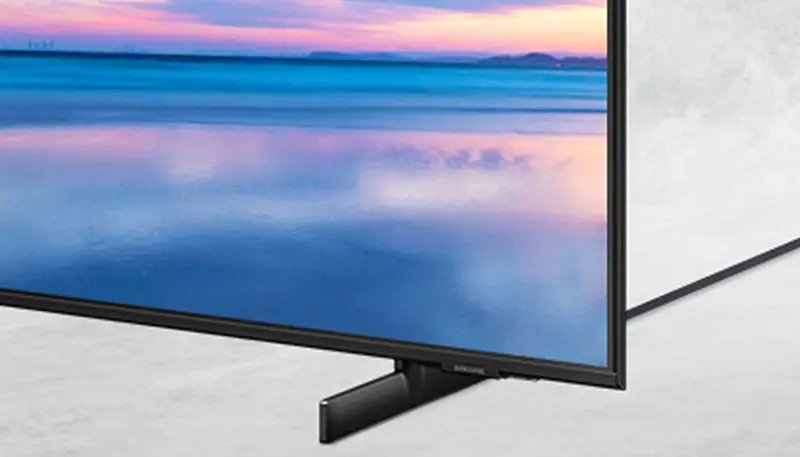 OS, Apps and Features
The AU8000 comes with the latest version of Samsung's Tizen but seems to pack slightly less features compared to some of the other Samsung releases we tested this year. But at its core it still remains the same OS we have seen so many times before so most of this section will be similar to our other reviews but we will point out the differences and reductions the AU8000 has wherever we deem necessary.
The 2021 version of Tizen is highly similar to previous years and the visual appearance of the new 2021 is no different from last year. Samsung retained the more dark visual design but this is purely an aesthetic thing and functionality remains as good as ever.
The general layout has remained completely the same with the launcher bar sitting at the bottom of the screen while a second row appears on top and offers several selections that include additional content and various suggestions. Customization couldn't be missing as with so much content available it can become increasingly difficult to navigate through the apps and services especially if you use many of them at the same time. Tizen offers many customization options so you can re-arrange everything to your liking.
When it comes to content the Tizen platform is famous for it's enormous support from developers. The AU8000 offers practically all known services and platforms you can think of like Netflix, Apple TV, Disney Plus, Youtube, Amazon, Hulu, Rakuten, Demand 5 and BBC iPlayer just a few of the big names available with some of them being available depending the region you are in obviously.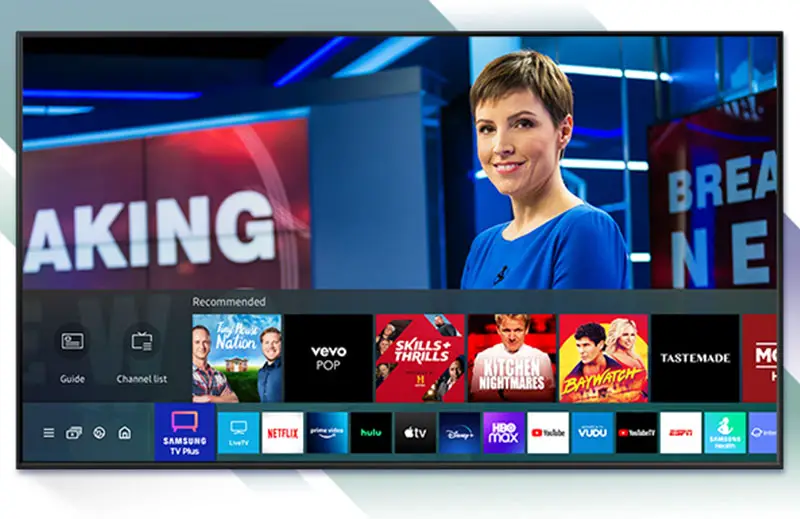 There is also Samsung TV plus which offers hundreds of subscription-free channels to choose from. Many of these services can playback in both 4K with HDR like Netflix and Amazon while in general navigating through several services felt smooth and without any noticeable lagging.
But if having so many apps available can be increasingly difficult for you then you can use a handy feature called "Universal Guide" which is another feature that make its return from last year. This is a feature that analyzes your viewing patterns and creates a 'For You' page that includes content you may be interested in seeing according to your viewing habits. So in case you are watching a specific series all the time this page can propose you to see the next available episode which can be a rather practical feature.
In terms of Smartthings there is some changes as the TV does comes with Smartthings app support but Smartthings is not integrated into the TV itself.
Obviously another feature that could not be missing is voice control. It seems that Samsung is really trying to market their own Bixby service but even if you are not very fond of that there is Amazon's Alexa or Google Assistant to choose from. While if you are an Apple guy then don't get disappointed as there is also Airplay support and you can use Siri through it for your voice commands.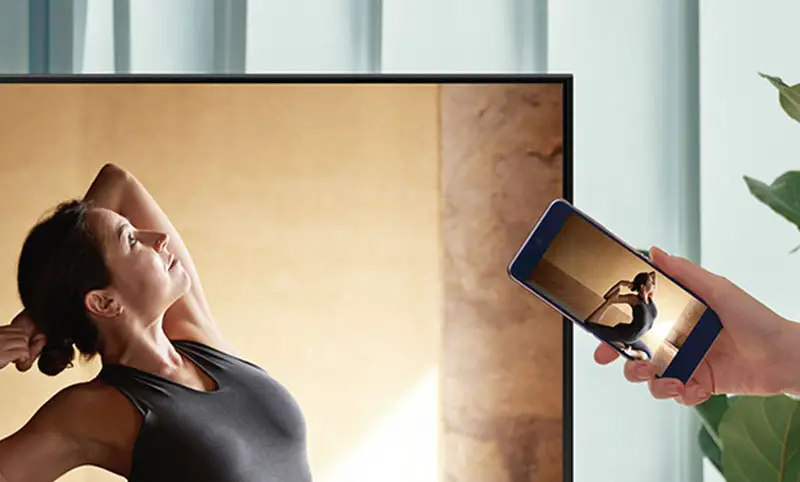 Another feature gone from the AU8000 is Multi-View although we cannot say we are missing this feature very much. What is offered though is Tap-View. With Tap View you can mirror your phone on your TV with just a tap to continue enjoying movies, music, and apps on the bigger screen within seconds.
The AU8000 also comes with Ambient Mode which seems to have become the standard in less expensive units lately. Keep in mind that this is the simple and not the plus version we saw in some of the mid-tier and premium units and as a result comes with less functions available.
Lastly we have one more new addition this year and this is Samsung Health. It seems that with the coronavirus pandemic and many people staying indoors Samsung thought that exercise at home would become more popular. So many of their TVs this year come with Samsung's program in order to stay in shape. If you like to exercise at home you may like this one but otherwise we don't see this being used very much.
Overall the AU8000 offers a slightly more basic feature set than what we saw in the 2021 QLEDs. There is no Super Ultrawide GameView & Game Bar, no Multi-View and no Smartthings integration. Not a big deal we would say for a cost friendly offering as the AU8000 and the Tizen in this one is still pretty much the same OS we have been used to in many of Samsung releases.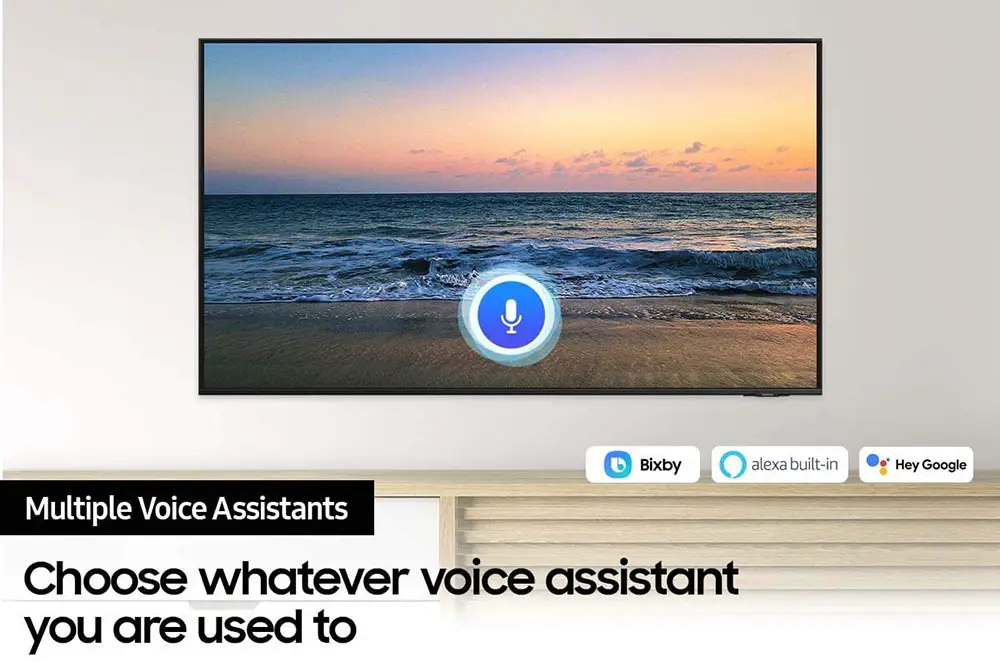 Final Thoughts
Overall the AU8000 offers everything you should expect from a low cost TV as this one. Samsung did try to offer a unit that has everything but unfortunately its low price does not allow it to excel in many particular areas.
Many will be wondering if it is worth it to go for the AU8000 or last year's TU8000 as its reduced price would be a better choice. Concerning this we can say that the AU8000 indeed is better as it comes in a much nicer and slimmer design with the new redesigned remote while it is also slightly brighter, with better colors and more audio features. The differences are not huge but in this low cost category every bit of improvement is a welcome one.
The TV unfortunately is not meeting the minimum requirements for wide color gamut meaning that this is a half baked HDR TV. Also even with small improvements on its brightness it is still not enough to make HDR any justice. Having a VA panels means that viewing angles are mediocre at best making this one not very suitable for family gatherings while its Tizen platform is missing a few features that the more expensive Samsung offerings have. Lastly there is no HDMI 2.1 here but for this you will have to go to a much more expensive unit to get it.
Closing our review we can say that if you are torn between the AU8000 and the TU8000 then we would suggest you to go for the new Samsung AU8000. Yes, the differences are small but in our opinion when it comes to such a low capability TV any small improvement is a welcome one. The TV is obviously limited but its price but if you are not particularly demanding then it has its merits.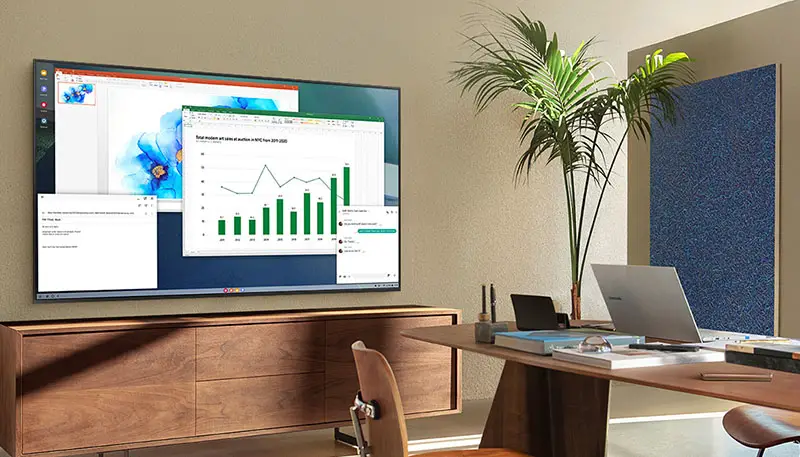 For more reviews you can check our dedicated 4K LED LCD TV reviews list or even look at our Product Reviews Table where you can find the brand and specific product you are looking for.
---
---
Cheapest Places to Buy :
*We are a reader-supported website. When you buy through links on our site, we may earn a small affiliate commission at no extra cost to you. Home Media Entertainment does not accept money for reviews.*
---
Samsung AU8000 Specifications