---
Cheapest Places to Buy :
---
Having mainly focused on testing all the new 4K QLEDs the last few weeks it was now time to change gear and delve into the lower tier categories and see what Samsung has released in 2020 in their more budget friendly series called Crystal series. Now one thing that we see in the Crystal series is that as with the QLEDs series where Samsung released the better Q95T model only in Europe they did the same thing with the TU8500 being released only in European markets. So in our Samsung TU8000 review today we will be looking at the top 4K Crystal TV that is released in the US as well as all the other markets around the globe.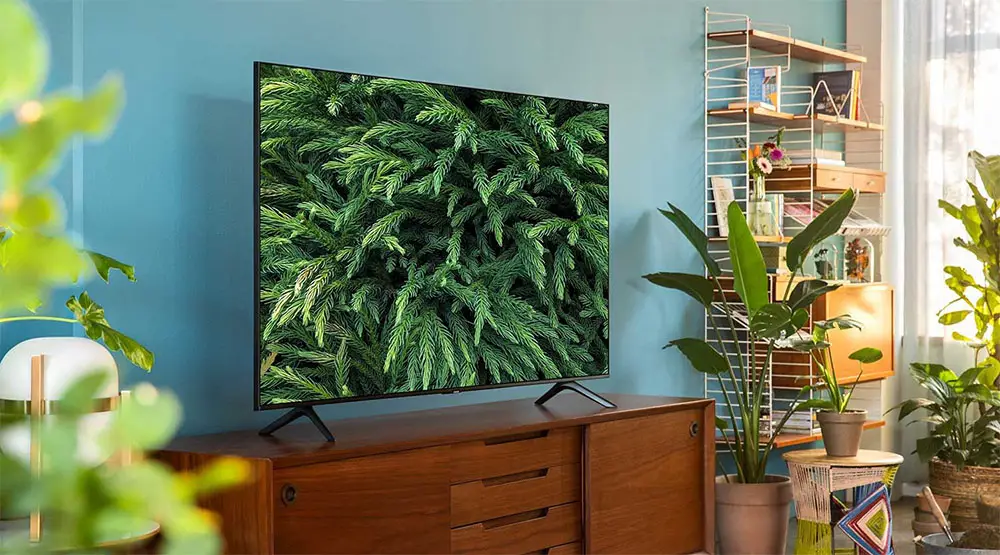 The TU8000 is the top non QLED Samsung model you can get in the US and comes with major reductions in specs in order to accommodate a lower and more affordable price tag. As such instead of Quantum Dot here we get what Samsung calls a Crystal display that is capable of displaying very vivid colors, comes with Crystal Processor 4K, drops the new Dual LED light system and instead goes for a more traditional Edge LED light system and comes with a simple 2 channels audio setup.
We also find HDR10+ support as Samsung has included this in all their TVs and we also get the full Tizen treatment with all it's functions and smart features. One thing that is missing is HDMI 2.1 as none of the Crystal TVs have any and instead settle for the older HDMI 2.0.
Obviously for a lower tier 4K TV these reductions seem natural and they are in line with how performance progression goes in the models Samsung has released for this year. In the end the performance we get is what matters and this is what we will be looking at today. Does the TU8000 manages to offer a respectable performance or are the reductions too much to create any kind of meaningful HDR experience? Let's find out…
Design
As always we will be starting our review with the design of the TV which is more or less the usual you should expect from a lower tier model as this is. The TU8000 looks awfully similar to the Q60T with only slightly different border colors. As always all connectors are placed at the back of the unit and if there is one thing we didn't like is the backwards looking connectors because if you decide to wall mount it these will become pretty useless.
This model also features the same boundless design we saw in the Q60T meaning it has very thin borders that make the image look better overall. Using an Edge LED system means that the TU8000 is relatively thin measuring just 2.28″ (5.8 cm) making it a nice looker when placed on the wall. Edge LED TVs may not be as good as FALD ones but when it comes to thickness they usually tend to have the upper hand.
The back side is covered completely by a plastic cover and it features a nice texture finish. Looking at the whole layout it seems that the TU8000 is exactly the same as the Q60T indicating that Samsung used the same materials for both their models. On the left side we get two groups of connectors in special insets with one group looking sideways while the other looking backwards. On the right side there is the power connector while towards the bottom there are straight grooves for better cable management. Lastly you will find special holes for the VESA wall mount.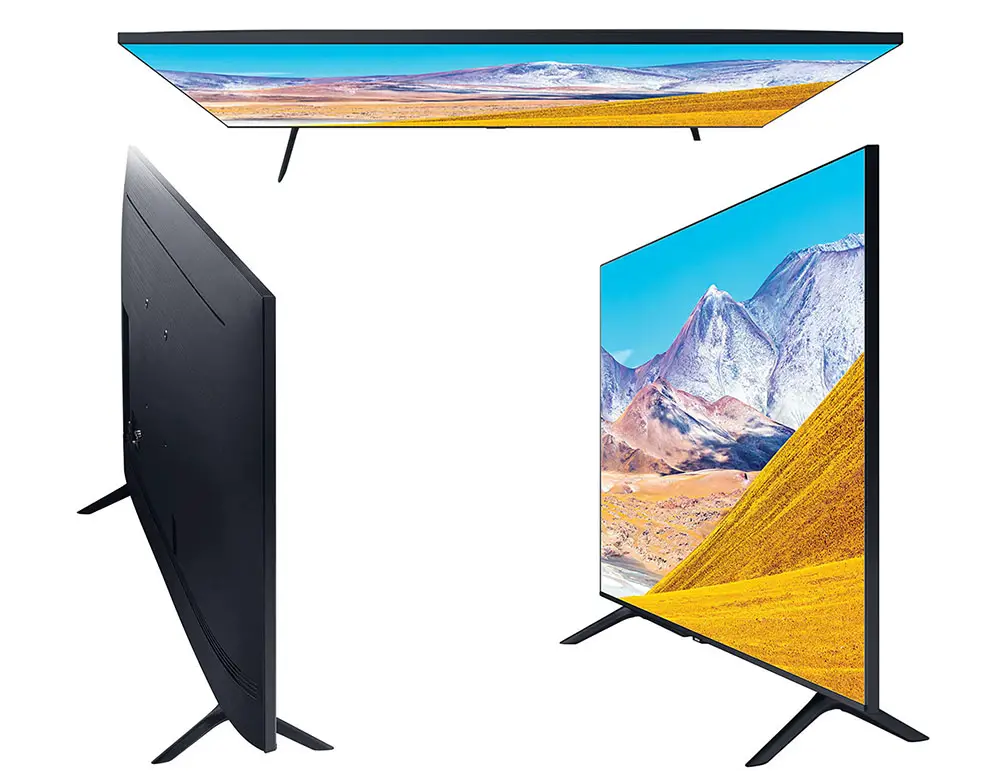 For the stand the TU8000 uses the usual bench type design with two stands connecting to the main panel on each side. This type of stand has the advantage offering better stability than the central type of stands but on the other side they need more space and a bigger furniture in comparison in order to fit. At the back of each stand there are special clips that you can use for grouping all cables together in order to somewhat hide them from plain sight. Overall not the best quality stand we have seen but gets the job done and is in line with this TV's category.
Now when it comes to the included remote the one in the TV we tested was the usual One Remote that most Samsung TVs come with and it's the standard gun-metal black arch back design. As it's the same remote that is being used in all QLEDs the remote has only one difference compared to last year's One Remote with the Hulu dedicated button being changed and now it has Samsung TV plus instead.
Everything else is exactly the same with the remote coming with a built-in microphone that can be used to issue your voice commands, it supports HDMI-CEC functionality meaning that you can use it to control other devices that also support this feature and thus use less remotes in total and can also be used as a universal remote in case your other devices are older and don't have HDMI-CEC. Buttons layout is exactly the same so if you have used a similar remote the last few years then you know what to expect.

We always approved Samsung's take for a simple remote and with the One Remote you don't have to fight with countless buttons and instead use the on-screen UI for most of the functions which we vastly prefer. The One Remote in combination with the Tizen platform can create a powerful smart TV experience.
The TU8000 is a budget friendly model and it shouldn't be judged very harshly when it comes to it's design quality. Nevertheless this model does come with a pretty good overall look with nice thin borders, good quality materials and the One Remote which is a huge plus in our books. It may be a low budget unit but it definitely gives you plenty for it's price.
Video Quality
Processor technology used
Perhaps one of the more highlighted changes we find in the Crystal series is the use of a different processor compared to the 4K QLEDs. Instead Samsung has used what they call a Crystal Processor 4K and while specific details on what is different on this chip are not available what is quite obvious is that the Crystal Processor 4K lacks the AI capabilities in both the image and audio departments that the Quantum Processor 4K had.
While this silicone is still extremely capable at upscaling any kind of source input into 4K resolution it's not using the same AI algorithms that's it's more capable brother is using to do so. To be honest after trying various kinds of content in both low resolution like a DVD or better Full HD content we didn't notice any major problems from the upscaling process like artifacts and the likes and everything showed as good as possible given the quality of the content obviously.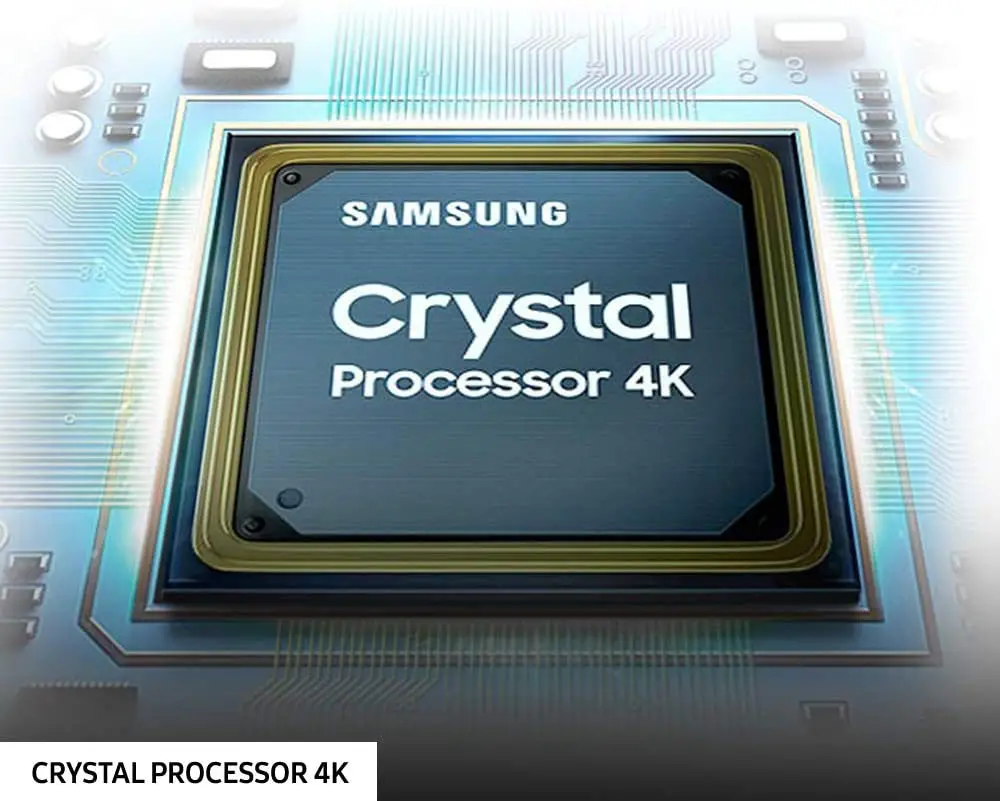 But it's not only in the upscaling that the Crystal Processor looses some of the more "exotic" features as this silicone completely looses some of the adaptive image features that the QLEDs had. The only feature that we do get is in the audio department with Adaptive Audio being available but we will talk more about the audio in the appropriate section.
Lighting technology used
So far we were distinguishing all LED LCD TVs in two categories. Those that are using the better Full Array with Local Dimming (FALD) light system and those that came with the less efficient Edge LED system which Samsung slightly tried to improve this year by creating what they called Dual LED which is an Edge LED system but with two color variations for better image quality results.
Now while the European only TU8500 seems to be using the slightly improved Dual LED system, the TU8000 along with all the lower tier Crystal TVs unfortunately does not and comes with a good old fashioned Edge LED system. Now for those that don't know what an Edge LED system is, the TV is using LEDs usually at the top and bottom of the panel to light the pixels on the screen.
This has some obvious disadvantages and one of them is that when you have very dark scenery and a small bright object at the front light stripes appear on screen which can lower the overall image immersion. Another problem is that light control and precision is vastly lower and can have a detrimental effect on the final image quality.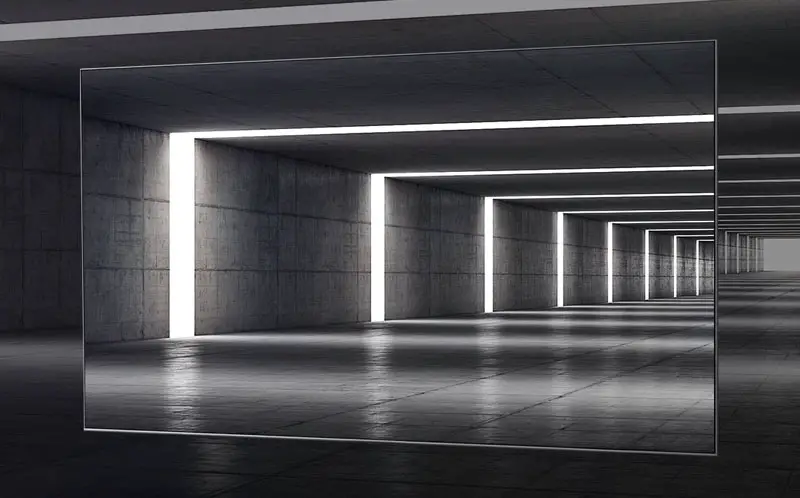 The obvious advantages of this system is that it can be used in cheaper models while the overall thickness of Edge LED TVs is usually smaller than those utilizing a FALD system and thus make them ideal for wall mounting.
Brightness / Contrast
Let's see how the TU8000 can perform in the brightness tests next. As we usually do in this test we used the Movie mode and set the brightness to max. With these settings we measured 275 nits of brightness in our 10% white window SDR testing which is average at best but due to the low requirements for brightness in all SDR content this doesn't have a big impact on the overall image quality.
On the contrary in our HDR brightness test over a 10% white window we measured 269 nits which is below average and the TV really fails to display highlights the way they are supposed to be. The whole image is not as good as it could be with colors loosing a lot in terms of vividness and accuracy while overall the image looks flat and uninspiring. If you want a TV that can show you what HDR is all about then the TU8000 really fails to do that and you should better look for one of the cheaper QLEDs like the Q60T at the very least.
When it comes to the contrast capabilities of this TV things look pretty good. Usually VA panels tend to have good contrast ratios and the TU8000 is no different and can display pretty deep blacks that are on par to what we saw in the Q60T.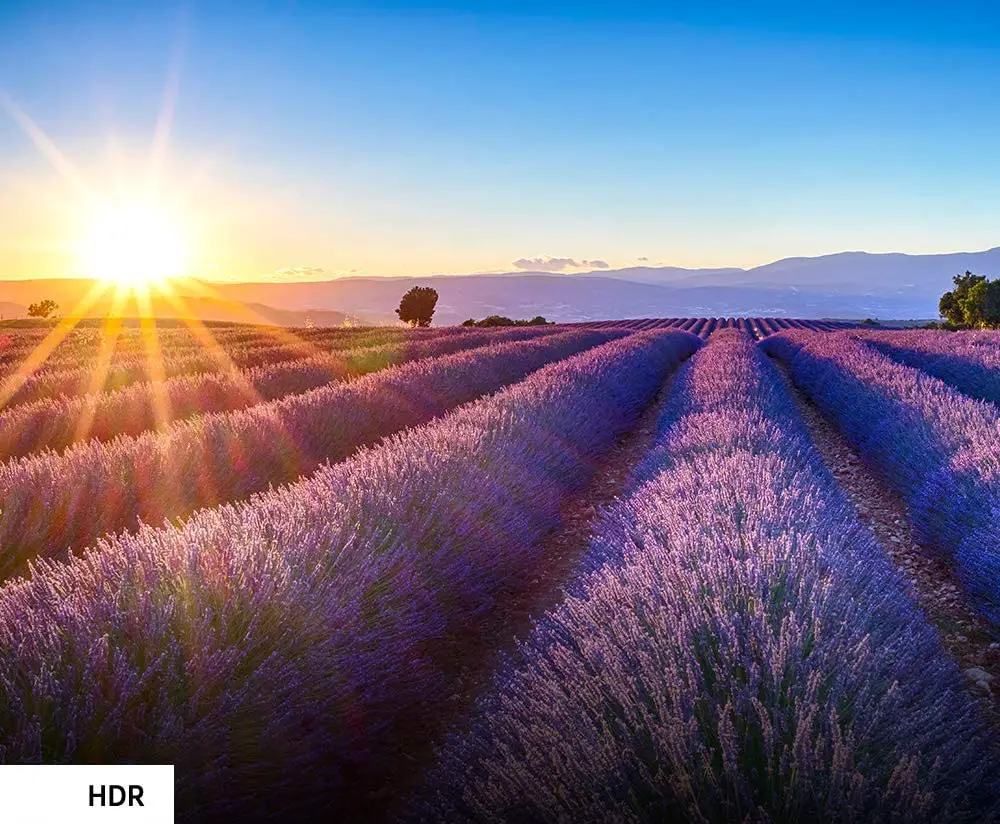 Overall we are a bit disappointed with this TV's brightness performance. It just doesn't have the necessary output to show HDR how it is meant to be and the end result leaves a lot to be desired. For SDR content things are a bit better due to the lower requirements but to be honest you don't buy a 4K HDR TV to just watch SDR content. And with this in mind the TU8000 should be considered only as a half baked solution.
Viewing angles
The TU8000 comes with a VA panel which is very bad when it comes to viewing angles. The 4K QLEDs series were also using VA panels but Samsung had included two variations of the same technology called Ultra Viewing Angle and Wide Viewing Angle in order to improve a little this weakness these TVs had.
Unfortunately on the case of the TU8000 none of these technologies are present and as such this TV has a very narrow field where it can keep it's image integrity at acceptable levels. We would say that 25 degrees with an absolute maximum of 30 degrees is the most this TV can offer. Anything more and image colors, black levels and brightness downgrade rapidly.
If you have a sweet spot from where you will be watching then this is not such a problem but if you plan to use this in a living with multiple sitting positions then maybe you should see it for yourself first if the image loss is acceptable at specific angles.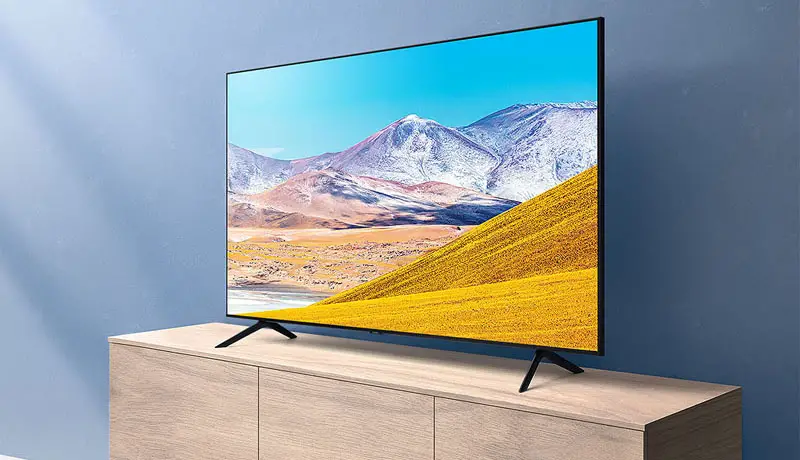 HDR support
If there is an area where the TU8000 is like for like with all the other TVs in 2020 is on the HDR support it offers. This means that this model can accept the usual HDR10 protocol which is required for 4K UHD playback, the HLG which is used in broadcasting material and the newer and more sophisticated HDR10+ that comes with dynamic metadata and can offer a better image than the simpler HDR10.
As we said in all our previous reviews, with Dolby Vision having such a strong foothold on the market right now and the HDR10+ being still relatively new it remains to be see how this HDR war will turn out. Right now it seems like Dolby Vision has the upper hand but with Samsung being the number one TV manufacturer for many years now there are an extremely high number of TVs out there that support HDR10+ and not Dolby Vision.
Let's hope for consumers shake this war will end sooner than later.
Color coverage
With the TU8000 loosing the Quantum Dot technology and instead settling for the lower spec Crystal Display meant that color coverage would take a major hit. In our measurements we got a 79% coverage in the DCI-P3 color space while in the wider REC.2020 we got only 57% coverage which is the lowest we have seen from a Samsung TV in 2020.
The numbers we got indicate that the TU8000 performed far worse than last year's RU8000 and is more in line with the RU7100 once again confirming the reduction in specs in the similarly named models that we got this year. With such low color coverage and no wide color gamut support the TU8000 is loosing a lot when it comes to color representation and accuracy.
In this regard you cannot call the TU8000 a true 4K UHD TV with HDR as the UHD format clearly requires wide color gamut and this is one of the grey areas that manufacturers use for their marketing campaigns while making so many consumers confused.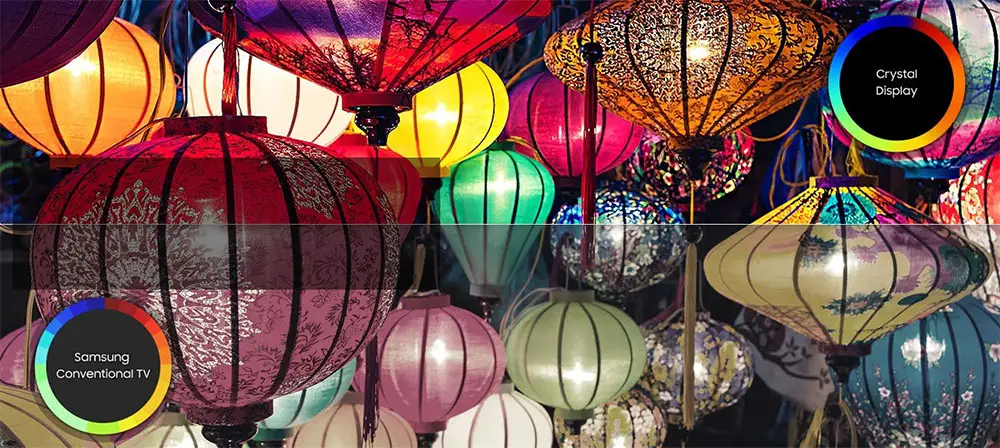 Motion performance
Next in line is our motion performance tests. The TU8000 is using a 60Hz panel along with a 600Hz backlight dimming frequency making this one similar to what we saw in the Q60T in terms of raw numbers. This high dimming frequency ensures that it will be completely invisible to the naked eye but keep in mind that different picture modes will lower this frequency greatly to 120Hz which can be noticeable by some.
The TU8000 also features motion interpolation with more or less good results. You can enable this by changing the Picture Clarity setting in the menu and adjust the judder slider according to your liking. The only difference here compared to the higher tier TV models is that there is no blur slider here, we get only the judder one along with the noise reduction option. As in most cases a small value in the judder slider can really help with the overall picture motion while a high value can really distort the image greatly.
Black Frame Insertion (BFI) is also available once again and you can enable this by turning on the LED Clear Motion option. BFI is a motion interpolation technique where a black frame is inserted in between two individual images and this trick creates very smooth motion. And while this is a very effective feature it comes with a couple of downsides. First brightness takes a hit due to the inclusion of the black frame and with this TV's less than stellar brightness output things turn for the worse while flickering can become even more noticeable due to it's drop of frequency to 60Hz.
The TU8000 unfortunately does not support any kind of Variable Refresh Rate (VRR) like FreeSync or HDMI Forum VRR. There is also no G-Sync support so if you are looking for any of these you will have to check one of the QLEDs instead.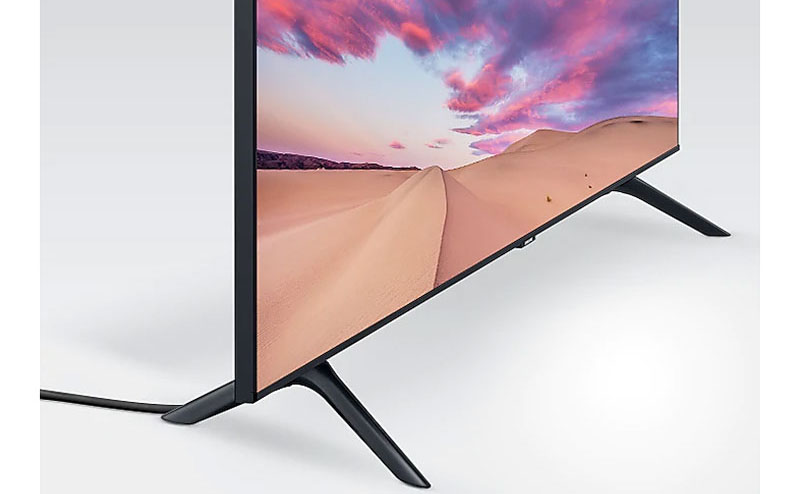 Input lag
One characteristic that all Samsung TVs seem to have in 2020 is the extremely low input lag we have measured in all of them so far and we were curious if the TU8000 would perform in the same way. With Game mode enabled we were able to get a blazing fast 9.6ms which is exceptional and really as good as it gets so far from Samsung. As always this number is an average of both 1080p and 4K resolutions so expect to get very close performance no matter the resolution you will be playing at.
We did try to get a measurement without Game mode enabled and this gave us a 87.5ms input lag which is extremely high compared to the one we got with Game mode so keep this in mind when you try to get the best out of this TV. We should also not forget to mention that there is Auto Low Latency Mode (ALLM) support that can be used with both the PS4 and Xbox and user can greatly benefit from it's usage.
As we always do in this test we connected our PS4 console and used a copy of F1 2019 to go around a few laps and see how all this translates in a real world situation. To be honest we have nothing bad to say in this test with the TU8000. Our commands were registering blazing fast, input were precise and we didn't notice any delay or lag during our playtime making this TV an excellent choice for any gamer even if you are a hardcore one.
Image quality impressions
Closing this part of our review what we can say is that the TU8000 although being advertised as a 4K HDR TV it shouldn't be considered as a true one. Obviously this model is aimed for the more budget conscious consumers and it's reductions in it's specs follow accordingly but this doesn't mean that it should be advertised as an HDR TV that can really do justice to the new format.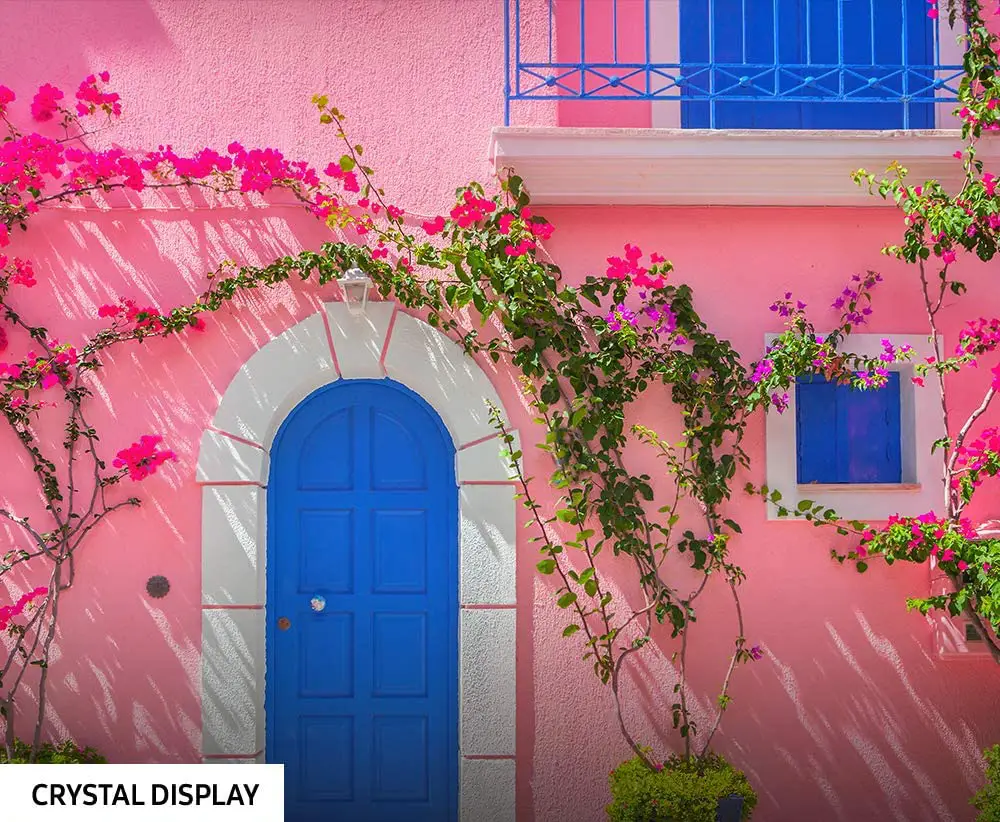 As we were expecting the TU8000 falls short of last year's RU8000 and is much closer to what we got in the RU7100. Featuring a simpler Edge LED system along with the less capable Crystal Processor 4K the TU8000 fails to deliver the necessary color accuracy and brightness output that can make any 4K HDR content real justice.
The TV is also missing any kind of viewing angles improving technology and what we get is the typical you would see in a VA panel which is not very good in general. Upscaling capabilities seemed to be pretty stellar, motion performance was more or less solid, contrast was good while where the TV really excelled was in the input lag test were it gave us an amazingly low number for such a low tier model.
Audio Quality
In the audio department things are pretty standard for a TV of this category. Featuring a usual 2.0 channels audio setup with the two down-firing drivers delivering a total of 20 watts of power the TU8000 can delivery a satisfactory experience for causal viewing as sound came pretty clear and distinct but at the same time it failed to delivery any kind of immersion that could elevate your viewing experience.
First of all as we mentioned sound felt very clear even in higher volume levels, this was good to be honest. But when watching a movie there is no feeling that sound effects were coming anywhere else other than the front. The source was constantly fixed dead center so movies with a lot of surround effects felt flat and uninspiring.
Also the TV is missing the necessary power on the low end to make the bass have any kind of meaning. You will not feel any shaking or the chest pumping experience a subwoofer can give you and thus sound mixes that rely very much on low frequencies feel dull and boring. None of this come as a surprise to be honest as there is so much you can do with a simple 2 channels setup and with so small drivers.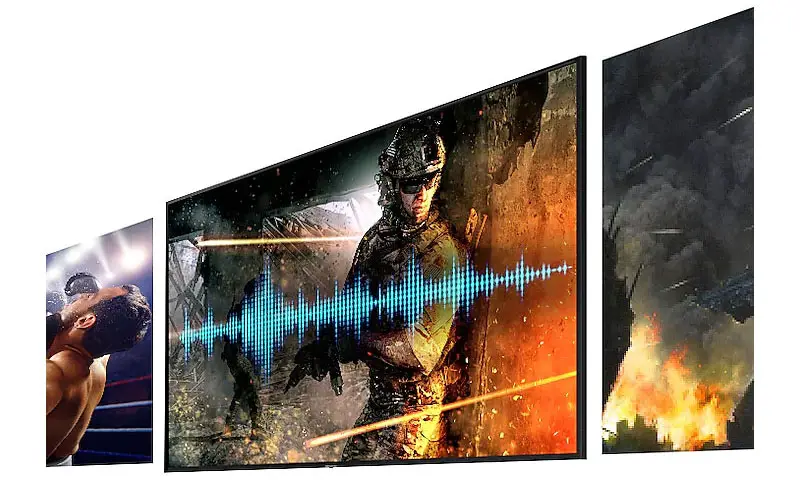 The TU8000 supports Dolby Audio and can even pass through Dolby Atmos through it's eARC HDMI port but unfortunately there is no DTS here. The TV also features adaptive sound as it can automatically make adjustments for the best sound experience possible according to what content is viewed at each specific time.
In the end if you want to have a more immersive audio experience with this TV we would strongly advise you to get at least a soundbar if not a dedicated audio system. There are cheap soundbars that can greatly elevate the sound performance of this TV and if you are planning to watch a lot of movies with this one then this is the only way for you to get a better overall acoustic result. You can check our dedicated soundbar reviews section for that.
Ports and Connectivity
With the TU8000 we see the first actual change in the ports layout compared to all the QLEDs that we had tested previously. In this model we actually get a mixture of side facing and back facing ports with the latter being far more difficult to use in case you are planning to wall mount the TV.
First let's look at the side facing ones and from top to bottom we get two USB ports for connecting external storage, two HDMI ports with one of them even supporting eARC and the usual antenna/cable port. In the second inset including the ports facing backwards we get a third HDMI input, below that a digital optical audio output, to the right a composite video input along with a analogue stereo input and lastly below these an Ethernet port for wired connection to the internet.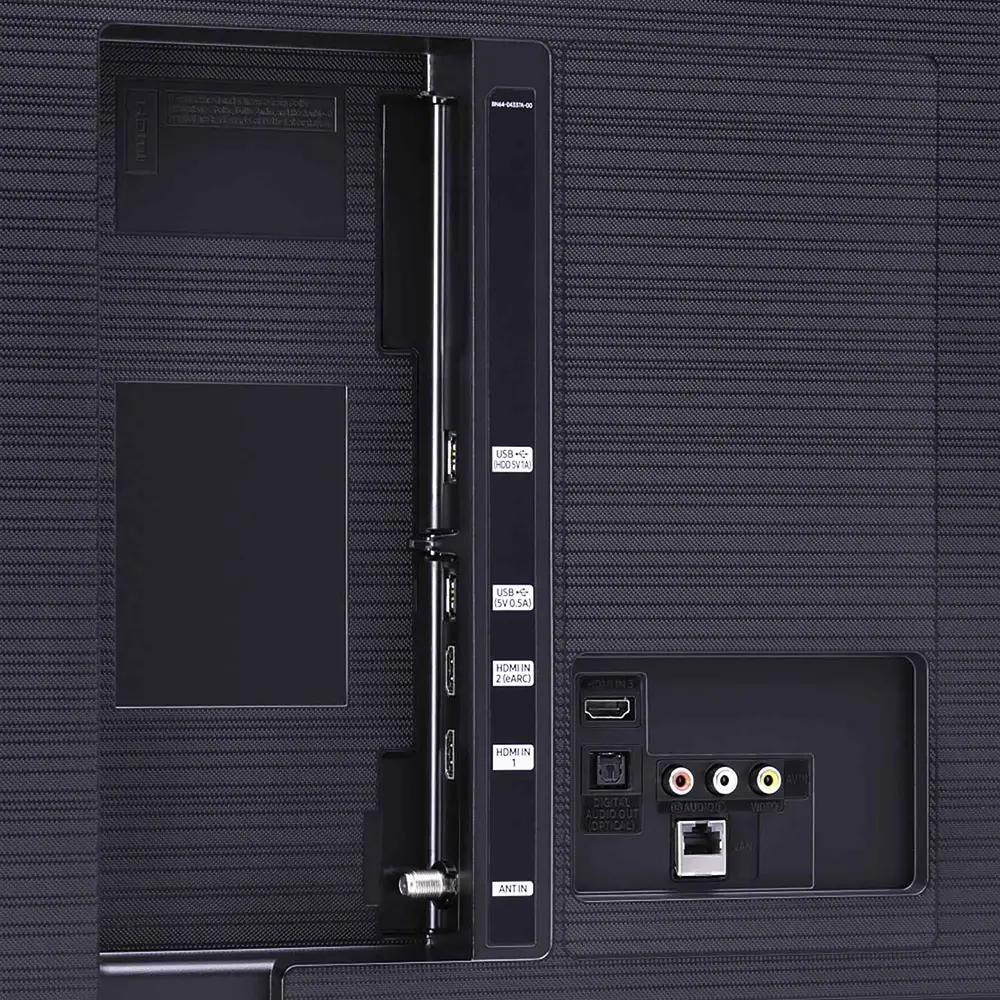 Once again the USB ports are the older v2.0 and there is no USB 3.0 available. Also with the TU8000 dropping support for HDMI 2.1 means that we have to settle for the older HDMI 2.0 instead. At least we do get eARC support in order to send high-quality object-based audio like Dolby Atmos to another device through the HDMI 2 port as well as HDMI-CEC functionality. But with this model we only get a total of three inputs compared to the four we found in most QLEDs.
Lastly nothing has changed as far as it's wireless capabilities with the TV having built-in WiFi (802.11ac) along with Bluetooth v4.2 that can be used for wireless streaming.
OS, Apps and Features
The TU8000 is using the latest edition of Samsung's smart TV platform called Tizen. In it's 2020 edition we find a few additions as well as a few minor changes compared to previous years that we will talk about them shortly. Now while all the QLEDs had included all Tizen functionality the TU8000 seems to offer a somewhat more scaled down version as there are a couple of features missing but overall not much have been changed compared to the higher tier models.
First of all let's talk about the UI. In 2020 Tizen had a slight visual change as it goes for a dark UI compared to the light white version of the previous years. This is a completely aesthetic change and it doesn't affect it's overall functionality at all. We are sure that many will like the new look while other will prefer the older color style.
The overall layout remains pretty much the same as the launcher bar is placed at the bottom of the screen and includes all menus, settings and apps icons while with every selection a second row may appear on top of that with various other selections including additional content and suggestions. With so much content available any platform would need to have a lot of customization options available in order to give you the ability to reposition everything to your liking and the Tizen offers plenty of that. If you are using many apps then you can re-arrange them any way you want.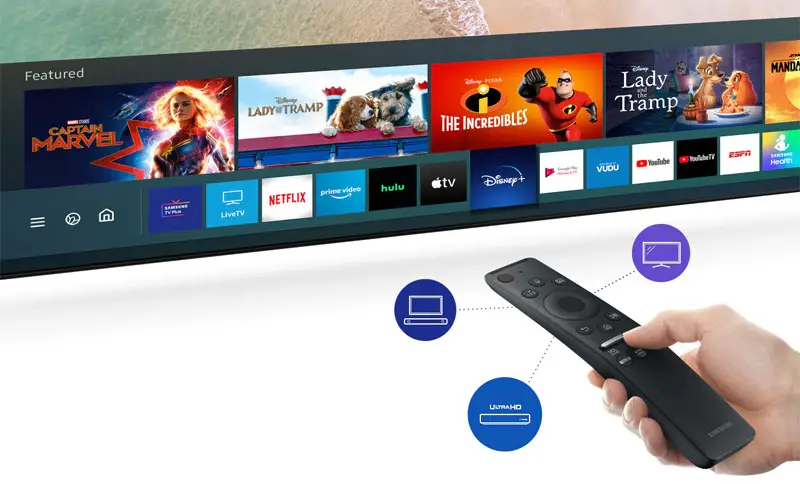 When we talk about Tizen one thing that haven't changed over the years is the enormous support for developers. The TV comes with some pre-installed apps depending on the market you buy it but there is a huge number of apps available for downloading from the online store. Names like Netflix, Apple TV, Disney Plus, Youtube, Amazon, Hulu, Rakuten, Vudu, Google Play Movies, Demand 5 and BBC iPlayer are all present but some of them are region dependent so make sure that the one you want is supported in your area. Also many apps support both 4K and HDR like Netflix and Amazon.
Navigating through the various services was pretty fast with minor lagging when trying to open and close many of them in succession. Not bad for a lower tier TV with more limited capabilities. If you are looking for a cheap streaming TV the TU8000 can fit the bill nicely.
But customization is not the only solution that can help you with the enormous number of apps available. Samsung has included a very handy feature called "Universal Guide" which analyzes your viewing patterns and creates a special 'For You' page where it will show you various content that you may be interested in watching. This can be really helpful when for example you have a specific series that you watch all the time and you want to see the next episodes.
But the TU8000 is not only for streaming. After all it would not be a smart TV if it hadn't some smart functionality. As such there is SmartThings app support and with it you can use the TV as a smart hub for controlling all your smart home devices like thermostats, electronic locks, smart shades, vacuum robots and others that also support the SmartThings platform.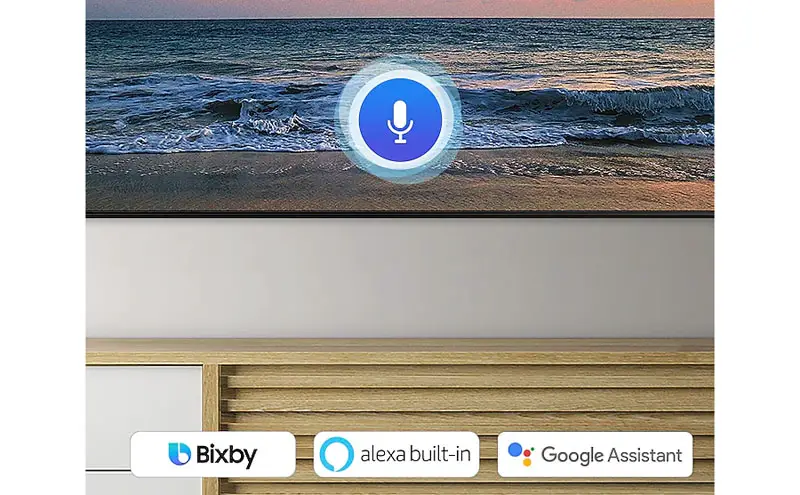 And with smart functionality also comes voice control. The TV supports the most known voice control platforms with Samsung's own Bixby which seems to get a marketing boost from Samsung this year as well as Amazon Alexa and Google Assistant. And the nice thing is that all three of them are built-in to the TV meaning that you will not need an external smart device to use it. All of them will work with the TV's built-in microphone on the One Remote.
Lastly there is Samsung's Ambient Mode but instead of the plus version we saw in the QLEDs the TU8000 comes with the simpler version that we were getting the previous years. With this feature you can use various images to display on screen when the TV is not in use in order to hide it from plain view and make your room look better. This may sound like a nice feature but keep in mind that the TV is still using power and it is not ideal to have it working all the time.
What is completely absent from the TU8000 is the Multi-View feature that we saw in the QLEDs. But since this was not a big deal to start with we don't really feel that you will be missing much. After all the TV is still supporting mobile to TV mirroring and this is the most important feature that you will be using for sure.
Overall we are very pleased with the TV's smart capabilities. Almost all features of the Tizen platform are present and the few omissions like the Multi-View function or the basic Ambient Mode included are not enough to undermine the great experience Tizen can offer you. If you are looking for a cheap TV with strong smart capabilities the TU8000 is definitely worth looking at.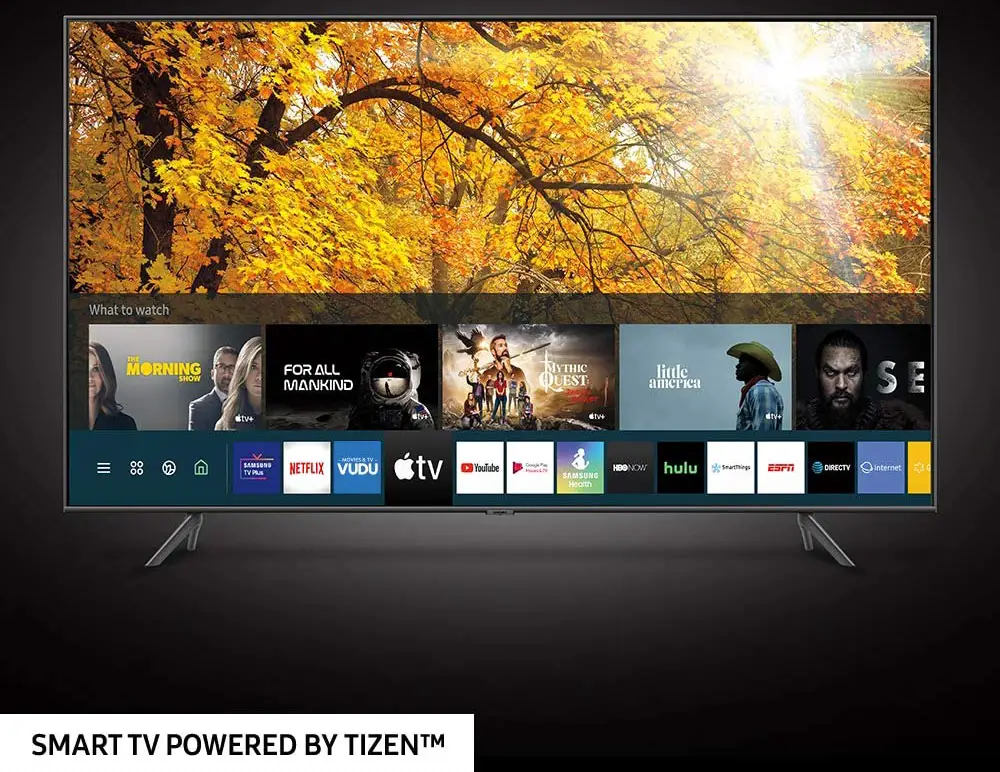 Final Thoughts
With all the previous reviews we had done on the 2020 Samsung TVs we had a pretty clear indication of where this year's performance would be for each model. And after all our tests it was clear that the TU8000 would follow the same pattern. For any of you that were expecting it to perform close to last year's RU8000 will be disappointed as the numbers indicate that it is very close to the RU7100 instead.
The TV's strong points include a good overall design for such a low tier model, nice 4K images with exceptional clarity and sharpness, good upscale capabilities, good SDR performance, crazy low input lag ideal for even hardcore gamers and an exceptional smart TV platform with all it's bells and whistles like smart functionality and streaming services. And it comes with the nice One Remote that is a huge plus.
On the downsides with the less capable Crystal Processor 4K the TU8000 looses all it's AI capabilities both in the image and sound departments, viewing angles suffer a lot as this model doesn't have Samsung's special layer for improving them, HDR brightness is not very good and thus makes the HDR experience underwhelming, there is no wide color gamut with colors suffering in result and motion performance while not bad it's not great either. Lastly audio while normal for casual viewing it fails to offer any kind of real immersion and you will need a dedicated audio system for that.
Closing our review what we can say about the TU8000 is that while it can offer a very basic 4K experience it cannot really do it justice. If you don't care much about image quality but you want a smart TV with strong streaming capabilities where you can watch a 4K movie here or there then the Samsung TU8000 can offer you exactly that and at a good price. It is a casual 4K smart TV intended for casual viewers so in this regard it can do the job just fine. If you don't have very high expectations from it, it can surely offer plenty of enjoyment.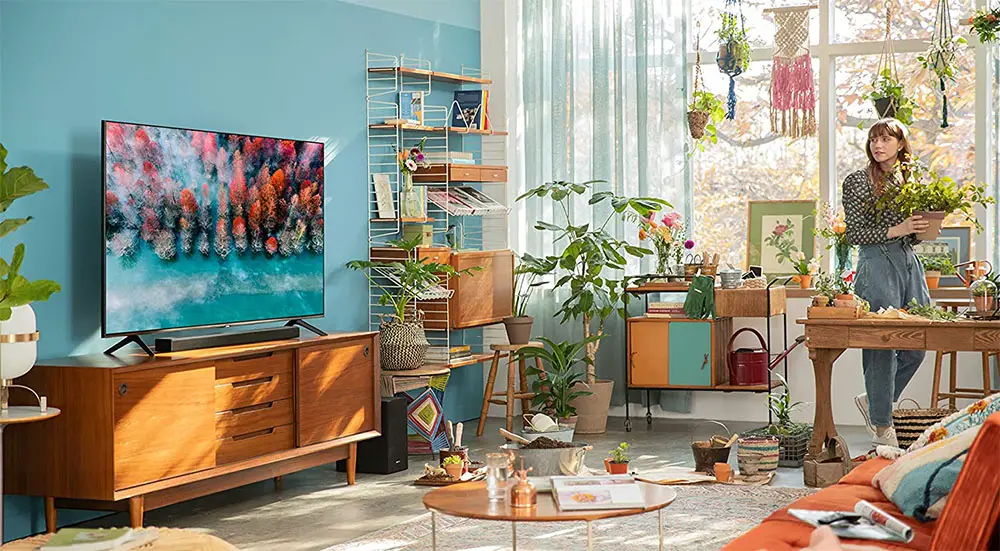 For more reviews you can check our dedicated 4K LED LCD TV reviews list or even look at our Product Reviews Table where you can find the brand and specific product you are looking for.
Also don't lose the chance to subscribe to our Newsletter and gain exclusive privileges.
---
---
Cheapest Places to Buy :
---
Samsung TU8000 Specifications