Samsung RU8000
Design -

86%

Video Quality -

84%

Inputs and Ports -

92%

OS, Apps and Features -

95%

Price / Quality -

90%
---
Cheapest Places to Buy :
---
For one more year we take a look in Samsung's arsenal as they focus yet again on improving their current LCD tech as much possible. Having abandoned the OLED bandwagon some time ago it was obvious that the Korean company would put all their attention on improving this otherwise aging tech and in all honesty they have managed to do miracles as their premium top of the line QLED series proved for one more year that it can really offer spectacular results as their Q90R flagship managed to offer quality and performance very close to how OLED tech performs.
But top of the line LCD technology is not cheap and if you want to go for one of the top QLED models you will have to pay a steep price that not everyone can afford. Here comes Samsung's Premium UHD series that tries to offer good quality but at a price that is more consumer friendly and while specs are obviously lower than what we got in the Quantum Dot series we get a sense that it will be very popular as these models still look pretty good to most people that are not paying so much attention to detail as home theater fans do.
Today we will be testing the top model in the Premium UHD lineup and what is immediately obvious is that it's missing two key components that are heavily marketed in the QLED series. The Quantum Dot film and the Quantum Processor 4K. Instead here we get inferior variants of both that indicate the reduction in specs and as a direct result the reduction in price. But how all this affect the image performance? And does this top Premium UHD model still manages to offer respectable quality? Keep reading our Samsung RU8000 review to find out.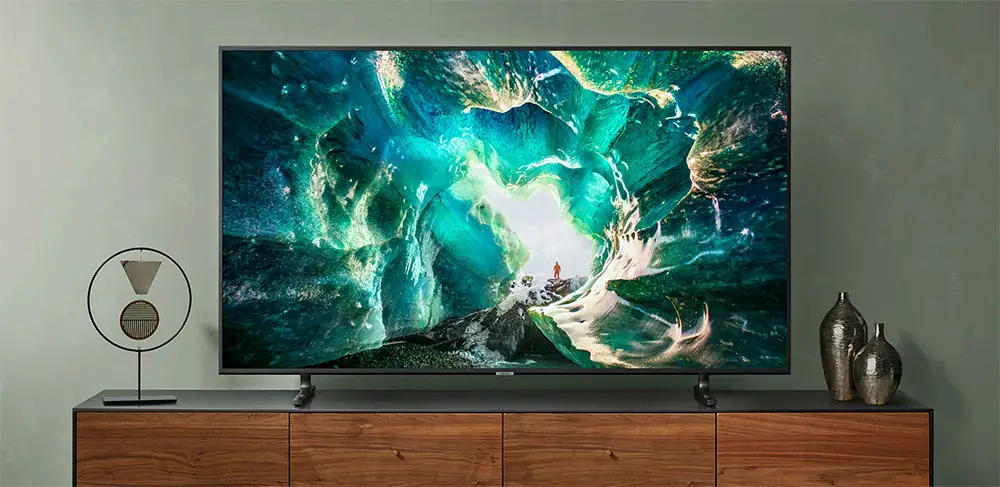 Design
The RU8000 is a lovely looking TV and while it's general look may not be as premium as some other Samsung models it will look good in any kind of environment. Having no One Connect Box means that all cables have to run at the back of the TV which doesn't help much in keeping a cable-free look.
The borders are relatively thin although not as much as some other models we had tested before while the main body's thickness was measured at 2.37″ (6.0 cm) on the lower point where the TV is the most thick. The top back has a slightly curvy design making the panel thinner at the very edge of it. In general it's thickness is such that we can say it will look lovely if wall mounted without it extruding very much from the wall.
The back is surprisingly similar to the Q60R and Q70R with a very characteristic texture and with all connections being placed at the left side hidden in an inset for better cable management. The TV comes with a bench type stand with 2 legs keeping the TV in place and stable. This type of stand may not look as good as the center y-shaped stands but offers much better stability and very little shaking in comparison. And while the legs reminded us a bit of the Q80R's stand the difference is on the cable management they offer as the ones for the RU8000 are not hollow on the back to hide the cables inside and instead Samsung included a simple "ring" in order to keep them grouped all together.
The remote that we find with the RU8000 is the familiar One Remote that we have seen in many other models so far and it's the same 2019 variant we saw in our other recent testings. You can understand the difference from previous years as this one has added 3 dedicated buttons under the channels and volume control buttons for Netflix, Prime Video and Hulu. We are not very fond of these extra buttons as it feels like they push you to use one of these three services while you could very easily select them from the Tizen launch bar. Other than this the One Remote offers the same kind of functionality and practicality we are so accustomed to. Samsung has created an amazing remote that has been perfected over the last few years.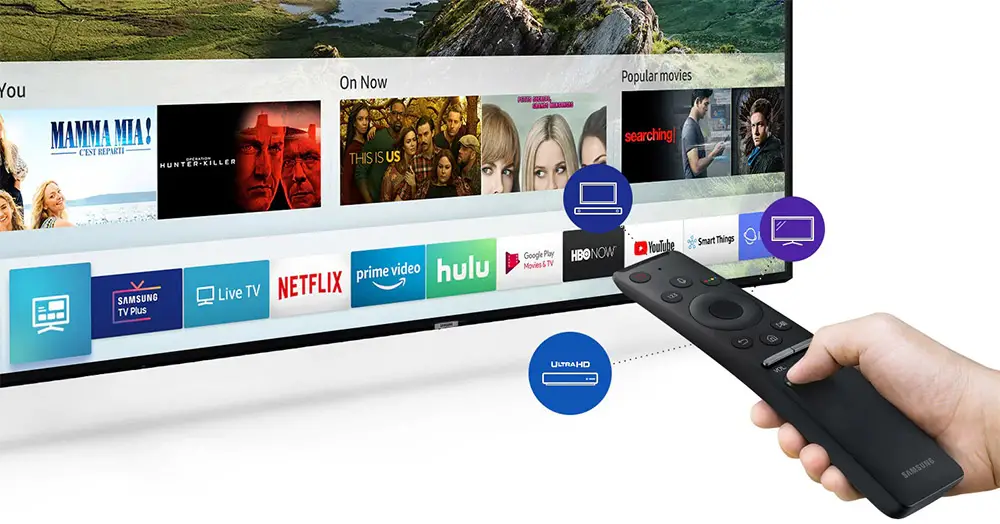 Having Bluetooth connectivity means that you don't need direct line of sight for it to work while the built-in microphone allows for Bixby integration which means you can issue commands to the TV with your voice. There is also the ability to use it as a universal remote either if your other equipment support HDMI-CEC or not as it has IR capabilities.
Our general feeling is that the RU8000 tries to keep a certain built quality but without anything fancy or premium looking that would risk the rising of the price. No complaints here.
Video Quality
Processor technology used
One of the main omissions of the Premium UHD lineup compared to the QLED series is the Quantum Processor 4K that brought a lot of innovative features to the top tier models with improved upscaling capabilities and enhanced audio with the help of an AI Engine.
The RU8000 unfortunately doesn't get that and instead we have to settle with a quad-core UHD Processor that handles all tasks. There are not much information regarding this CPU variant that is being used in most middle and lower tier TV models but Samsung says it has enough processing power to allow smooth multitasking for downloading apps, streaming video and fast switching between content while it offers very good processing for enhanced motion clarity.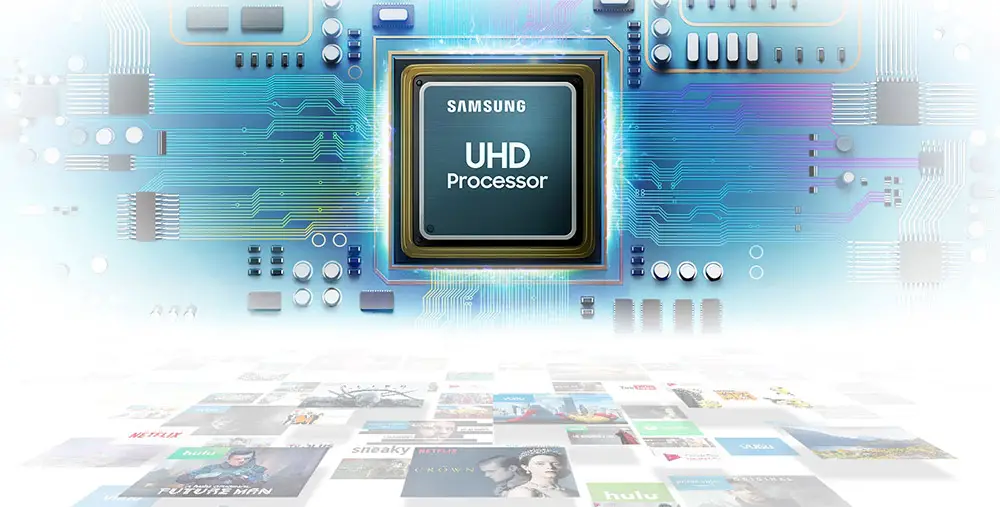 Lighting technology used
The RU8000 is an Edge lit model with Samsung calling this as Ultra Slim Array. Also there is no local dimming to be found here which affects contrast and black levels in general. These two factors defy much of the RU8000's performance as far as light control and brightness as well as contrast performance.
Brightness / Contrast
We are hovering over medium tier ground here so brightness and HDR performance in general is bound to be less than exciting. Also keep in mind that there is no Local Dimming available here which tends to lower the overall quality even more. By using Warm 2 color tone and Movie picture mode we were able to get 340 nits of SDR brightness over a 10% window which is more than enough as SDR content doesn't have excessive needs for brightness. On the other hand HDR brightness gave us 335 nits which can be considered average at best. The RU8000 fails to display very bright highlights and while for general use it can be considered adequate it will not be able to amaze like some other higher models did.
Additionally contrast ratio of the RU8000 was good enough but not great. In a dark environment it was be able to display blacks that may not be the deepest we have seen but were adequate while even a bit of environmental light managed to improve this even further. Having no Local Dimming is a defining factor here and lower performance in this regard was to be expected.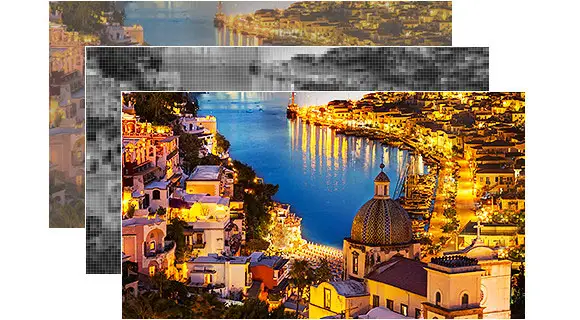 Viewing angles
Samsung continues for one more year to use VA panels in their TVs and one of their main weaknesses is the poor viewing angles they have. This problem seems to affect the RU8000 also as there is no Ultra Viewing Angle tech here as we saw in the top QLED models in order to improve somewhat the overall result. As such the TV seems to behave similarly to other TVs that come with VA panels and while testing various angles we saw that 20 degrees off center is the maximum angle before image quality would start to deteriorate significantly.
HDR support
As for HDR support things are pretty clear as Samsung had decided some time ago not to support Dolby Vision which is an advanced HDR protocol that uses dynamic metadata. Instead all their TV models including the RU8000 support the basic HDR10 which is needed for 4K UHD playback. There is also support for HLG which is an HDR protocol that is used for broadcasting while we also find support for HDR10+ which is the new protocol that also supports dynamic metadata and was created as a rival to Dolby Vision. Content in HDR10+ is still almost non existent but hopefully we will see more films supporting it in the near future.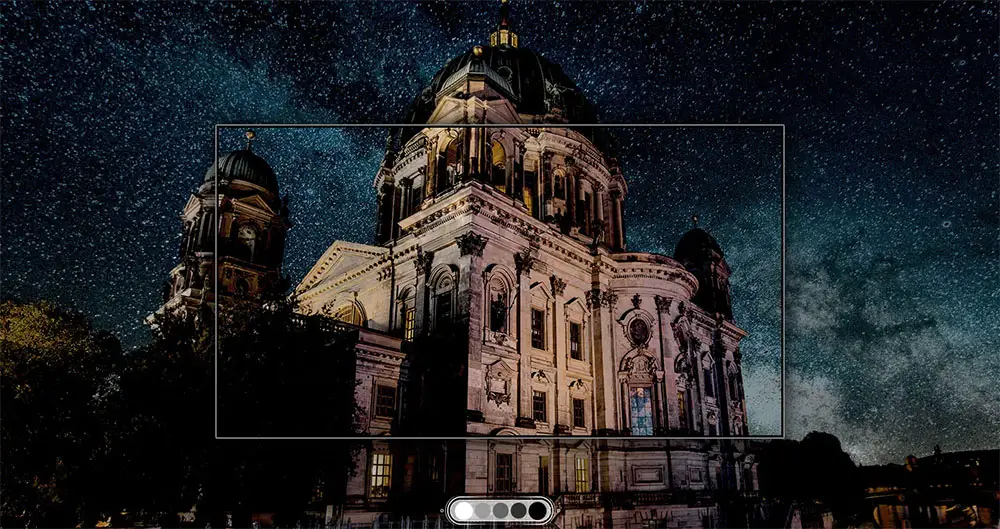 Color coverage
The RU8000 supports wide color gamut but it looses the Quantum Dot film that was present in the QLED series. Instead here we get what Samsung calls "Dynamic Crystal Color" tech which makes the TV being capable of displaying millions of color shades. Loosing the Quantum Dot film means that color coverage is bound to be lower and according to our measurements this holds true.
The TV was able to cover 87% of the DCI-P3 color space and 64% of the much wider REC.2020. Although these numbers are lower than their QLED variants they are not so bad as we originally thought with the RU8000 managing at displaying very lifelike and vibrant colors on screen that left us a very good impressions even if the numbers are lower than what we would like.
Motion performance
As for it's motion performance the RU8000 showed similar behaviour with some other Samsung TVs we had seen recently. As such we find a 120Hz panel that has a 240Hz backlight flickering frequency.
As for the motion features we get the standard motion interpolation that can create smoother fast movements by enabling the Auto Motion Plus feature in the settings and adjusting the sliders accordingly. Pushing the sliders to high values resulted in the familiar "Soap Opera Effect" which makes the motion so smooth that looks a bit unnatural and very "TV like" so you should play a bit with the sliders in order to find a setting that you like.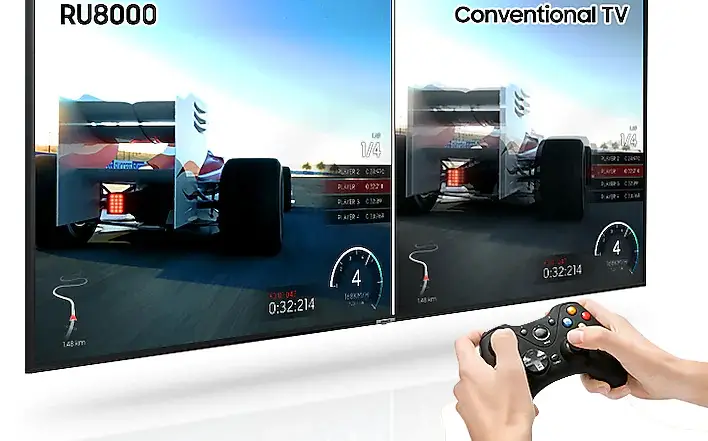 We also get the now familiar Black Frame Insertion (BFI) feature that is capable of creating smoother motion by inserting a black frame between 2 individual frames. Resulting motion is very good with this but there is a catch. Brightness takes a hit while enabling the LED Clear Motion that is the option for the BFI feature lowers the flickering to 60Hz which may be bothering to some. So you have to test various settings to find the one that looks better to your eyes.
Lastly the RU8000 supports the FreeSync variable refresh rate (VRR) technology that you can use in case you have other connected equipment that also supports it.
Input lag
It seems that all Samsung TVs in 2019 have extremely low input lag as the RU8000 managed to give us measurements that were registered as low as 15.9ms which is almost as good as what we had seen in some of the top QLED models. This means that if you are planning on gaming on this TV fear not as it will provide a very smooth experience with almost instant response times. For this part of the testing we like to test a bit of Call of Duty WW2 on our PS4 to get a feel of response and in general we felt that response times were very satisfying and we never felt any delay on our commands. Very good impressions on this regard making the RU8000 an ideal low cost, gaming TV.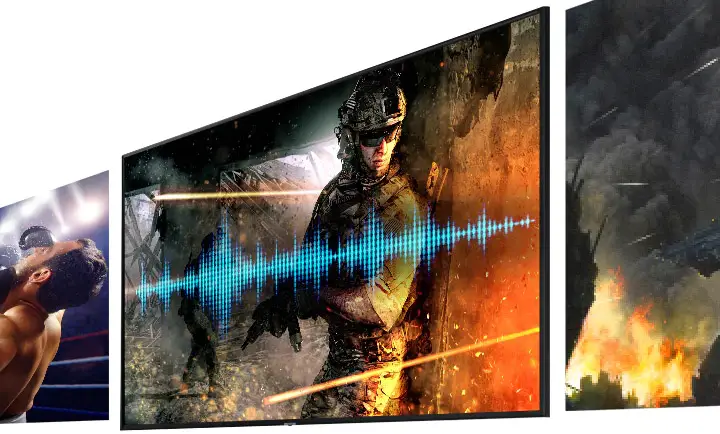 Image quality impressions
Moving from the top QLED series to the second tier Premium UHD lineup meant that we would be loosing some of the great tech we saw on the top models and would result in lower overall performance. The RU8000 is an Edge lit TV without any local dimming, it gets the Dynamic Crystal Color tech instead of Quantum Dot that results in lower color coverage, it has lower HDR brightness than what we would like while getting a quad-core UHD Processor means that we loose many of the advanced features we saw in the Quantum Processor 4K like advanced upscaling and AI sound. Also viewing angles are poor which is a standard for all VA panels so this is not a problem of this TV specifically.
On the other hand the RU8000 is a capable 4K model that is able to display very sharp images in 4K resolution, colors are very good even if it cannot cover as many colors as the QLED models, SDR brightness is excellent, motion performance was good enough for this price range while input lag was amazing making this a perfect gaming TV. If you consider the price asked then we have to say that what the RU8000 offers a very satisfying overall package.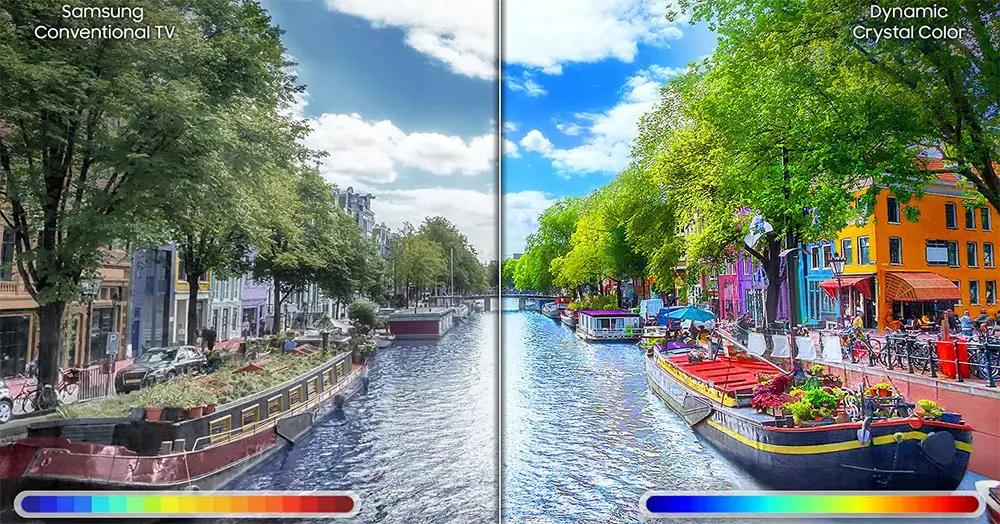 Audio Quality
The built-in 2.0 channels audio system that we get on the RU8000 has a total power of 20 watts and while the 2 down-firing speakers are good enough for providing sound for general viewing like talk shows and sports they cannot provide any kind of immersion for movies. We tried a couple of action oriented films and all sound felt like coming from the front without any surround activity. Also bass was naturally very weak as it failed to provide any kind of rumble.
If you are going to use the TV for movies or gaming we would suggest a soundbar at the very least with a dedicated audio system being the best option. Otherwise for broadcasting, TV shows, news broadcasting and sports it will be adequate. Closing this part we need to mention that the RU8000 supports Dolby Digital Plus but no DTS.
Inputs
As far as connectivity the RU8000 comes equipped with the exactly same setup as we had seen in the Q70R. As there is no One Connect Box all connections are placed on the back left side of the main body grouped together in an inset and looking sideways so the cable connectors will not bother if you want to wall mount it. Being a middle tier model we were not expecting anything fancy here while getting exactly the same as what we saw in the last two QLED models can only be considered a good thing.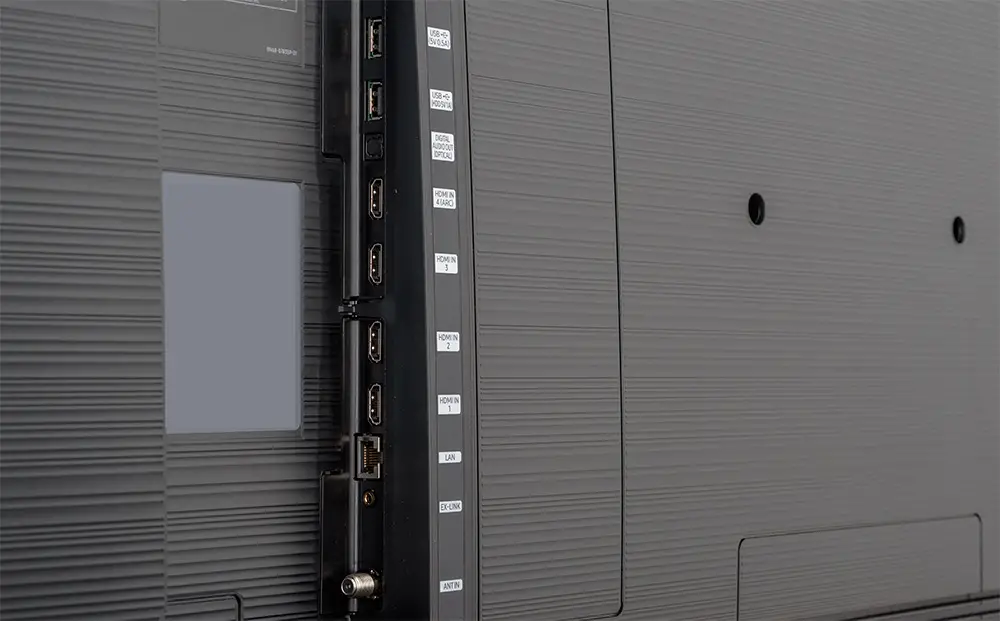 From top to bottom we find a couple of USB 2.0 ports, a Digital Optical Audio output and 4 HDMI ports with all of them being HDCP 2.2 which means they are capable of 4K/60Hz signals, wide color gamut and HDR while HDMI 4 also gets ARC support. Below them there is a Ethernet port for wired connection to the internet, an Ex-Link jack and lastly the usual antenna/cable port. Not much to say as we get the usual USB 2.0 version which is older than what we would like to remember and there is no HDMI 2.1 here which means also no eARC support. For a medium tier TV the RU8000 offer a pretty standard connections setup.
OS, Apps and Features
When it comes to smart TV functionality Samsung has been pretty consistent this year with their offerings in most of their TV models and we find that the RU8000 comes with almost the complete set we had seen recently in our Q70R testing.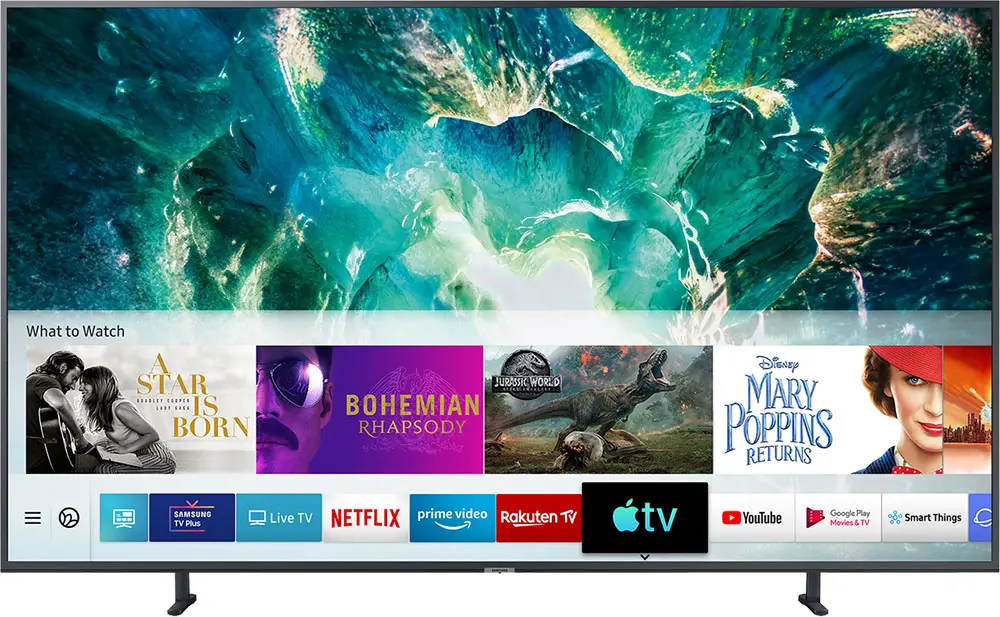 Once again we find the familiar Tizen smart TV platform which has been improved greatly over the years and has reached a point that we consider it along with LG's webOS the best smart TV platform to day. For this year we find minor enhancements and improvements both in visual design and in functionality to make it a bit more easy to use.
Going through initial setup is as easy as following the on-screen instructions. After connecting to the internet, if there is any, the TV goes through the usual broadcasting channels calibration. When you finish with this you are as good as finished, that's how easy it is and if you have even the slightest of experience it shouldn't take you more than a few minutes to complete. If you have used a Samsung TV over the last few years then you know more or less what to expect as the Tizen user interface may have changed visually but at it's core remains very similar.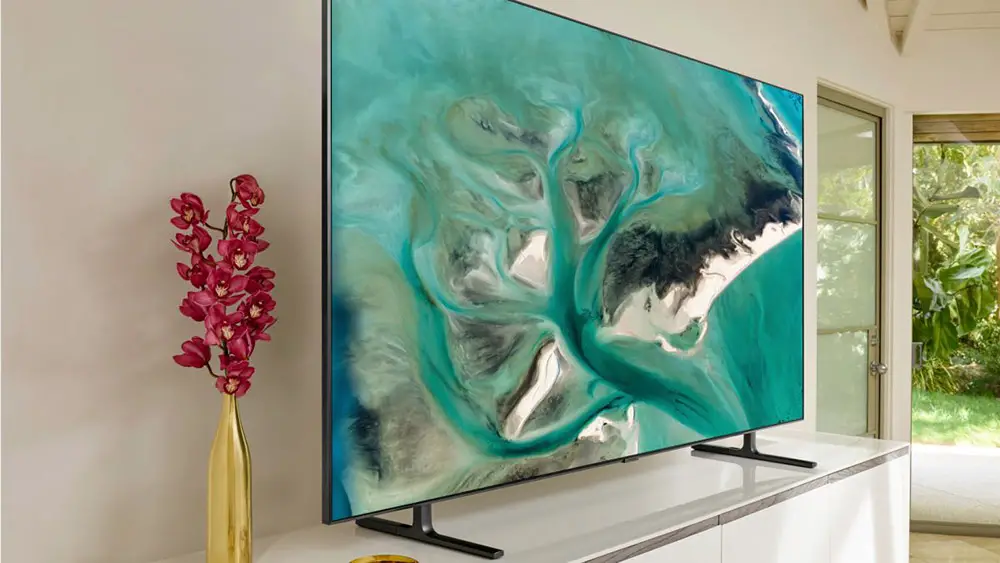 The bottom of the screen is occupied by the launch bar that extends from one side of the TV to the other showing all applications and services in a single line while a second layer appears for quick access to specific content. There is so many apps and services available that makes customization a necessity as navigating around can be a daunting task. Customizing and keeping the apps you need the most can makes things so much easier.
The amount of app we get with the RU8000 is huge with Amazon, Youtube, Netflix, Demand 5, Rakuten, Now TV and BBC iPlayer being just a few of them and gives you an idea of what to expect to find. This is one of the reasons why we love Tizen as it provides so much flexibility and support. For Amazon, Youtube and Netflix you can now stream content in 4K along with HDR which is an improvement over the previous years. Navigation was more or less smooth but if you try to access many apps very fast then things may get a bit laggy and unresponsive and this could be the result of the lower CPU being used in the RU8000. It can be a bit bothersome sometimes but it never became a big problem during testing.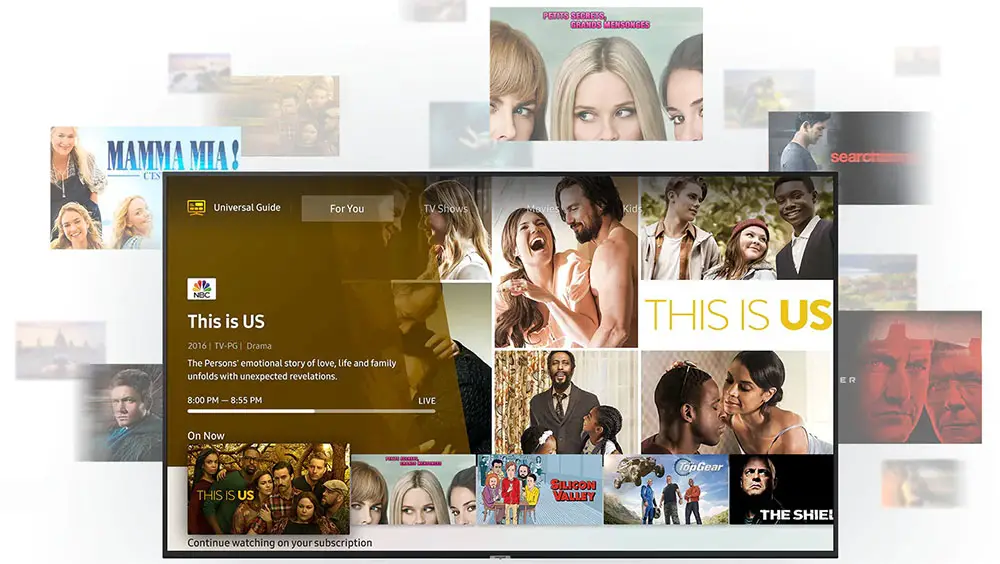 One of the new features that Samsung added in 2019 is what they called "Universal Guide" which is a smart feature that registers the kind of content you are watching the most and creates a special "For You" page in which you can find a selection of content that is picked specifically to fit your viewing patterns. A very practical feature in our opinion if you have specific shows and series that you constantly watching.
Another feature that has become a standard to almost all Samsung TVs with Tizen is Ambient mode. This feature started from "The Frame" a few years back and went down the ladder so now can also be found in middle and lower tier models. What this feature does is that it can display any kind of image when TV not in use in order to somehow blend with the environment.
Of course in order for this to look good the image displayed must be good quality. Ambient mode can also display all kind of digital artwork that you can download from the internet. While it's a nice feature to have we cannot say we see many people using it as when at work the TV still uses power to display the images so it's not like you are saving much power and we prefer to have it closed as it means less wear on the panel.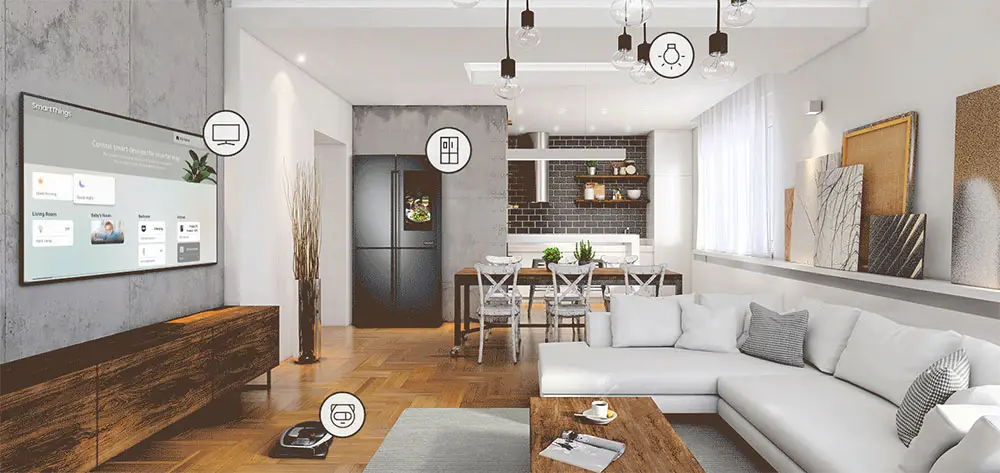 Samsung offers many means for controlling your RU8000 if you find control with the One Remote old style and boring. One of them is through the SmartThings app that Samsung has created for Android and iOS and with it you can not only control your TV through your mobile device but also all your smart devices at your home creating a central smart hub for all your equipment. Another way is through voice control and here Samsung offers the full set with support not only for Bixby but also for Amazon Alexa and Google Assistant.
And while for Samsung's Bixby you can use the One Remote's built-in microphone for Amazon Alexa and Google Assistant you will need an external speaker for each of them like an Echo Dot or Google Home which you will have to buy separately.
Last but not least we are expecting 2019 Samsung TVs to support Apple TV for downloading content from Apple's store as well as Airplay 2 which lets you stream content from Apple devices directly to your TV as well as create you own multi-room environment if it happens you to have airplay 2 enabled speakers in your house.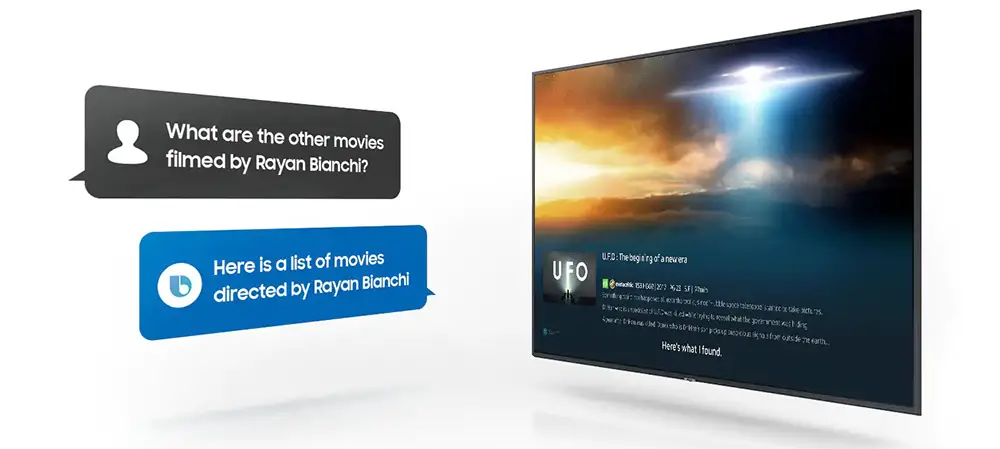 Final Thoughts
The RU8000 is a middle tier TV with all the advantages and disadvantages this brings. On the positive side the TV has pretty good build quality, is able to display very sharp 4K resolution images, SDR brightness was excellent with good enough contrast and adequate color reproduction while motion performance was more than satisfactory with extremely low input lag ideal for gaming. Lastly it comes equipped with the full set of smart TV functionality and features that Samsung offers in almost all of their TVs in 2019.
On the downsides the TV is not very bright when it comes to HDR content, it comes with an Edge lit system while no local dimming is making matters even worse. Having a VA panel means that viewing angles are not very good while average cable management and no Dolby Vision support are some omissions worth noting. Sound performance is average at best and mostly suitable for casual viewing.
If you look at the TV as a whole and taking into consideration it's affordable price then we have to admit that the Samsung RU8000 is more than worth it for those that are looking for a relatively cheap TV and are willing to sacrifice some performance to get it. Being offered in 5 different sizes show that Samsung is expecting a lot from this model and will try to catch the more cost sensitive consumer audience and in this regard we believe they have created a very tempting offer.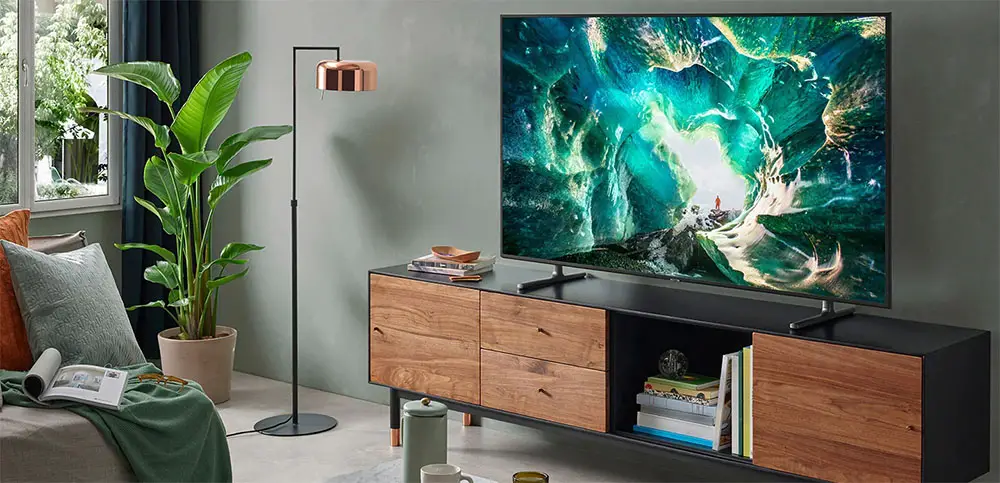 For more reviews you can check our dedicated 4K LED LCD TV reviews list or even look at our Product Reviews Table where you can find the brand and specific product you are looking for.
Also don't lose the chance to subscribe to our Newsletter and gain exclusive privileges.
---
---
Cheapest Places to Buy :
---
Samsung RU8000 Specifications