Samsung Q70R
OS, Apps and Features
9.5/10
Pros
Very good image quality and HDR
Extremely low input lag
Huge list of features and services
Good price
Cons
No Dolby Vision support
Viewing angles are poor
Sound quality is average
No One Connect Box
---
Cheapest Places to Buy :
---
In today's review we will be looking at another TV belonging in the 2019 QLED series which has left us with overall good impressions so far. With LG dominating the scene with their OLED panels Samsung is really pushing LCD technology to their limits in order to stay competitive at least as far as image quality is concerned. And even though LCD may not be exactly on the same league as OLED, Samsung has really impressed us with the improvements they managed to make to this aging technology and the result can be described as more than just satisfactory.
The Q70R has a unique position in the QLED series. It may come third in line behind the top Q90R and Q80R models which means that some specifications are lower and as a result this has an obvious impact on the quality of the images the TV can display but on the other hand it keeps some hardware characteristics of it's bigger brothers in order to offer a very satisfactory result at a much better price. The Q70R is the most affordable QLED that comes with a FALD system which is very important for it's good performance. All other models under this one have edge lit panels which means much lower light precision and control.
Coming with a lower performing FALD system, less brightness and no Ultra Viewing Angle filter can the Q70R still be a competitive model worthy of the QLED title or the lower specifications make this model loose some of the thunder of the top flagships? Keep reading our Samsung Q70R review as we test every aspect of this TV to find out.

Design
When we reviewed the Q80R to our great disappointment we saw that there was no One Connect Box as it turned out only the top Q90R would get it in the US (as well as the Q85R in Europe). So this time we knew not to expect it with our Q70R model which is a bummer really and we do hope that in the future Samsung will decide to use it in more of their models. Since they advertise their QLED series as the premium one we would at least expect all of them or at least most of them to use such a unique and so practical feature.
As for the actual TV the Q70R keeps a relatively thin design even though it's FALD system increases it's thickness a bit while most of the TV's body keeps it's uniformity with only a slight curve towards the top. This model unfortunately does not support the no-gap wall mount of the Q90R but in general we cannot say it looks bad even though it will stick out from the wall a bit more than what we would like.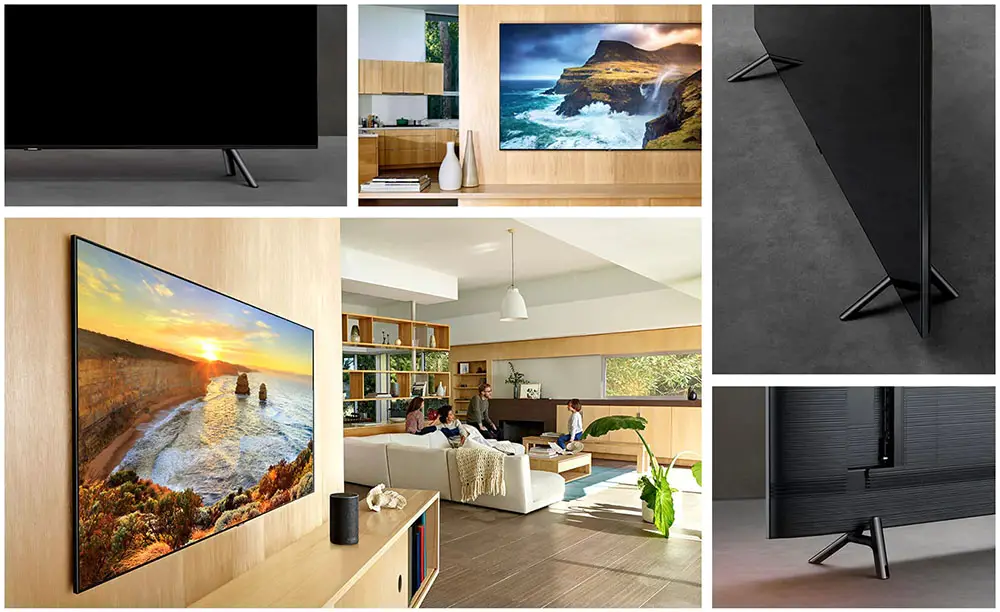 The back of the TV is very similar to last year's Q8FN with the same plastic body, similar texture, the same position of the connections as well as cable management. For the cables Samsung has added special grooves on the back to guide them if you want to wall mount. If you prefer to place it on a furniture then the Q70R comes with a bench type stand which is preferable for such a TV in order to keep it stable although it may be a bit of a problem if you have limited space to place it on. The back of the stand has grooves in order to hide the cables and this is where cable management ends with this TV. Nothing fancy but the best that can be done since there is no One Connect Box.
As for the remote the one supplied with the Q70R is the same as the one we get in the US variant of the Q90R. This is the gun-metal black arch variant that is similar to most One Remotes we had seen in the past. The difference we find here compared to older models is the three dedicated buttons under the channels and volume control buttons with Netflix, Prime Video and Hulu available. Since the remote works with Bluetooth it doesn't need direct line of sight to work while it can act as a universal remote either if your other equipment support HDMI CEC or not as it also comes with IR capabilities. Additionally with the included microphone you can issue commands to Bixby even if the TV is close which is a neat feature.
Good overall quality both for the TV and the remote and while missing the One Connect Box is disappointing what we do get show the attention Samsung puts on the QLED models.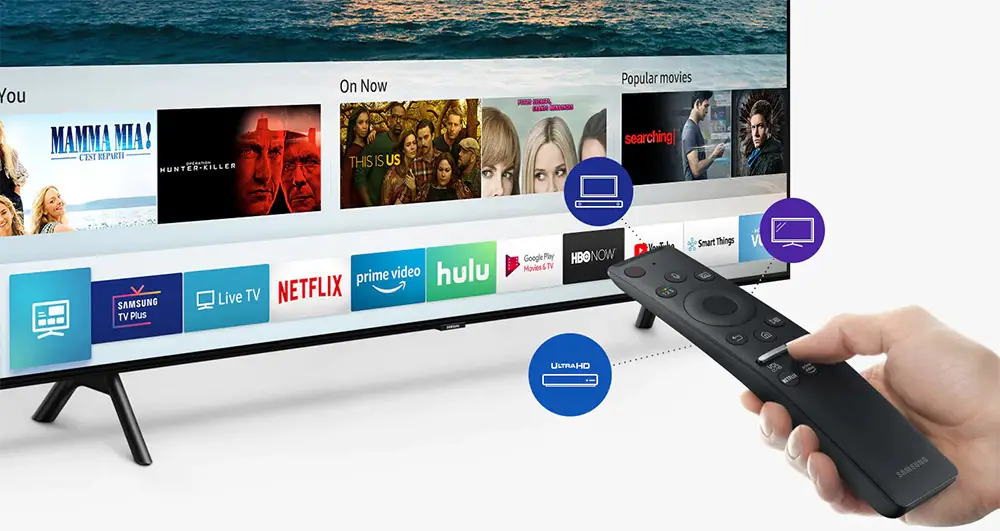 Video Quality
Processor technology used
As with all the QLED series in 2019 the Q70R comes equipped with the same Quantum Processor 4K that we saw in both the Q80R and Q90R flagships in our recent reviews. This means that the Q70R also comes equipped with a powerful AI upscaling engine that uses some complex algorithms and in addition to an image database that it can access it is capable of upscaling lower resolution content to 4K with amazing results.
Having the same hardware as the top tier models means that as far as upscaling is concerned the kind of quality we get here is exactly the same. We tried content in different resolutions like SD as well as Full HD and the Q70R made a very good job upscaling all of them to 4K with no additional artifacts visible. Of course Blu-ray discs fared better as some films scaled amazingly in our screen while colors and sharpness were produced faithfully. SD content was also good but there is so much you can do with so low quality content. Great work from the Q70R here.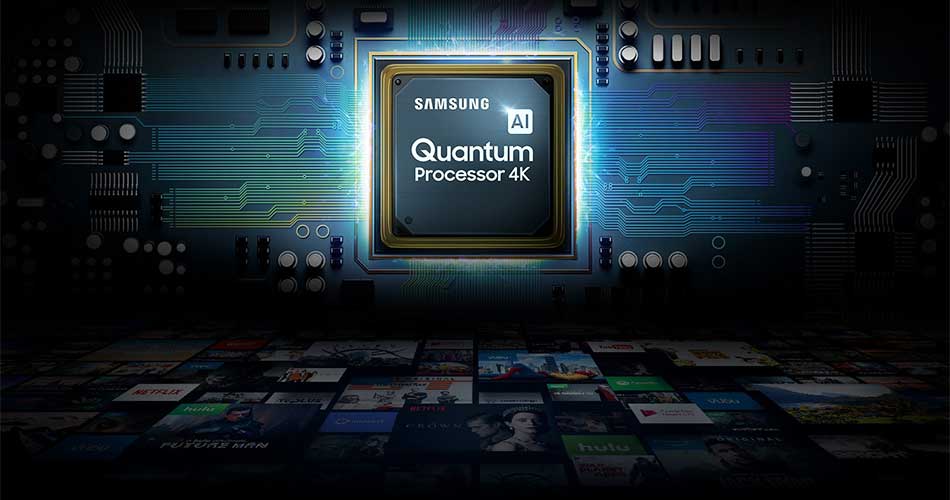 Lighting technology used
It seems that this year almost the complete QLED lineup, except the lowest Q60R, comes with some kind of Full Array LED panel with dimming zones as a FALD system no matter how accurate it is, can provide a vastly superior image quality to TVs that come with Edge lit panels. As such we are pleased to see that even the Q70R comes with a FALD system which is impressive really if you consider that just a couple of years ago only the top flagships were coming with FALD and everything else had to settle with the inferior Edge lit panels.
Of course how good a FALD system is depends on 2 factors. First how many dimming zones it comes with as the more zones allow for more precise and better light control while the second depends on the lighting algorithms that control how fast each zone will change it's light output. The number of zones is a hardware matter and it seems that in order for manufacturers to manage the cost of the TV panel they decide how many zones to include. This means that flagships get more zones than lower models.
A result of this can be seen when you have a very bright object against a dark background. The lesser the zones a more visible halo will appear around the object as the light escapes to the nearby pixels. As for the light algorithms they control the response time of the dimming zones. The faster the change the less visible ghosting you can see when a bright object moves very fast on a dark background.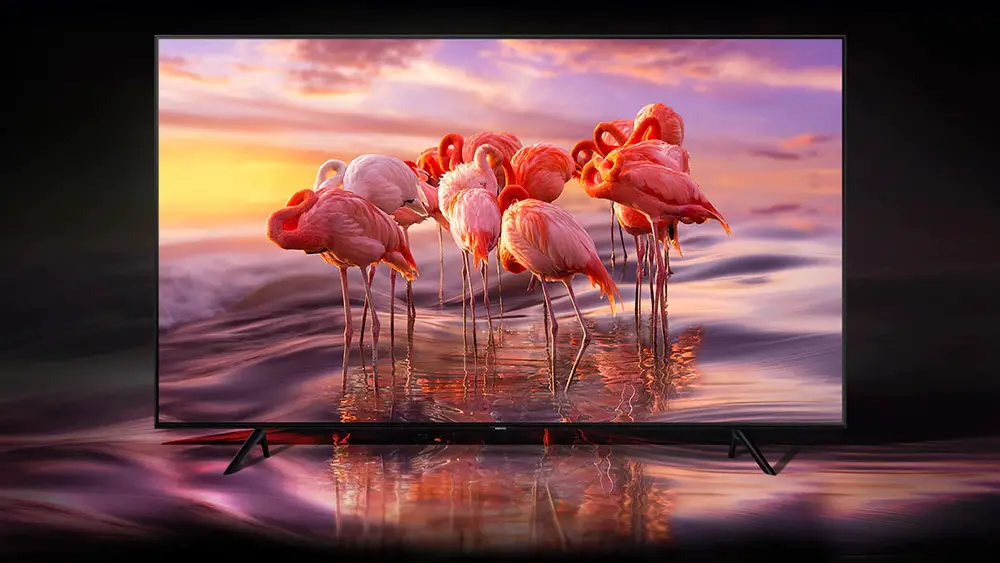 Returning to our Q70R testing we measured the number of dimming zones to 48. This means that compared to the Q80R that we had tested recently the Q70R cuts the number of zones to just half of them. In theory this may sound bad but in all honesty you have to see the result to understand that even with just 48 zones the TV can perform very well. We have said before that we would take any FALD system compared to Edge lit ones so even if the lower number of zones offer less light accuracy we are still happy with the end result if you also take into account the lower price of the Q70R compared to the Q80R or even Q90R.
As far as the response time the Q70R fared good but there is a small delay between transitions and this can be seen more clearly when a bright object disappears. Then the dimming zone remains lit for a fraction of time before it's turned off that can be a bit distracting. Of course during normal viewing this effect will not be very visible but the problem is there and we should mention it.
Brightness / Contrast
With the Q70R we see a further reduction in brightness compared to the higher Q80R model as the theoretical brightness here is 1,000 nits. With Local Dimming set to high and Color Tone to Warm 2 we measured HDR brightness over a 10% windows to 740 nits which may be a far cry from the 1,000 nits claimed but still remains a respectable number in order to show very bright highlights and good overall brightness. Next we measured SDR brightness over a 10% window and here we got 510 nits which is great for any kind of SDR content since requirements are not so high.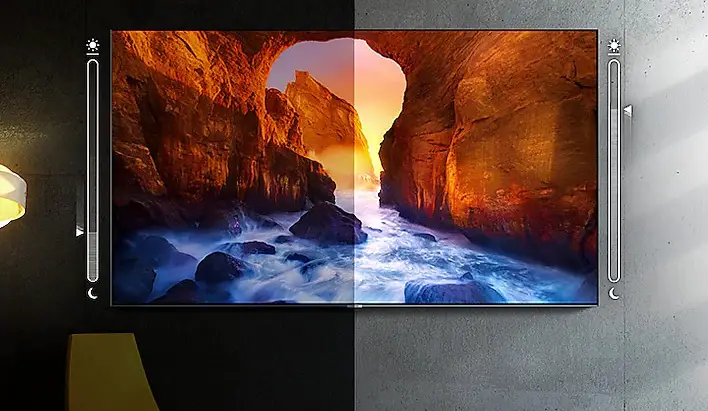 Additionally contrast ratio of the Q70R was very good as the TV was able to display very deep blacks but we have a small suspicion that this is also a result of the TV missing the Ultra Viewing Angle layer that we had seen in both the Q80R and Q90R that was improving viewing angles but had a negative impact on contrast ratio. Here this layer is missing and it could also help a little in this regard.
Viewing angles
The Q70R comes with a VA panel which means that viewing angles are in general not good. And while Samsung managed to improve this a bit with the Q80R and Q90R models as these models included the Ultra Viewing Angle we mentioned before the Q70R is the first model in the series that looses this extra layer and as a result image quality drops significantly when you move anything more than 20-25 degrees off-center making this TV less than ideal if you plan to use it from high angles.
HDR support
Talking about HDR support what we write here applies to all 2019 models. Samsung is following a very specific policy by taking the decision not to support Dolby Vision at all and instead they will try to push their own advanced HDR with metadata called HDR10+. If this is a strategy that will pay off it remains to be seen but for the meantime as with all Samsung TVs the Q70R supports HDR10 which is the basic protocol for UHD playback, HLG which is used in broadcasting as well as the new HDR10+ with it's dynamic metadata. We are slowly seeing a few UHD releases using this new protocol and we are curious to see if it will gain as much traction as it's rival Dolby Vision.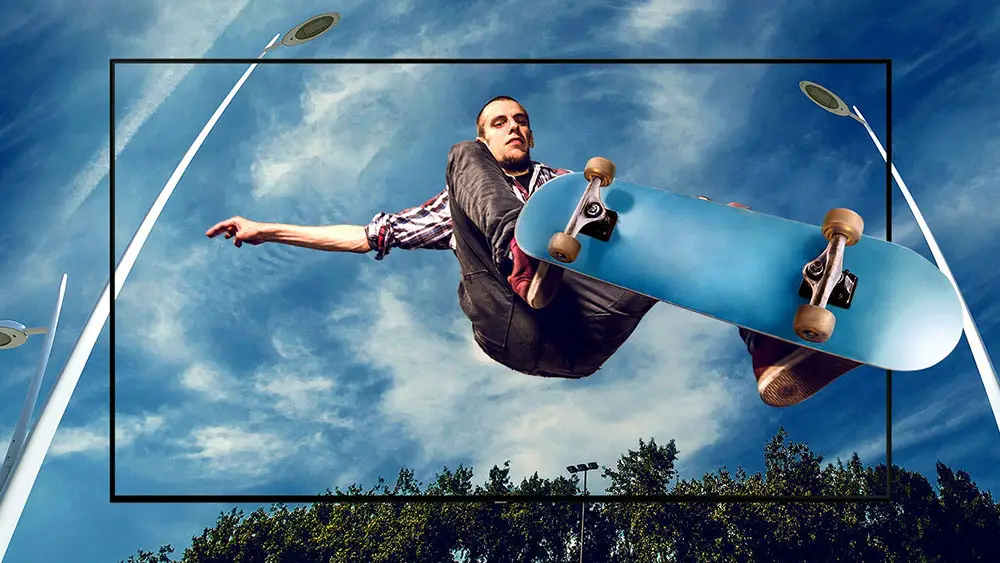 Color coverage
The Q70R supports wide color gamut which means it can display more colors on screen for more lifelike images. Unfortunately it seems that color coverage is slightly lower than the Q80R but also last year's Q7FN. According to our measurements the TV can cover around 91% of the DCI-P3 color space and about 69% of the wider REC.2020. Although this is not immediately visible to the naked eye the numbers reveal the lower performance this panel has compared to the top models in the series.
Motion performance
The Q70R showed a very similar behavior in the motion department as the top flagships we had tested before in the QLED series. In a similar fashion the Q70R comes with a 120Hz panel while it's backlight dimming frequency is at 960Hz resulting in delivering clear and blur free images even in very fast camera movements.
Additional features we get is the standard motion interpolation for creating smoother images and this can be adjusted from the Auto Motion Plus menu but pushing the settings to high levels can make the "Soap Opera Effect" to appear. Usually some low setting is the most preferable but you have to test various settings to find the most suitable for you. We also find the BFI (Black Frame Insertion) feature that smooths motion by inserting a black frame between 2 individual frames. Although the end result is very good the side effects of this is that brightness is lowered while some people may notice a bit of flickering even though this can be rare.
As with the other QLED flagships, the Q70R also supports FreeSync variable refresh rate technology if you have other equipment that also supports it.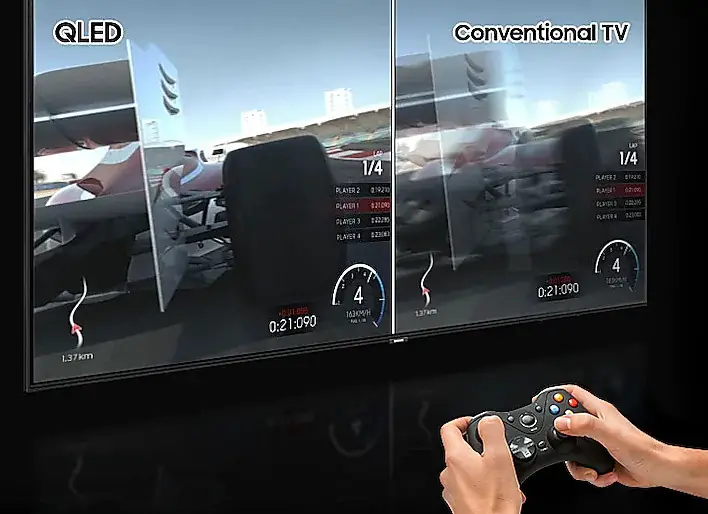 Input lag
Another characteristic of this year's QLED series seems to be the extreme low input lag that all models have and the Q70R seem to follow the same trend as we measured 15.7ms input lag with the Game mode enabled which is very close to what we had seen during our Q80R and Q90R reviews. We connected our PS4 to the TV and Game mode engaged automatically as it detected our console immediately. The game we like to try lately is Call of Duty WW2 which has a fast enough gameplay in order to get a sense of the kind of response we would get. Needless to say that our session was smooth as butter and our gamepad inputs were instant and precise. If you are a gamer you will fall in love with this TV for sure.
Image quality impressions
Having already tested the Q80R and Q90R flagships we more or less knew what to expect from the next in line model. The Samsung Q70R has a FALD system with all the benefits this brings but it's fewer dimming zones offer less light accuracy while response time of the Local Dimming was average as when a bright object would disappear the dimming zone would remain lit for a fraction of time before disabled. Brightness was also lower but is in line with what we were expecting in this category. Missing the Ultra Viewing Angle Layer meant that viewing angles would be much worse and anything more than 20 degrees would start to make the image loose quality. Color coverage and contrast good enough while input lag was amazing.
In this price range we believe that Samsung made a very good job with the Q70R's main strength being by far the inclusion of the FALD system. Just a few years ago FALD would be a flagship exclusive feature but now it seems this is becoming the norm for even middle tier models which is only a good thing for the consumers.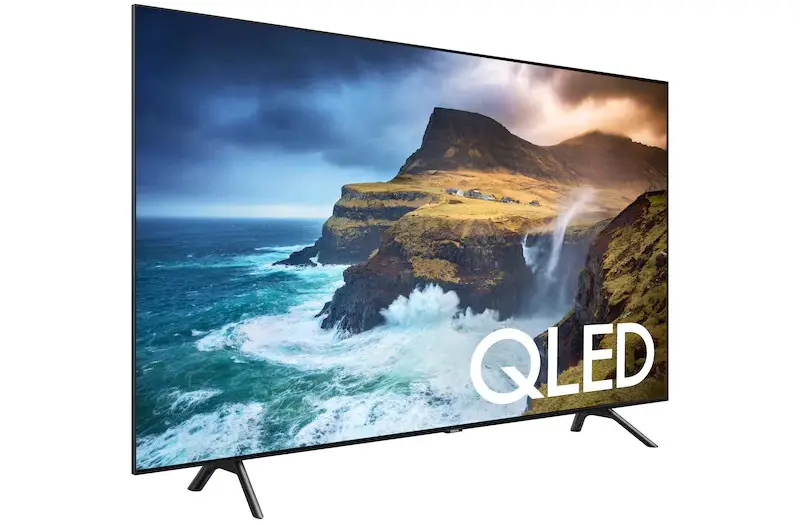 Audio Quality
Downgrades in image quality is not the only thing we find in the Q70R compared to the top flagships as the audio system also is downgraded to a simpler 2.1 channels system with a total of 40 watts power. Being more thick due to the included FALD system it means that there is a bit more breathing space for the down-firing speakers but even like that don't expect anything fancy. For casual viewing the audio is good enough with clear dialogue and audio in general but it cannot produce any kind of surround immersion while bass fails to produce any kind of rumble.
Since the TV comes with the Quantum Processor 4K it means it also comes with Samsung's "Intelligent Sound" which is a feature which we had seen in both the Q80R and Q90R and what it does is analyze the environment the TV is placed and the type of content it displays and optimizes the sound accordingly for the best possible immersion. In action films for example this feature seems to boost the surround effects a bit in order to create a wider soundstage while during talk shows and news broadcasting dialogue is more pronounced. If you are a sports fan then this system boosts the crowd effect in order to make you feel more in the game.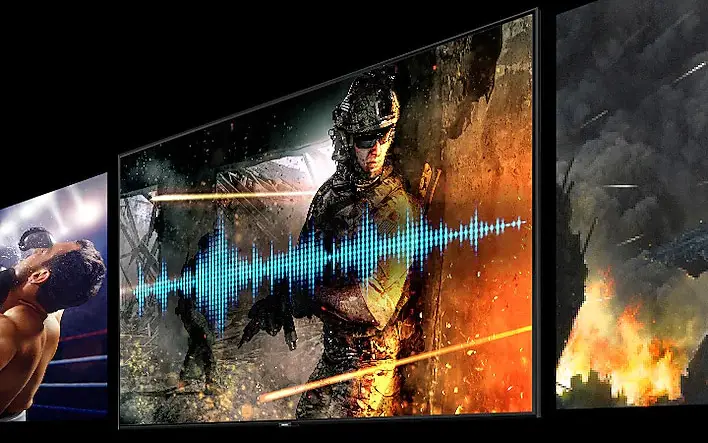 We have said in our previous tests that this feature while altering a bit the overall result, it doesn't have the necessary hardware to work with in order to offer a dramatically different outcome. Yes small differences there are and depending on what you watch the sound will feel a bit different just don't expect to see night and day differences. But with such a low performing system like any flat TV has any kind of improvement is welcome so we are glad with what Samsung tried to do here. But for a true improvement in audio we will definitely recommend a dedicated audio system or at least a soundbar.
Inputs
The Q70R unfortunately is missing the miracle One Connect Box that the Q90R as well as the European Q85R variant have. Here all connections are placed in the back left side of the main body with the total of connections looking sideways in order to make them a bit easier to access if you plan to wall mount it. QLED is supposed to be the premium TV series and in our opinion all models should come with the One Connect Box but unfortunately this is not the case.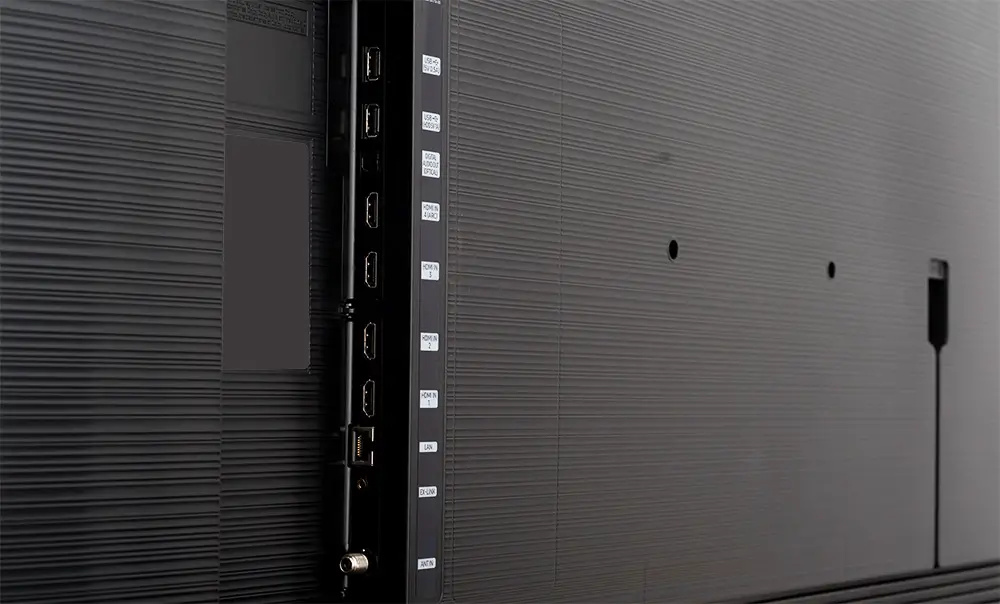 What we do get is a fairly standard setup with 2 USB 2.0 ports, a Digital Optical Audio output,  4 HDMI ports with all of them being HDCP 2.2 while HDMI 4 also comes with ARC support. There is also an Ethernet port, an Ex-Link jack and the usual Antenna port. Not much to say here as we still are getting the archaic USB 2.0 ports, there is no eARC to be found as non of the ports are HDMI 2.1 and lastly the most important is the omission of the One Connect Box. We cannot say we are very excited by what is on offer by what is supposed to be the third best TV from Samsung in 2019.
OS, Apps and Features
As far as it's smart TV functionality and features the Q70R comes with the same capabilities as the other models in the series which we had extensively tested during our Q80R and Q90R reviews.
Samsung has equipped all their 2019 QLED models with the latest Tizen smart TV platform which in our opinion is the best smart platform available along with LG's webOS. And although the last few years we don't see major changes Samsung makes sure to update their OS with enough visual and some new elements to keep it fresh and more functional than ever.
Initial setup could not be easier as you follow the directions on screen in order to connect to the internet as well as calibrate all broadcasting channels. When done you are ready for use, it's so easy that it shouldn't take more than a few minutes. If you have used any previous Samsung TVs then more or less know what to expect as the general look and feel is not very different over the years. What is different is the visuals as the latest version comes with a more pleasing design although fundamentally is the same making navigation easy and fast.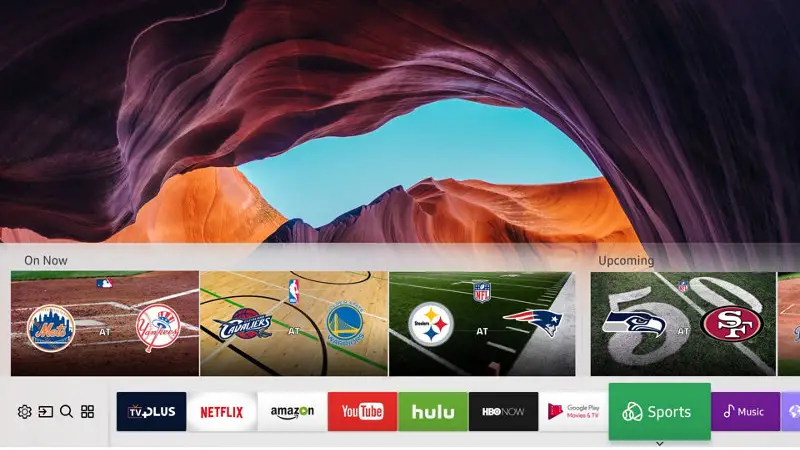 At the bottom of the screen a launcher bar appears that extends from side to side showing all apps and services in a single line while a second layer appears providing quick access to various content and applications. The huge amount of available apps makes customization a necessity in order to keep everything in order and be able to find what you seek easily.
Amazon, Youtube, Netflix, Demand 5, Rakuten, Now TV and BBC iPlayer are just a few of the available services as mentioning everything is impossible. So much support there is from developers which is one of the things that make Tizen such a great platform. For this year we can also use Amazon, Youtube and Netflix to stream 4K content with HDR which is a plus for anyone with a good internet connection. Navigation was more or less smooth although we did see the same lag when trying to open quickly various applications that we saw when testing the Q80R but it's not very bothersome and happened just a few times so we don't consider this something major.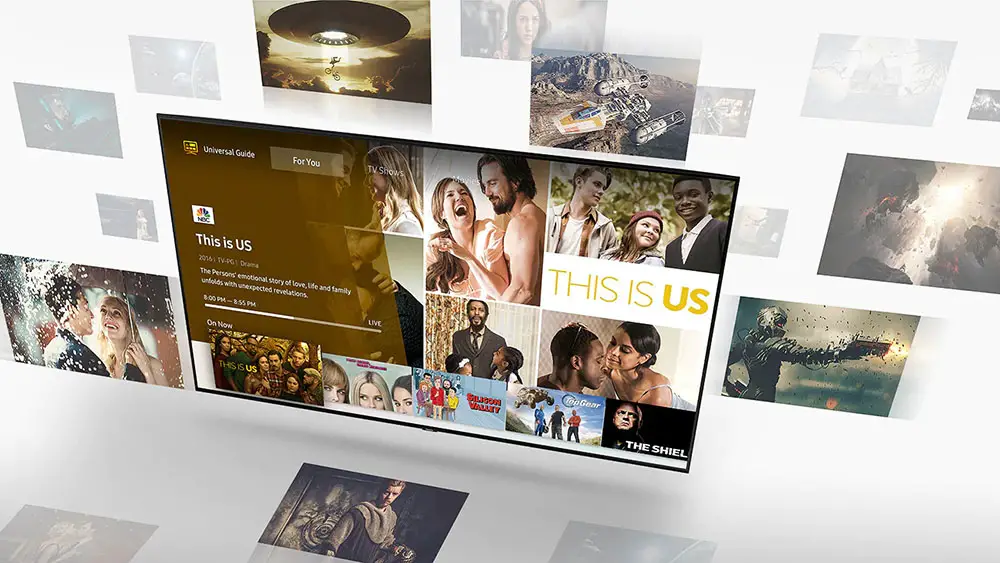 One nice new feature we found in 2019's Tizen is the inclusion of Samsung's "Universal Guide" which is a system that analyses the content you are viewing the most and creates a 'For You' page which can be very useful if you are using many streaming services and you are looking for your favorite show. Very nice feature and one that was definitely needed in order to keep all your favorite content together.
Another feature we find for one more year is the Ambient mode which was initially used in "The Frame" and since then Samsung has included it in most middle and top tier TVs every year. What this feature does is that by displaying specific images it tries to blend the TV with the environment when not in use. The end result depends heavily on the image quality and also keep in mind that the TV still uses power to work so it's not the perfect feature that you may think. Nevertheless some may like it so it's good to see it included as a standard.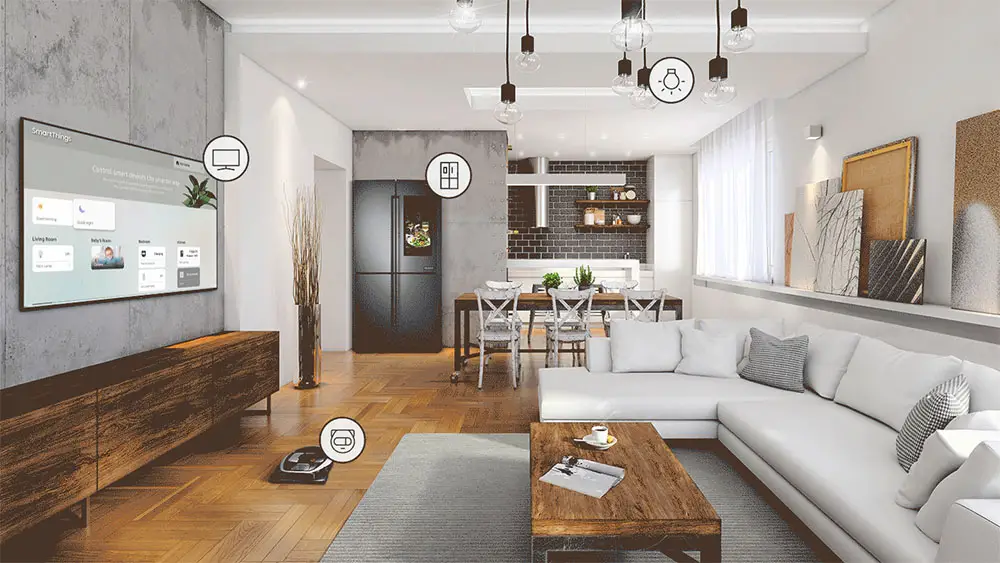 As our times dictate electronic equipment should give you various control options and as such a 2019 TV couldn't do otherwise. The included remote could be the most usual way but Samsung has also created the SmartThings app that you can download in your mobile device and with it not only control your TV but also any smart devices in your house. But if you prefer an even more advanced way of control then the Q70R comes with support for both Amazon Alexa and Google Assistant in addition to Samsung's Bixby. But for Alexa and Google Assistant you will need a dedicated device like an Echo Dot or Google Home while for Bixby you can use the remote's microphone to function.
New for this year is also support for Apple TV with which you can stream various content from the Apple store while the inclusion of Airplay 2 let you stream content from any Apple device to your TV while control can be done with Apple's Siri.
Final Thoughts
There are so many things to like with the Q70R. Even with it's lower specs this unit packs a lot of features that in the end if you also consider it's price it becomes a no brainer. This is the most affordable TV in Samsung's arsenal that has a FALD system giving a vastly better and accurate light control over any kind of edge LED TV. It also comes with the new Quantum Processor 4K that has amazing upscaling capabilities as well as AI features for image and sound. Feature wise this model doesn't miss anything of it's bigger brothers providing one of the most comprehensive smart TV platforms to date. With good color coverage, good brightness both in SDR and HDR and extremely low input lag the Q70R comes with the right features and the right price.
But what about it's low points? Well obviously the FALD system included consists only from 48 zones which is a huge reduction compared to the two flagships and means that there is not the same kind of light precision. Also brightness is lower but still adequate for HDR viewing while we are missing the Ultra Viewing Angle layer which has a negative effect on the angles you can watch without quality deteriorating. Samsung continues not to support Dolby Vision while sound performance can be described as adequate at best. Lastly we do miss the One Connect Box which could help so much with cable management.
We get a feeling that the Q70R will be a very popular model and this shows from the big variety of sizes Samsung offers this one. It has many features of a flagship model while the things it is missing will not be such a big deal for those that this model is meant for. If we had to summarize the Samsung Q70R in one phrase that would be, "good quality and great functionality at an affordable price".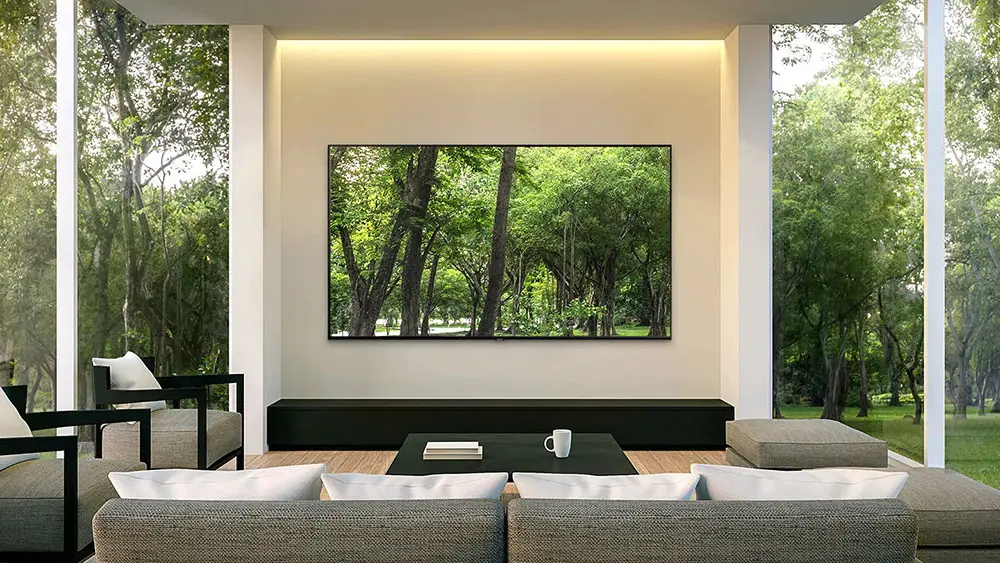 For more reviews you can check our dedicated 4K LED LCD TV reviews list or even look at our Product Reviews Table where you can find the brand and specific product you are looking for.
Also don't lose the chance to subscribe to our Newsletter and gain exclusive privileges.
---
---
Cheapest Places to Buy :
---
Samsung Q70R specifications