Samsung HW-Q600A
Reviewed at $599.00
Product Name: Samsung HW-Q600A
Product Description: 3.1.2CH Dolby Atmos Soundbar
Design -

8.8/10

Movies Performance -

8.4/10

Music Performance -

8.4/10

Inputs and Features -

8.2/10

Price / Quality -

8.8/10
Summary
Reviewed at $599.00
Pros
Dolby Atmos and DTS:X support
Simple to install and to use
USB and Bluetooth playback
Can be expanded to 5.1.2 channels
Cons
Bass not very impressive
Atmos a bit weak
No online features
No HDMI 2.1
---
Cheapest Places to Buy :
*We are a reader-supported website. When you buy through links on our site, we may earn a small affiliate commission at no extra cost to you. Home Media Entertainment does not accept money for reviews.*
---
Samsung has one of the most extensive yearly soundbar lineups in order to appeal to all consumers no matter the budget restraints. It has been like that for a few years now and it seems only LG can compete with them in sheer numbers. A couple of months ago we had the opportunity to test the Samsung HW-Q700A which was a decent mid-range offering and so today we go one step lower than that with our Samsung HW-Q600A review and determine if this affordable release has what it takes to be a worthwhile offering.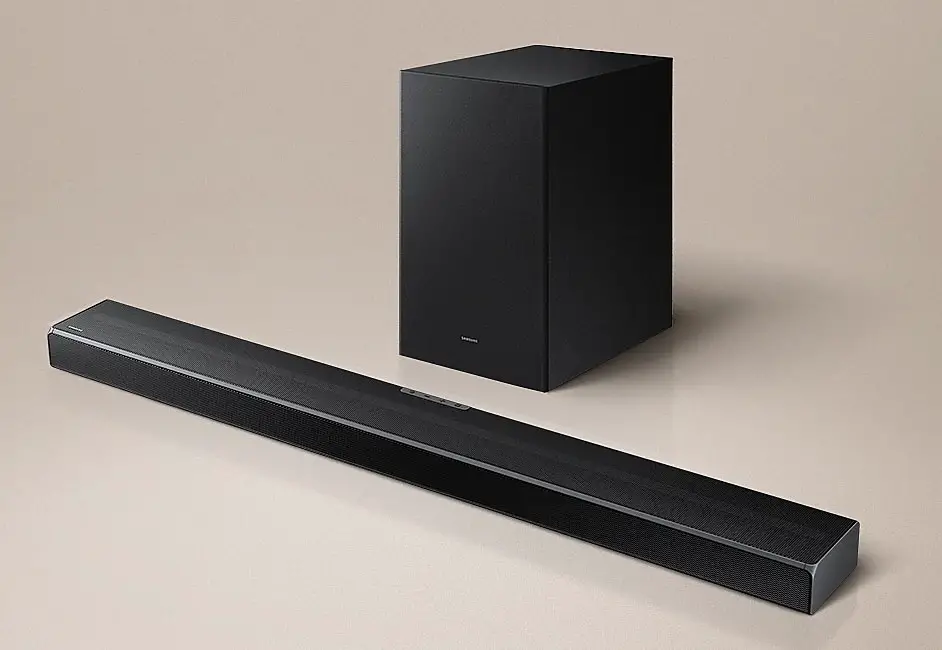 Basically the HW-Q600A is the most affordable soundbar in Samsung's premium Q series for 2021 which is a cut above the S series and the T series they have in the market. As with all the soundbars in the Q series the Q600A is a Dolby Atmos capable unit with a 3.1.2 channels configuration and in this regard it is not so much different from the Q700A. But there are a few fundamental differences between the two soundbars that we will talk about shortly.
Going quickly through the specs of the Q600A and as we mentioned this is a 3.1.2 channels Dolby Atmos soundbar consisting of the main unit along with a dedicated subwoofer. There is also support for DTS:X which is good and can output 360 watts of power which is surprisingly more than the 33o watts the Q700A was able to output. But the biggest differences comes in terms of extras as the Q600A is stripped of any kind of online functionality as it is missing a WiFi module. We do get USB and Bluetooth playback, it is Q-Symphony compatible, there is Tap Sound and also you can add the SWA-9100S extension kit for better surround activity.
The HW-Q600A doesn't seem to be all that different from its bigger brother in terms of actual performance but we will put it to the test to get an opinion on that. As for everything else the cut backs are obvious in order to incorporate a lower price. Does this affect the value of the soundbar overall? Let's find out…
Design, Inputs and Features
Exterior
The soundbar may differ in design compared to the Q700A but its general footprint is almost the same. Measuring 38.6″ x 2.3″ x 4.1″ (980.0 x 58.0 x 105.0 mm) and with a weight of 7.5 lbs (3.4 kg) the HW-Q600A will fit nicely under any TV of 55″ or below. It can do ok for bigger sizes, like 65″ and above but its length will surely make it look small in comparison.
The soundbar doesn't have any side firing drivers and this certainly helps as it allows for more flexibility in terms of placing it in more constraint spaces. But keep in mind that due to the Acoustic Beam technology the top must still be unobstructed in order to work as it should.
As for its design the HW-Q600A looks more like last year's HW-Q60T rather than this year's Q700A. A perforated metallic grille is covering most of the front and top sides while a chamfered front edge gives it its characteristic Samsung look. The rest of the main body is made out of the usual black plastic which looks sturdy and of good quality as per Samsung's standards.
Thankfully the Q600A does include a full functions display that Samsung has placed on the far right side of the front face. The display is rather small, fitting just four characters, but we vastly prefer that than having some frustrating LED lights to do the job.
On the top side there are a handful of built-in control buttons, as per usual, while on the back we find two big insets covering all the available ports which we will analyze in the appropriate section.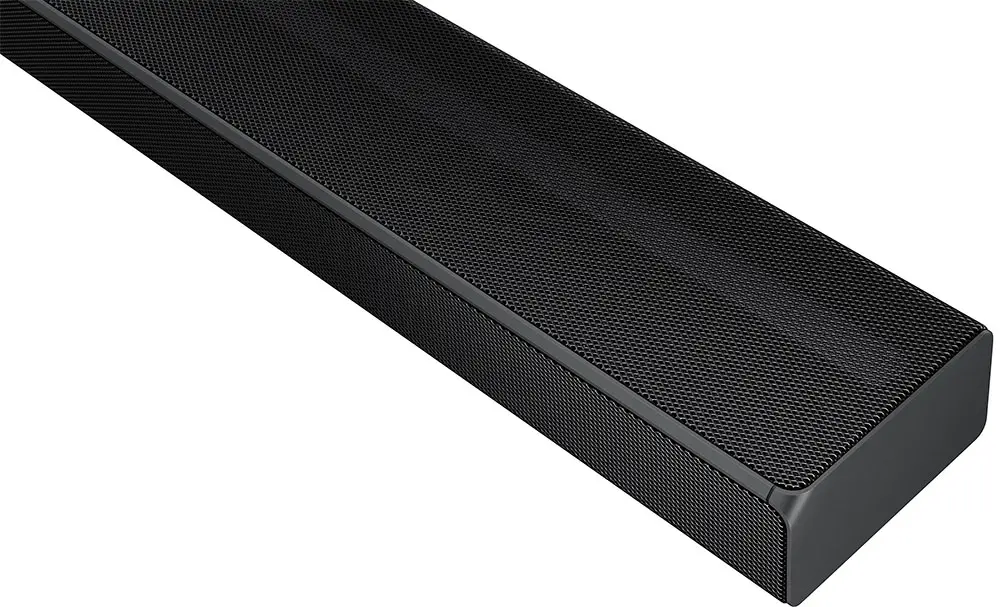 As for the subwoofer, the one you get with the Q600A is exactly the same as the one Samsung use in the Q700A so no real surprises here. It is made of melamine and has a full fabric grille at the front covering the bass driver. It comes at a size of 8.1″ x 13.9″ x 11.9″ (205.0 x 353.0 x 302.0 mm) which is the usual for this category and has a weight of 12.8 lbs (5.8 kg). At the back there is a big bass port at the top with only a pair button and a LED showing its pairing status next to it while the power connector is placed to the left of them. With its front firing design and relatively small size you shouldn't have a problem finding some place to fit this in.
Not much to say about the design. It's a typical Samsung soundbar with a distinct design that the Korean manufacturer uses for some time now and with the kind of build quality that you would expect from this brand.
Internal Hardware
Samsung rates the HW-Q600A as a 3.1.2 channels soundbar so in essence we get the two main channels, a dedicated center for better and distinct dialogue, two up-firing channels through Samsung's Acoustic Beam Technology for the Atmos effects along with the subwoofer.
For the three main channels the Q600A is using a single round woofer in combination with an oval one which is very similar to the Q700A with the only difference here being the addition of an oval woofer for the center channel also.
Last but not least is the subwoofer which includes a front-firing driver for the low frequencies which we vastly prefer in comparison to the side-firing one we saw in the Q950A.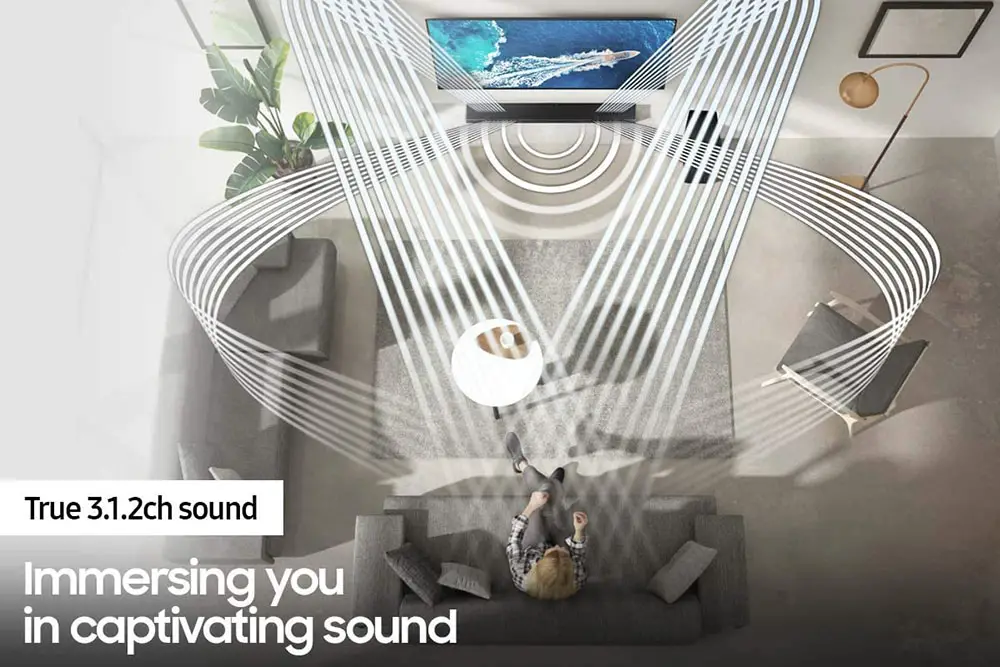 The whole system is rated at 360 watts of output power which is actually 30 watts more than the Q700A and it boils down to the addition of the oval woofer in the center channel. The main unit is rated at 200 watts with a (30W x 6 + 10W x 2) configuration while the subwoofer comes at 160 watts.
From the numbers above it seems that Samsung increased the output of the center channel but on the other hand the Atmos channels through the Acoustic Beam technology were downgraded.
Connectivity
Next we will be looking at all the connections and as we said above all inputs are placed on two insets underneath the unit making it a bit hard to reach them all the time. In most cases this is not a problem but since the Q600A includes a USB port for playback it will surely be hard to reach all the time.
What we get is not actually so much different than what Samsung offers in many of their soundbars. In one inset we find the two HDMI ports available, one input and one output allowing for pass-through functionality along with a digital optical input for connecting older equipment, while on the other there is a USB port for connecting external storage and a round power connector. By having a single input means that the Q600A cannot be used as a hub. So in case you have multiple input sources you have to be creative with how you connect everything.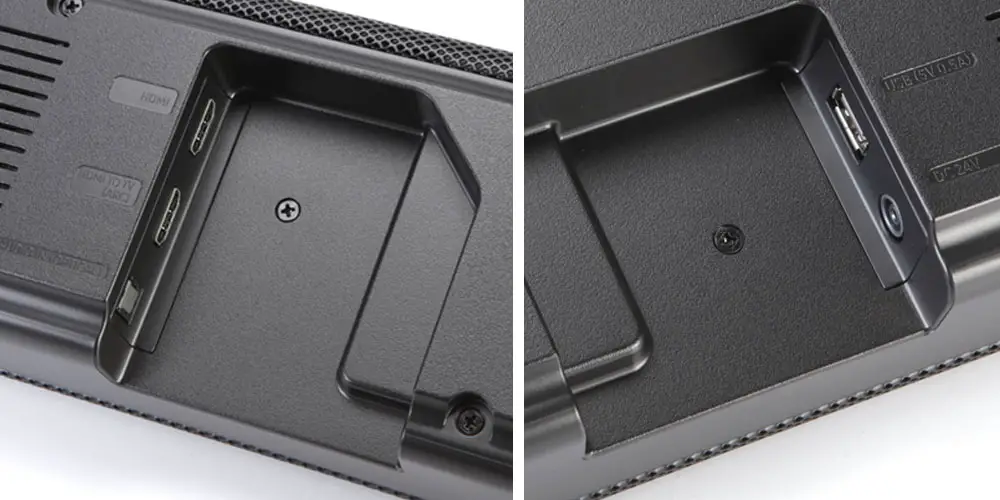 The HDMI output supports only ARC which means you cannot pass Dolby Atmos through Dolby TrueHD or DTS:X but at least it can support Dolby Atmos through Dolby Digital Plus which most streaming services seem to use nowadays. The HDMI ports also support both 4K@60Hz and HDR10+ pass-through in case you worry about that. Sadly there is no 4K@120Hz support meaning that the HDMI ports of the Q600A are only HDMI 2.0.
In terms of wireless capabilities the unit only uses Bluetooth which means that it misses any kind of online functionality.
If you are not worried about gaming at 120Hz then the HDMI limitations of the Q600A should not be a problem. We do miss eARC as it can be such a great feature passing all the latest formats to the soundbar and at this price it should be available.
Control Options
Next we will be looking at the ways you can control the HW-Q600A which is pretty much what you should expect given the hardware available. As per usual the soundbar has some built-in buttons that Samsung has placed at the top side. There are four physical buttons and from left to right we find a power button, volume controls and a source selection button. Physical buttons may look cheaper than touch sensitive ones but in most cases we do prefer them as it is easier to find them in a low lit room.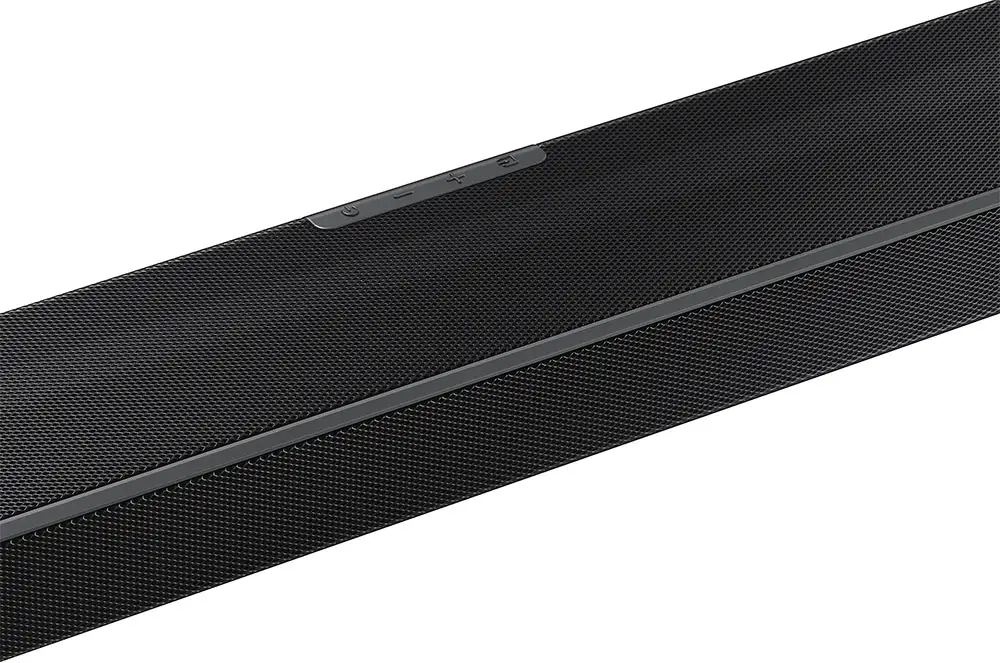 As always, the most obvious means of control is no other than the included remote and here we find the familiar One Remote that Samsung has been using on a wide range of their visual and audio devices. And while general design and buttons layout remain fairly unchanged what has obviously changed is the functionality of these buttons.
The two buttons above the navigation controls are used for source selection and Bluetooth pairing while the other three below the circular navigation controls are for sound mute, sound mode selection and sound control which includes many sound calibration options like treble, bass, frequency bands adjustment and specific channels volume control. The two buttons at the bottom are for main volume on the left and woofer volume on the right.
All Samsung soundbars feature the same One Remote and depending on their functions the buttons have additional uses so if you have used any TV or soundbar from Samsung in recent years the remote will feel very familiar.
The soundbar gives you also the option to control its volume through third party remotes. Remotes from most major TV manufacturers will work but for some OEMs or less known brands it can be a hit or miss situation. Also control is limited to volume and therefore there is not a lot of practicality to it.
With the unit missing a WiFi module, it means that there is no online app support and no voice control. So make sure you don't loose the remote as it will be your main means of setting up and controlling this soundbar.

Extra Features and Services
In terms of audio support it seems that the Q600A has it all. This means that we get Dolby Atmos, through both Dolby TrueHD and Digital Plus, Dolby Digital, DTS-HD Master Audio, DTS:X and DTS.
The unit also comes with a few sound modes you can select from as per usual with most Samsung soundbars. The ones available are the Standard mode which outputs the original audio mix as it is, Surround Sound that provides a more wide sound field than the Standard mode, Game Pro mode which provides stereoscopic sound to immerse you in the action while gaming and Adaptive Sound which analyzes the content audio and provides the optimal sound field accordingly.
One thing we should note here is that with the Standard mode if you feed the soundbar with a surround signal you will only get up to 3.1 channels of output. Only in Surround, Game Pro or Adaptive sound modes you get the full 3.1.2 channels from the unit.
The Q600A also comes with Bluetooth connectivity. First of all you have the ability to stream audio from any mobile device through a Bluetooth connection. And this can be done up to two devices at the same time. If you try to connect a third device then keep in mind that the other two will disconnect.
Also if you don't want to mess with cables you have the ability to connect it to your TV through Bluetooth if your TV also can support such a connection. Just keep in mind that you cannot have both your TV and a mobile device connected at the same time. It's either the TV or a Bluetooth device at a time. Also connecting your TV to the soundbar through Bluetooth will limit you to stereo output due to the bandwidth limitations of the Bluetooth connection.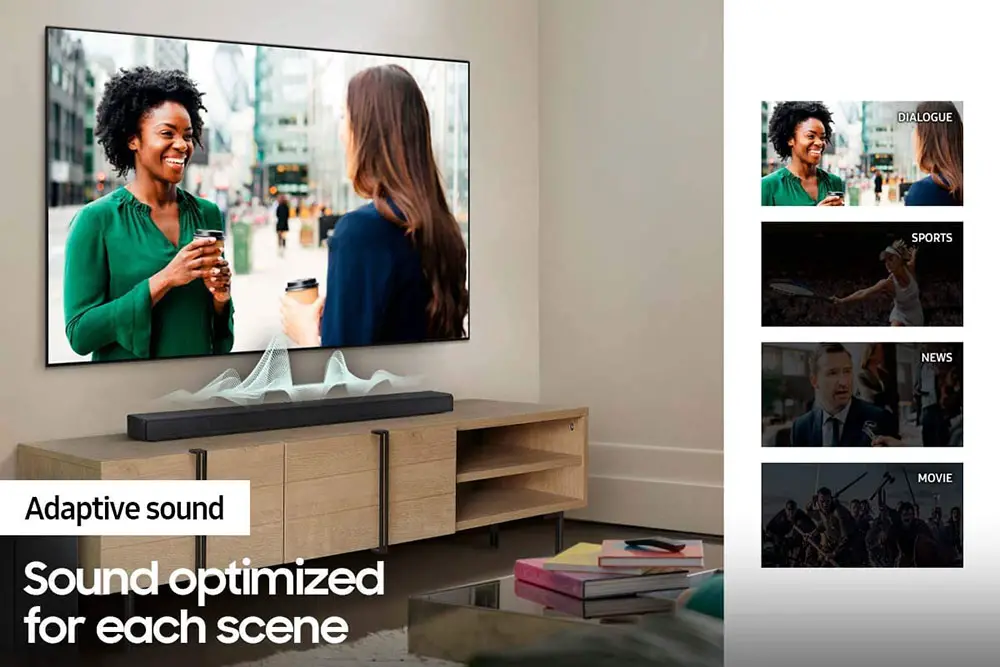 Lastly there is a Bluetooth Auto Power ON/OFF function. The unit will turn on or off automatically depending on the state of its Bluetooth function. When it detects an incoming Bluetooth signal it will power on while if no Bluetooth signal is detected for a period of time it will turn of automatically.
As mentioned above the soundbar can playback audio from the included USB port, something missing in the Q700A. It seems that since there is no online support Samsung opted to include a USB to add offline playback and increase the value of the unit this way.
Audio files that can be played include MP3, WMA, AAC and OGG when it comes to low quality ones but we also get High Resolution Audio support for FLAC, AIFF and WAV files with up to 192kHz sampling rate. The only minus there is with USB playback is the position of the USB port which is difficult to reach all the time, especially if you have placed the soundbar on some furniture. Therefore the only solution is to use some short of USB extension.
Another fancy feature we find is Tap Sound and with it you can mirror music from your phone to your soundbar with just a tap. Obviously your mobile device has to support this feature also but with it you save yourself the trouble of going through the connection process each time. Nothing major but a nice little feature to have. Also keep in mind that this needs the SmartThings app in order to work but the whole process is easy and there are clear instructions in the manual how to do it.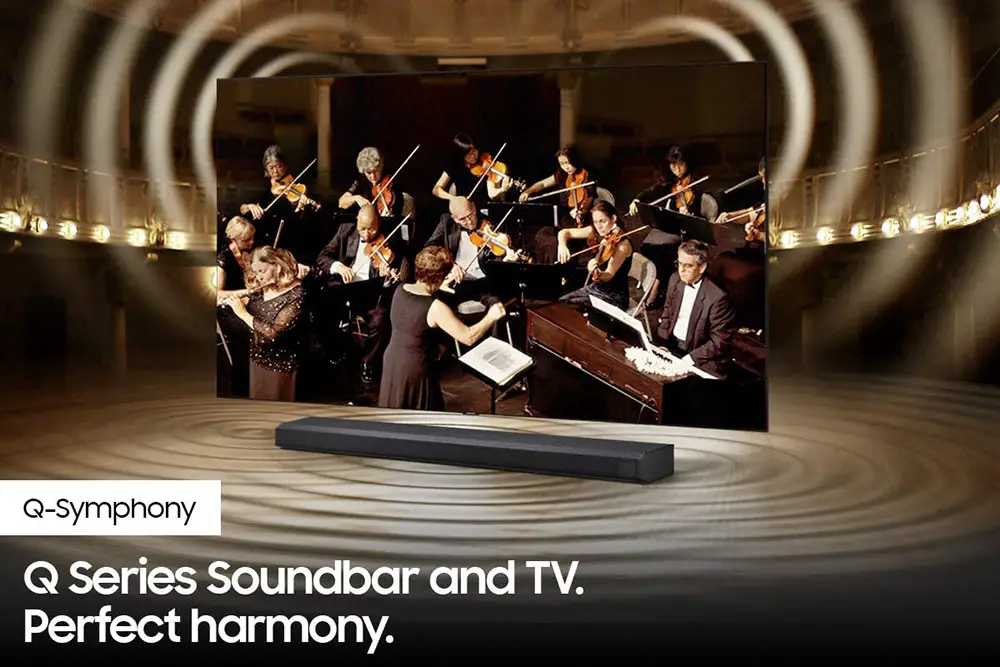 We also find Samsung's Q-Symphony feature which seems to be a standard in all Q series soundbars. If your TV also supports this then the soundbar and the TV sync together in order for both to output sound from all available speakers. This way the TV takes an active part into the sound reproduction in order to up the immersion even further.
Lastly, it has been a standard for many soundbars that do not include surround speakers to give you at least the option to add them later if you want. As such the HW-Q600A is compatible with the SWA-9100S extension kit. Pay attention that this kit is different from the one the Q700A uses so don't make the mistake that these are identical.
The obvious omission here is online functionality. If you don't care much about it then no worries but if you like to stream  music online then you either have to look at the HW-Q700A or choose another brand altogether.
Initial Setup
We really like that Samsung offers many ways in connecting their soundbars and the Q600A follows this trend. If you prefer to go the wired route you can either use the HDMI connection either in a pass-through configuration or at the end of the chain with the use of the ARC functionality. There is also an optical port in case your devices does not have an HDMI port.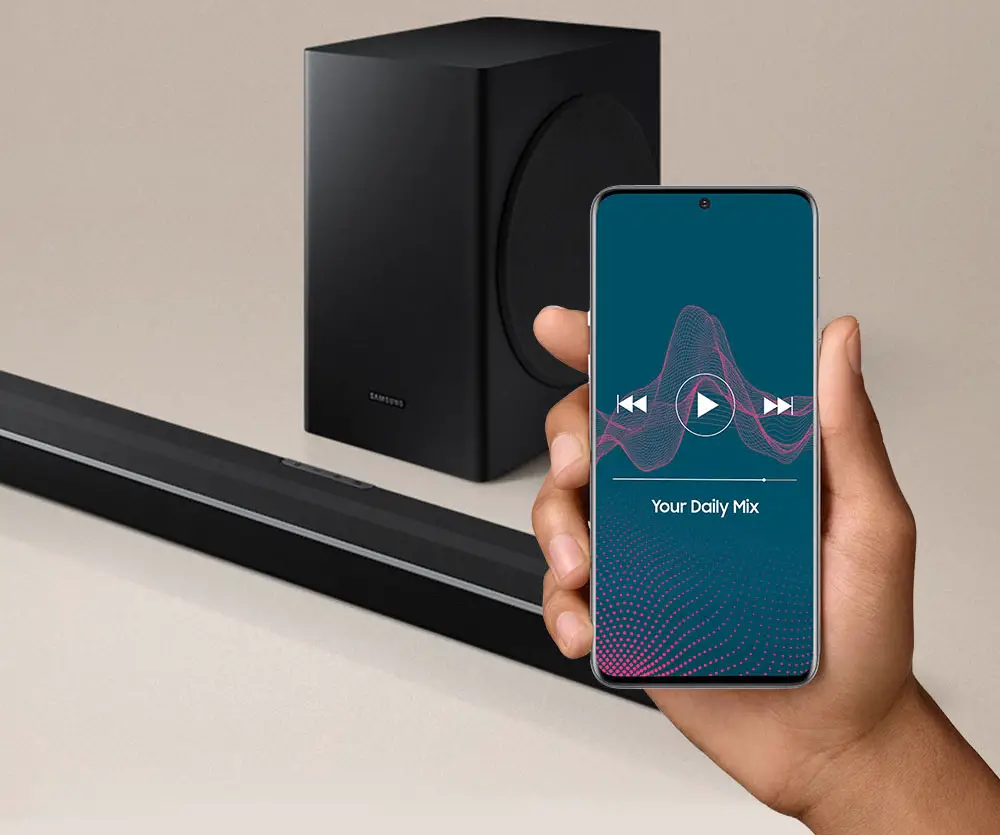 But the soundbar also offers you the option to connect it to the TV through a Bluetooth connection although, as we mentioned above, this is a rather limiting feature as you can only output stereo sound this way. HDMI remains in our opinion the best way to go.
The whole process is no different than the other Samsung soundbars we tried before. After you connect all parts to the appropriate power outlets then both the subwoofer and main unit should pair automatically. If for some reason they don't then you have the option to do it the manual way and there are very clear and easy instructions on how to do that.
Now, one more difference we find in the Q600A compared to the Q700A is that here there is no auto calibration system. So any adjustments you will have to do manually. There are treble and bass adjustments along with center and top channels volume control. If you are a more advanced user the Q600A also offers separate frequency bands adjustment but if you are not very experienced with these we suggest you to leave them at their default settings.
The last thing you have to do is select the appropriate sound mode. Here you can either choose one according to the material being played or if you are the kind of person that just wants to leave the settings alone then you can use the Adaptive mode and let the soundbar determine the best audio mode to be used each time.
If you are the kind of guy that seeks simplicity then the HW-Q600A is really for you. It will take you literally a few minutes from unpacking to start using it and it cannot get any easier than that.

Movies
Next comes our movie tests and for today's review we chose Kong: Skull Island in 4K UHD format which features a thunderous Dolby Atmos mix. The film asks for a lot of low end power and offers plenty of surround activity so it is a good sample to see how the Q600A can perform and if it can do such a demanding mix any justice.
Now, obviously the first thing you notice is the immediate upgrade you get over your TV. The sound feels more fulfilling, with more energy and more transparency. You could feel a bit of extension towards the sides but it was more subtle than what some other brands can do. As with the Q700A, this soundbar lacks any side firing drivers so this doesn't help to push the audio further than the physical limits of the main unit itself.
In terms of overhead action we were a bit disappointed. Initially the top layer was very weak and we had to up the volume considerably there to get any meaningful activity. Our test room has 9 feet high ceiling so it is good height for any up-firing Atmos equipment but the Q600A fared worse than some other soundbars. You could sense some elevated audio but it was more subtle that we would like it to be.
Obviously if you have a lower, straight ceiling this will make the Atmos effects more distinct. Also the smaller the room the better the performance you will get. There are a lot of factors at play here but since we had tried the Q700A recently we found that the Q600A was lacking a bit in comparison.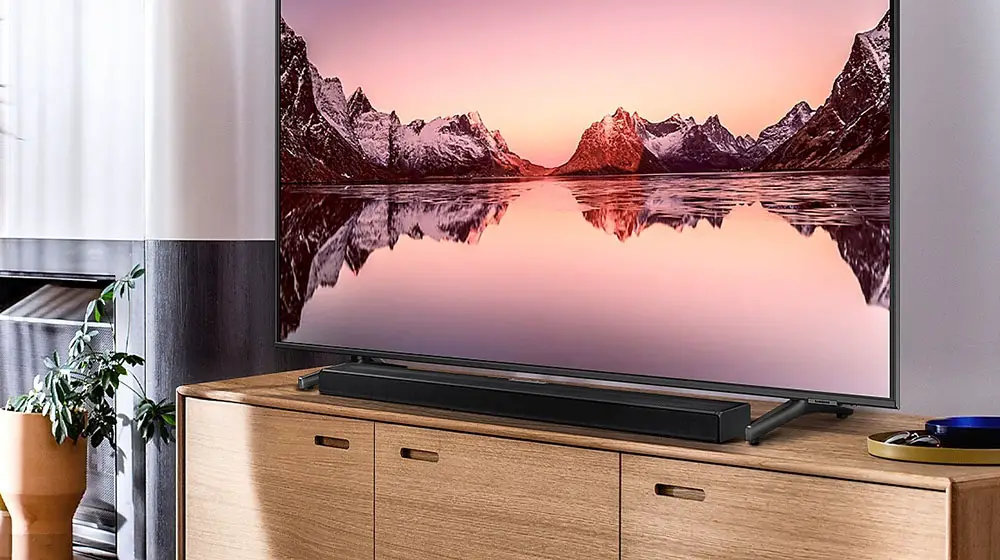 Now when it comes to its surround audio as well as bass performance the Q600A was not all that different from the Q700A as both of them miss rear speakers and also use exactly the same subwoofer.
Therefore surround activity was completely absent. The front woofers can do so much to push the action towards the viewer but they are not capable at creating an enveloping environment. For that you will need the optional surround kit. We did sense a sound or two at times closer to our listening position as the soundbar tried to push the immersion bubble closer to us but as a whole don't expect to be immersed by just its front performance.
The subwoofer will do a good job at offering some necessary bass to such a demanding mix but don't expect to be hit in the chest or to pressurize your room as some better subwoofers can do. It's what we would describe as the perfect casual subwoofer in that it will add some weight to the audio, it will give you a thump here and a shake there, as it should, but it will not keep you at the edge of seat and slap you in the face with its low end power.
As usual we tried comparing the different sound modes available and once again the Adaptive Sound mode is a good choice if you want to set it up and forget as it will adjust sound according to the content on screen. Panning effects will give you the sense of moving sounds in space, dialogue was distinct and clear even during hectic moments and you will get some activity at the top layer although not as much as we were expecting.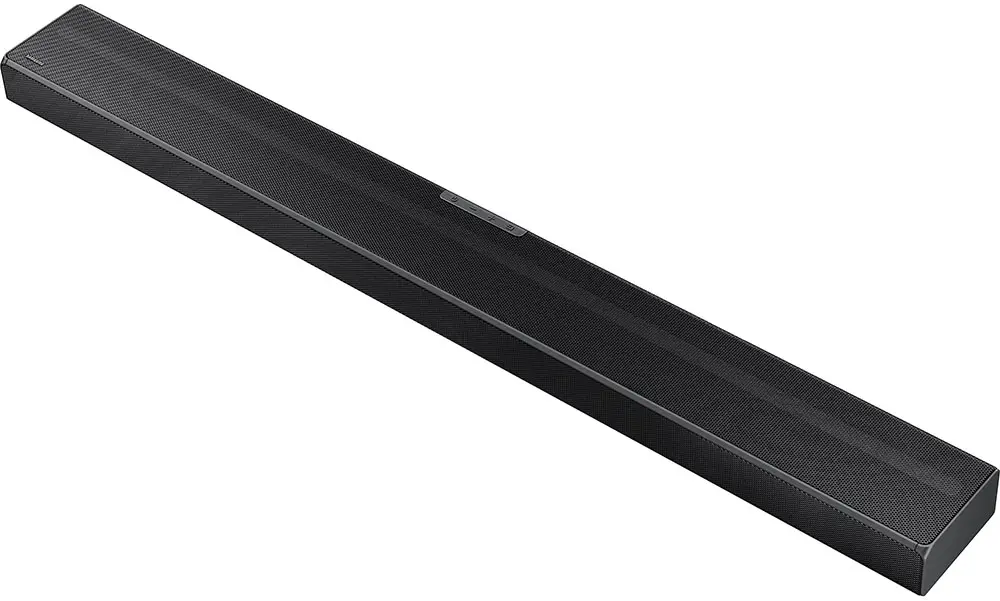 The soundbar was able to provide us with clear dialogue at the center and good separation between its main channels. But when it came to Atmos effects, low end activity and surround action the Q600A fails to impress and immerse you in the action as we were hoping to.
Music
It's really strange how a higher tier soundbar like the Q700A does not offer USB playback while the Q600A does. Nevertheless since we had this option we opted to test a few FLAC files that we keep for this purpose.
The Q600A is not and should not be considered HiFi material by any stretch. And this is something that applies to all soundbars. The hardware is not capable enough to produce the kind of audio quality, clarity and resolution that full HiFi speakers can do. Yes, the front stage can be considered energetic with ok sound imaging and enough transparency but it cannot break the barrier of what we would call casual audio output.
We wouldn't call the audio coming from the Q600A bad as we didn't hear any major irregularities from the content we tried but there was nothing to really impress us either. Its mid-range was good enough, its high frequencies were ok while its bass performance was satisfactory by casual standards.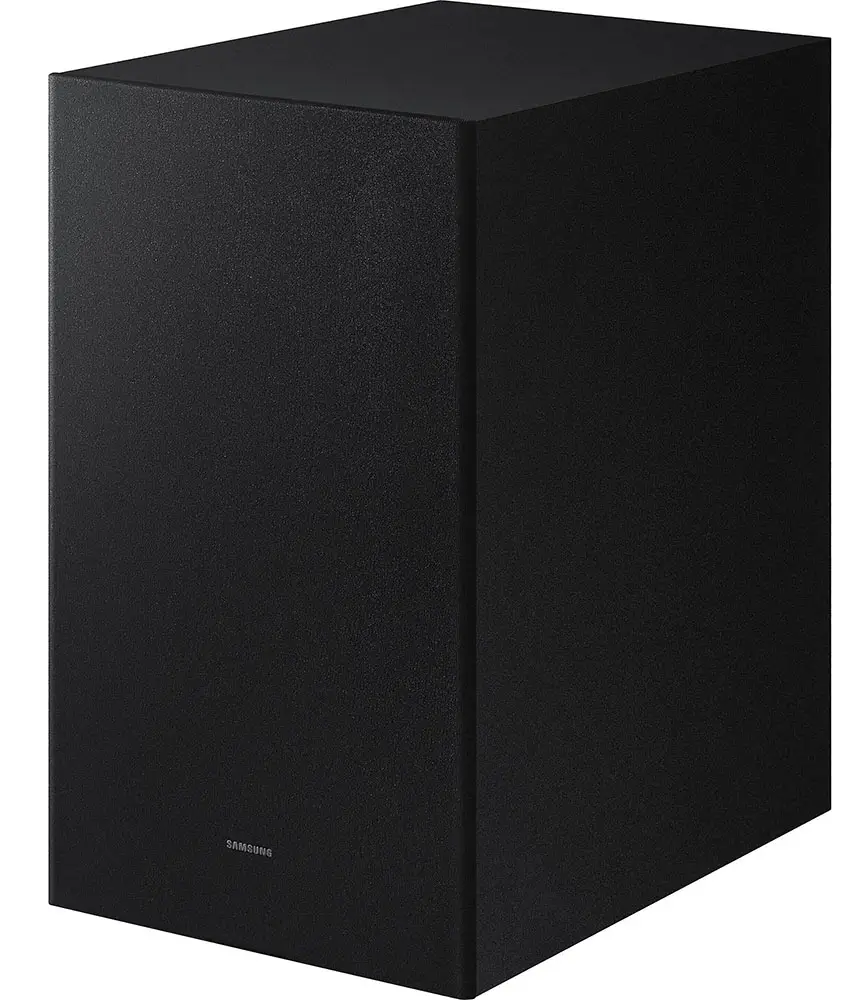 As with many other Samsung soundbars the Standard mode will output in just 2.1 channels configuration while by using the Adaptive mode you will take advantage of the total number of channels the Q6000A comes with. We cannot say that one is better than the other, the Standard mode felt a bit more natural while the Adaptive mode added more volume to the soundstage but also altered the audio output a bit making it feel more superficial.
The subwoofer did its best when it came to bass intensive songs but as with our movie tests it was obvious that it was lacking in overall power in order to really push the outcome to another level. There was a certain limit that it could not overcome and you were just left asking for more. Adjusting the bass level can somehow improve things but don't expect any miracles here.
As with most of our reviews we shuffled through various genres including electronic, jazz, classical and heavy metal and the Q600A did decent in most of these. If a song does not ask for the extremes either in the highs or the low end the soundbar can play nicely. It's when a performance push to the limits that will most likely make the soundbar stumble and loose some of its cohesion.
Overall it may not be the most musical soundbar we have heard but as with many other offerings up to this price they can do fine to fill the gap in between your movie sessions with some music breaks.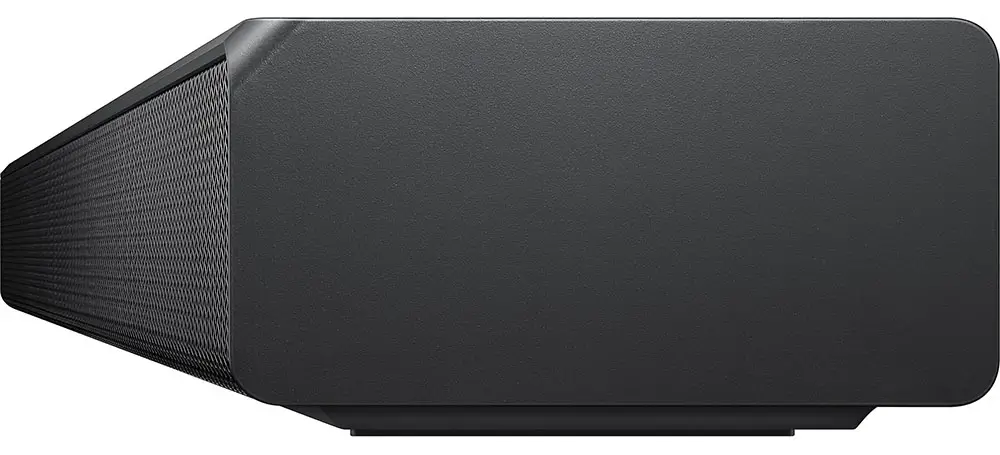 Final Thoughts
A soundbar by design has to combine ease of use, good performance for its price and plenty of features in order to up its value. Being the cheapest offering in the Q series the HW-Q600A is meant for those looking for decent performance at a decent price. Hovering around the $600 mark the Q600A is not the cheapest soundbar you can get so there are certain requirements that it had to meet to be a really good proposal.
On the one hand initial setup and overall ease of use was one of its characteristics. Everything can be ready in minutes and we see this appealing to many casual users. In terms of extras Samsung has added as much as possible given certain limitations in the hardware while what actually matters the most, its audio performance, the Q600A did good enough all things considered. Enough energy at the front with some extension on the top layer for the Atmos effects that certainly were a huge step forward compared to what our TV could do. Also the ability to expand the unit to a full surround system gives you the extra freedom necessary to shape it the way you want.
On the other hand its Atmos performance felt worse than what we heard in the Q700A. Overhead action was very subtle and we had to up the volume of the top channels considerably to get any meaningful activity. Bass was ok if you are not paying a lot of attention but it will leave a bitter taste if you are seeking some powerful low end action. Also the soundbar is completely stripped of any online features so if these are important to you then going for the Q700A is your only option. And lastly as with most soundbars that don't include any rear speakers, surround action is completely missing.
Looking the Samsung HW-Q600A as a whole what we can say is that if you don't care about online features and just want a decent soundbar to improve upon what you TV can do then surely this one can fit the bill. It will not wow with its performance but the upgrade you will get is enough to justify its price.

For more reviews you can check our dedicated Soundbar-subwoofer combo reviews list or even look at our Product Reviews Table where you can find the brand and specific product you are looking for.
---
Cheapest Places to Buy :
*We are a reader-supported website. When you buy through links on our site, we may earn a small affiliate commission at no extra cost to you. Home Media Entertainment does not accept money for reviews.*
---
Samsung HW-Q600A Specifications