Samsung HW-Q700A
Reviewed at $699.00
Product Name: Samsung HW-Q700A
Product Description: 3.1.2CH Dolby Atmos Soundbar
Design -

8.8/10

Movies Performance -

8.6/10

Music Performance -

8.6/10

Inputs and Features -

8.5/10

Price / Quality -

9/10
Summary
Reviewed at $699.00
Pros
Dolby Atmos and DTS:X support
Good front soundstage
Many extras
Can be expanded to 5.1.2 channels
Cons
Bass not very impressive
SmartThings is missing a few options
No USB playback
Google Assistant is missing
---
Cheapest Places to Buy :
*We are a reader-supported website. When you buy through links on our site, we may earn a small affiliate commission at no extra cost to you. Home Media Entertainment does not accept money for reviews.*
---
Recently we had the chance to experience Samsung's top release for the year, the flagship HW-Q950A, which came with an astonishing 11.1.4 channels and was clearly a cut above most other soundbar releases so far. But not everyone has the space or budget for such a behemoth so today we are looking at another of Samsung's 2021 that sports a bit of a more down to earth configuration and can be an excellent choice for those that look at upgrading their TV's sound in order to get a bit extra immersion so in our Samsung HW-Q700A review we will see if this soundbar-subwoofer combo can offer anything substantially different than the competition.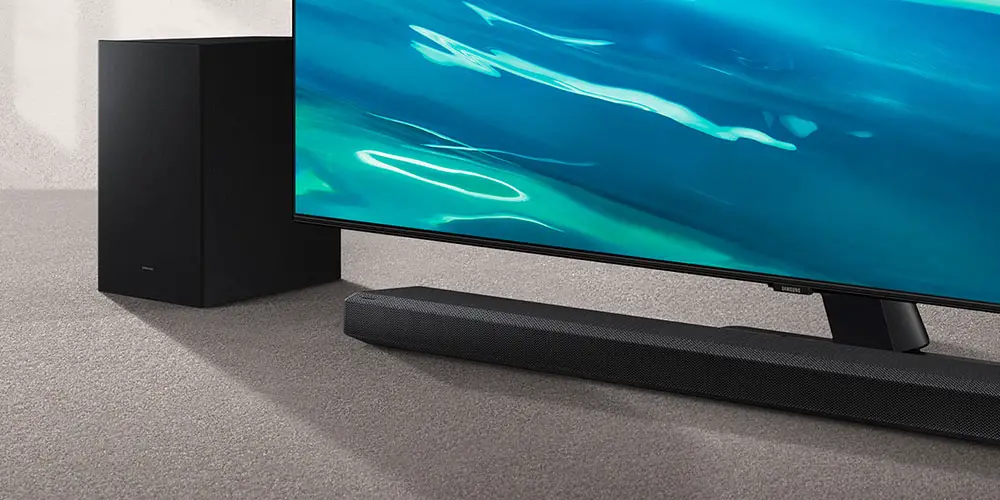 The HW-Q700A is a Dolby Atmos capable unit which is not all that surprising considering the category this one belongs to. With its 3.1.2 channels configuration the HW-Q700A can emulate a Dolby Atmos environment and as always with such units it will be interesting to see how faithfully this one can do it. Dolby Atmos in soundbars is generally lacking compared to fully fledged Atmos systems so it's a hit or miss situation most of the times.
Looking at the specs quickly we see that the HW-Q700A does not only support Dolby Atmos but DTS:X and has a total of 330 watts of power. It uses Acoustic Beam Technology to project the sound upwards while in terms of extras there is Airplay 2, works with Amazon Alexa, it is Q-Symphony compatible, it has Tap sound and comes with the SpaceFit Sound calibration system. Lastly there is SmartThings app support and you can also expand the system with the optional SWA-9500S surround speakers kit.
The HW-Q700A looks like a decent offering with many things we would call as standards in this performance category. It is its actual output quality that will make or break this unit so without further delay let's start our analysis…
Design, Inputs and Features
Exterior
The soundbar is certainly more constraint in its design compared to the Q950A as this one measures under 40″ making it ideal for a wide range of TV sizes without sticking out or looking odd. The main unit comes at 38.6″ x 2.4″ x 4.5″ (980.0 x 60.0 x 115.0 mm) and weights just 7.9 lbs (3.6 kg) which is just ok for this size and shouldn't be a problem moving it around. The fact that this soundbar doesn't have any side firing drivers certainly helps as this allows for more flexibility in terms of placing it in more constraint spaces. But keep in mind that due to the Acoustic Beam technology the top must still be unobstructed in order to work as it should.
As for its design the HW-Q700A has a very typical Samsung look with straight lines and no curves. A perforated metallic grille is covering most of the front and top sides while the angled corners make its look just a bit more interesting. Under the metallic grille Samsung has included a cloth fabric for protection from dust and humidity. The rest of the main body is made out of the usual black plastic which looks sturdy and of good quality.
We were very critical with the kind of display Samsung used in the Q950A but with the Q700A things are far better. A full display has been included which Samsung positioned in the far right front side under the metal grille. The display is a bit small with only a few characters able to fit so for longer messages you will have to wait for them to scroll which can be a bit of a frustrating procedure. But definitely a better one than some other display implementations.

On the top side there are a handful of built-in control buttons, as per usual, while on the back we find two big insets covering all the available ports which we will analyze in the appropriate section.
As for the subwoofer this one is made of melamine instead and has a full fabric grille at the front covering the bass driver. It comes at a size of 8.1″ x 13.9″ x 11.9″ (205.0 x 353.0 x 302.0 mm) which is the usual for this category and has a weight of 13 lbs (5.9 kg). At the back there is a big bass port at the top with only a pair button and a LED showing its pairing status next to it while the power connector is placed to the left of them. With its front firing design and relatively small size you shouldn't have a problem finding some place to fit this in.
Overall the HW-Q700A comes with the typical design and build quality you should expect from a Samsung soundbar in this price range. Nothing that will impress you but will not disappoint you either. We liked that this one includes a full display as the one we saw in the Q950A certainly left us with a bitter taste.
Internal Hardware
Samsung rates the HW-Q700A as a 3.1.2 channels soundbar so in essence we get the two main channels, a dedicated center for better and distinct dialogue, two up-firing channels for the Atmos effects and the subwoofer.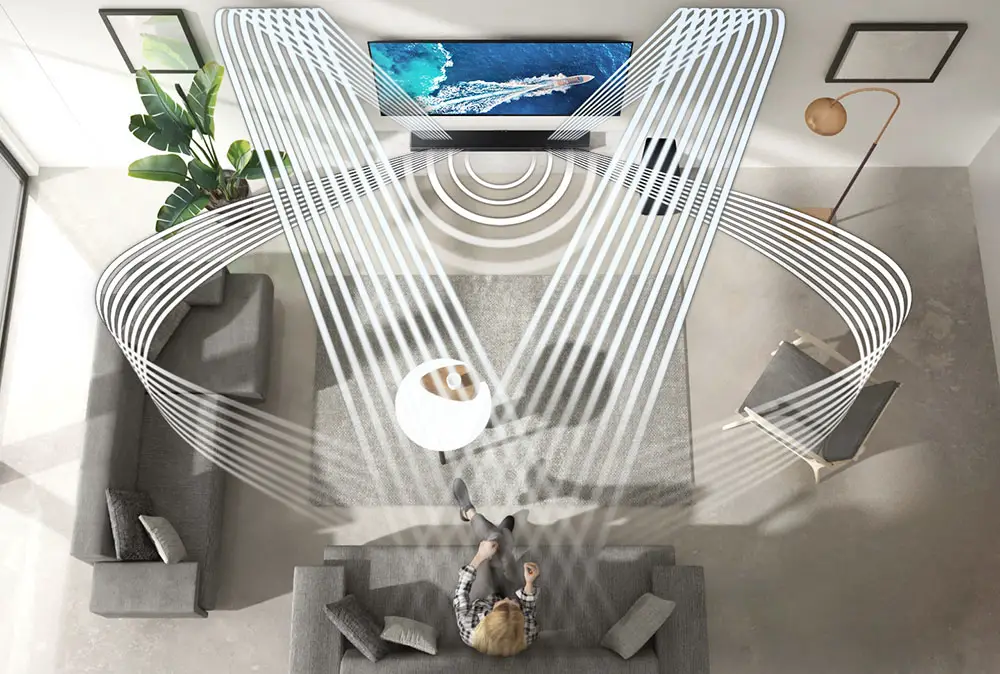 For the two main channels the Q700A is using a single round woofer in combination with an oval one. The center channel uses a single tweeter while for Atmos there are two round woofers.
Last but not least is the subwoofer which includes a front-firing driver for the low frequencies which we vastly prefer in comparison to the side-firing one we saw in the Q950A.
The whole system is rated at 330 watts of output power so let's brake this number down. The main unit is rated at 170 watts with a (30 W x 4) + (20 W x 2) + 10 W) configuration while the subwoofer comes at 160 watts.
Connectivity
Let's see next what connections are offered in this one. As we said above all inputs are placed on two insets underneath the unit making it a bit hard to reach them all the time. It is mostly aimed to make all connections one time and leave it be.
What we get is not actually so much different than what Samsung offers in many of their soundbars. In one inset we find the two HDMI ports available while on the other there is a micro-USB for service only, a digital optical input and a round power connector. By having both input and output HDMI means that the unit can be used to pass-through any signals but it cannot be used as a hub. So in case you have multiple input sources you have to be creative with how you connect everything.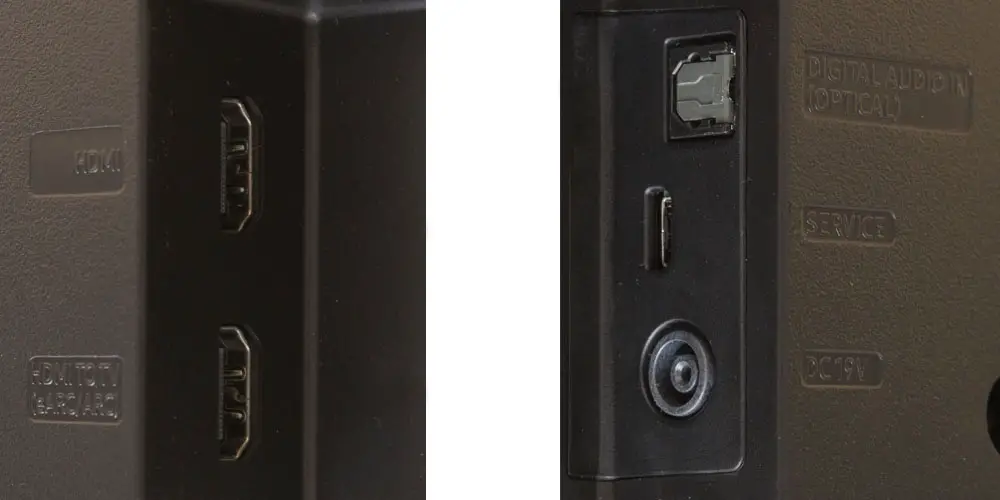 The HDMI output supports both ARC and eARC meaning that you can pass-through all kinds of audio from the TV including Dolby Atmos and DTS:X if your TV supports such functionality. The HDMI ports also support both Dolby Vision and HDR10+ pass-through in case you worry about that. In terms of wireless capabilities the unit comes with both WiFi and Bluetooth connections.
The main problem with the HW-Q700A is the single HDMI input it has as it doesn't leave you with a lot of options in terms of connections. This means that in a full home theater system with many sources you will have to resort to the TV HDMI inputs and use the ARC/eARC connectivity to pass the audio to the soundbar. Other than this, what the Q700A offers is pretty much the standard nowadays in this category.
Control Options
Next we will be looking in the ways you can control the HW-Q700A which is pretty much the same across the entire lineup. As per usual the soundbar has some built-in buttons that Samsung has placed at the top side. There are four touch sensitive buttons and from left to right we find a power button, volume controls and a source selection button.
Using touch sensitive buttons certainly looks nice but trying to find them in a dark environment can be a frustrating procedure. Also touch sensitive buttons can become less sensitive to touch over time so it has its pros and cons going for such a design decision.

As always, the most obvious means of control is no other than the included remote and here we find no other than the familiar One Remote that Samsung has been using on a wide range of their visual and audio devices. And while general design and buttons layout remain fairly unchanged what has obviously changed is the functionality of these buttons.
The two buttons above the navigation controls are used for source selection and Bluetooth pairing while the other three below the circular navigation controls are for sound mute, sound mode selection and sound control which includes many sound calibration options like treble, bass, frequency bands adjustment and specific channels volume control. The two buttons at the bottom are for main volume on the left and woofer volume on the right.
All Samsung soundbars feature the same One Remote and depending on their functions the buttons have additional uses so if you have used any TV or soundbar from Samsung in recent years the remote will feel very familiar.
The soundbar supports HDMI-CEC which means that if you connect the unit to the TV with a HDMI cable you can use the TV's remote to handle some basic controls like volume. This may not give you the complete range of supported functions but it may help in certain situations.
Also due to the inclusion of a built-in WiFi module we get Amazon Alexa in order to control the soundbar without the need of a remote but unfortunately there is no Google Assistant which is a bummer. For Amazon Alexa you need an external Alexa device as this is not built-in in this unit.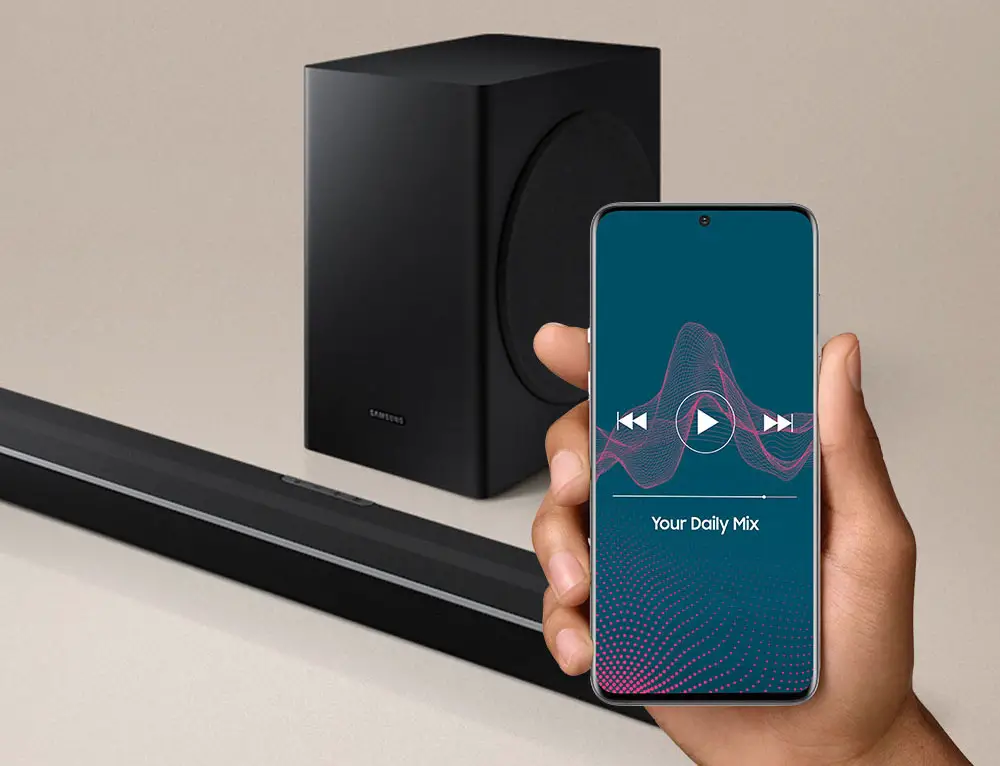 Lastly the soundbar supports the SmartThings app and you can download it to your mobile device and control the unit through that. But although you can use the app to issue basic commands like input selection, volume control and change sound modes it doesn't have the ability to change some of the more advanced settings like specific channel volume calibration and you will need the remote for that.
In terms of control the Q700A seems to be exactly the same as the Q905A which is not all that surprising. The inclusion of WiFi and Bluetooth certainly helps to include all these and add great flexibility to the unit.
Extra Features and Services
Looking at the extra features the Q700A is extremely similar to the some other top tier releases for Samsung with minor changes here and there. In terms of audio the unit gets extensive support as it can playback Dolby 5.1ch, Dolby Digital Plus, Dolby TRUE HD, Dolby ATMOS, DTS 5.1ch, DTS HD, DTS-HD Master Audio, DTS:X and LPCM 8Ch.
The unit also comes with a few sound modes you can select from as per usual with most Samsung soundbars. The ones available are the Standard mode which outputs the original audio mix as it is, Surround Sound that provides a more wide sound field than the Standard mode, Game Pro mode which provides stereoscopic sound to immerse you in the action while gaming and Adaptive Sound which analyzes the content audio and provides the optimal sound field accordingly.

One thing we should note here is that with the Standard mode if you feed the soundbar with a Dolby Atmos or DTS:X signal you will only get up to 3.1 channels of output. Only in Surround, Game Pro or Adaptive sound modes you get the full 3.1.2 channels from the unit.
The Q700A also comes with Bluetooth connectivity. First of all you have the ability to stream audio from any mobile device through a Bluetooth connection. Also if you don't want to mess with cables you have the ability to connect it to your TV through Bluetooth if your TV also can support such a connection. Just keep in mind that you cannot have both your TV and a mobile device connected at the same time. It's either the TV or a Bluetooth device at a time.
Lastly there is a Bluetooth Auto Power ON/OFF function. The unit will turn on or off automatically depending on the state of its Bluetooth function. When it detects an incoming Bluetooth signal it will power on while if no Bluetooth signal is detected for a period of time it will turn of automatically.
As for audio decoding we get the usual MP3, WMA, AAC and OGG when it comes to low quality ones but we also get High Resolution Audio support for FLAC, ALAC, AIFF and WAV files. What is disappointing is that there is no USB available in order to playback these files from the unit itself. This means you have to rely to an external source like a media player that supports these or through Bluetooth or WiFi but in this case the quality will certainly be much lower than it could.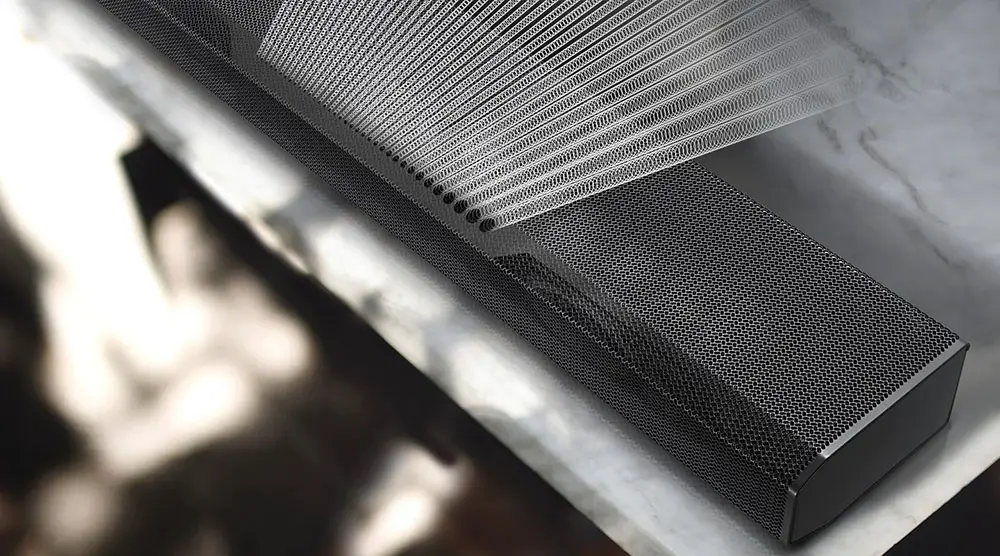 The unit also gets Airplay 2 support which was missing from last year's releases. With this you can stream music from any Apple device with the use of third party streaming services. If you are an Apple guy then you will surely find this one handy.
Any premium soundbar should offer hands free voice control and the Q700A does come with built-in Amazon Alexa support. But we are disappointed that there is no Google Assistant which is unacceptable since many dirty cheap units already support both.
Another fancy feature we find is Tap Sound and with it you can mirror music from your phone to your soundbar with just a tap. Obviously your mobile device has to support this feature also but with it you save yourself the trouble of going through the connection process each time. Nothing major but a nice little feature to have.
We also find Samsung's Q-Symphony feature. If your TV also supports this then the soundbar and the TV sync together in order for both to output sound from all available speakers. This way the TV takes an active part into the sound reproduction in order to up the immersion even further.
Lastly the HW-Q700A is compatible with the SWA-9500S surround speakers kit in case you want to add surround immersion to your setup. We like that Samsung gives you the option for this as you can buy the main unit and decide later if you need this or not.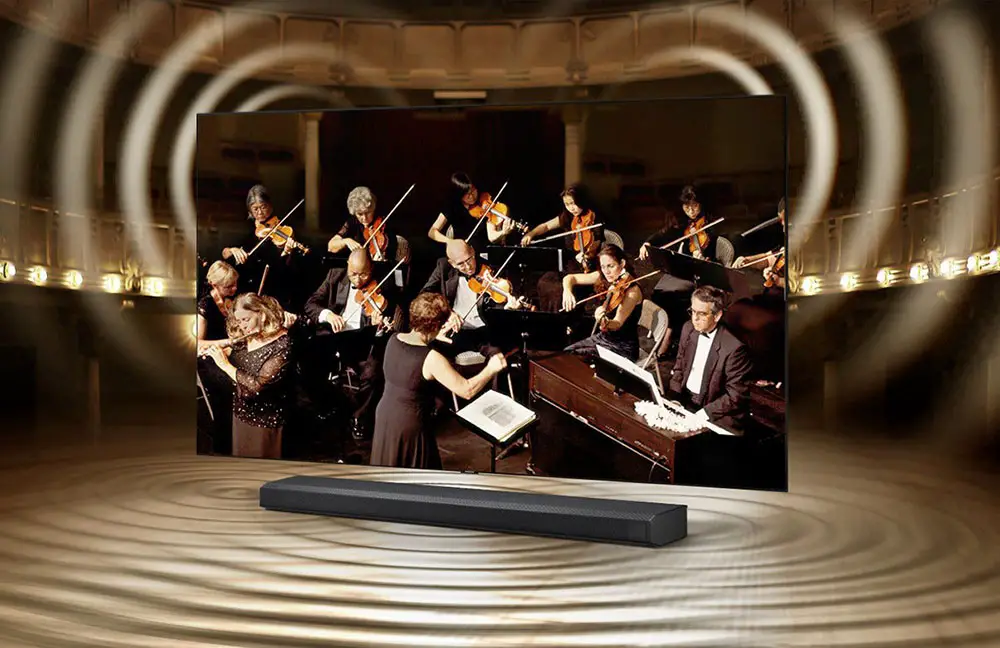 The soundbar offers everything we were expecting from Samsung. It is not the most feature complete unit we have tested, and some omissions will certainly hurt its practicality overall, but what is there works very good and will suffice for most users.
Initial Setup
When it comes to connecting the soundbar, the HW-Q700A gives you many options really. If you prefer to go the wired route you can either use the HDMI connection either in a pass-through configuration or at the end of the chain with the use of the ARC/eARC functionality. There is also an optical port in case your devices does not have an HDMI port.
But the soundbar also offers you the option to connect it to the TV through a wireless connection. This can be achieved either through Bluetooth or with WiFi but to be honest we would suggest such a connection only if a wired solution is absolutely out of the question. Wireless connections are not so stable and you may have problems with such one.
After you connect all parts to the appropriate power outlets then both the subwoofer and main unit should pair automatically. If for some reason they don't then you have the option to do it the manual way and there are very clear and easy instructions on how to do that.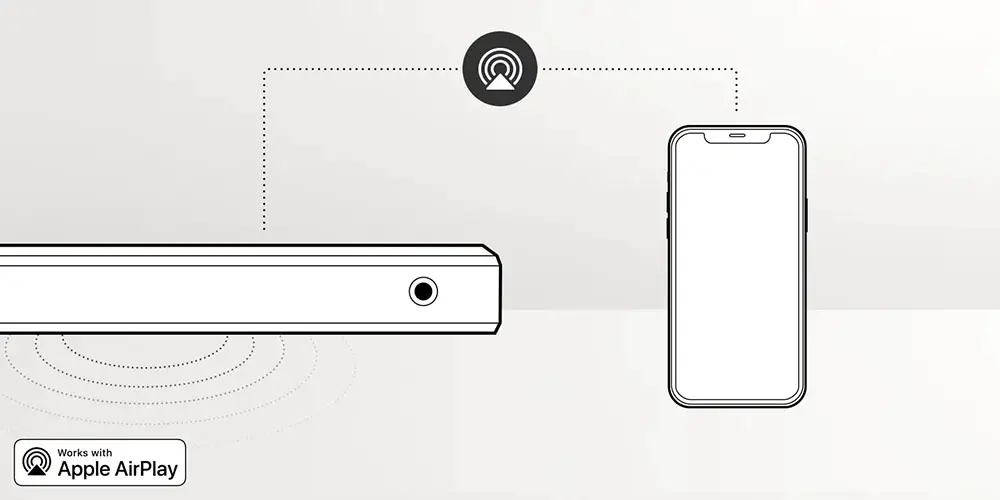 Another feature that was missing from many 202o's releases was an auto room calibration system and for 2021 it seems that Samsung decided to include one for some of their top tier units. So in the HW-Q700A we find SpaceFit Sound. We have seen this feature in some of the higher tier Samsung TVs which uses a special sensor in order to analyze your room and calibrate the audio output accordingly. Keep in mind that the version we get in the Q700A is a more simplified version compared to the SpaceFit+ Sound calibration we saw in the Q950A. Also in order for this to work you need to have a Samsung TV that also comes with the same tech which is the Q70 and above.
After everything is said and done you still have the option to go through some manual calibration settings if you are still not satisfied with the end result. There is the usual treble and bass calibration along with a EQ graphic for more detailed frequency manipulation. You can also adjust the volume of each channel to bring them all to equal level.
The last thing you have to do is select the appropriate sound mode. Here you can either choose one according to the material being played or if you are the kind of person that just wants to leave the settings alone then you can use the Adaptive mode and let the soundbar determine the best audio mode to be used each time.
The Q700A is simple to setup and calibrate and you don't have to be an advanced user to go through all this. Samsung made sure to create an easy process and you should be ready to go in a few minutes.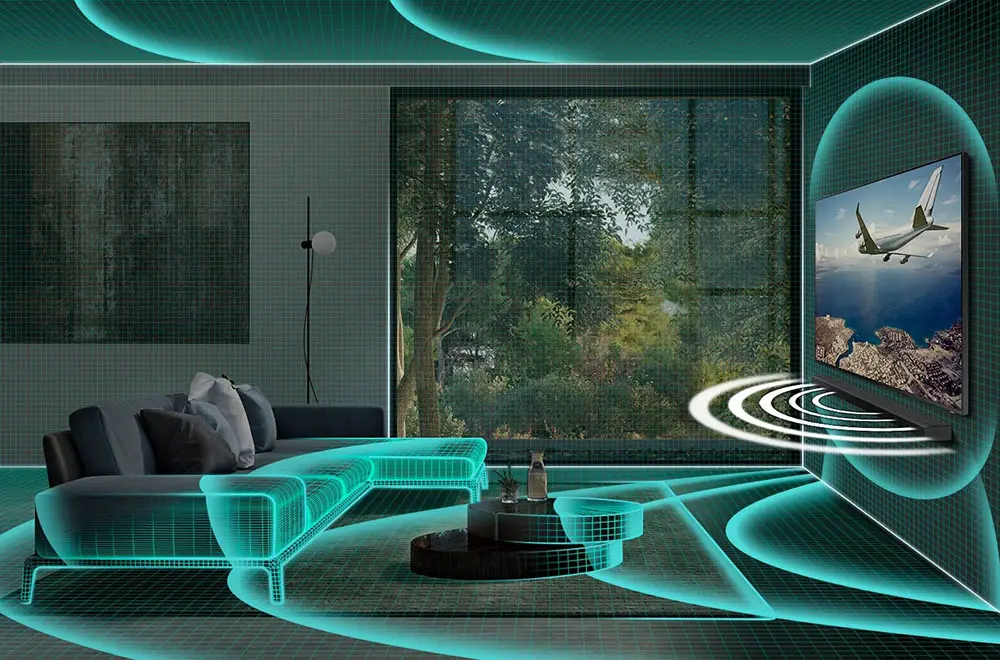 Movies
Onto our movie testing and for today's review we decided to use our 4K UHD copy of Independence Day: Resurgence which features a very nice Dolby Atmos mix. The sequel itself may not be the groundbreaking success of the first film but at least in terms of audio fidelity and immersion it's a great one.
When you come from TV audio the first time you will hear the HW-Q700A will certainly surprise you. The front soundstage is more alive and with more volume. You get some nice extension to all axis although it was not as much as some other units we had tested before. The unit doesn't have any side firing drivers that could help with sideways extension but even like this the sound wall in front of us was very satisfying.
With Atmos capabilities the top layer felt more alive but keep in mind that the kind of Atmos effects you get here are not on par with what a full Atmos system can offer. Atmos sounds will feel elevated compared to the rest of the action but height depends not only the the soundbar's capabilities but also on the design of your room.
A low, straight ceiling will help to make the Atmos effects more distinct while the higher the ceiling the more you are going to loose in upwards extension and fidelity. So keep in mind that if you want decent performance then the ceiling shouldn't be higher than 3 meters, even lower if possible.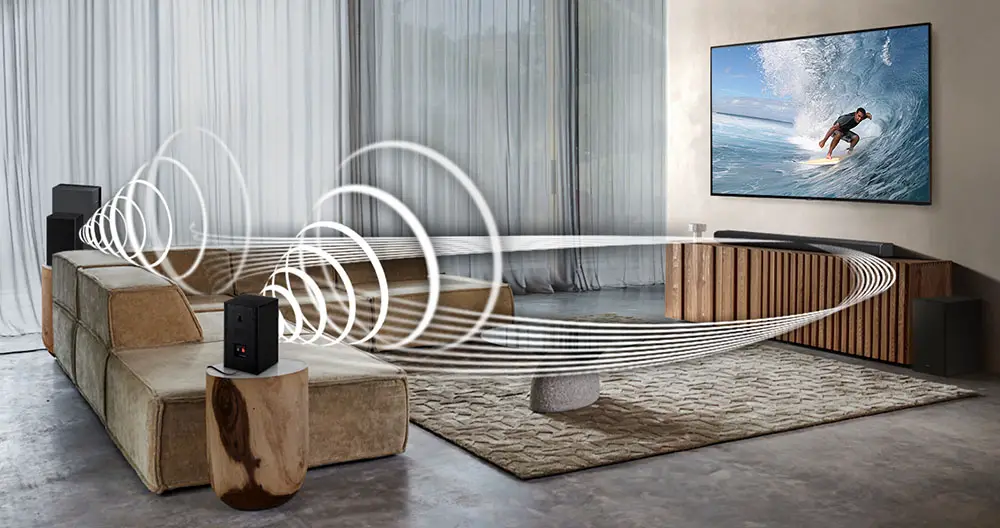 Surround activity was missing in action as there are no surround speakers to work with. The front woofers can do so much to push the action towards the viewer but they are not capable at creating an enveloping environment. For that you will need the optional surround kit.
As for the lower end the subwoofer will offer the much desired extension to the lower registers but to be honest we were not so much impressed by it as it was missing the necessary oomph to make the bass a spectacle of its own. Yes, you will get the eventual shake here and there but it really lacked some much desired power. If you are very bass demanding then you may not be able to get the experience you are hoping for but for most casual users that just want some improvement over their TV it will do more than enough.
Once again we tried comparing the different sound modes available and the Adaptive Sound mode is a good choice if you want to set it up and forget as it will adjust sound according to the content on screen. Panning effects will give you the sense of moving sounds in space, dialogue was distinct and clear even during hectic moments and you will get some elevation on the Atmos sounds even if not as much as we would like.
The soundbar has a really balanced mid-range and high end and plays everything safe and within its limited capabilities. The bass could be better in action oriented films as the one we tested today but if you are not particularly bass hangry then you shouldn't see this as a potential problem.
Music
For our music testing, since there is no USB playback support, we decided to use an external media player that we connected through the HDMI port. We decided to avoid using a wireless connection as the quality certainly lacks in comparison.

The unit fared as good as you would expect from such a device. There were no real disappointments here but no surprises either. It felt like the Q700A played it safe and to be honest this is how it should be. The front soundstage was very satisfying without pushing the physical limits of the soundbar itself. Sound imaging was good enough and the unit provided enough transparency for the hardware it comes with.
As with many other Samsung soundbars the Standard mode will output in just 2.1 channels configuration while by using the Adaptive mode you will take advantage of the total number of channels the Q7000A comes with. Yes, the Adaptive mode certainly adds a certain degree of processing making the music sound different but it was subtle and not very intrusive and we could definitely accept this during our listening time.
Again we didn't sense any exaggerations towards the higher end and all vocals had good energy and enough life into them to make the whole performance worthwhile. The dedicated center channel surely helps in this regard.
With more bass intensive songs the soundbar did show its weakness as it just couldn't hit the lower end with the strength we would like it to. Not that what we heard was overall bad but we would like something more than what we ultimately got. And while this was not so apparent in many songs we tried, those that kept hitting the lower frequencies with intensity made it obvious that the soundbar couldn't follow as faithfully as these required.
We tested various genres to see if you could spot any irregularities but to be honest the unit can do good with most of them. As always with soundbars, these are not meant to be any kind of HiFi equipment for high fidelity music. If this is the case then you are reading the wrong article. But if you are looking for a device that can give you your daily music fix then the Q700A can fit that bill and with great success.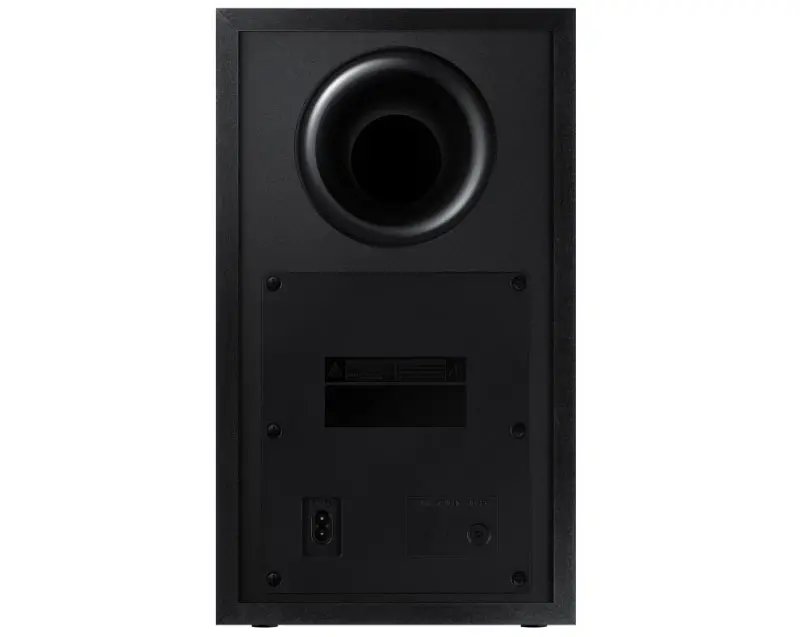 Final Thoughts
The HW-Q700A is a very decent attempt from Samsung at creating a soundbar that combines a compact enough design which is very easy to use but also be able to perform at high standards as any unit bearing the Dolby Atmos logo should. It may not be the extreme design we saw in the Q950A but this was never meant to be. The Q700A shares many of the same technologies on a smaller scale and does that with enough success.
Its overall performance and sound signature makes it ideal for any kind of use either it be movies, gaming, sports or casual viewing and will surely elevate the experience your TV can offer. It comes with enough extras to keep you satisfied while the ability to expand it to a full 5.1.2 channels system will surely be appreciated by many that want the extra surround immersion.
On the downsides the Q700A comes with many of the same problems we saw in the other Samsung releases. The SmartThings app does not offer you the ability to change some of the soundbar settings like separate channels volume. We also would like to have Google Assistant along with Alexa as many dirty cheap soundbars offer both nowadays and the omission of a USB that can be used to connect external storage is also a strange one. The optional surround kit will surely add significantly to the cost while in terms of performance the Q700A felt a bit weak on the lower end.
Overall we can say that we got what we were expecting to. The Samsung HW-Q700A is a good performing soundbar that combines simplicity, ease of use and good quality sound in a single package and with a price that is affordable for most in order to improve the sound of any TV in the market today. You shouldn't expect any miracles as the unit has all the limitations such a design comes with but if you know what you are getting then you will surely enjoy your purchase and what it has to offer.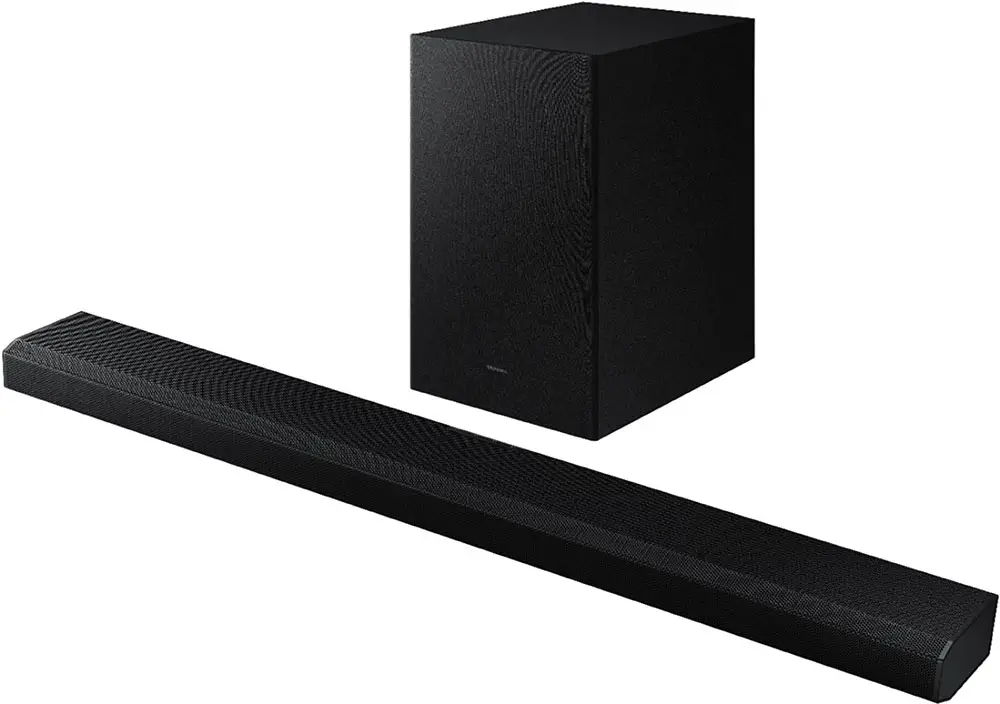 For more reviews you can check our dedicated Soundbar-subwoofer combo reviews list or even look at our Product Reviews Table where you can find the brand and specific product you are looking for.
---
Cheapest Places to Buy :
*We are a reader-supported website. When you buy through links on our site, we may earn a small affiliate commission at no extra cost to you. Home Media Entertainment does not accept money for reviews.*
---
Samsung HW-Q700A Specifications