Samsung HW-Q950A
Reviewed at $1,499.00
Movies Performance
9.5/10
Inputs and Features
8.5/10
Pros
Amazing immersion
Dolby Atmos and DTS:X support
Excellent surround performance
Nice additions from last year
Cons
The placement of the display is odd
SmartThings is missing a few options
No USB playback
Expensive for a soundbar
---
Cheapest Places to Buy :
---
There is a reason why soundbars have been so popular the last few years and this has to do with the fact that many consumers seek simplicity and ease of use. Obviously going for a full surround system with separates is the optimal way to go but not many have either the knowledge, the time, the budget or the space to go that route. And so, manufacturers each year try to push the envelope and close the gap between a true experience of a separates system and what a soundbar can offer. And Samsung seems to have gotten one step closer as in our Samsung HW-Q950A review today we will test the new 2021 flagship that is one of a kind in certain ways.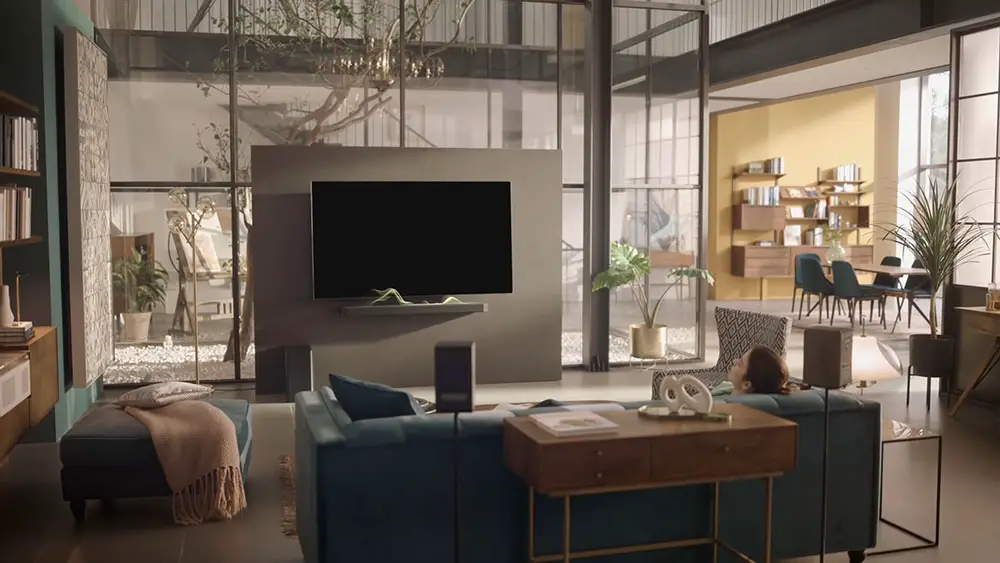 This is not the first time we review a Dolby Atmos soundbar. In fact we have seen many brands go for similar setups and have offerings in plenty of configurations. But with the HW-Q950A being rated as a 11.1.4 channels system this one certainly is on another level. We have seen a few other brands claiming to offer similar high number of channels but most of the times this was emulated and not real separate channels. And with an impressive 16 channels in the HW-Q950A it certainly raises more than a few eyebrows and if it really sports this high number of channels it comes with.
But let's take everything one step at a time. The Samsung HW-Q950A is rated by Samsung as an 11.1.4 channels Dolby Atmos soundbar that packs a subwoofer and surrounds speakers making it a full surround system with a total of 616 watts of power. Except from Dolby Atmos it also supports DTS:X and also comes with plenty of features like WiFi and Bluetooth, High Resolution audio support, Amazon Alexa and Airplay 2 built-in and many others like Tap Sound, Q-Symphony and SmartThing app support.
To be honest, on paper, the Samsung HW-Q950A looks to be the most impressive soundbar created so far. Does Samsung managed to create a worthy flagship or it fails to rise to the occasion by its incredibly high expectations? Let's find out.
Design, Inputs and Features
Exterior
Being the flagship release of 2021 the HW-Q950A doesn't hold anything back. Measuring 48.5 x 2.7 x 5.4 inches (1232.0 x 69.5 x 138.0 mm) and with a weight of 15.7 lbs (7.1 kg) this is a beast of a soundbar. And if you add the fact that this is not only a long design but also one with dual side-firing drivers you understand that this unit needs ample of space in order to work its magic. So placing it in a cabinet or in any kind of restricted space will not cut it.
As for its actual design the 2021 release is no different from last year's HW-Q950T. It's big and most of it is covered by a fabric grille which is not that much premium looking to be honest. The angled sides are covered in what seems to be like vents while the rest of the body is made out of plastic as usual.
One thing that is a strange design decision is the placement of its fully functional display. On the one hand Samsung had the wisdom to include a normal display and not a LED indicators one which is definitely how we like it but on the other hand placing it at the top makes it completely useless when you sit making us scratch our heads on how we are supposed to see what it says when in use…we could use a mirror maybe??
On both sides of the display we get a few built-in buttons that we will talk about shortly while the back is plain as all connections are placed in an inset underneath the unit.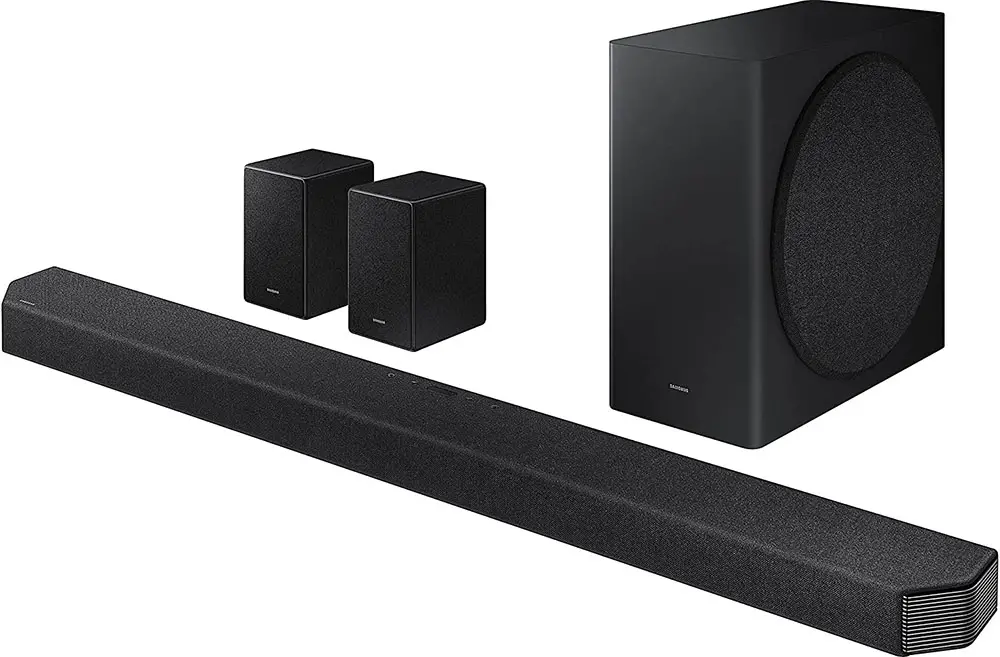 Moving on to the surround speakers and these are pretty big in comparison to some other surround speakers that come with soundbars and probably this was a necessity in order to fit three woofers inside each one. Each of them measures 4.9 x 8.0 x 5.6 inches (125.0 x 203.0 x 141.0 mm) and weights 4.0 lbs (1.8 kg) while their body is made out of plastic. All sides are covered in fabric grilles except from the back where we find the connection button and LED along with the power cable. And since we mentioned the cable these may be wireless speakers but still require a power outlet to work so they cannot be considered true wireless ones.
Lastly we have the subwoofer and considering the size of the other parts we were expecting a bigger one here really. Not that the one we get is small but we have seen similar sized ones in smaller soundbars also so most probably this is the least impressive part of the whole system. The cabinet is made mostly out of wood and has a side round fabric grille which hides the side firing driver while at the back we find a big air port at the top and the power connector along with the connection button and LEDs at the bottom.
The subwoofer measures 8.3 x 15.9 x 15.9 inches (210.0 x 403.0 x 403.0 mm) and weights 21.6 lbs (9.8 kg) and while its size makes it easy to fit it somewhere what we didn't like was the decision to use a side firing design as this will not allow us to fit it in very narrow places which would have been nice in case of a front firing solution.
Overall the Samsung HW-Q950A may not have the looks of a premium unit but the design is good enough. We would like a front firing sub and the built-in display is an odd one but other than these small nuisances we don't have anything bad to say here.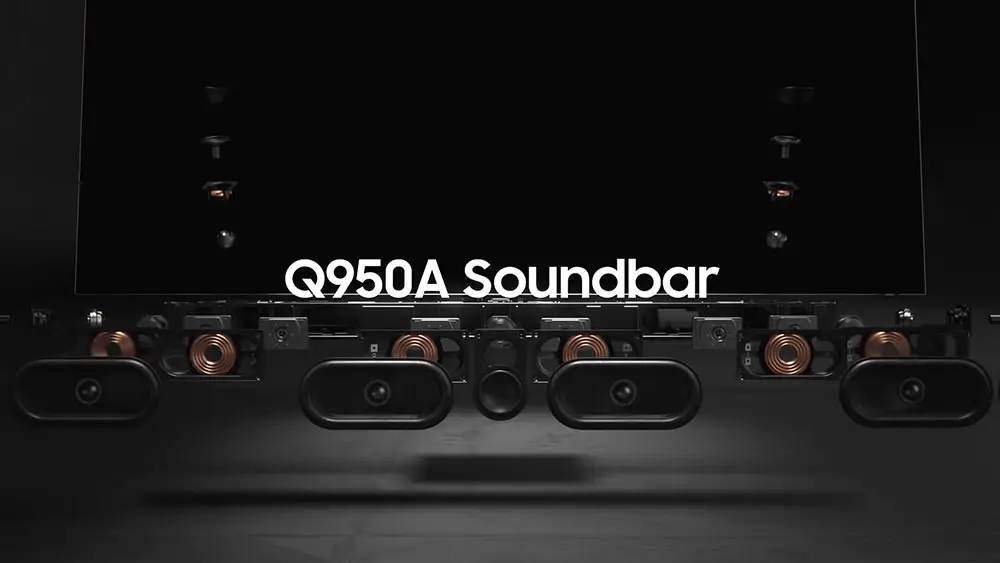 Internal Hardware
As with other Samsung releases when it comes to the internals of the HW-Q950A we had to do a bit of research to actually understand what this monster has under its hood. By combining the information of the user manual and some promotional videos of the Q950A we have a clear image of what Samsung has done this time as looking through the fabric grille doesn't make things any easier.
As we mentioned above the HW-Q950A is rated as a 11.1.4 channels soundbar and by the looks of it, it certainly has a total of 16 channels which is remarkably impressive. For the main unit we have the three main front channels and for these Samsung has used dual oval woofers along with a single tweeter for each channel.
Along with them they have included a single round woofer for the side front, side wide and Atmos channels. Now here we need to explain things a little bit. It is not the first time we see a soundbar utilizing side firing drivers in order to offer a more expansive front stage. But it seems that Samsung took this a step further with the HW-Q950A as each side has two woofers now. One that is at an angle and one that is looking completely sideways. This way the soundbar is capable at covering the full space at the front and on the sides which in theory will create a more deep and fulfilling performance.
And lastly we have the up-firing Atmos round woofers which are of the same size as the side firing ones and this is a standard type we see in many Atmos capable units and rely on the ceiling to bounce the sound down above your head.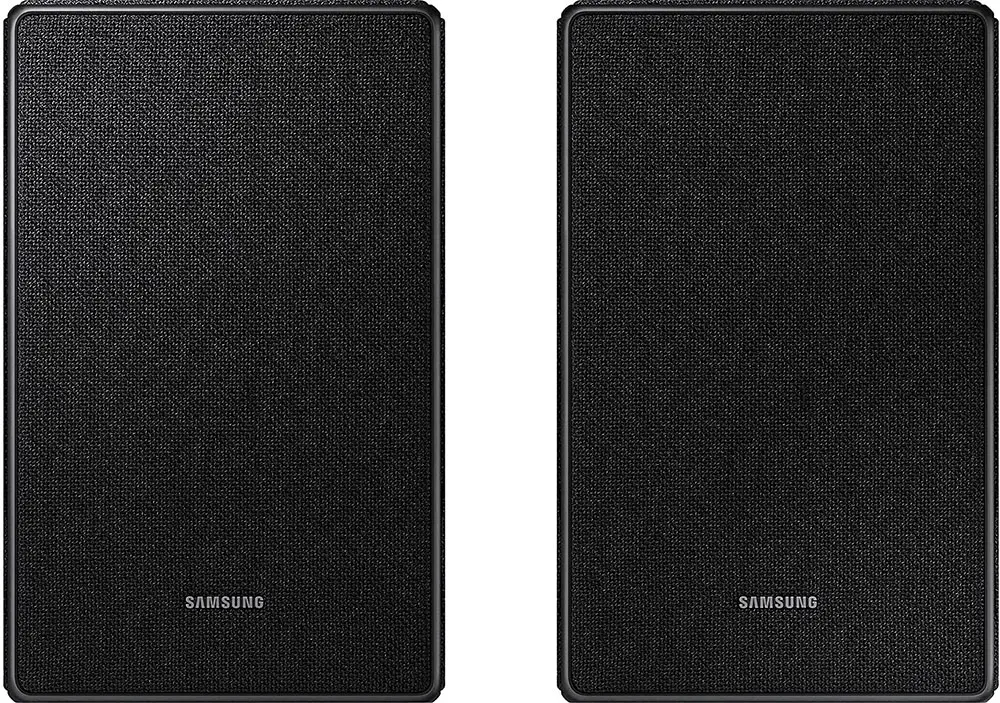 But as impressive the main unit is Samsung hasn't stopped there. The surround speakers that come with it are also one of a kind. And this has to do with the fact that each of the two cabinets actually hosts three round woofers inside it! One for the direct surround, one for the up-firing Atmos channel and one that is angled outwards in order to close the gap with the front side firing channels and offer a complete 360 degrees action.
Last but not least is the subwoofer which includes a side-firing driver for the low frequencies.
The whole system is rated at 616 watts of output power so let's brake this number down. The main unit is rated at 246 watts with a (18 W x 6) + (10 W x 3) + (18 W x 6) configuration. The surround speakers come at 105 watts each with a (35 W x 6) configuration and these numbers are supplemented by a 160 watts sub giving us the total of 616 watts.
Connectivity
Let's see next what connections are offered in this one. As we said above all inputs are placed on an inset underneath the unit making it a bit hard to reach them all the time. It is mostly aimed to make all connections one time and leave it be.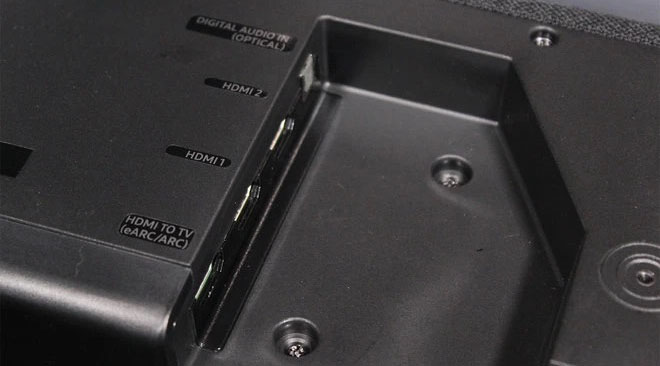 So what we actually get? There are a couple of HDMI inputs, a Digital Optical input and an HDMI output. Not a lot in terms of pure numbers to be honest. By having both input and output HDMI means that the unit can be used to pass-through any signals and also be used as a hub as it has two HDMI inputs to use. We have seen some premium soundbars come with more HDMI inputs and this is certainly one area where the HW-Q950A fails to keep up with the competition.
The HDMI output supports both ARC and eARC meaning that you can pass-through all kinds of audio from the TV including Dolby Atmos and DTS:X if your TV supports such functionality. The HDMI ports also support both Dolby Vision and HDR10+ pass-through in case you worry about that. In terms of wireless capabilities the unit comes with both WiFi and Bluetooth connections.
Overall the HW-Q950A doesn't offer anything impressive for being such a flagship unit. Coming with only two HDMI inputs you most certainly will need to be creative to connect all your devices while there are some missing connections like analog ports or even a USB making the soundbar falling behind the competition in this regard.
Control Options
Next we will be looking in the ways you can control the HW-Q950A. As per usual the soundbar has some built-in buttons that Samsung has placed on the top center, just where the top display is located with two buttons on each side. These are physical buttons and are shaped in the form of symbols for easier recognition of their functionality. From left to right we find a multi function button which also acts as an input selection button when the unit is turned on, next there are the volume controls and on the far right the microphone button.

We like that these buttons are physical as they are much easier to handle but using similar color as the rest of the soundbar makes them slightly hard to distinguish, especially at night, and would be preferable if another color was used.
As always, the most obvious means of control is no other than the included remote and here we find no other than the familiar One Remote that Samsung has been using on a wide range of their visual and audio devices. And while general design and buttons layout remain fairly unchanged what has obviously changed is the functionality of these buttons.
The two buttons above the navigation controls are used for source selection and Bluetooth pairing while the other three below the circular navigation controls are for sound mute, sound mode selection and sound control which includes many sound calibration options like treble, bass, frequency bands adjustment and specific channels volume control. The two buttons at the bottom are for main volume on the left and woofer volume on the right.
All Samsung soundbars feature the same One Remote and depending on their functions the buttons have additional uses. We saw the same remote recently in our HW-A550 review and the only difference here is that with the additional features of the HW-Q950A the remote can do more with each press of a button.

The soundbar supports HDMI-CEC which means that if you connect the unit to the TV with a HDMI cable you can use the TV's remote to handle some basic controls like volume. This may not give you the complete range of supported functions but it may help in certain situations.
With the addition of WiFi the HW-Q950A gets additional means of control that were missing from the HW-A550 due to the lack of any wireless connection. As such here we get Amazon Alexa in order to control the soundbar without the need of a remote but unfortunately there is no Google Assistant which is a bummer.
Lastly the soundbar supports the SmartThings app and you can download it to your mobile device and control the unit through that. But although you can use the app to issue basic commands like input selection, volume control and change sound modes it doesn't have the ability to change some of the more advanced settings like specific channel volume calibration and you will need the remote for that.
Although the soundbar misses a dedicated app at least the SmartThings one can provide an alternative in case you prefer to use your mobile device instead of the actual remote.
Extra Features and Services
The HW-Q950A brings a lot of extra features and this is not much of a surprise considering this is a flagship offering we are talking about. What is also important is to see what, if anything, has been added compared to last year's offering, the HW-Q950T.

The HW-Q950A seems to support almost everything a soundbar can and by that we mean there is LPCM 8 ch, Dolby Digital, DTS, Dolby Atmos, DTS:X and all the other formats in between these. No real complaints here.
The unit also comes with a few sound modes you can select from as per usual with most Samsung soundbars. The ones available are the Standard mode which outputs the original audio mix as it is, Surround Sound that provides a more wide sound field than the Standard mode, Game Pro mode which provides stereoscopic sound to immerse you in the action while gaming and Adaptive Sound which analyzes the content audio and provides the optimal sound field accordingly.
One thing we should note here is that with the Standard mode if you feed the soundbar with a Dolby Atmos or DTS:X signal you will only get up to 7.1.4 channels of output. Only in Surround, Game Pro or Adaptive sound modes you get the full 11.1.4 channels from the unit.
The unit also features Active Voice Amplifier (AVA) which we had seen in Samsung TVs before and what this does is that the soundbar analyses the background ambient noise in your room and compensates the sound output accordingly.
The Q950A also comes with Bluetooth connectivity. First of all you have the ability to stream audio from any mobile device through a Bluetooth connection. Also if you don't want to mess with cables you have the ability to connect it to your TV through Bluetooth if your TV also can support such a connection. Just keep in mind that you cannot have both your TV and a mobile device connected at the same time. It's either the TV or a Bluetooth device at a time.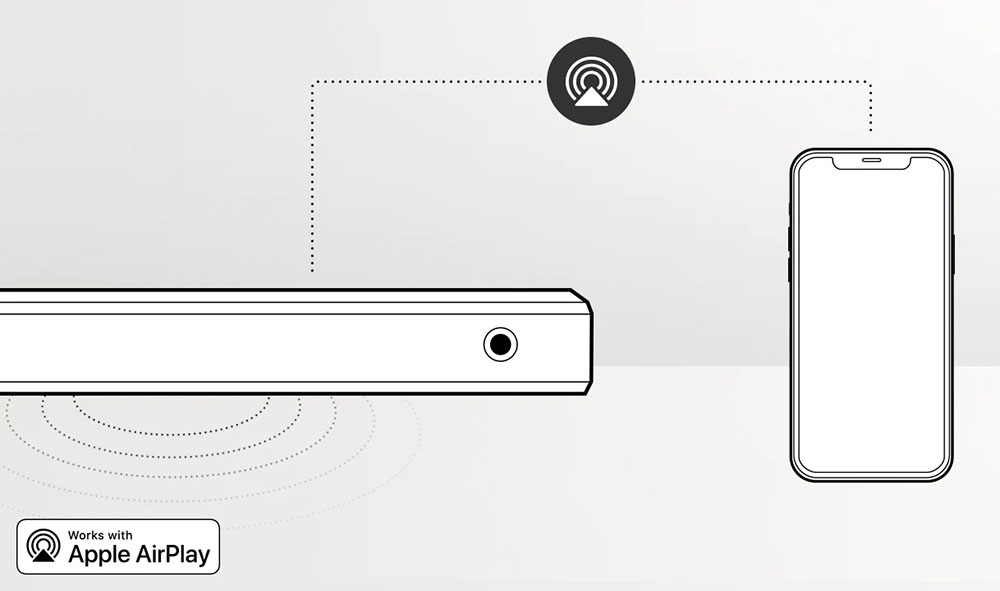 Lastly there is a Bluetooth Auto Power ON/OFF function. The unit will turn on or off automatically depending on the state of its Bluetooth function. When it detects an incoming Bluetooth signal it will power on while if no Bluetooth signal is detected for a period of time it will turn of automatically.
As for the files being supported we get the usual MP3, WMA, AAC and OGG when it comes to low quality ones but we also get High Resolution Audio support for FLAC, ALAC, AIFF and WAV files. What is disappointing is that there is no USB available in order to playback these files from the unit itself. This means you have to rely to an external source like a media player that support these or through Bluetooth or WiFi but in this case the quality will certainly be much lower than it could.
The unit also gets Airplay 2 support which was missing from last year's release. With this you can stream music from any Apple device with the use of third party streaming services. So if you felt abandoned last year with the Q950T not sharing any Apple love then Samsung made amends in 2021 by including this.
Any premium soundbar should offer hands free voice control and the Q950A does come with built-in Amazon Alexa support. But we are disappointed that there is no Google Assistant and with such a high price this one has it is unacceptable not to include both services.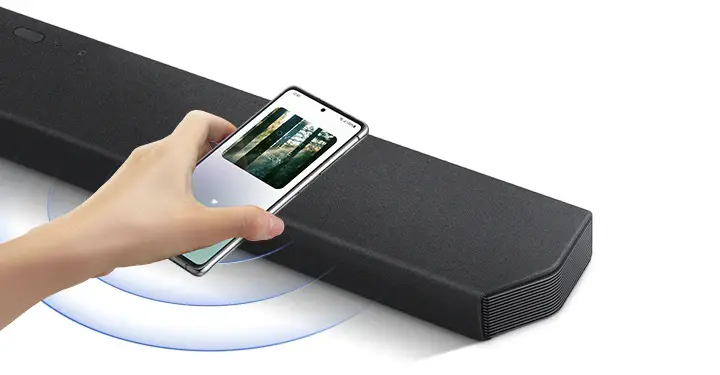 Another fancy feature we find is Tap Sound and with it you can mirror music from your phone to your soundbar with just a tap. Obviously your mobile device has to support this feature also but with it you save yourself the trouble of going through the connection process each time. Nothing major but a nice little feature to have.
Lastly we find Samsung's Q-Symphony feature. If your TV also supports this then the soundbar and the TV sync together in order for both to output sound from all available speakers. This way the TV takes an active part into the sound reproduction in order to up the immersion even further.
The HW-Q950A still misses a few features which is a bit disappointing as we are talking about the crown jewel of Samsung's 2021 lineup. But compared to last year we do get Airplay 2, the SpaceFit Sound+ auto room correction system and Active Voice Amplifier (AVA) so you can say that it is an actual improvement.
Initial Setup
When it comes to connecting the soundbar, the HW-Q950A gives you many options really. If you prefer to go the wired route you can either use the HDMI connection either in a pass-through configuration or at the end of the chain with the use of the ARC/eARC functionality. There is also an optical port in case your devices does not have an HDMI port.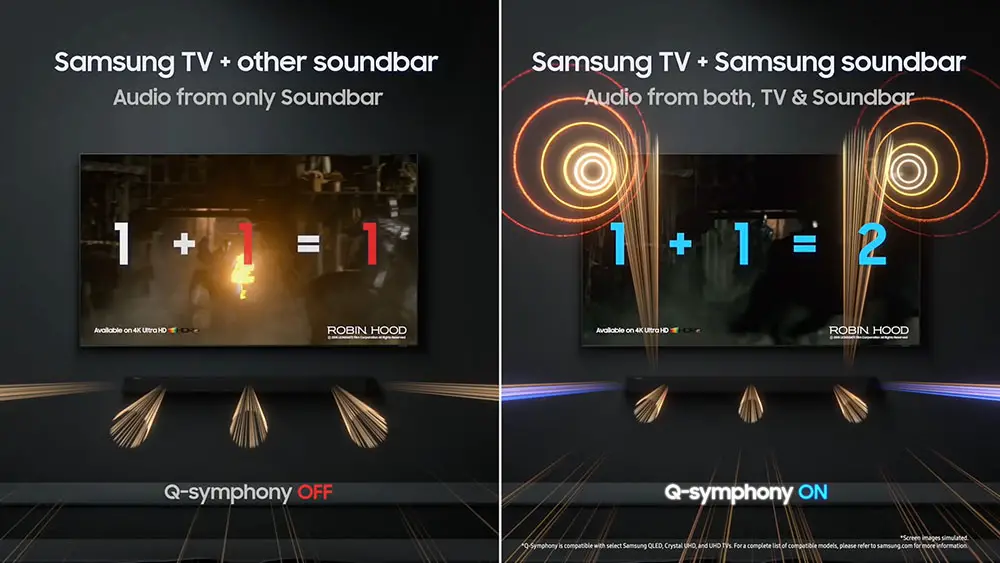 But the soundbar also offers you the option to connect it to the TV through a wireless connection. This can be achieved either through Bluetooth or with WiFi but to be honest we would suggest such a connection only if a wired solution is absolutely out of the question. Wireless connections are not so stable and you may have problems with such one.
After you connect all parts to the appropriate power outlets then both the subwoofer and the surround speakers should connect to the main unit by themselves. If for some reason they don't then you have the option to do it the manual way and there are very clear and easy instructions on how to do that.
Another feature that was missing from 202o's release was an auto room calibration system and for 2021 it seems that Samsung decided to give us one. To be honest such a premium soundbar shouldn't be without one and it was a glaring omission last year. So in the HW-Q950A we find SpaceFit Sound+. We have seen this feature in some of the higher tier Samsung TVs which uses a special sensor in order to analyze your room and calibrate the audio output accordingly. The plus version we have here does the same thing but takes it one step further. The subwoofer also has a similar sensor and the soundbar can use both the sub's one and the TV's one for a more detailed analysis of your space.
After everything is said and done you still have the option to go through some manual calibration if you are still not satisfied with the end result. There is the usual treble and bass calibration along with a EQ graphic for more detailed calibration. You can also adjust the volume of each channel to bring them all to equal level.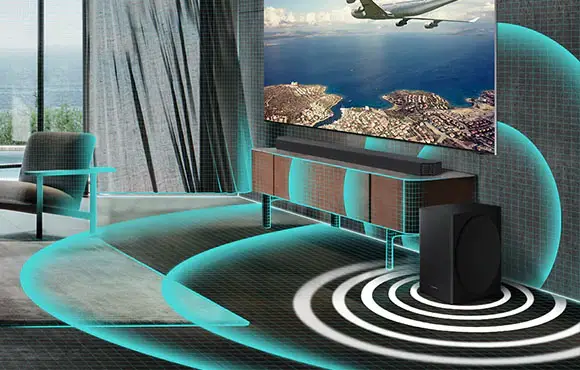 The last thing you have to do is select the appropriate sound mode. Here you can either choose one according to the material being played or if you are the kind of person that just wants to leave the settings alone then you can use the Adaptive mode and let the soundbar determine the best audio mode to be used each time.
Obviously we have seen much simpler setups. But when you buy such a soundbar you don't do it for its simplicity. Being a top tier unit means that it has to offer plenty of options when it comes to sound calibration and the HW-Q950A certainly has everything that is needed.
Movies
Having such a monster of a soundbar requires the appropriate material to put it through its paces. So you took out our Pacific Rim 4K UHD disc which has exactly the Dolby Atmos mix we needed for this test. Also we used the Adaptive Sound mode and let the soundbar determine by itself the best sound output available.
Let's get the obvious out of the way first. By utilizing so many speakers the kind of immersion you get is really impressive. You could hear the soundstage spread all across our room and in all axis and if you have a straight ceiling that is not extremely high then the Atmos effects will make this impression even bigger.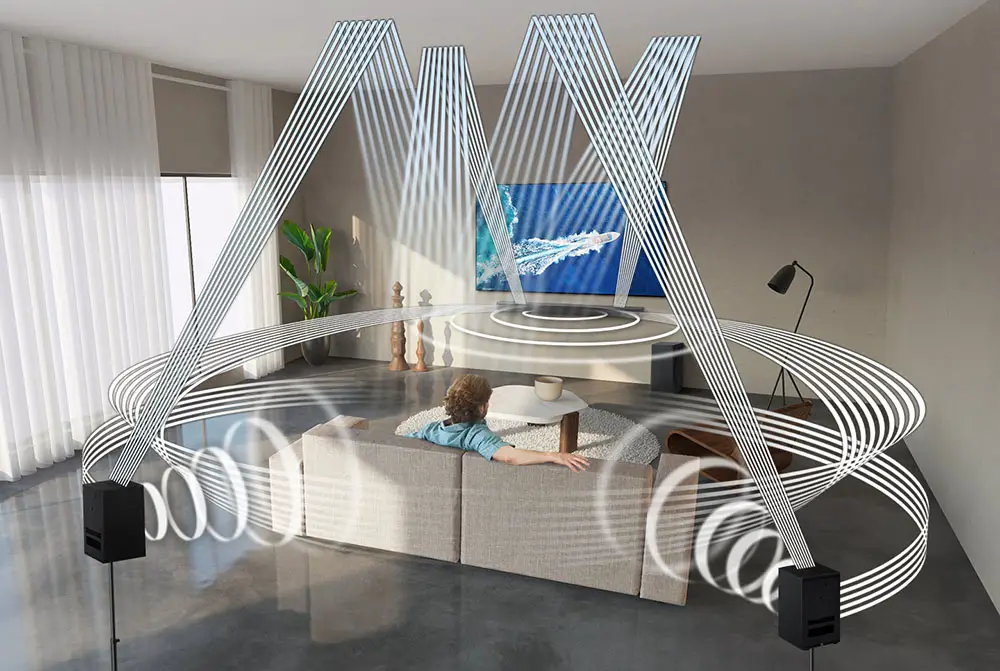 At the front the sound came out very clear with nice distinction and separation of the channels while sideways extension was better than any other soundbar we have heard to this day. Dialogue was very clear and distinct even through all the chaos and the soundbar did an excellent job at keeping all the sound elements separated.
Surround activity was also excellent and with the addition of two extra sideways channels this year the difference was really felt as both our sides felt more alive than ever before. In terms of overall surround immersion Samsung did an amazing job as they managed to fill all the gaps in the immersion bubble a soundbar creates.
When it comes to Atmos effects what we got was really good. Obviously this heavily depends on the kind of ceiling you have. If it is straight and up to 9 feet (3 meters) of height then you should in theory get very audible effects. Anything else and it will surely negatively affect the end result. Unfortunately this is the downside of the up-firing Atmos technology all soundbars use and until separate height speakers are offered this is the next best thing we can experience.
On the low end the included subwoofer offered plenty of shakes. When the Jaegers confront the Kaiju you can feel the walls shaking which must have made a few of our neighbors unhappy! Obviously we have heard better from 3rd party subs but for a soundbar subwoofer it performed pretty well. Bass was clear enough and never felt too boomy or muffled.
In the beginning we were a bit skeptical about using the Adaptive mode but ultimately we decided to go for it and see how things would feel. After all said and done we can say that the unit did a very good job and the overall output didn't feel artificial or over-processed. The HW-Q950A utilized all its channels in a very good way and filled all the gaps around us very convincingly. And with the use of four Atmos speakers the top layer came to life as fighter jets and missiles were flying all around us.
Yes, the Atmos sound was not as high as dedicated height speakers can do and overall clarity was not the best there is but these are minors you have to live with when it comes to up-firing speakers.
Overall the HW-Q950A really nailed it here. Sound immersion was through the roof considering it's a soundbar we have here, clarity and separation were great, low end performance was satisfying and there was not a single area where the unit failed to deliver. If you are looking for the best soundbar for movies then this one fits the bill.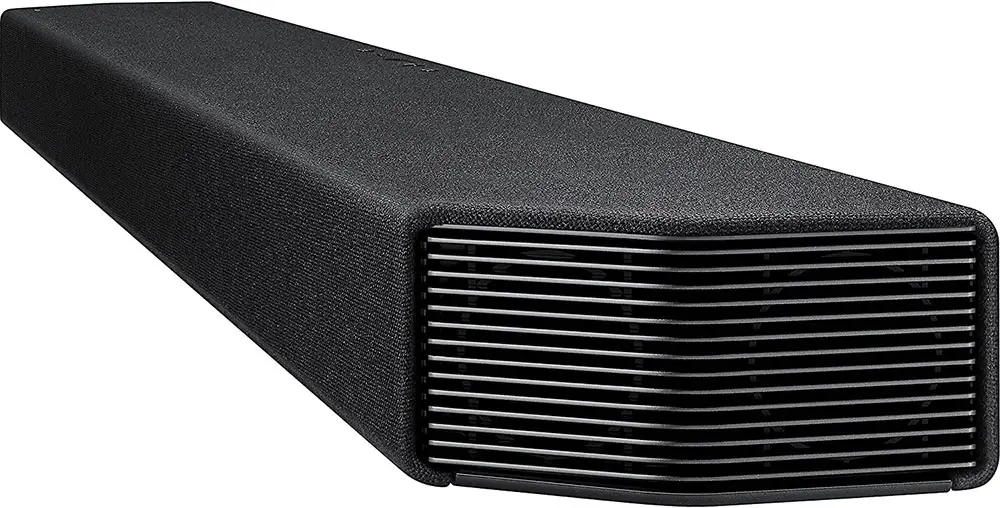 Music
For our music testing since there is no USB playback support we decided to use an external media player that we connected through the HDMI port. We decided to avoid using a wireless connection as the quality certainly lacks in comparison.
With music the sound felt slightly less impressing than what we experienced in our Pacific Rim test but this didn't mean that it was not good. On the contrary once again the unit put all its channels to good use but due to the nature of the audio the sound was not as refined as we would like.
At the front the sound wall stretched far to the corners of our test room and provided us with a much impressive depth. Sound imaging was good but not the best we have heard. Sound sources were easy to distinguish and pinpoint through space but they lacked this last bit of detail that would really make them feel unique.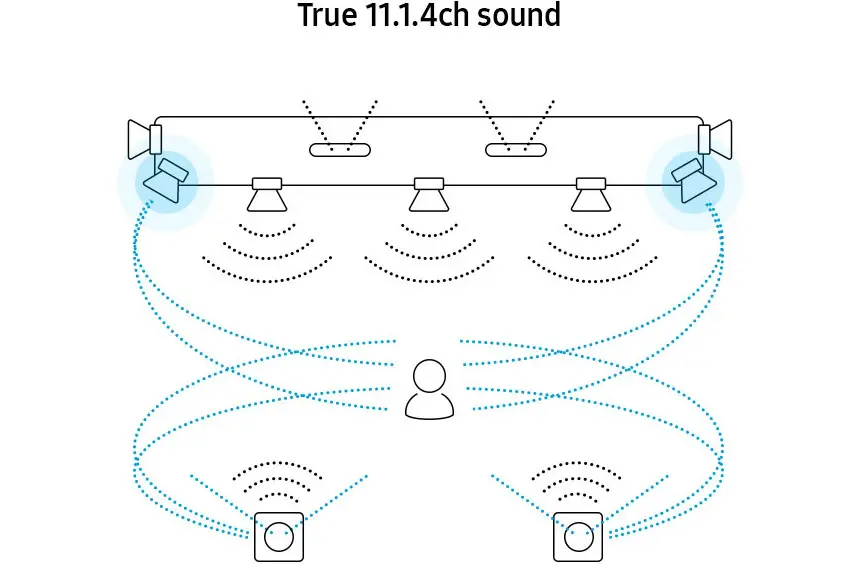 Keep in mind that with the Standard mode the unit will output in just 2.1 channels configuration while by using the Adaptive mode you will take advantage of the total of 16 channels the Q950A comes with. And while outputting through all these channels makes the sound a bit less accurate it was certainly more impressive. We love to get the music the way it is meant to but we don't shy away from audio that sounds impressive even if it is less accurate as a result.
In terms of acoustics qualities the soundbar felt very balanced in the mid-range with no exaggerations towards the upper registers and with good control over it low end. Good energy across the board and this resulted in a very smooth acoustic session during our time with the unit.
As we do in our reviews we pushed it with some more bass intensive songs and while we cannot say that we were impressed we were not disappointed either. There was certainly nothing wrong with the low end, it just lacked some refinement that you would expect from such a high end unit. As far as different genres the unit didn't disappoint anywhere in particular and could play nice with very different tunes and rhythms.
Obviously no soundbar should be considered HiFi material no matter how expensive it is and the same applies to the HW-Q950A. It is not bad in any way, it just can't compete in high resolution and detailed rendering with dedicated HiFi speakers. It is good overall, very pleasant to hear and will offer many hours of acoustic enjoyment, just know what to expect from such small drivers all soundbars come with.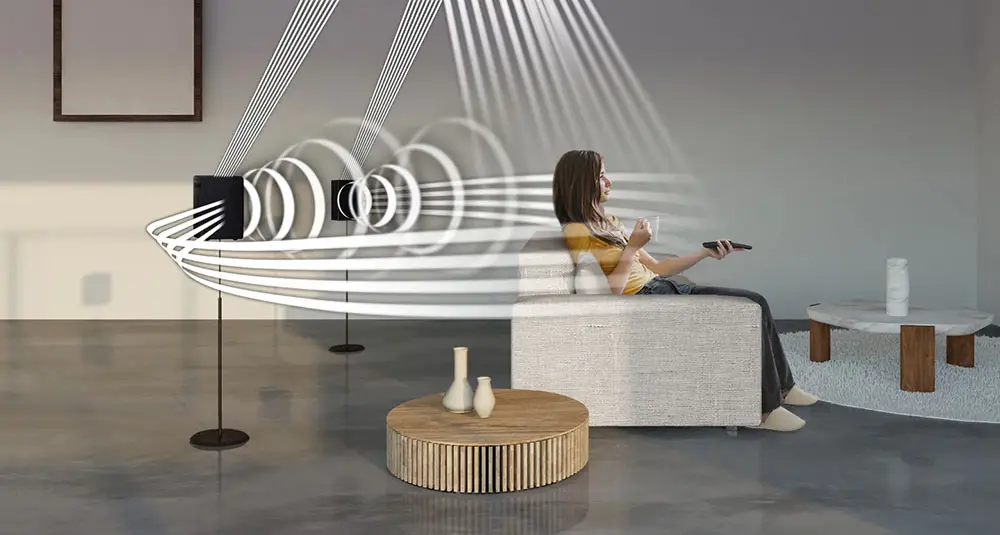 Final Thoughts
Samsung has managed to surprise us for one more year. The 2020 HW-Q950T was an already very good Dolby Atmos soundbar and while it was missing a few features that any flagship should have, in terms of pure audio output it was among the best. It seems that Samsung took everything good that 2020's release had and further improved it. As such with the HW-Q950A we are not only getting a more feature complete offering but one that has even better surround sound, however difficult this is to believe.
The soundbar has reached a point where the next best thing is a full surround system with separate speakers. There is nothing better to go with and if you are looking for one of the top performing soundbars so far then you should stop looking any more. The HW-Q950A combines all the virtues of a soundbar including ease of use, less cables and less clatter along with far easier installation than any separate system can offer with the surround quality that most soundbars would only dream of. Add to this the extra features that were missing last year and Samsung decided to include now and you get the idea of the kind of monster you get.
On the downsides there are not many things we can say really. The top display is an odd one and not a very useful one placing it like that while the SmartThings app does not offer you the ability to change some of the soundbar settings like separate channels volume. We also would like to have Google Assistant along with Alexa as many dirty cheap soundbars offer both nowadays and the omission of a USB that can be used to connect external storage is also a strange one. Lastly this is one of the most expensive soundbars available and while there is a lot of value here it can make a few people have second thoughts.
Closing our review it is clear that Samsung was determined to create the absolute best soundbar money can buy. And with the HW-Q950A it seems they managed to do it as there is no other release from Samsung or other competing brands, from those we have tested so far, that can achieve the same level of immersion. There are a few that come close enough but the 11.1.4 channels of the HW-Q950A place it on a level of its own and thus wins our higher recommendation for the best performing soundbar without considering the cost.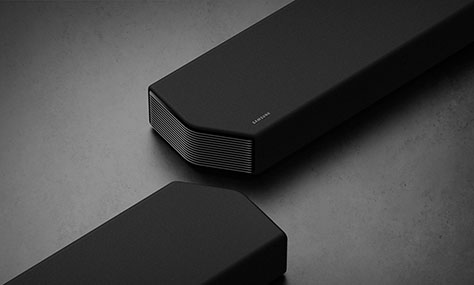 For more reviews you can check our dedicated Full Surround Soundbar reviews list or even look at our Product Reviews Table where you can find the brand and specific product you are looking for.
Also don't lose the chance to subscribe to our Newsletter and gain exclusive privileges.
---
Cheapest Places to Buy :
---
Samsung HW-Q950A Specifications