Samsung HW-Q800B
Reviewed at $699.00
Product Name: Samsung HW-Q800B
Product Description: 5.1.2CH Dolby Atmos Soundbar
Design -

9/10

Movies Performance -

9/10

Music Performance -

8.8/10

Inputs and Features -

8.7/10

Price / Quality -

9/10
Summary
Reviewed at $699.00
Pros
Dolby Atmos and DTS:X support
Good front sound output
Can be expanded to 7.1.4 channels
Good price
Cons
Optional rear speakers add to the price
No USB playback
No surround sound
SmartThings is missing a few options
---
Cheapest Places to Buy :
---
Another year has come and Samsung continues to be on the forefront of the soundbar market with another extensive yearly released lineup. Obviously most of the attention is once again on their top of the line Q series which includes no less than five new models. In our Samsung HW-Q800B review we will be testing the soundbar that sits exactly in the middle of the lineup and what improvements we get compared to last year's model.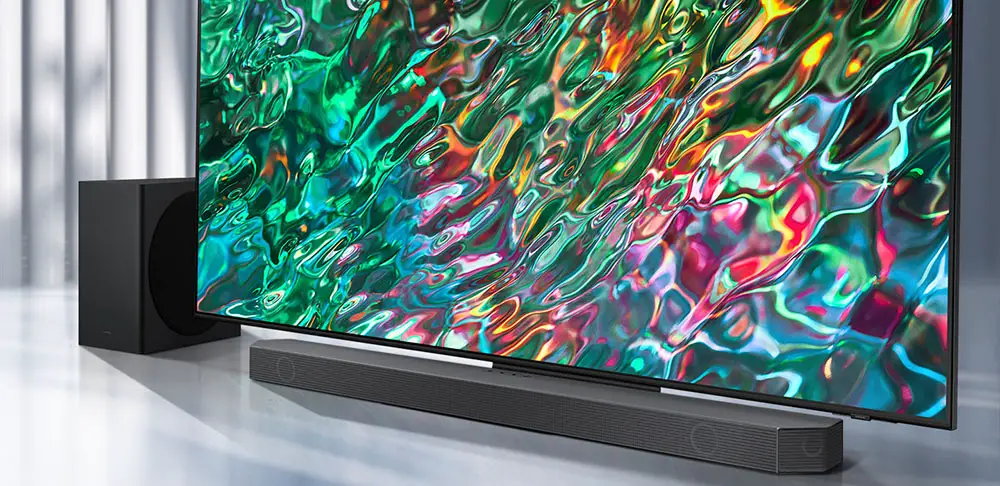 The HW-Q800B is placed above the Q600B and Q700B and below the Q930B and Samsung's top flagship for 2022, the HW-Q990B. The new release is supposed to replace the Q800A, which you can read about in our review here, and right from the start we see some fundamental differences compared to the 2021 model. So what becomes obvious is that the new HW-Q800B is not simply a repackaged 2021 unit but a brand new offering.
Going really fast over the specs the new HW-Q800B is a 5.1.2 channels soundbar/subwoofer combo that supports both Dolby Atmos and DTS:X and can be expanded to a 7.1.4 channels system with the inclusion of the optional surround speakers kit. It comes with plenty of extras including Bluetooth playback, Chromecast, Airplay2 and Spotify Connect, it has Samsung's Q-Symphony as all Q series soundbars, supports voice control and you will even find SmartThings integration.
The new HW-Q800B has more channels than last year and a completely new look that seems to borrow from Samsung's last year flagship. Is it really as good as it looks and how does it compare with last year's model? Let's start our analysis to find out.
Design, Inputs and Features
Exterior
With all these yearly releases you would expect the new Q800B to be similar to the Q800A in terms of looks and design. But surprisingly it is not as the new unit seems to borrow the looks of last year's HW-Q950A instead. This most probably has to do with the fact that the new soundbar incorporates side firing drivers, something that last year's offering did not.
In terms of size the Q800B measures 43.7″ x 2.4″ x 4.7″ (1110.7 x 60.4 x 120.0 mm) and weights 11.2 lbs (5.1 Kg) which means that it is one of the larger ones and is meant to be placed under TVs of 55″ size and above.
Just keep in mind that if you plan on placing it in front of your TV the soundbar, although it has a low profile design that can fit under most TV models, doesn't have any IR repeaters, so if your TV's IR sensor is extremely low then it may obstruct the signal, so you better measure first just to be on the safe side. Most TVs do have a gap of around 2.5″ below the panel so you should be ok but there are a few ones we have seen that leave less space so always check to be sure.
Design wise the Q800B does look similar to the Q950A, as we mentioned above, but it's not entirely the same design as there are a few distinguishable differences.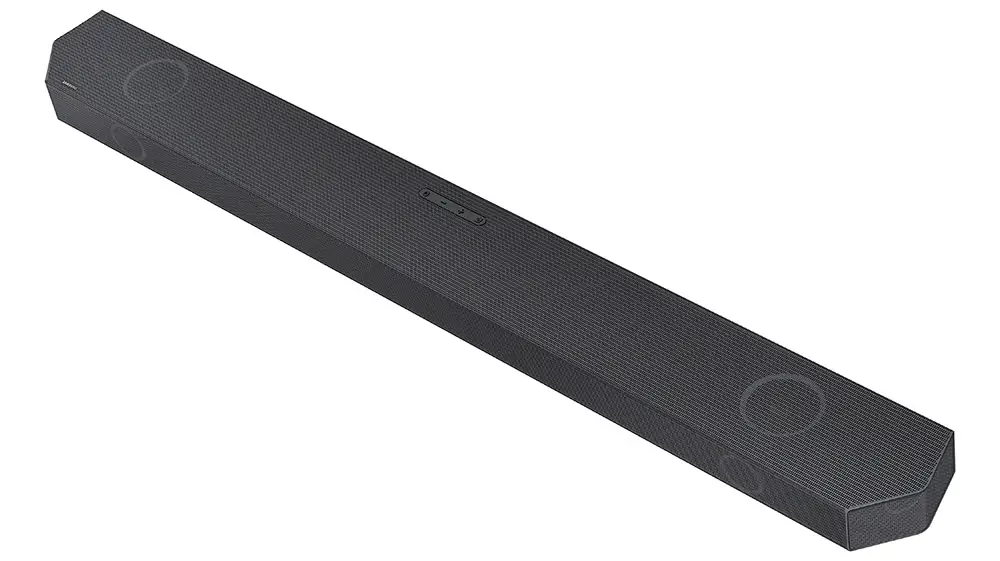 The whole front, top face and both sides are covered by a metallic perforated grille covering the plastic chassis along with all the included woofers. We do like the metal grille more than the fabric cloth of the Q950A so there is definitely an improvement there.
As usual at the top side we find some built-in buttons placed right in the middle while the Samsung logo is placed on the far left. You can almost see the up-firing woofers under the metal grille but otherwise the top side is pretty minimalistic.
One thing that we are very critical when it comes to soundbar designs is the use of a front display that shows various functions of the unit. Some soundbars lack a fully working display making it very hard for the user to know what the soundbar is doing.
Thankfully the Q800B comes with a fully working LCD display that is placed on the far right side of the front face, just next to the right channel. This display can show you various information like input source and volume among others although it is a bit small and the messages have to scroll in order to show you all their letters.
At the back we find one big inset that houses all the available connection ports. As usual the power port is separated from the rest on the right side which can be slightly frustrating if you want to group all cables together and keep them hidden from plain sight. There is nothing else at the back as the wall mounting brackets hold the soundbar from underneath due to its weight.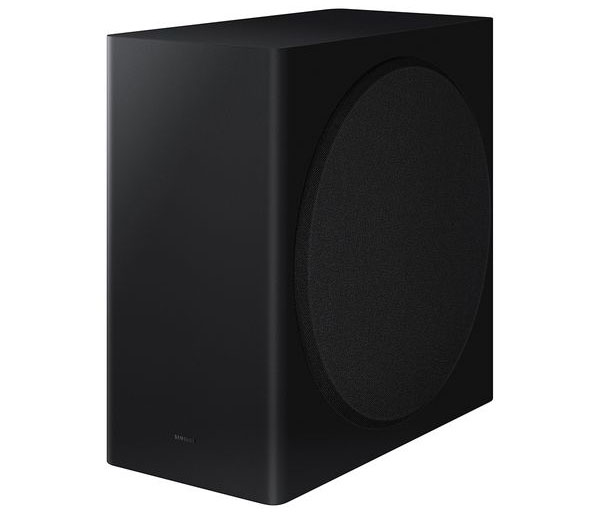 And while the main bar seems to have been redesigned to incorporate the additional channels what seems to be the same as was in the Q800A is the subwoofer. It comes with the same design, dimensions and power rating so we assume this is the same, as there was no need for any changes here to be honest.
The subwoofer measures 8.3 x 15.9 x 15.9 inches (210.0 x 403.0 x 403.0 mm) and weights 21.6 lbs (9.8 kg) and while its size makes it easy to fit it somewhere what we didn't like was the decision to use a side firing design as this will not allow us to fit it in very narrow places which would have been nice in case of a front firing solution.
The subwoofer is the wireless type but as always it still needs power so it cannot be described as completely wireless. Its design is simple, as with most soundbar subwoofers and we only get a pairing button at the back along with a connection LED that confirms the connection to the main unit.
Overall very Samsung like design. Its quality is good enough, its design very familiar among Samsung products and is exactly what you should expect from this category.
Internal Hardware
The soundbar got an upgrade with two additional channels compared to the 2021 Q800A. So now the Q800B comes with a 5.1.2 channels configuration with a total of 11 drivers included.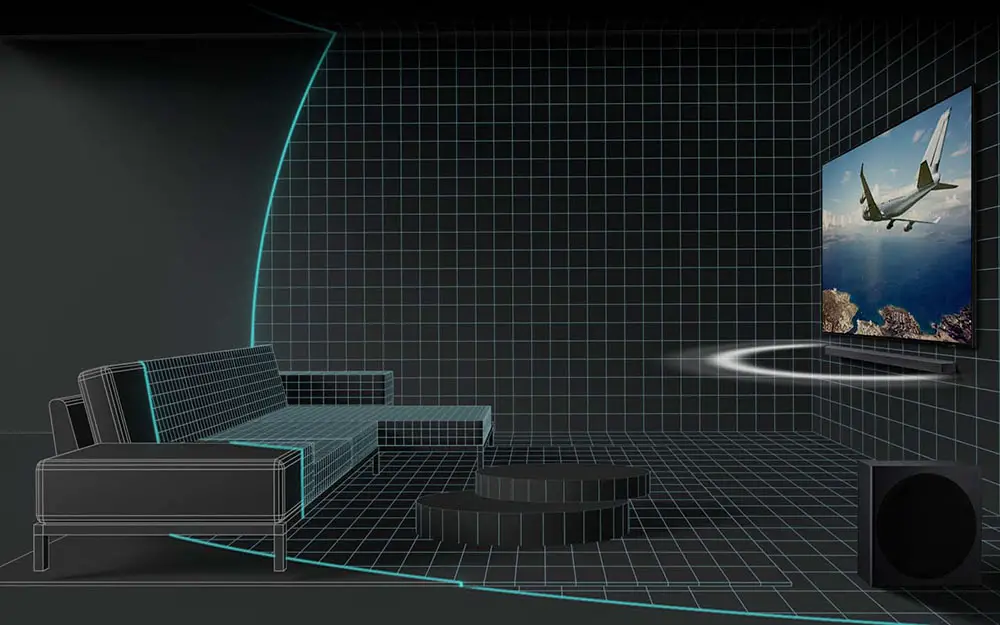 The main bar incorporates five channels with left, right and center for the main front, along with surround right and surround left which are side firing channels. For the top layer we find two Atmos channels with a single woofer for each channel.
There are no separate surround, or rear as manufacturers like to call them, speakers here although the unit allows you to add an optional kit which we will talk about a bit further down our review.
As for the subwoofer, it comes with a single, side-firing 8″ bass driver which is exactly the same as previous releases.
The soundbar has a total of 360 watts of power with 200 watts for the main unit and 160 watts for the subwoofer. The power distribution for the main bar is (30 W x 3) + (20 W x 4) + (10 W x 3).
Connectivity
Next we will be looking at the available ports that are placed in a special inset at the back of the unit. In fact what the HW-Q800B has is no different from last year's Q800A in any way or form.
What we get is a digital optical audio input and two HDMI ports, one input and one output. There is also a USB-A port at the bottom which is used for service only while the power connector is separated from the rest and placed on the other side of the unit.
Although there is no specific mention of what HDMI ports the HW-Q800B comes with looking at the HDMI capabilities on the manual reveal that these are actually the older HDMI 2.0 kind. And this is obvious as they cannot pass-through anything more than 4K@60Hz content which is a bummer in case you are a gamer and you want to pass-through high frame rate signals.
But nevertheless the inclusion of a single HDMI input does limit your options greatly and you cannot connect multiple devices on the soundbar anyway. Your only option is either use a HDMI splitter and have to settle only with 4K@60Hz signals or connect your console or computer to the TV directly. The third option is to use the TV as a hub and take advantage of the eARC port to drive the sound to the unit itself from the TV.
The HDMI ports except from 4K pass-through support HDR10+ and CEC commands also.
Also we shouldn't forget to mention the unit's wireless capabilities as it features built-in WiFi along with Bluetooth but only with SBC codec which is the most basic form of Bluetooth support.

It's obvious that a single HDMI input does not cut it in today's home theater systems. In case you have multiple devices then using it at the end of the chain with eARC is your best bet but in our experience eARC has its own share of problems. And lastly you have to keep in mind that your TV must support DTS also if you want DTS:X in the soundbar something that right now only Sony supports out of the big three (Samsung, LG, Sony).
Control Options
In terms of controlling the unit, things are not all that different from last year.
The built-in buttons are the first and most basic form of controlling this soundbar although their usability is rather limited. There are four physical buttons and from left to right we find a multi-function button, volume controls and a microphone control button.
The One Remote we find in the Q800B seems to have gotten an upgrade in design and buttons layout this year although fundamentally it's not all that different from previous versions of One Remote. The new one does seem slightly more premium than before so you can call it an improvement.
While other remotes decrease the number of buttons available the new One Remote seems to have a few more although not by much and surely it does not affect its practicality.

The two buttons above the navigation controls are used for source selection and Bluetooth pairing while the other three below the circular navigation controls are for sound mute, sound mode selection and information.
Below these we find the woofer and volume controls while at the bottom three additional circular buttons are used for channels volume control, sound control which includes many sound calibration options like Spacefit sound, AVA, Voice enhance mode, Night mode, Sync, Surround speaker mode, Virtual along with specific frequency settings and tone control for setting the treble and bass.
The soundbar supports HDMI-CEC which means that if you connect the unit to the TV with a HDMI cable you can use the TV's remote to handle some basic controls like volume. This may not give you the complete range of supported functions but it may help in certain situations.
Also due to the inclusion of the built-in WiFi module we get Amazon Alexa in order to control the soundbar without the need of a remote. Basically it's the same as last year so no real changes here.

Lastly the soundbar supports the SmartThings app and you can download it to your mobile device and control the unit through that. But although you can use the app to issue basic commands like input selection, volume control and change sound modes it doesn't have the ability to change some of the more advanced settings like specific channel volume calibration as you will need the remote for that. Also the app is required in order to connect the soundbar to your local network.
Not much has changed here. The HW-Q800B offers the same in terms of controlling the unit as last year which was to be expected.
Extra Features and Services
Next we will be looking at all the bells and whistles the unit comes equipped with and first of all let's look at the sound formats that are supported. The soundbar can playback content containing Dolby 5.1ch, Dolby Digital Plus, Dolby True-HD, Dolby Atmos, DTS 5.1ch, DTS-HD, DTS-HD Master Audio, DTS:X and LPCM 8Ch. The only thing missing is IMAX Enhanced but there is not much to be missed with that one.
The unit also comes with a few sound modes you can select from as per usual with most Samsung soundbars. The ones available are the Standard mode which outputs the original audio mix as it is, Surround Sound that provides a more wide sound field than the Standard mode, Game Pro mode which provides stereoscopic sound to immerse you in the action while gaming and Adaptive Sound which analyzes the content audio and provides the optimal sound field accordingly.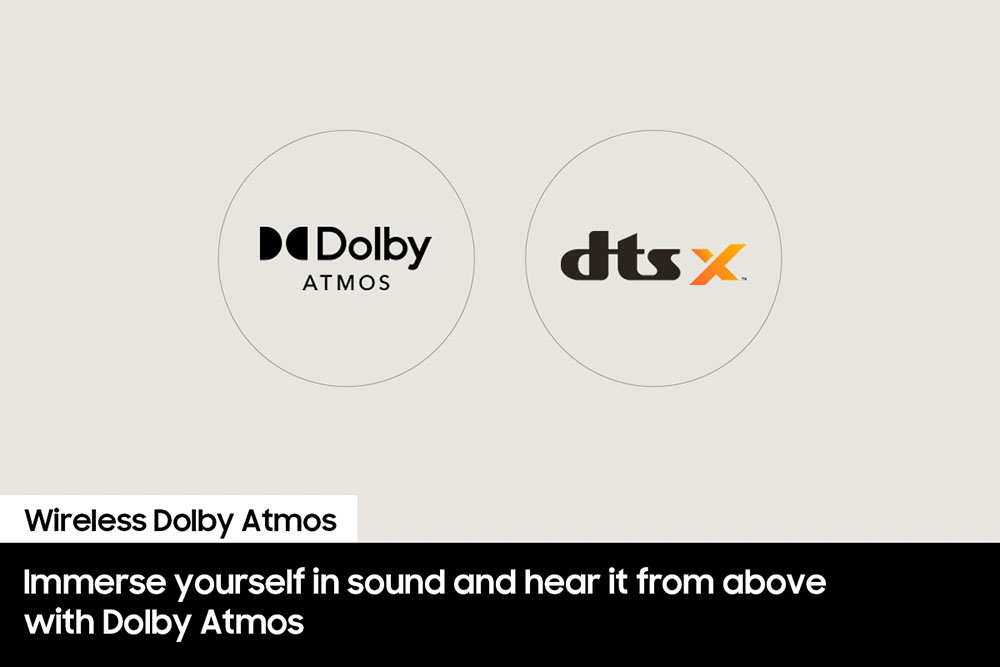 One thing we should note here is that with the Standard mode if you feed the soundbar with a 2.0 channels signal you will only get up to 2.1 channels of output. On the other hand for 5.1 and 7.1 channels signals you will get 5.1 channels output.
Only in Surround, Game Pro or Adaptive sound modes you get the full 5.1.2 channels from the unit. Also when a Dolby Atmos or DTS:X signal is detected then all available channels are enabled.
The unit also comes with Bluetooth connectivity. First of all you have the ability to stream audio from any mobile device through a Bluetooth connection. Also if you don't want to mess with cables you have the ability to connect it to your TV through Bluetooth if your TV also can support such a connection.
Keep in mind that when you connect your TV with the soundbar through Bluetooth you can stream only stereo audio as Bluetooth cannot sustain higher bandwidth that surround audio formats require.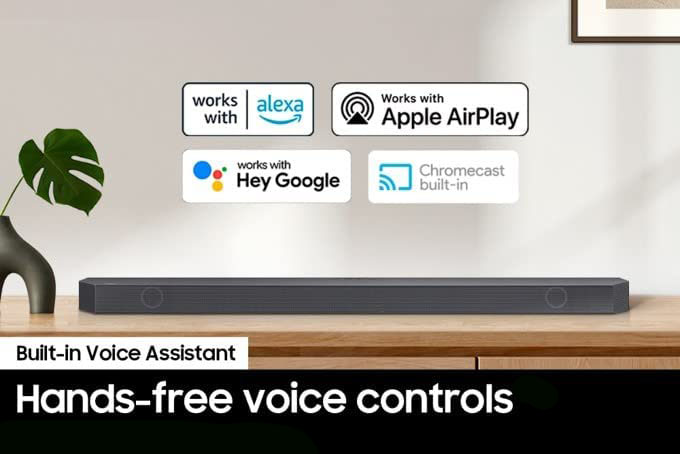 Lastly there is a Bluetooth Auto Power ON/OFF function. The unit will turn on or off automatically depending on the state of its Bluetooth function. When it detects an incoming Bluetooth signal it will power on while if no Bluetooth signal is detected for a period of time it will turn of automatically.
As for audio decoding we get the usual MP3, WMA, AAC and OGG when it comes to low quality ones but we also get High Resolution Audio support for FLAC, ALAC, AIFF and WAV files. What is disappointing is that there is no USB available in order to playback these files from the unit itself. This means you have to rely on an external source like a media player that supports these or through Bluetooth or WiFi but in this case the quality will certainly be much lower than it could.
There is also a full set of multi-room and online streaming features including Chromecast, Airplay 2 in case you are more into Apple's devices, Spotify Connect and also Tidal Connect for some high quality music.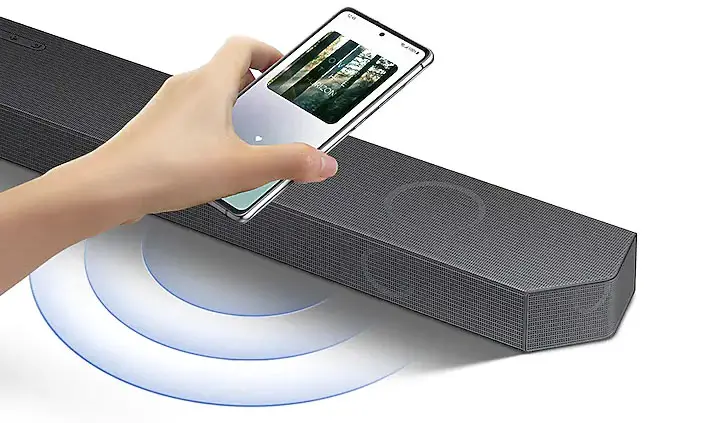 But there are more returning features from last year. One of them is Tap Sound and with it you can mirror music from your phone to your soundbar with just a tap. Obviously your mobile device has to support this feature also but with it you save yourself the trouble of going through the connection process each time. Nothing major but a nice little feature to have.
We also find Samsung's Q-Symphony feature. If your TV also supports this then the soundbar and the TV sync together in order for both to output sound from all available speakers. This way the TV takes an active part into the sound reproduction in order to up the immersion even further.
Lastly the HW-Q800A is compatible with the SWA-9500S surround speakers kit in case you want to add surround immersion to your setup. We like that Samsung gives you the option for this as you can buy the main unit and decide later if you need this or not. These surround speakers appear to have dual drivers, one working for the surround channel and one for the up-firing Atmos. As such with the inclusion of this kit you can get up to 7.1.4 channels of audio.
Not much have changed in terms of extra features but to be honest the Q800A was already very good in this area and it seems that Samsung retained everything for 2022 which was to be expected.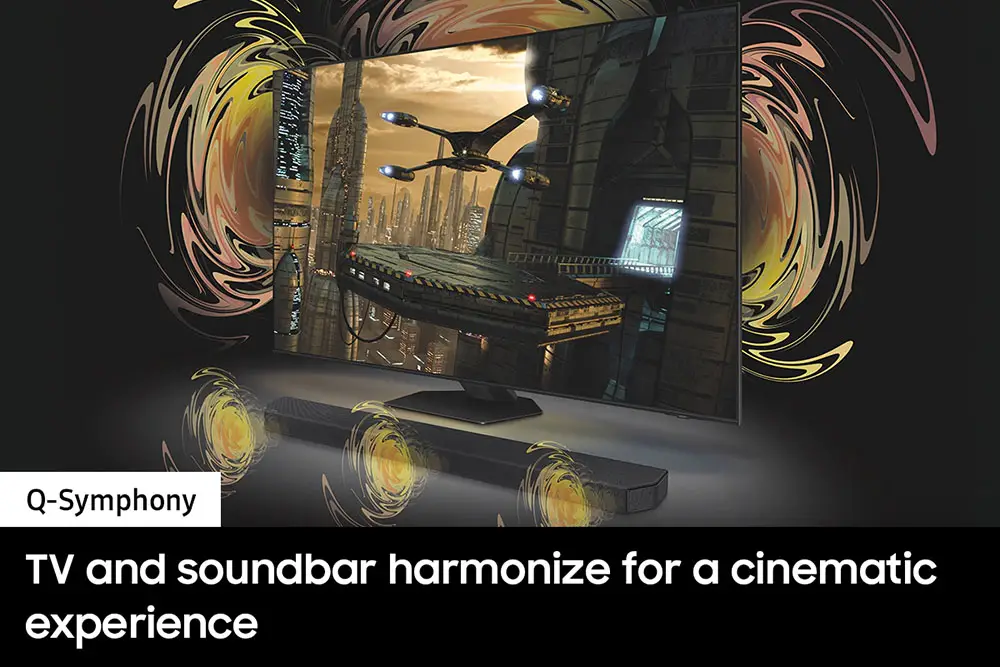 Initial Setup
Initial setup is exactly the same as some previous Samsung units so the whole procedure hasn't changed a bit. Everything is simple and you can have the soundbar ready in literally minutes.
When it comes to connecting the soundbar, Samsung made sure to give you a lot of flexibility. If you prefer to go the wired route you can either use the HDMI connection either in a pass-through configuration or at the end of the chain with the use of the ARC/eARC functionality. There is also an optical port in case your devices does not have an HDMI port.
But the soundbar also offers you the option to connect it to the TV through a wireless connection. This can be achieved either through Bluetooth or with WiFi but to be honest we would suggest such a connection only if a wired solution is absolutely out of the question. Wireless connections are not so stable and you may have problems with such one. And with Bluetooth you can only get stereo audio so you will be limiting the unit's performance this way.
After you connect all parts to the appropriate power outlets then both the subwoofer and main unit should pair automatically. If for some reason they don't then you have the option to do it the manual way and there are very clear and easy instructions on how to do that.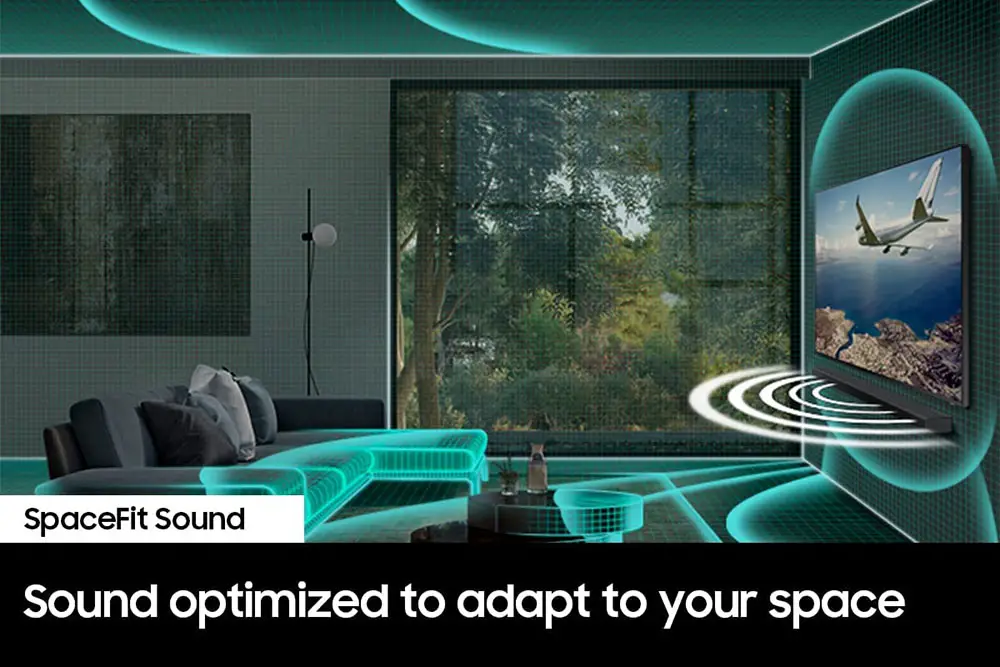 Another feature that was missing from many 2020's releases and was added in some of them last year is an auto calibration system. In the HW-Q800B we find Samsung's SpaceFit Sound. We have seen this feature in some of the higher tier Samsung TVs which uses a special sensor in order to analyze your room and calibrate the audio output accordingly.
Keep in mind that the version we get in the Q800B is a more simplified version compared to the SpaceFit+ Sound calibration we saw in the Q950A and essentially is the same as the one included in the Q800A. SpaceFit can be enabled either by the soundbar's remote or if you have a Samsung TV that supports this system, from the TV itself.
The soundbar also comes with some basic sound settings but don't expect anything complicated. There is the usual treble and bass calibration along with a EQ graphic for more detailed frequency manipulation. You can also adjust the volume of each channel to bring them all to equal level.
The last thing you have to do is select the appropriate sound mode. Here you can either choose one according to the material being played or if you are the kind of person that just wants to leave the settings alone then you can use the Adaptive mode and let the soundbar determine the best audio mode to be used each time.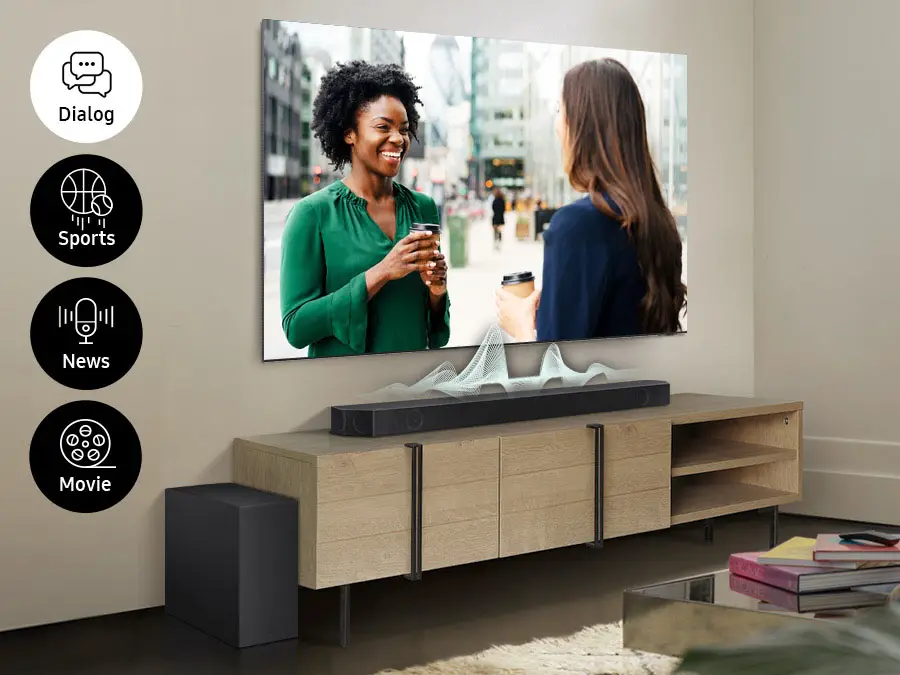 Movies
For this review we chose a couple of action heavy films to go with. Our selection included Aquaman and Dune Part One in 4K UHD format. For that reason we connected our 4K UHD player to the soundbar itself and used its pass-through capabilities for connecting to our test TV.
Usually with soundbar/subwoofer combos the action is mostly front oriented as the lack of rear surround channels do not allow the creation of a full immersion bubble around us. And the HW-Q800B was not all that different. What was different was how the sound came to our ears from the front.
The Q800A with its three main front channels provided the usual sound wall with good but limited separation and extension. The Q800B does improve slightly here as the side firing woofers allow the unit to push the sound wall further to the sides even if there is still no sound behind us.
There was a sense that the unit utilized its available channels to the max and what we heard at the front was not bad at all considering the kind of hardware at use. Depth was nice, and panning effects were very distinguishable especially with projectiles traveling from one side of the room to the other.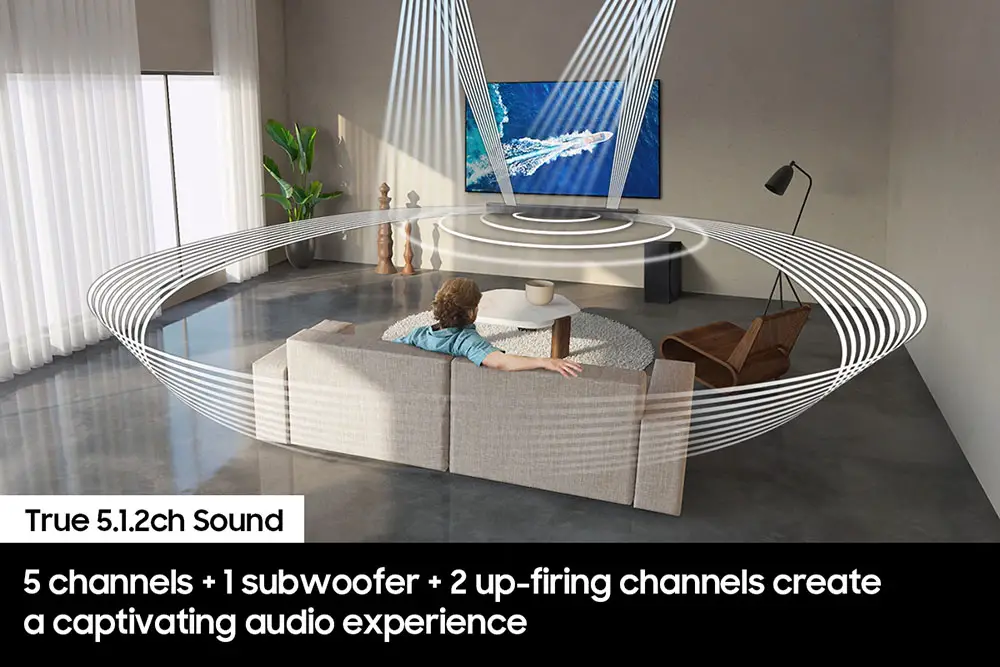 The only time when sound was not so good was when surround effects were supposed to be coming from the back. The soundbar tries its best to emulate surround sounds but the outcome is less than stellar and it was that moments when we were hoping to have the optional rear speakers kit available.
The dedicated center channel did great work with dialogue and we never had a problem hearing the actors even through all the mayhem. Everything was nicely isolated at the center and there was no overlapping with the rest of the sound effects.
In terms of Atmos performance the soundbar did every bit as good as any Dolby Atmos enabled unit that uses up-firing woofers. The two front channels extended the action above our heads and we could hear sounds emitting a bit above the TV with nice distinction.
Again if you have ever heard a full Atmos system then what the Q800B can do is a bit lacking but again if you get the optional rear speakers set things improve a bit as these will provide two extra Atmos channels at the back.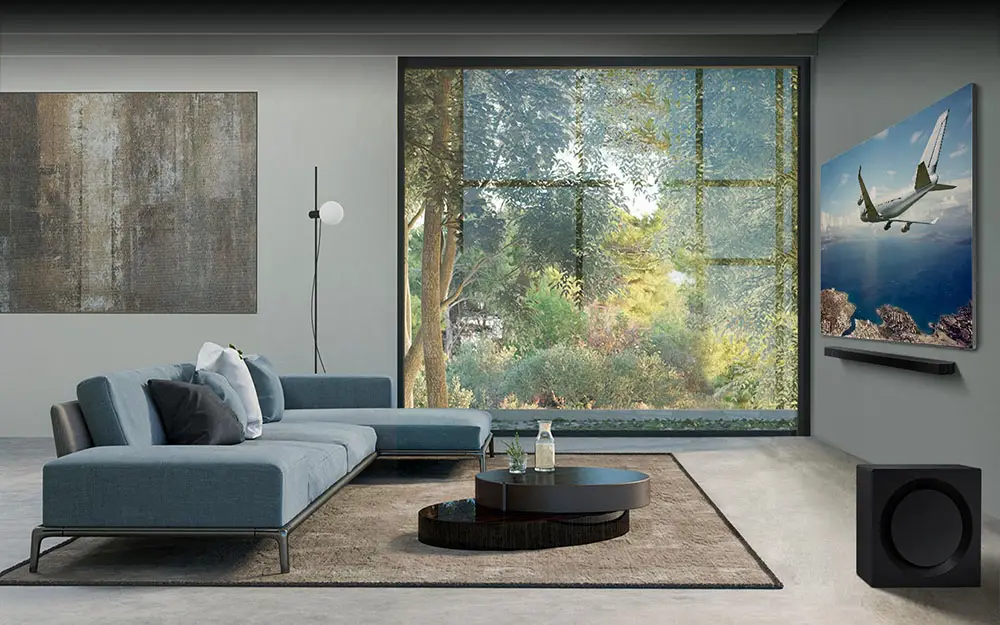 As always, keep in mind that while the Q800B may offer nice overhead activity, it is a notch below what real height or ceiling speakers can do. Usually with up-firing speakers sound feels a little lower and a bit less precise and this is the case here also. So don't expect the Q800B to directly compete with a true Atmos system, but is the next best thing if having speakers above your head is not an option.
The side firing channels, as we mentioned above, do help to extend sound far beyond the physical limits of the unit itself. But the lack of sound behind us still haunts this soundbar. There is little that can be done here and if you really want to feel a complete surround experience the optional rear speaker kit is a must for you.
As for the bass, the subwoofer that comes with the unit is exactly the same as the one we used in our Q800A review so its performance was the same, so no surprises here. It may not be the most powerful, Earth shuttering subwoofer ever heard but it gets the job done without a trouble. Explosions had nice low end extension, it never felt boomy or muffled even during busy action scenes and it had nice sensitivity in order to work only when needed without you noticing it.
The included sub will certainly give you a few shakes if that is what you seek and while it may not be able to dig extremely into the lower registers like some dedicated subwoofers can do it certainly will satisfy most casual users that don't look into such details very much.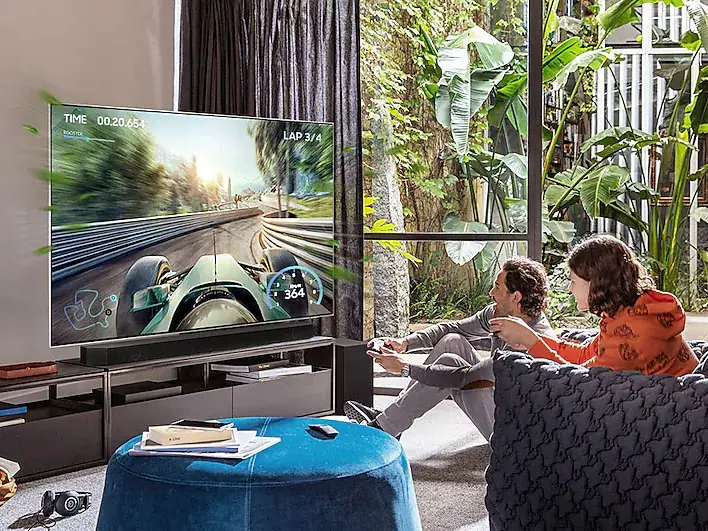 Closing we can say that the HW-Q800B was a noticeable, even if small, upgrade over the 2021 Q800A. The side firing channels give the unit the ability to push the sound further than its predecessor could and only by this fact the new HW-Q800B is the better choice when it comes to cinematic immersion.
Music
With the HW-Q800B we had two options when it comes to music playback. Either through its Bluetooth connection or through the HDMI connection by using our media player as our source. For this review we opted to use our Zidoo media player in order to playback some FLAC music files we have at hand for our tests.
The soundbar lacks a dedicated Music mode, as was the case with the Q800A so your best bet is either the Standard mode or the Adaptive mode. Each has its own strengths and weaknesses but as is always the case we do suggest you to try out both and use the one that sounds best to your ears.
The soundbar is a nice performer with 2 channels audio even if not as impressive as it was with movies. And this is not the fault of the unit itself as most similar soundbars perform the same. The soundstage had nice energy to it and was up there with many other top tier units we had heard before.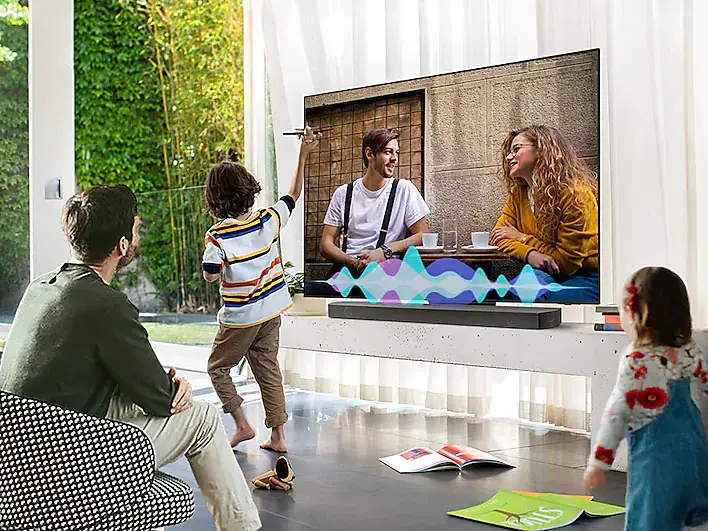 Sound imaging was good enough and all sound sources were nicely separated in space. Sound resolution was not the best of the best if you compare it with good quality separate speakers but this is to be expected, no matter the soundbar at hand. It was good enough if you consider the small drivers the soundbar has for use.
The mid-range was balanced enough with no concerning irregularities to be heard while the high end was enjoyable and full of excitement. The low end was also satisfactory with the subwoofer keeping the tempo even with bass heavy performances that we tried out. It never felt like loosing its balance or failing to keep up with the tempo.
Having tried a selection of songs including Jazz, heavy metal, pop, electronic and some hip-hop we can say that everything we heard indicated a very well balanced unit that can do good across the board. We could not say that the unit favored some of them specifically and we heard the same traits across our entire selection.
As is the case with most middle and higher tier soundbars, when it comes to music performance the Q800B was a capable handler that will output everything you throw at it without a problem. It may not be the most astonishing HiFi experience but getting a soundbar means you shouldn't expect as such. These things are meant mainly for movies and music is more like a filler. But even as such they can perform very good for most casual users.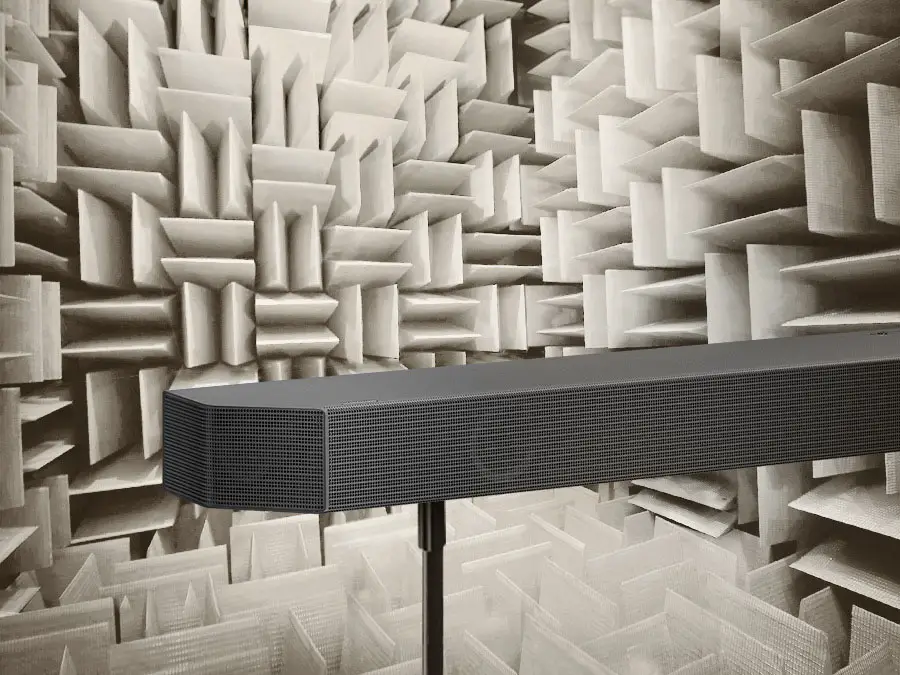 Final Thoughts
To be honest the HW-Q800B is a very interesting soundbar and the main reason is that it offers more channels than its predecessor and at a price that is almost $200 cheaper than 2021 release when it came out. Everything else is almost the same but just these two facts are enough to make the 2022 model the better one and a clear improvement in this one year that separates these two units.
As for the Q800B specifically it may not be leaps and bounds better than the Q800A but the extra channels do help to make the sound feel more three dimensional. In terms of audio output again you shouldn't expect HiFi quality, it's a soundbar we are talking about after all but for casual use in a living room or gaming area can be ideal. The unit sounded nice in all content we threw at it either it was movies, music or video games and if you add the plenty of features, its ability to expand to 7.1.4 channels and lower price then you cannot expect much more from this category.
As for what we didn't like there was not much to be honest. Audio quality is not going to blow your mind, if you want to have surround activity then the expansion kit is a bit pricy, there is no USB playback available and the inclusion of a single HDMI input does not cut it in today's world. Also there is no 4K@120Hz as we only get HDMI 2.0 ports.
Closing our review we can say that the Samsung HW-Q800B is definitely the better unit compared to 2021's release and in case you were considering last year's offering then the new Q800B will offer all the same and then some. If you are on a tight budget and you are looking for a soundbar in this price range then this one definitely ticks all the right boxes.

For more reviews you can check our dedicated Soundbar-subwoofer combo reviews list or even look at our Product Reviews Table where you can find the brand and specific product you are looking for.
---
Cheapest Places to Buy :
---
Samsung HW-Q800B Specifications