Samsung HW-S50A
Reviewed at $219.00
Movies Performance
8.4/10
Inputs and Features
8.8/10
Pros
Dolby Digital and DTS support
Easy to setup and to handle
Bluetooth and USB playback
Can be expanded to 5.1 channels
Cons
No surround activity
Bass is a bit weak
No online functionality
LED indicators are frustrating
---
Cheapest Places to Buy :
---
Samsung had a pretty extensive soundbar lineup in 2021 spanning across multiple series in order to cover as much of the market as possible. But while their top of the line offerings are naturally gathering most of the attention there are many models on the lower end of the spectrum which offer more affordable solutions to those who are tight on budget but still want to improve their TV's audio. As such in our Samsung HW-S50A review we will be looking at one of the available models belonging in their more affordable S series.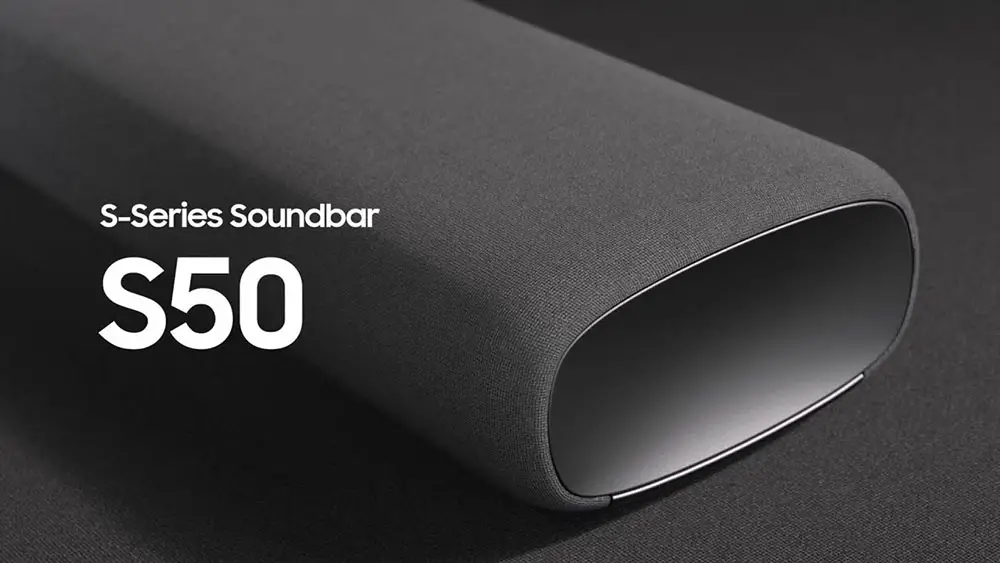 With Samsung having multiple series it is increasingly difficult to distinguish how similar or different these are. The Q-series is the one that distinguishes itself the most as it is supposed to be their premium lineup and the one that has all the latest of technologies. The other is the A-series which include combo systems with more toned down specs while the S-series, where the S50A belongs to, includes single unit soundbars for those that are both restricted by budget and by space.
The HW-S50A is the middle offering in the series with the other two being the HW-S60A and the HW-S40A. Going real quick over the specs the HW-S50A is basically a 3.0 channels single unit soundbar that supports Dolby Digital, DTS and DTS Virtual:X, it features both USB and Bluetooth playback, comes with Q-Symphony and Tap Sound and can be expanded by adding rear speakers and a wireless subwoofer.
Overall the HW-S50A seems like a pretty simple soundbar but at the same time it comes with enough features and expandability options in order to shape the system any way you see fit. And with a price of $219 for the main unit it is very affordable and you can expand from there any way you want. But is its performance as good as the rest of its features? Let's find out.
Design, Inputs and Features
Exterior
The S series is using a very distinct design that is not comparable with neither the Q nor A series models. And this applies for all the three offerings available with small deviations due to some different features each one has.
In terms of size we measured the HW-S50A at 30.1″ x 2.7″ x 4.9″ ( 764.0 x 68.0 x 125.0 mm) and with a weight of just 5.9 lbs (2.7 kg) this may not be the most compact soundbar we have tested but surely belongs in the category of small ones.
Just keep in mind that if you plan on placing it in from of your TV the soundbar, although it has a low profile design that can fit under most TV models, doesn't have any IR repeaters, so if your TV's IR sensor is extremely low then it may obstruct the signal, so you better measure first just to be on the safe side.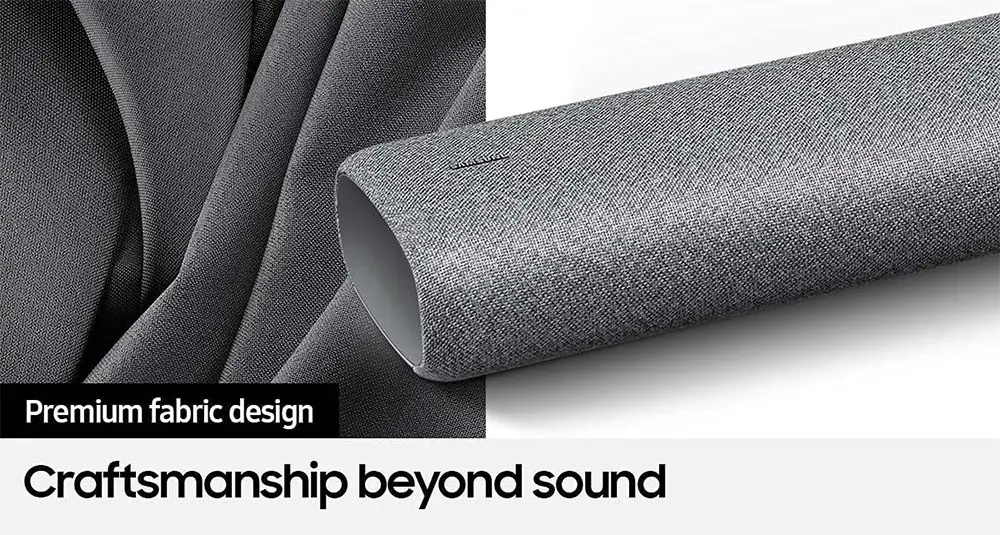 Design wise the S50A is unique in the sense that it doesn't have any straight lines or sharp corners. The soundbar feels like a tube that has been squeezed from the top and has been wrapped with a light grey cloth grille. The sides on the other hand are covered with plastic caps that are slightly curved towards the inside.
At the top, as usual, we find a set of built-in control buttons located exactly at the middle including a power button, volume controls and a source selection button. These buttons are physical ones, extrude slightly from the grille and have good spacing in order not to accidentally press the wrong one in a dark environment.
One thing we are always very critical about when it comes to soundbars design is the kind of functions display they come with. Many manufacturers go for the usual full functions display but there are many low cost soundbars, and some not so low cost, that go a different route and this is to use an array of LED light indicators in order to show what the soundbar is doing. Unfortunately the HW-S50A uses an array of LEDs to do the work, exactly the same as some other soundbars we tested recently like the Polk Audio Signa S4 or the Denon DHT-S517.
These LED lights are positioned right in front of the built-in buttons and there are five of them in a single row. Their different combinations and colors indicate the various functions of the soundbar at each moment. This is the simplest way of a front display being used and to be honest it's not a very practical one. Because if you don't remember the combinations or the colors of the lights you will have to open the manual every single time to see what the unit is doing. Which is a bit frustrating and not so practical to do all the time.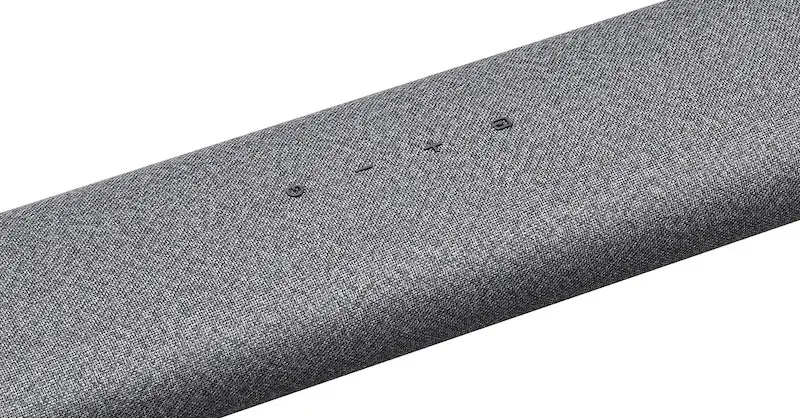 At the back we get a limited number of connectors placed all together in a specially designed inset in the middle while there are also a couple of air ports, one at each side, that are used to boost the low frequencies. There are also special holes in order to wall mount it if you like and with its low weight this could not be any easier.
The soundbar does not come with a dedicated sub or rear speakers although these can be purchased separately. We will talk more about these a bit later in our article.
Overall not much can be said about the HW-S50A. It's a simple looking soundbar, compact enough for most spaces, with a nice curvy design while build quality is the usual you should expect from a brand like Samsung. And for its price there is not much more to be expected anyway.
Internal Hardware
Coming with a standard 3.0 channels configuration there are not any surprises to be found in this one.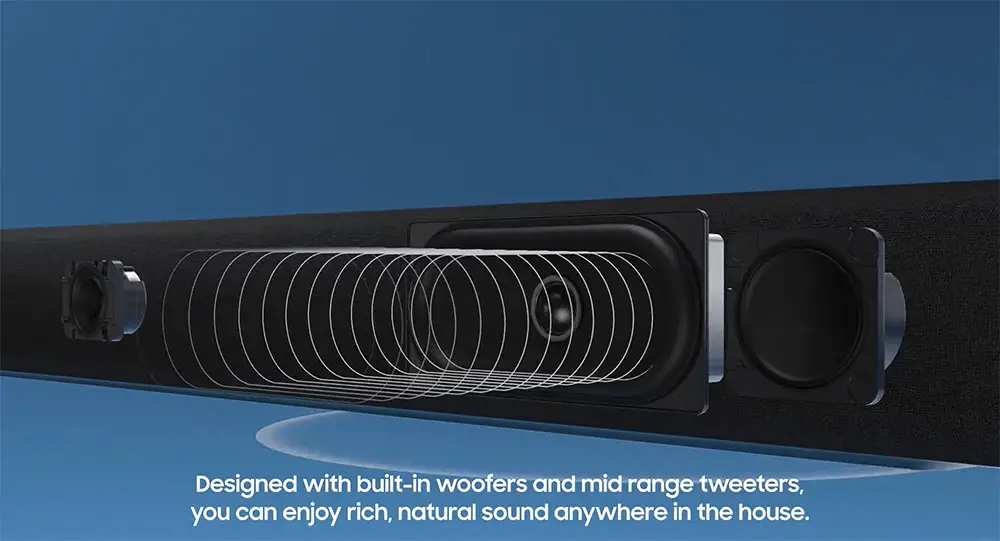 The fabric grille of the HW-S50A is non removable but at least we do get some information of what Samsung used under the hood of this one. As such for the two main channels we find two racetrack mid drivers which are very commonly used in low profile units and are accompanied by a single round tweeter for each channel that handles most of the upper frequencies. For the center channel a single round full range center driver is used which greatly enhances the soundbar's dialogue capabilities.
Power output comes at (30W x 2) + (30W x 2) + 20W which means that the racetrack drivers and round tweeters output 30 watts each. The full range center driver on the other hand is capable of 20 watts of power with the overall output of the soundbar standing at 140 watts.
Connectivity
Moving on to the connectivity options available and the HW-S50A is as simple as it gets, something not very much surprising considering the simple and low cost nature of this unit.
As such in the central inset located at the back we get a HDMI port, a Digital optical audio input and a micro-USB port. The HDMI supports ARC but no eARC here as the soundbar cannot playback Dolby Atmos so there was no need for it. The curious one is the micro-USB which can be used to playback audio from some external storage device.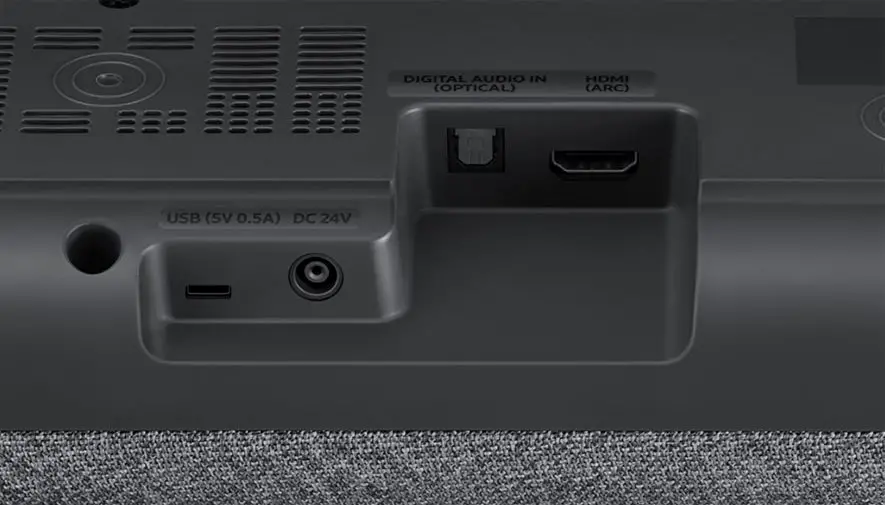 Not very often we see a micro-USB port being utilized and, as mentioned in the manual also, you will need a micro-USB to USB adapter cable. A small inconvenience to be honest but since you would use an extension capable due to the placement of the port anyway there is not much difference.
As for wireless capabilities the unit uses Bluetooth which makes it possible to stream audio from your smartphone to the soundbar. Unfortunately no WiFi available here which means that the HW-S50A is stripped completely from any kind of online functionality.
Control Options
Let's see now how you can control this soundbar.
We already mentioned above about the built-in buttons with which you can have some basic control over the HW-S50A. But obviously the main way of control will be the included remote and the one that comes with this unit is not so much different than the usual One Remote we find in many of Samsung TVs and soundbars. Functionality wise this one is the same as the one we used in the HW-A650 and many other Samsung models.
The two buttons above the navigation controls are used for source selection and Bluetooth pairing while the other three below the circular navigation controls are for sound mute, sound mode selection and sound control including treble, bass and audio sync. The two buttons at the bottom are for main volume on the left and woofer volume on the right.

We like the One Remote very much although a small design refresh as the one we saw recently in their TV lineup would be a welcome one. Overall easy to use, and with very few buttons to handle all functions, making things so much easier for casual users that don't want to mess with complex controls.
Unfortunately without WiFi the soundbar looses the ability to be controlled through voice commands and also there is no dedicated app that could be used instead. As a result the remote is the only means of control which is not so big a deal as the limited functions of the soundbar can be handled with the included remote without much trouble.
Extra Features and Services
Next is our extra features section and from the looks of it the HW-S50A is not all that different from many other Samsung soundbars, at least in the lower tier category.
The S50A seems to support the usual audio formats including Dolby Audio (supporting Dolby Digital), DTS and PCM 2ch. Obviously for Dolby Digital and DTS the signal has to be downmixed since there are no surround speakers in order to use the full 5.1 channels signal. In case you want some extra immersion there is also DTS Virtual: X which is very usual in soundbars that use limited number of channels in order to provide a more immersive audio output.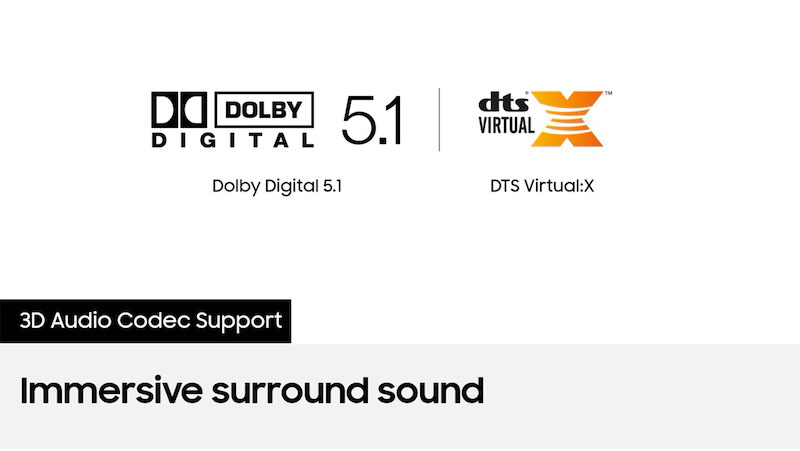 Most of the sound modes that are included are the same we had seen previously, no real changes here either, although we need to mention that the unit comes with a more limited number compared to some more expensive Samsung offerings. As such we get Standard which outputs the original audio mix as it is, Music mode which is tailored as a front oriented performance, Adaptive Sound Lite, was called Smart Sound in the previous years, which analyzes the content audio and provides the optimal sound field accordingly and lastly DTS Virtual: X which tries to simulate surround audio without the presence of actual physical speakers.
Once again there are no specific Dialogue or Night modes but we do get a mode that Samsung calls Dynamic Range Control (DRC) which lets you apply dynamic range control to Dolby Digital tracks. With the DRC turned on, loud sounds are reduced but this can result in slightly distorted sound so use it wisely.
The soundbar also comes with Bluetooth connectivity. First of all you have the ability to stream audio from any mobile device through a Bluetooth connection. The soundbar also supports Bluetooth multi-connection which means you can connect up to 2 devices at the same time. And lastly if you don't want to mess with cables you have the ability to connect it to your TV through Bluetooth if your TV also can support such a connection.
Just keep in mind that you cannot have both your TV and a mobile device connected at the same time. It's either the TV or two Bluetooth devices at a time. Also if you try to connect a third Bluetooth device when two are already connected the first two will disconnect before establishing connection with the third one.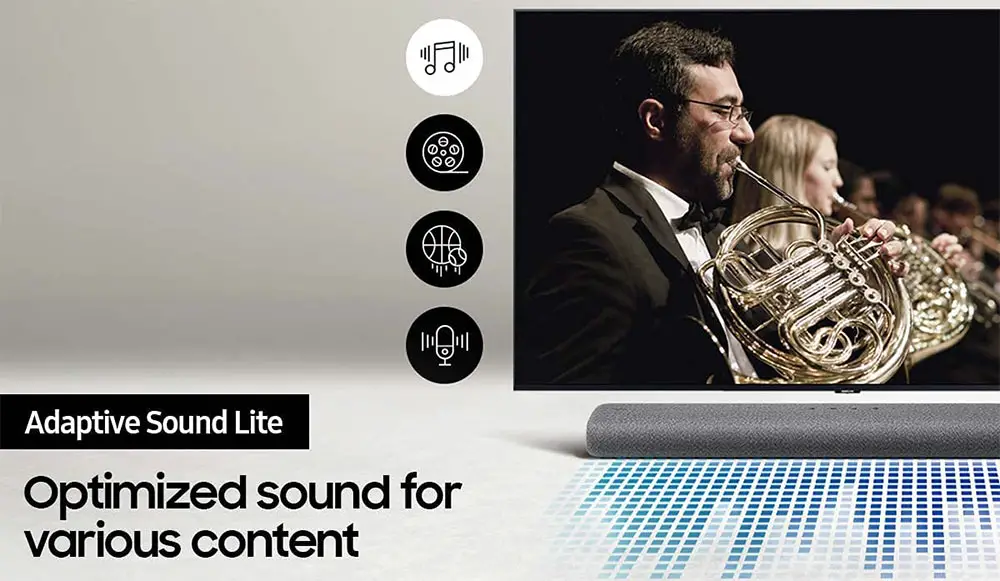 There is a Bluetooth Auto Power ON/OFF function. The unit will turn on or off automatically depending on the state of its Bluetooth function. When it detects an incoming Bluetooth signal it will power on while if no Bluetooth signal is detected for a period of time it will turn of automatically.
With the included USB port you can playback audio files from an external storage device and it can support almost all major audio formats available, at least the ones that are more popular nowadays. One thing that we always complain about is the placement of the port and in case you are using USB playback a lot you will have to reach the back of the unit again and again. At least the inclusion of a micro-USB in this one makes the use of a cable a must.
If wall mounted, things can be even more frustrating as you have no way of slightly moving the soundbar to find this port. We are really wondering if Samsung engineers tried to connect the micro-USB port by themselves when this thing is on a wall.
As for the files being supported we get the usual MP3, WMA, AAC and OGG when it comes to low quality ones but we also get High Resolution Audio playback for FLAC, AIFF and WAV files up to 192 kHz (for FLAC and AIFF files only) which is good to have for a relatively low priced unit.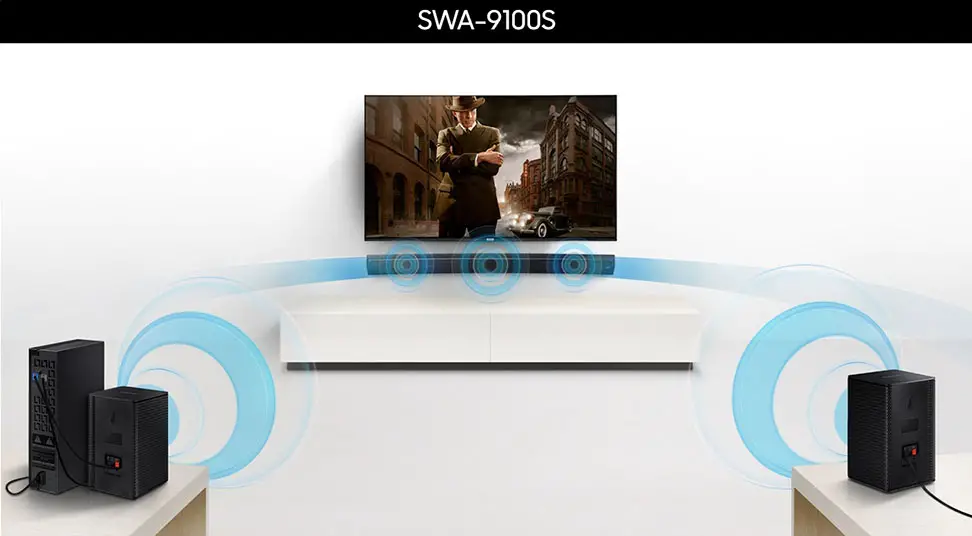 Now, if you are very much into surround sound and the performance of the included DTS Virtual:X is not satisfying you there is the option to buy the extra SWA-9100S surround speakers and with it to create a full 5.1 channels surround system if you add the optional SWA-W500 wireless subwoofer also. Connecting the optional kits is very easy although the surround speakers kit still uses cables in order to connect the receiver module to the speakers. So they cannot be described as completely wireless ones.
A couple of more features include Q-Symphony which is a proprietary technology by Samsung that lets your soundbar and TV work together and output sound from all available woofers for even more immersion. Keep in mind that this is only available with specific Samsung TVs so it will not work with other brands. The other feature is Tap Sound and with it you can mirror music on your mobile device with just a tap of the device on the soundbar. Obviously your mobile device has to support Tap Sound also.
To be honest for such a low priced soundbar the included features exceeds what we expected to find. The unit is simple enough but has enough extras and can be expanded according to your needs making it an excellent value for money offering.
Initial Setup
In terms of simplicity and ease of use the HW-S50A is similar to other lower tier releases. The whole process is so easy and fast that even if you have no previous experience you will have no trouble setting this up and be ready in just a few minutes and this has mostly to do with the fact that there are no complex configurations or settings to be made. Everything is kept to the minimum.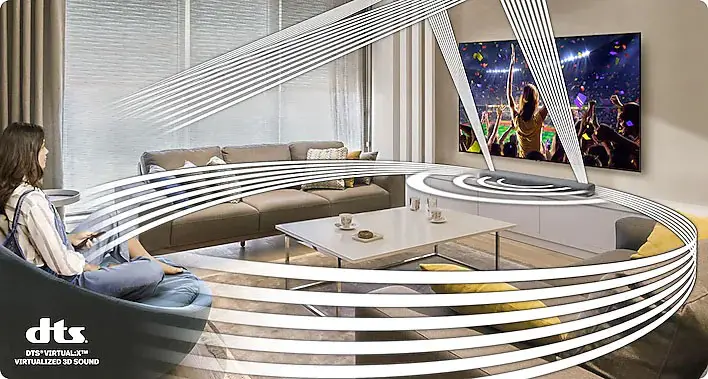 First of all you have to connect the soundbar to your TV and you have various options to choose from. You can go with HDMI through its ARC functionality. You can also use the optical port or even go all wireless by connecting it to the TV through Bluetooth. Just keep in mind that a Bluetooth connection will limit greatly the quality of sound you can get out of it so we would recommend it only as a last resort option.
The HW-S50A is an excellent plug-and-play soundbar. No complex setups and no time consuming calibrations. If you are a casual user that just wants to connect it and use immediately then you will love it. If you are looking for more in-depth calibration options you are not going to find them with this one.
In terms of actual settings there are very few available. You get a 7 band EQ calibration for the 150Hz, 300Hz, 600Hz, 1.2kHz, 2.5kHz, 5kHz, and 10kHz frequencies, there is control for treble, bass and center channel and lastly you have to choose the appropriate sound mode. That's all there is to it. Of course we have seen some soundbars offering even simpler settings but we believe the HW-S50A finds the perfect balance between simplicity and freedom to adjust the sound in a way that you will find most pleasing.
Movies
For this review we opted to try out a couple of films with the first being Saving Private Ryan and the second being Valerian and the City of a Thousand Planets. Both of them in 4K UHD and use impressive Dolby Atmos mixes but in our case we get only the core Dolby Digital experience that is downmixed into a 3.0 channels output.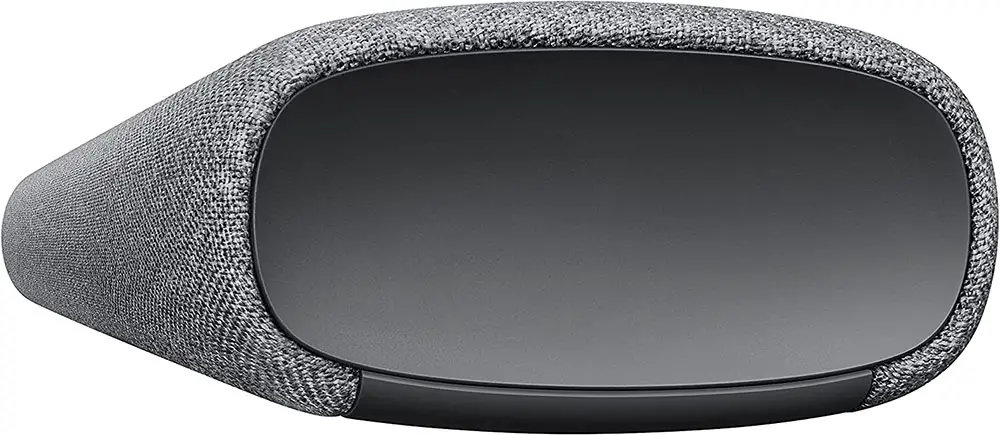 The front output of the S50A is satisfactory enough without being stunning. It surely offers a nice boost over what your TV can do but for $200 that the S50A costs don't expect the cinematic experience some better and more expensive models can offer. The unit lacks any side firing woofers, these are only used in the S60A, so in terms of sound extension the S50A was lacking a bit. You do slightly feel sound coming outside the physical limits of the soundbar but not as much as if there would be side firing drivers.
But in the rather limited sound wall that the S50A created at the front the output was clear enough with good power and energy. At normal volume levels the system was balanced enough but if you push it to its limits it surely will loose some of its cohesion. Due to the limited size of the unit panning effects between the two main channels didn't have the same wow factor although you could sense some directionality.
Also a problem that is evident with many front oriented soundbars is how they behave with surround effects and here the S50A tried to reproduce them in a realistic manner but some of the panning effects feel completely out of place, especially when these are supposed to originate at the back and not at the front.
When it came to dialogue we had absolutely no problem and the actors voices were clear in all the scenes we tried either it was some calm moment or all out action. The center channel does help in this regard and all voices were nicely reproduced and kept isolated in the middle without any overlapping with the rest of the effects.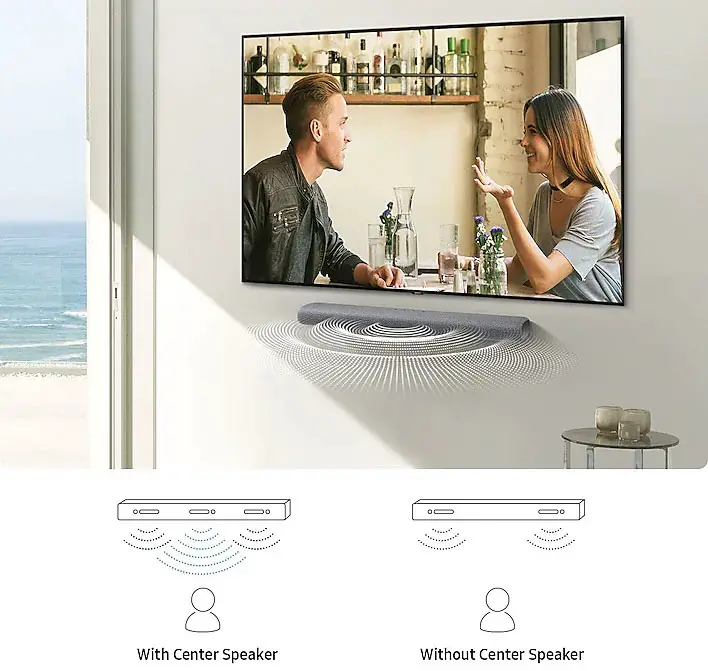 When a soundbar is missing a dedicated subwoofer it is hard to push the low frequencies with what is at hand and the S50A is no different. Explosions were lacking in power and depth, spaceships engines sounded flat and uninspiring and in general the S50A cannot push the lows into a satisfying degree. It's not all doom and gloom obviously and we get that many will find the S50A's performance good enough for what it is but to be honest here if you really want to have some short of cinematic experience then getting the optional subwoofer should be a must.
The HW-S50A surely has some very glaring limitations. And we do not talk only about its limited surround capabilities and weak bass. The front sound wall is rather constraint but at least what is there is surely a step above what your TV will offer you. Overall balance was good up to a certain volume, the main channels provided nice panning sounds and the center was nicely isolating the dialogue. The base experience may be lacking but at least you do get the option to improve upon its weaknesses and create something that can be really good for its cost.
Music
With the HW-S50A we had three options when it comes to music playback. Either through its Bluetooth connection, the USB port or through the HDMI connection by using the TV as our player. For this review we opted to use the USB port with the help of a micro USB adapter and play some FLAC music files we keep just for these occasions.
Its output was very easy going and we didn't hear any exaggerations with any of the songs we tried out. Attention to details was ok without blowing our minds which was to be expected at this price. After all there is no soundbar costing $200 that can be considered HiFi material. It's what you could call the perfect casual performance in a sense that you will surely forgive a lot of its missteps as these are not enough to destroy the fun you can have with it.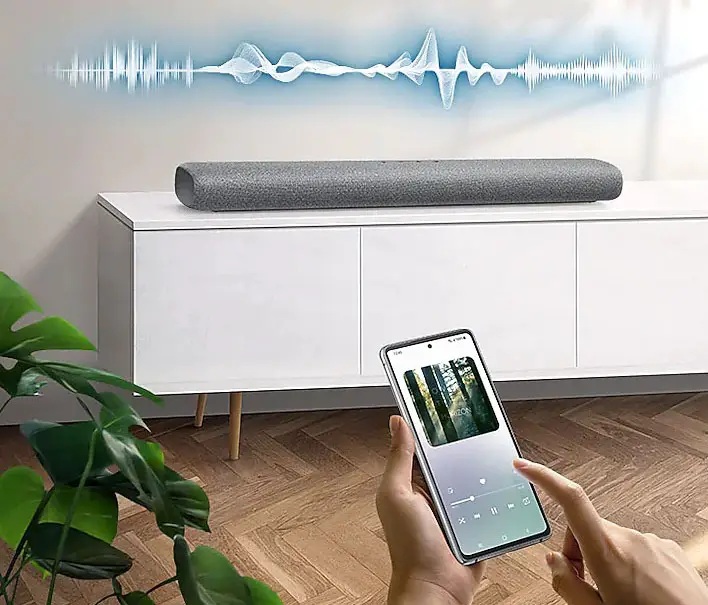 The center channel surely helped a lot with the vocals and the S50A transferred enough of their energy and emotions to our room. Stereo panning effects were evident but you don't feel them too much in the face while sound imaging was once again good but nothing great to talk about.
The soundbar does have problems with bass heavy performances and some songs we tried they felt soulless and without the emotional impact we know they can have. The S50A was capable of keeping the tempo going but its main problem was that it could not dig deep in the lows and give you a powerful performance when needed that could elevate the whole experience.
For this review we tried a few different genres from classical, Jazz, heavy metal, rock and electronic and although we cannot say that we were impressed we didn't feel that the S50A failed in any of them either. If only the bass was a bit better then we would surely see it in a far more positive eye.
As we mentioned many times in this review, you shouldn't expect to pay $200 and get a jaw dropping HiFi experience. The HW-S50A is the kind of soundbar that you just want to put some music on and just relax without worrying too much if the audio is too detailed or reaching your ears in the most pure way possible. And in this sense it gets the job done and if you are not having unrealistic expectations then surely it will give you a lot of hours of music enjoyment.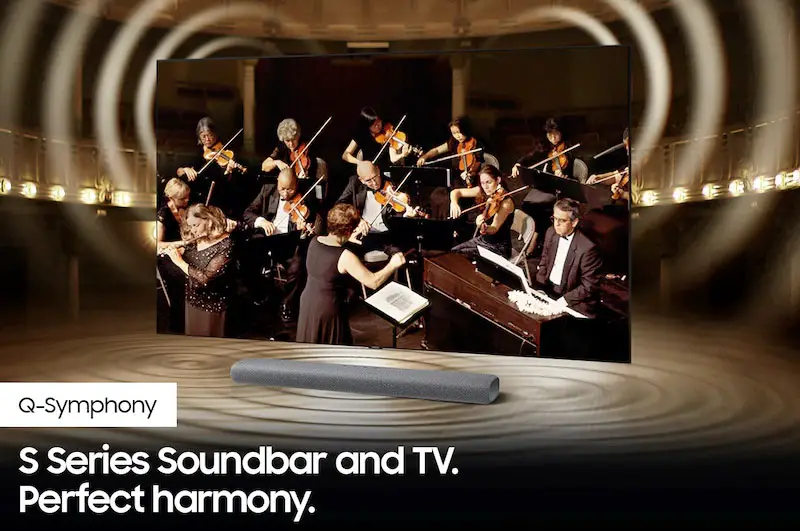 Final Thoughts
This is the first time we review a soundbar in Samsung's S series and after putting the HW-S50A through its paces it was clear to us what Samsung tried to do with this specific lineup. And with the S50A sitting comfortably in the middle we see this one being a good offering for many people that obviously don't look for a HiFi experience but have a device that gives you the option and freedom to shape it as you want in order to improve its rather mediocre base performance.
Overall build quality is good enough and up to Samsung standards, setup and everyday use is as easy as it gets, settings offer you some basic freedom without becoming overcomplicated but also without restricting you too much. Sound quality wise we liked that such a low cost soundbar supports both Dolby Digital and DTS but in general it is not all that different from other 3.0 channels system. A good enough front sound wall with distinct dialogue and vocals and enough power from such a small device. The extra features are plenty for its price and the ability to shape the system any way you want by adding surrounds and a subwoofer allows you to improve it where you feel it lacks the most.
On the other hand, if you stay just with the main unit the system surely lacks a lot in terms of surround performance as it misses the necessary hardware to support that. Also the bass is not strong enough and many heavy actions scenes or heavy bass music feels slightly uninspiring and flat. Online functionality is completely missing as there is no WiFi so if you would like some of that then this model is not for you while the included LED indicators is a frustrating system that we will continue to hate no matter what.
Closing our review we can say that the Samsung HW-S50A is perfect for anyone looking for a compact enough soundbar that can be very easy to handle but at the same time offer some expansion options, if you feel like you can spend some extra cash in order to create something better than the core experience. And at a cost close to the $200 mark this soundbar can be an excellent entry point.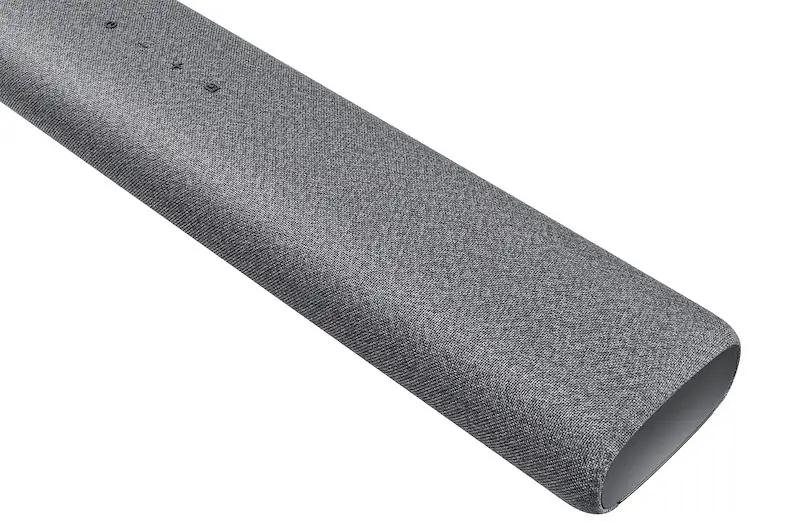 For more reviews you can check our dedicated Single Soundbar reviews list or even look at our Product Reviews Table where you can find the brand and specific product you are looking for.
Also don't lose the chance to subscribe to our Newsletter and gain exclusive privileges.
---
Cheapest Places to Buy :
---
Samsung HW-S50A Specifications