Samsung HW-S60B
Reviewed at $299.00
Movies Performance
8.6/10
Inputs and Features
8.8/10
Pros
Dolby Atmos and DTS: Virtual X support
WiFi and Bluetooth capabilities
Can expand to 7.1 channels
Good price
Cons
Atmos performance was disappointing
No surround activity
Bass was mediocre
Only one HDMI port
---
Cheapest Places to Buy :
---
2023 seems to be a bit of a strange year for the soundbar market and this mostly due to the decreased number of new models announced this year. While the two most prominent players in the market, Samsung and LG, announced their new models in CES 2023 these were shockingly less than what we see from them year after year. So in our Samsung HW-S60B review today we will be looking at this low cost unit that was released towards the middle of 2022 and seems that will be available for the rest of this year also.
The S60B belongs to the more affordable S-series which is a step down from Samsung's premium Q-series and right now consists of two models, the S60B which we will be looking at today along with the S61B which is the white variant of the same soundbar and the cheaper and less capable S50B.
Going real quick over the specs we see that the S60B is basically a 5.0 channels, single unit soundbar that supports Dolby Atmos and DTS Virtual:X, comes with both WiFi and Bluetooth and is equipped with plenty of extra features including wireless connection, Q-Symphony, Tap Sound, Airplay, Amazon Alexa, SmartThings support and the ability to add rear speakers or a subwoofer.
The S60B looks like a very interesting unit. Although the specs at first glance look really good, there are a few things we noticed that we will analyze further down our article and you need to be aware of before deciding if this one is a value for money offering or not. Is this unit as good as it seems? Keep reading to find out.
Design, Inputs and Features
Exterior
The last time we checked on the S-series was last year with the HW-S50A but it seems that Samsung decided to completely change the looks this time around with both the S60B and S50B coming with a new chassis that has no connection to their predecessors.
In terms of size we measured the HW-S60B at 26.4″ x 2.4″ x 4.1″ (670.0 x 62.0 x 105.0 mm) and with a weight of just 6.0 lbs (2.7 kg) the S60B is a really small and compact unit which makes things easier if you are tight on space or you have a relatively small living room.
Just keep in mind that if you plan on placing it in front of your TV the soundbar, although it has a low profile design that can fit under most TV models, it doesn't have any IR repeaters, so if your TV's IR sensor is extremely low, like the design of the Sony A95K for example is, then it may obstruct the signal, so you better measure first just to be on the safe side.
In terms of looks the S60B surely looks better than its predecessor as Samsung went for a more modern and simplistic design. The two sides feature curvy lines with the front being entirely flat and the whole chassis being made out of good quality plastic. Both the front and sides are perforated since there are woofers underneath while its plastic grille surely looks better that having a cloth which tears and catches dust much easier.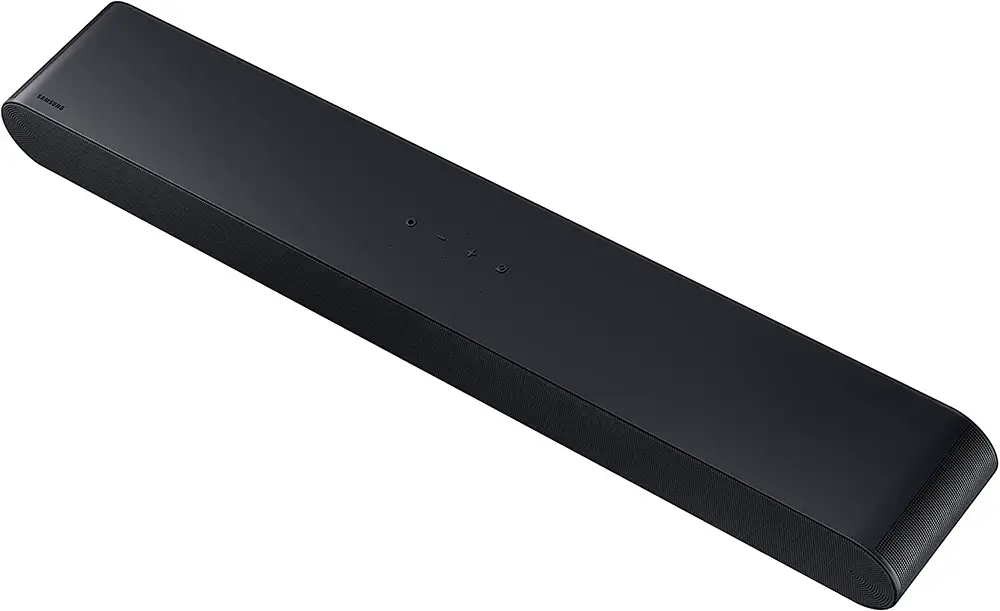 At the top, as usual, we find a set of built-in control buttons located exactly at the middle including a multi-function button, volume controls and a microphone button. These buttons are physical ones, extrude slightly from the top face and have good spacing in order not to accidentally press the wrong one in a dark environment.
Also at the top, in between the built-in buttons, we see some holes and these are for the microphone array that is used by the voice control system. Unfortunately no auto calibration system here.
One thing we are always very critical about when it comes to soundbars design is the kind of functions display they come with. Many manufacturers go for the usual full functions display but there are many low cost soundbars, and some not so low cost, that go a different route and this is to use an array of LED light indicators in order to show what the soundbar is doing. The HW-S60B, just like the previous S-series soundbars, uses an array of LEDs that is placed at the front, behind the perforated grille.
These LED lights are positioned right below the center channel and there are five of them in a single row with the middle one being a multi-color LED while the other four are simple white LEDs. Their different combinations indicate the various functions of the soundbar at each moment.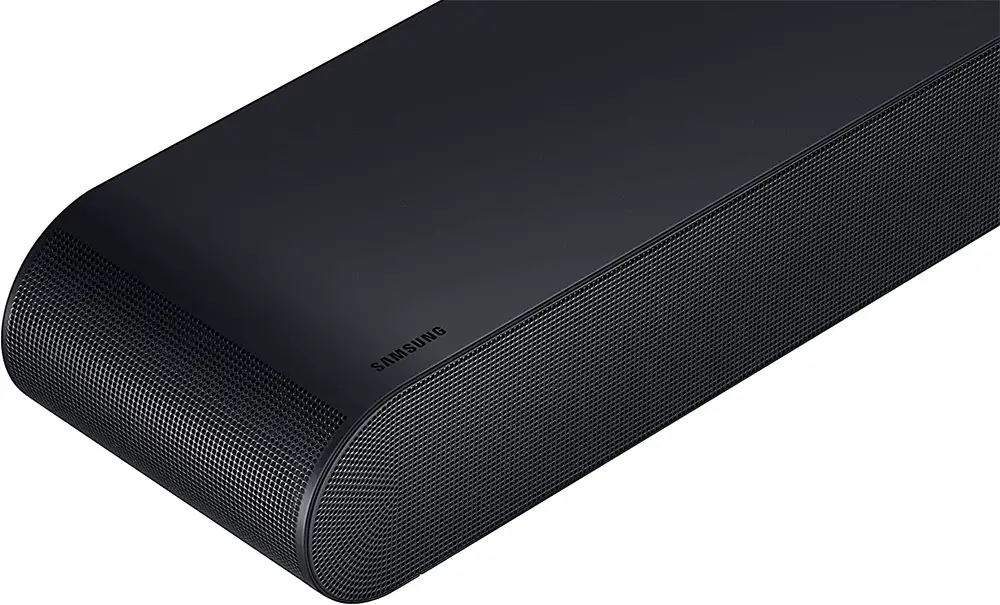 This is the simplest way of a front display being used but also the most frustrating one. Because if you don't remember the combinations or the colors of the lights you will have to open the manual every single time to see what the unit is doing. Which after a while you will simply stop doing.
At the back the only thing we see are two perforated grilles sitting exactly behind the passive radiators while all the connection ports have been positioned under the unit with specially designed grooves that lead to the back.
The soundbar does not come with a dedicated sub or rear speakers although these can be purchased separately. We will talk more about these a bit later in our article.
In terms of design and quality of construction there is nothing bad to say about the HW-S60B really. It is a nice looking soundbar with simple lines and minimalistic design and for this price category you cannot ask for much more. We definitely like the plastic perforated grille more than having a cloth so this was a step to the right direction for Samsung.
Internal Hardware
The soundbar uses a pretty standard 5.0 channels configuration which we have seen being extensively used in similar soundbars.
The grille is non removable so you cannot expose the drivers but combining the information in their official website, looking at the manual and also on the unit itself we have a very clear idea of what Samsung used in this one.
The S60B features three main front channels with the left and right channels using a single racetrack driver along with a round tweeter while the center channel uses a single round woofer. We also find side-firing racetrack drivers for sideways extension which can greatly help with the small size of the unit itself. Lastly, although not specifically mentioned, we find a couple of passive radiators for enhancing the unit's low end power.
Power output comes at (30W x 2) + (30W x 2) + (30W x 2) + 20W which means that the racetrack drivers and round tweeters output 30 watts each. The full range center driver on the other hand is capable of 20 watts of power with the overall output of the soundbar standing at 200 watts.
Connectivity
Let's see next what kind of connectivity options we get in this one. The S-series was always light on connections offered so we expect nothing different from the S60B.
The soundbar has all its connections underneath in two specially designed insets which is not something we usually see. There are dedicated grooves for each inset that drive the cables to the back so they will not bother the unit sitting straight when placed on a furniture.
On one of these insets we find a round power connector and a micro-USB that is used only for firmware updates and service while on the other inset there is an HDMI port and a digital optical audio input. That's all there is to it.
Here we need to mention a few things about the HDMI port. First of all with only one available the unit does not offer pass-through capabilities. So using its ARC function is the way to go. Secondly there is only ARC available and no eARC, which may seem a bit strange as the soundbar supports Dolby Atmos.
What is important to know is that the S60B supports Dolby Atmos only through the Dolby Digital Plus format which the ARC functionality does support. So in case you were hoping to connect your UHD player and get Dolby Atmos from Dolby TrueHD from a UHD disc you are out of luck.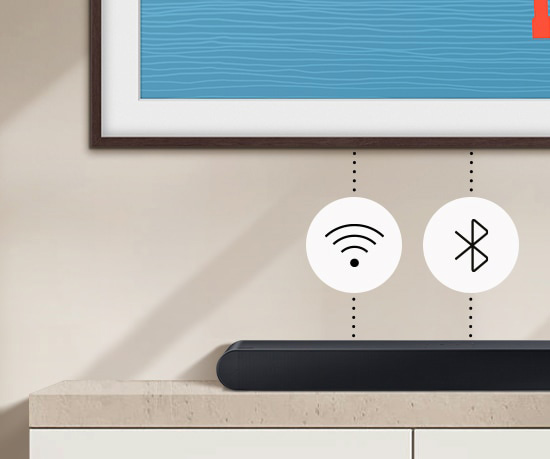 There is also both WiFi and Bluetooth built-in although we do not have specifics about these as Samsung does not mention their versions or any of their specs. The only information available is that the soundbar can connect to both 2.4Ghz and 5Ghz networks and that the Bluetooth supports the SBC codec.
Control Options
Next we will be looking at all the ways you can control the S60B.
We already mentioned above about the built-in buttons with which you can have some basic control over the HW-S60B. But obviously the main way of control will be the included remote and the one that comes with this unit is not so much different than the usual One Remote we find in many of Samsung TVs and soundbars. The S60B uses the newer, slightly updated one that Samsung uses the last couple of years and not the older one that they used for many years before.
The two buttons above the navigation controls are used for source selection and Bluetooth pairing while the other three below the circular navigation controls are for sound mute, sound mode selection and information. The two buttons below are for main volume on the left and woofer volume on the right while three more buttons at the bottom end are for calibrating the volume level of each channel, sound control options and tone controls.

The redesigned remote added a few more buttons but the One Remote still remains an excellent and easy to use remote. And we definitely like the new looks as it makes it feel more premium than the previous design.
The soundbar comes with WiFi which means that voice control would also be available. Unfortunately there is only Amazon Alexa as Google Assistant is completely absent, at least from the US model we have for testing. We have seen this soundbar being advertised with Google Assistant also but which markets offer these variants we cannot be certain.
The soundbar lacks a dedicated app but it supports the SmartThings app so at least there is a way to control it without the remote. SmartThings can be downloaded from the appropriate online store and is free to be used, so if you like to have everything in your mobile device then you can definitely give it a try.
Extra Features and Services
Let's see now what bells and whistles the HW-S60B comes with and as always we will start with the audio.
The S60B seems to support many of the usual audio formats including Dolby 5.1ch, Dolby Digital Plus, Dolby Atmos (Dolby Digital Plus), DTS 5.1ch and LPCM 2ch. In case you want some extra immersion there is also DTS Virtual: X which is very usual in soundbars that use limited number of channels in order to provide a more immersive audio output.
Most of the sound modes that are included are the same we had previously seen, no real changes here either, although we need to mention that the unit comes with a more limited number compared to some more expensive Samsung offerings. As such we get Standard which outputs the original audio mix as it is, Music mode which is tailored for a front oriented performance, Game mode which is obvious what this should be used for, Adaptive Sound which analyzes the content audio and provides the optimal sound field accordingly and lastly DTS Virtual: X which tries to simulate surround audio without the presence of actual physical speakers.
The soundbar also comes with special night and voice modes called Night mode and Voice Enhancement. The Night mode adjusts the settings to bring the volume down while keeping the dialog clear while Voice Enhancement boosts dialog in case you have trouble understanding what the actors say. In our case we never felt the need to use this last one as everything was very clear and you can even boost the center channel level if you need to.
The soundbar also comes with Bluetooth connectivity. First of all you have the ability to stream audio from any mobile device through a Bluetooth connection. Unfortunately it does not support Bluetooth multi-connection which means you cannot connect more than a single device each time. And lastly if you don't want to mess with cables you have the ability to connect it to your TV through Bluetooth if your TV also can support such a connection.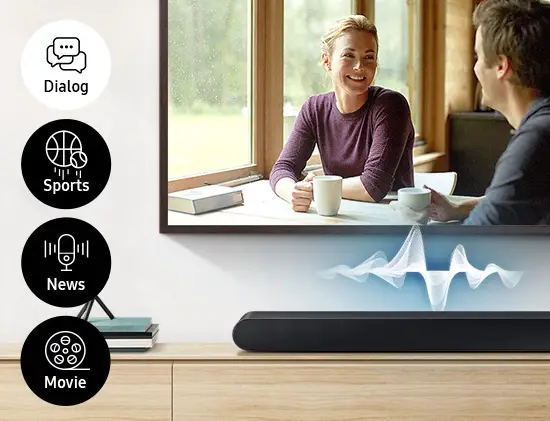 Just keep in mind that you cannot have both your TV and a mobile device connected at the same time. It's either the TV or a Bluetooth device at a time. Also with a Bluetooth connection you will only get stereo sound no matter the source material, due to the limitations of the Bluetooth signal.
The unit support various types of music files but unfortunately you cannot playback them from the USB port as this is only used for service and firmware updates. So in this case an external source must be used.
As for the files being supported we get the usual MP3, WMA, AAC and OGG when it comes to low quality ones but we also get High Resolution Audio support for FLAC, ALAC, AIFF and WAV files which is always good to have, even if we are talking about a relatively low cost system like this.
Now, if you are very much into surround sound and the performance of the included DTS Virtual:X is not satisfying you there is the option to buy extra speakers. There are two rear speaker kits available and one subwoofer and these are the SWA-9100S wireless surround speakers kit and the SWA-9200S wireless surround speakers kit. We do prefer the 9200S as these do not require the extra transmitter/receiver and has less wires to worry about. As for the subwoofer the one available is the SWA-W510.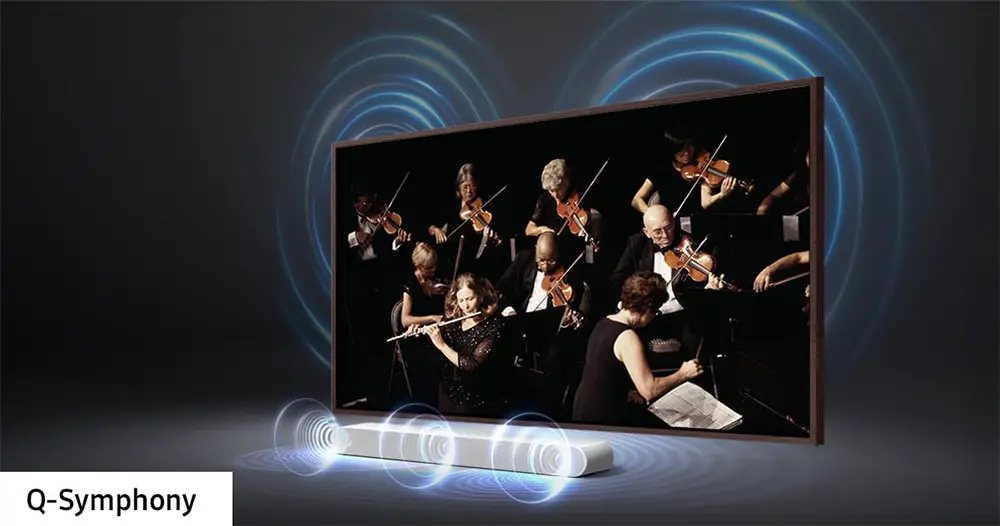 A few more features worthy of mentioning include Q-Symphony which is a proprietary technology by Samsung that lets your soundbar and TV work together and output sound from all available woofers for even more immersion. Keep in mind that this is only available with specific Samsung TVs so it will not work with other brands. The other feature is Tap Sound and with it you can mirror music on your mobile device with just a tap of the device on the soundbar. Obviously your mobile device has to support Tap Sound also.
Lastly there is support for Airplay 2, Spotify Connect and Tidal Connect but keep in mind that these are market specific and some variants of the S60B in specific regions will not have these. Be careful on the specs to be sure if these are included in your market region or not.
For this price category we can say that the S60B has plenty to go around. Obviously it is missing a few features but overall we would describe the available ones as adequate.
Initial Setup
When it comes to setting up and connecting the soundbar for the first time, things could not be any easier. The S60B gives you plenty of flexibility in terms of how you plan to connect it to your TV or media source.
You can go with HDMI through its ARC functionality. You can also use the optical port or even go all wireless by connecting it to the TV through Bluetooth or WiFi. Just keep in mind that a Bluetooth connection will greatly limit the quality of sound you can get out of it, stereo is the best you will get, so we would recommend it only as a last resort option.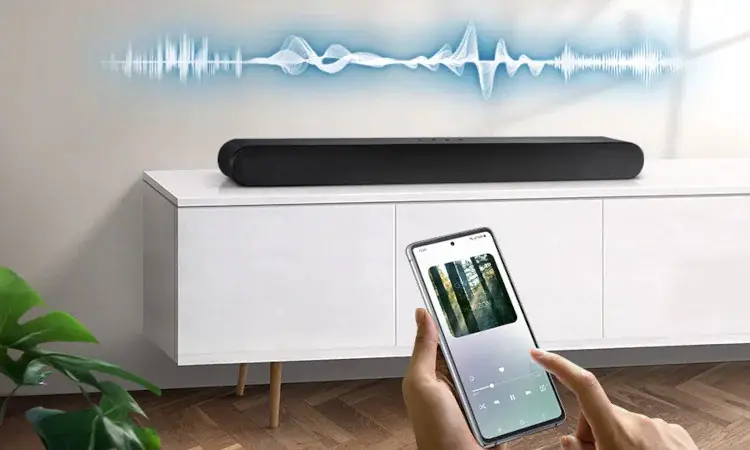 On the other hand the unit support Dolby Atmos over WiFi but keep in mind that this can work only with specific 2022 Samsung TVs or newer so you have to check the TV specs to see if this is supported.
The HW-S60B is an excellent plug-and-play soundbar. No complex setups and no time consuming calibrations. If you are a casual user that just wants to connect it and use immediately then you will love it. If you are looking for more in-depth calibration options you are not going to find them with this one.
In terms of actual settings there are very few available. You get a 7 band EQ calibration for the 150Hz, 300Hz, 600Hz, 1.2kHz, 2.5kHz, 5kHz, and 10kHz frequencies, there is control for treble and bass, for the center and side channels and lastly you have to choose the appropriate sound mode.
There is no auto calibration system here although SpaceFit Sound is available and all settings are easy to comprehend and to set according to your needs. In theory it shouldn't take you long to have everything up and running.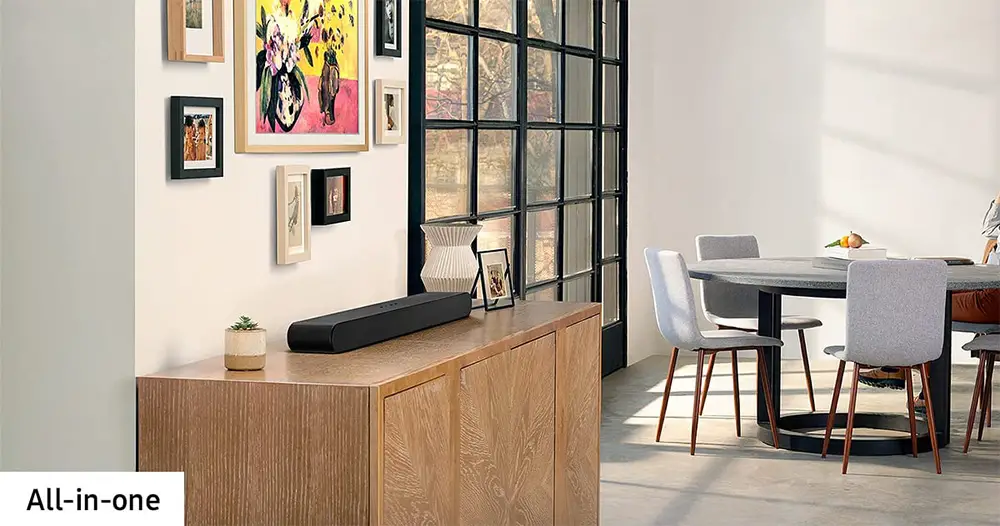 Movies
For this review we chose three films for testing. We started with Star Trek 2009 and Zack Snyder's Justice League which come with amazing Dolby Atmos tracks and finished this part of our testing with Jurassic World which features a perfectly executed DTS:X mix.
Overall impressions were very good and to be honest as the soundbar does not stray far away from what you should expect from a unit in the $300 price range. This is not the kind of system that will have you looking at the screen in awe but surely the quality of sound and immersion that it can offer is far superior to what most TV audio systems can do even to this day.
With such a unit all action was obviously heavy at the front but even with the close proximity of the front channels we had some good separation which resulted in some nice panning effects at play. The side firing drivers do help a lot here and provide not only extra extension to the sides, making the soundbar feel bigger than it really is, but also help with directionality as you can sense the traveling distance of various effects being greater than expected.
The center channel was another highlight of the S60B and helped vastly with dialog. The films we tried were obviously heavy on action but the soundbar was capable at producing clear dialog even during busy moments and as a result we never thought of using the dialog enhancer feature available. Also the two main channels had satisfying separation from the center although not the best we have heard in a soundbar.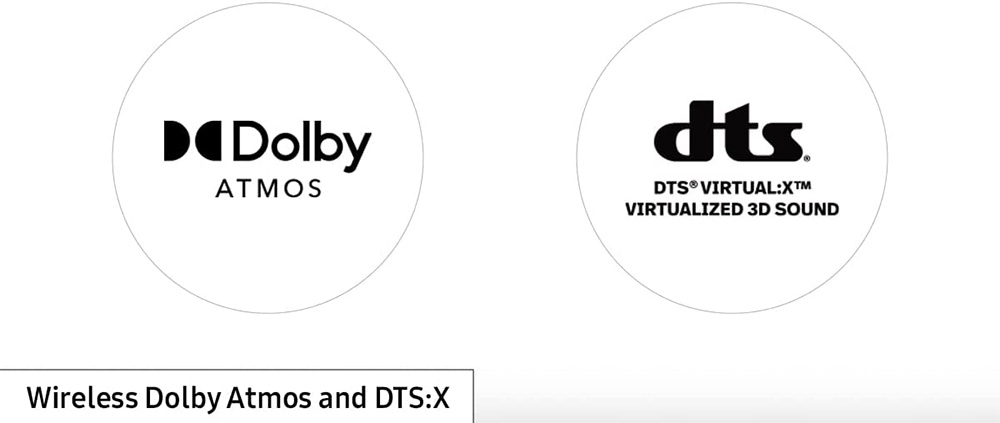 Now, this may be a Dolby Atmos soundbar but to be honest the S60B did mediocre at best here. Obviously in order to add some sense of elevation the unit has to rely on virtual processing as it lacks any up-firing drivers that most top tier and premium soundbars come equipped with.
As a result the kind of elevated performance we got was questionable. At times we could indeed feel some sound effects slightly above ear level but in some cases, where the effects should originate from the top layer, would be heard at ear level. Overall the performance here was obviously worse than what soundbars that feature up-firing speakers can do. Still a bit better than having no Dolby Atmos capabilities at all but the difference was minimal and would not impact the final result by much.
One area where we were not expecting much was in the unit's surround performance. Unfortunately we didn't get any kind of behind the shoulder action, everything was fixed in front of us. So in case that surround immersion is a must for you, you will need to buy one of the two available surround speakers kits available. You can find them in the links we provide in the specifications table at the end of the article.
The only part we left for last is the bass and here we got some mixed results. The soundbar comes with dual passive radiators and to be honest these can barely do any major difference. This was not the worse performance we have heard but surely there was nothing amazing about it. When a scene required deep bass the soundbar simply failed to dig deep and provide this powerful and menacing low end that we are all craving for.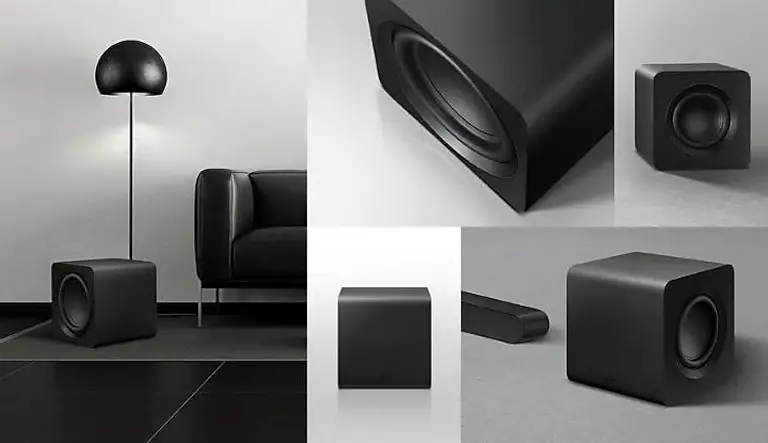 We wouldn't consider the bass output completely flat, it still had its moments and in some cases like gunfire or less intense low end activity the S60B behaved nicely and provided the necessary thumb. But it can't do much better with the hardware available so when things got really tense you could feel the soundbar not being able to cope with the material on screen. Our suggestion here is to try the soundbar as it is at first and if you, like us, find the bass lacking then go for the optional subwoofer that can elevate the S60B's performance in this regard greatly.
The Samsung HW-S60B is not a bad soundbar and if you consider the cost then what you get is a really good upgrade over your TV's capabilities. It has some glaring limitations but some of them can be vastly improved with the optional kits available. On the other hand the core system offers satisfying front action which is a good way to start building your home media center.
Music
With the HW-S60B we had three options concerning music playback. Either through its Bluetooth connection, through WiFi or with the HDMI connection by using a media source. For this review we opted to use our TV and pass-through the audio to the S60B through the ARC connection.
The soundbar had a lovely output with enough details and nice resolution creating a very easy going atmosphere in our test room. Sound imaging was solid but don't expect to get the same kind of transparency a full speakers system can provide. The two main channels had good coordination and managed to provide some short of separation between the two sides of the sound stage.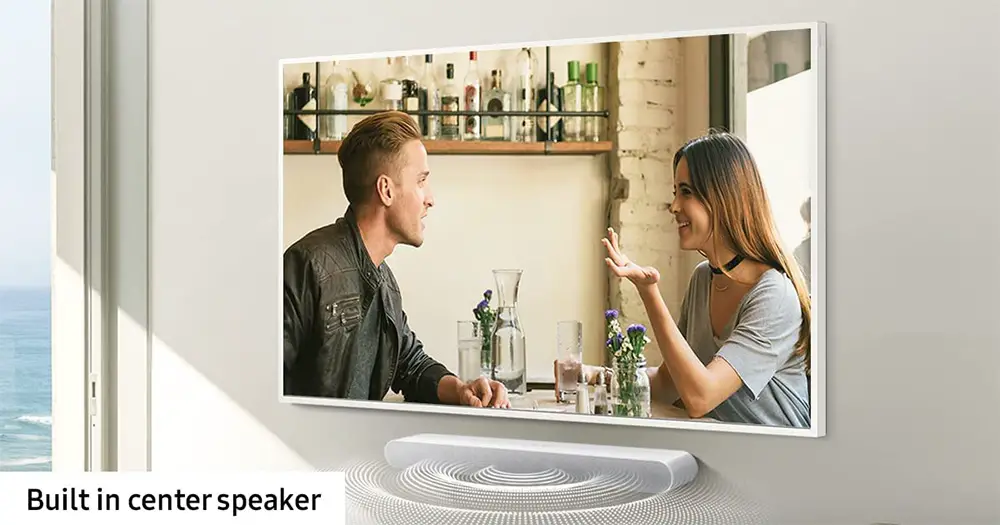 The center channel was capable at keeping all vocals focused at the center and there was not much overlapping with the rest of the channels. Stereo panning bits were audible and their travel distance was satisfying. Just don't expect anything fancy.
On the low end the S60B did try to dig deep but to be honest most of the times it was not very successful. With most songs it will do alright but some intense performances showed its limits when it comes to bass reproduction making the performance feel a bit flat and uninspiring. A subwoofer will greatly enhance the S60B's performance here and we can definitely recommend going for it if you find the bass lacking a lot.
As always, we put the soundbar through various genres and the end results were more or less the same. Good front soundstage, satisfying separation of the main channels and enough resolution and clarity overall. Don't expect any short of HiFi performance and bass surely could be better, but again for $299 the kind of experience you get is closely related to the price asked.
If you know what to expect the S60B can be a good companion and offer plenty of hours of musical enjoyment. It is not meant to replace a good HiFi system, not by a long shot, but for casual use it is perfect. Nothing more, nothing less.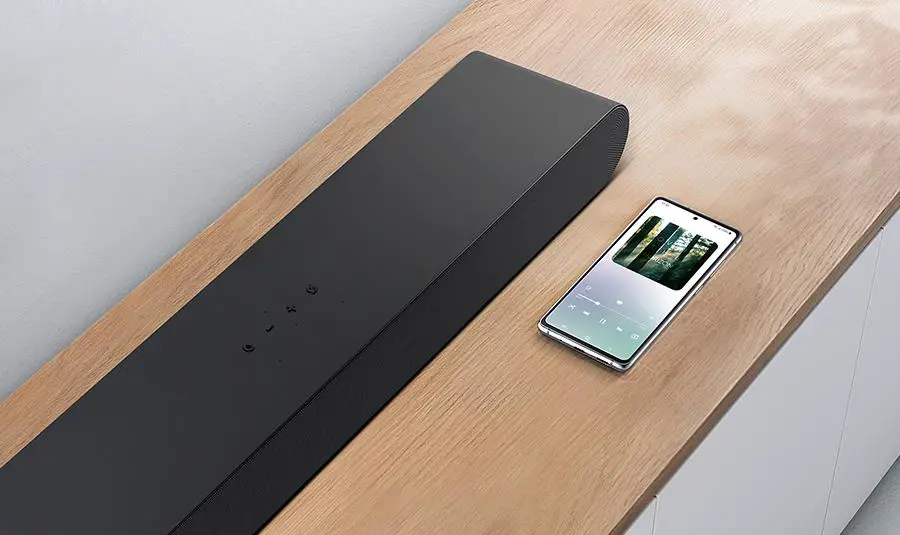 Final Thoughts
Samsung S-series is a nice low cost alternative to their premium Q-series and the HW-S60B is a soundbar that has many strengths but also some glaring weaknesses. But everything is related to expectations and when you buy a soundbar that costs $299 then surely you cannot expect to get sound quality and performance that can challenge premium offerings.
On the bright side the Samsung HW-S60B is a very nice looking unit with good quality of materials and the usual Samsung feel to it. Supporting both Dolby Atmos and DTS Virtual:X surely helps as it will not limit your options while it comes with plenty of extras that are in line with what you should expect in this price. It is easy to handle, even easier to setup and is in general a very easy going casual soundbar. Add to the above the ability to expand the core system with surround speakers and a subwoofer making it a very flexible design.
On the other hand calling this a Dolby Atmos soundbar surely is not ideal as its Atmos performance was not good at all. The unit had no surround action and bass was ok but nothing great, even if these last two can be rectified by adding the optional kits. A single HDMI port means that there are no pass-through capabilities while having only ARC means you can get Dolby Atmos only from Dolby Digital Plus. Lastly adding any of the extra speaker kits will surely up the price considerably.
Closing our review we can say that the Samsung HW-S60B has many strong points that allow us to recommend the soundbar in certain cases but also has some very notable weaknesses that will surely disappoint many potential buyers. If you know what to expect then there is nothing wrong with this one and can definitely provide you with a much better audio experience than what your TV most certainly can do.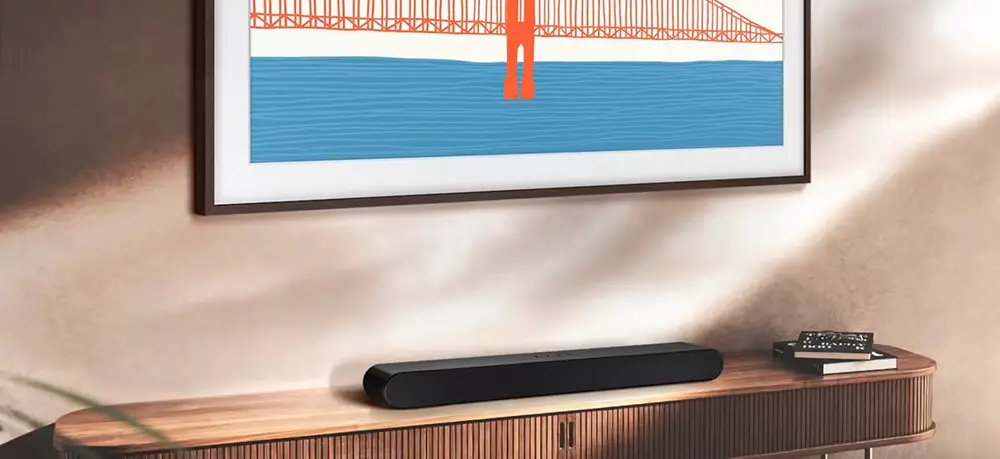 For more reviews you can check our dedicated Single Soundbar reviews list or even look at our Product Reviews Table where you can find the brand and specific product you are looking for.
Also don't lose the chance to subscribe to our Newsletter and gain exclusive privileges.
---
Cheapest Places to Buy :
---
Samsung HW-S60B Specifications