Samsung UN55MU7000 (US) - UE55MU6400 (Europe)
OS, Apps and Features
9.2/10
Pros
Good 4K quality with HDR
Adequate color reproduction
Low input lag
Good price
Cons
60Hz refresh rate
Edge-lit panel impacts image quality
Limited viewing angles
No Dolby Vision support
---
Cheapest Places to Buy :
---
Each year manufacturers are heavily promoting their top of the line TVs with spectacular images and promotional demos in order to attract consumers. But the high price of these models make them a distant dream for many consumers that want to get some taste of 4K HDR goodness without having to fork a huge amount of money. And this is where the MU7000 comes in which is a low entry in Samsung's 2017 TV lineup offering 4K resolution with good HDR in a price that can be very tempting for all. So let's see if this TV is worth it in out Samsung MU7000 review…
Design
For a low entry TV the MU7000 looks very good. It may not be as thin as OLED TVs but for an edge-lit LCD TV is impressively thin with some very nice metallic silver trim covering a thin glossy black frame. It uses a Y-shaped metallic central stand that keeps the TV stable and sturdy. Having a central stand also makes it more practical than using a bench type stand that covers all the TV because you can place it even on furniture where space can be pretty tight.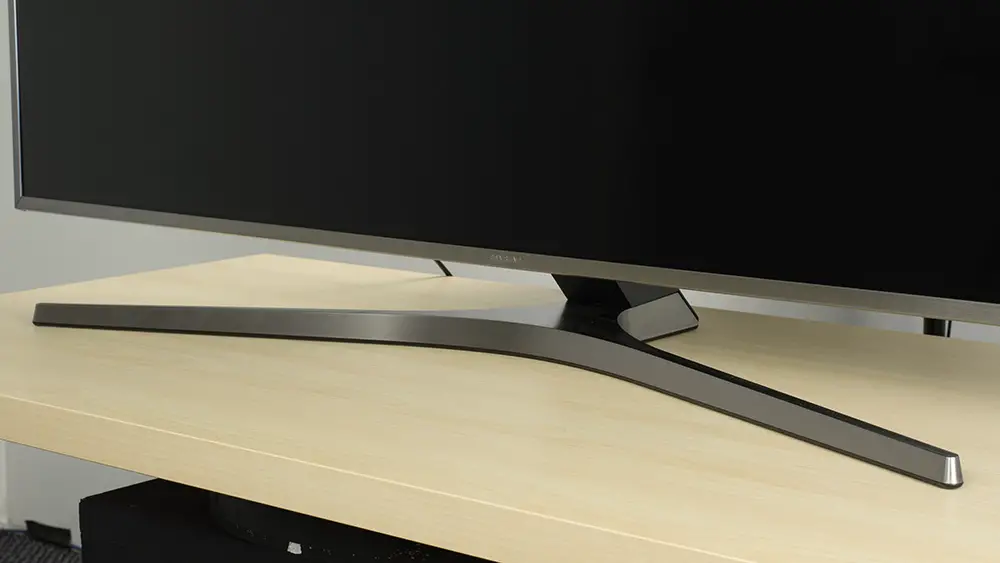 Unfortunately being a budget TV the MU7000 is not getting the One Connect Box keeping all the connectors off the TV as the middle and high tier models do. Instead what we have here is all the connections in the back of the TV which we will analyze a bit later in our review. Other than this the back of the TV has a nice finish that certainly makes it look more expensive than what it is.
What I want to make clear is something that I see a lot of people, even a lot of reviewers, mix with these models. The American MU7000 is not the same model as the European MU7000. The one we are reviewing here is the North America model UN55MU7000 which in fact is the equivalent of the European UE55MU6400. The European UE55MU7000 is a different model that uses a bench type stand covering one corner of the TV to the other as well as having a bit different characteristics and you can see it in the photo below. It is the same as the US variant UN55MU8000 that we reviewed HERE.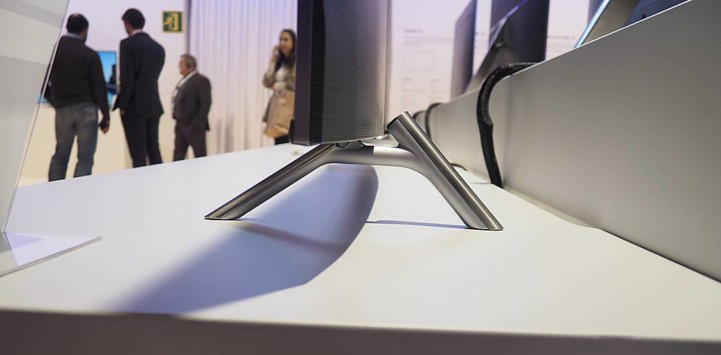 Samsung continues the trend of mixing it's models numbers in different continents and this creates only confusion to consumers trying to find information for the model they are interested in so when you search for information always be careful to search it by it's complete name in our case being UN55MU7000 or UE55MU6400 if you want this specific model in Europe.
Video Quality
Samsung MU7000 may be a budget friendly TV but this does not make it less capable of displaying good 4K content with some very good HDR quality. Theoretical brightness is 1.000 nits but this number is never achieved. The peak brightness we got out of the TV on a measured 10% HDR window is a bit more than 500 nits which is still very good considering the capabilities of the specific model.
Having good HDR brightness helps the TV create more immersive images with popping HDR and this gives a sense of a wider color range by creating nice color details in both bright and dark areas of the screen. Black levels are good in general for a standard LCD panel and even though it cannot compare to OLED or even some top of the line LCD panels what we get is fairly good for this price range. The edge-lit panel cannot offer the crisp definition we would like and there is a certain amount of flaring in bright areas of the screen.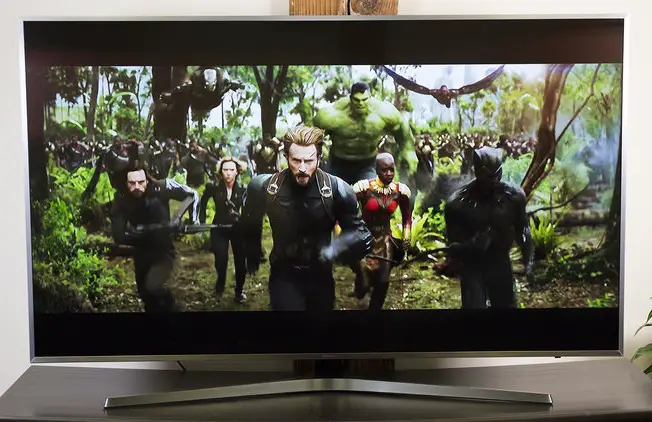 The MU7000 may be good at displaying 4K content with good quality HDR but is not limited there as it can display SDR content also with very good results. The TV has the ability to upscale any Full HD material into 4K and the results are very nice upping the amount of details a bit without making the image look unnatural by excessive edge enhancement or exaggerated grain. Also the combination of the VA panel with it's locally dimmed edge lighting help colors show natural and produce some deep black levels.
Input lag is also very good measured at 21ms so if you are a gamer then this TV will certainly please you with it's performance. The Samsung MU7000 supports HDR10 and HLG but as with all Samsung TVs there is and will be no support for Dolby Vision.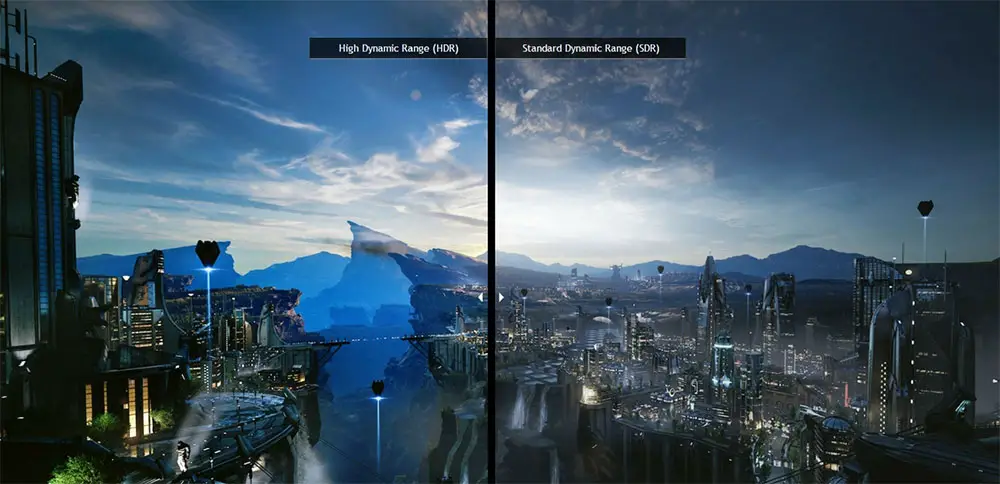 The MU7000 view angles is one of it's low points as sitting anything more than 30 degrees from the center will make black levels and color saturation reduce dramatically. Colors will change as blue started becoming light green and purple became pink. Anything more than 30 degrees and the overall image quality will go down so much that becomes unwatchable.
Another issue we had is that the panel has a 60Hz refresh rate and while I was expecting this since we are talking for a TV that is destined for the budget sensitive I would definitely like a 120Hz refresh rate panel to make motion more smooth which definitely helps in fast action scenes. But higher refresh rate would definitely cost more and that's the reason Samsung took this decision.
Inputs
As I mentioned earlier the MU7000 is not using Samsung's One Connect Box, instead going for the traditional single inset panel that houses all the connectors on the back of the TV. Plenty of room is left around the connectors so even if you want to wall mount the TV the cables will not create any problem.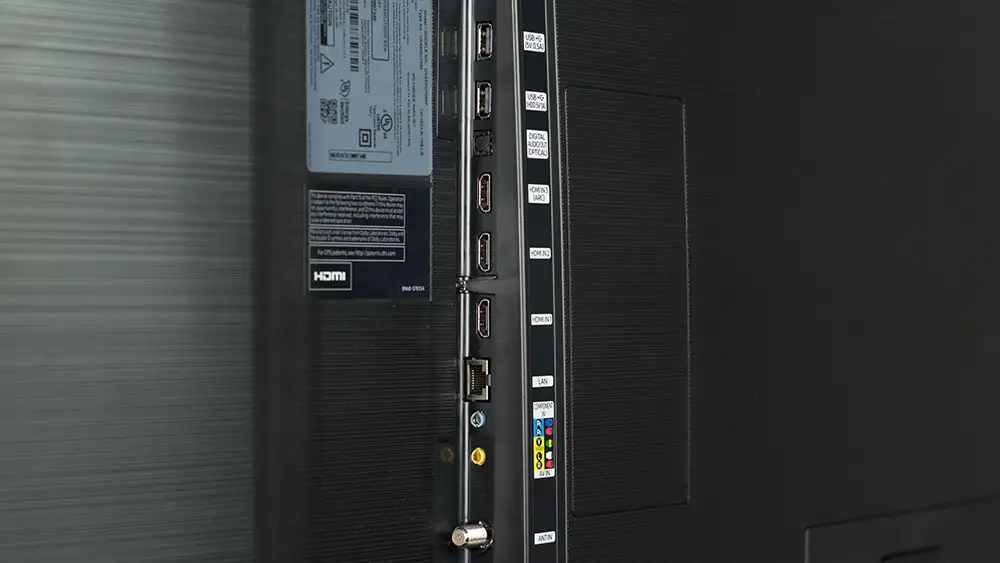 What we get is three HDMI ports, one of them with Audio Return Channel (ARC) support, two USB ports for connecting external storage or streaming devices, a digital optical out port, a component input, a composite input, an Ethernet port for wired connection to the internet as well as a RF connector for external broadcast antennas. Pretty basic configuration but enough to make all your essential connections.
OS, Apps and Features
As with the rest of Samsung's lineup what we have here is their proprietary smart TV platform called Tizen. Samsung has improved it over the years and now I can certainly say that it has reached a point where it has become one of my most favorite smart TV platforms.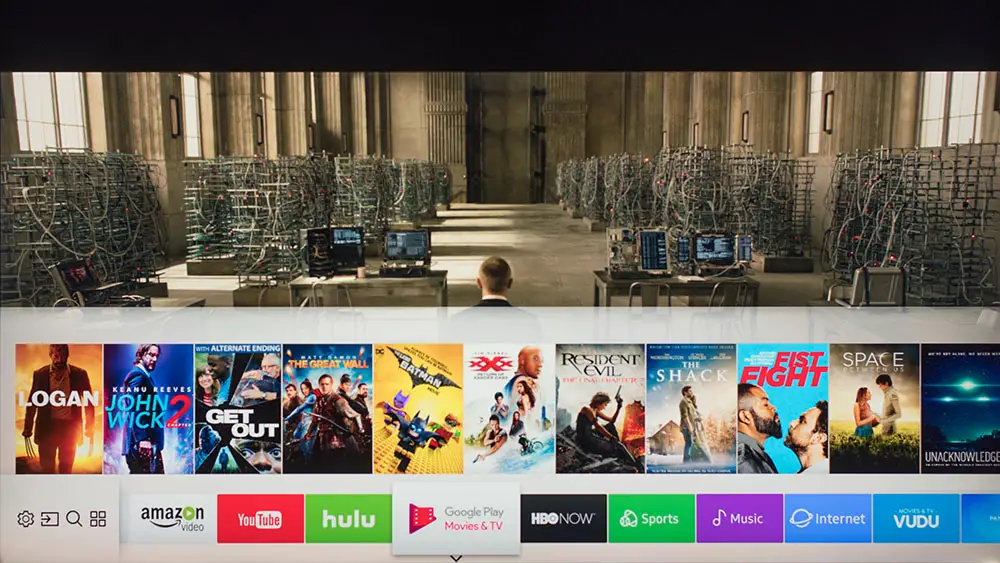 Menus are very easy to navigate as you get a single line on the bottom of the screen where you find all tabs with input sources, channels,games and online apps from which you can choose like Netflix, Hulu, Amazon Prime and youtube. You can even use Samsung's app store and download even more apps to your liking.

The MU7000 uses Samsung's One Remote and in my opinion this is one of the best remotes I have even used. If you have never used a smart remote before the lack of buttons may seem a bit strange in the beginning but I assure you after a bit of getting used to it you will never want to go back to the traditional buttons filled remotes. Having so few buttons makes it so easy to use it even in the dark so there is no need for any kind of backlight as it is very easy to remember the buttons configuration. It's voice commands functionality is an added plus but I rarely use it as sometimes it cannot register correctly my commands but it is a nice feature to have nevertheless. Having tested the aluminium version of the Q9FN I admit that this one made of plastic felt better and more steady to the hand even if it looked a bit cheaper.
Final Thoughts
The Samsung MU7000 is a low to mid-range TV with a few quality features like decent HDR as well as Samsung's great One Remote. What you pay is what you get and although picture quality is good enough for it's price, naturally it cannot compete with the top of the line models. For those that don't care in having the absolute best and just want to enjoy some 4K HDR goodness with money left to spend on other equipment or some 4K UHD disks then there is a lot to like with this model and it will certainly serve you very good in the 4K UHD era.
For more reviews you can check our dedicated 4K LED LCD TV reviews list or even look at our Product Reviews Table where you can find the brand and specific product you are looking for.
Also don't lose the chance to subscribe to our Newsletter and gain exclusive privileges.
---
Cheapest Places to Buy :
---
Specifications
Screen sizes: 40″ UN40MU7000, 49″ UN49MU7000, 55″ UN55MU7000, 65″ UN65MU7000 (USA)
Screen sizes: 40″ UE40MU6400, 49″ UE49MU6400, 55″ UE55MU6400, 65″ UE65MU6400 (Europe)
Resolution: 3,840 x 2,160 pixels UHD Flat panel
Processor: Quad-Core Processor
Color :

4K Color Drive Pro



10 bit Support : Yes
HDR (High-Dynamic Range) : 4K HDR Pro – HDR10 and HLG support
Picture Engine : UHD Upscaling Engine
HD to UHD upscaling: Yes
Motion Rate : 120
Screen Lighting: edge-lit LED backlighting
Refresh Rate: 60Hz native refresh rate
Smart TV: Tizen Smart TV platform
Connectivity : 3 HDMI 2.0a – HDCP 2.2 ports, 2 USB ports, 1 Ethernet port, 1 Digital Audio Out (Optical), 1 Component, 1 Composite

Built-in WiFi and Ethernet port
Sound: 20W,

2CH(Down Firing w/Bass Reflex)

, Dolby and

DTS Premium Sound

support
Remotes: Samsung One Remote Smart Remote
TV dimensions (55 inch model):

48.6″ x 28.2″ x 2.2″

inches w/o stand,

48.6″ x 30.9″ x 13.2″

w stand
TV weight (55 inch model):

41.9lbs

w/ Stand,

37.3lbs

without stand