Samsung Q70T
Ports & Connectivity
9.0/10
OS, Apps and Features
9.5/10
Pros
Very sharp 4K images
Great colors
Extremely low input lag
It comes with HDMI 2.1
Cons
HDR brightness is average
Viewing angles are not good
Motion performance is a mixed bag
No Dolby Vision
---
Cheapest Places to Buy :
---
2020 is another strong year for Samsung as they have released their new TVs in multiple markets across the globe. And with MicroLED still being away from wide consumer use, Samsung is still heavily backing on their QLED TVs to fight the fierce competition they get from the other players in the field. So there is no better opportunity for us to look into another model from their 4K QLED lineup. In our Samsung Q70T review today we will make one step up in the performance ladder from the Q60T that we had recently reviewed and test the next model in the series.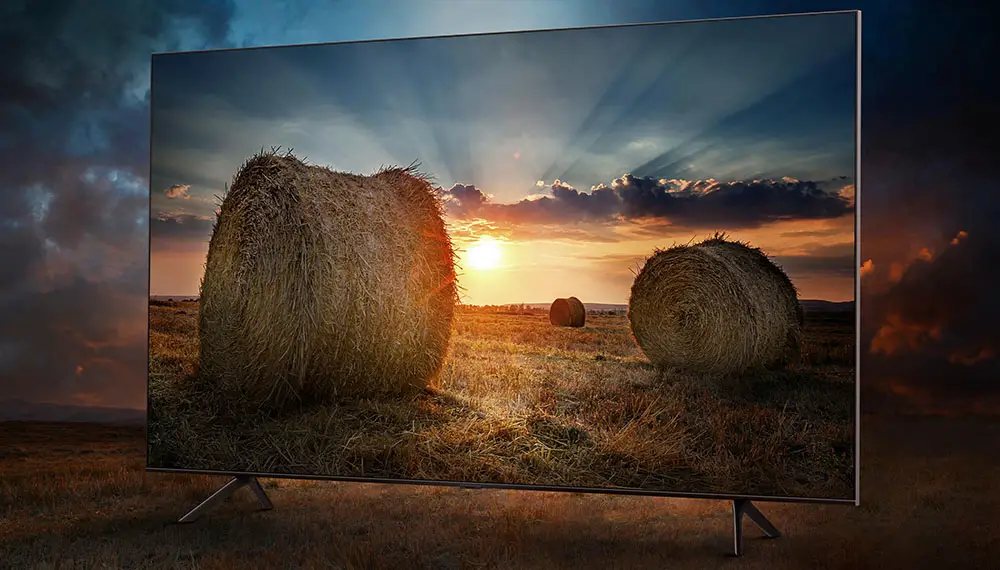 With Samsung slowly releasing more and more 8K TVs it seems that the 4K QLEDs are not showing the same kind of yearly upgrading you would expect to be compared to their last year's predecessors. The Q70T, being obviously a QLED, comes equipped with Samsung Quantum Dot technology enabling it to display more vivid and vibrant colors, it features what Samsung calls a Dual LED backlighting which basically is an Edge lit system that we will talk in more detail shortly, features the same Quantum Processor 4K as the other 4K QLEDs and supports HDR10+ along with HLG.
The Q70T is Samsung's top offering with an Edge lit system as everything above this one comes with some short of FALD light system so in a way this is the best Edge lit TV from Samsung in 2020. Also the Q70T looses this year's new Object Tracking Sound technology that Samsung created and settles for a more traditional 2.0 channels audio system. Lastly the Q70T seems to be the last TV that gets a single HDMI 2.1 with eARC support as the Q60T below this along with all the other lower tier models have to settle with the older HDMI 2.0 ports.
When we tested the Q60T it felt more like a filler model between the QLED and Crystal series so we were curious to see how much better the Q70T can perform and if it can be a worthy consideration in it's category. So without further delay let's find out.
Design
First of all one thing that gets us disappointed is to see that the One Connect Box is once again used only for Samsung's top tier models. In our opinion this is an amazing feature that should be more widely used but it feels like Samsung wants to keep it only as a top premium feature. The Q70T unfortunately has to settle for the traditional back face ports that can make wall mounting just a bit more hard.
Coming with a boundless design that features very thin bezels, overall look and design is pretty good without being anything extraordinary. Coming with an Edge LED system instead of a FALD one means that this TV is relatively thin measuring only 2.40″ (6.1 cm) at it's lowest most thick part making it look good when wall mounted.
All Samsung TVs have a rather interesting back side and the Q70T follows the same principle by using a plastic back face with a dotted design. Quality is the usual you should expect in this category with all ports being grouped together on the left side looking sideways while the power connector is placed on the right. On the lower bottom there are special grooves to help with cables management and guide your cables. The only other thing visible are the holes where you can attach a VESA wall mount.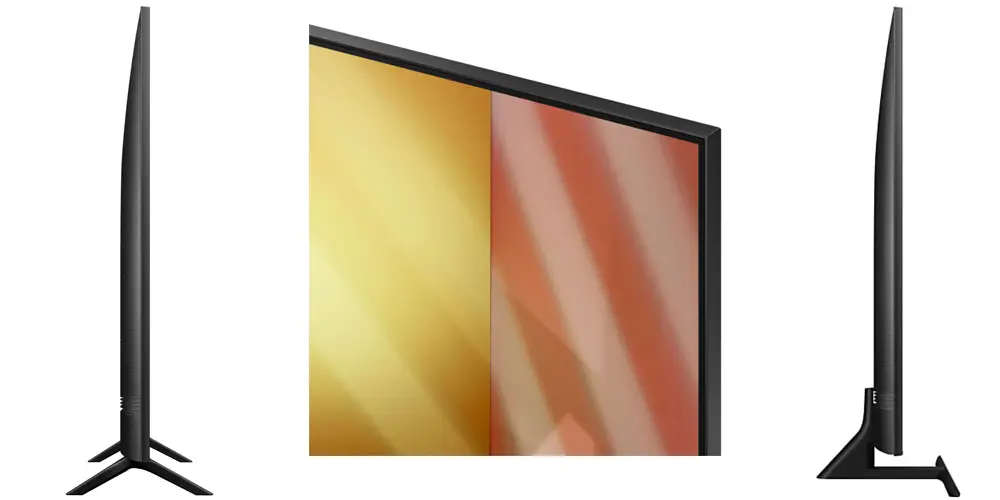 When it comes to the stand design it seems we are having a few differences between the markets. In the US the Q70T comes with a bench type of stand with them locking into place in both sides of the TV and offering pretty good stability while special clips can be used to hold the cables at the back. On the other hand it seems that UK and European markets offer the Q70T with a T-shaped stand that looks a bit better but it can make the TV wobble a little bit more.
Lastly we shouldn't forget to mention the included remote which is the familiar One Remote that Samsung is using in many of their models. There has been a few variations of this remote and the one we do get here is the same we found in the Q60T which is the standard gun-metal black arch back design. For this year we continue to get the three dedicated buttons below the volume and channels controls with the only change being the Hulu service have been changed and now it has Samsung TV plus.
No other changes have been made and this one comes with a built-in microphone for use with the TV's voice control functionality. Also there is universal remote capabilities and can be used either your other devices support HDMI-CEC or not. Buttons layout and functionality is exactly the same and continues to get high scores from us as we definitely like Samsung's approach for a low buttons count remote and focus more on the UI functionality instead of offering a jam packed remote that can be hard to use. The remote felt very responsive and easy to use in various angles and in general we experienced no problems with it.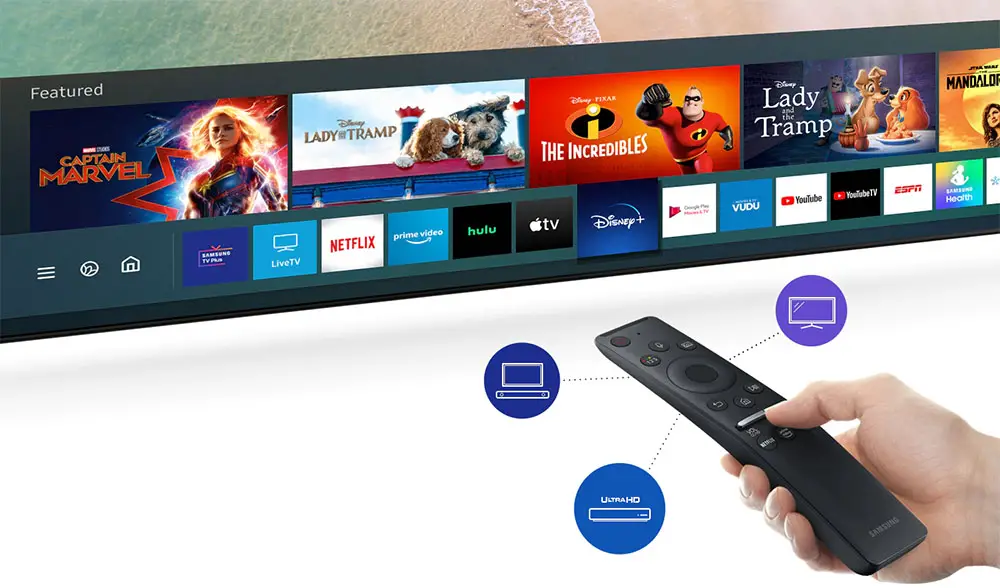 The Q70T offers the standard quality you would expect in this category from Samsung. Good quality of materials, nice design but nothing out of the ordinary that would make it feel like a premium model that all QLED TVs should.
Video Quality
Processor technology used
Now this wouldn't be a QLED if it didn't have some short of a Quantum Processor. It seems that for 2020 Samsung is not changing anything in this regard as from what we saw the new models are using the same silicone we saw last year also. This is not necessarily bad as the Quantum Processor 4K was an amazing piece of silicone and from what we saw in last year's models it has what it takes to carry on into 2020 without a problem.
The Q70T uses exactly the same processor as the higher tier 4K QLEDs in contrast to what we saw with the Q60T that was using a "lighter" version of the same chip. As such the Q70T comes with the same AI image and audio capabilities that we had seen before. This means a powerful AI upscaling engine that uses a combination of complex algorithms and an image database in order to classify aspects like textures and edges, and to optimally upscale each specific scene.
We did try various content from low resolution SD to 720p and Full HD and everything upscaled nicely with no visible artifacts from the upscaling process. Upscaling is heavily dependent on the source content so the better the original quality the better the upscaling will be. We were a bit disappointed when we saw the Q60T using a less capable processor and the Q70T seems to rectify this.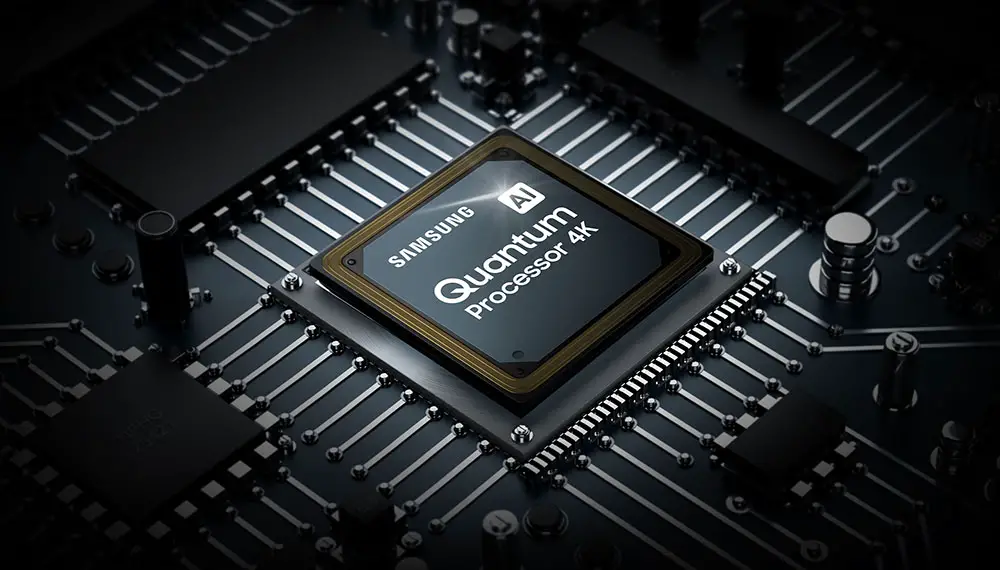 Another feature that comes with this processor is Adaptive Picture as the TV can analyze the light conditions in your room and calibrate the image accordingly for the best possible results.
Lastly the Quantum Processor 4K brings forth a few audio enhancements including Adaptive Sound and Spatial Analysis along with Active Voice Amplifier (AVA) that we will talk in more detail in the appropriate section.
Lighting technology used
All QLEDs the last few years were using either an Edge lit system for the cheaper models or a Full Array with Local Dimming (FALD) backlight for the top tier ones. In the case of the Q70T Samsung has equipped it with an Edge lit system but with a small twist.
Usually all Edge LED light systems use strips of LEDs on the top and bottom of the screen. The same applies for the Q70T but these LED lights instead of being just one color Samsung has used two. By adjusting the color tone of the LEDs to either warm or cool the new TVs can achieve better contrast details. In addition we should mention that there is no local dimming that could further enhance the image quality and performance.
Samsung may be using a brand new name for their Edge LED systems but it is prone to the same problems every Edge LED system has and had before it meaning that you can see subtle strips of lights from top to bottom when very small bright objects appear against a completely dark background. On the other hand these Edge LED TVs are usually thinner in design compared to FALD TVs and this happens because they don't use a backlight array which needs some space on the back of the panel. As a result Edge LED TVs manage to have slimmer and better looking designs. And obviously the cost is lower in comparison.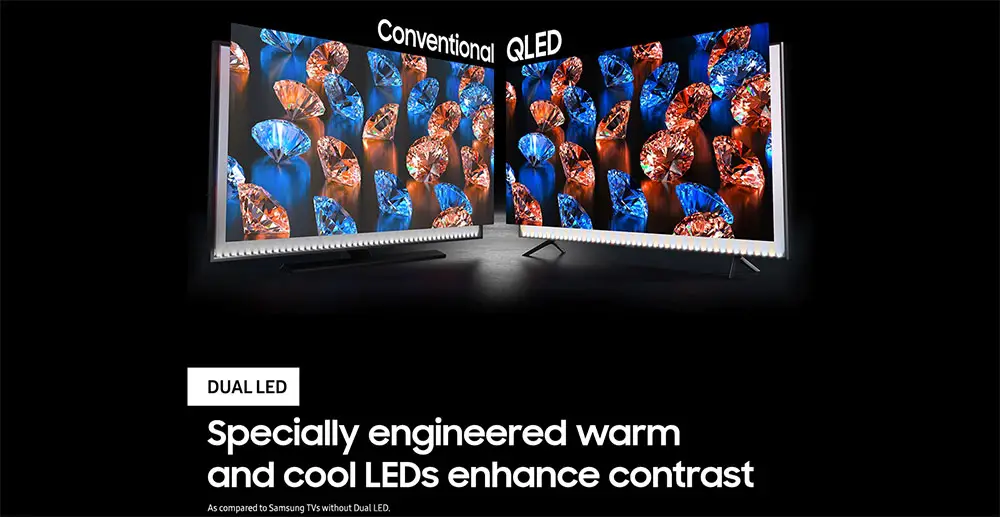 The Q70T is the last model that uses this Dual LED system. All other models in 2020 above this one uses a FALD system so in essence the Q70T is the best Edge lit TV that Samsung has on offer this year.
Brightness / Contrast
Moving on to our brightness testings as always we used the Movie mode as it tends to be the most accurate out-of-the-box picture mode. In our SDR brightness over a 10% window we got a measurement of 493 nits which is excellent and more than adequate for any kind of SDR images making the Q70T an amazing performer when it comes to Full HD content. On the HDR side of things the brightness we got over a 10% window was 484 nits which can be described as average at best and will not be enough to give you the full effect of bright highlights that HDR is capable of.
The measurements we got are slightly better than those we got in our Q60T but the difference is not as much as we were hoping from a step up model. Especially in the HDR brightness the difference is so small that you may not even notice the difference between the two models which is rather disappointing. And to make things even worse the Q70T performed far worse than last year's Q70R which indicates what we said before. That with the arrival of the 8K TVs instead of improving upon last year's models performance went down this year across the board in order to scale the 8K TVs accordingly.
When it comes to contrast the TV can produce relatively deep blacks making it a great performer in this regard. As we already mentioned there is no local dimming to improve this even further so what you see is what you get.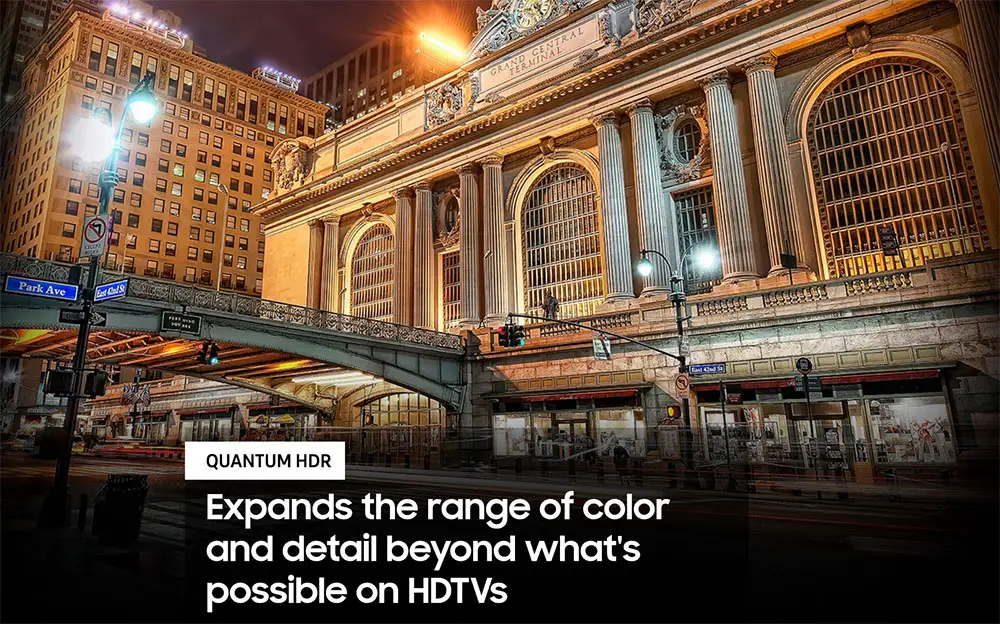 In general the Q70T was a bit disappointing in the brightness testing although we did expect this to happen. More 8K TVs meant that Samsung would have to lower the specs of this year's models in order to incorporate the new additions in their performance ladder. Although we haven't tested it yet if you want to get brightness equivalent to last year's Q70R you will probably have to go one step further up to the Q80T. Stay tuned for our review on that one soon.
Viewing angles
When it comes to viewing angles things are pretty obvious we could say. Samsung once again used a VA panel for the Q70T and this in general doesn't mean good things. But as with the Q60T before, the Q70T is also using the same Wide Viewing Angle technology in order to improve this a little which is a similar technology to the Ultra Viewing Angle technology that the top tier models use but less efficient.
While VA panels have excellent contrast ratios their image quality vastly degrades when viewed from an angle. Wide Angle Viewing is a special layer that is responsible of minimizing the light leakage by focusing the light on the right direction and as a result we get wider viewing angles. As for the Q70T specifically we can say that the maximum acceptable angle was around 27 degrees. Anything more and image quality, brightness and colors integrity started to degrade dramatically.
HDR support
With HDR support Samsung has included the same in all their models from the top 8K units all the way to the most cheap 4K ones. As such the Q70T supports the basic HDR10 that is the absolute minimum requirement for 4K UHD playback, the more advanced HDR10+ that is using dynamic metadata and just now starts to get some serious support and HLG that is mostly used for broadcasting.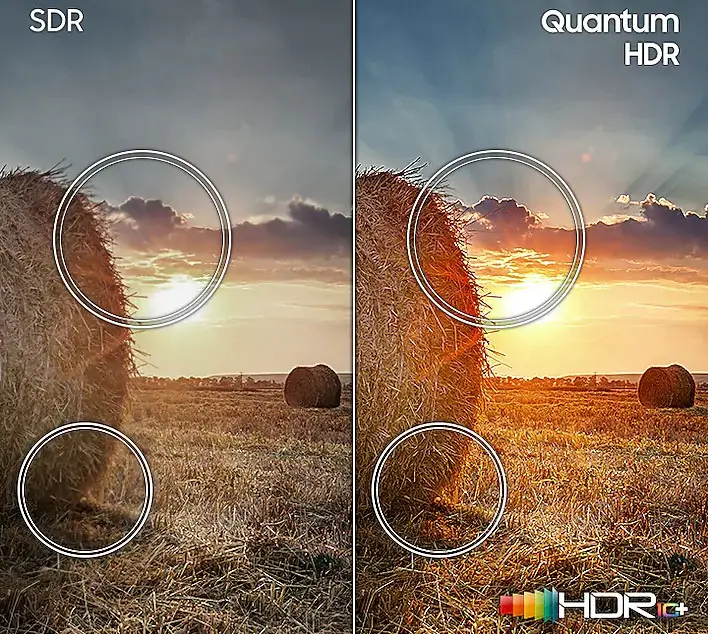 Obviously being a Samsung TV there is no Dolby Vision and with 20th Century Studios being under the Disney umbrella now and having gone the Dolby Vision route makes things even more complicated as to where this HDR10+ and Dolby Vision rivalry will get us. Samsung is a huge player in the field so it will be interesting to see if we will continue to get split support or if they will decide to end this silly war once and for all.
But for the foreseeable future don't expect to see Dolby Vision in any Samsung TV either budget friendly or in their top premium offerings.
Color coverage
One aspect of the QLED series that Samsung is heavily advertising is the use of Quantum Dot technology that claims to give their units extremely color coverage and reproduction. Quantum Dot is basically a special layer that is used on the panel and with it's nano-sized Quantum Dots, that are finely tuned particles, they turn light into the billion plus colors you see on screen.
Now according to our measurements the Q70T is able to cover about 89% of the DCI-P3 color space which we can admit is very good while on the wider REC.2020 the coverage is lower to about 67%. These numbers are more or less the same we had measured in the Q60T and to be honest we are a bit disappointed as we were expecting even a slight improvement in the Q70T.
As it is right now this TV has good color coverage but not as exceptional as we would like it to be. With it's support for Wide Color Gamut this model is able to reproduce pretty nice color shades and smooth gradients.
Motion performance
In the motion performance tests we can say that the Q70T is good but not perfect. In contrast to the Q60T here we get a 120Hz panel which is the same as last year's Q70R but it seems that the backlight dimming frequency is similar to this year's Q60T which means pulsing at 600Hz making it almost invisible to the naked eye. This high frequency is not used in all picture modes and will fall back to 120Hz in some cases which can make flickering more noticeable.
As per normal the Q70T comes with motion interpolation in order to smooth out motion and eliminate judder. This can be achieved by enabling the Picture Clarity setting in the menu. As usual there are two sliders for blur and judder reduction that you can adjust accordingly. Low settings on these will allow for smoother motion while going for high values will most certainly make the "Soap Opera Effect" appear.
Black Frame Insertion (BFI) is also available which is a feature that inserts a black frame in between two individual frames. This can be enabled with the LED Clear Motion setting but also results in lowering the flickering to 120Hz or even 60Hz depending on the picture mode and as a result flickering can become very noticeable. Also another side effect of this feature is that because of the black frames inserted, brightness is lower than without it.
We did notice some artifacts and slight image duplication when things get crazy on screen so we cannot say we are very thrilled with how the Q70T behaved in this regard.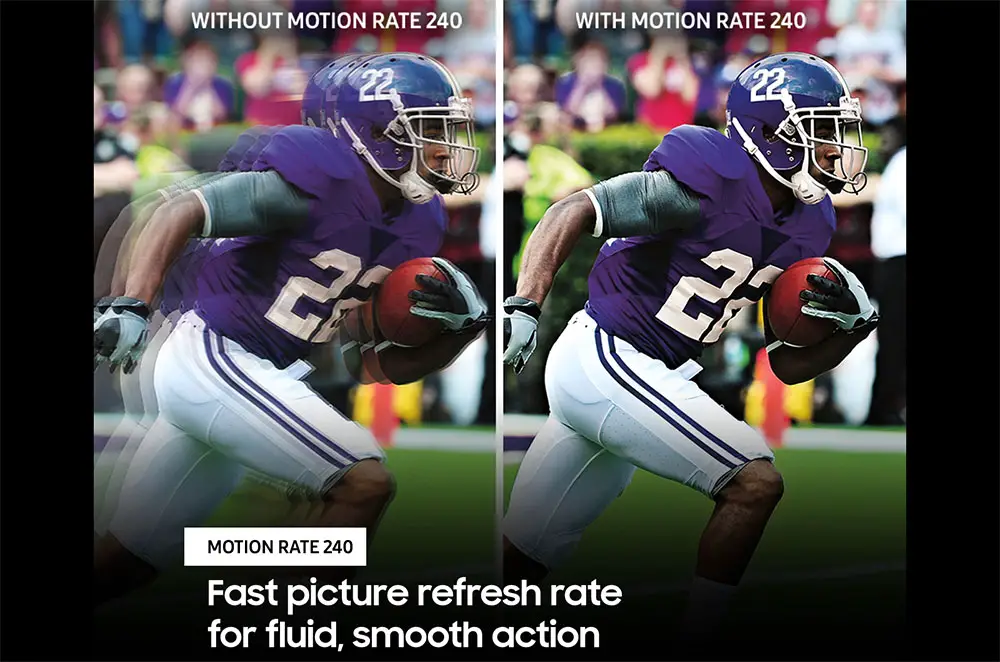 Lastly we should mention that with this unit having a HDMI 2.1 port it means we get not only FreeSync but also HDMI Forum Variable Refresh Rate (VRR) which can work if the connected device also supports it.
Input lag
If there is one aspect where the QLEDs really shine the last few years is on the extremely low input lag they have. For 2020 we got a small taste of that in out Q60T review and it seems that something similar we get in the Q70T also. With Game mode enabled we were able to get approximately 11.1ms of input lag which is crazy fast and will satisfy even the most hardcore of gamers. This measurement is an average of both 1080p and 4K resolutions but their difference is very small and will go by completely unnoticeable.
Obviously without Game Mode enabled the input lag skyrockets to an average of 75.8ms so keep that in mind when you play some video game and want to switch to some other content. There is also support for Auto Low Latency Mode (ALLM) as both PS4 and Xbox consoles support this and can be used when connected.
For testing this TV in the real world we used our PS4 and took our Ferrari F1 for a few laps around Suzuka in F1 2019. We could not have a better time with it as all our commands were registering on screen immediately without any lagging or noticeable delays. We had such a pleasant experience that we spent more time that what we should have with it so if you are serious about your gaming sessions fear not as the Q70T will absolutely satisfy you.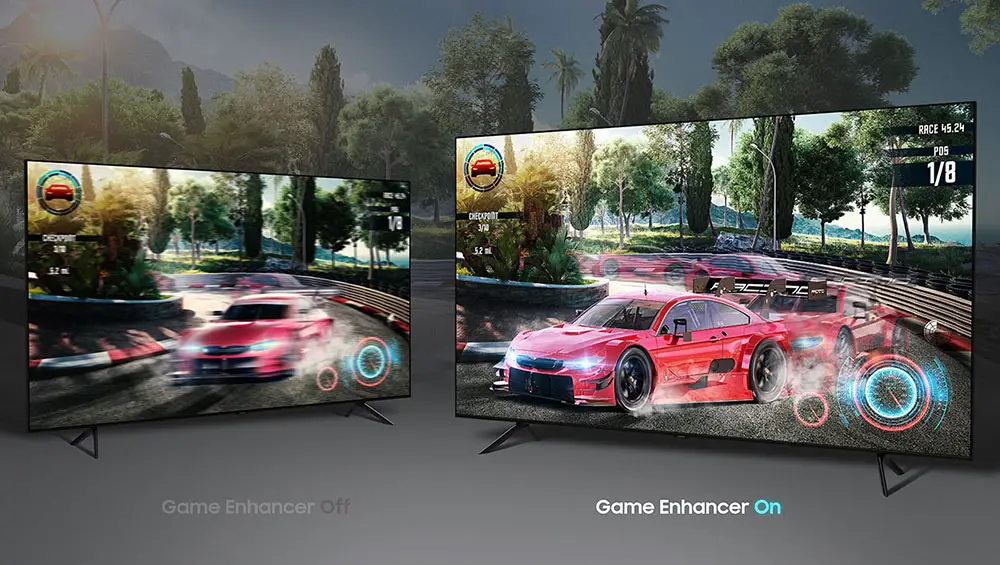 Image quality impressions
The Q70T is an obvious downgrade from last year's Q70R. The arrival of more 8K TV units this year have made the need to move the performance down a bit further. This means that the Q70T looses the FALD light system we saw last year in the Q70R and as a result brightness performance takes a dive as the Dual LED system used this year cannot perform in a similar fashion. Colors are also slightly lower but the difference is extremely small to notice but the numbers indicate that.
As for everything else we get the same Quantum Processor 4K with all it's AI capabilities and the same 120Hz panel but with a lower 600Hz dimming frequency. Contrast was good, viewing angles are the usual we get in a VA panel while input lag performed admirably as we are used by all QLEDs lately.
To be honest we were hoping for a bit better performance overall but out fears that we wouldn't get similar or better performance compared to last year due to the arrival of more 8K TVs became true. So in case you want to get similar image quality as the Q70R you will probably have to look for the Q80T instead.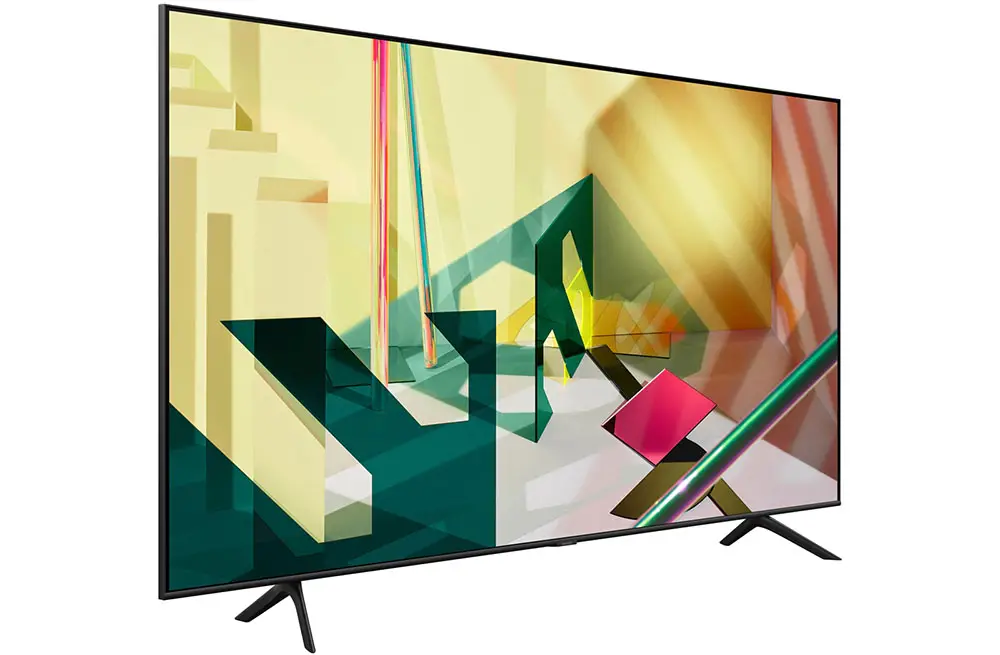 Audio Quality
In 2020 Samsung tried to improve the audio of some of their TVs by creating two variants of what they call Object Tracking Sound system. Unfortunately this is only used on the Q80T and above along with all the 8K TVs so for the Q70T we will have to settle for a usual 2.0 channels system, similar to what we found in the Q60T also.
The unit we have here uses two down-firing drivers in a 2.0 channels setup with a total of 20 watts of power. In general audio performance is the standard you would expect from such a basic system. Sound can be pretty loud and clear but it cannot offer any kind of immersion for movies and is mostly suited for casual viewing, broadcasting and sports.
Additionally we find a couple of audio features that are meant to help the TV produce the best possible audio result in any given situation. As such the Q70T comes with what is called Adaptive Sound+ and what this basically does is to analyse each scene to identify and render the sound type. The process begins by separating and classifying audio input signals. Key characteristics are then pulled out and rendered to best suit the scene.
Another feature is Spatial Analysis. Every room environment is unique and impacts the sound differently. The Q70T is able to send out and collect inaudible signals to analyze your room space and deliver optimized audio. For this reason we also get Active Voice Amplifier (AVA). Background noise from your home can disrupt your viewing experience. Active Voice Amplifier analyzes the ambient noise and enhances the voices in the scene so you can hear the dialogue clearly.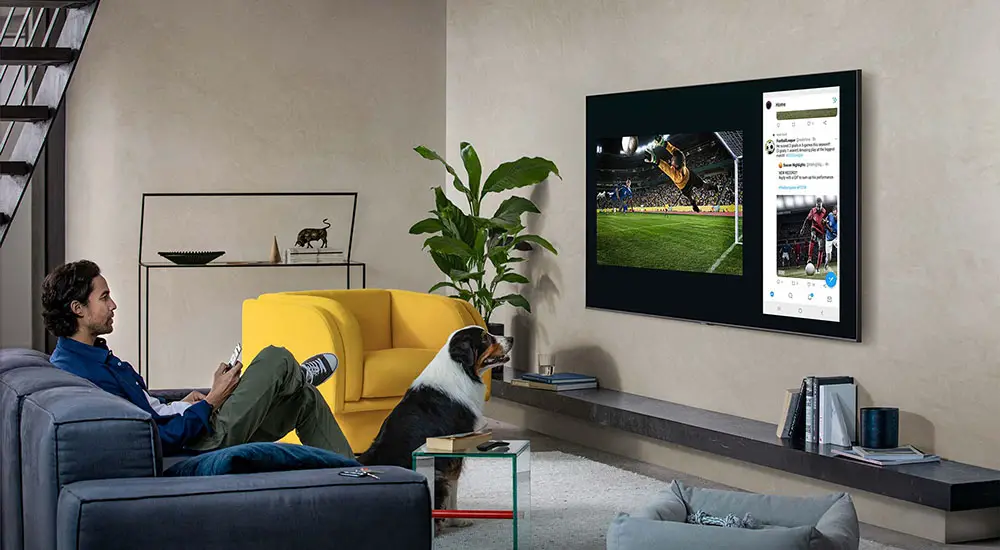 Even with these few special features we cannot say that in general the Q70T can offer anything more than a basic performance. From one side sound felt very clear and distinct but on the other hand there was no immersion, no surround activity while on the low end audio was lacking the necessary power to give more weight to each mix.
Ports and Connectivity
As previously mentioned all ports are located in a special inset at the back of the main body towards the left side with all of them looking sideways which can definitely help if you want to wall mount the TV. The only connector that is placed on the right side is for power.
Now from top to bottom we find two USB ports, a digital optical audio output, four HDMI ports, an Ethernet port for wired connection to the Internet, an Ex-Link jack and the usual antenna port.
Obviously the most important note here is that the Q70T actually have a HDMI 2.1 port (HDMI 4) with all the goodies this new version brings. Originally Samsung claimed that only the 8K TVs would get HDMI 2.1 but it seems that all 4K QLEDs, except from the Q60T, also got a single HDMI 2.1 port. There is also eARC functionality in HDMI 3 if you are interested which is another plus. But on the other hand we still find those old USB 2.0 instead of the more new USB 3.0. We are curious to see when manufacturers will really adopt this newer port that has been with us for so many years now.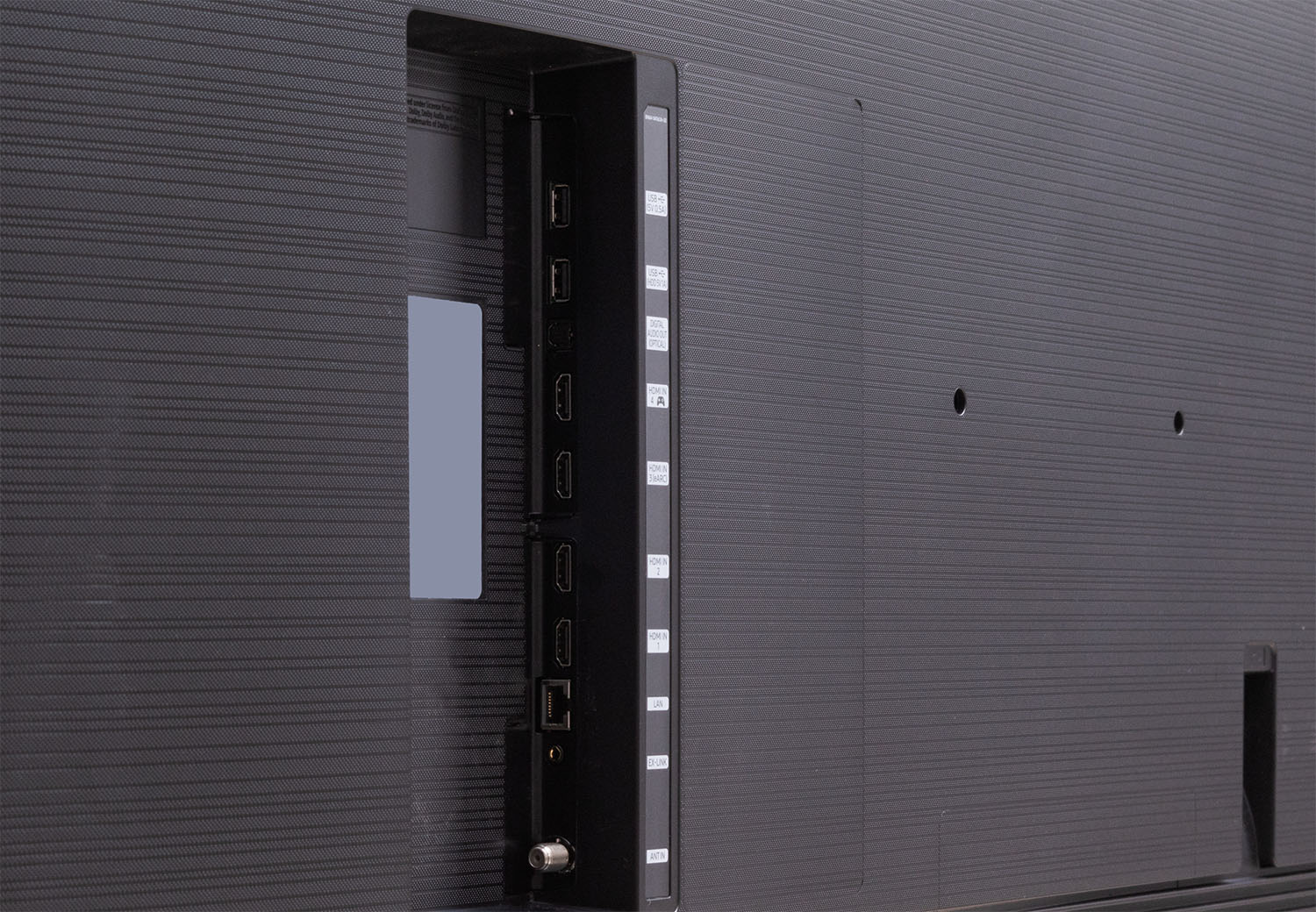 When it comes to the TV's wireless capabilities we find built-in WiFi (802.11ac) as well as Bluetooth v4.2. We were hoping for Bluetooth v5.0 but unfortunately this is not the case.
OS, Apps and Features
The Q70T brings with it the latest version of Tizen that we previously saw in the Q60T also. For 2020 there has been a few upgrades here and there but nothing major as the platform was already in an amazing state from last year. The new version brings a slight change to it's visual style as it comes with a dark UI which feels very different from the light white Samsung was using before. We wouldn't call it better or worse as this is entirely an aesthetic change and it depends on personal taste.
As with previous versions the launcher bar sits at the bottom of the screen with a second row appearing with certain selections for easier and faster access to other options like video streams and apps. With so much content available customization is a feature that you will want to use and Tizen offers many options here in order to rearrange everything to your liking. The number of apps available is really amazing and if you use multiple services then you can put them in any way you want.
And since we mentioned about the supported apps with Tizen you shouldn't be afraid of missing out any of the big names. The TV is literally fully packed and you can download even more from the store. All the big names are available like Netflix, Youtube, Amazon, Hulu, Apple TV, Rakuten, Demand 5 and BBC iPlayer with some of them like Netflix and Amazon supporting both 4K and HDR.  Navigating through the apps felt pretty smooth and we didn't experience any notable lagging or freezing when changing between them.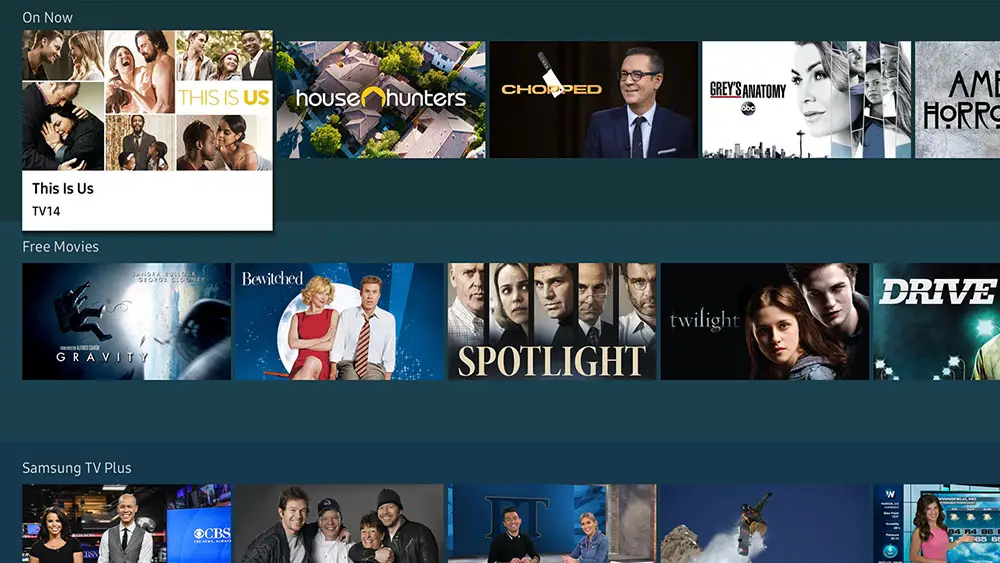 We already talked about the customization capabilities that Tizen offers you. But Samsung took this one step further by creating what they called the "Universal Guide". This is a feature that is registering what content you are watching the most and creates a 'For You' page that includes content that you most probably are going to watch automatically. If you have specific habits and you are watching specific series all the time then this can be a pretty handy and practical feature that can save you some time.
Another feature that is retained from last year is SmartThings integration. This means that if you are using other smart home devices in your house like lights, electronic locks, shades or thermostats then you can use the TV as a central hub for controlling everything vastly expanding it's usability.
Voice control is also a standard thing nowadays with the Q70T supporting the trio of voice control platforms you would expect to find in a Samsung TV. As such we get Bixby, Amazon Alexa and Google Assistant so you can take your pick and choose whichever suits you the best. But we shouldn't forget that there is also Airplay support if you are mostly using Apple devices and you can even use Siri through it for voice control of your Apple devices.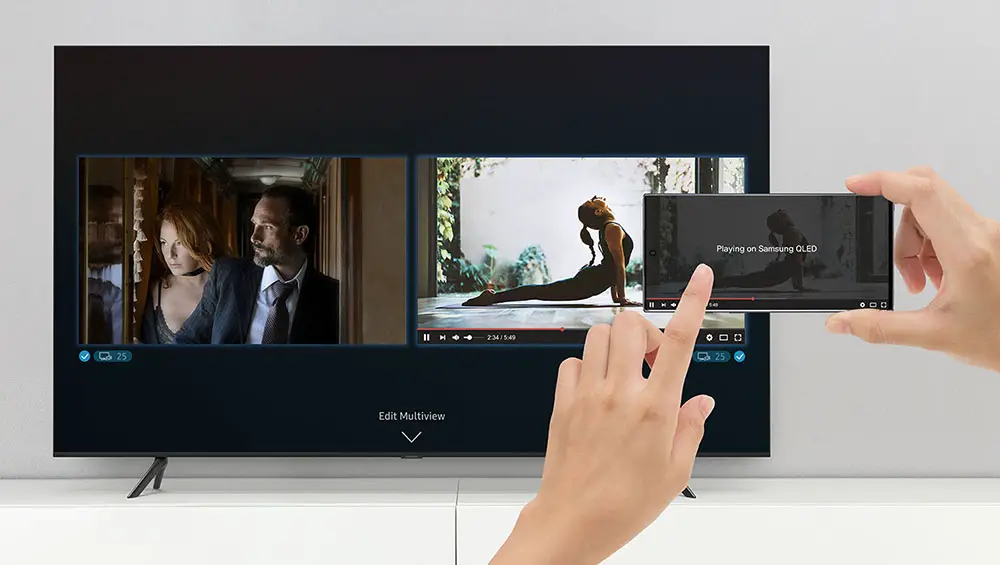 Another new feature we get this year is Multi-View. We first saw this in the Q60T and is also available here. This is basically an enhanced version of screen mirroring that we get in smart TVs for many years now. Samsung took this one step further and with Multi-View the TV screen can be split into two parts with one half showing content on your TV while the other half will mirror your mobile device screen. We are still trying to figure out how useful such a feature can be but we have this as an option anyway.
Lastly the Q70T includes an enhanced version of Ambient Mode that is called Ambient Mode+. This feature can turn the TV into a work of art as it can display various images and designs when the TV is not being used or it can even blend with the environment by displaying an image that hides it from plain view. But with this improved version the TV can also display various information including weather updates, news headlines, photos and music.
Having the Tizen platform means that the Q70T comes with the full feature set this has to offer making it an excellent smart TV proposal in this regard.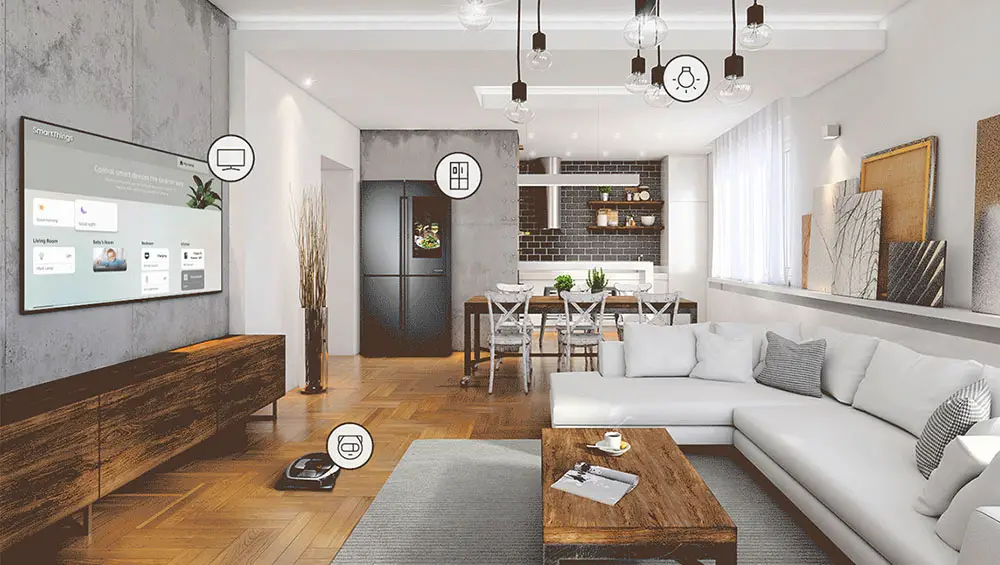 Final Thoughts
We have reached the end of our review so what we can say is that it is very obvious that you shouldn't consider the TV model numbers from last year if you want to seek what kind of improvements we get this year and the Q70T is a very clear indication of that. The TV is obviously less capable in many regards to last year's Q70R and you will have to go one step higher if you want to get closer to last year's performance.
The Q70T is a QLED that can offer very sharp 4K images and with the use of the powerful Quantum Processor 4K it offers strong upscaling and AI functionality. Using the known Quantum Dot technology means that color reproduction was bound to be very good while it's using an improved version of an Edge lit system called Dual LED that offers better contrast details. Also input lag was measured extremely low making it ideal for anyone looking for a gaming TV. The Q70T also comes with a HDMI 2.1 with all the features that brings making it more future proof. Lastly having a fully featured Tizen is a major plus in our books.
On the downsides the Q70T is using an Edge LED system which is a huge downgrade compared to last year's Q70R FALD system. This means that brightness is also lower in both SDR and HDR but it's mostly in the HDR that this downgrade is hurting it the most. Viewing angles are so and so as with all TVs that use a VA panel while motion performance was a bit of a mixed bag. No Dolby Vision will continue to hurt every single Samsung TV while the audio capabilities of this model is nothing to brag about.
The Q70T finds itself in a difficult situation. If you compare it directly to the 2019 Q70R it is a very obvious downgrade and Samsung did wrong to follow the same naming as many will think that the Q70T is supposed to replace that model which is not the case. This confusion happened with the arrival of the new 8K sets and from what we see this will continue to happen in the future. The Q70T should mostly be compared to the Q60R instead to be more fair as it managed to perform slightly better than that in some aspects. It's not a bad TV, not at all. It can produce extremely good 4K images with great colors but certain weaknesses doesn't let it go above and beyond the competition. As a result we would describe the Samsung Q70T as a very good TV. It's just not a great one.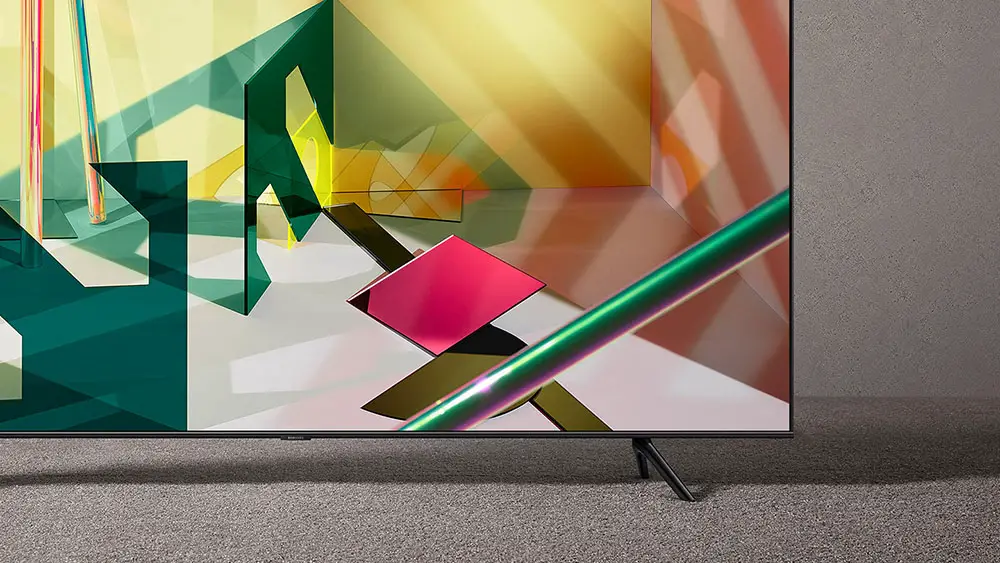 For more reviews you can check our dedicated 4K LED LCD TV reviews list or even look at our Product Reviews Table where you can find the brand and specific product you are looking for.
Also don't lose the chance to subscribe to our Newsletter and gain exclusive privileges.
---
---
Cheapest Places to Buy :
---
Samsung Q70T Specifications