---
Cheapest Places to Buy :
---
2017 marked the year that Samsung tried to promote it's quantum dot technology as a rival to OLED technology and while the end result was very good a few drawbacks as well as it's high price kept it from greatness. For 2018 Samsung continued to improve upon their last year models offering a better competitor to OLED than it did in 2017. The Samsung Q7F sits two steps away from the top of the ladder being surpassed only by Q8FN and Q9FN models. As a result it keeps a relatively low price all the while retaining some of the premium features of it's bigger brothers. That's why the Q7F was so popular in 2017 and this is expected to continue this year also.
So without any further delay lets check how this TV fairs in our Samsung Q7F review…
Design
As far as the design goes there are not many changes from last year's model, in fact the differences are so small that you may not pay attention to them at all. The TV has a very premium and quality feel to it with it's extremely slim bezels covered by a thin metal frame and it's straight bar stand that gives the TV a very stylish look even if not a very stable one.
The stand has been designed in such a way that hides the single 3mm cable that connects the TV with the One Connect Box that is used to not only transfer the input signals but also provide the TV with the necessary power. The straight bar design also is very practical because you can place a soundbar in front of it if you want.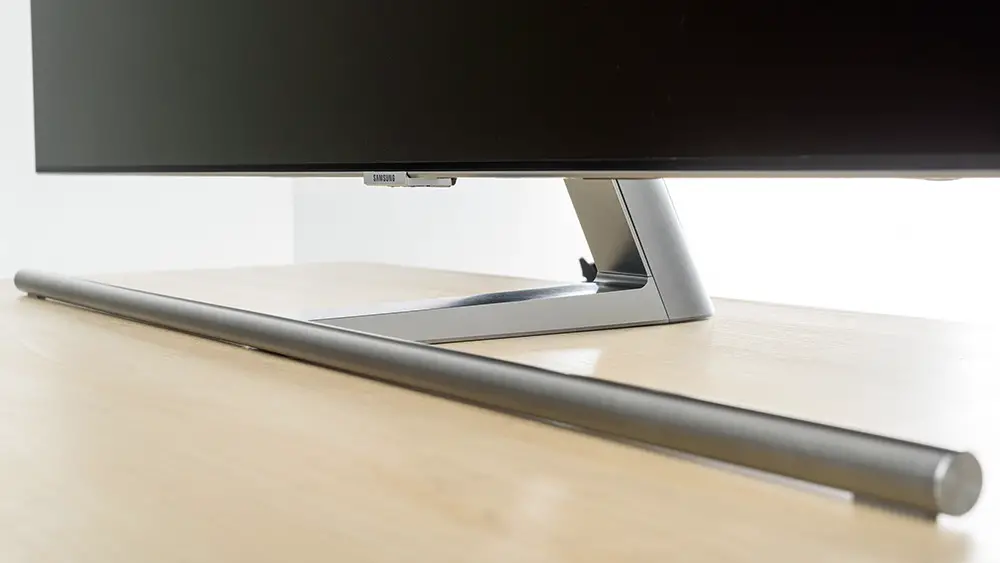 The TV also features a boundless 360 with clean back finish design making it look good no matter from which angle you look at it. At the back you will not see anything else as Samsung made sure to cover everything and the one and only cable that you need to connect has been carefully designed to coexist with the rest of the design creating a minimalistic harmony.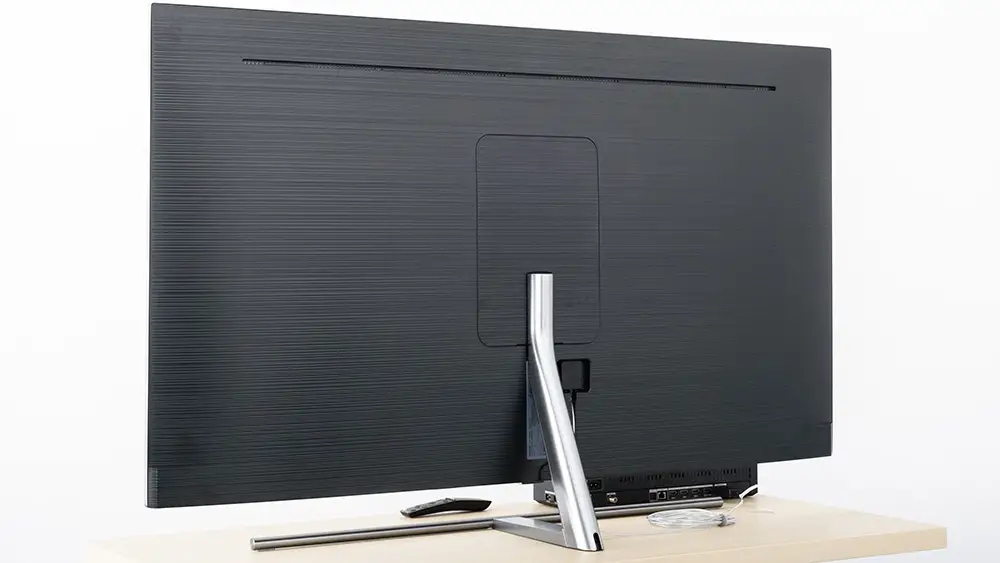 The TV is very thin and it will thrill those that want to mount it on the wall. Using the no-gap wall mount will make it look so good that will resemble a picture frame. It may not be OLED thin but it is one of the most thin LCD TVs we have seen. Samsung made a really fantastic work as far as the design goes and continues to improve them with every coming year.
Video Quality
The Samsung Q7F keeps some of the top tier premium specs but at the same time tries to offer them at a competitive price. This means that corners must be cut and one of them comes in the form of Edge-lit LED lighting. Full array local dimming (FALD) is reserved only for Samsung's top model, the Q9FN so what we get here surely has some impact on the final image quality. Edge-lit lighting is usually prone to light leakage from where the LEDs are positioned but from my testing I didn't see any major problems with this particular model.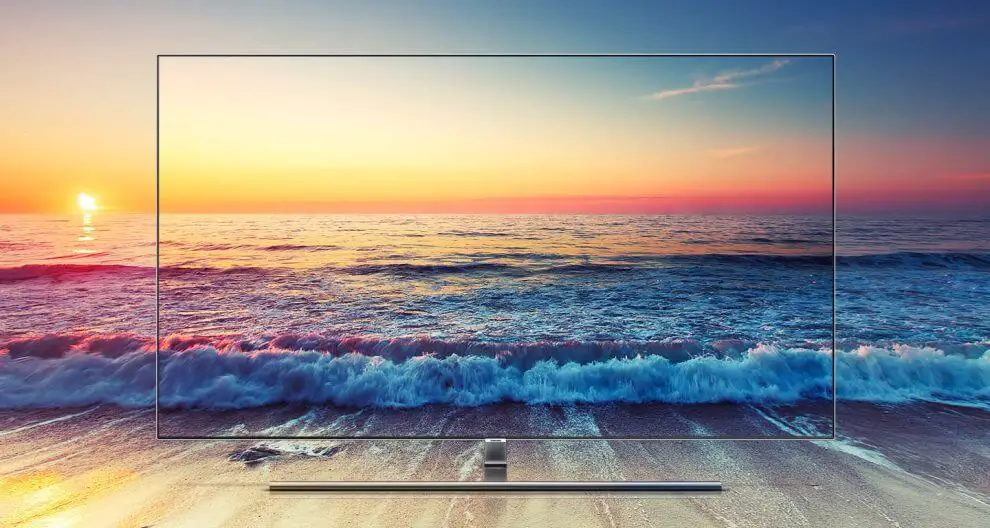 This model comes equipped with Quantum Dot Display and Quantum Dot Color. Combined with a 10 bit display and with a theoretical peak brightness of 1500 nits the TV can produce an amazing amount of color shades as well as spectacular HDR with mesmerizing whites and deep blacks that makes the image almost look three dimensional. Of course the 1500 nits number is never achieved in real life situations but in the end the final result is what matters and what we get here is some amazing highlights that will make you drool from excitement.
The Q7F has also an impressive Wide Color Gamut (WCG) as it cover more than 99% of the DCI-P3 color space as well as around 80% of the Rec 2020 color space. This has a result of more lifelike colors and the HDR will look closer to what it's creator intended. As with all Samsung TVs the Q7F supports HDR10, HDR10+ as well as HLG but no Dolby Vision.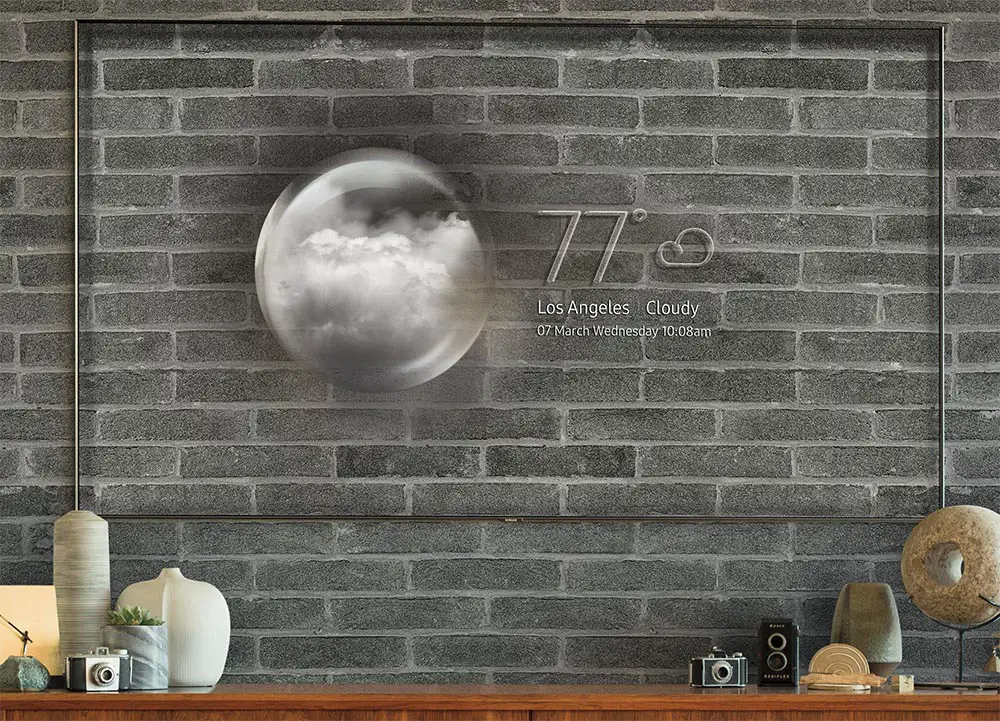 One of the most glaring weaknesses of LCD panels are the very narrow viewing angles and here is no different since Samsung is using a VA panel. The more you move off center the more color saturation and contrast take a dive and colors start to look different than what they really are. I would say that anything more than 30 degrees will start having a major effect in image quality.
Motion is superb with the Q7F and this is in part to it's 120Hz panel with "Motion 240" as Samsung calls it. Working in parallel with the TV's Q Engine Processor the end result is really amazing. Fast action scenes look smooth and clean depending on the source and image blur and judder can be minimized by the TV settings according to your preference. Input lag was very good as it was measured at around 20ms in Game mode which is one of the lowest input lags we have measured making this TV ideal for gamers.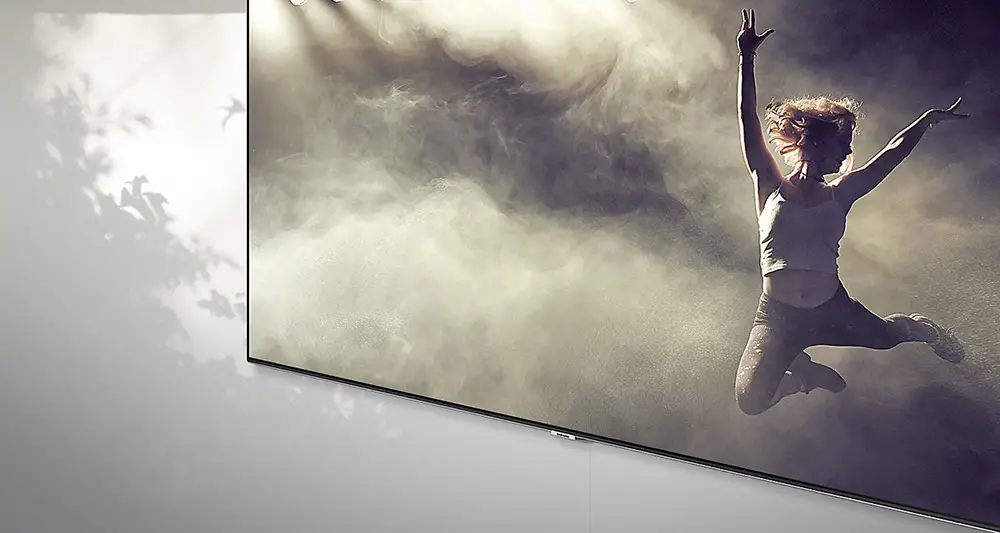 Last but not least the sound capabilities of the Q7F are average considering the model we are talking about. Dialogue and sounds are clear with no obvious distortions but if you are serious about your viewing pleasure I would strongly suggest some short of dedicated sound system or at least a soundbar. In total I am very pleased with the image performance of the Q7F offering amazing quality at good price and in the end this is what matters the most.
Inputs
As with all the higher tier models the Samsung Q7F comes with the One Connect Box that houses all the connectors and keeps the cables away from the TV for a cleaner look but also make the whole cable management easier and more practical. One main difference we get with this year's box is that now not only it houses the connectors but also the power supply of the TV and as a result the box has grown in size considerably. This has the advantage that now only one cable is needed between the TV and the One Connect Box that holds all the signals information as well as the power supplying the TV.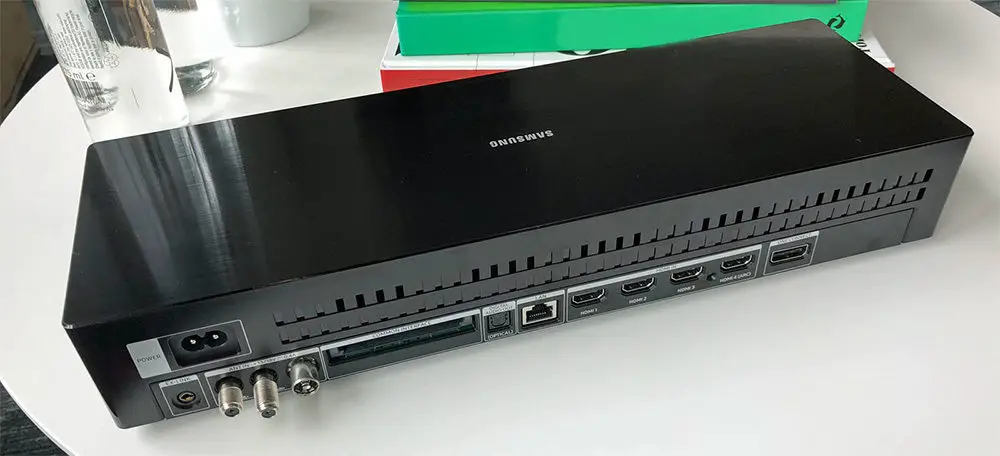 The box may be a bit big but still you can place it anywhere and keep it out of sight. As for it's connections it has four HDMI inputs, three USB 2.0 ports for connecting external storage and devices from which one delivers 1A and the other two 0.5A, an optical audio out, satellite and DVB-T2 tuners as well as a common interface slot, in case you need it. Most of the One Connect Boxes use the same type and amount of connections so nothing new here. My only objection is that we still get USB 2.0 ports and not 3.0 something that for me is unacceptable for such a high end device in the year 2018. USB 3.0 should be a must for at least all the top tier models.
OS, Apps and Features
The Q7F is using the same Tizen smart TV platform as the one we reviewed recently for the Q9FN. In case you are interested in reading that review article you can find it HERE.
Samsung once more use their proprietary smart TV OS system called Tizen which they have upgraded considerably the last few years making it one of the best and feature complete TV OS in the market. When you connect all cables to the One Connect Box the TV setup handles everything else. As an added feature you can use your smartphone to make changes to the settings and this makes things much easier than using the TV remote. You only need to use the remote to calibrate the TV channels through the TV tuner. After you finish with this you are good to go and the truth is that you get so many options and features that it is really breathtaking.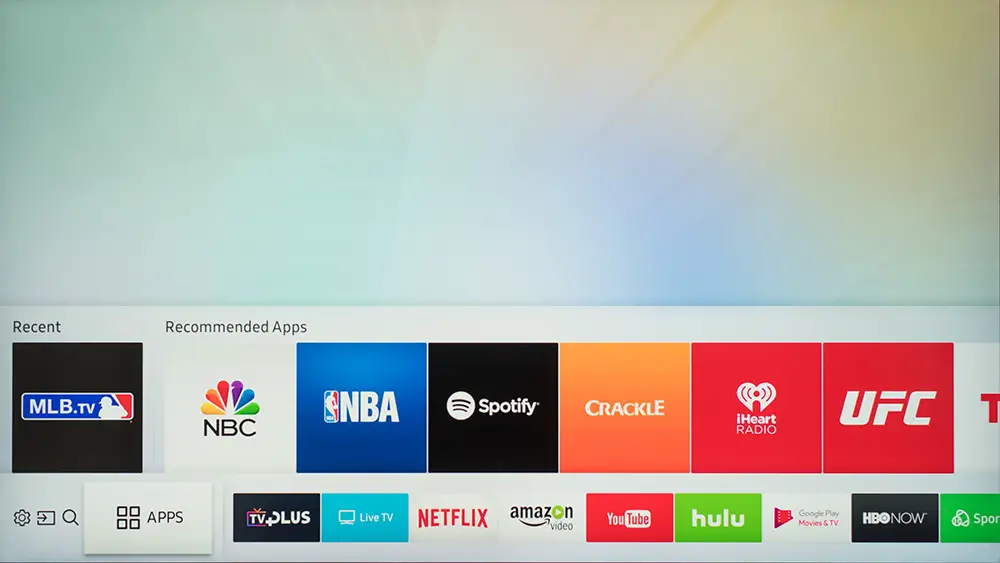 Tizen offers the kind of experience that only Samsung's smart TV platform can offer. The menu is split into two parts. In the bottom we have all the main options like apps shortcuts, video inputs and settings while the upper part unfolds every time you place your cursor on one of the main options. As a result apps have very fast loading times and makes navigation so much easier inside each app. The user interface (UI) is full of options and advanced settings and this can be good for those that like to dive deep into calibrating their TV but it can be a bit of a trouble for people that will never use them as it can be a bit difficult some times to find a specific setting or feature.
A very handy feature of Tizen is the ability to customize the User Interface to your needs. With so many apps and menus it is great to be able to reposition all icons the way you want and keep only what is necessary. One thing that draw my attention was that not all apps unfold to the upper screen like others do and I think this is mostly a matter of programming by the developers in order for this effect to work. It is definitely a useful feature so I hope more developers will use it in the future.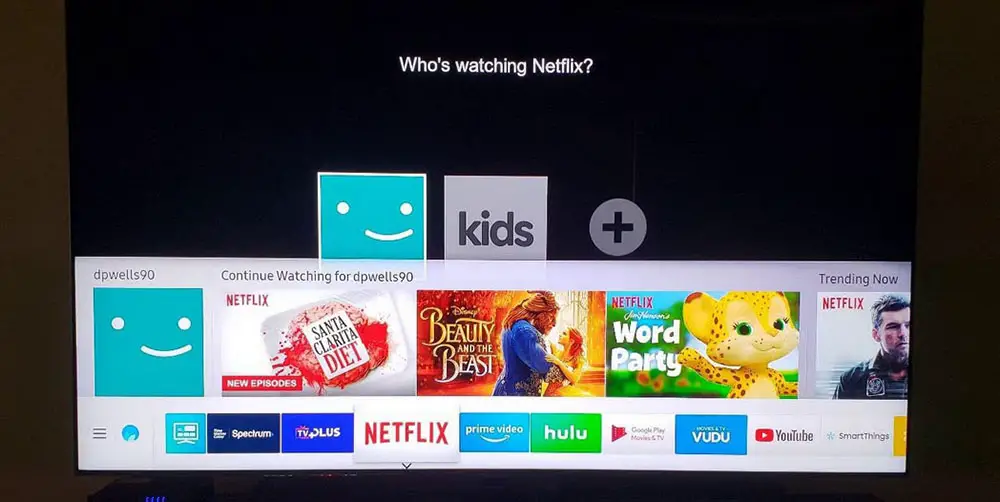 You can find a huge collection of apps to choose from like Netflix, youtube and Amazon and they all have very fast loading times without any noticeable delays. You can even continue viewing from where you stopped last time so this is also a plus. What I noticed was a bit of menu navigation lag and although it never felt like a problem or distracting you would expect that tech like this wouldn't suffer from such problems like menu lag.
As with all the Q series the Q7F has an ambient mode which can display photos as well as other information like the date and time at reduced brightness and with a careful selection of a background photo it can blend very well with the surrounding environment. The result can be very good but in Ambient mode the TV still uses a lot of power to operate so personally I find this more as a gimmick than as a practical feature.

The remote is the same Samsung smart remote we have seen the last few years with a few minor changes. The one we get here is the plastic version and not the aluminium one that you get with the top of the line Q9FN. It may look a bit cheaper but what matters is it's functionality and the result is more than pleasing. Fewer buttons means easier control and you don't need to remember the remote's configuration to find a button as most of the functions are displayed on the TV's user interface. It also has built-in voice control functionality and although is not always accurate it can be useful in some situations. This remote remains one of my favorites from all the remotes I have used over the years.
Final Thoughts
The Samsung Q7F is an impressive TV as it comes with some very premium specs but at the same time keeps it's price at more than affordable levels. Continuing from last year's success I believe the Q7F will be a hit this year also and will become a very good competitor over OLED TVs at the same price range.
Featuring amazing HDR, very good black levels, great color accuracy and contrast, the One Connect Box that keeps all connectors away from the TV and a great smart TV platform the Q7F's advantages significantly outweigh its flaws making it once again a very good option for those that want great quality with a good price. It may not be able to reach deep blacks and shadow details of OLED TVs but an overall good image is more than just deep blacks and the Q7F makes sure to use it's strength to deliver the best it can. Does it deliver? Oh yes it does and more…
For more reviews you can check our dedicated 4K LED LCD TV reviews list or even look at our Product Reviews Table where you can find the brand and specific product you are looking for.
Also don't lose the chance to subscribe to our Newsletter and gain exclusive privileges.
---
Cheapest Places to Buy :
---
Specifications
Screen sizes: 55″ Q7FN, 65″ Q7FN, 75″ Q7FN (USA)
Screen sizes: 55″ Q7F, 65″ Q7F, 75″ Q7F (Europe)
Resolution: 3,840 x 2,160 pixels UHD Flat panel
Processor: Quad-Core Processor
Color : Q Color
10 bit Support : Yes
HDR (High-Dynamic Range) : Q HDR Elite – HDR10, HDR10+ and HLG support
Picture Engine : Q Engine
HD to UHD upscaling: Yes
Motion Rate : 240
Screen Lighting: Edge Lit LED


Depth Enhancing Technology

: Contrast Enhancer

Ultra Black: Ultra Black Elite

Smart TV: Tizen Smart TV platform
Connectivity (all in One Connect box): 4 HDMI 2.0a – HDCP 2.2 ports, 3 USB ports, 1 Ethernet port, 1 Digital Audio Out, 1 RS232
Built-in WiFi and Ethernet port
Sound: 40W, 4.1 channels
Remotes: Samsung One Remote Smart Remote
TV dimensions (65 inch model): 56.9″ x 32.6″ x 1.8″ inches w/o stand, 56.9″ x 36″ x 13.9 w stand
TV weight (65 inch model): 60 lb w/ Stand, 51.4 lb without stand