Samsung Q800T
Design -

93%

Video Quality -

94%

Ports & Connectivity -

92%

OS, Apps and Features -

95%

Price / Quality -

90%
---
Cheapest Places to Buy :
---
It's been a strange year as far as new TV releases is concerned as with the arrival of more 8K TV sets it seems that Samsung had to slightly shift the performance of their entire lineup in order to incorporate the new 8K sets but did so without a change in their naming format and as a result many of their 2020 releases are not direct replacements of last year's lineup which will definitely confuse more people than it should. Also while these 8K sets feature some fancy technologies we are still at a point that these act more like entry points of a new era that is not still here as real commercial 8K content is still non excitant. And today in our Samsung Q800T review we will be looking at one of these new TVs and see what brings on the table.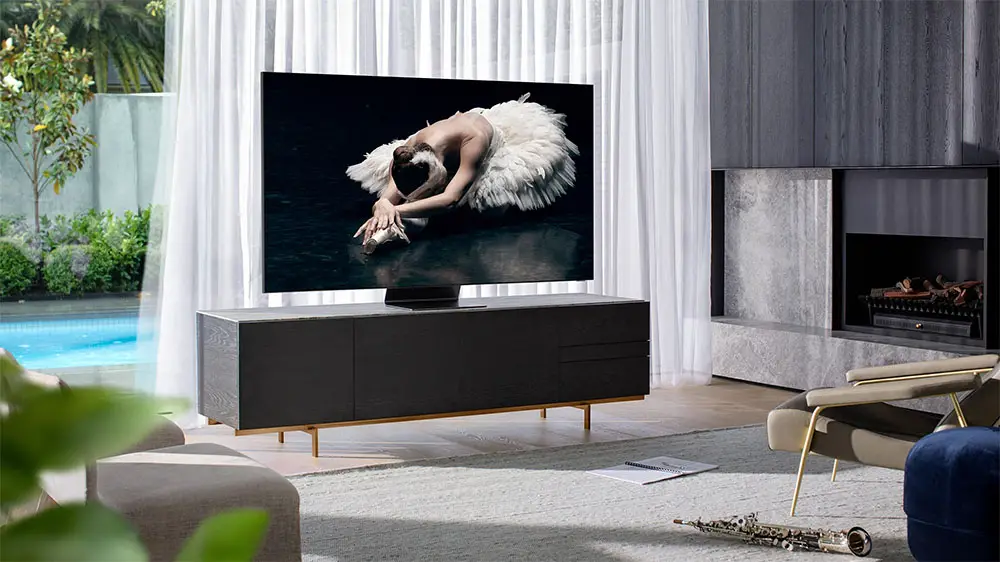 Now while 8K TVs is not something new as in 2019 all manufacturers already had them on sale it seems that 2020 is the year where these will slowly start becoming more mainstream and we can see that as Samsung has three models on sale. The Samsung Q950TS which is their flagship for this year, the Samsung Q900TS which is extremely similar to the Q950TS but is only a US model and looses the One Connect box and the more affordable Q800T which we will be reviewing here today. Now the Q800T may be the most cost friendly 8K TV set but it is still an expensive premium TV and packs some pretty amazing technology as you will find out.
As with all QLEDs the Q800T features the famous Quantum Dot technology for more vivid colors, comes with the new Quantum Processor 8K with its advanced AI features, uses the Ultra Viewing Angle layer in order to improve its viewing angles, comes with a highly capable Full Array with Local Dimming (FALD) system and for its sound it uses the newly developed Object Tracking Sound+. Add to these the inclusion of HDMI 2.1 with all the new and old features this brings like ALLM, FreeSync and G-Sync among others along with the newest edition of Tizen smart TV platform with all the goodies this includes and you have a TV that certainly ticks all the right boxes.
And while all these sound great in theory we are here to determine if the Q800T is really worth its price. So without further delay let's start.
Design
Let's begin with the design first and as we are talking about an 8K QLED which is the cream of the crop this year for Samsung the Q800T looks phenomenal. It is using what Samsung calls a boundless design for a more immersive experience but unfortunately it's not using the One Connect box that the Q950TS has and as a result it's thickness is slightly bigger due to it having to incorporate everything on the back side.
Now as far as overall thickness we measured the Q800T at 1.54″ (3.9 cm) and what is interesting here is that this model, unlike most LED LCDs we have seen, keeps this thickness across its whole body. Most TVs usually are thicker at the bottom where the electronics and connections are placed and have a slightly thinner and more curvy design on top. The Q800T keeps the same dimensions and we extremely like this as mounting it on a wall will not leave any ugly gaps at the top.
Another interesting fact is that this model incorporates a FALD light system and it is common for such TVs to be slightly thicker due to the backlight array they need to use. Surprisingly the Q800T keeps a very thin profile for a FALD unit which many will definitely appreciate.
As we mentioned above the boundless design of the Q800T allows for very thin borders while the bottom side has a slightly thicker frame than the other three sides but not by much. Uncommon is also the placement of the Samsung logo as instead of being at the middle as with most TVs here it is placed on the right side.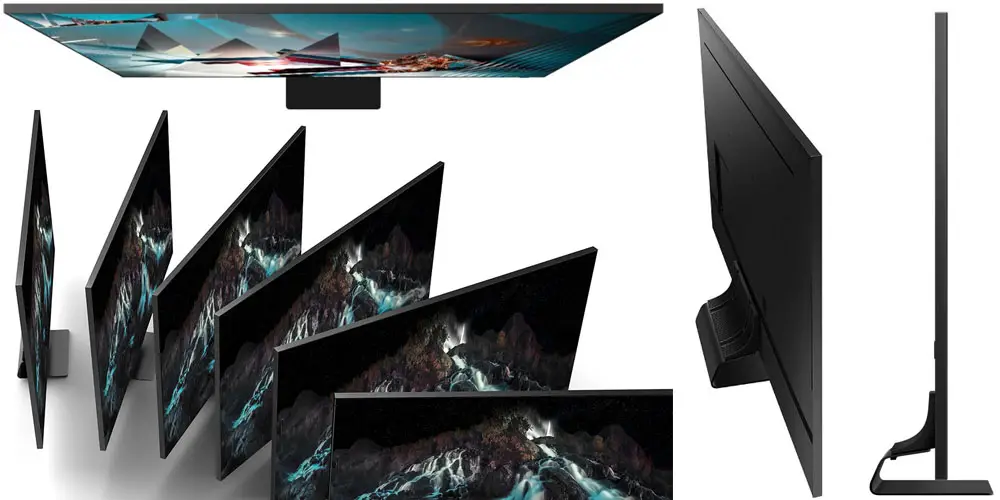 Turning the TV around we find a back face using a plastic textured cover that is nothing out of the ordinary design wise. All connections are grouped together on an inset on the left side of the panel with only the power connection being separated from the rest at the right side. Samsung has included special grooves on the lower part of the back side in order to help you with the cable management and be able to drive them through the central stand while we also get the usual VESA wall mount holes.
Now the stand looks awfully similar to the one we saw in the Samsung Q90T and it uses a central stand design which makes it looks nicer and more premium but certainly makes the TV to wobble slightly more. The stand has a really small footprint considering the size of the Q800T and it can help a lot if you have small furniture to use. The stand is made out of metal but the connecting part between the TV and the stand is plastic and has special grooves in order to help you drive the cables at the back of the stand away from plain sight.
Now when it comes to the remote Samsung has for some reason used different remotes for different regions. So while some markets get the usual gun-metal black arch back design there are some markets that the Q800T is offered with two remotes. A simpler plastic one that has many buttons and a more premium silver design One Remote. We don't know why Samsung did this but we would prefer a single release for all markets.
Now the black plastic One Remote is no different than the one we had seen in the Q90T. There are not many changes here as the One Remote still relies mostly on the TVs visual interface and uses as few buttons as possible. The only real difference is that they changed the Hulu dedicated button for Samsung TV plus this year.
As for the rest of its functions there is a build-in microphone for using with the built-in voice control platforms, it has HDMI-CEC functionality which means you can use it to control other devices that also support that and it can act as a universal remote if HDMI-CEC is not available.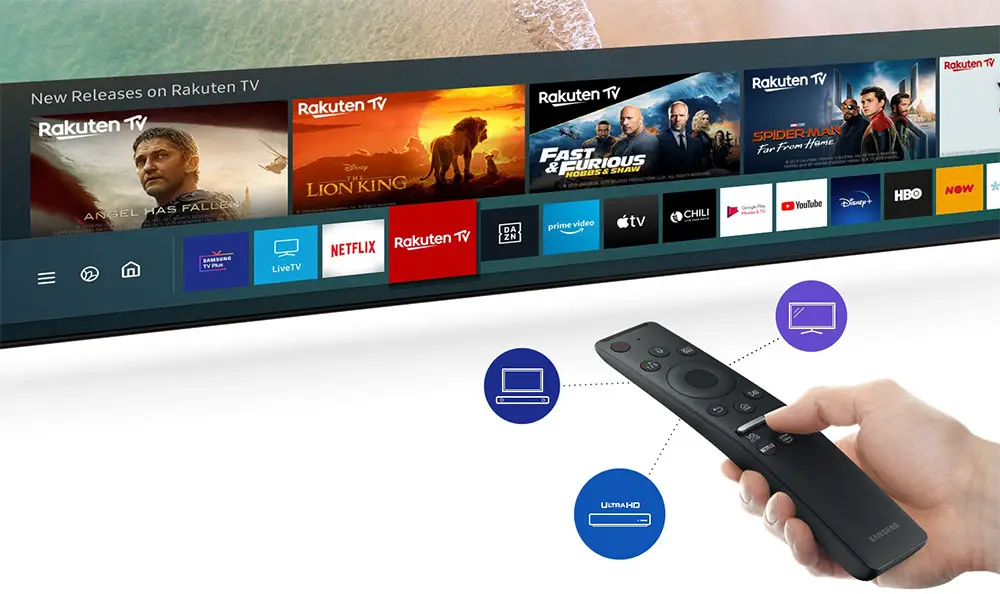 As for the other two remotes that are offered together in some regions the plastic one is a usual remote we find in most lower tier units with a plastic shell and rubber buttons and has all the functions you will ever need while the more premium silver One Remote is similar in layout to the black One Remote but uses a silver metal shell instead. All its buttons and functionality is exactly the same so no real differences other than the looks.
Overall the Q800T looks very nice and it really feels like a premium product. Samsung did an excellent job on this one.
Video Quality
Processor technology used
With the arrival of these new 8K TVs there was a need for a new processor powerful enough to take up the required processing duties. And so Samsung created the Quantum Processor 8K that has similar enhanced AI capabilities as we had seen in its 4K counterpart. The Quantum Processor 8K is particularly capable at upscaling any kind of resolution up to 8K and the end result can be described as very impressive.
Machine-learned algorithms along with a vast image database that is created for that reason help analyze each scene of your content – from color and texture data to lighting and contrast details. Even if your content's source quality is lower resolution, AI upscaling optimizes the picture to the full resolution of the Q800T. We can say that the up-scaling works very good but as always the source material quality plays a big role here. The better the quality the better the up-scaled 8K image will be and the Q800T proved to be very capable of that.
But 8K up-scaling is only one aspect of the processor's mighty power. The TV also has the Adaptive Picture feature which can change the settings of the image automatically depending on the environmental conditions. This is possible with the use of a light sensor that detects the lighting in your room and sets the image to its best settings. Think of this like the adaptive brightness that most new smartphones have but a bit more advanced as here there are more parameters being affected by the processor.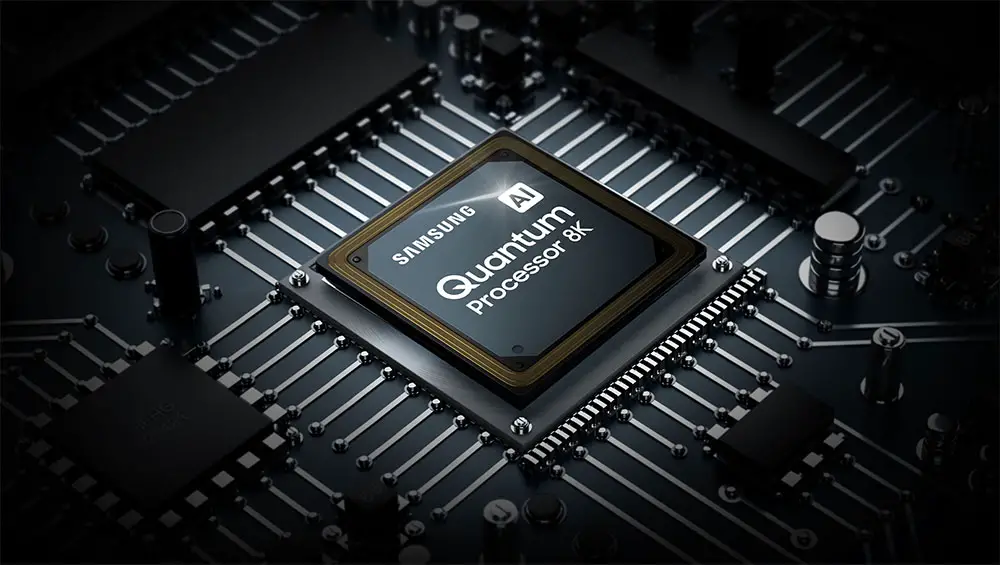 The Quantum Processor 8K may be particularly capable with its image enhancements but there are also certain audio enhancements that come with it. These include Object Tracking Sound+, Q-Symphony, Adaptive Sound+ and Active Voice Amplifier but we will talk more about these in the dedicated audio section below.
Lighting technology used
Now one aspect that in general is very confusing to many casual users is the type of backlights the LED LCD TVs are using. And while many certainly know that having a Full Array with Local Dimming (FALD) light system is generally the best you can get, not all FALD systems are the same.
For those that are not familiar with what a FALD system is, it's basically a backlight array consisted of LED lights that the TV turns on and off according to the image it has to display. This array is split in zones and the more zones a FALD system uses the better. When a TV has very few dimming zones when one of these zones turn on light escapes to the nearby pixels and create a visible halo when a very bright object appears on a completely dark background. The more zones used the less this effect becomes visible.
Another factor that determines how good a FALD system is, is how fast these zones can light up and here is where the TV's algorithms take action. The better the algorithm the better the transition. If the transition is happening very slow then you may see a ghosting effect.
Usually manufacturers tend to avoid giving direct numbers of how many zones each of their models use. For instance for the Q800T Samsung gives a Direct Full Array 24X rating for their 65″ and 75″ models while the 82″ size gets a Direct Full Array 32X rating. These numbers don't say much by themselves but the 82″ is using an amazing 480 dimming zones which is exactly the same as last year's Q950R. As for the 65″ and 75″ models these seem to be using close to 300 zones.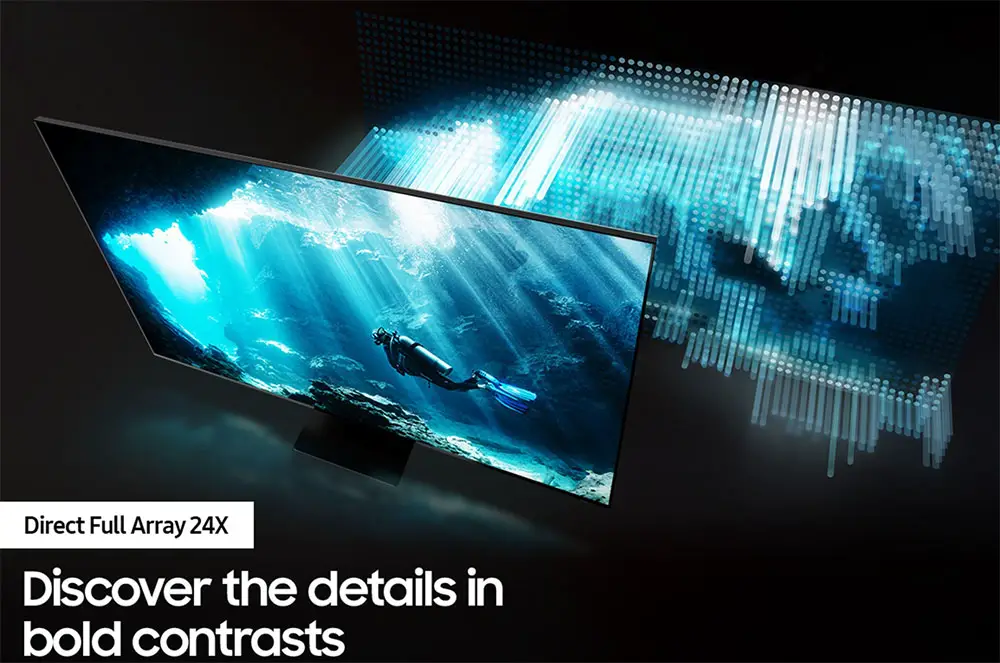 We were disappointed that Samsung had lowered the dimming zones used in their 4K QLEDs and the Q800T is one of the reasons for doing so. The FALD system in this TV is particularly capable and with so many zones available ensures that it can provide the most accurate image possible.
Brightness / Contrast
Next comes our brightness tests and as we do in most of our reviews we used the Movie mode as this is the most accurate from the available ones along with Warm 2 color temperature and max Local Dimming. With these settings in our SDR brightness test over a 10% window we got 1305 nits of brightness which is exceptional and more than any SDR content will ever need. Now on our HDR brightness test over a 10% window we got 1412 nits of brightness which is equally impressive and shows that the Q800T can achieve very similar, high levels of brightness no matter the content you are watching.
Looking at these numbers one thing that we observed was that they were very close to Samsung's 4K flagship, the Q90T. A bit lower in the SDR test and slightly higher in the HDR one but more or less equal when you look at them as a whole showing how close the Q800T is in this regard with its 4K brother.
The TV has good contrast but nothing exceptional. Having a VA panel in general helps in this regard but there is also one element that has a negative effect on it and this is the Ultra Viewing Layer. You see, this layer may help to improve the viewing angles but it does lower the overall contrast of the panel. At least with the help of the Local Dimming feature of the Q800T things improve drastically.
Very good results overall. The Q800T is an impressively bright TV and display HDR images in all of their glory. It may not be the most bright TV we have seen but being close to 1400 nits makes it very capable at any kind of HDR content.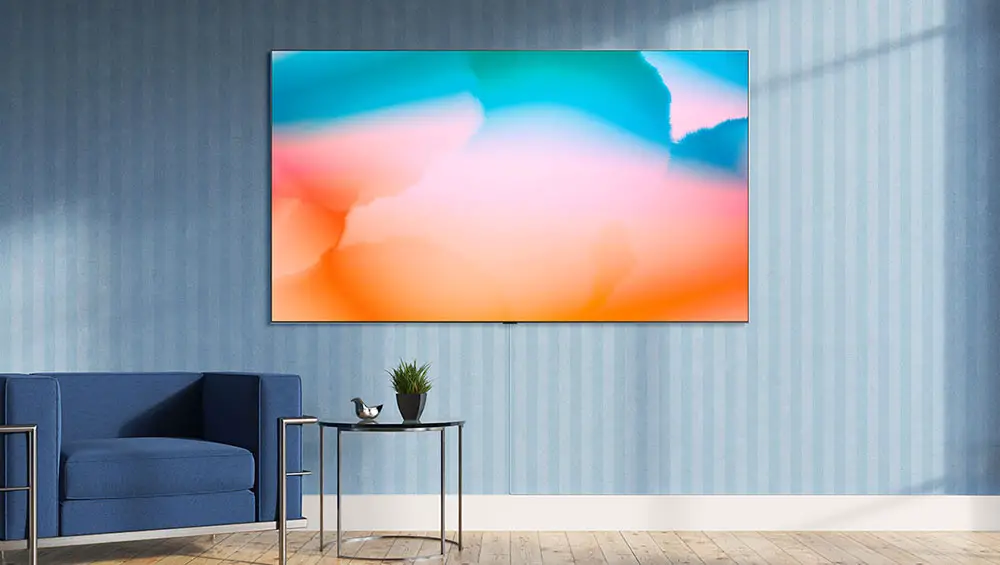 Viewing angles
Samsung is usually using VA panels for most of their TVs and while these have certain advantages over IPS ones their viewing angles suffer a lot. And this is the reason why we see a lot of the higher tier models that Samsung releases each year use what they call Ultra Viewing Angle technology in order to somewhat improve on this. What this technology does is that by using two extra layers on the panel they are able to minimize the light leakage by focusing the light on the right direction and as a result we get better images at bigger angles than before.
We have seen Samsung using this technology in many cases and the Q800T could not be any different. With Ultra Viewing Angle the Q800T manages to keep the image integrity up to around 40 degrees which is not bad at all. It may not be able to reach the extreme angles of OLED panels but it's much better than what VA panels can offer without this extra layer.
HDR support
When it comes to HDR support nothing has changed the last few years and from all indications nothing will in the next few ones. As such the Samsung Q800T is able to support the basic HDR10 which is necessary for UHD playback, HLG that is used mainly for broadcasting while we also get the newer and more advanced HDR10+ which is using dynamic metadata and is supposed to rival Dolby Vision.
No Dolby Vision support is a real shame with all Samsung models but it seems that Samsung is determined to back the HDR10+ format all the way. If it will be able to reach wide acceptance as Dolby Vision has remains to be seen but we at Home Media Entertainment certainly do hope that this pointless rivalry will end sooner than later.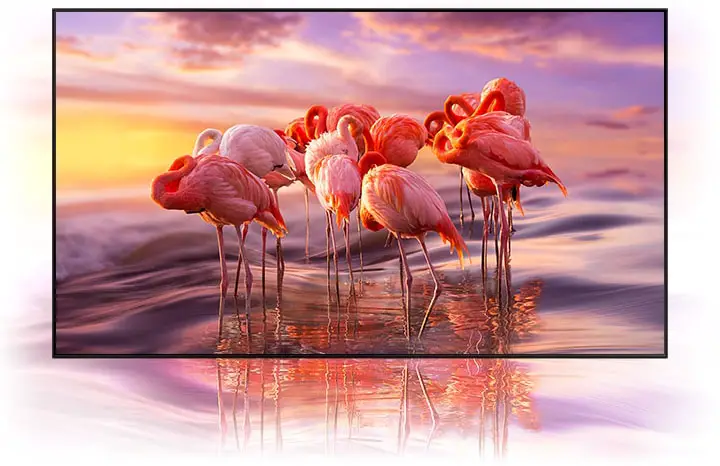 Color coverage
Being a QLED means that the Q800T is using the same Quantum Dot technology that Samsung has been using for a few good years now in all their QLED models. What this technology does is that by using a special layer on the panel that has very tiny nano-sized quantum dots, that are finely tuned particles, it can turn light into the billion plus colors you see on the screen. This way all Quantum Dot equipped TVs have colors that are mode vivid, have more depth and are more vibrant and lifelike.
But featuring the same technology does not guarantee the same performance in terms on how much color coverage each of these QLEDs have. As for the Q800T specifically in the DCI-P3 color space we were able to measure a coverage of 90% which is really good while on the wider REC.2020 color space this number goes as high as 69% which is equally impressive.
These may not be the best numbers we have seen overall but they are very close to what we had measured in the Q90T. Having Wide Color Gamut ensures that when displaying HDR content the Q800T can show images the way they were supposed to be shown. We did try Pacific Rim: Uprising which is a rather colorful film and you could almost feel the color pop out of the screen and give you an illusion of depth that only the most premium models are capable of.
Motion performance
Moving on to our motion performance tests the Q800T seems to be using very similar to the Q90T and Q80T setups with a 120Hz panel and a backlight frequency of 960Hz. With such high backlight frequency flickering is not visible but keep in mind that the TV is not using this high frequency across all of its modes and in many cases this may drop to even 120Hz depending on the mode and settings you will be using.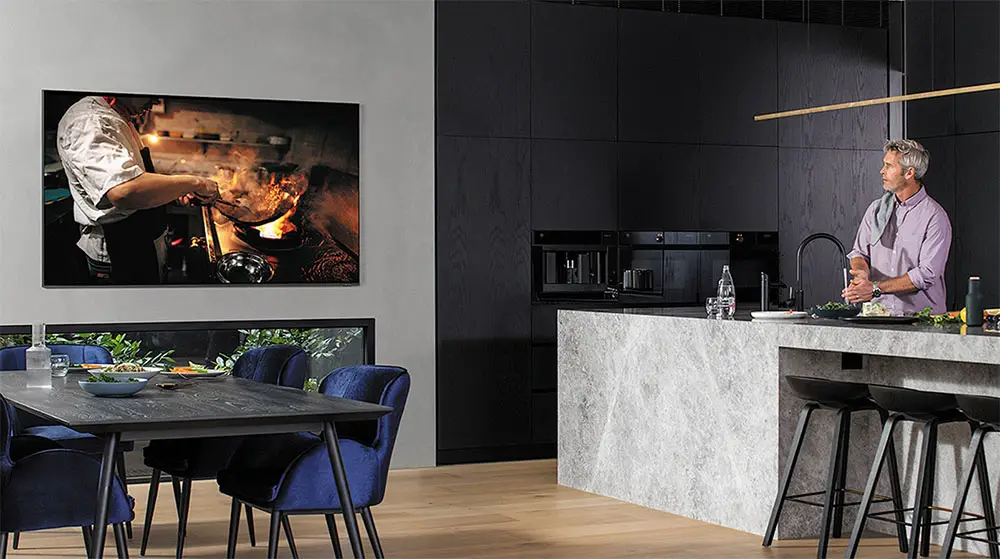 Motion interpolation was very good on the Q800T and it performed very close to the Q90T. This means that the TV was able to remove blur and judder without adding undesired artifacts from the interpolation process. This feature can be enabled in the Picture Clarity setting in the menu and by adjusting the two available sliders for blur and judder you can find the sweet spot for you. Keep in mind that as always high values on these two will make the "Soap Opera Effect" to appear making motion look like it was shot on video but keeping a low value can really improve the overall outcome.
Black Frame Insertion (BFI) is also available which is another frame interpolation technique where a black frame is inserted in between two actual images. With this trick motion can look much better and smoother but this has a couple of side effects also. Due to the black frames that are being inserted the overall brightness takes a serious hit while flickering may appear due to the lower frequency that is being used.
Lastly we shouldn't forget to mention that the Q800T supports FreeSync VRR along with Nvidia's G-Sync. If your other connected devices also support VRR then you can greatly benefit from it. Closing we can say that the Q800T had a very solid performance in the motion department and we cannot say that we were particularly disappointed by anything we saw. Great work by Samsung here also.
Input lag
If there was one aspect that monitors always had the upper hand compared to TVs when it came to gaming that was on the extremely low input lags they could offer. But this is not the case anymore as the last few years TV manufacturers have really managed to bring these numbers way down making most of their offerings a perfect fit for any gamer. Now in the case of the Q800T with the Game mode enabled we were able to measure an input lag that averaged at 10.5ms which was just about what we were expecting. Both 1080p and 4K resolutions returned similar measurements so this number seemed to be pretty stable across the board.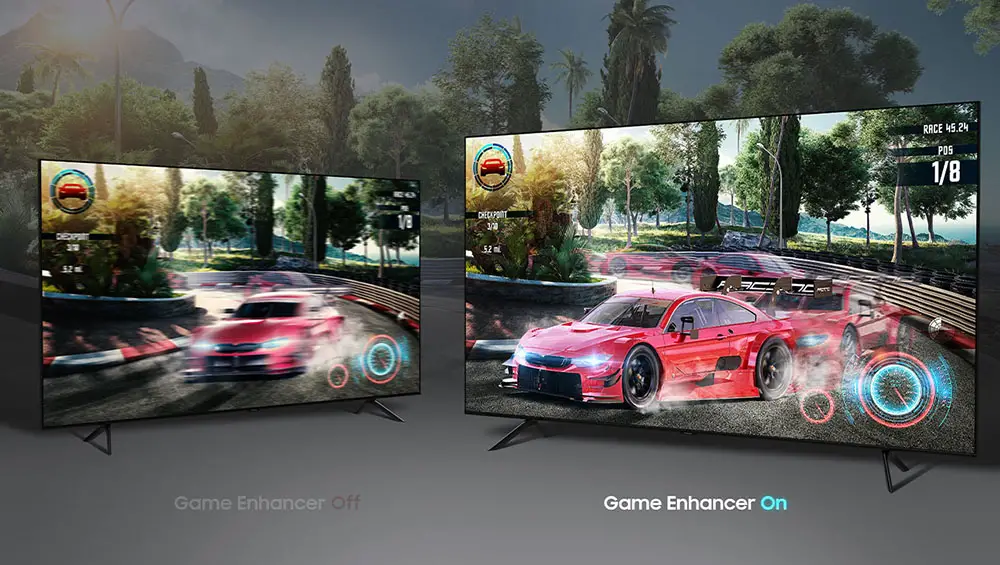 Outside Game mode the input lag would rise to 65ms which is not as bad as we would expect it to be and it can still be playable if you are not a particularly demanding gamer. We shouldn't forget to mention that Auto Low Latency Mode (ALLM) is also supported which can benefit the latest gaming consoles.
As always we connected our PS4 and popped our F1 2019 disc in for a few laps around Monaco. All our actions felt like registering instantly and there was no visible lag or delay to our commands. Everything was smooth, fast and accurate making the experience so much more pleasant. If you want to use this TV also for gaming then there is nothing to fear as the Q800T will offer you a really amazing time.
Image quality impressions
In general we would say that the Q800T fared very good and the numbers indicated that the Q800T is very close in performance to the Q90T. In fact these two are so close that we could describe the Q800T as a beefed up Q90T with some added 8K sauce.
Using a particularly capable FALD light system allowed the Q800T to perform admirably in our brightness tests while its color reproduction were up to high standards. Viewing angles were good enough, up-scaling was great, input lag was as low as it can ever be and motion performance was very solid.
One more thing to mention here is that Samsung has added through a firmware update the new Filmmaker mode that we had seen in some LG TVs lately and with this you can watch content the way filmmakers intended. This mode  automatically disables post processing such as motion smoothing and respects the frame rate and colors among other image settings. Hopefully we will see more of this mode in the future and having it in the Q800T even with an update brings the TV up to par with the competition.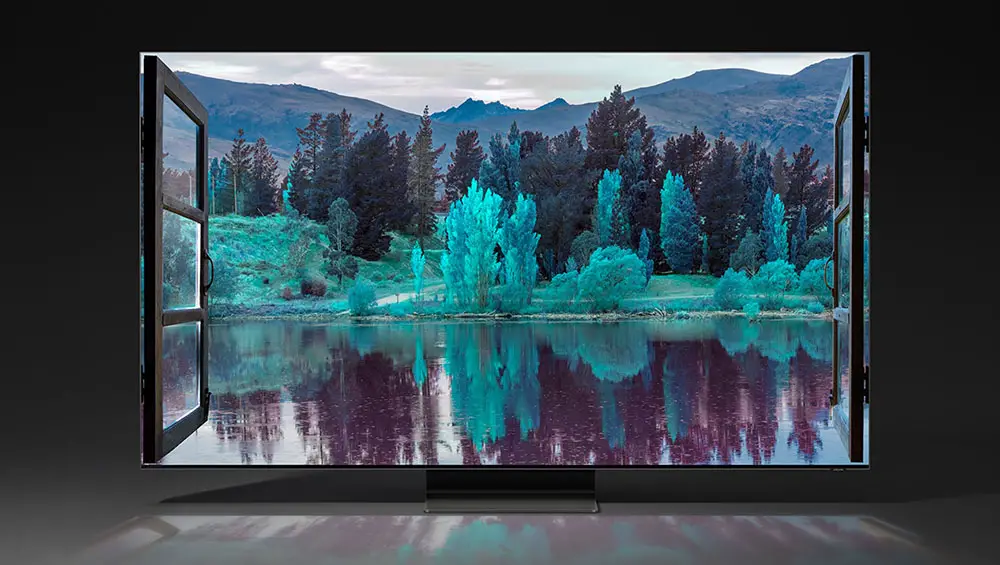 Audio Quality
If there is one area that manufacturers are still struggling with after so many years is in the audio department. These ultra slim TVs simply don't have the space required to equip them with audio systems capable at offer more immersion and better sound. We have seen most TVs lately incorporating various techniques and features but most of them are mostly software based and the end result is not much better than we could hope for. For this year Samsung has tried something different and they called it Object Tracking Sound+.
A more simplified version of this system we had seen in the Q90T and Q80T but here we get the full system which includes speakers that are placed at the top as well as at the sides and bottom of the rear side and with this speakers array the TV can output sounds that track the movements of the on-screen action and thus make the whole experience far more believable. It's a neat feature and although the included speakers are still limited by the TVs thickness the effect can be very satisfying in certain situations.
The Q800T is using a 4.2.2 channels audio system with a power rating of 70 watts in total which is more than enough for casual viewing. The tiny speakers that are placed both at the top and the sides and look backwards provide very clear dialogue and good separation of sound while panning effects do feel more precise and this extends in both axis giving not only width but also height to the performance. The Object Tracking Sound+ system left us with very good impressions and is certainly a cut above the rest standard audio systems on offer but if you want more immersion as well as surround activity then this cannot be found here.
The TV supports Dolby Audio but there is no native Dolby Atmos. And to be honest even with a sound system as advanced as the Object Tracking Sound+ is Dolby Atmos wouldn't be able to be reproduced faithfully with the hardware available so it's not a big loss. At least you can pass-through Dolby Atmos through the included eARC to some Dolby Atmos soundbar or dedicated sound system. DTS support is completely absent as it is not only missing from native support but it cannot also be passed-through from any of the available ports which is rather disappointing.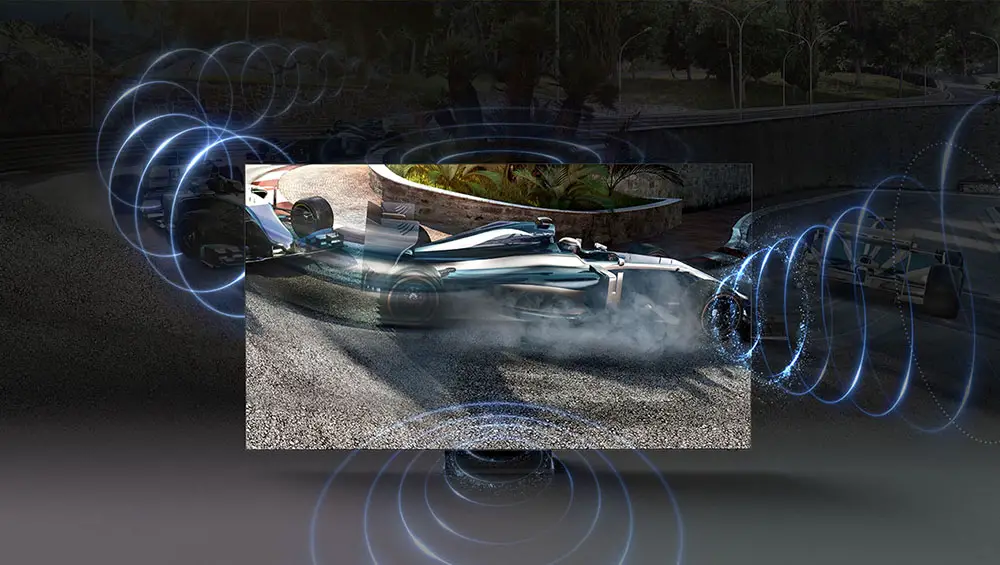 Earlier we mentioned a few sound features that the TV comes with that are more advanced and are included due to the powerful Quantum Processor 8K. The first one worth mentioning is called Adaptive Sound+ with which the TV analyzes the content being played and for each scene can identify and render the best sound type. This whole process starts by separating and classifying audio input signals. Key characteristics are then pulled out and rendered to best suit the scene.
Another feature is Active Voice Amplifier (AVA). With the help of spatial analysis the TV can adapt to the different acoustics of each room. This is done by sending inaudible signals that analyze your room and can optimize the sound accordingly. By using AVA the TV can detect environmental noise and enhance the voice output of the content you watch for a more pleasant viewing experience.
Lastly we get Q-Symphony which is a feature that you can use to combine the TVs audio system with an appropriate soundbar that also supports that. This way the audio will be synced and output from both devices for an even more immersive audio experience. Samsung has released a whole lineup of soundbars that support this feature in case you are thinking of getting one.
The Object Tracking Sound+ system is an ingenious design and is certainly an improvement over any simple audio system we have seen the last few years. It may not be a revolution in TV sound design but it does offer better and more fulfilling audio. But the point is, will this remain an absolutely premium feature or at some point we will be able to see this in at least medium tier TVs also? But as it is the Q800T has one of the best sound implementations we have seen the last few years.
Ports and Connectivity
When it comes to the available ports and connectivity support it seems that the Q800T is using exactly the same setup as the Q90T. As we mentioned earlier in our review there is no One Connect Box so all available ports are placed at the back of the TV and all of them look sideways which make connections slightly easier in case you plan to wall mount the thing.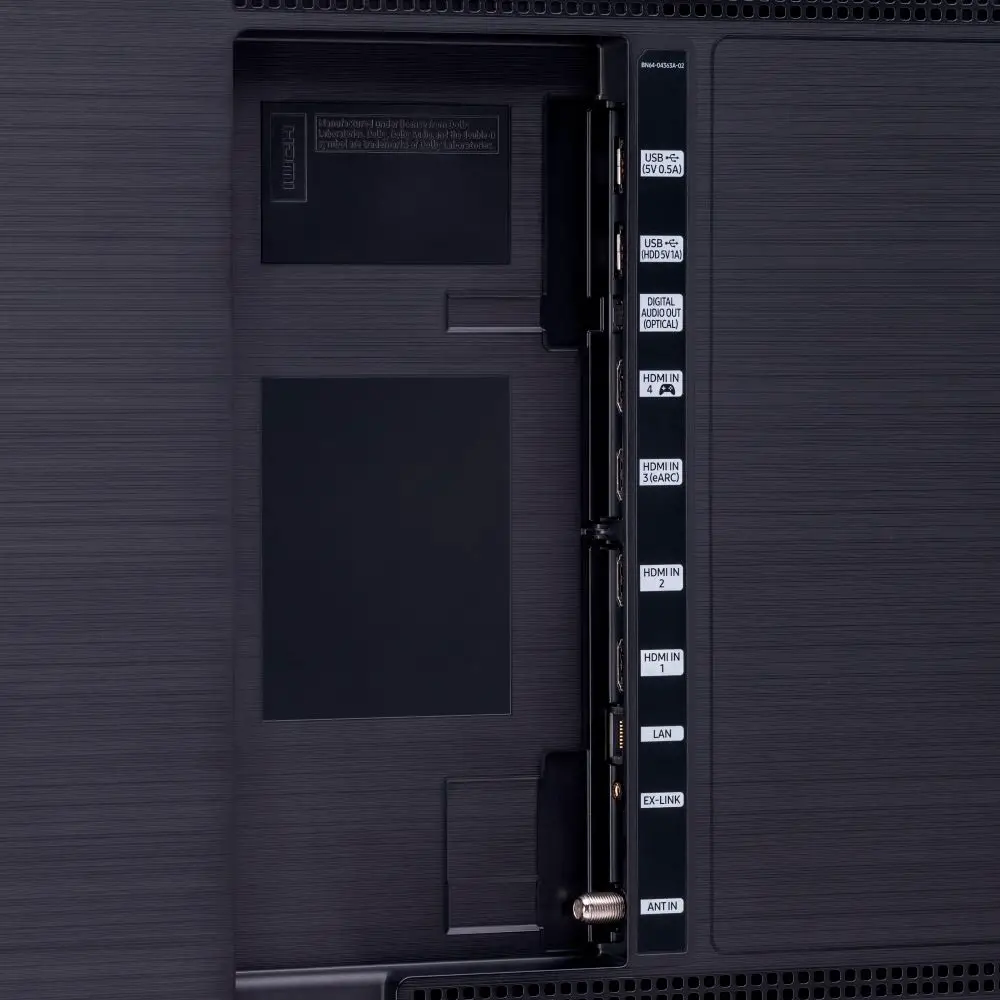 Going from top to bottom the TV features two USB ports for connecting external storage or other USB based or streaming devices, a digital audio optical output for connecting to devices that have no HDMI ports, four HDMI inputs, an Ethernet port for connecting to the network, an Ex-Link mini jack and the usual antenna/cable connector.
A pretty standard layout to be honest and one we have seen in many of Samsung TVs. Now a couple of things we need to mention is that the USB ports are the older 2.0 and for such a premium 8K TV with such a price this is completely unacceptable. USB 2.0 is archaic and USB 3.0 should be a standard by now but we fail to see the reasoning behind still not using them. At least we do get an HDMI 2.1 input at position 4 which can greatly help the Q800T be more future proof when more equipment will start using the newer ports. There is also eARC functionality added in HDMI 3 which allows for high quality object-based audio like Dolby Atmos to be passed through to another device with eARC support like a soundbar for example.
Lastly we should mention the TVs wireless capabilities as it comes with built-in WiFi (802.11ac) along with Bluetooth 4.2. We would like to see Samsung use Bluetooth 5.0 but no luck this year. Well, maybe the next one…
OS, Apps and Features
The Q800T comes with 2020 version of Samsung's Tizen smart TV platform and as it is fully featured this part of our review will be pretty similar to what we observed in our Q90T review as both of them are similar in both features and functionality.
Not many changes in the 2020 version and if you have used any of the Tizens in the last few years then you more or less know what you will find here. Some visual changes include the addition of a dark UI which looks entirely different from the light white variations we were seeing until recently. But it's only a visual change and does not affect it's functionality at all.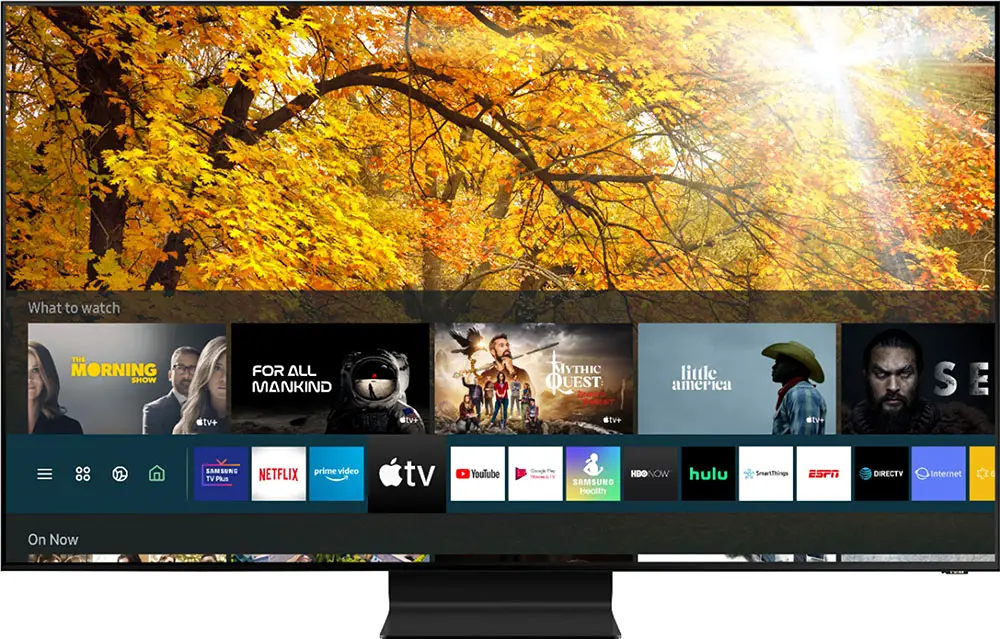 Layout is also the same as we once again find the launcher bar sitting at the bottom of the screen while a second row may appear on top of that in certain applications that give you suggestions and quick links to various content. Customization was always a strong feature in Tizen as there are so many apps and features that it would be hard to navigate through all of them without being able to reorganize them at will.
Tizen in known for its vast support of 3rd party apps and this trend continues into 2020. The TV has basically all the apps you will be asking for including all the big names like Netflix, Apple TV, Disney Plus, Youtube, Amazon, Hulu, Rakuten, Google Play Movies and HBO being just a few of the big names available. It has become the standard nowadays many of the streaming apps available to support both 4K and HDR like Netflix and Amazon but obviously none of the have any 8K content yet except from some 8K videos found in youtube. Navigation through all these services was fast, accurate and completely smooth with no noticeable lag.
Once again we find the "Universal Guide" which is a neat feature that Samsung created in order to help you with the vast amount of content available these days. Universal Guide analyzes your viewing patterns and creates a 'For You' page that includes content you may be interested in seeing according to your viewing habits. So in case you are watching a specific series all the time this page can propose you to see the next available episode which can be a rather practical feature.
Now this would not be a smart TV platform if there was no smart home integration to it. And so Tizen comes with SmartThings support and with it you can control all your smart home devices through your TV. This includes alarms, smart lights, electronic locks, thermostats and any other smart device that also comes with SmartThings integration.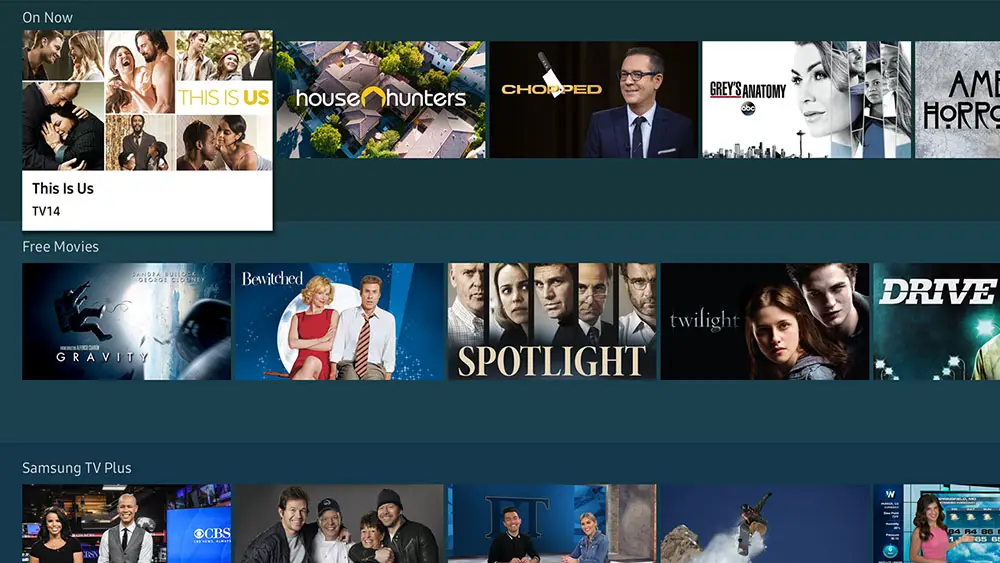 And if smart integration is one of the major pillars of a smart platform voice support is certainly another. And Tizen comes with the full package as we not only get Samsung Bixby but also the two most widely used platforms that are no other than Amazon Alexa and Google Assistant. All of them can be controlled by the built-in microphone that is placed in the One Remote and can issue your commands that way. Also we should not forget to mention that there is Airplay support for those that use Apple devices.
Screen mirroring is not a new thing, actually it is a feature in many smart TVs for the last few years but Samsung took this a step further, or actually two we could say. The Q800T also includes what is called Multi-View which is basically a more advanced mobile screen mirroring. With it you can have two screens on the TV showing both TV content and your mobile device screen. This may not be an extremely practical feature but hey, power to the people!
But Samsung tried to make screen mirroring even easier than before and so the TV also supports Mobile Tap Mirroring. This means that if your mobile device also supports this feature by tapping the device on the TV will enable screen mirroring automatically. Not an Earth shuttering feature but it can add some practicality.
Last feature we need to mention is Ambient Mode+ which is a slightly enhanced version of the Ambient Mode we get in many Samsung models for the last few years. With the plus version now except from the ability to display various images on the TV when not in use it can also project various information including weather updates, news headlines, photos and music.
And that's all as far as the Tizen platform is concerned. There are no major changes over the previous year but as Tizen was already mature enough nothing major was needed. Small improvements and additions to keep things fresh and interested are always welcome and Tizen remains one of our favorite smart TV platforms to date.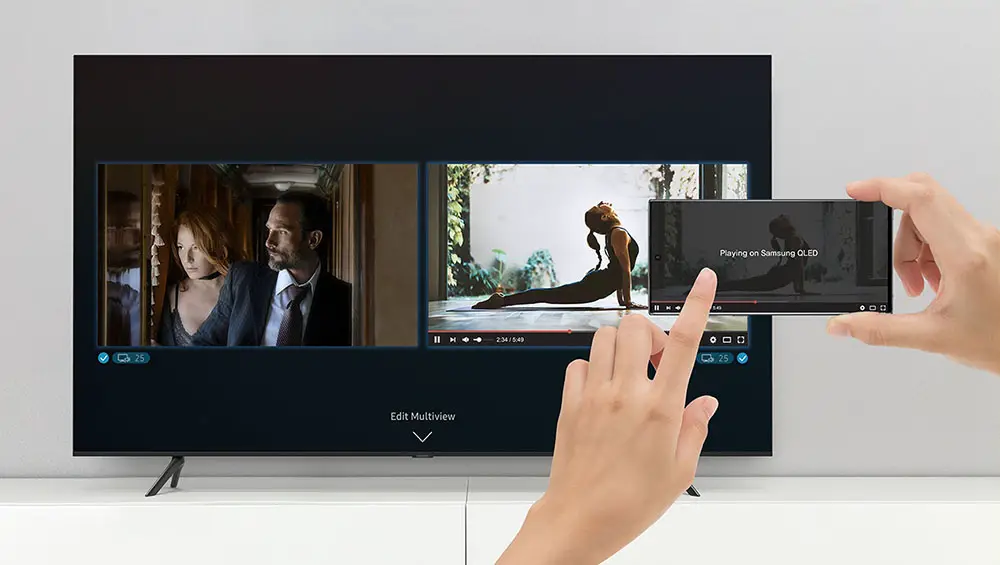 Final Thoughts
The Q800T certainly finds itself in a difficult position. This is an 8K TV in an era where 8K content is still missing in action. There is no official 8K format yet and no 8K streaming services to be found as the requirements to stream in 8K resolution are simply too much for todays codecs and internet speeds. But this doesn't mean that the Q800T is not good in todays world because it's not all about 8K.
First of all the Q800T has a very nice design which looks and feels premium as it should be. It comes with certain technologies that puts it at the top of its game like using a FALD light system, having Quantum Dot and Ultra Viewing Angle technologies for better colors and higher viewing angles, comes with Quantum Processor 8K which is amazing at upscaling content and also brings with it certain advanced AI capabilities while the inclusion of HDMI 2.1 and the measured low input lag makes it an ideal TV for gaming. Audio has been improved with the use of the new Object Tracking Sound+ system while Tizen remains an amazing platform no matter how many years will go by.
On the downsides we don't like that Samsung is not including the One Connect Box with anything else other than only their top flagship as it would have been such a practical feature to have while its FALD system uses less dimming zones in the smaller 65″ and 75″ which means less light control and precision compared to the 82″ variant. Viewing angles are good but still cannot reach OLED levels while the included technology also has a negative effect on the contrast. Lastly Samsung TVs and Dolby Vision are two words that avoid each other and this seems will stay this way for some time still.
Closing what we will say is this. Basically the Q800T is a Q90T with added 8K capabilities, a better FALD system and a slightly better audio system. So in case you are looking for a new TV but in general you tend to change models every few years then the Q90T may be the better choice. But if you are the type that likes to keep a TV for more years then the Q800T can provide you with everything the Q90T has and add some 8K sauce for when 8K content will become widely available. This way you will not have to drool over the new 8K content when we will start seeing it become the standard. And for this exact reason the Samsung Q800T is highly recommended.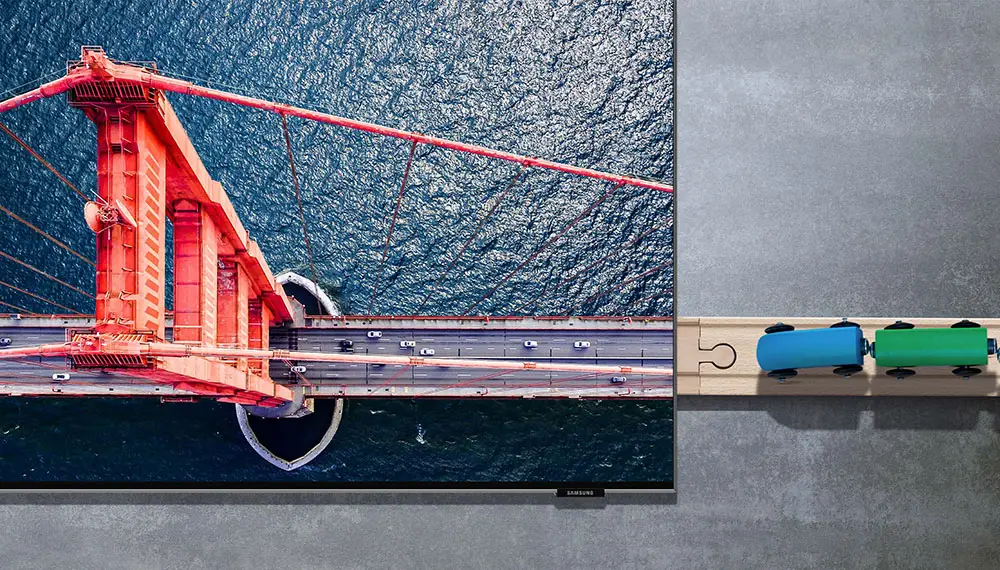 For more reviews you can check our dedicated 8K LED LCD TV reviews list or even look at our Product Reviews Table where you can find the brand and specific product you are looking for.
Also don't lose the chance to subscribe to our Newsletter and gain exclusive privileges.
---
---
Cheapest Places to Buy :
---
Samsung Q800T Specifications