Samsung Q90T
Ports & Connectivity
9.2/10
OS, Apps and Features
9.5/10
Pros
Excellent image quality
Great brightness in both SDR and HDR
Solid motion performance
Plenty of features
Cons
Less dimming zones available in it's FALD system
No One Connect Box
Viewing angles still not as good as OLED
No Dolby Vision
---
Cheapest Places to Buy :
---
For this week we continue our venture into Samsung's new TV offerings for 2020 as we have done lately with their latest QLED models. 2020 has become a confusing year as the arrival of more 8K TVs made Samsung to scale the performance of their TVs accordingly making it harder to compare the new models with their last year counterparts. We saw this last week as we had reviewed the Samsung Q80T which was more close to performance with 2019 Samsung Q70R. And the same can also be said about the Q70T. So in today's Samsung Q90T review we will be looking at their top 4K flagship being offered in the US market and if it it deserves to bear such a heavy title.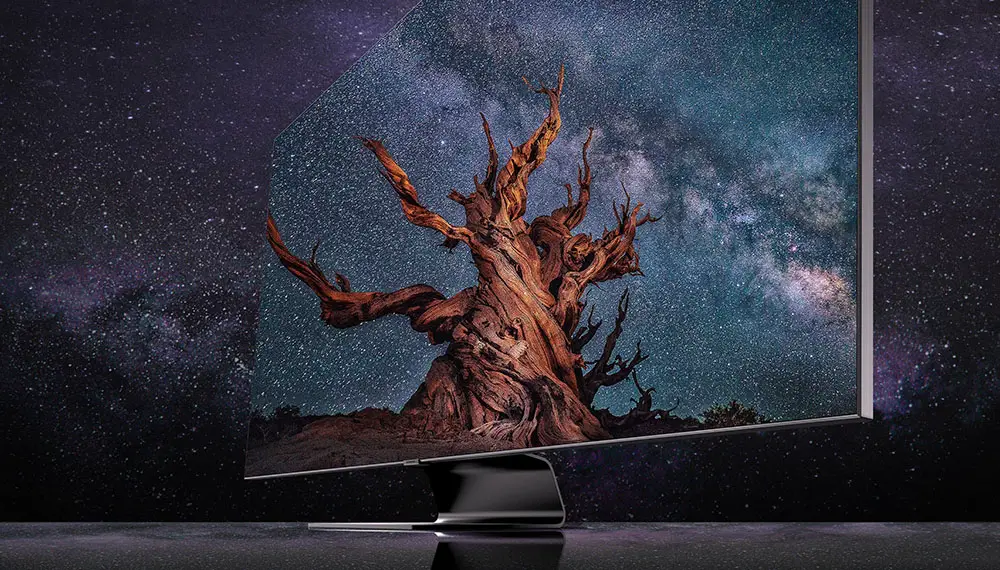 And when we said this is the top 4K flagship in the US we said it because there is also the European only Q95T which is exactly the same as the Q90T but also features Samsung's One Connect Box and has slightly more dimming zones with their number reaching 120. Now why this model is not offered in the US market while the Q90T is being sold in both the US and the UK/European markets is beyond our comprehension. As for Q90T being a flagship means that it comes with all the bells and whistles you would expect from such a high profile TV.
Featuring Quantum Dot technology for more vivid colors, the Quantum Processor 4K with AI enhancements for both image and audio, featuring the Ultra Viewing Angle layer for better viewing angles, a highly efficient Full Array with Local Dimming (FALD) light system for better and more accurate lighting and the newly developed Object Tracking Sound system for more accurate sound the Q90T seems to have all new technologies in Samsung's arsenal. If you add to all the above the addition of HDMI 2.1 and the amazing Tizen smart TV platform with all it's smart functionality and streaming options you get a TV that will certainly last you for many good years to come.
But with such a TV the single most important aspect is it's image quality and performance and we are here to determine if the Q90T can stand up to the occasion. So without further delay let's get started.
Design
Starting with the design the first thing we would like to mention is that in 2020 there is not a single 4K QLED TV in the US market that features Samsung's One Connect Box. We don't know the reasoning behind this move but in our books this is a huge step back for Samsung's TV design. Instead of featuring it in more and more models it is in our impression that they will either phase it out completely or keep it as an extremely premium feature for their top 8K flagship only. And in an even more strange move Samsung is offering the Q95T in Europe only which is basically the same as the Q90T is the US but with the One Connect Box included. Very questionable decisions by Samsung in our opinion.
Having taken this out of the way the Q90T is a really nice TV featuring a great boundless design in all four sides which makes the image even more pronounced. The overall look is not very different from last year's Q90R and the two share more common design elements that you think. Overall thickness is great for a FALD unit and is almost the same as the Q90R measuring just 1.54″ (3.9 cm) at it's thickest point making it look nice even when wall mounted.
The entire back face is covered by a plastic panel that in true Samsung fashion has a brushed texture look on it. All ports are grouped together in an inset that is placed at the left side and all look sideways for easier access if you have it on a wall while on the lower part there are special grooves in order to place your cables and drive them through the central stand. The power connector is placed on the right side while the only other thing in the back is the holes for a VESA wall mount.
As for the stand, the one that comes with the Q90T looks awfully similar to the one we had seen in the Q90R with only slightly different lines. Having a central stand does help with placing the TV on smaller furniture but it can make the TV wobble slightly more but not enough to be in danger of falling. It is made entirely out of metal and only the connecting part between the TV and the stand is made out of plastic and has special grooves to keep all your cables grouped together.
When it comes to the included remote it seems that at least as far as the 4K QLEDs in 2020 we get the same model on all of them. As such the One Remote included with the Q90T is the same standard gun-metal black arch back design. As we had said in our other reviews the only difference this one has over last year is that Samsung changed the Hulu dedicated button and used Samsung TV plus instead.
No other changes as we get the same built-in microphone that you can use in order to issue voice commands, it has the same HDMI-CEC functionality as it can act as a universal remote for other devices while it can also be used even if there is no support for HDMI-CEC and in general the button's layout is completely the same so no surprises here. Samsung's approach to their remotes the last few years is closely connected to the usability of their Tizen platform and we could not be more happy with how these two have improved over the years.

The Q90T is a fine premium TV  but to be honest we could not stop thinking of one single thing. No One Connect Box. Now for some this may not be a big deal but in all honesty this little magic box offers amazing practicality and we simply disagree with Samsung's decision to keep it to only a few of their models.
Video Quality
Processor technology used
The Q90T features the same silicone as in the Q80T and Q70T so this part is pretty much the same across all 4K QLEDs with the exception being the Q60T which uses a lighter version of this chip with slightly more limited capabilities. As such the Q90T has AI enhanced capabilities for both it's image and sound. In the image department there is a highly advanced AI upscaling engine that combines complex algorithms along with a huge image database in order to classify aspects like textures and edges, and to optimally upscale each specific scene.
For testing this we tried content with different resolutions in order to see how the TV can perform in this regard and to be honest no matter what we threw at it from extremely low quality SD content all the way up to 720p and 1080p Full HD video, everything upscaled nicely and with no visible artifacts from the conversion process. The Quantum Processor 4K is an incredibly capable piece of silicon for this purpose.
Continuing on the image enhancements we also get Adaptive Picture which is a function that can make the TV analyze it's environmental light conditions and change the image settings accordingly for the best possible outcome without the need for you to do anything.
As for the sound the Quantum Processor 4K offers Adaptive Sound and Spatial Analysis along with Active Voice Amplifier (AVA) which can improve the sound outcome in all kinds of ambient sound conditions. We will talk more on these technologies in the appropriate section shortly.
Lighting technology used
With the reduction in specs across the whole 4K QLED lineup there are fewer models this year using a Full Array with Local Dimming system (FALD) than we saw last year. And to add more insult to the injury while the Q80T and Q90T not only are the two single models that are using FALD systems but there has also been a reduction on the number of dimming zones in each one meaning less accurate light control.
For those that are not familiar with what a FALD system is, it's basically a backlight array consisted of LED lights that the TV turns on and off according to the image it has to display. This array is split in zones and the more zones a FALD system uses the better. When a TV has very few dimming zones when one of these zones turn on light escapes to the nearby pixels and create a visible halo when a very bright object appears on a completely dark background. The more zones used the less this effect becomes visible.
The second factor that determines how good a FALD system is, is how fast these zones can light up and here is where the TV's algorithms take action. The better the algorithm the better the transition. If the transition is happening very slow then you may see a ghosting effect.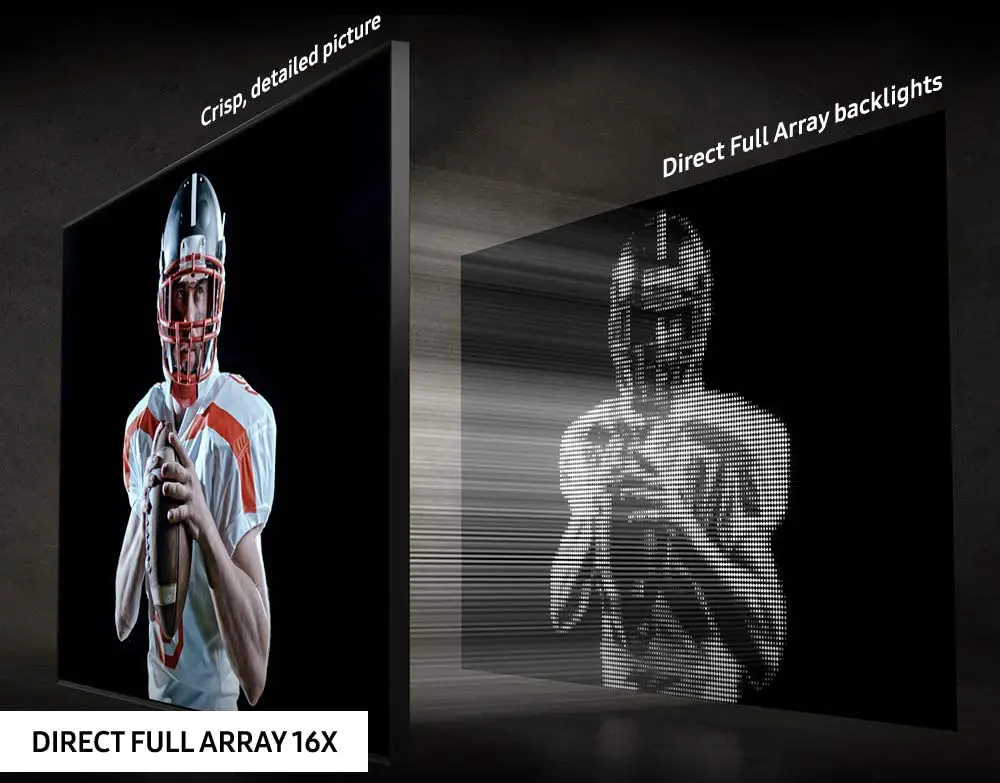 For the Q90T specifically we measured 96 dimming zones which is a huge reduction from the 480 zones in the Q90R and is in line with the 2019 Q80R that featured the same number. Now you would think that such a drastic reduction in the zones number would also bring a drastic reduction in the quality of the image. But to be completely honest the difference is not so big as you may think. Yes, light control seems to be slightly less accurate but it seems that Samsung has really improved their algorithms and in doing so the downgrade is less visible than what we initially thought it would be.
Also as we always mention a small minus of having a FALD system is that it slightly increases the thickness of the TV but the benefits of having such a system compared to the Dual LED system that the Q70T and Q60T use far outweigh it's drawbacks.
Closing this part we are a little disappointed to see Samsung lowering so much the specs of their 4K QLED flagship. Performance is reduced slightly in this regard with less accurate light control but the better algorithms that are used slightly help to make the difference smaller than you would expect.
Brightness / Contrast
Moving on to our brightness tests we always take our measurements using the Movie mode and setting brightness and Local Dimming to their max values. In our SDR brightness test over a 10% white window we got 1368 nits which is excellent really and more than enough for any kind of SDR material. On our HDR brightness test over a 10% white window we got 1375 nits of brightness which is also great and can really do justice to HDR by rendering some pretty impressive highlights.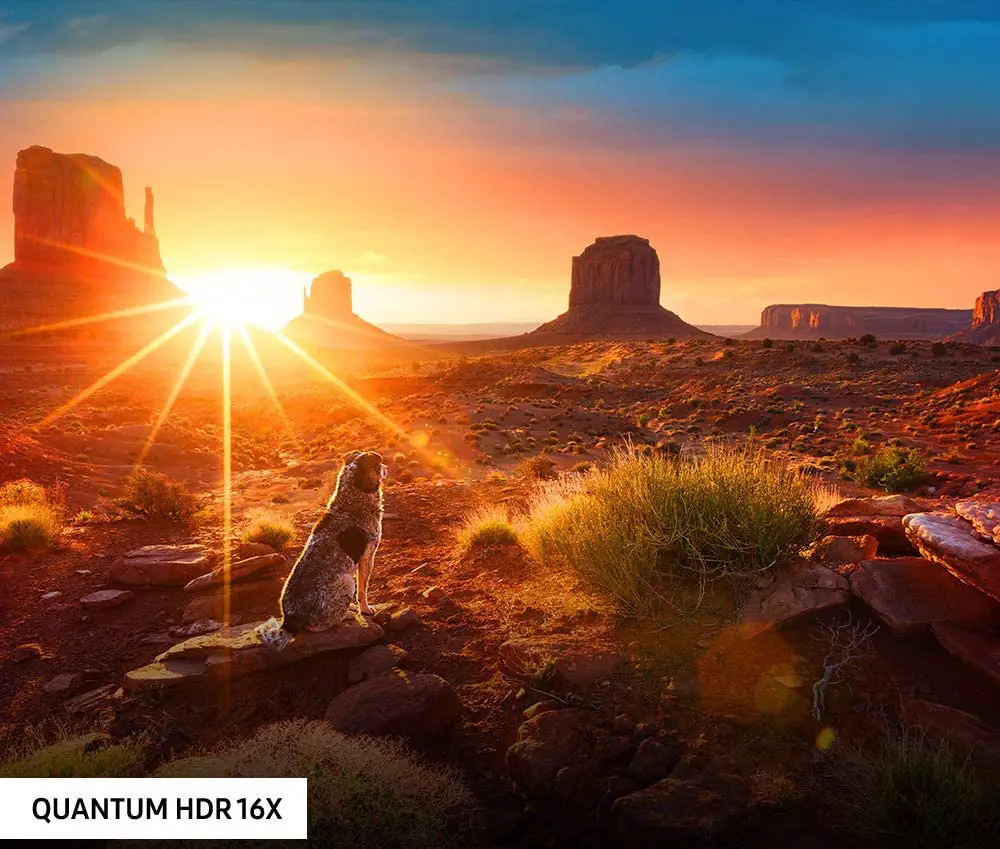 Now what we should mention here is that with the lowering of performance among the complete 4K QLED lineup in order to incorporate the new 8K TVs we were expecting the Q90T to have similar performance to last year's Q80R. But at least in the brightness testing the Q90T came very close to the Q90R and even fared better than it in the SDR testing which was a bit of surprising to be honest.
When it comes to contrast the Q90T showed very good results. The inclusion of the Ultra Viewing Angle technology does have a slight negative impact on this but overall we could not be more than happy from the TV's performance in this regard. Also the TV is using a very capable local dimming system which can improve the contrast even further. With the Q90T having a FLAD system but with less dimming zones we were expecting to get worse results but it seems Samsung improved their algorithms even with the zones lower count which is impressive to say the least.
Overall we could not be more than happy in this test as the Q90T came extremely close to last year's Q90R while also surpassing it in the SDR brightness test. Having a very capable FALD system, even with the lower than usual dimming zones count, makes a big different in the overall image quality.
Viewing angles
With regard to viewing angles things are pretty much the same we saw in out Q80T review. The Q90T is equipped with a VA panel which in general doesn't mean good things when it comes to viewing angles. In order to combat this Samsung has used what they call Ultra Viewing Angle which is a technology that minimizes the light leakage by focusing the light on the right direction and as a result we can get better image results at far greater angles than without it.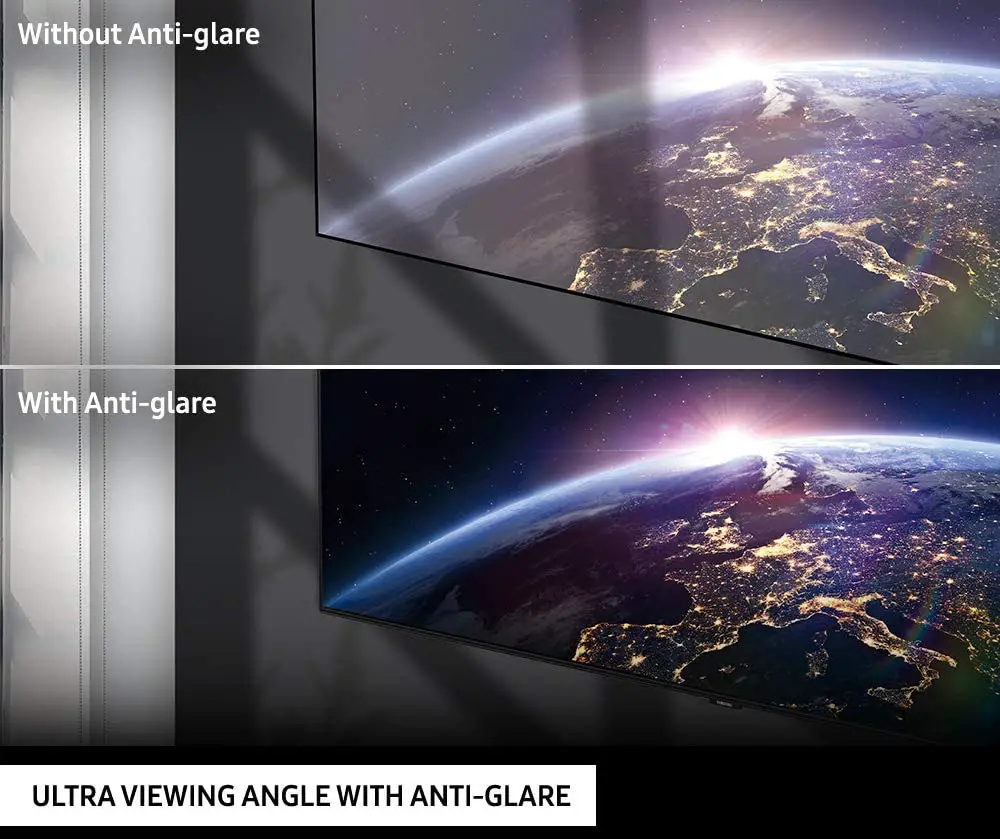 In the case of the Q90T we would say that this extra layer helps a lot in order to bring the viewing levels up to average levels although in no way it can compete with what OLEDs can offer. As such we would say that up to about 40 degrees you get very respectable results but anything more and the image quality degrades rapidly.
HDR support
HDR support is another area where Samsung has included the same across their whole TV series. As such we get the most basic HDR10 that is required for 4K UHD playback, there is HLG that is used mainly for broadcasting along with the newer HDR10+ which is the most advanced HDR protocol that uses dynamic metadata in order to provide the best image quality on a frame by frame basis and is the main rival of Dolby Vision.
Something we have said in all our previous reviews is that with Dolby Vision having such a strong foothold at the moment is really hurting Samsung TVs as many will certainly go for a models that can support that. But with Samsung being a huge player in this field it remains to be seen if they will stay firmly behind HDR10+ or we will see an end in this HDR war. But for now or the foreseeable future don't expect to get Dolby Vision in any Samsung TV.
Color coverage
As with all the QLED models the Q90T is using what is known as Quantum Dot technology which basically is a special layer on the panel that has nano-sized Quantum Dots, that are finely tuned particles, which can turn light into the billion plus colors you see on the screen. This way you can enjoy colors that have more depth, are more vivid and lifelike.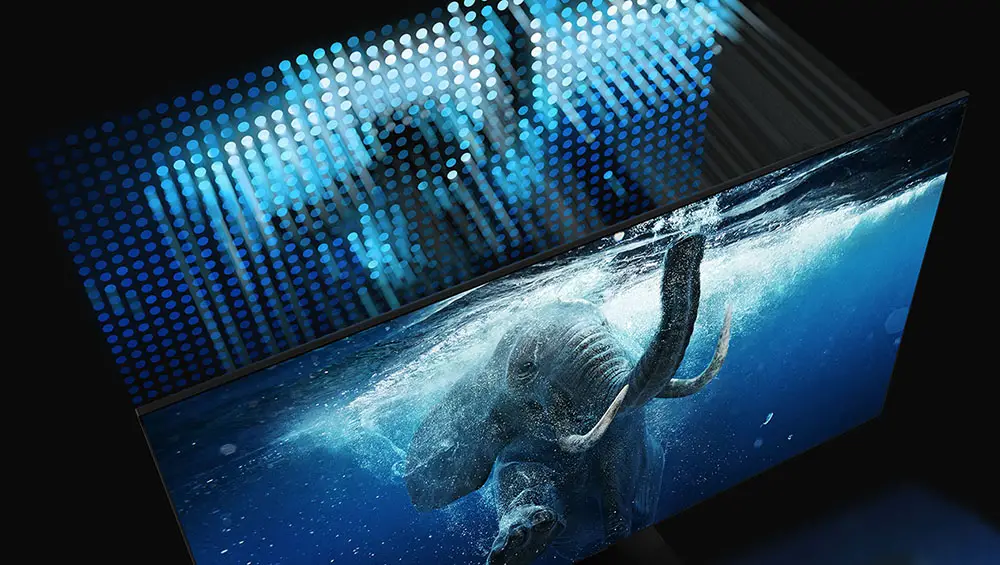 But while all the QLEDs are featuring the same technology they tend to perform slightly different from one another. So in the case of the Q90T we managed to measure 91% coverage of the DCI-P3 color range which is exceptional while on the wider REC.2020 color range we got a 71% coverage which is also extremely good.
These numbers indicate that the Q90T is slightly better than the Q80T and slightly worse than last year's Q90R. Having wide color gamut ensures that when it comes to HDR content the Q90T has what it takes to show the image in all it's glory with very lifelike colors and excellent gradients. Very good numbers in this regard and to be honest it's how it should be from Samsung's 4K flagship.
Motion performance
Moving on to our motion performance tests the Q90T seems to come with a 120Hz panel along with a backlight dimming frequency of 960Hz which is exactly the configuration we saw in the Q80T also. Having such a high frequency ensures that flickering is completely invisible but this also depends on the picture mode you will be using as in many of the them the frequency drops to 120 Hz.
Obviously we also get motion interpolation and the Q90T returned very good results with the TV making an excellent job at removing motion blur and judder. This can be done by enabling the Picture Clarity setting  in the menu and by adjusting the two sliders for blur or judder you can set them according to how you like it. Very high value in the sliders and the "Soap Opera Effect" will appear but keeping a very low value seems to be the sweet spot.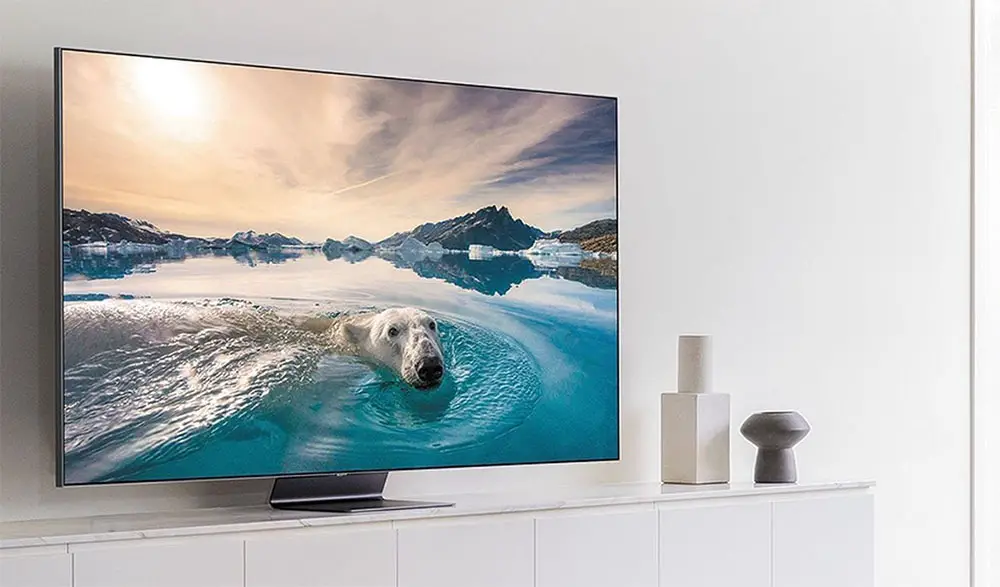 Black Frame Insertion (BFI) is also available as usual which can be enabled in the menu with the LED Clear Motion option. BFI is a technique that inserts a black frame in between two individual frames in order to smooth out motion. Although the end result is very good it has a couple of side effects. First due to the black frames brightness takes a visible hit while due to the lower frequency used some flickering may become noticeable.
The Q90T also supports both FreeSync and HDMI Forum Variable Refresh Rate (VRR) that is enabled automatically when another device that supports these is connected to the TV. Overall we are very pleased with how the Q90T behaved on these tests. Very good and smooth motion with very little artifacts visible give a very nice overall result.
Input lag
So far all of Samsung's 2020 QLEDs that we have tested have excelled in their input lag testing so we were expecting to get at least similar results from their 4K flagship and to be honest we were not disappointed. With Game mode enabled we got a measurement of 10.7ms which is in the same range as with the other models and is certainly perfect for even serious gamers. As always this measurement is an average of both 1080p and 4K resolutions as their differences are very small to be worthy of mentioning.
Without Game mode enabled you are going to see the input lag spike to around 81ms but this is also not very stable because different picture modes will give slightly different results. The TV also comes with Auto Low Latency Mode (ALLM) and both PS4 and Xbox support this which can be of great benefit.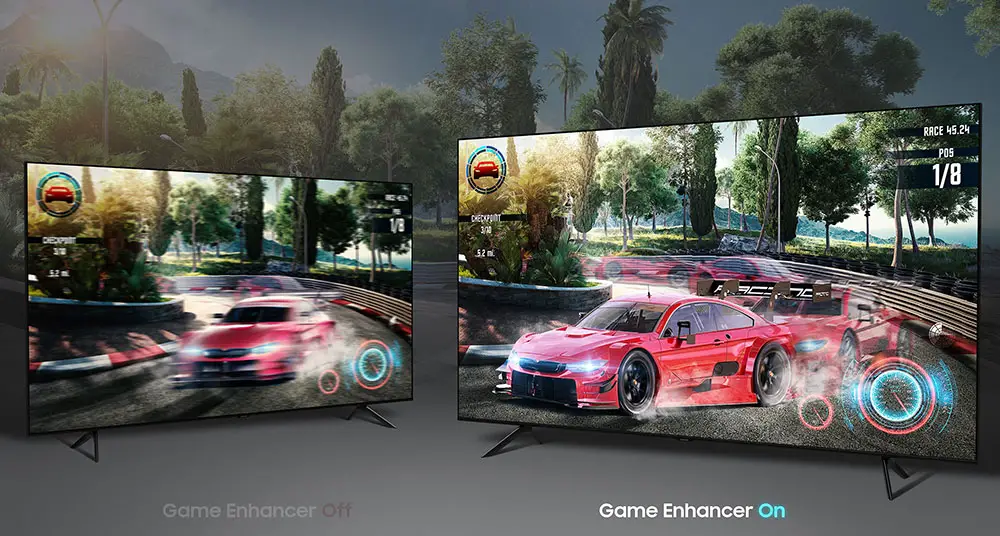 So now it's time to go for a few laps with our Ferrari around Monaco in the PS4 version of F1 2019. With the Q90T see saw similar behavior we saw in the other QLEDs so nothing new or surprising here. All our reactions were immediately registering on screen with no visible lagging or delaying giving us an overall smooth and very pleasant gaming session. The TV excels in many areas and input lag is definitely one of them.
Image quality impressions
The Q90T managed to leave us with very good impressions. And while from our other reviews we were expecting to get similar performance to last year's Q80R what we saw from our measurements is that while in some areas it fared worse that Q90R is some others it was similar or even better like in the SDR testing.
But overall we would say that is a very small step down from the Q90R as it has slightly less HDR brightness, a little less color coverage and a FALD system that although features a drastic reduction in the dimming zones the actual performance of it was not as bad as the numbers would indicate showing that there has been a generous update on the algorithms that are handling the light system.
On everything else we would say that we got pretty similar results with the Quantum Processor 4K along with it's AI capabilities performing once again admirably, the Ultra Viewing Angle technology offering respectable angles and it's motion capabilities being very solid and the best among all of the 4K QLEDs and thus will make sure to provide you with an amazing viewing experience overall.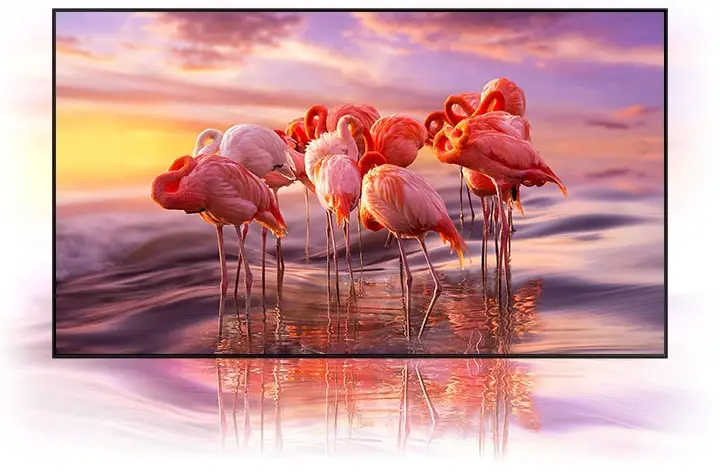 Audio Quality
When it comes to audio all flat TVs are struggling to offer an experience that can be equal to the picture quality they produce and in most cases they fail miserably to create an immersive performance. Here comes Samsung as they created a new audio system for their top TVs in 2020 called Object Tracking Sound+. In the Q90T along with the Q80T that we had reviewed previously we get a more simplified version of this system called simply Object Tracking Sound (without the plus) and this is an array of speakers that are utilized in different places of the panel in order to create a more three dimensional outcome.
Samsung says that the Q90T has a 4.2.2 channels which is a small upgrade of the 2.2.2 channels we found in the Q80T. The system has arranged the speakers in specific places so except from the ones we usually get in a standard TV audio system we also get speakers in the upper corners of the panel and as a result sound feels more fulfilling and with greater volume. This 4.2.2 channels system is rated at 60 watts of power and although we found it pretty pleasing and in all honesty above average from what we typically hear in a TV audio system it is in no way capable of replacing even the most basic of dedicated audio systems.
The system is capable at delivering sound that feels more dynamic and in many cases it is impressive for a built-in TV audio system. The system can analyze the content you are watching and make sound feel more pronounced from different sides of the frame which is a neat effect even if not equal to Dolby Atmos or similar formats. You just need to keep your expectations at check. For casual viewing it will offer you a much better experience from what we have heard in most of our TV reviews but for a complete surround immersion you make yourself a favor and buy a soundbar with dedicated surround speakers at the very least.
But except from the basic Object Tracking Sound system the Q90T brings more audio technologies to the table and one of them is Adaptive Sound+ with which the TV analyzes the content and for each scene can identify and render the best sound type. This whole process starts by separating and classifying audio input signals. Key characteristics are then pulled out and rendered to best suit the scene.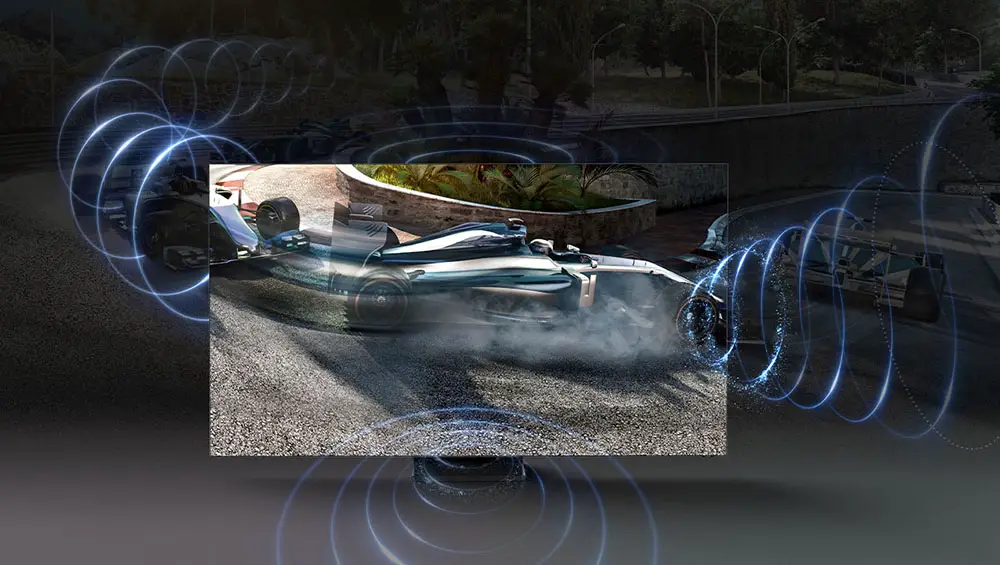 With the help of spatial analysis the TV can adapt to the different acoustics of each room. This is done by sending inaudible signals that analyze your room and can optimize the sound accordingly. And with this we also get the Active Voice Amplifier (AVA) feature that can detect environmental noise and enhance the voice output of the content you watch for a more pleasant viewing experience.
Last but not least we get Q-Symphony which is a feature that will play sound from your soundbar and your TV's speakers at the same time. But for this to work your soundbar must also support this feature something that we have seen only in the latest soundbars that have been released from Samsung.
The Object Tracking Sound is a step, even a small one, to the right direction for better TV audio quality. And the Q90T along with all the other technologies involved can really offer a nice audio experience that is much better than the average TV audio performance but in no way it can give you the immersion of a Dolby Atmos system or even a simple dedicated surround audio system for that matter.
Ports and Connectivity
Another aspect where, at least for the 4K QLEDs that we have so far reviewed, Samsung has kept an overall similar layout is at the kind of ports and connectivity options we get. As we mentioned above the Q90T has no One Connect Box with all ports being together on the back left side of the main body of the TV while all of them look sideways which is far better in our opinion and makes connections easier to reach if you are planning to put in on a wall.
As always we will see what is available from top to bottom and as such we find two USB ports for connecting external storage or streaming devices, a digital audio optical output, four HDMI inputs, an Ethernet port for wired connection to the internet, an Ex-Link jack and the usual antenna/cable connector.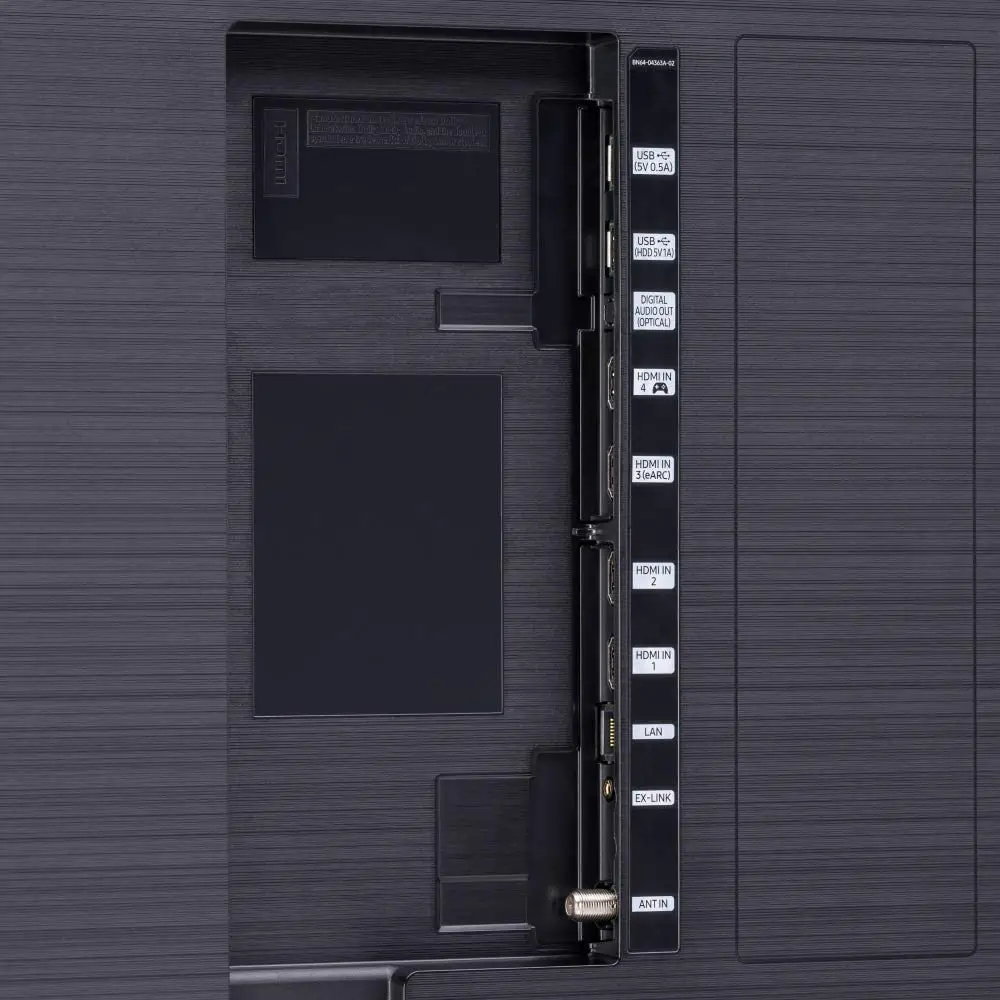 Now as for the USB ports these are v2.0 which is greatly disappointing for such a high profile flagship. On the contrary we get a single HDMI 2.1 in position 4 which is a big plus and helps make this TV more future proof as it comes with various new features that are bound to be supported by many new devices in 2020 and beyond while HDMI in position 3 also comes with eARC support which allows you to send high-quality object-based audio like Dolby Atmos to another device and is another handy feature that many seek nowadays.
As for it's wireless capabilities the Q90T comes with the usual built-in WiFi (802.11ac) and also with Bluetooth that is unfortunately the older v4.2 instead of the newer version 5.
OS, Apps and Features
Let's now take a look at the smart platform that we get in the Q90T which is no other than our favorite Tizen platform that has been updated to it's 2020 version. Things here are pretty much the same as we had seen in the other 4K QLEDs for 2020 so this part of our review will be almost entirely similar to the others.
The 2020 version of Tizen is highly similar to previous years with a few small changes and additions in order further enhance it's functionality. Starting with the visual appearance the new Tizen platform comes with a dark UI which looks very different in mood from the previous light white versions. The change is mostly aesthetic so you may or may not like it.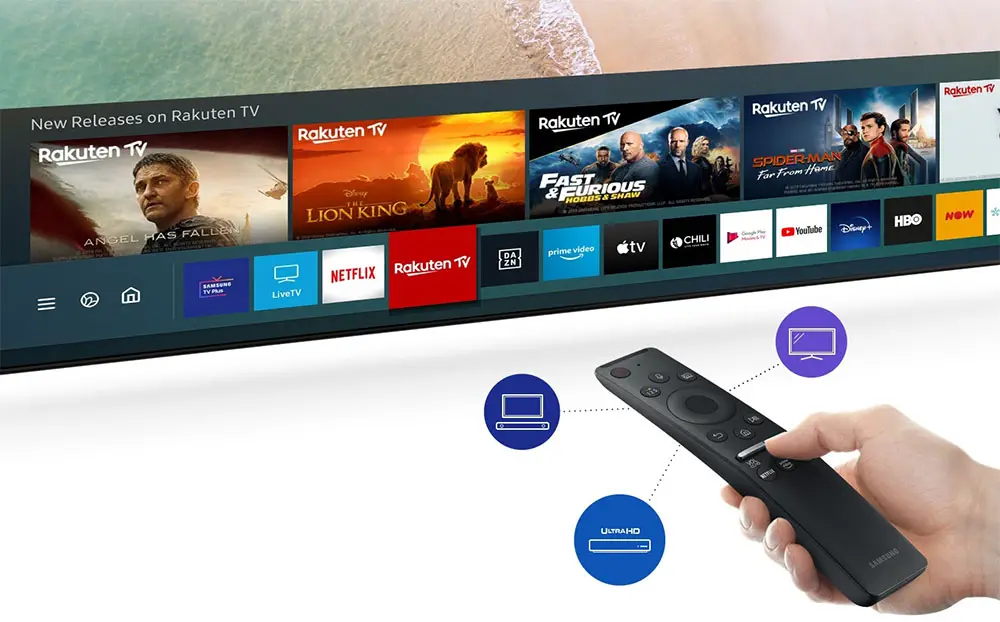 The general layout has remained completely the same with the launcher bar sitting at the bottom of the screen while a second row appears on top and offers several selections that include additional content and various suggestions. Customization couldn't be missing as with so much content available it can become increasingly difficult to navigate through the apps and services especially if you use many of them at the same time. Tizen offers many customization options so you can re-arrange everything to your liking.
And speaking of content the Tizen platform is famous for it's enormous support from developers. The Q90T offers practically all known services and platforms you can think of with Netflix, Apple TV, Disney Plus, Youtube, Amazon, Hulu, Rakuten, Demand 5 and BBC iPlayer just a few of the big names available. Many of these services can playback in both 4K with HDR like Netflix and Amazon while in general navigating through several services felt smooth and without any noticeable lagging.
But if having so many apps available can be increasingly difficult for you Samsung has created what they call "Universal Guide". This is a feature that analyzes your viewing patterns and creates a 'For You' page that includes content you may be interested in seeing according to your viewing habits. So in case you are watching a specific series all the time this page can propose you to see the next available episode which can be a rather practical feature.
A function that has been retained from the last few years is SmartThings integration. With it you can make your TV the central hub of all your smart houses devices. These can be lights, electronic locks, alarms, vacuum robots, thermostats and everything that supports the SmartThings platform.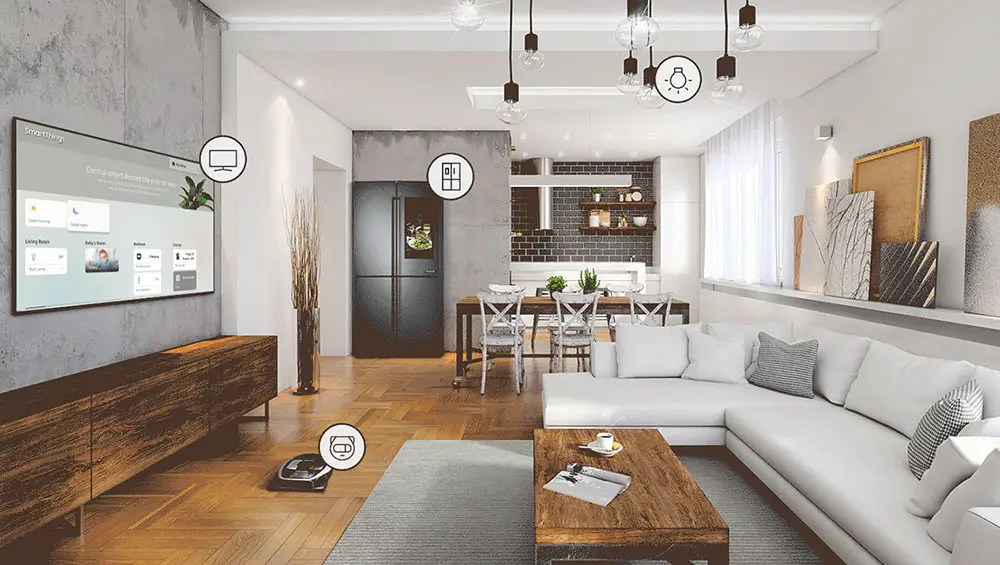 Obviously another feature that could not be missing is voice control. It seems that Samsung is really trying to market their own Bixby service but even if you are not very fond of that there is Amazon's Alexa or Google Assistant to choose from. While if you are an Apple guy then don't get disappointed as there is also Airplay support and you can use Siri through it for your voice commands.
One feature that is new this year is Multi-View and although at it's core it's not something entirely new Samsung took it a step further. Multi-View is basically a more advanced screen mirroring and with it instead of just simply projecting the screen from your mobile device on the TV you can choose to have two screens showing both TV content and what your mobile device shows. How useful this can be we leave it to you to decide because we are still scratching our heads for this one.
Last feature we need to mention is Ambient Mode+ which is a slightly enhanced version of the Ambient Mode we get in many Samsung models for the last few years. With the plus version now except from the ability to display various images on the TV when not in use it can also project various information including weather updates, news headlines, photos and music.
And that's all for Tizen. We really cannot ask for anything more in 2020 in regard to Samsung's platform. It has matured greatly over the years and Samsung still finds ways to make small improvements and alterations to an already amazing system.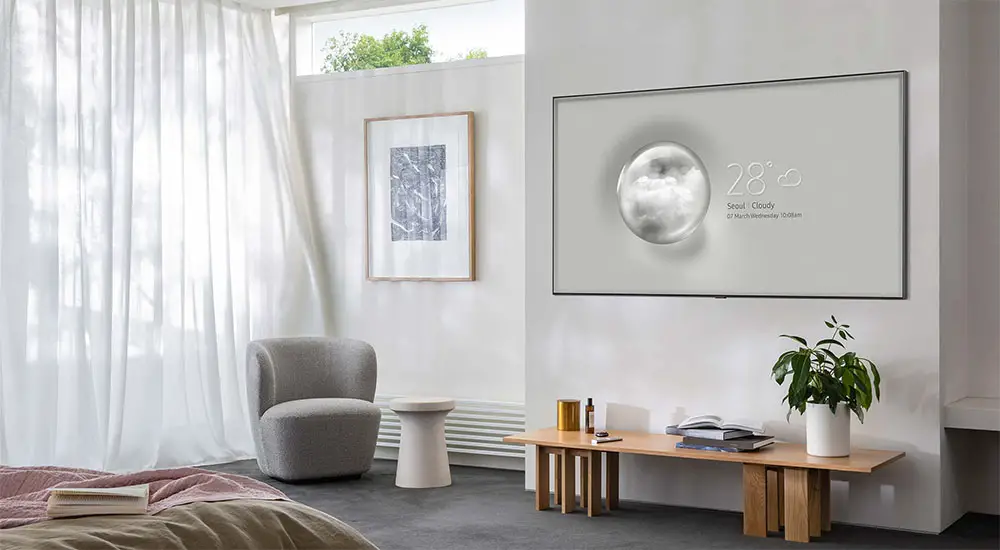 Final Thoughts
With the way that Samsung has downgraded most of their models in order to incorporate the new 8K models into their performance ladder we were a bit skeptical how good the Q90T would be. Would it manage to be as good as 2019's Q90R or should we expect it to be similar like the Q80R? Well, it seems that in reality it comes somewhere in between the two.
First let's see the good points. The Q90T comes with an excellent design and built quality along with our favorite One Remote. Coming with Quantum Dot and Ultra Viewing Angle technologies along with the powerful Quantum Processor 4K it's image performance was very good with very sharp 4K images, great colors, excellent brightness, good viewing angles for a VA panel, solid motion performance, extremely low input lag, a sound system that is way above the average and the Tizen smart platform that is better than ever. Add to these the inclusion of HDMI 2.1 and you are hardly missing anything.
On the downsides we are vastly disappointed that Samsung decided to take out the One Connect Box from their 4K flagship in the US. Also due to the vast reduction in dimming zones the Q90T looses a bit of it's backlight precision even though it still managed to perform very close to last year's model. Viewing angles were pretty decent due to the included technology but they cannot reach OLED quality levels and image quality vastly degrades is extreme angles. And lastly the omission of Dolby Vision will surely make many look elsewhere to get Dolby's advanced HDR protocol.
Closing what we can say is that the Q90T as far as performance goes managed to pleasantly surprise us. Performance was great even if not a clear cut improvement over last year and shows that Samsung worked very much in order to keep similar performance even with a less capable FALD system used here which is a very impressive feat. If you are looking for one of the best 4K LED LCDs for 2020 then the Samsung Q90T fits the bill and you should definitely consider it.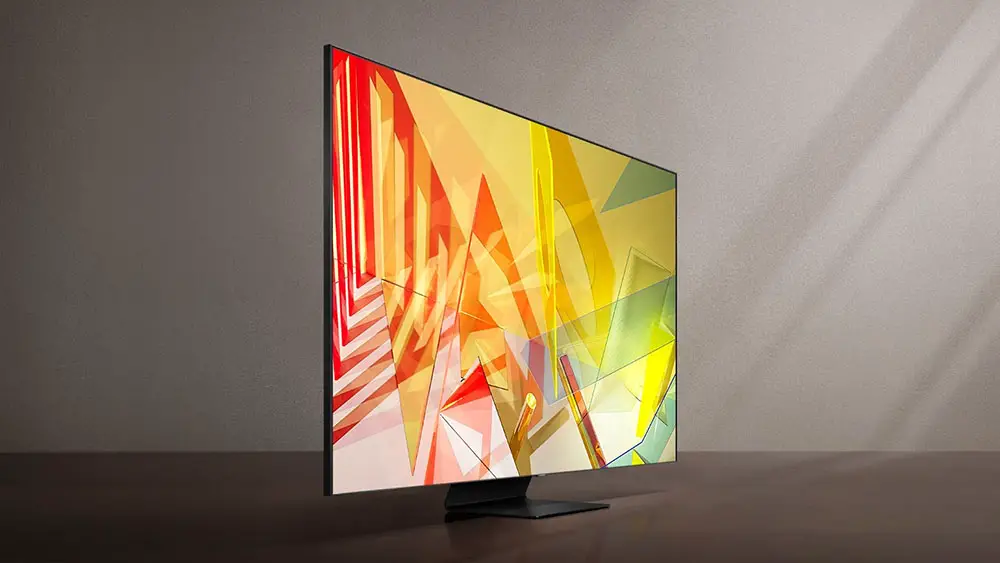 For more reviews you can check our dedicated 4K LED LCD TV reviews list or even look at our Product Reviews Table where you can find the brand and specific product you are looking for.
Also don't lose the chance to subscribe to our Newsletter and gain exclusive privileges.
---
---
Cheapest Places to Buy :
---
Samsung Q90T Specifications