Samsung Q80R
OS, Apps and Features
9.5/10
Pros
Amazing image quality and HDR
Extremely low input lag
Improved viewing angles
Huge list of features and services
Cons
No Dolby Vision support
Contrast and color coverage is worse than last year
Sound quality is average
No One Connect Box
---
Cheapest Places to Buy :
---
With MicroLED looming slowly on the horizon it seems that Samsung is giving everything they have in order to push LCD tech to it's limits just before they make the big jump that promises to offer image quality that is supposed to be even better than OLED. For 2019 the Korean manufacturer presented a wide range of new models that offer many options to the consumers and you can check our detailed article in the 2019 lineup HERE.
Recently we had the pleasure of reviewing their flagship model, the Q90R, which scored top performance but at the same time revealed that new yearly releases are not a clear improvement over the previous year's models something that indicates the limits of LCD technology. Today we will be reviewing another model in their 2019 lineup and by taking a step down at the ladder we see the Q80R being next and in all honesty looking at the specs you will find more similarities to the top Q90R model than what you would expect.
So diving deeper into the tech mumbo jumbo is needed to determine what the differences are and if the lower price compromises the excellent performance that we saw in Samsung's flagship. Is the Q80R a worthy entry in the QLED series and where does it stand compared to it's bigger brother. Continue reading our Samsung Q80R review to find out.
Design
We had great hope the the Q80R would also incorporate Samsung's One Connect Box that would allow us to keep all connections separate from the main TV body but it seems that in order for Samsung to lower the price they had to cut this which in our opinion is very disappointing if you consider that we are talking about the second in line model in the QLED series making this a very high tier model. As least the TV is very thin considering we are talking about a FALD variant which makes it look nice if you are considering to wall mount it and while there is a curve towards the back top it keeps a uniform thickness overall.
Looking the back of the TV we see a familiar texture surface that is very characteristic of many Samsung models while all connection ports are grouped together in the left side of the back panel in a recess that helps with cable management. In the right we only get the power connector while towards the top there is a single line for the speakers that breaks the monotony of an otherwise empty back surface. At the center we get the usual VESA 400 x 300 (for the 65″ variant) for wall mounting and that's all.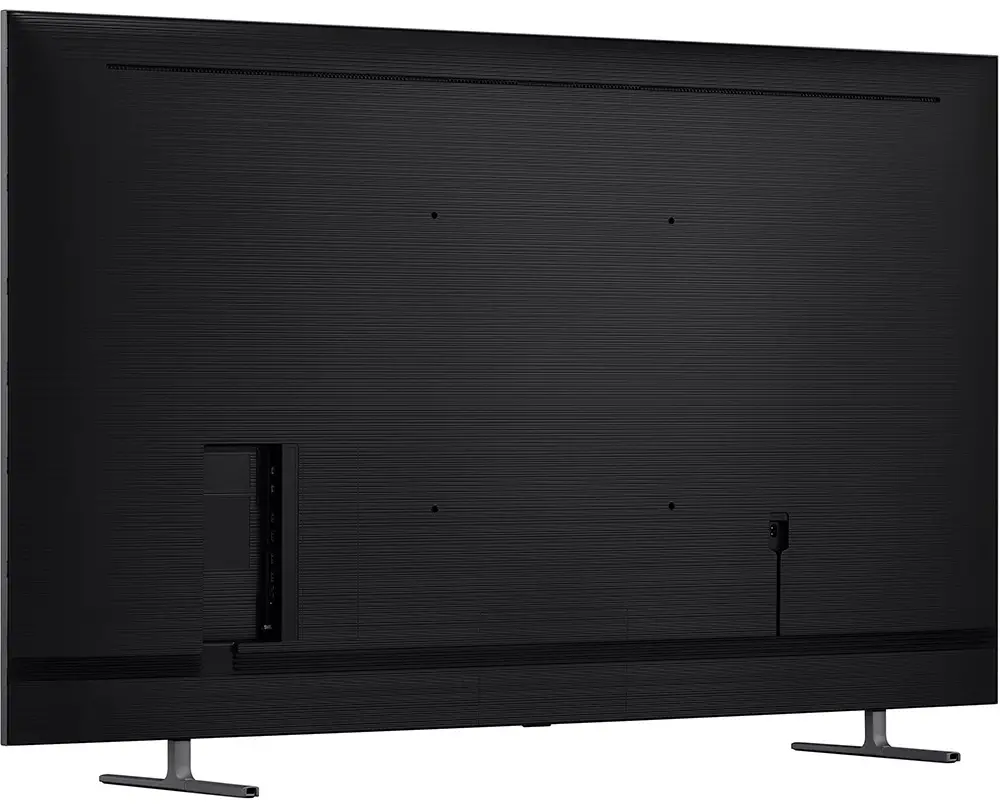 The stand of the Q80R comes in 2 variations depending on the market. In the US market this model comes with a bench type stand that keeps the TV steady at both ends while at the back there are special grooves that you can use for cable management. In the UK and European market the Q80R comes with a different Y-shaped center stand and while it looks a bit better in our opinion this is completely a matter of taste.
The included remote is the familiar One Remote that Samsung uses in most of their smart TVs while offering subtle improvements every year. For the Q80R we get the gun-metal black arch variant that is similar to many previous One Remotes we had seen before. The only difference between this and older versions is that under the volume and channel buttons we get three dedicated buttons for Netflix, Prime Video and Hulu. Everything else seems to be the same and while we would like to see the more premium looking silver metal variant we cannot complain as it's functionality remains the same. The remote felt responsive and easy to use and it's a pleasure every single time we have to use one.
Build quality in general was very good, characteristic of a top tier TV and we didn't see anything out of the ordinary. Good work from Samsung here.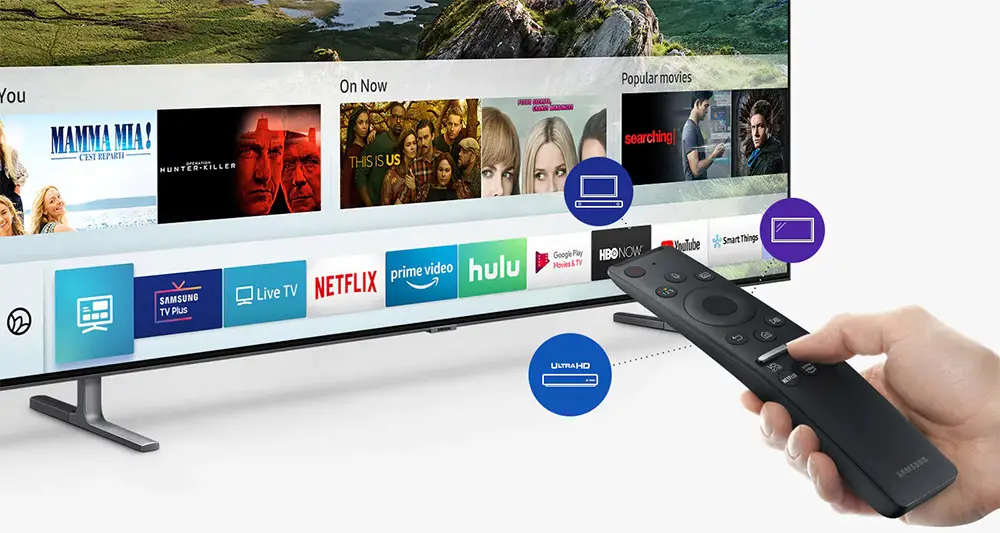 Video Quality
Processor technology used
Samsung has armed the Q80R with exactly the same processor as their Q90R flagship which they call Quantum Processor 4K and it has many similarities to the processor that powers their top 8K Q900R TVs. As such we also find here the powerful AI upscaling engine that uses a specific image database and a set of complex algorithms in order to upscale low resolution content to 4K.
Performance in this regard is similar to the Q90R as trying some SD content on the Q80R upscaled beautifully into 4K. The image didn't seem to have any additional artifacts due to the upscaling and the end result is as good as it can get given of course the low quality of SD content. Obviously with upscaling the original content plays a major role so 1080p content obviously fairs vastly better and shows amazing in the Q80R panel with very good sharpness and colors.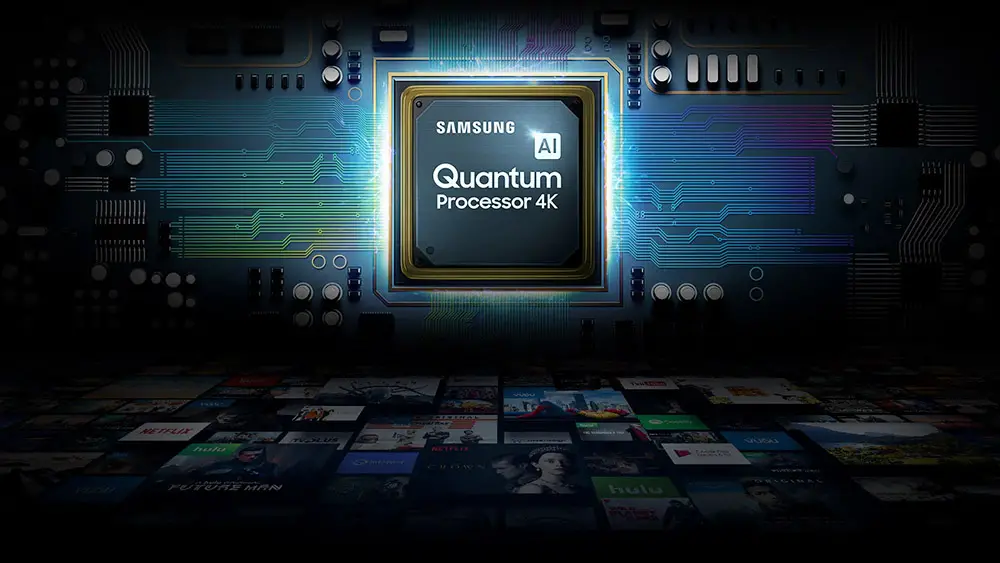 Lighting technology used
The Q80R comes equipped with a Direct LED panel with local dimmable zones for more accurate light control. This system is the best there can be in a LED LCD TV but it's performance can vary depending on 2 factors. The number of dimming zones and how fast these dimming zones can react to light changes. The first one is completely hardware dependent and naturally the more dimming zones the backlight handles the more accurate light control is. Dimming zones response time depends mostly on the TV's software from the algorithms that control the light changes.
And here lies the first big difference between the Q80R and Samsung's top model. While Samsung is not clear in their marketing about this as they never mention how many zones each of their FALD models has we calculated the Q80R to have 96 dimmable zones which is a drastic reduction from the 480 zones of the Q90R. This means that light control is less accurate here and this results in more visible halos around bright objects against a very dark background. While testing a few scenes this was immediately visible but we cannot say that it was at a point to become bothersome. At least reaction time of the light algorithms were very good with very fast response times which kept blooming at very low levels.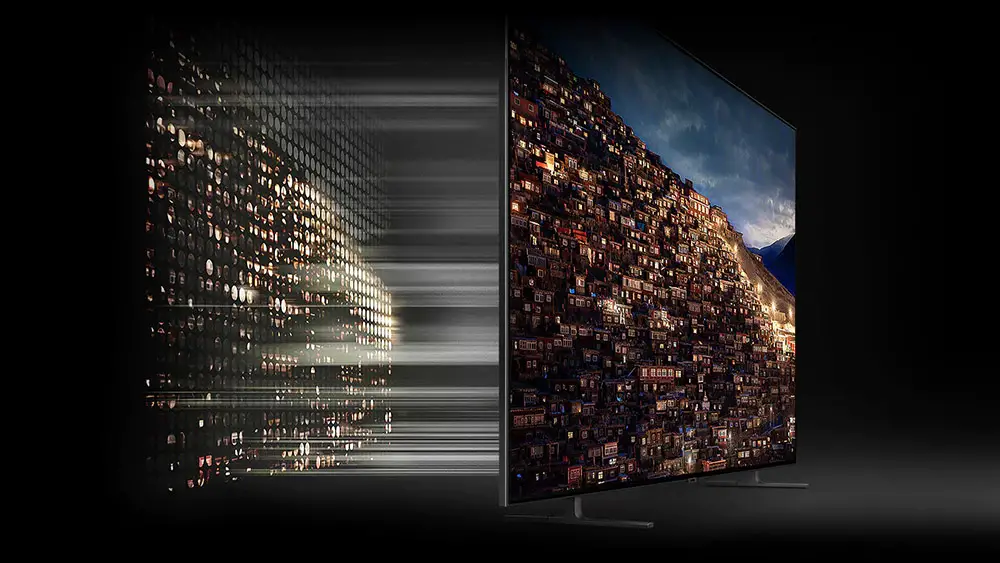 Samsung had to cut costs and lowering the number of dimmable zones is the first obvious way to do that. 96 zones may be far less than what we saw in the Q90R but it is still a very respectable number and we should not forget that even the worse FALD system is far better than any Edge-lit model can do. Leaving comparisons aside the Q80R managed to score very good in this regard having a very good FALD system with plenty of zones for light accuracy and fast light algorithms that results in a very spectacular image quality. It may not be the best we have seen but still is way above average.
Brightness / Contrast
The Q80R comes with a theoretical brightness of 1500 nits which is a 500 nits reduction compared to the top Q90R model so we were curious to find out what the real performance of the unit was. According to our tests HDR brightness over a 10% window gave us around 1100 nits while the same measurement for SDR brightness over a 10% window resulted in 1010 nits. As expected these results are far from what Samsung claims but still they are more than enough to create very bright scenes and breathtaking highlights.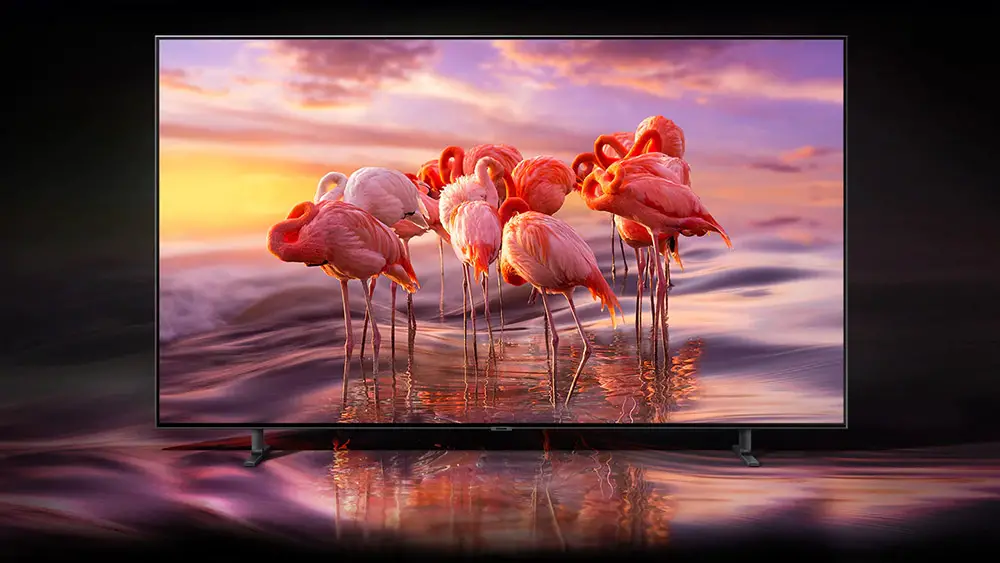 As for the contrast ratio the Q80R takes a hit compared to last year's Q8FN and this is a result of the "Ultra Viewing Angle" filter that is used to improve the viewing angles. We saw the same behavior on the Q90R that utilizes the same technology so this was more or less expected to see here also. But we should mention that the hit in contrast ratio is not so dramatic to be very obvious and only by a direct comparison you would be able to tell the difference.
Viewing angles
The Q80R comes equipped with a VA panel and this means that viewing angles are in general not very good. For this reason Samsung decided to add an extra optical layer called "Ultra Viewing Angle". This is the same technology that the Q90R has and is similar to tech that other manufacturers use like Sony's "X-Wide Angle" that we saw in the Z9F that we tested a while ago. Viewing angles seem to be improved and as a result they are similar to how IPS panels can perform. As such maximum angle where the picture retains it's uniformity is around 30-35 degrees which is similar to the Q90R. Anything more and we saw that image quality dropping dramatically.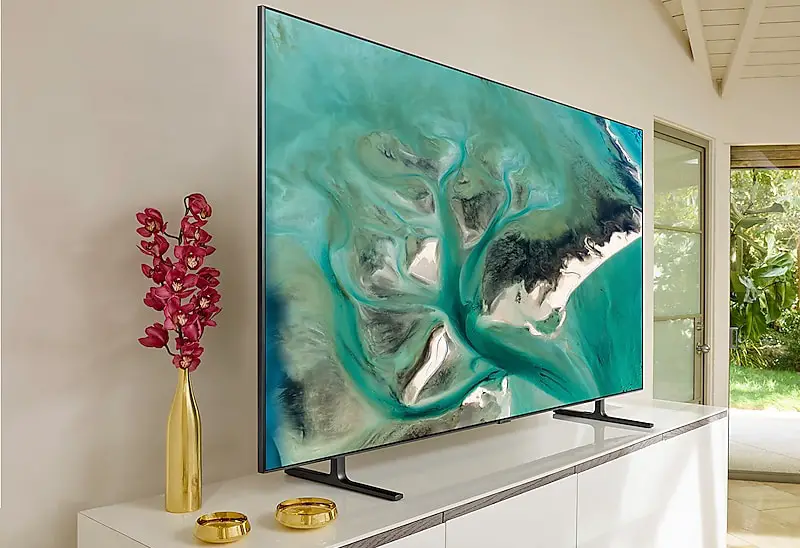 HDR support
When it comes to HDR all 2019 models come with the same support. In true Samsung fashion the Q80R supports every known HDR protocol except Dolby Vision. As such we find support for HDR10 which is the basis for UHD discs playback, HLG which is preferred for broadcasting and the relatively new HDR10+ which is supposed to be the rival variant of Dolby Vision and supports dynamic metadata. Samsung clearly has chosen not to support Dolby's HDR and they fully support the new HDR10+ that have just started to appear in home media and it only remains to be seen if it will be able to gain the same traction that Dolby Vision seems to have at the moment.
Color coverage
Color coverage on the Q80R is great resulting in breathtaking colors that look very vibrant and lifelike. We measured the coverage in the DCI-P3 color space and the TV was able to cover 96% of it while the wider REC.2020 is covered by 75%. These measurements although are great they are a bit reduced compared to last year and this is due to the inclusion of the "Ultra Viewing Angle" filter that this year's QLEDs are having. The reduction is not very big but it is there and we should mention it but in all honesty it's a pure number and not visible to the naked eye.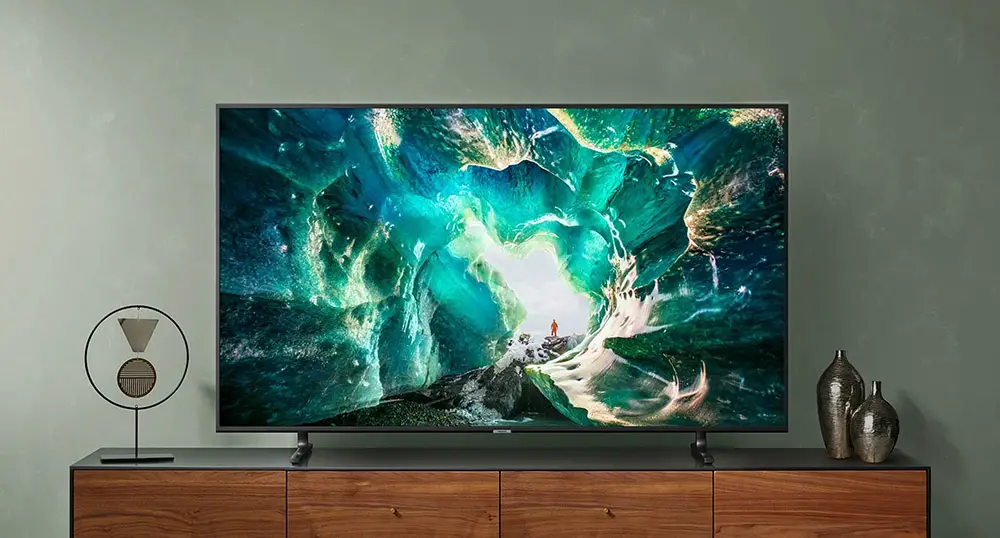 Motion performance
Samsung TVs although offering adequate motion performance were just a bit behind some other competitors like Sony and we got the same feeling from the Q80R also. Having a 120Hz panel that is combined by a 960Hz backlight dimming frequency the Q80R is able to deliver images that are blur free and very clear even when the camera is moving very fast.
There is also motion interpolation support that results in a smoother image but at the same time it can create what is called a "soap opera effect" that can make motion look strange and very unnatural. We would recommend to try different settings in the Auto Motion Plus menu in order to find the best combination that will look the best to your eyes. Naturally there is also BFI (Black Frame Insertion) support that smooths motion by inserting black frames between 2 individual frames. Unfortunately as a result of this brightness is lowered a little while some minor flickering may be visible to some.
Lastly as we had seen in the Q90R, the Q80R supports FreeSync if you have compatible hardware.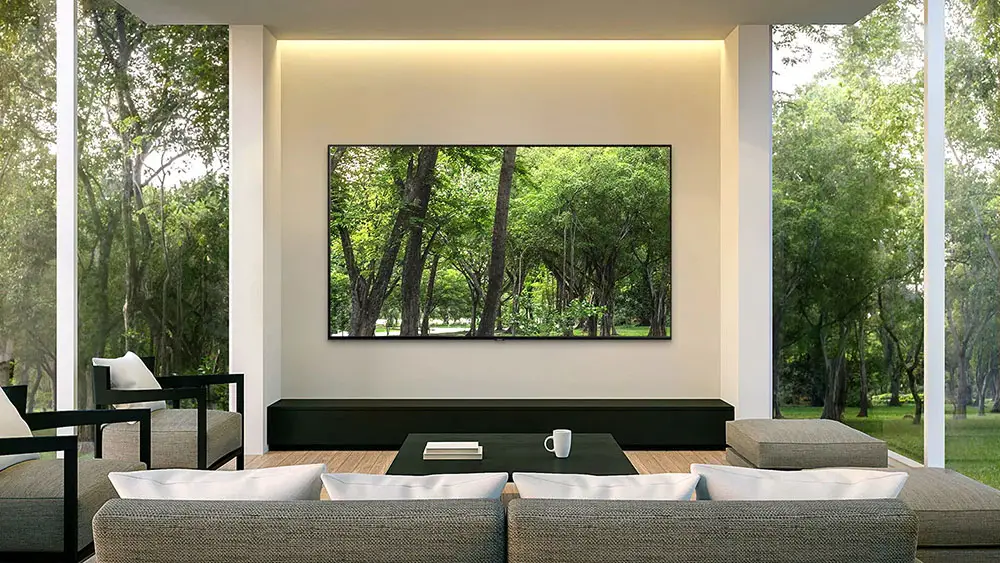 Input lag
Another characteristic of 2019's QLED models is their extremely low input lag and something we saw first hand when we tested the Q90R. This seems to hold true in the Q80R also as we measured 15.2ms input lag with the Game mode enabled which is extremely fast and resulted in very smooth gaming. We connected our PS4 to the TV and Game mode was automatically engaged as it recognized our gaming console immediately. We played a bit of Call of Duty WW2 and gameplay felt extremely responsive which was really impressive and will satisfy even the most serious of gamers.
Image quality impressions
Samsung was determined to improve one of the weak points of their QLED panels and for 2019 they managed to do this but not without giving something in return. It seems that we have reached a point that LCD technology cannot improve something a lot without sacrificing something else. We saw the same thing happening in the Q90R and so we saw the same thing here.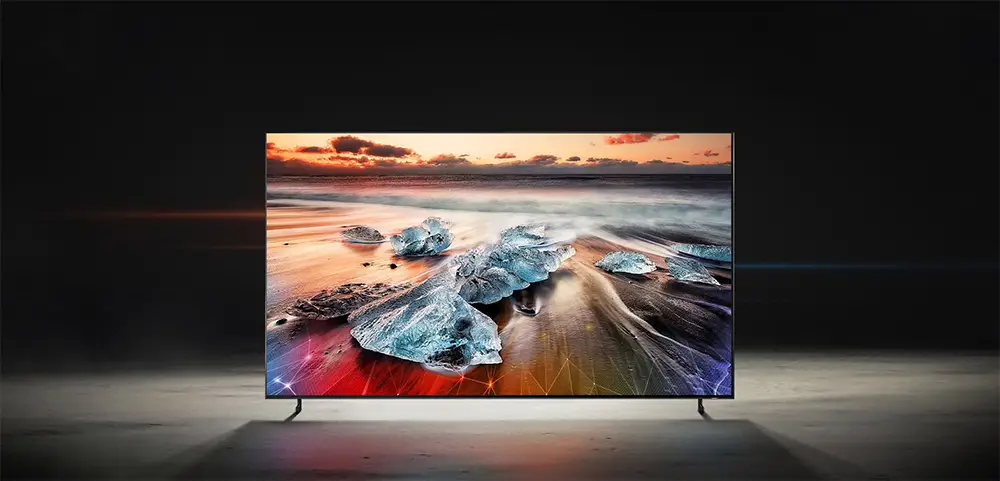 The Q80R has improved viewing angles and excellent input lag and if you combine these with an exceptional 4K image, great HDR performance backed by a very good backlight system and adequate motion performance the results are really amazing. But the Q80R seems to be affected by the "Ultra Viewing Angle" technology and thus offers lower brightness,contrast and color coverage compared to last year's model. Also using less dimming zones than the Q90R flagship means that light control is less accurate without this meaning that it's bad and we would take any FALD system over an Edge-lit one.
Leaving all comparisons aside the Samsung Q80R really amazed us with it's performance and it's a TV worthy of the QLED name. With a much more affordable price than the Q90R and a solid performance we believe that this model will be the perfect choice for a great many people.
Audio Quality
In the Q80R we find a similar but slightly downgraded audio system compared to their flagship model that includes the same 4 speakers but with a single subwoofer this time for a 4.1 channels setup that has a total of 40 watts (RMS) power. Not many changes here as the end result could be described as adequate for most casual viewing with clear dialogue during talk shows and sport events while watching a movie it will offer what we would call the absolute basic experience. If you really want to elevate your viewing experience then you will want to buy at least a basic surround setup that this TV truly deserves.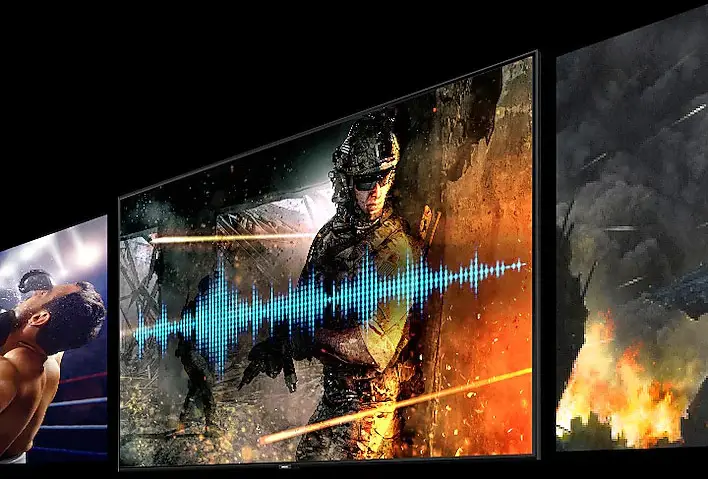 Since the Q80R comes equipped with the Quantum Processor 4K this means we also get what Samsung calls "Intelligent Sound" which basically is a feature that analyses the environment where the TV is placed and the type of content it is displaying and optimizes the sound output accordingly. For example when we tried playing a movie with a lot of action the Q80R seemed to boost the surround effects a bit to create a more immersive experience. During talk shows and news broadcasting dialogue felt more pronounced while during a sports match you could feel the crowd getting a boost making you feel more in the game.
Does this feature makes a difference? Well, you can feel the differences depending on the content but we cannot say that we were thrilled by the end result because the included hardware can do so much. Yes it makes the sound a bit more dynamic and boosts specific frequencies accordingly in trying to create more immersion but the changes are subtle and in no way can it compete with any kind of dedicated audio system. If you are serious about your viewing experience get yourself a surround system…or even a soundbar for that matter.
Inputs
As far as connectivity is concerned the Q80R unfortunately drops the One Connect Box and has all it's ports at the back something we find very disappointing for such a high end model. We would expect at least for the second higher 4K model to also feature Samsung's little miracle box but this is not the case here. The strange thing is that while Europe gets essentially the same model, hardware wise, with the name Q85R that also has the One Connect Box the US market gets the same without the box which is an odd decision really and in our books this is enough to loose a few points in this regard.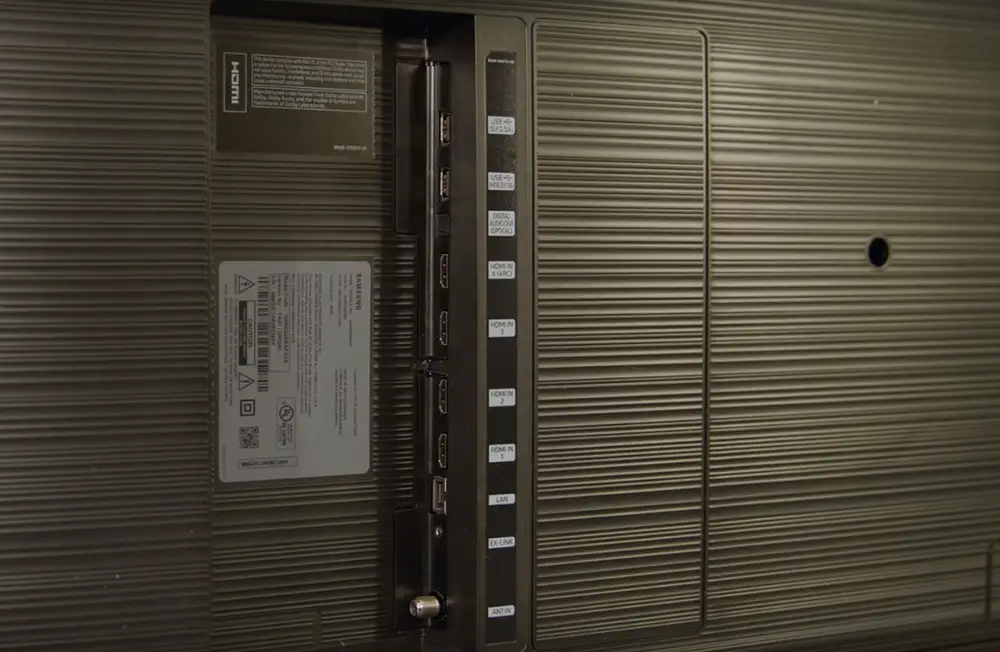 Leaving this aside we find all ports at the back of the main body grouped together and looking sideways which at least helps a bit if you want to wall mount the unit. With 4 HDMI 2.0b/HDCP 2.2 ports, 2 USB 2.0 ports, 1 Ethernet port, 1 Digital Audio Out (optical), an Ex-Link port and the usual Antenna ports the Q80R has a pretty usual setup and it's only missing 1 extra USB port compared to it's bigger brother. We should also point out that one of the HDMI ports supports ARC but as with all 2019 QLEDs there is no eARC support. Lastly for one more year we see the archaic USB 2.0 ports being used instead of the better 3.0 which we still don't see why manufacturers refuse to use.
The biggest disappointment here is the omission of the One Connect Box by far. In our opinion Samsung's design was a brilliant one and they should start using it in lower models also. The Q80R is by no means a low tier model. We are talking about the second best in the QLED series so not having the box in the US market while Europe gets the same unit with the One Connect Box with the Q85R is a move we really don't get. Other than this we believe that the Q80R has enough ports for the most usual connections so you will not have any major problems here.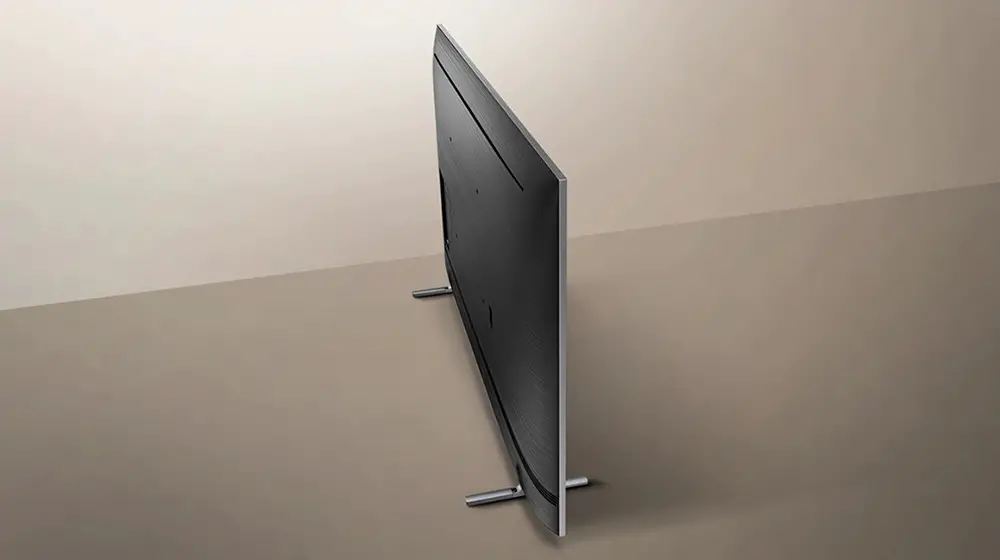 OS, Apps and Features
When it comes to it's smart platform as well as it's features the Q80R appears to have exactly the same capabilities as the Q90R flagship and as such this part of our review will be similar to what we had already mentioned in our Q90R review.
For the Q80R Samsung has once again used their latest version of smart TV platform called Tizen which we consider one of the best, if not the best, smart platform for TVs right now. LG's webOS is of similar quality while a bit further behind is Google's Android OS which have made significant improvements on it's latest edition bringing it closer to the two previously mentioned platforms. Going through the initial setup is not hard at all as you follow a series of steps, after you make the initial connections and you fire up the TV for the first time, in order to connect to the Internet and calibrate broadcasting channels.
If you have used any of the previous Tizen versions then more or less you should know what to expect as at it's core not many things have changed. The visual style has improved with the user interface being more pleasing to the eye and easy to navigate through the various options and settings. With Tizen we get a launcher bar that fills all the bottom of the screen while a second layer appears in order to provide quick access to applications as well as video streaming services. With so many options and apps on offer it was natural to have customization available in order to be able to rearrange all icons to your liking and keep only those that you are using the most.
As for apps that are on offer there is a wide list that include Amazon, Youtube, Netflix, Demand 5, Rakuten, Now TV and BBC iPlayer just to name a few as it's impossible to include every single one in this article. For Amazon, Youtube and Netflix there is also support for 4K content with HDR which is great news to be honest. Navigating through the various services was easy and fast even though a bit of lag was noticeable if you try to open fast various services but nothing major to become bothersome.
As with the Q90R, the Q80R also includes the new Universal Guide from Samsung that analyses what you are viewing the most and creates more accurate content in a special 'For You' page. If you are using lots of services and apps this can be very useful as you will not have to look all the time for your favorite show. We liked this during our Q90R testing and for sure we liked it in the Q80R also.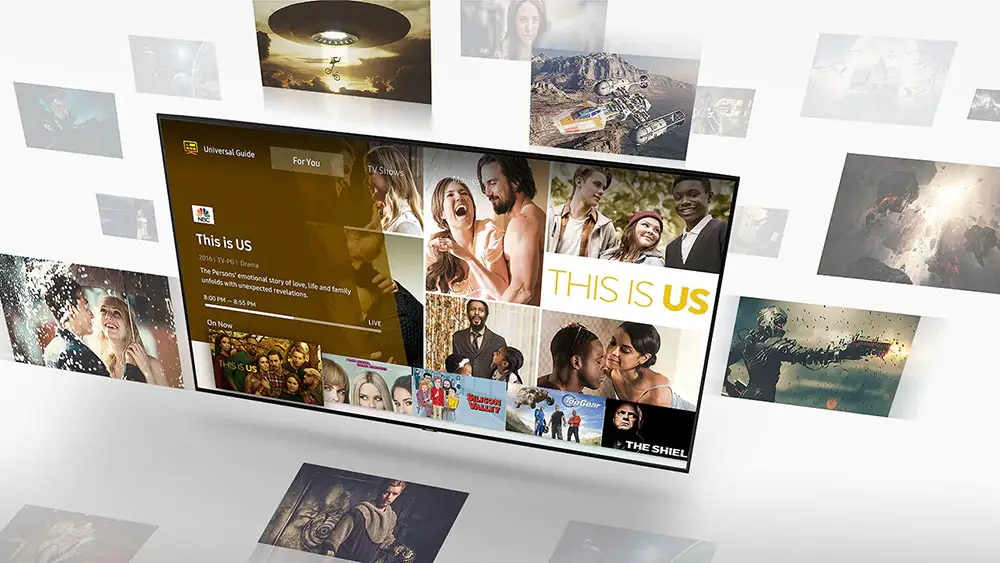 Another feature that we also find here is the famous Ambient mode that Samsung has been using lately in all the top TV models and one that we originally saw in Samsung's "The Frame". What this basically does is to blend the TV into the environment by displaying images when not in use. We would characterize this more as a gimmick rather than a useful feature as the result depends heavily on the image quality and content and we should not forget that the TV during in Ambient mode still uses electricity. We cannot say we were ever thrilled about this feature but it's good to be included nevertheless for those interested in using it.
Samsung has equipped the Q80R with every possible mean of control so if you find the use of the included remote very old fashioned then you can download the Samsung SmartThings app on your smartphone and control not only your TV but all your smart devices in your house through a comprehensive visual design. But the Q80R doesn't stop there as you also get built-in voice control with Samsung's Bixby. But other than that if you are more into Amazon Alexa or Google Assistant then there is also support for these but you will need to have a dedicated speaker like Echo Dot or Google Home. Lastly we also find support for Airplay, which you can use to stream content from your mobile device to the TV and can control through Apple's Siri.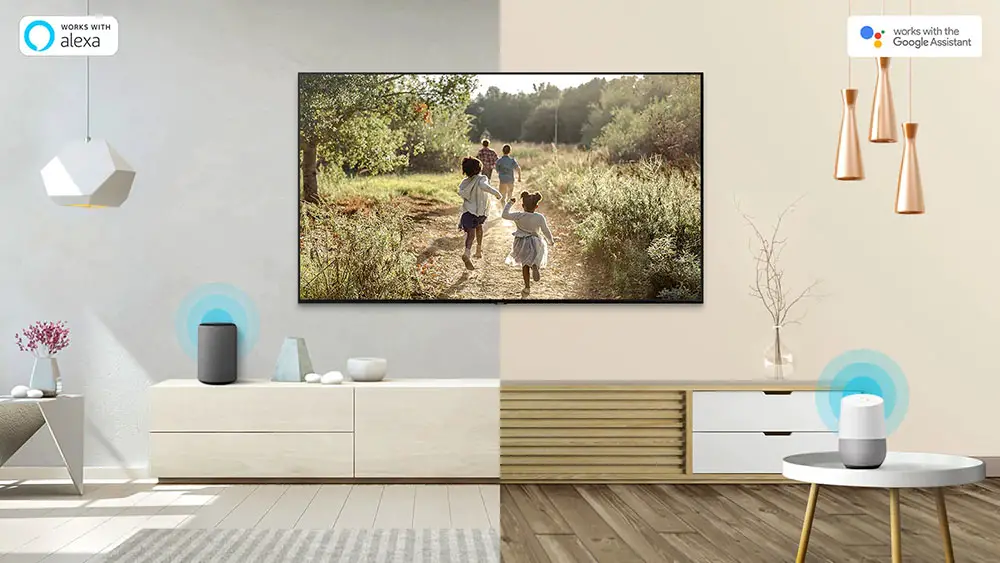 Final Thoughts
Obviously when looking to buy a new TV everyone would like to have the ability to buy the top flagship available. But with the Q80R being one step down the ladder it's obvious many people will be wondering if the differences can justify the price difference between the 2 models.
The Q80R managed to perform excellently by displaying amazing 4K images with HDR, it has great brightness, very good color coverage, improved viewing angles, extremely low input lag, an amazing smart TV platform with a huge array of streaming and online services as well as offering every single means of voice control. But as we saw in Samsung's flagship improving the viewing angles means that you will be loosing a bit of brightness, contrast and color coverage compared to last year's Q8FN so it's more of a trade-off and your decision depends on what you prefer the most.
As for comparison with the Q90R, the Q80R costs almost $800 less for the 65″ model and for this price reduction you get much less dimming zones in the backlight, reduced brightness to 1500 theoretical nits, you loose the One Connect Box, you get 2 USB ports instead of 3 and the audio is reduced to a 4.1 channels system with 40 watts power. If these are worthy of the price reduction is up to anyone to decide but what we can say is that if your budget can handle it then the Q90R is the obvious choice. But if you want to save every last penny you can the Samsung Q80R is of excellent value and offers very good performance at a much more reasonable price something that we believe many people will be considering. And for this reason we highly recommend it.
For more reviews you can check our dedicated 4K LED LCD TV reviews list or even look at our Product Reviews Table where you can find the brand and specific product you are looking for.
Also don't lose the chance to subscribe to our Newsletter and gain exclusive privileges.
---
[table]
[tr][th]SIZE[/th] [th]US Model[/th] [th]EU Model[/th][/tr]
[tr][td]55″[/td] [td]QN55Q80RAFXZA[/td] [td]QE55Q80RATXXU[/td][/tr]
[tr][td]65″[/td] [td]QN65Q80RAFXZA[/td] [td]QE65Q80RATXXU[/td][/tr]
[tr][td]75″[/td] [td]QN75Q80RAFXZA[/td] [td]N/A[/td][/tr]
[/table]
---
Cheapest Places to Buy :
---
Specifications
Resolution : 3,840 x 2,160 pixels UHD QLED Flat panel
Processor : Quad core
Picture Engine : Quantum Processor 4K
Color : 100% Color Volume with Quantum Dot
Quantum Dot Color : Yes
HDR (High-Dynamic Range) : Quantum HDR 12X
Motion Rate : 240
Backlighting : Direct Full Array 8X
Dimming Technology : Ultimate UHD Dimming
Audio : 4.1 channels, 40 watts (RMS)
Smart TV : Smart TV with Bixby Voice, Apps and Full Web Browser
Features : Google Assistant, Alexa, Bixby, Digital Clean View, Auto Channel Search, Auto Motion Plus,

Ultra Black, ConnectShare, Embedded POP, Anynet+, InstaPort S (HDMI Quick Switch), Closed Captioning, Electronic Program Guide, V-Chip, Game Mode, Ambient Mode, USB HID Support, Eco Sensor, Auto Power Off, TV to Mobile – Mirroring, Mobile to TV – Mirroring, DLNA, AI Technology, AI Upscale

Ports : 4 HDMI 2.0b – HDCP 2.2 ports, 2 USB 2.0 ports, 1 Ethernet port, 1 Digital Audio Out (optical), 1 RS232C, 1 RF In (Terrestrial), 1 RF In (Satellite)
Connectivity : Built-in WiFi, Bluetooth and Ethernet port
Remotes: Samsung One Remote Smart Remote TM1950C
TV Dimensions :
55″ : 48.4″ x 30.4″ x 10.1″ / 1230.6 x 792.6 x 237.5 mm with stand – 48.4″ x 27.9″ x 2.4″ / 1230.6 x 708.1 x 61.9 mm without stand
65″ : 57.1″ x 35.3″ x 12.1″ / 1449.5 x 918.4 x 322.6 mm with stand – 57.1″ x 32.7″ x 2.4″ / 1449.5 x 831.2 x 61.9 mm without stand
75″ : 66″ x 40.4″ x 14.3″ with stand – 66″ x 37.8″ x 2.4″ without stand
TV Weight :
55″ : 42.1 lb. / 20.9 kg with stand – 41 lb. / 18.4 kg without stand
65″ : 56.9 lb. / 28.2 kg with stand – 55.6 lb. / 25.2 kg without stand
75″ : 83.8 lb. with stand – 82 lb. without stand