Samsung TU7000 / TU7100
Design -

85%

Video Quality -

80%

Ports & Connectivity -

80%

OS, Apps and Features -

90%

Price / Quality -

92%
---
Cheapest Places to Buy :
---
Samsung is on a roll when it comes to its TVs division and there seems to be no stopping to that the last few years. OLED may still be the king in image quality but Samsung has managed to remain the number one manufacturer for more than any other competitor would like. For 2020 Samsung has mixed things a little bit as with the arrival of more 8K TVs performance had to be scaled accordingly. And while QLEDs are their main attraction for one more year in our Samsung TU7000 review today we will be looking at a model that is mostly aimed for the most cost sensitive market.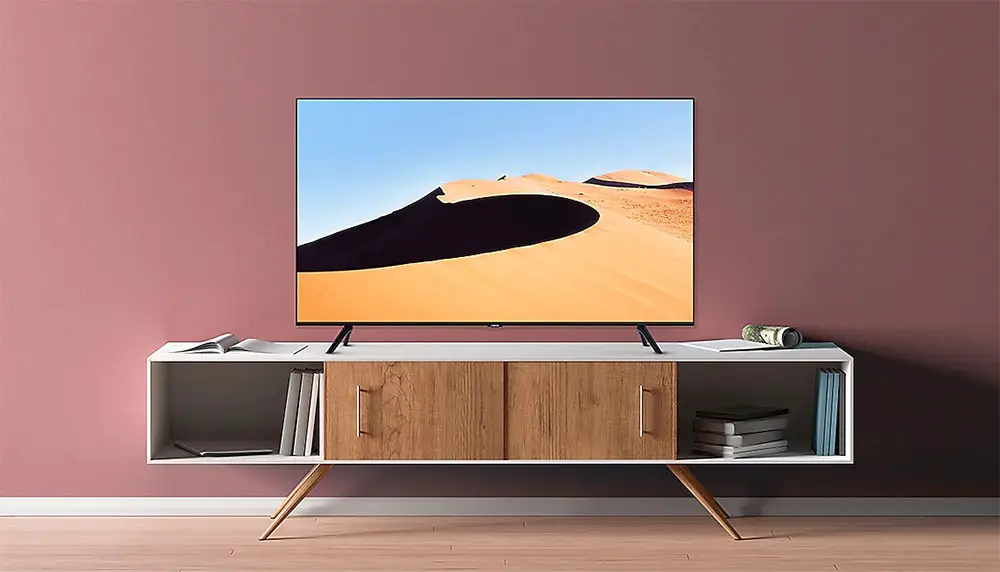 Samsung has basically created four categories for their models. The 8K QLEDs that are the cream of the crop, the 4K QLEDs which is where most people that look for good image quality will be looking at and the 4K Crystal UHD which is the lowest category that includes TV sets with the most basic of functions. We also have the lifestyle series which is a rather unique category and not many will be looking at this compared to the other models.
Now as for the TU7000 this is not only a model belonging in the lowest performing category but is also the most low cost Crystal UHD TV on offer from Samsung this year. Featuring a VA LCD Crystal Display with an Edge LED light system and armed with a Crystal Processor 4K the TU7000 supports HDR10, HDR10+ and HLG and comes with a simple 2.0 channels audio system. And evident of it's low cost status is that while it features Samsung Tizen smart platform it's the only TV in 2020 that comes with a less feature complete version of it compared to all the other models. So with these in mind let's start our analysis.
Design
The TU7000 is a low cost TV so you shouldn't expect much in terms of design. But even so the TV manages to have a rather nice design even if it is simple and more or less plain. Keep in mind that what we have here is the lowest model you can get from Samsung this year but we can say with certainty that it's not as cheap looking as some other lower tiers TVs we have seen. All connectors are placed at the back and what we liked the most is that Samsung has placed them all looking sideways which can definitely help if you want to wall mount it.
The TU7000 features a 3-way boundless design as many of the other Samsung TVs this year which means that the top and both sides are relatively thinner compared to the lower part of the TV. Although calling it completely boundless is a bit of an overstatement its bezels and borders are thin enough not to be distracting. Also the TVs overall thickness is about 2.36″ (6 cm) which is almost the same as the TU8000 making it look good enough on a wall without protruding much from it.
The back of the TV is covered completely in plastic and as with all Samsung TVs it has a very characteristic textured design. All connections are grouped together on the left side of the back panel and placed on a special inset that can help in case you wall mount the TV. One thing we definitely liked here is that unlike many other TVs the TU7000 has the power connector next to the rest making cable management and grouping so much easier. The VESA wall mount holes along with special grooves on the lower part for cable management are the only other elements found here.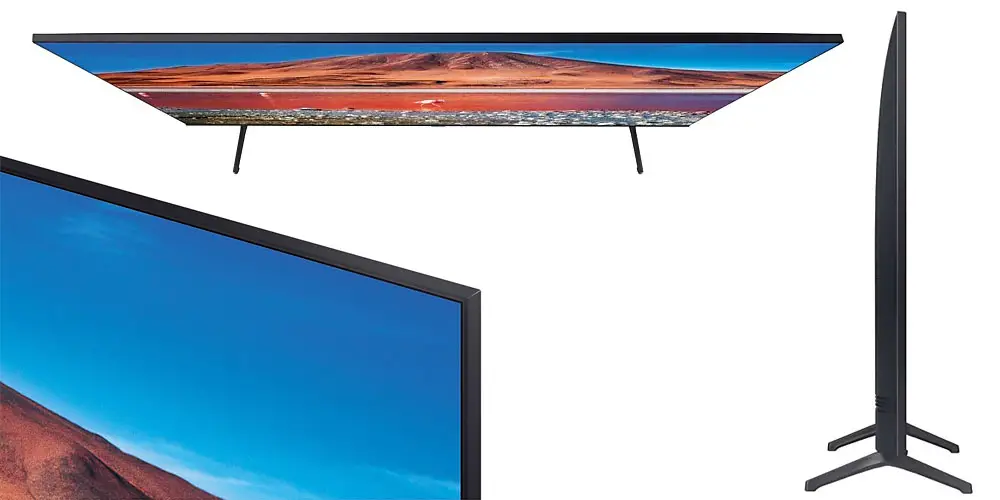 The TV features a standard bench type stand that is certainly better for stability but worse on the looks. The TV still wobbles a little but much less than how it would in case of a y-shaped stand. The stand legs are made out of plastic which was to be expected really in this price and they don't need any screws as they clip into place making them far easier to install. The legs don't have a special cable solution with hollow backs to allow for cables to hide but at least we get special clips that attach to the back of each leg for grouping them together easier.
It seems that for 2020 Samsung decided to use the same One Remote model for most of their offerings either it was a QLED or a Crystal UHD. The only model that seems to be excluded was the TU7000 and we believe this has to do with the limited Tizen functionality on offer here. You see, the One Remote comes with built-in microphone for issuing your voice commands but since the TU7000 is stripped from this built-in ability and has to rely on an external device for voice control there was no need to use the same remote.
As such the TV gets a more traditional, fully featured remote that is less inspiring without making it less functional. The remote is made out of plastic and features rubber buttons and you will find all the controls you would expect from a plain remote like a numerical pad, menu and settings navigation buttons, volume and channels controls, a few playback and function buttons along with three dedicated buttons that include Netflix, Amazon Prime and Samsung TV plus.

Although we love the One Remote design and functionality we do get the reason behind Samsung's decision to go for a simpler remote here. It may not offer the fancy looks and streamlined functionality of the One Remote but it will get the job just fine for the price you pay.
All in all the TU7000 is a TV that comes with pretty solid build quality if you consider that we are talking about the cheapest Samsung offering this year and certainly is not giving away its budget nature when you first look at it.
Video Quality
Processor technology used
The Crystal series comes with a few changes in specs compared to the 4K and 8K QLEDs and one of the most notable ones is the different processor that it's using. The TU7000, just like the TU8000 that we had tested recently, comes equipped with what Samsung calls a Crystal Processor 4K. Now there is some lack of information on what differences there are in this processor compared to the more capable Quantum processor that is used in the QLEDs but what is immediately apparent is that it's missing any kind of AI capabilities for both image and audio processing.
And while AI may sound like a very cool and fancy word to use in marketing we would say that even without it the Crystal Processor 4K was very capable at up-scaling low resolution images into 4K. The same observations we did in our Samsung TU8000 review and we can say the same about the TU7000. Up-scaled images were very good with no major artifacts from the up-scaling process showing the really good work Samsung did in this department even with a less capable processor. We did try from very low resolution images that ranged from 480p all the way up to 1080p and the resulting images had good clarity with enough details.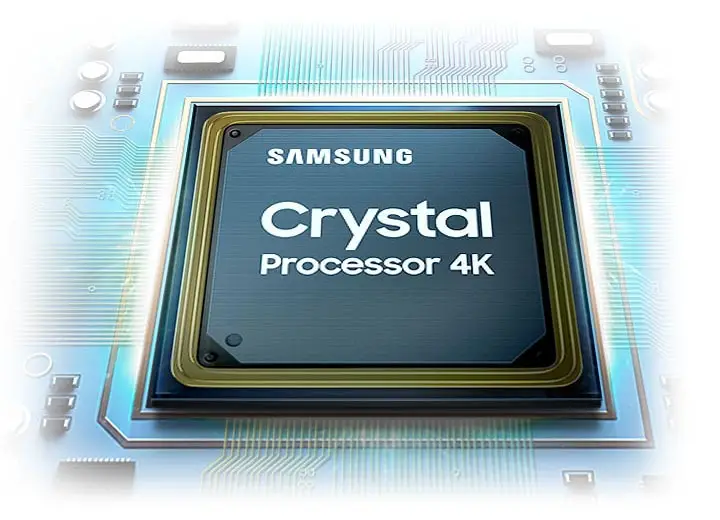 But as with the TU8000, it's not only the AI image processing that is lost as there are certain audio features that are connected with this AI that are missing as well. As such the TV only features what is called Adaptive Sound and not much else in terms of audio. But we will analyze this part in the dedicated audio section.
Lighting technology used
In contrast to OLED technology when we are talking about LED LCD TVs there are many different types of lighting systems that manufacturers use. For the most expensive models some kind of Full Array with Local Dimming (FALD) system is utilized while for the more cheap models Samsung opts to use an Edge LED system. This year they even spiced things up a little with the slightly improve Dual LED system used in some 4K QLEDs and the top TU8500 Crystal UHD TV. But it seems that the two lower tier models, the TU8000 and obviously the TU7000 come with the simpler Edge LED light system.
We had already seen how this inferior system had a detrimental effect on the TU8000 performance and we are expecting to see something similar here also. Keep in mind that while the TU8000 and TU7000 seem to use the same light system this doesn't mean that they can perform the same and in the section that follows we will be measuring how close the TV Crystal TVs are in this regard.
But using an Edge LED system is not only affecting how bright an image can be, as we have seen Edge LED TVs that can go very bright indeed, but also can affect the quality of the image in specific occasions. Because the LEDs are placed on the edge of the screen, usually at the top and bottom, when a very bright object appears against a very dark background we tend to get strips of light that extent all across the panel and thus lowering the overall image quality. Light control and precision are also obviously affected as a result.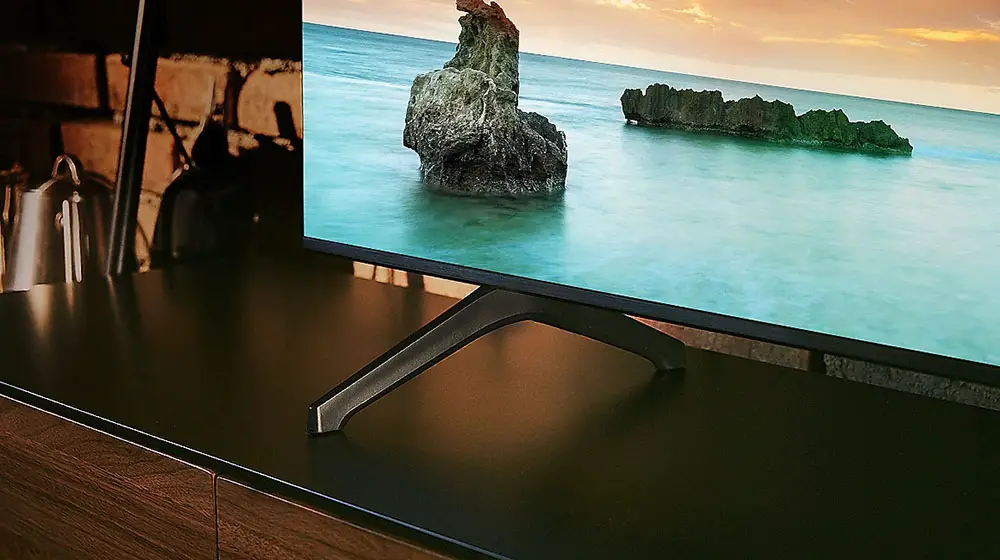 Edge LED is not a bad system but obviously FALD is vastly superior. And that's why Edge LED systems are used nowadays only in lower performing TVs in order to keep the costs as low as possible which is good if you are not very concerned about image performance and you are just simply looking for a TV for your casual viewing. Also another advantage is that thickness is smaller compared to FALD TVs making such a model looking better if wall mounted.
Brightness / Contrast
Onto the brightness tests next. For this one as we usually do in most of our reviews we used the Movie picture mode that tends to give the most accurate colors and set the brightness to max. With these settings the TV managed to give us 241 nits of SDR brightness over a 10% window. Average number we have to say and while in SDR brightness requirements are not so high the TV will have trouble in a very bright lit environment. In lower lit conditions it will fare much better so keep this in mind depending on the use you want it for.
On the HDR brightness over a 10% window we got 259 nits which is very low and in no case it can make HDR real justice. With such low capabilities the TU7000 cannot display very bright highlights which in turn has a detrimental effect on the overall quality of the HDR image. In general we would say that the numbers we got are in line to what we were expecting and slightly lower than the ones we got in our TU8000 review. If you want a TV that can really show what HDR is all about unfortunately the Crystal series is not good enough and you should aim at the very least for the Samsung Q60T QLED.
On the contrast side of things the TV fared very good and this is a result of using a VA panel as these tend to have good contrast ratios in general. In a low lit room blacks will look pretty deep and will not distract from the overall experience.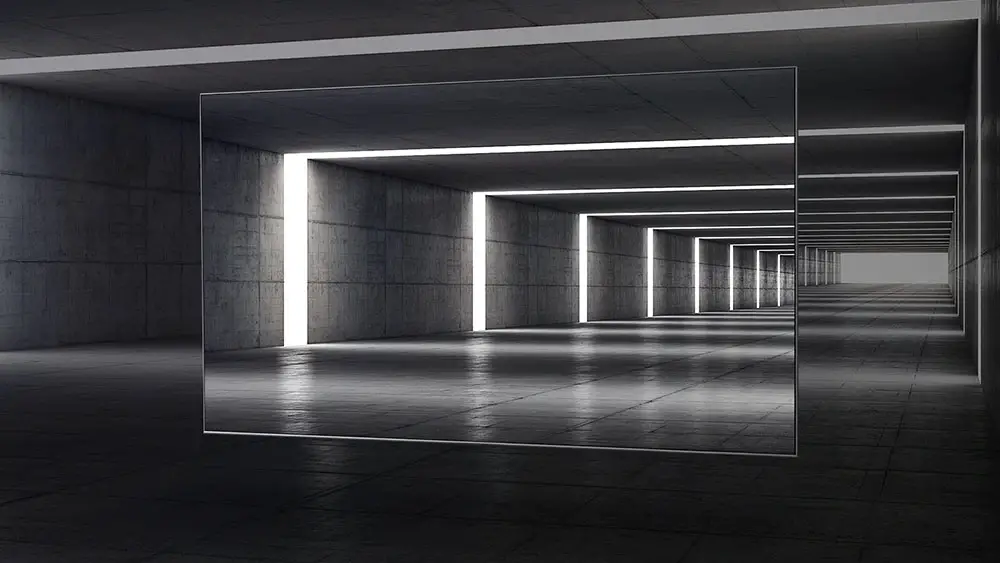 Unfortunately the TU7000 is not a bright TV. And we can say the same thing in both SDR and HDR content. So with this in mind if you are considering this model then keep your expectations at check as this one is really meant for those that have actually no expectations when it comes to image quality and just look for a TV for their casual viewing experience.
Viewing angles
When it comes to viewing angles things are pretty much standard. The TU7000 is using a VA panel which in general doesn't mean good things for this low cost model. VA panels in general have very narrow viewing angles and this problem is slightly improved in some of the more expensive models by the use of an extra layer that focuses the light and minimizes its leakage.
Unfortunately the low cost nature of the TU7000 does not allow to have this technology here so we are left with what the panel can do by itself. What we observed was very similar performance to the TU8000 in this regard so what we can say is that up to 25 degrees image integrity is stable with a maximum of 30 degrees before things start to get very ugly.
This means that if you plan on watching from extreme angles or if you want to use it as a family TV with many people watching at different angles you should better take a look at it first before deciding if it is good enough for you.
HDR support
If there is one feature that is universally the same across the whole 2020 lineup is on the HDR protocols that are supported. This means that the TU7000 comes with the basic HDR10 which is mandatory for 4K UHD payback, HLG that is used mostly for broadcasting content while there is also the more advanced HDR10+ which is using dynamic metadata and was created by Samsung in order to rival Dolby Vision.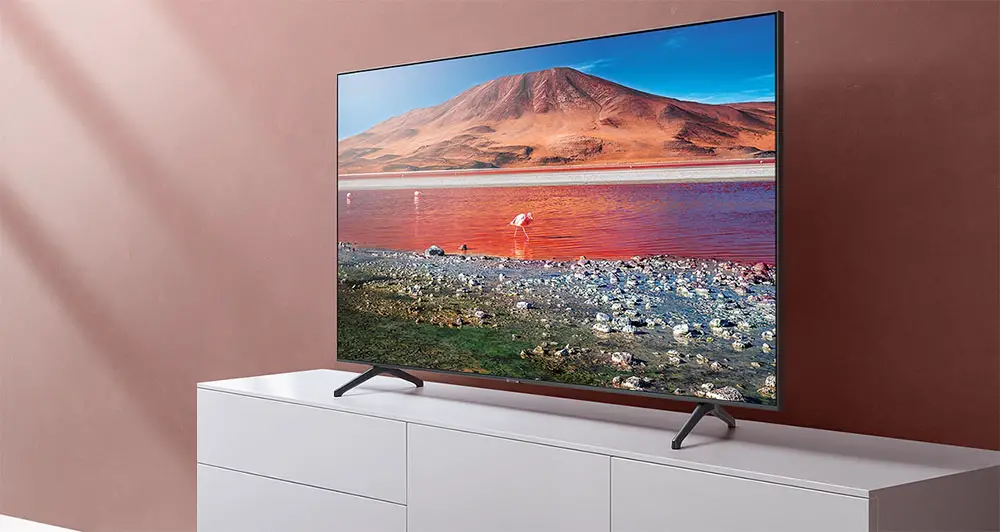 Dolby Vision is obviously missing completely from all Samsung TVs the last few years so the TU7000 couldn't be any different. But to be honest with such low capabilities the TU7000 has it doesn't really matter as it wouldn't make a big difference even if it was supported. But for the shake of consumers we do hope this rivalry to end at some point as right now there are only a handful of TVs that support both HDR10+ and Dolby Vision making the choice of what to buy even harder.
Yes Dolby Vision has a big head start but don't forget that Samsung is still number one in TVs and this gives them a big leverage.
Color coverage
The TU7000 does not have Samsungs heavily advertised Quantum Dot technology and instead uses what they call a Crystal Display which we had seen before in the TU8000 also. This meant that color coverage would be dramatically lower than any QLED can do and would be close to the numbers we got from the TU8000.
Now, according to our measurements the TU7000 managed to cover about 76% of the DCI-P3 color space and about 55% of the wider REC.2020 color space. These numbers were close to what we were expecting to get and are indeed slightly lower than what the TU8000 had managed to give us.
We will say again what we had said in our TU8000. These TVs may be advertised as 4K HDR TVs but this is slightly misleading advertising as with such low color coverage and no Wide Color Gamut support you cannot say that the TU7000 can support the 4K HDR format the way it was meant to.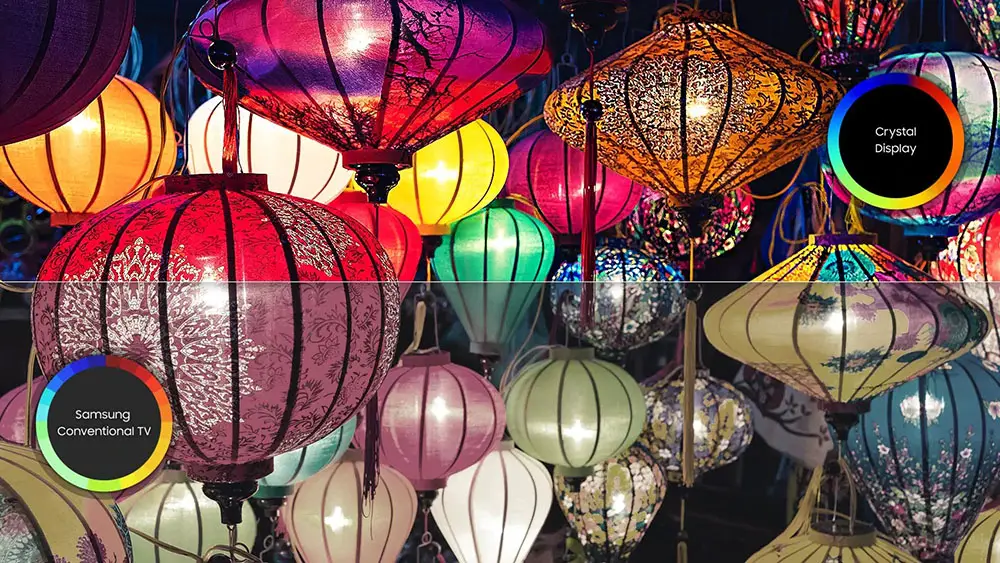 Motion performance
Next comes our motion tests with the TU7000 using a 60Hz panel while its backlight dimming frequency is set at 120Hz which means that with specific settings flickering may be visible. In general motion performance could be described as adequate for this category although some blur is visible in certain scenes. But in general for such a low cost TV we could not say that we had any major problems with it.
Motion interpolation is available and did a valiant effort to smooth out motion with satisfactory results. To enable this you need to turn on the Picture Clarity setting and adjust the judder reduction slider accordingly. Keep in mind that a high setting will make the Soap Opera Effect to appear which makes content look like it was shot on video.
Black Frame Insertion (BFI) is also available, which was a bit surprising to be honest in such a low cost model, but it's performance is a mixed bag. With BFI the TV inserts black frames in between two individual frames which is a neat trick to smooth the motion. But it's not all good with this technology. On the one hand BFI can smooth motion with very good results but a combination of visible flickering, lower brightness and image duplication make this not such an ideal option for this specific model.
As it was the case with the TU8000, the TU700 does not support any kind of Variable Refresh Rate (VRR) either it is FreeSync, HDMI Forum VRR or G-Sync. If you want any of these then you will have to look at one of the QLEDs unfortunately.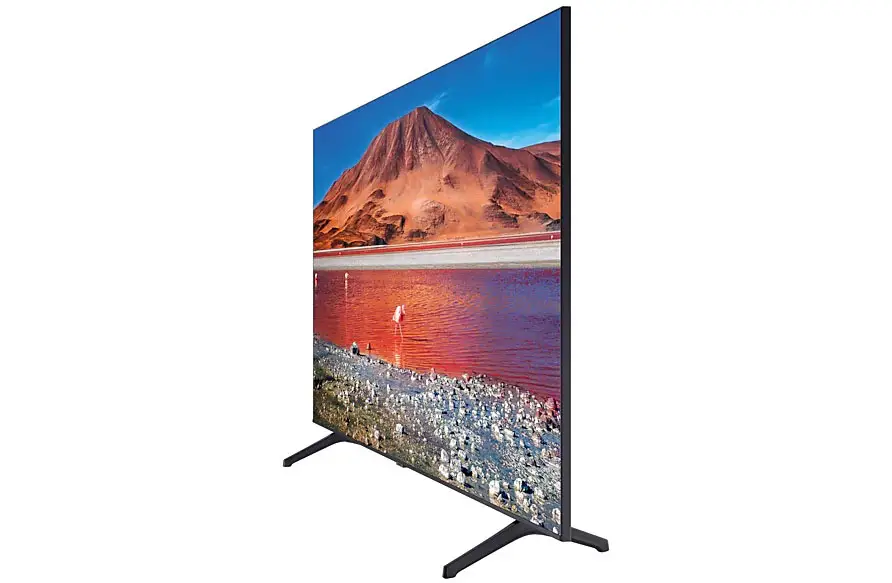 Input lag
Last on our tests comes the input lag and this is one area that all Samsung TVs in 2020 have really excelled at and to be honest we were hoping to get similar numbers also with the TU7000. Obviously to get the best results you will need to enable Game mode and with this we managed to get 10.7ms which is extremely good and more or less in line with the numbers we have seen across the 2020 lineup. This number is an average of 1080p and 4K resolutions with both of them staying pretty close to each other.
One thing that was a bit odd was the input lag we measured outside Game mode as we got a 39ms reading which was rather surprising when some other higher models had gave us much higher numbers outside Game mode. So this TV can be considered excellent either you plan on using Game mode or not. There is also Auto Low Latency Mode (ALLM) support that can be used with both the PS4 and Xbox as both consoles support it.
For our real world testing we went on a few laps with F1 2019 on our PS4 and the TU7000 did an excellent job at rendering all our reactions and commands with blazing fast accuracy making this one a great gaming TV. It may not be much in terms of actual picture quality but for a casual user that wants to feed his gaming needs it can do admirably.
Image quality impressions
When it comes to low budget TVs it is really difficult to judge them harshly just because they cannot perform the same way as some of the top models can. So when you look at the TU7000 you should always think in what category it belongs to and how much it costs for what it offers. So in this regard this model doesn't offer any real surprises and having tested the TU8000 before hand we knew more or less what to expect from this one.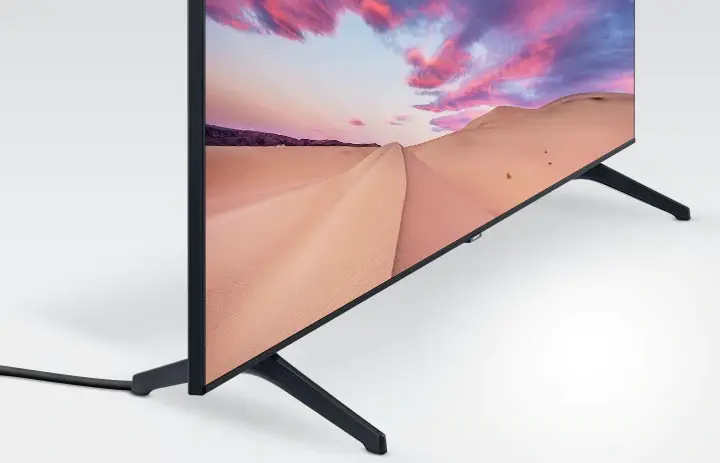 Being on the bottom of the performance ladder a lot of its specs had to be reduced and in the end the TV offers the absolute basics. With a simple Edge LED light system along with the Crystal Processor 4K the TU7000 has very low brightness capabilities, not good viewing angles and average color coverage and motion performance. On the plus side you get amazing input lag, great contrast ratio and pretty solid up-scaling capabilities.
This model was obviously not meant to wow anyone with its performance. It clearly is meant for those that want a cheap TV to get the job done and in this regard it will serve you just fine. Just don't expect anything fancy out of it as its weaknesses do not allow it to be anything more than just an affordable budget friendly model.
Audio Quality
On the audio department we were not expecting to find anything different than the other Crystal UHD TVs and indeed we were right. The TU700 features exactly the same audio system as the TU8000 meaning that a 2.0 channels system with a total of 20 watts power is responsible for all sound needs. As a result this TV can do just fine in casual viewing with clear sound that can get pretty loud and with very distinct dialogue but if you are expecting to get any kind of surround immersion you are out of lack.
We say exactly the same thing every time we see a TV with a simple 2.0 channels system. For causal viewing, sports and broadcasting it can do the job just fine. But if you expect to get surround action in a movie no matter what kind of virtual technologies these TVs may get they can never offer a convincing result.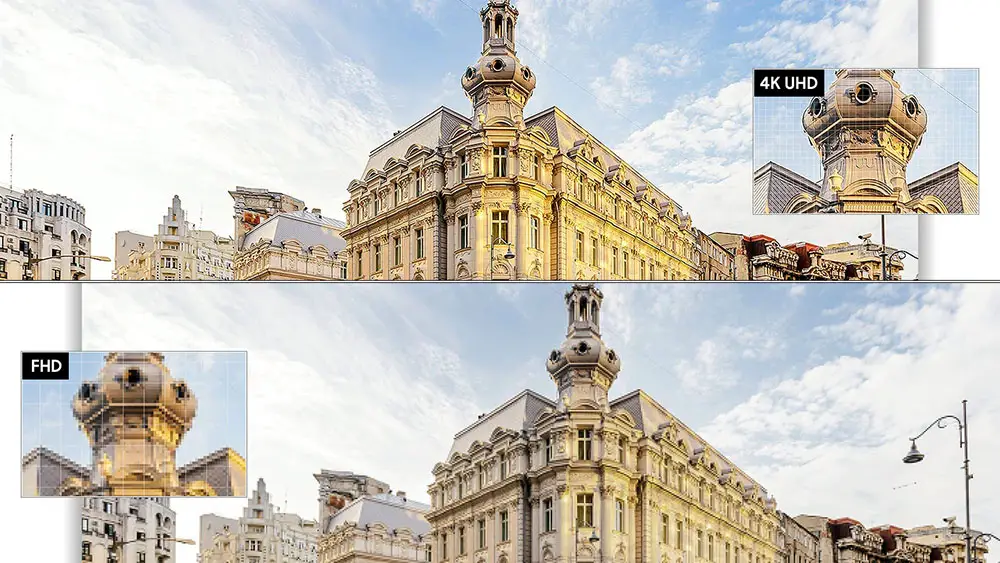 TV sound can get pretty loud but high volume doesn't necessary mean quality. On the low end the audio lacks any depth or punch and it will never offer you the ground shaking experience of a subwoofer. As a result bass feels less than stellar and uninspiring. There is so much two small woofers can do so no real complaints here really.
The TU7000 supports Dolby Audio and while it cannot playback Dolby Atmos it can pass it through its HDMI connection as it features the necessary eARC technology. If there is one feature that could be describes as slightly more "advanced" this is Adaptive Sound. What this does is to automatically make adjustments to the audio settings according to the content being played at each moment in order for you to get the best sound experience possible.
There are many more expensive TV models that offer the same basic audio experience that it was no surprise to get the same here really. Things are crystal clear when it comes to these basic 2.0 channels audio systems these TVs come equipped with and if you want something better to up your viewing experience you will have at the very least get a soundbar which can really offer far more than you will get here. There are now soundbars that can even go for a full 7.1.4 channels audio setup showing how much they have progressed the last few years.
Ports and Connectivity
When it comes to the available connections the TU7000 comes with a very different layout compared to the TU8000 and this is a result of the reduced available ports. As a result the TU7000 features only side looking ports and even these are reduced in number.
From top to bottom we get an optical digital audio output, a USB port (5V/0.5A), the usual cable/antenna input, an Ethernet port for wired connection to the network, two HDMI inputs and the power connector.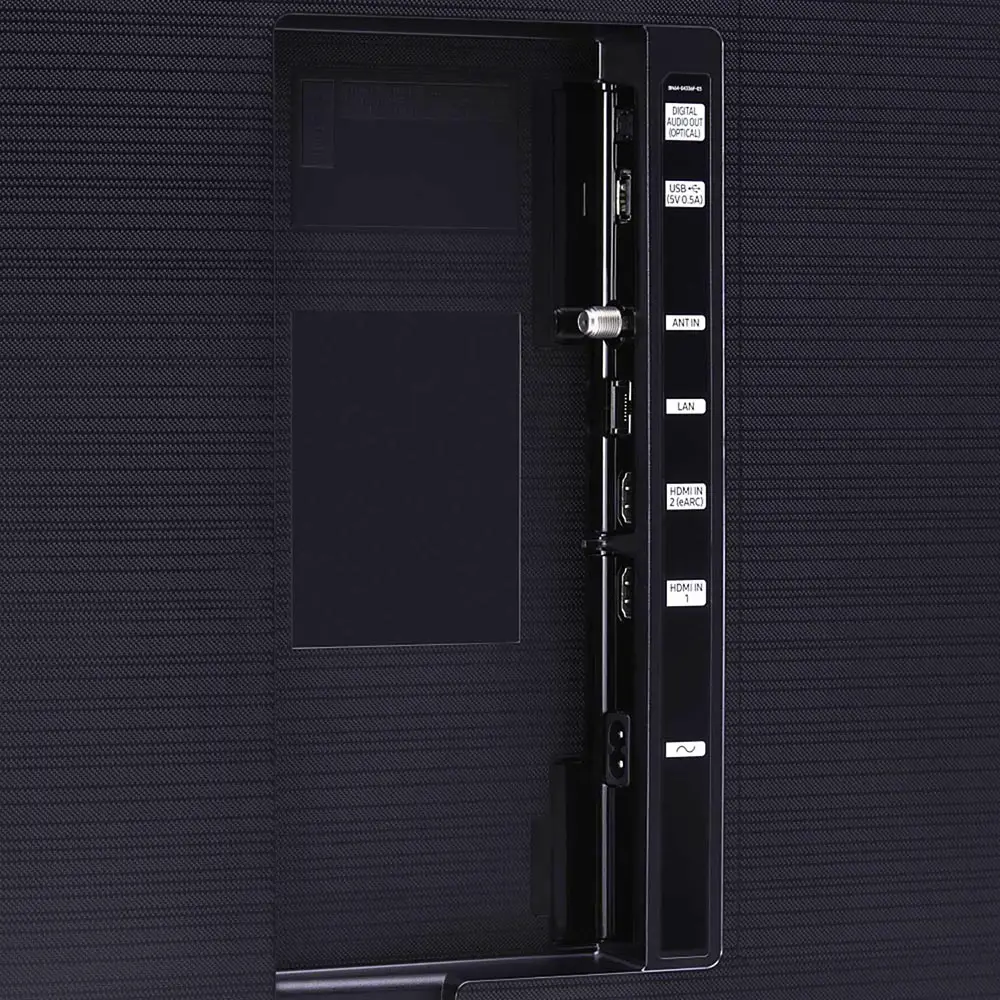 Not much to say here as things are as basic as it can get. Nevertheless we should mention that the available USB port is only v2.0 while the HDMI inputs are v2.0 also. But even so we do get eARC in HDMI 2 which means that the TV can pass Dolby Atmos to an external audio device through it. There is also HDMI-CEC available if you have other devices that also support it.
Two HDMI ports is a bit too low a number for today's needs and three should be the absolute minimum as things are right now. So make sure that the two available will suffice for you.
OS, Apps and Features
When it comes to the smart platform that runs behind the TU7000 there are some differences compared to all the other Samsung TVs this year. And while we still get Samsungs Tizen platform, for the first time the one we do get feels like a more stripped version of the one we got used seeing. While all the basic features are still present there are a few omissions here and there while it seems to have less animations in general than the full version.
As for the user interface if you have used the Tizen platform before then you know what to expect from it more or less. The visual style is a bit different from last year but this was only an aesthetic change and it doesn't affect its functionality at all. With a bit of navigating around you can easily find what you seek. And speaking of navigation scrolling through the various apps and features was pretty smooth with no visible delay or lag.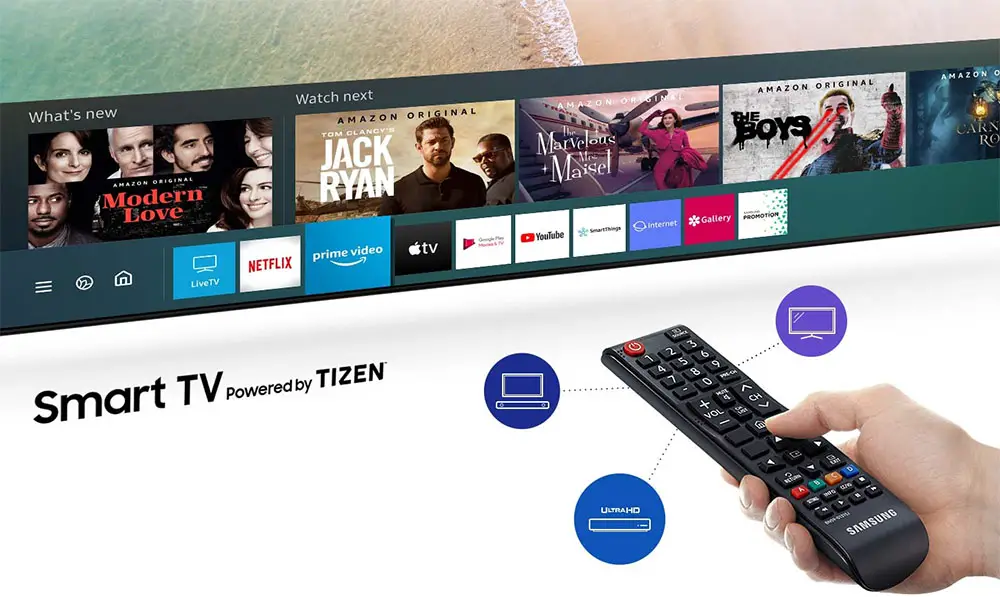 Layout is no different than any other version and as such the launcher bar appears on the bottom of the screen that includes all the menus, setting and various app icons while a second row may appear above when selecting certain apps and can show various content including suggestions and information. As always the Tizen platform always had an abundance of apps available and there are many more you can download that can lead to a very crowded interface. That's why customization features are necessary and Tizen grands you the ability to organize your apps any way you want.
And since we talk about apps and streaming services all the known ones are here including Netflix, Amazon Prime, Apple TV, Disney+, Hulu , Google Play Movies & TV, Vudu, Youtube and Samsung TV plus. Obviously some of them are region dependent so make sure if you are looking for a particular one to be supported in your area. But in general if you are using some of the known ones then most probably you are covered.
When scrolling through the streaming services there was some slight lag, especially when trying to open and close many of them in succession but this was very subtle and never bothered us as you would never change services in a realistic scenario so fast. For a cheap streaming TV this one can do just fine.
But customization is not the only tool available in order to put some order to chaos. Samsung has created what they call the "Universal Guide" which  analyzes your viewing patterns and creates a special 'For You' page where you can find suggestions on what to view. So in case you are watching a particular series you can find your next episode there waiting for you.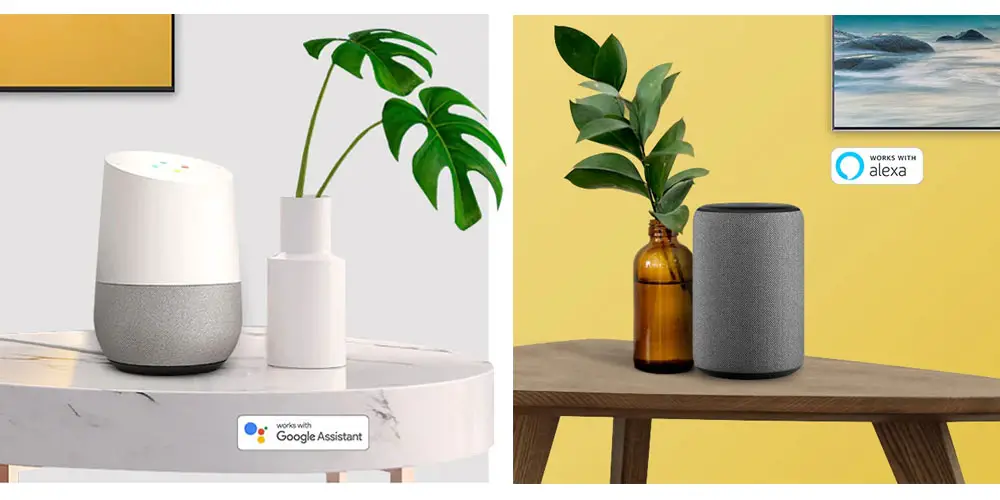 The Tizen in TU7000 may be a watered down version but still comes with strong smart home capabilities. As such there is support for the SmartThings application that you can use and through it you can turn your TV into your smart home hub. This way you can control all your smart home devices including thermostats, smart shades, electronic locks, alarms and vacuum robots among them.
Voice control could not be missing from here either but with the TU7000 implementation is a bit different. Rather than having it built-in you will need an external voice control device for it to work as the TV lacks any microphones that would enable you to issue your commands. So for Amazon Alexa and Google Assistant to work you will need to use an appropriate device and connect it to the TV.
There are a couple more features available that are worth mentioning and these are support for Airplay 2 with which you can stream or share content from Apple devices to the TV. And there is also Mobile to TV mirroring which means you can mirror your mobile device screen to the TV and watch its content that way.
And that's all as far as extra features is concerned. For such a low cost TV we would say that not much is missing. Yes, there are a few omissions we saw in the higher tier models but nothing major that can really affect the overall functionality of the TU7000. Tizen remains a great platform, even in this less capable form.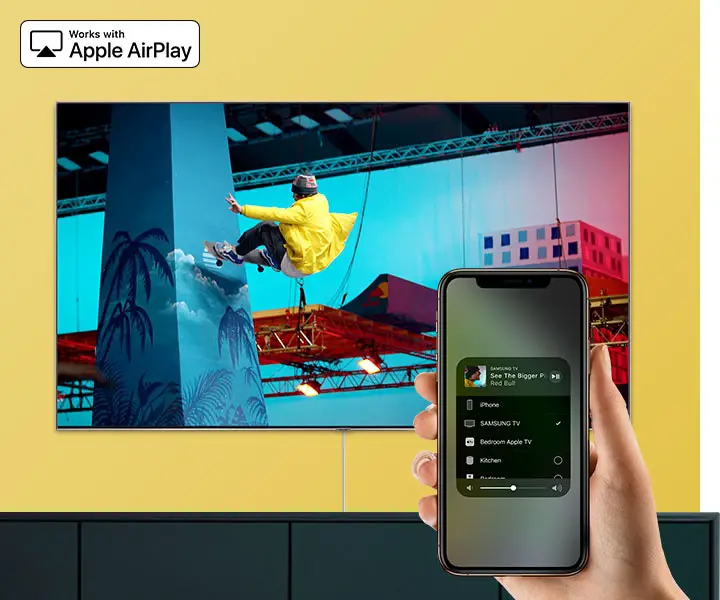 Final Thoughts
We have to slowly wrap things up so closing our review what we can say is that the TU7000 has all the ingredients to be an excellent low cost TV. Obviously if you are thinking of buying this model image quality should be the least of your concerns. So if you keep this in mind what you get is not bad and should suffice for most people that would like a cheap option for their viewing pleasure.
On the pros the TV offers very good build quality for its class, it has excellent contrast ratio making it ideal for placing in rooms with low light and input lag is blazing fast which means that it can be an excellent gaming TV. Up-scaling was also very good with very little visible artifacts making it ideal for up-scaling any old content you may have to 4K resolution. Color coverage and motion performance, although we wouldn't call them bad they were not good either so we could classify them as just adequate.
On the downsides the TU7000 is not a very bright TV and it suffers in both SDR and HDR content. And while in SDR this may not be a huge problem with HDR it is very obvious and it cannot do it justice at all. And if you add to that the fact that there is no wide color gamut support watching any HDR content is a lackluster experience. Also as it uses a VA panel this means that viewing angles are in general average to bad and can be really bothersome if you are watching from different angles at home. Lastly with only two HDMI ports you may find it difficult to connect all your devices on the TV alone.
Obviously the price is the number one factor when choosing to buy such a model. And everything should be judged in relation to that. Is the TU7000 a bad model? If you look at it from a pure 4K HDR model perspective then we would say that it will offer you only half the experience. It simply doesn't have the capabilities to make HDR content justice. But if you look at it from an extremely low budget, affordable TV point of view then we can say that the Samsung TU7000 is an excellent model that can offer you many hours of casual viewing pleasure either it is streaming, broadcasting or gaming.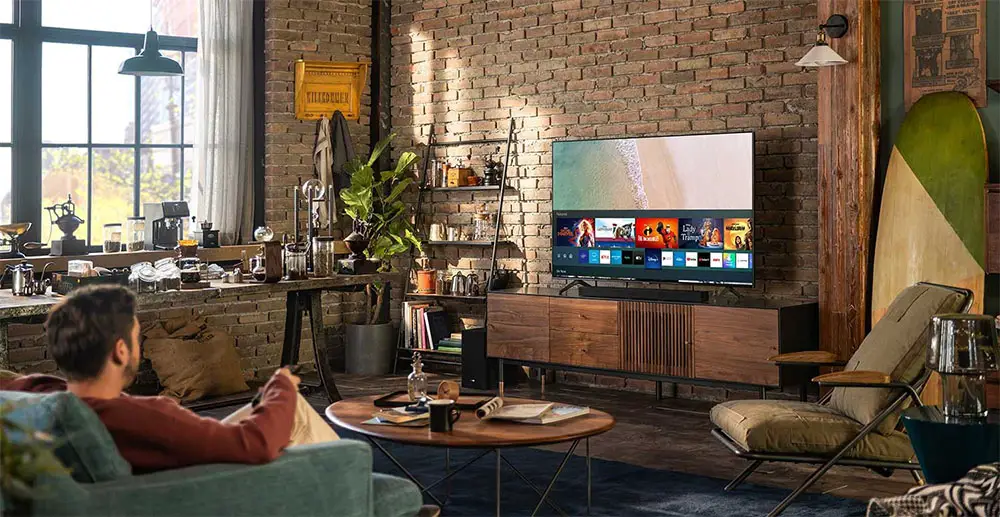 For more reviews you can check our dedicated 4K LED LCD TV reviews list or even look at our Product Reviews Table where you can find the brand and specific product you are looking for.
Also don't lose the chance to subscribe to our Newsletter and gain exclusive privileges.
---
---
Cheapest Places to Buy :
---
Samsung TU7000 / TU7100 Specifications