Sonos Beam Gen 2
Reviewed at $449.00
Product Name: Sonos Beam Gen 2
Product Description: 5.0 CH Dolby Atmos Soundbar
Design -

9.1/10

Movies Performance -

8.7/10

Music Performance -

8.6/10

Inputs and Features -

8/10

Price / Quality -

8.4/10
Summary
Reviewed at $449.00
Pros
Dolby Atmos support
Compact size
eARC functionality
Easy to connect and to use
Cons
No surround activity
Average bass
No DTS support
Very few connections
---
Cheapest Places to Buy :
*We are a reader-supported website. When you buy through links on our site, we may earn a small affiliate commission at no extra cost to you. Home Media Entertainment does not accept money for reviews.*
---
**June 2nd 2023 Update**
Since we tested the Beam Gen 2 and wrote our review before Sonos updated their soundbars to include DTS audio support, some parts of this article do not apply any more. Everything else we mention is still valid.
Soundbars continue to be a favorite product among those that want to improve on their TV's sound performance. Many people look for simplicity and ease of use and soundbars are ideal for offering such an experience. And while some manufacturers like LG and Samsung offer huge lineups every year counting multiple models there are others that have taken a much different route. Sonos is such a company which has a very compact lineup of soundbars but on the other hand their products have proven to very extremely popular. And in our Sonos Beam Gen 2 review we will look at their latest release and what it brings to the table.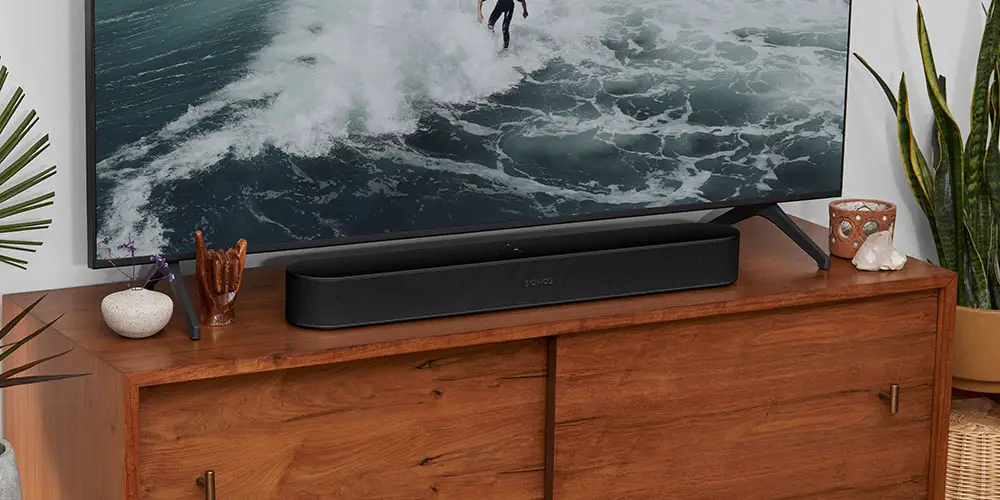 The Sonos Beam Gen 2 is not an entirely new product, rather a refresh of the highly popular Beam that was released in 2018. Now looking at the specs the new Beam Gen 2 seems awfully similar to the previous release with some changes that some may consider important while others would argue that. What is important to understand is that Sonos kept everything that made their first generation of Beam such a highly successful product while upgraded some of its specs that they thought there was room for improvement.
So what has changed? The biggest change is that the new Beam Gen 2 can now support Dolby Atmos which was not the case with the previous model. By upping the processing power of the Beam Gen 2 we get Atmos from both Dolby Digital Plus and Dolby True HD. Dolby Digital along with PCM support is still there as before. A 40% more powerful processing chip meant that the new Beam has two additional sound paths for a more immersive experience than before.
Another addition this year is support for eARC which many will surely appreciate. Everything else seems to be the same with extras like Airplay 2, Alexa and Google Assistant support, it can be controlled with Sonos S2 app and you can even expand it to a full surround 7.1 channels system by adding other Sonos speakers as surrounds along with the Sonos Sub, with all of them greatly expanding the unit's audio capabilities but also upping the price considerably.
So with all the above in mind does the new Beam Gen 2 manages to leave us with the same impressions as its predecessor? Let's find out.
Design, Inputs and Features
Exterior
Looking at the Beam Gen 2 one thing is immediately apparent. Sonos wanted to keep the same exact design as before as it was a really nice and simple look they had and there was no need to completely overhaul it. The Beam is supposed to be Sonos entry level soundbar so in terms of design there is nothing fancy about it. It's simple yet effective and can go unnoticed in a media room or entertainment area.
The soundbar measures just 2.70 x 25.63 x 3.94 in. (68.6 x 651 x 100 mm), exactly the same as the old one, and with a weight of 6.2 lbs (2.8 kg) it's definitely an extremely easy to handle device. It's length makes it easy to place under any TV size and its relatively low profile will not hide the screen although we can think of a couple of TVs that you may have a bit of a problem, the new Philips OLED 806 being one that comes immediately to mind.
Now one thing that you need to pay attention to is that if you want to get the best out of this unit we suggest you not to place it in a cabinet or anything similar as the two front woofers are angled in order to provide extension at the front and by placing the soundbar in a cabinet will certainly have a detrimental effect on its performance. The unit does not include neither surround speakers nor a subwoofer in its box although these can be bought separately and thus makes the Beam a very easy to handle device.
In terms of design Sonos decided to go with simple straight lines and nice curves. Plastic is, once again, the main material used but this time they decided to change the fabric grille with a a polycarbonate perforated one and honestly it looks much better now and brings the Beam in line with their more premium Arc. In terms of colors, once again, there are two choices with black and white the ones available depending your preferences.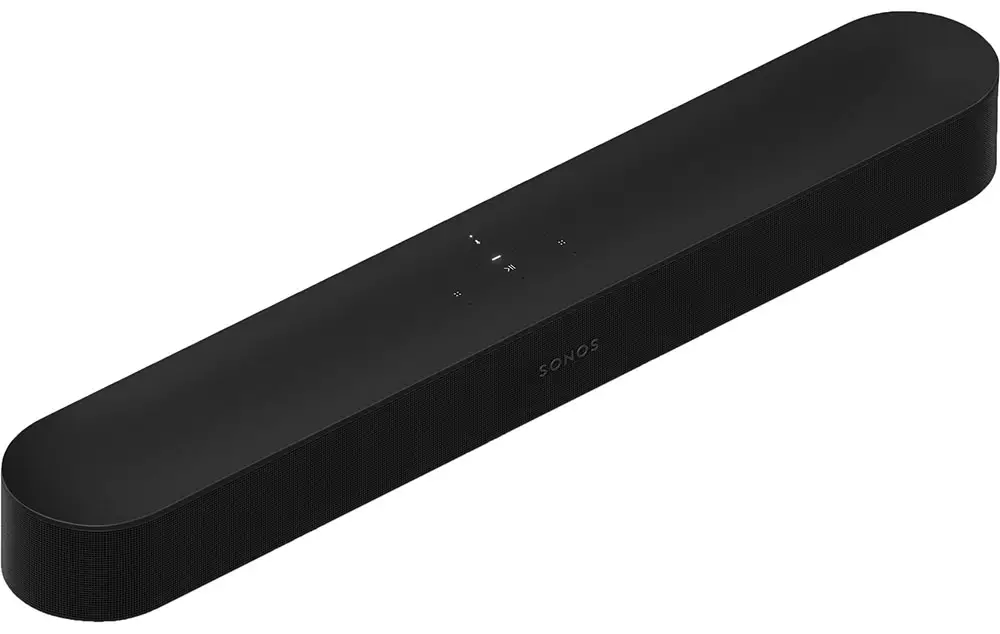 Sonos is not trying to impress with the design but what they have there is both simple and good looking at the same time. The top side has a plain and entirely clean design. At the center of the top side we find the built-in buttons which are touch sensitive and provide some very basic controls for the unit.
There are actually four buttons available for play/pause, volume up/down, change track and microphone mute. The icons on the buttons are not very indicative to be honest compared to most other soundbars so you need to do some research to understand their function. This is one of the things we would like Sonos to improve in order to make the functionality of these buttons more obvious but unfortunately we get more of the same. As for the touch sensitive design, take it as you want. It certainly looks nice in the day but trying to find them in a low lit or completely dark environment can be really frustrating.
Usually we are very demanding when it comes to soundbars including a fully functional display but unfortunately Sonos again opted for not including one as we get more of the same as before. The only indicators we get is a couple of LED lights at the top where the touch sensitive buttons are. The one is placed just above the play/pause button and changes colors depending what the soundbar is doing while the other is above the microphone icon and indicates when the microphone is active.
At the back we find the rather limited connections available in a special inset at the center of the unit. Thankfully the power connector has been placed next to the other ports so it can make cable management just a bit easier. If you want there is also the ability to wall mount the Beam but you will have to use Sonos special wall mount for that.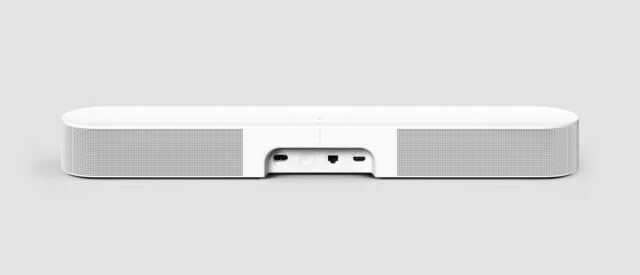 In terms of design Sonos obviously thought that they already had a great design with the Beam so there was no reason to change it. The new perforated grille is a step in the right direction in our opinion while we still don't like the LED indicators design that Sonos go for. Simplicity is good but too much simplicity can go the other way around.
Internal Hardware
The first generation of the Sonos Beam could only handle Dolby Digital. And with Dolby Atmos being an object-oriented track rather than channel based, Sonos thought why not up the processing power and make this available to the Beam as Atmos can apply to any system either it is a 2 channels stereo or a surround system with multiple dedicated Atmos speakers.
A 5.0 channels audio system with four full-range elliptical midwoofers, one tweeter and three passive radiators all handled by five Class-D digital amplifiers is what the soundbar using. Now if you are wondering the Beam Gen 2 is not using dedicated up-firing Atmos drivers. It relies in psychoacoustics in order to make sounds appear that they originate from above. How good this is in the new Beam we will analyze shortly but keep in mind that usually in cases where there are no real speakers it means that heavy processing is taking place which can significantly alter the original sound. But more on this later down the article.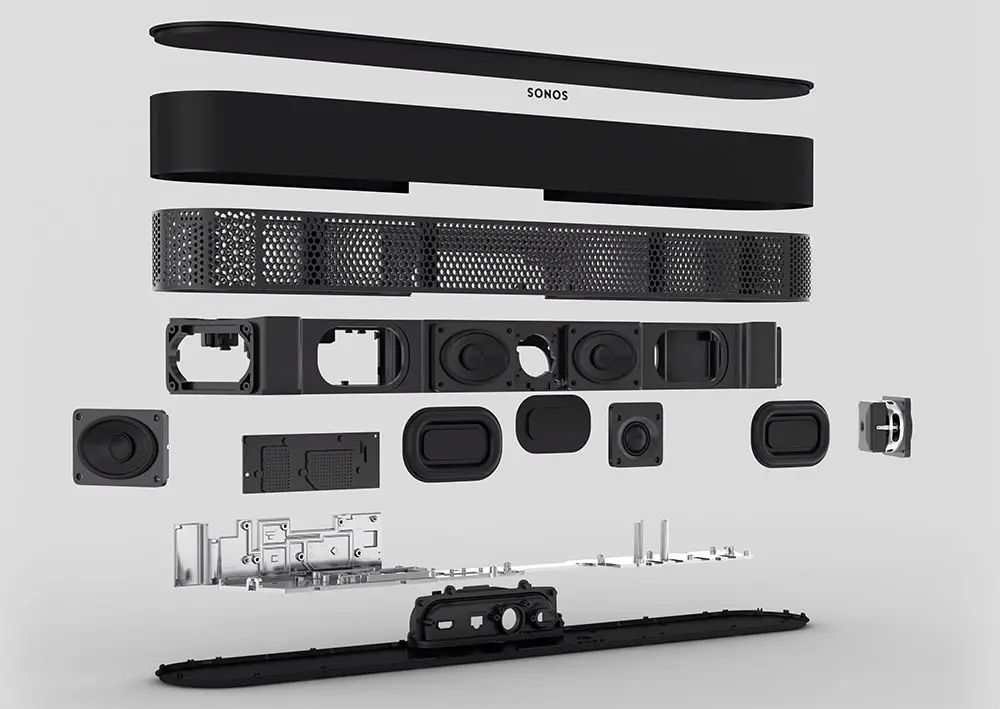 Another thing that makes the Beam Gen 2 unique, and something that was also present in the first generation of it, is the left and right woofers are placed at an angle. Why they did that? Well, the problem with these small soundbars is that their size is limiting their capability of offering a wider front soundstage. By placing the woofers at an angle sound spreads further to the sides giving the illusion of audio originating further away than the physical boundaries of the Beam.
Also these small soundbars usually have very weak bass. So Sonos included three passive radiators that could definitely help the unit provide deeper and more satisfying low end.
In terms of pure hardware the Sonos Beam Gen 2 hasn't changed at all. It uses the same number and kind of woofers as before. Only the upgrade of its processing chip allowed to include more sound paths making the multichannel audio capabilities of the new release exceed those of its predecessor.
Connectivity
Sonos has a certain mentality when it comes to connectivity options in their soundbars and this mentality has certainly created mixed response from consumers. Their idea of offering as little as possible in terms of physical connections is not frequently seen among competing brands. So does the new Beam Gen 2 deviate from this or we get more of the same?

The unit may be a compact, low cost solution but looking at what is available is really surprising. The only physical ports are a single HDMI input and a RJ-45 Ethernet port. That's it! There is also a pairing button and the usual power connector on the far right. So in the end the Beam Gen 2 is practically the same as before.
Unfortunately with a single HDMI port that you have to use to connect to the TV the Beam Gen 2 has no pass-through capabilities. At least the new HDMI comes with eARC support which means you can pass Dolby Atmos from a TV to the Beam itself something that was not possible with the first generation of this soundbar. Once again, while the unit does not have an optical port Sonos has an optical to HDMI adapter that you can use in case your devices only have optical outputs and no HDMI available.
Obviously connecting to the Internet is still the main means for using the Beam and to do so you can either use the included Ethernet port or its built-in WiFi (802.11b/g/n/ac) and from this we get that Sonos slightly updated the WiFi module of the Gen 2 also. The Beam had no Bluetooth functionality and it seems that the new Gen 2 is the same.
Minor upgrades here as the Beam Gen 2 comes with a similar connectivity layout. There is added eARC and a slightly updated WiFi module but other than these two there is no change. If you were pleased with what was on offer before you will be once again otherwise Sonos hasn't done much to satisfy more demanding users.

Control Options
Let's take a look on how you can control the soundbar next. The Sonos Beam Gen 2 is rather indicative of Sonos mentality as there is practically no physical remote that you can use with this one. The same was with the original Beam and this continues well with the new Gen 2 model.
The unit does have a feature called TV remote Sync that allows you to use the remote of your TV in order to issue some basic commands and there is also HDMI-CEC that helps with that if you use the HDMI connection but other than that don't expect to find the usual remote here.
Some basic control functions are available through the built-in, touch sensitive buttons on the soundbar itself, as we mentioned above but these are extremely limited to what you can do.
This was done because the Sonos Beam can be mostly controlled either by a mobile app or by voice. First of all about the app. The Sonos Beam Gen 2 needs the latest Sonos S2 app to work which is available for both Android and iOS systems and offers all the settings and parameters the soundbar supports. If you are not very accustomed to using an app to control an audio device then it may take you a while to find your bearings otherwise its the typical audio app like similar apps many other manufacturers are using too.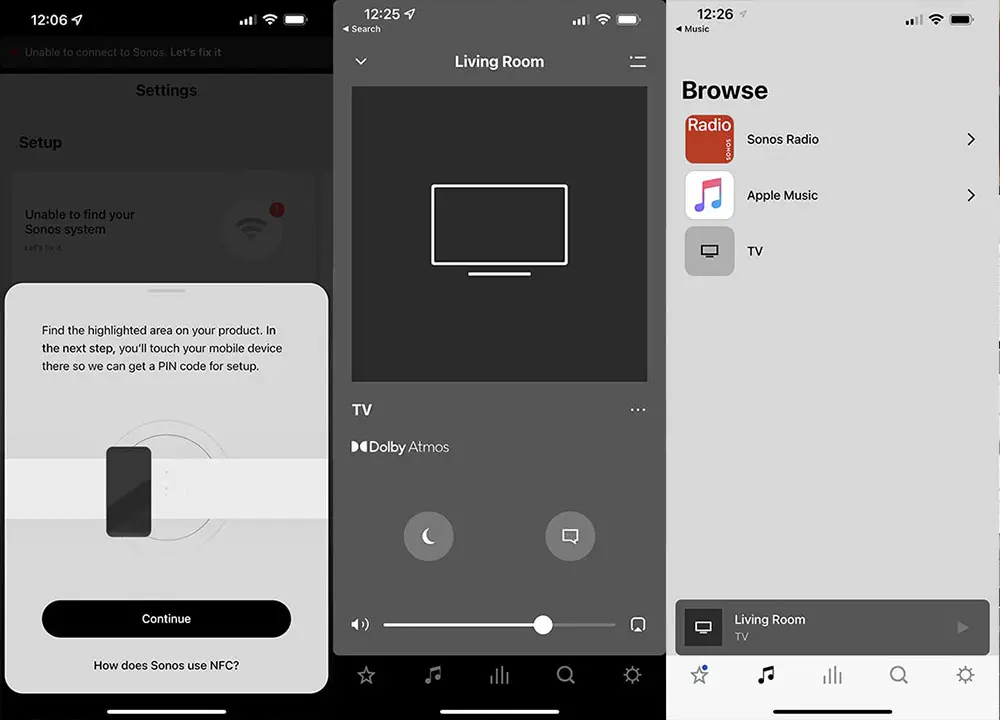 As for voice control the Beam Gen 2, once again, comes with the standard ones. There is Amazon Alexa and Google Assistant built-in to choose from but there is also the option to use Apple's Siri since the device also supports Airplay 2 but this is not built-in and you will have to use an Apple device.
The Beam has five far-field microphones in order to hear your voice even during very loud moments or if you are far away from the unit but there is a limit on how much these microphones can distinguish your voice. Their performance was very similar to the original Beam although it felt like our commands were easier understood. Now if Sonos actually improved anything here or it was pure coincidence we cannot say.
Some probably hate that Sonos mentality is a remote-free design but it is what it is. You will either like it or hate it and although the Sonos S2 app is nicely designed it surely is not for everyone. The Beam Gen 2 keeps everything the same as its predecessor here.
Extra Features and Services
When it comes to extra features the new Beam is not all that different from the first generation except from the inclusion of Dolby Atmos. Everything else seems to be exactly the same as before so this part of our review will be, once again, very similar to what we found in the original Beam.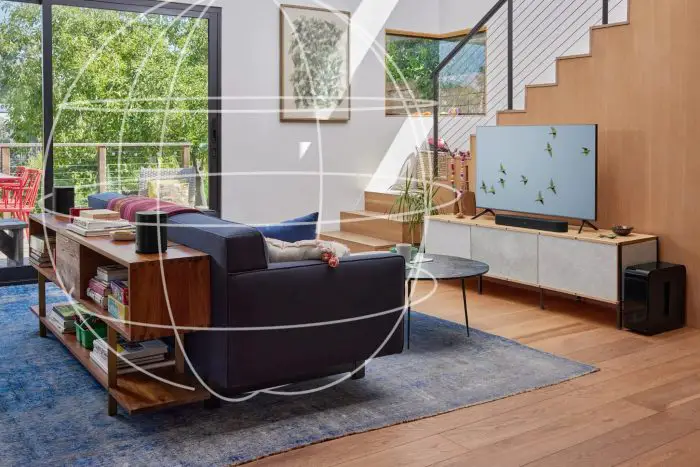 The Beam Gen 2 supports all the formats the original Beam did and add more by including Dolby Atmos. Keep in mind that Atmos in the new Beam Gen 2 can be played either through Dolby Digital Plus or through the Dolby TrueHD codec which is important as most online services use Dolby Digital Plus to deliver Atmos while UHD disks use Dolby TrueHD to deliver it. Dolby Digital is once again present as is stereo and multichannel PCM. Unfortunately DTS and obviously DTS:X are still missing in action but surely this has to do more with licenses rather than the ability of the Beam to process them.
When it comes to audio settings things are pretty light. We do get treble and bass adjustments in the EQ settings but unfortunately there is no full graphic EQ if you want to do some more precise calibration. The Beam Gen 2 continues to keep things simple and it was before.
As far as sound modes, things are pretty simple too. Other brands tend to offer a wide selection of sound modes depending the content you want to use it for, the Beam Gen 2 on the other hand opts for simplicity and thus there are no sound modes you have to deal with making things easier for the casual user that wants a universal setting for all instances. But there are a couple of special modes available for special occasions and these are a Dialogue Enhancement mode which boosts dialogue and a Night mode which balances changes in audio as the content is changing. But that's all.
Once again we find the room correction feature called Trueplay. This system uses the microphone of your mobile device to take measurements across your room and calibrate the soundbar accordingly. Unfortunately the Trueplay system is only available for iOS and not Android. We fail to see why Android is not supported and also it is quite puzzling why Sonos is not using the built-in microphone array for this calibration instead of your mobile phone microphone. As it is the system is useless to Android users and certainly a disappointing decision by Sonos.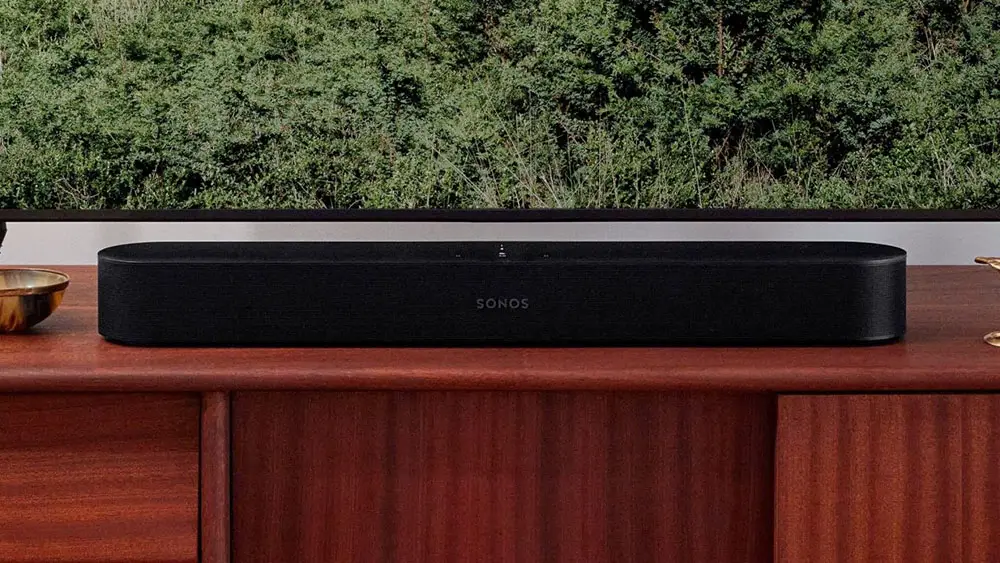 With the Beam supporting Airplay 2 this means that you can create a multi-room environment through the app by connecting various Airplay devices together. Also with Airplay you can stream music to your Airplay speakers from various online streaming services through WiFi. And don't forget Siri that we mentioned above as it can also work with the Beam Gen 2 through the Airplay 2 app.
And since we talked about online services there are many you can use with the Sonos Beam as it supports big names like Spotify, Tidal, Apple Music, Amazon, Google Play and Deezer. You can even stream music stored in your phone or your network-connected hard drives and NAS servers.
As with all Sonos speakers the Beam can be expanded to a full 7.1 channels system if you add to the ecosystem a pair of Sonos One SL and the Sonos Sub (Gen 3). You can go with any combination you like and this really adds to the flexibility of the system. Either you want only the soundbar, add a couple of surrounds, a sub or all of them for getting a really immersive surround experience. The choice is yours and this is really great as it allows you to manage your budget accordingly.
We should also not forget to mention that Sonos has promised to include Amazon Music's Ultra HD audio along with Dolby Atmos Music support in a future update. When this will be available is not known at the time of writing.
The biggest change here is obviously Dolby Atmos support. Everything else is exactly the same as before. Although we do get the reasoning behind not including many sound modes and features we are disappointed to see no DTS support once again. There are many competing brands with lower prices that do include DTS and there is no excuse for that in the Beam Gen 2. Sonos had the opportunity to fix this since it was also one of the weaknesses in the original Beam.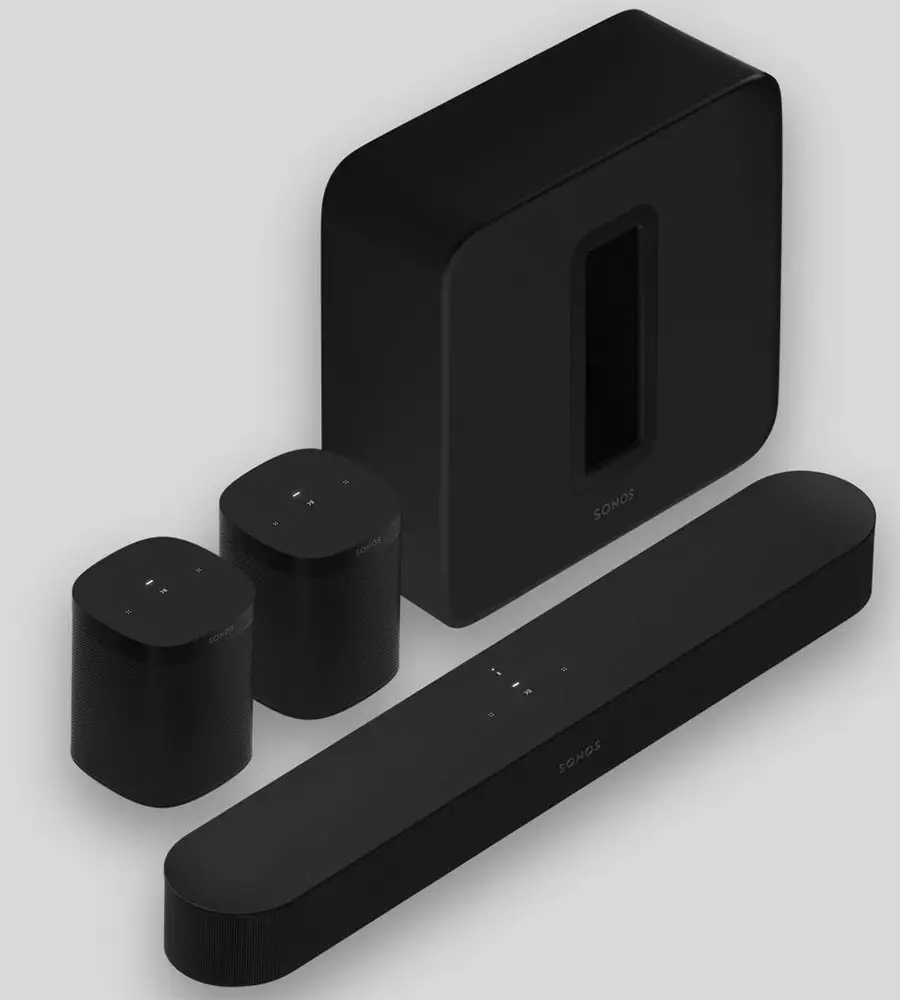 Initial Setup
Connecting the Beam Gen 2 was as simple as with all Sonos products. After connecting the power cable we used a HDMI cable to connect the eARC port of our TV to the Beam Gen 2 itself. As for our source we had to connect our 4K UHD player to our test TV as there is no way to connect it directly into the Beam. The soundbar is meant to always be the last part in your audio system's chain.
Once again we had no Apple device at hand in order to try the Trueplay room correction system so all we could do was some manual calibration with the available treble and bass sliders through the S2 app. As we already mentioned there are no sound modes available here so we surely saved some time there and this will be appreciated by many who find all this process intimidating. If you love to be able to adjust every single aspect of your sound device then the Beam is not for you.
There is not much else to do there really and you can have the soundbar up and ready in just a few minutes. The Beam Gen 2 continues the same trend that all Sonos products had in the past and that is easy setup and even easier user experience.
Movies
Since Sonos is strongly marketing its Dolby Atmos capabilities we decided to try out Greyhound that uses a fantastic Dolby Atmos mix and will show us what the Beam Gen 2 is capable of. For those interested Greyhound is being streamed exclusively in Apple TV.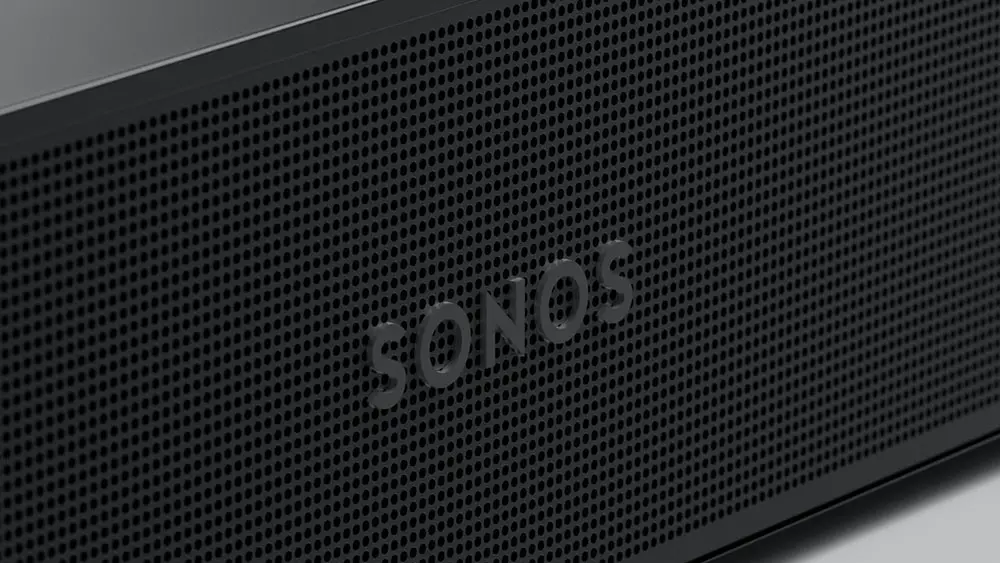 Having tested the original Beam we had some short of comparison point so we were curious if the new Beam could do any better. Greyhound has many action scenes and makes good use of surround activity especially when the Fletcher-class destroyer is throwing everything it has on the U-boats. So what was our impression on the Beam Gen 2? Very good overall. First of all the front soundstage had good size considering the compact nature of the unit. The angled woofers do push the sound to the sides making the soundbar feel like it is bigger than it really is.
We felt like dialogue was slightly crispier and more clear than before also. If this had to do due to the change of the grille or Sonos had improved anything hardware or software wise we cannot say for sure but the difference was there. And this was very obvious in such a film where the Captain had to give constant orders to his crew during the heat of the battle.
The Beam Gen 2 may be a Dolby Atmos capable soundbar but without any dedicated Atmos speakers it relies to psychoacoustics to reproduce sounds from the top layer when there are no real physical speakers present. The end result is a bit of a mixed bag. On the one hand you do gain some height with certain sound elements feel slightly more elevated than before. This surely ups the immersion, but on the other hand in order to do so some heavy processing takes places which can result in some alterations in the original mix.
The same can be said about surround activity. When the Greyhound is throwing all its ordnance you could sense the shells travelling from their original source but you wouldn't exactly call the panning effects distinct or accurate as they could not go all the way to the back of our viewing position. Everything was firmly placed at the front. Yes, there is more volume, more depth and more sideways expansion and the overall quality of the sound felt better both in dynamics and details but surround sound was simply not there.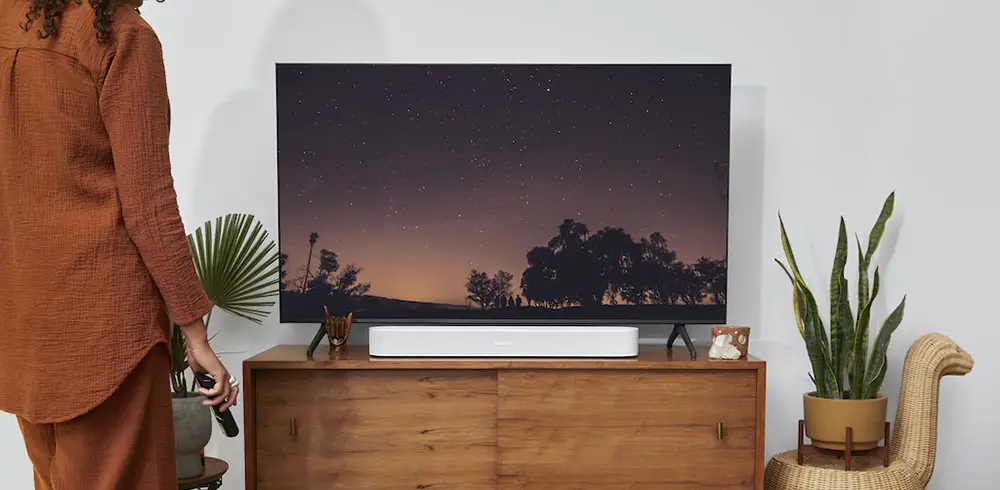 The bass was also another aspect of the unit that we felt it was not as good as we would like it to be. With the destroyer's Mk-30 5-inch turrets fully active the low end felt a bit flat and uninspiring. The Beam is using three passive radiators in order to improve the bass performance but even these can do so much in such a small device. Yes, the soundbar does try hard to push the lows but the devastating effects of these guns are lost due to its inability to create a shaking low end experience.
When the scene would not require such excessive bass activity the Beam Gen 2 fared much better. The twin 40mm Bofors guns on the Greyhound sounded crisp and thunderous even if they were also missing some weight. You could even feel a slight shake or two when the camera was focusing on them. To be honest you should not expect much more from such a small soundbar that has no dedicated subwoofer. There is so much you can do there with the design at hand and if you really feel that its performance lacks in this area then buying the Sonos Sub (Gen 3) is your only option.
Closing what we can say is that the Beam Gen 2 really felt like an update of the original Beam. You shouldn't expect any miracles but there were areas when the new unit felt more refined, more crisp and more accurate. And if you add the better extension you get at the front with the addition of Atmos sound then things did look good for the new Beam Gen 2.
Music
Since there is no USB or Bluetooth available the only way to listen to music is through streaming. This was the case with the original Beam and continues to be the same with the new one. As we always say in our soundbar reviews it doesn't matter if you look for a $100 unit or some premium over-$1,000 one, no soundbar should be considered HiFi material and this applies to the new Beam Gen 2 also.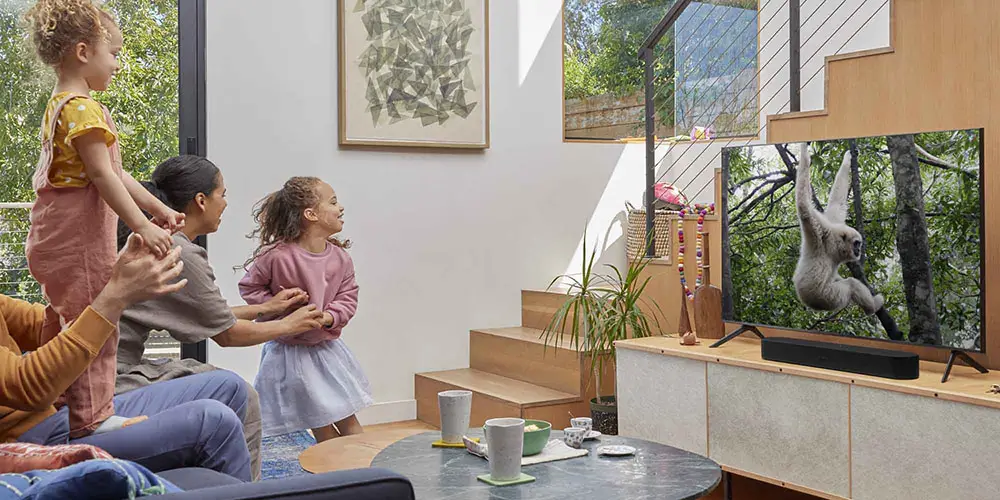 With this in mind the end result felt very close to what we had experienced in the original Beam with some minor improvements here and there. The soundstage at the front felt very satisfying and very alive as the Beam Gen 2 was able to expand the space towards all directions. Mid-range felt ok for its category while the upper frequencies were accurate, full of energy and slightly over-exciting but without becoming bothersome.
In terms of bass performance we didn't notice any difference from its predecessor. In most cases the Beam fared satisfactory but when the moment asked for it the unit was missing the low end prowess needed that would really make the experience unique. If you are not very much into details then the core unit may be enough but for anything more the subwoofer is definitely needed and you will get so much more out of it with it in your setup.
We tried a few different genres to see if there were any particular differences between them and in most cases what we had observed before was the case here. Songs that are more active and demanding on the low end may have slightly more problems with the beam Gen 2 as they were missing some weight that characterizes them. On the other hand songs that gave higher priority to the vocals did better with crisp voices and energetic highs being very evident.
In terms of music performance the Sonos Beam Gen 2 is not so much better as it was the case with its movies performance. Yes, there were still a few moments that the new Beam felt ahead of its predecessor but these were few and far between and overall not very noteworthy. Specific genres will fare better than others but keep in mind that this unit is mostly for casual use and you shouldn't set your expectations sky high waiting for a miracle music box. If you know what you go for then you will certainly be pleased by what the Beam Gen 2 has to offer.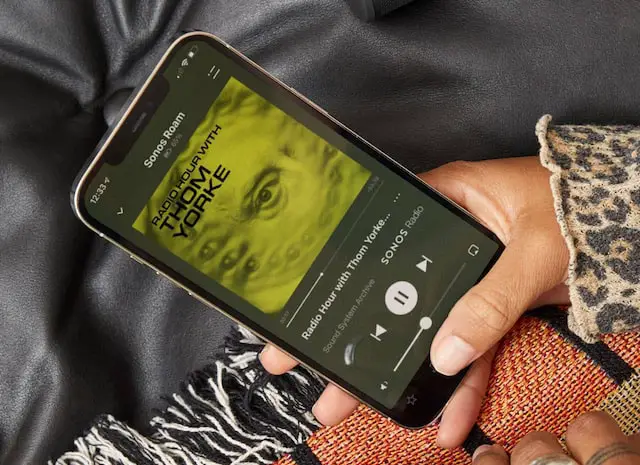 Final Thoughts
The Sonos Beam Gen 2 can be considered more of a refresh rather than a completely new release. It has all the characteristics and ingredients to be another successful product without being the revolution that some may have been hoping for.
In terms to what have changed the new Beam Gen 2 comes with exactly the same design but changes the cloth grille with a polycarbonate perforated one. But the most meaningful upgrade comes in terms of Dolby Atmos support while Sonos included eARC in the HDMI port also. The WiFi module has also been upgraded to a faster one. And that's all the differences there is to it.
In terms of performance the Beam Gen 2 continues to impress as its predecessor. For such a small soundbar its sound output was noteworthy even if its size limitations would not allow it to go above and beyond. Simplicity and ease of use is one of its characteristics so if you want a simple soundbar with not many sound features to fiddle with the Beam Gen 2 is the right one for you. Also if you are deep into Sonos ecosystem the unit allows you to intergrade it with the rest of your devices through the S2 app with ease. Lastly the Beam Gen 2's sound abilities can be further enhanced by adding a sub and surround speakers or make any combination of that you want.
On the other hand the Beam Gen 2 comes with all the same downsides the original Beam had. Dolby Atmos does improve slightly the final sound perception but again there was complete lack of surround activity. Also bass performance cannot be considered its forte. Both of these can be fixed with the right additions but the core unit leaves a lot to be desired in these two fronts. Also having to use the Sonos app will make a few think twice if they are not fond of using a mobile device all the time to control it. Sonos still refuses to add DTS support when many others have done so for many years now. Lastly connectivity options is not exactly a strong aspect of the Beam soundbar either.
Closing what we can say about the new Sonos Beam Gen 2 is that if you didn't like the original release then this new one offers nothing fancy to gain your favor. On the other hand if you were on the fence for it then the new Beam Gen 2 might be what you were waiting for. Overall it is certainly a better soundbar than the original Beam was even if it does not offer a huge jump in sound quality or features.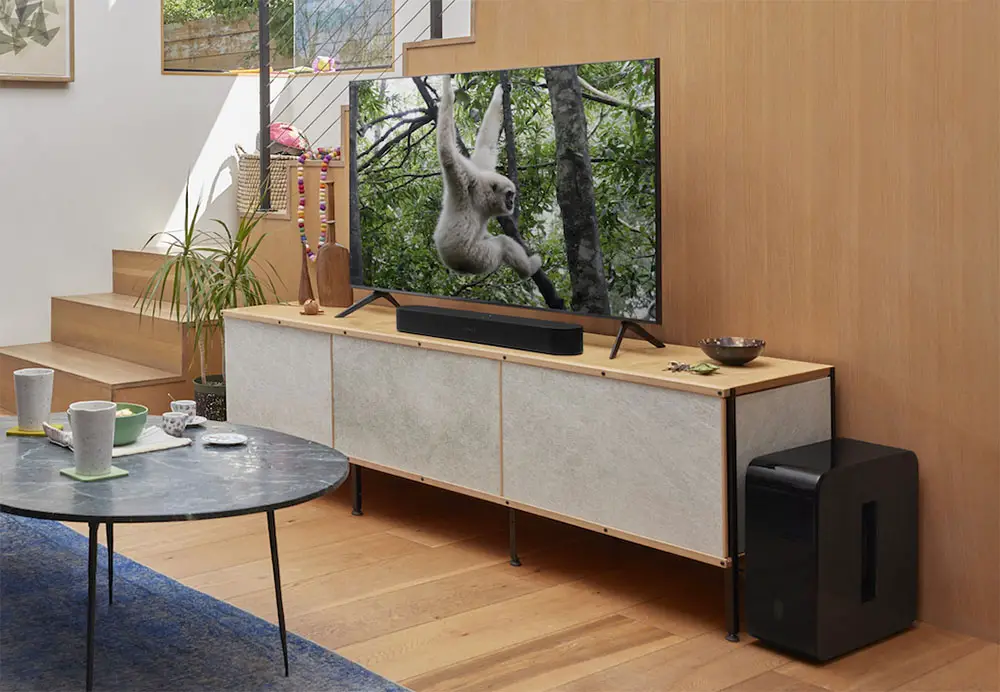 For more reviews you can check our dedicated Single Soundbar reviews list or even look at our Product Reviews Table where you can find the brand and specific product you are looking for.
---
Cheapest Places to Buy :
*We are a reader-supported website. When you buy through links on our site, we may earn a small affiliate commission at no extra cost to you. Home Media Entertainment does not accept money for reviews.*
---
Sonos Beam Gen 2 Specifications