Sony A8G (US) – AG8 (UK/Europe)
OS, Apps and Features
9.2/10
Pros
Excellent image quality
Very good motion performance
Amazing viewing angles
Lots of features and services
Cons
Uses the less capable X1 Extreme processor
No HDMI 2.1 or eARC support
Sound quality is average
Mediocre remote
---
Cheapest Places to Buy :
---
If you are looking to buy a Sony OLED this year then your options are rather limited as Sony has released only two models for their 2019 lineup. Their flagship Sony A9G which we had reviewed a few months earlier (you can find it HERE) and got very good scores from us as well as the cheaper and more affordable A8G. In today's Sony A8G review we have the pleasure of checking the more affordable of the two and see how much we are loosing compared to the top model due to the lower price.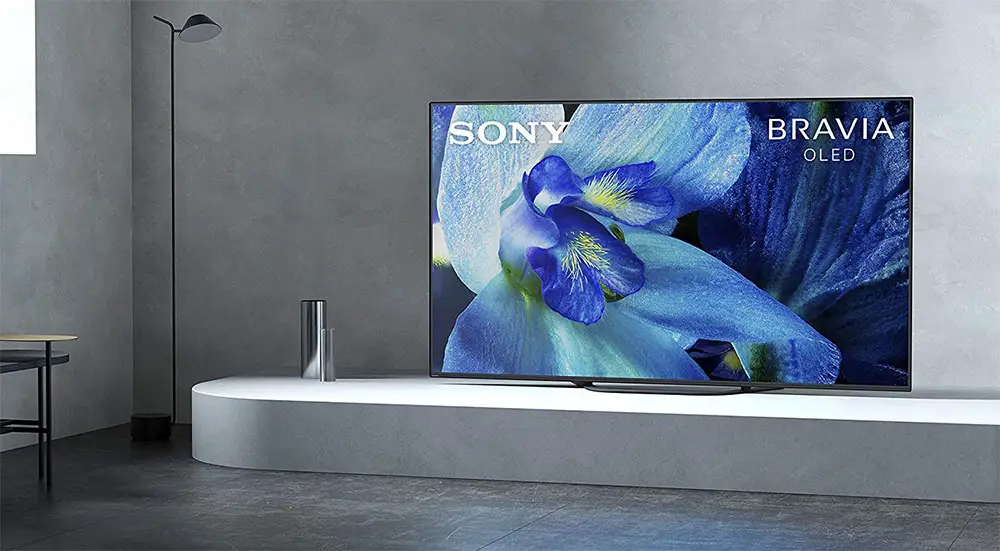 The A8G share many similarities to the A9G. Basically all OLED models have similar characteristics as using the same OLED technology means that they all get the crazy deep black levels, infinite contrast and excellent viewing angles. So in this regard the A8G is bound to perform exactly the same to it's bigger brother. But there are many other features and specifications that can be affected by the price cut so it is our duty to find these differences and see how much they affect the overall value the A8G has.
Before we start we need to mention that the Sony A8G comes with an OLED panel, features the X1 Extreme Processor, supports HDR10, HLG and Dolby Vision, comes with Sony's Acoustic Surface Audio sound system and has Android TV 8.0 installed with all it's smart systems, apps and services. So with that being said let's start our review and we will make sure to point out the key differences with the A9G as we analyze each aspect of it. Are these differences so big that affect the overall performance of the A8G or are we talking mostly about secondary features making them less important? Keep reading to find out.
Design
Design wise the A8G features a different look than the A9G but even so we did manage to identify similar design vibes to it's bigger brother. Once again the TV sits on a central stand that is rather unique and we will talk about it momentarily. Having an OLED panel means that the A8G is extremely thin even in the lower part where we get all electronics and measures about 5cm. Thickness seems to be slightly more than the A9G but still is extremely thin making it one amazing model to wall mount without being distracting. Borders are very thin and similar to the A9G making the A8G look very good and elegant.
Turning the TV around we find a very clean and simple design with straight lines and sharp corners that are very similar to the A9G only here the squares are bigger in comparison. All connectors are grouped together in a inset on the right side while we also get the usual sideways looking ones that we will talk about later. In general not much to say here. It feels like it is well constructed and in line with the quality you would expect from an OLED model.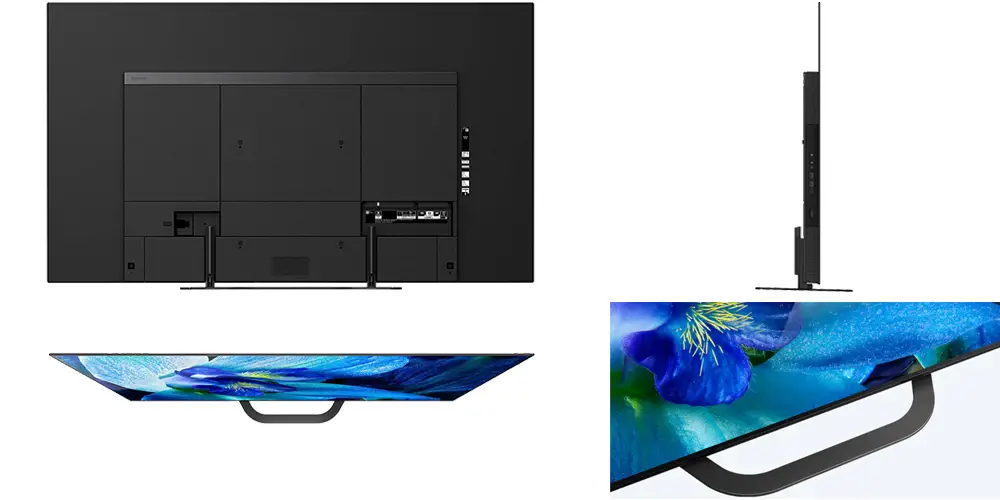 Let's talk a bit about the stand now which is completely different from what we saw in the A9G. What we get here is a central, crescent looking stand that can be used both ways. As the distance from the holes is the same you can choose which side you prefer the most without affecting the stability of the TV in any way.
Having a central stand means that the unit can wobble a bit especially for the 65″ model but there is no danger of it falling so you shouldn't worry about it. Also with a central stand you have the ability to place the TV even in small furniture as it has a smaller footprint than the bench-type stands. Lastly the legs that connect the stand with the TV are hollow and can be used to guide the cables from there in order to hide them as much as possible.
For last we left the remote and unfortunately here we were left disappointed. And by that we mean that while for the A9G we got the new, more premium looking remote in the A8G we find the usual plastic and cheap looking one we had seen many times before. Getting an OLED model, even if this is the cheaper A8G means that you do get a premium unit so we were hoping to get the better one that we found in both the A9G and X950G but it seems this is one of the elements that Sony chose in order to cut some of the cost.

The one we do get uses IR signals so you need direct line of sight while it uses Bluetooth in order to send the voice commands to the TV as it is equipped with a built-in microphone for that purpose. As for the buttons layout and design there is not much to say as it is the typical remote you will find in many other devices. The circular buttons has a rubber feel while their placement is done according to their functions. As such on the top we get three big buttons for input selection, voice commands and power.
Under a numerical pad with two big dedicated buttons underneath for Google Play and Netflix while four colored buttons for smart selection are placed above the usual navigation controls. Below we find controls for volume and channels while on the bottom there is a group for playback controls. Lastly we should mention that there is no backlight function which makes things difficult to handle in the dark.
Closing this section we feel that for being a cheaper OLED, the A8G has a very good design as well as build quality but we are a bit disappointed that we didn't get the new and more premium remote so it will definitely loose some points there.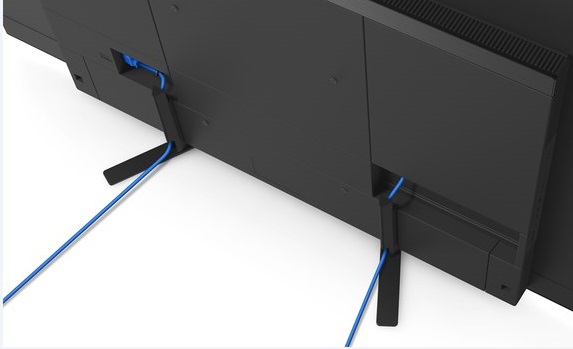 Video Quality
Processor technology used
One of the areas that Sony had to cut corners in order to reduce the cost was also in the silicone used with the A8G using an older version of the X1 family of processors. While the A9G got the latest X1 Ultimate here we get the X1 Extreme instead. So what are the differences between the two? The X1 Extreme obviously is less processing capable while also looses some top technologies like Object based super resolution and Pixel Contrast Booster.
But this doesn't mean that the X1 Extreme is not a good chip. On the contrary is features some very impressive specs even if it isn't top of the line any more. As such we get Object-based HDR remaster that is analyzing the colors and contrast of individual objects on screen and adjusts it accordingly.
Along with dual database processing that is used to reduce on-screen noise and upscale resolution, Super bit mapping HDR that displays more color shades that improve color gradation and deletes banding, Dynamic Contrast Enhancer and the 4K X-Reality Pro engine the X1 processor is a serious piece of silicon that will ensure the best image quality possible.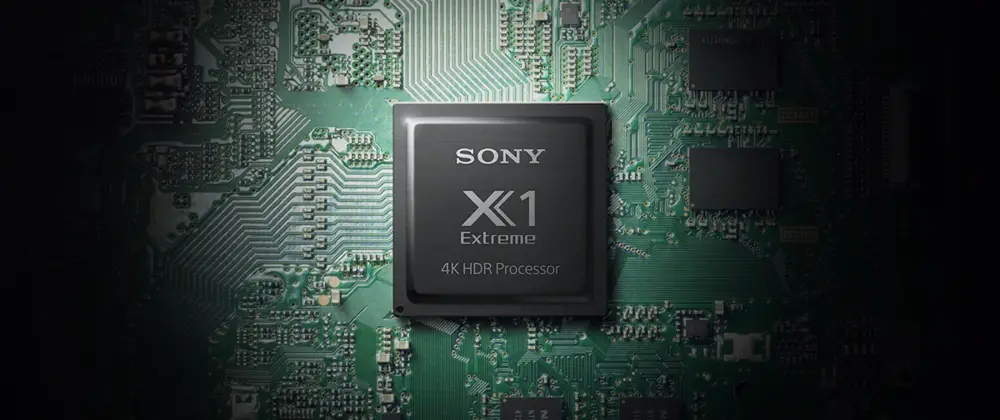 Lighting technology used
With the A8G using an OLED panel means that it comes with all the advantages this technology brings. OLED is not using any backlight like LED LCDs do so it can turn on and off each individual pixel giving this TV amazing control over it's light capabilities. which means amazing deep black levels that you really have to see to believe while such extreme light control means that blooming that is plaguing most LED LCDs here is non existent.
With the OLED panel having self-emitting pixels you don't have to worry about this problem that is very distracting when you watch very bright objects against a dark background. LED LCDs have light leak to nearby pixels from the backlight and the only way to combat this is to use a FALD light system with as many dimming zones as possible. But this makes these TVs very expensive and the result is not as accurate as in this OLED.
Until we see some new tech being developed OLED is being considered the best TV panel technology so far and the A8G is similar in this to all other OLED models in the market.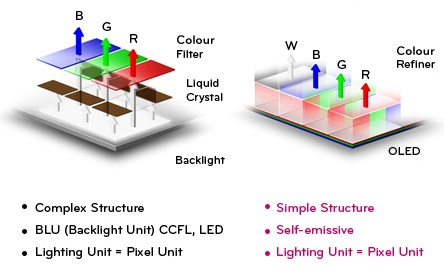 Brightness / Contrast
When it comes to brightness things haven't changed much lately. The last couple of years it seems that OLED manufacturers have hit some kind of wall as there is no improvement in this regard at all and have mostly focused in other areas to improve image quality. Brightness always was one of OLED's biggest weaknesses as they cannot reach the crazy brightness levels of LED LCDs but the deep blacks somewhat negate this problem. With the A8G we got similar behavior to the previously tested A9G.
In our measurements we managed to get about 420 nits of SDR brightness on a 10% window which is great and more than enough for any kind of SDR content. With our HDR brightness tests over a 10% window we managed to get 622 nits which we would describe as adequate but obviously it cannot compete with some LCDs that can go over 1000 nits. The numbers we got with the A8G are extremely close with those we saw during our A9G testings and we would even say they are exactly the same making the two models equally capable in this regard.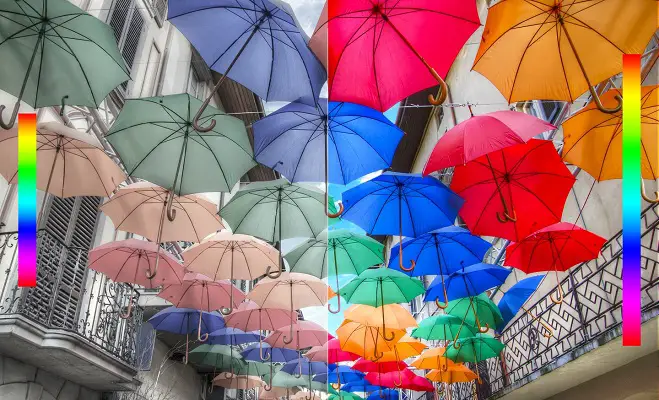 As we mentioned before having an OLED panel means the A8G can turn off it's individual pixels giving this unit infinite contrast ratio with completely black levels that are vastly superior that the grayish blacks we usually see in middle and lower tier LCDs. Also panel uniformity of the unit we tested was great which is characteristic of all OLEDs.
One thing we keep mentioning in all our OLED TV reviews is the problem of permanent image retention that is characteristic of the tech being used. Manufacturers are using various features to protect their OLED panels from this problem and in the Sony one you will find Pixel Shift in the TV settings as well as Panel Refresh that you should be using as frequently as Sony suggests. In order to avoid permanent burn-in of static graphics and logos you should be making breaks every few hours to allow the pixels to refresh.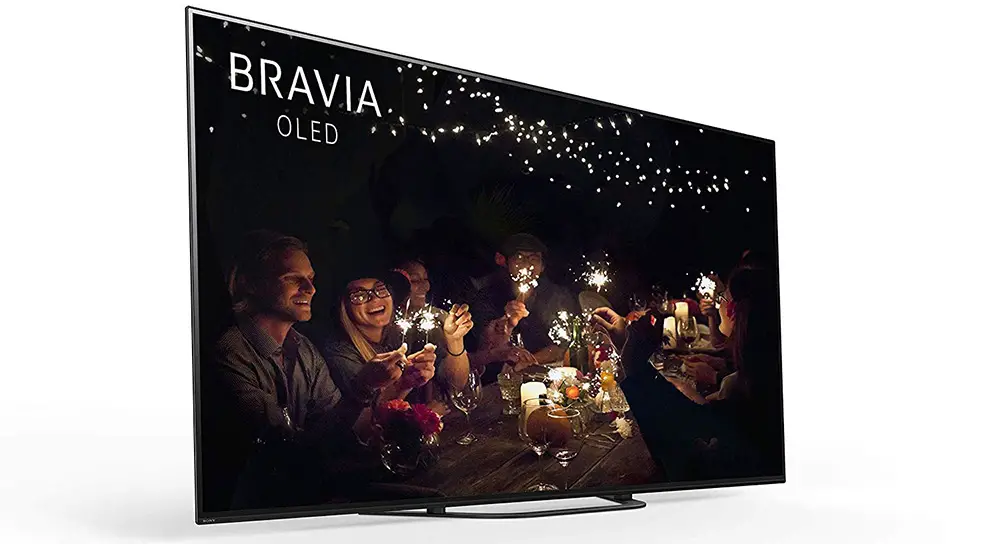 One last thing we should point out is that when viewing static HDR images for a long period of time the A8G will gradually lower overall brightness to avoid burn-in. This reduction is so slow that probably will go unnoticed by most but in a comparison the difference is more than obvious and it's a feature that you should know about. When the image refreshes brightness returns to it's original values until another static image stays on screen for a long time so a new cycle starts again.
Viewing angles
With the A8G being an OLED it means that you get the extreme viewing angles that this tech is so famous for making it an ideal model if you have multiple viewing positions in the area you are planning to set it up. LCDs cannot even come near to the viewing angles we get here even with the inclusion of some technologies and filters that were made to improve this.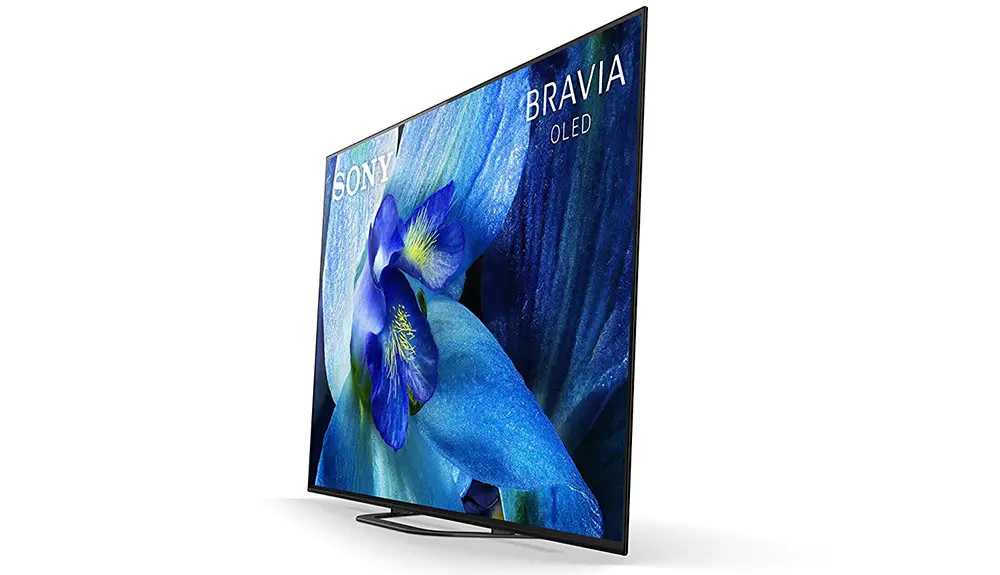 With the A8G we measured a 50 degrees viewing angle to be the maximum that you can watch with the image holding most of it's integrity. Anything more and degradation of image quality will be more than visible. But we cannot believe you would have a normal viewing experience in such extreme angle so the 50 degrees offers more than enough flexibility making the A8G perform similarly in this with the top A9G model.
HDR support
The Sony A8G comes with the same support as did the A9G which means we get all three HDR protocols that all other middle and top tier models do. This means we get the basic HDR10 which is needed for basic UHD playback, HLG which is used for broadcasting and the more advanced Dolby Vision that is using dynamic metadata. What is missing is Dolby Vision's rival called HDR10+ and if we are going to believe Sony's claims then we aren't going to see this in any Sony TVs any time soon as they seem to be fully backing Dolby's advanced HDR. If this will change in the future it remains to be seen but for the meantime we would suggest you not to hold your breath on this one.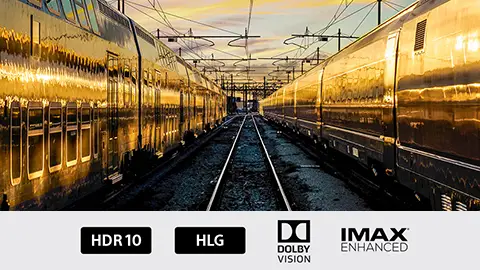 Color coverage
The A8G naturally supports Wide Color Gamut making it capable at displaying a wider range of colors that can result in more vivid and lifelike images. The coverage we measured in the DCI-P3 color space was excellent with 97% coverage while in the wider REC.2020 color space the value we got was 73% which we also consider very good and above average. These values are extremely close to what the A9G was able to give us so we consider that both models perform very close in this regard. Excellent results on behalf of the A8G and it's one more feature that performed the same as Sony's flagship.
Motion performance
When it comes to motion performance it seems that both Sony's OLED models in 2019 perform extremely close. This means that the A8G also gets Sony's famous Motion Flow XR technology and in combination with the unit's 120Hz panel the A8G can produce very smooth motion that is judder and blur free during fast camera pans.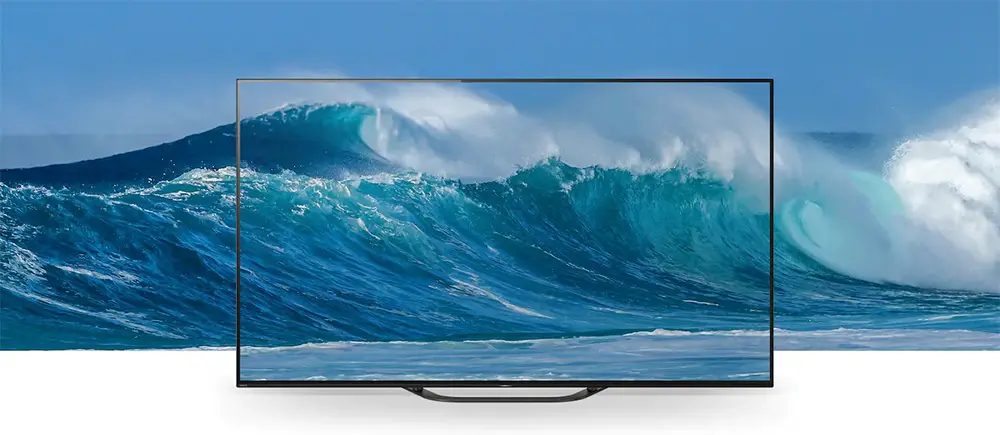 Having similar features means that we also get the optional BFI (Black Frame Insertion) feature  that can smooth  motion by inserting a black frame between two individual frames during playback. This feature unfortunately has a couple of side effects one of which is the lower brightness due to the black frames and second it may show some flickering which can be bothersome to some people. Motion Interpolation works very good in this unit but for the optimal results you should be using low settings in order to smooth motion without making the "Soap Opera Effect" appear.
The A8G, as all the Sony TVs in 2019, does not support any kind of variable refresh rate technologies so there is no VRR, FreeSync or G-SYNC support. But even like this the TV managed to give us a very solid performance in this regard.
Input lag
Let's take a look at the input lag now as this is a very important feature for serious gamers. The A8G gave us an average of 32.5ms, with the Game mode enabled, which we consider very good but not great and is definitely worse than other top tier TVs that are hovering in the 15-20ms range. Compared to the A9G we got slightly worse values but even with this kind of input lag you should be able to play games with very fast reaction times even if you consider yourself a serious gamer. Any TV that hovers around the 30ms timing should be considered adequate and the A8G just slightly misses this mark.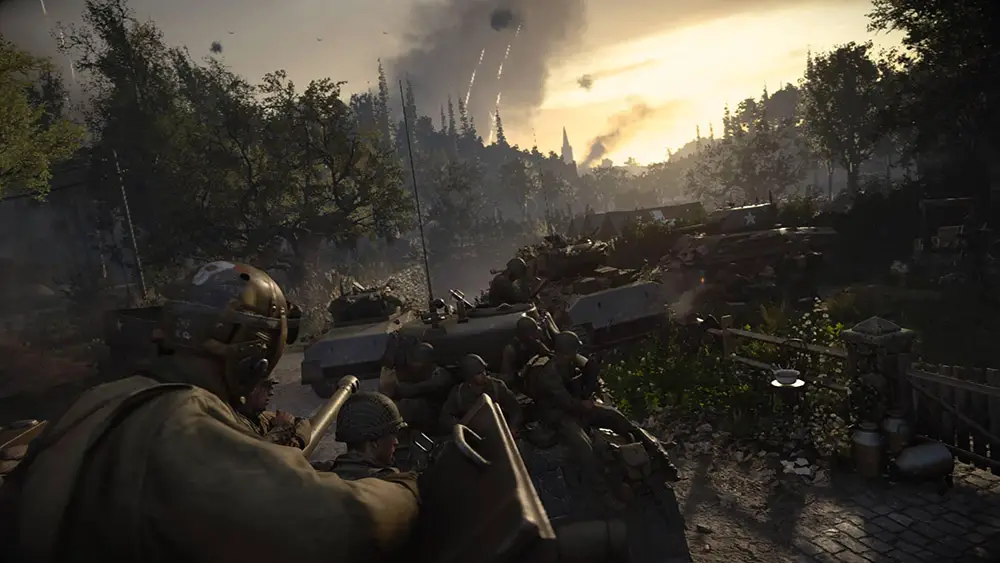 As we always do for this test we connected our PS4 for some Call of Duty WW2 playtime. Call of Duty is a game that needs fast reaction times and is an excellent test in order to get a first hands feeling how the TV behaves with it's featured input lag. Of course we don't consider ourselves hardcore gamers but by our casual standards the A8G was excellent and we didn't notice any delays in our commands.
Image quality impressions
Wrapping this up what impressed us the most was how similar the A8G was able to perform compared to the A9G flagship. Having an OLED panel means that it has the same deep black levels, infinite contrast and extreme viewing angles but similarities didn't end there. The A8G was also able to perform similarly in both our SDR and HDR brightness testings, supports the same HDR protocols, color coverage was similar while motion performance was as good as we have been used by Sony's technology.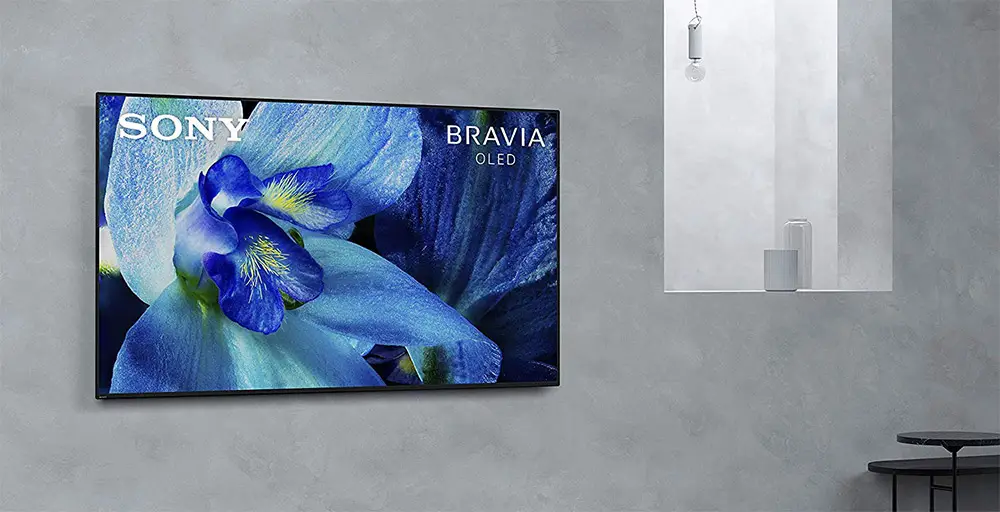 The A8G seems to loose a bit in it's processing performance as the X1 Extreme processor has less processing capabilities than the Ultimate version in the A9G and this means that a few features like Object based Super Resolution and Pixel Contrast Booster are missing. Also input lag seems to be a bit higher than the top tier TVs but still remains withing acceptable levels.
Overall we are very happy with what Sony did with this TV. It managed to create a more affordable offering without compromising much of it's image performance which in the end is the number one factor that you consider when buying an OLED TV.
Audio Quality
While you shouldn't expect much when it comes to sound performance in a flat TV the A8G comes with a rather unique audio system called Acoustic Surface Audio. A similar system is also used in the A9G with "+" in the end showing that the flagship uses a more advance version of it. What this system does is to create vibrations with the help of a couple of actuators that are positioned behind the screen and this gives the sense that sound comes right out of the screen. This way sound can feel more in sync with the image and give you a more realistic feeling.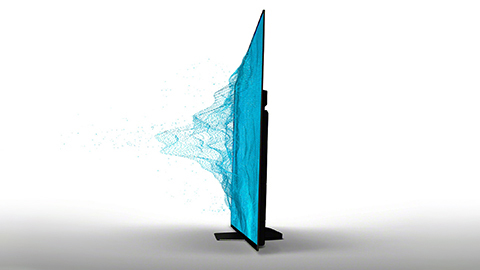 The system in the A8G is very similar to the one that we had tested in the A9G but seems to be a weaker version. As such the one we see here features 2 actuators with 10W+10W power as well as a couple of woofers for an additional 10W+10W. But the A8G is not only loosing in power as we are also loosing Dolby Atmos support. We cannot say that we are missing this feature very much as even in the A9G it failed to give us a real Dolby Atmos experience.
In total we will say that while Sony's offering is rather unique in implementation as well as design the end result is not vastly different from the average sound we find in most flat TVs. As such we will once more say what we usually say in these situations. For casual viewing the built-in system is more than adequate but if you are serious about your audio immersion then make yourself a favor and buy a dedicated surround system or at least a soundbar that can provide vastly better audio than any TV can.
Inputs
The connections layout follow a similar pattern to the one we had seen in the A9G and as such we get two groups of connectors with looking sideways and is easier accessible if you wall mount the TV while a second group sits next to it with a few ports that look downwards. This is a far better implementation than LG's backwards ports and we definitely prefer Sony's solution the most.
Let's start with the connections that look sideways first. From top to bottom we get a remote IR input, a composite video input, a headphones mini-jack, an IR blaster port, 2 USB 2.0 ports for connecting external storage as well as a single HDMI input. Continuing with the second group and from right to the left we get another USB port only this time is a version 3.0 for higher bandwidth transfers, another 3 HDMI ports with HDMI 3 supporting ARC also, an RS-232C port, an optical digital output, an Ethernet port for wired connection to the internet as well as the usual antenna/cable connector.
Sony hasn't supported the newer HDMI 2.1 yet as probably we will have to wait one more year for that so the A8G has to settle with just HDMI 2.0/HDCP 2.2 ports that support 4K and HDR at 60Hz. Unfortunately while we get ARC support there is no eARC that is being supported by the A9G. Also we like that we get at least one USB 3.0 port as playback of 4K files can be very bandwidth sensitive and the USB 3.0 can provide that kind of speed required.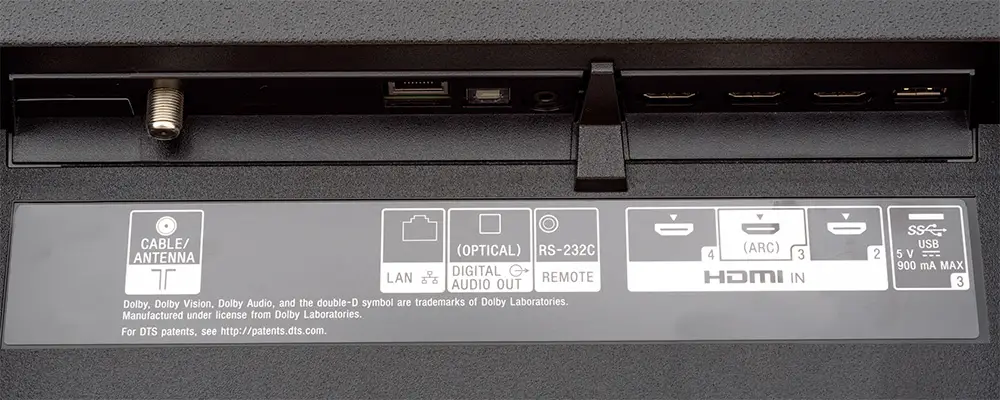 OS, Apps and Features
Although when it was first released the A8G came with the previous Android TV 7.0 it has now been updated to the latest and far better 8.0 Oreo version so this is the one we will be talking about here. Android was always trailing behind Samsung's Tizen and LG's webOS the last few years and no matter how many upgrades the designers were doing it could not reach the high standards of it's competitors as it was a very buggy and troublesome system.
But this changed with the latest version as Android TV 8.0 feels so much better in every aspect and there are improvements all over the place making the latest version of this smart TV platform come dangerously close in offering both great functionality and a user friendly interface. It can still use a few improvements here and there but at least now Android is not the frustrating experience it used to be in the past. Google has redesigned the main interface and it now feels much better than before. Settings have been moved on the top while Sony's own operating system seems to have seen some major upgrades also.
It's been a few times now that we had hands on experience with Android TV 8.0 and we like it more every single time we use it. Yes, we still prefer Tizen but now it's more of a personal taste than a problem with the platform itself like it used to be with previous versions.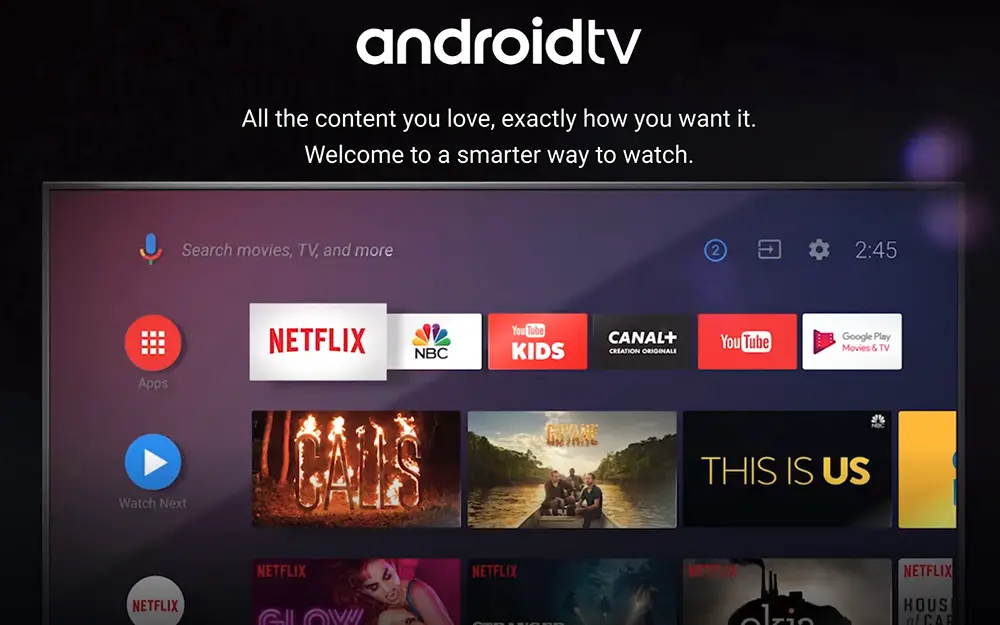 A very frustrating problem with previous versions of Android had to do with the suggestions it was giving to the user that were mostly completely unrelated to what his viewing habits were. Fear not as it seems that this is a problem of the past as with Android 8 things have vastly improved on this regard also. Now Android will give you suggestions that truly fit what you mostly watch either it be series, movies or app suggestions making the system feel much more practical than the useless mess it was before.
We also have seen improvements in the general performance of the platform like in navigation, application initialization and streaming. Now if this has to do with improvements in the Android programming or the better hardware that is being used we don't know but we suspect it has to do a bit with both of them.
If there is one area that Android never had to do any catch up was in the support the platform had from developers. The amount of apps and services available is simply staggering and in Google Play store you can literally find almost any app or service you will ever need. Just to give you a few of them you will find streaming services like Google Play TV & Movies, Netflix, Amazon Video, Hulu, Youtube and Sling TV as well as music platforms in the likes of Pandora, Spotify, iHeartRadio, Google Play Music and Tidal. Obviously many of them are location based so make sure the one you are interested in will work in your location.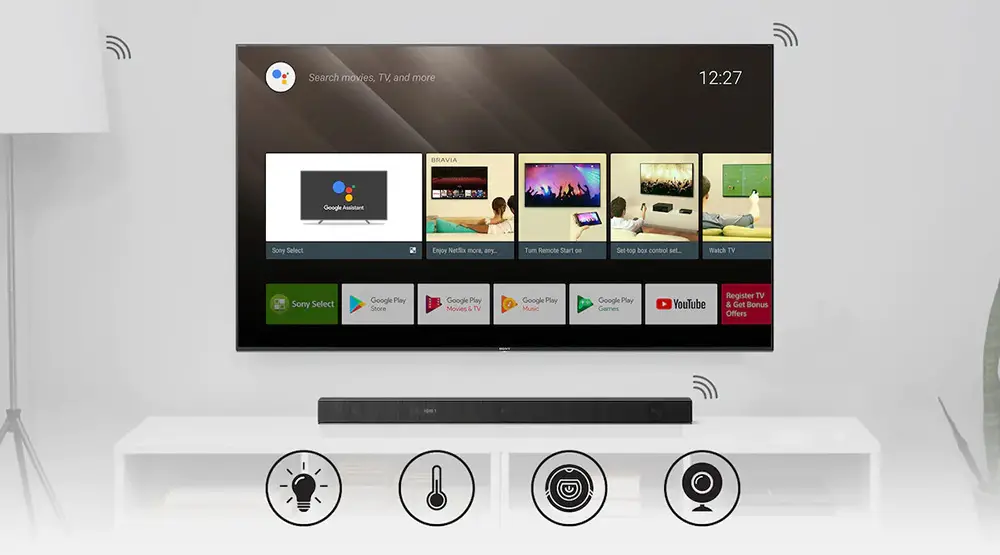 We could be talking for hours about the vast support and the huge list of available apps and this show how strong Android is in this regard. And now that Android 8 is so much improved it will certainly be one of the major features it has against it's competitors. Lastly we should mention that both Netflix and Youtube apps support 4K streaming along with HDR that was not possible in the previous years.
Along with Android we also get Chromecast that you can use in order to stream content to the TV from any Chromecast enable device you have either it be a smartphone, tablet or laptop. Chromecast supports both Android and iOS so you are covered whichever preference you may have.
With such a TV voice control couldn't be missing as we get support for both Google Assistant and Amazon Alexa. But while for Google Assistant you can use the remote's built-in microphone, for Alexa you will need an external device for it to work. With voice commands you can either control basic functions of the TV or you can turn the A8G into your smart home hub from which you can issue commands to all your smart devices in your house like alarms, thermostats, electronic locks, lights and anything else that supports voice control.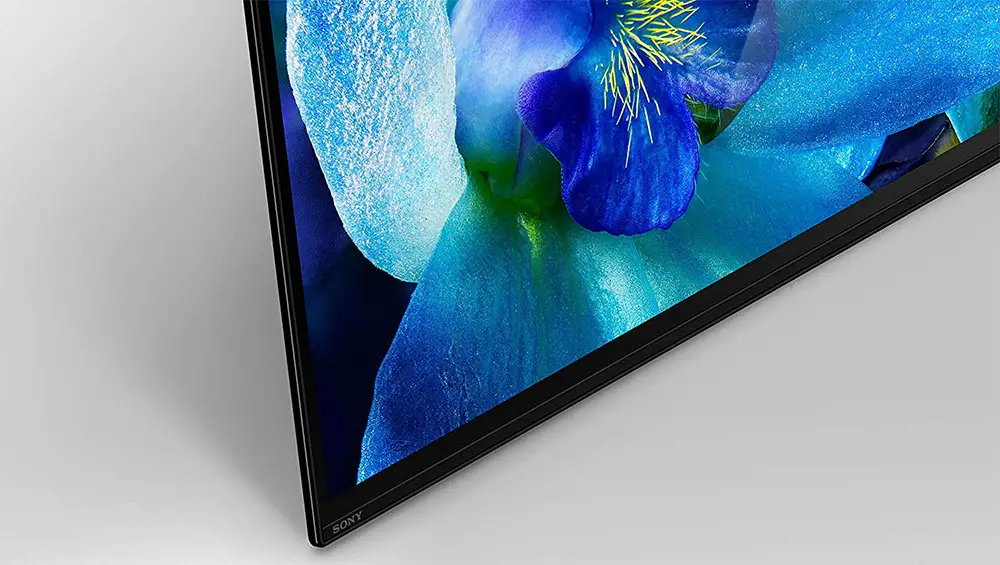 One small difference we find here is that while in the A9G we had microphones both on the remote and on the TV itself the A8G has only the remote's mic to work with. This means that you cannot have the complete hand's free experience that you could have with the A9G as you will have to pick up the remote to issue your voice command. Obviously if you use an external device this problem is solved but it's an omission that should be mentioned.
For control you can also use Sony's remote app that you can download on your mobile device. It can control many functions of the TV but at the same time it has certain limitations like no text input in streaming services or control of the TV's settings.
Another feature we do get is the built-in media player that can be used to play content either it be video, music or photos. We tried a few videos to see how it behaves and we didn't notice any problem to be honest either it be 1080p or 4K content and while looking at the compatibility list we see that it supports a wide range of formats and containers something rather unusual for a built-in media player. Of course as we point out in such situations you should never rely in such a player for all your content and it will never be able to have the same kind of flexibility as a dedicated media player box but for streaming basic formats it can do the job just fine.
Unfortunately one key feature that is missing and from what we have seen the A8G will not get is Apple's Airplay 2 and Homekit that the A9G got through an update. The reason for leaving the A8G out is not known but for sure it will make more than a few disappointed to know.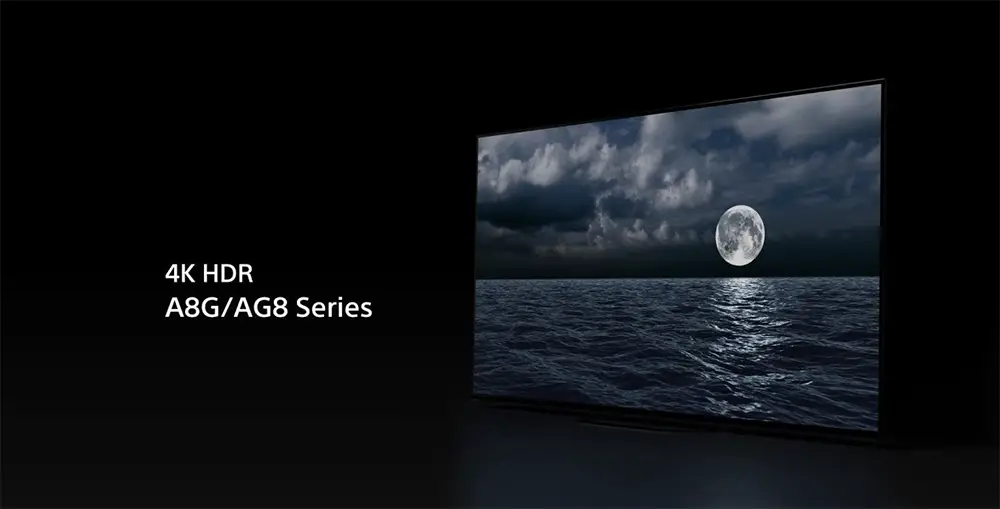 Lastly one feature that the A8G do get is that this TV is IMAX Enhanced approved. This means that when IMAX Enhanced content will become widely available the A8G will be set and ready to display it. Now what this means is anyone's guess as we have no clue yet what differences we are going to see with that content. Stay tuned to learn more on this…
When it comes to it's smart TV capabilities the A8G comes in full force. There are a couple of omissions compared to the A9G in the like of the built-in microphone on the TV itself and no Apple Airplay 2 or HomeKit but other than those two we get the full package. Android TV 8.0 is an amazing upgrade over the previous years and surely a force to be reckoned with.
Final Thoughts
If image performance is the most important aspect if you are on the lookout for a new TV then the A8G is not missing much to the more expensive A9G. Having an OLED panel means it gets the same crazy black levels, infinite contrast and extreme viewing angles as the rest of them. But similarities continue as the A8G was able to perform similarly in other areas like SDR and HDR brightness, color coverage and motion performance while also having the same king of HDR and Dolby Vision support. If you add to these the Android TV 8.0 with all the features it has like Chromecast, voice control support and a huge array of streaming services and apps then you get a lot of value for the price asked.
Obviously with the lower price some corners had to be cut. So the differences are that here we get the less capable X1 Extreme processor while input lag was measured a bit higher than what we would like. In the sound department things can be described as average at best while we do loose support for Dolby Atmos. There is no eARC support that we did get in the A9G while we are also missing the built-in microphone on the TV's main body. In the Android platform the only thing missing is Airplay 2 and HomeKit. Lastly the remote we get here is the old plastic one we had seen before and not the new, more premium looking one that we found in the A9G.
So how do we see the new A8G? In all honesty what we do get did surprised us a bit. We were not expecting it to perform so close in terms of image quality with Sony's flagship and just for this we would definitely recommend it. Obviously image quality is the number one factor when you look at buying a new OLED and the A8G managed to combine that with a more affordable price. So if you definitely want to go the OLED way but price is concerning you the Sony A8G is an amazing option to consider.
For more reviews you can check our dedicated 4K OLED TV reviews list or even look at our Product Reviews Table where you can find the brand and specific product you are looking for.
Also don't lose the chance to subscribe to our Newsletter and gain exclusive privileges.
---
---
Cheapest Places to Buy :
---
Sony A8G/AG8 Specifications