Sony X950G (US) - XG95 (Europe)
OS, Apps and Features
9.0/10
Pros
Great color coverage
Excellent motion performance
Good build quality
Many online, streaming and smart features
Cons
Visible light blooming
Narrow viewing angles
Sound performance is weak
No HDR10+ support
---
Cheapest Places to Buy :

---
It's hasn't been long since Sony released 2 new models in their Master Series with the Z9F being the successor of the long standing and successful Z9D model and while the TV was not bad it was not the improvement that we were expecting it to be. In CES January 2019 Sony in a surprising move announced that the Z9F will be discontinued and will be replaced by the X950G (XG95 in Europe) that will be their new flagship for 2019.
The naming can be a bit confusing to some since the X950G is not replacing the X900F with which they look almost identical as the later according to Sony will continue well into 2019 but is replacing the Z9F which was considered their top LCD model in late 2018. The new X950G has many similarities in specs with the Z9F so we were curious to see what kind of improvements Sony made to justify a new model so fast.
The new X950G will come in 4 different sizes (55″,65″,75″ and 85″) and all specs are the same between them with the only difference being that the 75″ and 85″ variants utilize the X-Wide Angle technology for better viewing angles while the 55″ and 65″ do not. Is the new Sony's flagship worthy of the title or it is another minor improvement over the previous models? Continue reading our Sony X950G review to find out.
Design
As we already mentioned the X950G has more similarities to the X900F rather than the Z9F that it replaces. In fact the X950G has so many similarities that we would even dare say that it's a minor evolution over the design of the X900F with differences mostly being at the back of the TV. Thickness of the panel is around 2.80″ (7 cm) which is very similar to the X900F and although it cannot be considered very thin, this is understandable as we are talking about a TV that comes equipped with Full Array Back Lighting which tends to increase the thickness of the panel. Thickness uniformity is not great as the top gets more curvy and thin but it does not distract from it's overall look when wall mounted.
Looking at the back the design changes, compared to the X900F, are very subtle with most elements remaining the same. Connection ports are divided into 2 groups with one facing downwards while the other looking sideways which seems to become a pretty standard configuration for all TVs that keep the connections on the main body. We would like a solution like Samsung's One Connect Box but so far no other manufacturer seems eager to follow the same path.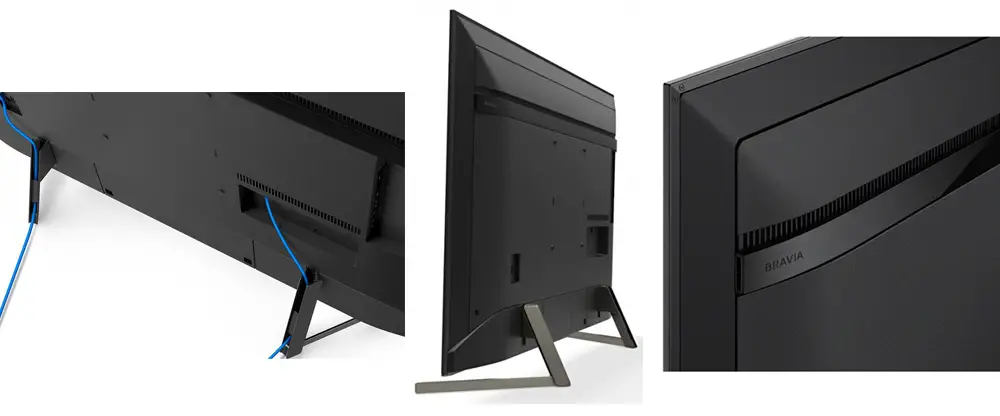 The X950 features two metal legs that when installed give the TV a bench style look. Unfortunately the legs cannot be installed in reverse in order to save a bit of space so you have to make sure your furniture can fit them. the TV felt sturdy enough even though the legs made the panel a bit more bulky. Deep grooves in the back help to hide the cables running from the main body and offer as good as cable management can get. In general the legs are very similar to the ones the X900F uses and although this type can pose a few problems in general we felt it was sufficient.
And although it felt like Sony didn't need to make any major changes to the main TV body compared to the X900F what really surprised us was the look of a brand new remote that came with the X950G. After many times having criticized Sony's remotes we finally get to see some improvements. The new remote features a metal surface while the number of buttons is reduced as is their size. The length is a bit bigger but the overall look feels more premium and more in line with such a top tier model.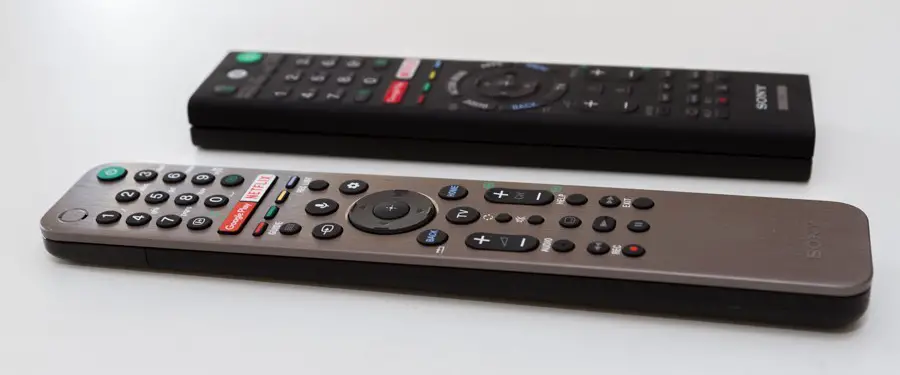 Buttons layout is not very different from what it was before but the reduction in buttons makes the new remote feel a bit less cluttered and more easy to use. Most of the buttons go with a circular design and while they are a bit small they are not hard to press. On the top we get the numerical pad, under we get 2 dedicated buttons for Google Play and Netflix, below menu navigation buttons, the volume and channel controls are next while at the bottom we get the usual playback controls.
Although the new remote still cannot reach the quality and functionality of the smart remotes that Samsung and LG have it is a positive step forward as this was an area that Sony was left far behind from the competition and it really made us scratch our heads of what was Sony thinking all these years offering such low quality remotes with their high end models. At least there are signs of improvement and we hope Sony will improve it more to bring it on par with the rest of the competition.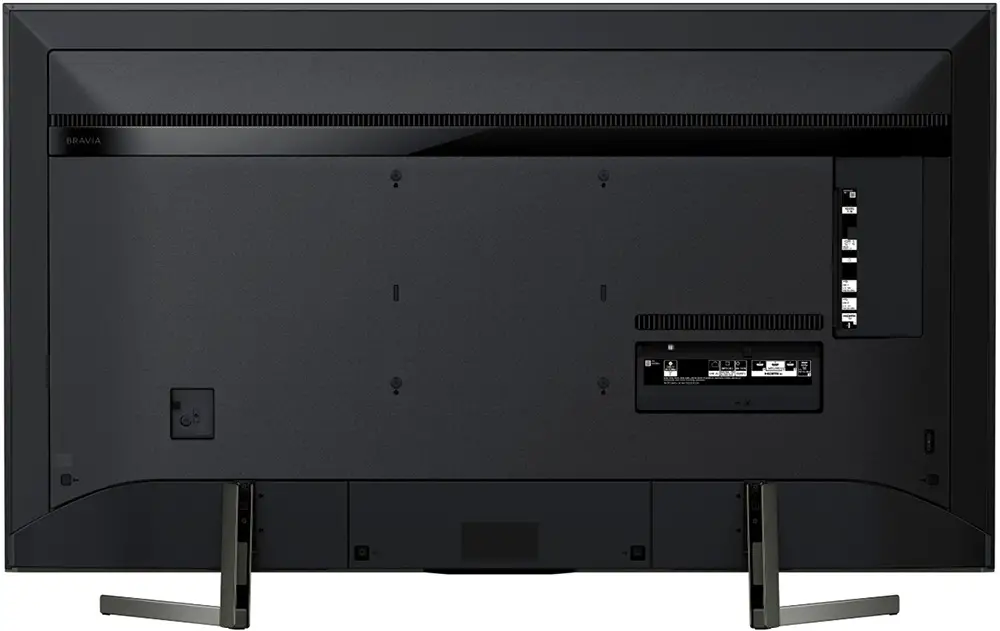 Video Quality
Processor technology used
The X950G comes equipped with Sony's latest silicon as the X1 Ultimate processor seems like will be powering all the top Sony TVs in 2019. The X1 Ultimate is an impressive processor and we had first seen it during our Z9F review that left us with very good impressions of it's capabilities so seeing the same hardware powering the X950G gave us a goof feeling for it's performance in certain tests.
One key characteristic of the new processor is that it's particularly capable at upscaling SD and HD content to 4K resolution. The way it handles the original material by removing any potential noise due to the upscale and delivering a clear and sharp resulting image is impressive. Another strong point of this new processor is it's ability to convert SDR to HDR and thus producing a more rich color palette. Of course as we have mentioned before we prefer leaving SDR to it's original state but it's an interesting feature nevertheless for anyone interested to use it but the results heavily depend on the SDR content.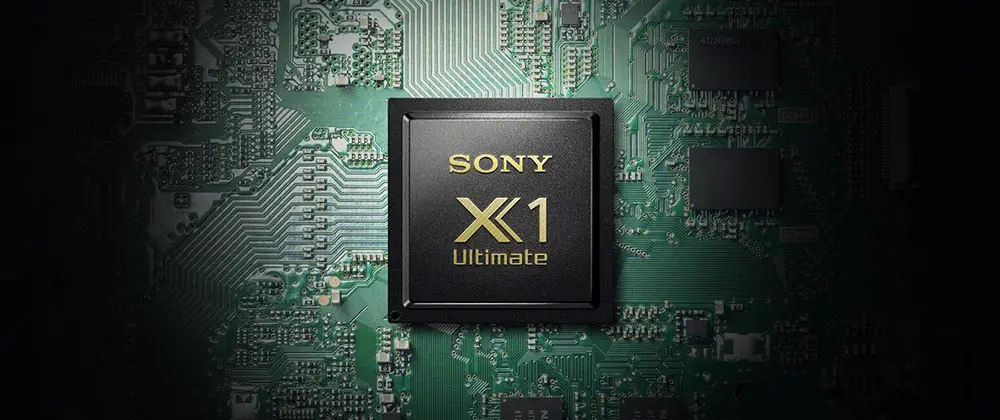 Lighting technology used
The X950G comes with a Direct LED panel with local dimmable zones in order to have better lighting control. And while this system is the best one possible in a LED LCD TV it's performance is largely connected with 2 factors. Dimming zones response time and dimming zones number. The first one has to do with how fast the dimming algorithms can control the light changes while the 2nd how many dimming zones are handling the backlight. Naturally the more zones the better but this has a negative effect on the cost which makes the manufacturers rely more on the software to handle the lighting better than add more zones.
The X950G from our measurements seem to have 60 dimming zones which is exactly the same as the X900f but lower than the 100 dimming zones of the Z9F. Having less zones create light clouding which can be very obvious when bright highlights are on screen against a dark backdrop. In these cases light halos appear around the bright object which can be particularly distracting and lower the overall image quality. But although the low number of zones the X950G manages to handle them very good as algorithms detect changes very fast and we didn't saw any noticeable delays.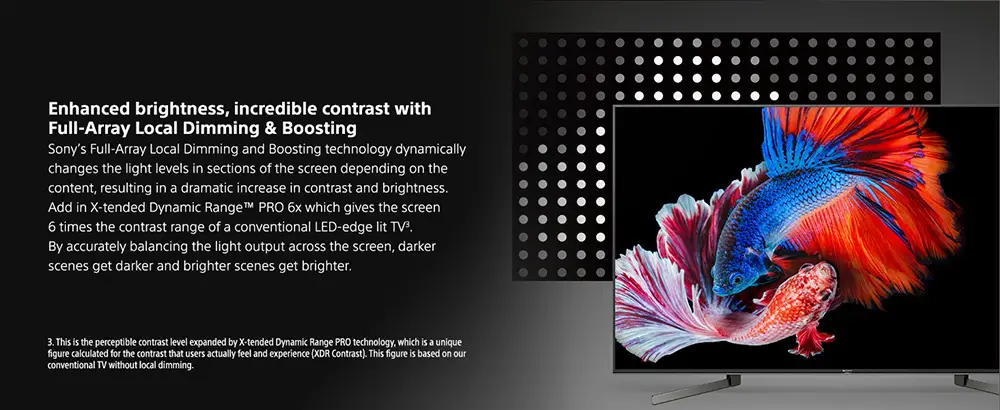 Brightness / Contrast
Measured brightness on the X950G left us with a bit of bitter taste. Being a model that is meant to replace the Z9F we were at least hoping to get similar results but this is not the case. HDR brightness over a 10% window gave us around 1150 nits while in SDR brightness over a 10% window measured at around 1050 nits. These measurements show that the X950G performed slightly lower than the X900F and much lower than the Z9F that is meant to replace. Z9F, at 1650 nits, was a particularly bright model with only a few TVs being able to produce similar brightness but the X950G falls short of both Z9F but also last year's X900F. 1150 nits is not bad, not by far with the X950G being able to produce amazing HDR images but when in comparison with the two mentioned models we cannot but feel a bit disappointed.
Contrast ratio is very good with the X950G being able to produce deep blacks in a relatively dark room. Results are better in the 55″ and 65″ models as these two don't use the X-Wide Angle technology of the 75″ and 85″ models which improves viewing angles but at the expense of contrast ratio. Performance seems to be almost the same as the X900F but better than the Z9F, as the Z9F was also using the X-Wide Angle technology and thus had a negative effect on it's contrast ratio performance.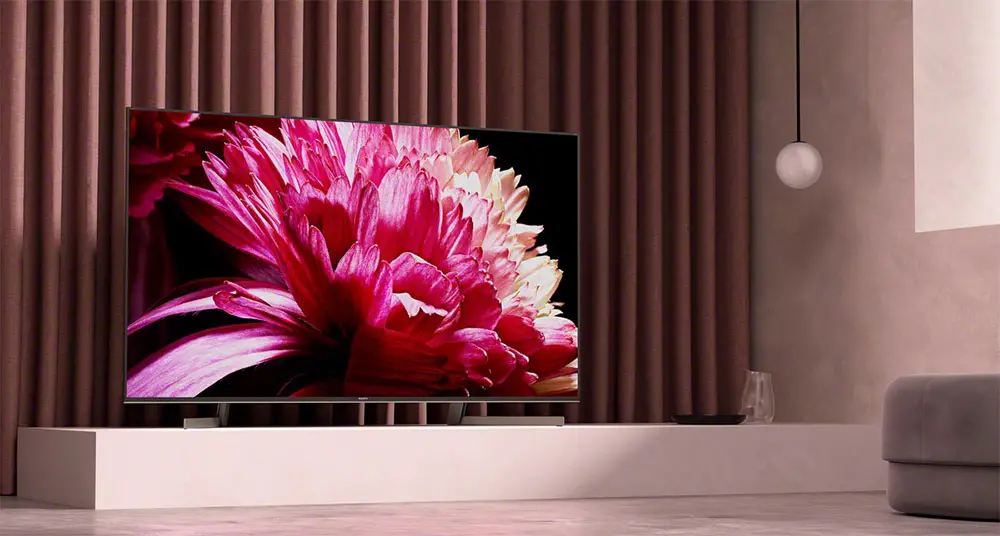 Viewing angles
Viewing angles are typical for a VA LCD panel which in all honesty are not very good. We found that anything more than 25 degrees would start to deteriorate quality in unacceptable levels which makes the X950G having similar performance to the X900F. This applies for the 55″ and 65″ models as the 75″ and 85″ ones as we mentioned before use the X-Wide Angle technology that improves things a little bit by increasing the maximum acceptable angle to around 30-35 degrees making them perform better than usual VA panels but still worse than IPS panels can do. But on the other hand using this particular technology makes black levels worse so it's a double edged sword kind of thing.
HDR support
The X950G supports all the known HDR protocols right now with HDR10 being the basis for UHD playback, HLG that is supported by streaming media as well as Dolby Vision that support dynamic metadata. There is no HDR10+ support here but as this protocol is relatively new yet and there is no content to widely support it we are hopeful that Sony will add this with a future update.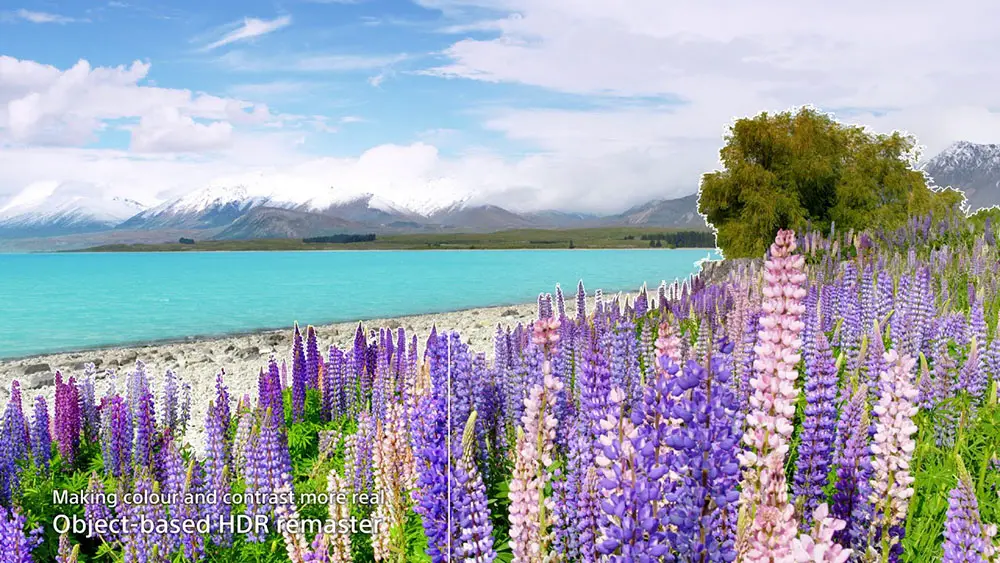 Color coverage
With Wider Color Gamut support the X950G is capable of reproducing very lifelike and realistic colors. According to our measurements it is able to cover around 90% of the DCI-P3 color space and around 60% of the expanded REC.2020 color space. These measurements indicate that the X950G has similar performance to the X900F but a bit worse than the Z9F.
Motion performance
Sony was always consistent when it came to providing their TVs with good motion performance and the X950G is no different. A combination of Sony's MotionFlow technology and a 120Hz panel create an image that has less blur and minimum judder during fast action scenes. Once again we find BFI (Black Frame Insertion) present which creates smoother motion by adding black frames between individual frames during playback. But although this improves motion it reduces brightness and may create a bit of flickering.
Sony took the BFI technique and improved upon it by creating a feature called X-Motion Clarity which we had previously seen in both the X900F and the Z9F. Instead of simply adding whole black frames between images the X905G darkens the back-light and by tracking the bright parts of the image it keeps them at a sustained back-light level making the screen noticeably brighter. This way Sony managed to keep all the advantages that the simple BFI had but without the loss of brightness.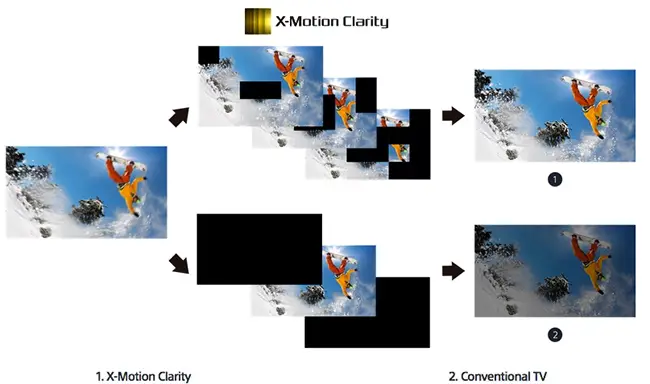 Input lag
Input lag on the X950G was measured at 21ms with Game mode enabled which makes it one of the lowest we have measured making this TV ideal for either casual or serious gaming. This low input lag was consistent in both 1080p and 4K resolutions with and without the use of HDR. Playing God of War in our PS4 proved to be very responsive and we didn't notice any delays in our commands.
Image quality impressions
Closing this section of our review we feel that the Sony X950G is not the successor to the Z9F that it could be. It offers less brightness and color gamut coverage and has almost the same performance as the X900F which came out last year. The X1 Ultimate processor continues to amaze us while motion performance and input lag are excellent. Viewing angles are not very good but this has to do with the technology of the LCD panel and not due to manufacturer's fault.
Looking the TV by itself it offers amazing quality and will sure impress many that will look upon it. It is only when you compare it to some previous models that you see that the X950G is not as good as we would like it to be from a model that is supposed to be the flagship of LCD TVs for Sony into 2019.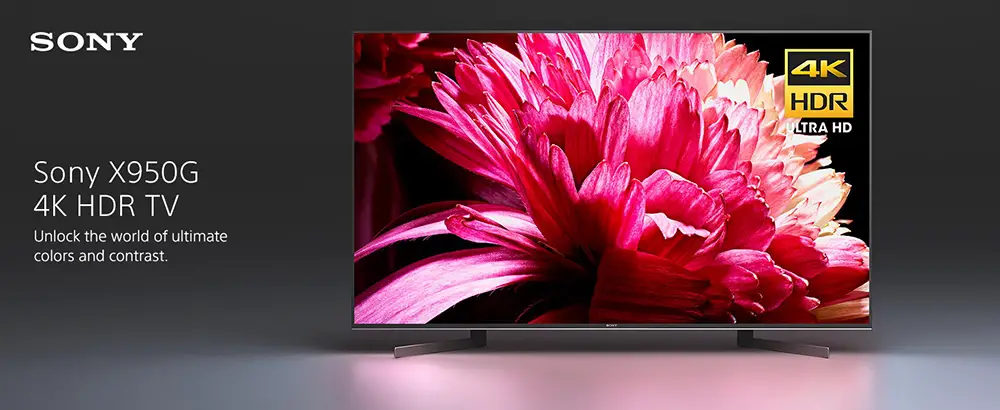 Audio Quality
Sound wise the X950G comes equipped with 2 additional 10W speakers that are positioned towards the top of the back cabinet looking sideways in order to help with the sound dispersion on top of the Acoustic Multi-Audio technology that this TV has making the sound feel like it comes from the center of the screen. Although sound and dialogue came out clear during normal viewing if you plan to use the TV for your home theater then a separate audio system is a must as it cannot substitute the immersion a dedicated audio system can offer.
Even some cheap 5.1 system is far better than anything this TV can produce and we would be surprised if it would be otherwise. And although the volume can go pretty high there is no sense of depth or dimensionality as the sound was clearly coming only from the front. If you decide to buy such a top tier TV make yourself a favor and buy a nice surround system to accompany it, as it will definitely elevate the immersion tenfold.
Inputs
Having all the ports placed on the TV itself makes us feel a bit nostalgic of Samsung's One Connect Box but unless we start seeing other manufacturers deal with this in a similar manner we will have to make do. At least Sony, like last year, opted to place the ports looking either sideways or downwards which helps a little when it comes to hanging the TV to a wall as facing backwards would most of the times render these ports hard to access if not completely useless.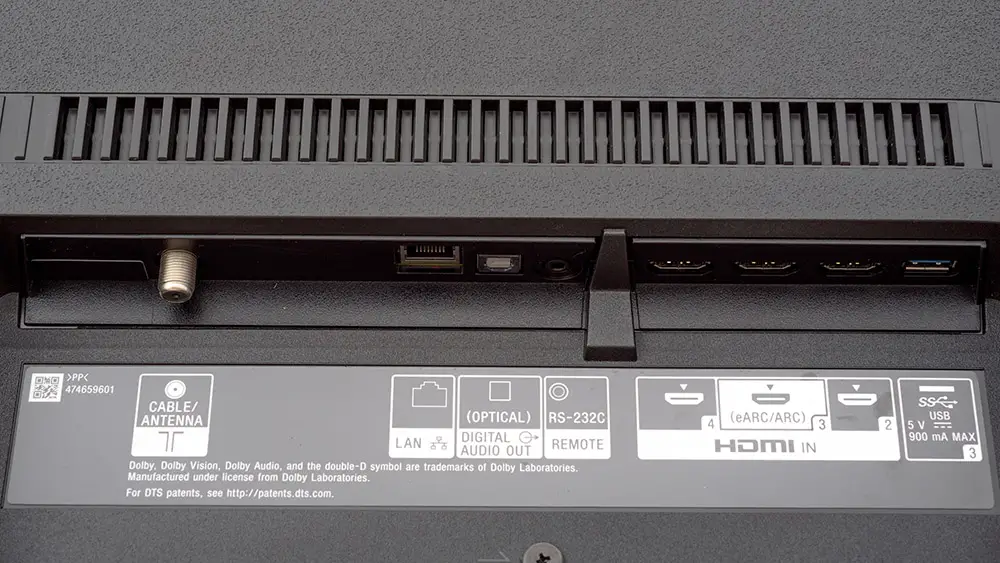 It seems, by looking at all the ports, that Sony tried to equally split the ports in both groups in order to be able to use any of the two you want in any given situation. As such the group that look downwards include 3 HDMI inputs from which one supports eARC, 1 USB 3.0 port for connecting external storage devices, 1 Ethernet port for wired connection to the Internet, 1 Digital Optical output and 1 RS-232C jack for remote control. Lastly we get the usual Antenna/Cable port. As for the group facing sideways we get 1 more HDMI port, 2 extra USB 2.0 ports, 1 remote IR input, 1 Composite input and 1 headphones input.
All HDMI ports are 2.0 which means they all support 4K, HDR at 60Hz while ARC has been updated to eARC in order to support all the latest audio tracks like Dolby Atmos and DTS:X. Also, unfortunately while there are 3 USB ports in total only 1 of them (the one looking downwards) is version 3.0 (5V/900mA) which is still puzzling to us for a high end 2019 TV like this to still have the archaic 2.0 version. In total we would say that we get a very standard setup as the X950G offers enough ports for the most usual setups, nothing fancy here to report. Most manufacturers still refuse to follow Samsung's way in using a separate box for the connections but as hope dies last every coming year we will also hope the rest of them will follow suit.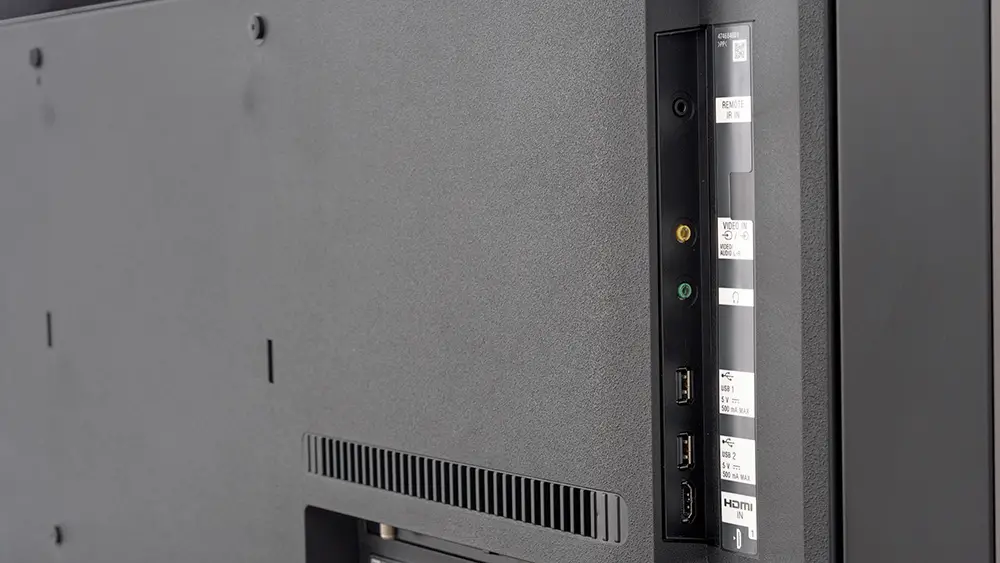 OS, Apps and Features
With Sony being on the Android camp for some years now we were not surprised to see Android 8.0 Oreo being the smart platform in the X950G. And although we were very cautious some time ago with the specific platform when we first saw Oreo in the Z9F a few months ago we were pleasantly surprised as the amount of improvements were vast compared to previous iterations. It still has some ground to cover compared to LG's webOS and Samsung's Tizen but it's not the frustrating experience it used to be. The Android platform in the X950G is very similar to what we first saw in the Z9F so our opinion remains pretty much the same.
Android Oreo has vastly improved in all areas and it seems that Google is heading in the right direction with their TV smart platform. They may be a bit late and have a lot of ground to cover but we cannot ignore the fact that the developers really tried to improve a broken platform that offered more headaches than a pleasant and streamlined experience. The overall layout is refined and a better design helps for easier navigation. Options have moved from the bottom in previous versions to the top while Sony also improved the non-Android parts that include it's own operating system that interacts with the Android platform.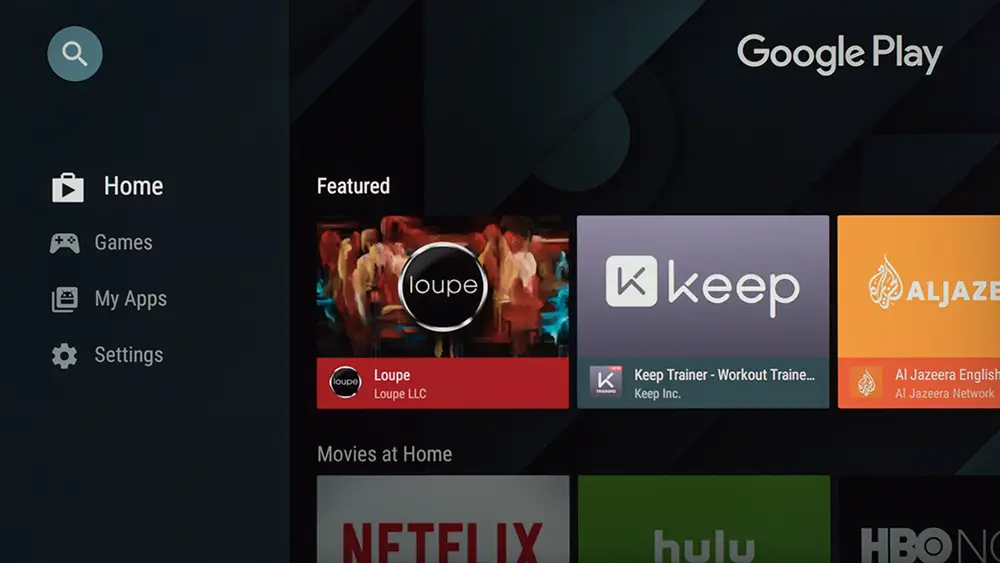 Another improvement that we had noticed in the new Android version is it's ability to make better content suggestions to users which was a major letdown in earlier versions as the system more often than not was suggesting useless apps instead of what the user was really looking for. Performance has also improved, something that probably has to do with both the updated Android OS and the better hardware being used resulting in smoother and more pleasant navigation.
Of course we wouldn't talk about Android if we wouldn't mention the vast amount of apps and services that are supported. Sony may still be catching up with the Android but going this route offers it's TVs one of the biggest libraries of applications available with Google Play. Streaming video apps include Google Play TV & Movies, Netflix, Amazon Video, Sling TV, Hulu and Youtube to name just a few while streaming music can be done easily with any of the Pandora, Tidal, Google Play Music, Spotify or iHeartRadio apps among others. The list we just wrote are just a few of the supported ones as writing all of them is impossible and only shows the vast support that Android has at this moment. One updated feature we find this year is that the Youtube app finally supports HDR which is a nice addition.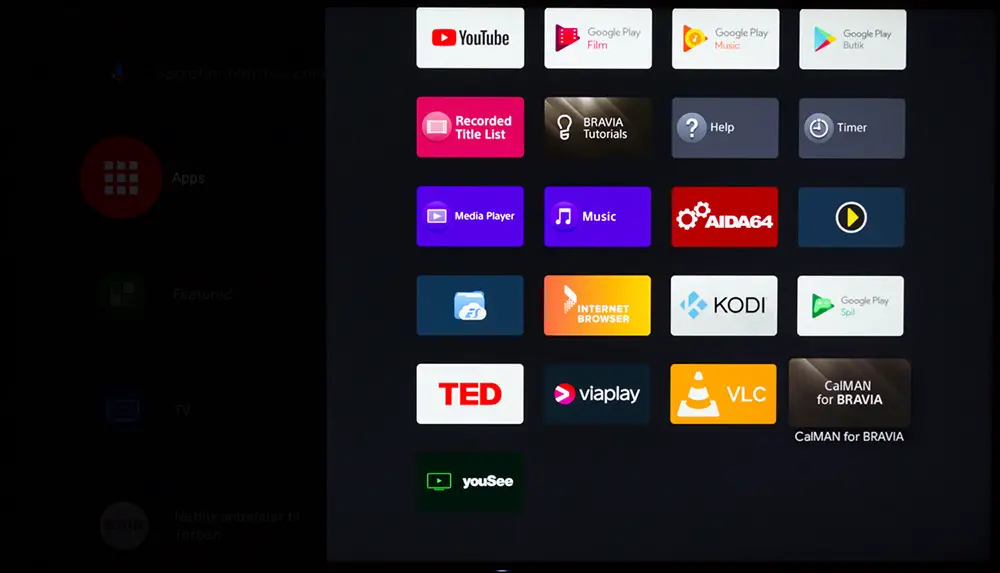 The X950G also supports Chromecast functionality which gives you the ability to stream content from Chromecast enabled devices like smartphones and tablets. Voice control is a given in this day and age so X950G comes with Google Assistant and Alexa support in order to control either certain TV functions with your voice or various smart devices in your home. Sony has included microphones both on the TV's main body and the included remote and while the system is very responsive we cannot say the same about it's accuracy as it fails to register more complex commands. To be honest we were never very fond of voice control systems in general but we have to admit that the last few years they have vastly improved making them better each time.
Issuing voice commands include various TV functions like input selection, channels, volume control and starting applications as well as searching for specific content like music or movies. Functionality is not confined to simple TV functions as your TV can become the central hub for controlling all you smart home devices that support voice controls like lights, thermostats and smart locks.
Sony X950G comes with a built-in media player that can playback video and audio files through the included USB ports. Support for the most usual video and audio codecs is there and a few files we tried played smoothly without any major problems. Navigation also felt more smooth than in previous Sony TVs which shows how much Sony has improved their own operating system also.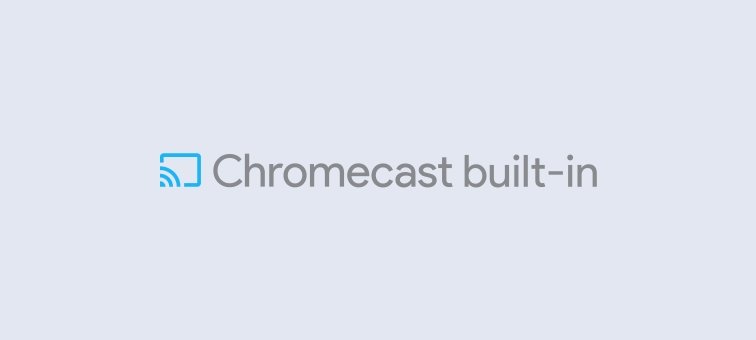 Another plus to own an Android TV is that Sony opts to update their previous models to add certain functions something that we cannot say that applies to Samsung or LG TVs. As such Sony has announced that certain TV models including the X950G will support Apple's Airplay as well as HomeKit with a future update. The X950G also is an IMAX Enhanced model but we will have to wait and see what this means as there is no content yet to support this.
We have said this before and we will say it once more. Android 8.0 is a fine smart TV platform. Improvements are vast compared to a few years back and while there is still a bit of catch up to be done compared to Tizen and webOS, Android has matured enough to be a very respectable system giving us the certainty that if Google continues the improvements as they did with Oreo then very soon we will be talking about 3 equal smart TV platforms.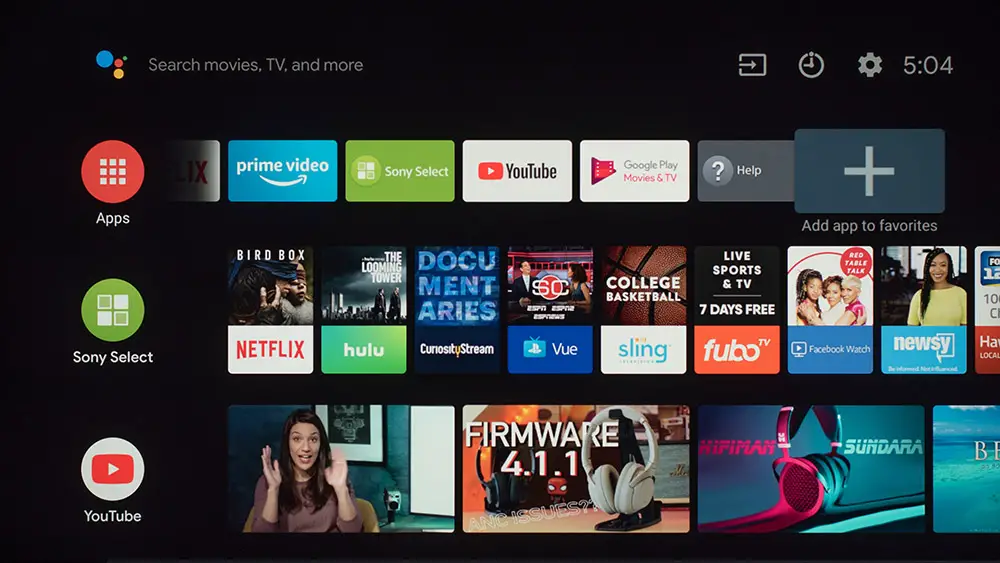 Final Thoughts
It feels a bit puzzling why Sony decided to discontinue the Z9F so soon and announce the X950G as it's successor making it the flagship of this lineup while the X900F will continue being made into 2019. The new model comes in 4 different sizes but only 2 of them, the 75″ and 85″, support the X-Wide Angle technology while the 55″ and 65″ do not. There are a lot of things to like in this new TV and in general it is a great model but it also has a few weaknesses that are worth mentioning.
The X950G offers excellent 4K sharpness, with amazing color gamut coverage, good brightness and HDR. Using the latest X1 Ultimate processor makes the X950G capable of creating images with amazing details and sharpness. Sony always offered good motion performance and this is the case here as we find Sony's X-Motion Clarity technology while Input Lag is very low making it ideal for gaming. There is also improved light control as the X950G is equipped with Full Array Local Dimming. Coming with Android 8.0 Oreo it offers smoother performance and a much better overall experience while there is added support for Chromecast, Google Assistant and Amazon Alexa. For this model Sony has included Dolby Vision as well as eARC. Lastly we get a newly designed remote control which is a small step forward compared to it's previous design.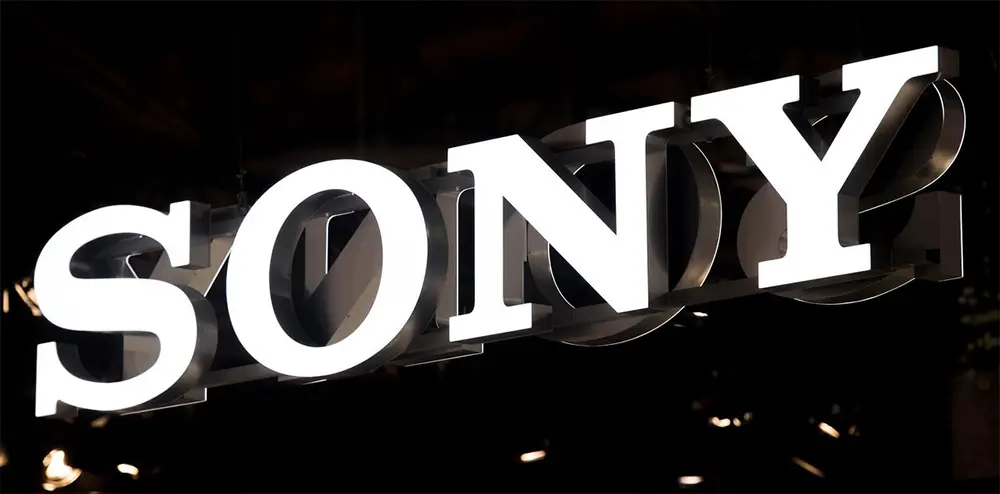 On the other hand the fewer backlight zones that are there create light blooming which has a negative effect on the overall image quality. As with all LCD TVs viewing angles are not very good although the bigger models support the X-Wide Angle technology that somewhat improves this. Brightness and color coverage are good but they are lower than what we were expecting. Also sound performance is, as you would expect from a flat TV, mediocre at best and you better use a dedicated audio system if you want the best immersion possible. Lastly we don't see support for the latest HDR10+ but we are hopeful that Sony will add this in the future as more content will appear to use it.
Closing we will say that the Sony X950G is a great TV that comes with all the advantages and disadvantages that LCD technology brings. But offering worse performance in brightness and color coverage than the model that is supposed to replace, the Z9F specifically, feels a bit of a backstep. Being a top tier premium model we feel that it is reasonably priced and this will get even better as the time goes by, making this an excellent choice for anyone looking for a good quality, top tier LCD TV.
For more reviews you can check our dedicated 4K LED LCD TV reviews list or even look at our Product Reviews Table where you can find the brand and specific product you are looking for.
Also don't lose the chance to subscribe to our Newsletter and gain exclusive privileges.
---
---
Cheapest Places to Buy :

---
Specifications
Panel : LCD Direct LED panel with Local Dimming
Resolution : 3840 x 2160
HDR supported : HDR10, HLG, Dolby Vision
Video : Picture Processor X1™ Ultimate, 4K X-Reality™ PRO, Dual database processing, Object-based Super Resolution, Live Color™ Technology, Precision Color Mapping, Super bit mapping™ HDR, TRILUMINOS™ Display, Dynamic Contrast Enhancer, Object-based HDR remaster, X-tended Dynamic Range™ PRO, X-Motion Clarity, Auto mode
Audio : 10 W+10 W Acoustic Multi-Audio, Full Range (Bass Reflex) x2, Tweeter x2
Video Codecs support : MPEG1: MPEG1/MPEG2PS: MPEG2/MPEG2TS (HDV, AVCHD): MPEG2, AVC/MP4 (XAVC S): AVC, MPEG4, HEVC/AVI: Xvid, MotionJpeg/ASF (WMV): VC1/MOV: AVC, MPEG4, MotionJpeg/MKV: Xvid, AVC, MPEG4, VP8. HEVC/WEBM: VP8/3GPP: MPEG4, AVC/MP3/ASF (WMA)/WAV/MP4AAC/FLAC/JPEG; WEBM: VP9/AC4/ogg/AAC/ARW (Screen nail only)
USB drive format support : FAT16/FAT32/exFAT/NTFS
Audio Codecs support : Dolby™ Audio (Dolby™ Digital, Dolby™ Digital Plus, Dolby™ AC-4), DTS Digital Surround
Ports : HDMI (HDCP 2.3) X 4, USB X 3, Ethernet X 1, Composite Video In X 1, RS-232C X 1, Digital Audio output X 1, Headphone X 1, RF In
Network : Wi-Fi Certified 802.11a/b/g/n/ac, Bluetooth Version 4.2; HID (mouse/keyboard connectivity)/HOGP (Low Energy device connectivity)/SPP (Serial Port Profile)/A2DP (stereo audio)/AVRCP (AV remote control)
Smartphone connectivity : Chromecast built-in, Video & TV SideView (iOS/Android)
Operating system : Android
On-board storage : 16GB
Tuner : Digital TV Reception (Terrestrial,Cable)
Dimensions of TV (W x H x D) :

55″ Size : 48 3/8 x 28 x 2 3/4″ (1228x709x69 mm) without stand / 48 3/8 x 30 5/8 x 10 7/8″ (1228x776x274 mm) with stand
65″ Size : 57 x 32 7/8 x 2 3/4″ (1447x832x69 mm) without stand / 57 x 35 5/8 x 13 1/8″ (1447x902x333 mm) with stand
75″ Size : 66 x 37 7/8 x 2 7/8″ (1,674x961x73 mm) without stand / 66 x 40 7/8 x 14 7/8″ (1674x1036x376 mm) with stand
85″ Size : Not yet available

Weight of TV : 

55″ Size : 39.7 lb (18 kg) without stand –  42.1 lb (19.1 kg) with stand
65″ Size : 51.8 lb (23.5 kg) without stand –  54.9 lb (24.9 kg) with stand
75″ Size : 77.6 lb (35.2 kg) without stand –  82 lb (37.2 kg) with stand
85″ Size : Not yet available