Sony A90K
Reviewed at $1,299.00 (48")
Ports & Connectivity
9.0/10
OS, Apps and Features
9.3/10
Pros
Deep blacks
Amazing colors and contrast
Google TV
Ideal for gaming and PC setups
Cons
SDR and HDR brightness are average
OLED still has higher burn-in risk
Only 2 HDMI 2.1 ports
Mediocre sound
---
Cheapest Places to Buy :
---
As with all yearly releases you would think that the new Sony A90K is here to replace the excellent 2021 A90J. But what is a strange decision by Sony the A90K is meant not to replace their 2021 flagship but rather offer a couple of smaller sizes in their high end OLED series. In our Sony A90K review today we will be testing the 48″ size and will put it to the test to determine if it is as good as the rest of Sony's latest OLED offerings.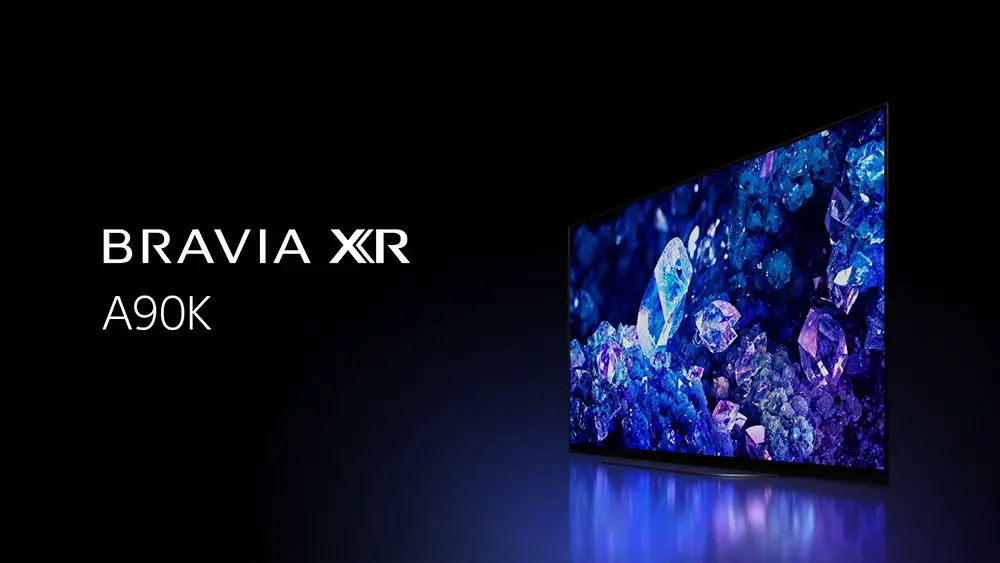 Now, if you pay close attention to the specs the A90K seems awfully similar to the A80K rather than the A90J as it is missing a heatsink and also all specs are similar to the next of Sony's OLEDs. Why they decided to release a different model only in 42″ and 48″ instead of adding these in their A80K model is beyond our comprehension and this is probably the reason why Sony kept the excellent A90J for one more year in circulation as their flagship, the A95K, may be too expensive for many consumers that seek a top tier TV this year.
So let's take a quick look at the A90K's specs. The TV uses a 100/120Hz OLED panel, comes with Cognitive Processor XR and Sony's most advanced Acoustic Surface Audio+ system. There is Dolby Atmos, DTS and Dolby Vision support, two HDMI 2.1 ports with VRR out of the box, and is packed with the latest Google TV platform including plenty of extras like Chromecast, Airplay 2 and Homekit, Bravia Core, voice control, Netflix calibrated mode, IMAX Enhanced, Calman Ready and Bravia Cam support.
As you can see other than the screen size, and the design that we will talk about shortly, there is no difference between the A90K and the A80K. But the specs say only half the truth and our measurements will show if indeed these two models are the same or not. So without further delay let's start our analysis.
Design
When it comes to design we got used to see OLEDs that feature crazy thin panels with a small electronics box at the back like in many LG units. But Sony is a bit different in their approach as they do not follow this exact same principle with their OLED releases.
The front face has very thin bezels making the screen feel more immersive with only the bottom side featuring a thicker line as per usual. Thickness of the TV was measured at 2.1″ (5.4 cm) which is about the same we measured of the A80K so no big differences here.
The back of the TV is different from all the other Sony TVs we had seen so far in 2022. The grid style design is preserved but gone are the diagonal grooves while the ports layout follow the two groups design that Sony is using in some of their units. The power connector is still isolated on the left side while the VESA mounting holes are the only other element visible. Gone is also the XR logo that was engraved in the middle of some 2021 releases.
Sony has included special plastic covers that can be attached and hide the power connector and down facing ports but the side-looking ones are always exposed.
The stand is also different from all other Sony units we have seen. It is of the central pedestal type and uses a very thin semi-round plate that keeps the TV fairly stable. One thing that we were worried about in the beginning was how low the stand was holding the TV and as a result there was no space to add a soundbar under it.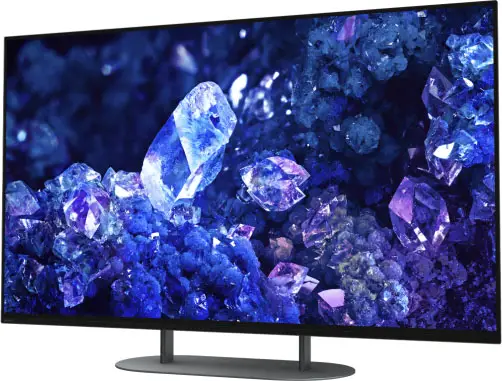 Thankfully we discovered that in the box there are special extensions that you can add to lift the TV enough in order to add a soundbar underneath if needed. With the extensions added we measured a clearance of 3.2″ under the panel which is enough for most soundbars released nowadays.
Lastly in terms of cable management there is not much which is typical of Sony. If you don't use the stand extensions then the cables will not show as the panel almost touches the furniture it is on. But when the TV is used in a raised position these may slightly appear under it which can be frustrating if you are a perfectionist like us.
As for the remote it comes with, this is no different from all other Sony releases in 2022. The new remote comes in two forms this year but in terms of design and buttons layout they are both the same. The only difference is that one we have here with the A90K has a brushed silver top while some less premium models use a brushed black variant.
We really liked Sony's 2021 remote but to be honest it had too many buttons with many of them never to be used. So making the remote smaller and simpler was the right thing to do and we do love what they have come up with. The one included with the A90K comes with backlight functionality which is activated automatically so you don't need to press a specific button like in some other backlit remotes.

Similarly to the A80K the A90K does not look like an OLED and has a more LED LCD type of back design. But this doesn't make its quality or looks any worse and the A90K remains a high quality TV that will look great no matter where you will place it.
Video Quality
Processor technology used
In terms of image processing the A90K uses the same Cognitive Processor XR which is the same chip used across most premium and top tier TVs from Sony. As is the case with all new models we don't know if this is exactly the same chip as it was last year as Sony is secretive about anything that has to do with their chips but judging by its specs and features it seems to be the same.
The Cognitive Processor XR divides the screen into hundreds of zones and recognizes individual objects in these zones better than ever before. What's more, it can cross-analyze around a few hundred thousand different elements that make up a picture in a second like focal points, contrast, colors, motion and clarity and determine ways in order to improve the end result even more.
First test of our review we put the TV through a series of content in various resolutions and quality to determine its ability to upscale everything to 4K. Content resolution and quality varies from low quality broadcasting material, 480p, 720p and 1080p content. The A90K had no problem whatsoever to up-scale everything to 4K.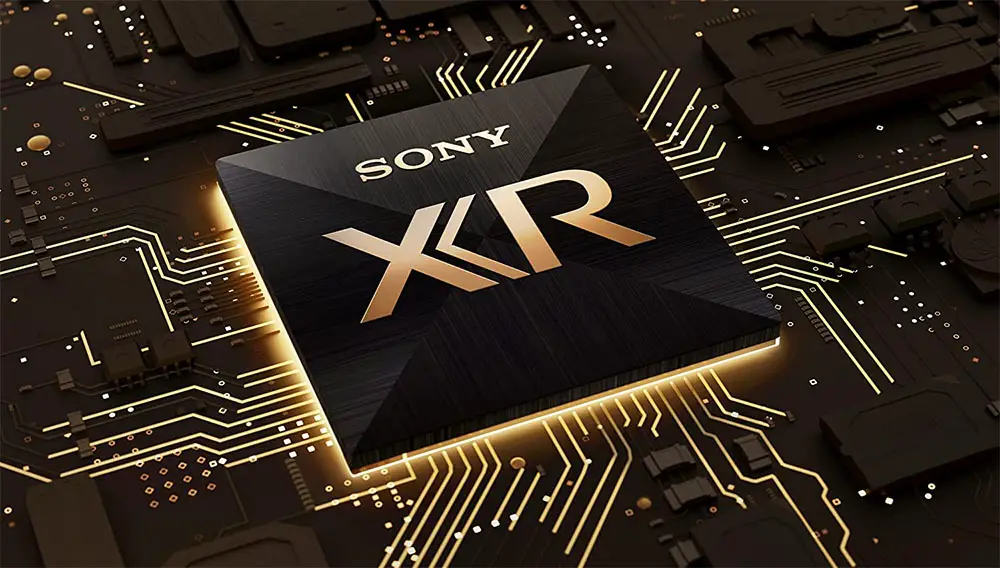 We did notice that for 480p the TV didn't scale the image properly but we cannot be sure if this is a firmware bug or a characteristic of this TV specifically. But it surely is a bit of a strange one as we hadn't experienced such a bug in our tests before.
But the new processor is not only good at providing excellent picture quality as it also has a few interesting audio features. Being included in the XR Sound suite the processor supports XR Sound Position in order for the audio to match exactly what is displayed on screen through the included Acoustic Surface Audio+ system while XR Surround is responsible in creating a virtual 3D environment in order to up the immersion even more.
Also with the new Bravia Cam the built-in Ambient Optimization Pro can calibrate the audio no matter your viewing position. But more on the audio in the appropriate section.
The A90K packs the same processing as the rest of the OLEDs so in terms of performance and features it's in line with the rest.
Lighting technology used
With the release of Sony's new A95K QD-OLED things became a bit more complicated in terms of what technologies each of their simple OLEDs are using. The A90K is exactly the same as the A80K here and uses a WRGB panel without the addition of a heatsink like we saw in 2021's A90J. In essence the A90K and A80K TVs are similar to last year's A80J with the only difference between that the new ones are using a new improved OLED panel that in theory allows greater brightness output.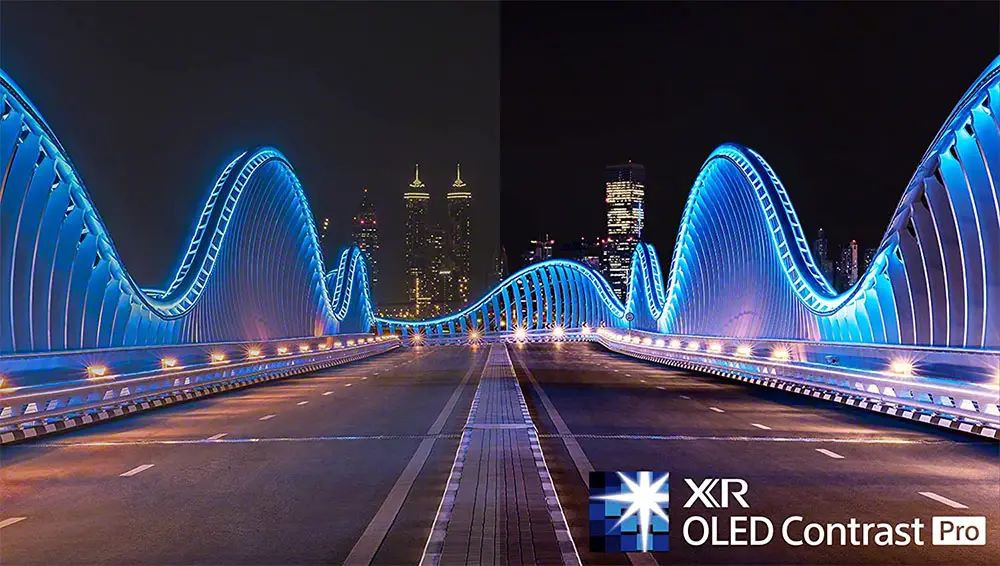 The benefits of OLED technology are well known and it results in higher light control and precision, and the ability to turn off completely its pixels means that you can get totally black levels which is really as good as it gets and really elevates the image quality tenfold compared to what we see in most LED LCD panels.
Because there is no backlight the A90K has no problems like blooming that creates bright halos around bright objects when seen in dark backgrounds and also its image quality is not dependent on how many zones the backlight has as all FALD and mini LED LCD TVs do.  So in this regard all OLED panels behave the same.
But as with everything, OLED has a few shortcomings. The first one is that all OLED TVs, due to the technology involved, cannot be as bright as LCD TVs can and this is the reason why QD-OLED was invented. In the early years there were small advancements in this but the last few yearly OLED releases seem to have reached their full potential.
And the second shortcoming is that OLED technology is more prone to permanent burn-in. We have seen manufacturers adding special features to combat this but nevertheless OLED has slightly increased risk of burn-in due to the use of organic materials and should be handled with care. But the reality is that the last couple of years OLED TVs have become very burn-in proof with all the safeties that manufacturers have added into them.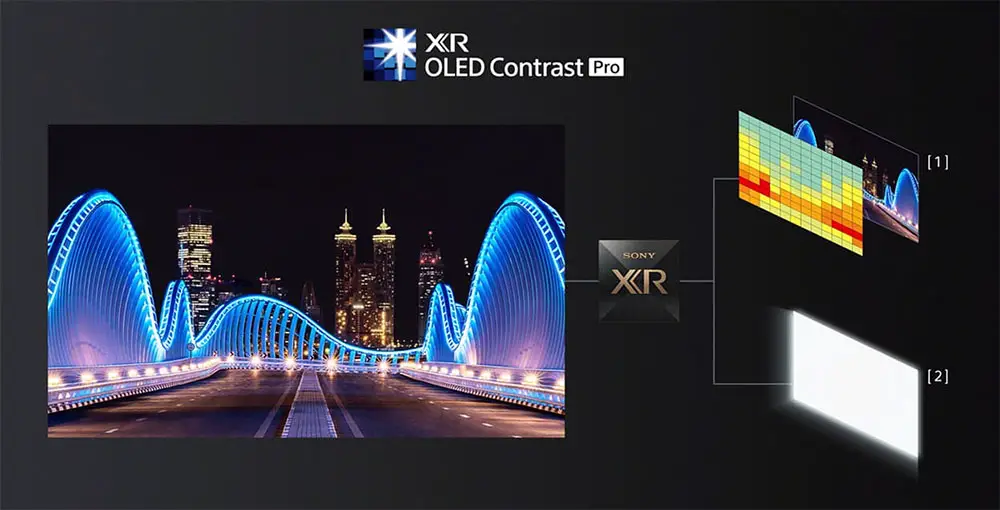 Before we move on we put the TV through our blooming test patterns but as you would expect from any OLED TV the A90K passed with flying colors. Being able to see a bright object in a completely dark background and don't have any blooming on sight is a real treat and shows the strength of OLED even after so many years in the market. Nothing more can be said here. If blooming is your number one problem OLED is your only way to go and the A90K does perfect in this regard.
Brightness / Contrast
Let's move on to our brightness tests now. With the A90K having so much in common with the A80K it will be interesting to see if both can reach the same brightness levels.
For this test we used the Custom mode, which tends to be the most accurate one in many Sony TVs, Expert 1 color tone and Brightness set to max. In our SDR brightness test over a 10% white window we got 365 nits, which is ok for SDR content without being anything impressive. On our HDR brightness test we switched to Expert 2 color tone and over a 10% white window we got 555 nits of brightness which again is ok but not as good as we were hoping for.
It seems that the A90K performs lower that the A80K in all of our brightness tests. This varies in scene-to-scene basis but overall there is a clear difference in favor of the A80K which is a bit puzzling given that both TVs use exactly the same hardware.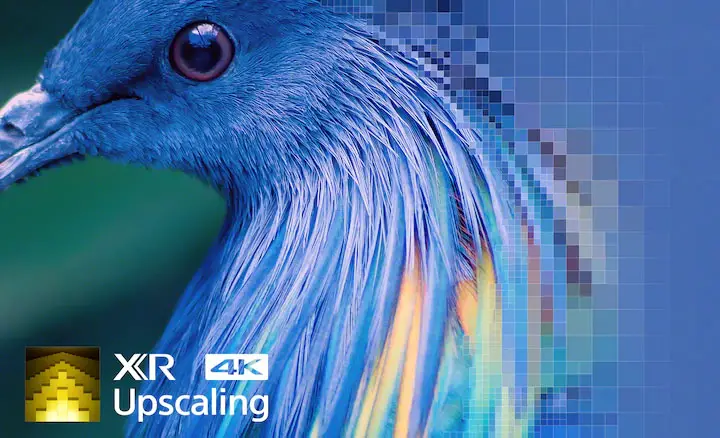 Brightness levels followed the EOTF reference values extremely close up to its roll-off point with most details being preserved due to this. Just keep in mind that in order for the TV to follow the curve accurately you have to use its Gradation Preferred tone mapping as the other options are far less accurate.
As for contrast, having an OLED panel means that the A90K can switch off its pixels entirely meaning it gains almost infinite contrast ratio resulting in true deep blacks compared to greyish blacks we see in many LCD models while it's panel uniformity was also extremely good.
One thing we should mention is about permanent image retention which is a hot topic among OLED fans. For this we recommend to turn on Pixel Shift from the TV settings and run Panel Refresh as frequently as Sony suggests. Also keep in mind that long gaming or broadcasting sessions can make certain logos or static graphics to burn-in but since this is not a certain thing you should always change the image every few hours just to be on the safe side.
Viewing angles
Viewing angles was always one of the strongest points of any OLED and as such the A90K could not be any different. OLED is the best technology in this regard and no matter what kind of advancements they have done, LED LCD technology will never get as good as this.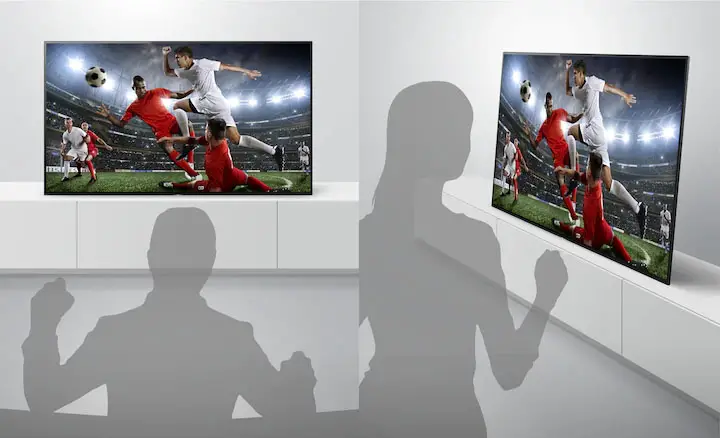 In terms of performance the A90K behaved similar to the A80K along with all other OLED equipped TVs we had previously seen, no matter the brand. This means that even at angles that reach about 45-50 degrees colors, black levels, brightness and contrast seem to hold up really well with no major degradation. Obviously anything more and the image quality deteriorates fast but no one would be watching at such extreme angles anyway.
If you want to use this TV as a family TV with many members watching at different angles then the A90K is ideal for that kind of use.
HDR support
As far as HDR protocols Sony likes to include the same across the entire lineup, either it is top tier or lower end TV. So here things are pretty much the same as the rest of the 2022 offerings.
In total the A90K features the standard trio of HDR protocols that include the basic HDR10 which is required for 4K UHD playback, HLG that is used in broadcasting and lastly the more advanced Dolby Vision that uses dynamic metadata and offers the best quality from the three available.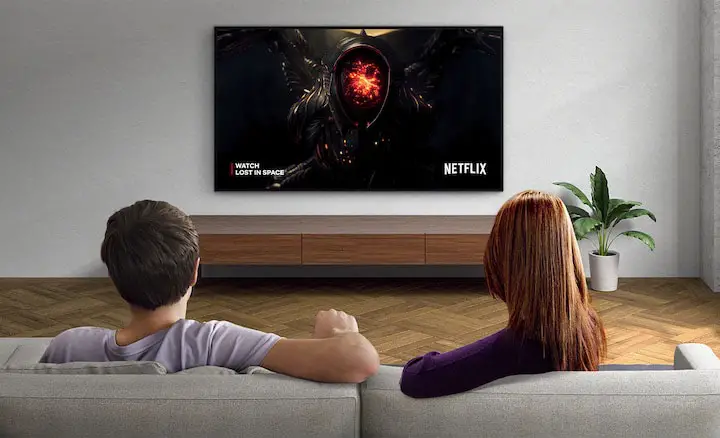 If you don't care about HDR10+ then you shouldn't really worry about it. Dolby Vision has far more support although HDR10+ seems to be getting some traction both from online streaming services like Amazon Prime and in the UHD format.
If you really want to have both HDR10+ and Dolby Vision then you will have to look at some other brand like Hisense or depending where you live to Panasonic or even Philips as none of the big three (LG, Samsung and Sony) support all of them.
Our opinion remains the same. This is a pointless conflict and all manufacturers should embrace all HDR formats instead of pushing consumers to choose by brand because of this.
Color coverage
The A90K, as with some other premium Sony TVs, is equipped with certain tech in order to allow it to display deeper and more lifelike colors. As such Sony has used an XR Triluminos Pro display in combination with XR Color technology which is included in their XR Picture suite. This is the same tech that is included in all premium TVs that come with the Cognitive Processor XR and the XR Picture suite, the A80K included.
According to our measurements the TV has about 99% coverage of the DCI-P3 color space which is almost perfect. On the wider REC.2020 color space we got a coverage of 76% which is still very good and results in very lifelike and accurate colors.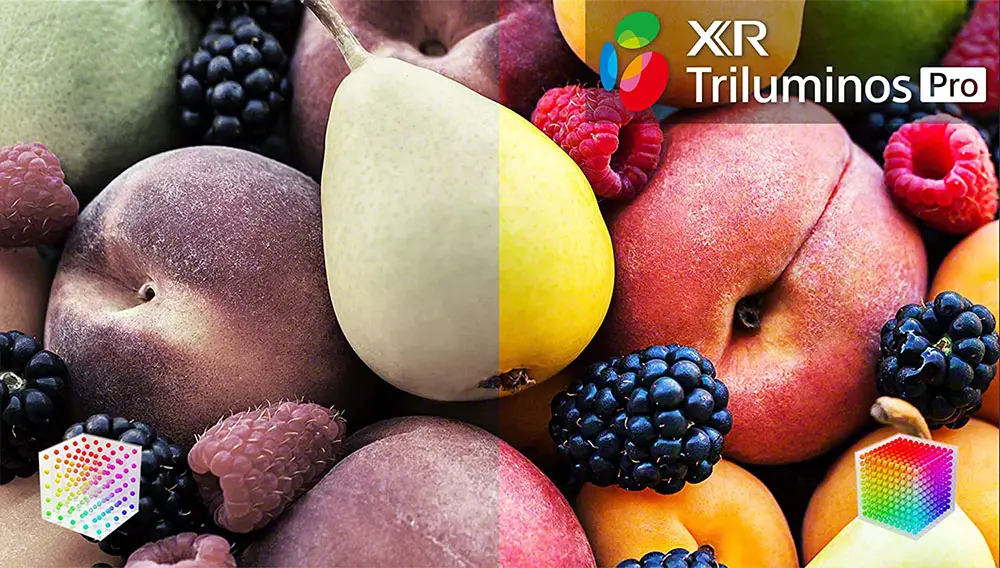 Performance here is on par to what we saw in the A80K. Very small differences between the two models is normal to appear but in general it seems that both of them can do equally great with colors. Keep in mind that we took these measurements with the Gradation Preferred tone mapping setting.
Before calibration the A90K had very good color accuracy but not great. White balance and gamma seemed to need some adjustment while most colors had values below the DeltaE limit of three with the exception of cyan which was well above it. All of these problems can be corrected after calibration making the final image quality be amazingly accurate.
Color gradients were extremely good with only minor banding in some darker colors. In most cases you will not even be able to see it but it is there if you try too hard to find it. There is also a Smooth Gradation feature in case banding is bothering you but you are going to loose some fine detail if enabled as is always the case with this feature.
Motion performance
Next we have our motion performance tests and everything we saw points out that this is another area where the A90K and the A80K perform exactly the same. The A90K uses a 100/120Hz panel along with Sony's XR OLED Motion which is the company's motion interpolation feature included in the XR Picture feature set of their Cognitive Processor XR.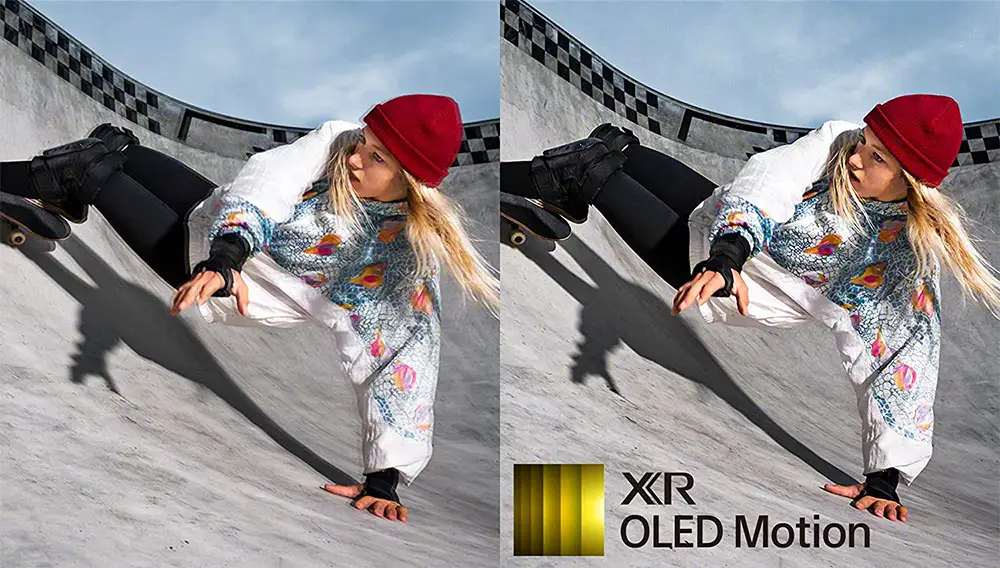 You have the option to use either the standard motion interpolation system or use the Black Frame Insertion (BFI) interpolation that is adding black frames in between individual frames and can potentially smooth out motion. BFI can be enabled by turning Clearness to max if you use the Custom setting in the MotionFlow menu. Unfortunately BFI works only with 60fps content so you cannot use it for 4K@120Hz gaming which is in line with the rest of the 2022 TVs.
We tried various content to determine how the TV can handle motion and we got more or less what we expected to see. Some stuttering was visible which is natural with OLED panels while motion blur was minor and definitely not distracting. Fast camera panning shots surely made these problems more visible and you will need to use some low motion interpolation setting if you want to improve the image clarity and smoothness.
Just don't go crazy with the settings as the Soap Opera Effect (SOE) will make an appearance while motion artifacts will surely make their presence more noticeable.
The A90K behaved very close to the A80K here. Obviously we cannot determine if they are 100% the same but from all the testing we did both of them are really close.
Input lag
Next is our input lag tests and this is another area where we expect similar numbers to the A80K. The question is how close this will be as we already expect them to be on par with many other 2022 Sony models.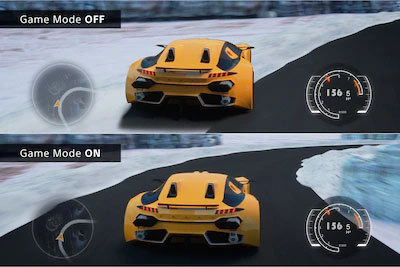 According to our measurements the A90K measured an average of 17.7ms input lag in both 1080p and 4K resolutions at 60Hz with the use of Game mode. At 120Hz we measured 9.4ms in both 1080p and 4K resolutions which is as good as it gets in order to have a really trouble free gaming experience.
These numbers are great and exactly the same as the A80K, something that is not unexpected. In general these numbers are slightly higher than what LG and Samsung offer in their TVs but even as such, with such low figures, the gaming qualities of the A90K are undeniable. Just make sure you use the available Game mode as outside that the input lag will greatly increase to around 152.7ms which can still can be fine for slow paced games but not good enough if you are a hardcore gamer.
We should also not forget to mention that the TV supports Auto Low Latency Mode (ALLM) that can be used with any devices that support that like the PS5 and Xbox consoles and can greatly benefit users. As with all Sony TVs there is no HGiG mode but we do get Auto Genre Picture Mode and Auto HDR Tone Mapping which are Playstation 5 specific features.
Thankfully, this year the A90K comes with VRR support out of the box unlike the 2021 models that we had to wait for an update. HDMI Forum VRR and G-Sync are supported but unfortunately not FreeSync. Sony is not supporting that in any of its releases so don't except that anytime soon.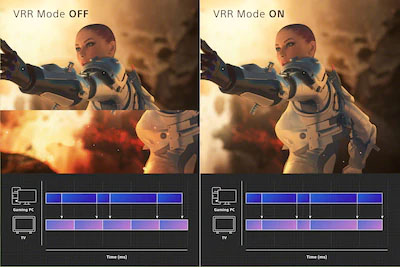 Before moving on we connected our PS5 and played a bit of Astro's Playground which is a title that supports VRR. Our time with it was practically trouble free. Everything was smooth, our commands registered immediately on screen and there was no slow response times to be seen. VRR engaged normally and all in all we got what we expected. A perfect gaming session.
Image quality impressions
All our tests and measurements point out that the A90K is indeed extremely similar to the A80K. In terms of 4K upscaling, color reproduction and accuracy, out of the box performance, viewing angles, motion performance and gaming capabilities both TV scored really close.
There is only one difference we saw that is worth mentioning and that was in the brightness output as the A90K was slightly less bright than the A80K. We cannot say for sure why this is happening since both TVs share so many common specs, panel and hardware but it was visible in both HDR and SDR.
Now before you get disappointed the difference was not so huge to immediately discard the A90K. In fact there were many cases that the difference was hardly noticeable with real life content so not all is doom and gloom. But the numbers do not lie and the difference between the two models is there.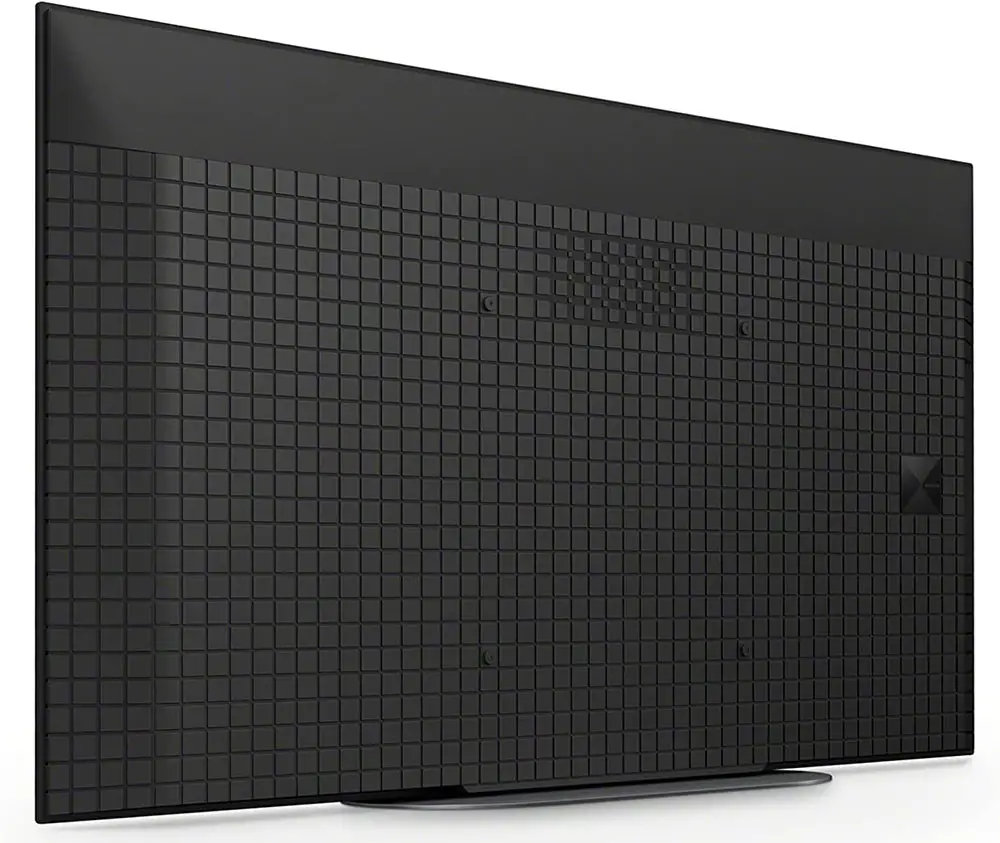 Overall the A90K is a great TV that has almost all the virtues of the A80K in a smaller size and can do great in a small living room, a bedroom or as a gaming TV.
Audio Quality
When it comes to sound Sony has developed several technologies that uses in their TVs and the one that is included in the A90K is their most advanced one called Acoustic Surface Audio+. Basically this is the same system that is used in the A80K but here it is implemented in a smaller scale meaning it uses a slight less capable configuration due to the size constraints of the TV itself.
This system basically uses actuators at the back of the panel that vibrate and use the whole panel as a huge membrane and thus create sound. This way it seems like audio is coming from within the screen giving you a better sense of realism.
Compared to the A80K the number of actuators used here is reduced to two from three while there is only one subwoofer instead of two. Power output across all actuators and subwoofer is distributed at 10W + 10W + 5W.
There is support for Dolby Audio, Dolby Atmos and DTS Digital Surround sound but keep in mind that the A90K can in no way reproduce Dolby Atmos very good and is there as a support feature only.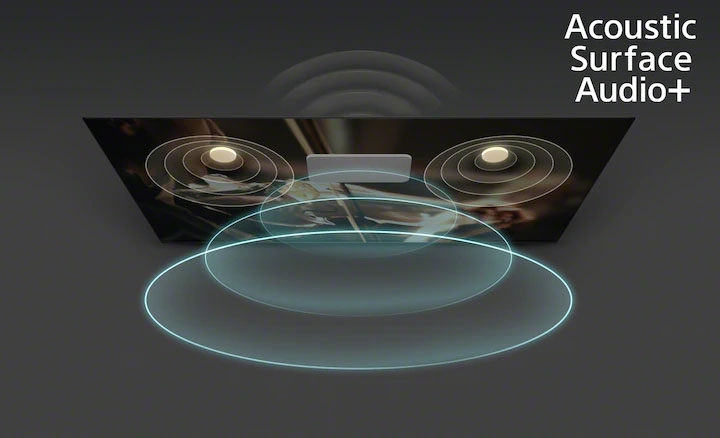 Also keep in mind that Sony is one of the few companies that still supports DTS and can even pass-through both Dolby Atmos and DTS:X signals through its eARC port so if this important to you then the Sony is your only choice from the big three (Samsung, LG, Sony).
The inclusion of the XR Cognitive Processor has allowed the A90K to include a few more advanced technologies which is the XR Sound suite. This includes the XR Sound position which with the help of the Acoustic Surface Audio+ technology makes sound originate from the exact spot on the screen making audio so much more realistic.
Also with XR Surround the A90K is using 3D surround upscaling in order to create a more immersive virtual surround environment. As with most TVs that include some short of virtual tech the A90K does not offer true surround activity as there are no real rear speakers to begin with. As such the action is entirely front oriented and to be honest the TV's limited hardware cannot do much more here.
We should also mention that the A90K features Sony's Acoustic Auto calibration in order to get the best audio performance no matter your sitting position. This can be used in combination with the new Bravia Cam as it will detect where you sit in the room and calibrate the audio accordingly.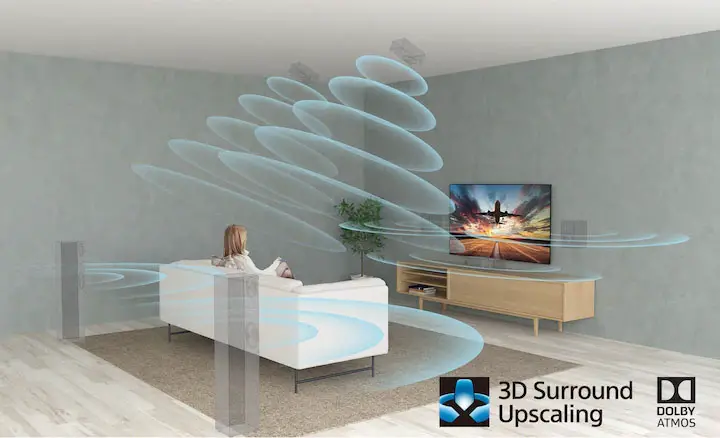 Closing our audio section we will more or less repeat what we have said for many other TVs with similar sound systems. The A90K, although good enough for casual use if you want to have the best cinematic or gaming experience we strongly advice you to get a good quality soundbar to pair it with if not a full surround system. Only then you will really appreciate the excellent image quality the A90K can offer.
Ports and Connectivity
When it comes to port layouts Sony has been using two different ones with one having all ports looking sideways while the second has separated them with some looking sideways and the rest downwards.
The A90K is different from the A80K here and goes for the two groups configuration. As such, the ports looking sideways include a remote IR input, composite video input that also works as the S-Center Speaker input, a USB port and a single HDMI that sits just above a small switch for the built-in microphone.
The ports looking downwards include the antenna/cable port, an RJ-45 Ethernet connector for connecting the TV to your local network, a digital optical audio input, an RS-232C port for control, three more HDMI ports and another USB port.
Let's talk a bit more about some of these ports. Sony, unlike some of the other big manufacturers actually provide a USB 3.0 port in most of their TVs, even the most low cost ones. The A90K has this one looking downwards (the blue one). Usually manufacturers don't seem very fond of using the newer USB ports and rely mostly on the archaic 2.0 version even for many of their top premium models so this is definitely a plus and good for Sony that decided to do the obvious.
Another thing to mention is that, as with all Sony TVs, we get two HDMI 2.1 ports along with two more older HDMI 2.0 ones. Although some other manufacturers like LG and Samsung offer four HDMI 2.1 ports at least two are better than one.
The problem here is that one of them is also the one with ARC/eARC functionality so if you plan on using that then you are left with a single HDMI 2.1 port. In general all TVs that feature only two ports use Mediatek's SoC but at least the HDMI 2.1 ports in the A90K provide full 48 Gbps bandwidth in order to allow high frame rate gaming and all HDMI 2.1 gaming features.
The HDMI 2.1 ports in the A90K support ARC, eARC, HFR, ALLM and VRR. With VRR you should know that it is supported out of the box, something that applies for all 2022 Sony models, but only HDMI Forum VRR and G-Sync are available. FreeSync VRR is not supported, which again is the standard with Sony TVs and we are not surprised by the lack of it.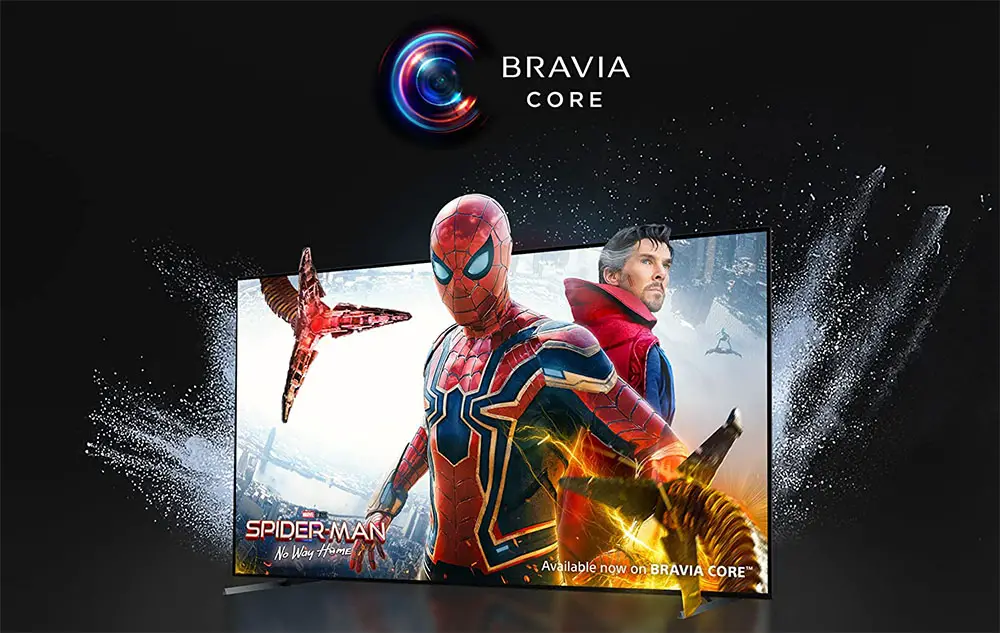 One thing that doesn't seem to have changed is the Ethernet port that for one more year will only support up to 100Mbps which is a real shame but not entirely surprising given the fact that all manufacturers still include 100Mbps adapters in their TVs. We don't believe that upgrading these ports to Gbit speeds would up the cost so much and with streaming requirements increasing every single year this change should have been made some time ago.
And considering that the A90K comes with Bravia Core we are even more harsh to Sony for not updating their Ethernet adapters. The reason for this, is because in order to access Bravia Core's highest quality Pure Stream available at 80Mbps you must have a minimum internet speed of 115Mbps. So in essence you cannot do that with a wired connection and have to rely on wireless with all the problems this can bring.
As for its wireless capabilities things are pretty much the same across the board so the A90K comes with built-in WiFi (802.11ac) along with Bluetooth v4.2. Unfortunately no Bluetooth 5 for one more year although in most cases v4.2 should be just fine.
The only differences here between the A90K and the A80K seems to be the layout of the ports. Everything else including the number and capabilities these have remain exactly the same.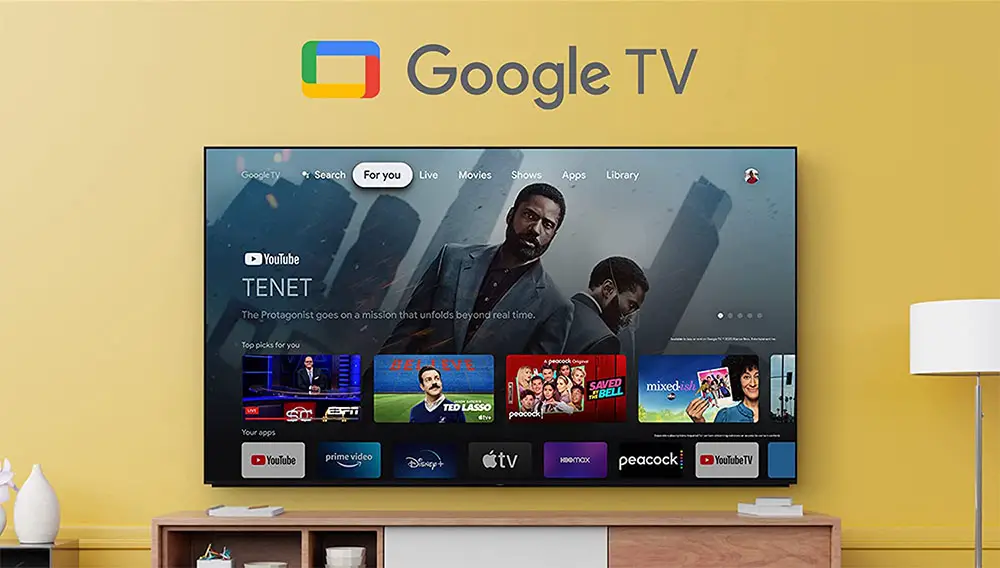 OS, Apps and Features
The A90K is using the same Google TV platform that Sony is using in all their releases this year like the X95K and X90K and even the A80K and A95K so big part of this section will be similar to what we observed in those reviews. In our opinion Sony did the right thing to move from Android TV to Google TV as this proved to offer a better overall experience in comparison.
Now many of you may be puzzled what the difference between Android TV and Google TV is. Well, it's not so much difficult to understand what has changed really. Google TV is still Android TV but with an extra layer on top of it. Think of it like it is in Android smartphones. Most manufacturers that use Android in their releases they use on top of that their own layer that gives this extra something to their UI that make them unique both in appearance and functionality.
The same is with Google TV. You still basically use Android TV but there is the extra Google TV layer on top in order to make the UI feel different both in looks and functionality. It seems that all 2022 Sony TVs come with the same Google TV 10.0 we saw in last year's models so almost everything is once again the same as what we experienced a year ago.
Google TV seems to have been designed around recommendations, either it be movies, TV shows or applications and this seems to be the main focus of the latest OS in general. During setup the wizard asks you of what specific streaming services you use in order to customize the Home screen recommendations.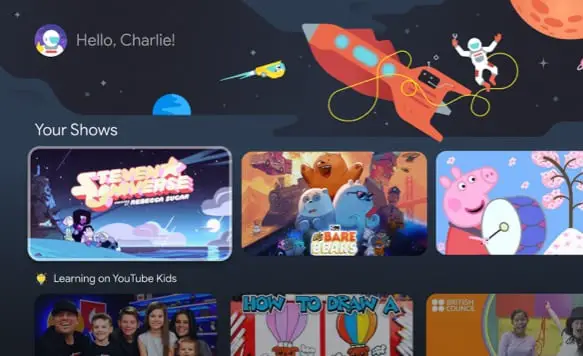 Keep in mind that Google TV is still Android at its core even though it looks slightly different. But with Google TV things seem more fluent, more direct and more easy to navigate around.
If there is one thing that Android has in abundance that is huge app support. Through the included Google Play Store you can find literally thousands of apps that you can download and use except from the pre-installed ones. There is so much content available that you will definitely find what you are looking for and the list goes on and on.
All the big names are obviously present like Google TV, Disney+, Netflix, Amazon Video, Hulu and Youtube as well as Pandora, Tidal, Google Play Music, Spotify or iHeartRadio. As always some of them are region dependent so make sure the ones you are interested in are working in your area. Lastly many apps like Netflix and Youtube support playback for both 4K and HDR content for those interested in it.
The A90K also comes with the updated Netflix Adaptive Calibrated Mode and what this does is to allow you to experience picture quality close to a filmmaker's vision and intent for all content that is streamed through the Netflix streaming service.
We say updated because now this feature works together with the ambient light optimization feature of the A90K by optimizing the picture brightness based on your room lighting conditions.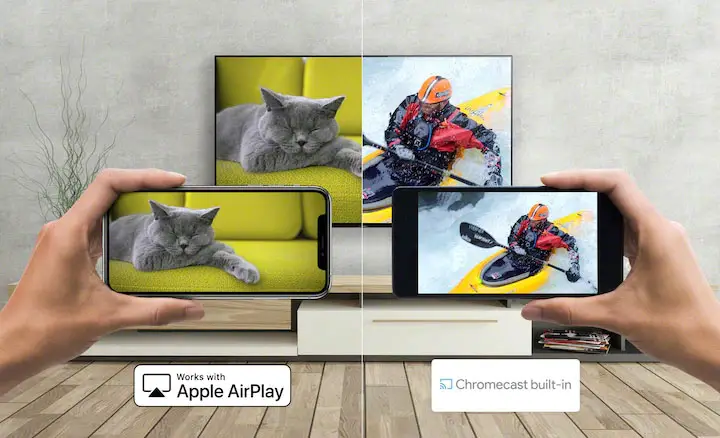 The TV also comes with Bravia Core and this is Sony's online streaming service that promises high quality streams up to 80 Mbps and additional IMAX Enhanced content. Bravia Core offers some very decent and high quality streams but unfortunately you cannot use a wired connection for their best quality as this needs a 115Mbps connection and the Ethernet port is capped at 100Mbps, thus forcing you to use wireless only.
Chromecast is also available here and it gives you the ability to stream content from other Chromecast enabled devices like mobile phones and tablets directly to the TV. Voice control is also present but it seems that it is a bit limited compared to other competing models. By that we mean that although you can use the remote's built-in microphone to give commands to Google Assistant, for Amazon Alexa you will need an external Alexa enabled device to work. Additionally there is also Sony's Voice Search available.
We have seen the same thing in many other Sony TVs and probably this has to do with the fact that it's using Google's Android system and thus having Alexa built-in was not possible. With voice control you can issue various commands to the TV but functionality extends far beyond that as you can control any smart devices you have in your house also.
No smart TV nowadays comes without a built-in media player and while in the early years these were very wonky with what files and codecs they could support things have improved greatly the last few years. As such the built-in media player of the A90K played most of the files we tried in this test with minor hiccups.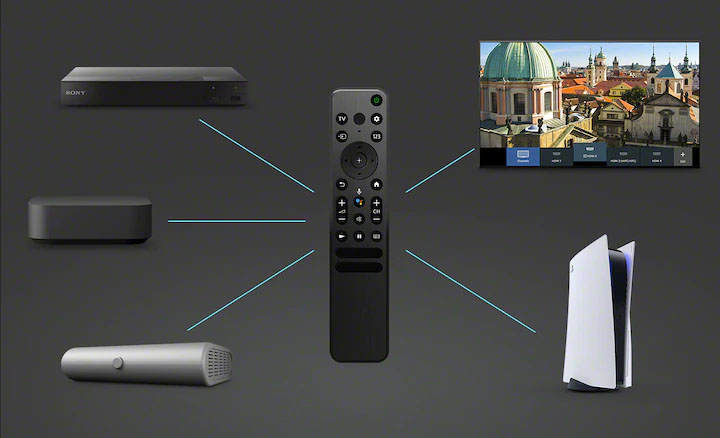 A couple of them that are extremely high bit rate along with some that don't use the standard codecs failed to playback but overall the A90K did brilliantly here as was expected.
Sony has also added support for both Apple Airplay 2 and HomeKit. With Airplay 2 you can stream content from other Apple devices on your TV while HomeKit lets you control certain aspects of the TV through your mobile device. Also if you are all Apple then keep in mind that the A90K supports Apple TV which is Apple's online streaming service in order to have the complete Apple's suite. So in case you favor Apple's products the A90K will certainly cover you in this respect.
For one more year all Sony TVs are Calman Ready. To address color variations from the production process, the TV is ready to use Portrait Displays' high-performance Calman auto-calibration software.
This allows an unprecedented level of calibration and the ability to fine-tune adjustments simply not possible through conventional picture settings. It delivers high-fidelity color reproduction that's true to the original TV signal, and can even adapt to the subtlest changes in color that may occur over time.
As we already mentioned above the A90K comes with IMAX Enhanced certification. This means it can playback IMAX Enhanced content although this is still very scarce to find. Sony is the only manufacturer out of the big three that offers some of its premium TVs with IMAX Enhanced.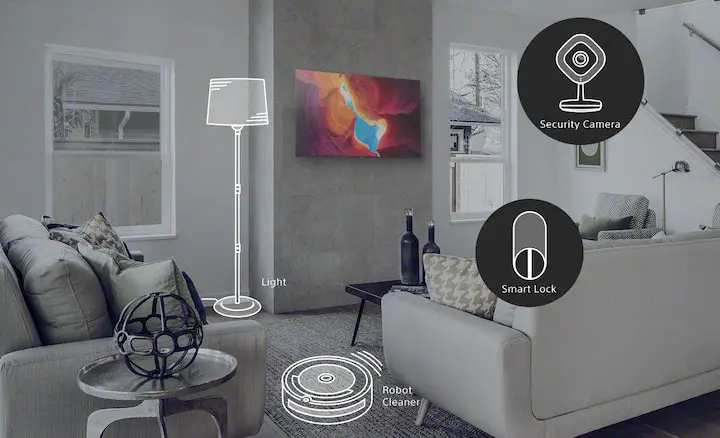 As with all other Sony TVs in 2022 the major addition this year seems to be the new Bravia Cam. This an optional accessory that can be purchased separately and can further enhance the functionality of the A90K.
With the Bravia Cam the TV can detect where you sit in the room and adjust the picture and audio accordingly. Other functions include gesture control and power saving features among others.
One last thing we need to mention is that there is no official app support for controlling the TV. If you want to control the A90K using your mobile device you can use the Android TV app made by Google that supports many of Sony's TVs the last few years. It's nothing major but can be a nice alternative to the included remote if you want to have more options.
No surprises here. We have experienced the latest Google TV in many of Sony's offerings in 2022 and the A90K is more of the same. It needs a bit of getting used to, if you have never used Google TV or Android TV before, but once you get the hang of it, it will like second nature to you.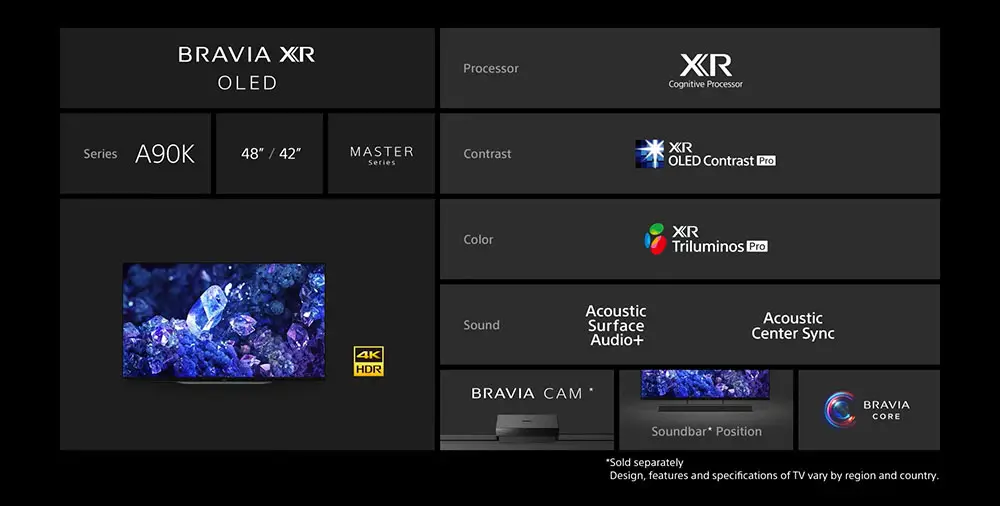 Final Thoughts
To be honest, after everything we saw we still cannot understand the reasoning behind creating the A90K. It is clearly not a successor to the 2021 A90J and its performance is remarkably similar to the A80K minor the brightness output. So you could very well name it A80K and put the two smaller sizes with the rest of the A80K lineup and call it a day.
Nevertheless the A90K showcased excellent 4K upscaling capabilities, excellent black levels and contrast as any OLED should, great viewing angles, amazing color accuracy, very good out-of-the-box performance, solid motion and strong gaming abilities. Add the latest Google TV with all its bells and whistles and you have a very interesting package overall.
For its downsides we will repeat what we said for the A80K. The two HDMI 2.1 ports are surely limiting your options and Sony at some point will have to address that as Samsung and LG already have four full HDMI 2.1 ports in their releases. Also SDR and HDR brightness is a bit lower than what we expected and what the A80K is capable of.
Closing our review what we can say about the Sony A90K is that it is an ideal OLED TV for small rooms, living rooms or bedrooms and the smaller sizes it comes in can be great for a gaming setup. And this surely is the market Sony plans this TV for. In our opinion you cannot go wrong with this one as it has the quality and capabilities to do great for any kind of use. Highly recommended.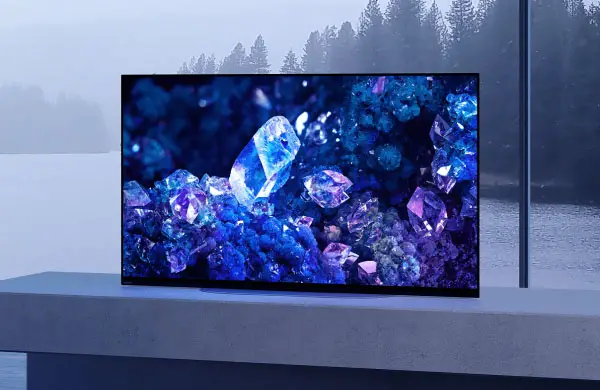 For more reviews you can check our dedicated 4K OLED TV reviews list or even look at our Product Reviews Table where you can find the brand and specific product you are looking for.
Also don't lose the chance to subscribe to our Newsletter and gain exclusive privileges.
---
---
Cheapest Places to Buy :
---