Sony X90K
Reviewed at $1,299.00 (55")
---
Cheapest Places to Buy :
---
The X90K is a 2022 release from Sony that is meant to replace last year's X90J as a mid-tier offering. Most manufacturers are putting most of their attention towards the newer mini LED backlight systems so we noticed that most of them have started to scale back the number of FALD equipped TVs and Sony is no different. As such in our Sony X90K review today we will be testing the only Sony TV this year that still uses a FALD backlight.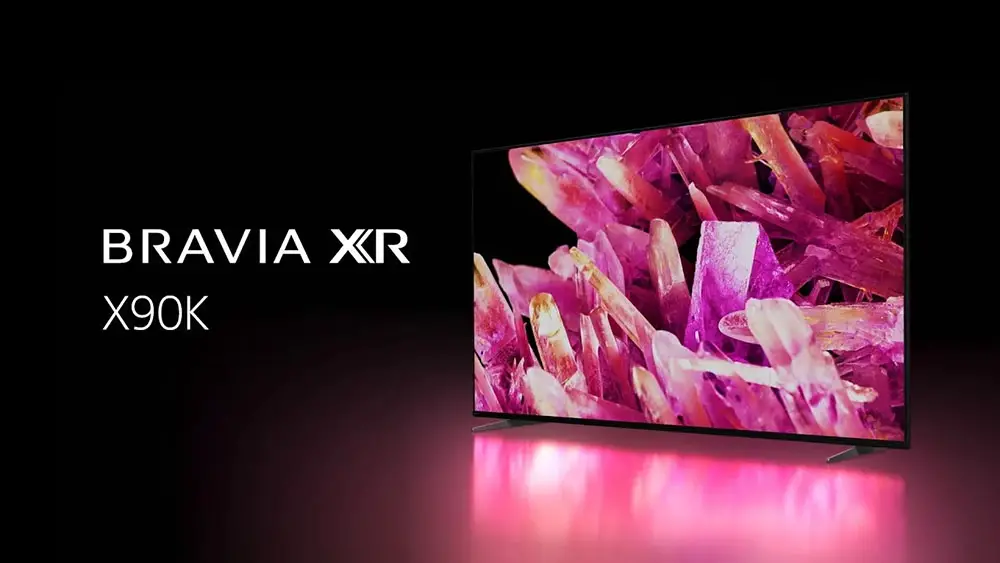 A FALD backlight can produce great results if utilized correctly, but unfortunately last year the X90J proved incapable of taking advantage of it as its low number of dimming zones couldn't offer good light control. The X90K seems to have many of the same specs so we are curious to see if Sony did change anything this year or this TV comes will all the same problems we saw before.
A real quick look over the specs indicate that the X90K uses the Cognitive Processor XR along with a full array backlight system with local dimming. We also get a VA panel with a frequency of 100/120 Hz depending on the region while other features include Dolby Vision support, Sony's Acoustic Multi-Audio with Dolby Atmos and DTS support, HDMI 2.1 ports while as with all TVs from Sony in terms of OS we find the latest Google TV with Chromecast, Airplay and voice control support.
Actually in pure specs comparison there doesn't seem to be any difference between the X90K and the X90J, other than a few new features that have been added particularly for this year. So it will be interesting to see what our measurements will show. We have a lot of ground to cover so without any further delay let's start…
Design
The X90K looks very similar to last year's X90J although small differences here and there indicate that the two do not use exactly the same shell. In fact the X90K seems to be a combination of last year's X90J and this year's X80K. But in general all these TVs, being in the same category, have small differences to tell them apart.
In general the X90K is a nice looking TV even if it is simple looking and it has thin black borders that we measured close to 0.4″ (1 cm). The TV's overall thickness is also good although the inclusion of a FALD system at the back adds a bit of depth and overall we measured it at 2.7″ (7.0 cm). Samsung is still the best here as their Q80B is much thinner in comparison.
The back of the X90K features a checkerboard design which is very typical in many Sony TVs. On the far right are the connection ports, on the far left the power connector and in the middle the VESA wall mount holes around a Bravia XR logo in the middle indicating the series this TV belongs to. Nothing out of the ordinary here.
The design of its stand follows the fairly standard bench type that offers the TV more stability but on the other hand you need a bigger furniture if you plan on placing it on one instead of the wall. The TV was fairly stable with the stand provided and there was little wobble overall.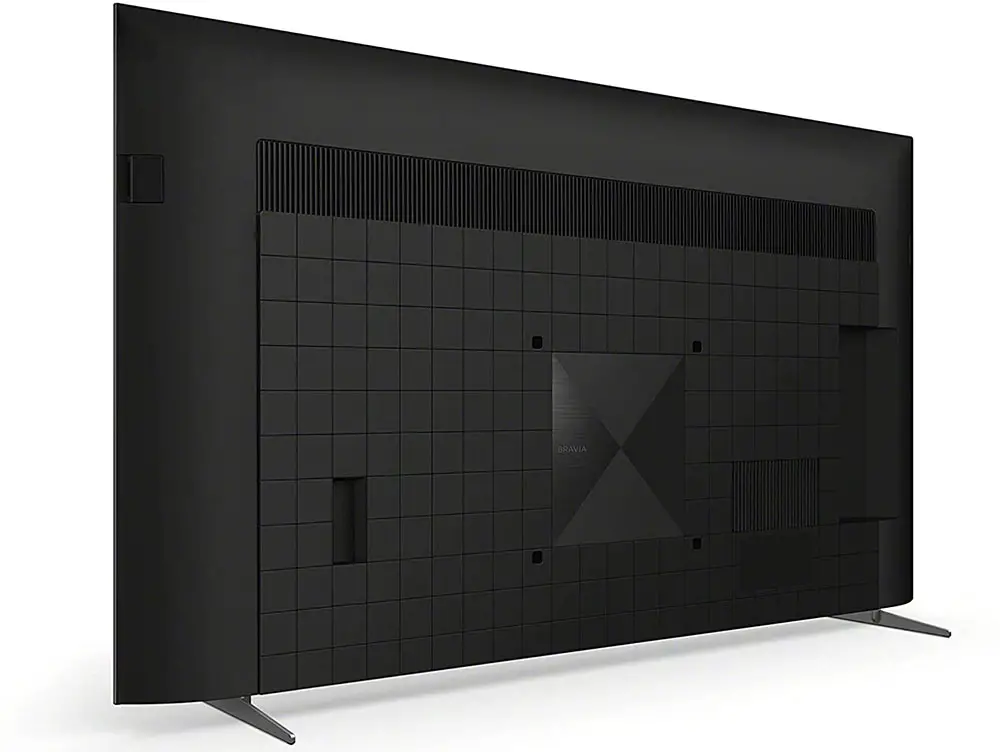 What is different is the actual look as the X90K uses a straight shaped leg instead of an arrow shaped one that both the X80K and X90J are using. Also the stand of the X90K can be adjusted in two different heights, something that can be very practical in case you are planning on having a soundbar under the TV.
Lastly as far as cable management is concerned there is none. No grooves to drive the cables through and no special clips that can be attached to the legs and keep all cables together.
As for the new updated remote, this feels simpler, less cluttered and easier to handle. Design wise the remote of the X90K is no different from the other higher tier offerings. The only aesthetic difference is that this comes with a plastic body while the more expensive models use one made of metal. So basically the one in the X90K is exactly the same as the one we used in the X80K.
We really liked Sony's 2021 remote but to be honest it had too many buttons with many of them never to be used. So making the remote smaller and simpler was the right thing to do and we do love what they have come up with. Slow but steady Sony's remote start to feel a lot like Samsung's One Remote which is something that Sony should have done for some time now.

Build quality was good enough and what you should expect from Sony in this category.
Video Quality
Processor technology used
In terms of image processing the X90K uses our familiar Cognitive Processor XR. As usual manufacturers don't provide a lot of details and we do not know for certain if the chip used in the 2022 TVs is exactly the same as seen last year but from the promo material the processor comes with all the same specs and features.
The new chip divides the screen into hundreds of zones and recognizes individual objects in these zones better than ever before. What's more, it can cross-analyze around a few hundred thousand different elements that make up a picture in a second like focal points, contrast, colors, motion and clarity and determine ways in order to improve the end result even more.
In terms of up-scaling capabilities the X90K proved to be a very capable one. Everything we tried on it upscaled to 4K nicely without any visible artifacts from the process. Obviously the better the quality the better the final outcome but overall we have nothing bad to say here.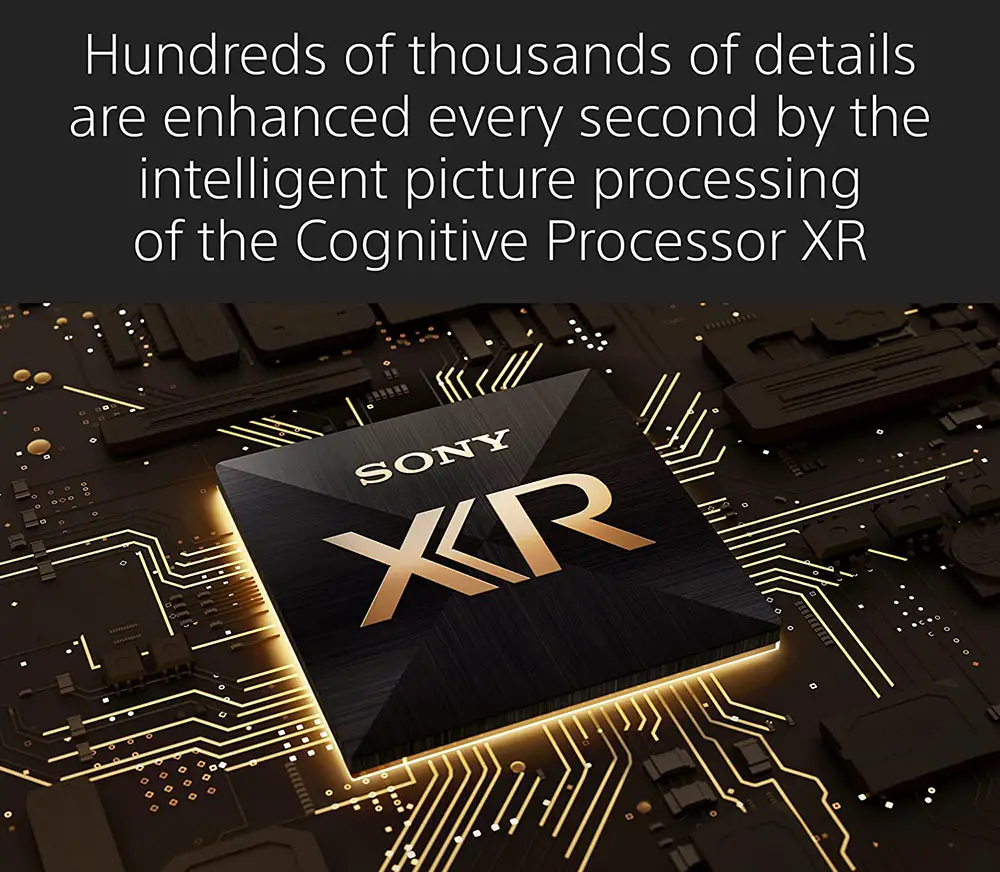 The new processor is not only good at providing excellent picture quality but also deals with all sound elements. Being included in the XR Sound suite the processor supports XR Sound Position in order for the audio to match exactly what is displayed on screen while XR Surround is responsible in creating a virtual 3D environment in order to up the immersion even more. But we will talk more about the audio in our dedicated section.
Lighting technology used
Until a couple of years ago FALD systems were considered the best choice when it came to backlights but with the arrival of mini LED they became somewhat of a mid tier choice now. Sony is having a single FALD TV this year, this being the X90K, and it seems, just like Samsung, they will be phasing these out in favor for the better mini LED backlight in the future.
A FALD system in order to perform good depends on two factors, the number of dimming zones available and how fast each zone can change it's light output. The more dimming zones used the better and more accurate light control the TV has but also the higher the price goes, that's why they usually scale the dimming zones number depending on the model. The effect on having low number of dimming zones can be seen when you see a very bright object on a completely dark background. If the TV has very few zones light will escape to the nearby pixels and create a visible halo around the object.
Also the light algorithms play a huge role as they control the response time of the various dimming zones. If the change is slower than it should be you will see what is called ghosting when a bright object moves very fast against a dark background.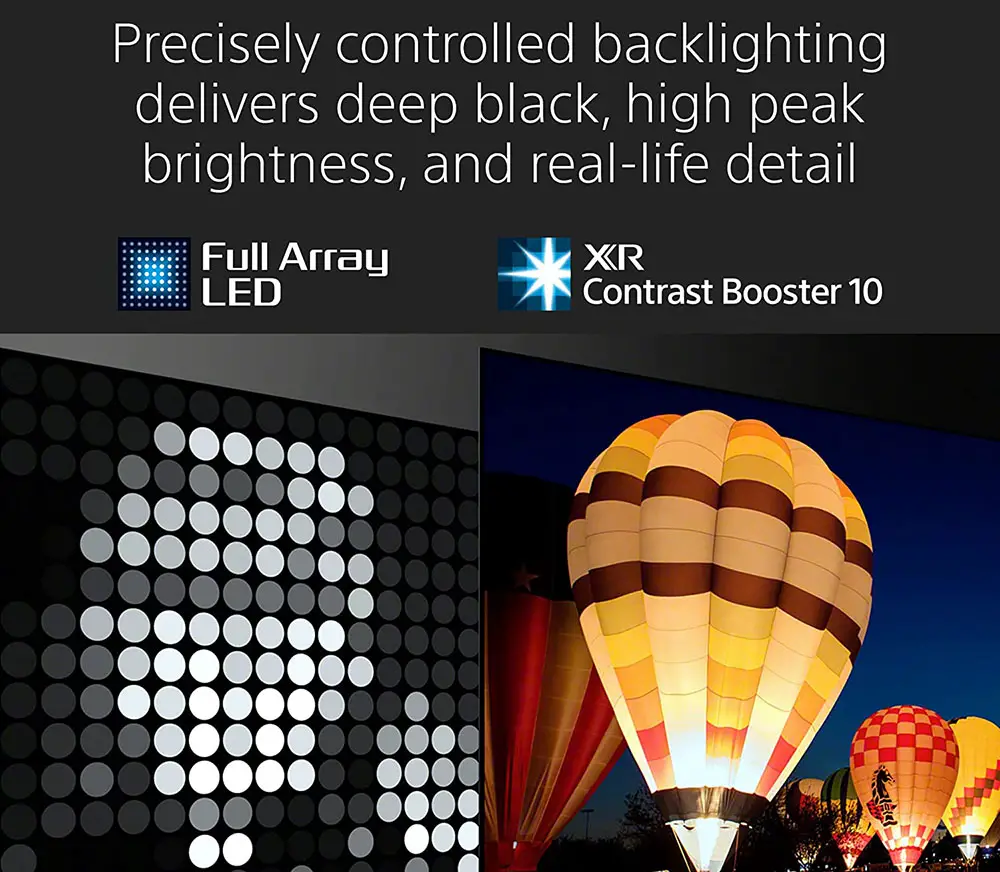 Unfortunately we cannot say we were pleased with what we saw in the X90K. We did notice a lot of blooming in specific scenes where bright highlights were rendered in a completely dark background.
Also because of the large size of each dimming zone, due to the low number of zones available, you could clearly see the transition when a bright object would pass from one to another. At least with scenes that brightness would expand across the whole scene this problem was not obvious as all zones would be lit at the same time.
At least the dimming algorithm was good and responsive enough even with fast moving objects but the low number of zones is a problem that no software can solve by itself.
Also another minus of having a FALD system in the TV is that usually this adds slightly to the thickness of the unit as the FALD system is incorporated at the back of the panel. The X90K is more or less the same here as last year but it surely is thicker than the Samsung Q80B for example that also uses a similar FALD backlight.
Brightness / Contrast
Brightness is one of the most important aspects of any HDR TV nowadays as with HDR content the need for high brightness output is bigger than ever.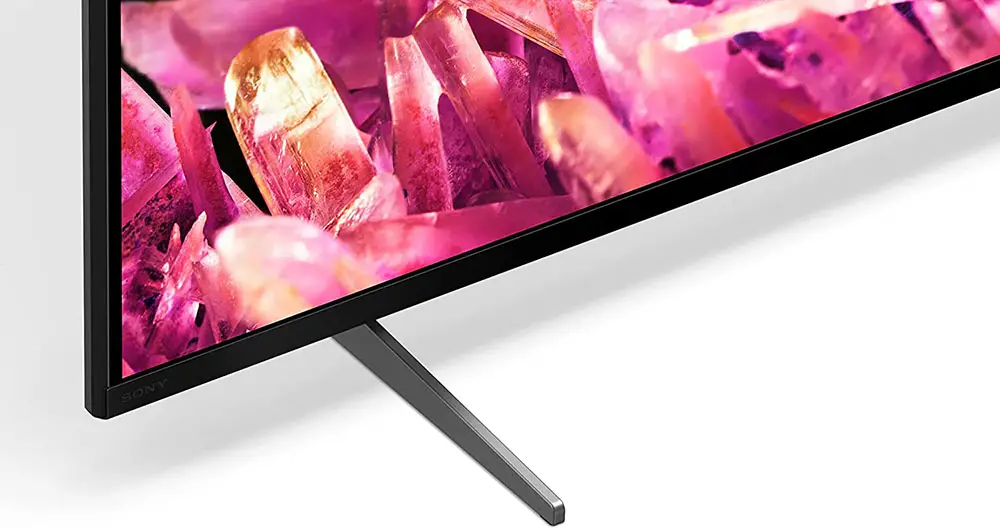 For our review we used the Custom mode, which tends to be the most accurate one in many Sony TVs, Expert 1 color tone and Brightness set to max. In our SDR brightness test over a 10% white window we got 910 nits, much more than what is needed for any SDR content. On our HDR brightness test over a 10% white window we got 954 nits of brightness which is very good and helps the TV display very bright and vivid highlights.
From looking at these numbers above it seems that the X90K is actually an improvement over the X90J.
Brightness levels followed the EOTF reference values very close up to a relatively sharp roll-off point which can result in some loss of detail in bright scenes.
In terms of contrast the X90K comes with a VA panel (for the 55″ unit we had for testing), and as a result contrast ratio was very good although its values were lower than what we had measured in the X90J. Blacks looked deep enough while using its local dimming feature improved things even more.
In pure numbers the X90K seemed to have worse contrast compared to the X90J although with the Local Dimming turned on both had very close values.
The X90K seems to have improved slightly here. Higher brightness in both SDR and HDR is a welcome improvement although contrast is worse. But since you are most likely going to use its local dimming feature then contrast will bounce back to similar levels.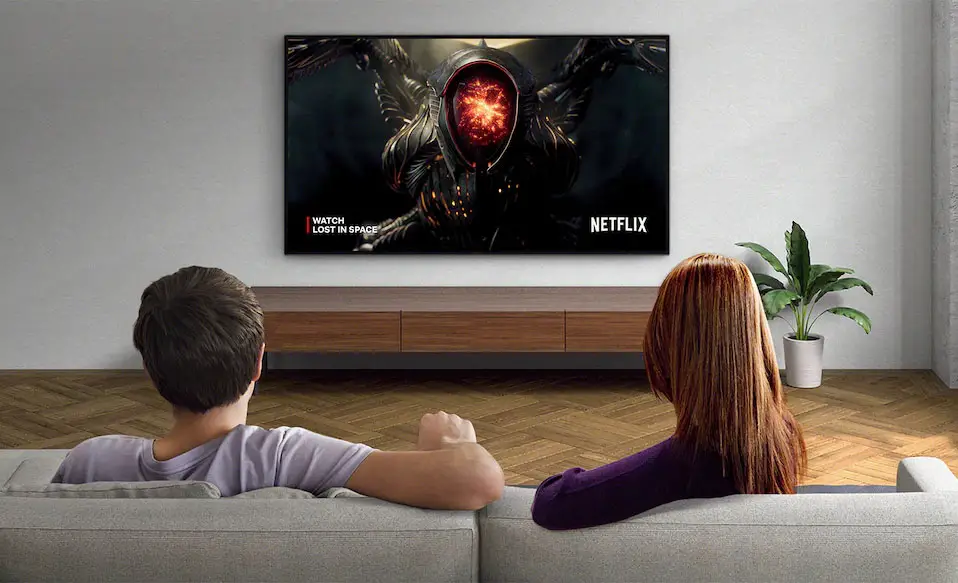 Viewing angles
The X90K using a VA panel so the viewing angles we get are mediocre and not much different from the X90J. This is not the fault of the TV itself but rather the display technology being used as all VA equipped TVs are suffering from bad viewing angles. Sony has been implementing certain tech to combat this in their top offerings named X-Wide Angle and X-Anti Reflection technologies but none of these are available in the X90K.
From what we saw we would say that up to 25-30 degrees the TV retains good image quality. But anything above that and image starts to degrade a lot. We did notice slightly better colors in the X90K compared to the X90J but the difference was minimal and you shouldn't expect any meaningful improvement here.
If you plan on using this TV in a living room where multiple wide positions will be used by the family you want to keep this in mind as the X90K will not be able to retain the same quality you will get from the sweet spot.
HDR support
As far as HDR protocols there are no surprises from Sony whatsoever as we continue not to get HDR10+ from them and it seems that they are firmly into Dolby's camp, something that will not change if nothing extraordinary happens.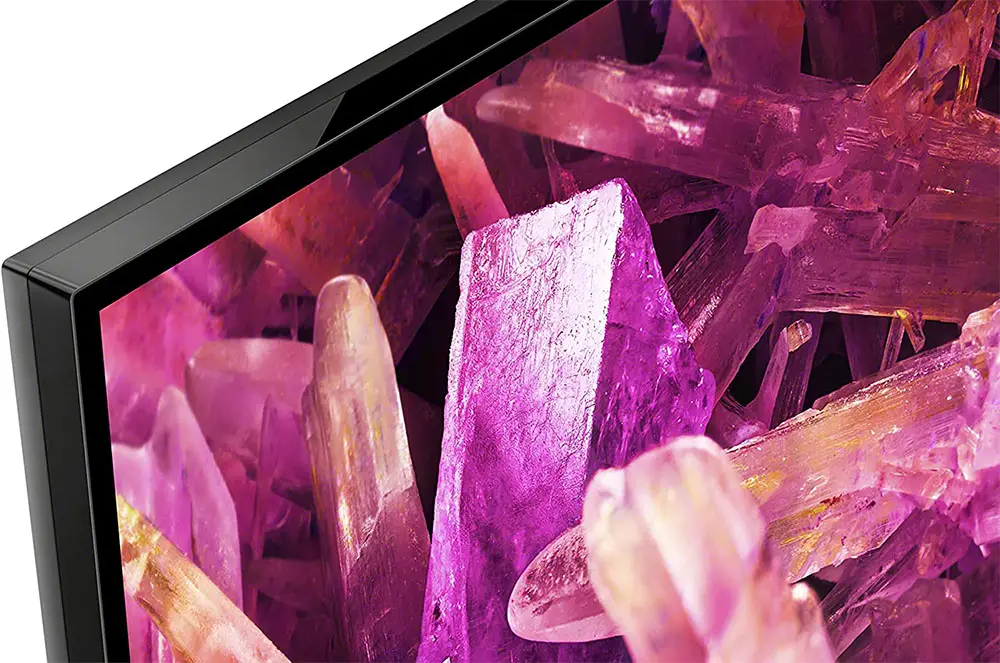 In total the X90K features the standard trio of HDR protocols that include the basic HDR10 which is required for 4K UHD playback, HLG that is used in broadcasting and lastly the more advanced Dolby Vision that uses dynamic metadata and offers the best quality from the three available.
If you don't care about HDR10+ then you shouldn't really worry about it. Dolby Vision has far more support for the time being but as we have seen an increasing number of titles supporting Samsung's solution this may become something to consider in the future.
Our opinion remains that this is a pointless conflict and all manufacturers should embrace all HDR formats instead of pushing consumers to choose by brand because of this.
Color coverage
The X90K is equipped with certain tech in order to allow it to display deeper and more lifelike colors. As such Sony has used a XR Triluminos Pro display in combination with XR Color technology which is included in their XR Picture suite. Basically we get the same tech that we had seen in the X90J.
According to our measurements the TV has about 94% coverage of the DCI-P3 color space which is excellent for its category. On the wider REC.2020 color space we got a coverage of 75% which is also very good.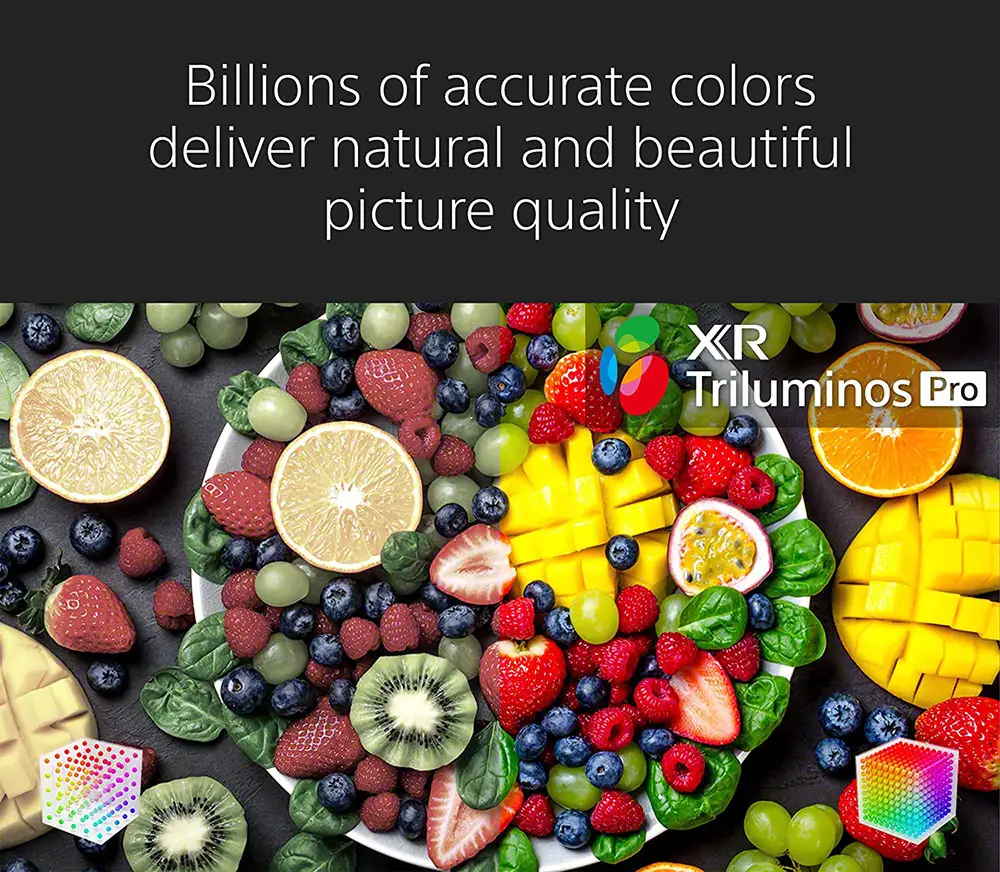 The numbers above indicate an improvement over the X90J which can be said is more than subtle.
Before calibration the X90K had good color accuracy but not without some notable issues. White balance needed adjustment and a few colors had values above the DeltaE limit of three. Both of these could be corrected after calibration which improved the overall image considerably.
Color gradients were very good although some banding was visible in some darker shades which was to be expected. There is also a Smooth Gradation feature in case banding is bothering you but you are going to loose some fine detail if enabled.
Motion performance
We move on to our next part which includes our motion performance tests. It seems that the X90K is very similar to last year as it comes with a 100/120Hz panel along with a backlight dimming frequency of 720Hz which is exactly the configuration we saw in the X90J. Also due to the inclusion of Sony's best processor we get XR Motion Clarity which is the latest technology used to smooth out motion.
You have the option to use either the standard motion interpolation system or use the Black Frame Insertion (BFI) interpolation that is adding black frames in between individual frames and can potentially smooth out motion. BFI can be enabled by turning Clearness to max if you use the Custom setting in the MotionFlow menu.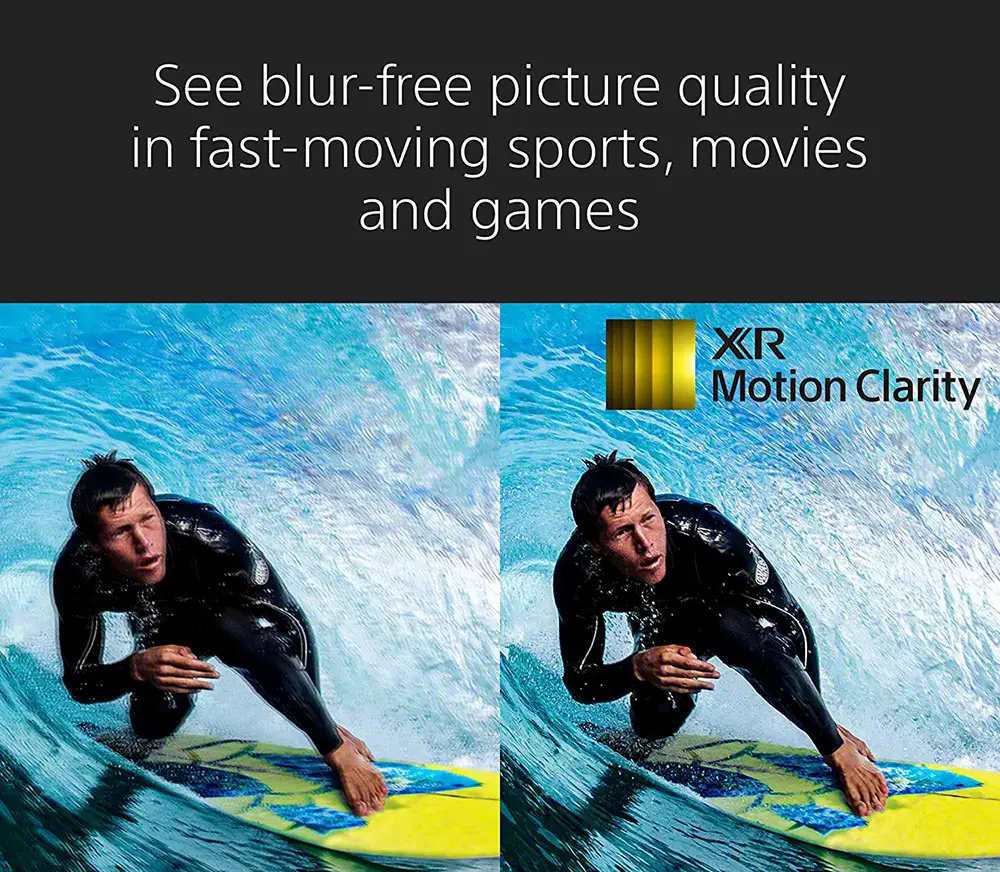 BFI was able to improve overall motion, as is always the case, but the TV had exactly the same image duplication issues we had seen in the X90J. As we had mentioned previously this is not a problem visible all the time but in particular scenes you can notice it. And keep in mind that in general BFI has also a negative effect on brightness due to the black frames that are inserted.
The X90K doesn't offer any considerable changes here as we had seen in some other areas. More or less it behaved the same as the X90J with minor differences here and there. Its performance could be described as good but definitely not great.
Input lag
Onto our input lag tests next and here we are expecting to see good values overall. After all most TVs nowadays, even low budget ones, offer extremely low input lag values making them excellent choices for gaming purposes.
According to our measurements the X90K measured an average of 18ms input lag in both 1080p and 4K resolutions at 60Hz with the use of Game mode. At 120Hz we measured 9.8ms in both 1080p and 4K resolutions which is amazing and will result in a completely satisfying gaming experience.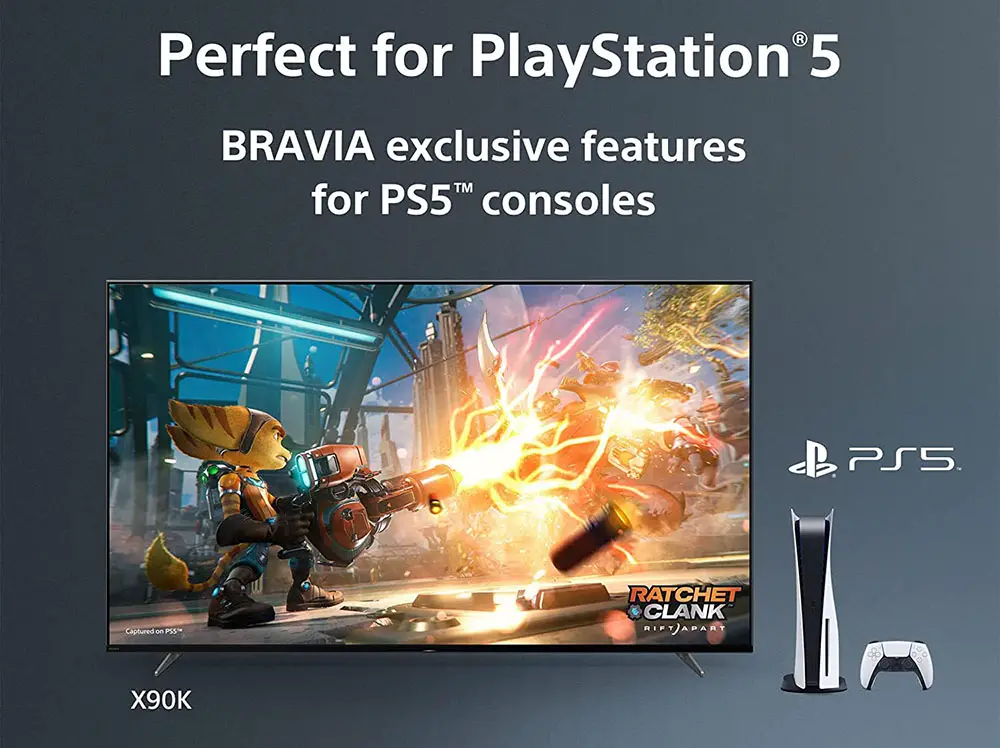 These numbers are great but slightly higher than what LG and Samsung offer in their TVs. But even as such with such low figures, gaming can really be a pleasure, just make sure you use the available Game mode as outside that the input lag will greatly increase to around 143ms which can still be used in slow paced offline games but it is too much for online gaming that requires blazing fast response times.
We should also not forget to mention that the TV supports Auto Low Latency Mode (ALLM) that can be used with any devices that support that like the PS5 and Xbox consoles and can greatly benefit users. As with all Sony TVs there is no HGiG mode but we do get Auto Genre Picture Mode and Auto HDR Tone Mapping which are Playstation 5 specific features.
Thankfully the X90K comes with VRR support out of the box unlike the X90J that we had to wait for an update. HDMI Forum VRR and G-Sync are supported but not FreeSync.
For testing the X90K's capabilities we connected our PS5 and tried a bit of Call of Duty: Vanguard. Our gaming session was smooth and VRR was enabled making the image look far better with such an action oriented title.
Image quality impressions
The X90K does improve in some areas over the X90J but feels like a small downgrade in some others. Color coverage is better and brightness is higher making the overall image look more impressive.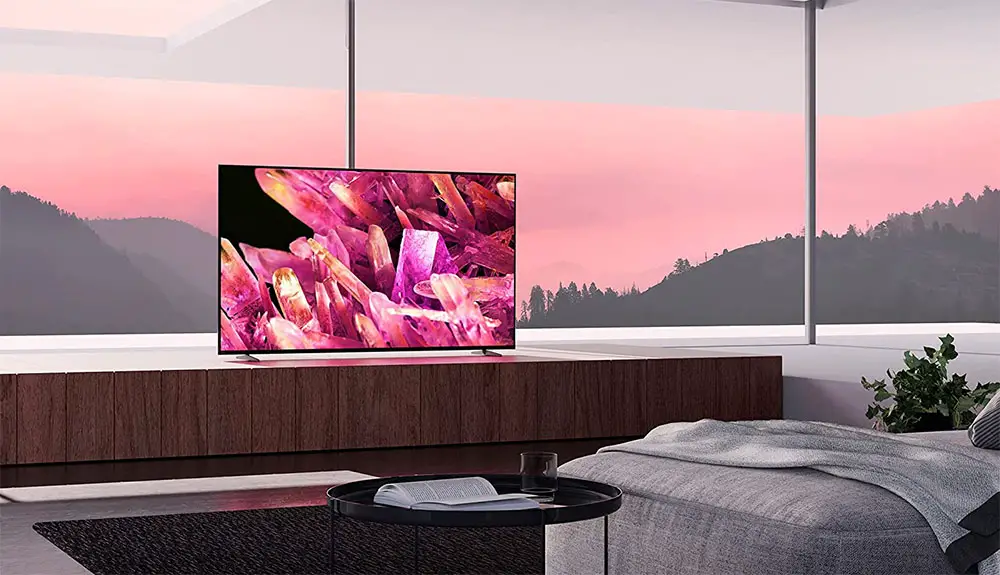 On the other hand contrast seems to have become worse and the FALD backlight felt slightly less capable that what we saw in the X90J making blooming very distracting.
Taking everything into consideration we would say that the X90K offers a similar experience and cannot be considered either an improvement or a downgrade to last year.
Audio Quality
As for the sound Sony is using their own Acoustic Multi-Audio technology. Sound on conventional TVs with speakers located below the screen is often out of sync with the picture. Sony's Acoustic Multi-Audio includes two sound-positioning tweeters at the back of the TV in addition to the down firing drivers that enable sound to follow the action for a more accurate experience.
Independent amps are controlled separately to precisely manage sound positioning of these speakers in high tone areas, enhancing sound pressure and stability for more realism. Just for comparison's sake the X90K seems to be exactly the same as the X90J here. No changes whatsoever.
The system uses a 2.0 channels Bass Reflex speaker configuration with two Full Range (Bass Reflex) drivers at the bottom and two tweeters at the back. Power output is at 10 W + 10 W + 5 W + 5 W for each of these speakers.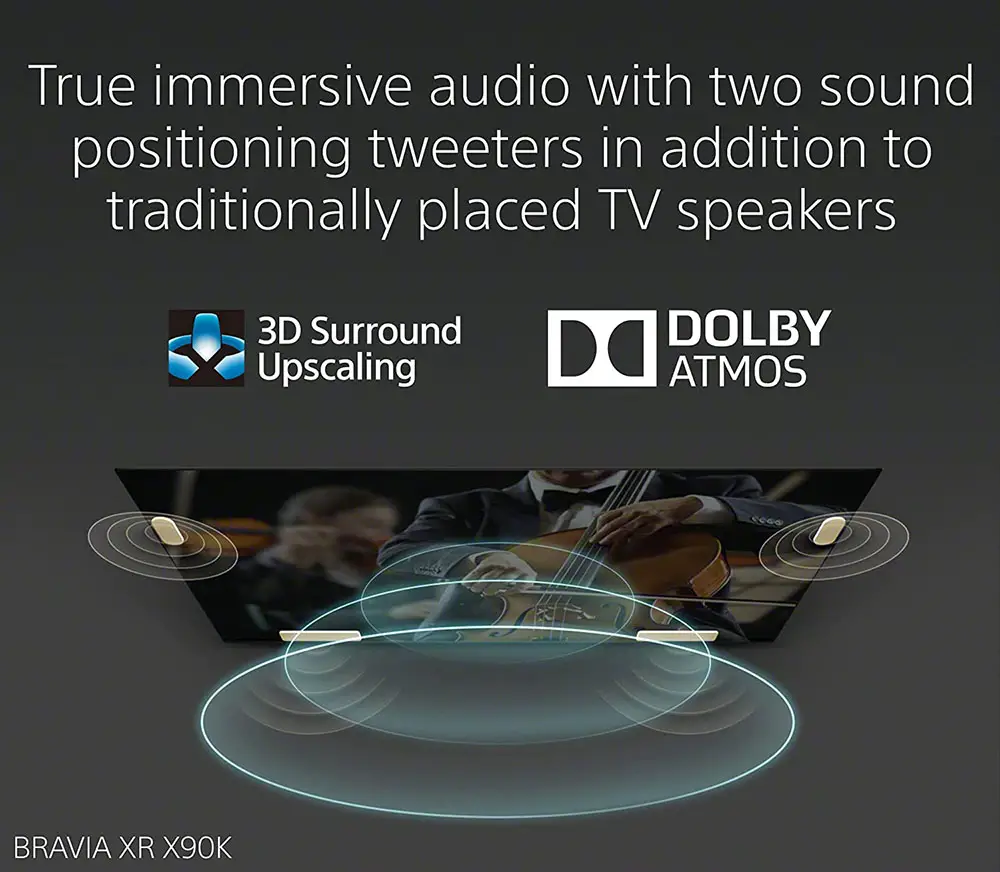 The TV obviously comes with Dolby Atmos support along with Dolby Audio and DTS. Keep in mind that Sony is one of the few companies that still support DTS and can even pass-through DTS:X signals from its eARC port so if this important to you then the Sony is a no brainer as Samsung and LG have long abandoned DTS completely.
But Sony went one step further and included XR Surround which is their proprietary virtual surround technology.  By upconverting inputs, XR Surround virtually reproduces a multi-surround speaker system within your TV so you can enjoy all the thrills of more immersive sound…in theory.
Now we have seen many TVs support Dolby Atmos but with their simple audio systems they fail to reproduce it the way it was meant to. The Acoustic Multi-Audio system is in general a step up from the standard 2.0 channels system we see in many middle-tier and most low cost TVs but unfortunately even that cannot make the sound that emits from the X90K feel more cinematic and impressive. Audio output was good enough for casual use but not for use in a home theater room.
If you really want to feel how Atmos or surround activity sounds like you will at the very least need to get a soundbar with either Atmos or surround speakers support.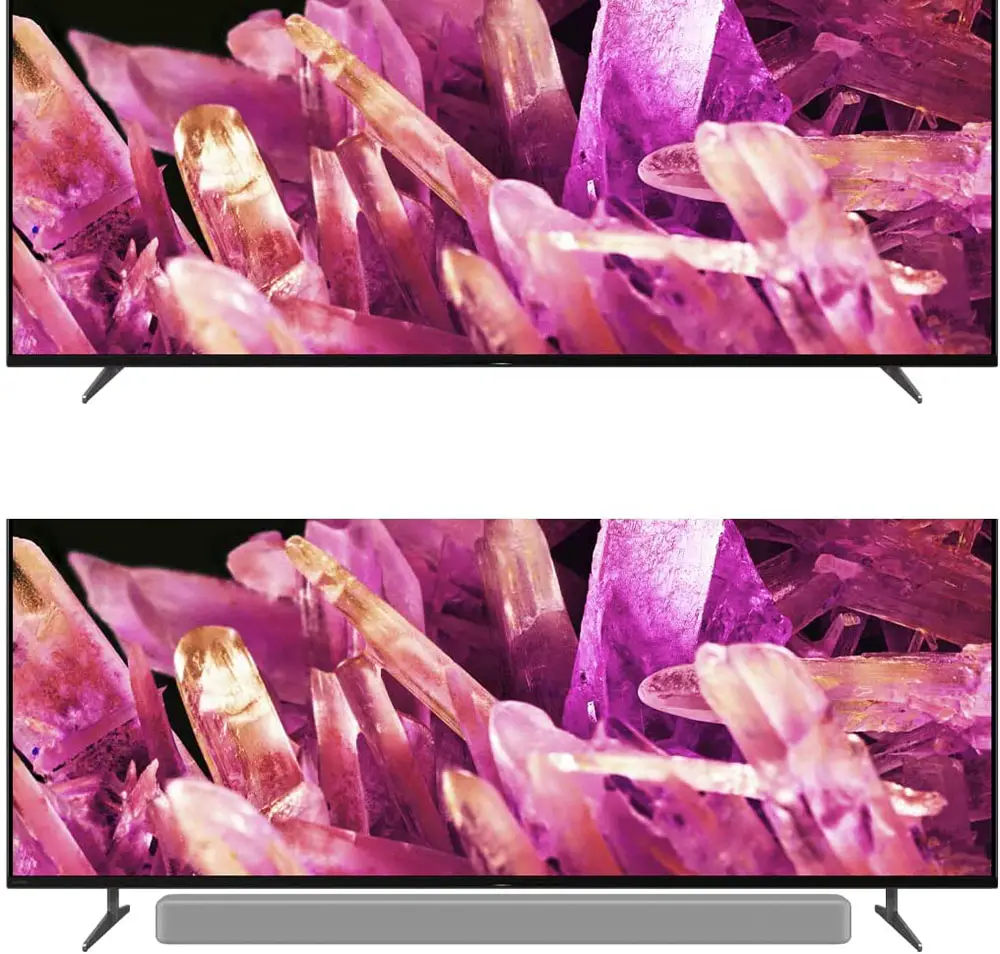 Before closing this part we should mention that the X90K also features Acoustic Auto calibration in order to get the best audio performance no matter your sitting position. This can be used in combination with the new Bravia Cam as it will detect where you sit in the room and calibrate the audio accordingly. This feature will be available after a firmware update.
Ports and Connectivity
Looking at the ports layout we can say that the X90K is almost the same as the X90J with only one omission, the analogue stereo output, which seems to be gradually taken out of all TVs this year and not just Sony ones. Everything else seems to have remained the same.
Going from top to bottom we get two USB ports for connecting external storage or powering various devices, a digital optical audio output for connecting older equipment that do not support HDMI connections, a composite video input, four HDMI ports for connecting all your devices, an Ethernet port for wired connection to your network, an RS-232C port for control, an IR input and the usual antenna/cable connector.
Sony, unlike some of the other big manufacturers actually provide a USB 3.0 port in most of their TVs, even the most low cost ones. Usually manufacturers don't seem very fond of using the newer USB ports and rely mostly on the archaic 2.0 version even for many of their top premium models so this is definitely a plus and good for Sony that decided to do the obvious.
When it comes to its HDMI ports unfortunately, as with all Sony TVs, we only get two HDMI 2.1 and another two HDMI 2.0. And if you consider the fact that one of the HDMI 2.1 ports is also the one that provides eARC then things get a bit tricky if you have a lot of gaming devices to connect.
This is a problem with all manufacturers that don't use their own SoC like LG and Samsung and have to rely on third party solutions like Sony does with Mediatek chipsets. At least the two HDMI 2.1 ports available provide full 48Gbps bandwidth in order to allow high frame rate gaming and all HDMI 2.1 gaming features.
The HDMI 2.1 ports of the X90K support ARC, eARC, HFR, ALLM and VRR. With VRR you should know that it is supported out of the box, something that applies for all 2022 models, but only HDMI Forum VRR and G-Sync are available. FreeSync VRR is not supported.
One thing that doesn't seem to change is the Ethernet port that for one more year will only support up to 100Mbps which is a real shame but not entirely surprising given the fact that all manufacturers still include 100Mbps adapters in their TVs. We don't believe that upgrading these ports to Gbit speeds would up the cost so much and with streaming requirements increasing every single year this change should have been made some time ago.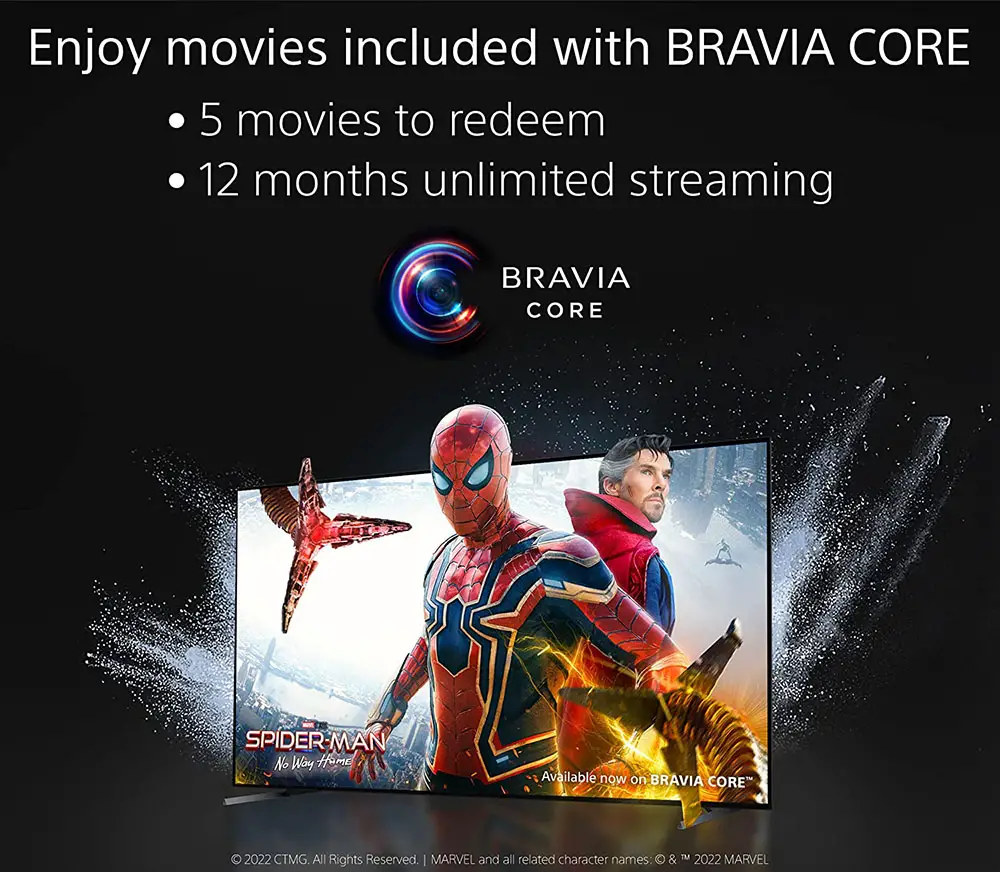 And considering that the X90K comes with Bravia Core we are even more harsh to Sony for not updating their Ethernet adapters. The reason for this is because in order to access Bravia Core's highest quality Pure Stream available at 80Mbps you must have a minimum internet speed of 115Mbps. So in essence you cannot do that with a wired connection and have to rely on wireless with all the problems this can bring.
As for its wireless capabilities things are pretty much the same across the board so the X90K comes with built-in WiFi (802.11ac) along with Bluetooth v4.2. Unfortunately no Bluetooth 5 for one more year although in most cases v4.2 should be just fine.
OS, Apps and Features
The X90K is using the same Google TV platform that Sony is using in all their releases and is the same as the one we saw in the X80K with a few small additions. In our opinion Sony did the right thing to move from Android TV to Google TV as this proved to offer a better overall experience in comparison.
Now many of you may be puzzled what the difference between Android TV and Google TV is. Well, it's not so much difficult to understand what has changed really. Google TV is still Android TV but with an extra layer on top of it. Think of it like it is in Android smartphones. Most manufacturers that use Android in their releases they use on top of that their own layer that gives this extra something to their UI that make them unique both in appearance and functionality.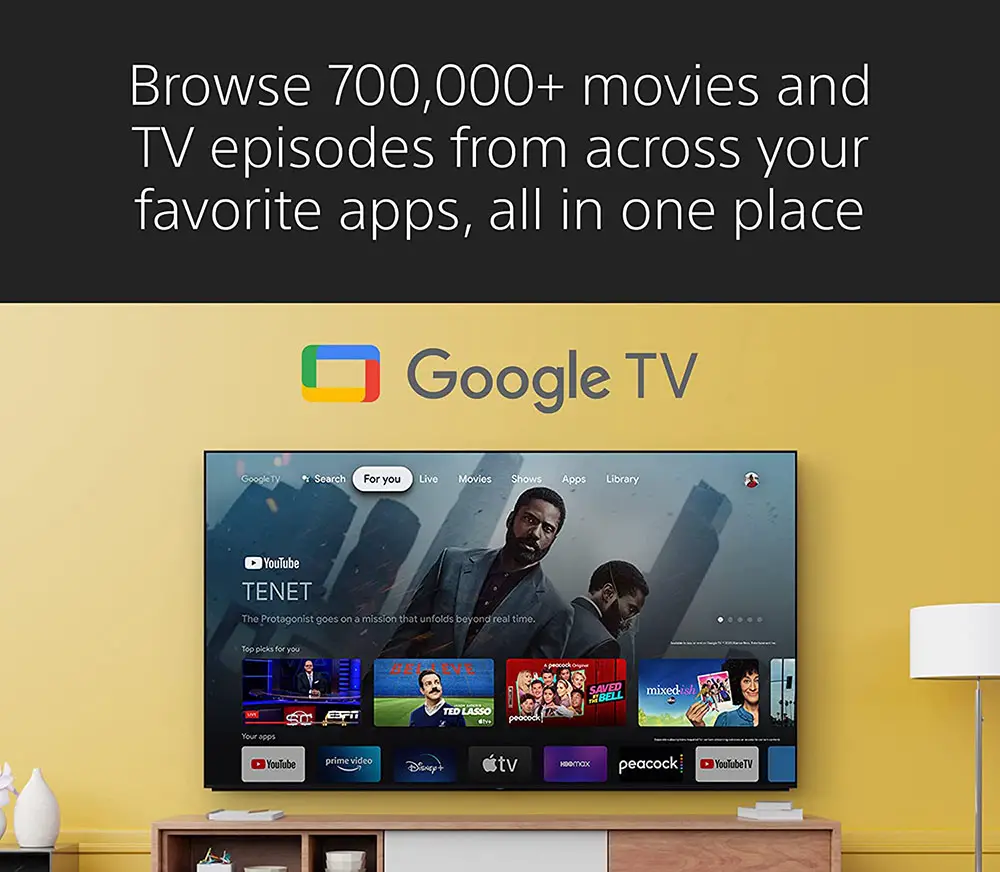 The same is with Google TV. You still basically use Android TV but there is the extra Google TV layer on top in order to make the UI feel different both in looks and functionality. It seems that all 2022 Sony TVs come with the same Google TV 10.0 we saw in last year's models so almost everything is once again the same as what we experienced a year ago.
Google TV seems to have been designed around recommendations, either it be movies, TV shows or applications and this seems to be the main focus of the new OS in general. During setup the wizard asks you of what specific streaming services you use in order to customize the Home screen recommendations.
Keep in mind that Google TV is still Android at its core even though it looks different. But with Google TV things seem more fluent, more direct and more easy to navigate around.
If there is one thing that Android has in abundance that is huge app support. Through the included Google Play Store you can find literally thousands of apps that you can download and use except from the pre-installed ones. There is so much content available that you will definitely find the ones you are looking for and the list goes on and on.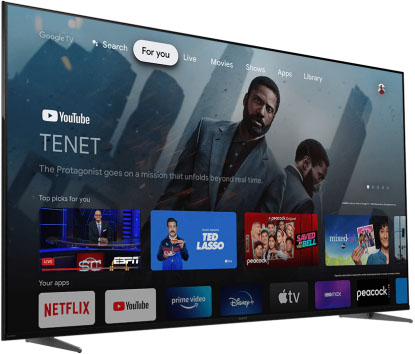 All the big names are obviously present like Google TV, Disney+, Netflix, Amazon Video, Hulu and Youtube as well as Pandora, Tidal, Google Play Music, Spotify or iHeartRadio. As always some of them are region dependent so make sure the ones you are interested in are working in your area. Lastly many apps like Netflix and Youtube support playback for both 4K and HDR content for those interested in it.
The X90K also comes with the updated Netflix Adaptive Calibrated Mode and what this does is to allow you to experience picture quality close to a filmmaker's vision and intent for all content that is streamed through the Netflix streaming service.
We say updated because now this feature works together with the ambient light optimization feature of the X90K by optimizing the picture brightness based on your room lighting conditions.
The TV also comes with Bravia Core and this is Sony's online streaming service that promises high quality streams up to 80 Mbps and additional IMAX Enhanced content. Bravia Core offers some very decent and high quality streams but unfortunately you cannot use a wired connection for their best quality as this needs a 115Mbps connection and the Ethernet port is only 100Mbps, thus forcing you to use wireless only.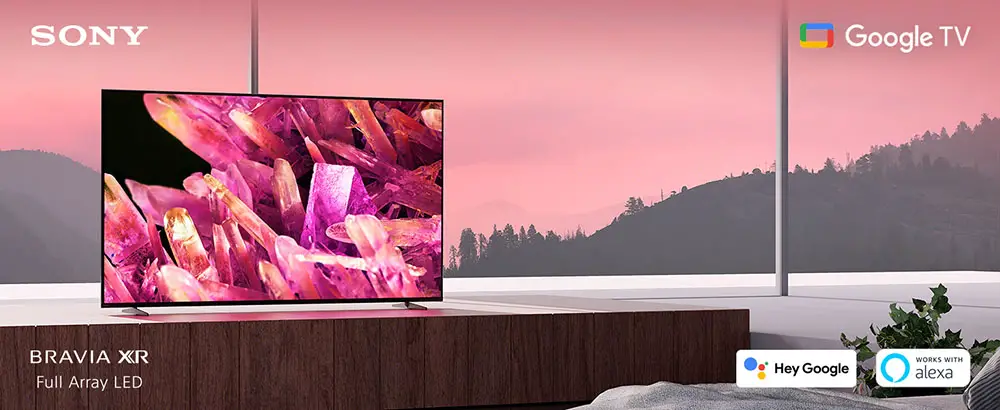 Chromecast is also available here and it gives you the ability to stream content from other Chromecast enabled devices like mobile phones and tablets directly to the TV. Voice control is also present but it seems that it is a bit limited compared to other competing models. By that we mean that although you can use the remote's built-in microphone to give commands to Google Assistant, for Amazon Alexa you will need an external Alexa enabled device to work. Additionally there is also Sony's Voice Search available.
We have seen the same thing in many other Sony TVs and probably this has to do with the fact that it's using Google's Android system and thus having Alexa built-in was not possible. With voice control you can issue various commands to the TV but functionality extends far beyond that as you can control any smart devices you have in your house also.
There is also a built-in media player available that you can use to playback various video and audio content from an external storage connected to the USB ports. Support is pretty good for a built-in player and compared to the competition we can admit that it will be able to play more files in comparison but in general don't expect it to replace your dedicated media player box if you use one. If there is a file that is not following the usual standards it will not play it, something that a dedicated player might will.
We always try some files to test the capabilities of the built-in media player and frankly the Sony X90K was able to playback almost all of them. We do have a couple of files that don't follow the usual standards, and these failed to playback correctly but this was to be expected. Most other files had no problems at all.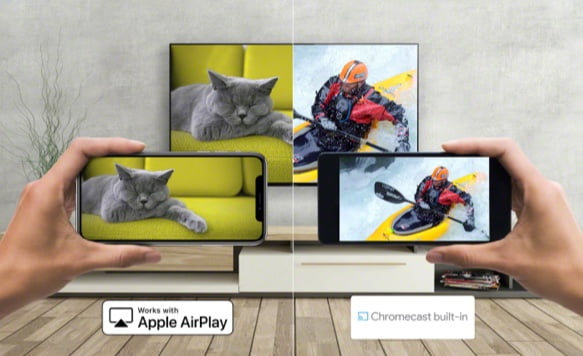 Sony has also added support for both Apple Airplay 2 and HomeKit. With Airplay 2 you can stream content from other Apple devices on your TV while HomeKit lets you control certain aspects of the TV through your mobile device. Also if you are all Apple then keep in mind that the X90K supports Apple TV which is Apple's online streaming service in order to have the complete Apple's suite. So in case you favor Apple's products the X90K will certainly cover you in this respect.
For one more year all Sony TVs are Calman Ready. To address color variations from the production process, the TV is ready to use Portrait Displays' high-performance Calman auto-calibration software.
This allows an unprecedented level of calibration and the ability to fine-tune adjustments simply not possible through conventional picture settings. It delivers high-fidelity color reproduction that's true to the original TV signal, and can even adapt to the subtlest changes in color that may occur over time.
As we already mentioned above the X90K comes with IMAX Enhanced certification. This means it can playback IMAX Enhanced content although this is still very scarce to find.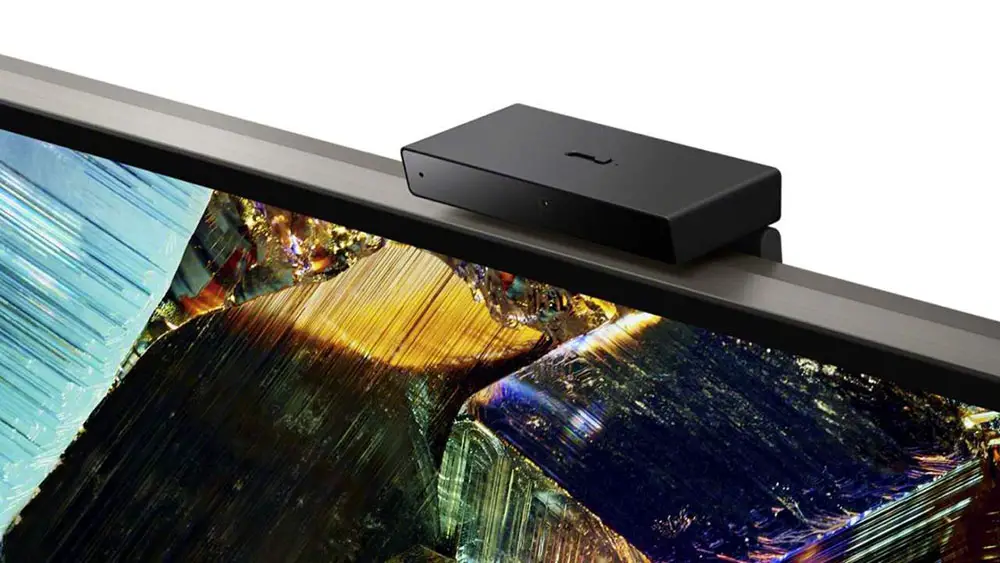 Although almost all features make a return from last year there is one new that Sony added for 2022. It seems that all their TVs now support the new Bravia Cam which is an optional accessory that can be purchased separately and will further enhance the functionality of the X90K.
With the Bravia Cam the TV can detect where you sit in the room and adjust the picture and audio accordingly. Other functions include gesture control and power saving features among others.
One last thing we need to mention is that there is no official app support for controlling the TV. If you want to control the X90K using your mobile device you can use the Android TV app made by Google that supports many of Sony's TVs the last few years. It's nothing major but can be a nice alternative to the included remote if you want to have more options.
No major changes in 2022 for Google TV and essentially we get the same platform we saw last year. The X90K adds a few new features like the new Bravia Cam but in general these do not change the core experience which we can describe as excellent.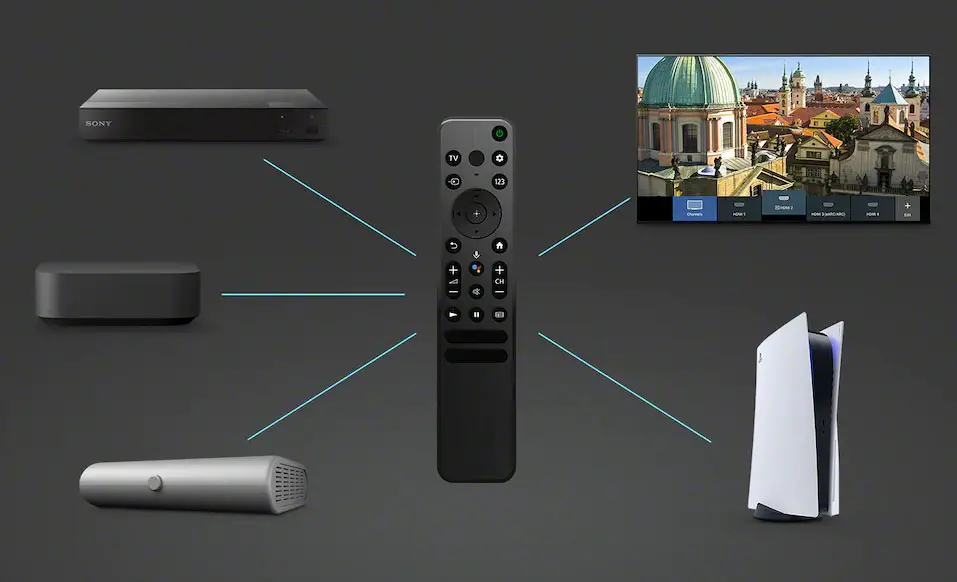 Final Thoughts
Looking at the X90K overall we would say that it offers a more or less similar experience to last year's X90J. It has a few improvements but also misses the mark in some areas that we thought were better in 2021.
The X90K had good upscaling capabilities, nice colors and brightness especially after calibration, ok motion performance and very good input lag. And if you combine the last one with support for HDMI 2.1 along with all the gaming features these brings, the X90K can be an excellent gaming TV. But it offers much more than just that and the inclusion of Google TV along with all its streaming services can make it an ideal solution for any home entertainment room.
On the other hand its FALD backlight was disappointing, especially when we know the capabilities this system has. Contrast, without local dimming was worse while viewing angles were mediocre at best. Audio performance was just ok and having only 2 HDMI 2.1 ports may not cut it for many gamers.
Closing our review the Sony X90K can be an ideal TV for mixed use as it is capable enough for either movies, gaming or casual use and with its affordable price it strikes a nice balance between price and specs.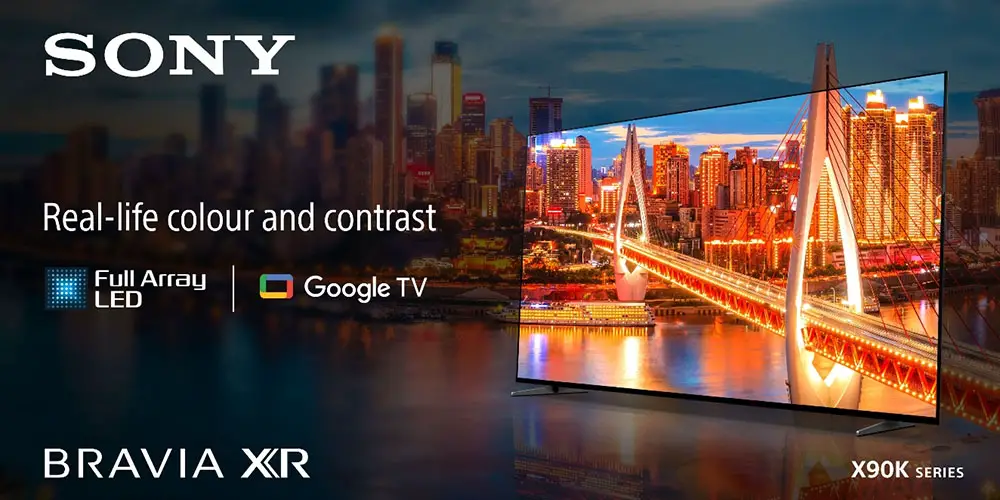 For more reviews you can check our dedicated 4K LED LCD TV reviews list or even look at our Product Reviews Table where you can find the brand and specific product you are looking for.
Also don't lose the chance to subscribe to our Newsletter and gain exclusive privileges.
---
---
Cheapest Places to Buy :
---