Sony Electronics Inc. recently unveiled the HT-AX7, a portable theater system featuring 360 Spatial Sound Mapping. With this system Sony provides a fresh approach to enjoy immersive and expansive audio that can fill your entire home.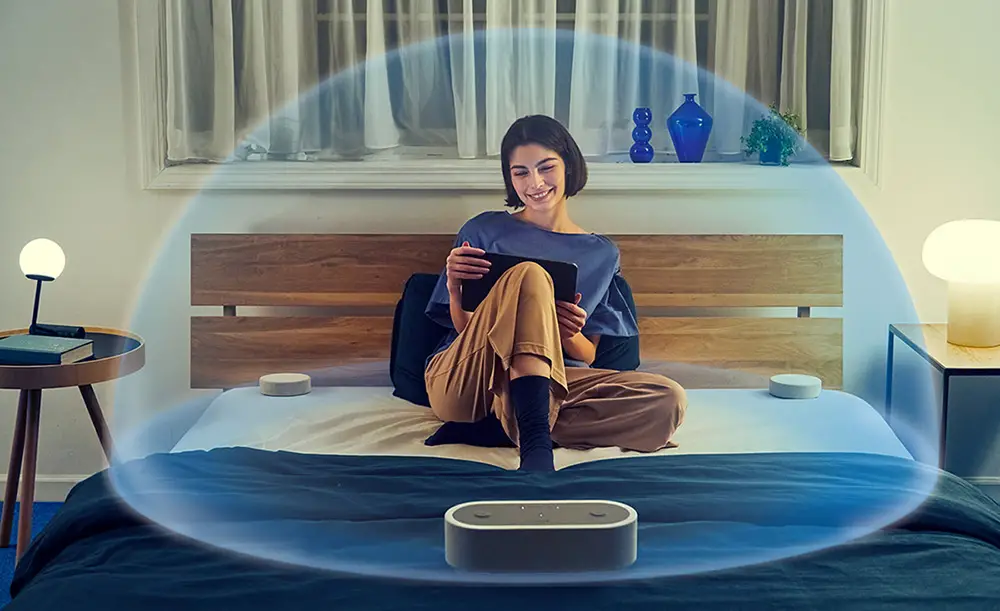 Immersive Technologies
The new HT-AX7 is able to achieve that by incorporating some key technologies. And one of them is Sony's innovative 360 Spatial Sound Mapping technology. This cutting-edge feature generates virtual speakers in the front, rear, and overhead positions.
This way the system will surround you with a bubble-like sphere of spatial sound by simply placing the three speakers around the room. As a result you eliminate the need for complex and time consuming installations.
Additionally, the HT-AX7 incorporates Sony's up-mixer algorithm. This is capable of transforming stereo audio into three-dimensional surround sound. This intelligent algorithm analyzes the sound in real-time, it separates individual sound elements and redistributes them to create a more captivating listening experience.
This way you can immerse yourself in a surround sound-like experience even with 2-channel content. When the sound field is deactivated, you can position the three speakers in the corners of your room, and the HT-AX7 will generate an ideal atmosphere with exceptional, room-filling sound quality.
Simplicity is the Key
Unlike conventional home theater systems that require complex setups, the HT-AX7 simplifies the process by requiring no special installations. Simply position the three speakers around your room, and you are ready to go. The wireless connectivity and automatic pairing between the rear speakers and the main unit makes things even easier.
Additionally setting up the HT-AX7 is very easy by using the user-friendly Sony Home Entertainment Connect app. After downloading the app, you only have to follow the initial setup process. This will give you complete control over volume, sound field adjustments, and more.
Never Run Out of Battery
The system has up to 30 hours of battery life and a rapid charging feature that provides up to 2.5 hours of playback with just a 10-minute charge. This way you can freely move it from room to room without worrying about running out of power.
Unlike traditional home theater systems that require a wired connection to the TV, the HT-AX7's portable design allows you to enjoy content through its Bluetooth connection.
But the HT-AX7 is not only about practicality but also style. Featuring a wireless, sleek, and versatile design, the HT-AX7 blends nicely with any interior décor. The lightweight design of the detachable rear speakers, coupled with the unit's convenient one-handed portability, allows you to conveniently place them anywhere throughout your home.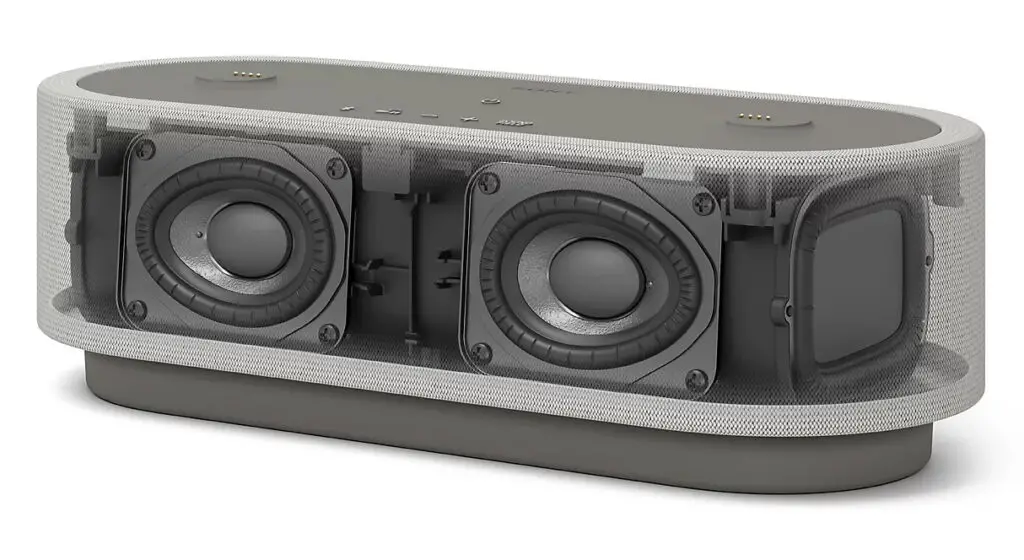 Initial Thoughts
Basically the whole design of the HT-AX7 reminds us of JBL's soundbars that use detachable wireless surround speakers. Like the JBL Bar 1300X or JBL Bar 1000. Sony seems to have used them as a basis for this new system. But instead of offering another soundbar that would follow JBL's principles they decided to use this design for a portable solution. Furthermore this way they can introduce a new product in a market that is relatively competition free.
Hopefully we will be able to test it when it becomes available next month. So keep checking for our thorough review and verdict.
The HT-AX7 has a price of $499.99 MSRP and will be available for purchase in early August.
For more industry news you can check our dedicated Industry News section. Also don't lose the chance to subscribe to our Newsletter and gain exclusive privileges.