JBL Bar 1000
Reviewed at $1,199.00
Product Name: JBL Bar 1000
Product Description: 7.1.4 CH Dolby Atmos Soundbar
Design -

9/10

Movies Performance -

9/10

Music Performance -

9.1/10

Inputs and Features -

8.9/10

Price / Quality -

9/10
Summary
Reviewed at $1,199.00
Pros
Dolby Atmos and DTS:X support
Simple to setup and to use
More HDMI inputs available
Better audio output than previous releases
Cons
Missing some definition
Atmos effects rather weak
Not true HDMI 2.1 ports
Remote feels cheap
---
Cheapest Places to Buy :
*We are a reader-supported website. When you buy through links on our site, we may earn a small affiliate commission at no extra cost to you. Home Media Entertainment does not accept money for reviews.*
---
Last year JBL announced a whole new lineup of soundbars that would replace their previously existing one and that would continue well into 2023. The new lineup which we already started looking into with our recent JBL Bar 300 review has surely something for everyone. And we will make sure to test as many of this new models as possible. But for today, in our JBL Bar 1000 review, we are going higher in the performance ladder and test their second in line offering for this year.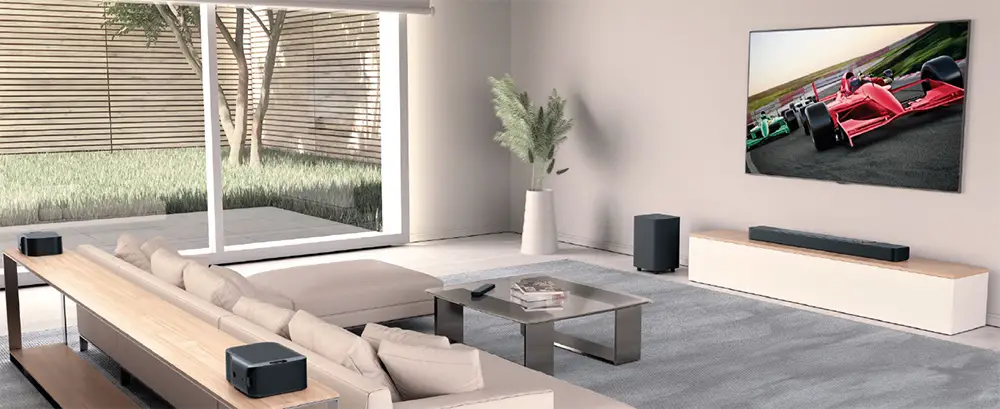 Looking at the specs the new JBL Bar 1000 is not replacing any existing model, as JBL's previous flagship, the JBL Bar 9.1, was only a 5.1.4 channels system. And surely the Bar 1000 goes above and beyond what that one could do. And if you think that this is not JBL's flagship, the Bar 1300X is, it surely makes their updated lineup even more impressive.
So before we go deeper into our analysis let's go over the specs real quick to see what the Bar 1000 is all about. This is an impressive 7.1.4 channels full soundbar system with 880 watts of power output. It supports Dolby Atmos, DTS:X and MultiBeam surround sound and comes with online functionality including WiFi and Bluetooth. In terms of extras we get an audio calibration system, Chromecast, Airplay, voice control capabilities and support for the JBL One app.
The JBL Bar 1000 surely looks like a highly capable system. It has the power, the flexibility and the feature list to be a really top tier selection that can rival the best soundbars out there. Is the new unit as good as it looks? Let's find out…
Design, Inputs and Features
Exterior
All the new JBL Bar soundbars come with a brand new design. And JBL made sure to keep this the same across their entire product lineup, mostly for parity reasons. We already had a first hands on impressions on this new look when we tested the Bar 300 so we knew more or less what to expect.
But while the Bar 300 was a simple, single unit soundbar the Bar 1000 takes things a few steps further. Size wise the soundbar measures 884 x 56 x 125 mm / 34.8" x 2.2" x 4.9" without the detachable surround speakers. These extra wireless speakers measure 155 x 56 x 125 mm / 6.1" x 2.2" x 4.9" so keep this in mind as when you want to recharge them on the bar its total length will reach 47″ (1194mm).
For this above reason and also for the fact that the main bar utilizes side firing channels you should take extra care to place the soundbar in a place where its drivers will not be obstructed.
Also keep in mind that if you plan on placing it in front of your TV the soundbar doesn't have any IR repeaters. So if your TV's IR sensor is extremely low then it may obstruct the signal, so you better measure first just to be on the safe side.

Most TVs do have a gap of around 2.5″ below the panel, but some have much less. So while the soundbar's 2.2″ height may allow it to fit under most of them, there are some, like the Sony A95K for example, that don't leave any space for a soundbar and a different solution is needed.
As usual in the new lineup, the whole chassis is covered in a matte dark gray plastic. We like the new look even if it is not something fancy to talk about. The perforated grille covers the entire front face, hiding the drivers and front display. With the surround speakers attached this grille extends to the sides in order to provide protection for the side channels also.
At the top side we find the built-in buttons that are placed on the right side. To the left of them there is a single LED that works as a status indicator and more towards the left there is a tiny hole used by the built-in microphone. This is exactly the same layout we saw in the Bar 300 so it seems that JBL is using exactly the same design across the board.
A very important aspect of any soundbar design is the inclusion of a fully functions display and here JBL does not disappoint. The Bar 1000 actually has two, short of, displays. One is the single LED status indicator next to the built-in buttons and the second is a full functions display at the front.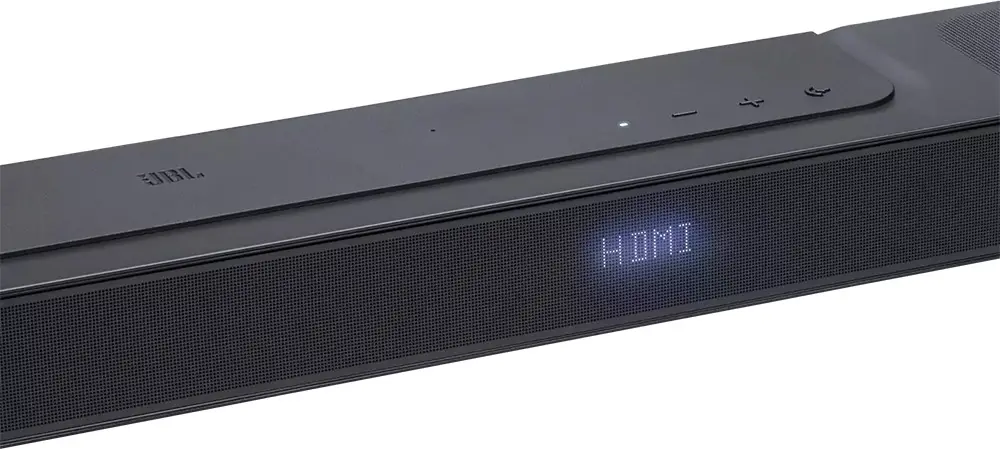 But since the front center is occupied by many of the racetrack drivers available this had to be placed more to the right. Not a big problem but surely will bother some that like things to look symmetrical.
The display can show you various functions like volume control, input selection and sound adjustments among others. We definitely like that JBL used a full functions display instead of LED lights. As it is much easier this way to know what the soundbar is doing.
As for the single LED status indicator, this also shows various functions of the soundbar like network status and updating. But its placement is not very practical and not of much use anyway.
The back of the unit is where all the connection ports are located in an inset placed exactly at the center. There is nothing else visible as the wall mounts keep the unit from underneath.
Next we need to mention the detachable surround speakers as JBL keeps using this unique design. This means that you can attach or detach them depending their use. This is important as you do not need a fixed placement and you can change their position at will.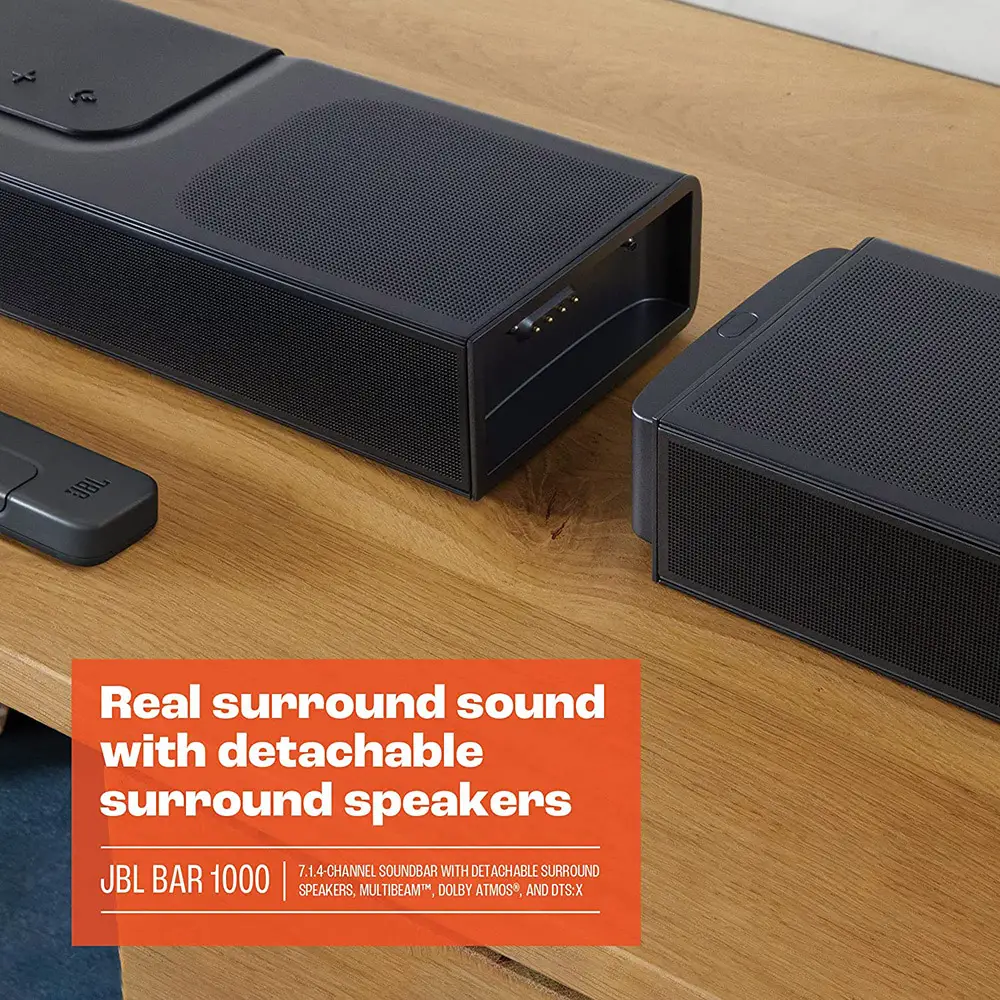 Remember that these speakers need about 3.5 hours to recharge, which was pretty accurate by our measurements. Unfortunately, while they do come with a LED indicator that flashes when battery is low you really do not have an indication how low the battery is in general. So our recommendation is to fully charge them after each use. Just to be on the safe side.
We weighted these speakers 0.7 kg / 1.55 lbs each so it is relatively easy to carry and move around. And with no need for cables makes them extremely simple to handle.
Last but not least is the subwoofer. This uses a standard cubic design with a single air port at the back. The down-firing design of the subwoofer surely helps with placement as it will not be affected by tight spaces. The sub has rounded corners, which is typical of JBL soundbars and comes with four long legs to keep enough space underneath for the transducer to do its work.
Overall the JBL Bar 1000 may not be oozing with premium materials but surely is an impressive soundbar. Its size, configuration and overall design makes this one feel fresh and surely gives a small idea of its capabilities.
Internal Hardware
Soundbar brands push the envelope with every new lineup they release. And JBL is no different, but looking the Bar 1000 compared to their previous flagship this surely feels like an understatement. As the Bar 1000 features an impressive drivers array which is far beyond what JBL had until now.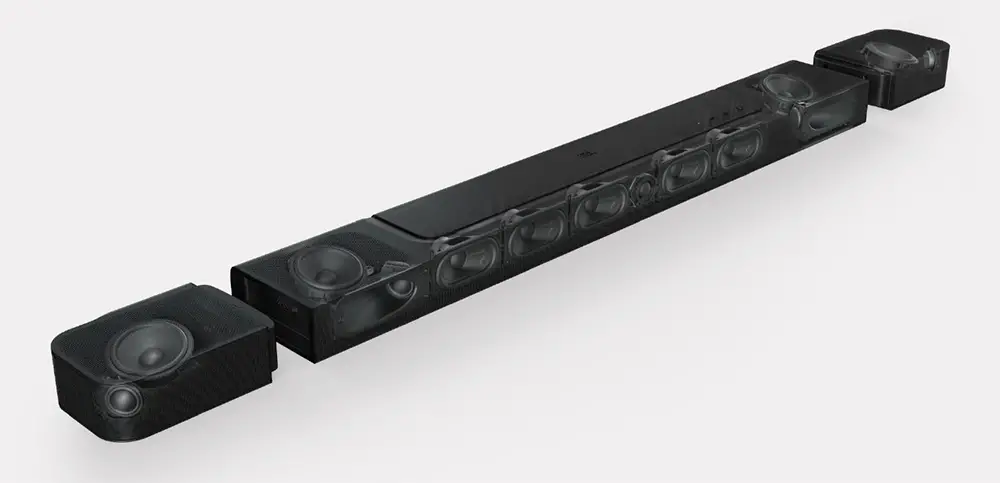 Spec wise the soundbar is classified as a 7.1.4 channels unit with an impressive 880 watts of power output. 440 watts go to the main bar, 170 watts to the wireless speakers and 300 watts to the subwoofer. Unfortunately, again we do not have ratings for each channel, although with a bit of guessing it is easy to understand the power distribution.
For the right and left channels JBL used four 46 x 90 mm racetrack drivers, two for each side. On the other hand the center channel gets a single 46 x 90mm racetrack driver along with a 0.75" (20mm) tweeter. The right and left side-firing channels get a single 0.75" (20mm) tweeter each while there are two 2.75" (70mm) up-firing full-range drivers for the Atmos effects.
As for the detachable surround speakers, these feature the same configuration as JBL's previous flagship. A single 0.75" (20mm) tweeter is complemented by a 2.75" (70mm) up-firing full-range driver for the Atmos effects.
The subwoofer on the other hand uses a single 10" (260mm) down-firing transducer which is big enough for its category. Keep in mind that JBL also has a 12″ subwoofer but unfortunately this is offered only in their Bar 1300X. Hopefully we will be able to test that one also in the near future.
Using racetrack drivers seems to be JBL's choice for many of their soundbars the last few years. But the number of drivers available is not the only impressive aspect of the Bar 1000 as these work in parallel with JBL's MultiBeam technology.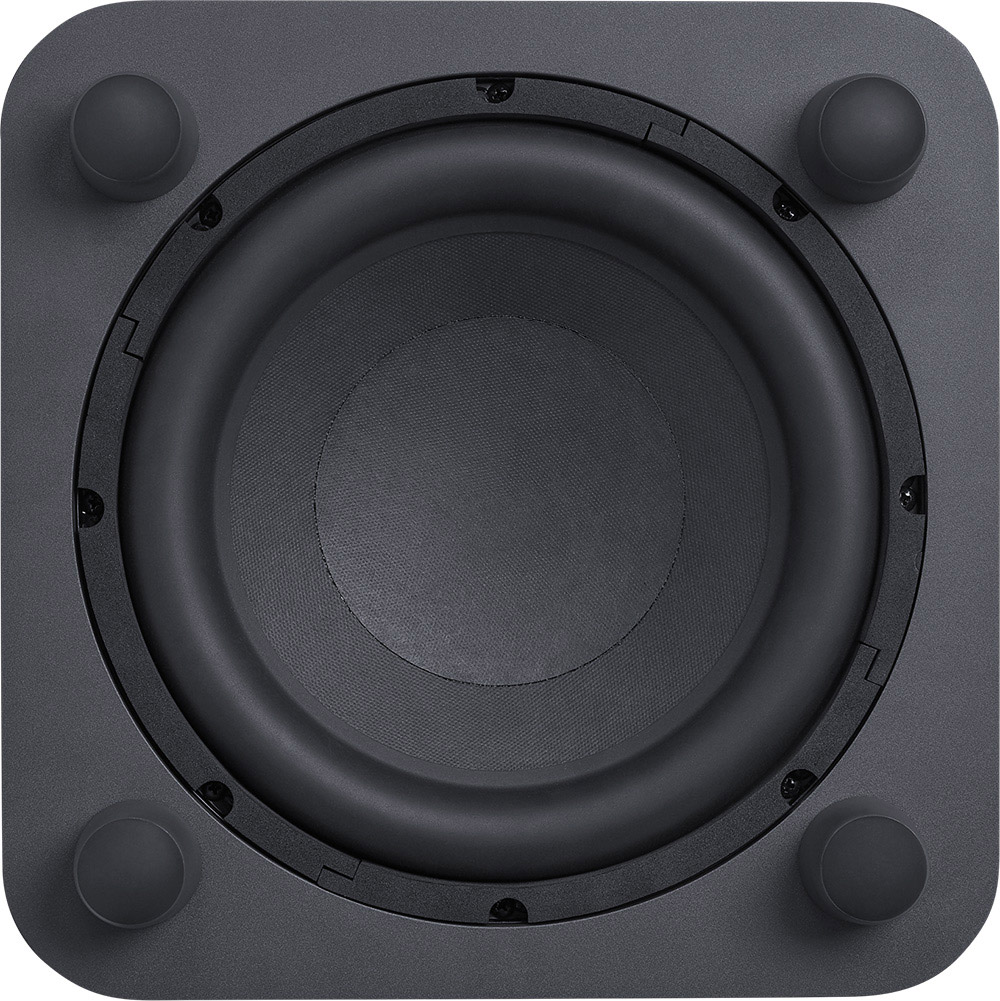 Although the soundbar does come with rear speakers JBL added their proprietary surround technology in order, in theory, to up its immersion performance even further. We will see how all these work together in our following tests.
All the above give the Bar 1000 a frequency response of 33Hz – 20kHz (-6dB).
Connectivity
Connectivity wise the Bar 1000 is much better than anything JBL released before. Although the type of connections is no different, their number is.
From left to right there is a power connector, a USB Type-A, an Ethernet port for wired connection to your local network, four HDMI ports, three inputs and one output, and a digital optical audio input.
Basically this is the same layout we saw in the Bar 300 but with the addition of two more HDMI inputs.
All HDMI ports support HDCP 2.3 and have the ability to pass-through 4K, HDR10 and Dolby Vision signals. The output comes with eARC capabilities which means it can support Dolby Atmos not only from Dolby Digital Plus but also Dolby TrueHD.
Here we need to make a special mention to the HDMI 2.1 ports of the JBL Bar 1000. From our tests, it seems that when we used the soundbar in pass-through mode we could get 120Hz with HDR, VRR and ALLM but not in 4K resolution! This was possible only in 1080p.
This we saw with our PS5 connected to the soundbar HDMI input and from there to the TV. When we connected our PS5 to the TV directly and used eARC then we were able to get 4K@120Hz with HDR, VRR and ALLM.
This is the result of nowadays marketing a product as a HDMI 2.1 one when in reality the JBL Bar 1000 supports only part of the full HDMI 2.1 set. It seems that it was too good to be true and this shows how careful you need to be when you read about a product having HDMI 2.1 support today. Because if the HDMI supports even one HDMI 2.1 feature then it can be classified as HDMI 2.1 no matter what.
For those that have older equipment there is an optical port while we should note that the USB port has MP3 playback functionality only for the US models. All other regions can use this for service only. A strange decision to be honest but one that is standard in many JBL units these years.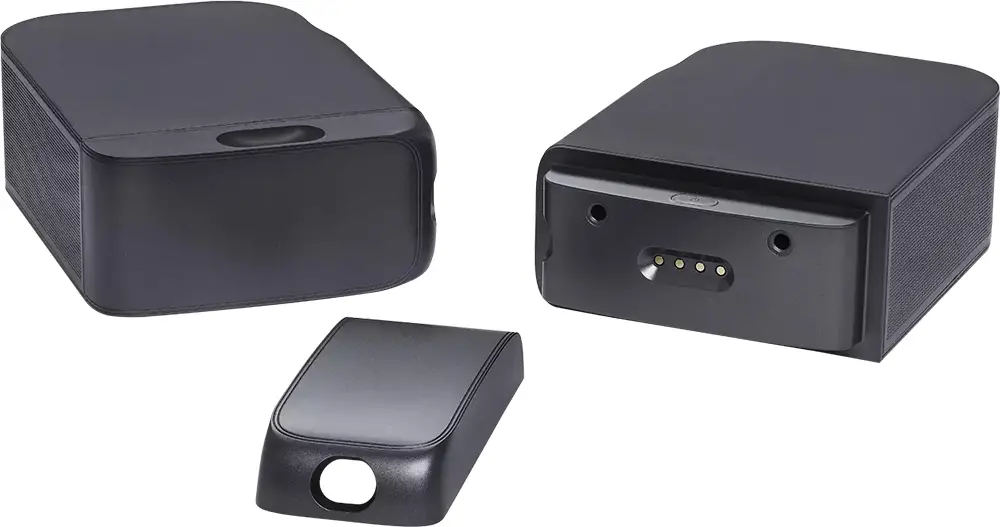 In contrast to the JBL Bar 300 that comes with only one HDMI input the JBL Bar 1000 surely offers much more flexibility. With three inputs this unit can support a wide variety of inputs at the same time. This means you will not have to rely on your TV to pass-through all signals.
And this is great because the solution of the ARC/eARC port is one that we honestly avoid as much as possible. As convenient eARC may be, it is not very reliable and can create more problems than it should.
Lastly we should not forget to mention the soundbar's wireless capabilities which again has been upgraded over the previous models. There is WiFi 802.11 a/b/g/n/ac/ax (2.4GHz/5GHz) as well as Bluetooth v5.0 which is better than what we saw in the Bar 9.1.
Control Options
Next we will be looking at all the ways you can control this unit. Keeping parity between their models means that all units with online connectivity come with the same capabilities. As such everything in the Bar 1000 is the same as the Bar 300 we tested before.

First comes the included remote and from the looks of it JBL decided to update its design also along with the bars themselves. The remote is still simple and low cost looking but is a step better than the previous one. The new one still has big round buttons with enough space between them but the layout is completely different.
There are minor differences between this remote and the one the Bar 300 was using and this mostly due to some different functionality available. But overall the remote is similar in layout, design and materials used so no surprises here.
At the top we find the power and mute buttons while the rest of the body is divided into two sections. On the left one we have the source selectors, with three buttons in total, and three sound effect buttons. On the right side we find the volume controls at the top, playback controls, a moment button to access your music playlist and speaker settings, and lastly a calibration button.
Soundbar brands should start considering adding backlight functionality to their units. It is inexcusable for a $1,200 soundbar not to include some short of backlight to make things easier in the dark. Soundbars have come a long way and this should be next on their list.
At least the circular buttons have enough distance between them to avoid accidental commands.

As for the built-in buttons, their layout is once again as simple as it gets. There are three buttons in total so not much to say here. A simple source button selection and volume controls is all there is so you have only some basic functionality control with these.
Further to the left of the control buttons we find a small hole that hides the built-in microphone that is used for the audio calibration system. But more about this shortly.
The soundbar also supports HDMI-CEC. So in case you have a TV that also supports this feature you can use that remote in order to control both devices. This way you can use less remotes in your viewing area.
But the soundbar also has the ability to be controlled by another remote even if HDMI-CEC is not supported. This is done by the TV remote control IR learning functionality. With it you can use any remote from any device and make the soundbar learn specific signals that correspond to specific actions.
JBL was one of the last few brands that did not provide a dedicated app with their soundbars. But finally after so much time the new 2023 series brought a much desired change to this. They finally offer the JBL One App which is a lovely little app that gives you total control over your soundbar. Keep in mind that this app only works with the latest 2023 Bar series, at least for the moment.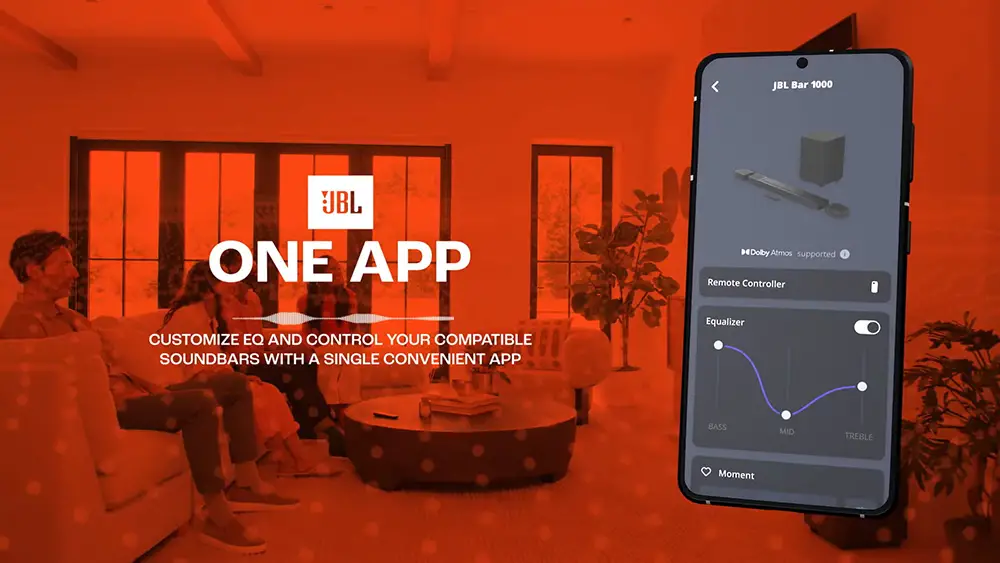 With the JBL One App you can setup Wi-Fi, customize EQ and control your device through a very nice and easy to understand UI. You can also set up your soundbar, personalize settings, and use the integrated music services to enjoy your favorite songs.
With the inclusion of online functionality we also get voice control. The Bar 1000 is compatible with Amazon Alexa, Google Assistant and Siri but unfortunately these are not built-in. The unit may have a built-in microphone but this is only used for the audio calibration. In order to use any of the above you need to use an external voice control device.
The big change this year, in terms of control, is the arrival of the JBL One App. JBL finally heard our cries and gave us one, even if they are far too late to the party. But as we said in our Bar 300 review, better late than never. And with the inclusion of this dedicated app their entire new 2023 series is now on par with the competition.
Extra Features and Services
Now let's talk about all the extra features that are included and we will start with the audio formats supported.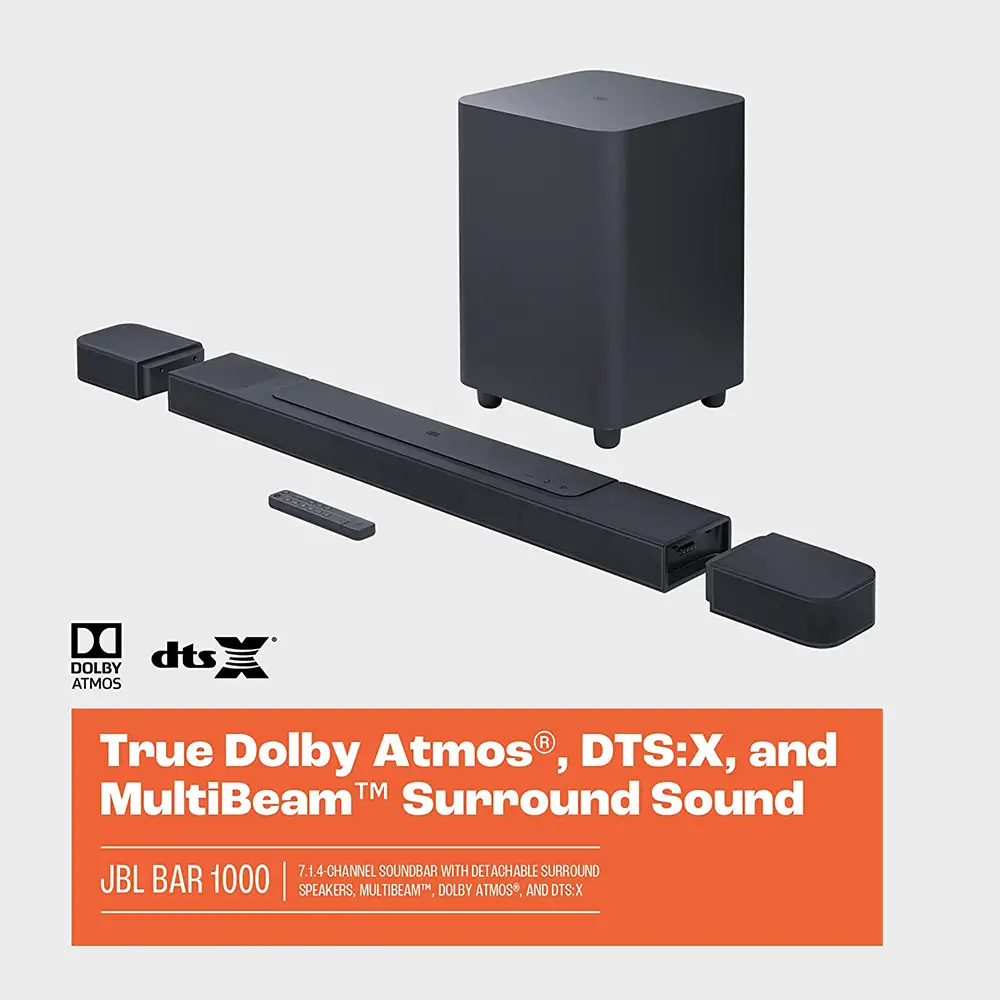 The soundbar supports Dolby Atmos and DTS:X that work along with their MultiBeam surround technology. But unlike the Bar 300 that had to rely on 3D sound and virtual tech to create a more immerse performance the JBL Bar 1000 has everything it needs to do so.
But what is this MultiBeam surround technology? This is an electro-acoustic system that applies JBL proprietary beamforming technology to replicate the amazing surround sound you expect from a multi-channel audio system.
Unlike conventional soundbars that only emit sound in a forward direction, JBL soundbars with MultiBeam combine digital signal processing (DSP), front-firing speakers, and twin side-firing drivers to beam sound at angles towards the side walls of a room. These beams feature the key to generate accurate side wall reflections: a sharp directivity pattern in a wide-band frequency range. These reflections mirror back to the listening location and create a spacious surround sound effect.
As for sound management features the Bar 1000 is certainly not all that complex. Considering its price tag and what the competition offers then surely this one chooses simplicity over complexity. Which, to be honest, is a characteristic of many JBL products.
Firstly there is a bass adjustment control with five different levels to choose from depending on how punchy the low end you want it to be. You can also adjust the Dolby Atmos/DTS:X effect, with three levels available. And lastly adjust the rear speakers level with four levels available.

There is also a smart mode. With the smart mode, which is enabled by default, you can enjoy TV programs with rich sound effects. For TV programs such as news and weather forecasts, you can reduce sound effects by disabling the smart mode and switch to the standard mode. With the Smart mode the EQ settings and JBL Surround Sound are applied for rich sound effects while with Standard mode the preset EQ settings are applied for standard sound effects.
We also find JBL's PureVoice. By taking advantage of the PureVoice dialogue enhancement technology, the soundbar allows you to enhance vocal clarity and easily hear and understand speech.
This tech uses digital signal processing (DSP) to detect human speech from within a TV or movie program and extracts the voice content for analysis and improvement. It dynamically enhances the dialogue loudness for crystal-clear intelligibility without affecting other sounds. This enhancement happens automatically, so you never have to reach for the remote control to hear dialogue. PureVoice can be turned on and off depending your preferences.
As per JBL's standards the soundbar lacks any other sound modes whatsoever. This may seem good if you don't want to mess with sound modes all the time. But if you are the kind of person that likes to have more flexibility, in terms of sound settings, then you should look at other brands.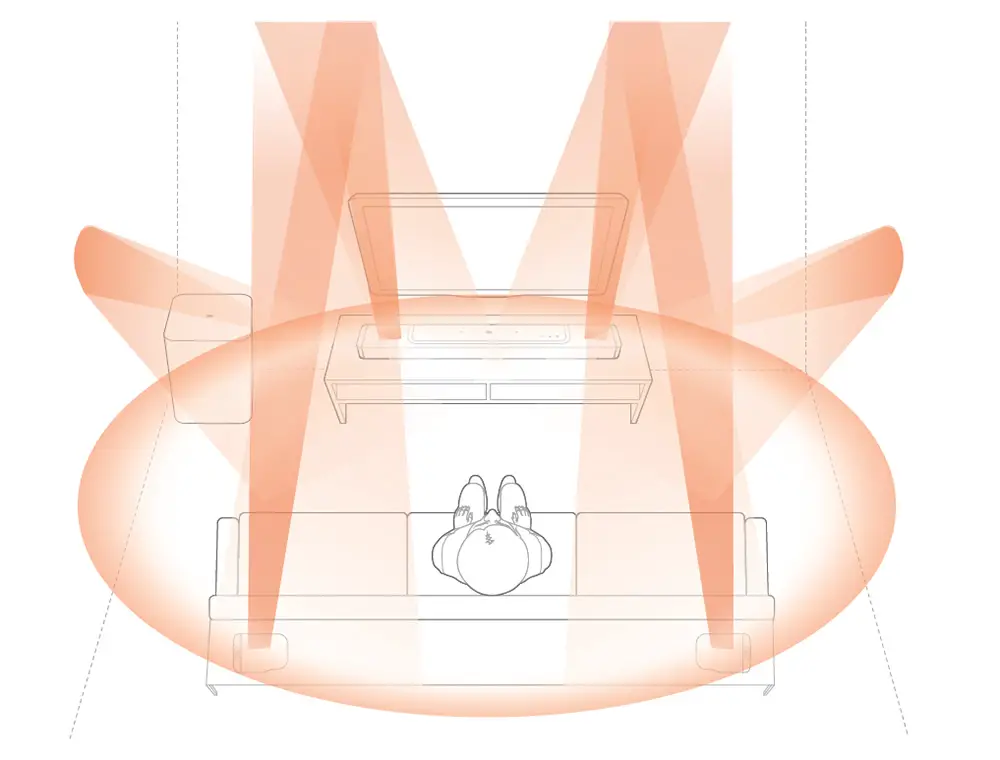 The unit comes with an audio calibration system but from what we saw this is a bit more complex than the one used in the Bar 300. And we say this because the Bar 1000 measures not only the listening zone but also the speaker's position in two separate processes.
The manual is very clear of how this is done, with easy to follow steps. As a result you shouldn't have any problem finishing this part very fast. But measuring both the room and where you sit surely gives the Bar 1000 the edge over what other automatic calibration systems offer.
The soundbar also offers plenty of streaming capabilities as with the included Bluetooth function you can stream audio from any mobile device. There is also USB streaming capabilities but playback is limited to only MP3 files and this applies only for the US market. All other regions have the USB port only for service.
We saw JBL doing the same thing with the USB port on many of their previous releases and to be honest this feel like a dubious decision. It makes all other regions feel neglected in comparison.
But streaming is not limited only to Bluetooth as JBL has included support for Chromecast, Airplay 2 and Alexa Multi-Room-Music. With these you can stream music from an online service from those available either you are an Android or iOS fan. These apps can do more than just stream online music as you can also connect various speakers and create your own multi-room environment.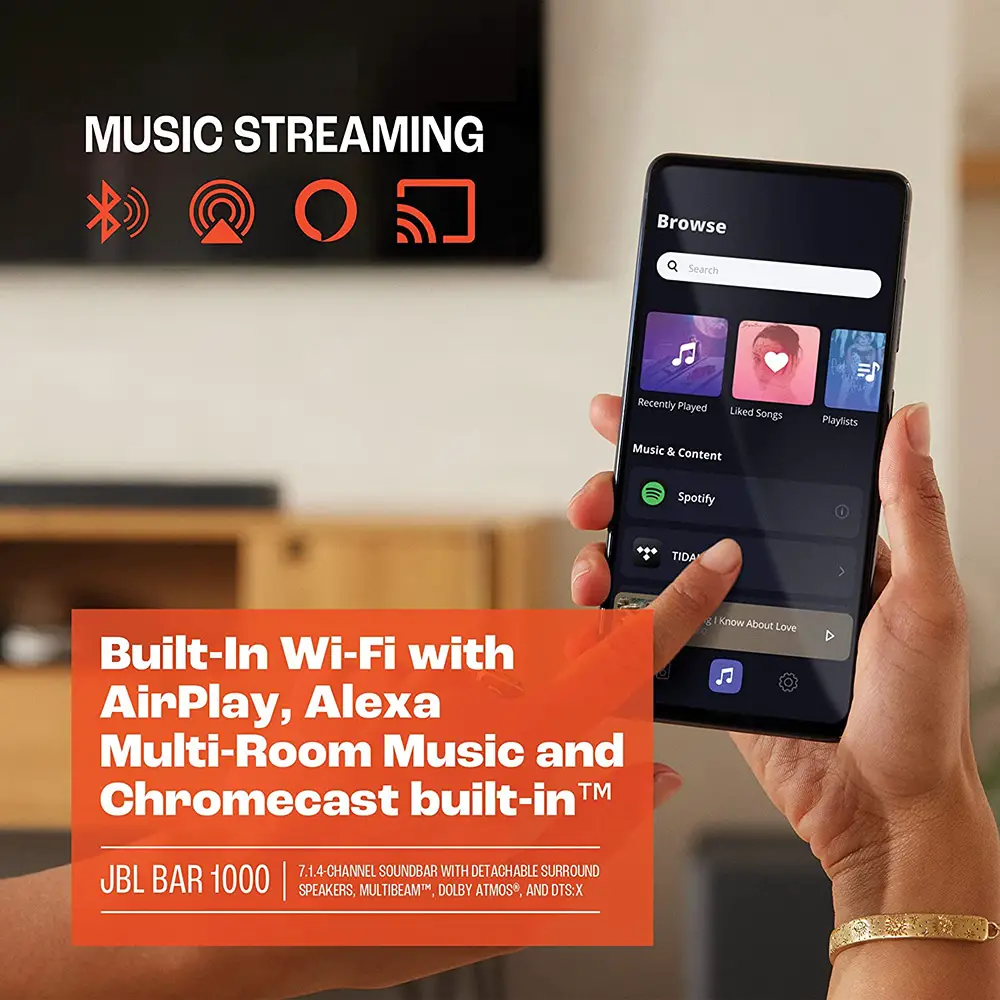 Overall we are very satisfied with what the Bar 1000 can do. It offers plenty of flexibility but at the same time it feels simple and easy to use. You don't have to navigate through layers upon layers of settings and menus to find what you need and everything can be enabled with a simple press of a button.
Initial Setup
Initial setup is very straightforward. We opted to use the pass-through capabilities of the unit so we connected our Panasonic 4K UHD player to the soundbar itself and from there to our test TV.
Next you have to connect the unit to your local network and here you can use the JBL One app to do so. The whole process is very easy and very fast so you should finish in just a few minutes.
Next we strongly suggest you to run the automatic calibration system. This will improve the sound output and it doesn't take a lot of time to do it. Lastly all you need to do is adjust the bass, the Dolby Atmos/DTS:X effect and the rear speakers level and you are done.
If you like simplicity in general but you want a really capable soundbar, JBL combines these two perfectly.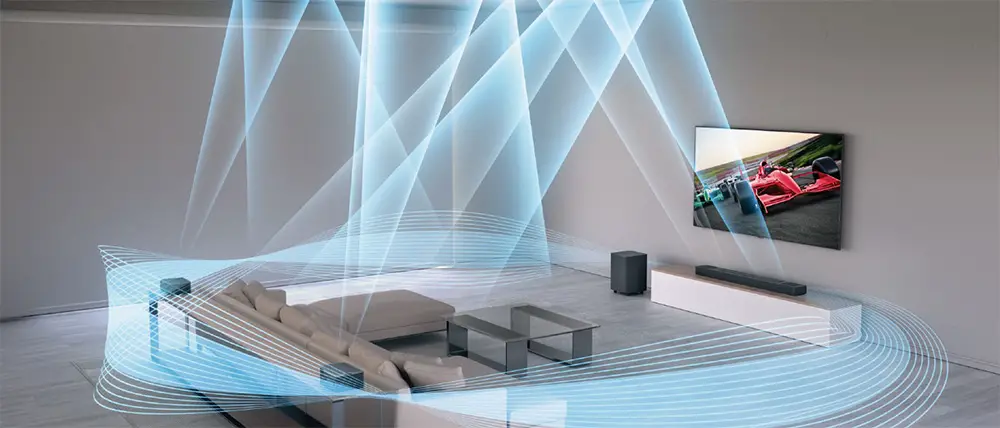 Movies
The soundbar surely packs a lot of hardware but there is no point if it cannot put it all in good use. And this is what we are going to determine here. So for this test we tried the recently released Avatar: The Way of Water in 4K resolution with Dolby Atmos through the Dolby Digital Plus container.
The film needs no introduction so we skip right into the action. The first thing that we noticed was the overall improvement the Bar 1000 was in comparison to previous JBL soundbars, even their mighty Bar 9.1.
What was really impressive was the kind of 3D sound we got. With the surround speakers placed at the correct position we could really feel like we were in an immersion bubble.
Another thing that we noticed was how good sound distribution was. Usually you can hear sounds emitting from specific channels. But this was not so obvious here. It was like sound was coming even from positions that we had no physical speakers. This obviously has to do with JBL's MultiBeam technology and how good their implementation of 3D surround sound is.
But the most impressive aspect of this was how seamless it felt. Usually with virtual sound the outcome feels a bit overprocessed, and in times this becomes very obvious and a bit frustrating to be honest. Not so much here. The JBL kept all the characteristics of the original track and expanded upon them greatly.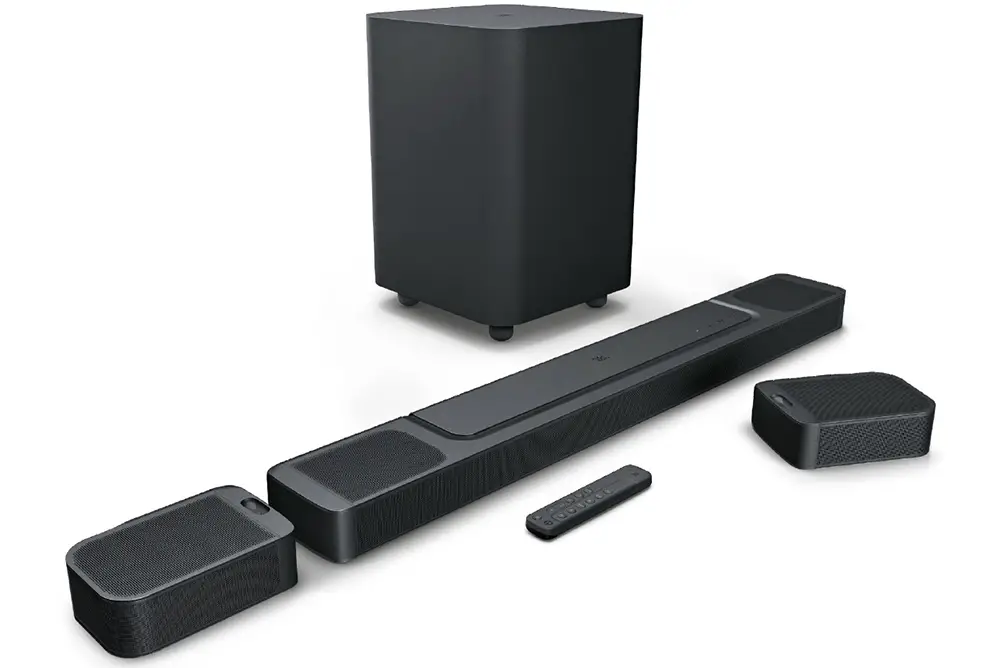 And while its surround sound was impressive its dialog output was less than stellar. There were moments were we felt dialog was a bit weak and would drown under all the rest of the action. This was not a huge problem and surely not so obvious all the time. But when heavy action kicked in a bit more clarity in this area would be welcome.
Now, many will be wondering how the Bar 1000 did with Atmos effects. Well, as good as any Dolby Atmos enabled soundbar we would say. By that we mean that you will surely get some sense of elevation but do not expect to turn your head towards the ceiling.
Some of the Atmos effects we could sense on a height just a bit above our TV which is still better than nothing. Also keep in mind that where you place the surround speakers and where is your listening position will greatly affect this. Even with the soundbar's auto calibration system you need to find the correct places in order to get the best performance possible.
And to confirm this we did try changing the surround speakers positions a couple of times and surely the quality of Atmos effects we got varied greatly. So we strongly suggest you make various tests to find the best position for your setup.
We should also make special mention to the soundbar's bass performance. And it surely was great. The 10″ subwoofer was never shy of shaking our walls or hitting us with low frequency sonic waves. Surely don't expect to get the Earth shattering performance of a dedicated subwoofer but the one that comes with the soundbar is a step above most of the competition.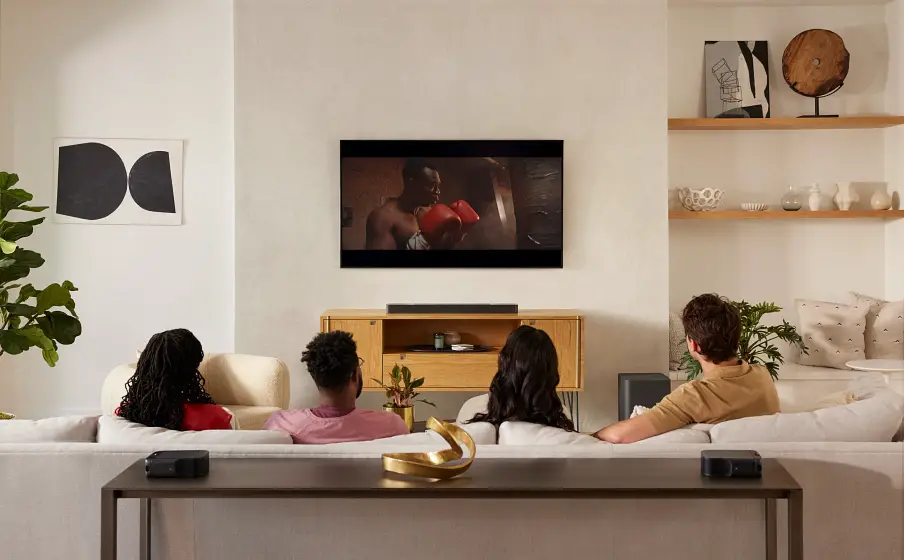 Lastly in terms of maximum volume the Bar 1000 surely has plenty of juice. We never managed to max it out, at least not in our testing room. And the fact that even at high volume it managed to keep its cohesion and balance made its overall performance even more impressive.
The JBL Bar 1000 is an amazing soundbar and one that you should definitely be looking for in terms of cinematic immersion. Yes, it has its own set of weaknesses but JBL has seriously stepped up their game this year. If you are looking for a full surround soundbar this should be on your very short list.
Music
As far as music is concerned we didn't use the soundbar's USB as this is only available in the US market. So instead we used our media player which we connected to one of the HDMI inputs to stream music to the soundbar.
The soundbar surely was not as impressive here as with movies and although the output was again satisfying in almost all aspects obviously it didn't have this wow factor.

We did notice some lack of fidelity in the mid to lower mid frequency range but this was more obvious in specific performances. On the other hand the high end was vibrant enough with good energy and enough emotion and the bass had good power, kept the tempo going and never felt muffled or boomy.
Taking into consideration the slight lack of clarity in the mids we can say that overall the Bar 1000 did remarkably good. The front sound stage was bold, stereo panning effects had good distance and sound imaging was good but not perfect.
Trying various genres included electronic, classical music, some heavy metal and a bit of Jazz. The Bar 1000 showcased all its qualities, and weaknesses, in all of them keeping a very characteristic performance across the board.
Usually a problem with small soundbars is the very narrow field of sound they produce due to their physical limits. The Bar 1000 on the other hand felt less confined by this problem. Obviously it didn't offer a soundstage as wide as a dedicated music setup would. But all things considered what we heard can be considered more than satisfying.
In terms of music we may not be as impressed as we would like but let's be honest here. The Bar 1000 is meant to be used for its cinematic surround prowess more than anything else. But if music is on the menu then this soundbar will offer you many hours of music enjoyment.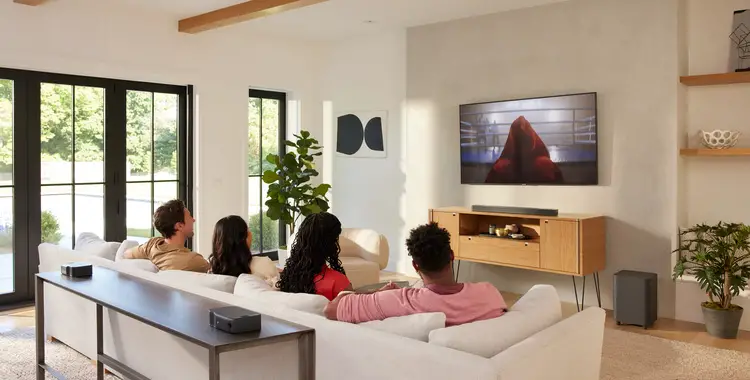 Final Thoughts
The JBL Bar 9.1 was an amazing soundbar when it was released but the new JBL Bar 1000 goes far and beyond what that one could do and then some. And if you consider that this one is not even JBL's top flagship in the new series is even more impressive.
The new soundbar has so many things you will like. It is ridiculously easy to setup and to use, it has a lot of flexibility, many connectivity options and its performance is a step above what JBL had on offer until recently. Add the new JBL One app and things get even easier to control and handle.
On the downsides the soundbar slightly missed the mark in the mid to lower mid frequency range, the Atmos effects were a bit weak, the remote feels cheap for a $1,200 product and the lack for clarity concerning the inability of its HDMI 2.1 ports to pass-through 4K@120Hz with HDR, VRR and ALLM will surely disappoint those hoping that JBL would offer the full HDMI 2.1 feature set in this generation of soundbars.
But even with these downsides this is a soundbar that means serious business. If you want a full surround system that is as simple as it can get and performs as good as possible then the JBL Bar 1000 is the one you should be looking at, no questions asked. Thus it gets our highest recommendation.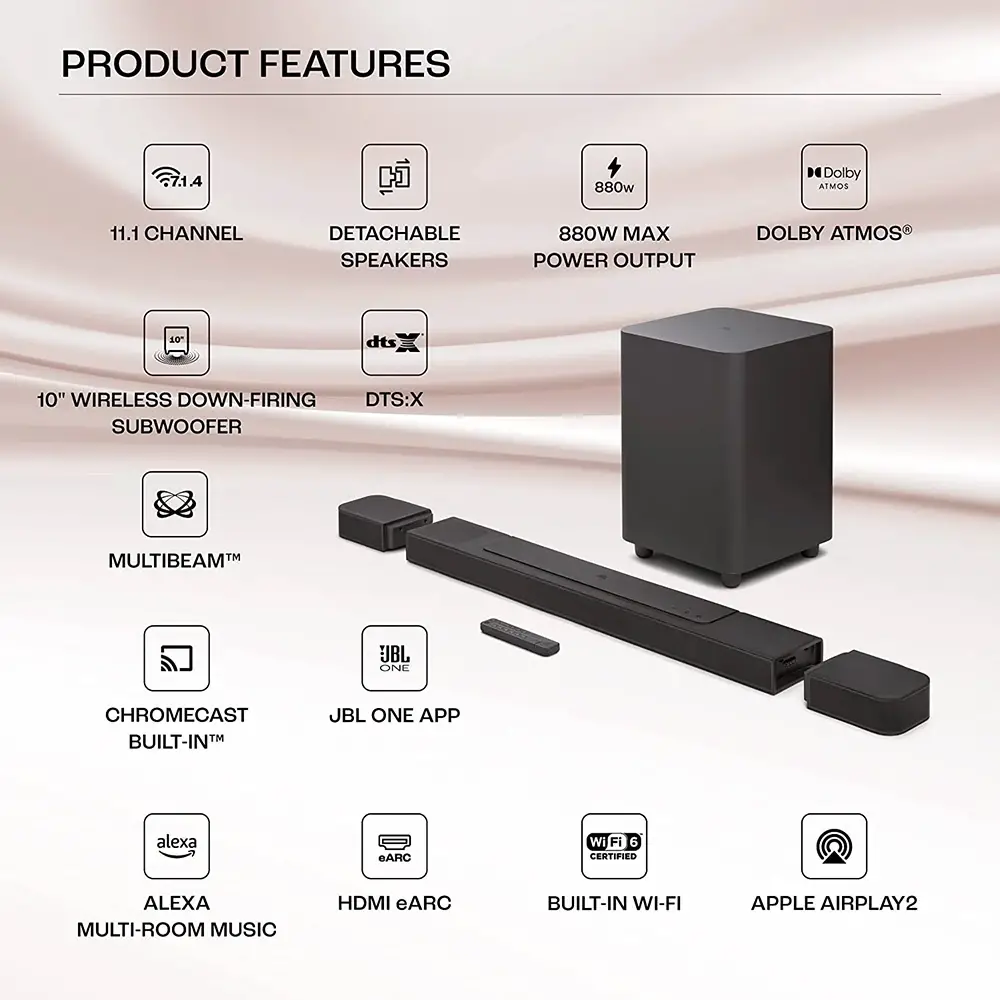 For more reviews you can check our dedicated Full Surround Soundbar reviews list or even look at our Product Reviews Table where you can find the brand and specific product you are looking for.
---
Cheapest Places to Buy :
*We are a reader-supported website. When you buy through links on our site, we may earn a small affiliate commission at no extra cost to you. Home Media Entertainment does not accept money for reviews.*
---
JBL Bar 1000 Specifications