Sony HT-A7000
Reviewed at $1,298.00
Movies Performance
8.8/10
Inputs and Features
9.2/10
Pros
Dolby Atmos and DTS:X support
Great front soundstage
Easy setup
Flexible design
Cons
Weak Atmos performance
Average bass and surround activity
Cost goes way up by adding a sub and rear speakers
Remote needs an upgrade
---
Cheapest Places to Buy :
---
Recently Sony released a few new audio products and to be honest it felt like forever since they had updated their soundbar lineup. And although a lot of attention has fallen on their new HT-A9 hybrid system, and not without reason, they also have a new soundbar flagship on the market. As such in our Sony HT-A7000 review we will be looking at the Japanese manufacturer's new beast and how it compares in relation to its predecessor.
Now, as far as their new soundbar offerings Sony has two new models, the HT-A5000 and the HT-A7000 we have here with us. What is interesting is that while their previous flagship would come bundled with a subwoofer the new HT-A7000 comes without one. It seems Sony felt that this way they give more options to the users as you can choose either you want one or not depending your needs. We definitely like this decision but in order for this to work it has to come at the right price in order not to make it look more expensive if you decide to buy them together. But more on this shortly.
As for what the actual unit has to offer the HT-A7000 is advertised as a 7.1.2 channels system which sounds impressive if you consider it's a single soundbar without a sub or surrounds. It supports all the latest audio formats like Dolby Atmos and DTS:X, comes with a total of 500 watts of power and comes with plenty of extras as a real flagship unit should. This means we get Chromecast, Airplay 2, USB and Bluetooth playback, WiFi functionality, voice control support, it can be expanded with the optional subwoofers and surround speakers kit and lastly comes with full HDMI 2.1 ports meaning it can pass-through 4K@120Hz with HDR and Dolby Vision.
In theory the Sony HT-A7000 sounds like an impressive unit. It has all the ingredients to be a worthy flagship soundbar. But having all these extras doesn't mean much as the competition is also coming with fully packed feature lists. So it boils down to its actual performance to determine if the HT-A7000 can be a worthy contender for the best soundbar money can buy title. So without further delay let's start our analysis.
Design, Inputs and Features
Exterior
The HT-A7000 is one huge soundbar and surely the first thing that makes an impression upon unboxing is the immense size it has so one thing you have to make sure is that your furniture has ample of space to place it on. Measuring 51 1/4 x 3 1/4 x 5 5/8 in (1300 x 80 x 142 mm) and with a weight of 19lb 2 oz (8.7 kg) the soundbar is not meant for tight spaces and needs plenty of breathing room to work its magic.
Now, as the unit comes without a subwoofer or surround speakers, its more modular design makes it a far better choice among these oversized soundbars in order to create the system as you see fit. In small apartments where each inch matters being able to fit a sub or an extra speaker can be the decisive factor between this or another brand.
Design wise the HT-A7000 is nothing that can be called exotic. It may fall into the premium category but the unit is surely nothing glamorous to talk about. It comes in a boxy design with straight lines and curvy corners with the entire front side being covered by a metal grille that cannot be taken off. Most of the top side is covered by what seems to be a glass plate which may look more premium but it does reflect light from the TV and can be a huge fingerprint magnet. Also at the top center we find the usual built-in buttons.
Another plus the HT-A7000 has in terms of design is the full functions display available that Sony placed between the center and right channels. It may not be as big as the one we saw recently in our Klipsch Cinema 1200 review but it's far better than those LED light indicator displays that some brands are using. With a full display it's much easier to read what the soundbar is doing and gives you visual clues of various settings and inputs.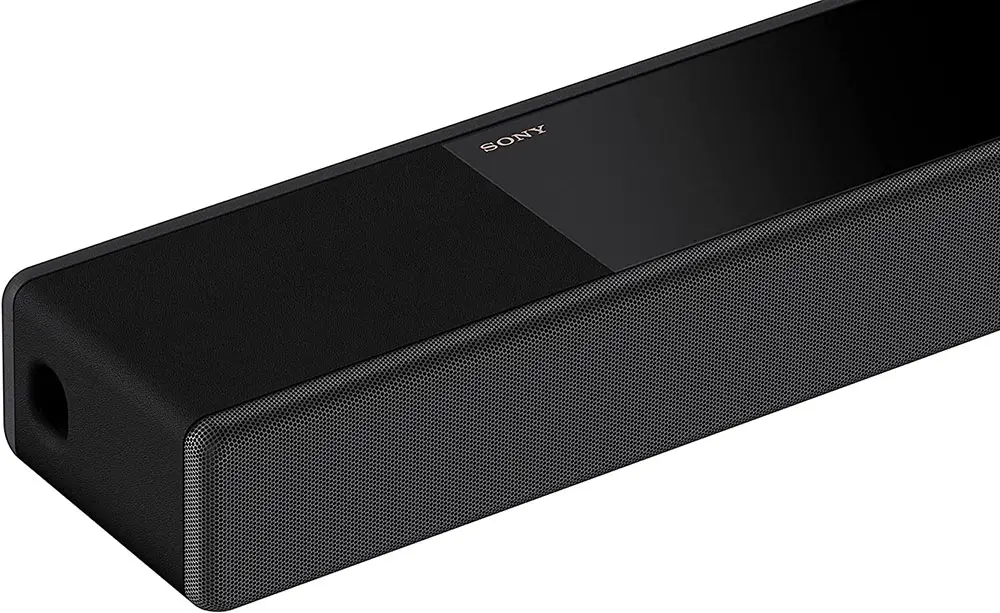 The back of the soundbar houses all the connections in a special inset at the center while Sony also provides special wall mounts in the box. One thing we definitely need to mention is that the HT-A7000 comes with two IR repeaters at the back, so in case it obstructs your TV's IR sensor fear not, as the unit can pass the remote's signals to your TV even if there is no direct line of sight. A very useful feature that we certainly have missed lately. It's been a while since we reviewed a soundbar with IR repeaters and it's definitely something all these oversized, premium soundbars should come with.
In terms of design and quality there is not much to say really. The HT-A7000 may not feel as premium as some other offerings but it has certain Sony qualities to it. It feels sturdy, it uses quality materials and everything is well built. The full functions display and the inclusion of IR repeaters are a plus for sure and something we don't find in all soundbars we have come across.
Internal Hardware
Now let's take a look of what is under the hood. The Soundbar is rated as a 7.1.2 channels systems and what is amazing is that we are talking about a single unit soundbar. How is this possible you may ask. Well, we were also curious but after a bit of searching we understood how this number came to be.
Sony is describing each woofer in the HT-A7000 as different blocks and if you count each available block as a separate channel then this number does indeed holds true.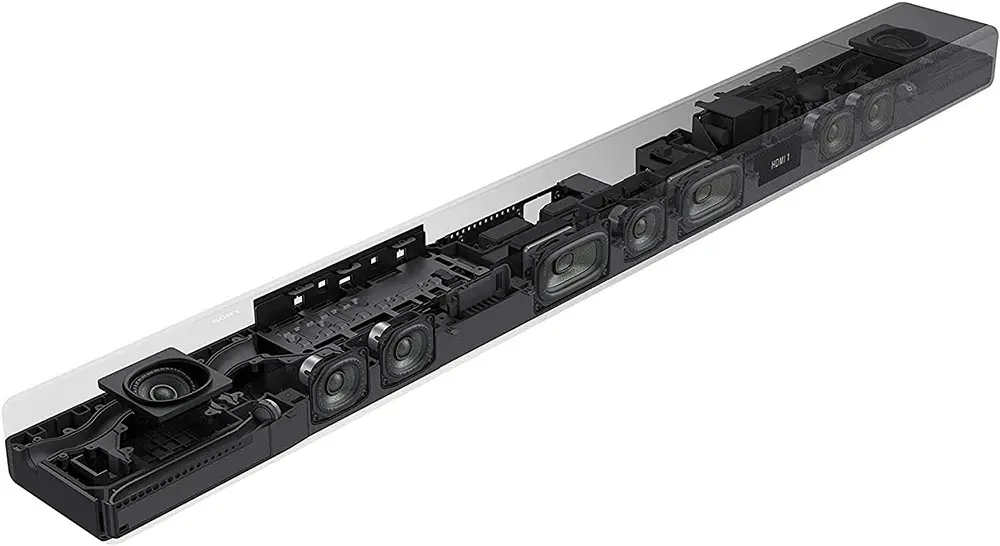 The unit comes with a center speaker block that handles the dialogue and keeps it separated from the rest of the audio. Next we have a pair of front right and front left speakers blocks with a second pair being placed right next to them with Sony calling them inside front left and inside front right. At the edges we find two beam tweeters that are responsible for providing a wider soundstage and also two up-firing drivers for the Atmos effects.
Since there is no subwoofer such a design would suffer on the low end, if you would choose not to include one, and therefore Sony added two subwoofer blocks at each side of the center channel that are paired with specially designed air ports that exit towards the sides for better air pressure.
The up-firing speakers, built-in subwoofer and front speaker blocks feature X-Balanced Speaker Units. The unique rectangular shape of these speakers maximizes the diaphragm area for more punchy bass. It also reduces driver excursion while maintaining sound pressure, resulting in less distortion and greater vocal clarity.
Now, obviously we will see how this design behaves in action but we fail to see how having the front and front inside drivers so close to each other can make any difference in order for Sony to rate them as different channels. Hopefully this was not done only to slap an impressive number on this unit.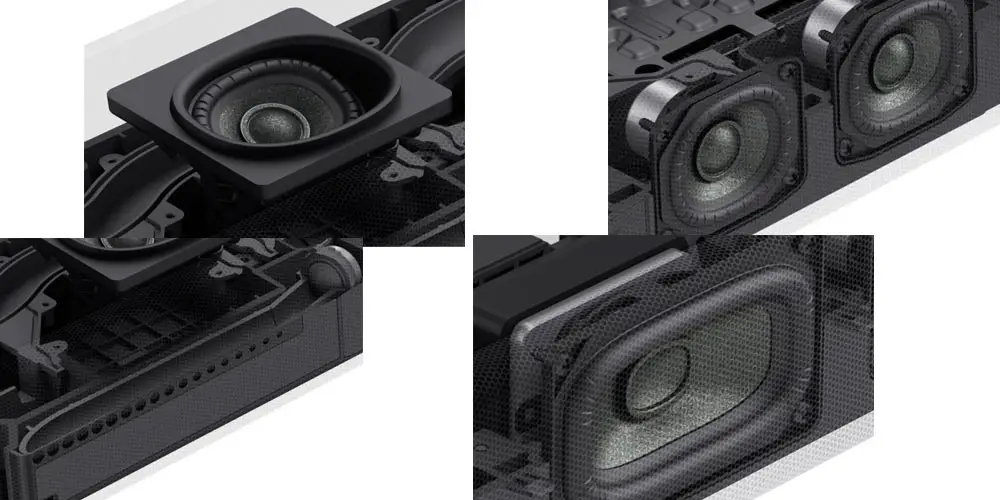 The HT-A7000 comes with a S-Master HX digital amplifier which uses less energy to produce the same signal. The increase in energy efficiency eliminates the need for a large heat sink and large power supply found in conventional designs.
The whole system is rated at 500 watts of output power with a 45.5W + (2 x 45.5W) + (2 x 45.5W) + (2 x 45.5W) + 45.5W + (2 x 45.5W) configuration.
Connectivity
Let's see next what connections are offered in this one. As we said above all inputs are placed inside a single inset with the only exception being a single HDMI that is separated from the rest and looks backwards.
In total we have two HDMI inputs and one output meaning you can use the soundbar as a hub for your input sources, there is a USB port that allows the unit to play music from an external storage device, there is a S-Center output, a digital optical input and a 3.5mm analogue audio input.
Since you will be wondering the S-Center output can be used only with selected Sony Bravia TVs that have the BRAVIA Acoustic Center Sync mode and allows for the audio system to be used as the center channel of your setup. This way you can have the HT-A7000 work along with your Bravia TV in order to get a more fulfilling experience. To be honest we did try this with a Sony A90J and we found that the sound was slightly uneven between the TV and the soundbar.

This is not all that surprising if you think that the TV and the soundbar are using different woofers and configurations for their audio output. Therefore we decided to use the center channel of the soundbar itself for most of our tests. It seems that this designs start to be very common among Sony audio devices as the Sony HT-A9 also had this port.
As for its HDMI ports it is great to see soundbars finally start utilizing the new HDMI 2.1. As a result the HT-A7000 can pass most signals up to 4K@120Hz with HDR and Dolby Vision. Also the HDMI output of the HT-A7000 comes with eARC functionality which means you can pass audio from the TV to the soundbar itself and playback even the highest resolution of audio formats like Dolby Atmos that comes from a Dolby TrueHD core.
Such a premium soundbar could not be without wireless capabilities and as such the unit supports WiFi and also Bluetooth 5.0.
Overall we are very happy with what Sony included in their latest flagship. If there is one thing missing that surely is an Ethernet port because if you have a weak signal where you will place the soundbar you will have trouble streaming high quality music online. Except from that Sony included everything a high profile system like this one should have.
Control Options
Next we will be looking at the ways you can control the soundbar which is pretty much the same across the entire lineup. As per usual the soundbar has some built-in buttons that Sony has placed at the top side. There are six touch sensitive buttons and from left to right we find a power button, input selection, Bluetooth, Music Service and volume controls.

Using touch sensitive buttons surely give the unit a more premium status but trying to find them in a dark environment can be a frustrating procedure. Also touch sensitive buttons can become less responsive to touch over time so it has its pros and cons going for such a design decision.
The included remote is a rather simple one and is similar in design with other Sony soundbar remotes. It looks extremely similar to the one we used with the HT-A9 and in general it feels cheap and not in line with the price the HT-A7000 comes with.
Buttons wise it has plenty to go around but everything feels nicely spaced and grouped. Unfortunately there is no backlight available and this certainly will add some frustration when trying to press the correct button in the dark.
The soundbar supports HDMI-CEC which means that if you connect the unit to the TV with a HDMI cable you can use the TV's remote to handle some basic controls like volume. This may not give you the complete range of supported functions but it may help in certain situations.
Sony took the above function one step further by including what they call the Bravia Sync functionality. If you have a Bravia TV that supports this then you can interlock the TV and soundbar together which allows for even further integration between the two.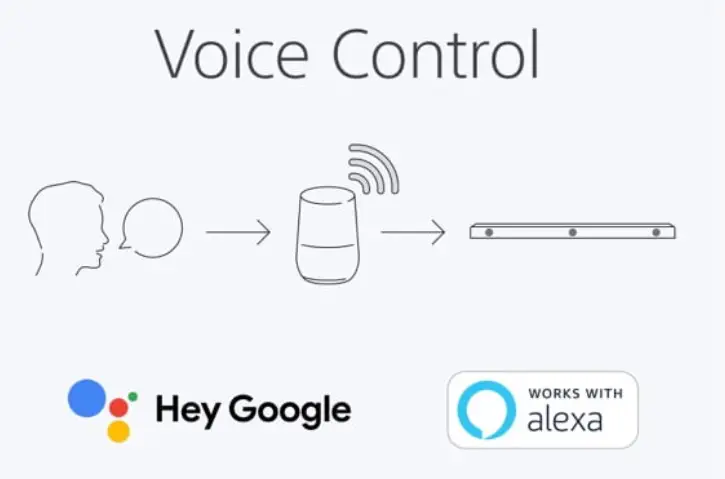 Such a premium device wouldn't be able to do without voice control and as such the unit works with both Amazon Alexa and Google Assistant. What is odd here is that while the soundbar itself does have built-in microphones, in order to use voice control you will need an external voice control device to work with. In reality voice control is not built-in into the soundbar and that's why Sony says that it can work with it but not out of the box. A curious omission honestly and one that we don't see often in a high profile soundbar like this.
Lastly the HT-A7000 comes with app support and the one that you can use is the Sony Music Center app which can act as a remote and grands you the ability to control many of the system's settings and functions. It's a nice app and we didn't had any major trouble with it so you should definitely give it a try.
Extra Features and Services
No premium soundbar should be without a hefty list of extras so lets see what the HT-A7000 has in store for us.
We will start from the obvious and this is no other than the supported audio formats and Sony has literally included everything in this one. As such we find Dolby Digital, Dolby Digital plus, Dolby TrueHD, Dolby Atmos, DTS, DTS:X and LPCM support which pretty much is everything you would expect.
There are a few extra sound modes available although Sony was never fond of adding a lot of them as some other brands do. We do get Auto Sound, Cinema, Music and Standard Surround. As we opted for an all out solution we decided to go with the Auto Sound and let the soundbar decide depending the content being played.

There are also a couple of special modes with Night mode for late night viewings and also a Voice mode if you feel that the dialogue is not very clear. We did try both of these and indeed you can hear the difference and can be useful in specific situations.
The soundbar may come with several drivers but Sony included a couple of the their proprietary technologies in order to help the unit perform better in terms of 360 degrees immersion. The first is Vertical Surround Engine and thanks to Sony's virtual surround technology, the soundbar can position sound in vertical space – so you can experience 3D audio without the need for in-ceiling or height speakers. As well as Dolby Atmos and DTS:X, Vertical Surround Engine lends a more realistic, multi-dimensional sound to other formats too.
And since the soundbar does not feature any rear speakers we also get S-Force PRO Front Surround. Using front speakers only, Sony's unique digital sound field processing technology virtually reproduces the surround sound field, with audio coming at you from both sides.
The HT-A7000 also comes with DSEE Extreme technology. Using Edge-AI (Artificial Intelligence), DSEE Extreme upscales compressed digital music files in real time. Dynamically recognizing instrumentation, musical genres, and individual elements of each song, such as vocals or interludes, it restores the high-range sound lost in compression for a richer, more complete listening experience.
Such a system could not be without some short of streaming capabilities and the HT-A7000 really have a lot going for it. First of all let's talk about its Bluetooth capabilities. With it you can stream any kind of audio from your mobile device to the unit itself. You can also transmit audio from the unit to a compatible Bluetooth speaker or headphones.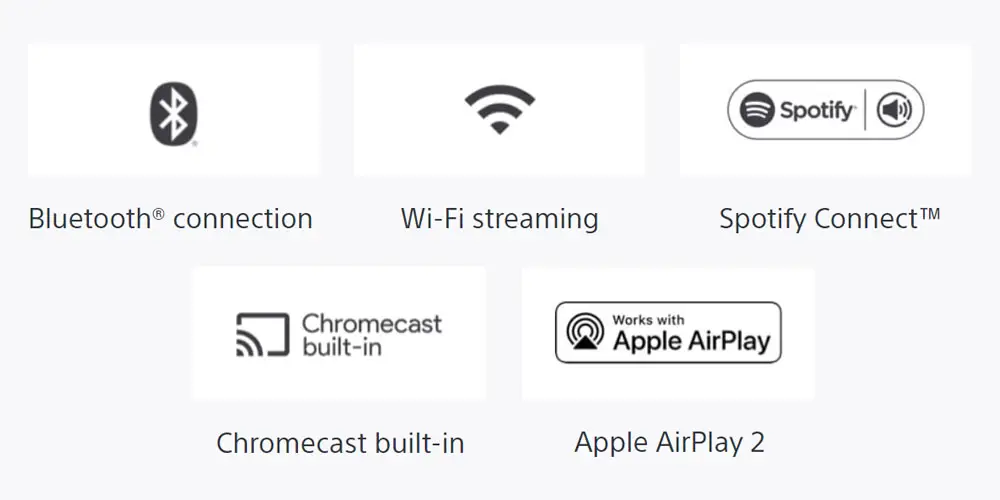 But you are not only limited to local streaming as there is Chromecast, Airplay 2 and Spotify Connect support giving you immense capabilities with online music. With Airplay 2 you can stream music from any Apple device with the use of third party streaming services. If you are an Apple guy then you will surely find this one handy.
And since we talked about music the soundbar supports High Resolution Audio that can be streamed either online or through the included USB port. Audio files that are supported include mp3, AAC, FLAC, AIFF and ALAC among others.
While Sony's previous flagship soundbar included a subwoofer this time it seems they decided to go for a more modular design and give users the freedom to choose if and what they want to add to the main system in order to improve its performance. As such with the HT-A7000 you have the option to choose between two subwoofers with the Sony SA-SW3 or Sony SA-SW5 being the two available. Having heard both of them a while ago we definitely recommend the SW5 as the SW3 felt a bit underpowered and uninspiring to be honest.
Except for the sub you can also opt for the SA-RS3S rear speakers kit in order to improve the unit's surround performance. The only negative we can find in this kit is that unlike most flagship soundbars that offer similar extension kits the one that Sony offers for the HT-A7000 does not have up-firing drivers meaning that the best you can do is a 9.1.2 channels system. This means that in terms of Atmos effects the soundbar will not be as good as other brands that offer four up-firing Atmos channels.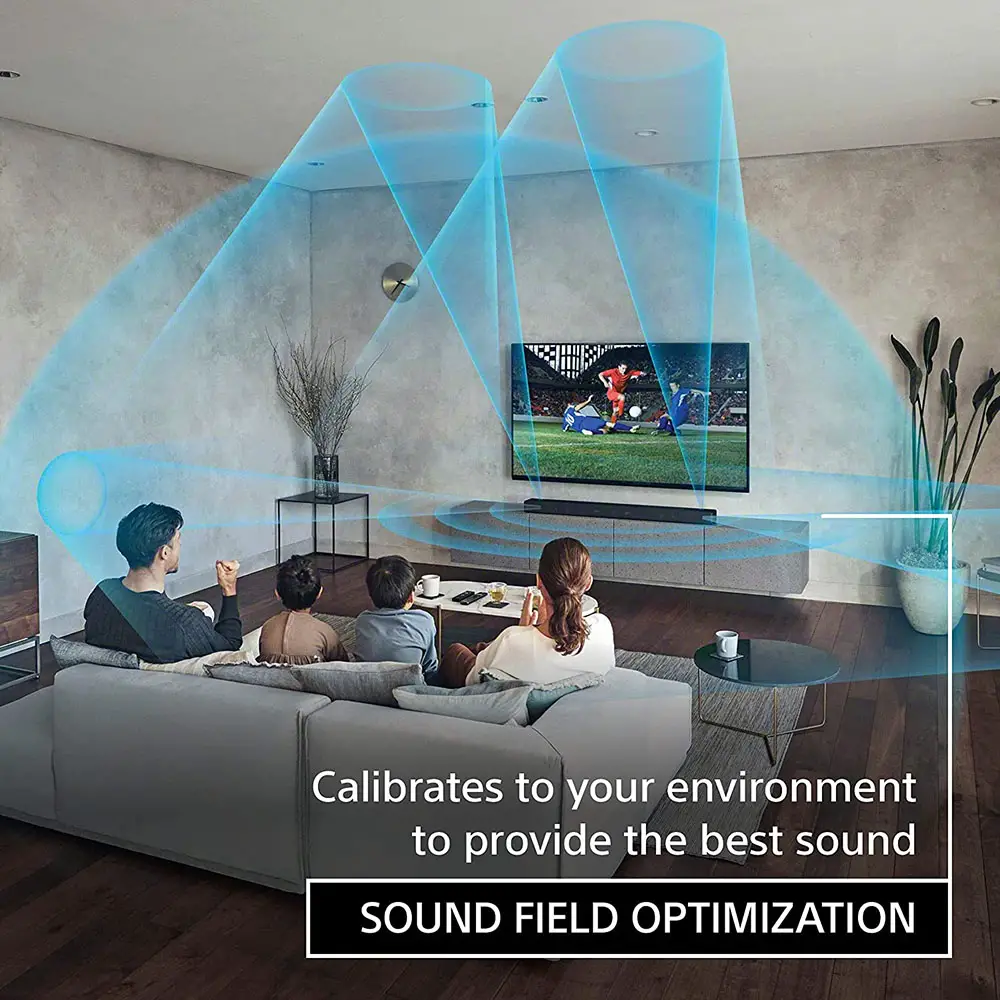 Initial Setup
As with any soundbar, the HT-A7000 offers plenty of connectivity options. For our testing we decided to connect our source to the soundbar itself and connect the output to out test TV since it's HDMI ports allow for full 4K signal pass-through. Alternatively you can either use the eARC functionality in order to pass the audio from the TV to the soundbar itself or if your devices lack any HDMI ports there is also the Digital Optical input for that reason.
When all physical connections are made and you power the soundbar for the first time you have to go through a series of settings including the Sound Field Optimization feature which is basically the soundbar's auto calibration system using the on-board microphones. It is relatively fast to finish and you don't have to do anything, only keep silent until it finishes calibration. After that it will ask you to connect to a local network, if you want and then you are set to go.
From the Home menu you have the option to select a specific input, listen to music from one of the available options or enter the settings menu. Obviously the next step includes the selection of a desired sound mode along with adjusting the various channels if you deem necessary.
Obviously we have seen some soundbars offer even more simple setups but to be honest everything in the HT-A7000 is rather simple and directions on screen are easy to follow even if you are not so much accustomed to such audio devices.

Movies
For this review we needed to go big so we opted for the 4K UHD disc of Jurassic World: Fallen Kingdom which sports a lovely DTS:X mix. The film offers plenty of scenes capable of pushing the limits of your system but one of the scenes we like to try out in our tests is during the volcanic eruption.
The HT-A7000 certainly does know how to put you right into the middle of the action. The combination of the wide array of speakers the soundbar comes equipped with along with Sony's virtual technologies create a really impressive front soundstage. The Beam tweeters seems to do very good job at expanding the action towards the sides even if sideways extension was good enough to begin with due to the length of the soundbar alone.
The inclusion of a center channel helped to bring the dialogue front and center, keep it clear of the rest of the action and even during the most heavy action moments we didn't feel there was any overlapping with the rest of the audio output. Separation of the front channels was good enough but the close proximity of the front and front inside blocks did not help the soundbar space the sound even better. On the contrary we think the beam tweeters did a much better job at that.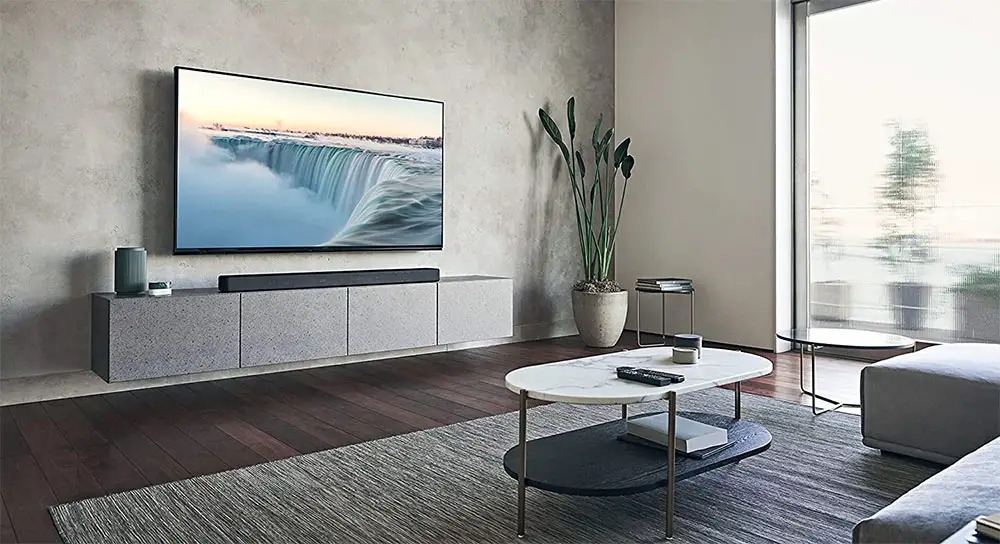 As for the Atmos performance, when the volcano erupted and huge pieces or rocks fell all over the place the unit did a pretty good job at rendering the action at the overhead layer. Although we can say that having tested soundbars with four up-firing speakers, it felt like the HT-A7000 was missing a bit compared to the competition. The Atmos effects could be heard mostly at the front height area and it was obvious that not all the area above our heads was filled with sound. Also a few panning effects were not faithfully rendered without rear up-firing channels.
As for surround activity the soundbar did try to make use of its virtual tech to bring the action closer to us and you surely will hear an effect or two pushing towards your position but in total we cannot say that without the rear speakers kit you can enjoy fully surround action. When the dinosaurs go past the camera as the pyroclastic wave is destroying everything in its path you expect the sound of their footsteps to be heard passing next to you but they stop dead at the front. Having heard the scene again and again in a full surround system you are missing much if you don't have the rear speakers connected.
The soundbar tries really hard to be an all-in-one solution, and that's why Sony has included a subwoofer channel to the unit itself. To be honest its performance was much better than most standalone soundbars and if you are not particularly hungry for the low end then maybe what the HT-A7000 can give you will suffice. But if you really want to be immersed in the action a subwoofer is the only solution, preferably the SW5. The steps of the dinosaurs, their roars, the eruption of the volcano and even when the gyrosphere falls into the water will sound so much more alive and with much more energy.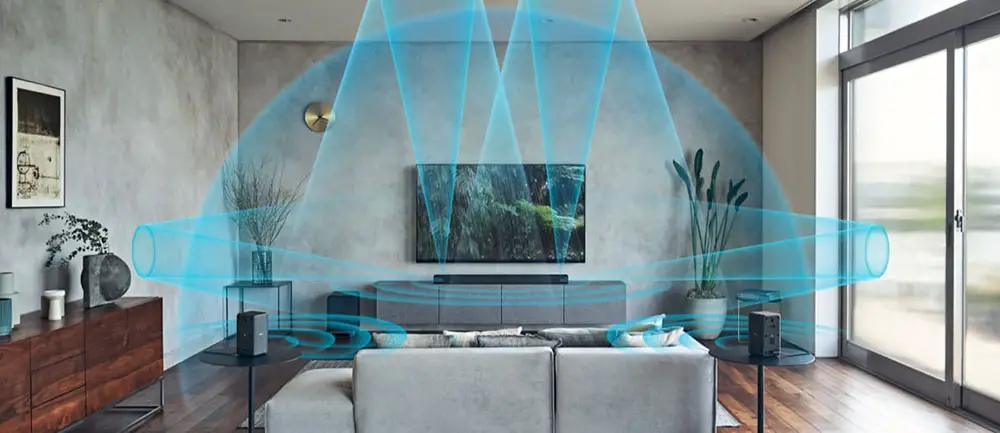 Listening to the HT-A7000 as a standalone unit we can say that it left us with good impressions, if you consider that there is no subwoofer or surrounds to work with. Obviously in order to be compared to other competing brands, this can only be done if you include these two additions, in order to be fair. So in a way there is no direct comparison between the HT-A7000 and the likes of LG, Samsung or Klipsch flagships.
What is there is good but its single unit design has all the same limitations this design comes with. The bass will be so and so and heavy action scenes will feel a bit flat and uninspiring while surround sounds will be completely absent. If you can live with that then surely the soundbar is a monster of a soundbar with plenty of power to deliver.
Music
Since the soundbar comes with USB playback capabilities we decided to go this way and stream a few FLAC files we keep for that reason. Now in terms of sound modes although there is a Music mode available we found the Standard one much better to our ears so we decided to go for that one. Also there is the Immersive AE function that you can use but we didn't like it very much for the tracks we had selected so we decided against using it.
The wide soundstage became immediately obvious as the size of the soundbar along with the Beam tweeters were really good at expanding the sound towards the sides. This also helped with some panning stereo effects making them feel more impressive than in some other soundbars we had heard.

In general we liked the sound output it had, there was a warm tone from the Sony unit that we got used to really quick. The vocals were very distinct and had enough energy to them in order to push all the emotions of the singer to our room while the lower mid-range was nicely balanced with good cohesion.
The soundbar did a valiant effort with the bass and the dual woofers included in the main unit did help a lot in this regard. If we had to compare the HT-A7000 with other single soundbars we can say that Sony's offering comes very close to the top. There is enough energy and vigor there and you can sense a thump or two during the performance but again it falls short of any kind of sound output you can get when you install a dedicated sub.
We did try our various bass heavy performances and the soundbar felt slightly uninspiring and soulless. So it really comes down to the kind of material you like to hear and how much of a bass freak you are. We also tried various genres to see if we could detect any discrepancies but the unit did really good all around which makes it an excellent choice for mixed use.
The Soundbar was obviously meant to be used mostly for movies. But this doesn't mean it cannot be delicate when the content asks for it. It's just that no soundbar can reach HiFi status and the HT-A7000 is one more example proving the obvious. But for casual use in between your movie sessions it is a very capable performer.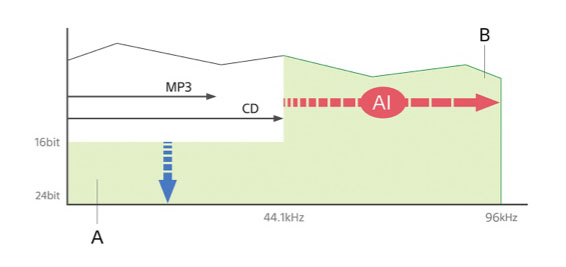 Final Thoughts
Sony has finally updated their flagship soundbar and the HT-A7000 has all the ingredients to be a great offering for those looking for a soundbar that has the ability to perform better than the majority of what is out there at the moment. Would we place it at the top of the performance ladder? Not exactly, but surely it comes close, and to be honest we feel that the HT-A7000 is more threatened from Sony's own HT-A9 rather than the competition.
We say this because the HT-A9 may not be exactly a soundbar in the traditional way but certainly has many of the values and strengths a soundbar has and tries to bridge the gap between surround systems that use separate speakers and soundbars. We could see many choosing the HT-A9 over the HT-A7000 and since both of them came out at pretty much the same period of time it feels slightly like Sony is cannibalizing themselves with these two products.
As for the HT-A7000, the soundbar's performance was very good by creating a very impressive front stage, initial setup and use was very easy, it comes with plenty of features both online and offline, it is future proof by coming with HDMI 2.1 ports and its ability to expand adding a subwoofer and surround speakers gives more freedom to you to shape the system the way you want it to be. On the other hand the Atmos performance was average compared to other flagship soundbars, its price will go much higher if you add a sub and surrounds and the main unit definitely lacks in low end performance and surround activity.
Closing our review we can say that the Sony HT-A7000 is a soundbar that has what it takes to be a flagship, but just misses the mark of being a really great one. Competition is fierce right now in the premium field and there are many options to consider. Sony's offering comes pretty close to the top but we wouldn't consider it to be the best flagship we have tested. But if you can get it in the right price it's performance both in movies and music will surely reward you.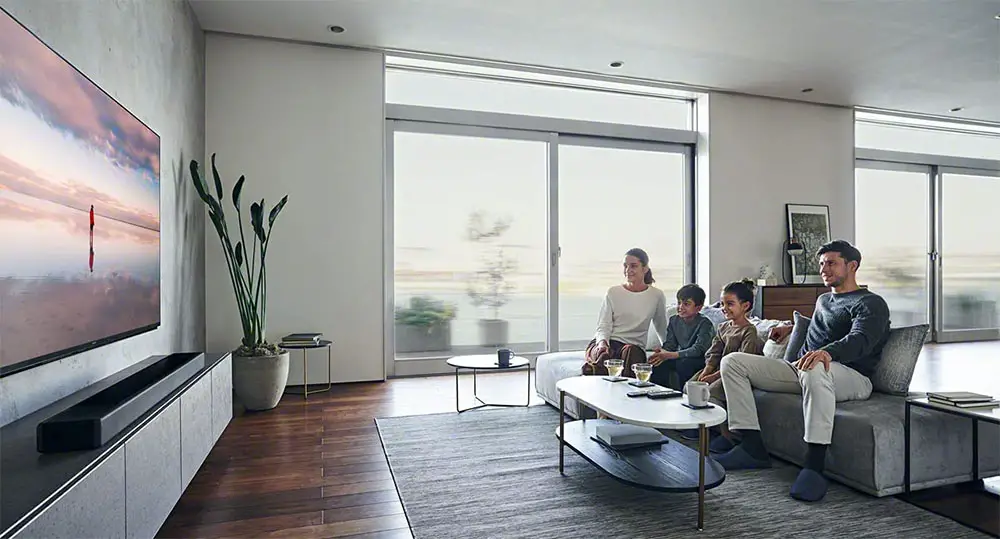 For more reviews you can check our dedicated Single Soundbar reviews list or even look at our Product Reviews Table where you can find the brand and specific product you are looking for.
Also don't lose the chance to subscribe to our Newsletter and gain exclusive privileges.
---
Cheapest Places to Buy :
---
Sony HT-A7000 Specifications