Sony HT-S350
Design -

90%

Movies Performance -

85%

Music Performance -

85%

Inputs and Features -

80%

Price / Quality -

86%
---
Cheapest Places to Buy :
---
With the extremely thin TVs we have nowadays manufacturers have really struggled to improve their audio performance. There is simply not enough space to do that. And as such soundbars have become the next best thing with models for all needs and all budgets that are aimed at improving the audio performance of your TV with a relatively low cost. And Sony obviously couldn't be missing from this party. In our Sony HT-S350 review here today we will be testing one of their low budget, sub-$300 soundbar-subwoofer combo to see what kind of performance it can give us.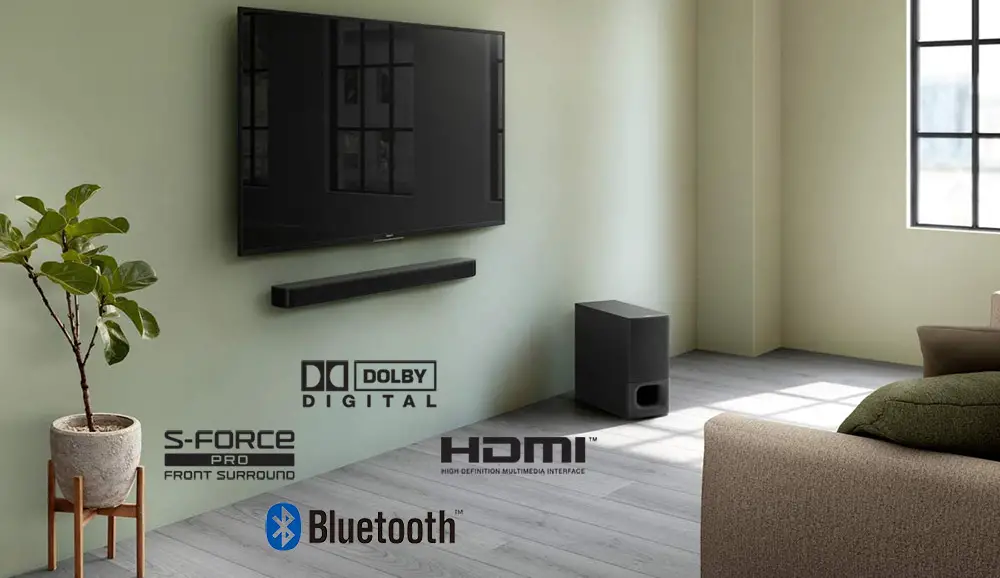 The HT-S350 soundbar is a very basic model and it's aim is to provide you with better audio and overall simplicity at a low cost. It comes with a wireless subwoofer that is handling all the low end, has 320 watts of power, features Sony's S-Force PRO virtual surround sound technology, can playback Dolby Digital audio tracks and also has built-in Bluetooth for wireless streaming. Don't expect to find many fancy features here, this is a very bare-bones unit after all but as always what matters the most in this category that is overcrowded with good performing low cost soundbars is the audio quality.
Does the HT-S350 manage to go above and beyond the competition or it is lost in a sea of budget-friendly soundbars that offer more or less the same experience? Let's put it to the test to find out.
Design, Inputs and Features
Exterior
When it comes to general looks and built quality, as with any soundbar that belongs in the low end category, expectations should be kept as check. Price is the main focus here so manufacturers although they try to offer good and quality designs they obviously lack in comparison to more premium offerings. The HT-S350 is no different in this.
With a size of 35 1/2" x 2 5/8" x 3 1/2" (900 mm x 64 mm x 88 mm) and weighting 5 lb 4 7/10 oz (2.4 kg) we would classify this one as a middle sized soundbar and with it's length it should fit nicely under any kind of 55″ TV and above. It's lightweight compared to other similarly sized soundbars we had tested recently so it is easy to move around and place it any way you want. Also this makes it's wall mounting far easier if you are thinking of doing that.
The soundbar is a nice looking one and it has a certain appeal that we were not expecting to find in a product with such a price from Sony. The top is covered with what seems to be a faux-leather top panel that certainly makes it look more premium than it is while the front is covered by a perforated metal grille that hides the front firing drivers and the led indicators while it wraps nicely around the front corners and into each side of the unit.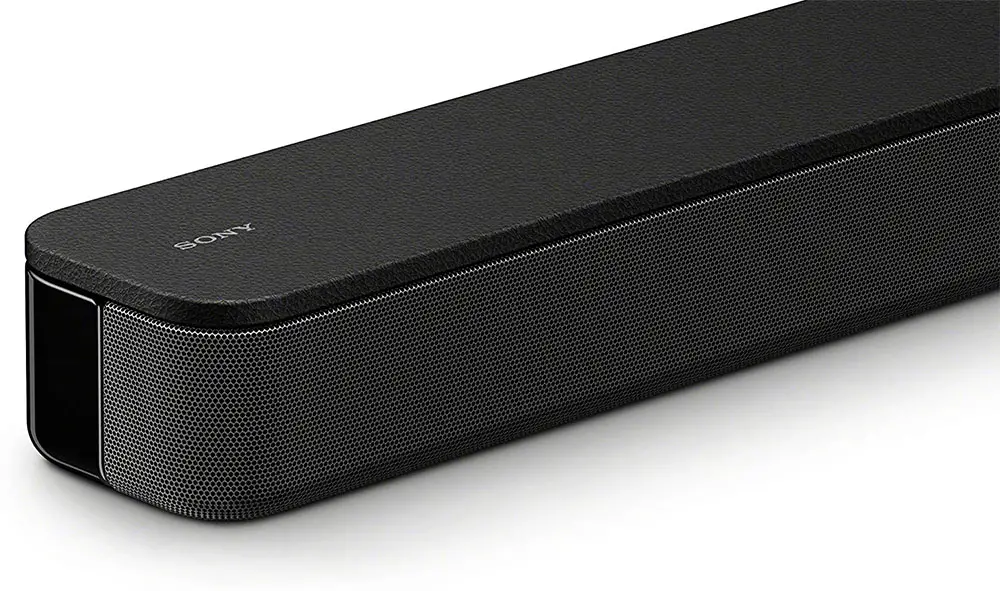 At the top side, exactly in the middle we get the built-in buttons which as surprising as it may sound they are touch sensitive and this is not something we usually see in this price. Good for looks but not very practical when you are searching for them in the dark so it's a bit of a doubled edge sword this one really. Except from the five buttons there is the Sony logo sitting prominently on the far left side while the rest of the top side is free of any other details keeping a very clean and minimalism design.
If there is one thing we are always very strict about, even in cheaper models, is the inclusion of a front display. Unfortunately Sony drops the ball in this one as we only get a set of light indicators in order to get some visual reference of what the soundbar is doing. The three indicators included have markings on top of them but as these three are not enough many combinations of the three will also show you different actions. The manual includes all these combinations but it is definitely a chore to have to look each time to remember what the unit is doing.
At the back of the unit we get a special inset on the right with the included ports and the power cable on the left. The soundbar seems to have plenty of ventilation openings which is also not very common among soundbars. In both sides there are special holes if you plan to wall mount the unit while one last thing that needs special mentioning is the included IR repeater.
The soundbar features a relatively low profile and as such most probably you will not have problems with obstructing your TV's IR sensor but nevertheless Sony included one exactly at the center of the back so in case you have a TV that sits lower than usual you can enable this in order for the soundbar to pass the TV signals. Very useful and practical this feature is and can save you from a lot of frustration.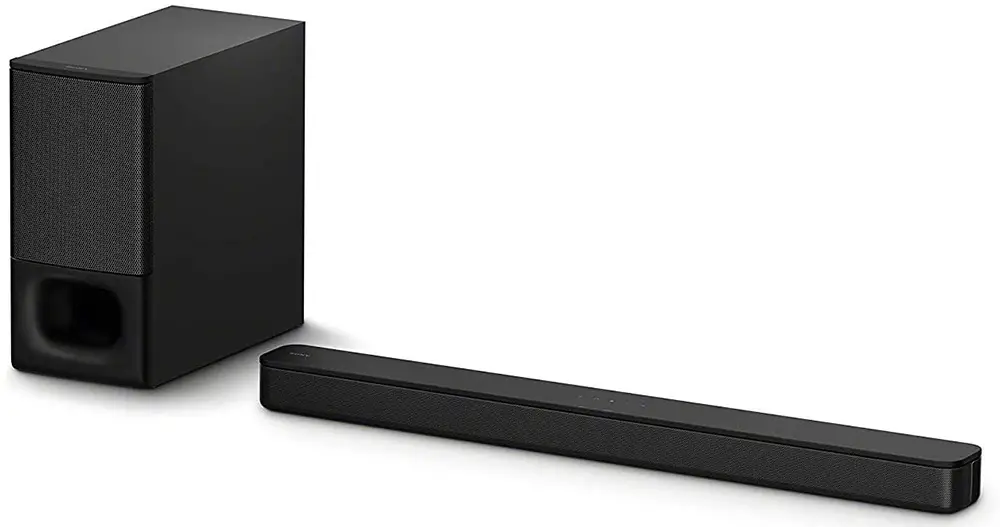 As for the included subwoofer it comes with an average size that measures 7 1/2" x 15 1/8" x 15 3/8" (190mm x 382mm x 390mm) and weights 17 lb 3 1/5 oz (7.8 kg). Design wise it will remind you a middle sized PC tower while the box uses a mixture of wood and plastic. The front firing driver is covered by a metal perforated grille with a big bass port placed exactly beneath it. At the top of the front face there is a small light indicator while at the back we find a power and a Link button.
In general we can say that we are happy with the design of the HT-S350. It's nothing out of the ordinary but in this price construction feels good, design looks nice and quality is above average. The touch sensitive buttons is a more premium feature even if not a very practical one while the included IR repeater is definitely a plus. The only thing that we disliked was that there is no fully functional display that many extremely low cost soundbars include nowadays. The subwoofer comes with the right design in order to fit in more tight than usual spaces.
Internal Hardware
Next let's take a look on what is under the hood. The HT-S350 soundbar, being such a basic unit, comes with absolutely the most simple setup, meaning that we only get one single front firing driver for each of the two channels. Something that is becoming a trend with soundbars is for manufacturers to use oval drivers in order to gain as much as possible from such low profiles that these units come with. And this soundbar is no different.

Utilizing two 2 1/8 in × 3 5/8 in (52 mm × 90mm) cones rated at 85 watts each this model can get more out of these than it would if it would go with round variants. The main soundbar has a frequency range of 200 – 20,000 Hz at 4 ohms loads and no more than 1% total harmonic distortion.
As for the subwoofer that comes with it, it features a 6,5" (160mm) front firing driver with a front bass port exactly underneath it. While at 160mm this is not the biggest driver we have seen in this low budget category, it is enough in order to give us the necessary punch required. And if you take into account the rest of the drivers being used going for a bigger subwoofer driver would be slightly overkill. It's power output is rated at 150 watts (at 2.5 ohms, 100 Hz).
And that's it. Not much to say here to be honest. A pretty simple setup with some decent but very basic hardware used that we have seen countless times before in similar 2.1 channels soundbars. Now it only remains to be seen if it can offer anything more than the others and we will look into that shortly.
Connectivity
Usually with all these basic units we get the least of connection ports and the HT-S350 is really redefining the term simple. At the back face in a special inset that is on the right side housing the only available ports. An HDMI output with ARC functionality along with a digital optical input. And that's all you get. It must be one of the few soundbars that doesn't offer any kind of analogue stereo port but with the HDMI and the digital port you probably will be fully covered. There is also a USB port but that is reserved only for software updates and there is no other use for it.

The power cable comes out from the left side of the back face and this can make cable management a bit more tricky especially if you want to wall mount it and keep all cables grouped together and show as little as possible.
The subwoofer on the other hand has no available ports as it connects to the main soundbar wireless so there is no need for additional cables.
As for the soundbar's wireless capabilities it comes with Bluetooth but no WiFi. Bluetooth is v5.0 but only supports the A2DP profile with the more basic SBC codec meaning that you cannot get very high quality audio with it's wireless streaming capabilities.
Sony really went as basic as they could with the HT-S350. Although for the most simple of setups a digital port, an HDMI and Bluetooth sounds just about right it would be nice to get some more flexibility as we have seen some other soundbars with similar price offering more than this one.
Control Options
When it comes to means of controlling the soundbar obviously the remote included is the one you will be using almost the whole time but in general the HT-S350, in contrast to some other low cost soundbars, is pretty light in the available options included.

The remote we get is a good one although a bit bigger than what you might expect in this category. We have seen some soundbars with similar prices go for a far smaller design but Sony went the other way around. Made out of plastic and with a good sturdy feel we cannot complain about the construction of this one. It's buttons have ample of space between them something that definitely helps since there is no backlight function that could greatly help in the dark.
Buttons layout is nothing special to talk about and follows a very specific logical placement. At the top except from the power and Bluetooth buttons we get separate buttons for the various sound modes. Below there is a huge circular volume control while below we get controls for subwoofer volume, mute, more sound modes and two buttons at the very bottom for Secure Link and the indicators.
It seems that Sony placed the sound mode buttons that you will be using the most separated from the rest which is a bit of an odd thing to do really. It's like Sony themselves knew that some of these modes would not be used so much while there are a couple of them that seem very similar like the News and Voice modes that both seem to prioritize dialogue and it's also a bit redundant to have two so similar ones available.
The remote in general is above average for this category and we have certainly seen some much lower quality ones in this category.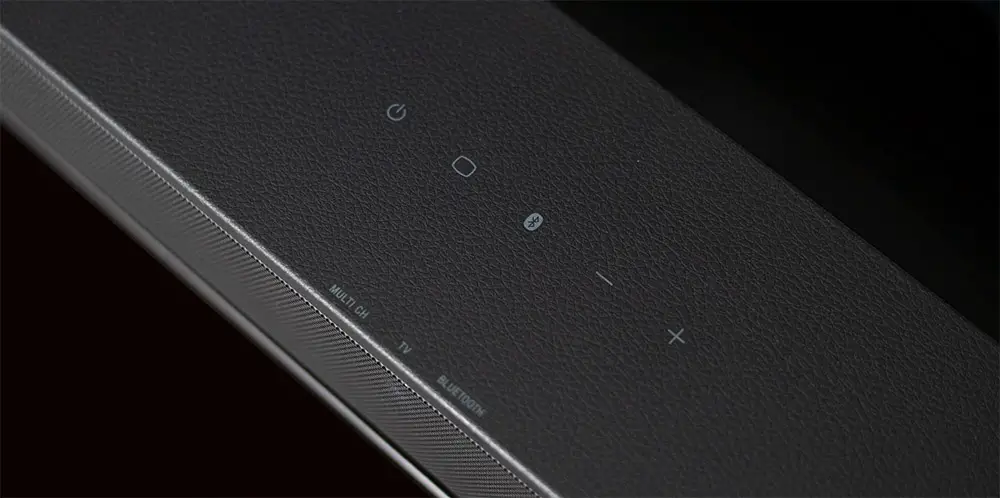 We also get a few built-in buttons that you can use that as we mentioned already are positioned at the middle of the top face of the main body. From left to right there is a power button, a TV button that get signals from either the HDMI or digital ports, a Bluetooth button for wireless transmission and the usual volume controls. A pretty basic setup and you will have to use the remote for controlling some of the other features of the soundbar.
Lastly with the addition of HDMI-CEC you get the ability to control some of the basic functions of the unit with the remote control of your TV or Bluray device but this only works if you use the HDMI connection and your other device also supports the HDMI-CEC function. This can be a very handy feature if you want to reduce the number of remotes you will be using with your setup.
And that's all. There is no remote app support here and no voice control functionality. As many low cost units seem to be adding these now the HT-S350 feels slightly behind in this regard. Obviously we are talking about a cheap unit here but it's all about options and giving you the ability to choose which one suits you the best so the more we get the better and in this regard the HT-S350 is slightly behind the competition.
Extra Features and Services
Let's talk about all the features and extra functions that are included on this model now and to be honest there are not many to talk about in the first place.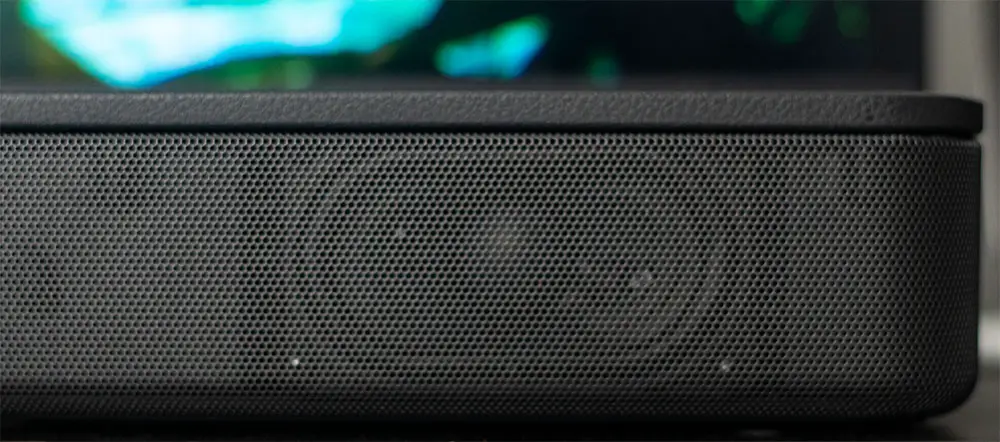 First of all there is support for Dolby Digital along with Dolby Dual mono and LPCM 2ch. And while we are not surprised that we don't get the more advanced Dolby TrueHD or Dolby Atmos formats we are disappointed that there is no support even for the core DTS format. In this day and age support for both Dolby Digital and DTS formats should be a given for even the most cheap units so there is no real excuse for the HT-S350 not to support one of them. A huge downside in our books here.
As the unit has only 2.1 channels to work with, Sony incorporated their proprietary S-Force PRO virtual surround sound technology into it in order to give the soundbar the ability to produce a more immersive soundstage. Now here is the interesting part. While most soundbars give you the ability to choose if you want this virtual technology or not the HT-S350 is always using it and you don't have the option to choose either way. Obviously depending on the sound mode this tech will certainly work differently but the fact remains that you can never turn it off completely which is a rather odd decision by Sony.
As we have said before this kind of virtual technologies can give you varying results depending on the actual content and your specific room acoustics so it's a hit or miss situation really and you cannot expect them to work in every single movie or home theater setup. It's good to have it but in all honesty it's a technology that we would use only in specific situations as we are never fond of sound that is over-processed and different from what the creator intended.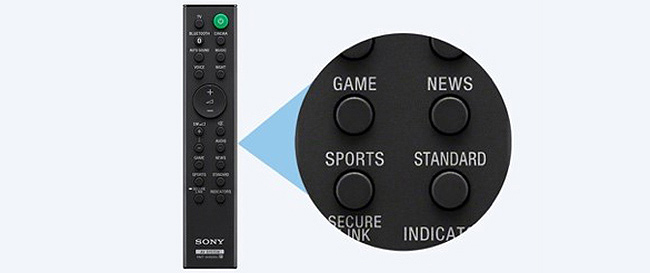 The unit comes with a few available sound modes that include Auto Sound, Cinema, Music, Game, News, Sports and Standard. Most of them are self explanatory with Auto Sound letting the soundbar decide what is best and optimize the output accordingly. Cinema will enhance the surround effects, Music is optimized accordingly, Game is mostly suited for videogames, News will enhance dialogue and speech, Sports try to enhance environmental effects in order to give you the sense that you are actually in a stadium and Standard give you a more balanced outcome.
There are a couple more special sound modes with one being the usual Night Mode in order to use when you watch at low volume during the night while the second one is Voice mode that enhances dialogue in order to be more clear and distinct. As we mentioned above News and Voice seem very awfully similar and to be honest we didn't find many differences between them.
The soundbar comes with built-in Bluetooth and you can use that to stream music from your mobile device to the soundbar. Having Bluetooth v5.0 ensures strong and stable connections and in our tests we didn't notice any break ups or lagging in the connection. But in case you have a Sony TV you can also use this function in order to connect the soundbar with the TV with a wireless connection and not use any cable. This can be an extremely handy feature if you want to wall mount it and you don't want any visible cables around.
A couple of more features that are worth mentioning include One Touch Play which is a feature that can turn on your TV and soundbar and switch to the appropriate audio input when you start playing content from a Blu-ray player or video games console. Also in case you have a Sony TV there is Bravia Sync included.
The soundbar lacks any kind of calibration system and with the absence of WiFi there are no streaming or smart features available either.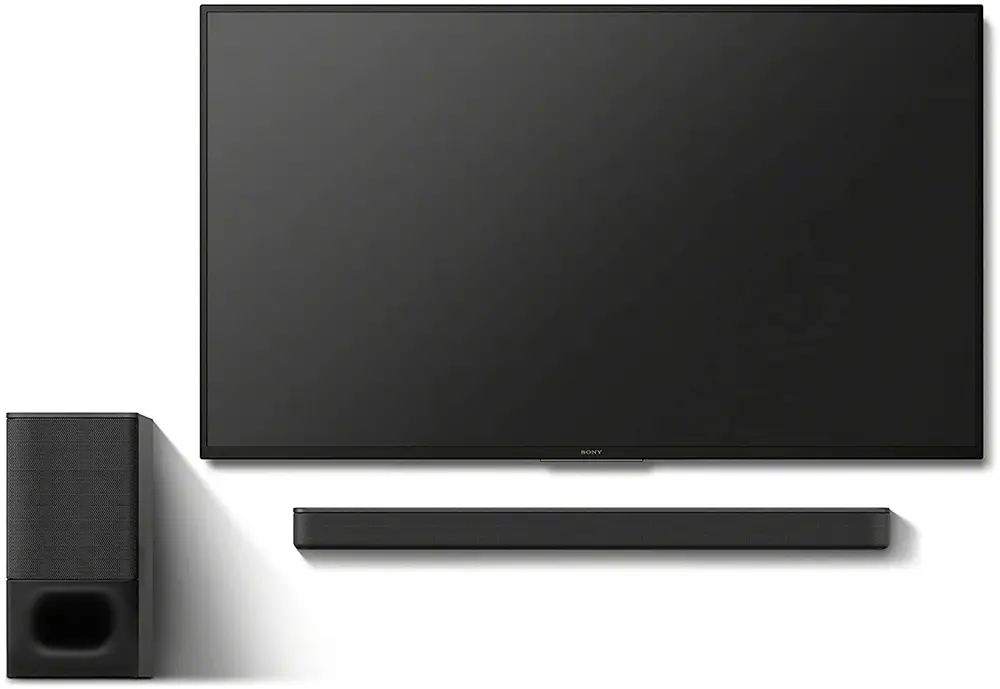 Initial Setup
Placement and initial setup could not be easier with this soundbar. We positioned it on the furniture in front of our TV while the subwoofer was placed at the front left corner of our testing area. We connected the soundbar with our TV with the included optical cable which is all that you really need really. Obviously connecting with an HDMI cable will grant you usage of some extra features but other than these Dolby Digital works just fine over the optical cable so you will not be loosing anything in terms of audio quality.
The soundbar and subwoofer are paired but you can also do the procedure fairly easy if you carefully follow the manual instructions. Once finished there is not really much calibration to be done. Subwoofer volume and sound mode is all there is to it but these two can be calibrated on a viewing to viewing basis so it's not something to do once and then forget about it.
So once you have done the above you are set to go. In all honesty from unpacking to be ready for use shouldn't take more than a few minutes. That's how simple it is.
Movies
Now for our movie testings we decided to go with the Cinema sound mode as this felt like it was the most accurate of all when it came to movies viewing. And for the first test of ours we decided to try out the 4K UHD of Midway. Obviously we wouldn't have the pleasure of enjoying the immersion of the fantastic Dolby Atmos track included and we had to settle with the core Dolby Digital mix instead that is the only one supported by the unit.
First of all the soundbar can get pretty loud for it's size. With 320 watts if there is one thing that is not missing here is definitely power and the HT-S350 can do so with little, relative to it's class, distortion. The front soundstage literally filled with audio as the American planes were diving onto the Japanese carriers. There was good separation between the left and right channels with many effects showing good panning between left and right sides. Dialogue was pretty good when you consider there is no dedicated center channel and most of the time it was distinct and clear even when things kicked into overdrive.
Now we said above that the soundbar is using Sony's S-Force PRO virtual surround sound technology in order to provide more convincing surround activity. Unfortunately we cannot say that we were convinced by it. There was no action felt behind us nor we could feel any of it at least sideways something we had seen happening with some other soundbars that were also trying to produce surround activity virtually. All the action was firmly positioned at the front and while this is not surprising it was a bit disappointing when you advertise this technology so much.
As for the bass, the subwoofer did a great job in this regard and provided plenty of punch and authority in the low end giving us plenty of shaking moments that a movie like Midway had. Mid-air explosions, engines roaring and anti-air flank fire were all reproduced with aggressiveness and a raw signature that may not be very accurate but suited this style of movie.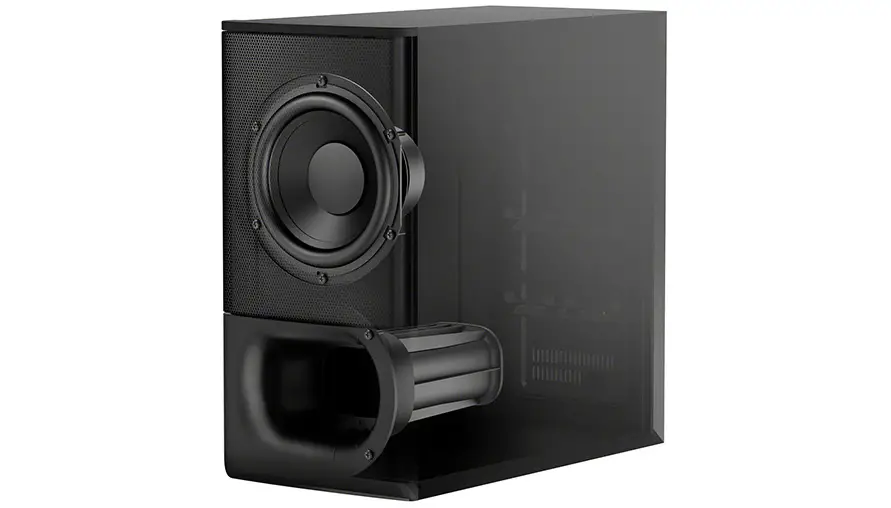 But here was also a small problem that we noticed. When going for high volume we felt that the low end overshadowed the rest of the frequencies. Even lowering the subwoofer volume didn't fix this completely while when going for low volume the overall performance was lacking in punch. It was like it became very hard to find the sweet spot that would give us the best balance between the low end, mids and highs and with each change in volume we needed to make some corrections to the subwoofer volume in order to bring it up to relative balance once again.
For our 2nd testing we chose Valerian and the City of a Thousand Planets in 4K UHD. Once again this transfer comes with a Dolby Atmos track with only the core Dolby Digital one being supported. This film asks for a more delicate performance as there is wider variety on the kind of scenes we get. There is more dialogue and a greater emphasis on environmental and ambient sounds and sound dispersion plays a big part in how immersive the experience can be.
The soundbar once again showed us that it can fill the front soundstage pretty convincing with loud and powerful audio. Laser fire and spaceships provided very convincing and accurate panning effects while separation between the left and right was good but not perfect. The soundbar unfortunately is not very delicate when it comes to finer details and while most will not be bothered much by this the fact remains that the HT-S350 goes more for power and less for delicacy.
Surround activity once again was absent with the soundbar failing to provide any kind of audio that came anywhere else other than strictly from the front. The always on virtual surround technology of the unit failed to provide the necessary depth and many of the effects that were supposed to come from the back were firmly coming from the front which made the whole performance sound a bit strange at times.
The subwoofer once again did a fine job providing us the necessary low end but the unbalance we saw before was also here although a little less obvious since the movie was not all out action all the time.
If you are looking for a soundbar that can provide a respectable upgrade over your TV's audio performance the HT-S350 will do just fine. The front stage will definitely feel more full and powerful while you will get the kind of shaking that no TV can offer even today. Just don't expect any kind of surround activity out of this while the slight unbalance between the frequencies can make things harder to find the sweet spot for all situations.
Music
For our music testing our only option was to use Bluetooth and stream music through a wireless connection. Not the best way obviously since with Bluetooth audio quality is dramatically downgraded but the soundbar doesn't have any other way to stream music so we have to make do with what is being offered.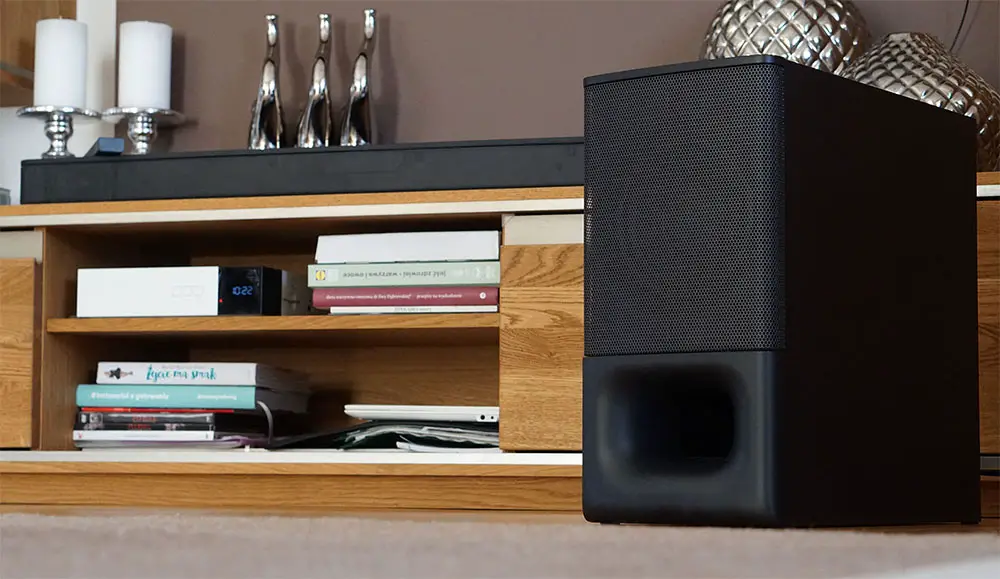 Now the HT-S350 is the kind of soundbar that will certainly not make your jaw drop on the floor as it lacks the finesse and finer audio that some other soundbars offer but will for sure satisfy the casual listener that is not very demanding and will not look for every single imperfection in the audio signature.
For this round we opted for the Music mode which we think gave the soundbar a better output with various music rhythms and tones. Sound had good dispersion, it felt pretty powerful while musical instruments were very distinct and with good but not perfect separation. Highs felt a bit overexciting to be honest for our taste while the bass was slightly over-shadowing the midrange.
We did try various types of music ranging from rock, jazz, classical, electronic and hip-hop and in most cases the soundbar provided similar performance so we wouldn't say that this unit favors a specific kind of music over some other. Going to higher than usual volumes there was no much audible distortion but again the bass felt like overshadowing everything else.
If you are demanding with your music you should better look elsewhere but if what you seek is a soundbar in order to enjoy your movies and music with it without nitpicking then the HT-S350 is certainly not a bad option and will give you many hours of acoustic enjoyment.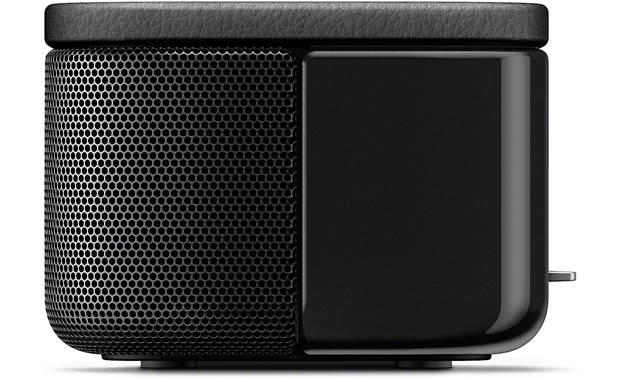 Final Thoughts
It has become increasingly difficult for any soundbar in the sub-$300 category to really distinguish itself as there are so many models out there today that offer good quality and a similar feature set like the Yamaha YAS-207. And this is where the HT-S350 finds itself today. Sony tried to create a unit that is simple in handling, offer the most basic of functionality and all this with good and loud sound performance. Did they manage to succeed in all these? Well, in some but not all.
First of all the HT-S350 features an above average design and construction quality. The remote also feels sturdy enough while the subwoofer is just about right for the main soundbar size. Performance wise with 320 watts the unit can go loud, much louder than what you would expect to be honest while the subwoofer can go wild on the lower end. You will certainly get a very nice and active front soundstage in this regard. Plug-and-play is written all over this one as from unpacking to watching your first film will take you only a few minutes while settings are very few and straightforward, perfect for anyone that don't want to spend their time with multiple features and settings. Lastly the inclusion of Bluetooth streaming is a nice addition for listening to music.
On the downsides now. First of all even though the soundbar can go loud, audio quality while good is not the best it could. While we tried all the included sound modes we got a general sense that sound felt a little unbalanced while when it comes to immersion the vivid front soundstage could not be complemented by equally good surround activity. If you want behind the shoulder action then you should definitely look for a soundbar with dedicated surround speakers. No DTS is a huge minus while the included ports are the absolute minimum we could get. Lastly we hate when a soundbar doesn't have a front display and this is definitely the biggest downside on the design of this unit.
In the end what we can say about the Sony HT-S350 is that while it can certainly provide you with a nice upgrade over your TV's sound system and it's audio performance is good enough for casual viewings there are certain things mentioned above that keeps this one from becoming an excellent offering. It's not a bad soundbar, not by far. But it could have been better also. In the right price it definitely deserves at least a consideration.

For more reviews you can check our dedicated Soundbar-subwoofer combo reviews list or even look at our Product Reviews Table where you can find the brand and specific product you are looking for.
Also don't lose the chance to subscribe to our Newsletter and gain exclusive privileges.
---
Cheapest Places to Buy :
---
Sony HT-S350 Specifications