---
Cheapest Places to Buy :
---
When it comes to soundbars in general it's a give and take situation as they were engineered with a specific mindset. From one side most of them are easy to setup, they are cable free and more or less compact that can fit in most small or big places. If you also add the relatively low price they cover a group of people that cannot afford to spend a lot of money for their viewing pleasure.
But on the other hand by creating such compact designs meant that we would loose some things and the most obvious would be the precision and quality of what a full surround system can offer. Over the years manufacturers have tried to improve upon the weaknesses of soundbars with various level of success. With the latest audio formats hitting the market a few years back soundbars could not be left out so we started to see more and more Dolby Atmos enabled soundbars that try to offer the extra immersion of this new format either by adding more Atmos enabled drivers or by using virtual technologies.
But with the limitations that soundbars have in general offering a Dolby Atmos experience wouldn't be an easy thing to do. So when we hear that a soundbar offers technology that can simulate a 7.1.2 audio setup we are always skeptical. After all we have seen time and time again soundbar manufacturers making bold claims only failing to deliver. Today's Sony HT-ST5000 review will focus on one of the Japanese's manufacturer Atmos enabled soundbars and we will test if it can deliver what they claim it can offer. Does it deliver the goods or once again design limitations is the "Achilles heel" of the HT-ST5000. Keep reading to find out.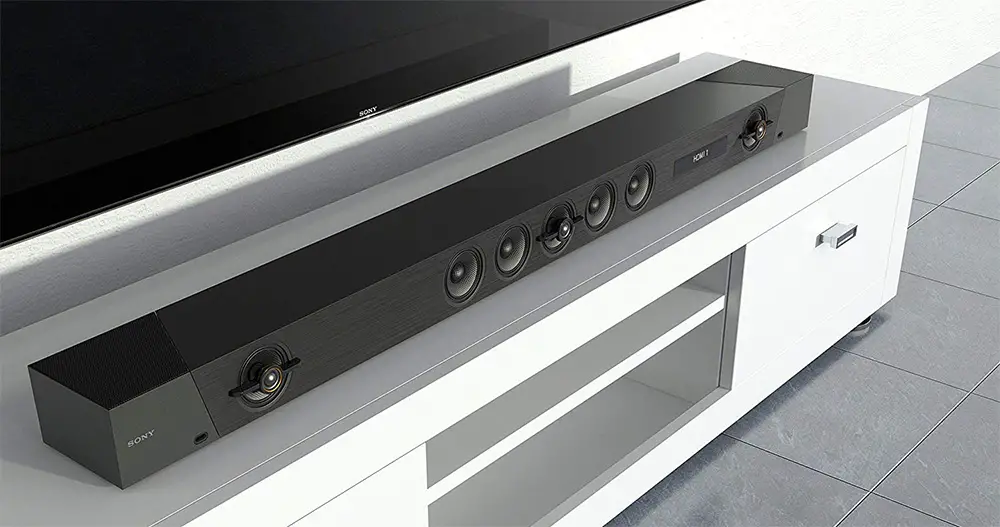 Design, Inputs and Features
Exterior
While the soundbar is being rated as a 7.1.2 channels system in the package we get only the main body as well as the wireless subwoofer. With a size of 46.46 x 3.15 x 5.71″ (1180 x 80 x 145mm) and weight of 18.08 lb (8.2 Kg) this may not be the biggest soundbar we have seen but it's definitely one of the bigger ones and it will fit nicely under any kind of 55″ TV and above. On the same note the included subwoofer is a small beast and with a size of 9.76×15.87×16.77″ (248 x 403 x 426mm) and weight of 31.09 lb (14.1 Kg) it's a cut above the other brands that include subwoofers in their models at least as far as size is concerned.
The HT-ST5000 is not a cheap model and Sony made sure to create a design that would reflect it's high price. Although when you first look at it, it gives you the "dark rectangular box" impression it has something that appealed to us. It may be that Sony has included some sharp lines and corners in order to give it a more dynamic look making it look better to the eye while it's hairline finish reveal it's more premium stature. The subwoofer's design also follows in a similar fashion but here we get a bit more curvy design while it's unique base definitely gives it a more potent look.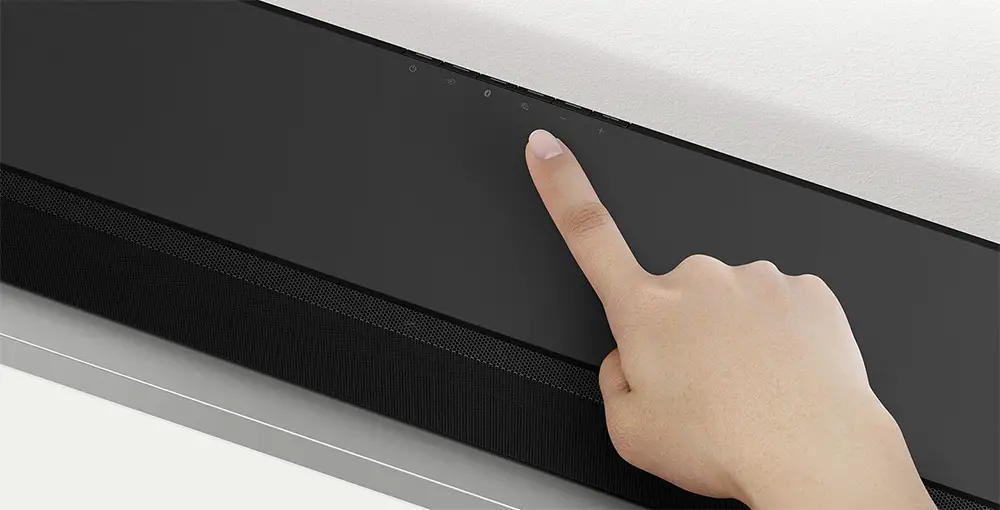 The front of the soundbar is covered by a single attachable punching cloth cover that hides all the front drivers while on both edges of the top side we get fixed perforated grilles hiding the upfiring Dolby Atmos drivers. At the center of the top side we also get some control buttons that are very nicely positioned towards the back side in order not to distract from a rather clean look. The buttons are for power, input selection, Bluetooth pairing, Music service and volume controls.
Between the center and right drivers Sony has placed a front panel display in order to give you some visual indication of the soundbar's functionσ on the main unit itself. On the left side of the display there is a Bluetooth indicator that depending oh how it flashes it shows you the condition of the Bluetooth functionality while on the right side of the display we find the IR sensor.
On the right side we get the only USB port that comes with the unit and it's placement helps to have easy access if you want to connect any kind of external storage. All other connections are placed at the back of the unit where we also find special holes in order to be able to wall mount it if you want. In general we like how much thoughτ Sony has put into this one. Although we see many manufacturers prefer more curvy designs this one follows a completely different philosophy and we are kinda sold by it's looks and premium feel.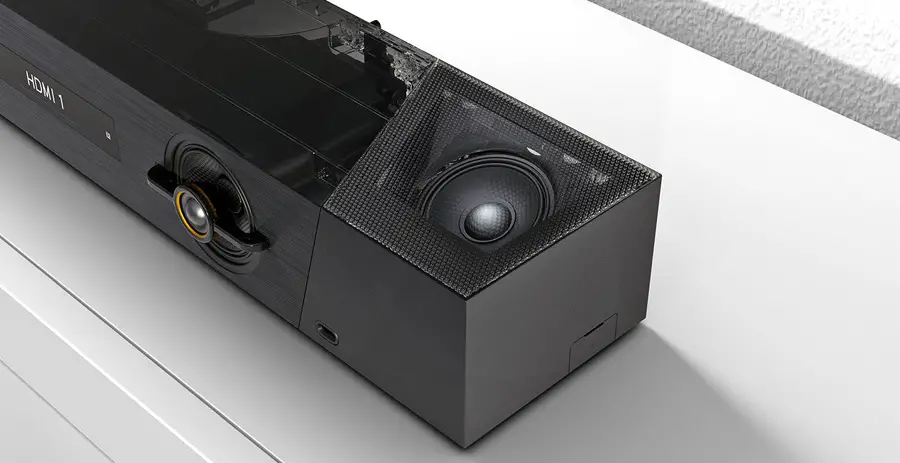 Internal Hardware
Removing the front grille we are greeted by a beautiful sight. Seven 2.5″ (6.5cm) front facing drivers are responsible for covering the whole front soundstage with the ones for the left and right channels featuring coaxial speakers with gold-rimmed, high frequency tweeters while the center channel consists of another coaxial speaker accompanied by another four mid-range cones.
The HT-ST5000 also includes two upfiring Dolby Atmos drivers on both edges of the top side that are placed in such a way in order for the sound to bounce of the ceiling and come down to the viewer giving the illusion of overhead activity. Many Atmos enabled soundbars rely on virtual tech to simulate Atmos effects but having actual Atmos drivers is the next best thing and although it may not be as good and precise are real height speakers it is far better than any virtual technology can offer so far. The main unit is equipped with Sony's S-Master HX Digital amplifier which reduces distortion in order to offer precise results with high-frequency ranges above the 40 kHz mark.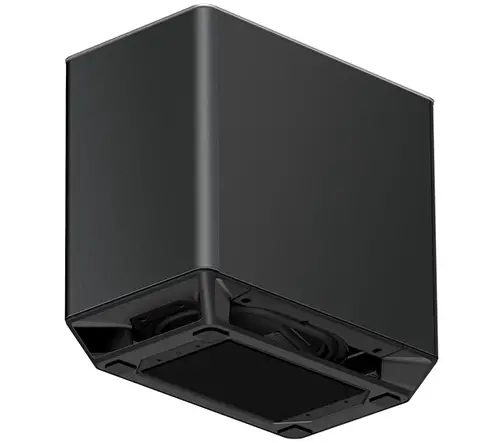 The active subwoofer on the other hand comes with a single 7 1/8″ (18cm) downfiring driver which is responsible for all the low frequencies and while the cone may not be a big one it is enough to offer adequate bass for those looking to shake a bit their room.
The HT-ST5000 originally supported Dolby Atmos audio tracks but since then Sony has updated it so now it also supports DTS:X. For a soundbar so expensive as this we consider support for both formats a given as DTS:X is also being featured in many new movie releases lately and it would be a shame not to be able to enjoy it's immersion also.
Connectivity
As we mentioned a bit earlier the only port that is not located at the back is the side USB port. Looking the soundbar at the back we find all connections grouped together in special insets in order to help with cable management. The connections that look backwards are 2 HDMI inputs and an Ethernet port for wired connection to the internet while there are also a few ports looking sideways including an analogue input, a digital optical input, another HDMI input and next to it an HDMI output that also includes ARC functionality.
The HDMI ports are all HDCP 2.2 which means they support 4K/60p, HDR and wide color gamut. But in all honesty three HDMI inputs may not cut it for those that want to connect multiple devices like streaming boxes, game consoles and blu-ray players among others and a couple of more would be preferable. The HT-ST5000 also comes fully wireless capable by having built-in WiFi (2.4GHz/5GHz) 11a/b/g/n as well as Bluetooth.

Control Options
Gone are the times when the included remote was all you needed to control your audio equipment. Now we live at an age where multiple options must be available and as such the HT-ST5000 does just that. But let's talk about the included remote first that unfortunately failed to impress us. We have tested various equipment from Sony lately and it is our impression that if there is one area they are far behind the competition that definitely is their remotes.
The one we get here looks cheap and uninteresting and doesn't fit with the premium nature of the soundbar. It includes all the buttons you will need with function buttons at the top, navigation controls in the middle, volume controls underneath them and playback buttons at the bottom. There is no backlight available while it's plastic design leaves a lot to be desired.
We also mentioned above that there are a few built-in buttons on the main body of the unit but these only provide some very basic functions and they cannot be used to control the unit entirely. But it's good to see that they exist in case they are needed. These are physical buttons and not touch sensitive like we had seen in some other premium soundbars before.

If you want a more advanced way of control then Sony has created the Sony Music Center which is an application for Android and iOS devices with which you can control the soundbar as well as it's Chromecast and Multi-room functionalities. This way you can use your tablet or smartphone and control the unit from anywhere at your house. It's a rather nice app and offers a lot of control over the soundbar so we suggest you give it a try to see if you like it.
Lastly we shouldn't forget about what starts to become a trend lately which is voice control. The HT-ST5000 can be controlled by voice by being Google Assistant ready. Unfortunately while we have seen other soundbars including built-in microphones to do the job this is not the case here so you will need a separate Google Home device in order to use this function. If you have one then you are good to go otherwise you will have to pay extra to get one.
Extra Features and Services
One thing during operation that really impressed us was the amount of features the HT-ST5000 had with Sony putting a lot of value into it. First of all the soundbar comes with plenty of sound modes and features like Clear Audio+ which adjusts settings automatically according to what you are listening at each moment. There is also 3D Surround which tries to create a more three dimensional soundstage while Movie, Music, Game Studio, Sports and Standard modes all process the sound differently according to the content they are meant for.

The soundbar couldn't do without support for High Resolution audio and as such except from the usual lossy formats it also supports files like FLAC, ALAC and DSD. But if your collection mostly consists of simple low bitrate mp3 files fear not as the HT-ST5000 comes with the Digital Sound Enhancement Engine HX technology which is an algorithm that analyzes low quality audio and replaces lost harmonics in order to bring the audio back to near high-resolution quality. We tried this and while the results may not be immediately apparent there were moments where audio felt a bit cleaner and more defined.
Streaming is a key word when it comes to this unit and there are so many ways that you can stream audio that really is impressive. First of all there is wireless as well as Bluetooth streaming and as such you can connect to the internet to services like Spotify or use the built-in Chromecast and stream from more than 100 audio apps. You can also use Bluetooth and stream music from your smartphone, tablet or laptop while with NFC you can make instant one-touch connections with other devices that support that.
And while Bluetooth streaming is a feature that is being supported by a wide range of soundbars Sony has included with this one what is called High quality wireless audio streaming (LDAC) which is a technology developed by Sony in order to stream high quality audio through Bluetooth. Normal Bluetooth streaming is done at 328Kbps which means that high resolution audio looses much of it's original quality. With LDAC data are transmitted at 990Kbps which is 3 times faster ensuring much better quality of the audio you hear.

With the use of the Sony Music App you also have the ability to create your very own wireless multi-room by connecting or grouping various wireless speakers that you may have throughout the house.
Lastly the HT-ST5000 is HDMI-CEC capable which means that you can use your TV remote in order to control the volume of the soundbar. Unfortunately functionality through HDMI-CEC is limited as various functions of the soundbar can only be changed with the included remote so more or less you will have to use it.
Performance
One key element that all soundbars should offer is ease of use as this is of great importance in order to differentiate them from a normal surround audio system. Unfortunately we have seen a few soundbars lately that have become a bit more complex when it comes to setup and calibration which can turn away consumers that look for something easier to calibrate.
It seems that Sony took note of that and while we are talking about a Dolby Atmos soundbar that you would expect it to come with a huge amount of calibration settings in fact it's far more easier to get it ready than you may think. Plug-and-play is what defines this unit as it is as easy as it can get to make the initial setup and have it ready in no time even without any prior experience with such equipment.
First of all while many soundbars require to download an application to your smartphone in order to make all connections this is not the case here. As such you don't need to have an internet connection as some other units initial setup require. Also there is no audio calibration system to go through with most settings being done manually. If you are scared by thinking that you have to go through all calibration manually you really shouldn't as there are very few settings that you need to adjust like speakers distance from your viewing position and ceiling height for the Atmos speakers.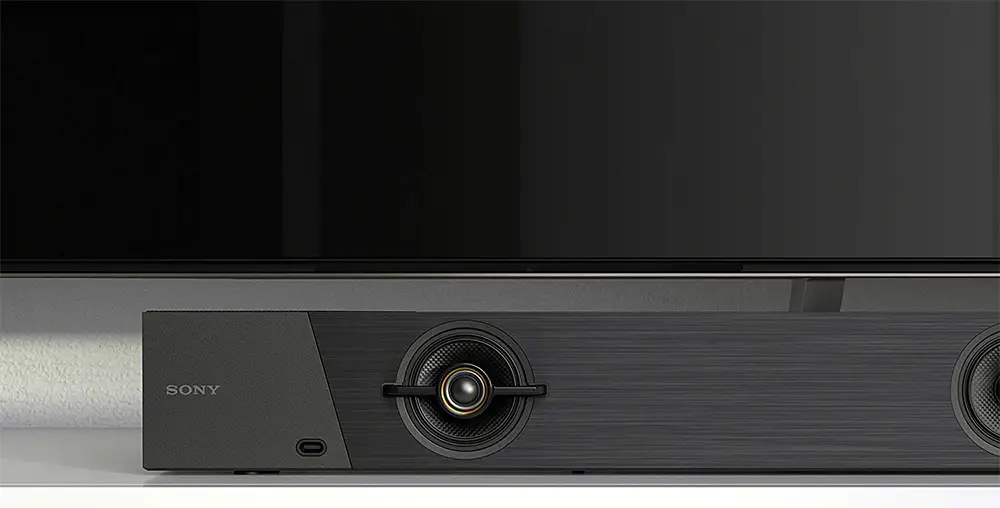 After connecting both the main unit and the subwoofer to a power outlet the two connect immediately wirelessly so there is no need to do there anything. You adjust a couple of settings for the distances and you are good to go. You will spend more time trying to find a sweet spot for the subwoofer and the soundbar rather than tweaking and calibrating settings. One thing we should mention is that the unit has only one fixed position as the front drivers must look at the viewer while the Atmos drivers should look up at the ceiling. We mention this because some soundbars offer different positions depending on placement on a furniture or the wall in order to look better but this doesn't apply to this unit.
Sony claims you can get a full 7.1.2 channels environment with just the soundbar and subwoofer and to do that they use what they call 7.1.2 ch S-Force PRO Front Surround technology. In simple words they use special software that analyzes the audio and try to simulate sound that comes from virtual speakers that actually don't exist. We have seen similar technologies in other soundbars with various degrees of success but in all honesty non of them managed to create a fully immersive surround environment. While these technologies, at least from our experience, managed some times to offer a bit more depth the end result lacked precision and never felt like a good substitute to the real thing.
The key element for more precise audio is dedicated speakers and with the HT-ST5000 having dedicated Atmos drivers but no surround speakers gave us an idea of what more or less to expect which means that overhead effects should in theory be heard better while surround audio will be more problematic. Are we spot on with our observations? Let's find out.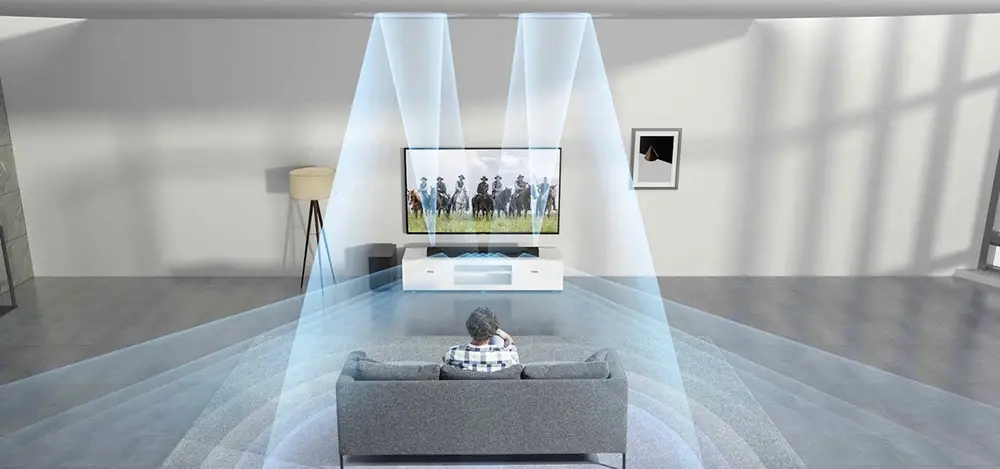 Movies
One of the films we like to try during our soundbar tests is the 4K UHD version of Saving Private Ryan that has an amazing Dolby Atmos track. The film may not be the best if you want to try out Atmos effects but is perfect for testing surround audio as well as the capabilities of the subwoofer.
The HT-ST5000 is basically a 3.1.2 system that tries to simulate a complete 7.1.2 audio environment through virtual tech. So we were curious to see how the unit will behave with such a demanding scene as the opening of the film that features the landing of Allied soldiers on Omaha beach. The beginning of the scene features the Allied soldiers in the marine boats waiting to reach to beach and our first impression was how full the front soundstage felt.
This scene has many secondary environmental effects like the marine boat engines roaring or the water splashing on the boats as they rush to reach land. On the distance German artillery is pounding the beach trying to keep the defense line with the subwoofer starting to give us small glimpses of what is to come.
When the soldiers reach the beach we get acoustic mayhem with the soundbar trying to replicate the chaos we see on screen. Again it was very obvious that the front soundstage felt more expanded and full, breaking the physical boundaries of the soundbar itself. The soundbar was able to reproduce the effects faithfully while channel shifting was very accurate and instant. Explosions had the necessary weight to them while the subwoofer was shaking our room to our satisfaction.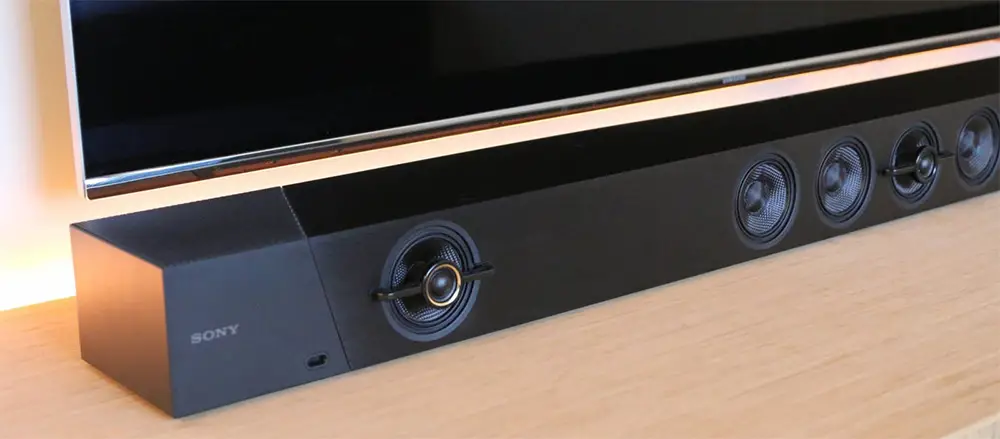 Although there was not much activity in the height layer the Dolby Atmos track with the help of the Atmos speakers on the soundbar created a bit more "full" overhead layer but without it being very distinct as we have experienced in other films. But nevertheless even small improvements helped to create a better experience overall.
If there was one area that the HT-ST5000 failed to impress was with it's surround performance. When German machine guns are ripping through the soldiers when the marine boat doors open we can hear the bullets whizzing at the front left and right channels but there is no activity behind us. The soundstage felt a bit closer to us but in no way it managed to created a convincing surround environment.
In order to test the Dolby Atmos capabilities of the unit we decided to try out the 4K UHD version of the film Bumblebee. The film comes with a bombastic Dolby Atmos audio track that provides plenty of overhead action and we felt it was the perfect choice for our HT-ST5000 testing. Being a Transformers film the film provides plenty of action in front, back and above with the soundbar managing to faithfully reproduce the front elements while surround effects were once again missing in action. On the other hand overhead effects were rather good as we could certainly hear action above us even if not as clear as we would like. The top layer was certainly more full as fighter jets and helicopters could be heard flying above us creating a definitely more immersive experience.

There is not much subtlety with such a film as laser fire, projectiles, explosions and debris falling all over the place create a scenery of complete destruction with the soundbar trying to reproduce all these with a certain degree of success. It's a shame really as the unit was able to deliver a pretty good Dolby Atmos experience, all things considered, but more or less failed on offering a convincing surround immersion.
Music
But it's not only all about movies and as such our next test would be to determine the music abilities of the soundbar. Since it supports High Resolution Audio we selected a few FLAC audio tracks in order to get the best results possible out of the HT-ST5000 and used the side USB port to stream the audio from.
The soundbar in combination with the subwoofer really gave an excellent performance. From drumbeats to bass guitars and electronic music the HT-ST5000 managed to hit us with a very natural and rich sound while the vocals well very clear and distinct without overlapping the rest of the music instruments. Midrange felt tight and offered a great bridge between the lows and the highs. The bass was deep enough without loosing much detail while electric guitars felt as sharp as they should.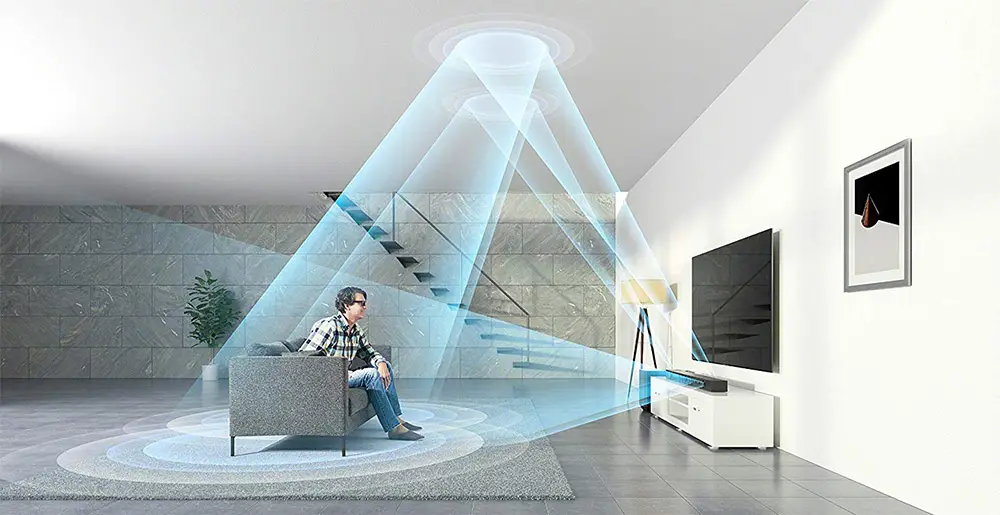 With music we can say the unit fared much better as the main weakness of not having surround speakers is not so obvious here and thus got us excited by it's performance. The soundbar delivered music that was rich and clear most of the time which made us enjoy every minute of it.
Final Thoughts
When you buy such an expensive soundbar you expect it to do what the manufacturer claims to be capable of. And this is the main problem with this unit. The HT-ST5000 is really an amazing soundbar capable of producing very good sound but it fails to live up to the manufacturer's claims which is a common problem with marketing such an audio product.
The unit has many strengths as it offers very clear and precise sound with very balanced mid-range and highs as well as ominous bass. Also the ease of use is a major one while it comes packed with a tone of features and streaming capabilities. Featuring dedicated Atmos drivers means that compared to other soundbars that claim to be Atmos capable through virtual tech it comes way ahead and while the height effects didn't have the same precision as having dedicated height speakers the result was as good as it can get with upfiring variants. Also build quality and design was excellent and especially the main unit had a design that we really liked.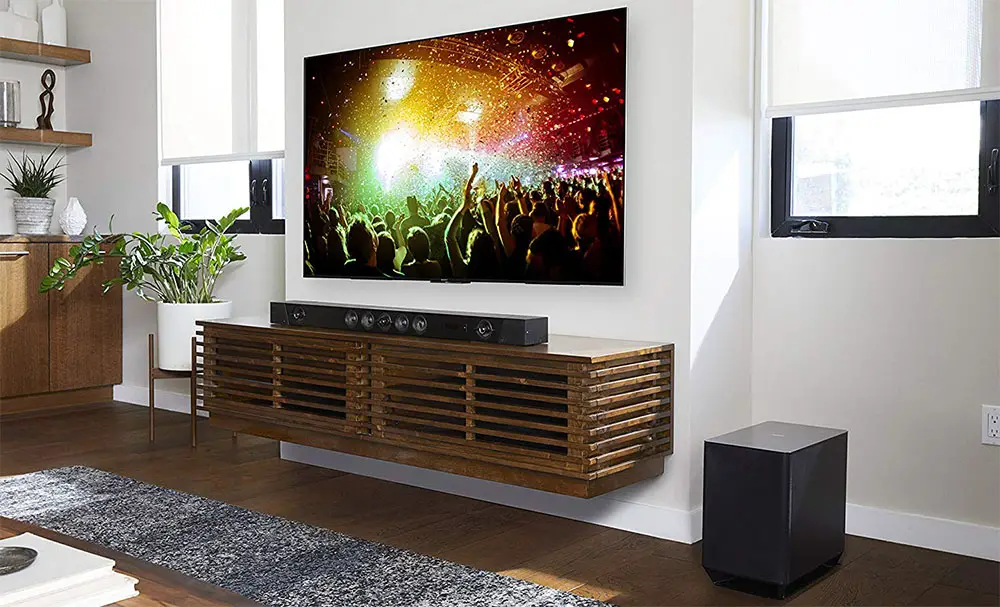 If there is one thing we didn't like was that there was not much surround activity. Claiming to be a 7.1.2 channels soundbar is a very bold claim, especially when you consider that there are no actual surround speakers, and in this regard the unit fails to deliver. Also the included remote couldn't be any worse for a premium product like this. Lastly the price for a soundbar-subwoofer combo can be a bit frightening for many people that may thinking of getting it.
The real question is if it is worth it to give this amount of money for just a soundbar. If you consider what capabilities it has and what kind of audio it can produce then our answer would be yes. If you don't take into account the claims of Sony mentioning this as a 7.1.2 capable unit and look at what it can really offer, which is an excellent front soundstage with Atmos performance and nice bass, then the Sony HT-ST5000 can be a really good choice. If you are thinking of buying this unit it means that you most probably are tight on space or you simply don't want to mess with the complexity of a full surround system and in this regard the soundbar we tested today will cover you in full.
For more reviews you can check our dedicated Soundbar-subwoofer combo reviews list or even look at our Product Reviews Table where you can find the brand and specific product you are looking for.
Also don't lose the chance to subscribe to our Newsletter and gain exclusive privileges.
---
Cheapest Places to Buy :
---
SONY HT-ST5000 Specifications