Sony Z9F (US) - ZF9 (Europe)
Design -

86%

Video Quality -

90%

Inputs and Ports -

94%

OS, Apps and Features -

89%

Price / Quality -

90%
---
Cheapest Places to Buy :

---
In 2016 Sony produced what was considered by many the best LED LCD TV to that day, the extraordinary Z9D which even today, two whole years after it's release is still considered among the best. A combination of amazing video processing due to Sony's X1 Extreme processor and an amazing backlight with Local Dimming system among other video processing systems gave a result that was almost unreachable by any rival LCD TV to that moment.
So when Sony announced it's successor, the Sony Z9F, we were jumping from excitement waiting to see if the new model can continue the legacy that the legendary Z9D managed to create. Sony this time is using new silicon, called the X1 Ultimate Processor and in combination with many other video processing features as well as a refined backlight system with local dimming the Japanese company would try to continue the success and fame of the Z9D.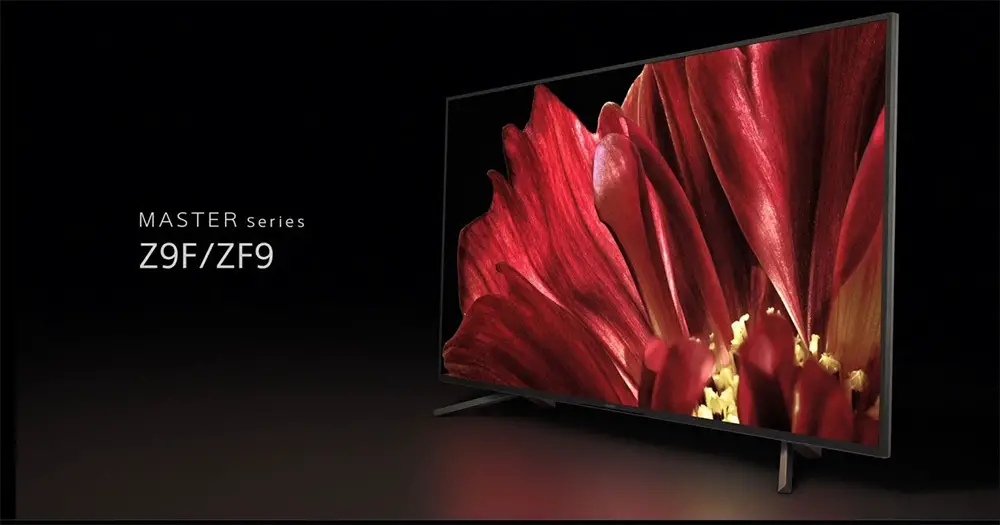 But one fact that made us worry from the beginning was the relatively low price of the 65″ model which meant that in order for Sony to be able to go so low it means that some corners had to be cut. Were our worries baseless or Sony in trying to make this model more affordable has affected it's performance? Continue reading as we look into this and more in our Sony Z9F review.
Design
At first glance the Z9F doesn't look like much and certainly is not as spectacular as some other top tier models from rival brands. We would call the design very simplistic, in lack of a better word, featuring thin borders with the front half having a nice texture finish while the back half made of metal. The whole panel is 2.80″ (7 cm) thick which is slightly thinner than the Z9D which is great considering it also featured a backlight system and although towards the top it has a curved design making it a bit thinner it more or less keeps a uniform thickness that makes it look nice when wall mounted.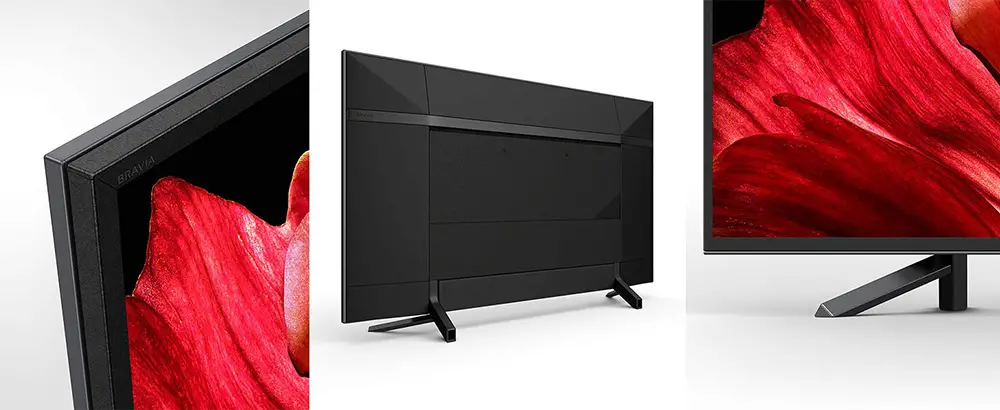 At the back the Z9F shows a pretty clean look with some subtle design touches. Connections are all placed in one side separated in two groups while the power connector is located on the opposite side. It seems that Sony is trying to improve their cable management as there are no outwards ports here that would make it hard to use in case you wall mount the TV. Instead they went with connections that look sideways for one group and downwards for the other making it a much better solution that what most models offer outside of the Samsung ones that utilize the One Connect Box. All connection ports are being covered by plastic panels in order to create a more pleasing look of the back.
The TV comes with two metal legs that when installed give the Z9D a bench style look. We wouldn't say we are thrilled with the design Sony went for this model as they look a little bulky and can make the TV wobble a bit but even like that they kept the panel steady. Using this type of stand can pose a bit of a problem when placing it on small furniture so you need to make sure it fits where you will place it. On the back the stands offer deep grooves to help you hide all the cables running from the back.

Continuing in the same vein the remote that comes with the Z9F has a very uninspiring design especially if you think what remotes Samsung and LG offer with their top tier TV sets. Sporting a black rectangular design and being jam-packed with buttons the remote really feels outdated with a big circular menu navigation pad in the middle while on the top we find numerical buttons, general purpose buttons as well as dedicated buttons for Google Play and Netflix. On the bottom there are volume, channel and playback buttons with some of them being too small and too close together and you can easily press the wrong one. There is no backlight function here making things even worse if you will use it in the dark.
The overall build quality cannot say thrilled us for such a high end model and could easily be mistake for a lower budget TV. Most of the main body is made out of plastic with some metal parts like the frame and the stand but some plastic parts in the back seem a bit loose and could vibrate if you are used to crank up the sound in your home theater system.
The remote also has a very old style design and reminded times when remotes were just simple bricks full of buttons. Sony should really rethink their designs. If it was meant for a budget-friendly TV we wouldn't have any problem but when we are talking about the successor of the famous Z9D then expectations are much higher.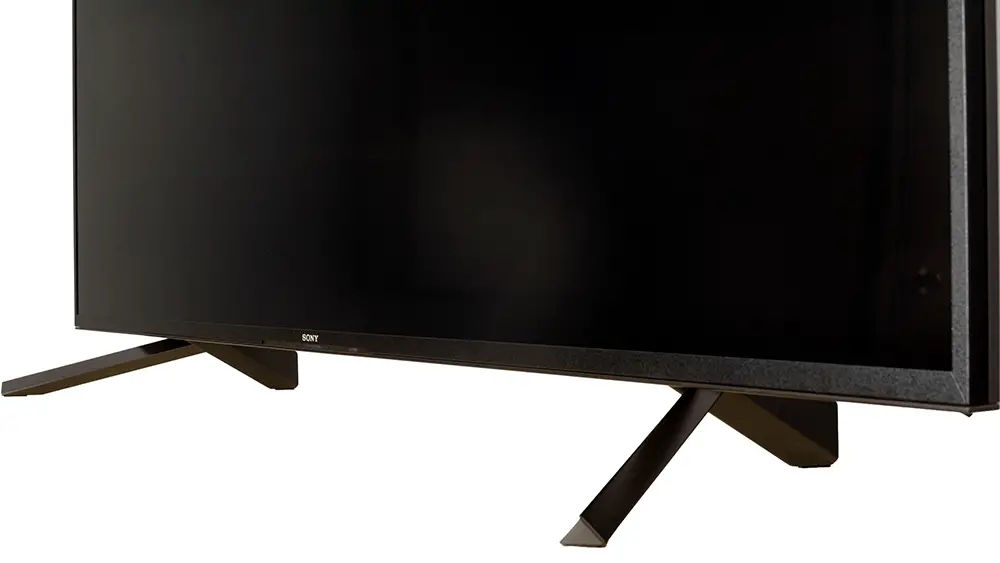 Video Quality
Being the successor of a TV that was universally acclaimed as one of the best ever made is not a small thing. And the Z9F had a difficult task from the beginning as comparisons would be inevitable. To be able to offer better performance meant that various improvements had to take place and for this reason Sony equipped the Z9F with some new powerful silicon, the X1 Ultimate processor.
As with the previous incarnations of this processor, the X1 Ultimate processor is particularly capable of upscaling SD and HD content to 4K resolution. It does so in an amazing way and removes any noise from the original material leaving the end picture as clear and sharp as possible. Also this new processor is very capable with it's SDR to HDR conversion by producing more rich and lifelike colors. Sony was good at this the last few years and the new processor seams to be doing an even better job at this. The only downside that we saw is that sometimes the TV introduces a bit more brightness than it should that can be distracting due to backlight clouding. It's a personal preference if you like this or not but in our case we preferred to leave this feature off and watch SDR content in it's original state.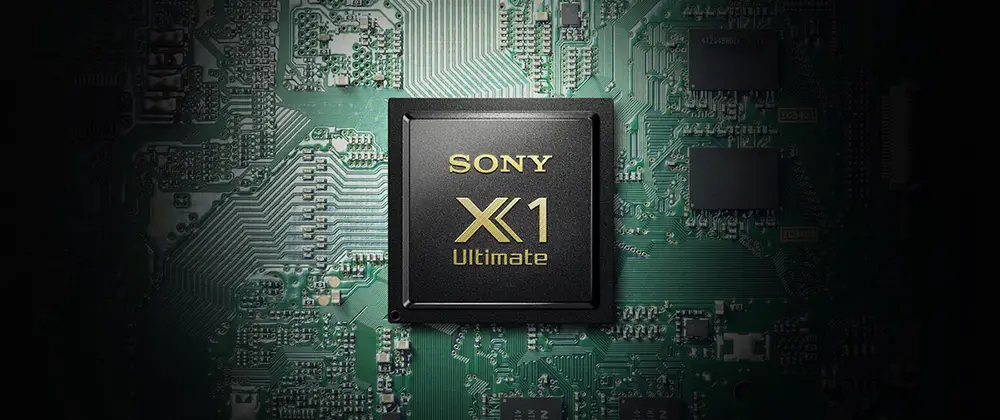 Let's take a look at the measured brightness now. The Z9F is one of the brightest TVs we have reviewed and Sony made sure to promote this feature as much as possible. HDR brightness over a 10% white window goes as high as 1650 nits which is an amazing number that only very few sets can manage to this day. SDR brightness also follows the same pattern by providing a little more than 1600 nits over a 10% white window. The Z9F is really on a league of it's own as far as brightness is concerned and it is one of the major advantages of this specific model.
The Z9F has a Direct LED panel with local dimmable zones that helps as a result to achieve such high numbers of brightness. But herein also lies the problem. Part of the amazing image quality of the Z9D was partly because of it's high number of dimming zones that was believed to be around 600. The more dimming zones, the better light control a TV has and thus the Z9D was achieving amazing control over it's elements. For some reason Sony has lowered the number of dimming zones in the Z9F to around 100 which is a major downgrade over it's predecessor.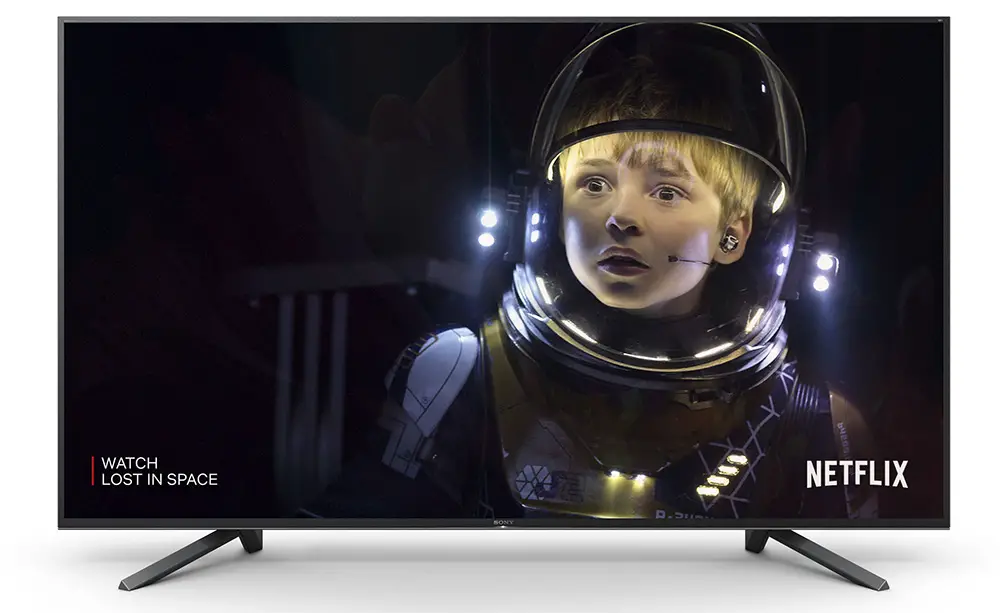 The first and most obvious reason would probably be to bring down the cost with Sony believing that they can compensate the downgrade of the dimming zones with their more powerful processor that handles better lighting algorithms. Unfortunately this is not the case with light clouding being particularly visible when bright highlights are on screen against a dark backdrop. Around bright objects you can see light halos that can distract and lower the overall picture quality.
Contrast is also average which is very shocking when the Z9D was offering some of the deepest blacks we had seen in any LCD panel. As a result the Z9F is having difficulty displaying really deep blacks and in the end they appear like dark grey than real black.
Light clouding and contrast problems may also be a result of another new feature of the Z9F. Sony has equipped this model with the X-Wide Angle technology which is a feature that offers greatly improved viewing angles. From our testing we would say that image quality stays consistent up to around 30-35 degrees which is better than most other VA panels but still not as good as IPS panels can do. Anything more than that and colors, brightness and black levels get a massive downgrade that makes the image unwatchable.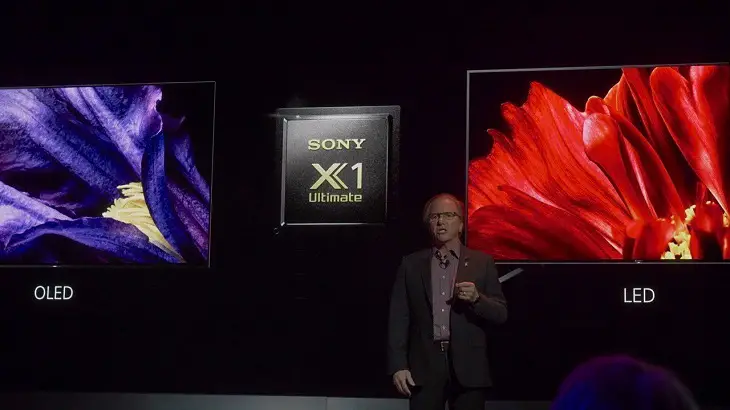 The Z9F supports the most known HDR protocols with HDR10 which is the basis for 4K UHD playback, HLG which is for streaming content and Dolby Vision that is the advanced HDR from Dolby that support dynamic metadata. There is no HDR10+ support which is the rival protocol of Dolby Vision but we remain optimistic that when it becomes more popular Sony will support that also.
Also very good in this TV is it's excellent color reproduction with the Z9F having Wide Color Gamut support and from our measurements it is able to cover around 92% of the DCI-P3 color space and as such displaying more accurate and lifelike colors. It also covers around 70% of the REC.2020 color space and although we have seen better results from other top-tier models like the Samsung Q9FN, the Z9F manages to give very good overall results that are similar to the Samsung Q6FN which are still very good.
Sony is for many years on top of their game regarding their TV motion performance and the Z9F continues this trend. By using Sony's MotionFlow processing technology and a 120Hz panel the result is reduced blur and less judder during fast camera pans. Also present is the BFI (Black Frame Insertion) feature that creates more smooth motion by adding black frames between individual frames during playback. But this feature may have the downside of reducing the overall brightness while some people may notice a bit of flickering also.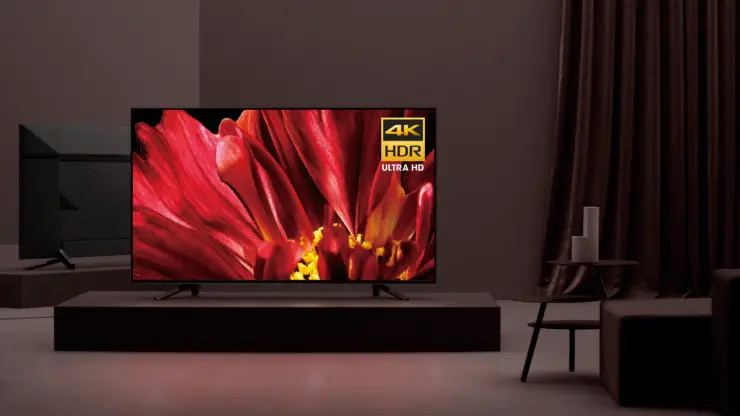 Sony again uses an improved version of the BFI feature called X-Motion Clarity and we had seen this in the X900F also. Instead of inserting a black frame between images it darkens the back-light and by tracking the bright parts of the image it keeps them at a sustained back-light level making the screen noticeably brighter. This way Sony achieves to have excellent motion performance without the loss of brightness.
The X1 Ultimate processor also makes sure the Z9F offers very low input lag that was measured as low as 12ms which is amazingly low and is great if you are a gamer. Input lag naturally was measured with Game mode on and we got instant reaction to all our gamepad commands.
In total we wanted to be enthusiastic by the Z9F's performance but unfortunately what we got is a bit of a mixed bag. On the one hand it offers very sharp 4K images, breathtaking HDR, mesmerizing colors, amazing motion performance,good viewing angles and great upscaling capabilities due to the new X1 Ultimate processor. But it's average contrast and mostly it's less than stellar backlight control leaves a lot to be desired by making light clouding in dark scenes very obvious. Overall image quality is great, it's just not as amazing as we were hoping from the Z9D successor.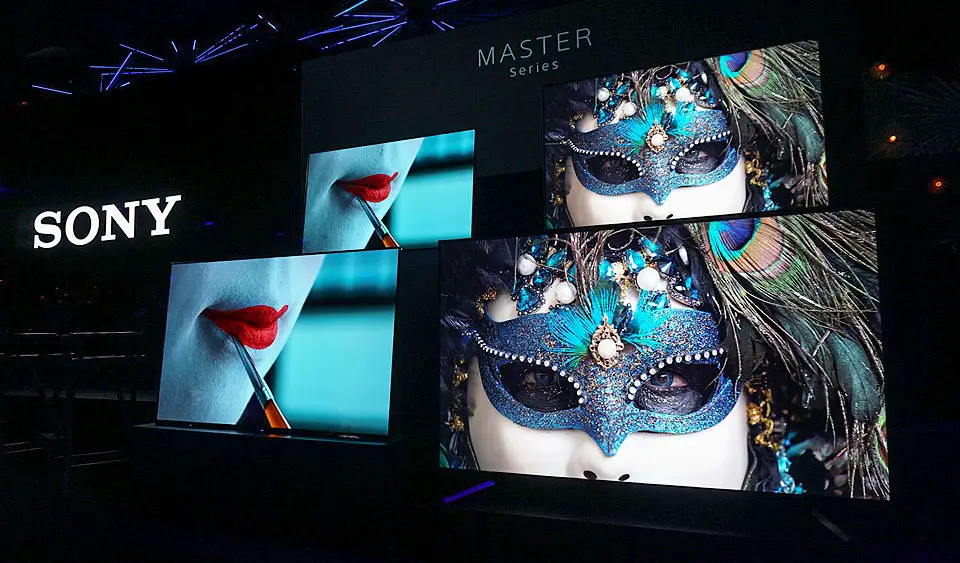 Audio Quality
The Z9F is equipped with two 10W speakers which are good enough only for casual viewing. Sony has added a few sound features that we prefer to call gimmicks as the resulting sound is not improved much. You cannot expect anything spectacular from a flat TV speaker system and we would strongly suggest that if you plan on getting such a TV, a dedicated audio system is a necessity in order to get the immersion such a TV can offer. At least the sound provided is clear enough while dialogue is very distinguishable and even taking the volume to higher levels didn't reveal any bothering distortions.
Inputs
With great pleasure we saw that Sony opted to place all connections either sideways or downwards which in our opinion is the best solution when talking about connection ports that are by design on the main body of the TV. It's still not as good as the One Connect Box that Samsung is using but at least is an improvement over the outward looking ports we were seeing until recently and it certainly helps in case of wall mounting the thing. All ports can be covered with plastic panels to hide the ugliness of the plugs connected.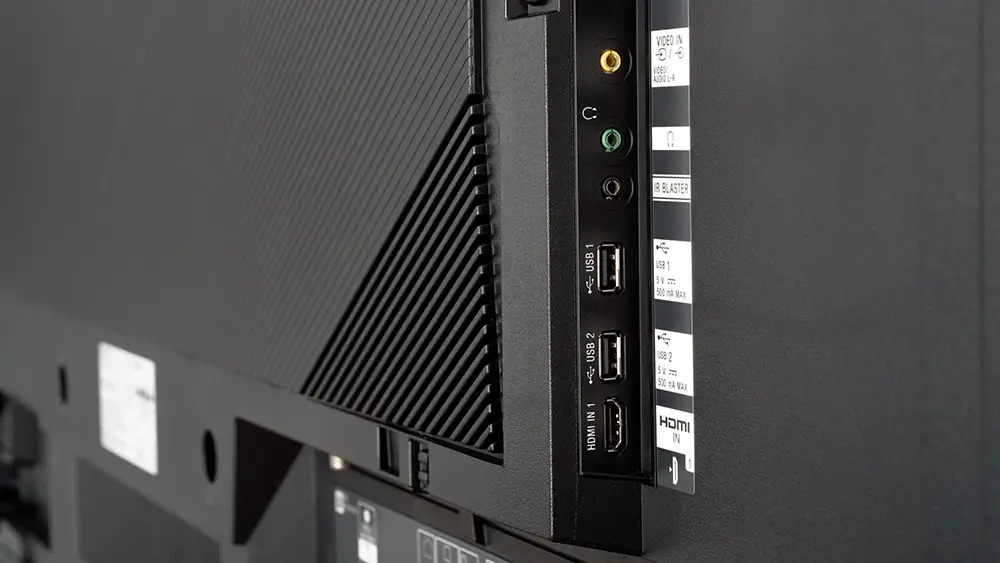 In the first group that looks sideways we find 1 HDMI IN, 2 USB 2.0 ports (5V/500mA), 1 IR blaster port, 1 headphones port and 1 Composite Video IN. In the second group that looks downwards we get the Antenna/cable port, 1 Ethernet port for wired connection to the internet, 1 Optical Digital Audio OUT port, 1 RS-232C port, 3 HDMI IN ports with one of them supporting ARC and one USB 3.0 port (5V/900mA).
In total the amount of ports on offer is more or less what was expected in this range. Plenty of HDMI ports for connecting all your devices, enough USB ports to connect external storage or flash drives and we were particularly happy to find at least one USB 3.0 something that is less usual than it should even with top tier models. What should be a given in this day and age seems to still be unreachable for whatever reason. With no outward ports means that even when wall mounted most of the ports will continue to be more easily accessible adding more value to an already very good setup.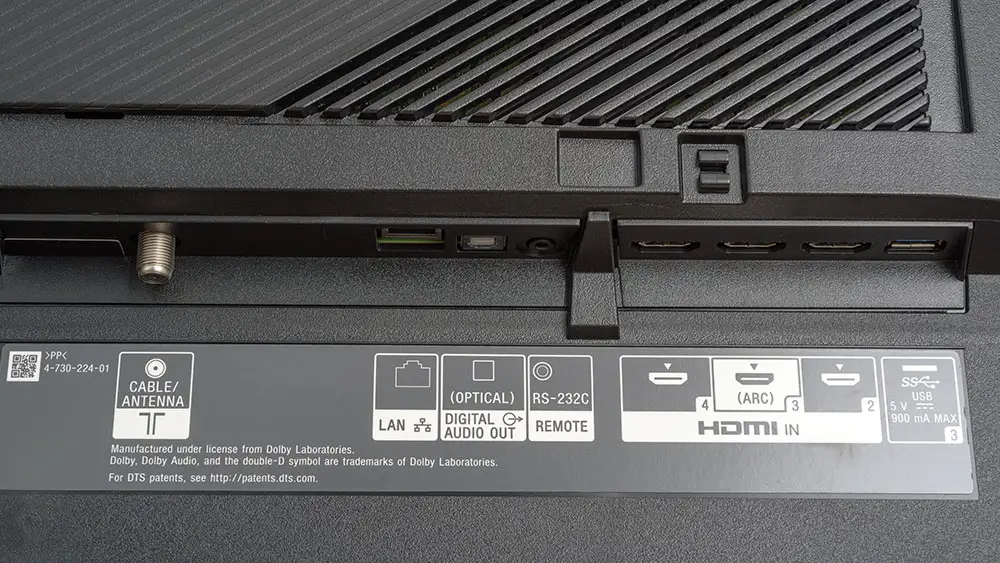 Although HDMI 2.1 is still not ready and probably we will have to wait for 2019 models to see the new protocol, Sony managed to add to the Z9F one specific new feature called eARC. With it the Z9F can pass lossless Dolby Atmos and DTS:X soundtracks via its eARC HDMI to external sound systems and thus making cabling so much easier.
OS, Apps and Features
Sony continues to ride the Android bandwagon as far as their preferred TV OS is concerned but unlike the previous 2018 models that used Android 7.0 the Z9F is one of the first TV models to use the new Android 8.0 Oreo OS. We have expressed our opinion about Sony using the Android OS for their TV sets in the past and we were not very fond of it. It's not a bad OS but compared to LG's webOS and Samsung's Tizen smart platforms the Android variant that Sony used was seriously lacking in many departments. Sluggish controls, over-crowded layouts, bugs and no focus on what TV users want to see is some of the negatives of the Android OS that plagued it from the beginning.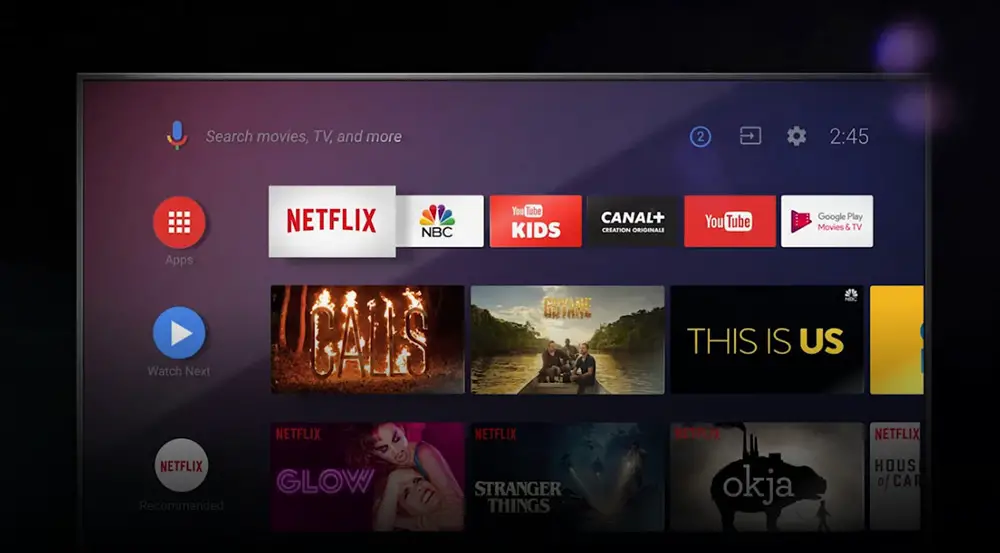 With Android 8.0 there seems to be some improvements in all areas and although there is still a lot of work to be done to reach the greatness of Tizen or webOS there is hope that Android is heading in the right direction. Improvements include a better layout as it looks more refined and easy to navigate. In previous versions options were on the bottom while here are moved on the top while it seems that they improved handling of core TV functions like settings and features.
Also another improvement is that Android 8.0 seems to make better suggestions to users by prioritizing video content instead of other useless apps. Lastly performance seems better as sluggishness of previous versions has been reduced to a minimum. If this is a result of the stronger processor or the updated Android OS, or both, is not known but what matters is that the result is a more refined and smooth navigation experience.
Having Android means that there is a huge list of apps and services on offer with thousands more in the Google Play store for you to choose from. Video streaming apps include Amazon Video, Netflix, Google Play TV & Movies, Hulu, YouTube and Sling TV while there is a plethora of music streaming services also like Pandora, Spotify, Google Play Music, Tidal, iHeartRadio among others. The services mentioned are just a fraction of what is on offer and only shows the amount of apps that the Android platform supports.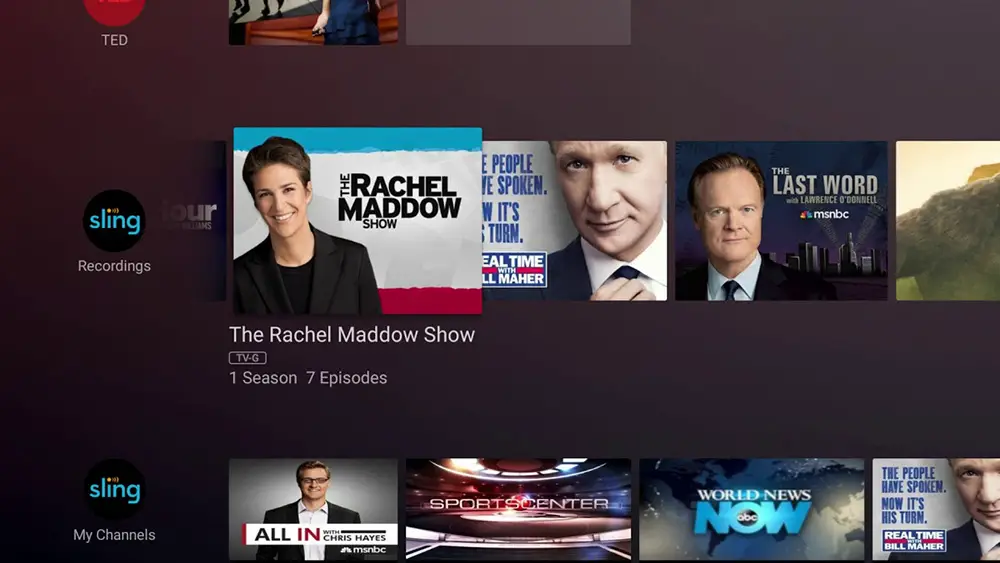 The Z9F also has built-in Chromecast functionality granting you the ability to run Chromecast-enabled apps on the TV as well as stream content from your smartphone or tablet. There is also support for Google Assistant in order to issue commands with voice which is a feature that is becoming a standard to most new medium and top tier models. But what we see for the first time is that unlike all previous incarnations of this system in various TVs this time Sony chose to place a microphone array next to the logo on the bottom center of the panel thus taking it away from the remote. This way Sony opted for a complete hands-free, voice controlled system which is in our opinion a very clever decision and we are sure that we will see this in the future more often.
With Google Assistant you can issue voice commands for various TV functions like channels, volume, input selection and enabling applications as well as choosing video and streaming content, search for movies and much more. But functionality does not stop there because if you have the TV connected to your home network you can control various smart devices at your home like lights, thermostats and smart locks.
Sony Z9F is also a very capable media player that can playback video and music from all the USB ports provided. There is support for the most known video and audio codecs and we tried a few different movie clips and everything worked smoothly and with no visible problems.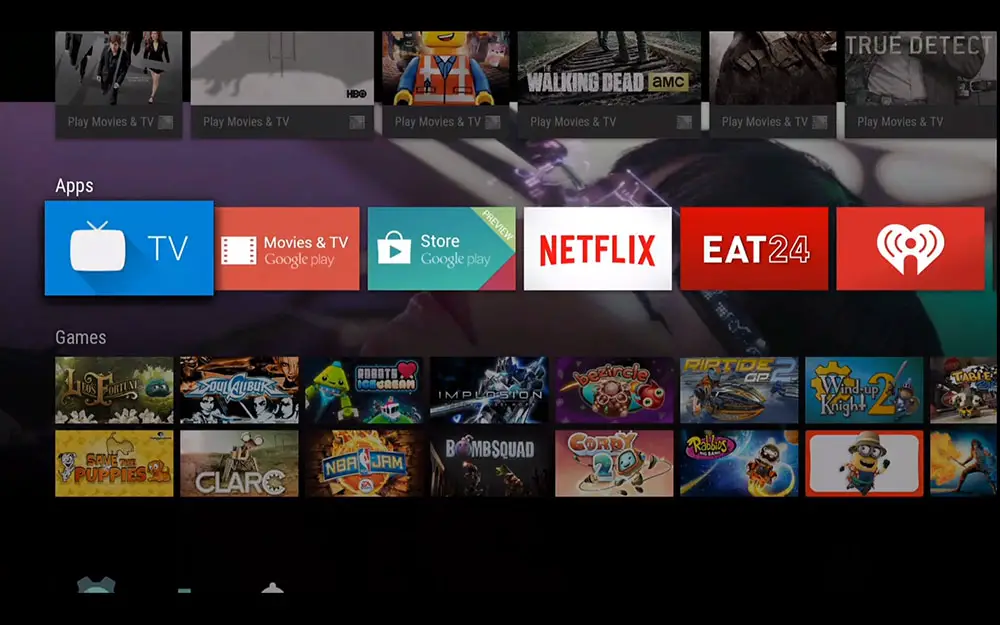 Android 8.0 is a step in the right direction. Having improvements in almost all areas makes the new OS a more refined experience. We are still favoring webOS and Tizen as they both look more mature but in all honesty if Android keeps improving in the same way that version 8.0 did then we expect the next few years to have 3 equally capable smart TV platforms.
Final Thoughts
When we learned we would be reviewing the Z9F we were really anxious but hopeful at the same time that Sony will continue the trend they started with the Z9D. Having an upgraded processor among all the other video processing systems gave us hope for great things. The lower than expected price was a small red flag that made us nervous but we were hoping for the best. Unfortunately our fears were true as Sony although improved in some areas the completely dropped the ball in others. It seemed like while they were improving one thing they would break something else and in the end we got a model that has strengths and weaknesses but at no point we can say it's a clear upgrade of the Z9D.
The Z9F offers amazing 4K sharpness, great color gamut coverage, mesmerizing brightness and HDR, very good overall motion performance, unbeatable upscaling capabilities, improved viewing angles and at a price that will certainly attract a lot of consumers. The new X1 Ultimate processor is doing real wonders and motion performance is some of the best as Sony has used us the last few years.
But for all the good things this model has, it disappointed us in others. Backlight control leaves a lot to be desired. With much less dimming zones available light blooming is very visible affecting the overall image quality. Improved viewing angles had a negative effect on contrast while black levels leave a lot to be desired as due to the backlight being less effective it looks mostly grey than dark black. Design also looks simple both for the TV and the remote and we were expecting more from this new top tier model. Also Android although improved in it's 8.0 version it still is no match for webOS or Samsung's Tizen platform.
In the end the Sony Z9F is not a bad TV. In the contrary it's a very good TV offering some amazing specifications. It's only that we were expecting so much more from this specific model that the end result left us a bit disappointed. But in this price and with what it offers the Z9F is a very good option if you are considering it and will definitely offer you a great visual experience.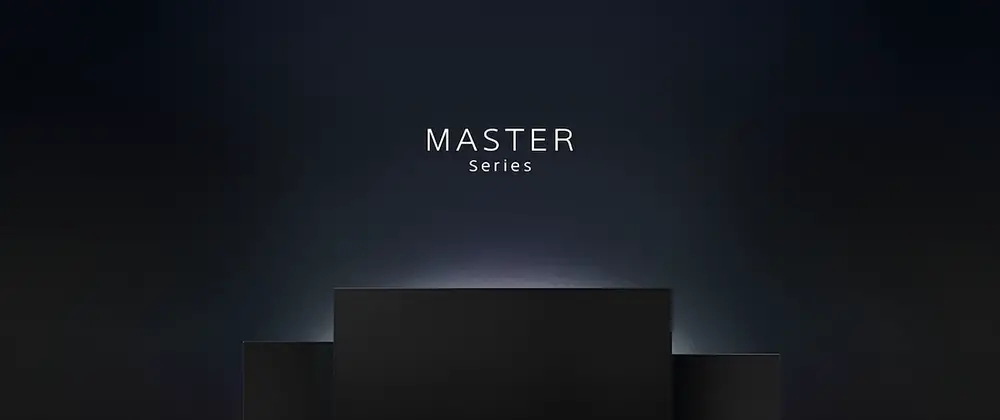 For more reviews you can check our dedicated 4K LED LCD TV reviews list or even look at our Product Reviews Table where you can find the brand and specific product you are looking for.
Also don't lose the chance to subscribe to our Newsletter and gain exclusive privileges.
---
Cheapest Places to Buy :

---
Specifications
Panel : LCD Direct LED panel with Local Dimming
Resolution : 3840 x 2160
HDR supported :HDR10, HLG, Dolby Vision
Video : Picture Processor X1™ Ultimate, 4K X-Reality™ PRO, Dual database processing, Object-based Super Resolution, Live Color™ Technology, Precision Color Mapping, Super bit mapping™ 4K HDR, TRILUMINOS™ Display, Dynamic Contrast Enhancer, Object-based HDR remaster, X-tended Dynamic Range™ PRO, X-Motion Clarity
Audio : 10 W+10 W Bass Reflex Speaker, S-Force Front Surround
Video Codecs support :MPEG1: MPEG1/MPEG2PS: MPEG2/MPEG2TS (HDV, AVCHD): MPEG2, AVC/MP4 (XAVC S): AVC, MPEG4, HEVC/AVI: Xvid, MotionJpeg/ASF (WMV): VC1/MOV: AVC, MPEG4, MotionJpeg/MKV: Xvid, AVC, MPEG4, VP8. HEVC/WEBM: VP8/3GPP: MPEG4, AVC/MP3/ASF (WMA)/WAV/MP4AAC/FLAC/JPEG; WEBM: VP9/AC4/ogg/AAC/ARW (Screen nail only)
USB drive format support : FAT16/FAT32/exFAT/NTFS
Audio Codecs support :Dolby® Digital, Dolby® Digital Plus, Dolby® Pulse, Dolby® AC-4, DTS Digital Surround
Ports : HDMI (HDCP 2.3) X 4, USB X 3, Ethernet X 1, Composite Video In X 1, RS-232C X 1, Digital Audio output X 1, Headphone X 1, RF In
Network : Wi-Fi Certified 802.11a/b/g/n/ac, Bluetooth Version 4.2; HID (mouse/keyboard connectivity)/HOGP (Low Energy device connectivity)/SPP (Serial Port Profile)/A2DP (stereo audio)/AVRCP (AV remote control)
Smartphone connectivity : Chromecast built-in, Video & TV SideView (iOS/Android)
Operating system : Android
On-board storage : 16GB
Tuner : Digital TV Reception (Terrestrial,Cable)
Dimensions of TV (W x H x D) : 57.20″ x 32.95″ x 2.64″/1,453 x 837 x 67 mm without stand –  57.20″ x 35.67″ x 12.36″/1,453 x 906 x 314 mm with stand (65″ Reviewed)
Weight of TV : 62.2 lb/28.2 kg without stand –  65 lb/29.5 kg with stand (65″ Reviewed)