SVS PB-1000
Movies Performance
9.2/10
Inputs and Features
9.0/10
Pros
Great build quality
Punchy bass
Ideal for movies
Affordable price
Cons
Not ideal for large areas
The front power LED can be a bit bothering
Demanding music revealed some port noise
---
Cheapest Places to Buy :
---
As bass is a fundmental part of sound the same can be said about subwoofers being the cornerstone of a good quality home theater system. You can have the best speakers in the world in a top of the line 11 channels setup, if you don't have a subwoofer to accompany them the result you will get will feel flat, empty and completely uninspiring. And when we talk about subwoofers in the home theater segment then there is one name that immediately pops and this is no other than SVS.
And while in recent times SVS has expanded their portfolio to other kind of speakers their subwoofer series will always be at the forefront and remain their crown jewel of their entire product lineup. Ask any home theater fan about what subwoofer they have or would like to have and they will most certainly tell you an SVS. But while with the right budget you can create a great performing subwoofer what happens when price has to be limited to low enough levels to be considered budget friendly? And this is what we will be looking here today in our SVS PB-1000 review where we will be looking at this relatively small subwoofer and if it can manage to give us the quality that SVS is so famous of.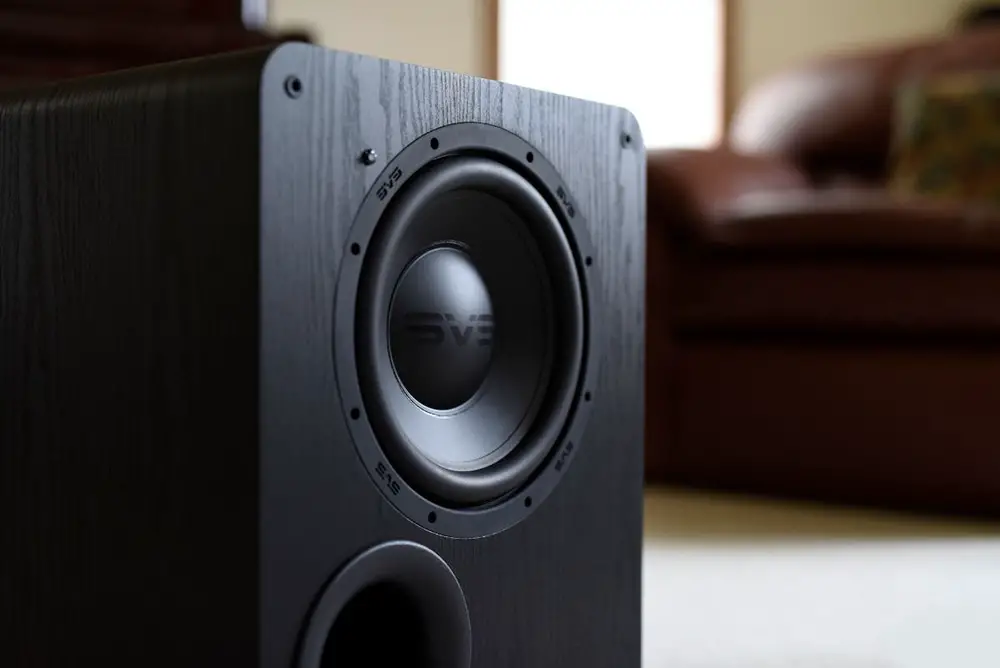 The PB-1000 belong in the 1000 series that actually consists of two subwoofers. The SB-1000 that we had reviewed some time ago that is a closed box design and the PB-1000 that features a ported box cabinet. In theory the PB-1000 with it's front port is more suited for movies while the SB-1000 can do better with music as it's closed box favors that. But let's look in more detail what the PB-1000 has to offer and if it can give us the kind of performance from a subwoofer that bears the name SVS.
Design, Inputs and Features
Exterior
The design of the PB-1000 may be different than that of it's brother but it keeps some fundamental characteristics that are distinct in the 1000 series. While the PB-1000 is bigger than the SB-1000 due to it's ported nature it still keeps a compact design making it ideal for smaller spaces that placing a subwoofer can be problematic. The subwoofer measures 18.9″ x 15″ x 20″ (48 x 38.1 x 50.8 cm) with the grille on while taking the grille off will cut about half an inch from it's depth size. It's weight comes at 46 pounds (20.9 kg), relatively heavy for such a small design.
As far as it's looks the cabinet has a very characteristic SVS design. Using a rigid and strong Medium Density Fibreboard (MDF) cabinet construction with curvy corners and wrapped with a black oak vinyl wrap finish the PB-1000 screams SVS from a mile away. A plastic moulded cloth grille covers the entire front face using a pin/cup retention system to keep it steady when used and with only the SVS logo being at the lower center. But we are pretty sure that most will like to use it without the grille as it looks much better that way and gives the PB-1000 a more aggressive look rather than the simple black box when in use.
Looking the front of the sub without the grille on we get a 10″ front facing driver along with a front-firing 3.5″ high-flow port with inner/outer port flares. Using a 10″ driver instead of the 12″ that you saw in the SB-1000 was a necessity in order to accommodate the ported box design.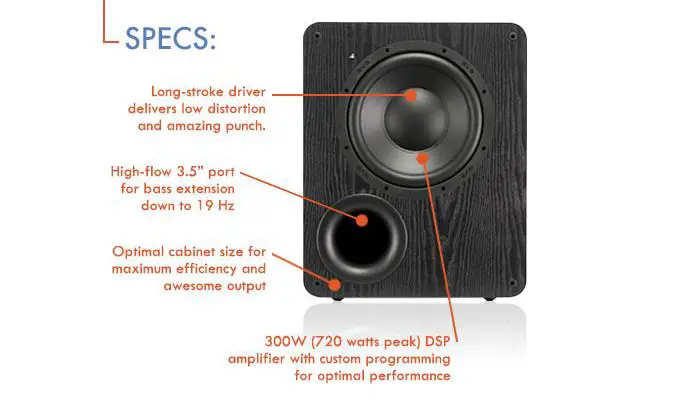 One thing that is exactly the same is the small LED light that sits on the top left corner of the driver and indicates when the subwoofer is working and when it's in standby. Red color means standby that turns blue when it receives a signal. This light was frustrating in the SB-1000 and it continues to be frustrating here. If you opt to use the front cloth grille, it is more subtle but without it and especially in a dark environment it will certainly make your eyes look at it more than once. But a small piece of black tape can solve this problem relatively fast.
The back of the sub features all connections and controls of the unit that we will analyze shortly. In general the PB-1000 is not the kind of subwoofer that will wow you with it's exotic quality or appearance but in all honesty it was not designed to do so. Low price was the goal here and SVS tried to create a design that may be nothing special as far as looks is concerned but focus mostly on efficiency in a small package. And in this regard we think they did nailed it. And while the SB-1000 was offered in three color variations the PB-1000 unfortunately comes only in Premium Black Ash.
Internal Hardware
As we mentioned above the PB-1000 comes with a smaller 10″ high-performance, front-firing driver which uses a lightweight treated fiber composite cone for enhanced sensitivity and transient response while also using a rubber surround for durability and long-life. A FEA-optimized motor technology is used for low distortion along with a high-power voice coil for excellent thermal management.
Dual high-grade ferrite magnets and a vented pole piece for greater cooling and low noise shows that while the subwoofer aims for a low price it does not sacrifice quality to do so. We once again find a Sledge STA-300D Class D amplifier that is capable of providing 300 watts of continuous power with 720 watts of peak dynamic power. But the amplifier is not the only thing we find similar with the SB-1000. A DSP signal processor is also used here for more accurate response and refined behavior under all operating conditions. The 1000 series have a major advantage with this as most low cost subwoofers use analogue circuits and as a result have less control precision.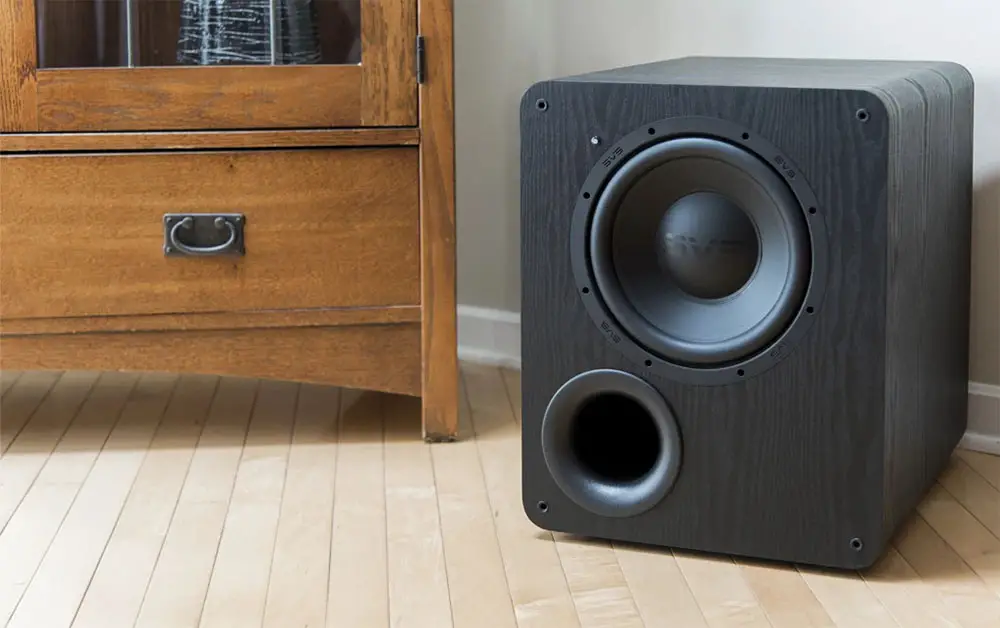 Input impedance is rated at 47 kΩ (unbalanced RCA) / 2 kΩ (speaker level) and has a frequency response of 19Hz-270Hz at +/-3dB. Seeing this 19Hz rating is rather impressive for such a sub and really shows the value you get with even the most cost friendly model in SVS lineup.
Connectivity
Connectivity wise the PB-1000 comes with exactly the same configuration we had seen in the SB-1000. This means that we get the usual LFE coaxial port that most will use to connect to an AV receiver. There are also a pair of line level inputs and another pair of outputs while below them we get two pairs of 5 way high level speaker wire inputs. There is also a 3V-12V AC/DC trigger input that can be handy in certain situations. With all these ports there are various ways that you can connect the subwoofer and all of them are described in detail in the manual in order to cover all kinds of setups.
Controls
In a similar fashion to the included ports the controls are also exactly the same. This means that there is a power switch along with a standby/on switch and above that we get three knobs for controlling the volume, the phase of the sub and lastly the low pass filter (LPF) withing the 50Hz-160Hz range. As we mentioned above the knobs are not analogue as most subwoofers have but use digital actuators in order to provide far greater precision and control and also noise-free adjustments. SVS didn't become famous by accident and small things like this show the attention of detail their products get.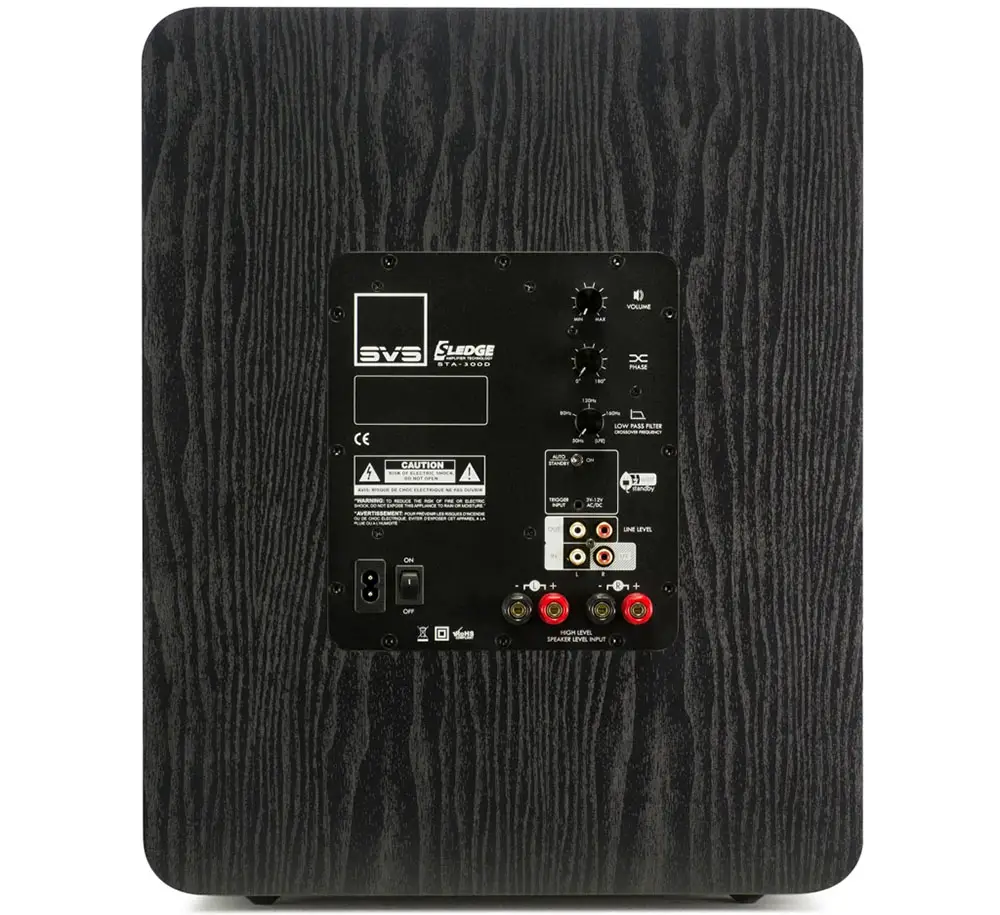 Extra Features
As per usual the subwoofer is having an auto/standby feature that is consuming less that 0.5 watts which is definitely cost effective in the long run. Lastly we shouldn't forget to mention that it is RoHS compliant, uses a lead-free construction and comes with all world-wide safety certifications.
Performance
The "PB" designation in it's name indicates that we have a ported box design and this certainly can give us more output power compared to a sealed box with a similar amplifier. As far as it's placement it depends on what you seek the most. Placing the subwoofer in a corner will give you louder bass but with less accuracy. If this feels a bit more boomy than what you like then maybe you should consider placing it across a wall as this may reduce the bass output and increase accuracy.
Now all the above mean that you have the luxury of choosing it's placement as many people don't have that many options. In any case there is no right or wrong and each position can give you different results so take some time in trying out different placements in order to determine what sounds better to you. For our testing we opted for a corner placement in the front left side of our viewing position.
After connecting the PB-1000 with a single RCA cable we made the necessary calibrations on our Onkyo AV receiver in a single 5.1 channels surround system. For our music testing we opted for a 2.1 channels setup using only the front channels and the SVS subwoofer.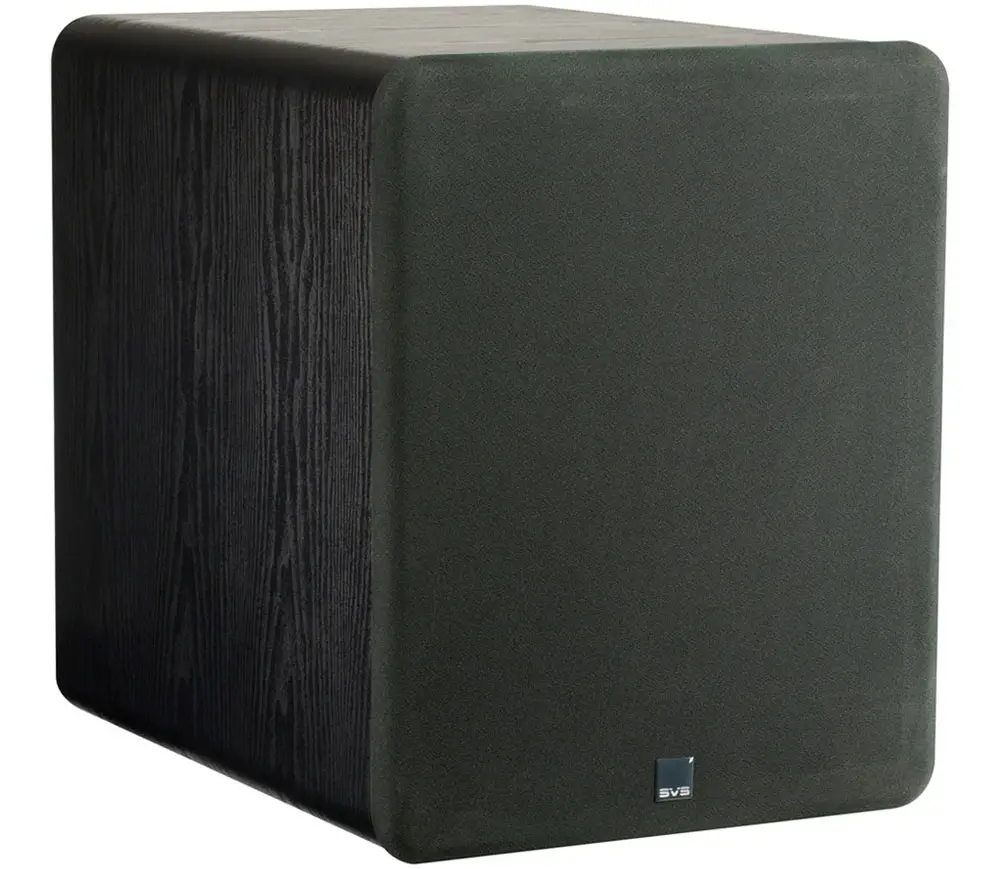 Movies
For this review we decided to try out the exact same films that we had tried out during our SB-1000 testing. We did that in order to compare the differences between the performance of these two and determine which one is better for film viewing. As such for our first test we opted for the 4K UHD version of Saving Private Ryan with it's kick ass Dolby Atmos track and more specifically we watched two scenes. The opening one with the landing on Omaha beach and the last which is the Battle or Ramelle.
For the opening sequence the low end action started from the very beginning as the marine boats approached the beach and the German artillery shells were exploding on the water surface with the PB-1000 giving you a small glimpse of what is about to come. When the Allied soldiers reach the beach the real fun begins. There is so much low end action in the whole sequence that is very hard to distinguish specific moments but it is amazing how the sonic assault of the subwoofer kept us shaking on our seats.
The Saving Private Ryan mix has a very natural and raw texture to it and each explosion or machine gun fire was being pumped out with great detail and resolution. It was impressive how low the sub could dig and one wouldn't expect that from such a small cabinet and 10″ driver but the SVS really did it. But while the PB-1000 was able to hit and shake us with it's masterful low end don't expect to feel the air pressure you would with some of the bigger boys in the SVS range and this was to be expect to be honest. The PB-1000 can really perform according to it's class and this is what matters the most.
Skipping forward to the Battle of Ramelle we once again found ourselves in the middle of the action. The subwoofer didn't loose a single moment and reproduced the terrifying rumble of the Tiger and Panzer tanks with great authority. The shaking felt real as if a tank was right outside our building. Tank fire had the necessary weight while ordnance explosions and weapons fire had a very natural tone to them. When the tank buster destroyed the Tiger on the bridge in the last scene of the battle the PB-1000 went all out with it's explosive sonic wave.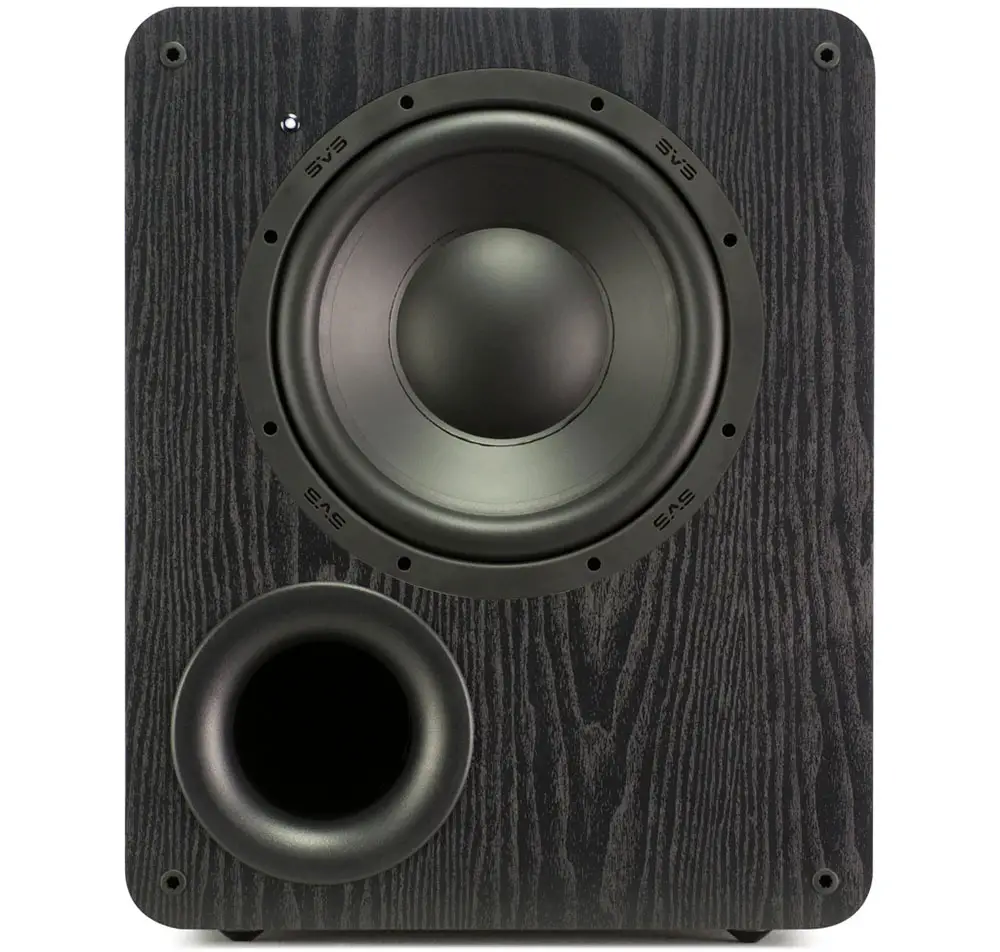 Next we tried something a bit different so the 4K UHD of Jurassic World was the perfect choice with it's amazing DTS:X mix. This track is more subtle and has a more balanced output compared to the war torn Saving Private Ryan but it had also plenty of moments where the PB-1000 could flex it's muscles.
Obvious moments include the stomping sound of the Indominous Rex footsteps while dinosaurs roars, explosions and various low end effects were always reproduced very accurately while never felt muddy or lost in details. The subwoofer felt right at home with such a film and gave us another excellent performance. This is not a film that asks for raw performance and it shows the qualities such a low cost subwoofer can give you.
Closing this part of our review we can definitely say that the PB-1000 can do amazing things with films. It seems that the port design really is what is needed to give you the extra punch some scenes can ask for while continuing to give a very tight controlled and extremely deep low end. The SB-1000 had left us with great impressions when we did that review but the PB-1000 even managed to go a small step further.
Music
Moving on to our music testing we switched to a 2.1 channels setup and selected a few FLAC music tracks that we streamed through our Onkyo AV receiver. The PB-1000 was able to provide the necessary depth that would otherwise be missing if we would settle for just a stereo setup. It's a real wonder how much more volume a subwoofer can give to music and the sub here did just that. Drums became more refined, guitar rhythms got more engaging and bass showed more articulation.
When things became a bit crazy the PB-1000 felt like it was trying to catch up and some port noise was audible but this only happened in some extremely demanding songs and never to the point of becoming bothering. But if you are purely a music lover and you plan on buying a subwoofer just for that then the SB-1000 with it's sealed box design may be a slightly better choice for this. Otherwise the PB-1000 is a dream of a subwoofer for the low budget category and can overcome almost all difficulties you throw at it with ease.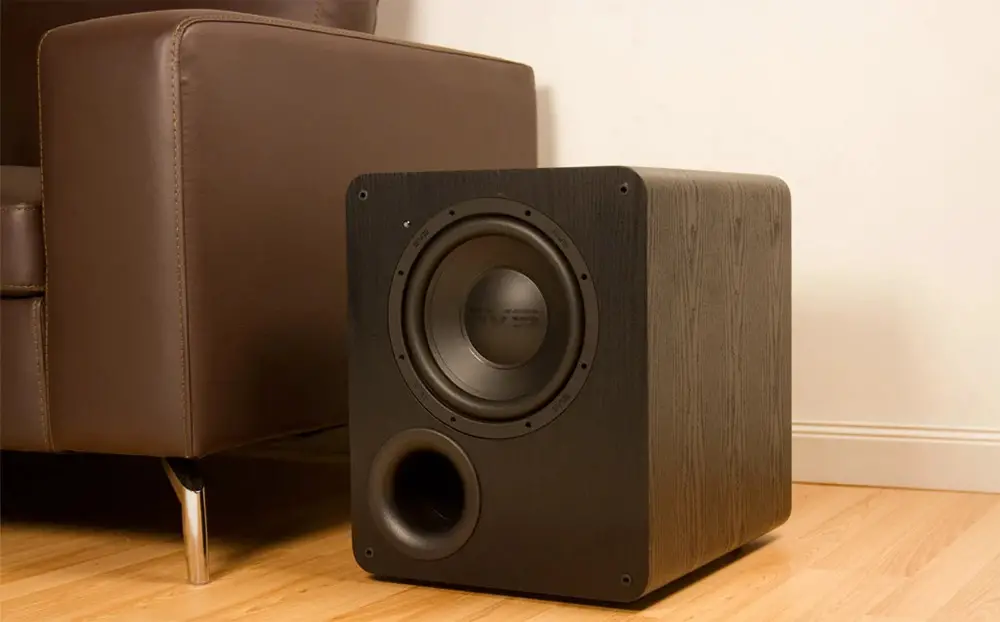 Final Thoughts
Reaching the end of our review there are certain points we need to mention. The PB-1000 is obviously meant for small spaces. If you have a big home theater room this sub will not cut it if you want to feel the full effect of such a subwoofer. Also SVS tried to create a unit that will perform exceptionally without costing an arm and a leg making it affordable for the large masses. It may not use exotic parts or materials but with careful design and engineering the result was more than pleasing with the PB-1000 managing to go low and deep while being surprisingly aggressive with it's power output.
Now some of you may wonder if it is better to go for the PB-1000 or the SB-1000. After all these two share many of their core technologies and can perform admirably for their size. What we will answer to that is that it depends on the use you are planning for it. The PB-1000 feels like it has more punch probably due to the ported design which favors mostly movies. So in case you want a sub that will be primarily be used for that purpose then the PB-1000 is the way to go. On the other hand due to it's sealed design the SB-1000 may not go as deep or be so punchy but it seemed that it could handle very bass demanding music much better where the PB-1000 seemed to struggle a little. As such if music is your main focus the SB-1000 seems the better choice.
This doesn't mean that the PB-1000 is not good with music, on the contrary it managed to give a very satisfying low end and only in some extremely demanding songs the bass came out a bit boomy while we sensed some port noise making it obvious that it couldn't keep up with the insane rhythm. But in most cases it was extremely pleasing to see such a small subwoofer being able to give us such a shaking experience.
Closing what we can say about the SVS PB-1000 is that SVS managed to create an amazing affordable solution in the subwoofer segment. If you have a relatively small area or home theater room and plan to use it mainly for movies but also want to get your occasional music fix then this one will give you plenty of satisfaction with it's power, satisfying low end and tight control. Highly recommended.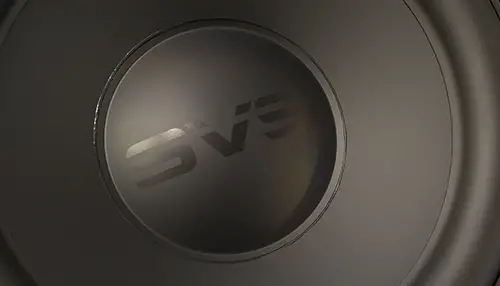 For more reviews you can check our dedicated Subwoofer reviews list or even look at our Product Reviews Table where you can find the brand and specific product you are looking for.
Also don't lose the chance to subscribe to our Newsletter and gain exclusive privileges.
---
Cheapest Places to Buy :
---
SVS PB-1000 Specifications